Ideas for Simple Summer Decorating
Around here we always anticipate the time together that the summer months bring.  Sleeping in, going on vacations, and enjoying those long lazy afternoons by the pool are at the top of our list these days so today I want to share with you some ideas for simple summer decorating!
If you are coming over from the darling Rhoda of Southern Hospitality, welcome!!  Rhoda was kind enough to share me on her blog last year and I will forever be grateful!  She is so sweet and most certainly an icon in the blogging world!!!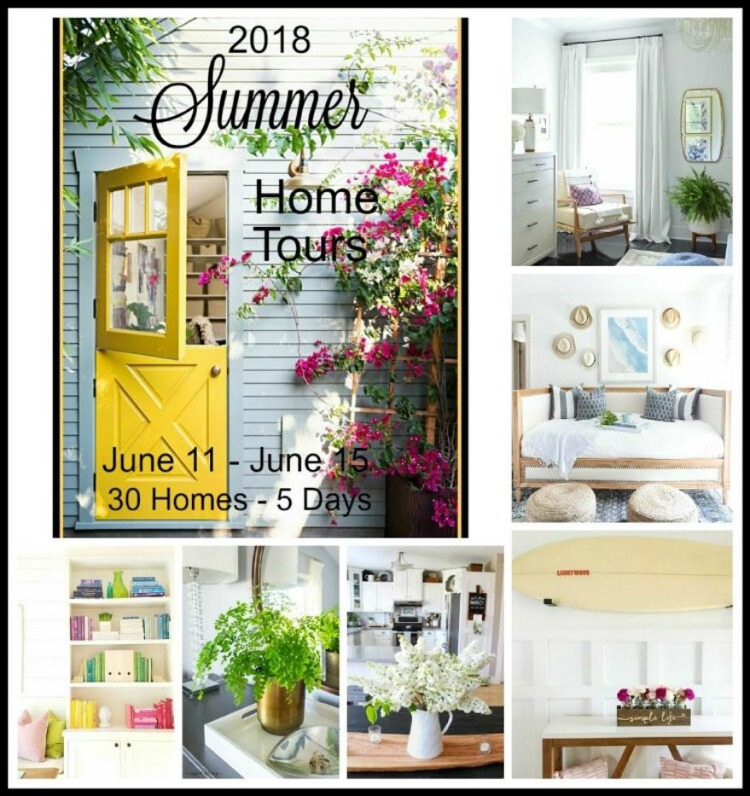 Affiliate links used in this post.  Full disclosure policy can be found here.
For summer I always like to keep my decor simple before the fall/holiday explosion comes later in the year but I do like to incorporate a few fun, summery touches that we always enjoy around here, and I'm always glad that I do.
I typically don't buy anything new for my summer home but rather just move things about the house to give my home a fresh look and feel.  For my outdoor space this year I did however add a few new staples with pillows and a few other items since the outdoor space is typically center stage this time of year.  You can see my full patio tour HERE.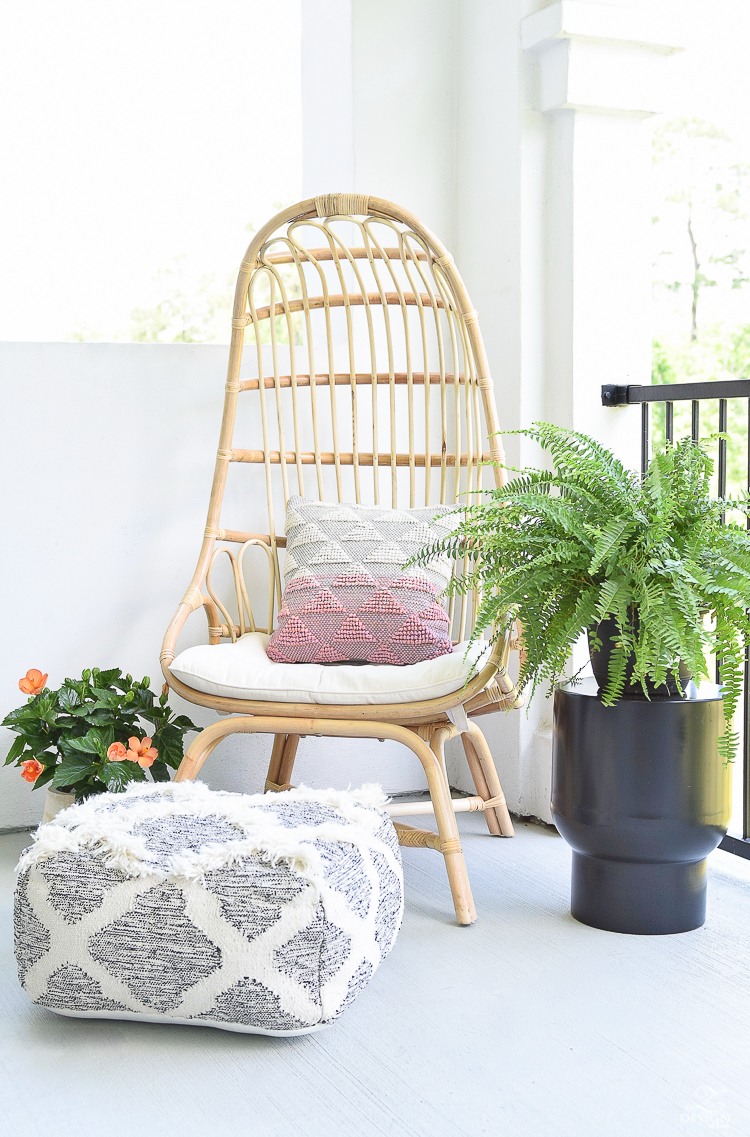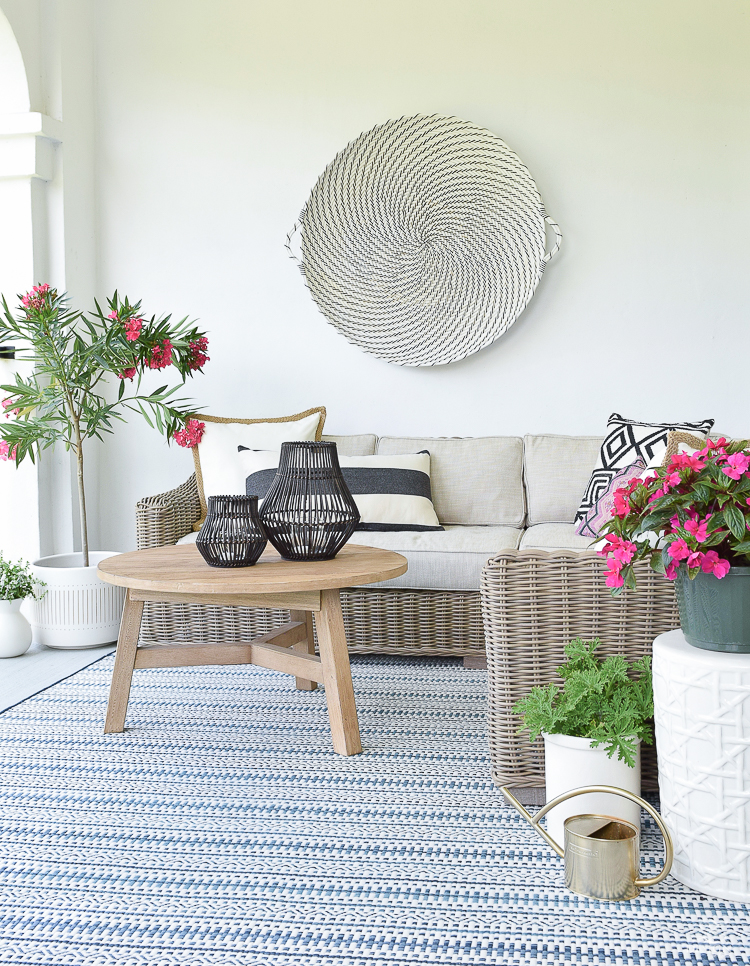 The Living Room
One of the first things I like to do is bring in colorful fresh blooms this time of year, namely peonies since they are in season right now.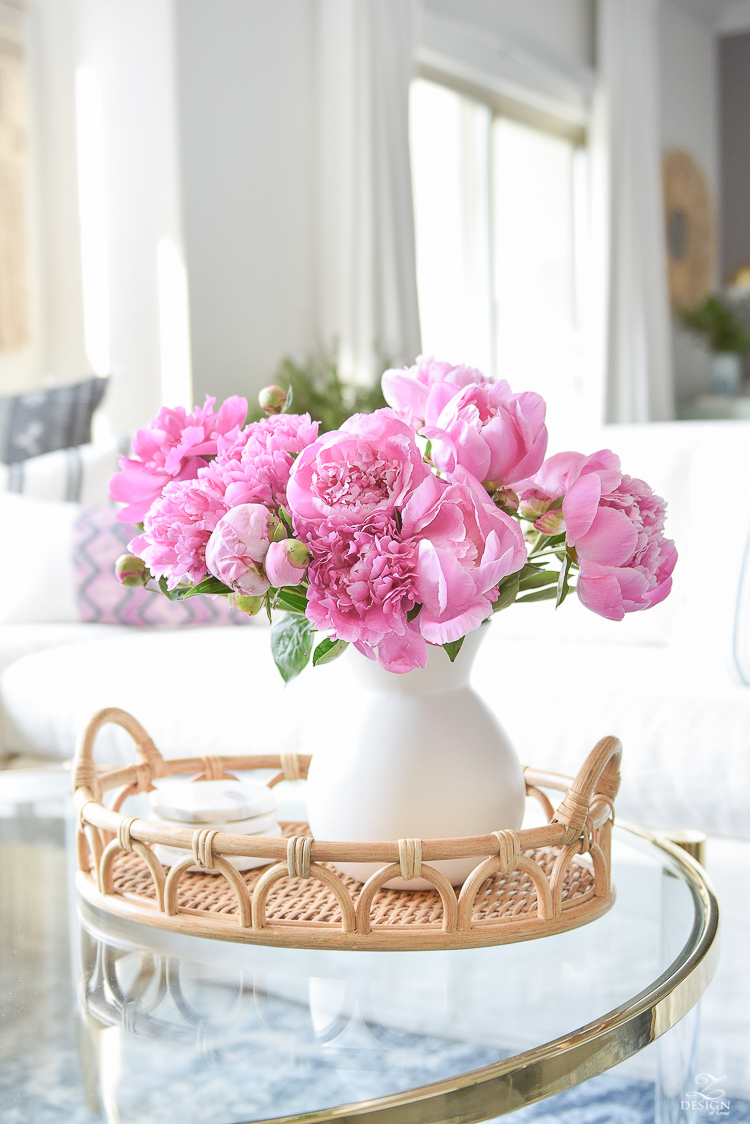 And this rattan tray is perfect for summer decorating.  Jute, rattan, and natural materials are super hot right now and are especially perfect for summer decorating this year!  I'm keeping my display here on the coffee table simple and clean and allowing the peonies to steel all of the glory!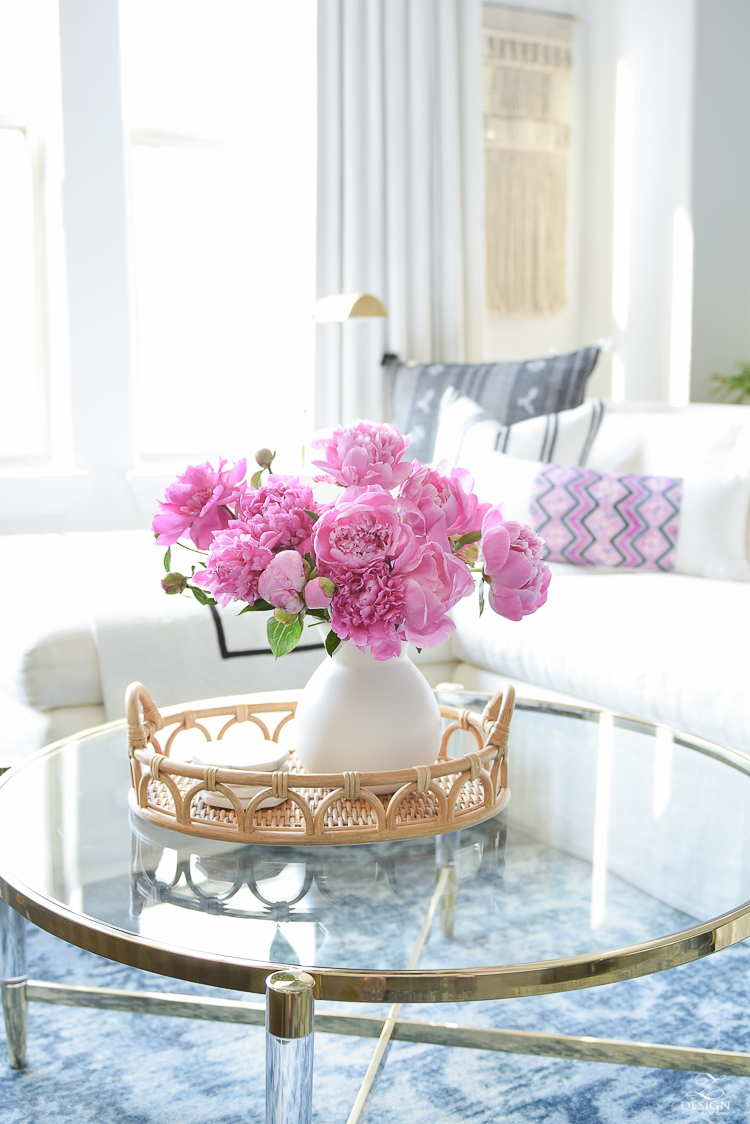 Since I have a new look in the bedroom for summer (you can see my new linen bedding HERE) I moved some of my decorative pillows from the One Room Challenge into the living room, along with pulling out a favorite black and white pillow from last year.  This look was basically free and fun to recreate in this space for summer, and the pop of pink was the perfect addition to make it feel more like summer in here.
Never under estimate the power of a new look in your space just by moving your favorites around the house!  I had stashed away this brass floor lamp (similar) and am loving the look of seeing it back in the space.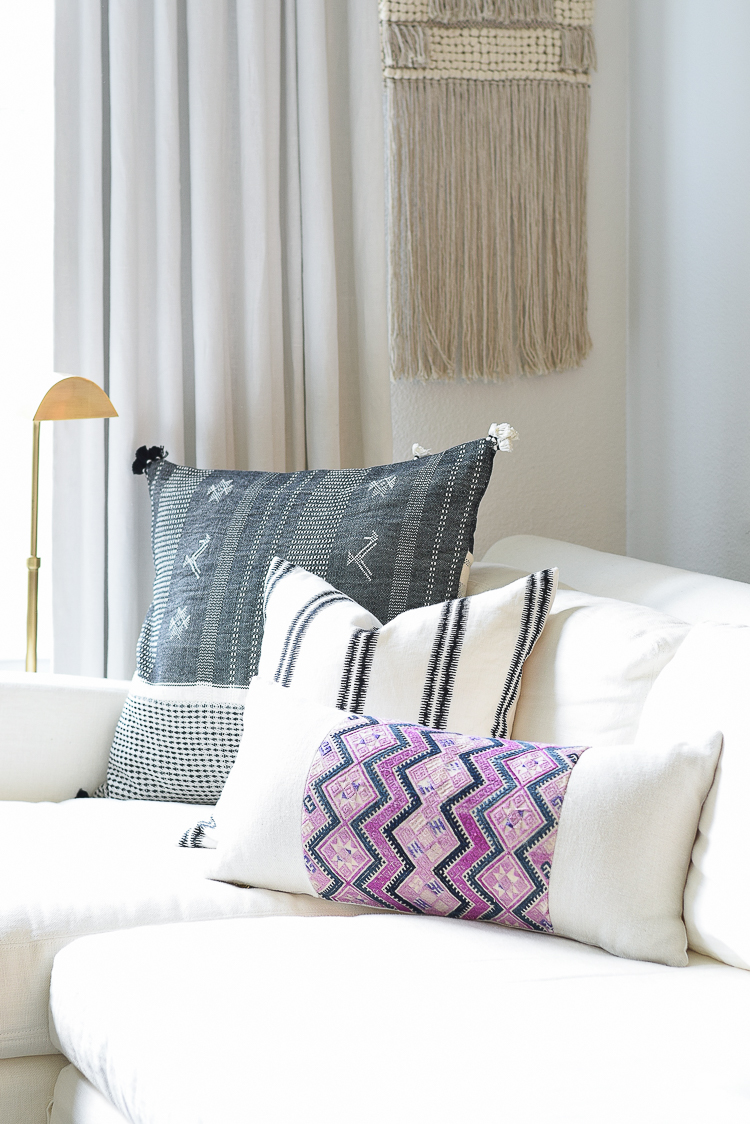 24″ Black/White Tassel Pillow | Black/White 20″ Pillow (middle) | Pink/black Chinese Wedding Pillow (similar)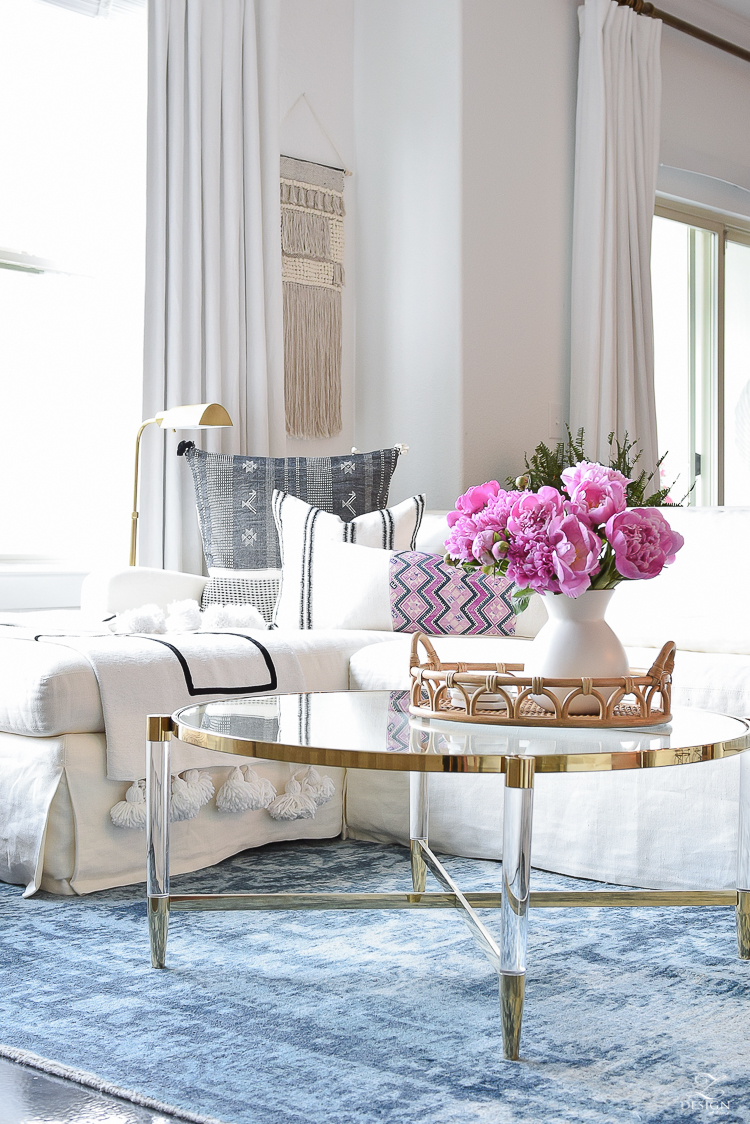 All of the living room updates are simple and repurposed from around the house, leaving the space feeling clean and summer ready!  You'll notice I also moved my favorite black and white tassel throw from the master bedroom.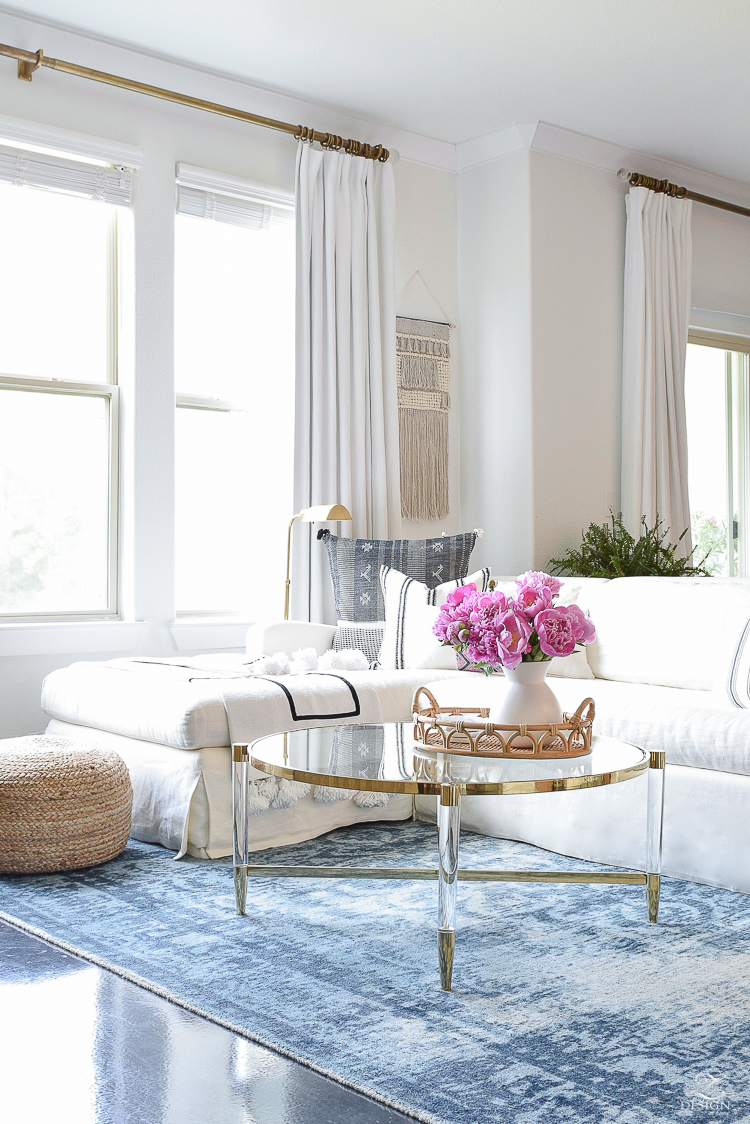 The natural jute pouf was purchased for my One Room Challenge bedroom but it didn't end up working out for that space so it found a new home in here, where we actually needed it as a foot rest.  I love the way the pouf and the rattan tray compliment one another and give the room a summer vibe.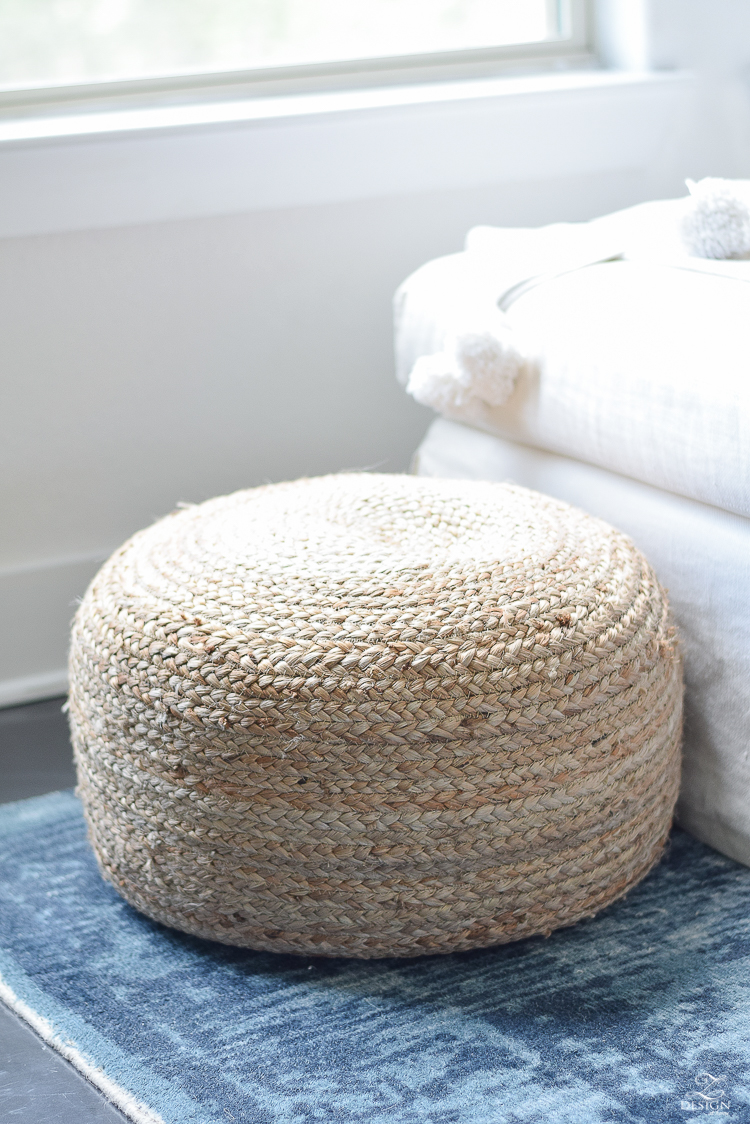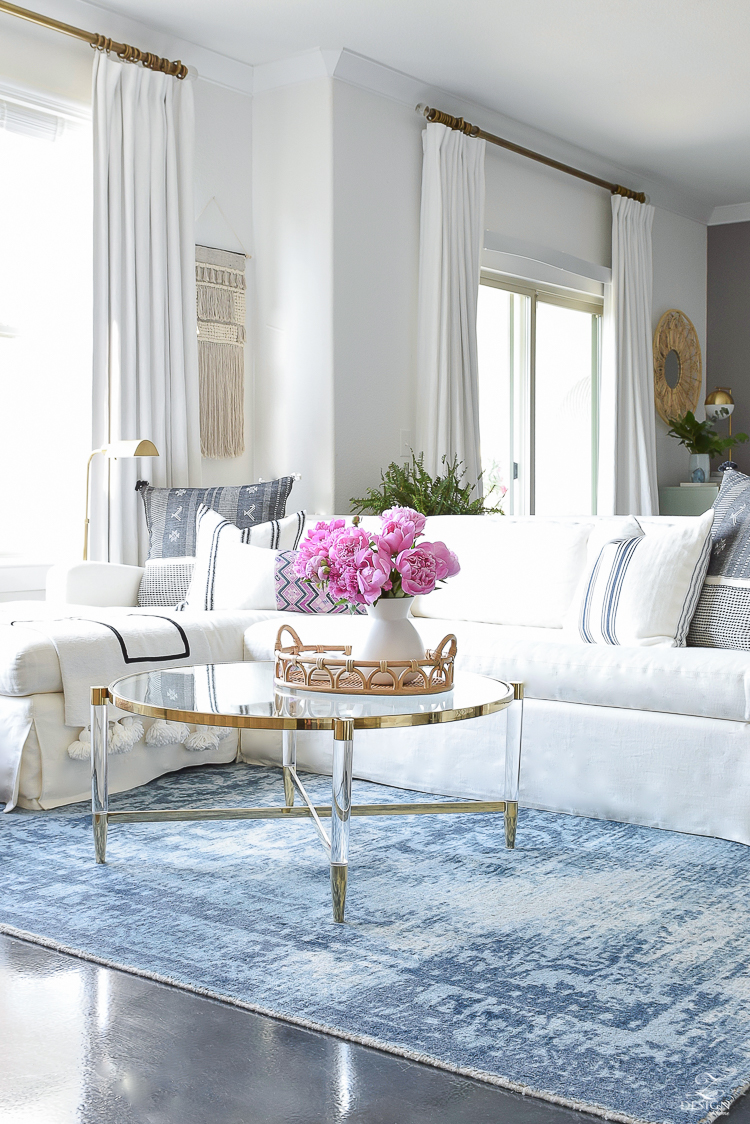 The media side of the space received minimal changes but one thing I always like to bring out for summer decorating is a piece of driftwood decor.  I love decorating with coral too but unfortunately I didn't manage to incorporate any of that this summer.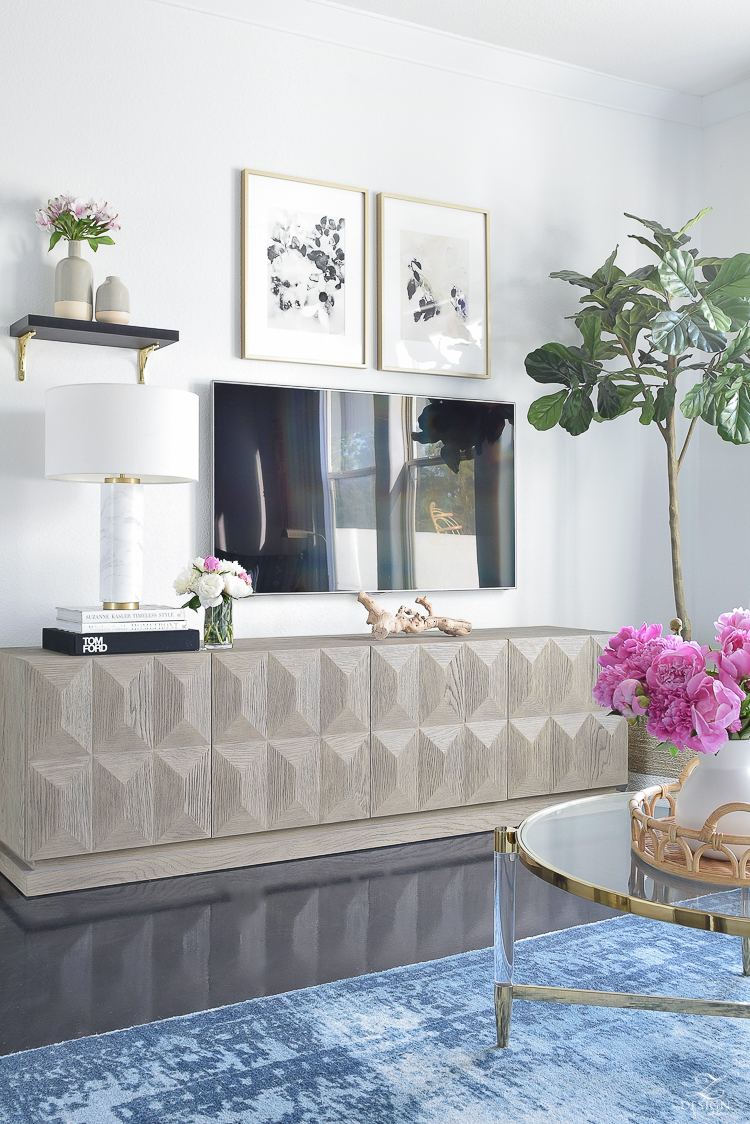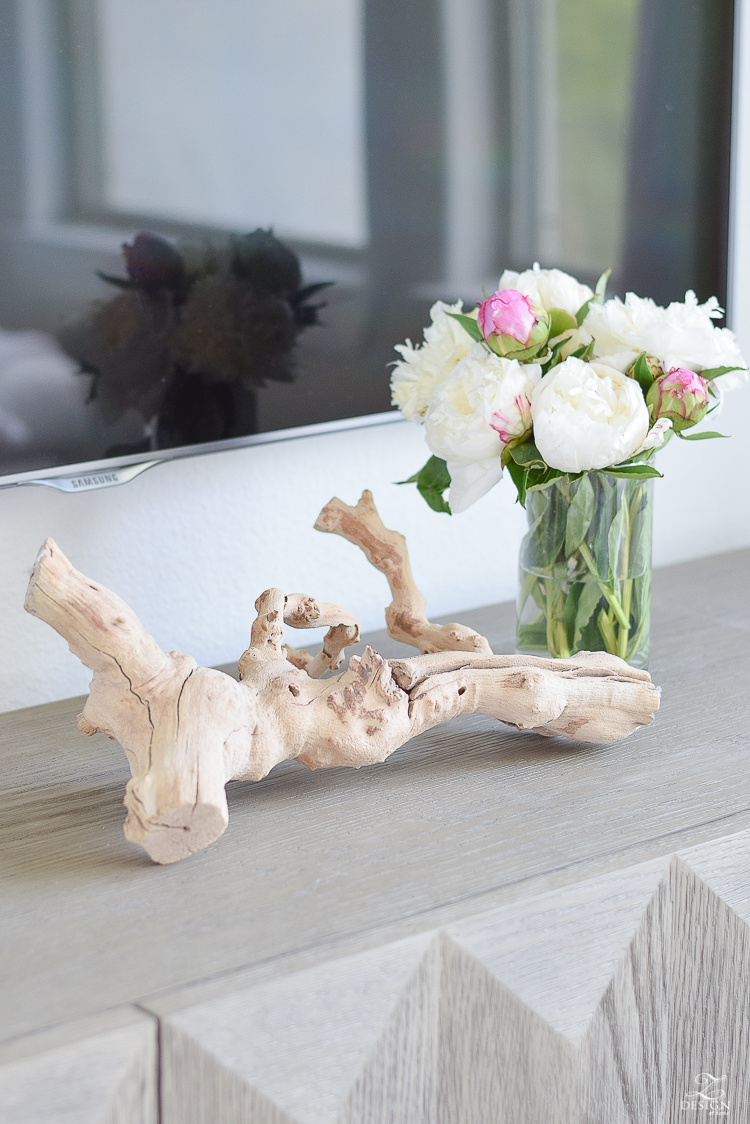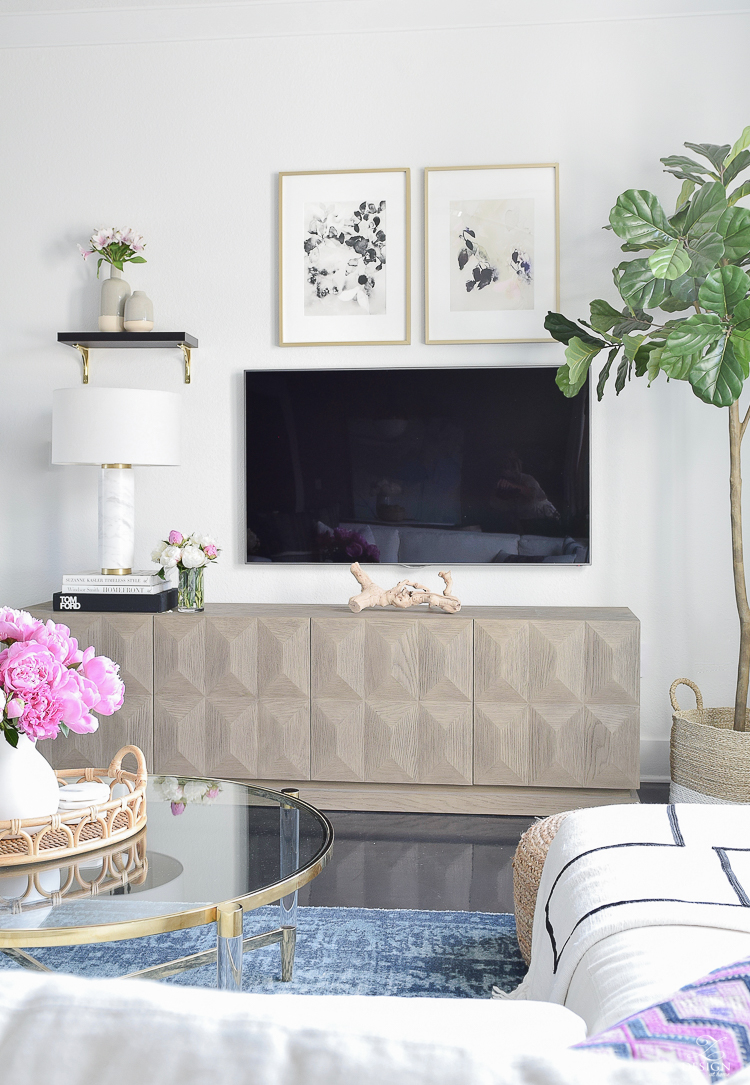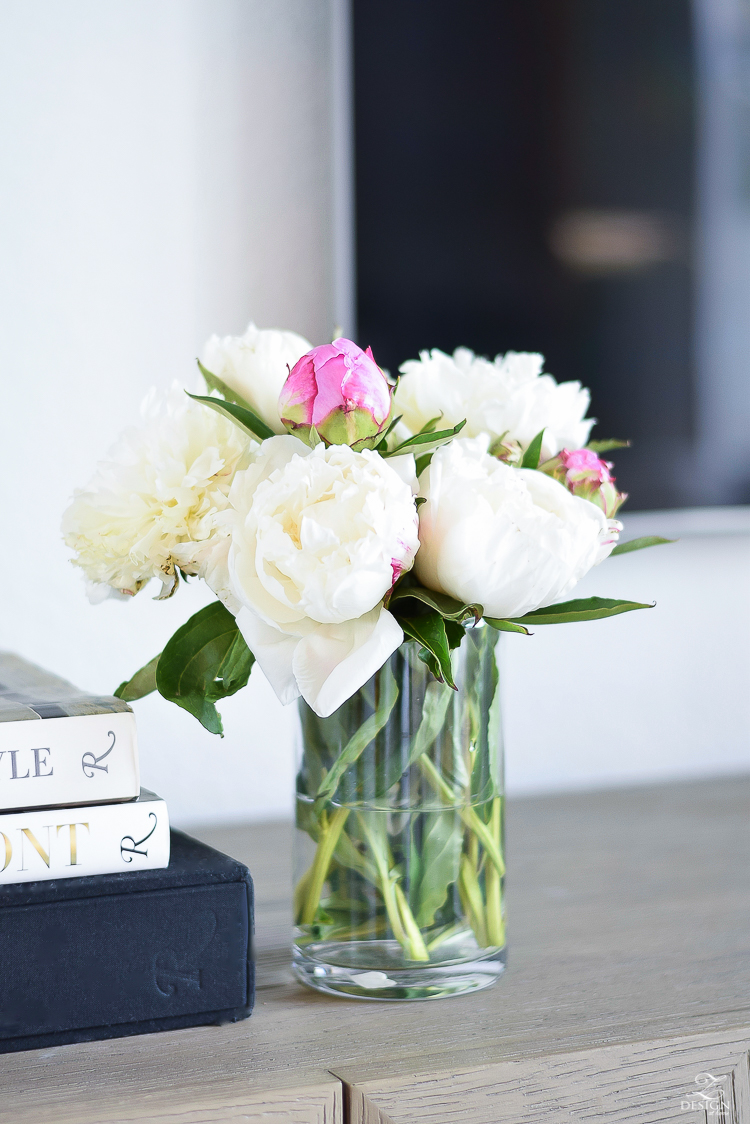 The Dining Room
I also kept things simple and clean in here and I LOVE it!  I did add a new rug (my all time favorite blue distressed rug) but not necessarily because of the seasonal change.  We desperately needed a rug here and because the dining space in our rental is so close to the living space any other rugs I tried in here clashed with that one so I decided to use the same rug as the living room, and it works perfectly!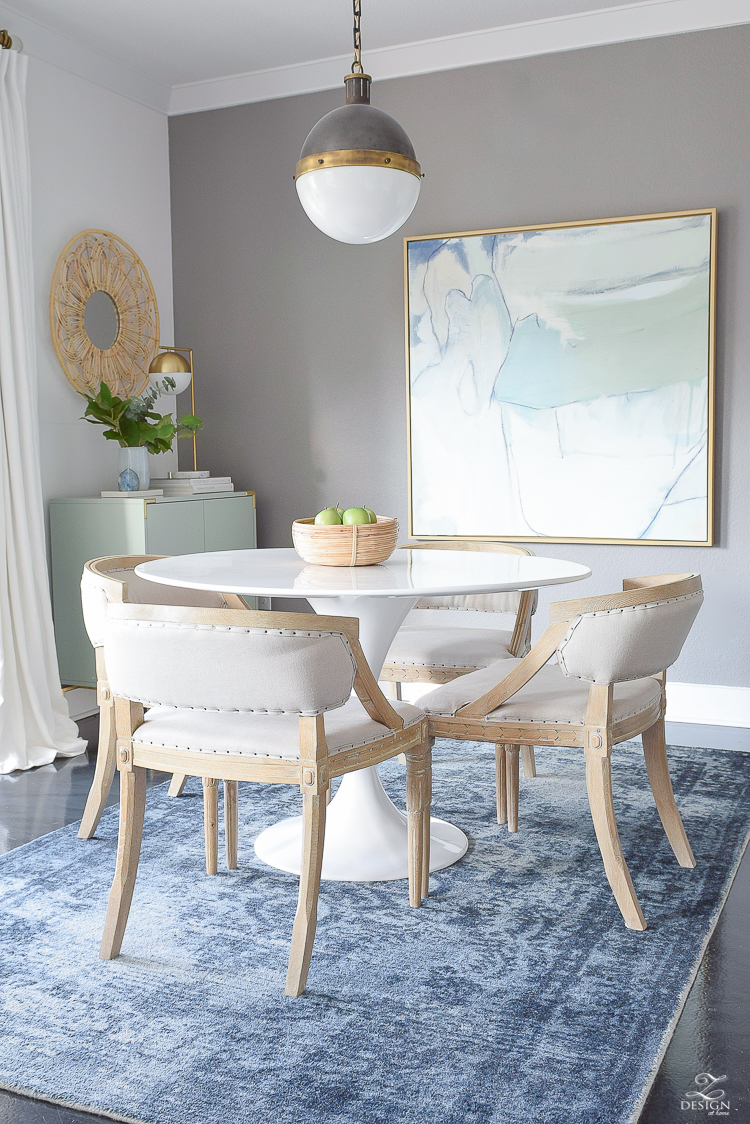 For a simple table topper I used a favorite rattan bowl for fruit.  Again, bringing in that natural texture and color for the summer season is so important this year.  It's just a simple touch that goes a really long way!
I also switched out the mirror with this oversized canvas art that I've had for a few years now.  Loving the statement it makes on the gray accent wall!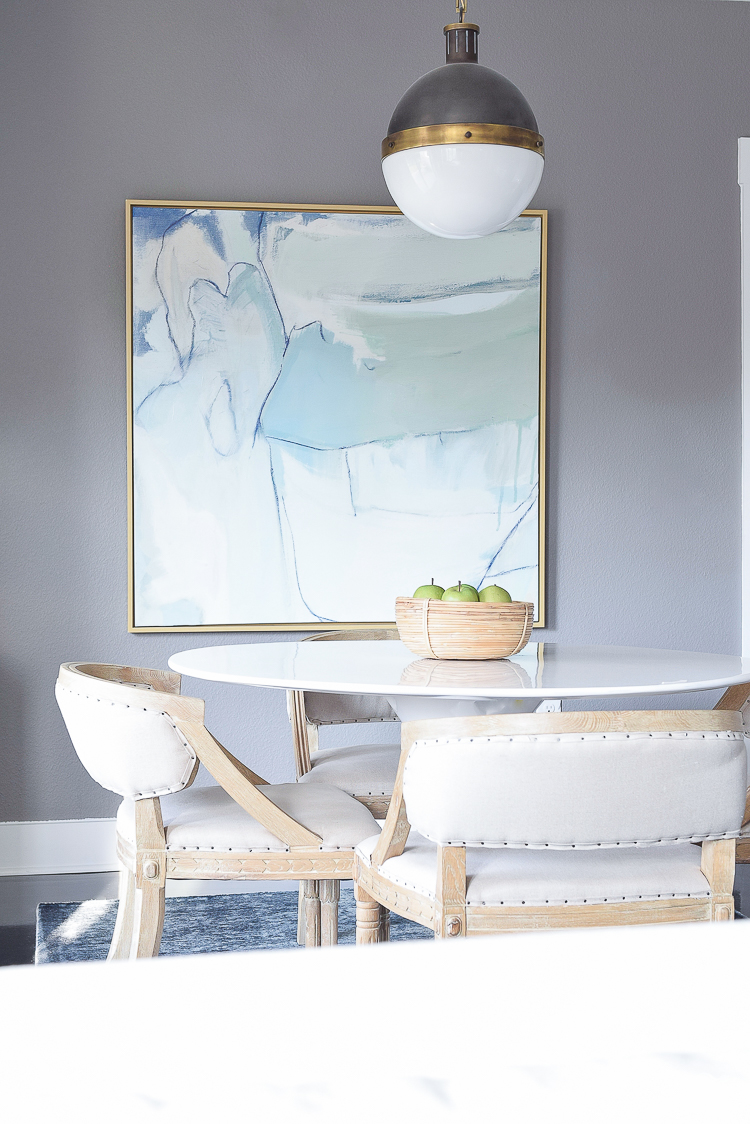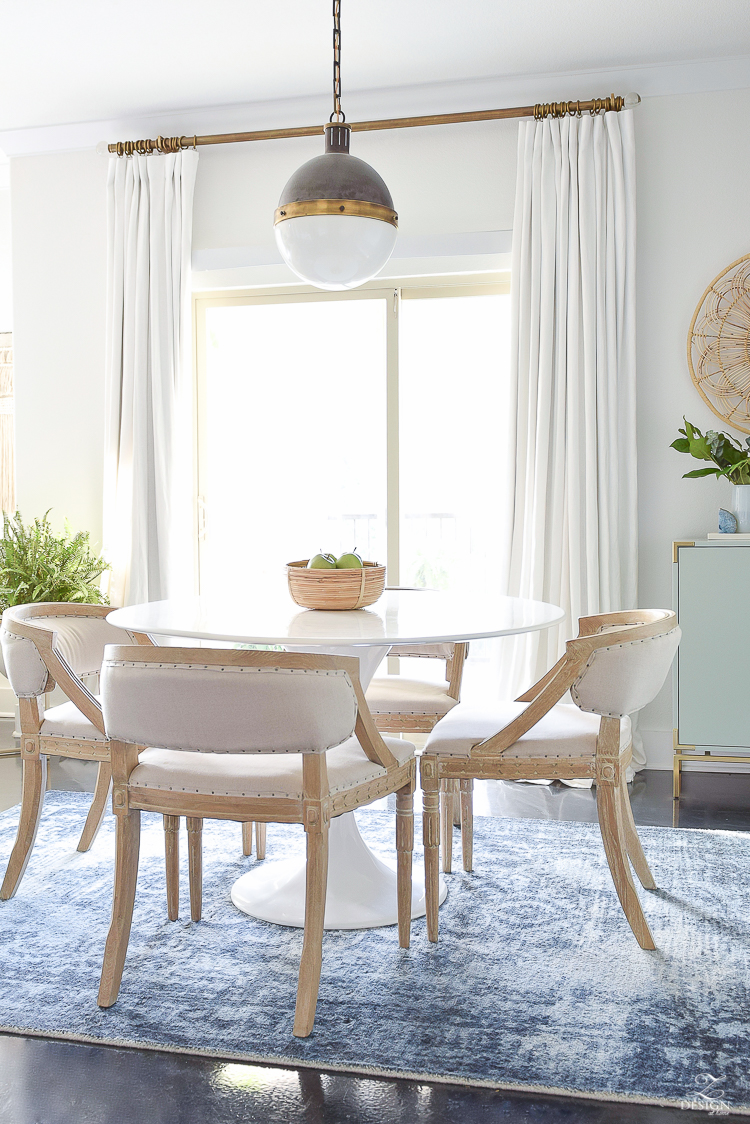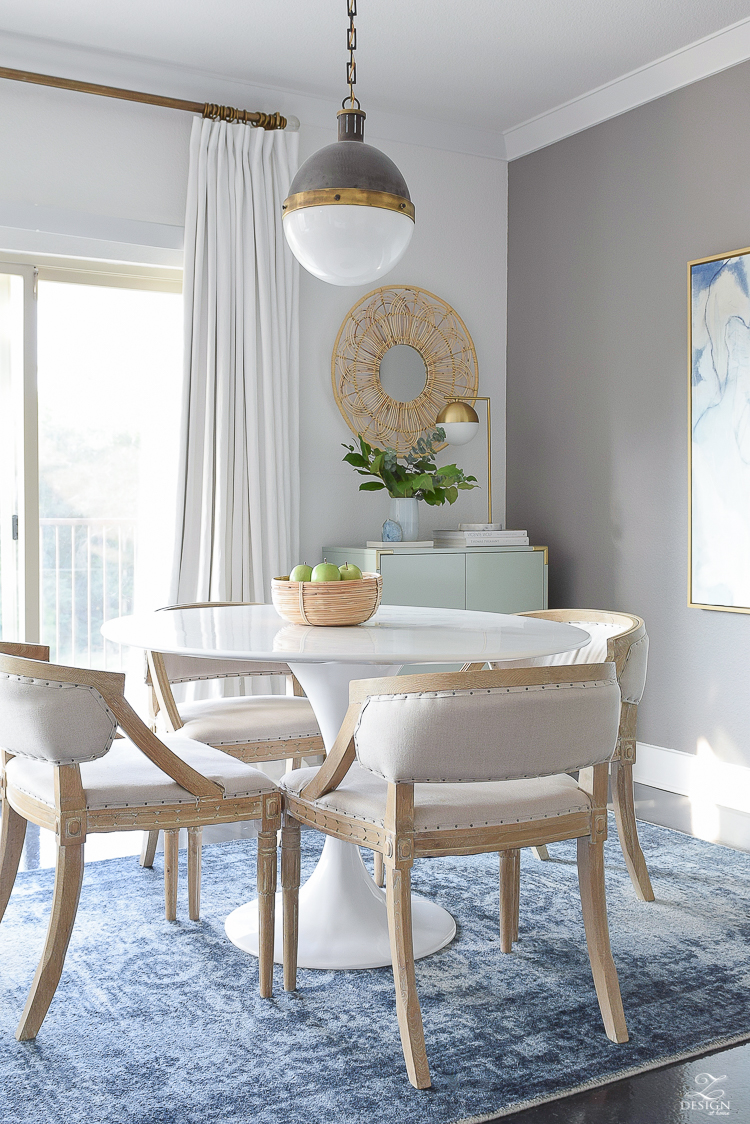 The bar cabinet area received an update late spring with a rattan mirror (similar).  But I also love pulling out things like this agate bookend for a pop of color and summer flare.  I also pulled out this brass lamp that blends so nicely with the mirror.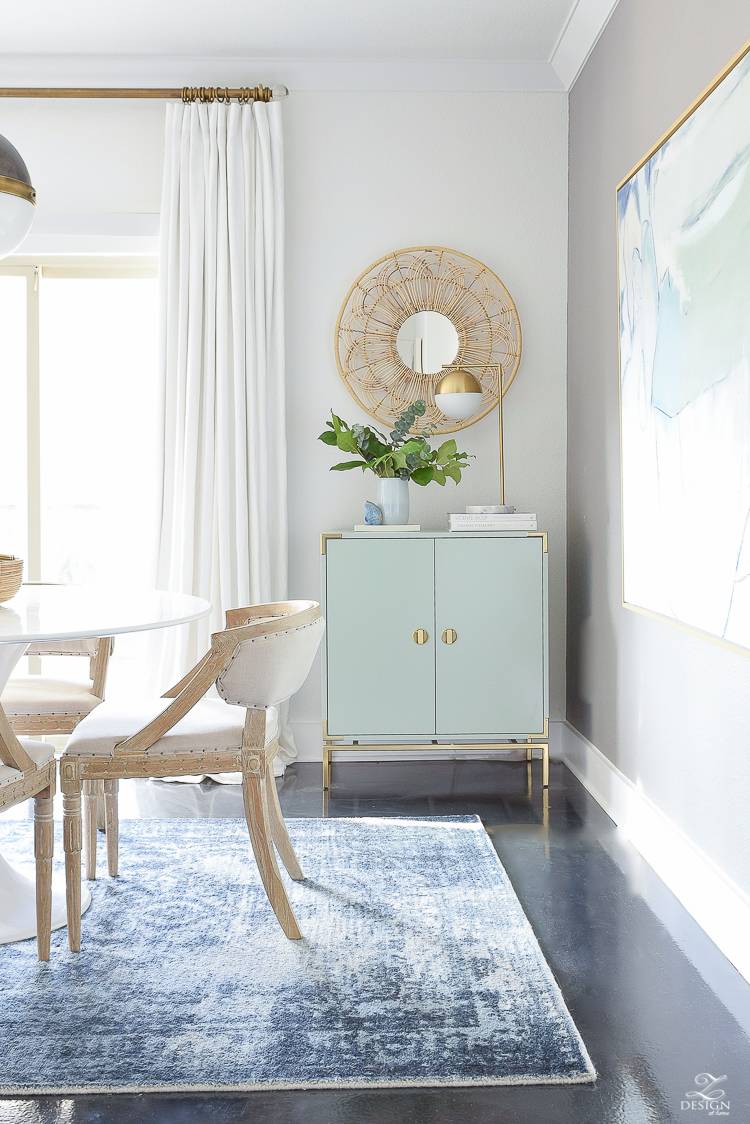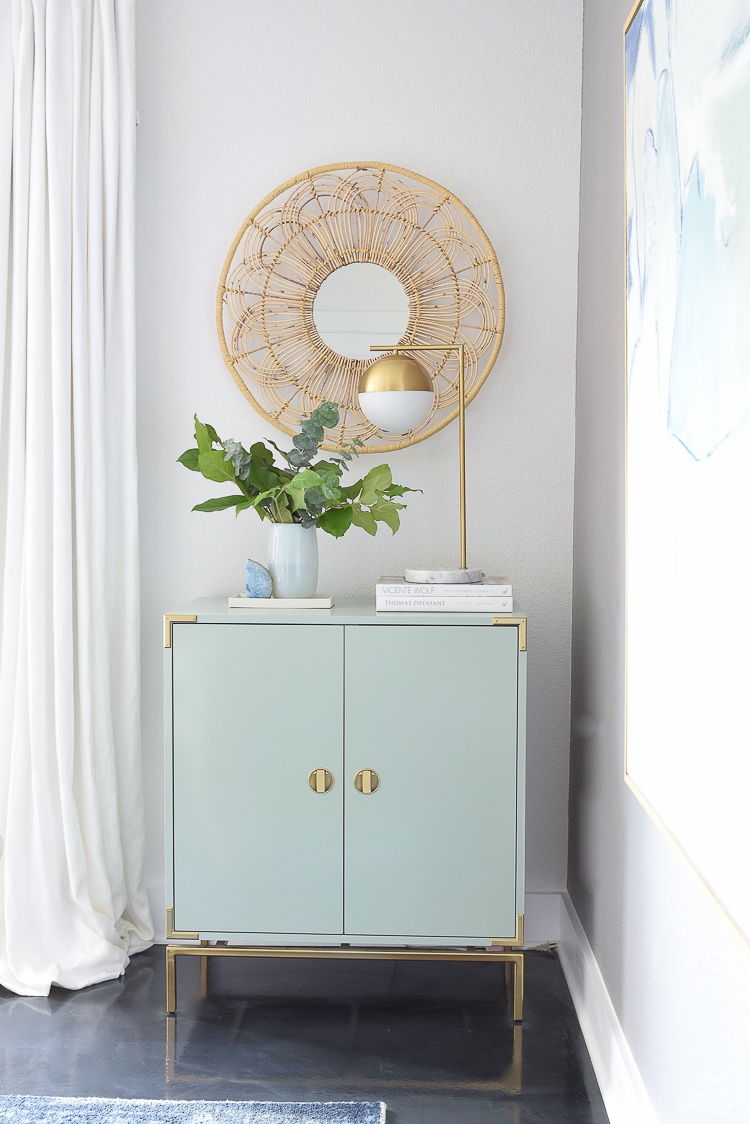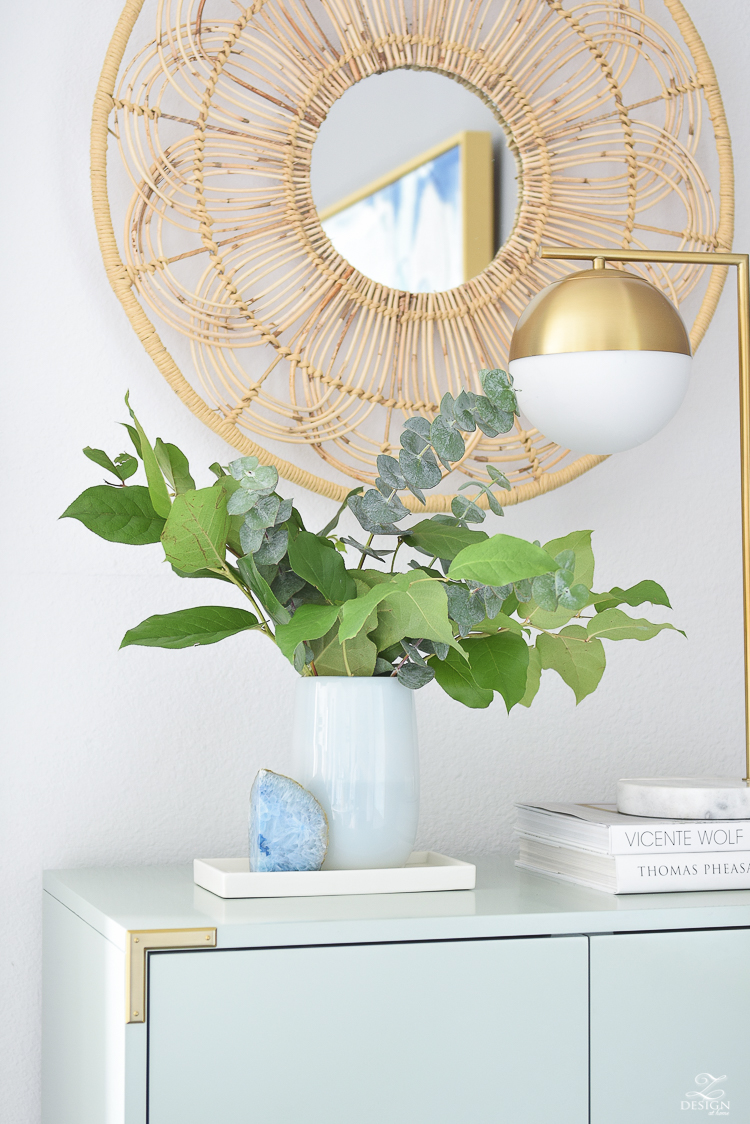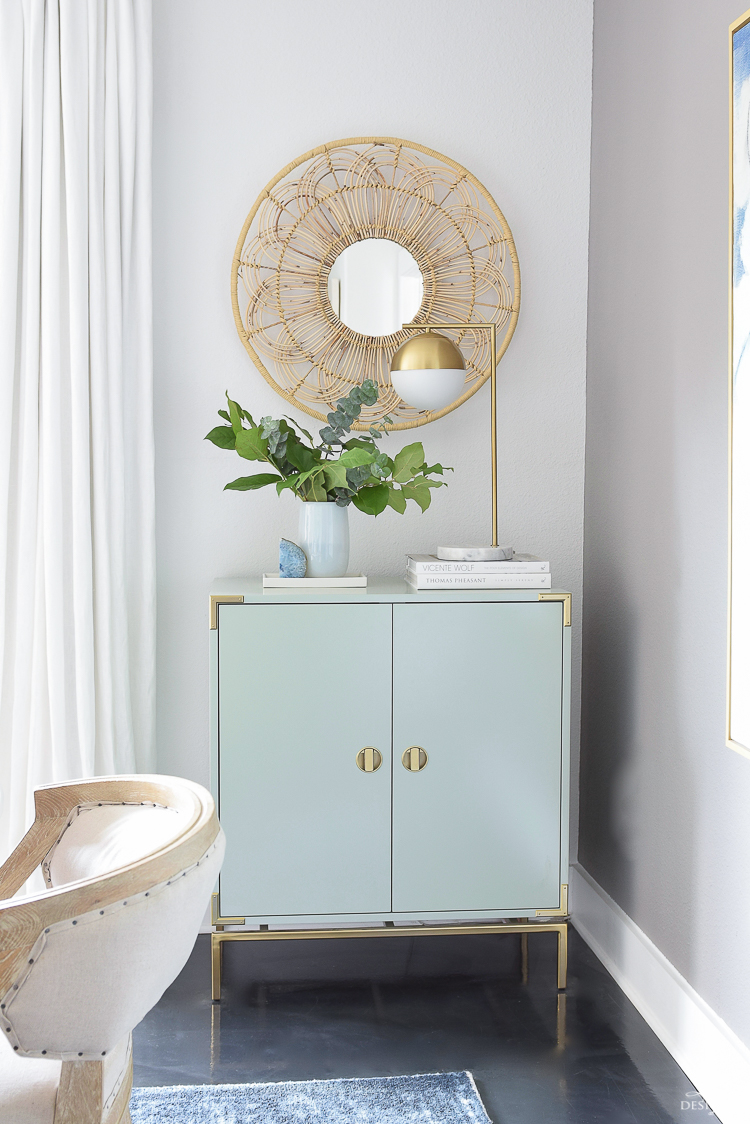 The Bedroom
Moving on to the bedroom.  You may have seen my new linens that I shared recently…if you haven't you have to check it out because they are making for he most luxurious bed this summer!  You can view that post HERE.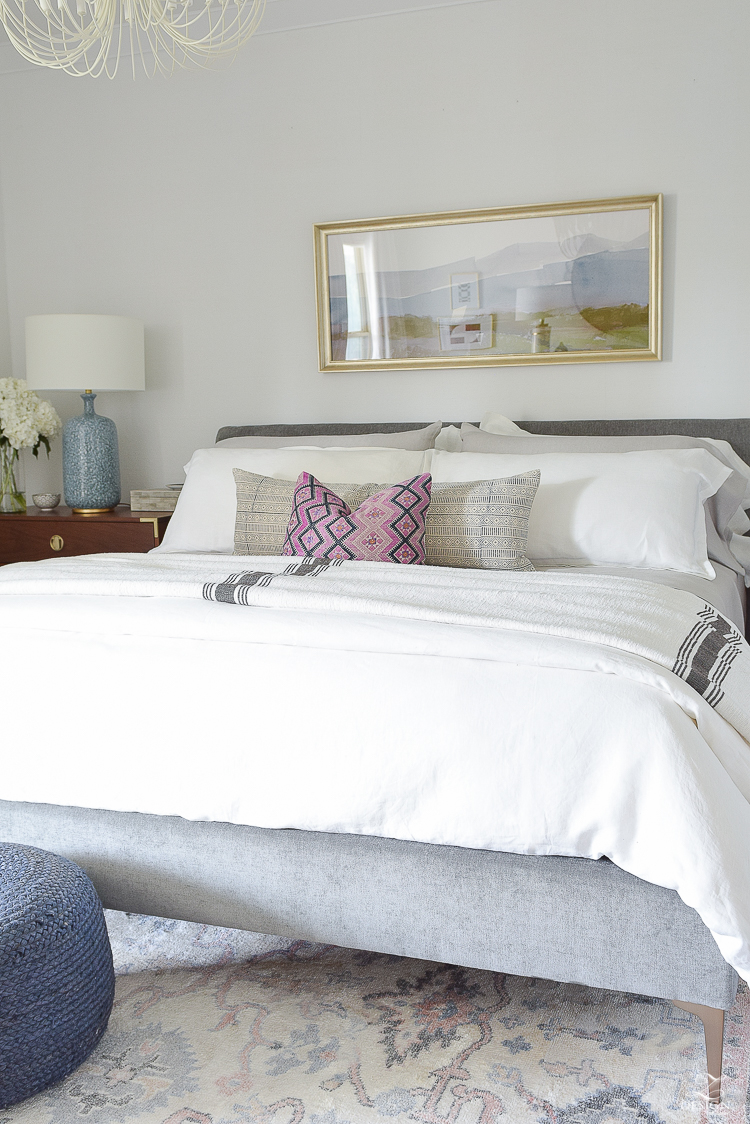 The only thing I did was to add a couple of decorative pillows back in from the ORC (HERE & HERE -similar) and a throw to the end of the bed.  Again, I purchased this oversized black and white tassel throw for the ORC and didn't end up using so it ended up being the perfect layer for summer since it's light weight.  The only problem is that I can't figure out which way I want to use it since I love the large black tassels showing over the end of the bed.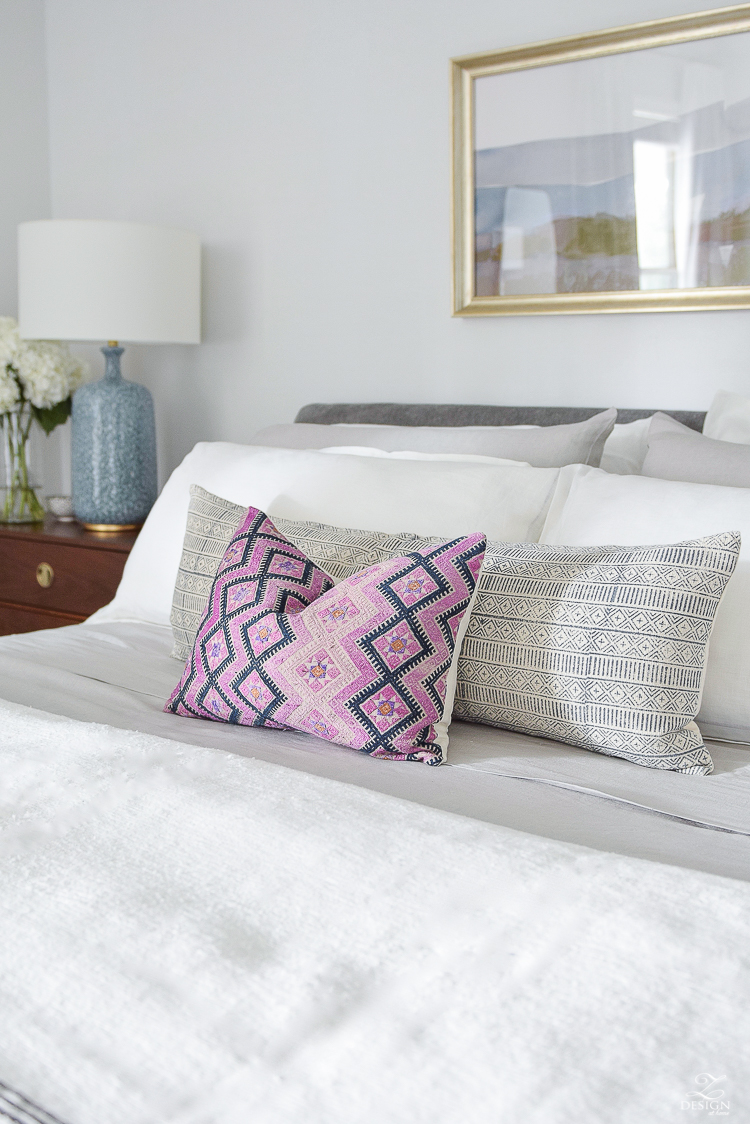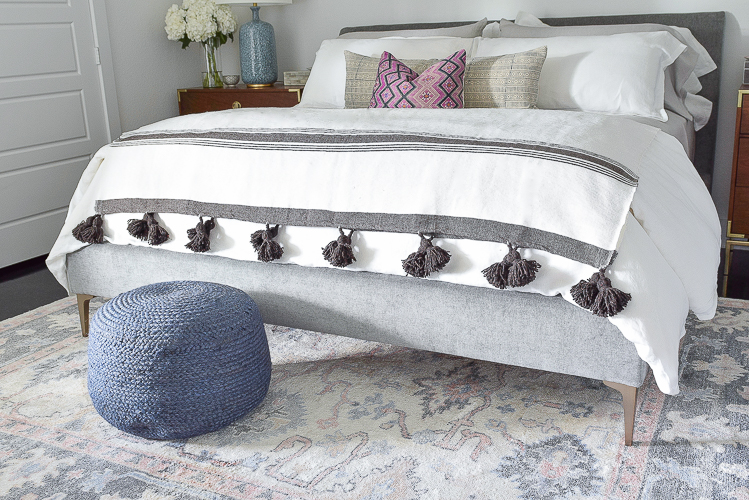 I had also acquired this art piece that is perfect for over a bed for the ORC but didn't end up using it so we are using it now for summer to add a pop of color in here. I love the way it blends with the rug and love the life it brings to the space.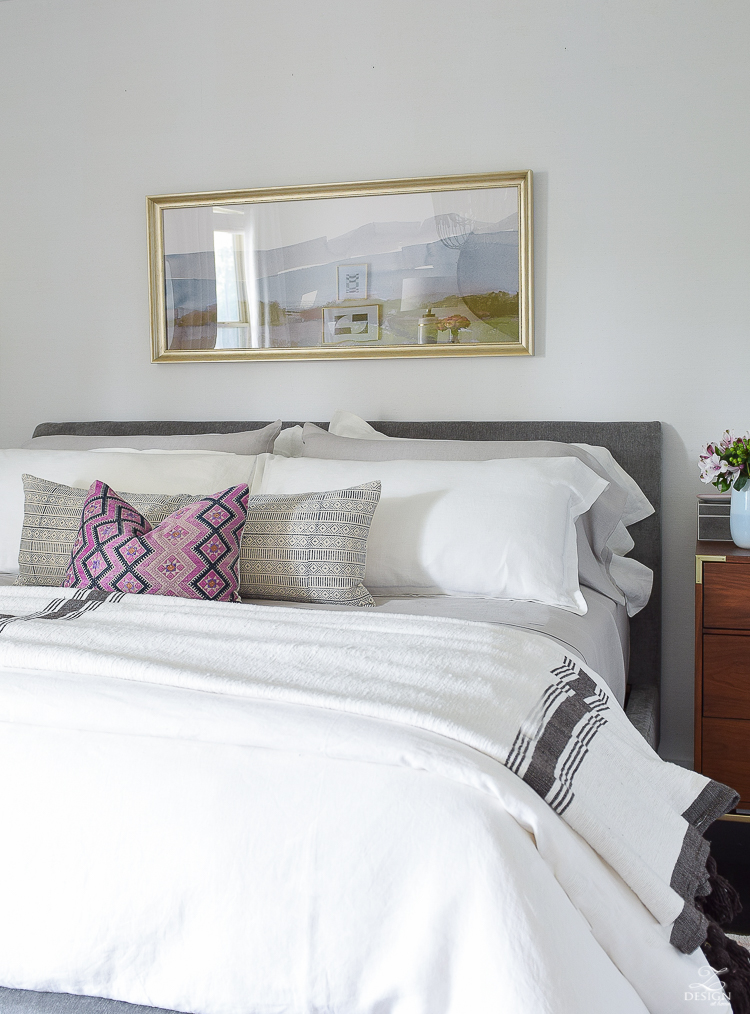 The nightstands stayed the same but as always with the addition of a new bouquet of fresh flowers.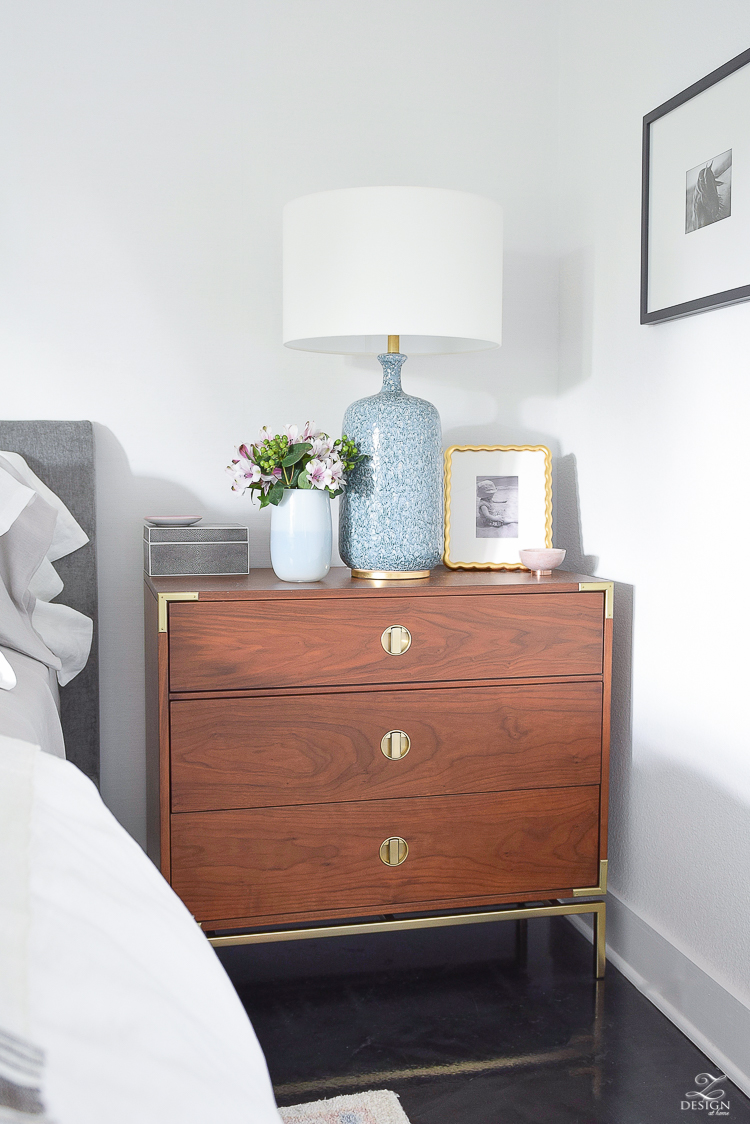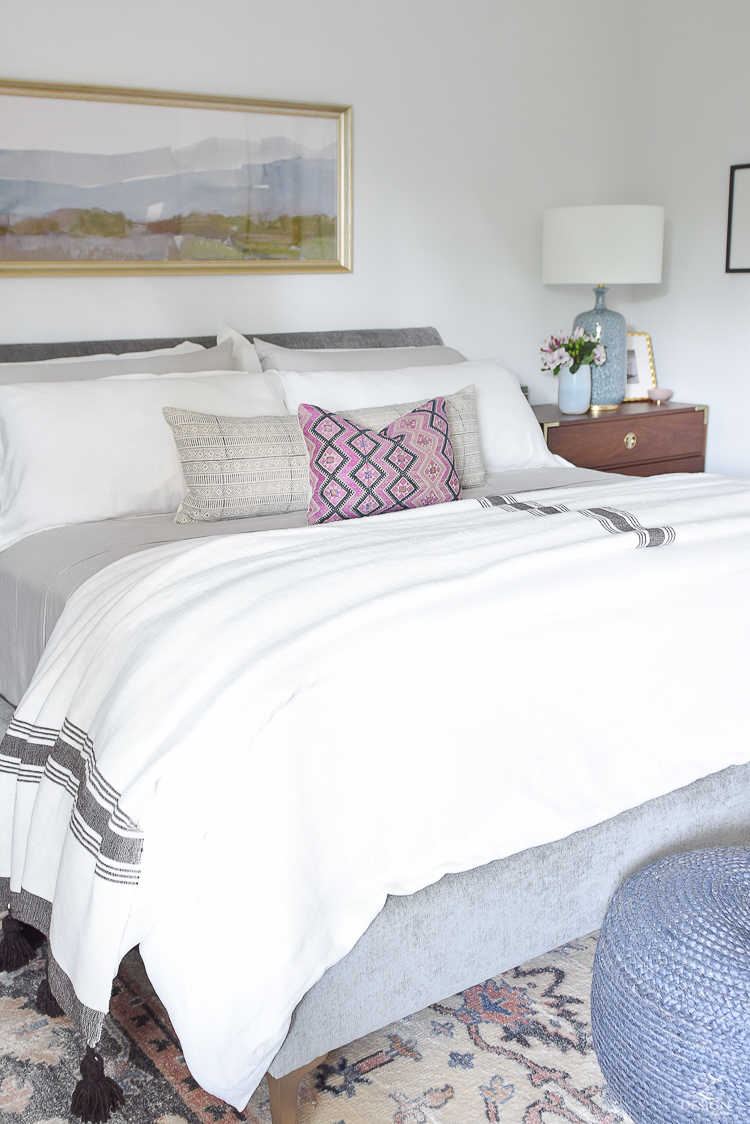 We're still loving the new chandelier in here.  If you don't have one in your space I highly recommend it!  Since adding this for the ORC it has completely changed the look and feel of this room, for the absolute good.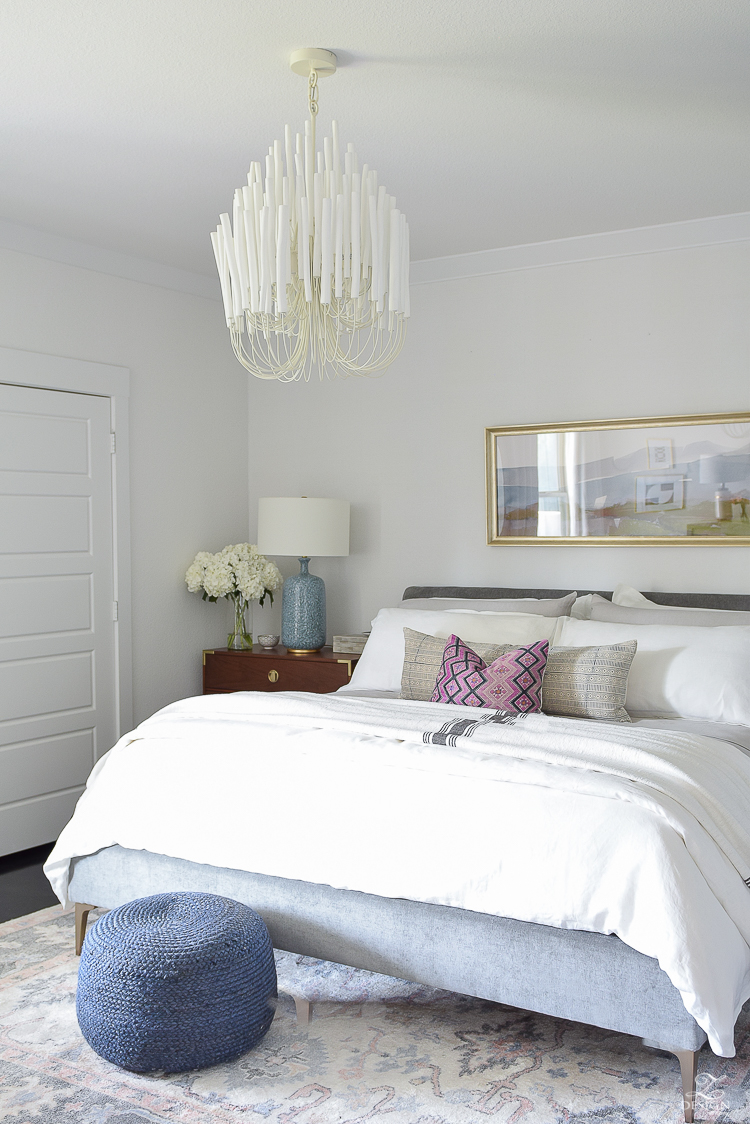 The opposite side of the room where the oversized dresser is always receives simple updates.  I'm so in love with this black rattan tray and love the natural element it brings to the space.  Also still really loving our black round mirror (it used to be gold but we sprayed it black for the ORC recently)…similar mirror HERE.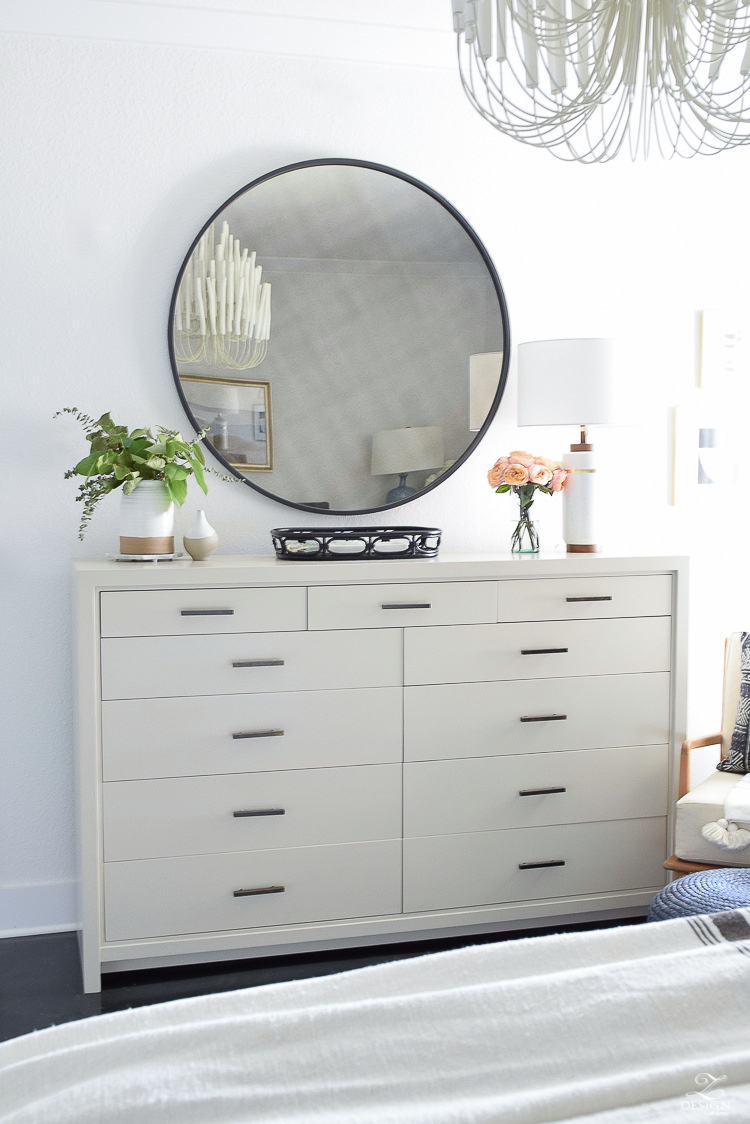 And last but not least is the window and sitting area in the space.  Still so in love with our new custom white linen curtains.  All I did over here was to move pillows around.  You can find the black mud cloth pillow HERE.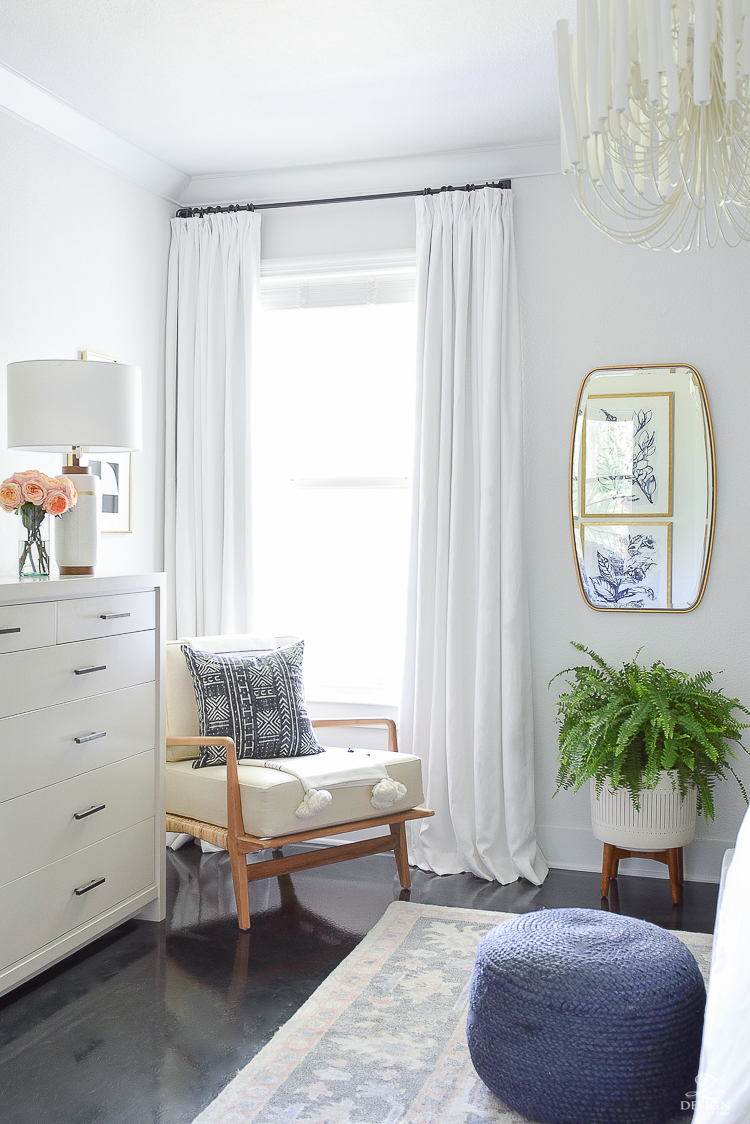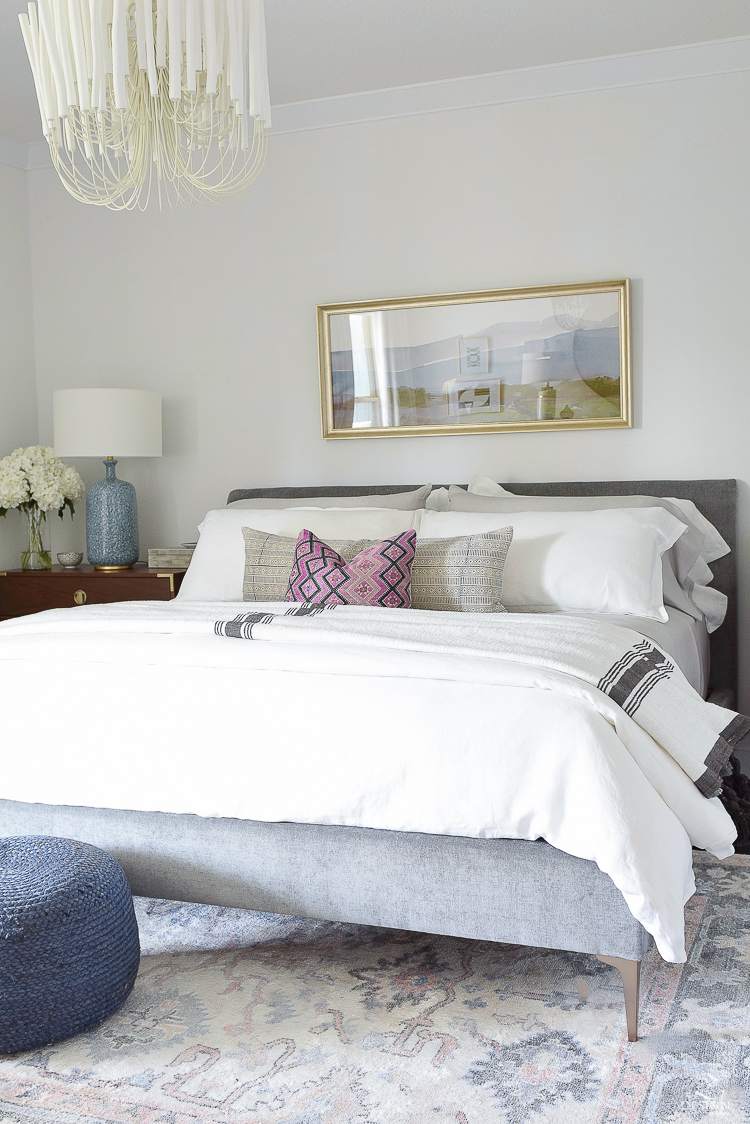 I hope you've enjoyed the tour and I also hope that you will take some time to visit these other inspiring ladies on the tour listed below.  Next please visit Laura of Inspiration for Moms.  I love her tip filled blog and I know you will too for loads of summer inspiration so I sure hope you'll go visit her now!!
2018 Summer Home Tour links
Monday – June 11