My Top 5 Summer Decorating Tips + A Airy Summer Home Tour
While things try and get back to normal around the world you may still find yourself staying in more than usual this summer.  You may even find yourself having your best staycation yet this summer!  In these crazy and usual times of dealing with a global pandemic, I honestly can't think of a better place to be if we can't be off vacationing with family and friends in the sand and sun.  I hope you are all at least getting outside some these days – we take several walks per day around here just to get out of the house and move a little but we have no major travel or trips on our radar this summer so if you're staying home like us, I'm sharing My Top 5 Summer Decorating Tips + A Airy Summer Home Tour that I hope you will enjoy!
*This post contains affiliate links.  Please read my full disclosure policy here.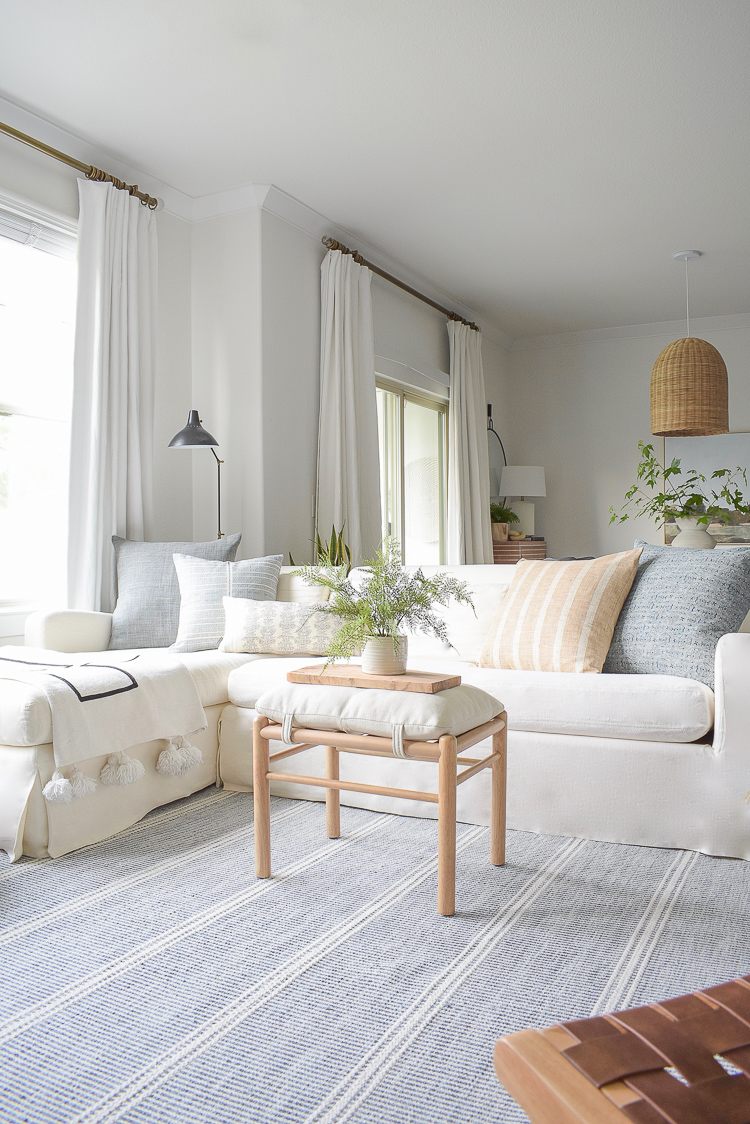 I've said this before but spring and summer are my absolute favorite times of year to decorate (you can see my spring home tours here and here) for the simplicity of the seasons.  I love the pops of color and greenery that can bring the outdoors in and that it just feels like easy, stress free decorating to me but, I start my summer decorating by decluttering and taking everything out of the room before I start bringing items back in (tip #1).  I like to keep things super simple this time of year so I always find it's best to start with an empty space, other than leaving your furniture in place.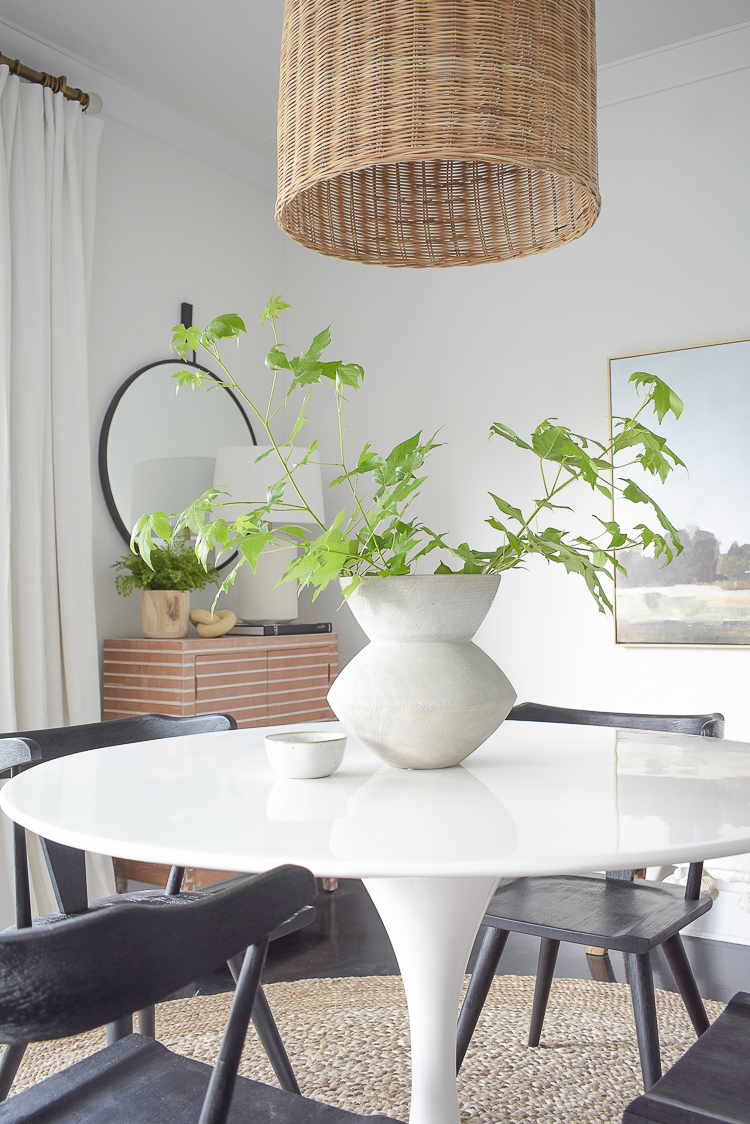 I kept things pretty neutral over the cooler months so for my summer decor I brought back in this beautiful, subtle natural blue rug back into my living space for a pop of color.  A pop of color, even if small, is tip #2 for summer decorating.  Even if you are afraid of color you can bring it in subtly with greenery or flowers that won't be around for long if you don't feel comfortable with it, like the photo above.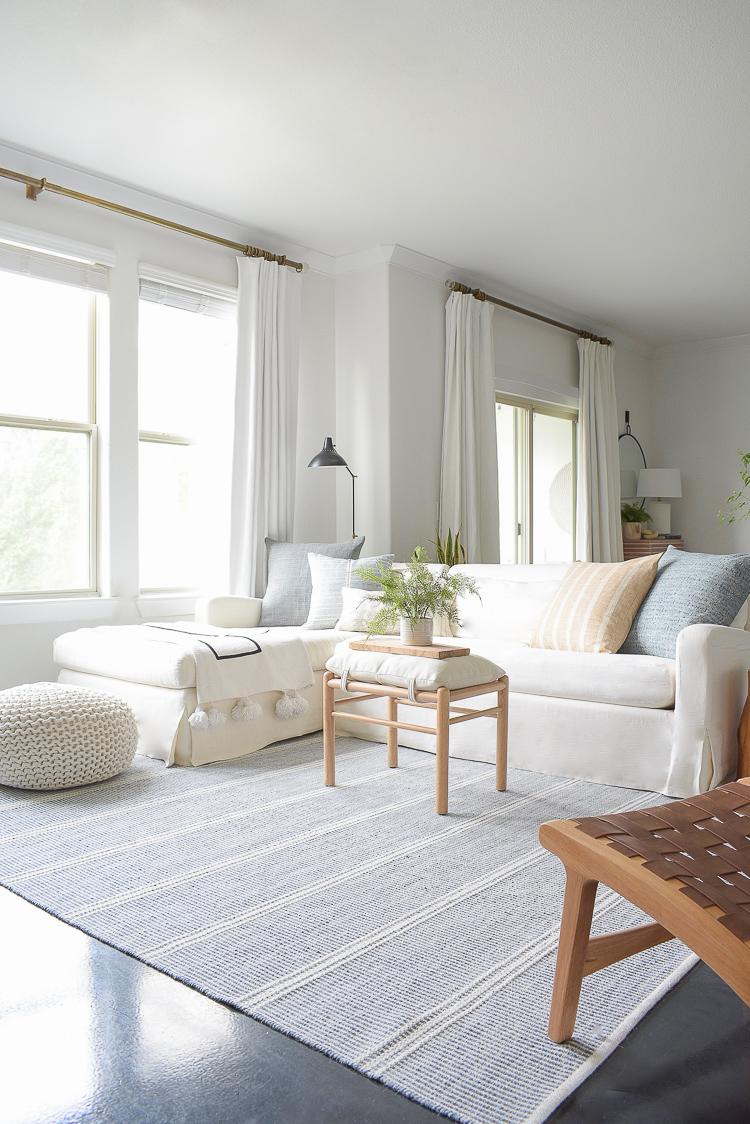 Pillows are the best way to bring color in as well, and some pattern.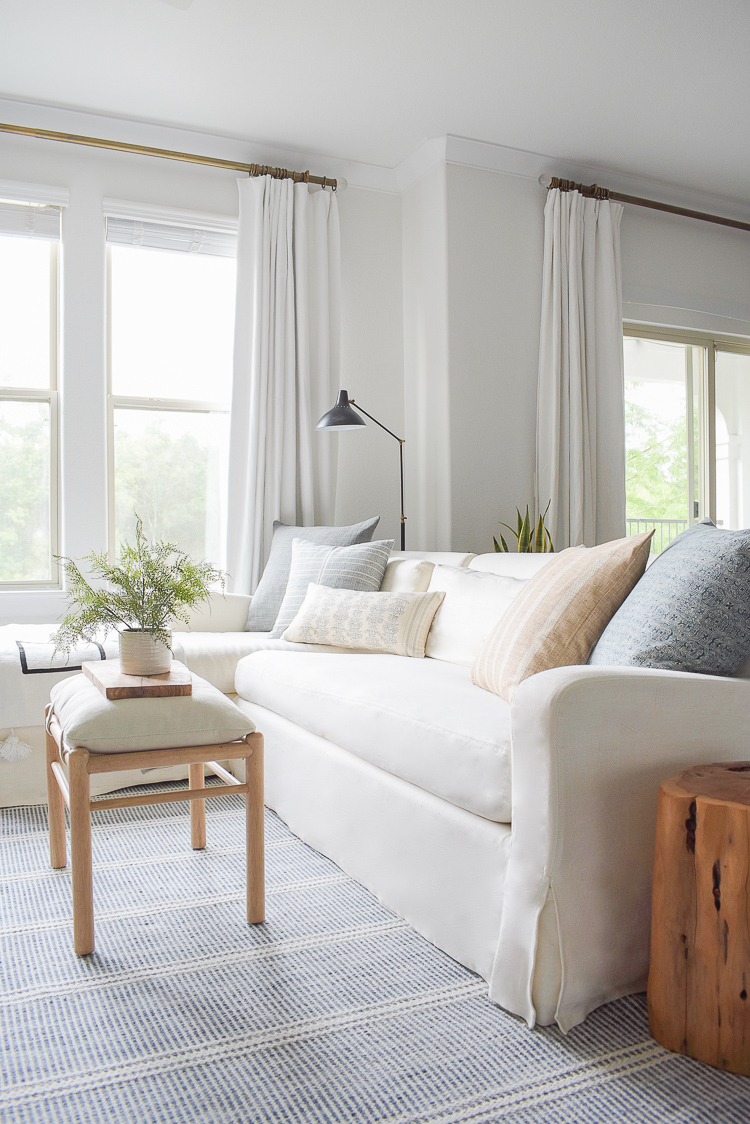 With my pillows, no matter the time of year, I typically like to use a solid, a stripe, a large scale pattern, a small scale pattern and a floral but nonetheless and hands down (besides bringing in flowers or greenery from outside), adding new pillows (or shopping my home for old ones) is my favorite way to add that pop I'm always looking for!
I added a few new ones this year that I'm smitten with…this gray Belgium linen oversized pillow is the perfect size to flank a sofa and is so versatile that it works for all seasons.  This one serves as my solid, of course.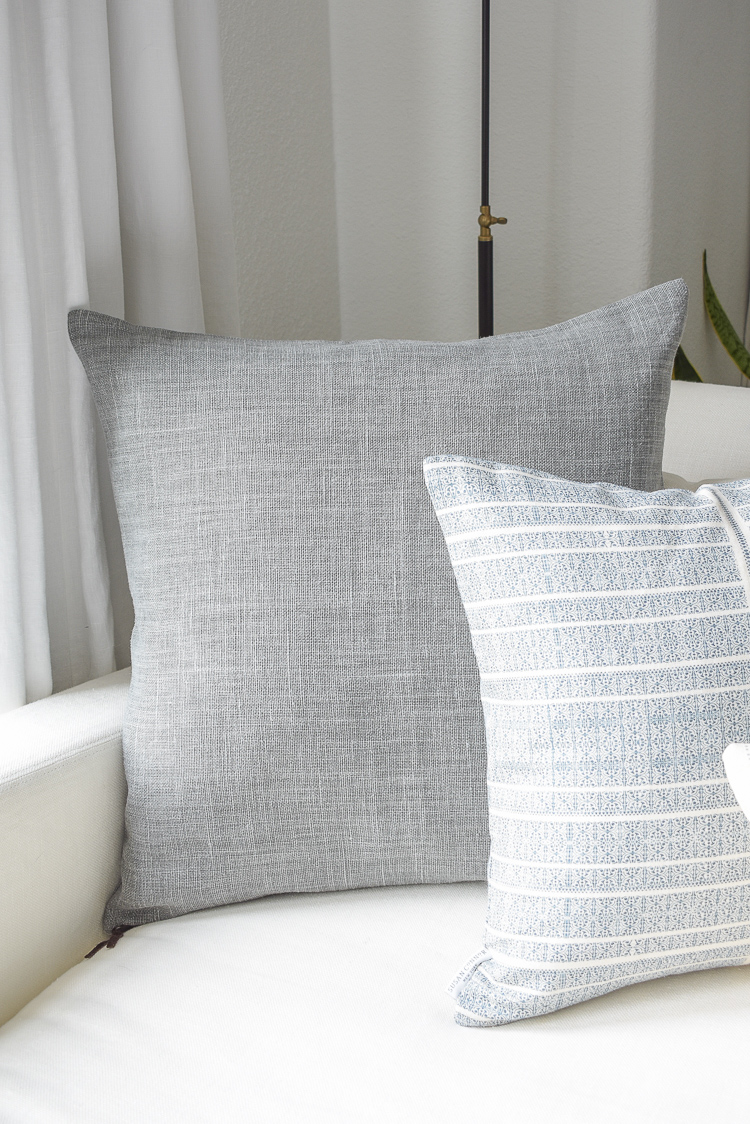 This pillow is my smaller scale patterned pillow, again in a subtle blue, but it also has a stripe detail built into the pattern which is a nice twist!  This one also gives me a added pop of color that picks up on the color in my rug.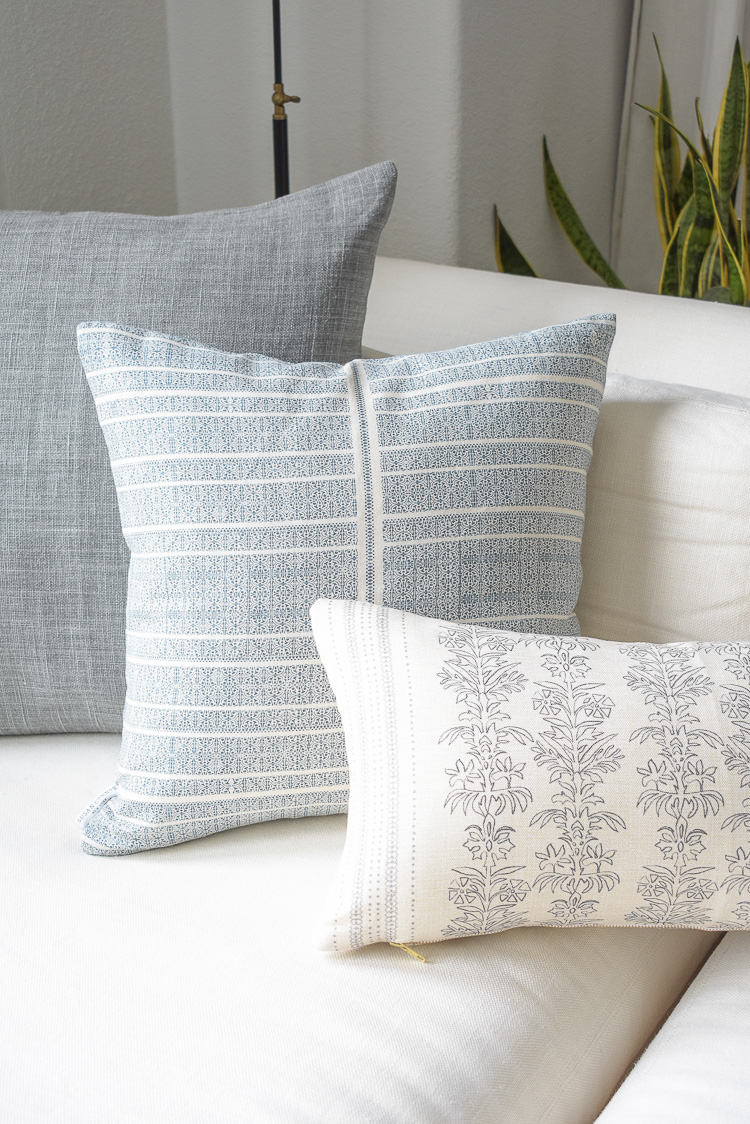 And next is my absolute favorite pillow addition.  This one serves as my floral  – so over the moon with this one and it will be great any time of year in my home with cream and charcoal colors.  I'm thinking about ordering more of this pillow in a larger size for my bedroom in the new house (see my latest post on that here).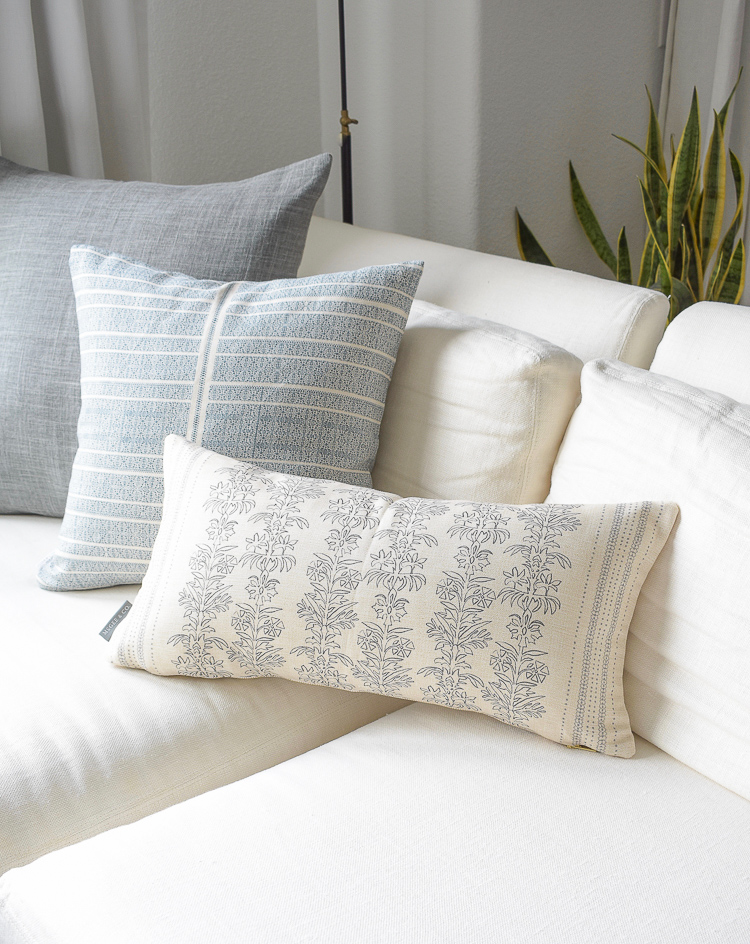 My stripe is this neutral, woven pillow with a cream stripe.  It also adds some texture, which I love any time of year!  It looks really great paired with anything blue or white or cream.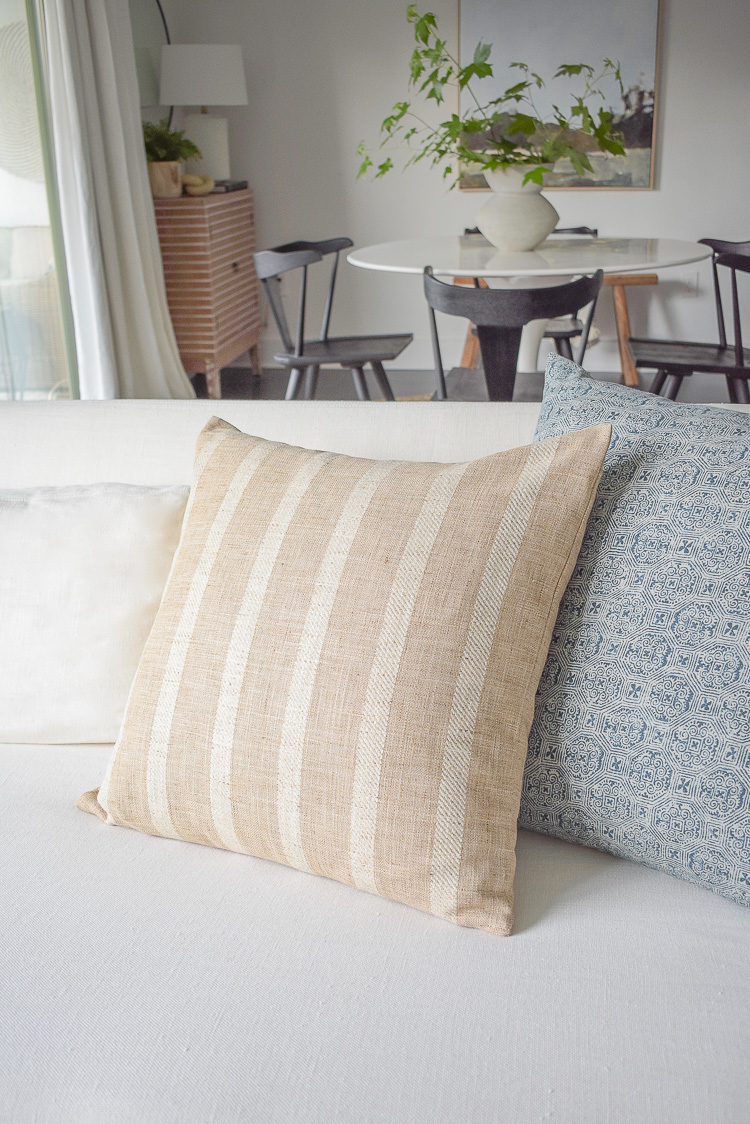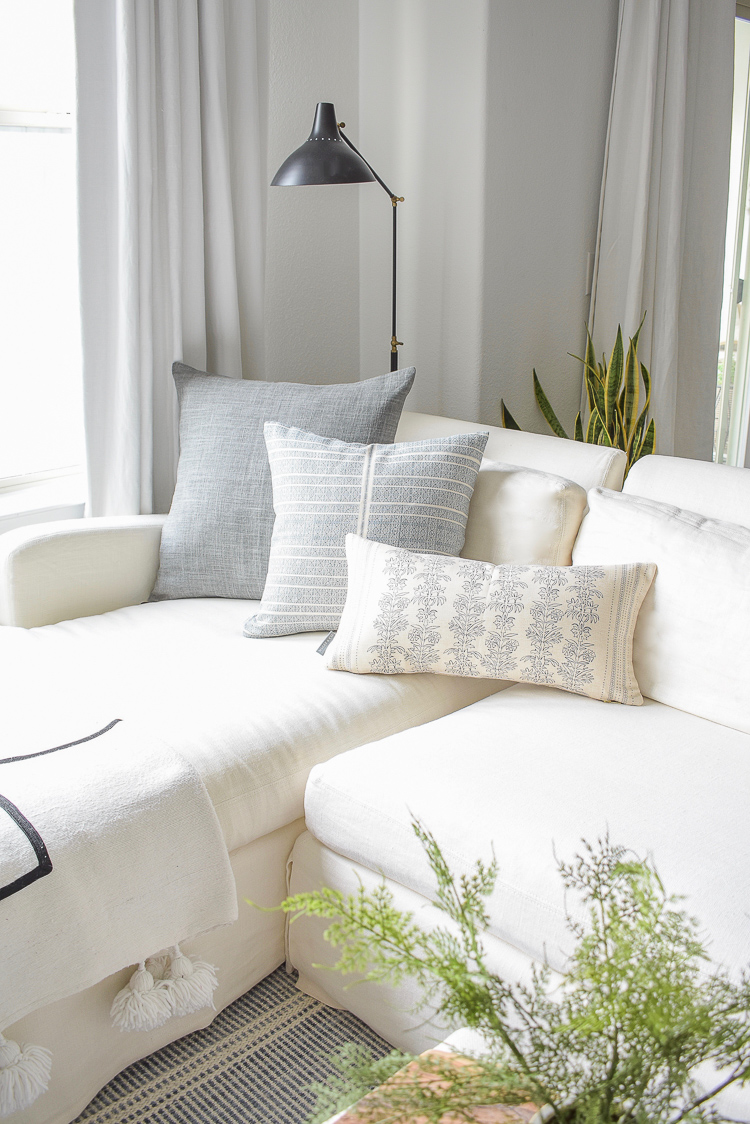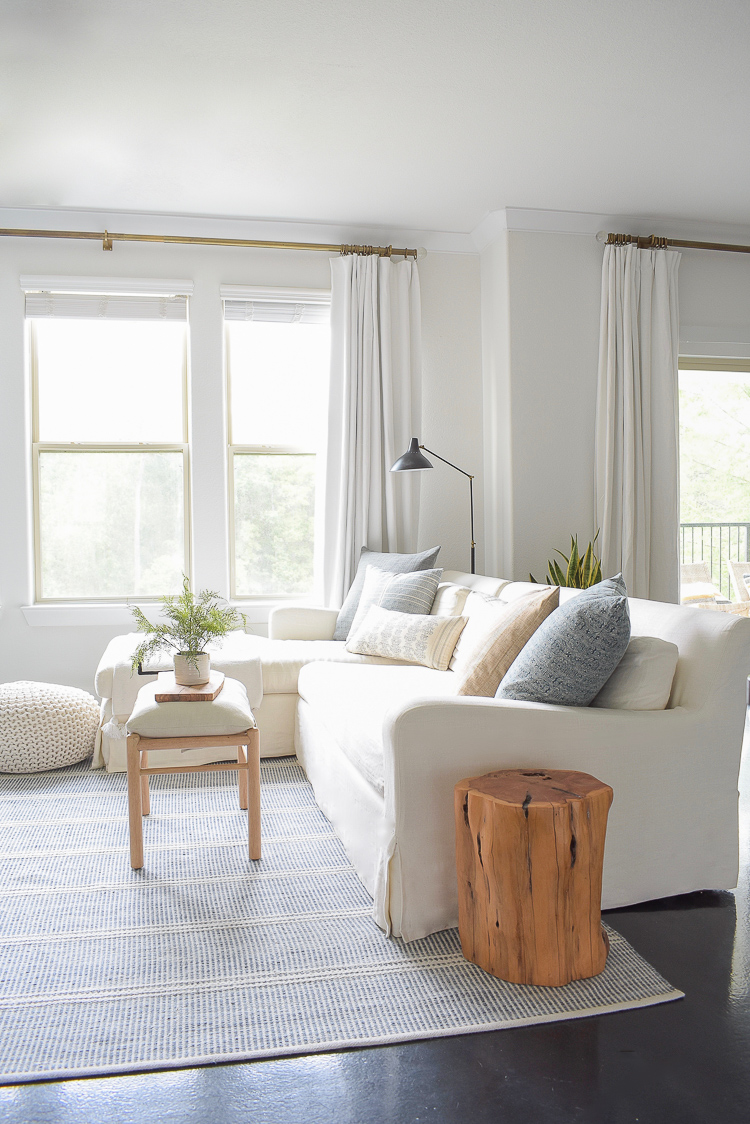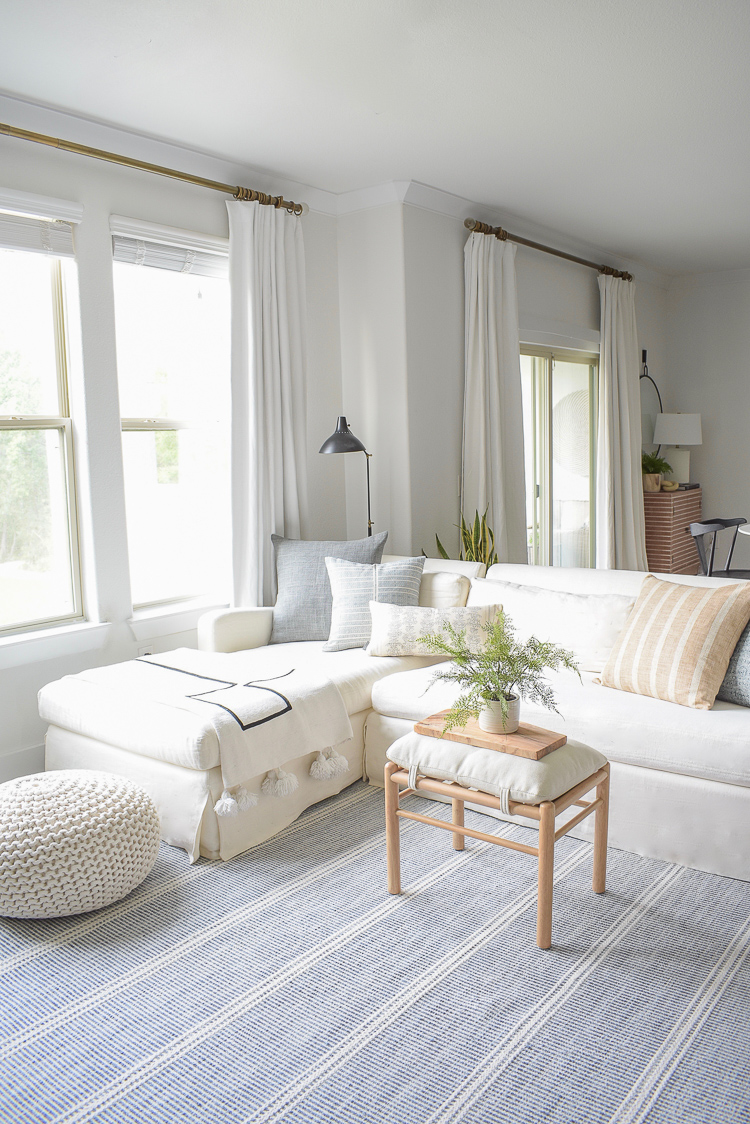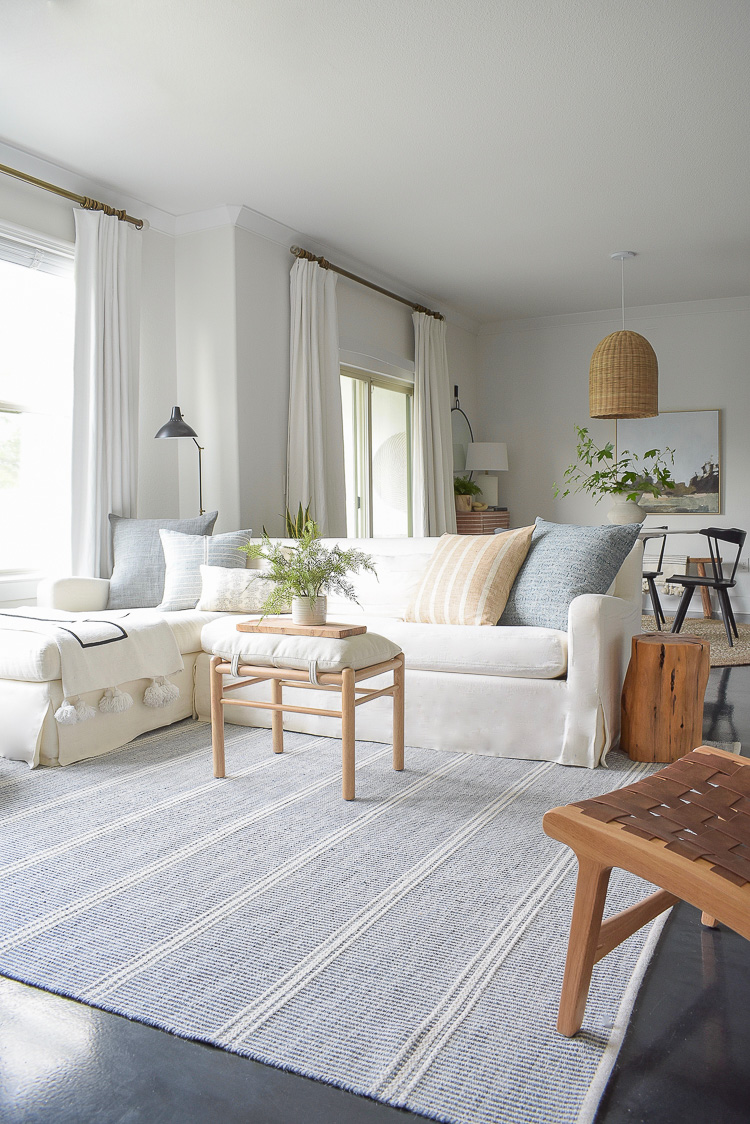 Another thing I always like to do in summer time is to use lighter wood tones (tip #3), to give your space that coastal feel.  Two ways I've done this is with my wooden ottoman with upholstered top.  The wood is so light and airy that it makes it feel very summery in here!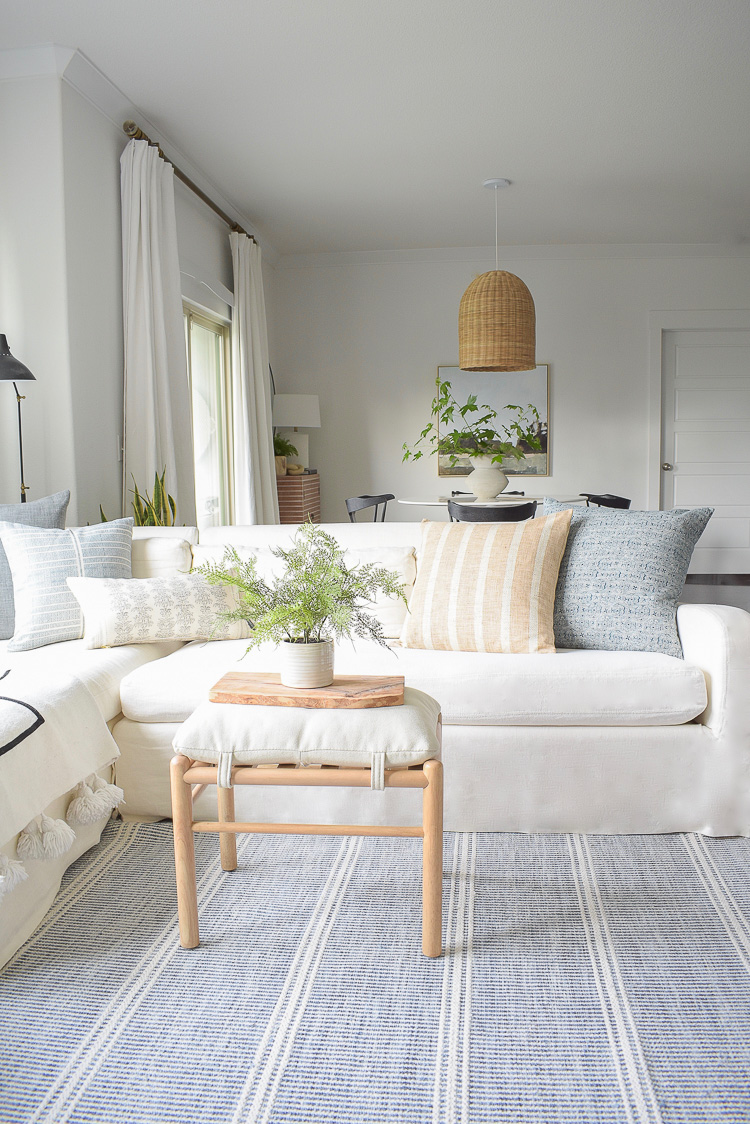 Another way I've done this is with this Grapewood branch on my media console.  I pull this out every year and it never goes out of style!  I  brought the chair on the left in over the winter but love how it feels in this space for summer with the lighter wood tone!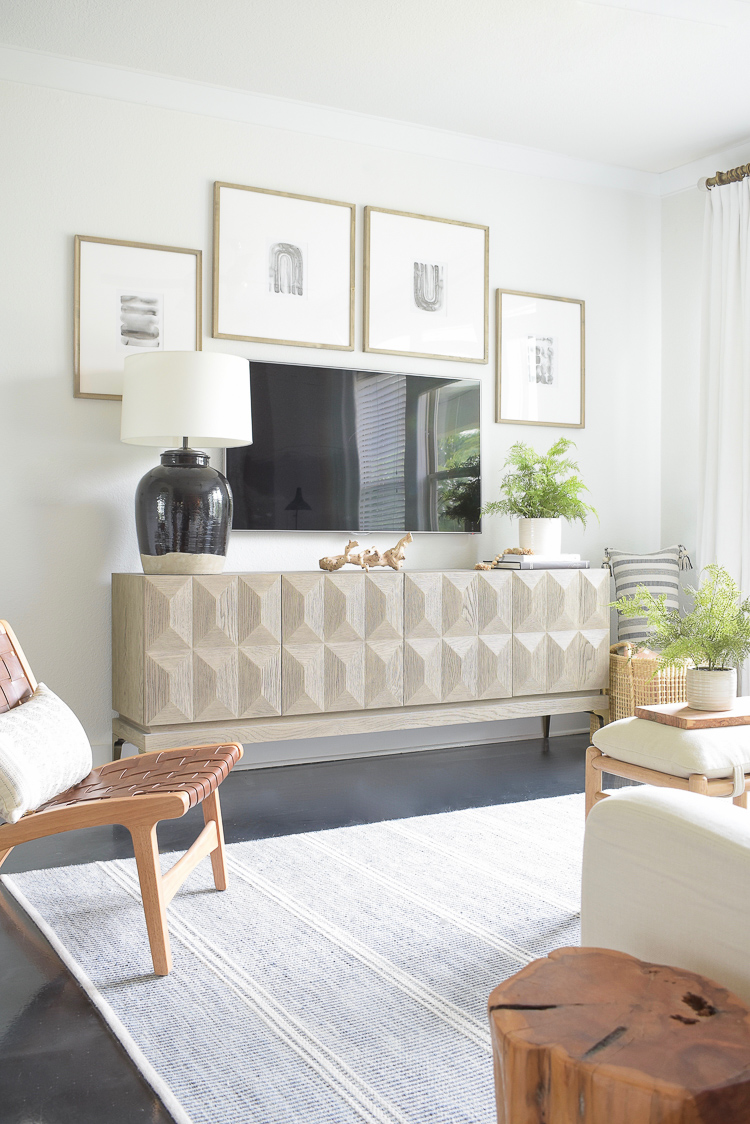 Some other fun things I've done on this side of the room for summer have been to use this tall faux fern in pot to anchor this side of the media console and, I also love switching my pillows out for the season in this fun square, handle basket I've been using in the corner since the Studio McGee line was launched at Target recently (see all of my favorite picks for that HERE).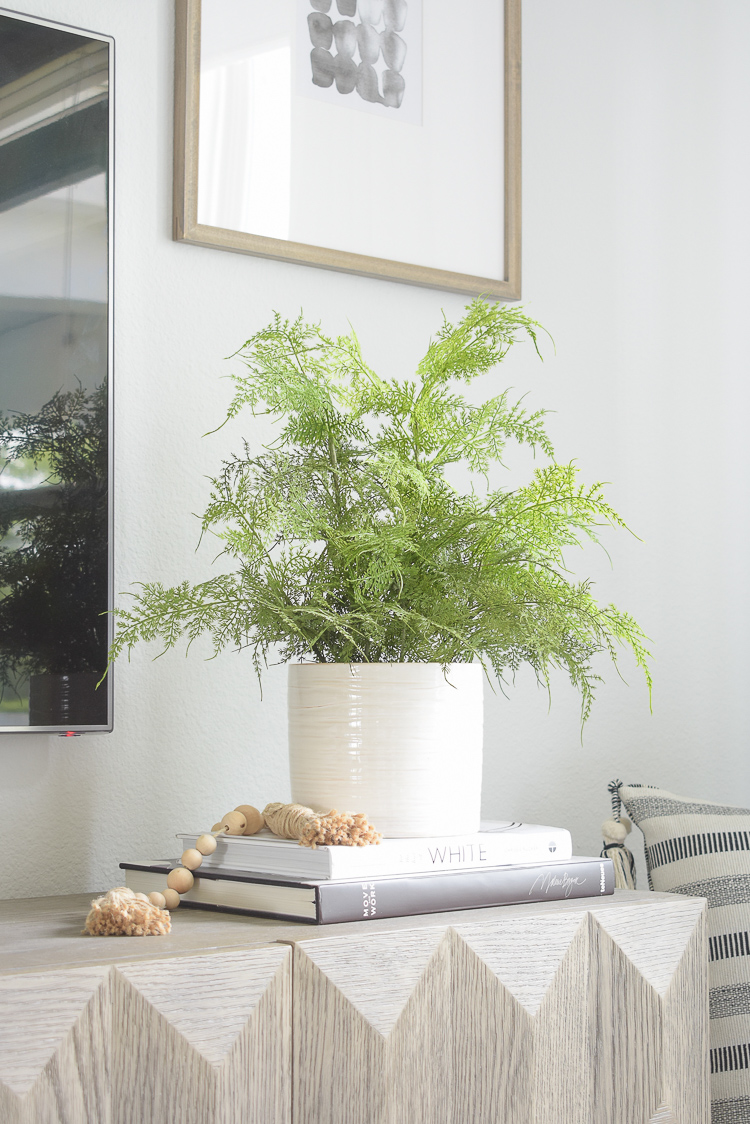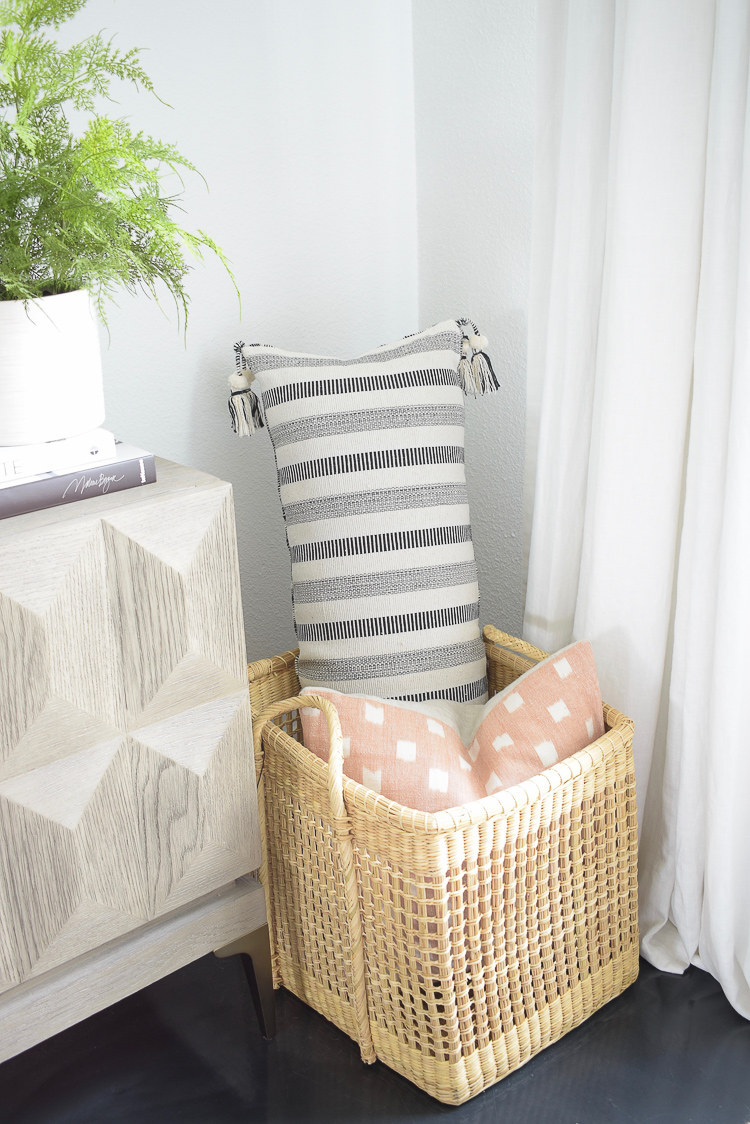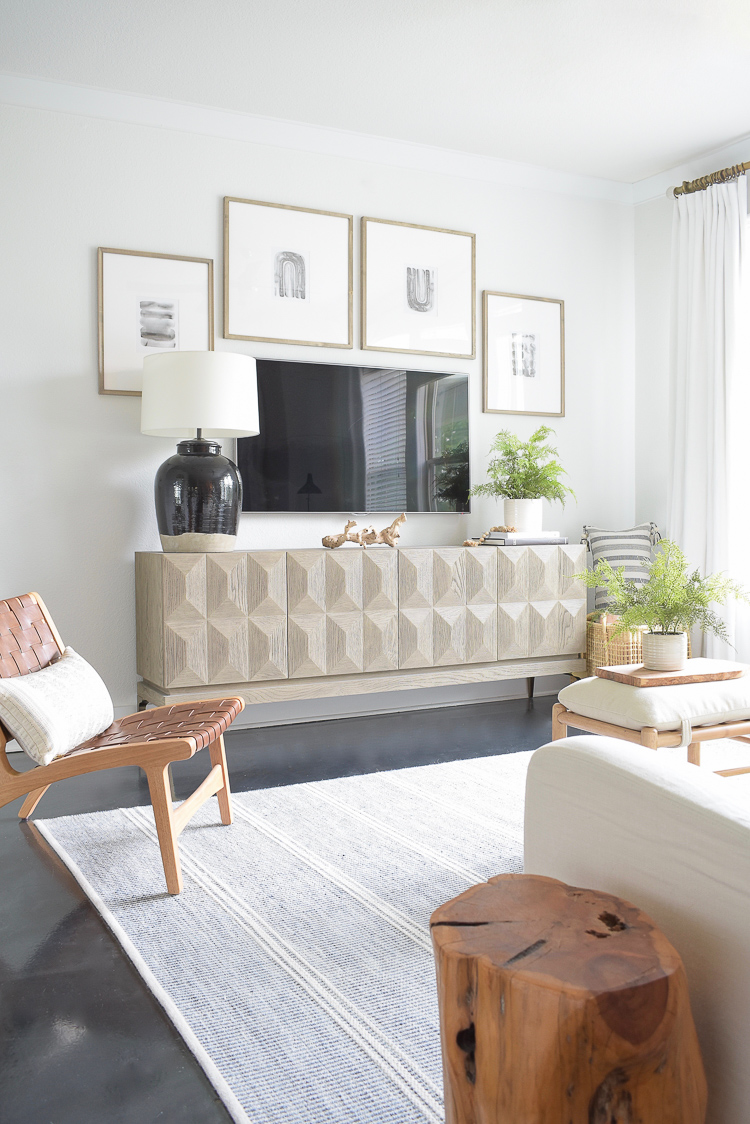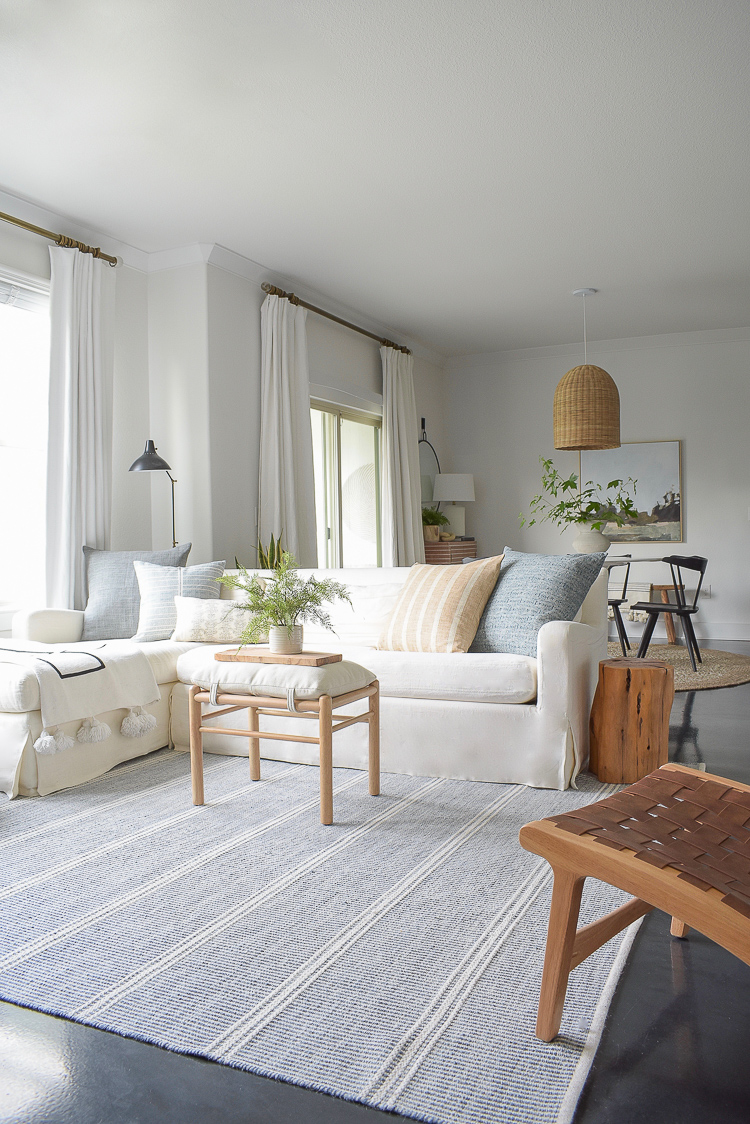 Moving on to my summer dining room for my last two tips…I love faux florals and stems and use them throughout my home but there is nothing better, especially this time of year, than bringing something from outside in (tip #4).  The colors outside right now are so vibrant and these two simple stems I clipped brought so much life into our dining space!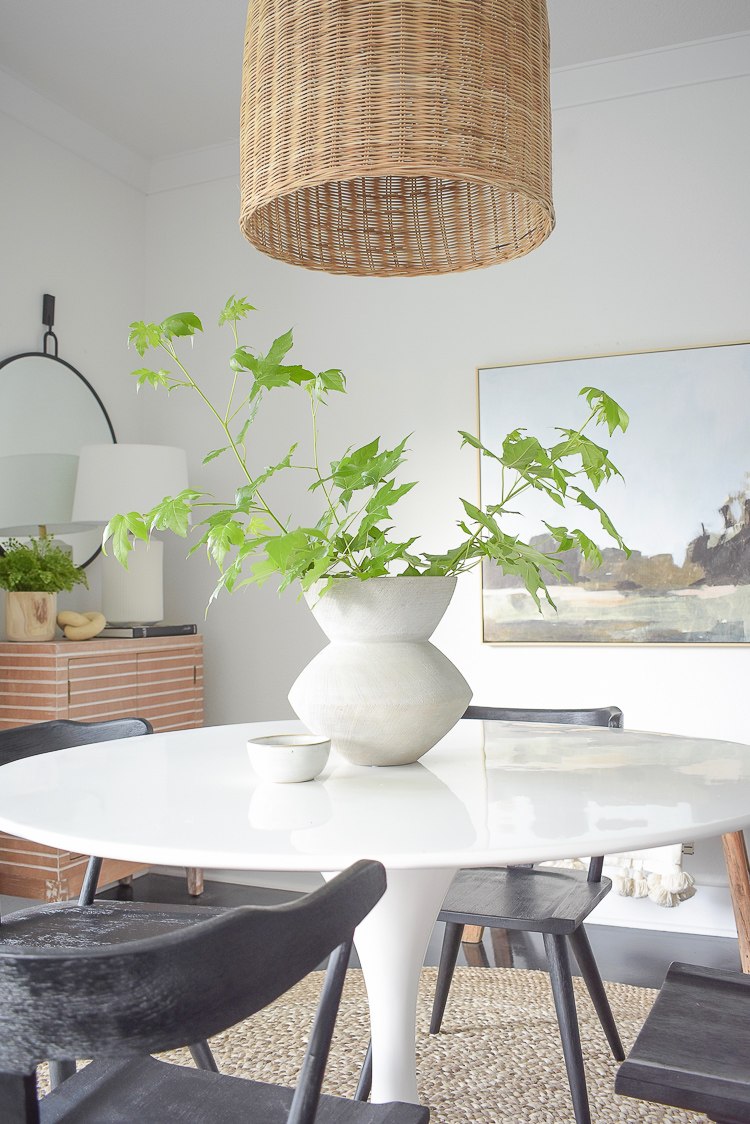 We recently got these dining chairs a little early (because they were on a huge sale) for the game room in our new home.  You can see my post all about that here.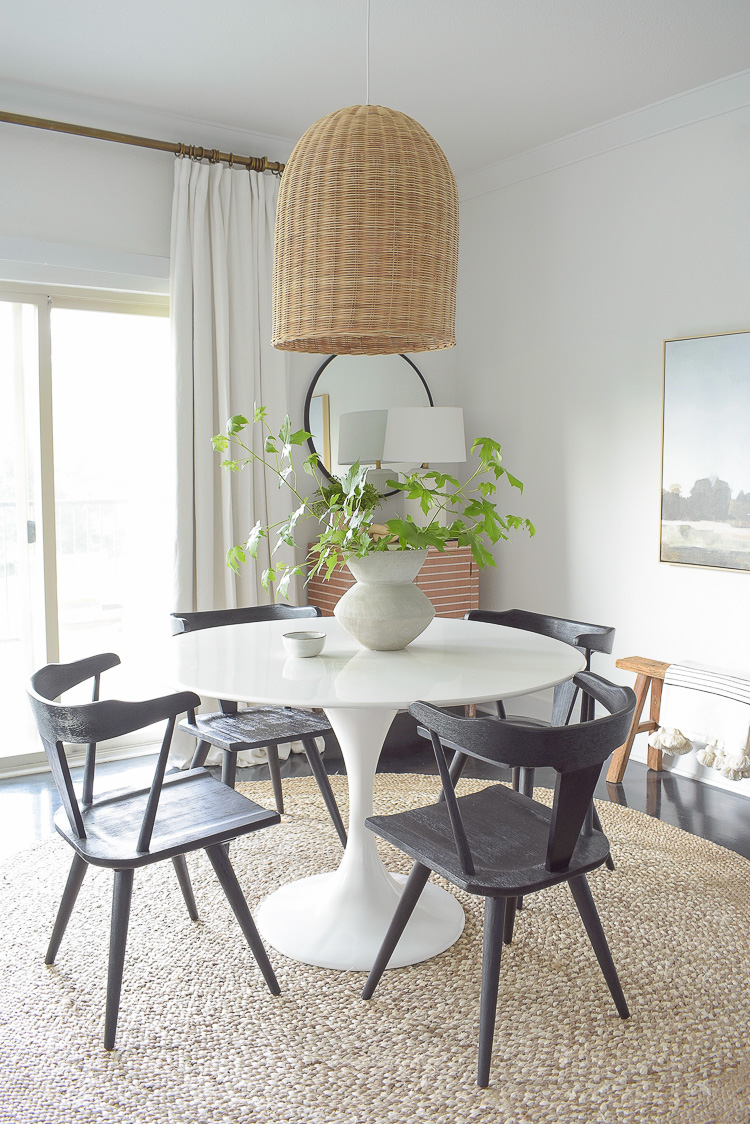 Over here in the corner where the credenza is you'll see I'm using my favorite faux fern in a wooden pot.  Love this piece and how versatile it is.  It's also great this time of year like I mentioned before to help bring in the lighter wood tone.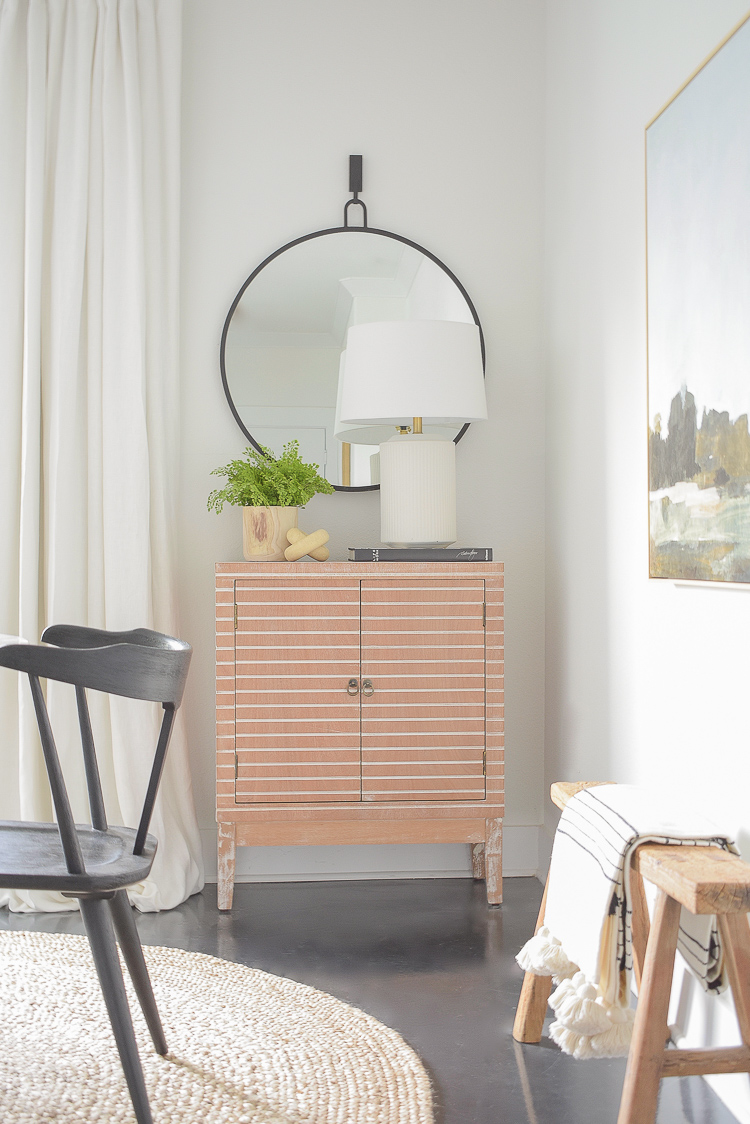 Also love this new white textured lamp, and the limestone knot from the McGee collection at Target.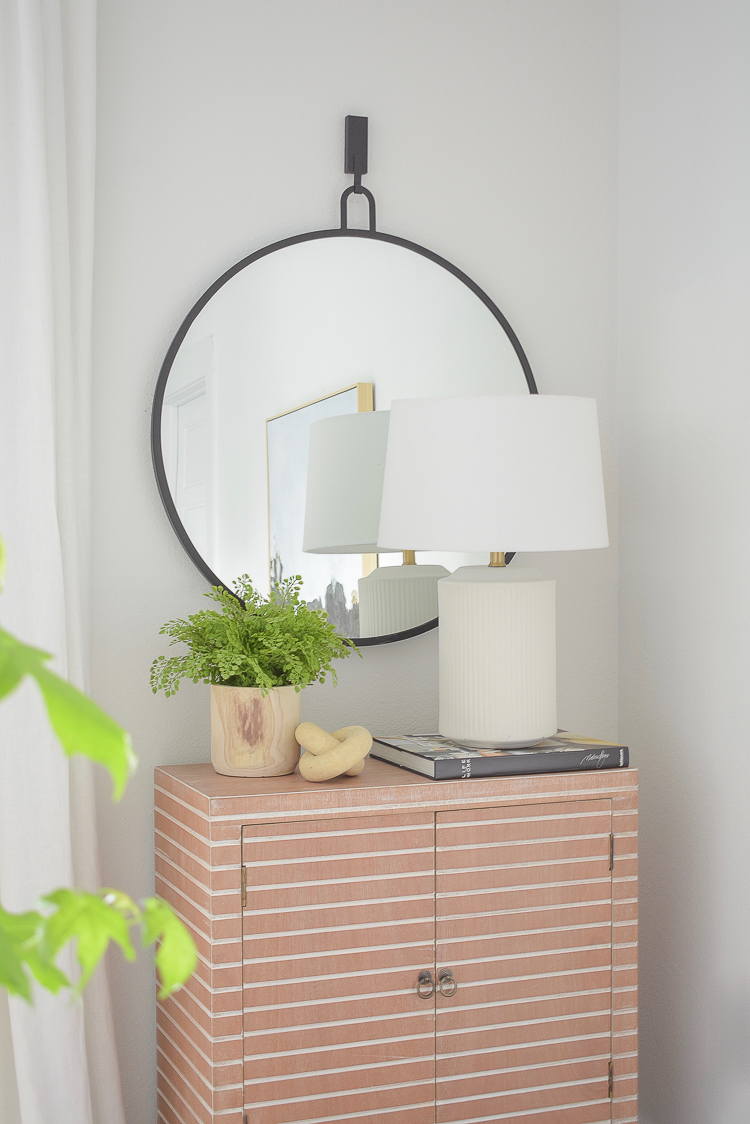 Tip #5 is all about art!  I grew up with an artist for a mother and I'm a big believer in having beautiful art pieces that speak to you throughout your home.  We often think about switching out pillows, florals and decor this time of year but art is such a personal thing and spring/summer is no better time than to bring in something beautiful to dress and refresh your walls with.  Art can add color, texture, personality and more to a space.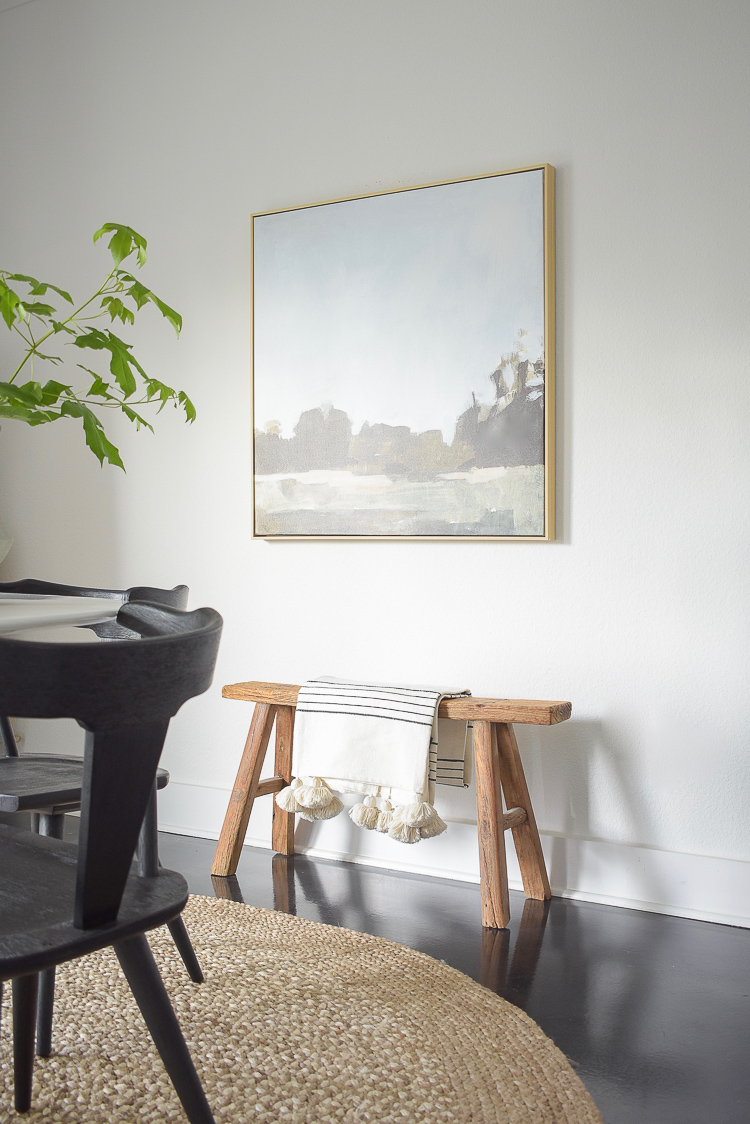 I love that this art piece has subtle hints of green and apricot and that it's on canvas, and framed.  It evokes such a feeling of calm in the space which is exactly what I wanted this summer.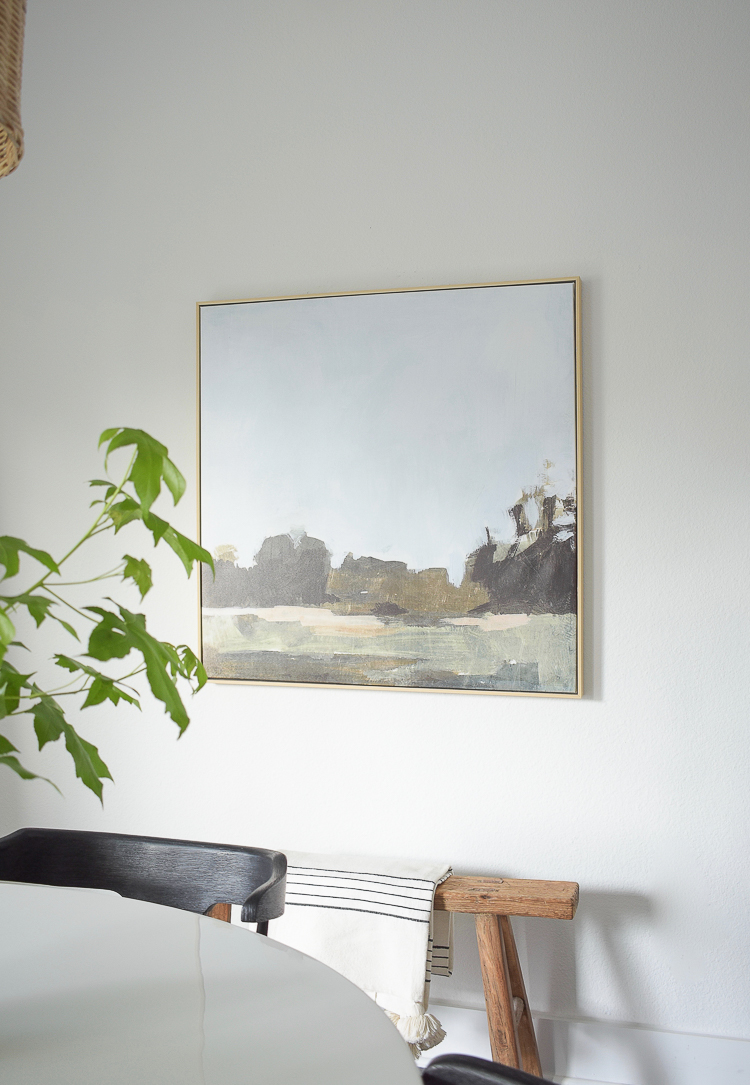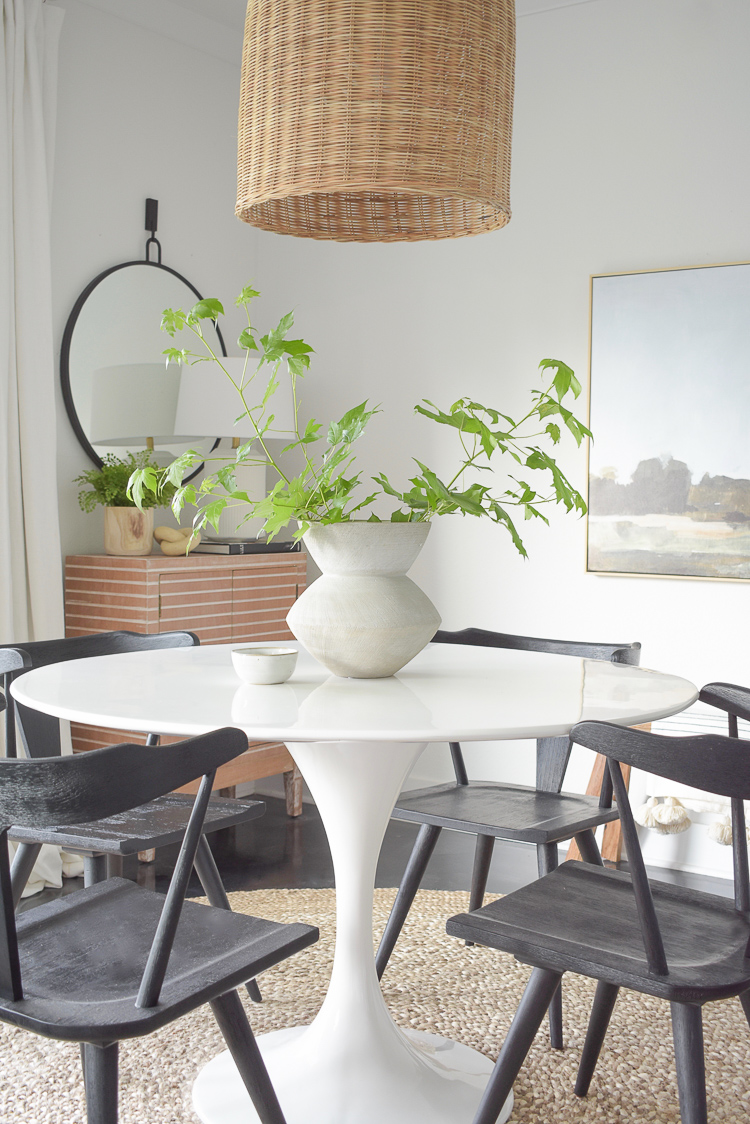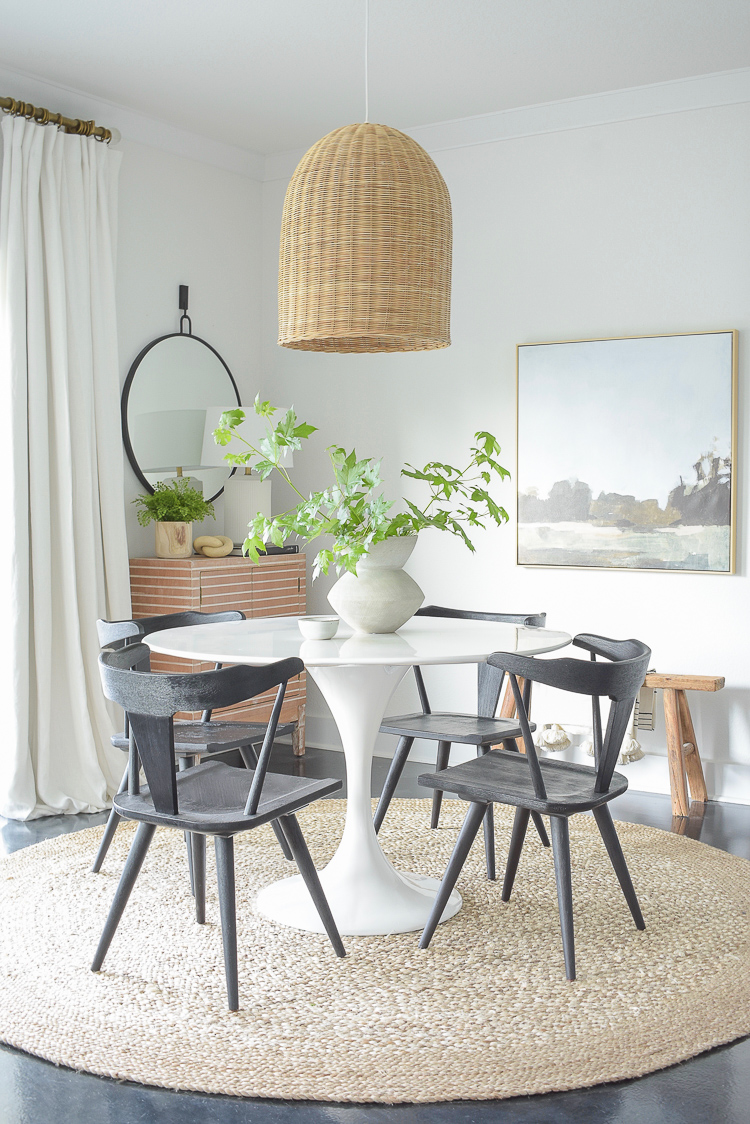 My Top 5 Summer Decorating Tips
Declutter & Deconstruct your space (clean it out except for larger furniture pieces that will stay)
Add pops of color through pillows, decor, and more
Bring in some lighter wood tones for a coastal, airy feel
Use greenery  – faux and fresh, especially this time of year to bring the outside in
Use art this time of year to refresh your walls
I hope you enjoyed My Top 5 Summer Decorating Tips + summer home tour!  I always love hearing from you so be sure to leave your comments below and make sure to stay up on the latest with our new build by signing up for the blog newsletter – you'll only receive an email when a new blog post comes out each week!
Happy summer and happy decorating!!

Let's stay in touch…
Pinterest | Facebook | Instagram | Linkedin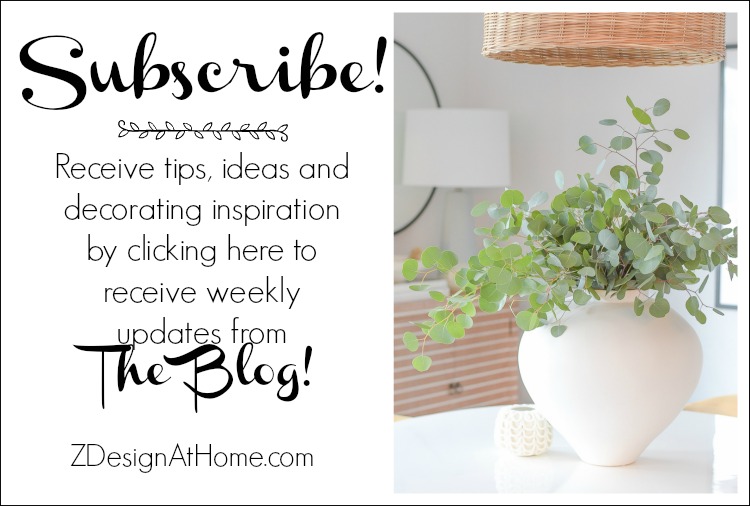 Living Room Sources
Living Room Blue Rug | Sofa | Similar Curtains | Wooden Ottoman | Gray Linen Pillow | Blue Patterned Pillow | Cream & Charcoal Floral Lumbar Pillow | Neutral Stripe Pillow | Tassel Throw | Black Floor Lamp | Similar Media Cabinet | Prints Over TV | Black Table Lamp | Grapewood Branch | Chair | Square Basket | Blush/Peach Dot Pillow | White Knit Pouf | Tray on Ottoman | Faux Fern in White Pot | Book 1 | Book 2 | Similar Curtain Rods | Similar Large Lumbar Pillow in Basket | Wall Frames
Dining Room Sources
Black Dining Chairs | Tulip Table | Round Jute Rug | Basket Pendant | Credenza | Canvas Art | Chinese Wooden Bench | Tassel Throw | Faux Potted Fern in Wood Pot | Limestone Knot | White Lamp | Similar Black Mirror | Design Book | Gray Vase on Table | Gray Bowl