Styled Studio McGee Favorites + Comfy Loungewear Picks
In this ever changing world of working from home and trying to be comfortable somehow as we navigate our new normals, I believe now more than ever is the time to make our homes our sanctuaries.  Thank you for stopping by during this crazy time to see however I've styled my Studio McGee Favorites.
This post contains affiliate links.  Please read my full disclosure policy here.
Like most of us I've been a long time fan of Studio McGee (on Instagram) since their beginning and I knew when I heard they were launching their own line of home decor and furniture for Target I'd want to browse every square inch of it, immediately!  If you love the look of McGee & Co. and want it for less, this is certainly a great way to do just that.  In this post besides sharing my Studio McGee Favorites, I'll also be sharing some comfy loungewear picks that I'm loving right now so stay tuned for that at the end of this post as well!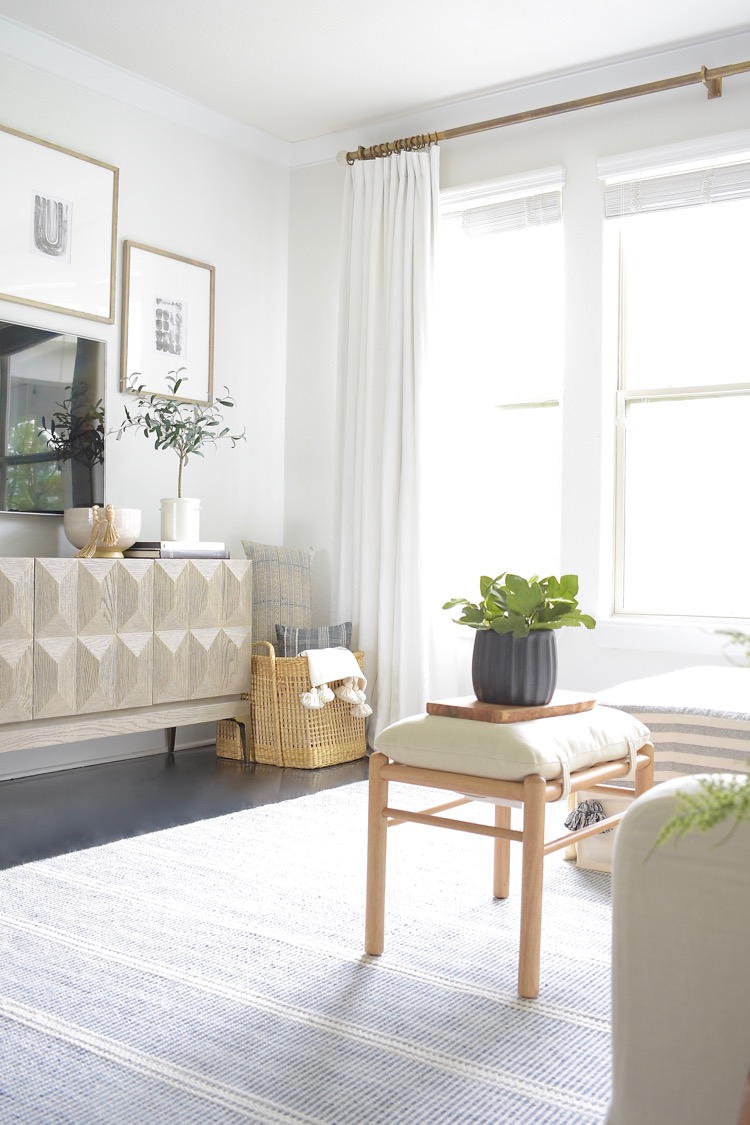 The very first thing I fell in love with in the Studio McGee collection was this wooden stool with cushion, which I ordered two of.  I could only pick up one in-store but the other is on the way and will arrive this weekend.  The wood is the perfect tone and the cushion is thick, nice quality and comfortable.  I love that it's large enough that I can use it for a coffee table as well.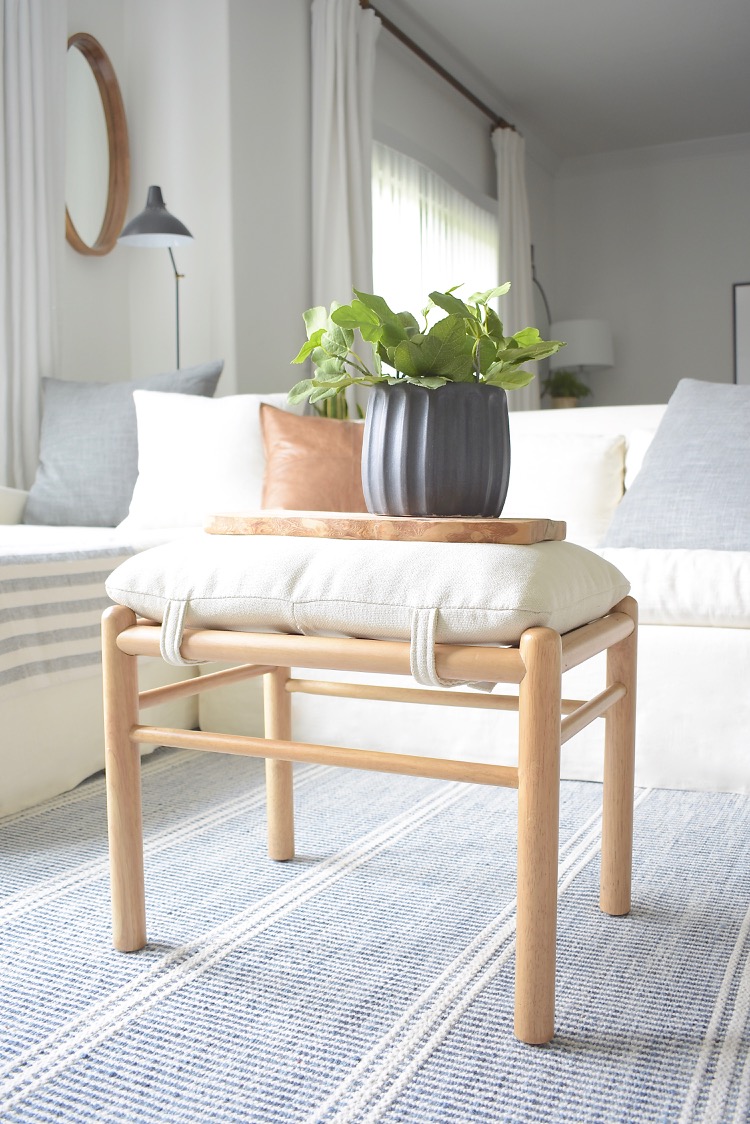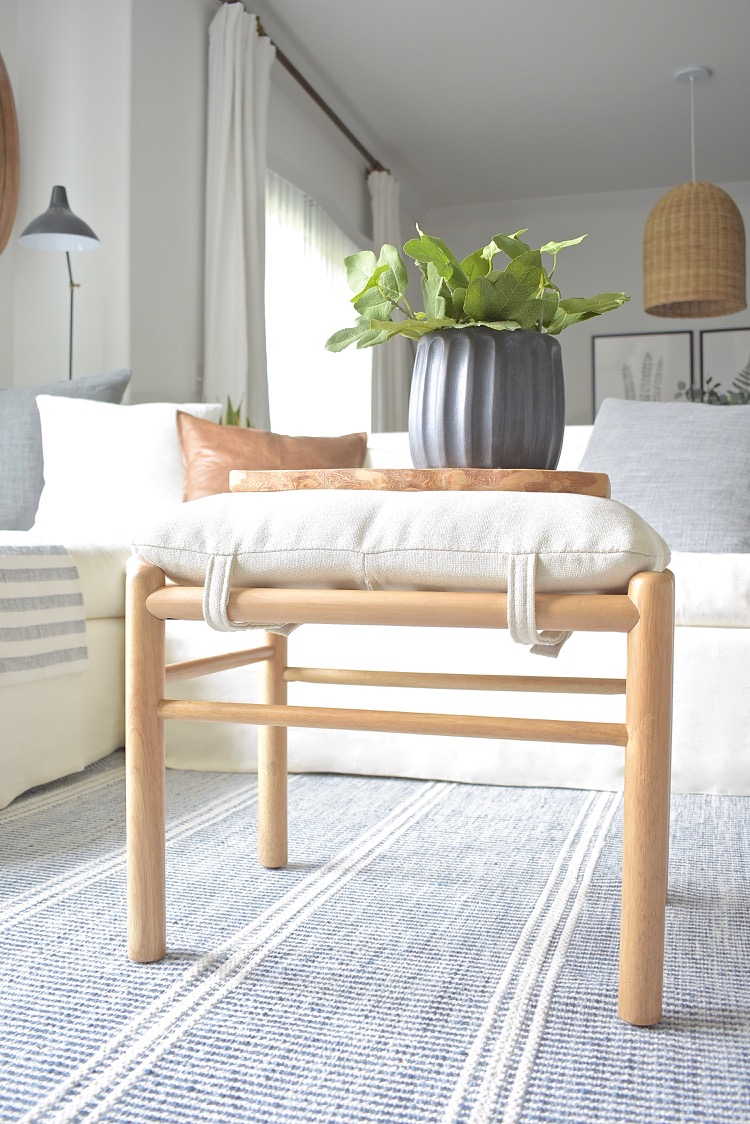 So cute, right?!  I also really love this black fluted pot by Studio McGee.  I love the contrast that it creates in my space and that it was so super affordable.  I also picked up these faux fig stems at Target to complete my look. I believe these are new and they work perfect in my black pot.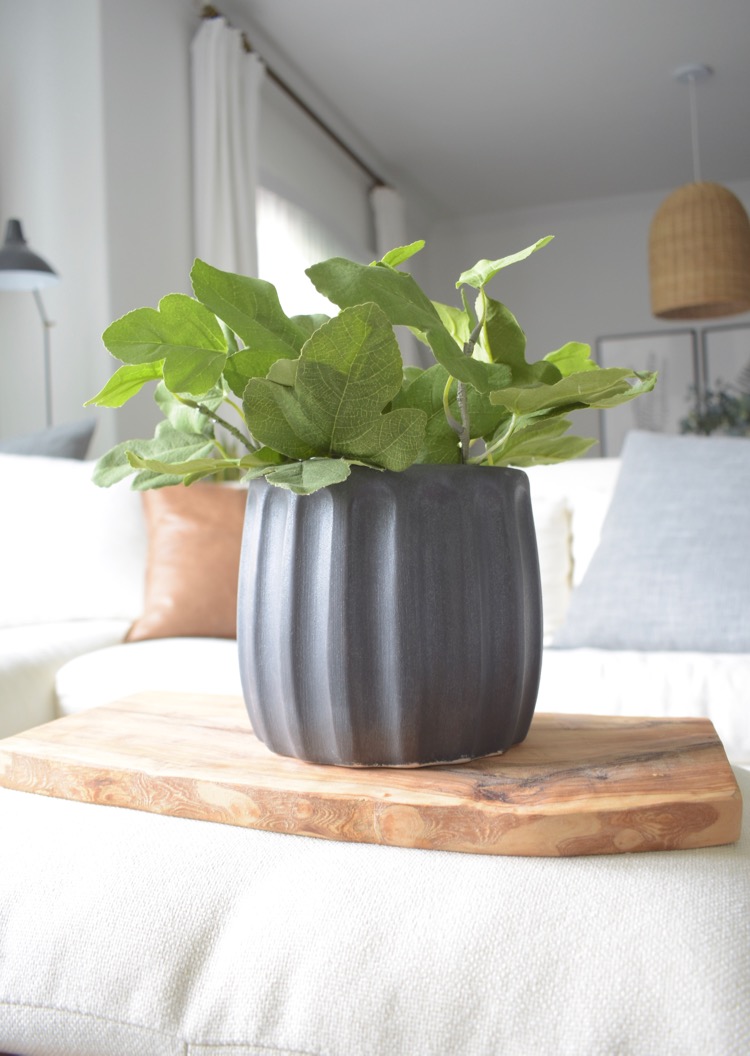 On a side note, one of my favorite tricks for a small stool used as a coffee table is to use a small to medium sized cutting board or cheese board as a tray.  I love this one because it adds texture and movement, plus a natural element.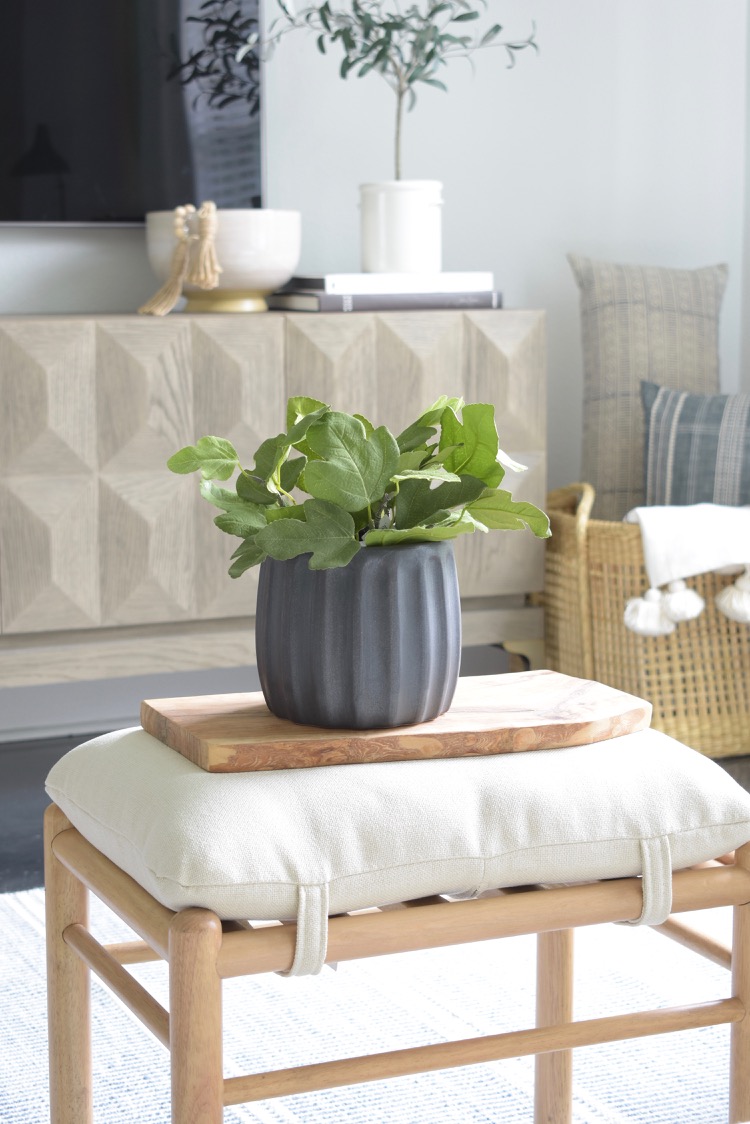 Next up that I fell head over heels for was this square basket with handles.  I think I know where I'm going to put it in the new house too ~ if you haven't seen the latest on the house you can do that HERE but it's going in the master bathroom water closet under the white oak shelves to store toilet paper.  Or, in the game room to store throws, not 100% sure yet but wherever is goes it's going to be beautiful there!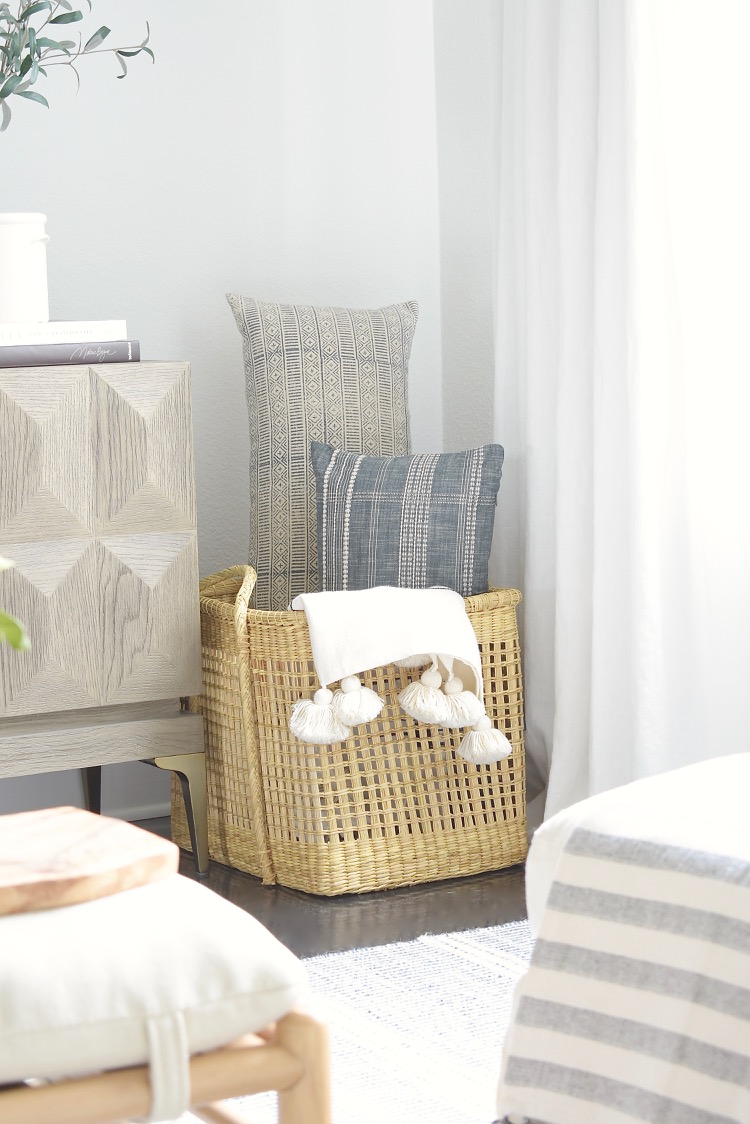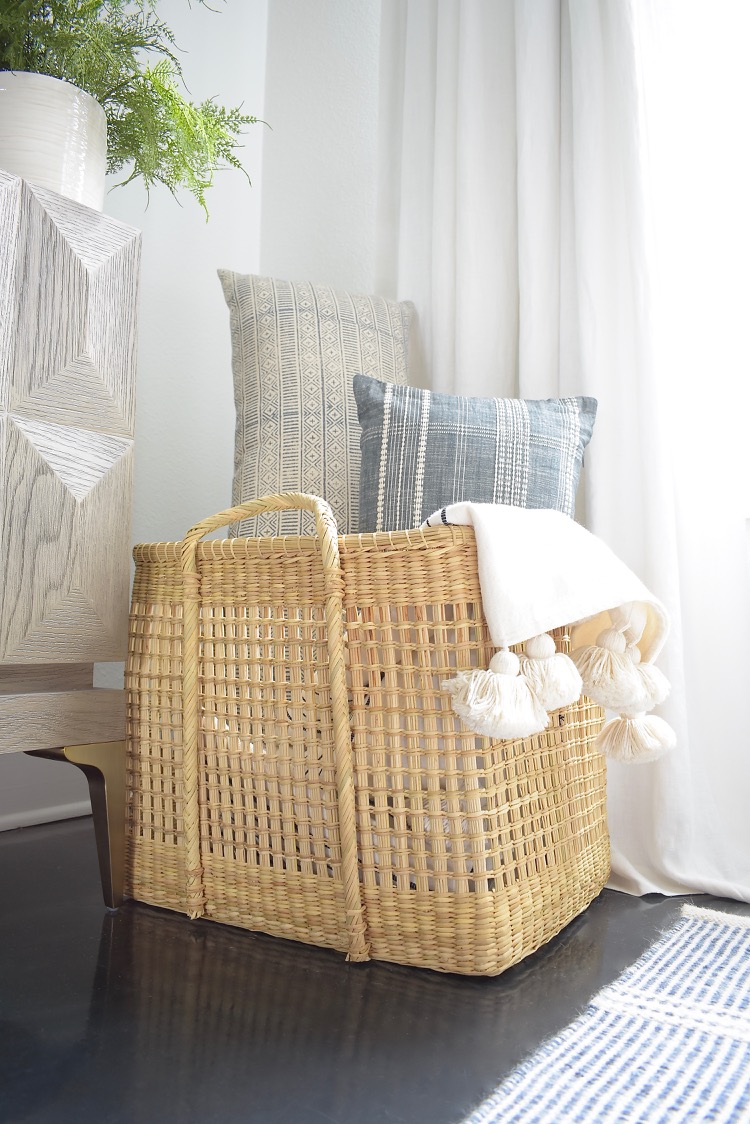 Also really love this pillow from Studio McGee!  The pattern and the neutral gray color are perfect, and I love the quality as well.  I may replace the insert with one of my own (because I'm a insert snob and typically do that when I buy a pillow that already has one) but other than that I love it!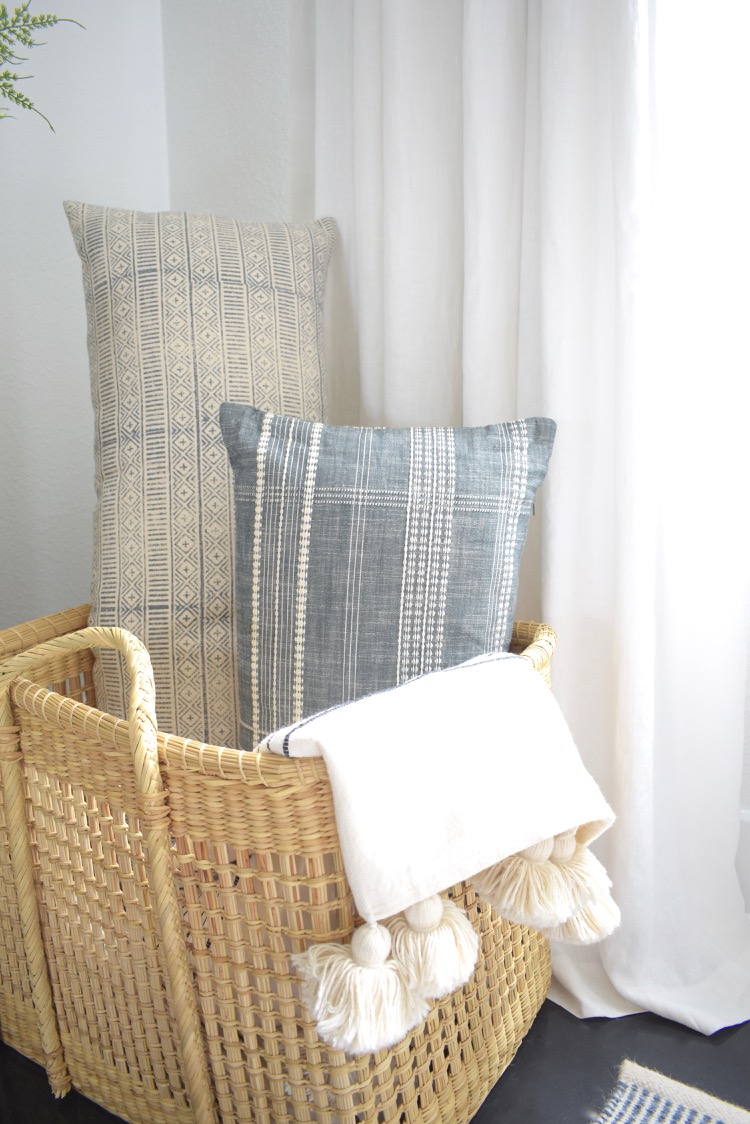 So cute over here on my sofa too showing the fringe detail on one end.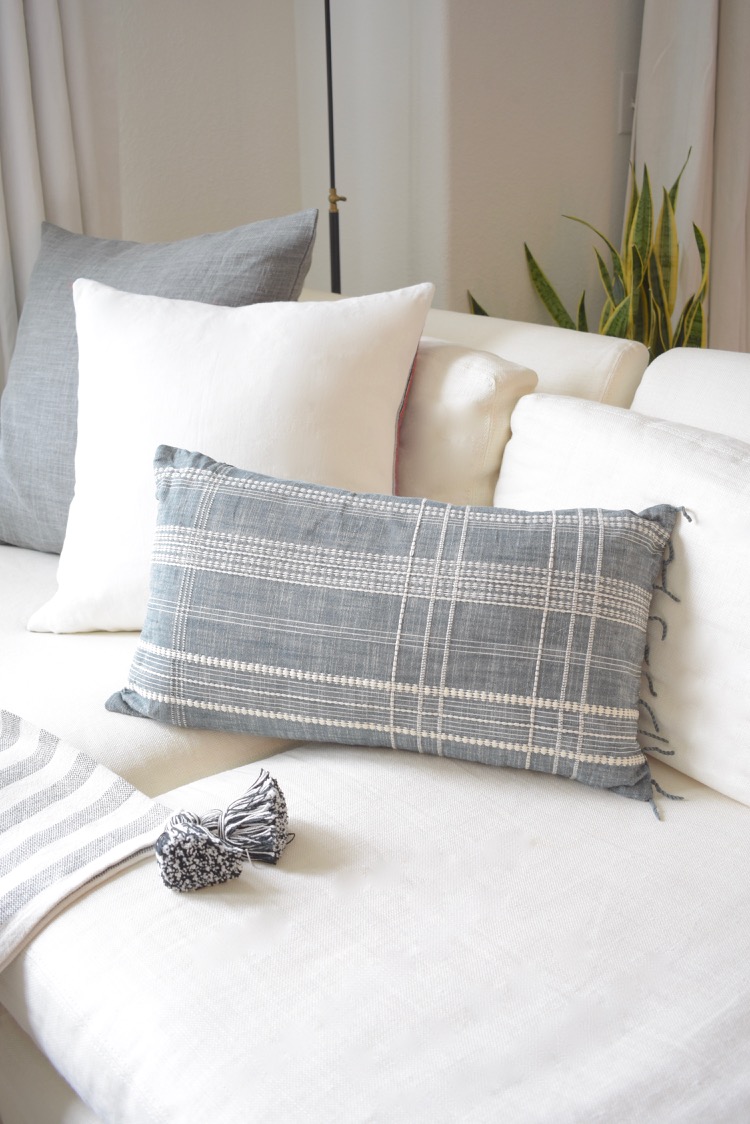 Some more favorites are this faux potted olive tree and ceramic textured footed bowl.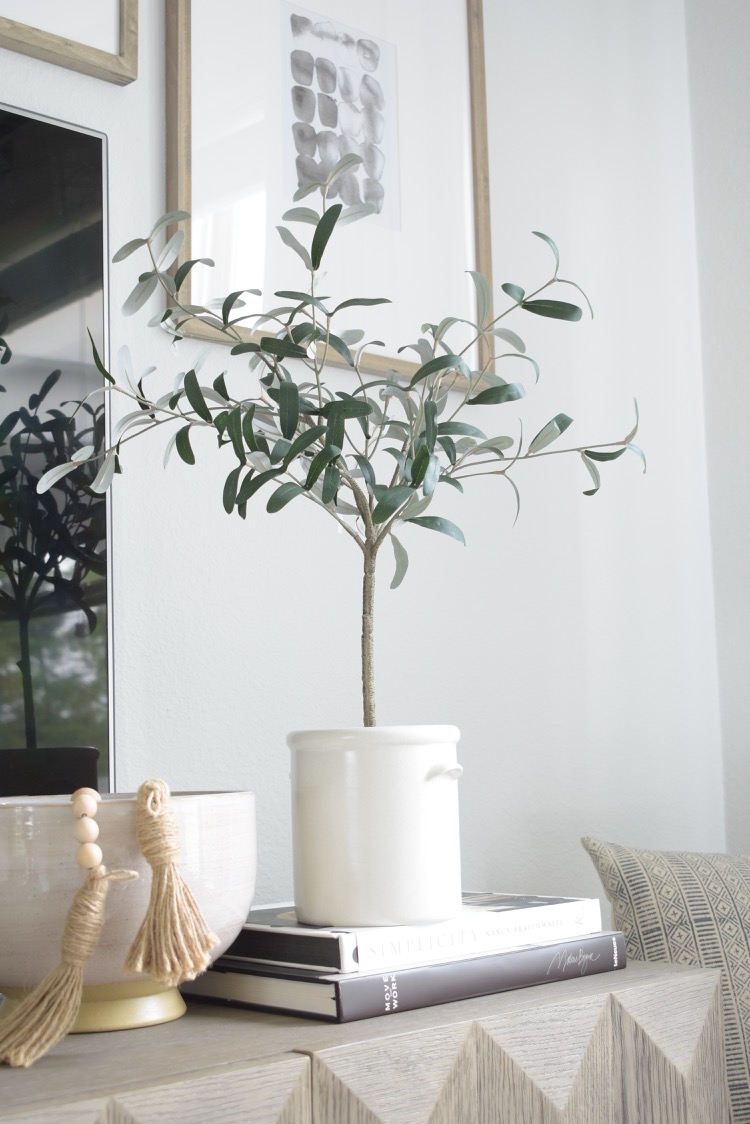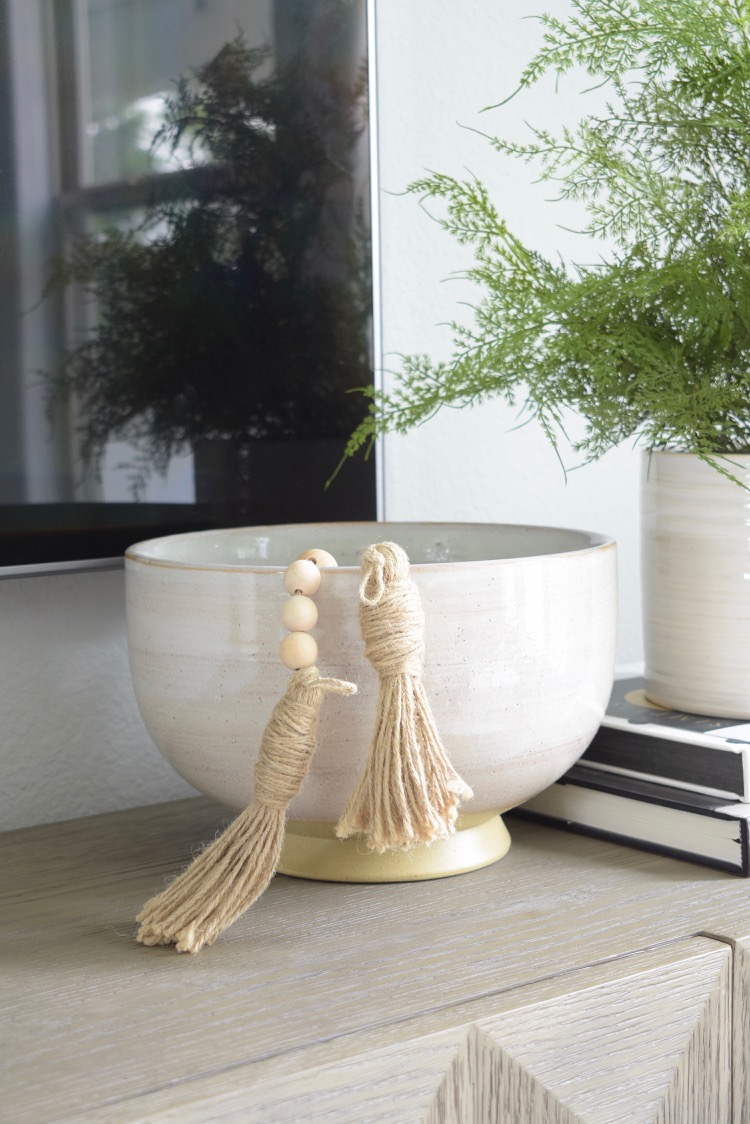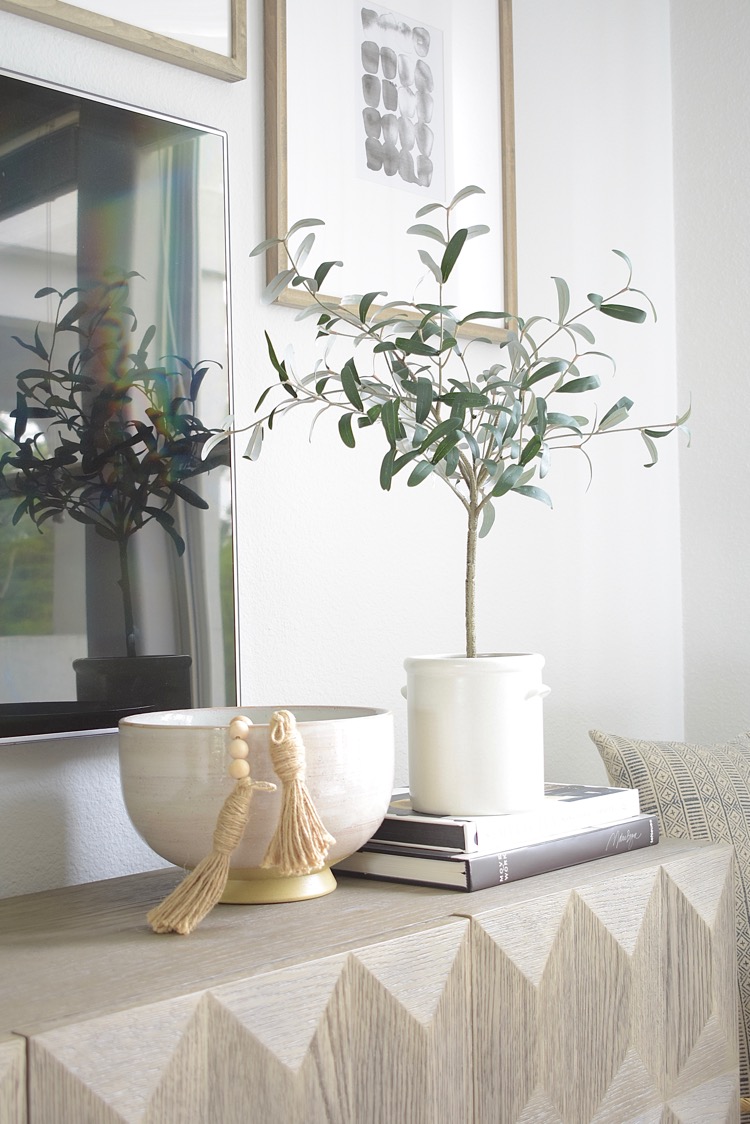 Also found this darling faux fern in the Studio McGee collection that I love.  It comes in a white ribbed ceramic pot and as you can see I can't decide which one I'd rather have in this spot.  The fern ultimately made it's way to our entry table.  It's available in two sizes ~ mine is the large but I think I'm going to order the small as well.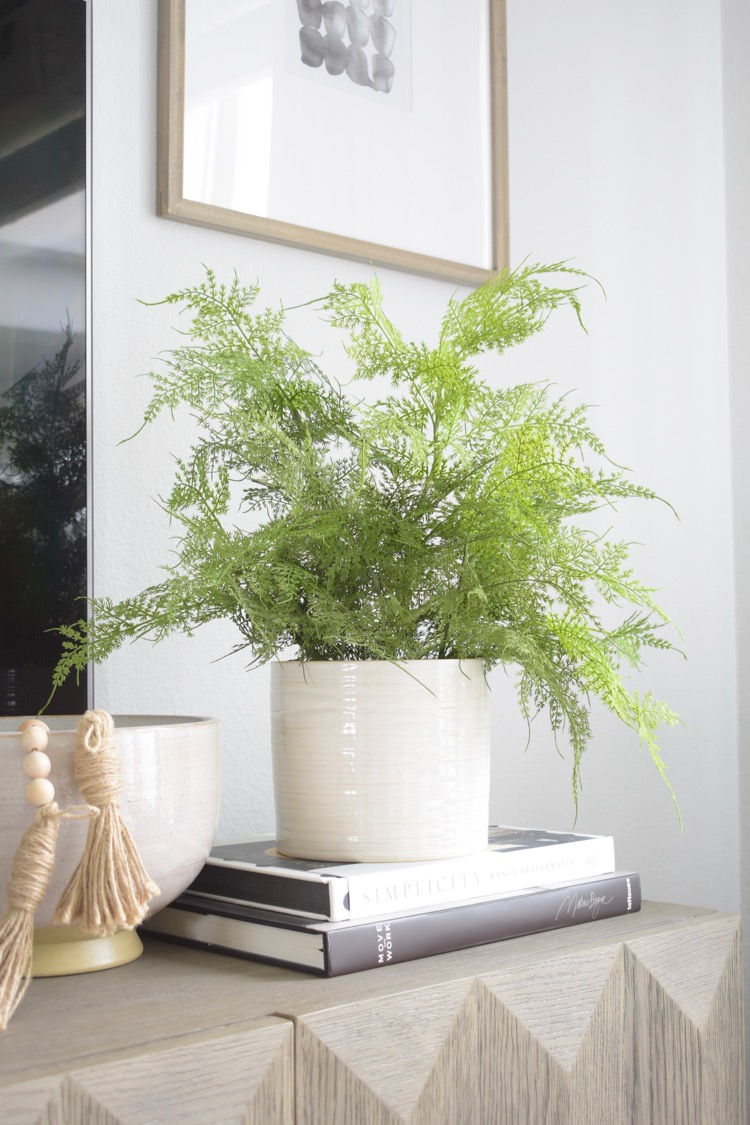 UPDATE:  I did order the small and here it is styled in my dining room.  You can see a full, recent spring dining room tour here.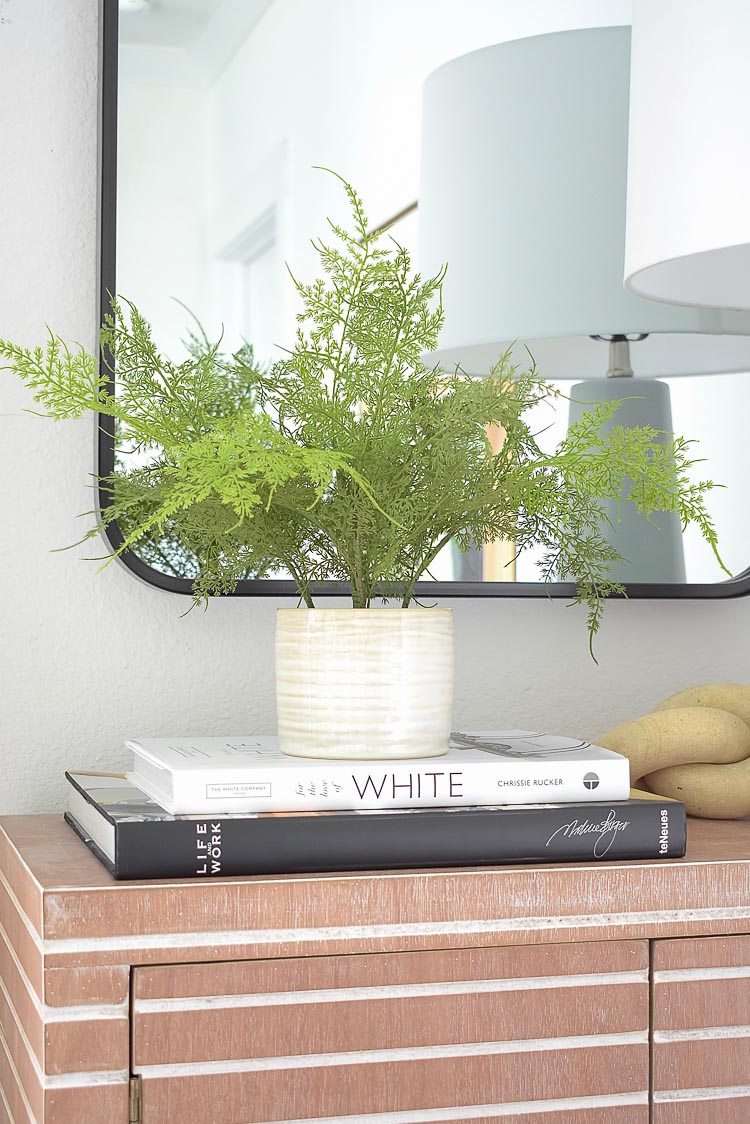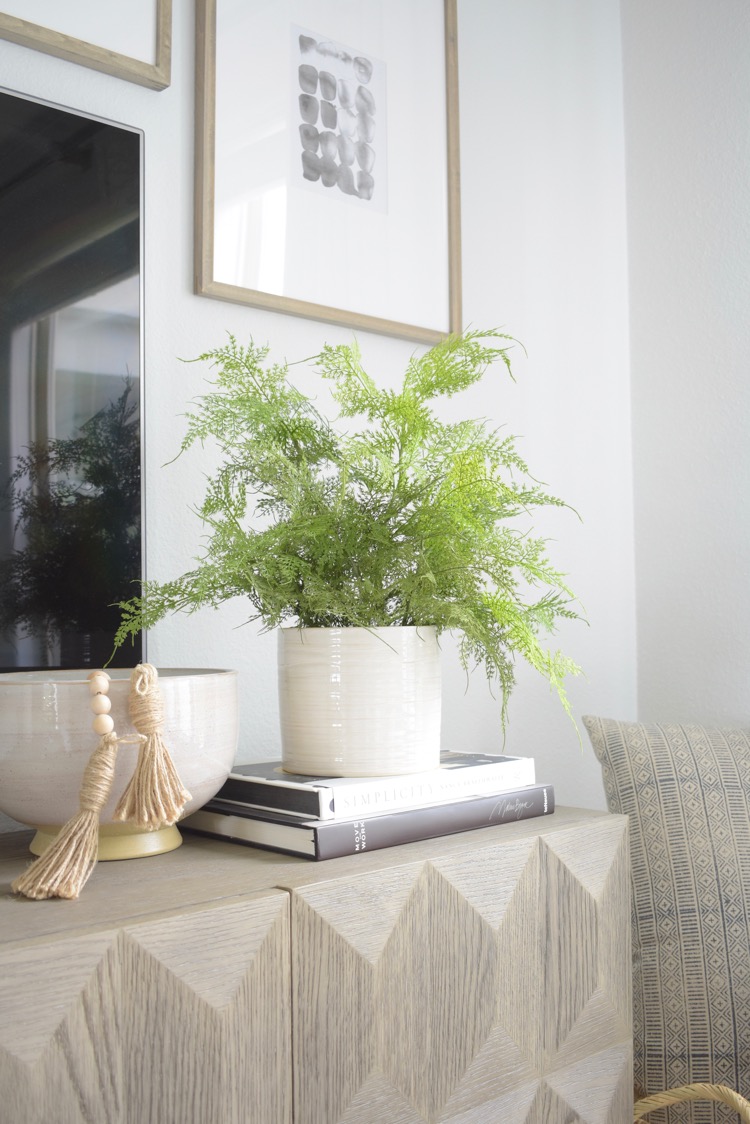 The last two things I got (for the moment – I'm waiting on a few things to come back in stock) was this wooden vase and a black mirror for our new powder bath.  The vase also comes in 2 sizes and looks great paired with my faux fig stems.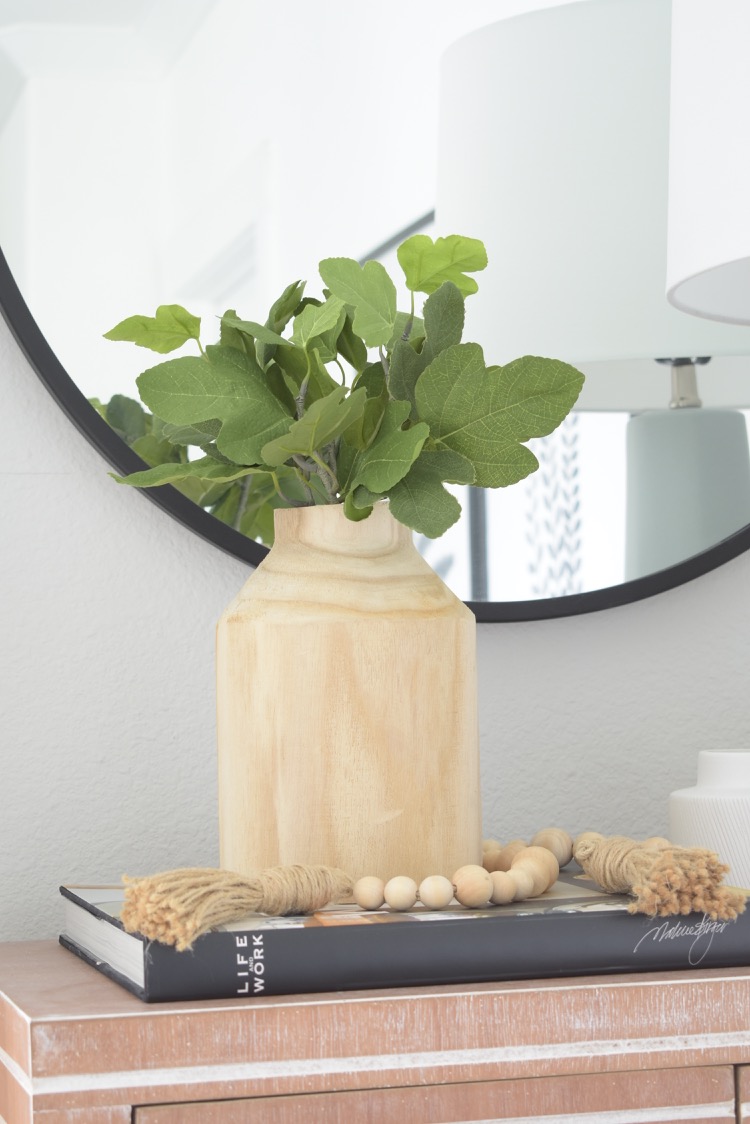 I also got this black mirror for the powder bath downstairs in the new house but it will stay here for now.  It also comes in gold and I love it styled with some of the other SM items:)!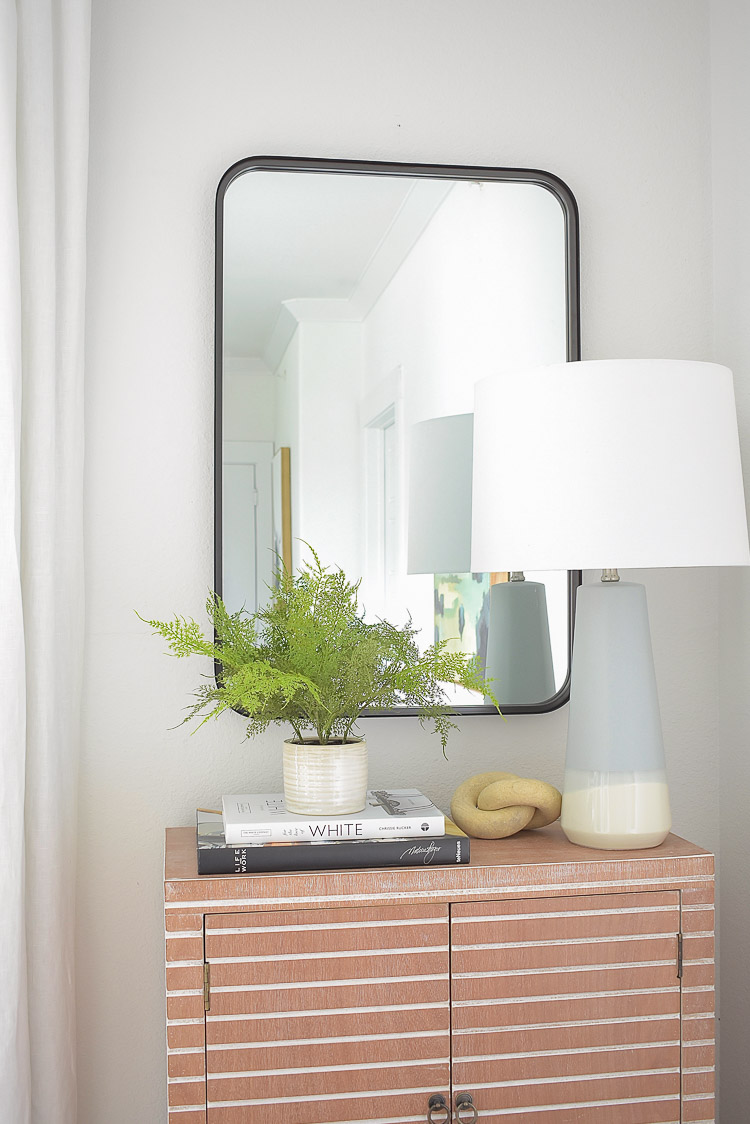 Here are the items I'm waiting on to come back in stock so I can snag them.  I have plans for several of these items in the new house…so excited about this!!

So in love with this piece of art too.  They had it at my store the other day but I didn't grab it unfortunatley, but now I wish I had because I can't even get it on line but I'm sure it will come back in stock soon!

Also really, really love this console that I'm thinking of for our entry foyer in the new house.  I love that the drawers have a cane front and the hardware is brass.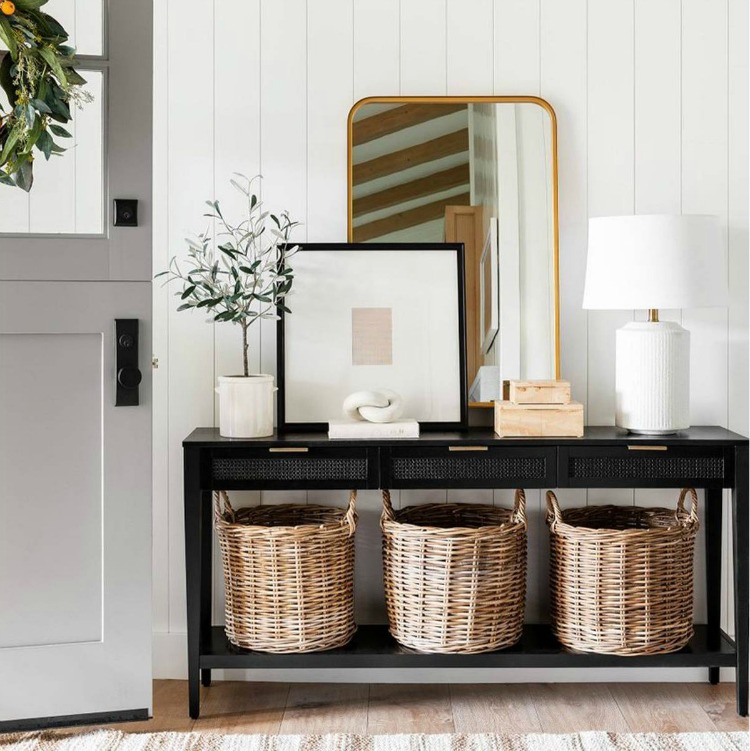 Before I share my full round up of Studio Magee favorites I also have some loungewear I want to share since we are all staying in these days.  Praying for everyone this doesn't last too much longer but in the meantime at least we can be comfortable, and cute, right?!?  I recently picked up these gray with navy trim pjs on sale at JCrew.  So cute and comfortable to knock around the house in, and sleep of course.  They also come in pink, I believe and are 50% off right now.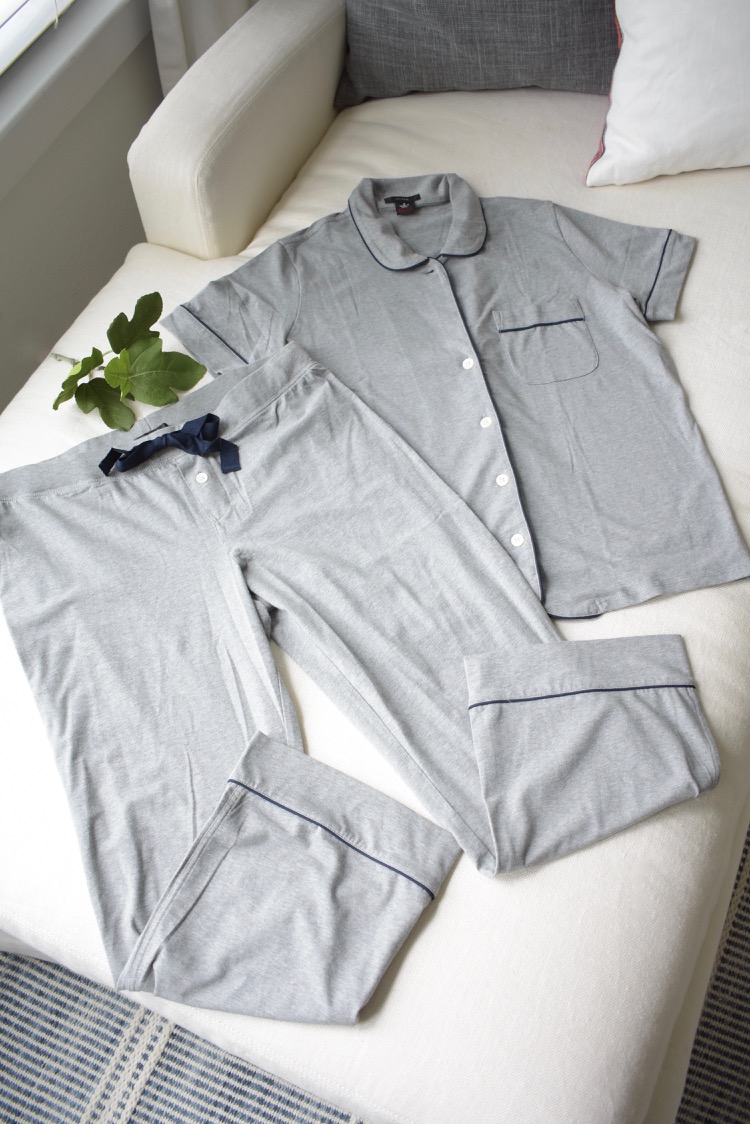 Love the detail…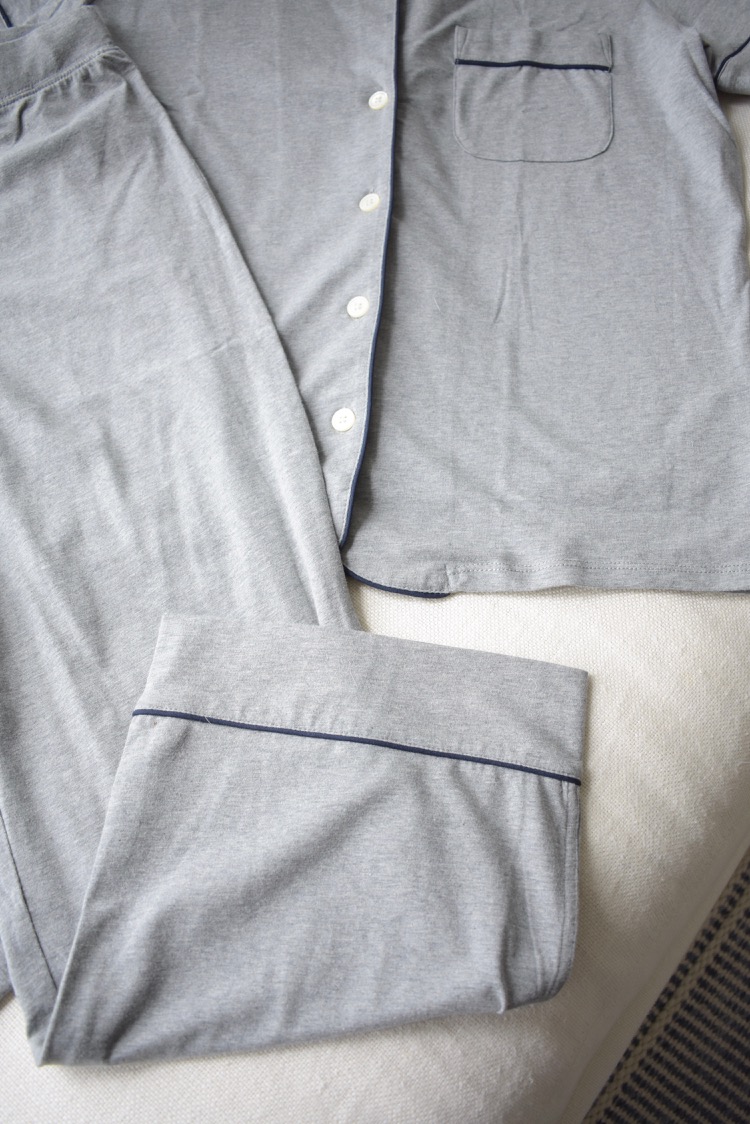 REALLY love this leopard sweatshirt from J.Crew as well.  It's a super light weight material and so cozy for knocking around the house this spring and summer!  Great for a cool spring day too!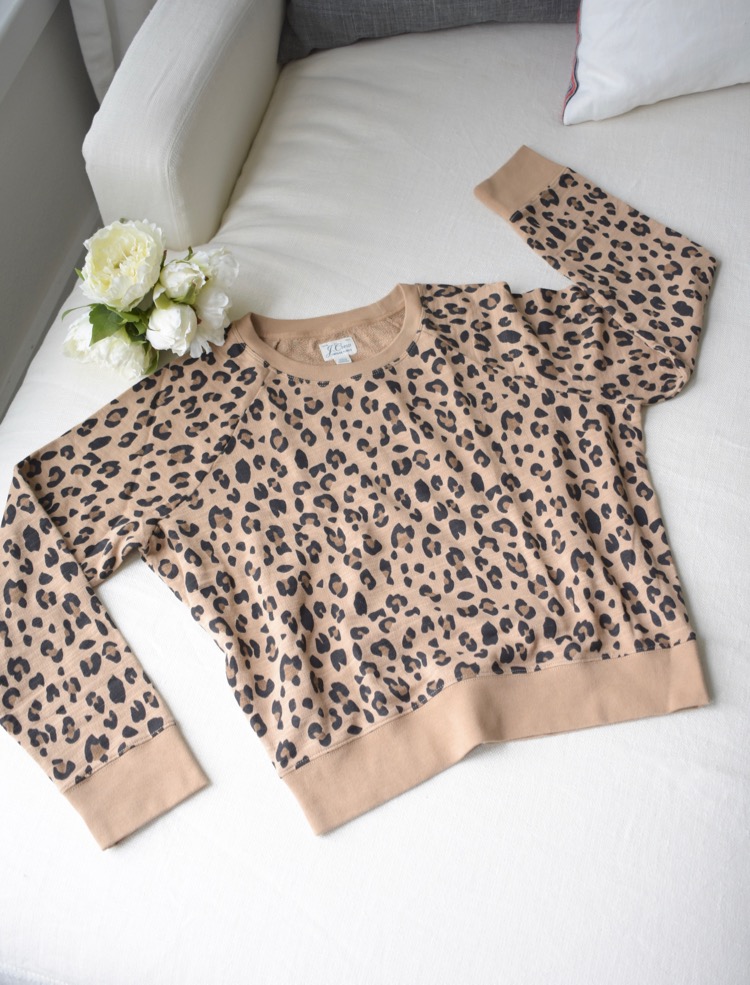 Here are a few more things I've either ordered or are looking to pick up to lounge around in since I'm tired of looking at myself in leggings every day all day ~ no that I have anything against leggings but these comfy loungewear picks look even more cozy and comfortable to me!  Really love the set with the stripe detail down the leg – it's ordered and on the way!


And last but not least are all of my Studio McGee Favorites.  I hope my styling was helpful and that you'll come back soon because I'll be adding a few more things as they come back in stock soon!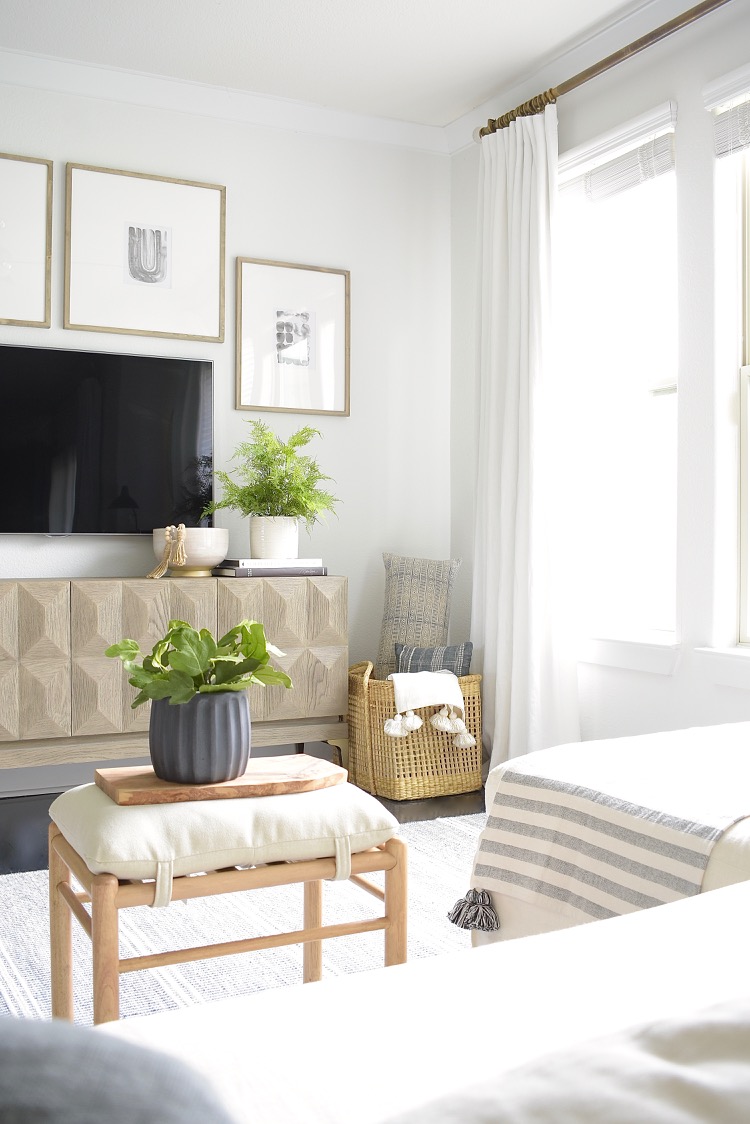 Studio McGee Favorites

Other resources in this post
Similar Media Cabinet 1 | Similar Media Cabinet 2 | Rug | Similar Curtains | Similar Curtain Rod | Gallery Frames | Art Prints | Coffee Table Design Book 1 | Coffee Table Design Book 2 | Sofa | Large Gray Pillow on Sofa