ZDH Bungalow Modern – New Home Update #1
I know you guys think I have been holding out on you but I promise I haven't!  I have been sharing everything in my Instagram stories as often as possible but now we're far enough along in the process that I finally feel like I have something fun to share with you on the blog.   So, today I'll be sharing my very first new home update with you of ZDH Bungalow Modern, to include lots of photos.  I also want to say I am so excited to have you here to share in this journey with me ~ thank you for stopping by!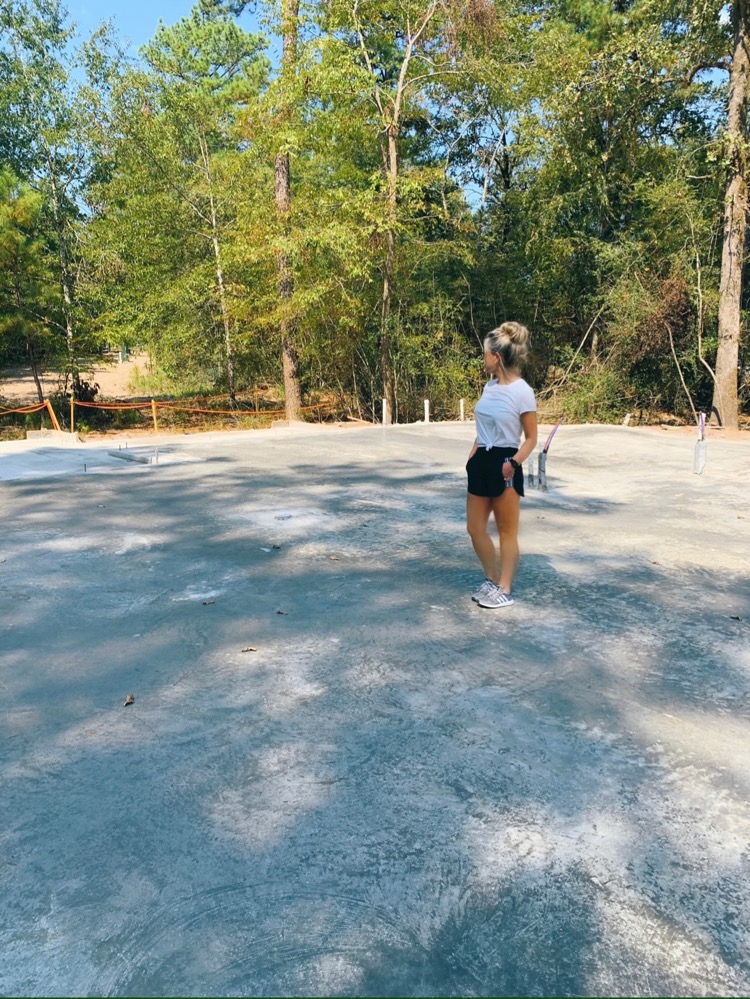 That photo was taken last August when the slab of our current project was freshly poured and I couldn't have been more excited at the time!  It has been a very long, exhausting, emotionally taxing road to get to this point but to get you caught up to speed in the shortest way I can I'll give you the cliff notes version (if you don't already know). We moved to Houston almost 3 years ago and contracted with a builder who quickly went belly up right after he poured the slab on our first house venture here (not this photo above).  We spent two long years and many sleepless nights battling him in court, along with several other families that were victims of his irresponsible and corrupt business practices.  Last November we were finally vindicated and won a judgment against him in federal court however, and sadly, no monies have been recovered up to this point.  And, he still seems to be in business which is completely appalling.  We filed a complaint with TREC (the Texas Realestate Commission) because he is also a real estate agent as we gave him the money to purchase the property for us, signing a standard Texas Builders Contract with him to build a turn key project for us, which is the reason we had no claim to the property once everything began to unravel.  We also filed complaints with 2 local law enforcement agencies neither of whom would take the case, saying it was strictly a civil matter, which is also appalling.  Realizing the vast majority of builders and contractors aren't this way, it is shocking what a corrupt contractor can get away with in this day and age.
The saddest part of this whole thing is that he is still out there trying to victimize other families out of hard earned money and their dreams of building a custom home.  My advice to you if you are looking to build a custom home is to first of all trust your gut – there were some red flags for us before we gave him a deposit but we were so excited to get a home built as soon as possible that we unfortunately dusted them under the rug.  When you are honest and forth coming you expect others to be the same way in return and the loss was nothing short of somewhat devastating to us both financially and emotionally.  Additionally, if we had just checked court records in our county we would have seen where he had already been sued by two other people up to that point for similar offenses so if you are looking to custom build – I highly recommend doing this!
Moving on from there, we purchased a piece of property in Tomball, TX which is about 30 min away from where we currently live in The Woodlands, TX.  We love this area so much that after some time we realized we didn't want to leave so we put that property up for sale.  It took us a year to sell it and we just closed on it last week ~ hallelujah!  In the mean time, we found the property and builder we are currently working with and could't be more happy!  Our builder is Tipler Design Build and we are so thankful to have been able to find them and our new neighborhood.  They have been an extreme pleasure to work with and the project is turning out so great!  Through this I have been able to work with an incredible design and management team at Tipler and my husband and I both agree it has been the absolute best experience we've ever had building a home.
Here is a rendering of our home to be below;).  Ever since I first saw this it always felt like a bungalow home to me.  The cedar shakes, cedar beam above the middle window, (partial) metal roof, and painted brick combined just give off that vibe to me for some reason, hence the name ZDH Bungalow Modern for our home, incase you were wondering;).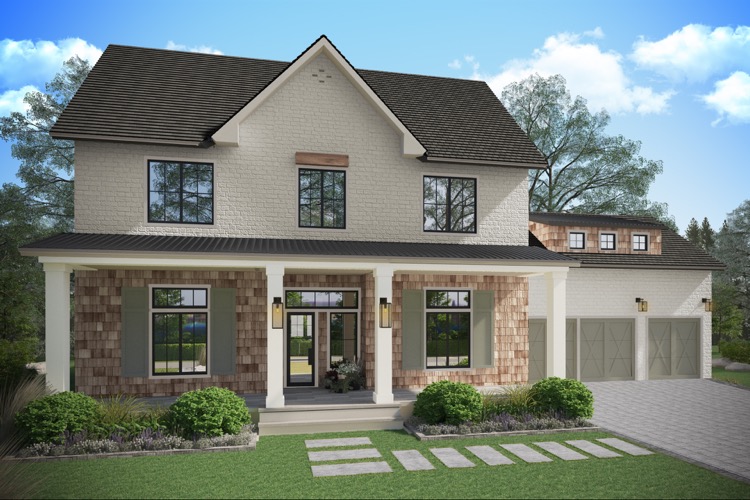 Here is a more causal rendering showing the exterior materials that I love as well.  The only real difference above is that we are doing black trim everywhere, and black garage doors so only the brick will be white and everything else besides the cedar will be black.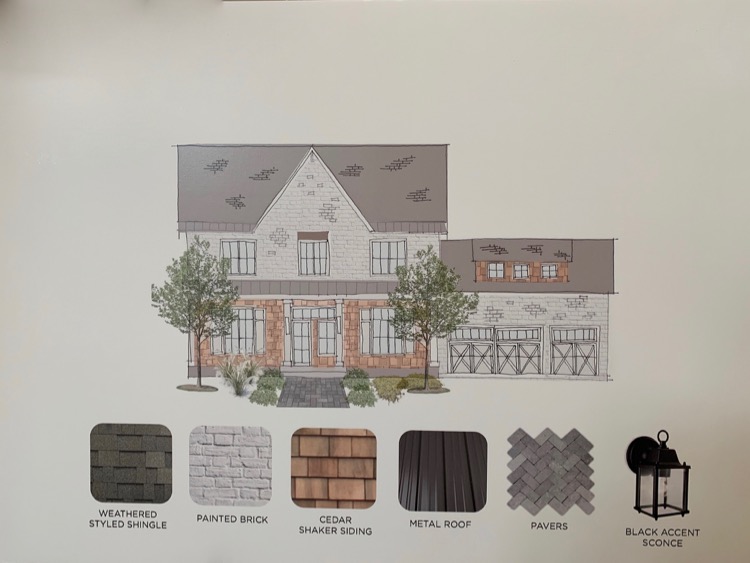 So let's get to the good stuff and where we are now.  We are currently in the trim stage which means all of the woodwork is going in ~ baseboards, door trim, widow sills, and of course the shiplap.  Now before I go any further I want to say it may look like from these photos that every wall in our home is shiplap, but it's not.  Right now (and at this stage) it's just that the most interesting spaces have shiplap or some type of wood work so that's mostly what I'll be sharing today.
This is the downstairs entry hall, looking in from the living room.  I found the coolest lights for this space – 2 of them.  Can't wait to see them hanging here soon!  Here they are …

tap the image to shop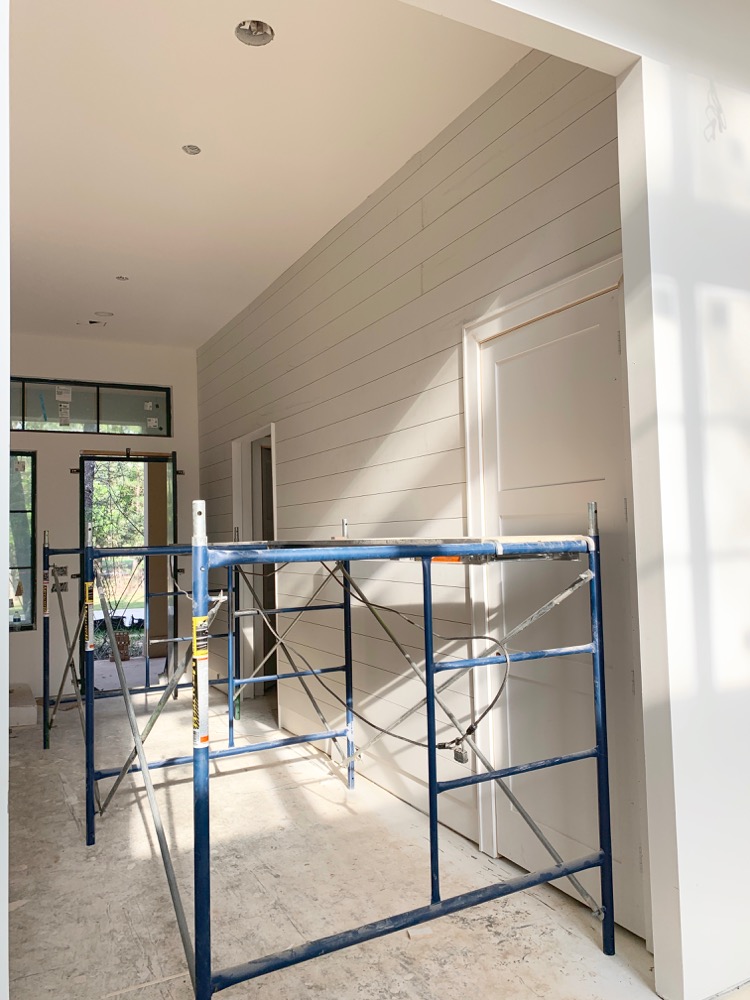 The opposite side of the hall.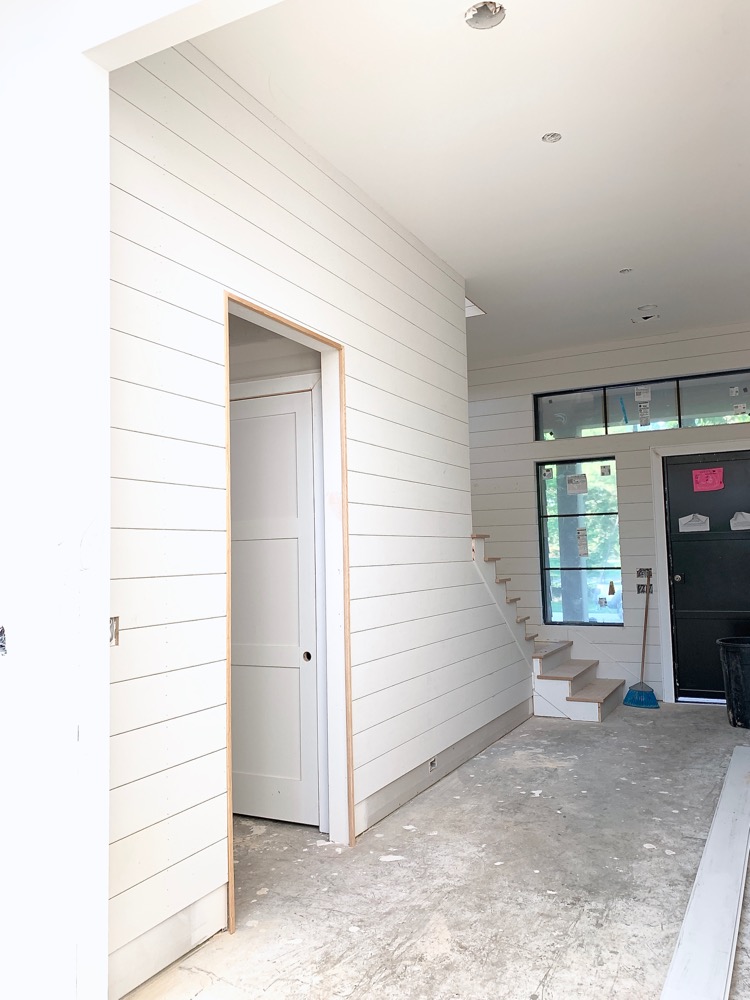 And the white oak stair treads went in last week – that was an exciting moment for sure!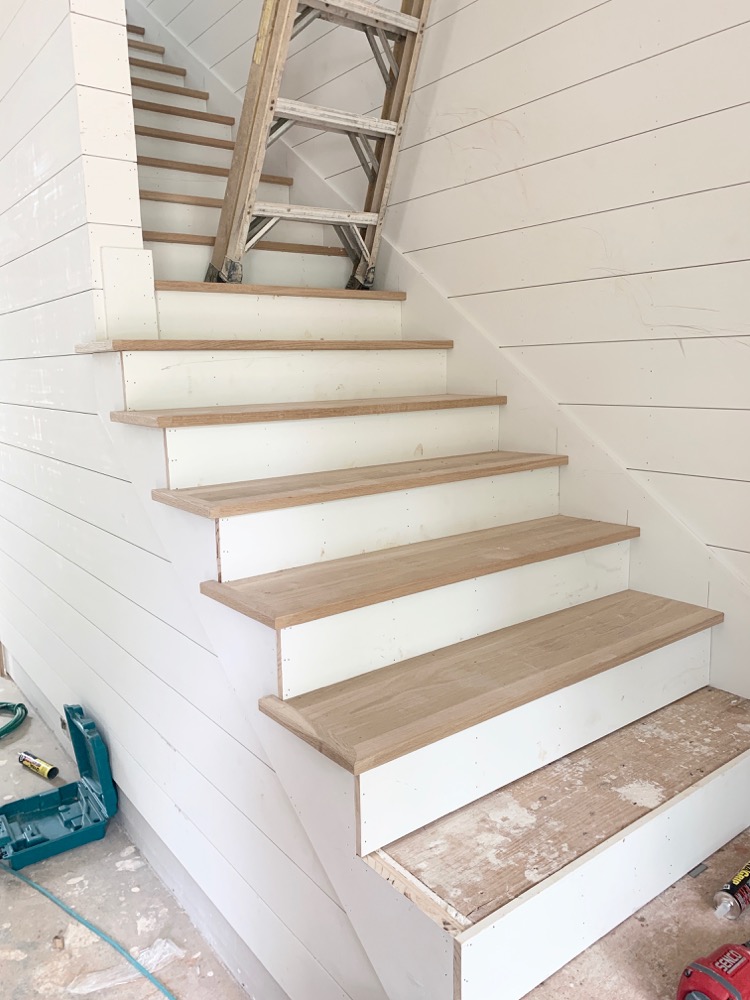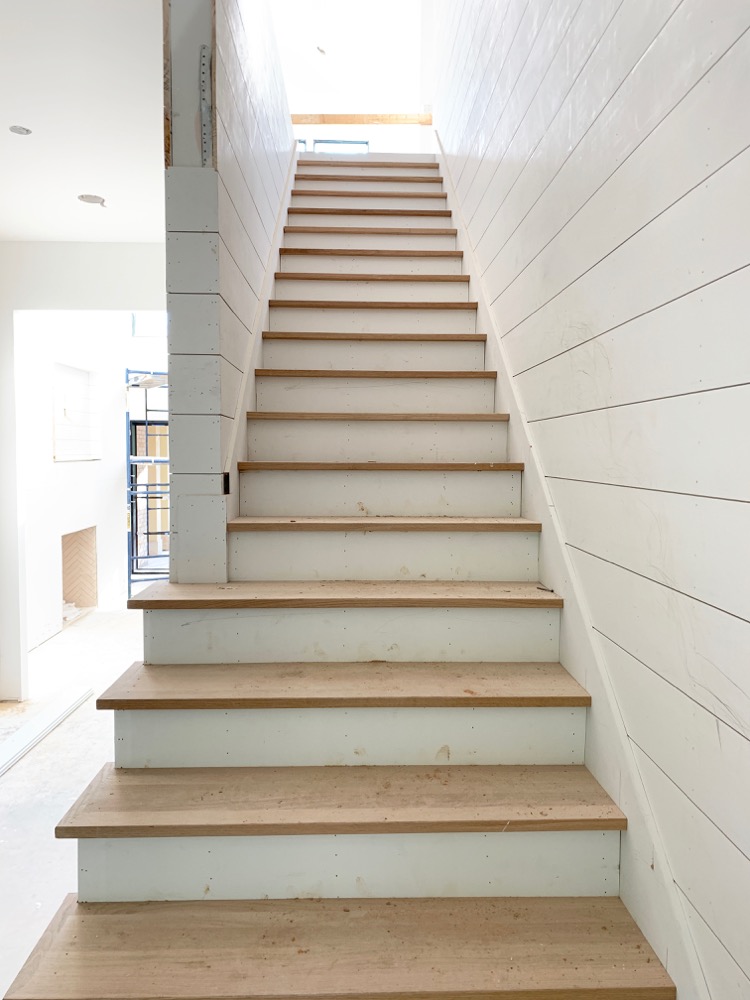 This is the upstairs hallway.  It's large and the shiplap comes up the wall from the entry hall downstairs so I added shiplap up here too at the last minute, feeling it would make for the best flow and bring some interest and texture to the space.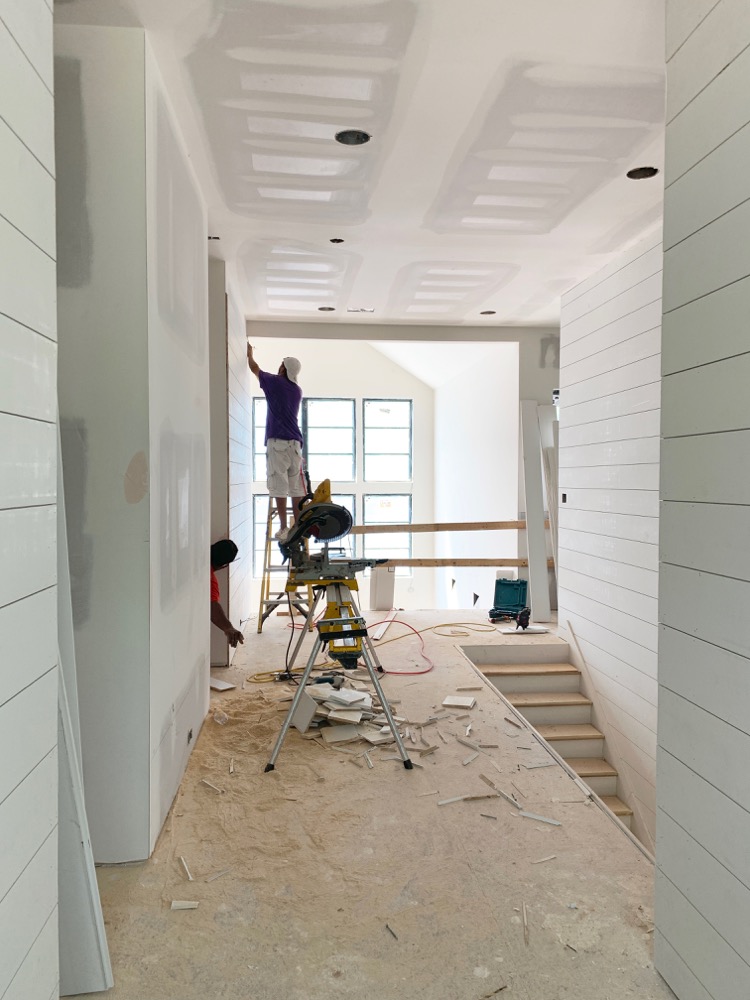 Same upstairs hallway from the opposite direction, photo taken at a different time.  There will be a bench at the end of the hallway under that window.  I'll be using these black basket pendants in this space..

tap image to shop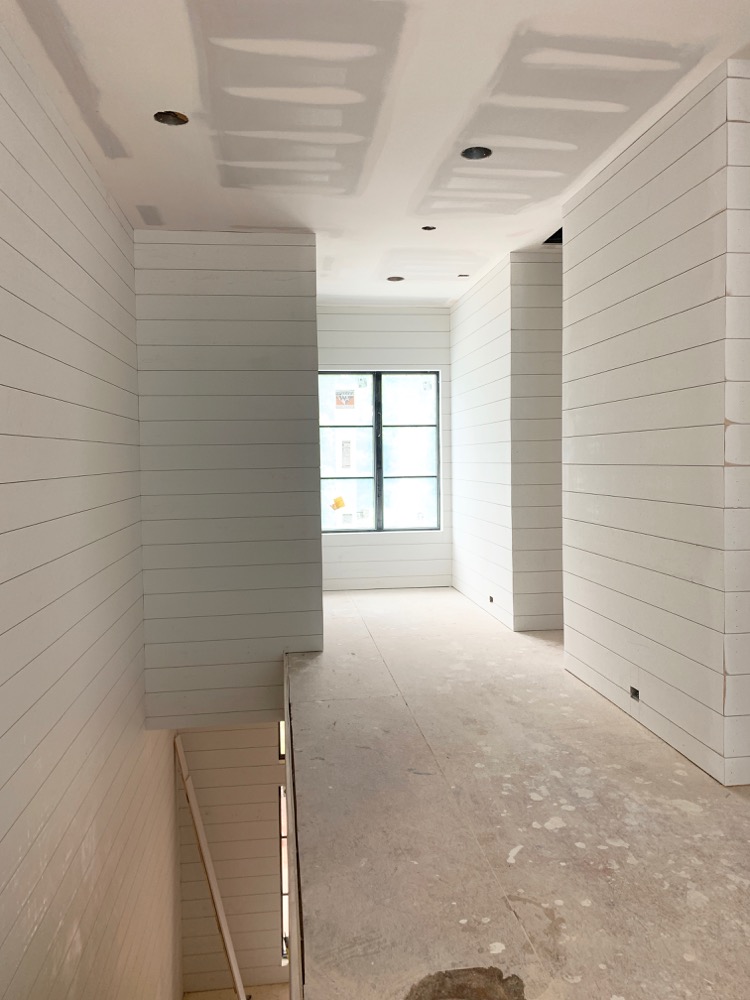 Around the corner to the left is the game room.  I also did some vertical shiplap in here.  This will be such a fun space for my son and his friends to hang out, not to mention just a great over all space to enjoy family time in!  I'm thinking of doing a trio of basket pendants in here.  Possibly with one of these…

tap the image to shop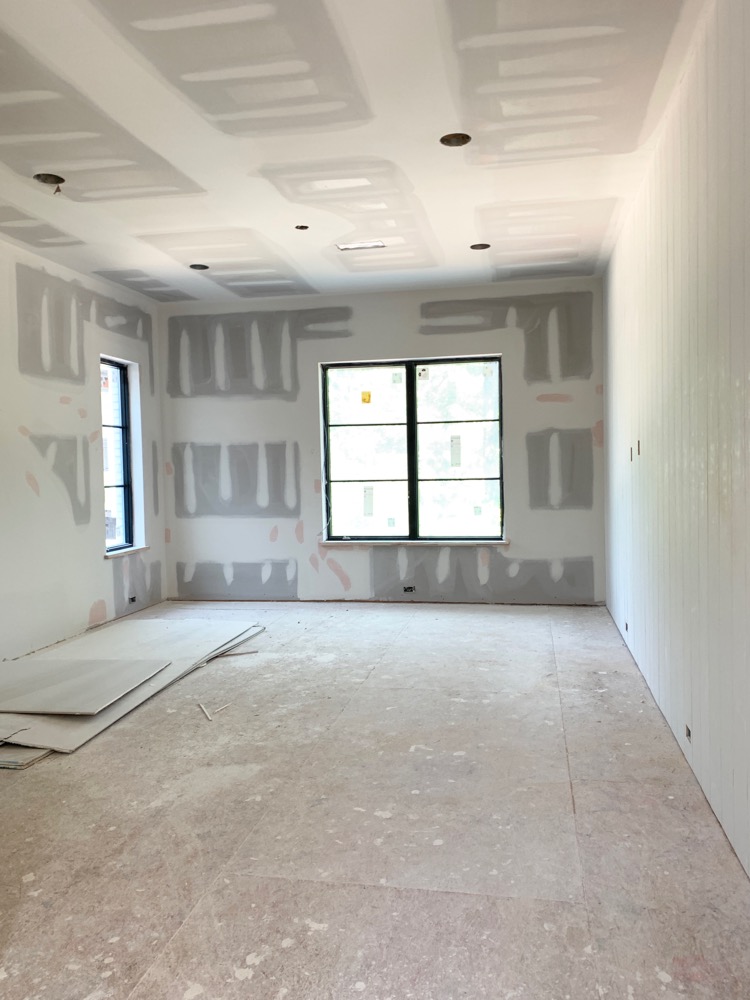 That area to the left where you see the outlets in the wall is where the TV will go.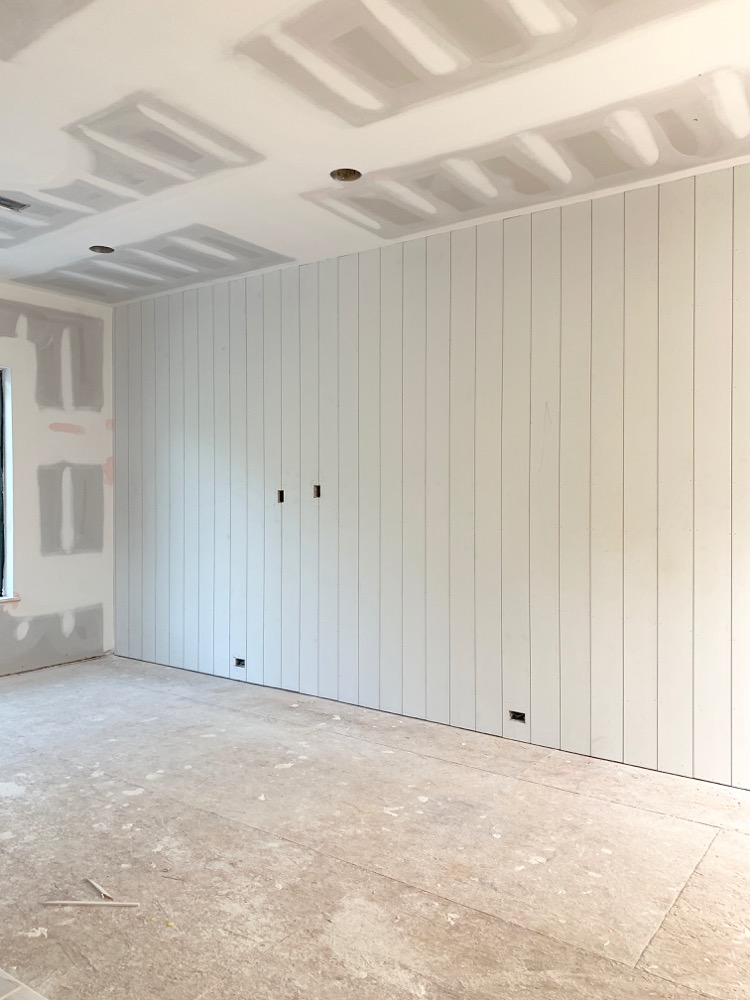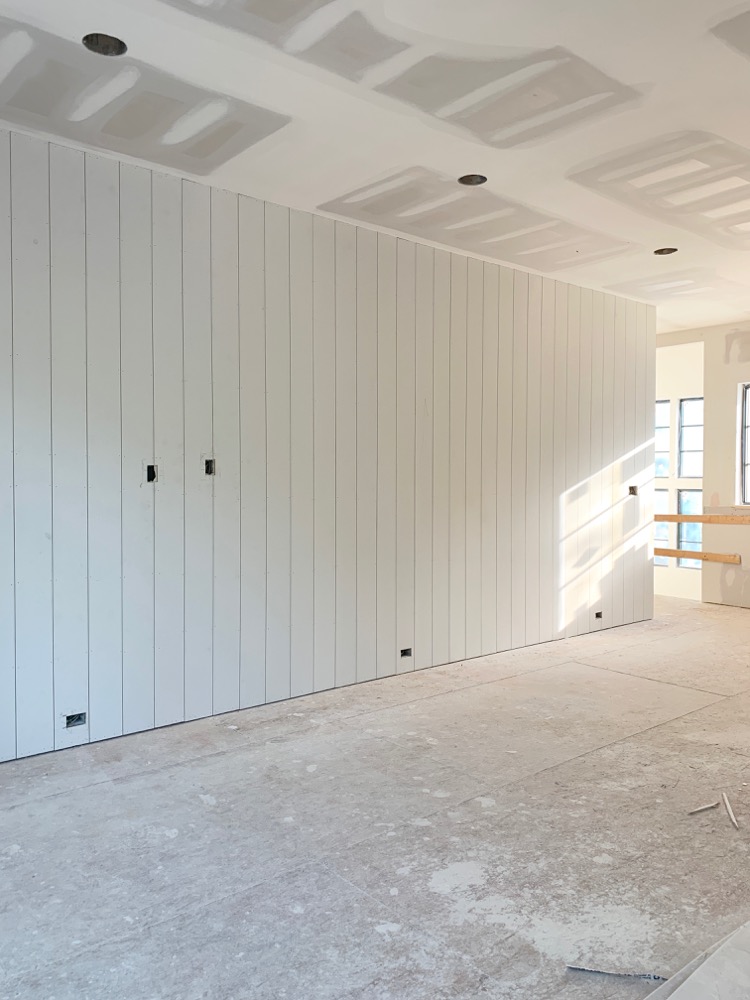 One thing we are doing in this house that we always wanted to do is to have the electrical outlets in the baseboards.  The baseboards will be a straight edge design and 12″ tall.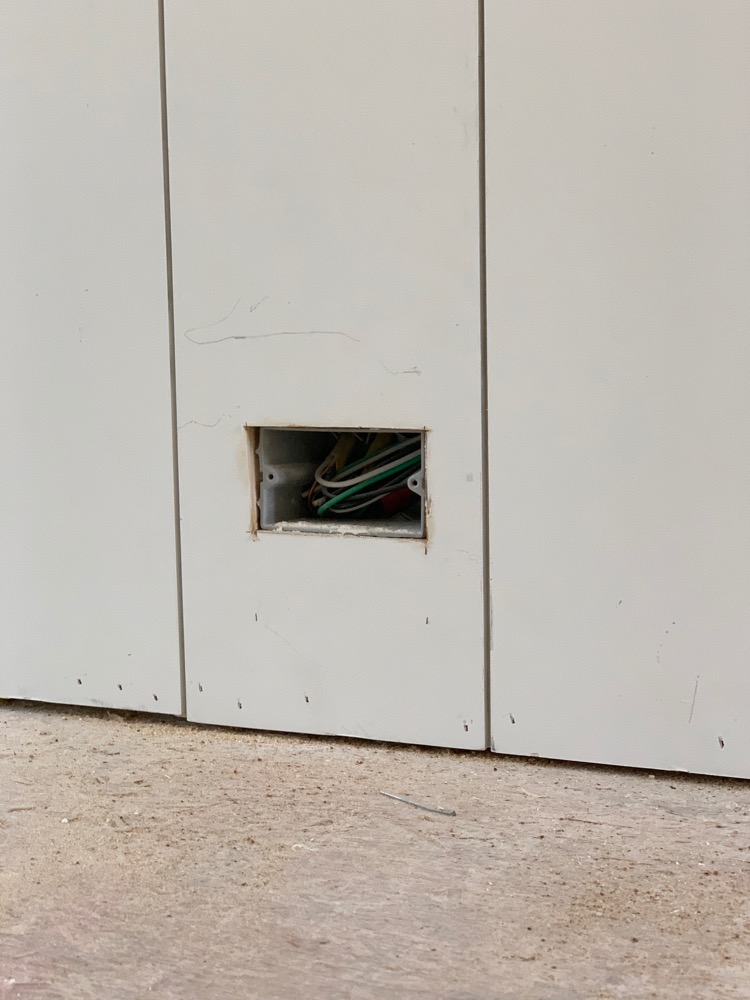 And the window sills are super simple as well.  At first I wasn't going to do window sills but when I saw the simple transitional sill my builder does I fell in love with it.  With all of the other woodwork in the house it just felt right so I went with it.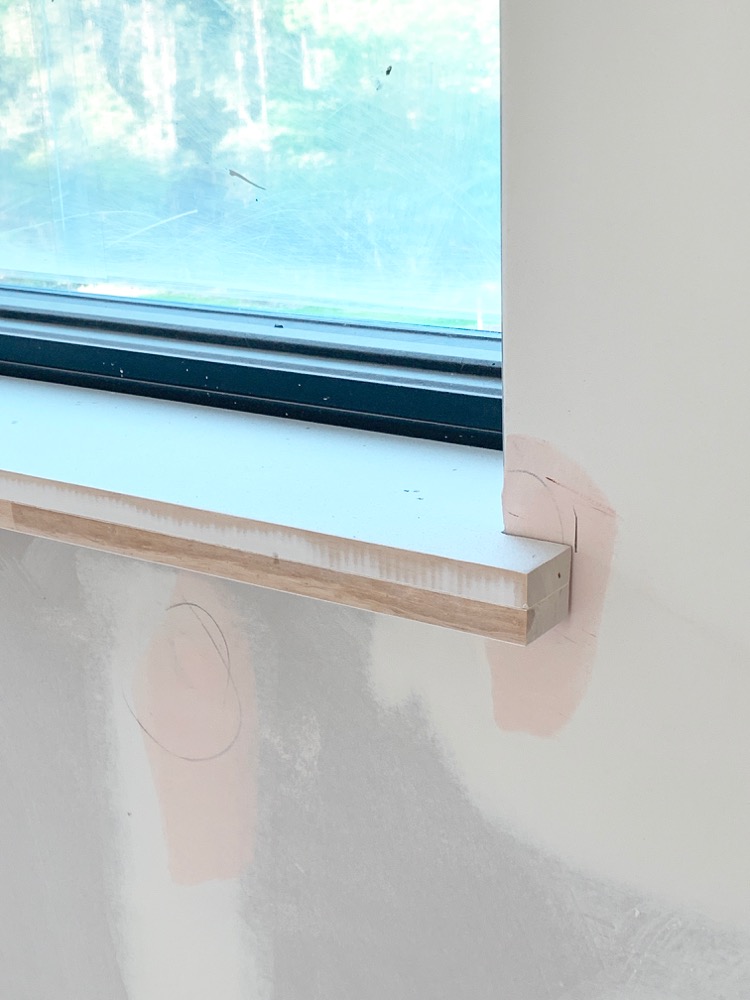 Here is the view into the living room as you exit the game room.  The white oak box beam in the living room still needs to be installed.  The ceilings are 21′ feet high in here, I believe – I need to double check on that to be sure though;).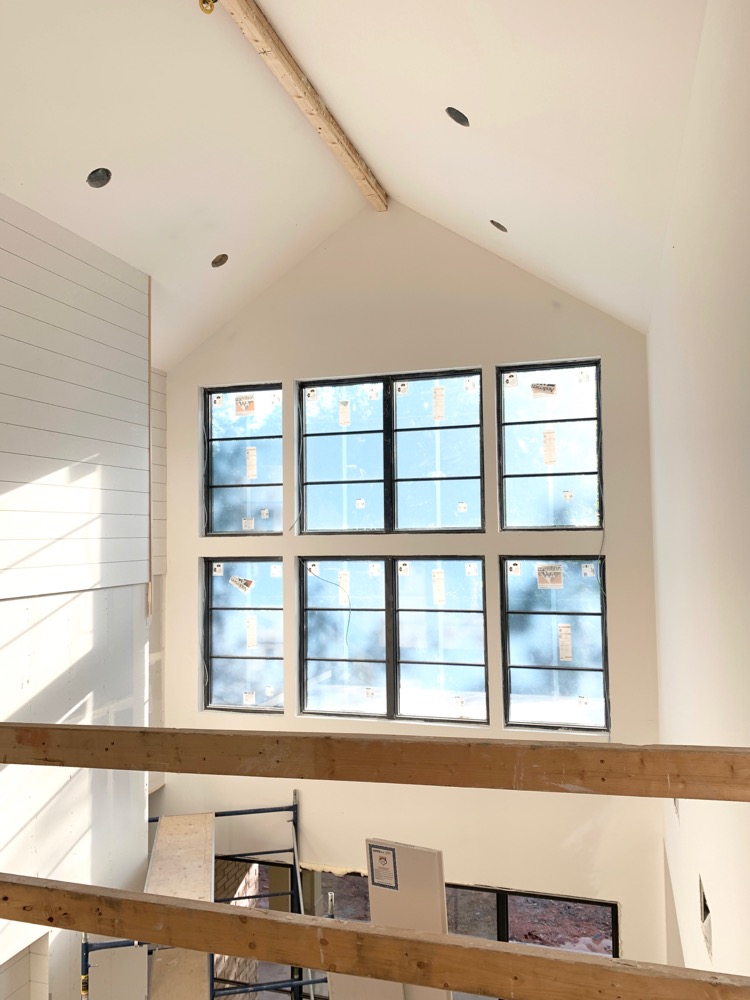 Moving back downstairs…a few weeks ago the custom steel back door unit was installed.  Couldn't love them more!  We used a company out of Texas called Metro Steel.  They do amazing work and I was thrilled to have the opportunity to collaborate with them on these amazing doors.  Can't wait to share more once the installation is complete!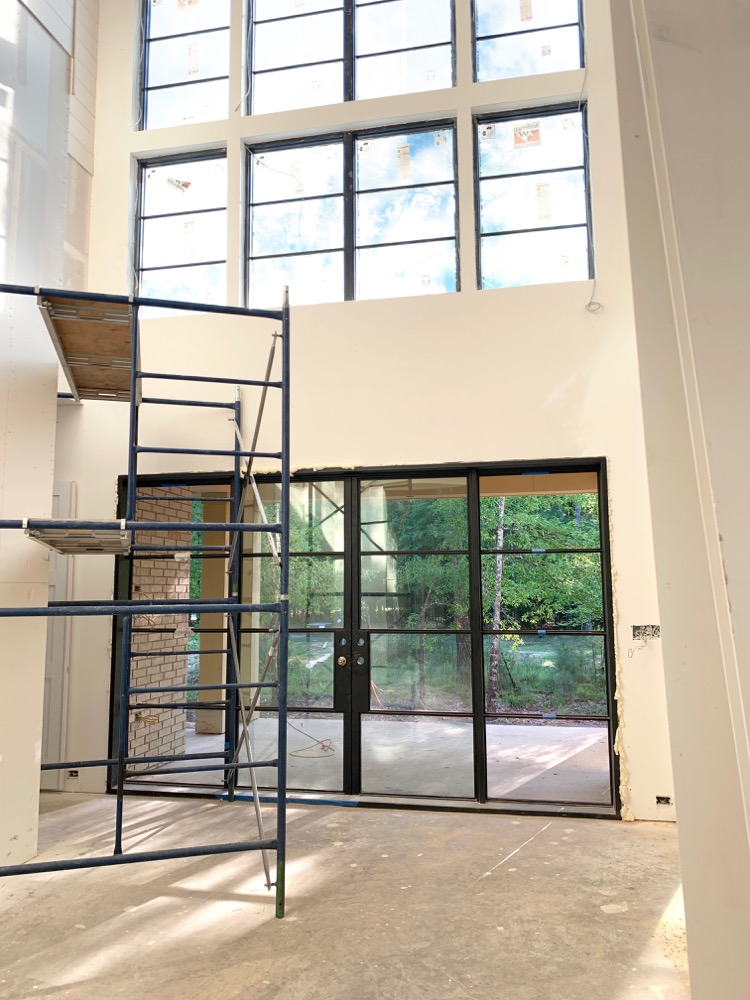 This shot is looking from the living room down into the entry hall before the shiplap went up.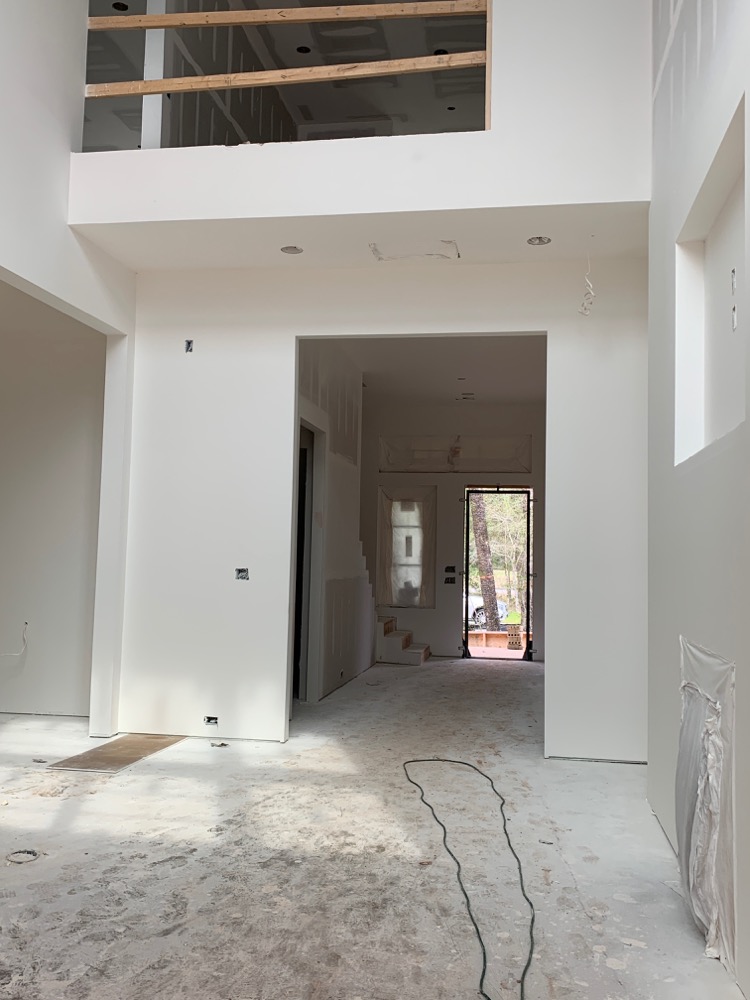 To the left of that is the kitchen and dining space.  Nothing really to show yet in the kitchen except the fur-downs have been installed around the perimeter of the kitchen.  There will also be white oak beams that run into the fur-downs.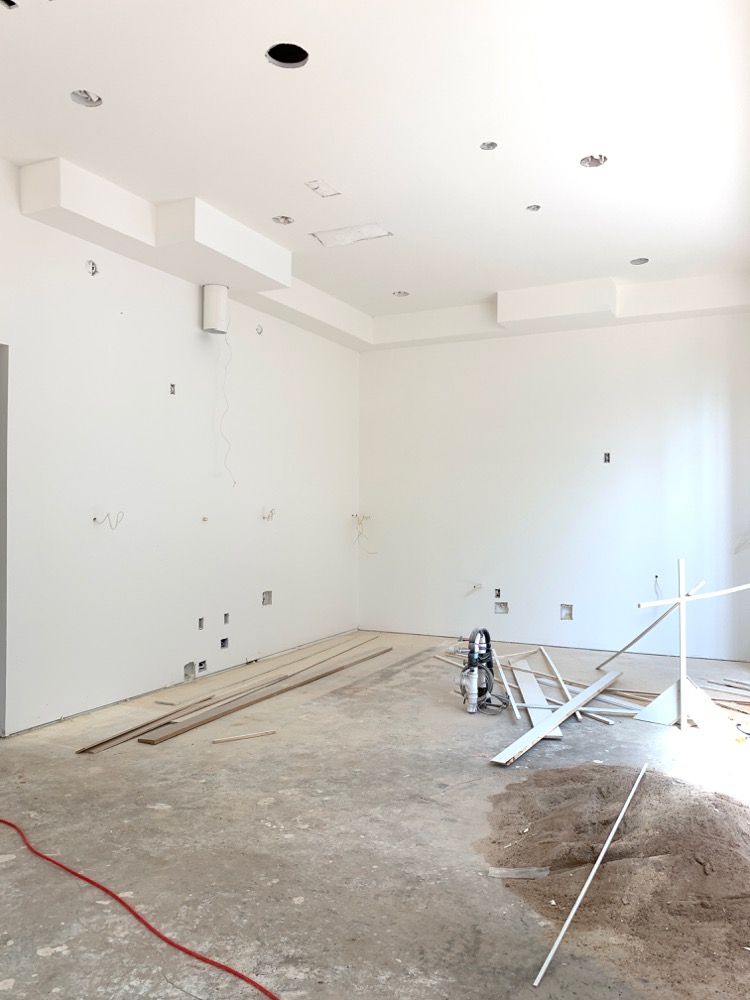 Here is the dining space currently.  We opted not to go with a formal dining room in this home because we rarely ever used the ones we had previously and this situation just made more sense for our family.  This light that I chose for the dining space has been around a while but I absolutely love it and have been eyeing it for years…

tap image to shop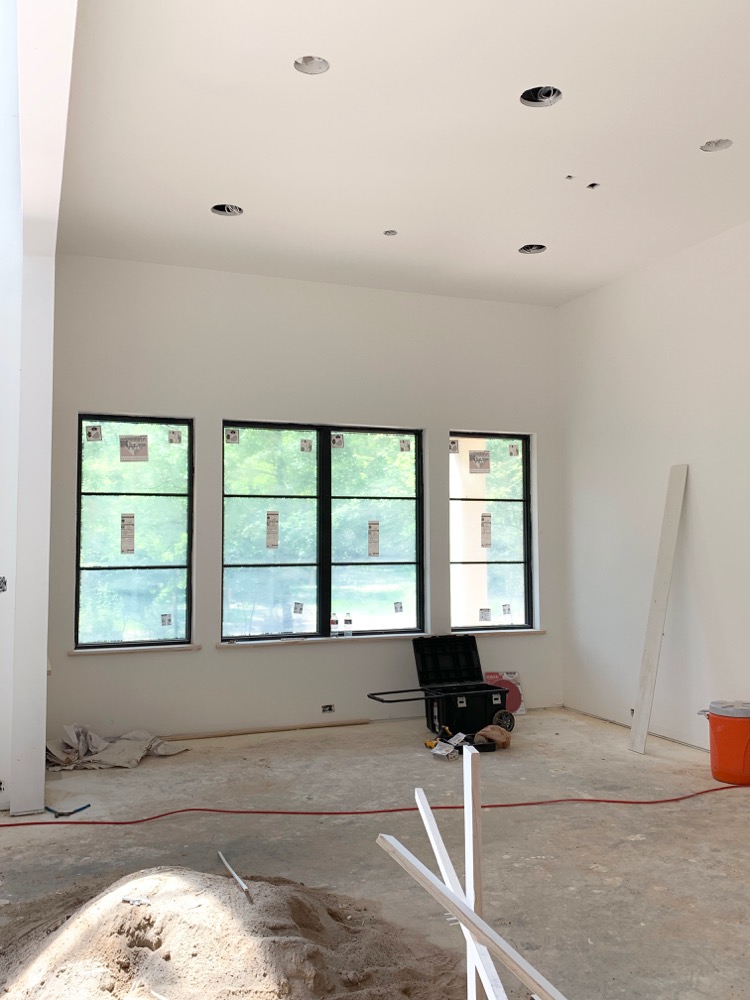 One thing I'm really excited about is this white oak accent trim between the living room and kitchen.  This is a photo from a house down the street that is going up simultaneous to ours.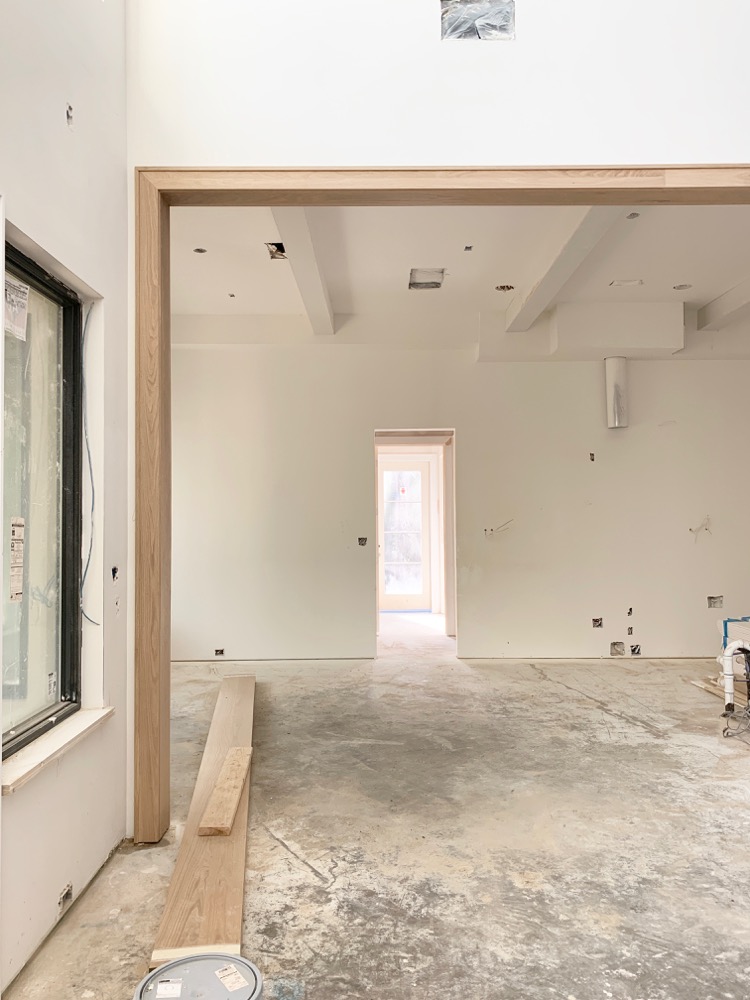 Here is a rendering of what those two spaces will basically look like.  The differences will be that our beams will be white oak, the island will be black and the fridge will be panel ready in white oak.  There will also be shelves vs. cabinets on either side of the range hood and the lighting will be different along with a few other things but, this is overall a similar rendering.  Rendering produced and provided by Tipler Design Build.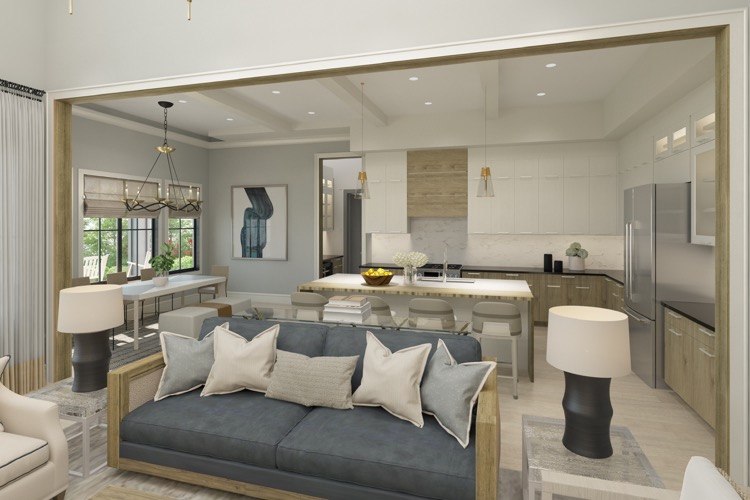 I love the pendant lights in the rendering and was going to use them initially but in the end decided to use some that I already have on hand to save money.  Here are both of them side by side…

tap image to shop
Beyond the kitchen is the butler's pantry, main pantry and then the laundry and mud rooms.  The mud room is coming along nicely with the start of cabinets and some shiplap on the opposite wall to keep that wall clean.  I did this in my previous home in our mud area and it was a life saver!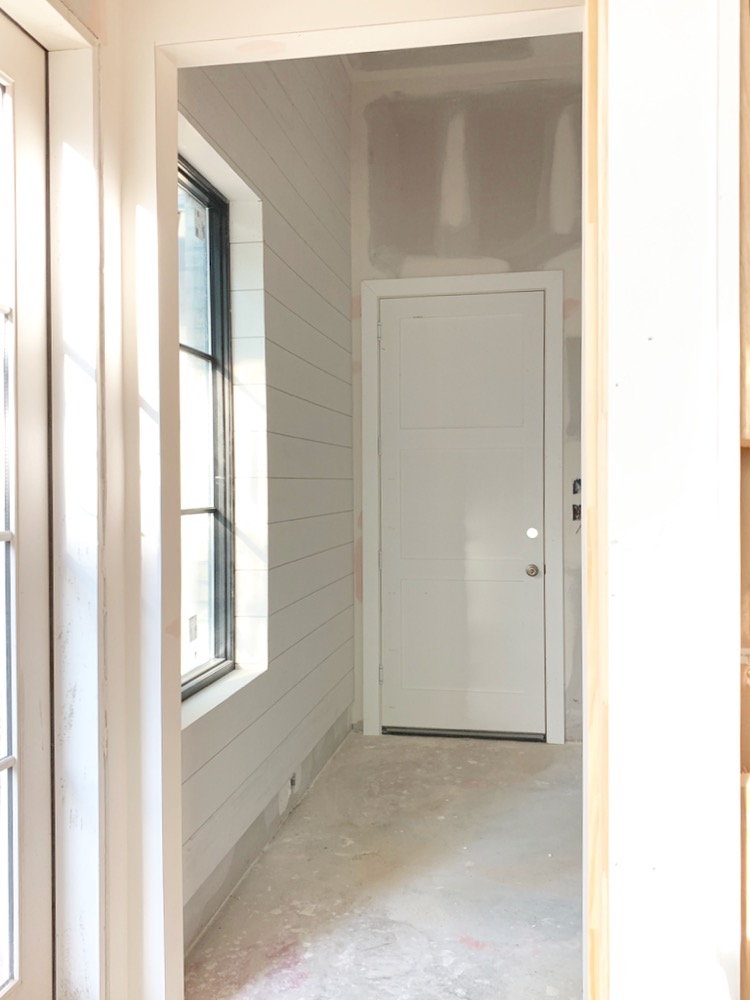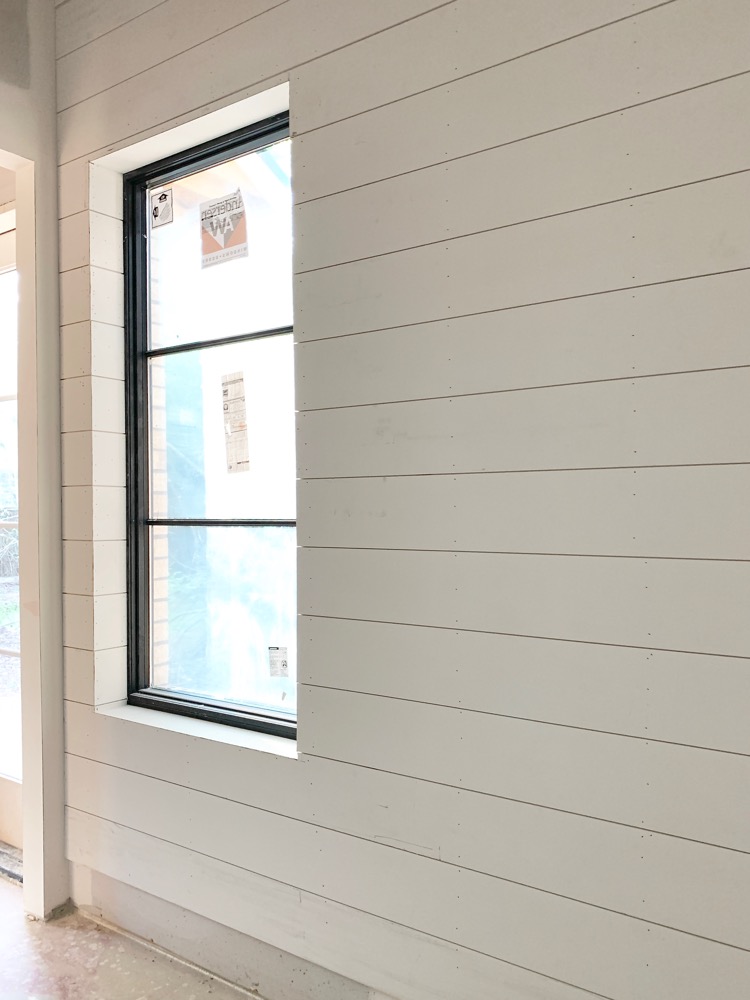 In the mudroom I'll be using this basket pendant that I already have.  Love this classic light…

tap image to shop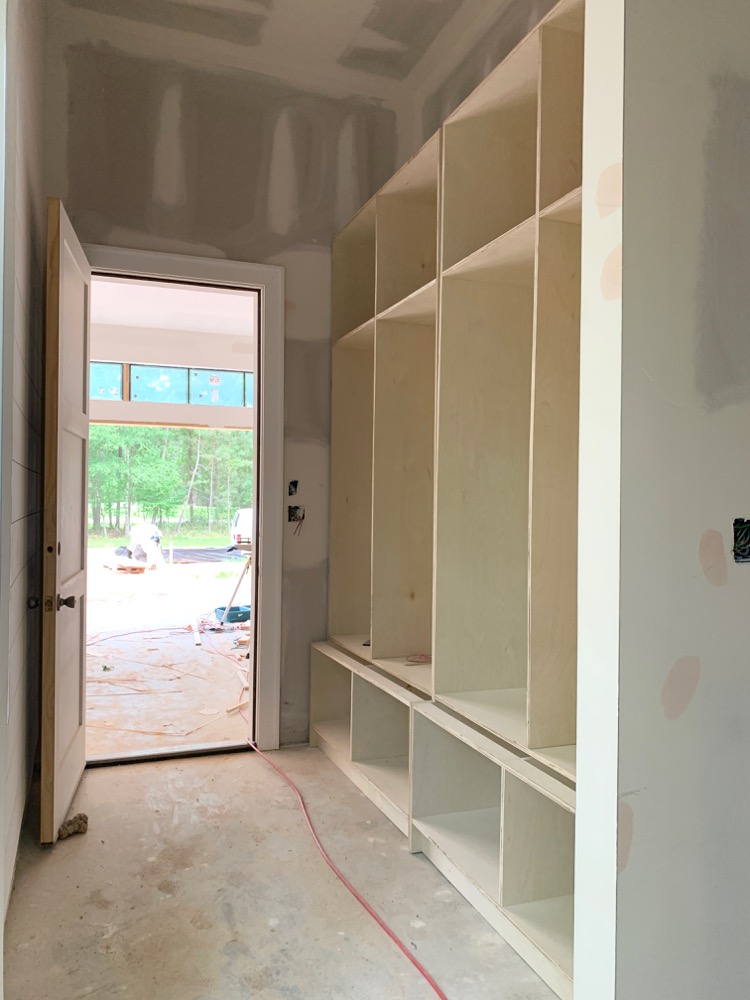 I don't have any great photos of the laundry room since there isn't anything to show at this point but I wanted to share this rendering with you by Tipler of what it will look like.  I'm so over the moon about this space!  This is the view looking into the space from the door but to the left of the door will be a dog wash and some more cabinetry.  Here are the sconces I'll be using in this space as well…

tap image to shop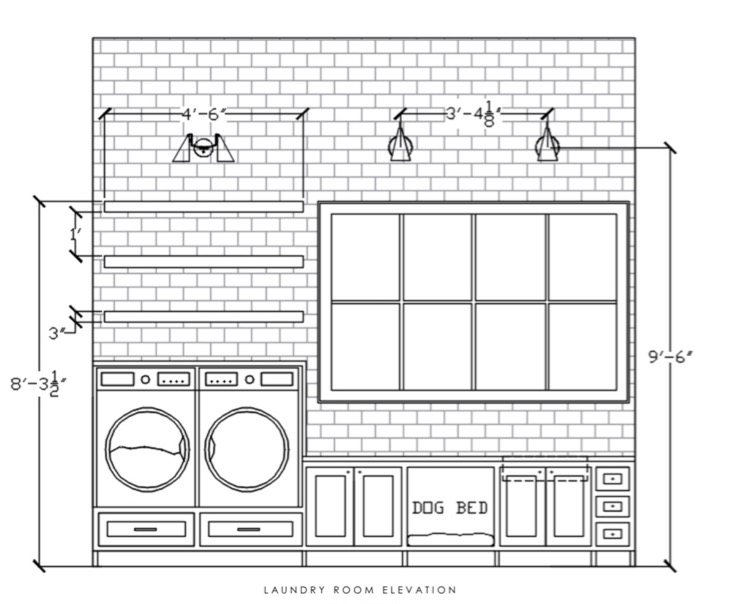 Moving back to the living room, here is a rendering of that space as well.  My fireplace wall won't look like this as we are doing black shiplap from top to bottom but with a cast stone mantle and herringbone Isokern fireplace (something I've always wanted to do), but this is generally what the space will look like.  Rendering produced and provided by Tipler.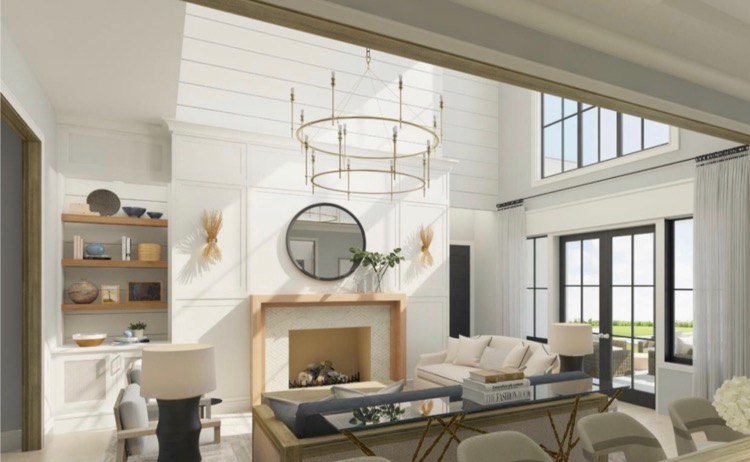 Here is what it looks like so far.  A bit of a mess right now as there are contractors crawling all over the place but it's a start.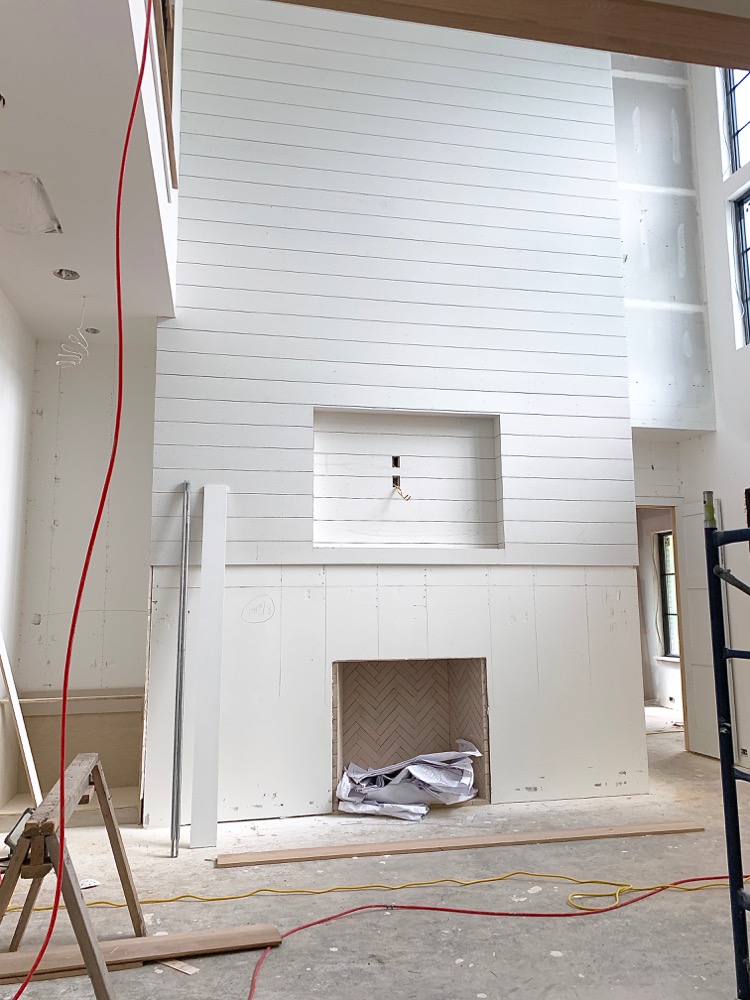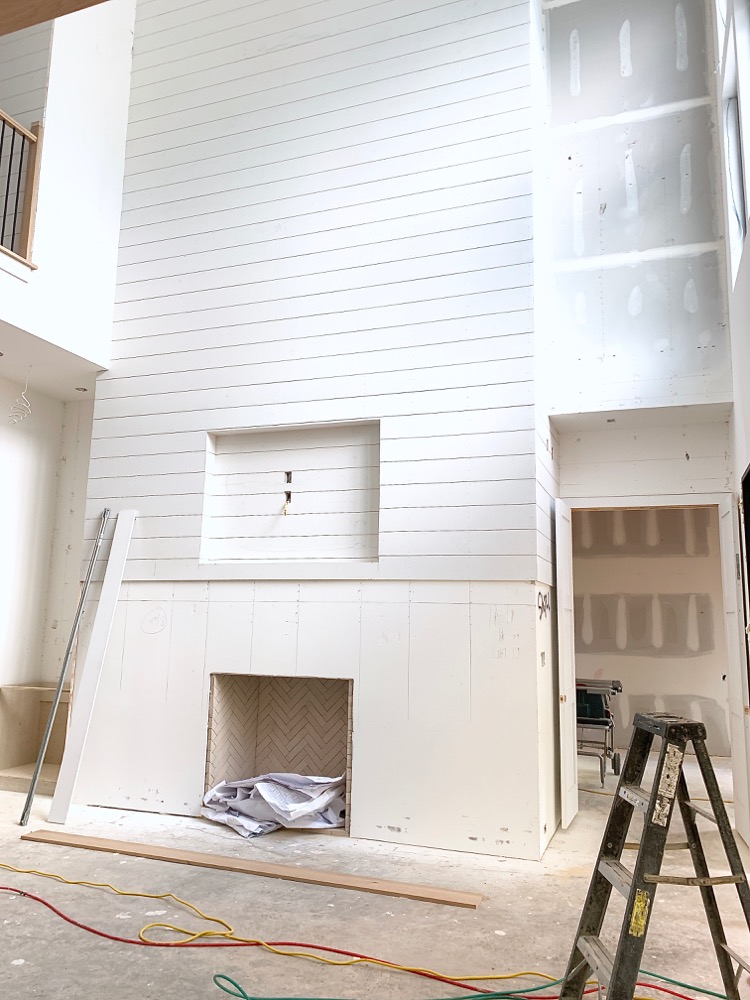 In the master bedroom the v-groove ceiling is currently being installed, before the beams are installed.  The room is cozy and will be the perfect size for us.  This is the light we plan to use in this space..

tap image to shop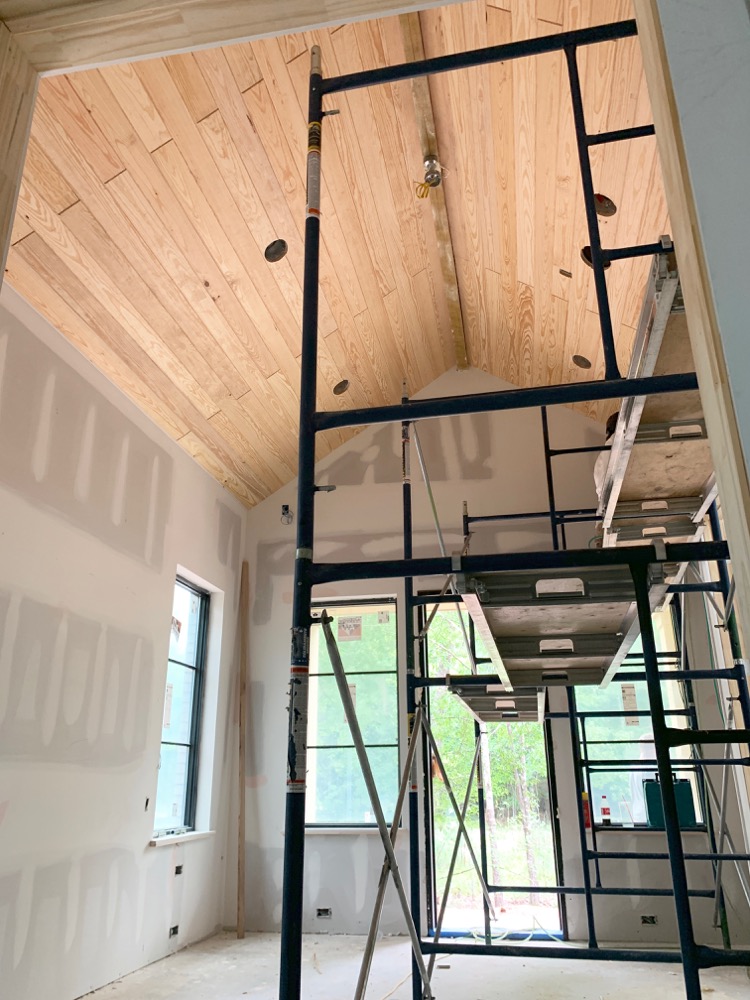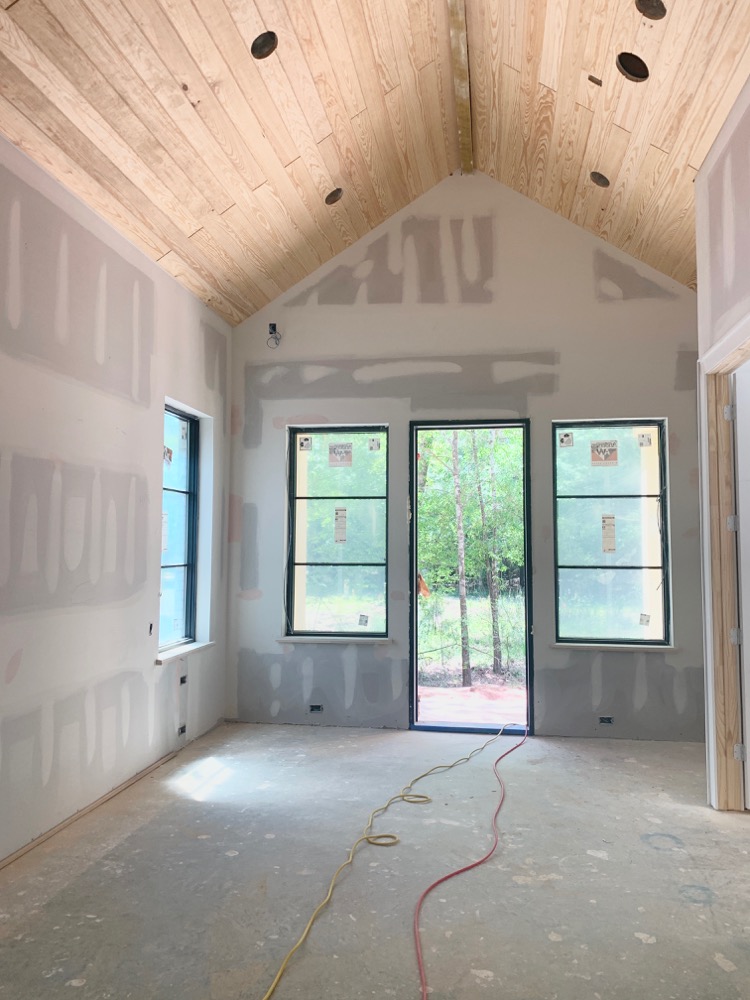 In the master bath water closet I actually opened this wall up (formerly dead space) and added these custom white oak shelves for towel storage.  The same shelves will also be going in the kitchen, the living room to the left of the fireplace, and the laundry room as well.  They are stunning in person and 3″ thick in case you were going to ask:)!  Oh, we have some being installed in the game room as well in another storage niche I created for games, throw blankets, etc.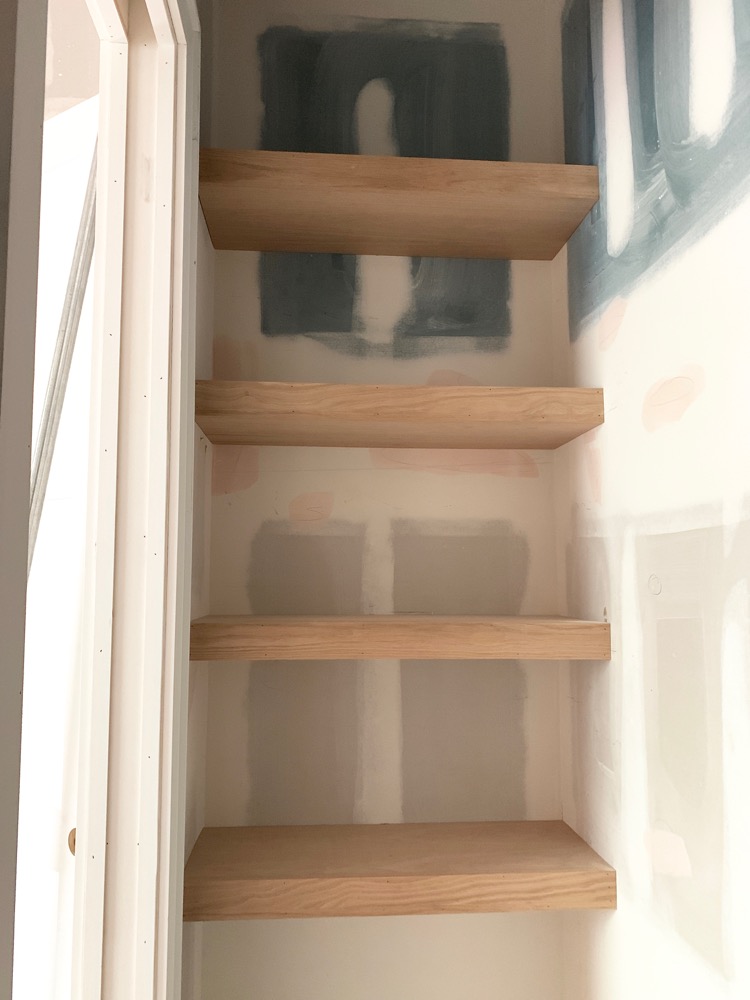 One last space I haven't shared yet is my study.  Not much to see in here so far except this gorgeous white oak ceiling with white oak box beams!  So excited about this!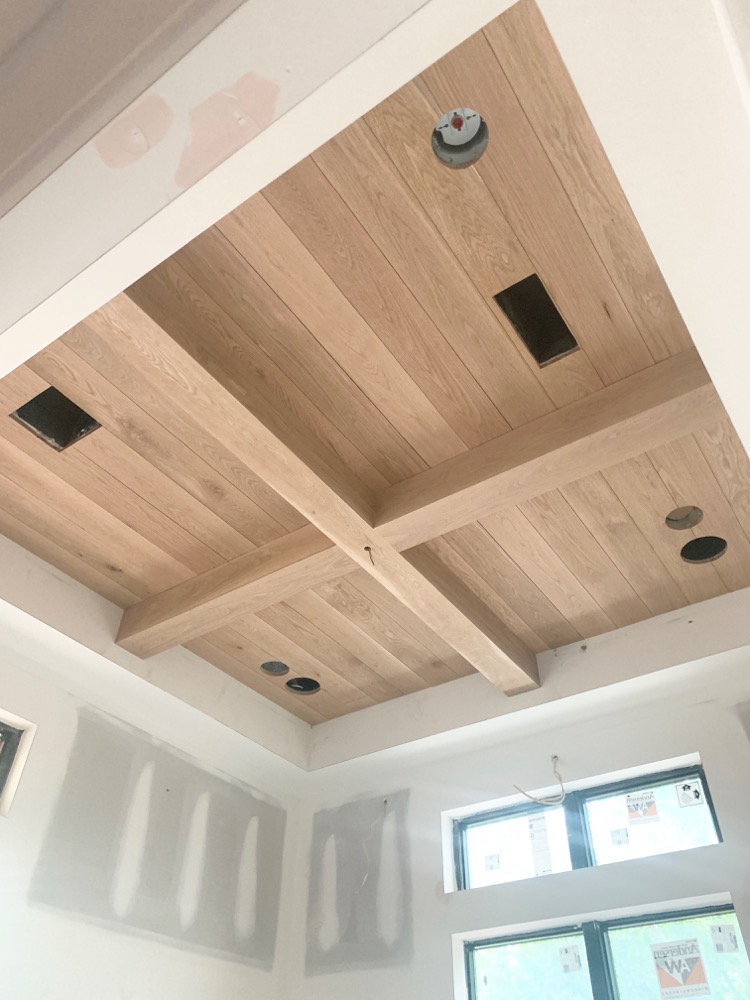 This is what the cabinetry will look like once complete!  The best part about this space is the gorgeous beaded chandelier that will hang from the center of the beams – can't wait for this one!!  And the picture lights over the cabinetry as well.

tap image to shop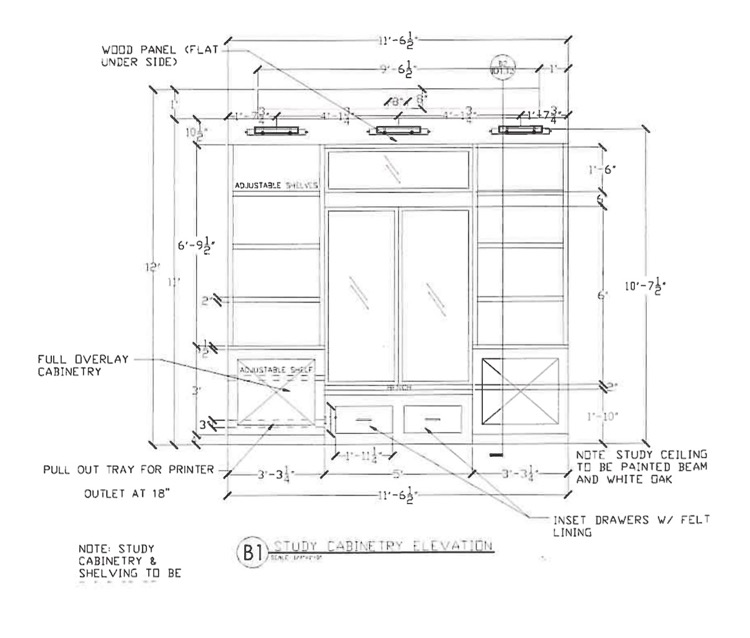 Thought I'd also take you for a spin outside.  The brick is on, cedar installed, and the siding has been installed on some of the back of the house as well (the back will be a mix of black siding and white brick) but the cedar turned out gorgeous.  It will be stained in a semi-transparent stain so that the natural cedar shows through as much as possible, the brick (again) will be white – SW Pure White, and the columns, eves, fascia boards and garage doors will all be SW Iron Ore.  The ceiling of the porch will be Iron Ore as well.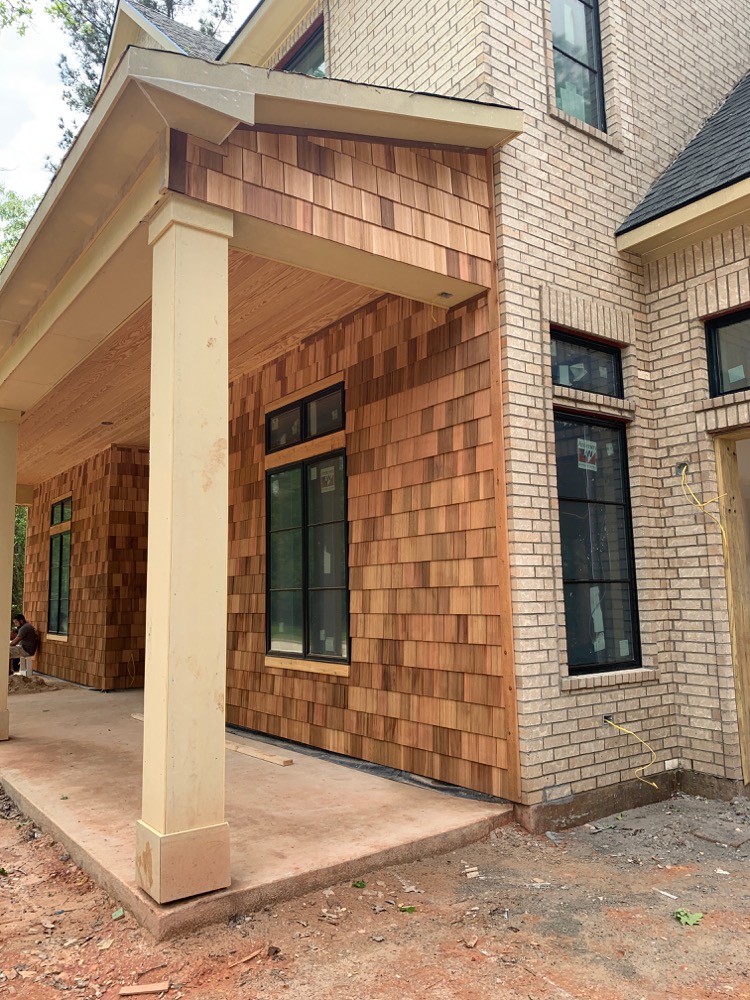 These are the lights we'll be using for the front porch as well…

tap image to shop
Well, that's it folks, for now anyway!  I hope you enjoyed the first real tour of our ZDH Bungalow Modern – and that you'll come back for more soon!  Remember to always check my Instagram story highlights for the latest updates and let me know if you have any questions or comments below…so excited to share more of our new home with you soon!!

Let's stay connected…
Pinterest | Facebook | Instagram | Linkedin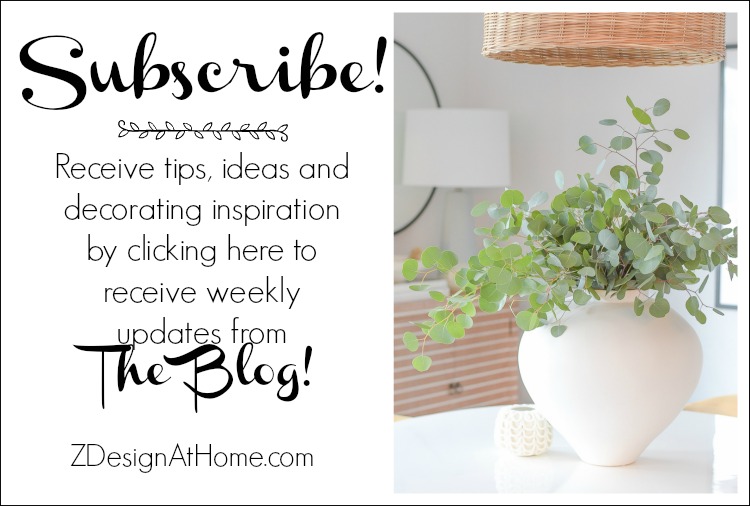 Shop Lighting From This Post