Mixed-Metal Christmas Tree Tour – The 1st of our Holiday Home!
Hi friends! I have something very excited for you today – it's the 1st of our holiday home with not one, but two Mixed-Metal Christmas trees to tour! And, if you came over from my dear friends, Jen at Decor Gold or Tamara of Citrine Living, welcome – I just love both of their homes and since I was able to get a sneak peek I can tell you that both of their trees are absolutely stunning this year. So make sure to pop over to each of their blogs (that you can link to at the end of my post) if you haven't already done so – I can promise you will love what you see!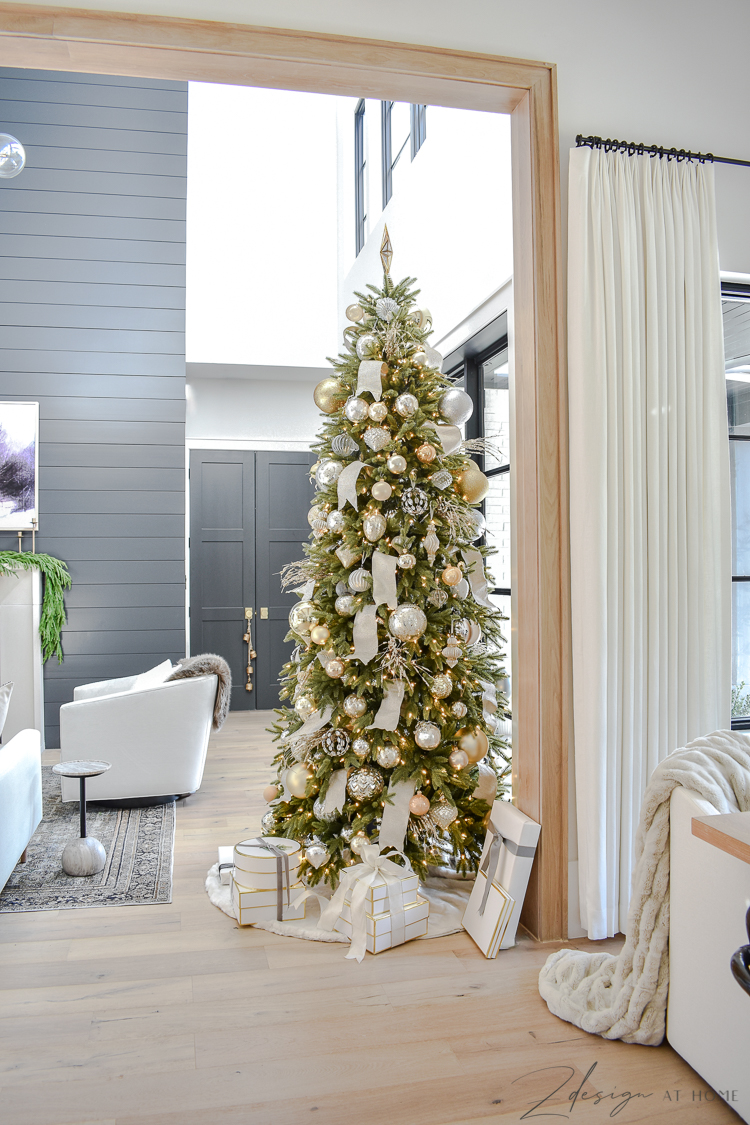 This post was done in partnership with Balsam Hill, one of my favorite brands, however all thoughts, opinions and styling is my own. Please find my full disclosure policy here.
I teamed up with Jen & Tamara to bring you some beautiful Christmas inspiration and trees from Balsam Hill this year! This is my second and third tree from Balsam Hill and I couldn't love them more! I'll start in my foyer as you enter our home because there couldn't be anything more sweet than this darling 7ft Sonoma Slim Pencil Tree with clear lights from Balsam Hill.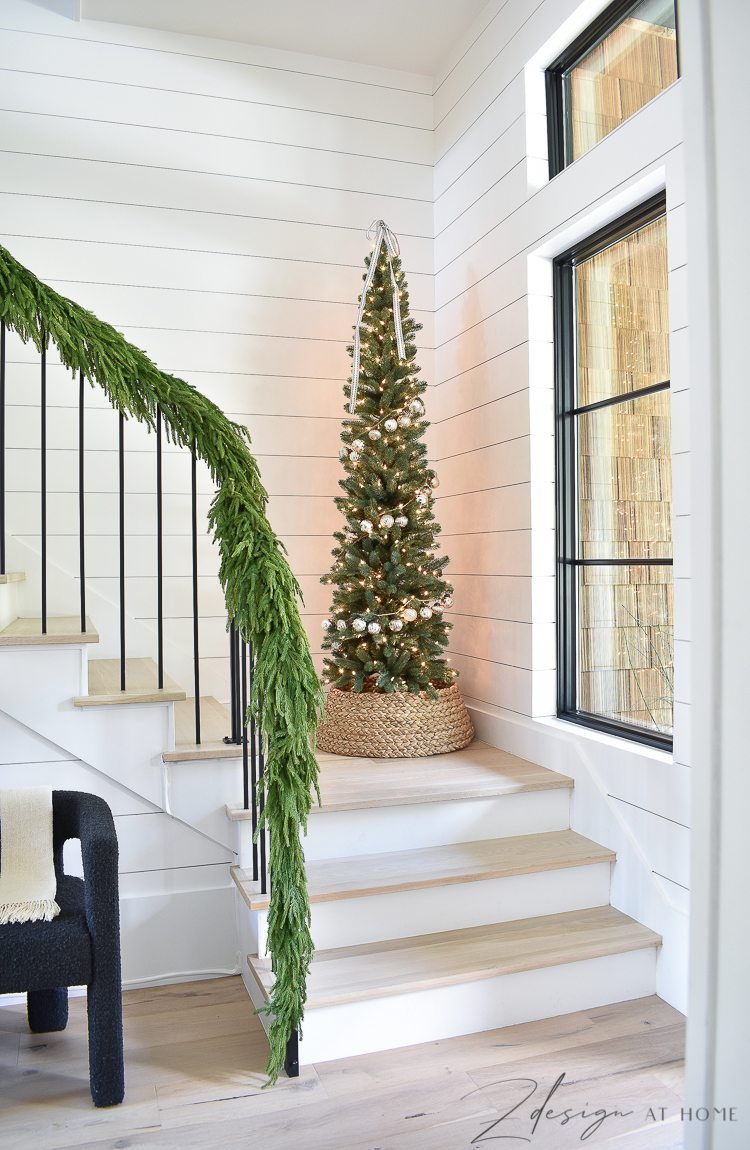 If you have a small space that needs a little Christmas cheer this is the tree with the perfect shape! The branches are very realistic and it's nice and full, and it has clear lights.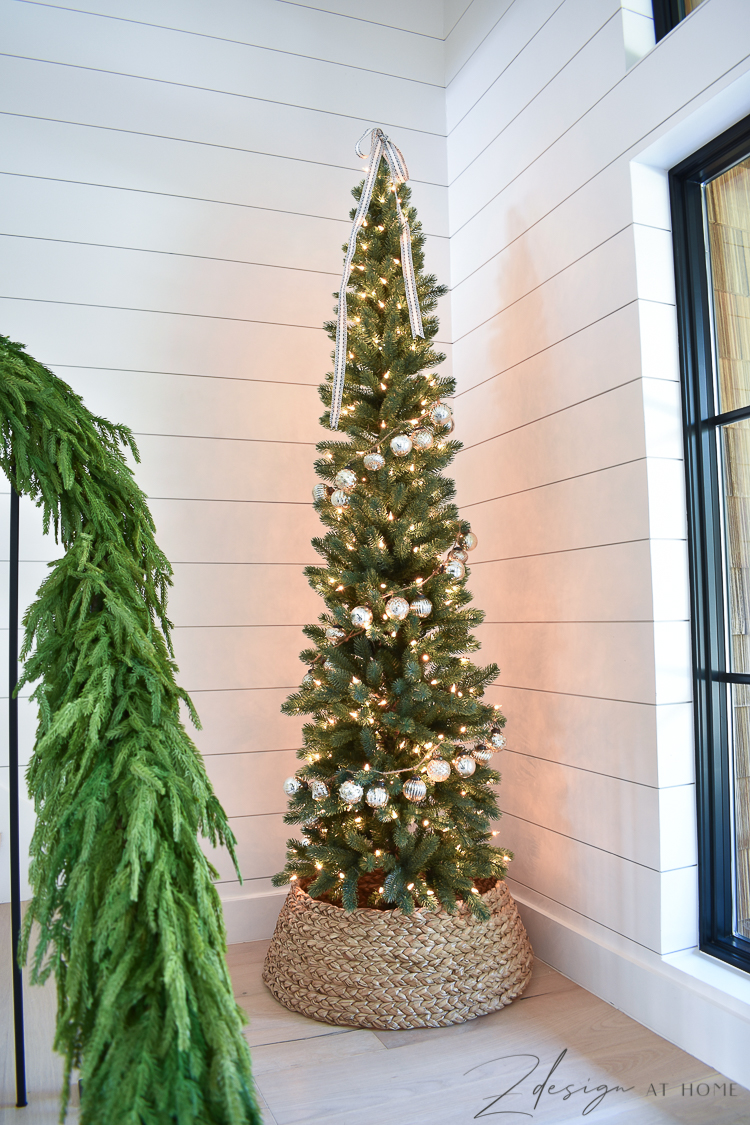 For a clean look I simply strung two mercury glass ornament garlands (that are kind of a mixed-metal color) onto my pencil tree and put a black and white bow on top for a simple, modern look. I also had this tree collar already that was perfect for this spot, and tree! It hides the stand perfectly and houses the foot pedal for the lights. You can see here how realistic the branches are on my tree…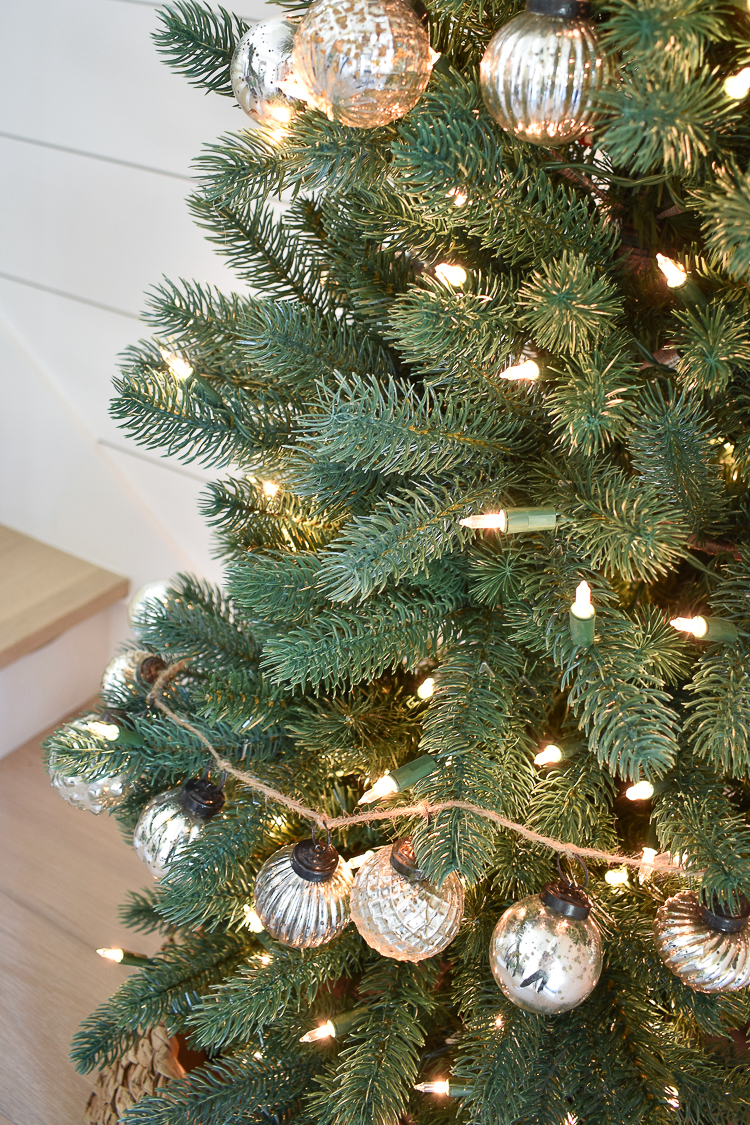 My sweet husband did an amazing job at hiding the cord (because I didn't think to put an outlet in our stairway, duh!) with white electrical tape. He just ran the cord along the baseboard and covered it with the tape – worked out perfectly I think! What on earth would I do without him?!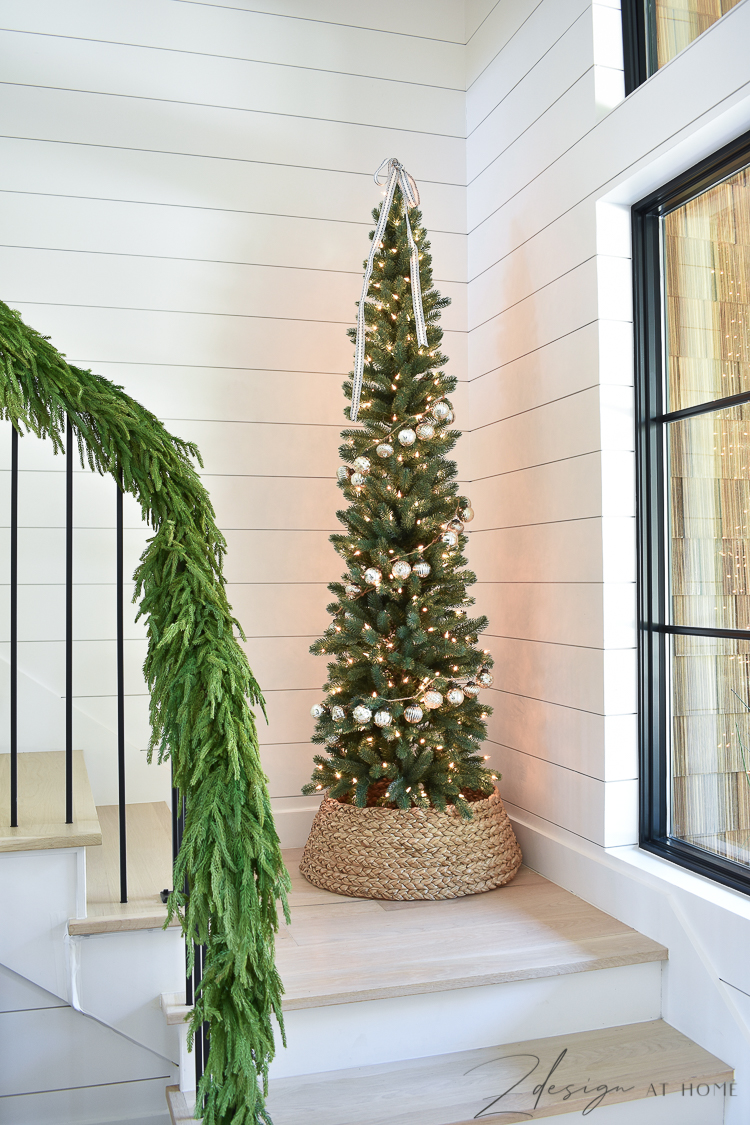 Here is a shot as the sun was starting to go down. The days are so much shorter now since the time change and I love that I get to enjoy our Christmas lights even more now. It just makes such a beautiful statement almost all by itself as you walk in the front door!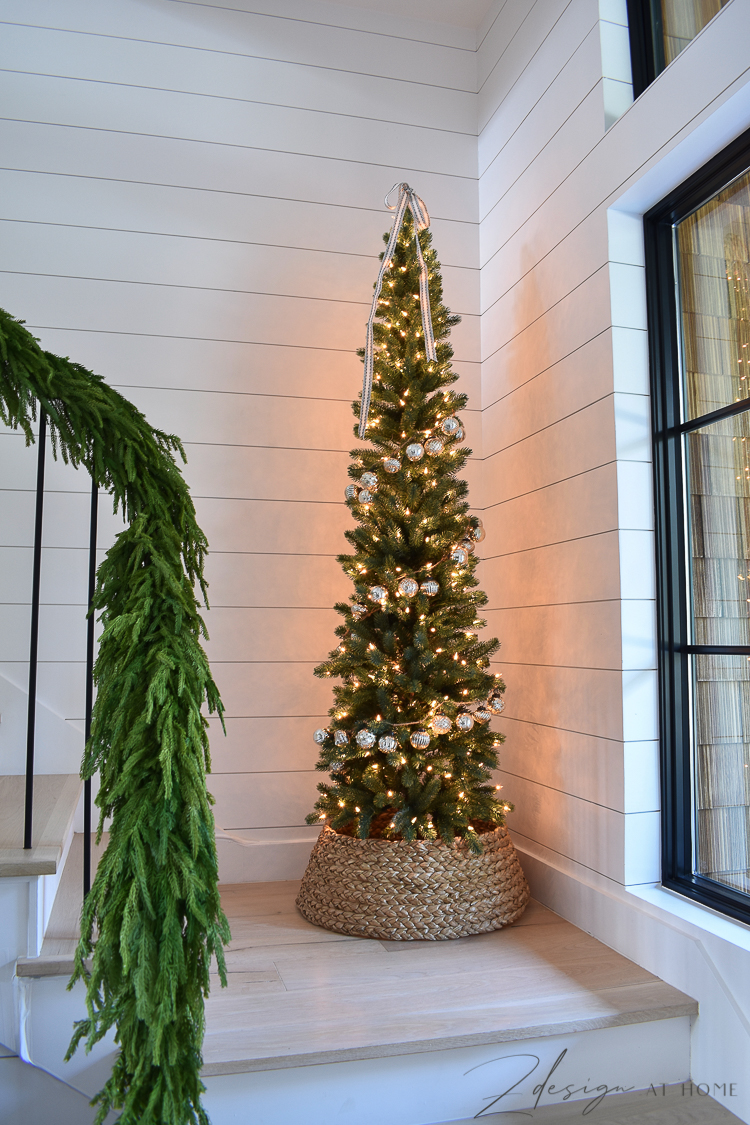 Next up is our big, beautiful 9ft Silverado Slim Christmas Tree with Candlelight Clear LED Lights from Balsam Hill. It's a fabulous tree and although slim, also makes such a grand statement in our living room.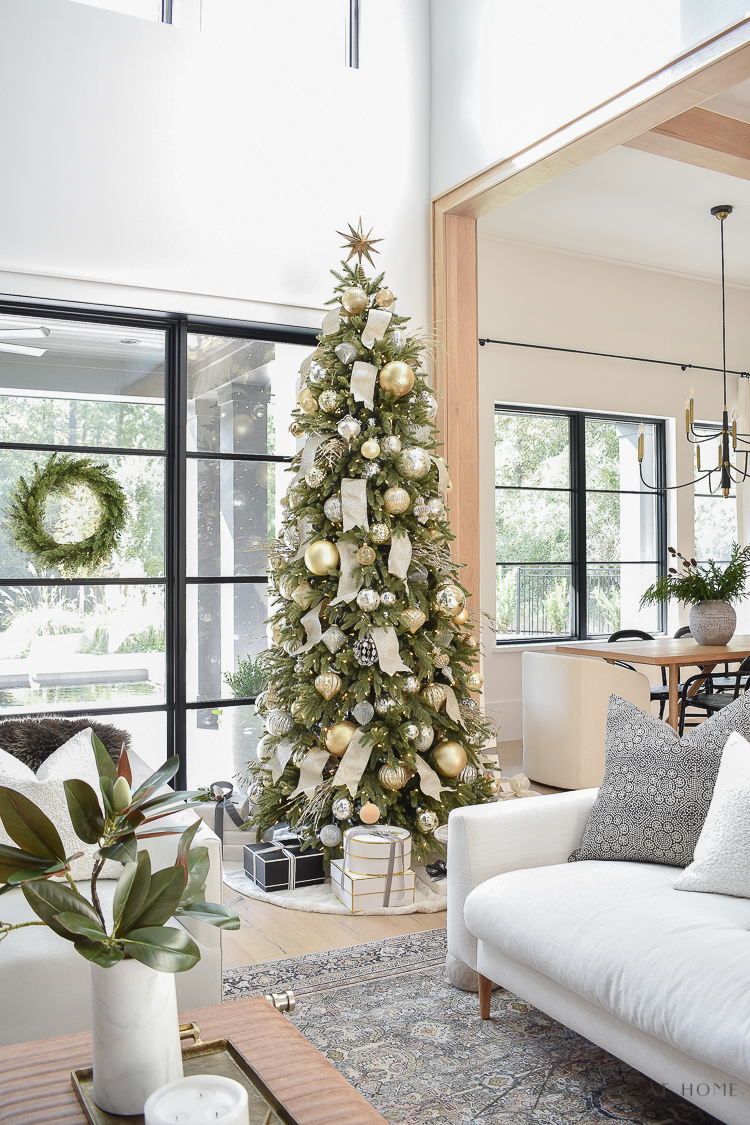 The color is a soft green and the quality is unmatched. Like most trees, it requires some fluffing but once you get it fluffed, WOW – it's a gorgeous specimen! And this tree one of their Most Realistic trees that looks incredibly real since the foliage mimics the color and texture of real evergreen branches.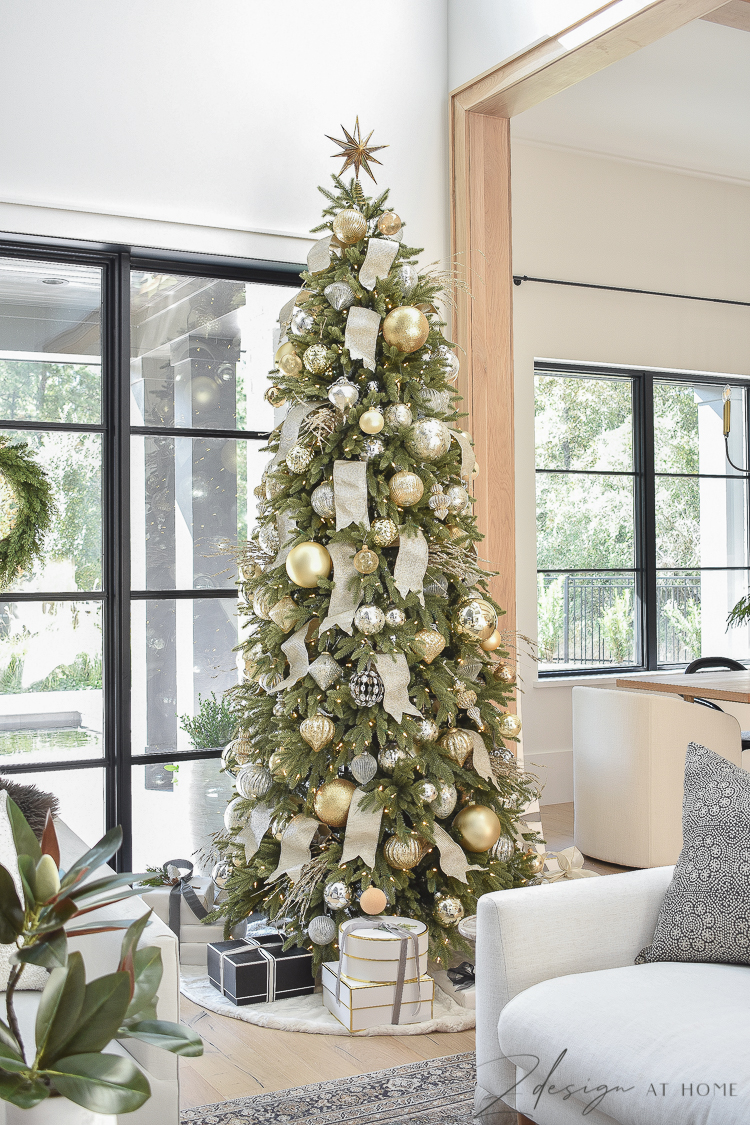 This is the view of our tree as you walk out of our bedroom…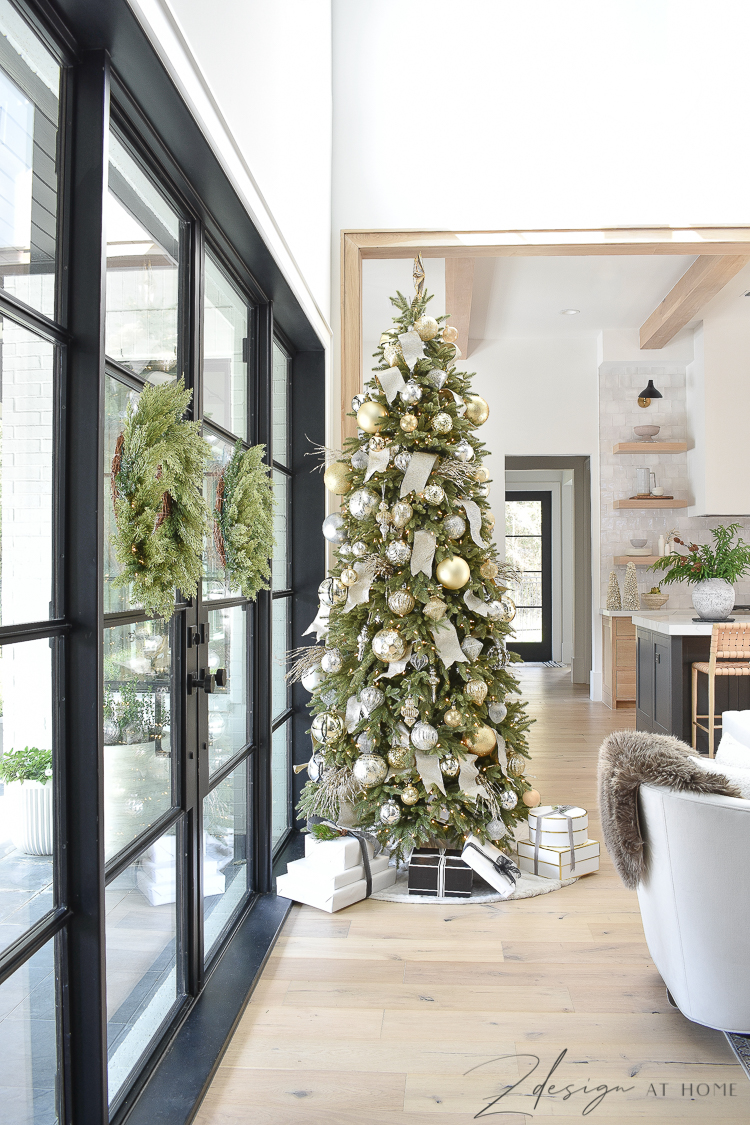 I chose to go with a palette of silver and gold ornaments for a mixed-metal look to add interest. Some I already had and had from Balsam Hill but, I got a few new sets from BH this year that I'm smitten with. I'll cover each one in a moment!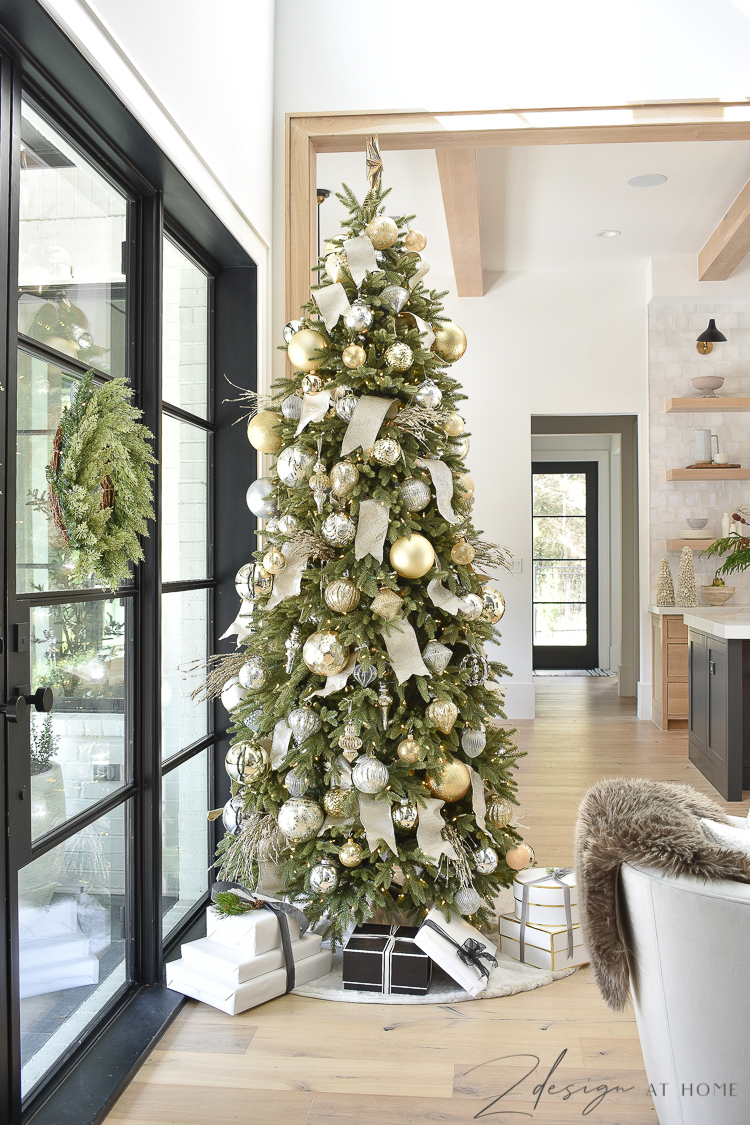 I love the almost downs-swept affect of the branches on this tree. It makes me feel like I'm in the mountains vacationing in a fancy chalet every time I look at it:). It is truly stunning! And of course the quality is always amazing in any Balsam Hill Tree, see here for yourself up close…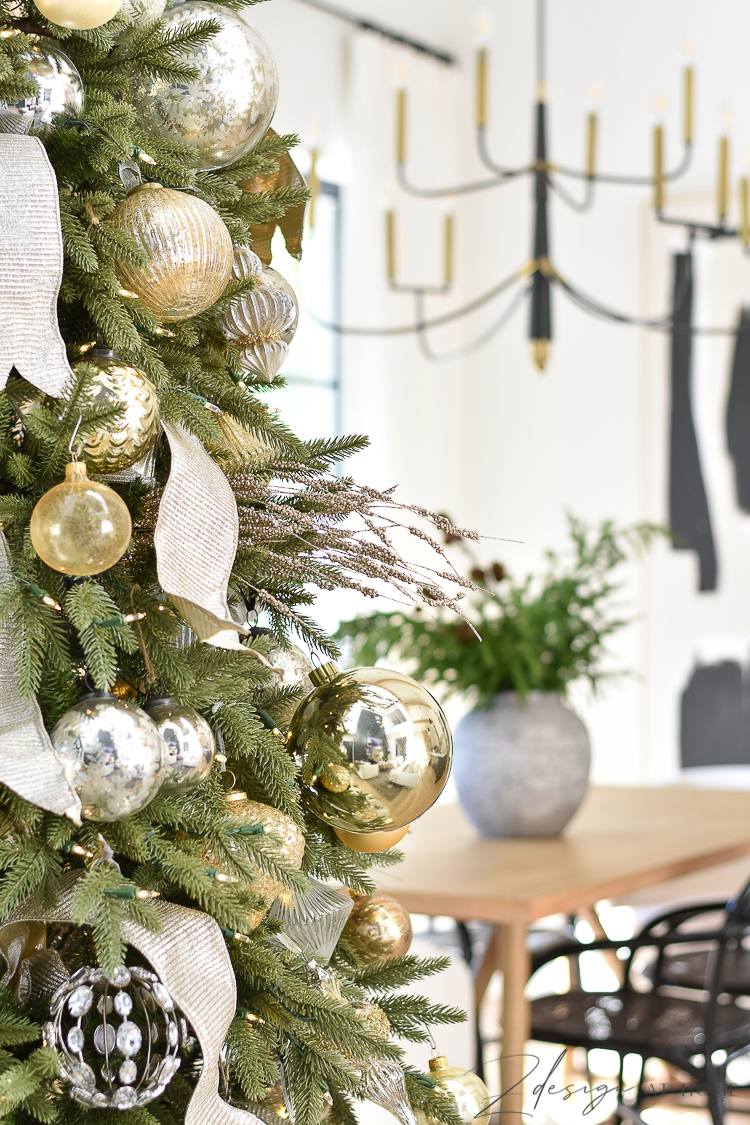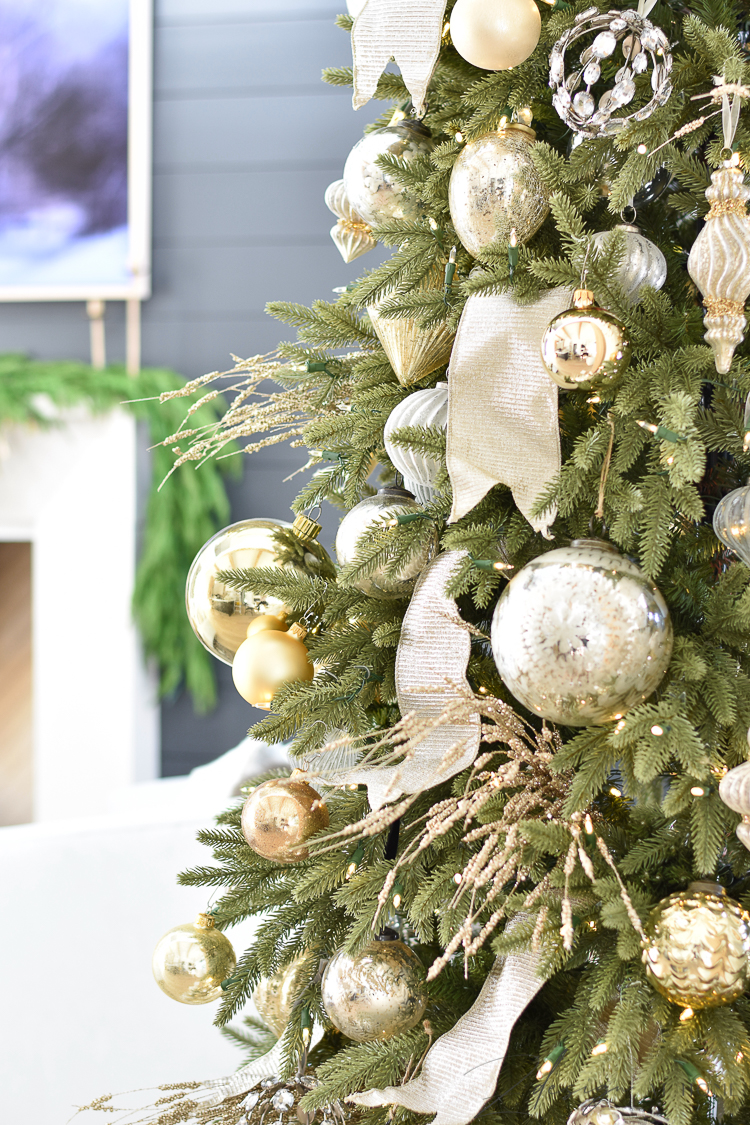 I also found these two cute, affordable and very realistic 24″ wreaths that blend well with my tree for our back doors. They are unlit but I just added a strand of battery operated warm white lights to both of them. They are so pretty at night!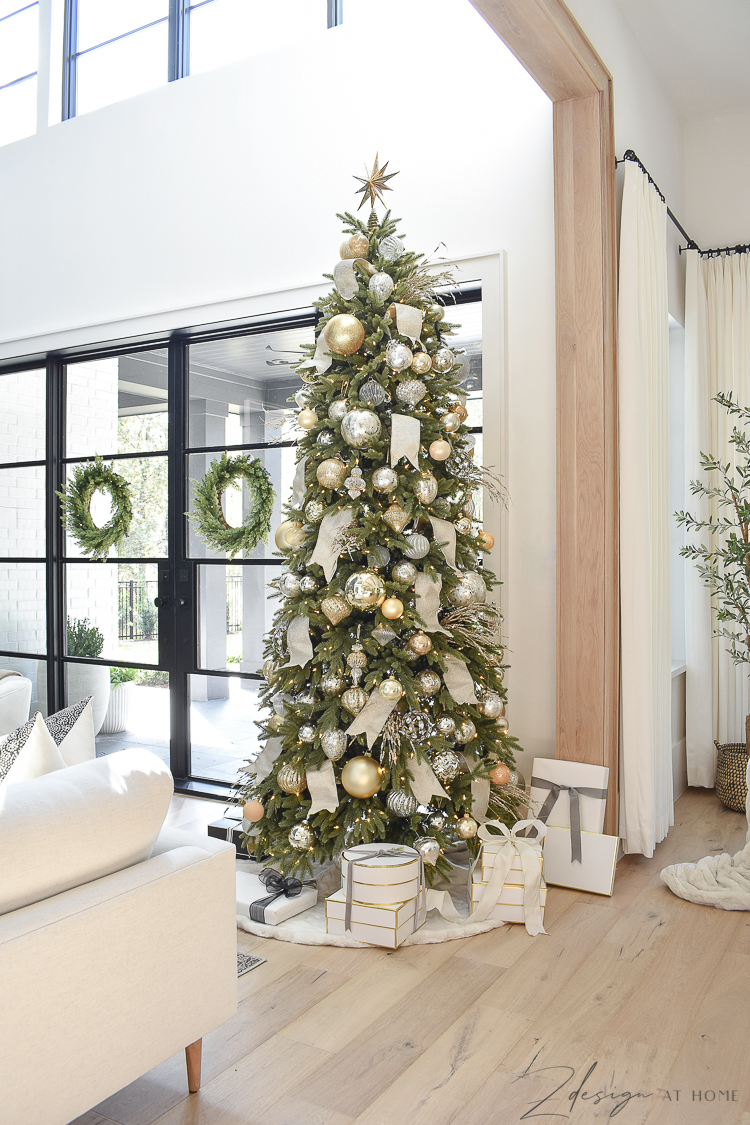 For ornaments I chose the BH Essential s Gold Jumbo Mercury Glass Ornaments and the Silver Jumbo Mercury Glass Ornaments to get that mixed-metal look I love.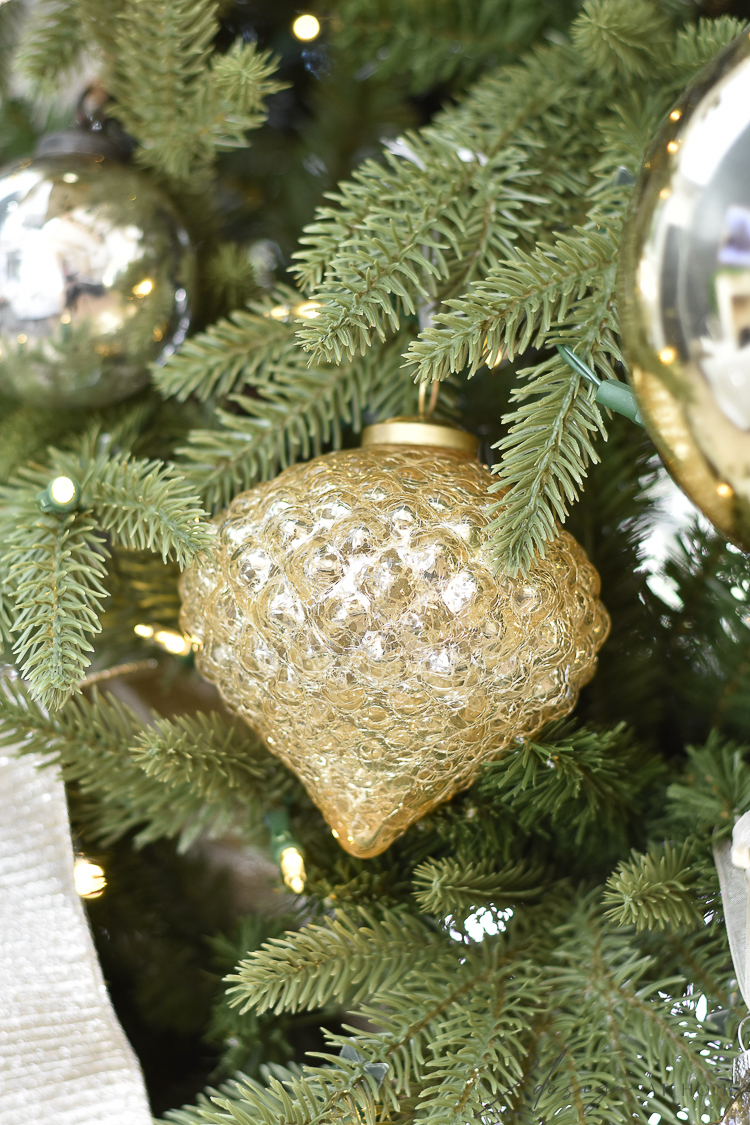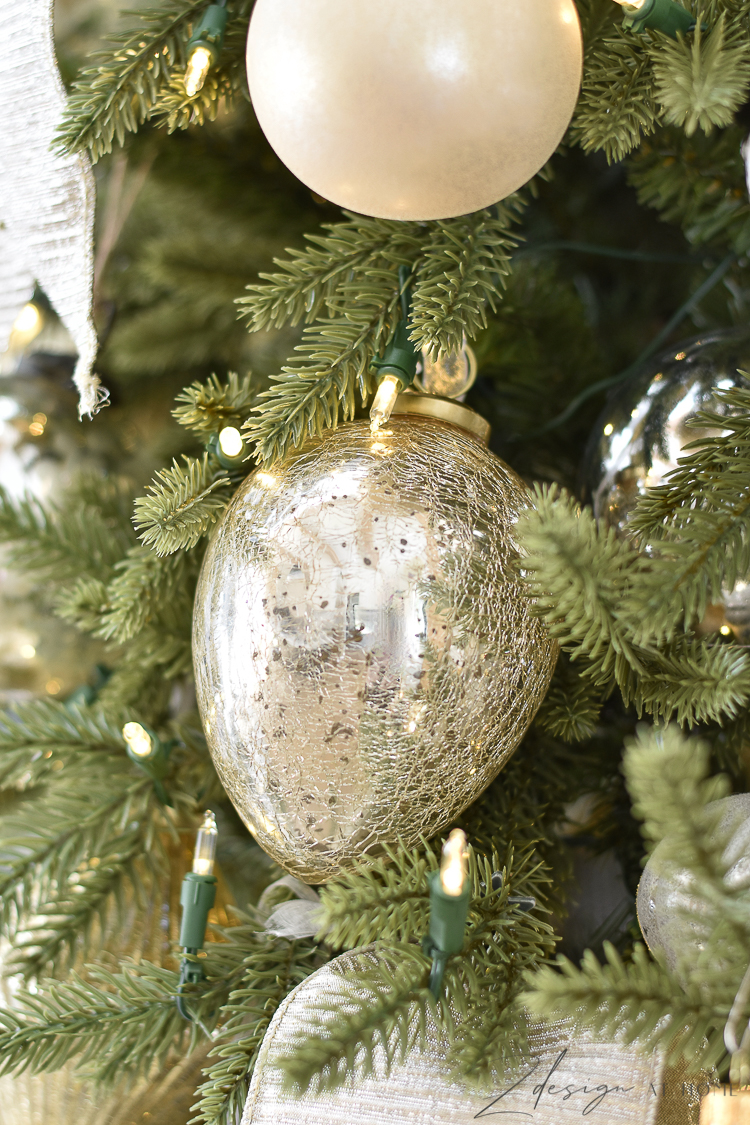 They are truly stunning in both colors and I love the gold top and beautiful white sheer fabric hanger. They each come in a set of 12 for the jumbo size but other sizes and colors are available.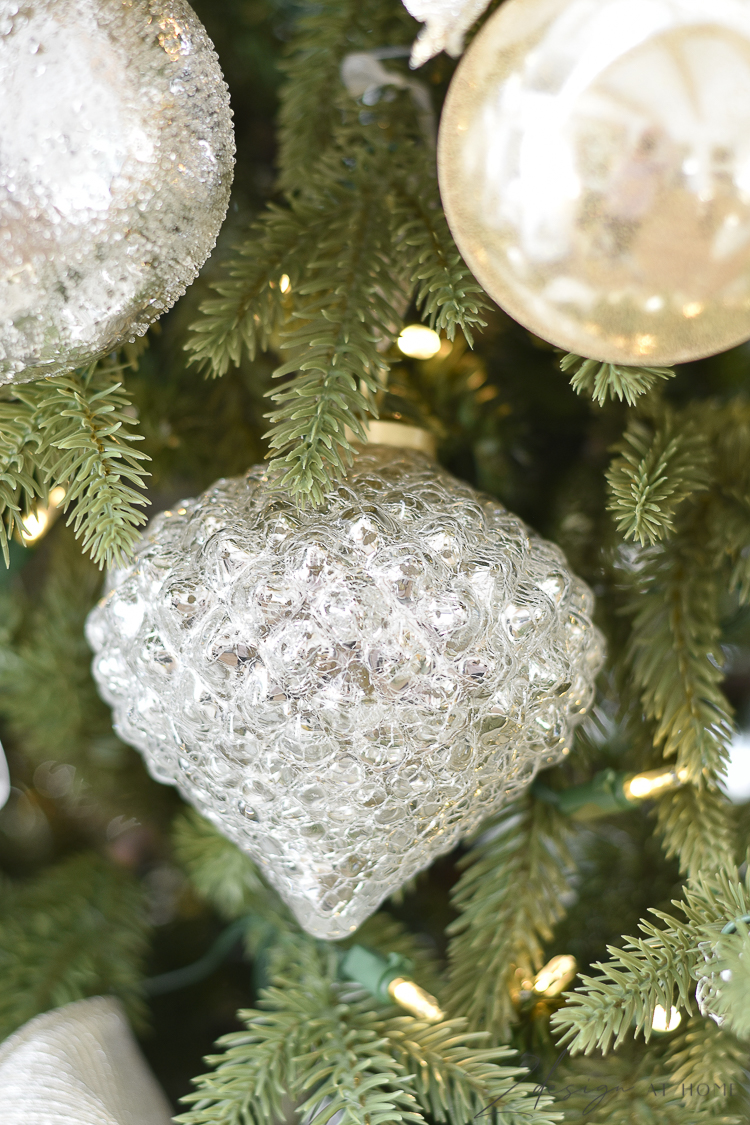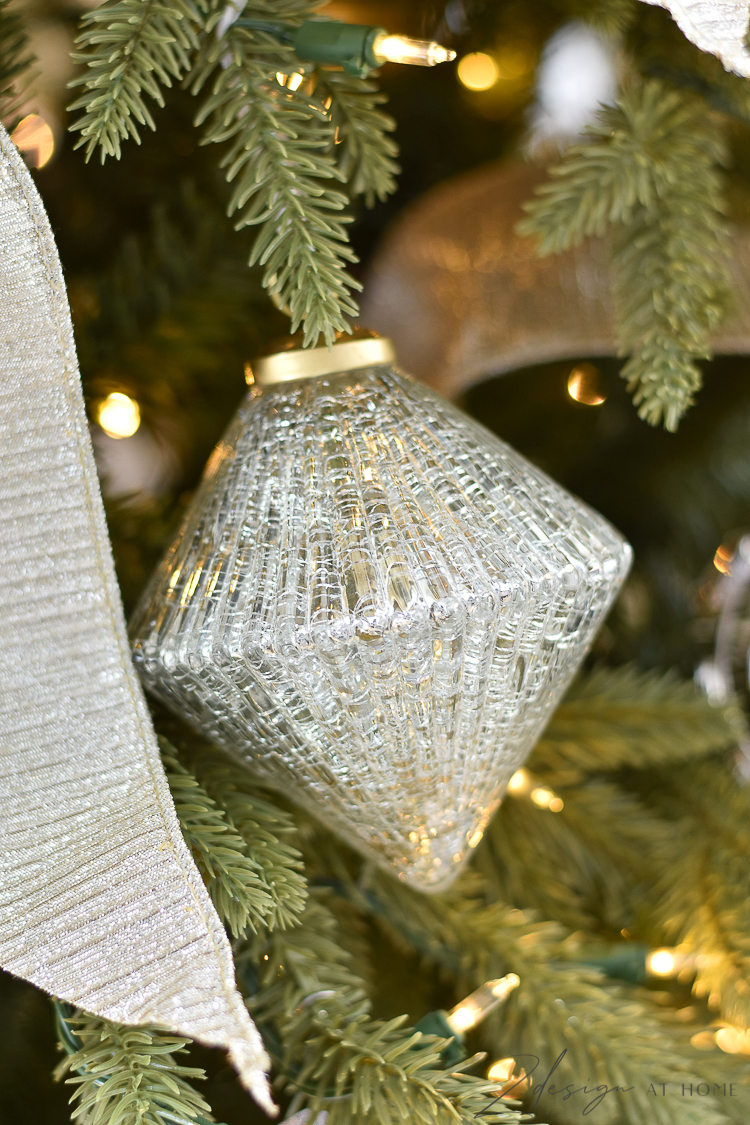 I also chose the BH Essentials Gold Tonal Ornament Set (set of 24) and love the look of each and every one in the set. I'd love to say I have a favorite but it's impossible – they are all so pretty!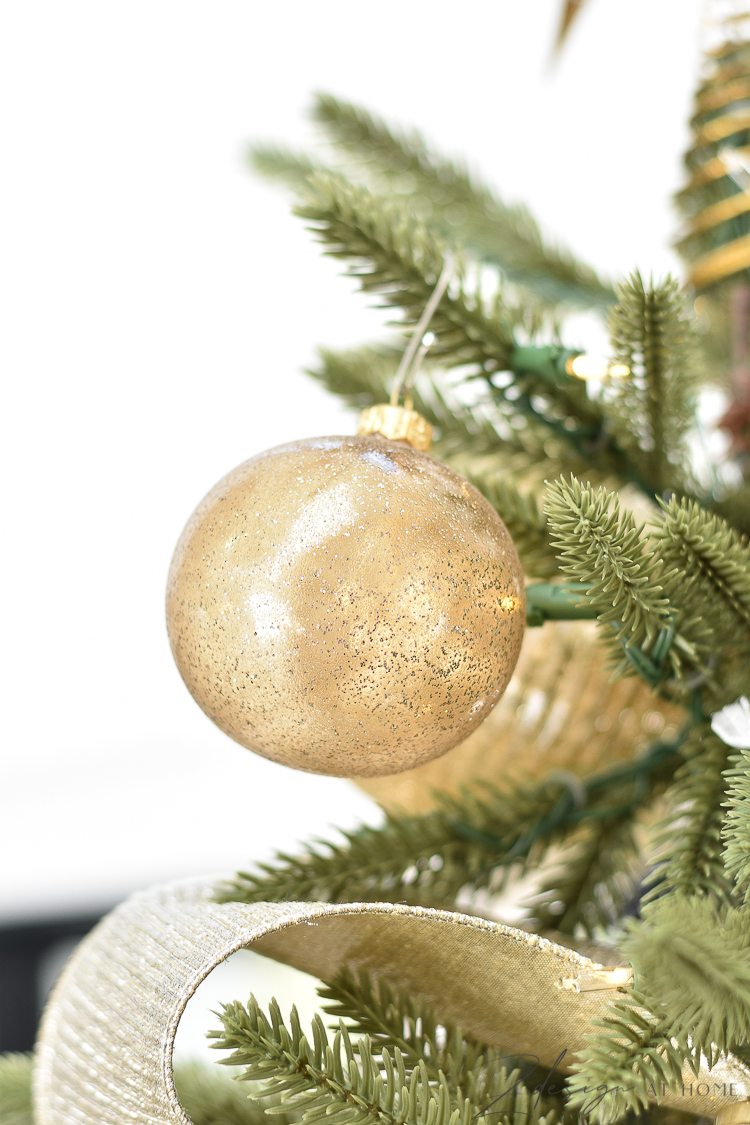 Just a little tip – I found these pretty ornament hooks a couple of years ago and they have been a lifesaver. They hold your ornaments well and are so pretty, for an ornament hook that is. A bit of an investment for ornament hooks but you only need around 2-3 packs and it's only one time, and they are so well worth it!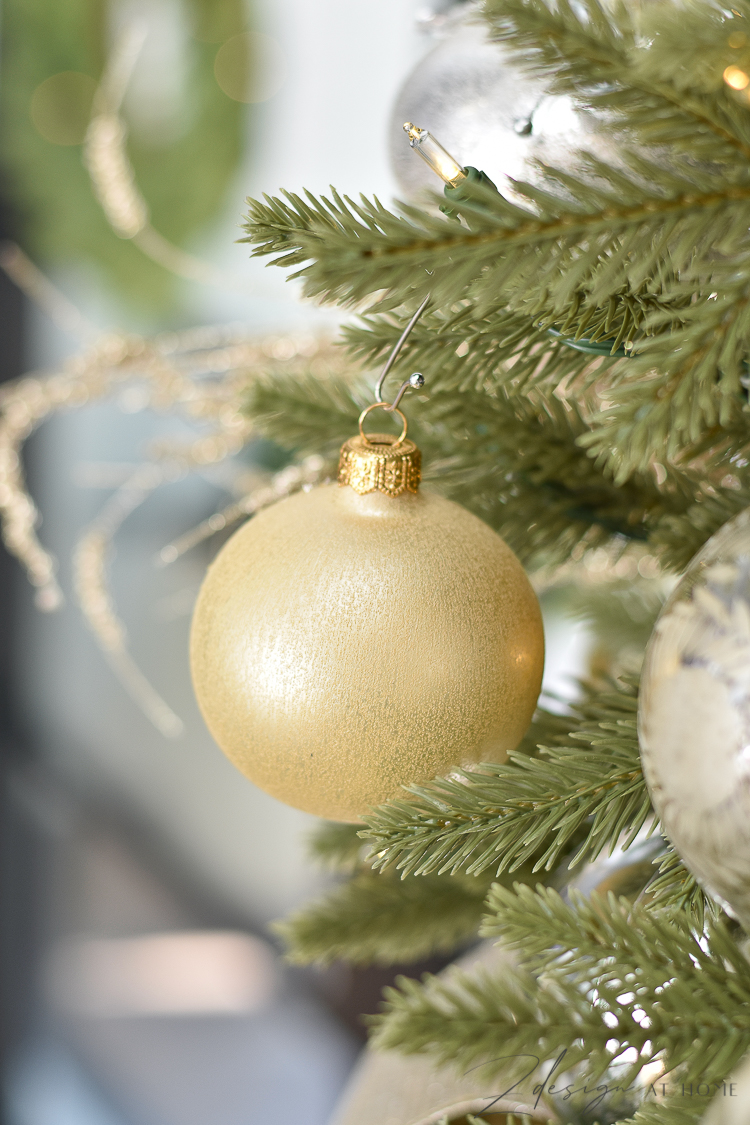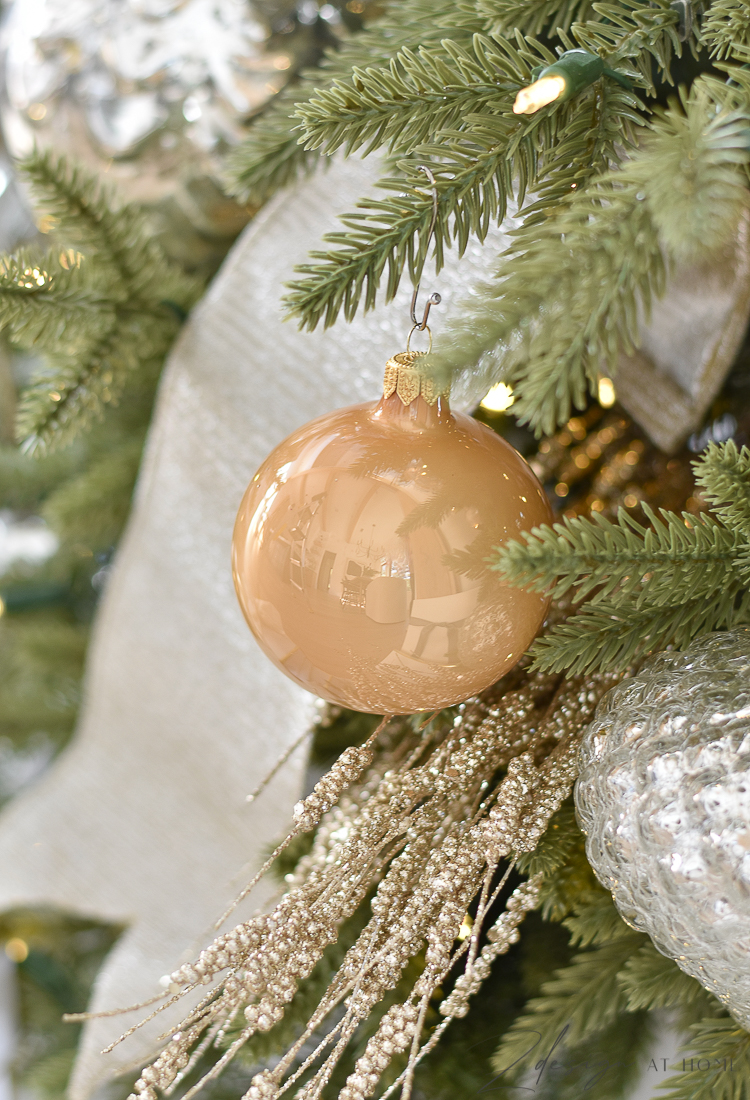 I also chose these BH Metallic Berry Spray Picks, Set of 12. They are a champaign color and really add a lot of life to my tree.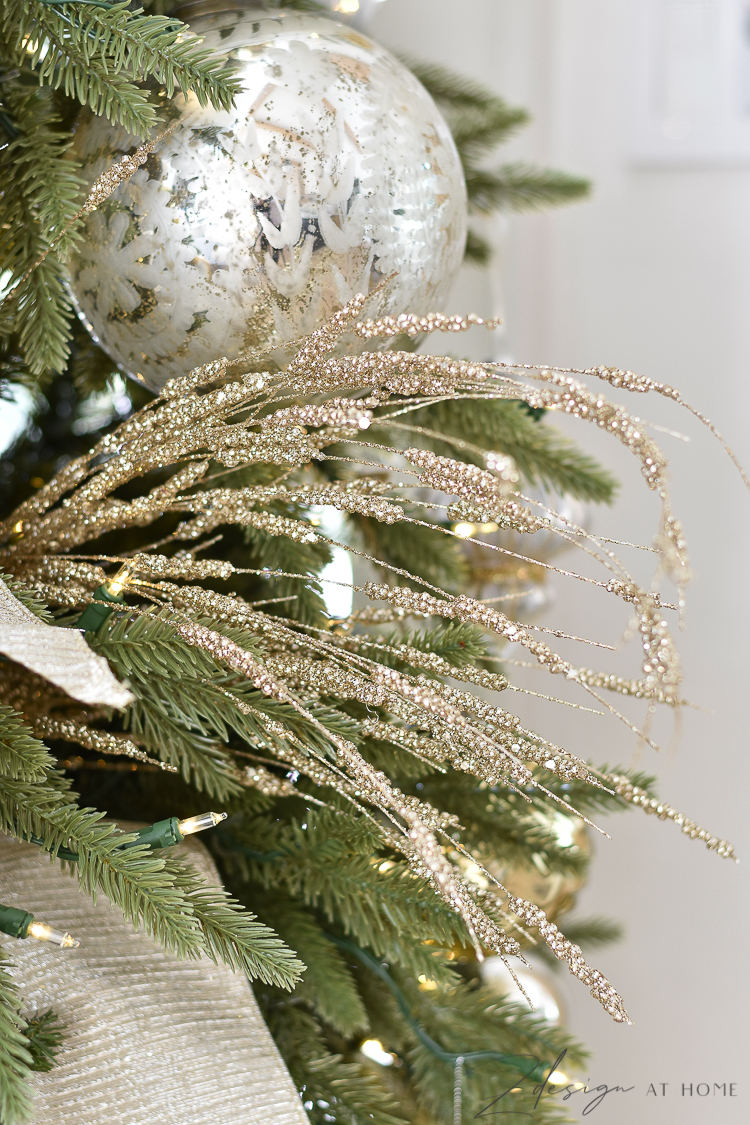 And last but not least, the ribbon! This BH Platinum Pleated Lamé ribbon is so luxurious and stunning! I used a total of 2 spools on my tree and cut them into 12-15″ strips.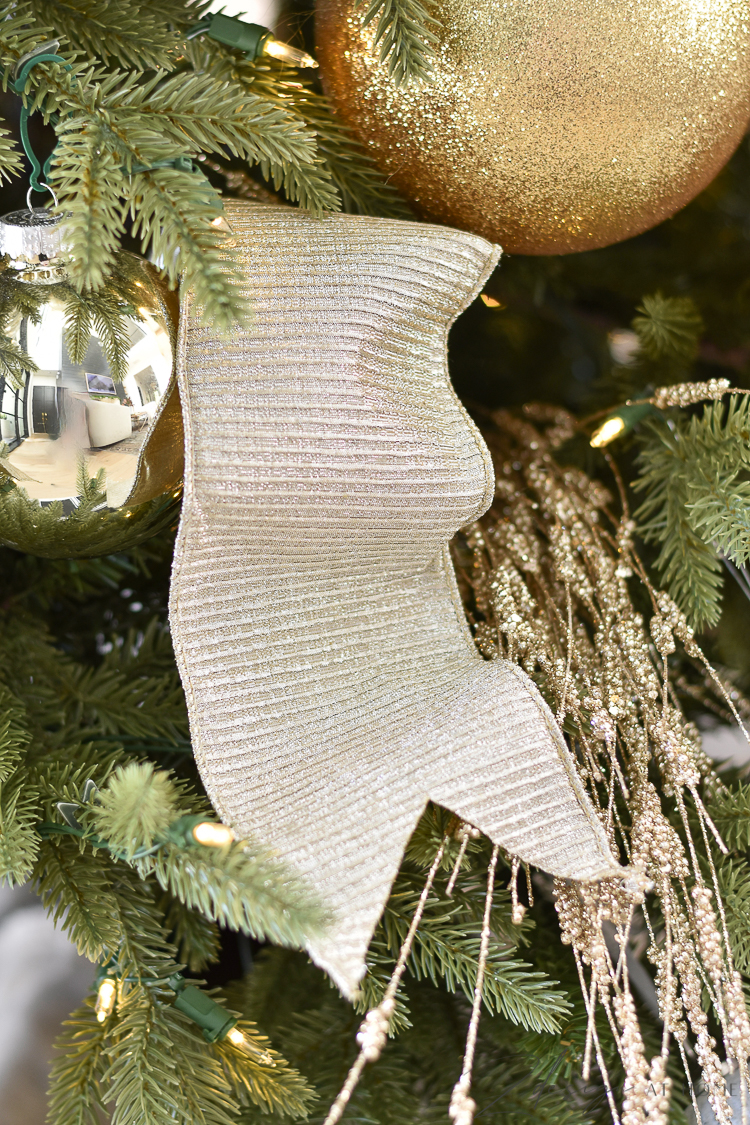 For my tree topper I used one I've had for a long time – this gold mirrored star – I LOVE it!!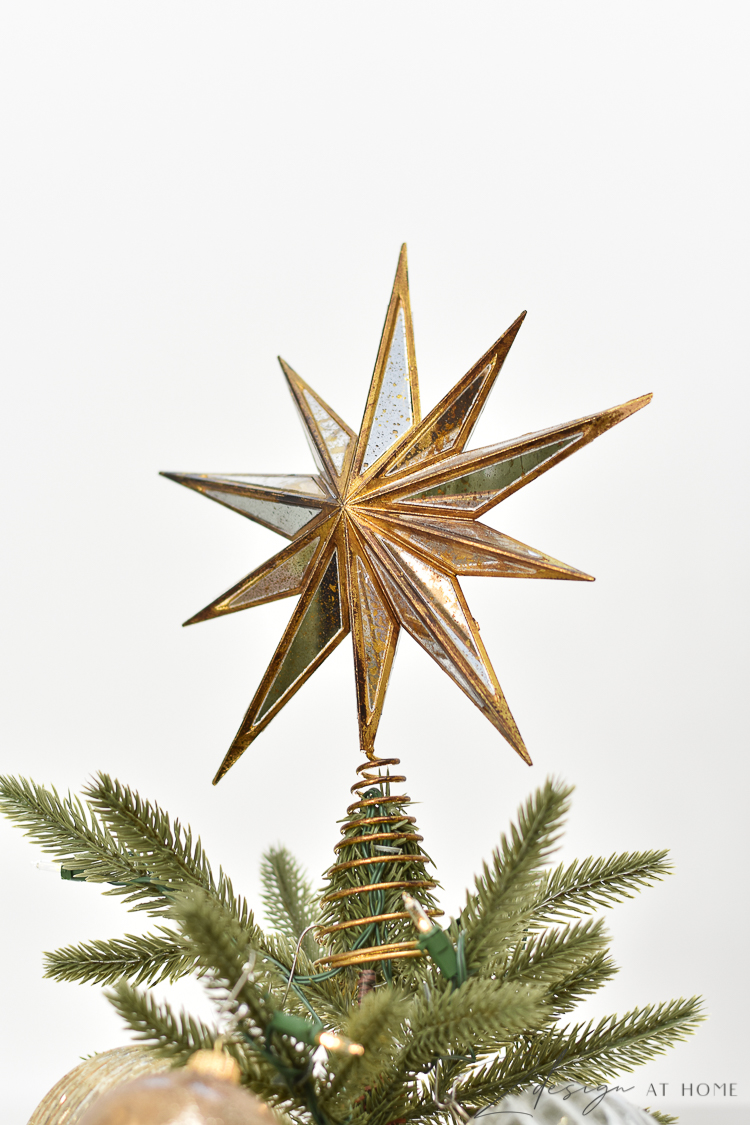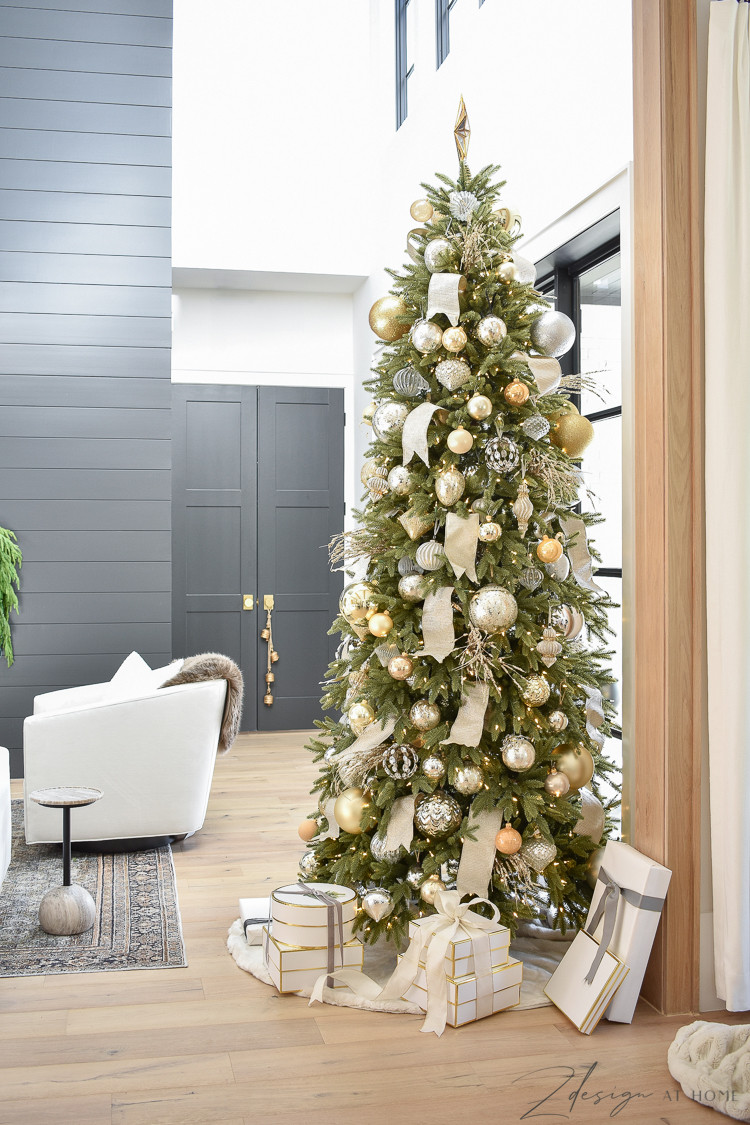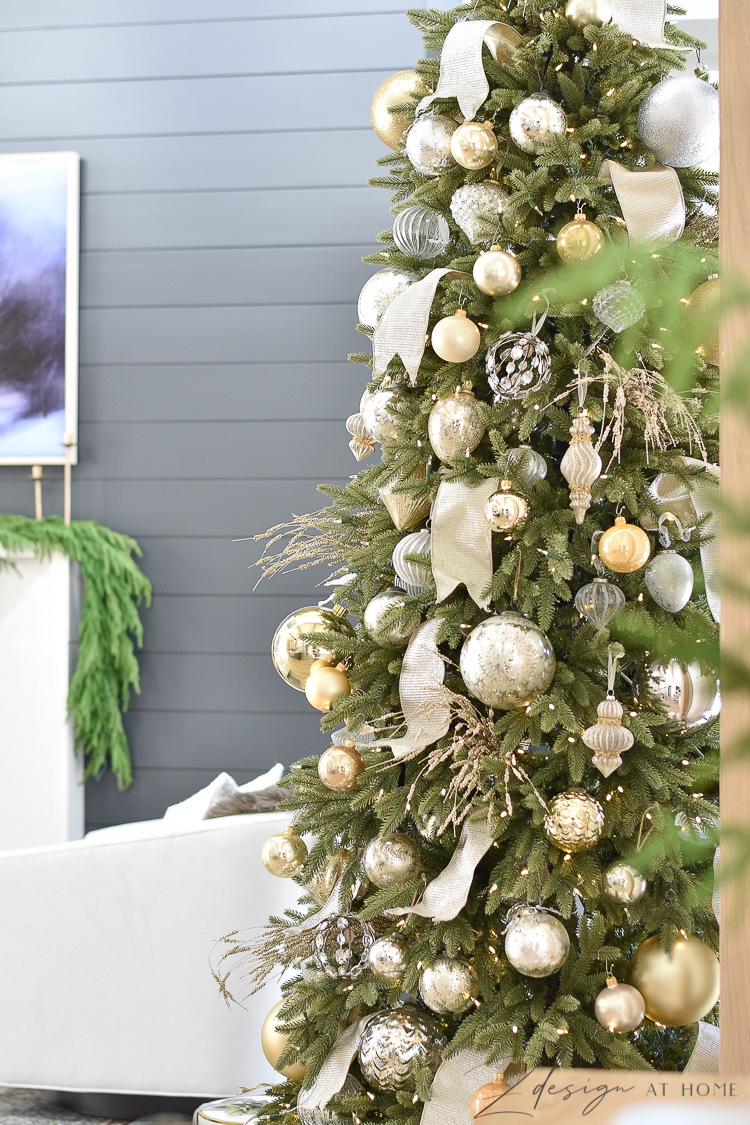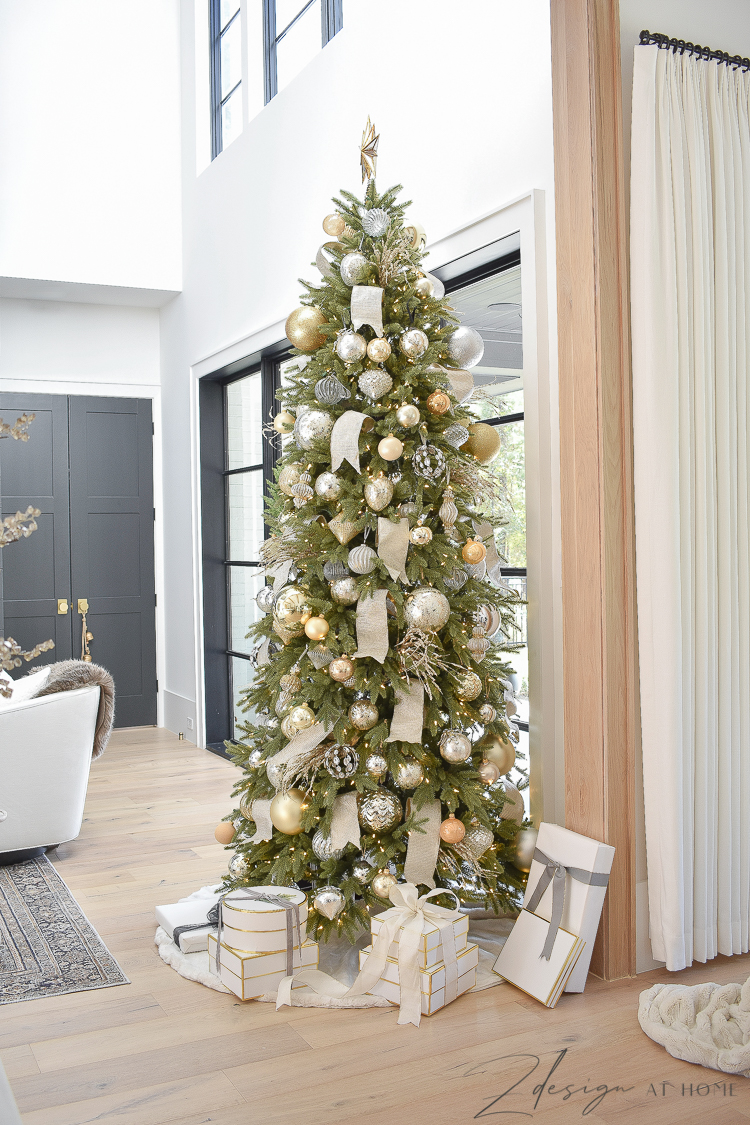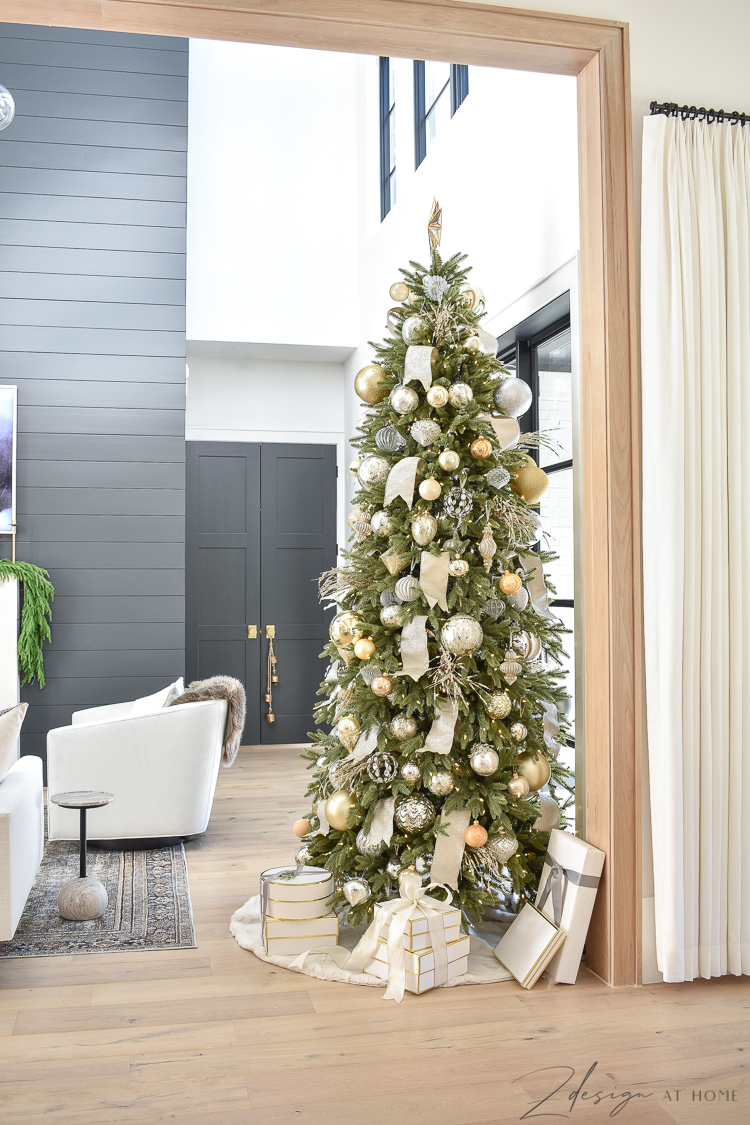 Thank you for stopping in to visit my Mixed-Metal Christmas Tree tour – The 1st of our Holiday Home, which means I'll be back with more Christmas inspo real soon! Make sure to visit my two dear friends, Jen of Decor Gold Designs and Tamara of Citrine Living. You can click on their photos below to be taken straight to their posts. Enjoy and happy holidays! And you can explore more of everything Balsam Hill has to offer this Christmas right HERE!
Jennifer of Decor Gold Designs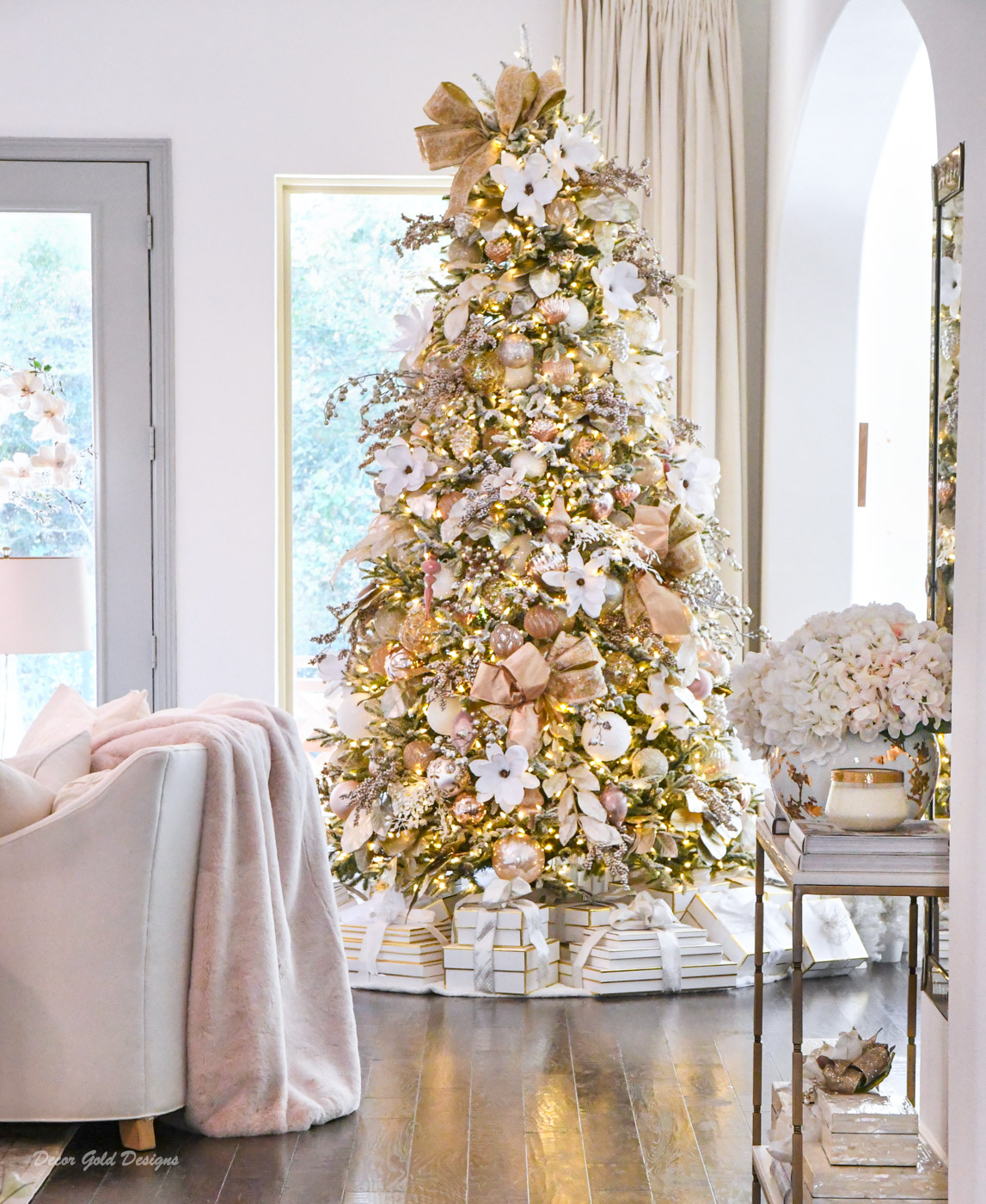 Tamara of Citrine Living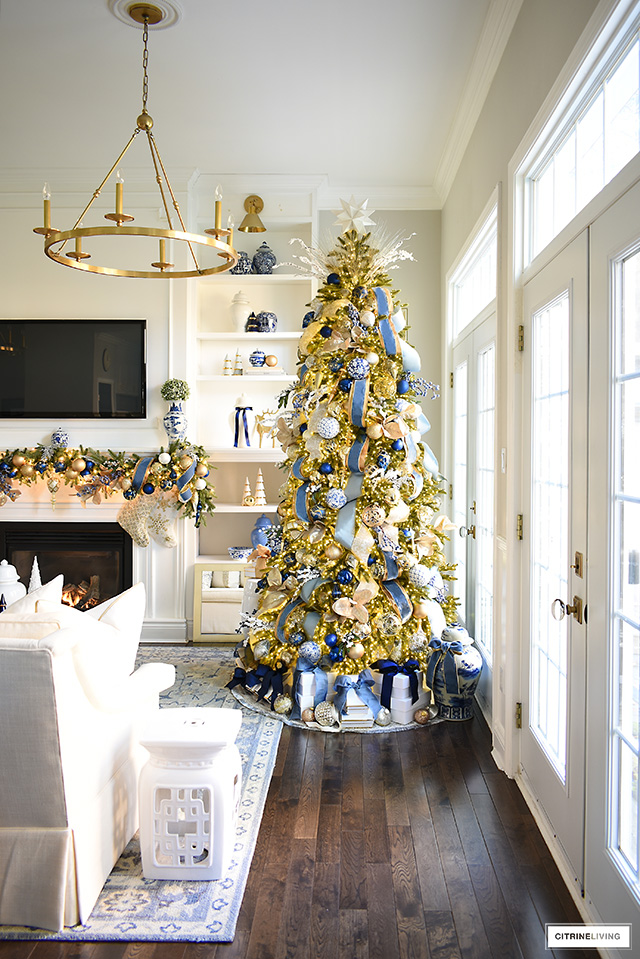 Balsam Hill Sources
7ft Sonoma Slim Pencil Tree | 9ft Silverado Slim Tree | BH Essentials Jumbo Gold & Silver Mercury Glass Ornaments | BH Essentials Gold Tonal Ornament Set | Metallic Berry Spray Picks | Platinum Pleated Lamé Ribbon
Christmas and Other Sources for Living, Dining & Kitchen
Mercury Glass Garland Ornaments | Tree Collar | Similar Handrail Garland | Faux Fur Tree Skirt | Mirrored Tree Topper | Door Wreaths | Brown Faux Fur Hide | Magnolia Stems | Marble Vase | LR Rug | Sofa | Block Print Black Pillow | DR Chandelier | Vase on Dining Table/Kitchen Bar | Kitchen Bar Stools | Ivory Faux Fur Throw on dining chair





Let's stay in touch!…
Pinterest | Facebook | Instagram | Linkedin