Hi friends! Thank you for stopping in for a Christmas 2015 recap!! At the time I didn't have a blog, nor was I really even thinking about having a blog then but I did take a lot of photos for fun for Instagram and thought I'd do a little recap for you before I get things all decorated for the 2016 Christmas season.
So far I have only fully decorated one room for Christmas that I'll be sharing part of on November 28th for the Styled + Set Christmas Tour with Lory of Designthusiasm.  If you did not yet get a chance to see my Styled + Set tour for Thanksgiving, please feel free to do so HERE to get some last minute ideas for your Thanksgiving table and decor.
To start was a favorite on Instagram where I used these two sheepskin rugs by wrapping them around the tree for a skirt in stead of using an actual tree skirt.  The two rugs looked beautiful and unique, especially adorned with these beautiful packages wrapped in paper designed by my talented friend Tamara of Citrine Living.  You can view and purchase her lovely paper HERE if you're interested.  The sheepskin provided a cozy, textured way to ground the tree in it's place and made the whole tree come to life.  I highly recommend doing this if you can!!
Warning:  Please excuse the poor photo quality…this was pre big girl camera days and was just about the best I could do with an iPhone:)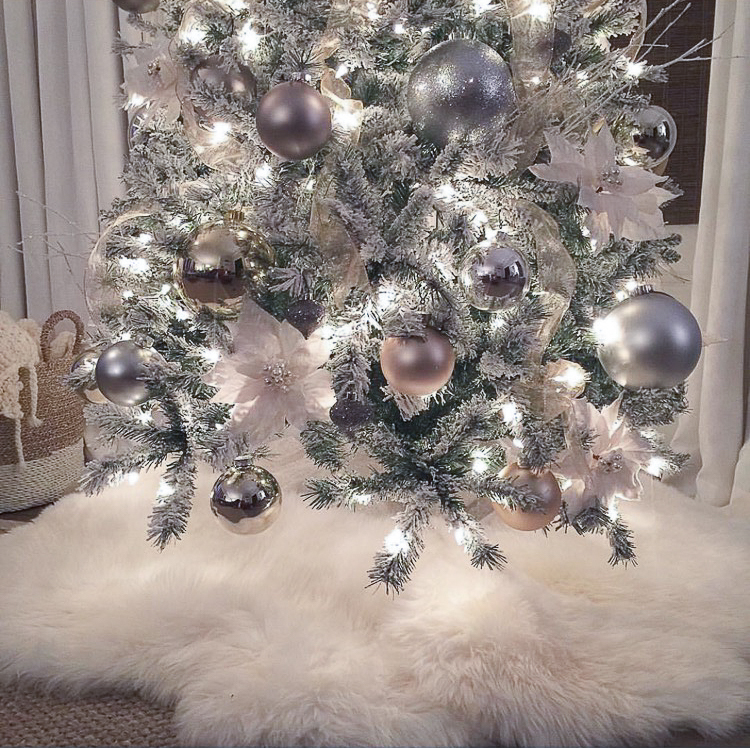 My tree was simple with silver and gold shatter proof ball ornaments in varying sizes (here & here), along with the white, velvet poinsettias (similar here) you can see in the previous photo (they were my favorite).  I also used white sticks placed simply and sporadically throughout my tree for interest.  It's a slim, flocked with lights and we loved it.  Our first time having a flocked tree.  It may go in our bedroom this year as we have a new one on the way from King of Christmas that might go in the living room in it's place this year.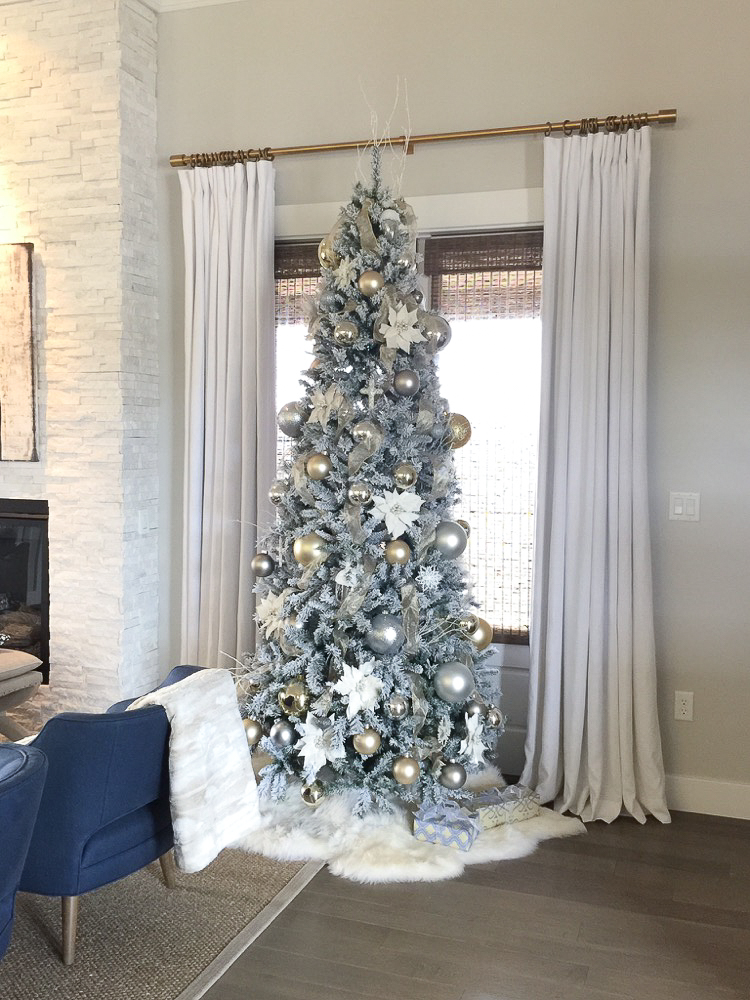 On a side note, you can see from these photos and HERE how much our living room has changed in a year before I finally got this space "right", lol!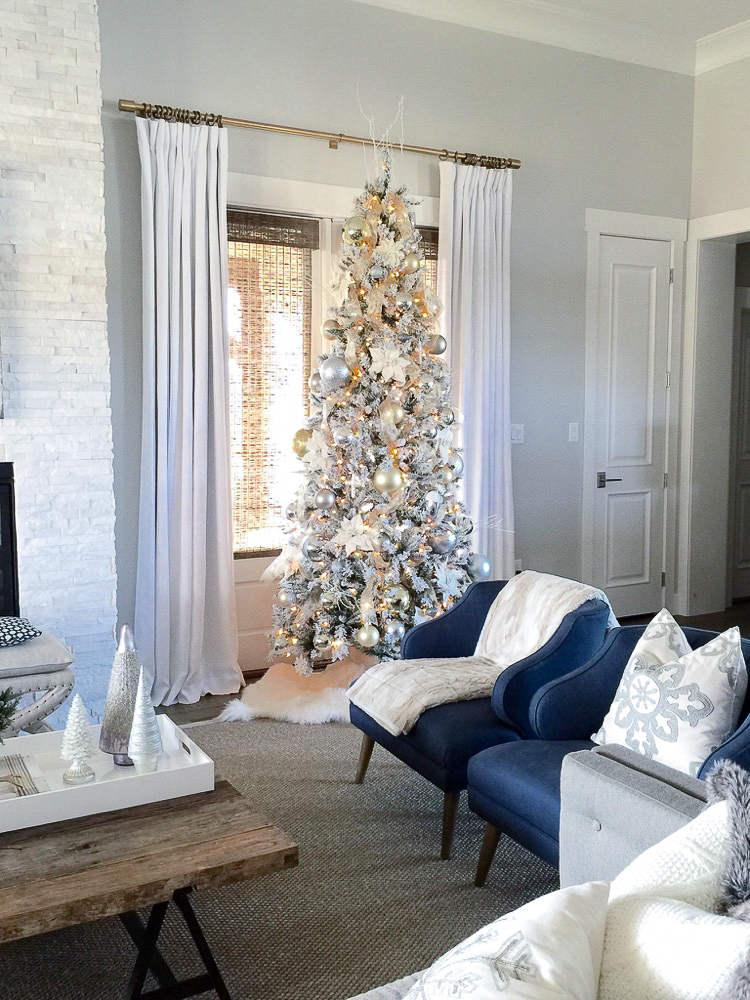 My coffee table was decorated using my usual white tray with just a few simple, white, silver and gold accessories that give a nod to the season.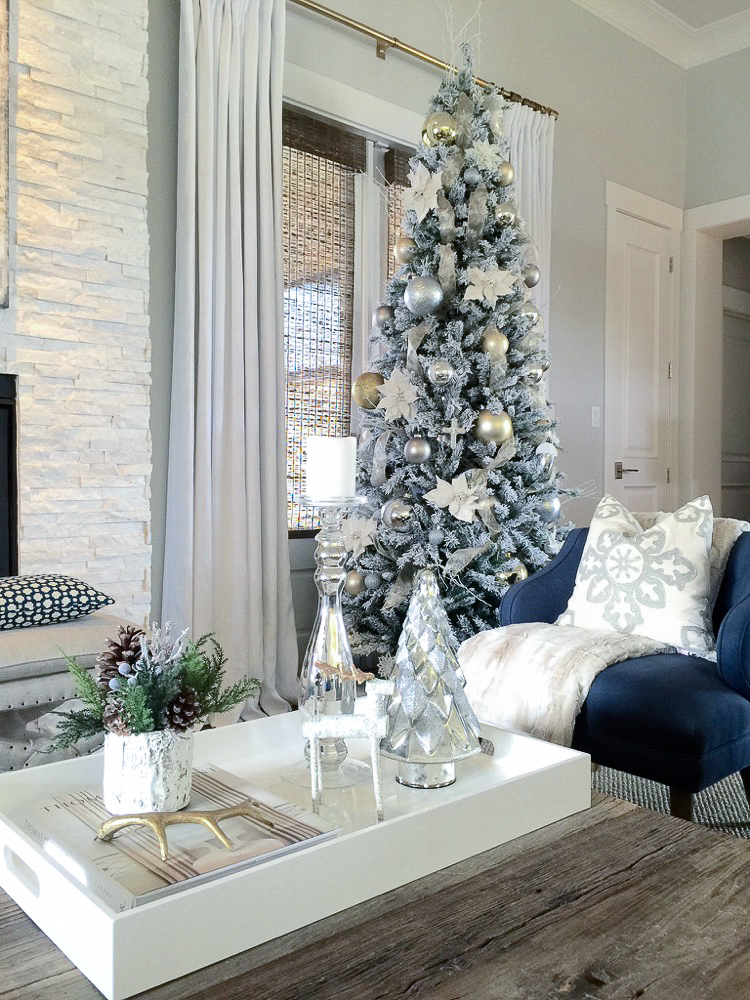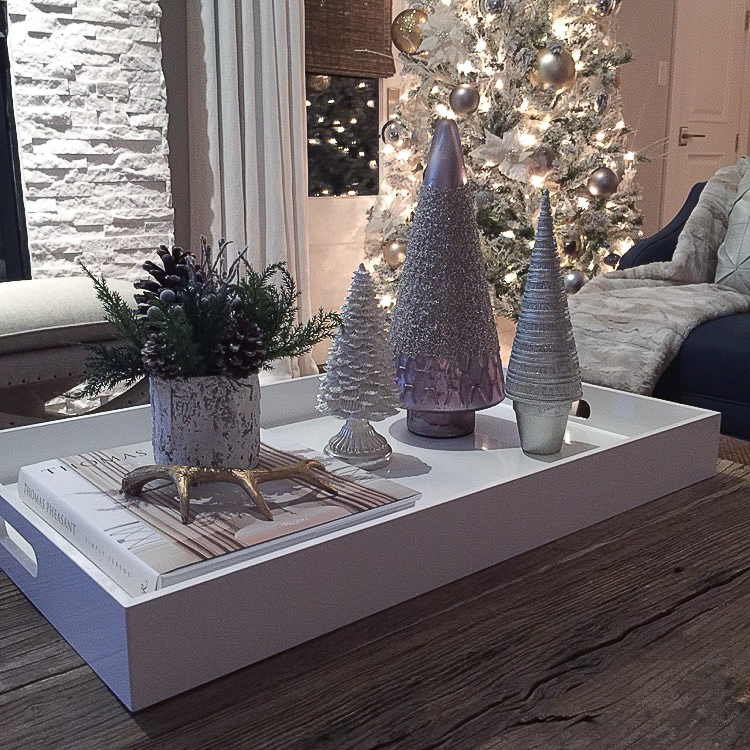 Shop this Look

In the formal dining room I did a simple Christmas table scape with real cedar garland and left over flowers that my husband gave me for my December birthday.  It made the house smell glorious but in our climate didn't last long.  I did however spray the garland lightly with fresh water once per day so it probably lasted a little longer than if I hadn't done that but it still went way too fast…boo hoo!!  I added some red faux berry stems for a pop of color and nod to Christmas as well.
Btw, in these next set of photos you can see just how drastically my dining room has changed since I completed it this past fall. You can see full posts on the new dining room HERE and HERE if you missed that previously.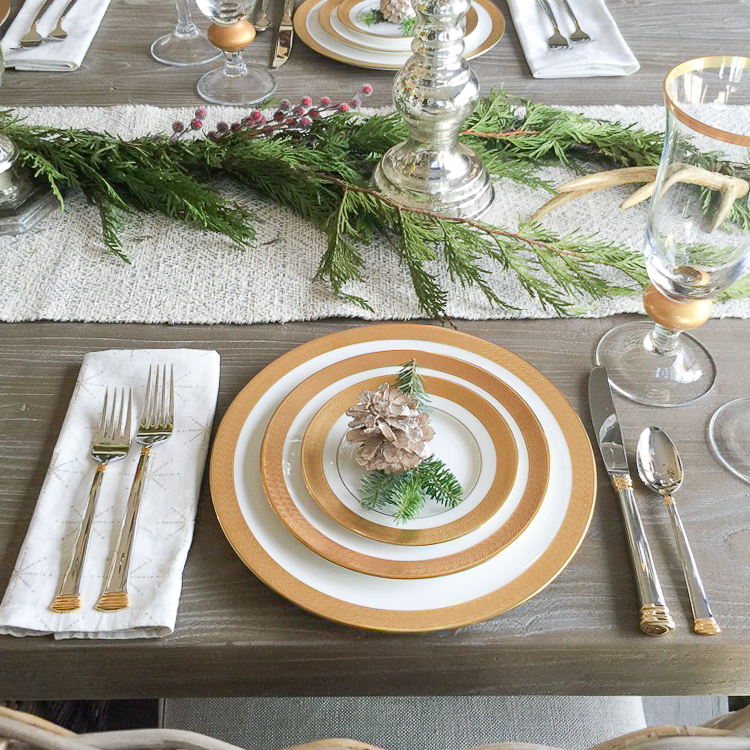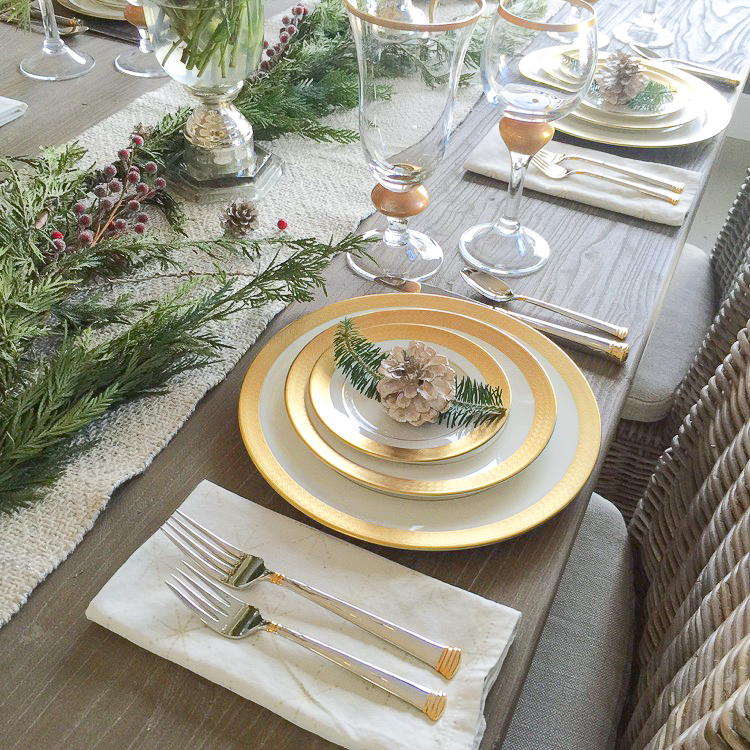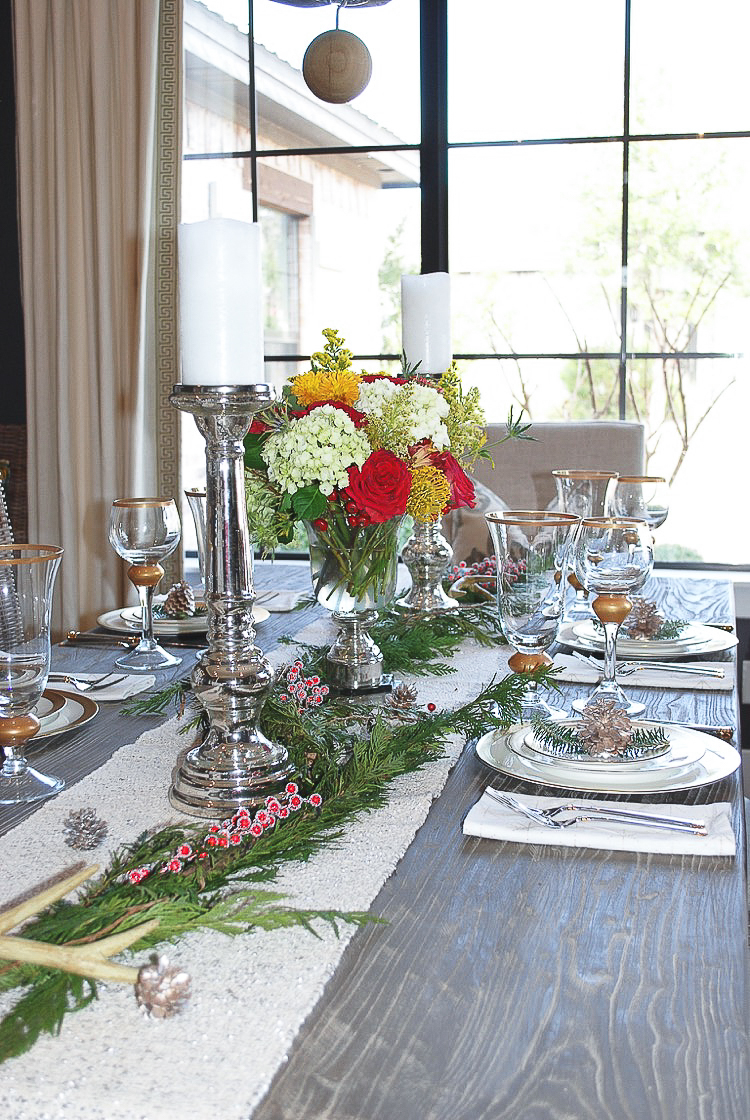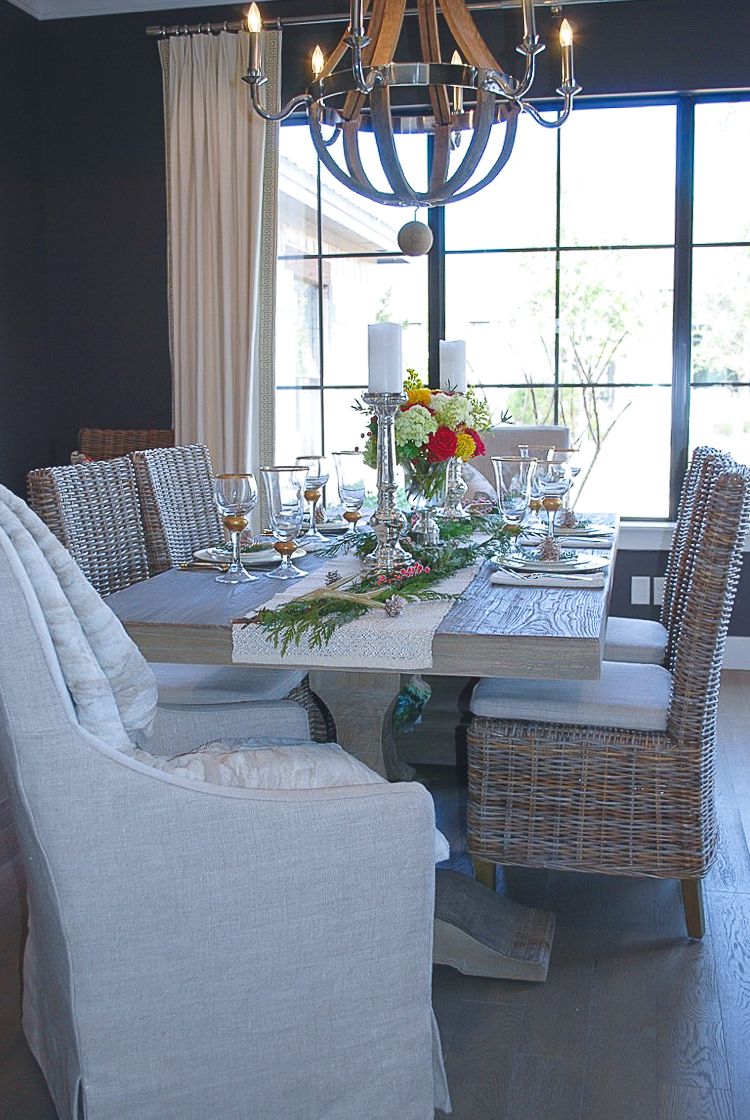 Shop my Table

Next up is the console table in the heart of our home.  If you'd like to see how this area is normally decorated these days you can do so HERE in a recent simple thanksgiving table scape post.  I found these fun moss topiaries locally (similar HERE), along with the faux garland with white ornaments and glitter.  I also used my favorite Pottery Barn Christmas pillow (that gets around a lot by the way…you'll see what I'm talking about soon) and one of my favorite scriptures on this lovely sign by House of Belonging and hand lettered by Aedriel.   Also used this crewel embroidered lumbar pillow in the basket that will probably go in my son's room this year!  He loves decorating for Christmas and would have it out all year if he could…he's my little helper!!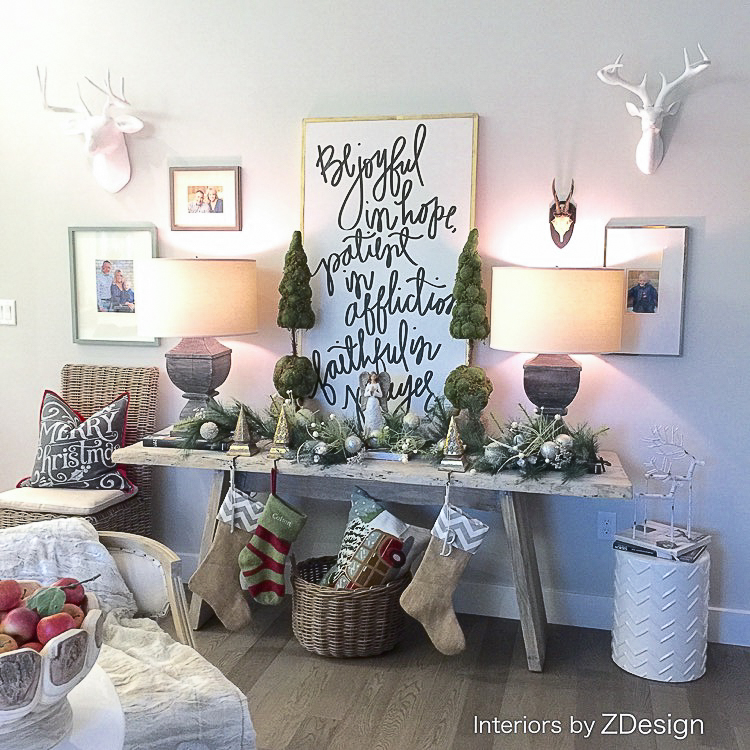 Shop this Look

Our kitchen received some fun updates with pops of red everywhere.  I normally don't decorate with red and especially don't unless it's Christmas but last year I added more red than I ever had for Christmas and it was so much fun that I'm sure I'll do it again this year!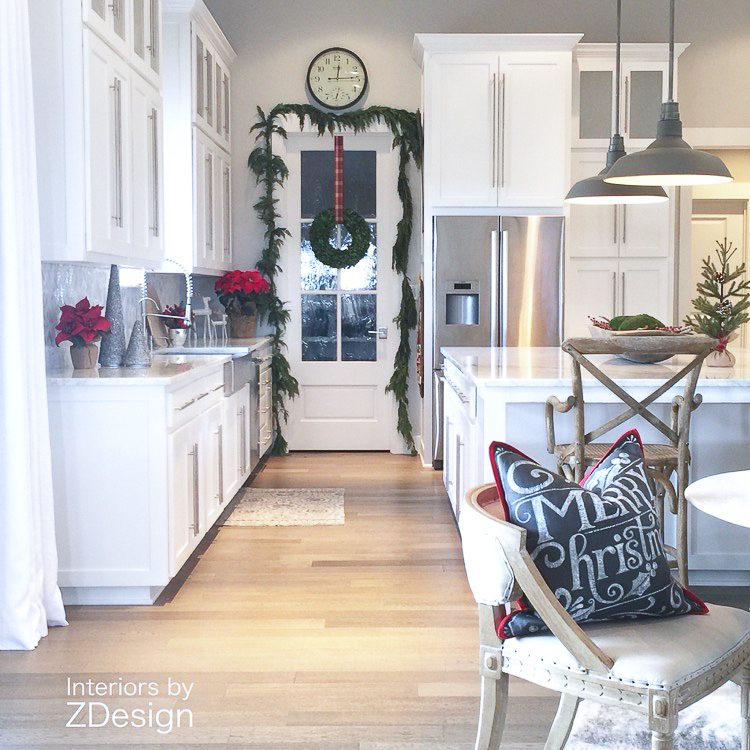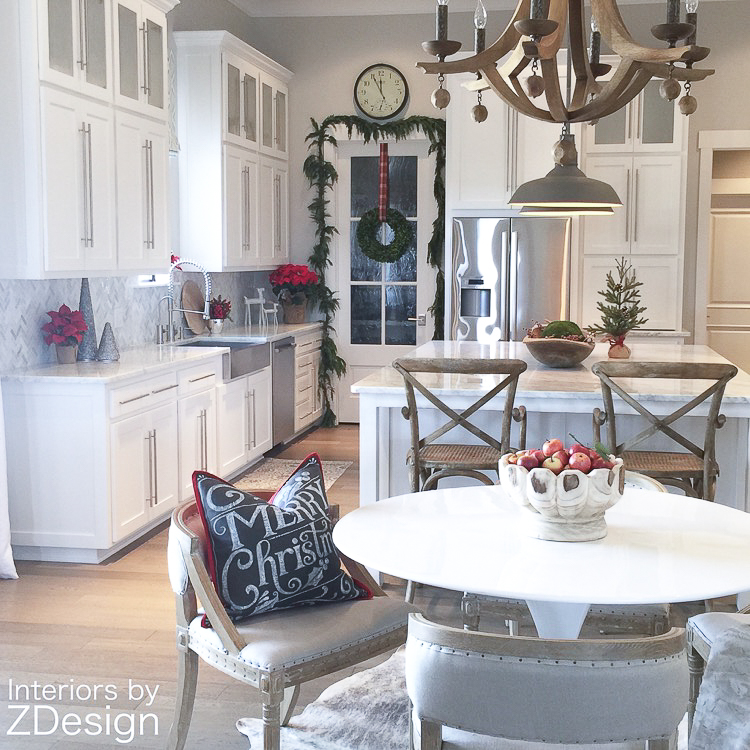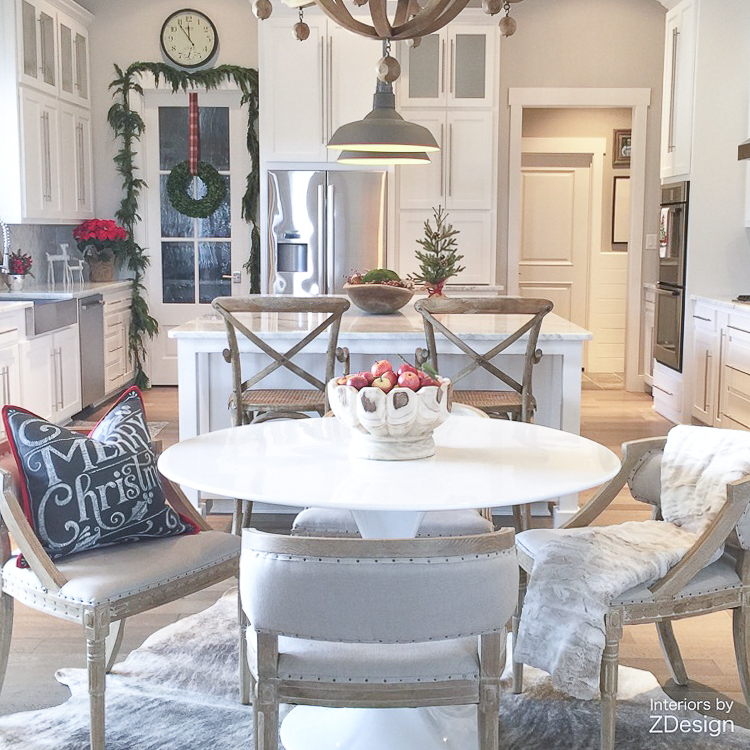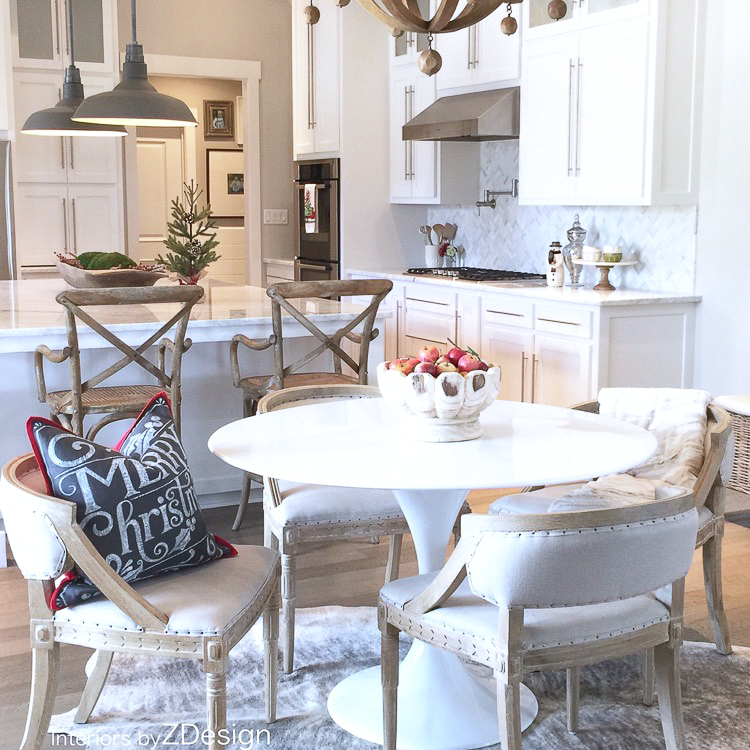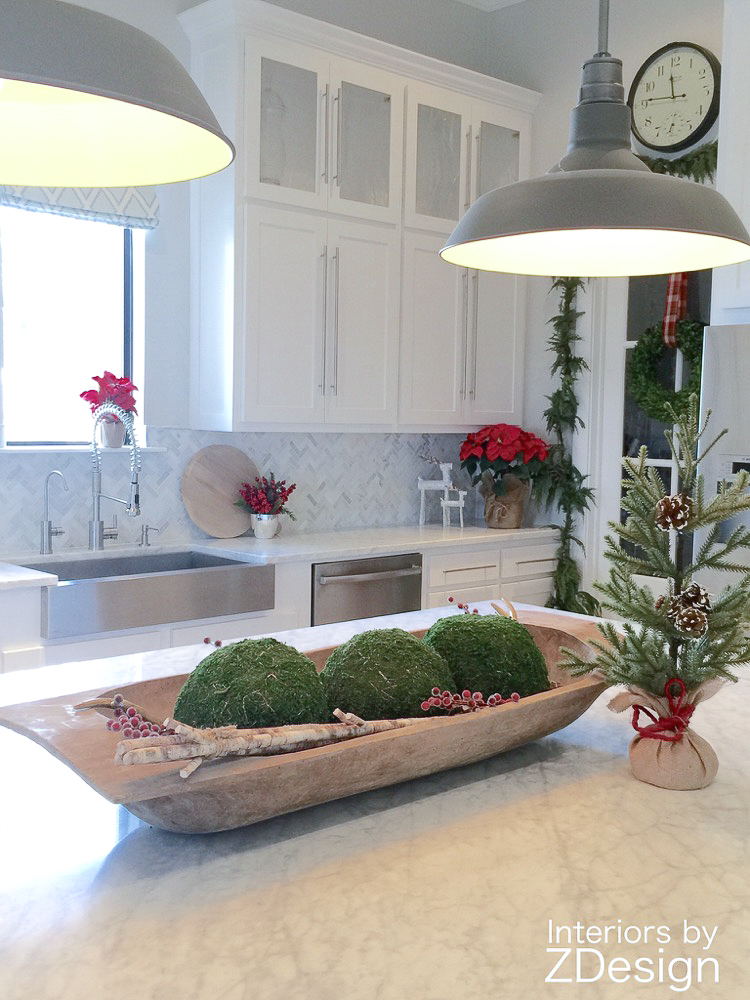 Get the Look

Hall/Mud room area: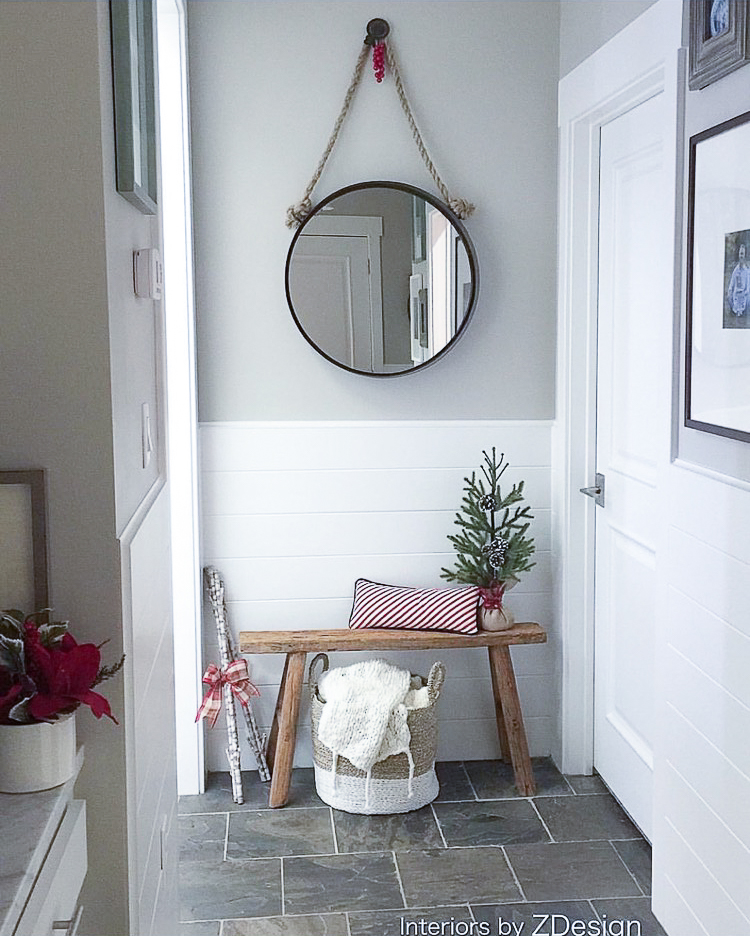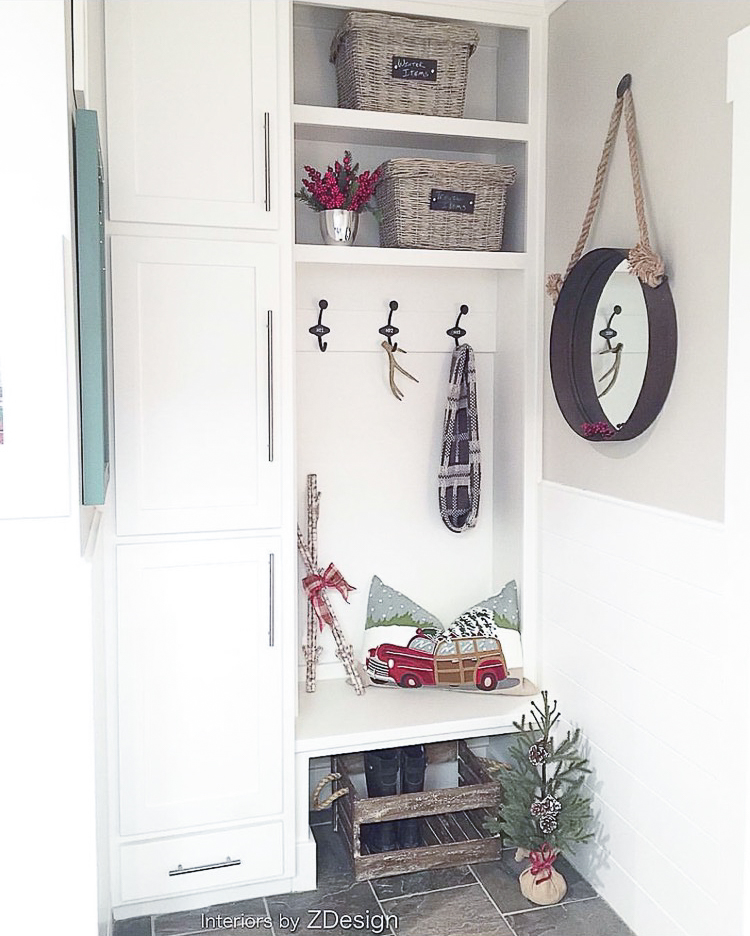 Last but not least was our front entry from last year.  I love real garland but again, our climate is so dry that there is no way real garland would survive out here for more than just a few days without turning brown so all garland or topiaries have to be faux, which is fine with me.  They are beautiful lit up at night and really make the front of the house pop.  My favorite are the topiaries (similar here) that flank the door to welcome you.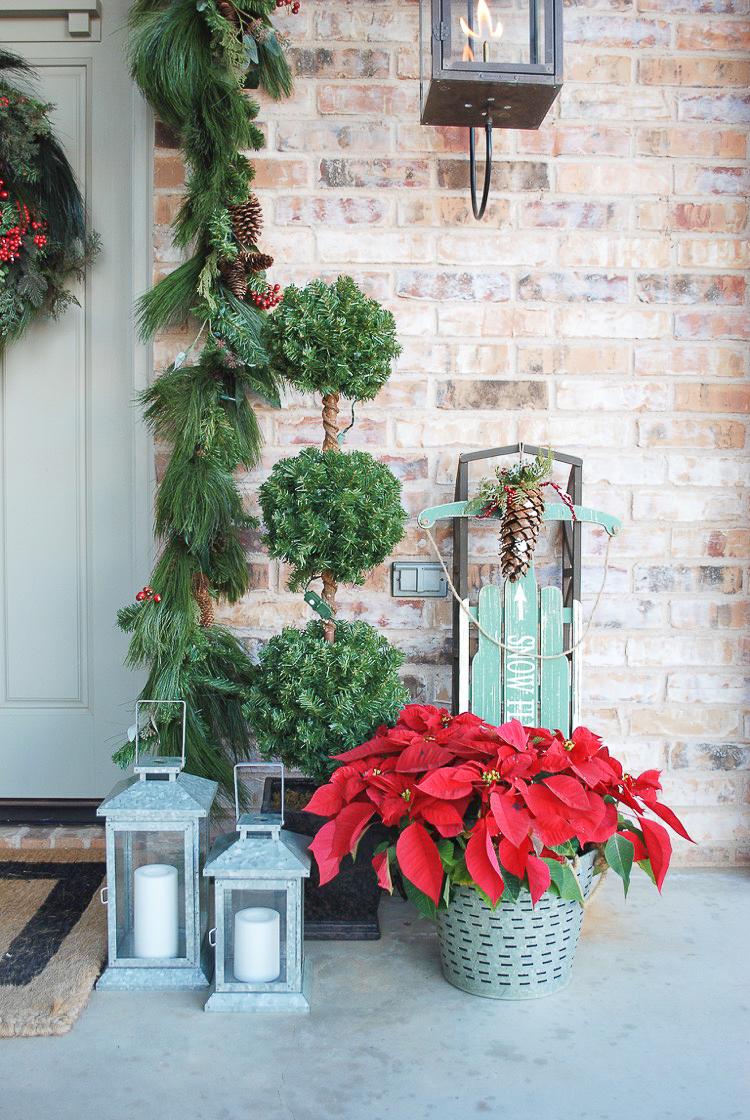 I found the cute sled at HomeGoods last year and it was a big hit at the front door!  I dressed it up a bit with a pine cone decoration from Michael's to add a little interest and a pop of red with the berries.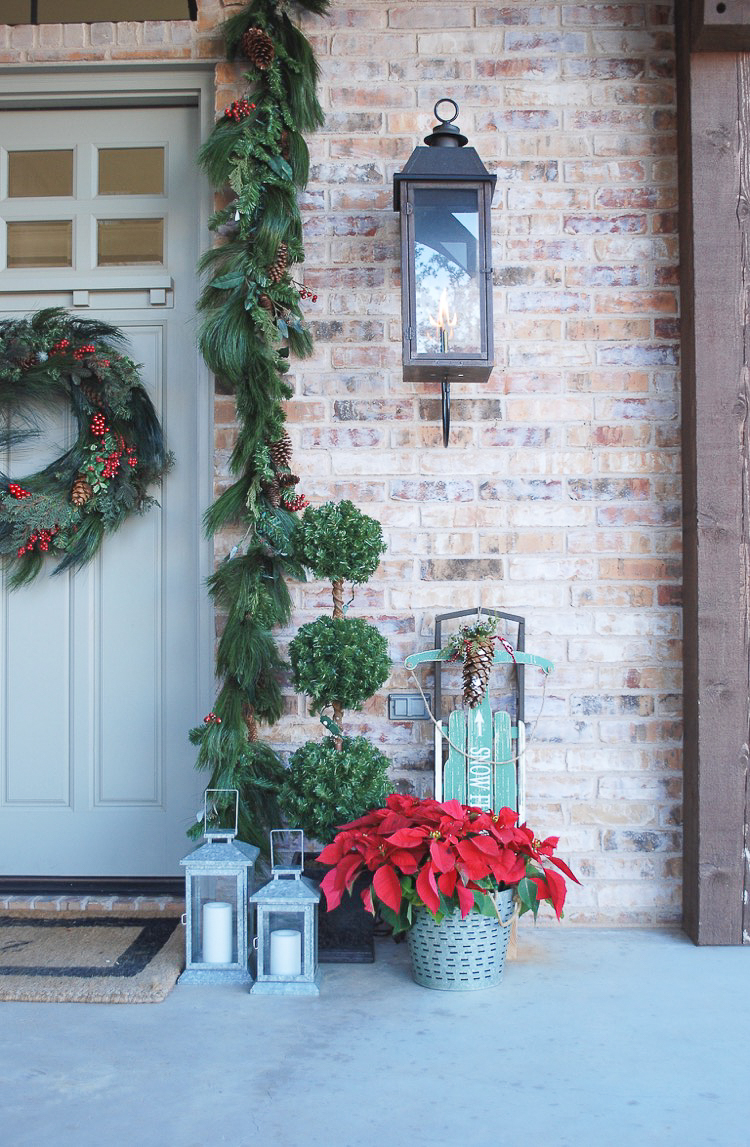 My husband strung two or 3 strands of garland, added lights and hung them around the door for me (using a nail and zip tie incase you were wondering).  He's great at figuring out how to do do anything I ask him to do and thank God for that because I never could have done this myself!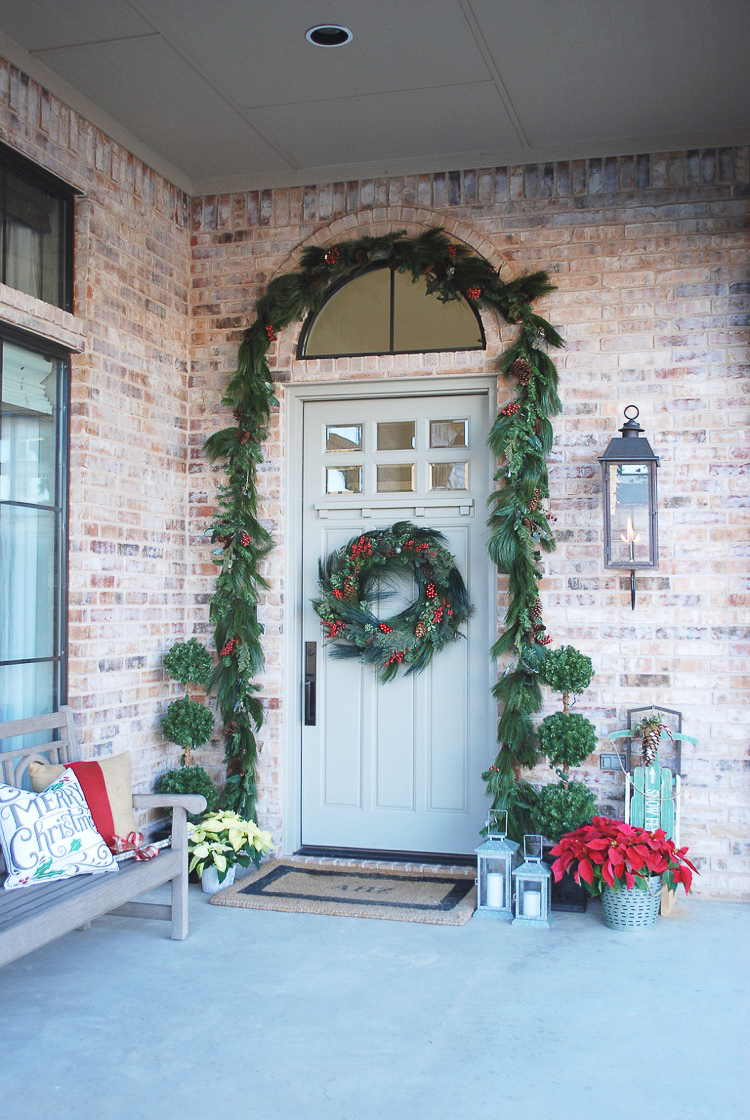 I also used white and red poinsettias, along with some favorite lanterns and these Christmas pillows for the bench (here & here).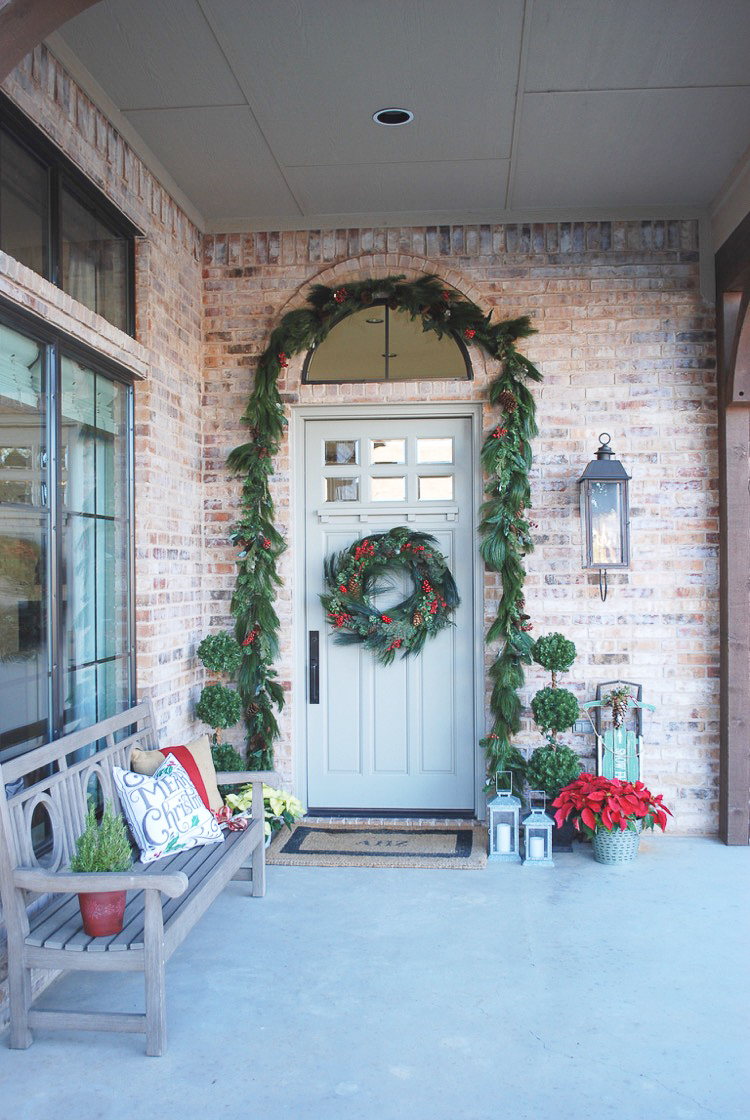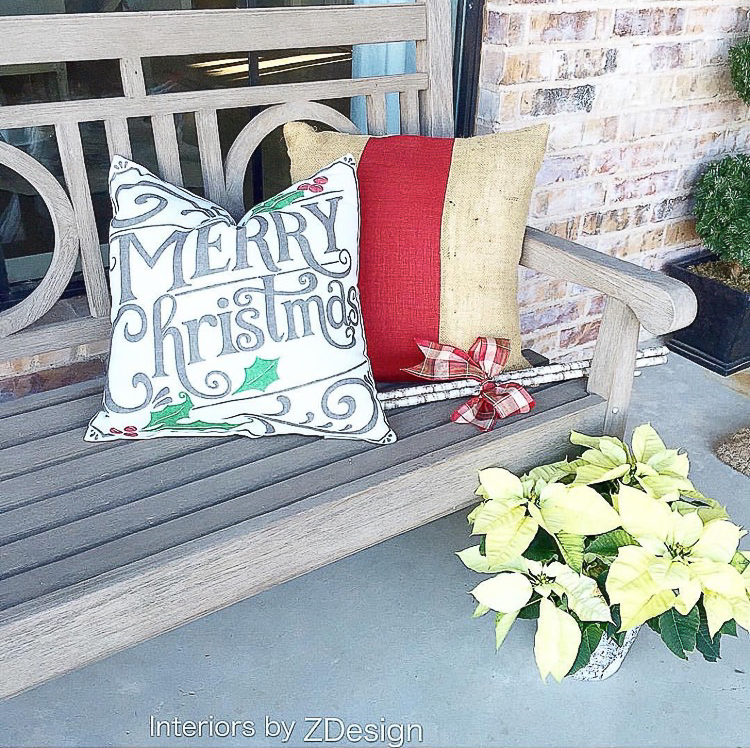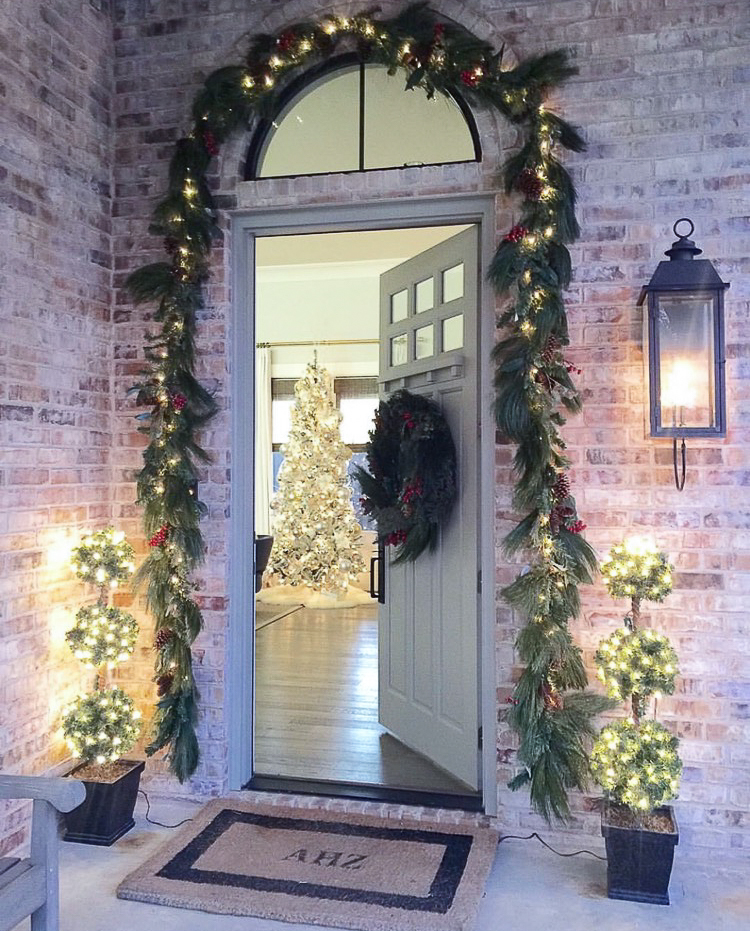 One other little fun thing I like to do for Christmas decor outdoors is to put wreaths on my windows and gates.  I only have one photo of that but promise I'll get more this year to share.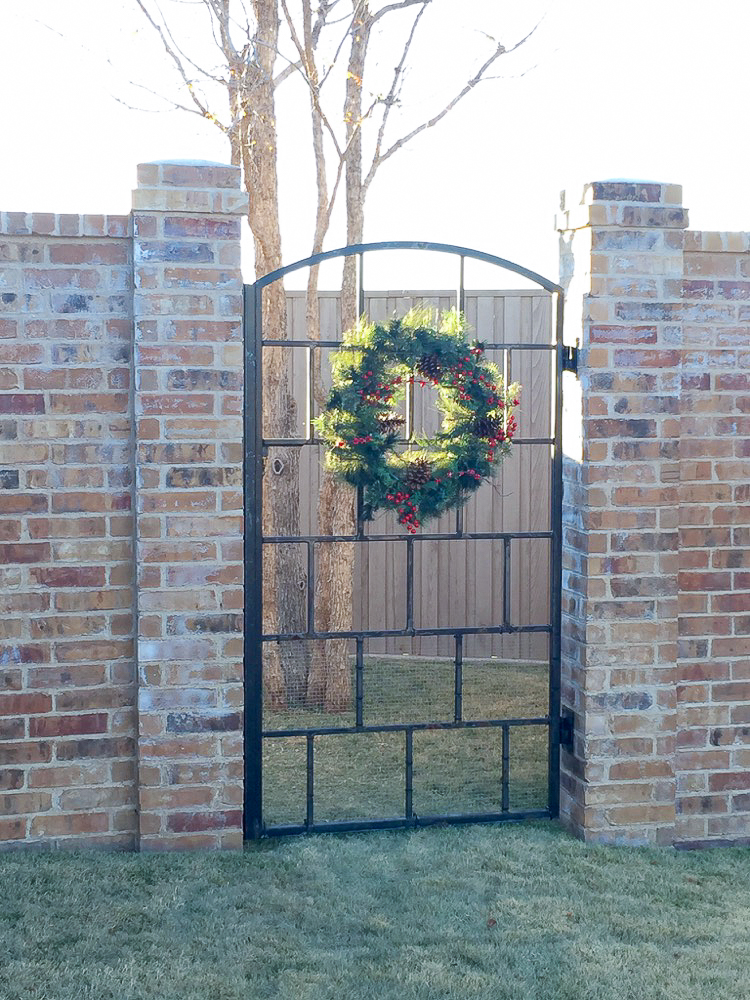 Shop Outdoor

Happy Thanksgiving and Merry Christmas…hope your holidays are bright and I look forward to sharing 2016 Christmas soon and this time I promise photo quality will be much better!!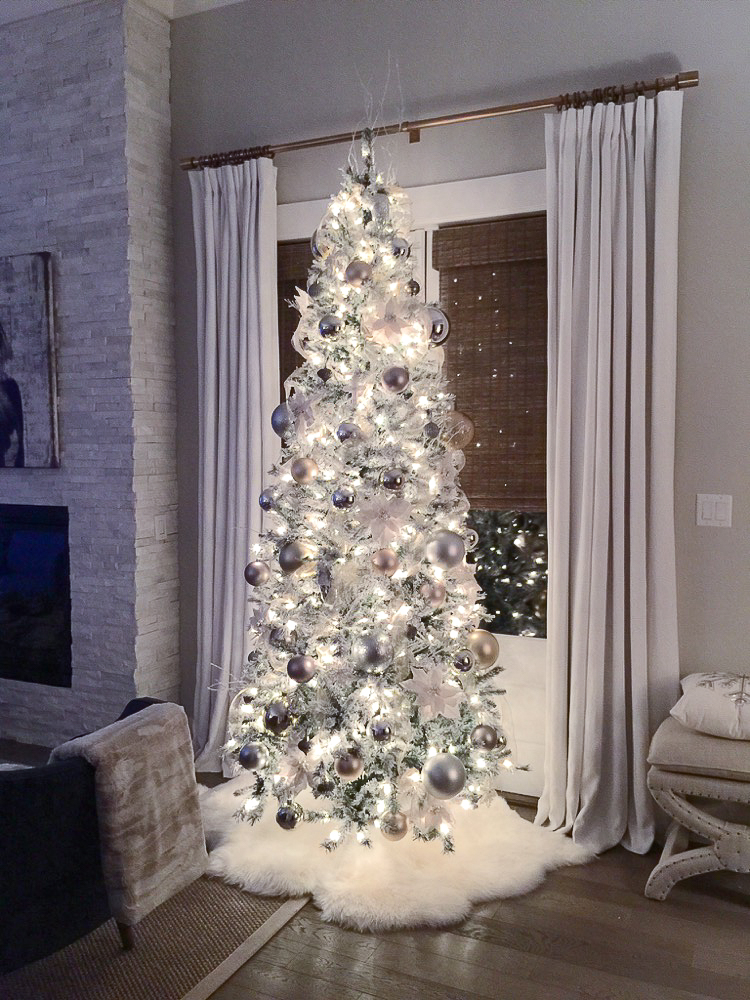 Xo, Bree

Living Room Resources HERE
Kitchen Resources HERE
Outdoor Resources HERE