Holiday Gift Ideas with Walmart
Hi Friends! It's that time of year again! I hope you are getting ahead of the curve with gift buying because there could be some delays this year as we all know! But no worries because I've got you covered with some great Holiday Gift Ideas with Walmart!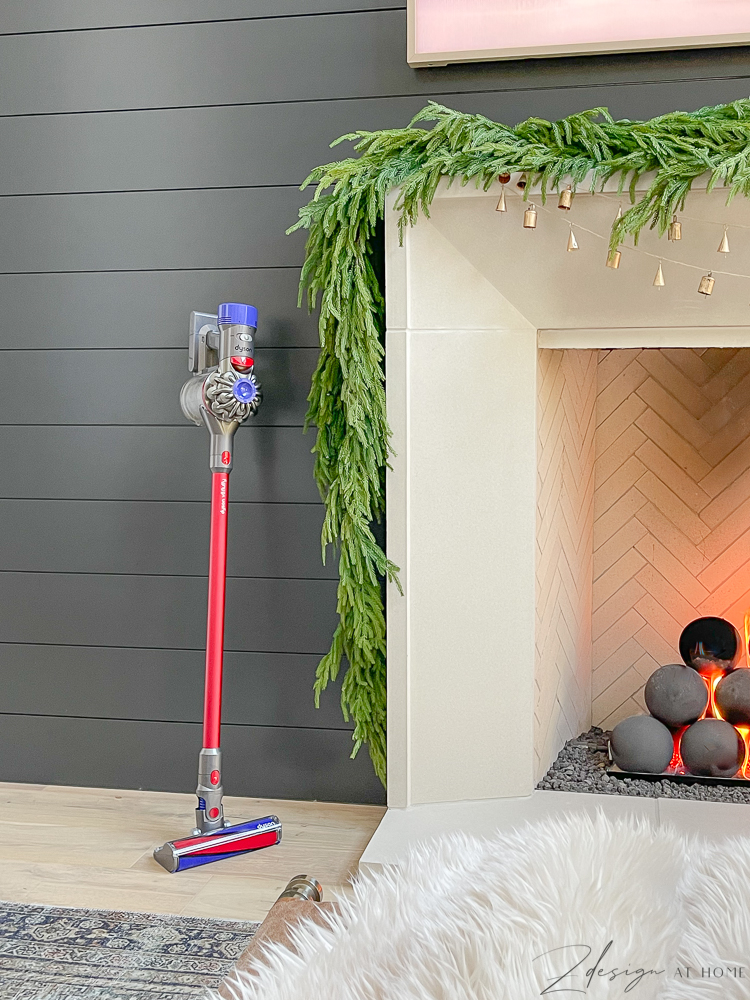 This post was sponsored by Walmart, a brand I love. All opinions, thoughts, images and styling are my own. Please read my full disclosure policy here.
First let me start with what I'm giving my self for Christmas this year, haha! I had had my Dyson stick vacuum for many, many years and sadly it was time to get a new one but luckily Walmart came to the rescue! When I saw the Dyson V8 Fluffy Cordless Vacuum on sale for the holidays at $100 off at Walmart I immediately snagged one. If you don't have one I would say it's an absolute must in any home. Especially one with kids and pets! I even designed a cabinet in my laundry room specifically to plug mine into the wall for charging and to keep it out of sight. If you missed my Reel on Instagram where I put it to work, you can see that HERE. All of the attachments help you to keep your home in tip top shape and I love how this latest model glides across the floor with ease, picking up all of the dog hair and the traffic of the day! TAP IMAGE TO SHOP…

Next up, I'll be giving my husband this Luminox Men's Navy Seal Colormark watch for Christmas. He had one that he passed down to our son so he was in need of a new one. I love how handsome it is in all black and the brand name speaks for itself. It is almost half off right now and already ordered! TAP IMAGE TO SHOP…

For my son I have a couple of things I'm picking up from Walmart – they have the best deal on these Apple AirPods with charging case (2nd generation) right now. This will be his first set so I'm pretty excited about it, and I know he will be too – already ordered these too! TAP IMAGE TO SHOP…

I also noticed that Walmart has the Dyson Ball Multi Floor Origin Upright Vacuum which is always a great gift for the lover of anything home! I actually have both the Dyson Ball and the Cordless vacuums and am a firm believer in the product, and use them regularly around my home. TAP IMAGE TO SHOP…

In case you didn't know, Walmart has an amazing Gift Finder that is broken down by category – it makes it so easy to find just what you're looking for in a snap and helps to give you some ideas about what the best gift might be for the hostess and the cook, the beauty and fashion lover, the sports and outdoors enthusiast, and of course the home decor lover and more! It will also break your search down by who the gift is for and their age to make it even easier on you. You can find Walmart's simple to use Gift Finder HERE.
Here are a few more of my favorites, some repeats from above but several more from the Walmart Gift Finder that I love and that are on my list:
Walmart Home & Fashion Gift Ideas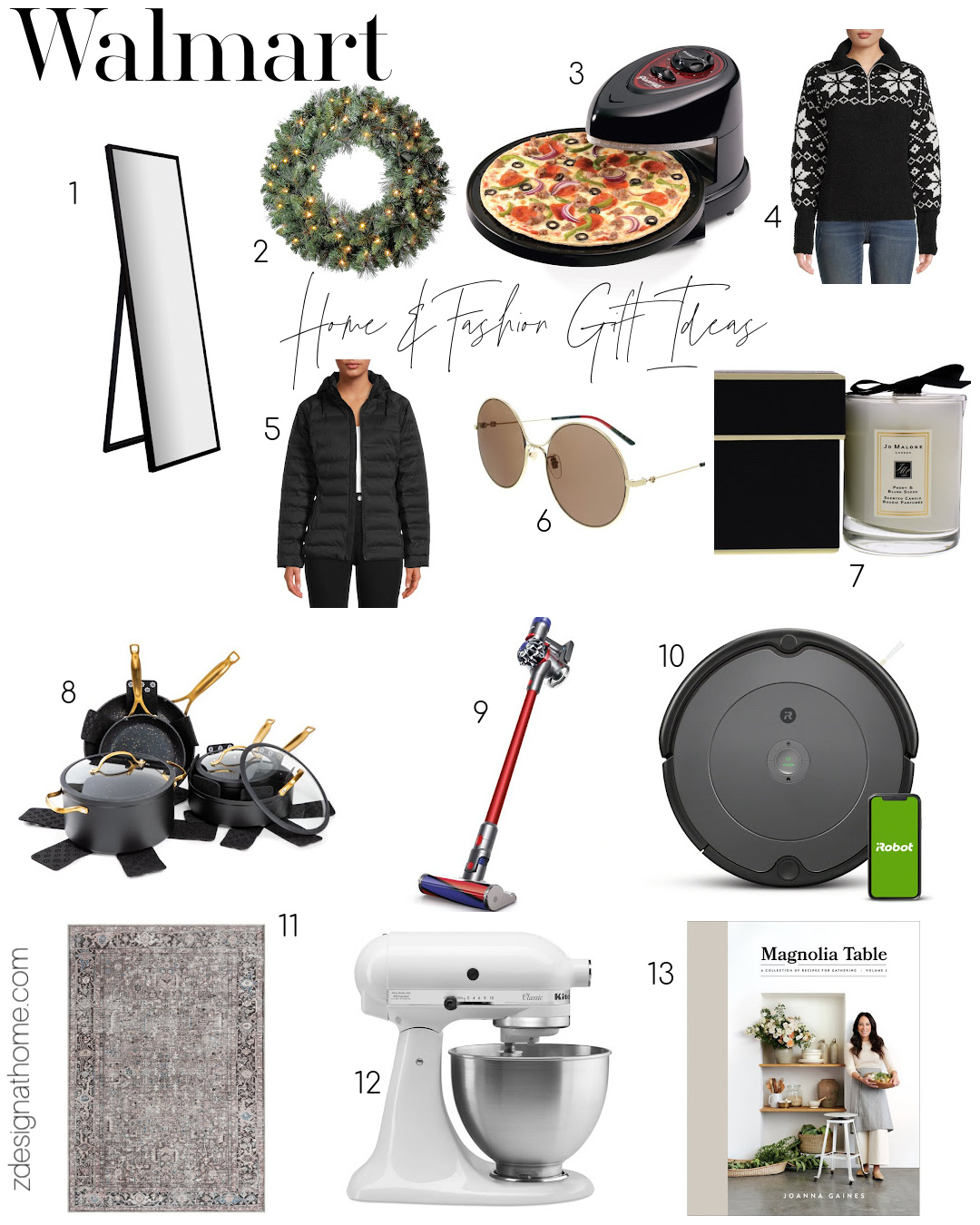 1 Black Metal Floor Mirror | 2 Wreath | 3 Rotating Pizza Oven | 4 Women's Black & White Sweater | 5 Women's Black Puffer Jacket | 6 Gucci Sunglasses | 7 Jo Malone Candle | 8 Non-Stick 12-piece Black & Gold Cookware | 9 Dyson V8 Fluffy Vacuum | 10 iRobot Roomba Vacuum | 11 Washable Rug | 12 KitchenAid Classic Mixer | 13 Magnolia Table Cook Book


Walmart Tech & Misc. Gift Ideas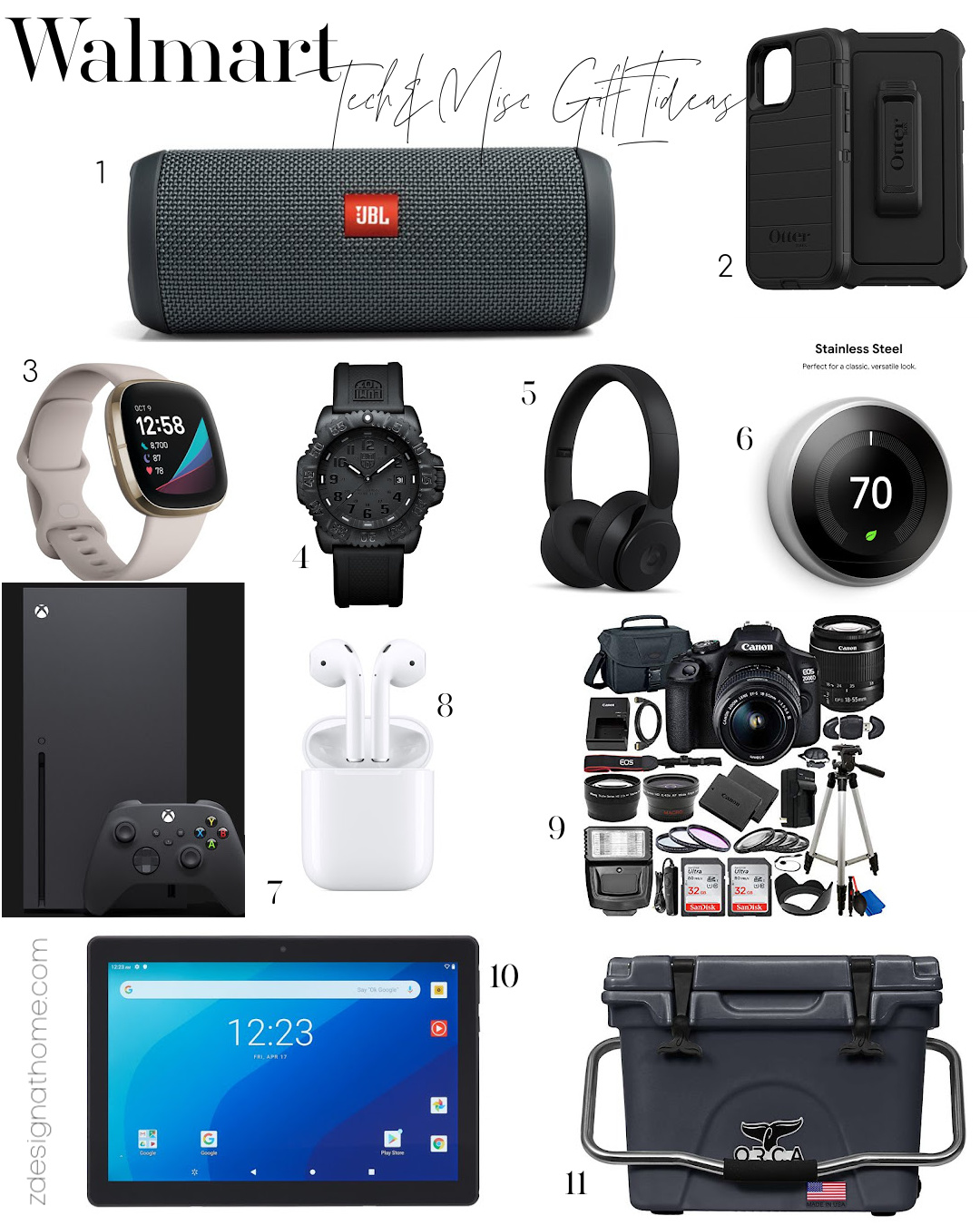 1 JBL Speaker | 2 Otterbox Phone Case | Fitbit | 4 Luminox Navy Seal Edition Watch | 5 Noise Cancelling Headphones | 6 Nest Thermostat | 7 Xbox Series X Game Console | 8 Apple AirPods | 9 Canon Camera | 10 Android Tablet Pro | 11 Orca Cooler


A few gift ideas to point out that I really love for her, home & more…
Black & White Snowflake sweater – I really love this quarter zip sweater in black & white – it's obviously perfect for winter and the holidays and should make the perfect gift. I'm ordering this for myself as welL! TAP TO SHOP…

Gucci Sunglasses – oh my!! How excited was I to see these Gucci sunglass at Walmart for women and they are almost 1/2 off right now!! TAP TO SHOP…

Non-Stick 12-piece Black & Gold Cookware – How gorgeous is this non-stick cookware in black and gold. If I needed some new pieces I would grab this in a heartbeat but what a beautiful gift this would make for the cook in your life. TAP TO SHOP…

Distressed Vintage Machine Washable Area Rug – I don't have one of these yet but I have a friend that does and she say's it's great! I would buy this one if it came in the size runner I need however it does come in many other sizes. I really love the gray colors in it and think it's a great piece for the home decor lover this year. TAP TO SHOP

JBL Bluetooth Speaker – If you might not know what to get someone this can be a great gift for anyone and the price is really great right now! TAP TO SHOP…

Fitbit Watch – LOVE this one for her in white and soft Gold. I need one of these currently and it's in my cart but of course would be a great gift this year too. It's also available in black and gray and it's about $100 off right now! TAP TO SHOP…

Orca 20 Qrt Cooler – Here is another good one for him – I have heard these are great coolers and they are available in 6 colors. And they are made in the USA, which I LOVE! TAP TO SHOP…

iRobot Roomba – This is on my list for the hubby to pick up but I haven't had one in years and am desperately in need of one (as if my Dyson stick & my Dyson Ball weren't enough, haha!) and it's around $75 off right now – woohoo!! Again, who wouldn't want one of these if they don't already have one?! TAP TO SHOP…

Pre-Lit 24″ Christmas Wreath – I actually just purchased two wreaths in-store last weekend (not this one) but saw this one and it was very nice, especially for the price and it's pre-lit! So if you are still in need of Christmas decor – this is a great wreath at a great, great price! HERE is the one I purchased last week in store as well. TAP TO SHOP…

Beats Wireless Noise Cancelling Headphones – Another gift that would be great for anyone – especially the teenager. The gray (pictured below) and the white are half off right now too! TAP TO SHOP…

One more thing…I also noticed an almost identical version of my entryway mirror is on a big sale at Walmart right now! I think I paid over $400 for mine and this one is on sale for $159 – wow! And it has a floor stand too.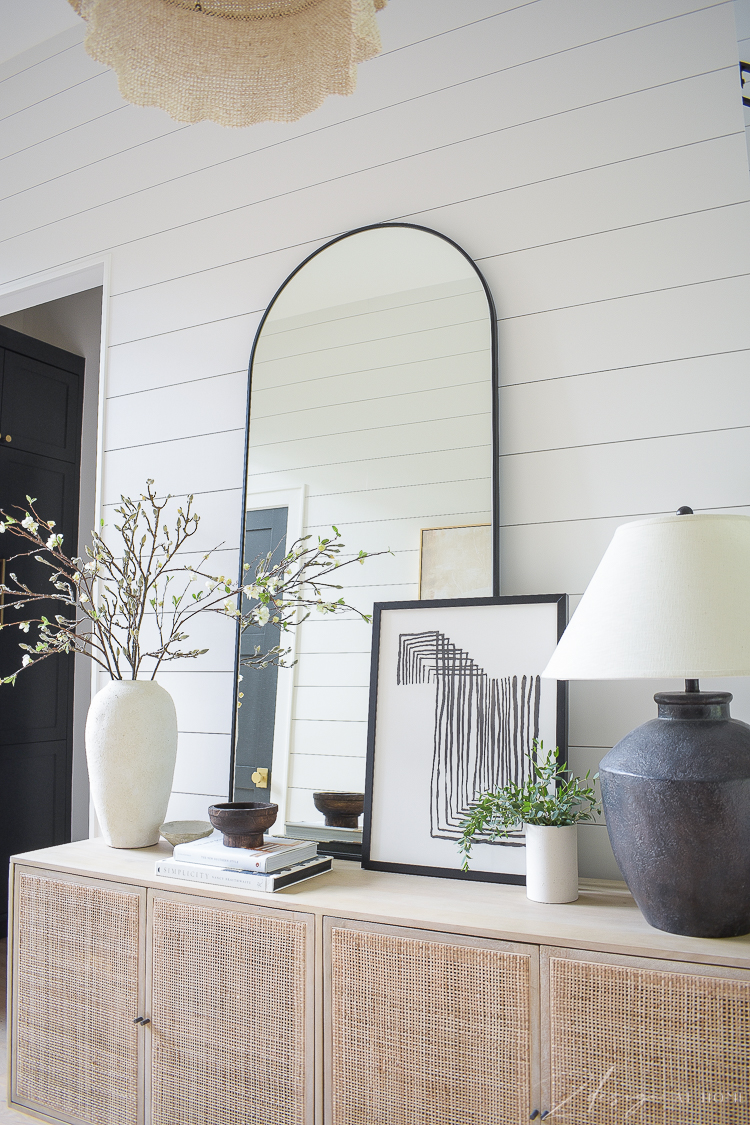 I hope you've enjoyed all of my Holiday Gift Ideas with Walmart! Happy shopping – I hope this post was helpful and that you find the perfect gifts for the ones you love!

Holiday Gift Ideas with Walmart
Let's stay in touch…