Merry Christmas and Happy Holidays! It's that time of year when we all love to cozy up in our homes to enjoy the season and our holiday home is ready and I can't wait to share it with you in this Christmas Home Tour, the first one in our (still new to us!) home. This will be a mostly photos tour so I hope you'll enjoy the images and feel inspired this season to get your home holiday read too! If you missed our Christmas trees tour post, you can find that HERE. All sources will be located throughout and at the bottom of this post.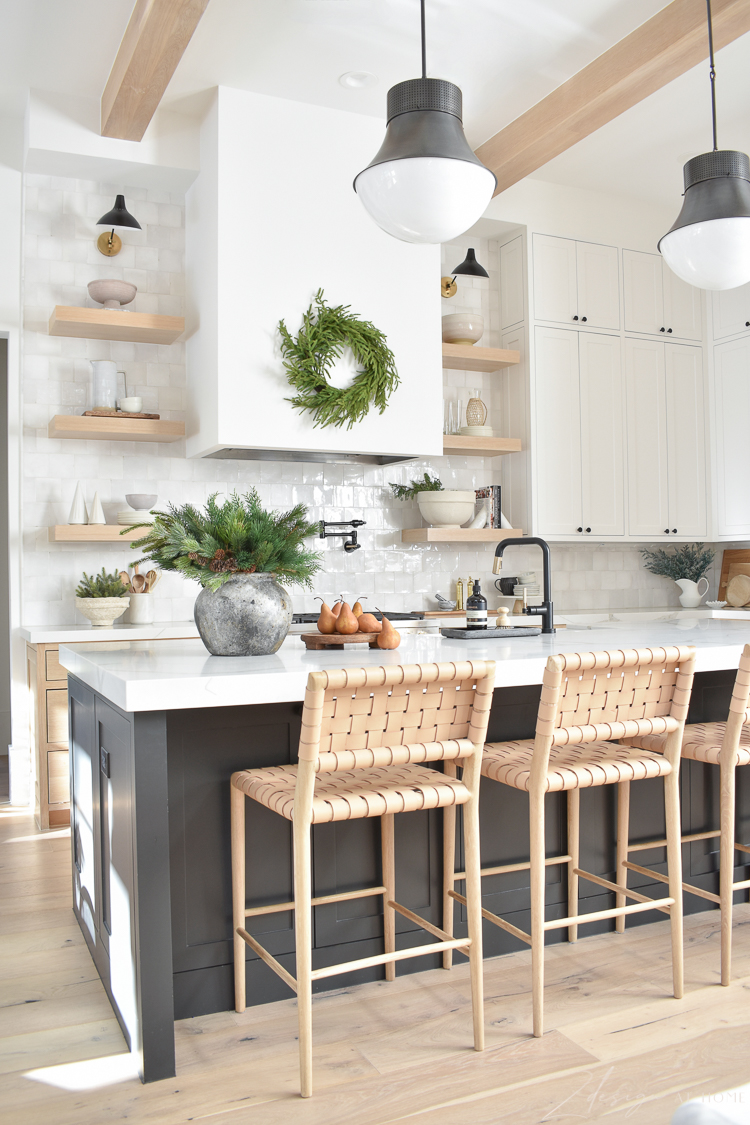 *This post contains affiliate links without any additional cost to you but allows this blog to thrive and continue to grow so thank you for being here – it means the world to me! You can read my full disclosure policy here.
I'll start with our Christmas entryway. If you missed the change of furniture in this space, I shared all about it on Instagram but the black credenza has been a wonderful change, especially for this time of year!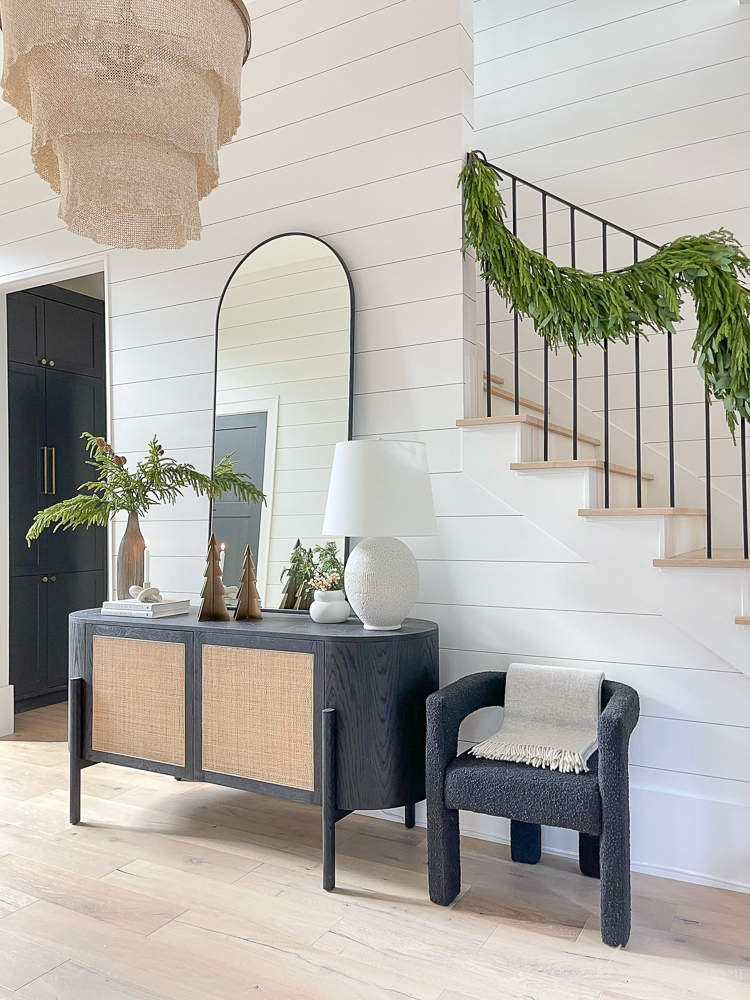 Each year I like to pick up just a few new updated items but also like to pull out some old ones for the holidays – I love these Studio McGee brass trees & this twisted taper holder….both feel so festive, modern and of the season. I actually ordered the taper holder months ago but it just now arrived – perfect timing!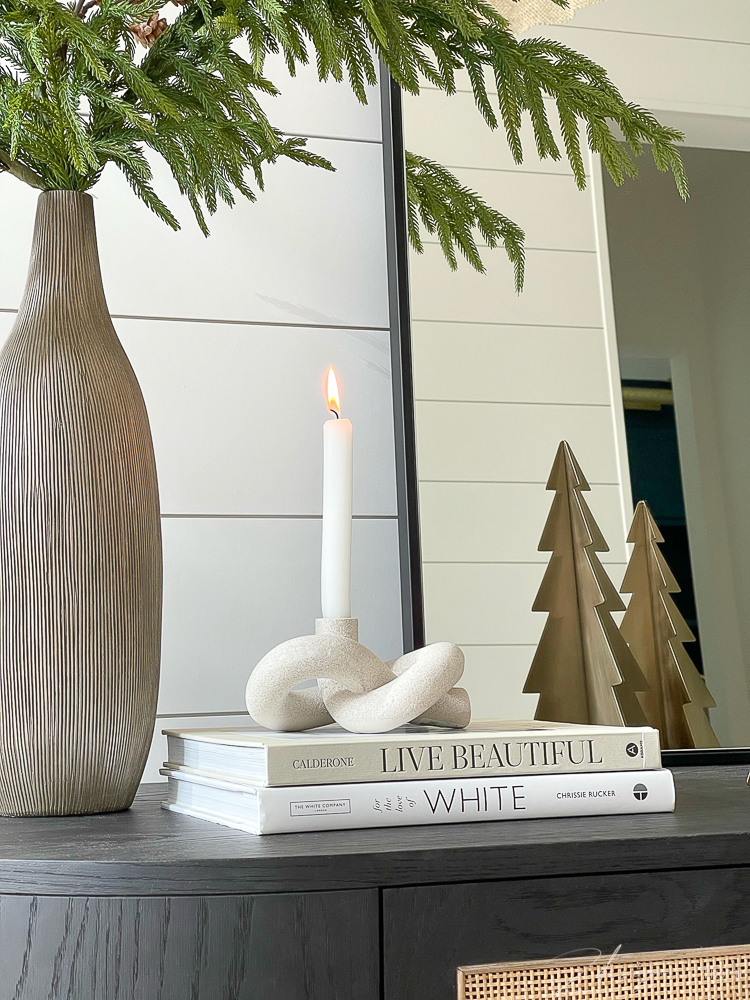 I've had that gray vase to the left for who knows how long – probably 12-15 years but since it has such great textured decided to pull it out for the holidays.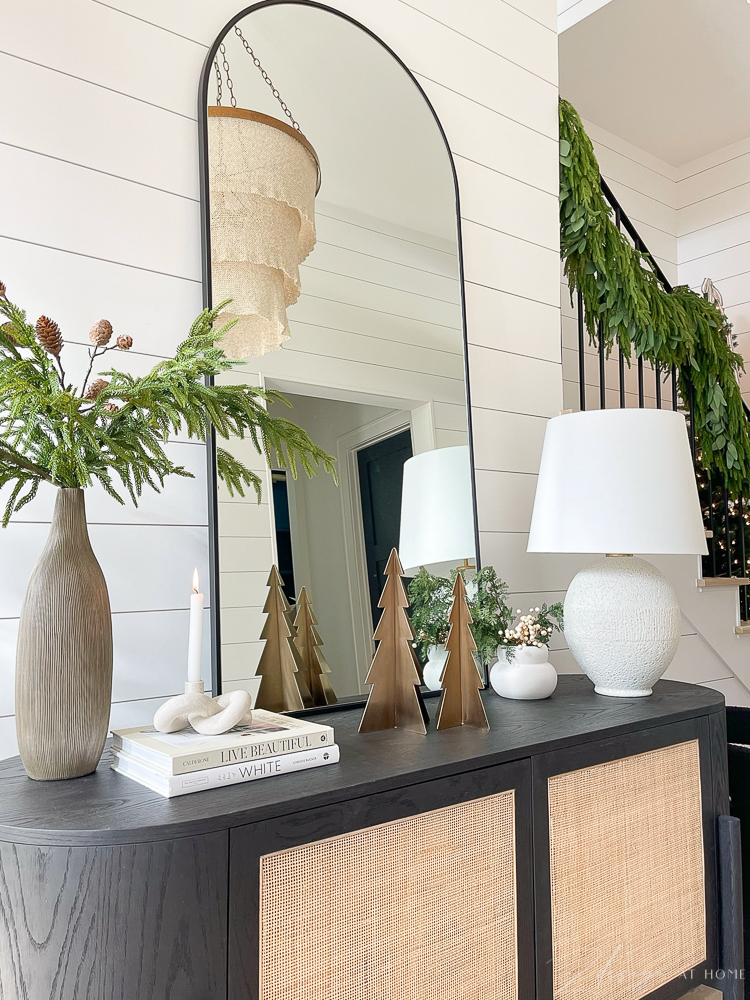 Also picked up this small modern white vase to add some Christmas greenery. These white berry picks are also new this season – I got them to go in my mantle garland but that didn't really work out lol, so one of them ended up here.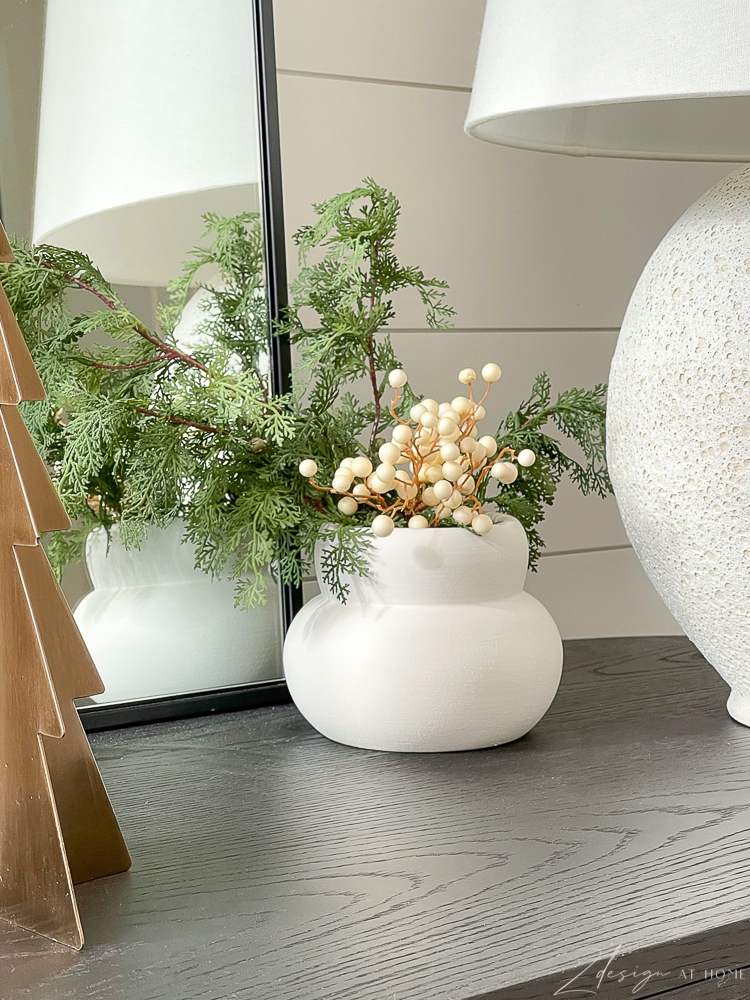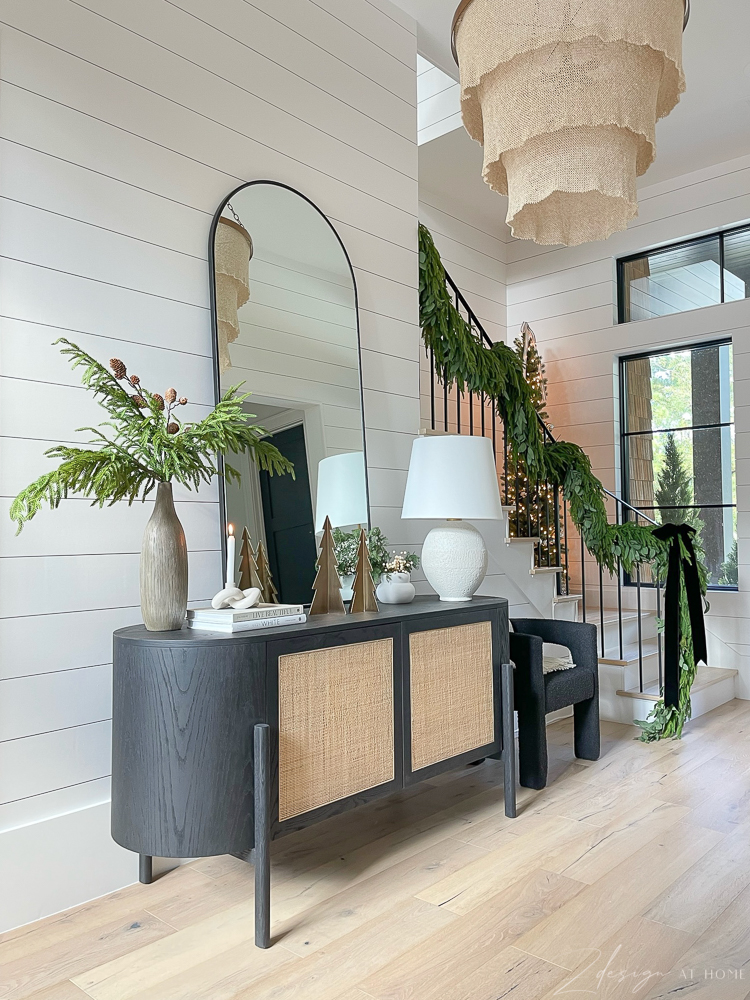 As you enter the front door to the right you see our staircase decked for the season! I layered 3 garlands to get this effect. My main garland (similar here) is out of stock but the garland in the center is this eucalyptus garland and was layered in between my other garland – I really love the layered affect. I finished it off with a big black velvet bow at the bottom of the staircase. To attach the garland to the handrail we just used black zip ties – easy peasy! I used 7 of the main garland (2 on each swag, 1 on the handrail at the very bottom) and I used 4 of the eucalyptus garland as I said, layered in between my main garland.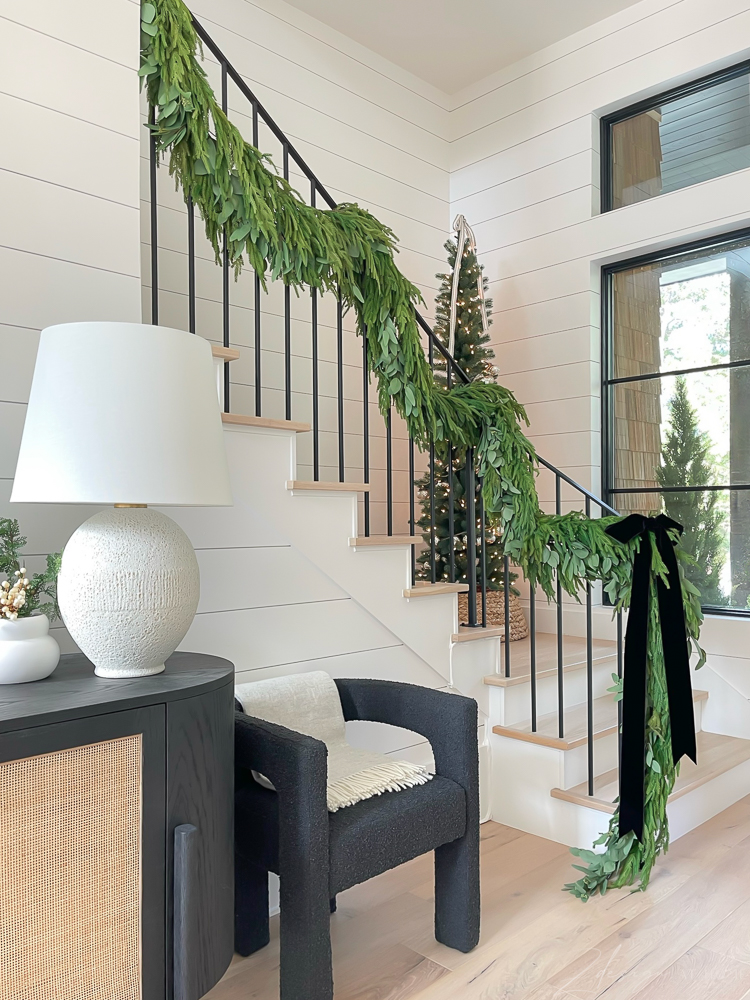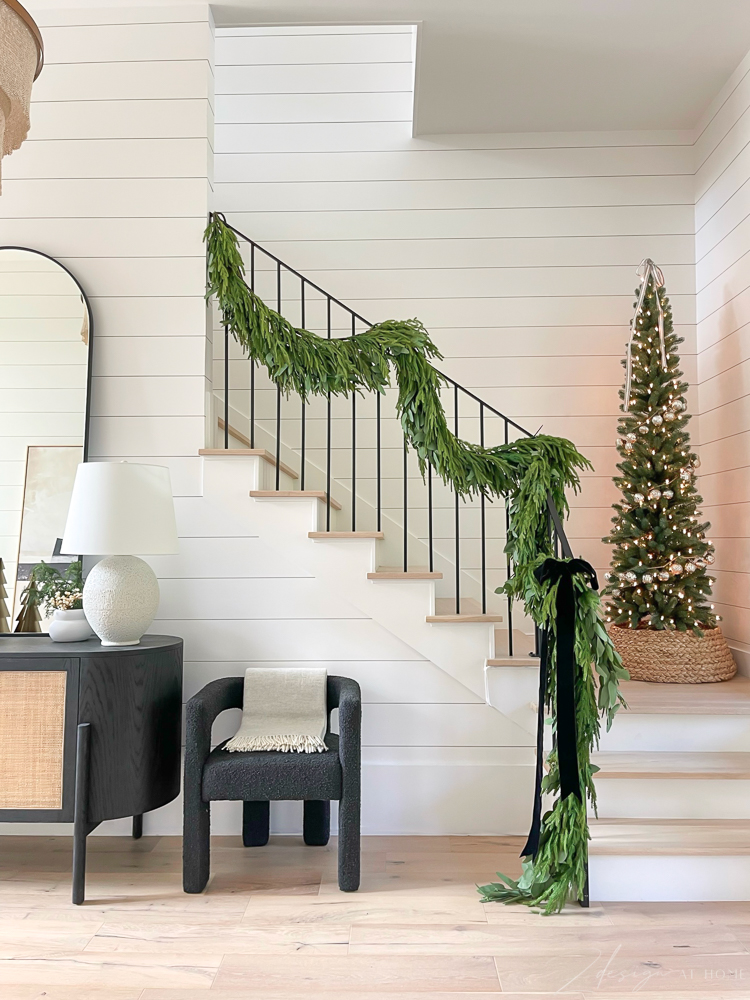 Moving into the living room – Just coffee table updates here mostly with the exception of our tree (you can see that here) . My pillows stayed the same with some rearrangement and I added a brown faux hide that I just adore. I love our Frame TV since it means I can keep seasonal images up on it all year round. I found this one of the Snowy Pines here and thought it would be perfect for the holidays.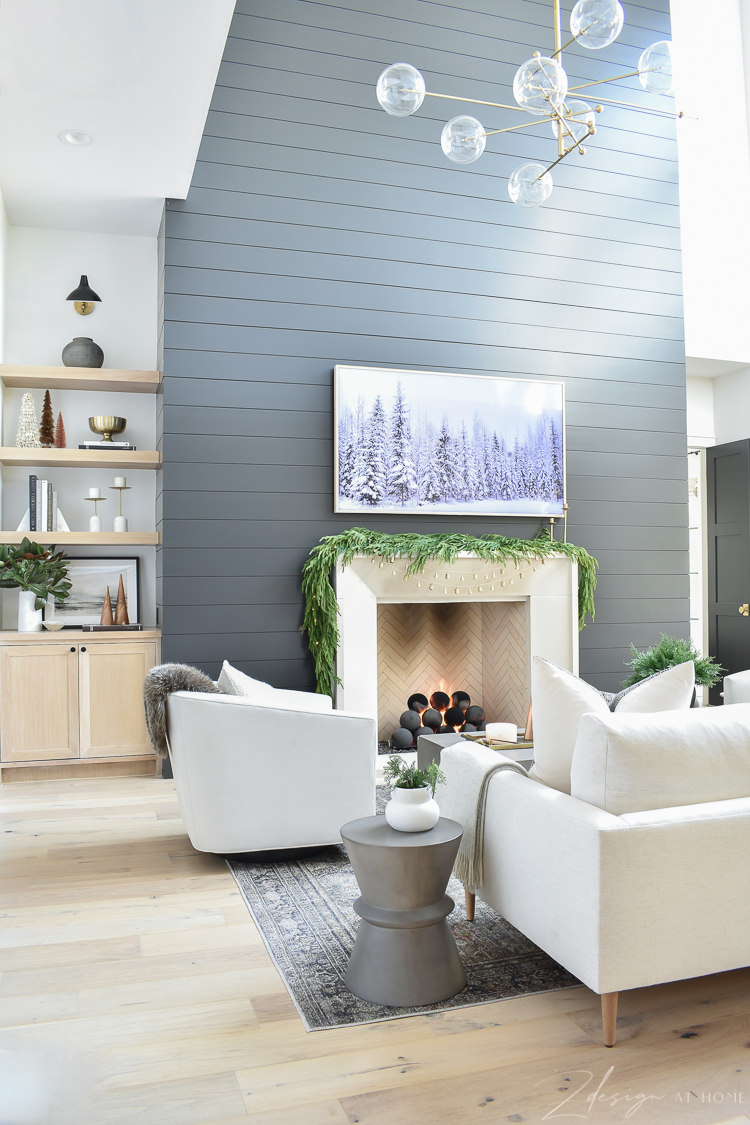 Love stying our bookshelves seasonally and all year round!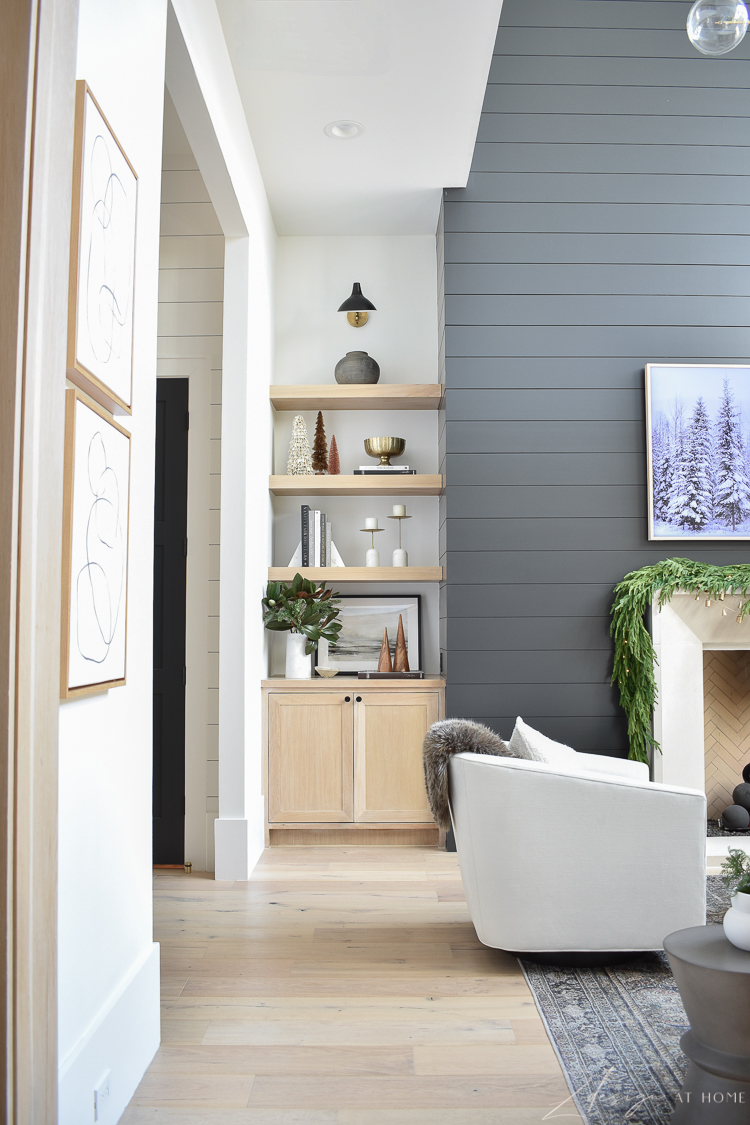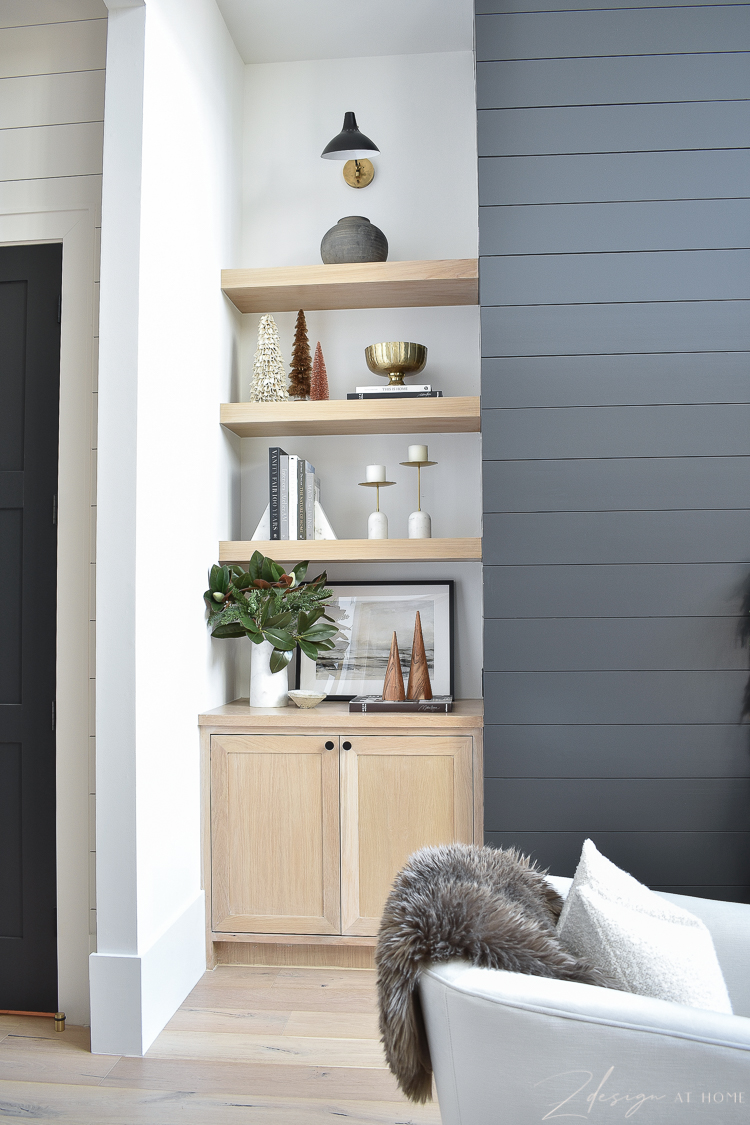 Some of my favorite things over here are these Studio McGee for Target wooden trees, the white marble vase that holds my faux magnolia stems, and the marble and brass candle holders. I've had that brass bowl forever and always love pulling it out this time of year!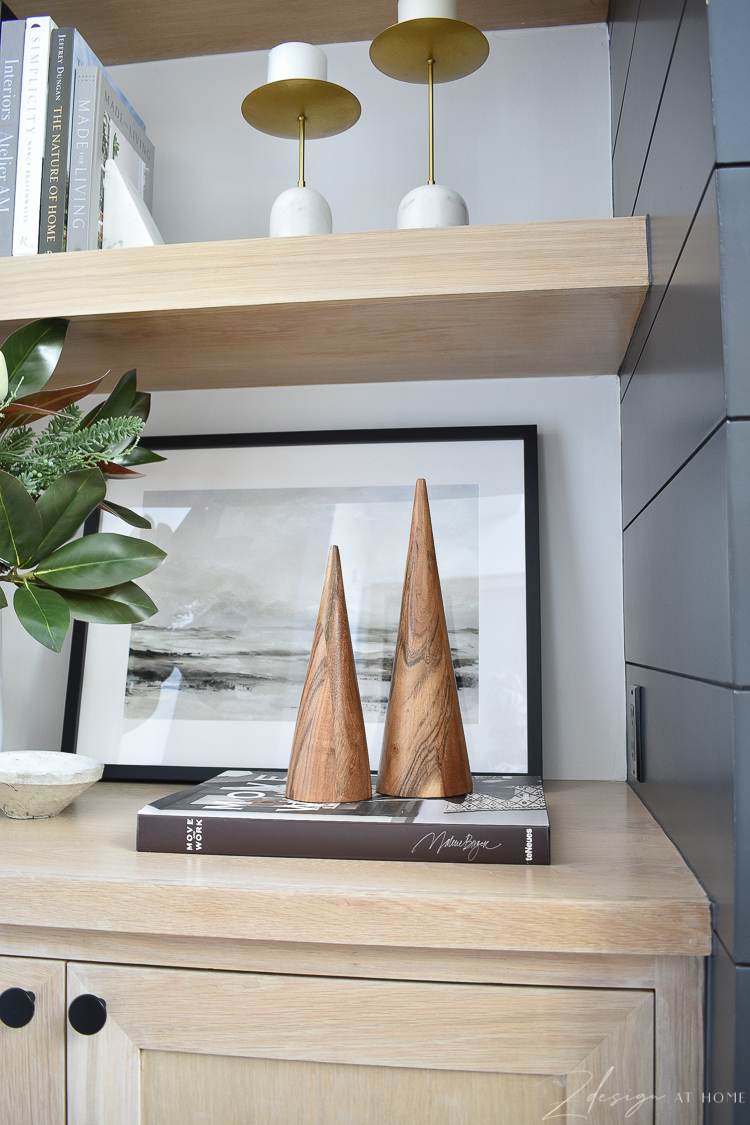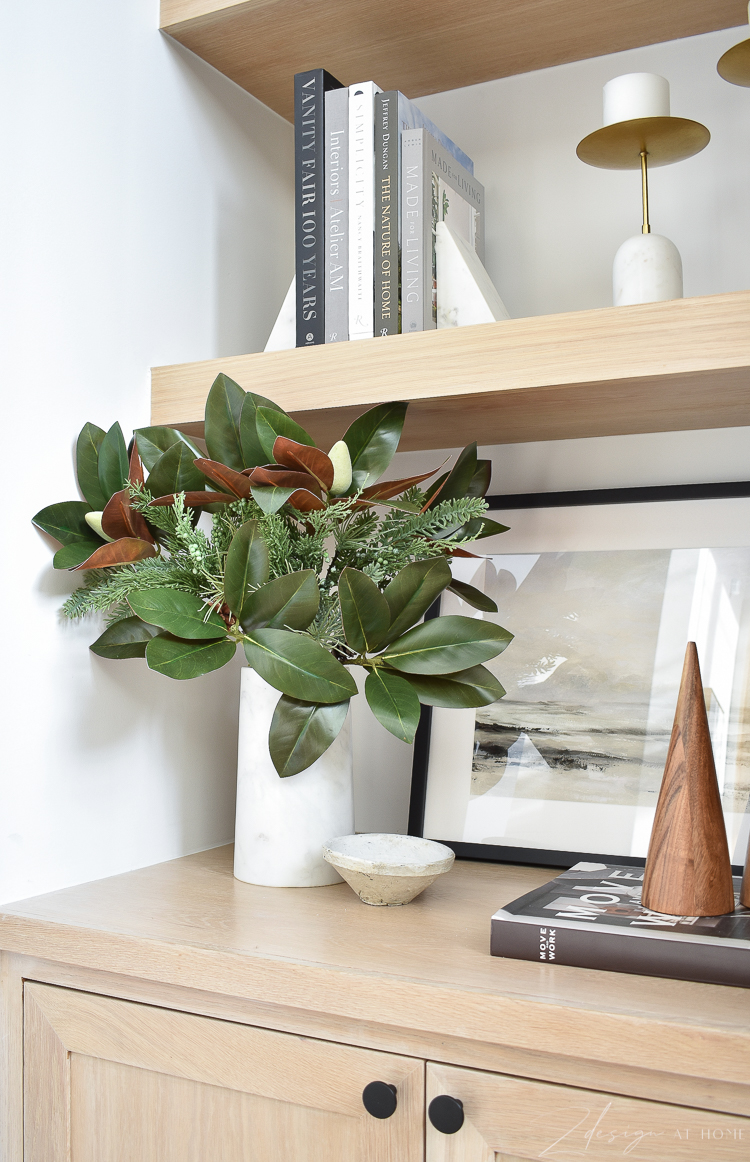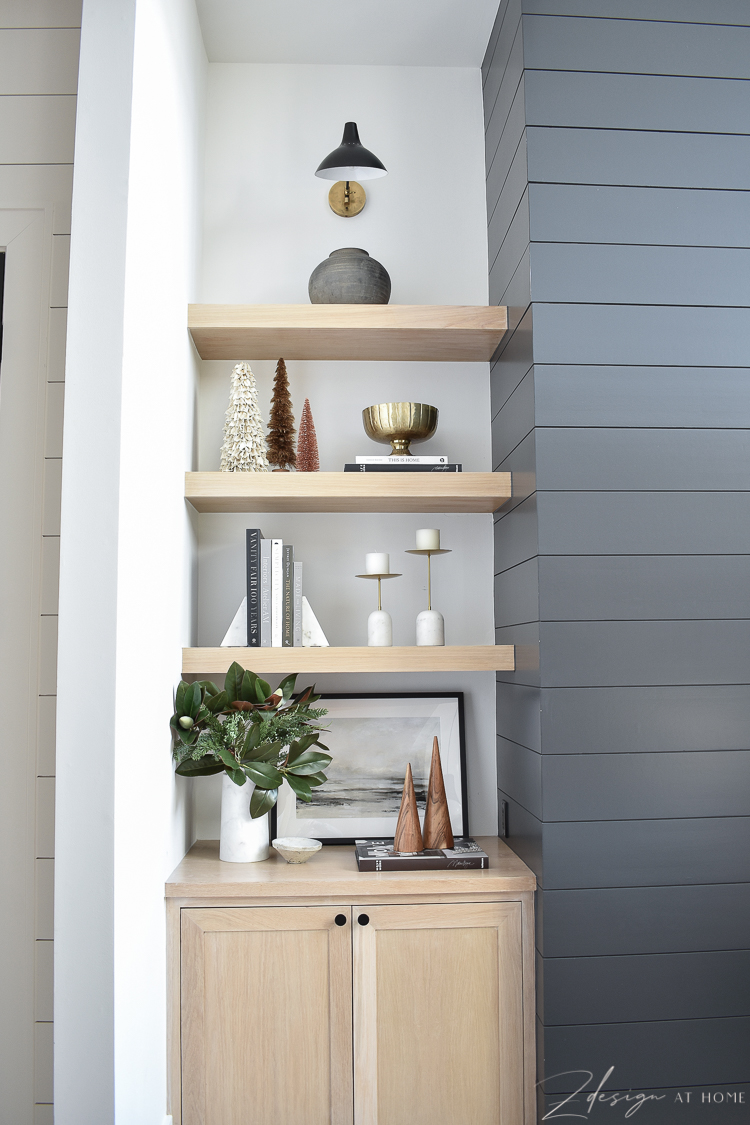 Love the hide draped over the back of the chair. It's the perfect touch of seasonal decor for this time of year.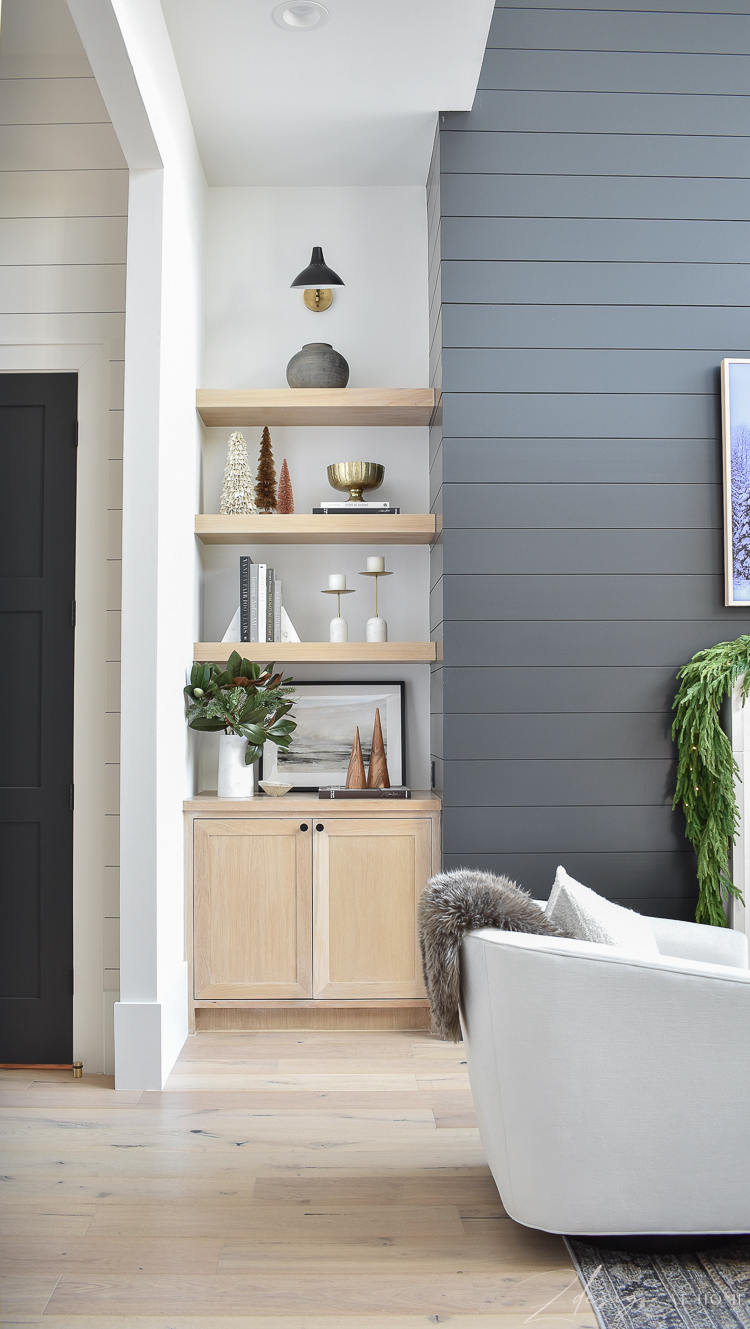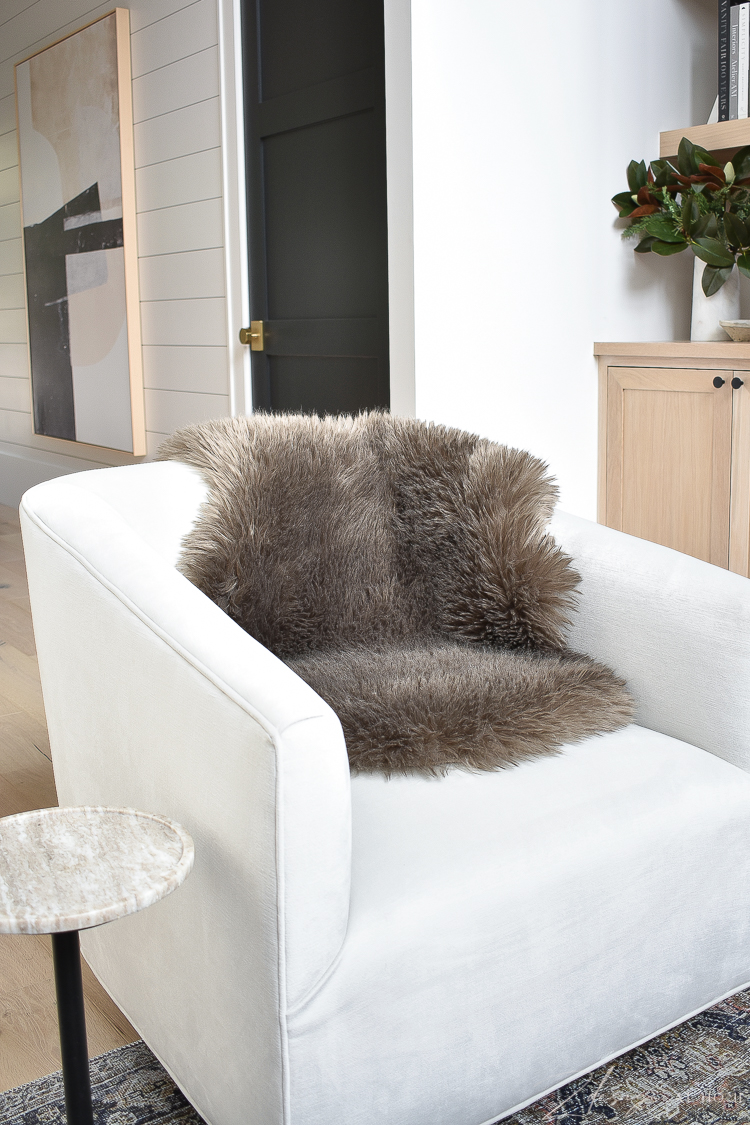 For the mantle, I used the same garland as what's on our handrail (similar) and made some bell garland to complement, just using some jute twine and these bells. I also offset the garland a little to give it a more interesting look, and I added some string lights nestled into the branches of my garland. I used four (4) 6′ garlands to achieve this look.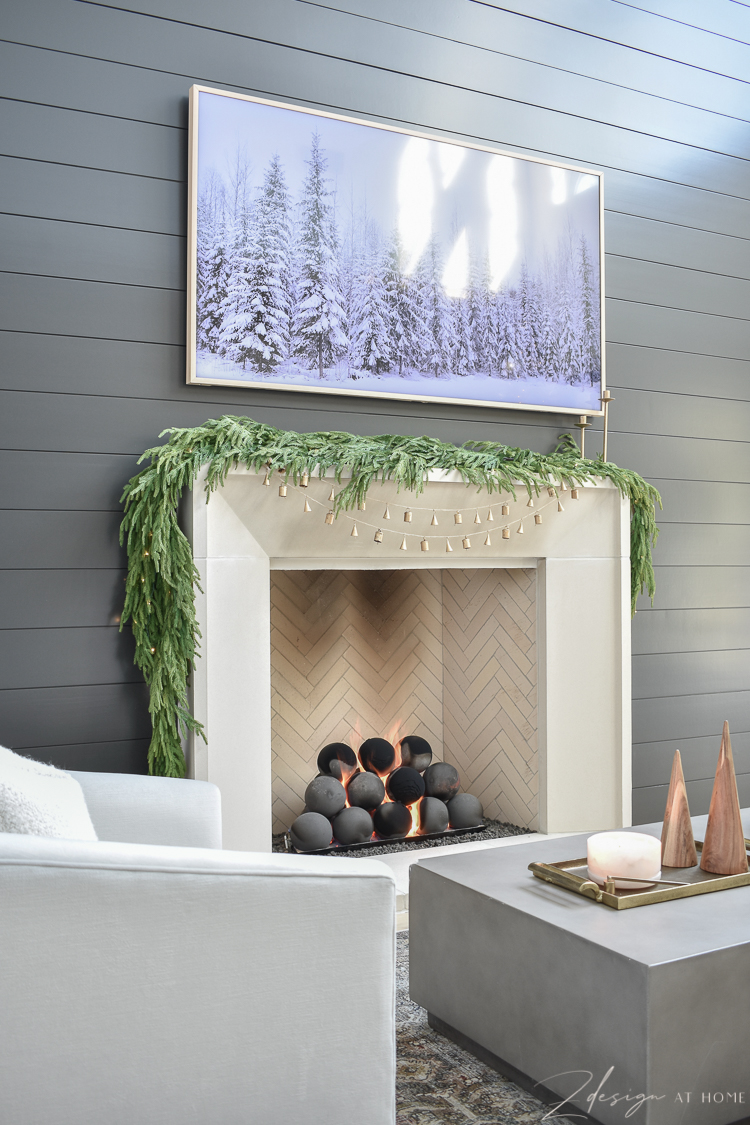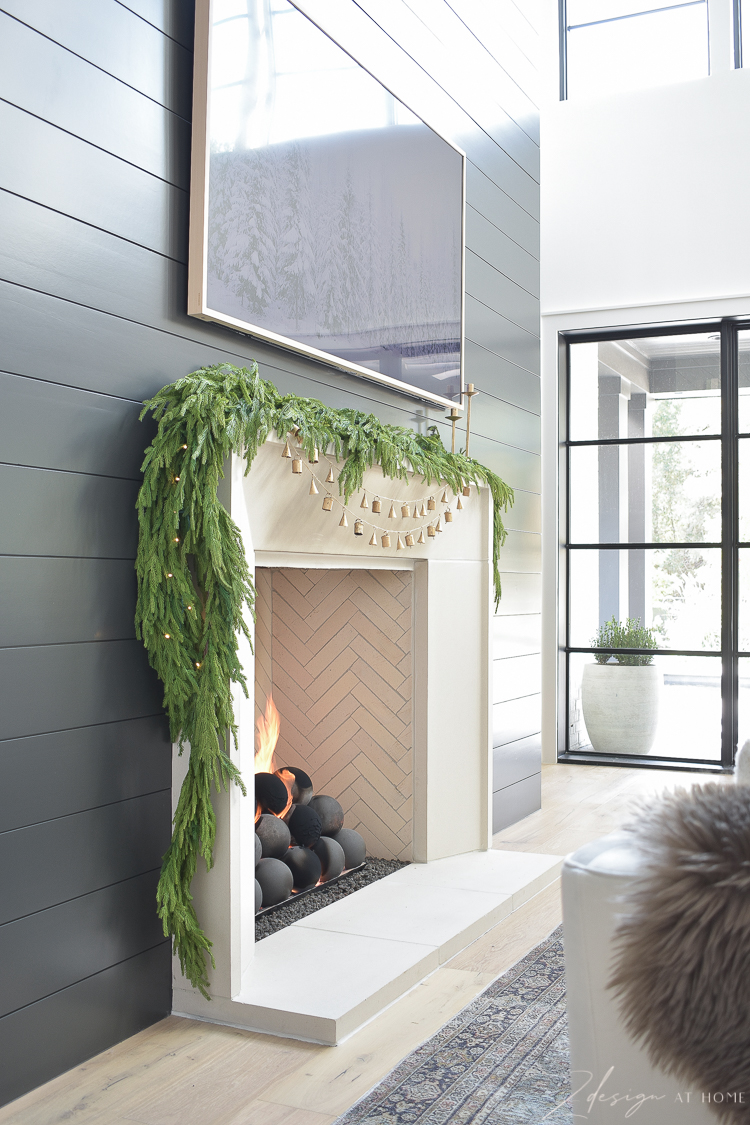 And of course some fun Christmas decor on the coffee table.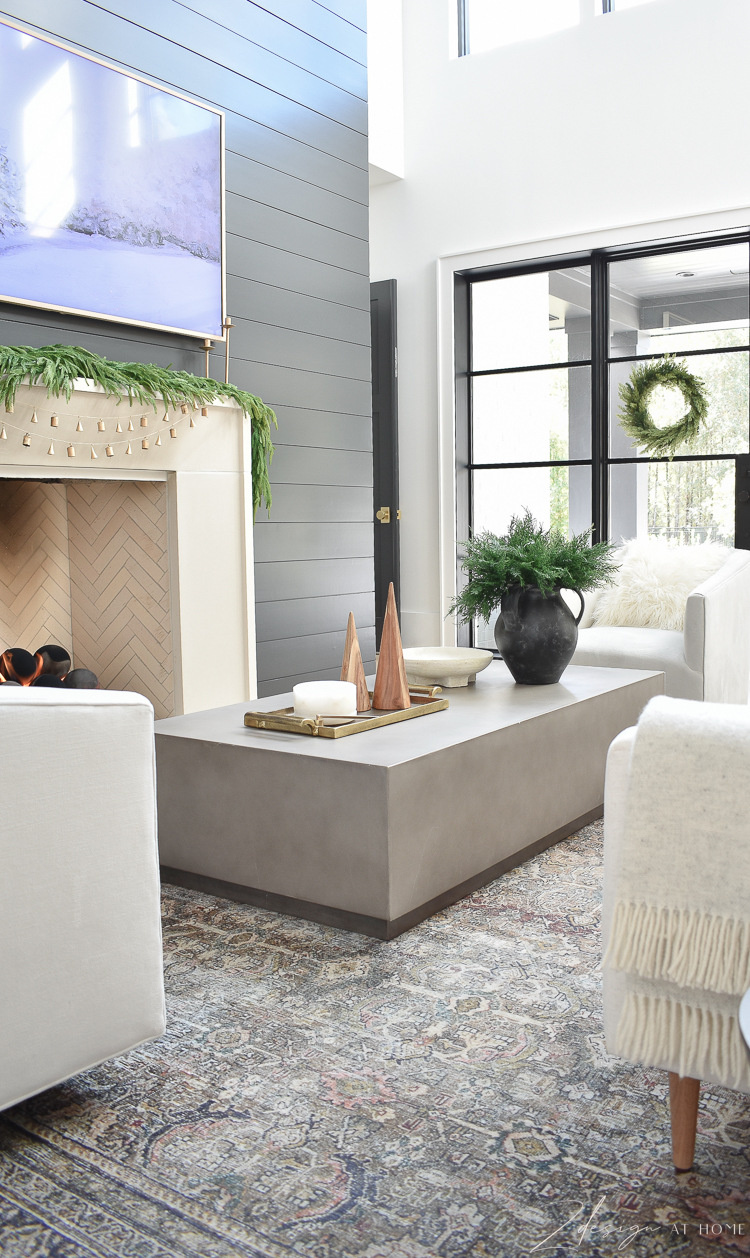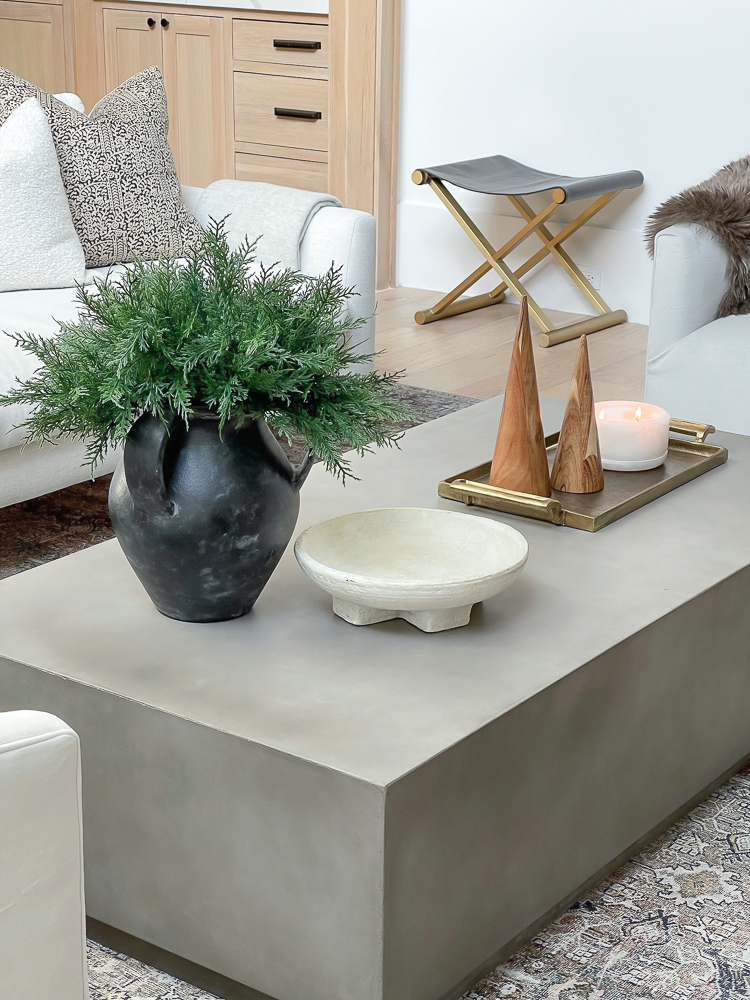 More of these wooden trees – they are my favorite!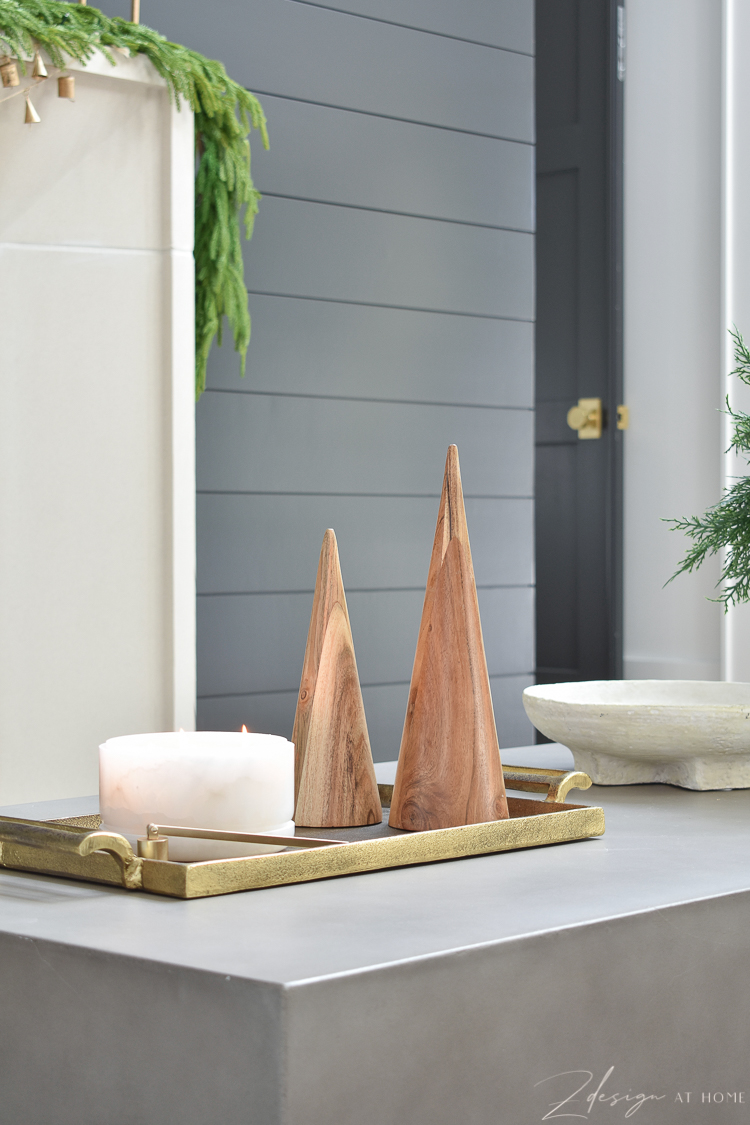 Loving this black vase/jug that I got this fall with these Amazon find faux cedar sprigs.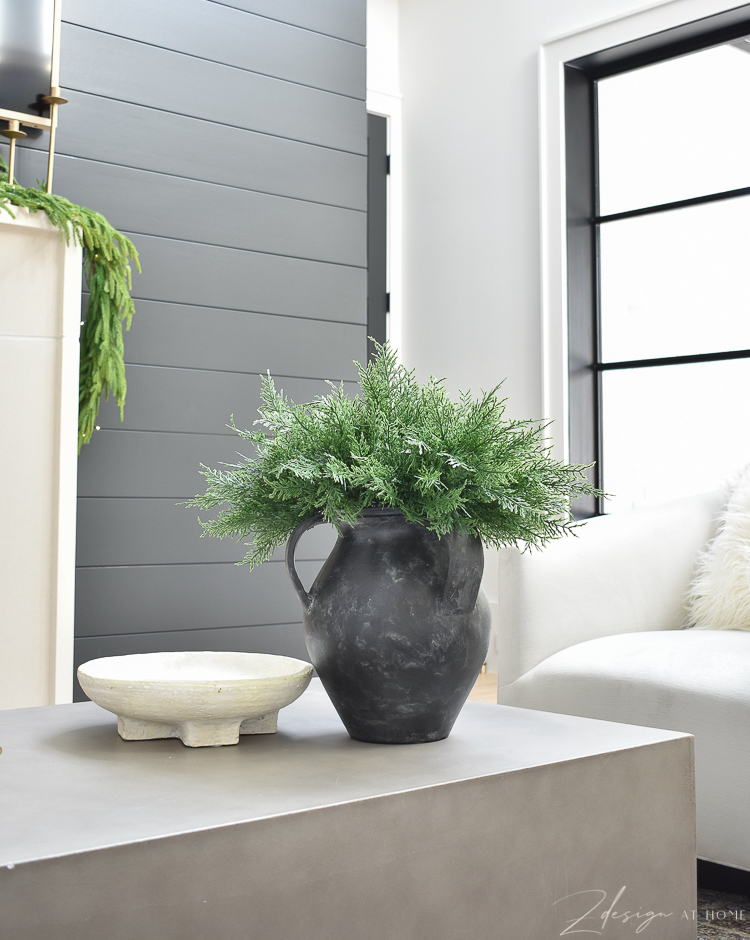 In the chair to the right you can see some of my favorite pillows to pull out this time of year – these faux Mongolian fur ones.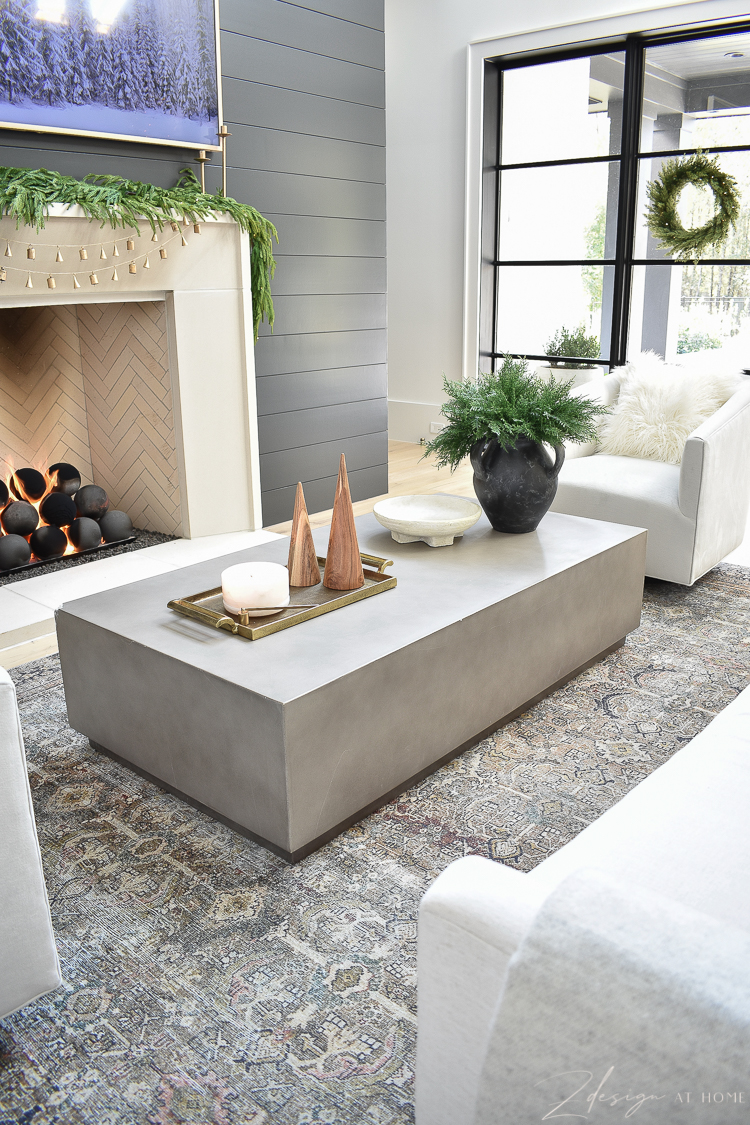 For sofa pillows I just rearranged and repurposed what I already had – there is another one of those Mongolian faux pillows – I love this cozy, neutral combination for sure!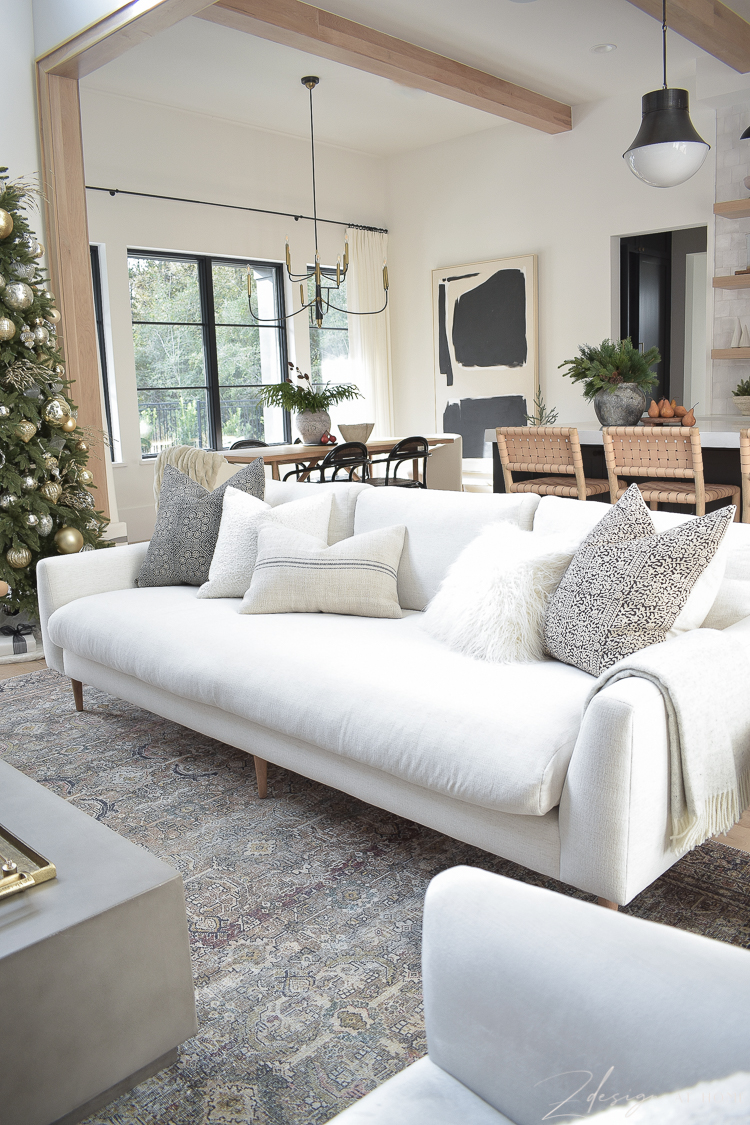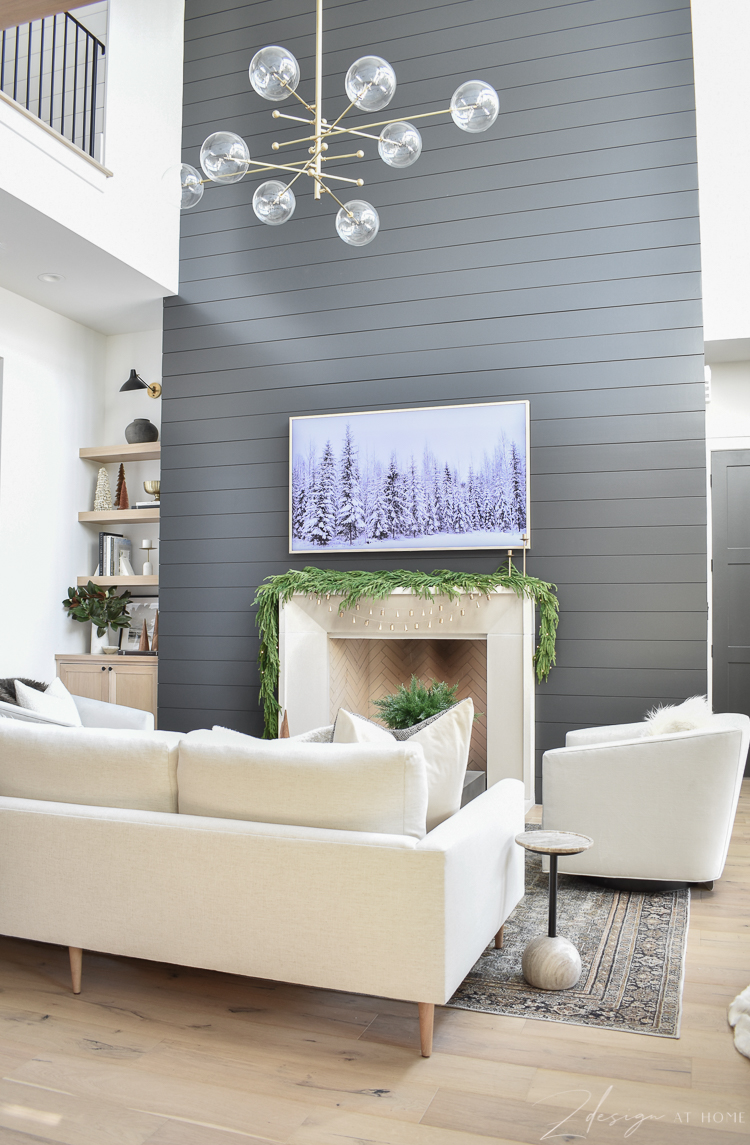 In our dining space I created a simple center piece with a favorite textured vase, some Christmas greenery and a textured bowl. This time of year is all about texture and I love layering texture on texture to warm up a space.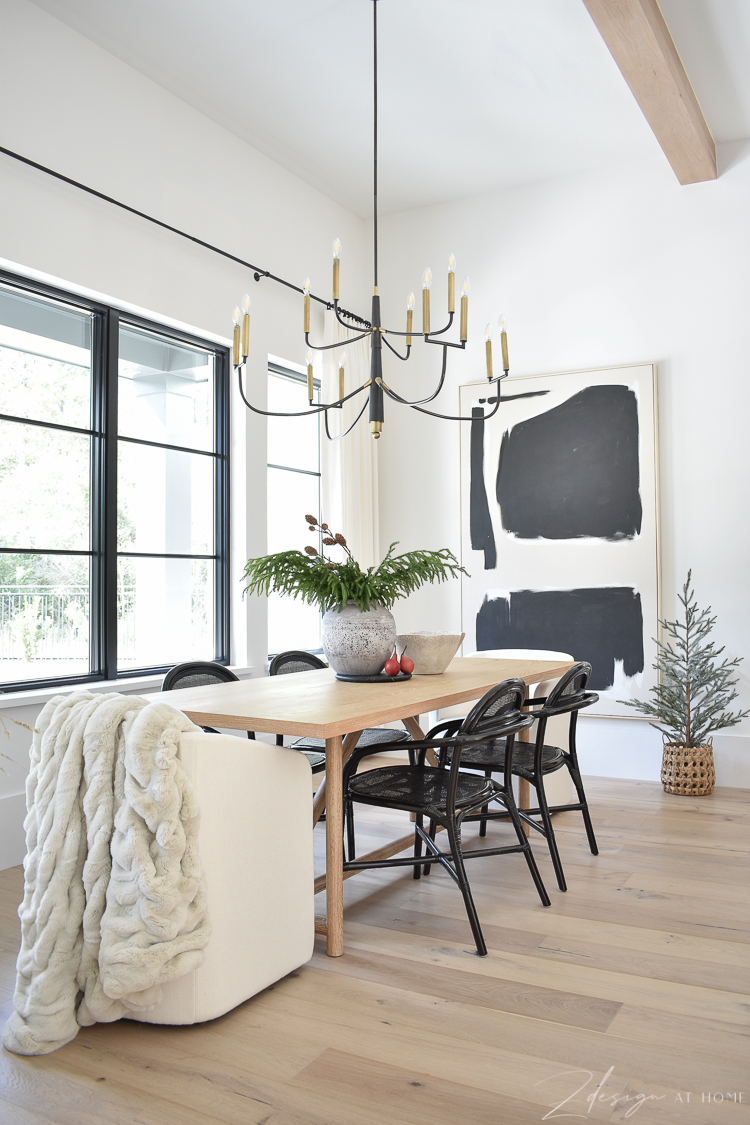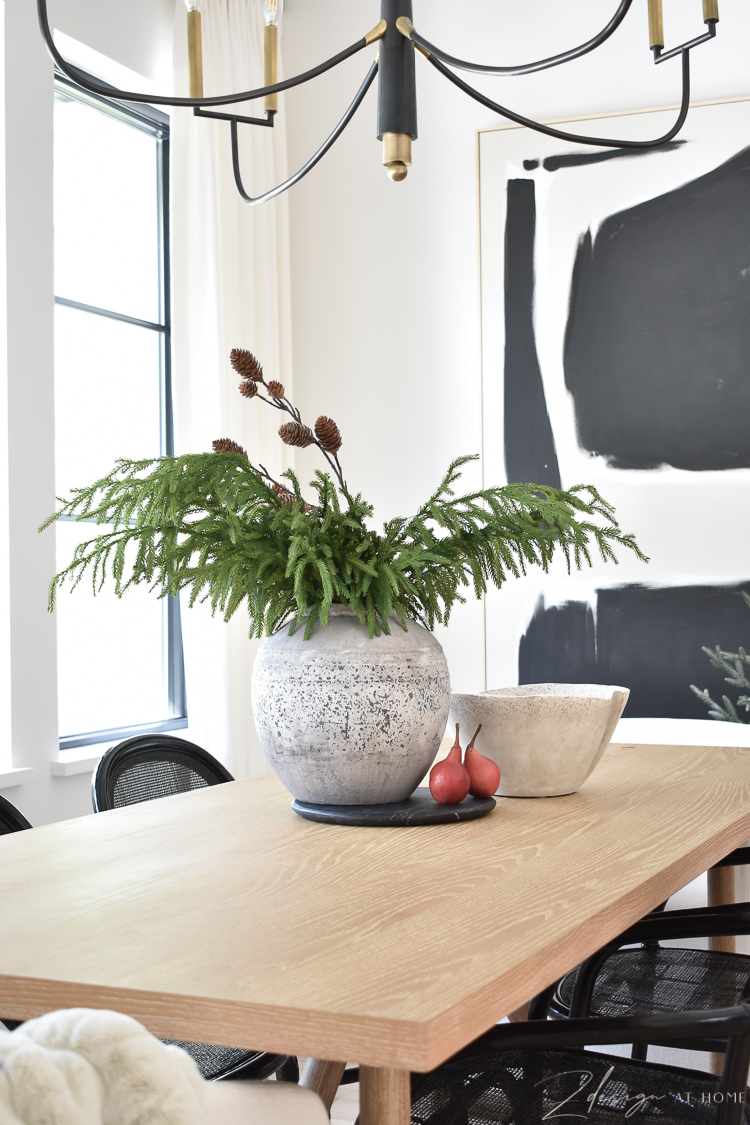 Can't get enough of this textured bowl for the holidays!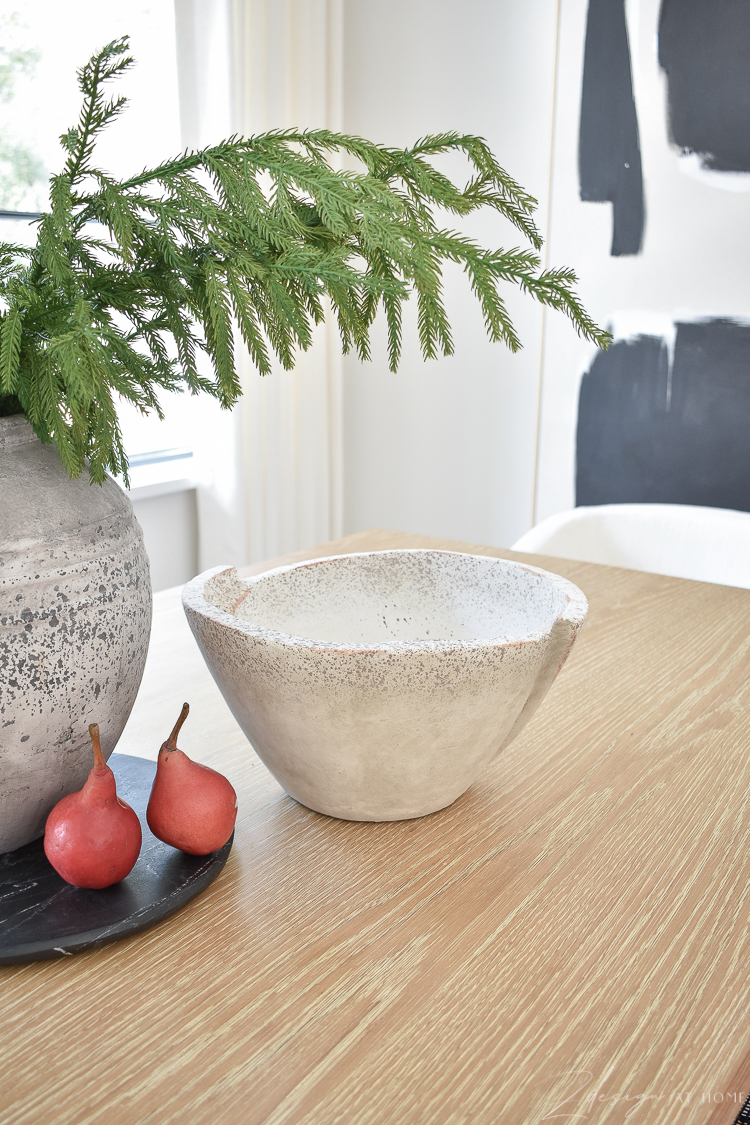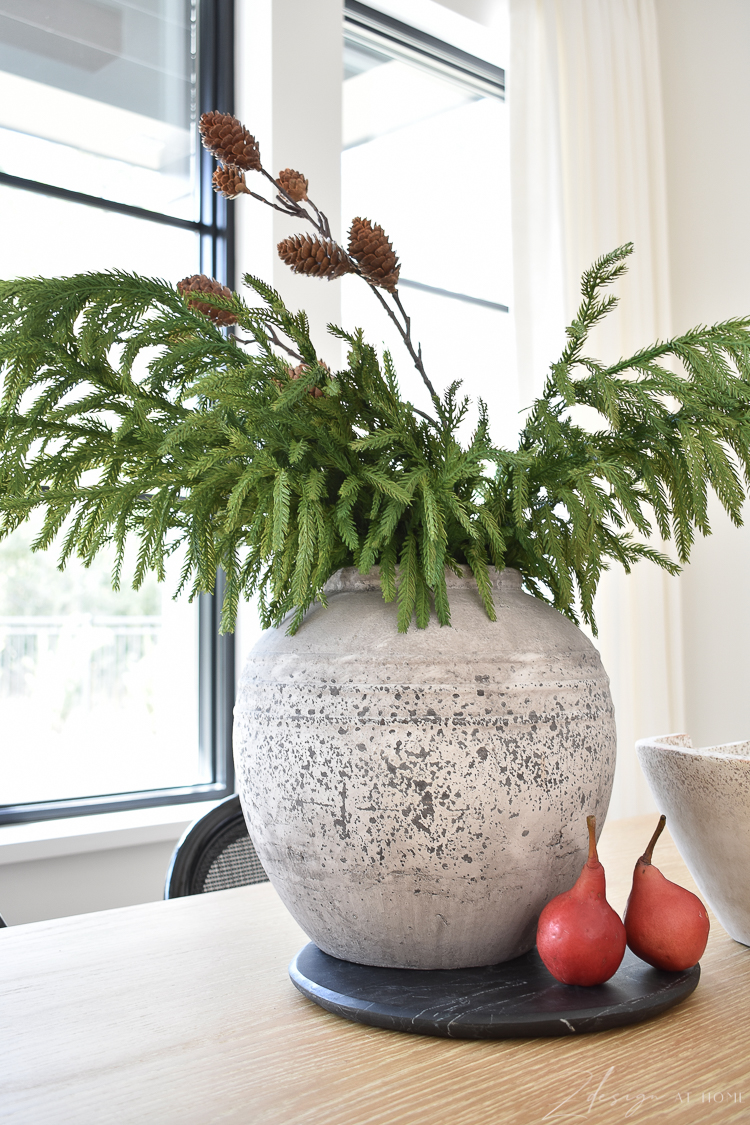 I LOVE this darling tree. This spot felt like it needed some Christmas cheer for the holidays and this little guy was perfect! It comes with a cute burlap sack at the bottom but I felt like it needed a little something more so I placed it in this little water hyacinth basket that is the perfect size.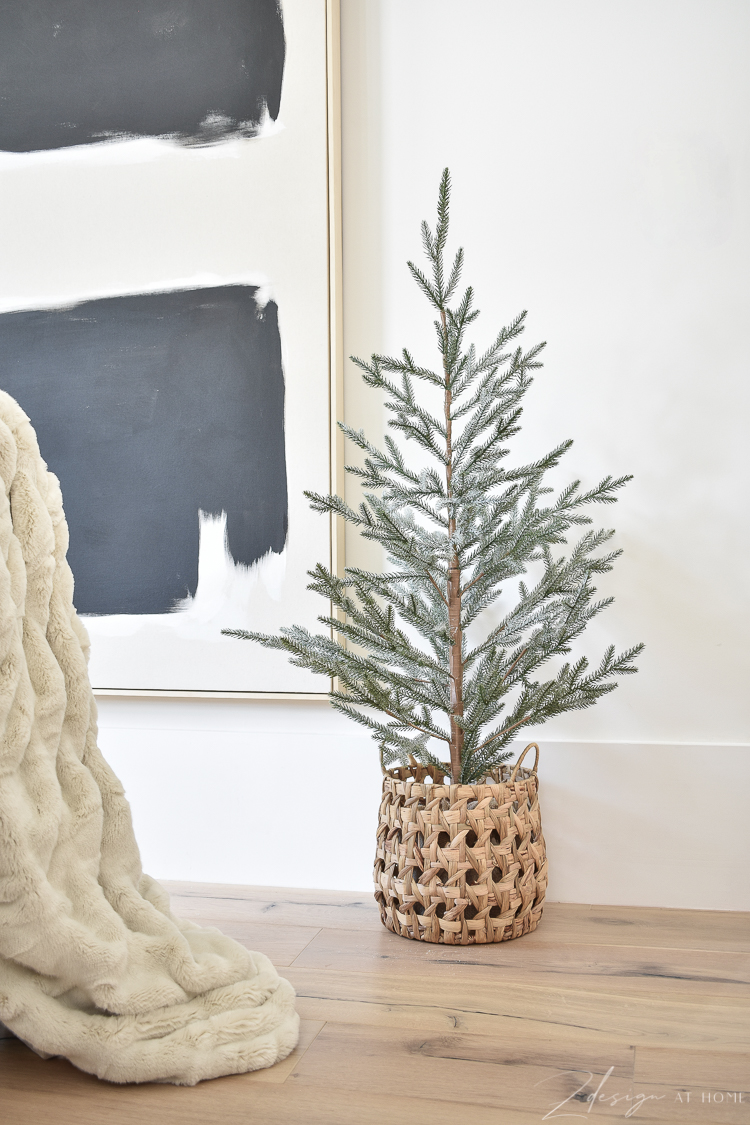 And lastly a favorite faux fur ruched throw I always pull out this time of year – my son and I always fight over it. I also have this throw in gray – it's so luxurious, warm and of course so cozy!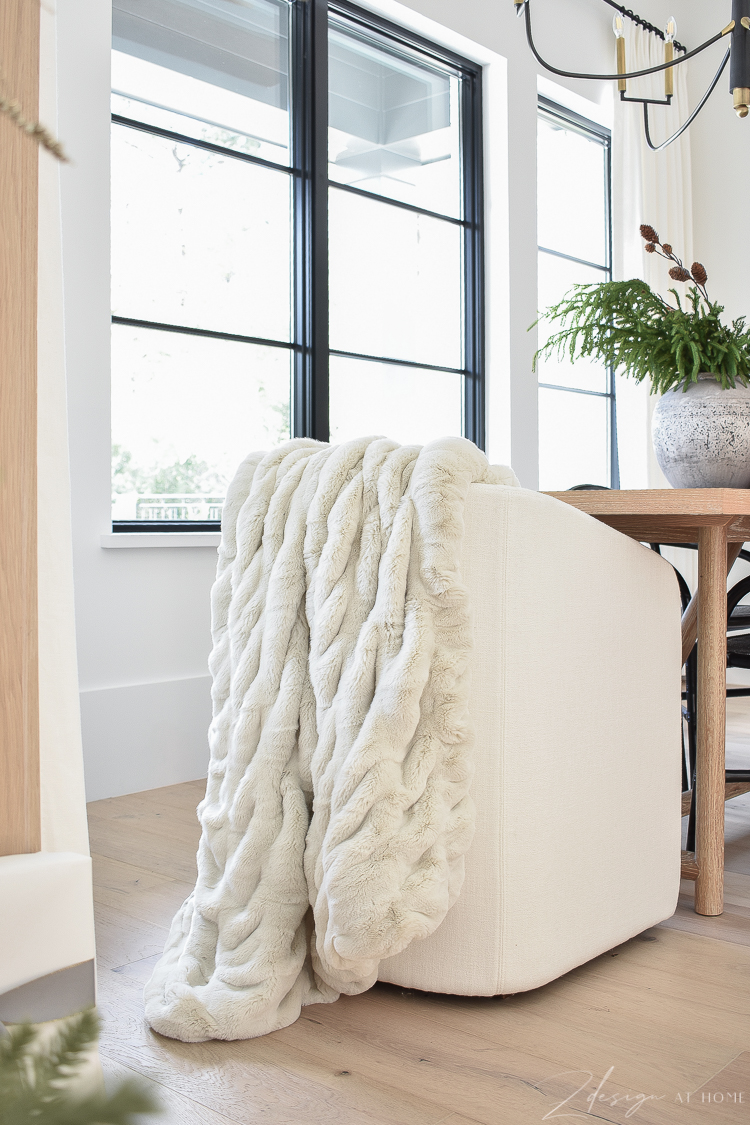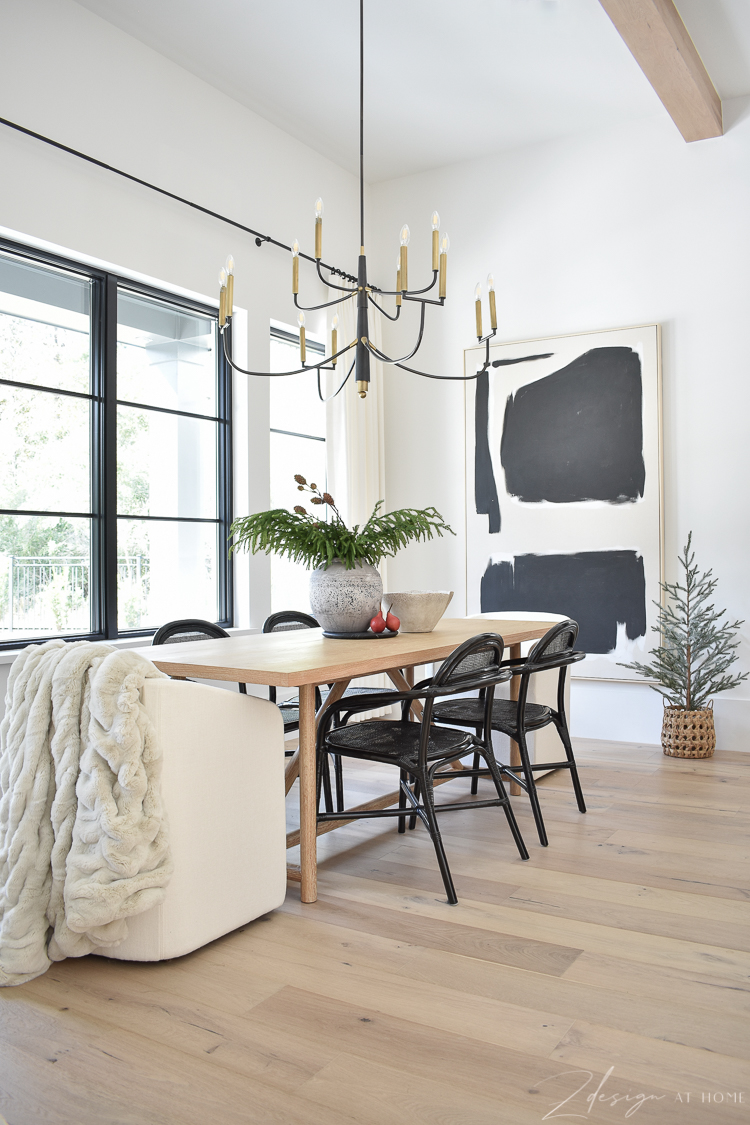 In the kitchen I added just a few touches to keep things nice but understated. Another favorite textured vase with pine and cedar stems, some pears and a faux cryptomeria wreath on the range hood to top things off. If you haven't seen our full kitchen tour, you can do that HERE.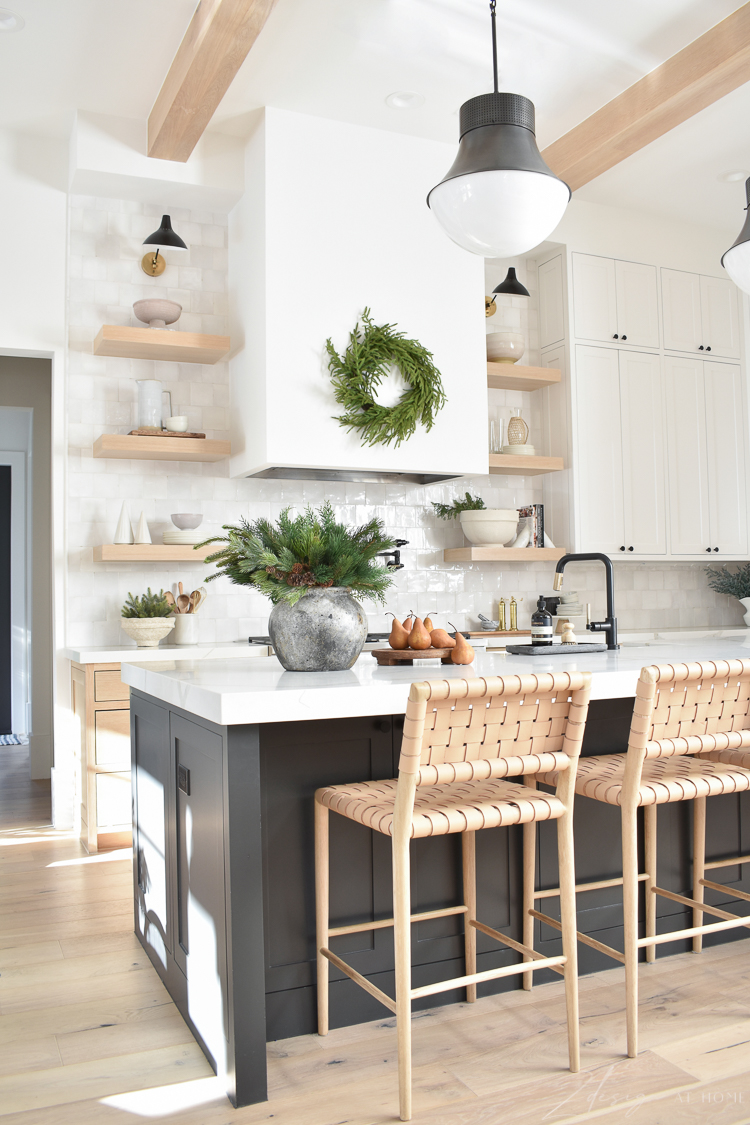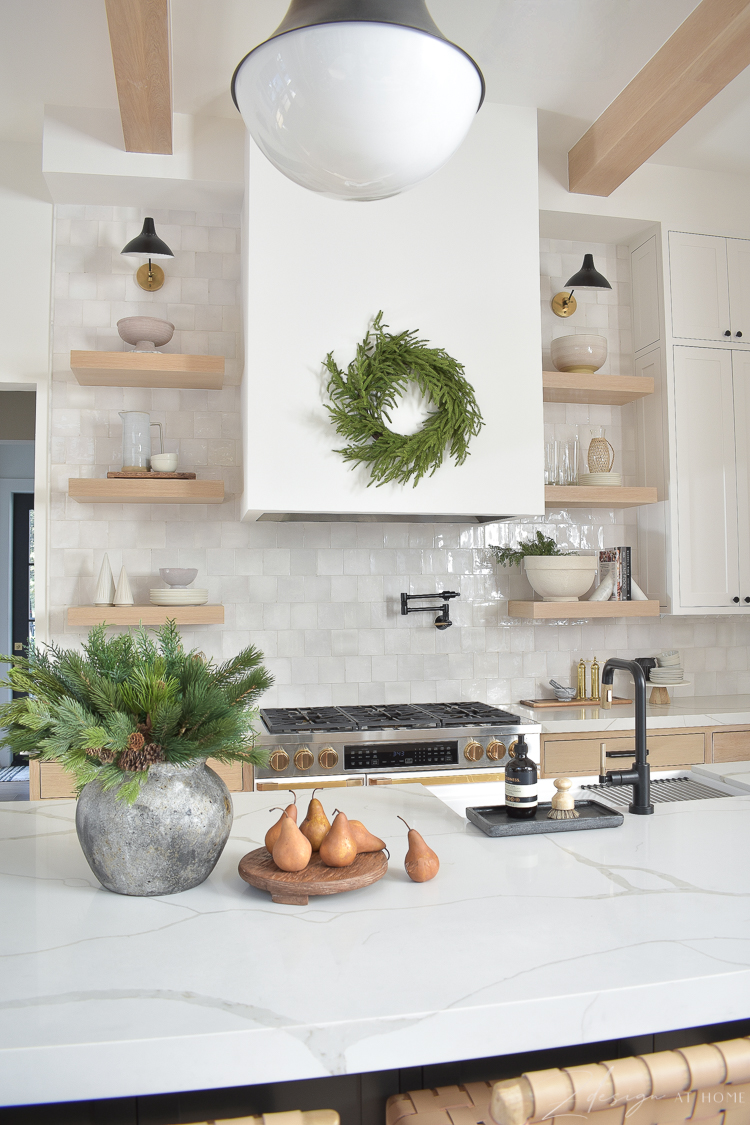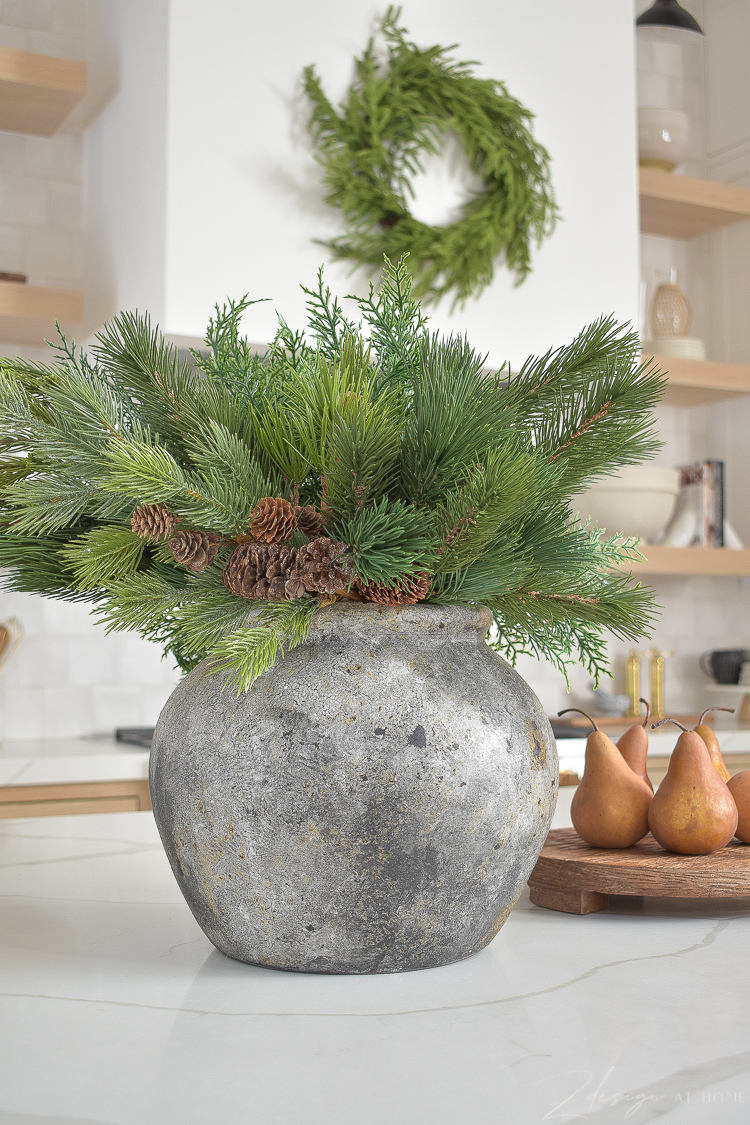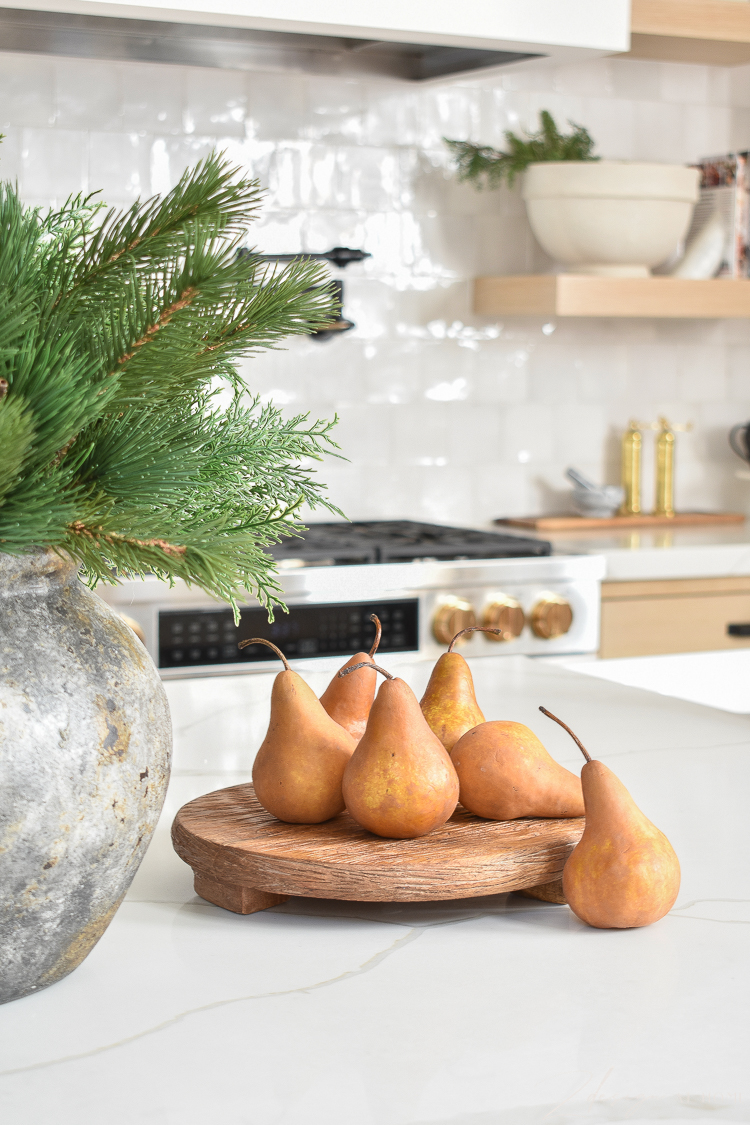 I also added these darling porcelain trees to my kitchen shelves.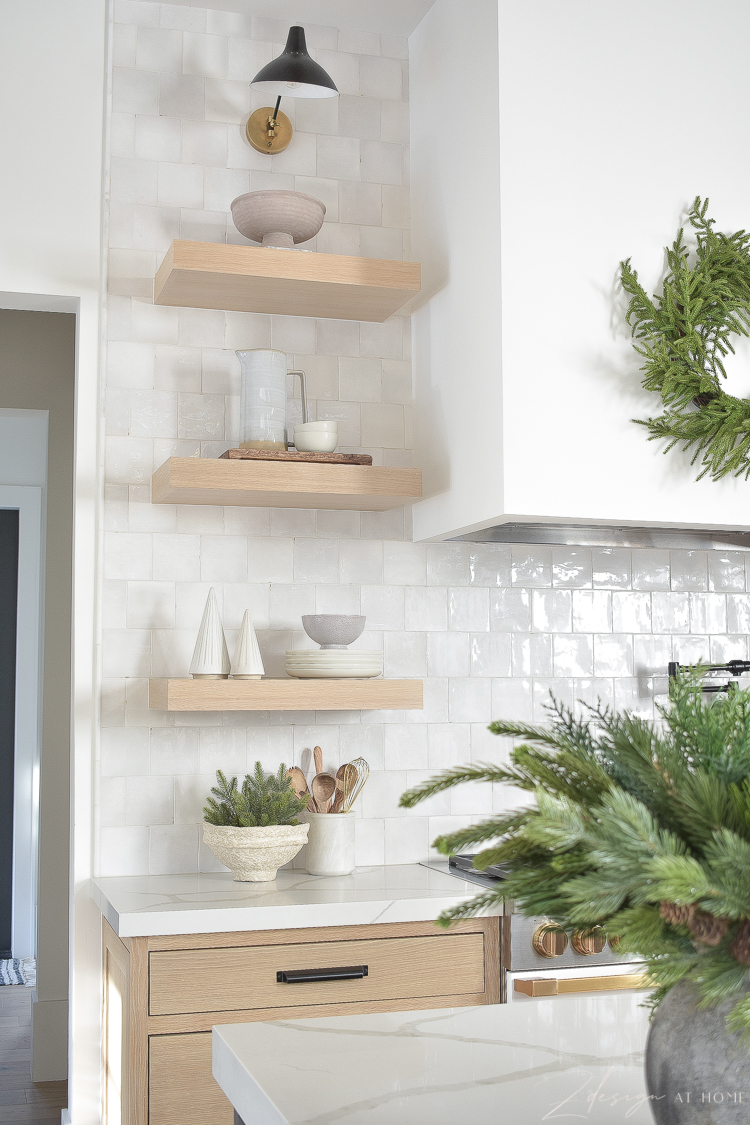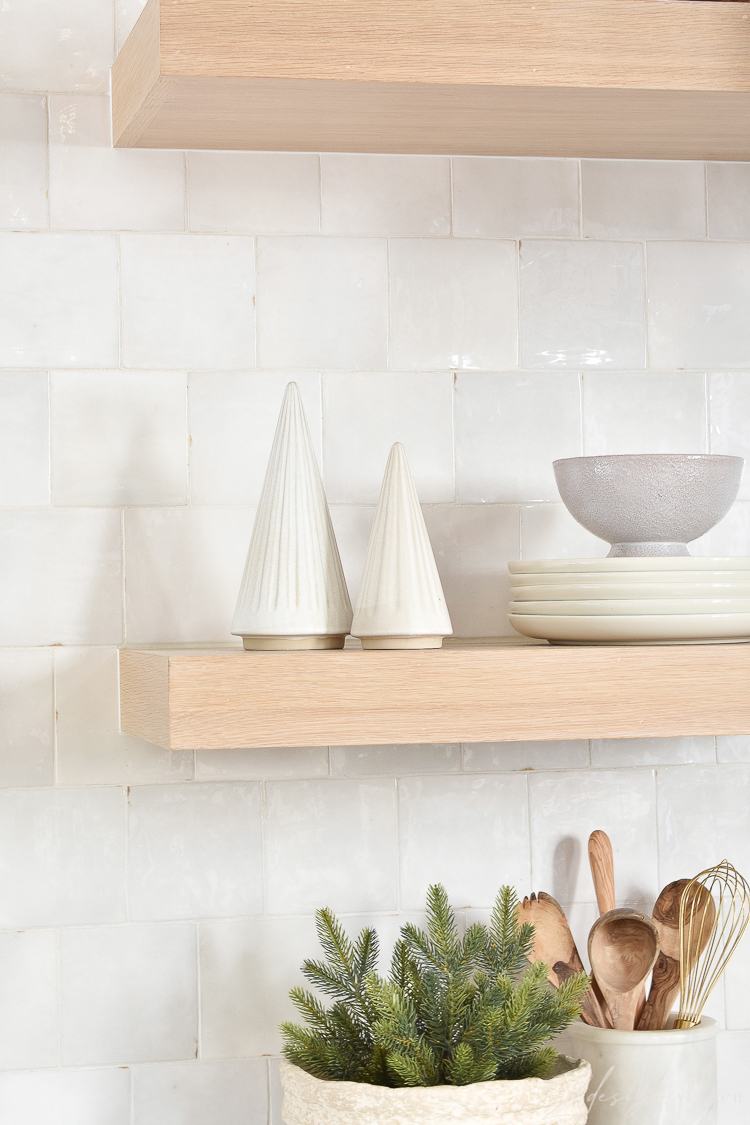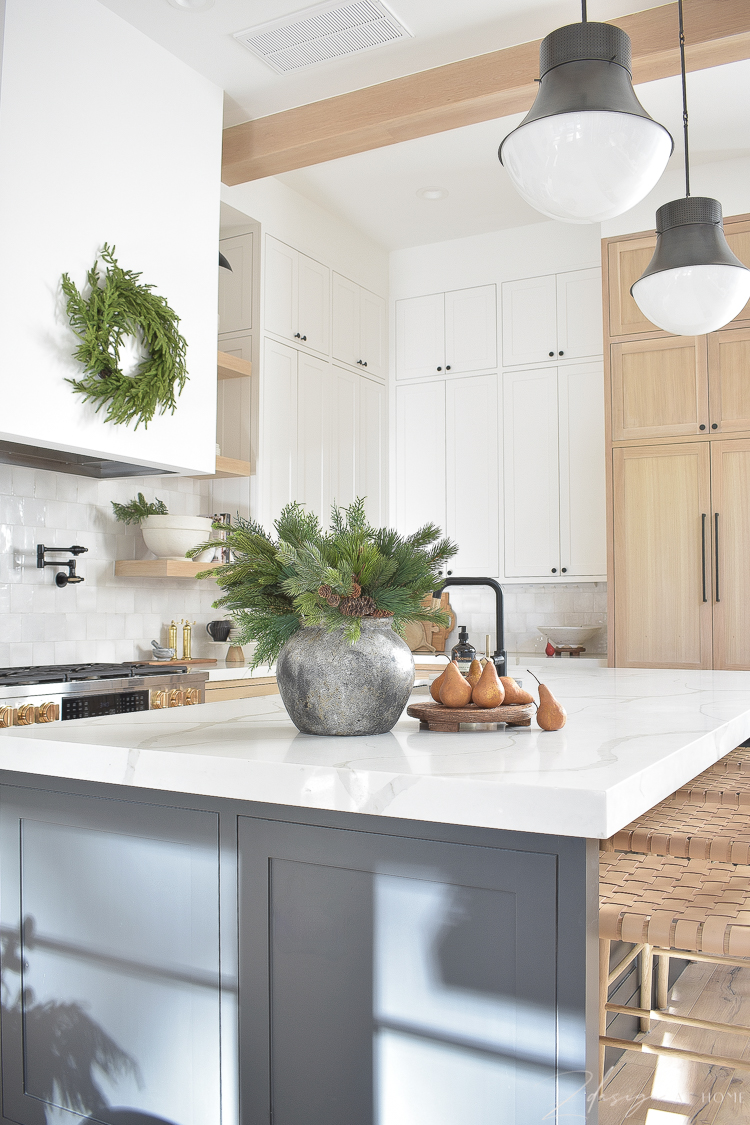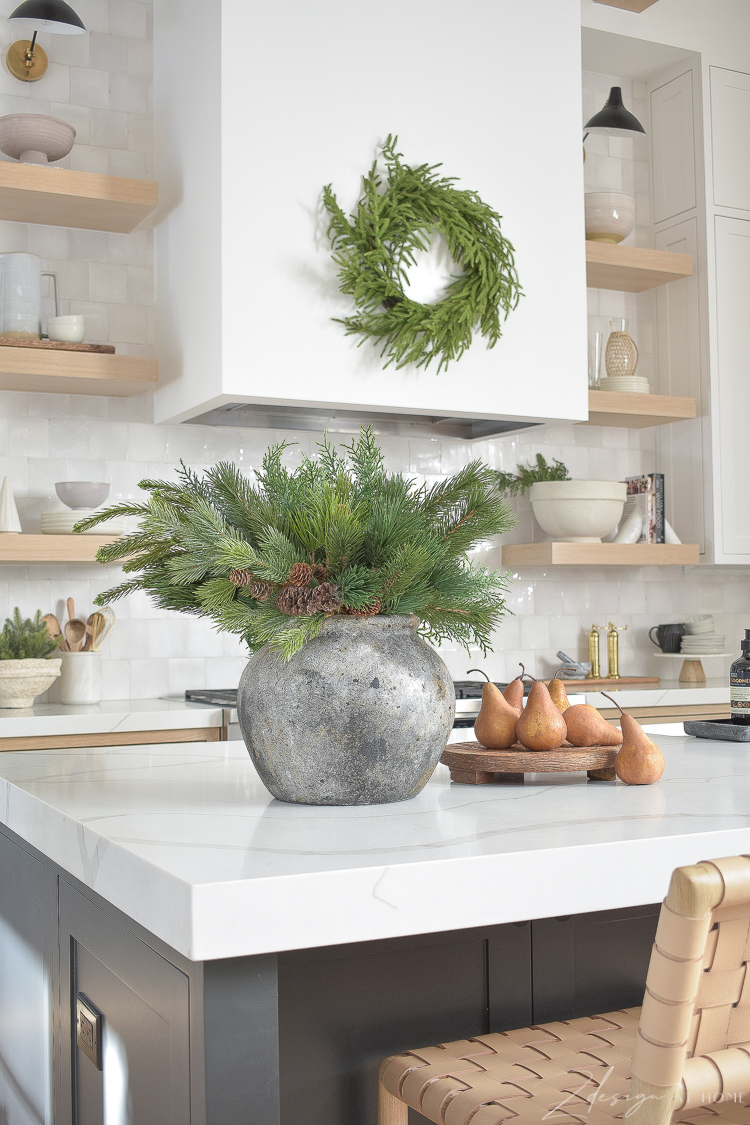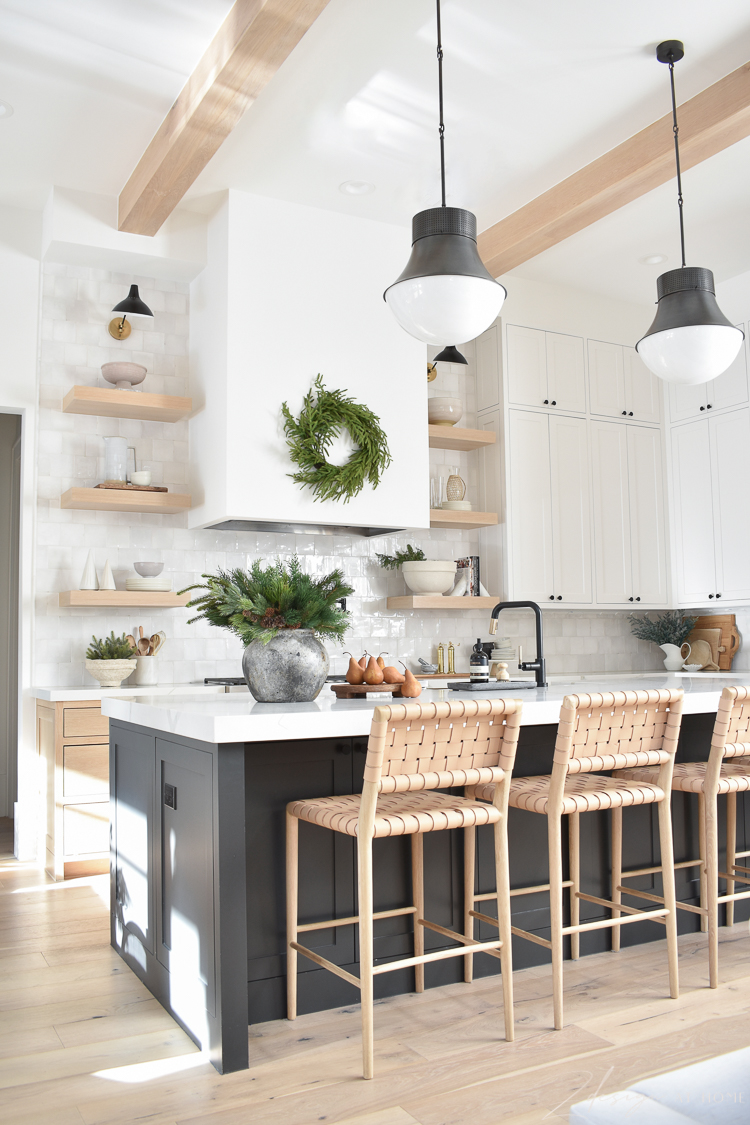 I hope you've enjoyed our Christmas Home Tour! Merry Christmas, happy holidays and thanks for stopping in to see our holiday home!
Christmas Home Tour Sources
ENTRYWAY:




LIVING ROOM:





DINING ROOM:


KITCHEN:



Let's stay in touch…