A Kitchen Backsplash Transformation + A Design Decision Gone Wrong
If you follow me on Instagram you may remember that I came out late last summer to reveal some kitchen changes I made that quite frankly I was somewhat embarrassed by. After only two years of living in our newly built home, I decided I could no longer live with the decision I had made regarding our kitchen backsplash so, last summer I finally decided to save up and swap it out for something I could live with and that I knew I would love without question!  And now, I'm finally dishing on how all of that went down so please buckle up and enjoy this story of the sometimes crazy glimpse into my design life!  And, if you haven't seen my full kitchen tour you can see that HERE.
In 2013 we moved across the country to a small west Texas town but before we moved, the company my husband had just accepted employment with sent us to the new town we were to move to for a 10 day house hunting trip. While house hunting we were blessed to find a home we liked that was still early enough on in the construction process that I was able to make all of the design decisions and personalize the home to our liking. The only two things I didn't get to pick (because they had already been installed) were the exterior brick and the fireplace. With that said, my back splash saga begins! Let me also mention here that normally I would never change out a home decor item this large, this quickly (due to cost and other factors) but in this particular case, my husband and I both agreed that it needed to be done and that it would help this space flow much better with the rest of the home so we went for it.
But first, here is a glimpse of what it looked like during the construction process and please excuse the old, grainy iPhone photos…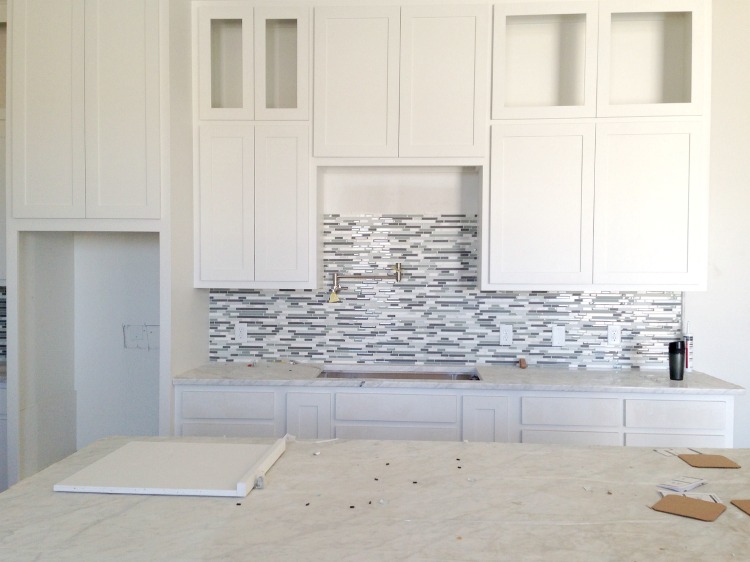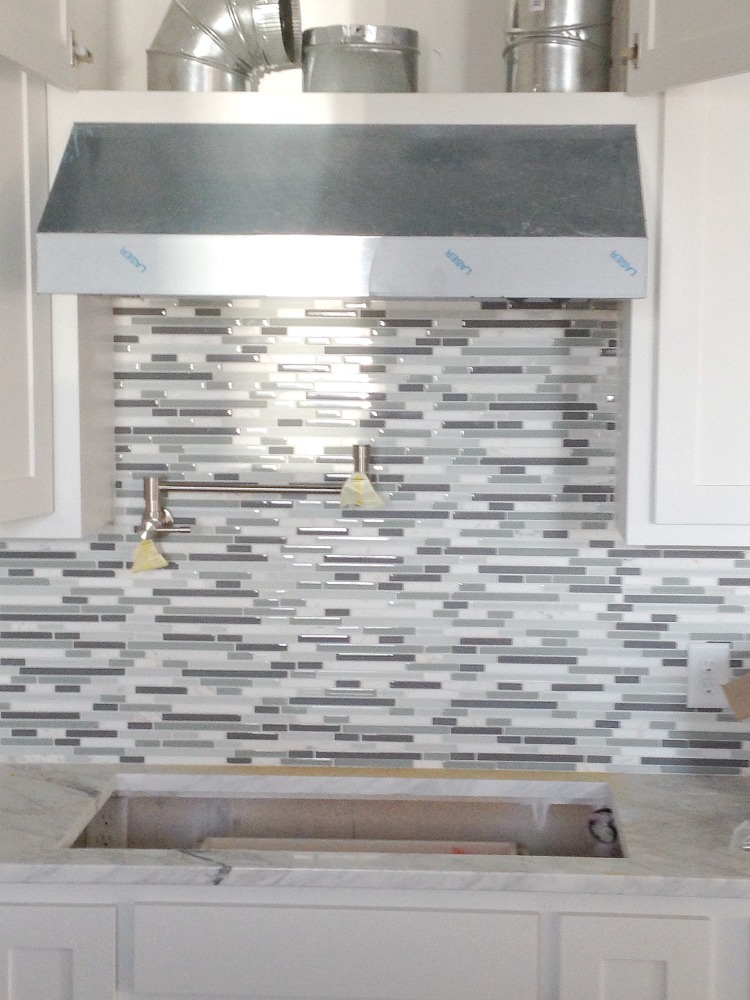 So once we finally wrote a contract on the house in our short 10 day period we had to get all of this done, that literally only left me with one day to pick several of the finishes for the home before we were to hop on a plane back to our current home at that time. In that one day, I picked out flooring for the whole house, all of the back splashes (kitchen, bath & laundry), counter tops, and I met with the cabinet maker to go over cabinet organization for the kitchen, bath, laundry, and mud room/areas. Phew, that was a lot to do in one day and a day I will never forget but, that day was what I call being in designer's heaven! It's a good thing I regularly stalk Pinterest and Houzz for inspiration so that I already had an idea of what I wanted in our next home. Here is another construction shot to give you more of a glimpse into what that backsplash looked like…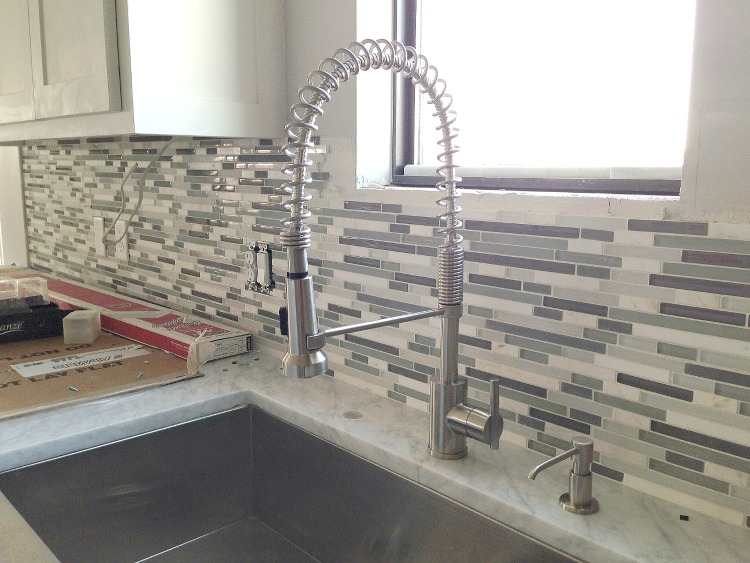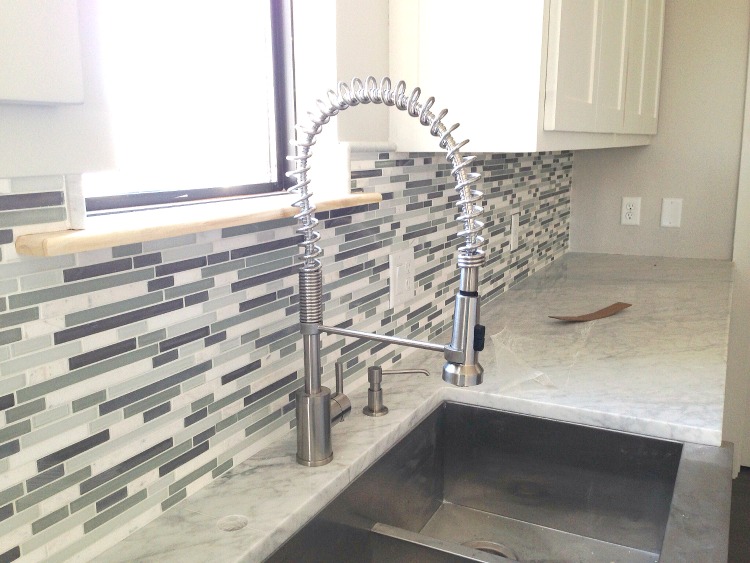 One thing I had not considered yet when it came time to unexpectedly make all of these choices in one day was the backsplash! I knew I wanted white carrara marble countertops, white cabinets, large stainless bar pulls, a commercial style faucet & pot filler, and a stainless apron sink but I had not given one iota of a thought to the kitchen backsplash. But, at the time I felt like I wanted to break up all of the white with some color so I went with this glass and marble mosaic seen in the photos. Prior to installation, the color in the glass looked to be a muted aqua (my favorite color) that was subtle and lovely but once it was installed, that pretty, muted aqua turned into an ugly sea foam green. At first I ignored the obvious and didn't say anything to any one (especially my hubby) but after moving into the home and as time went on, I struggled greatly with other design decisions in the kitchen/living area because of that ugly sea foam green color peaking through in the backsplash.  So, after 2 long years of "dealing" with it, I finally just had to chalk it up for a design decision gone wrong and then saved my coins from a couple of design jobs I was working on at the time so that I could move forward with installing a new backsplash,  of which I will reveal in a moment.  But first, here is one last look at it the way it was. This photo was taken right before the new backsplash was installed…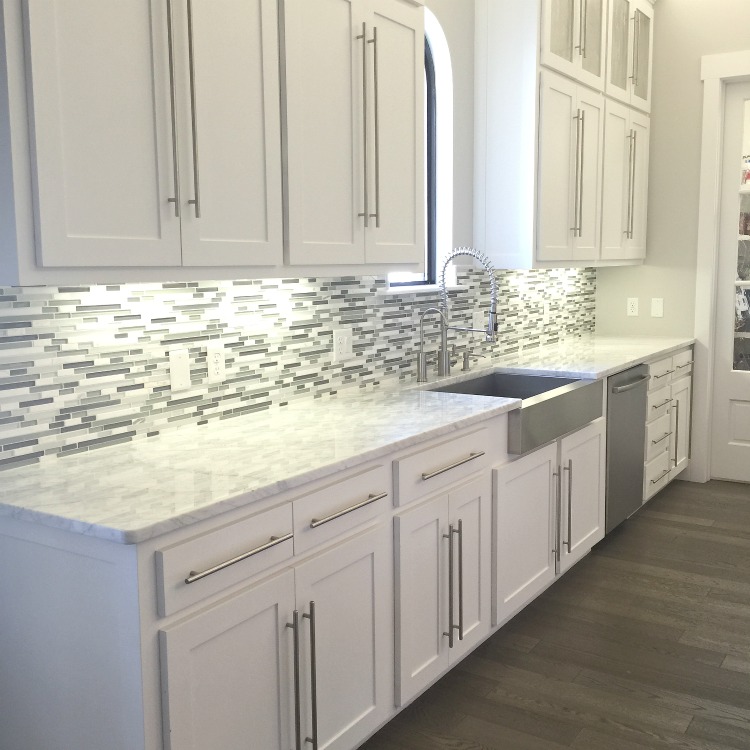 Get the Look

Before I move on to what the backsplash looks like now, let me add that the old backsplash was lovely and may work very well in another setting. I realize a lot of people use this particular one so please note that I'm not knocking this one, it's just that it didn't work in this particular setting. My kitchen is large so in addition to the color issue, all of the movement in the tile became very busy over time and most days made me feel a little crazy because it was just too much! With all of that said, I am happy to reveal to you what the backsplash looks like now and I couldn't be happier with the way it turned out! I can use what ever color accessories and flowers I want to style my counter tops with without feeling like it's over done and, this much more neutral backsplash no longer effects other design decisions in the space since the kitchen is open to my living room. Here is a photo of the new herringbone carrara marble backsplash the day it was installed…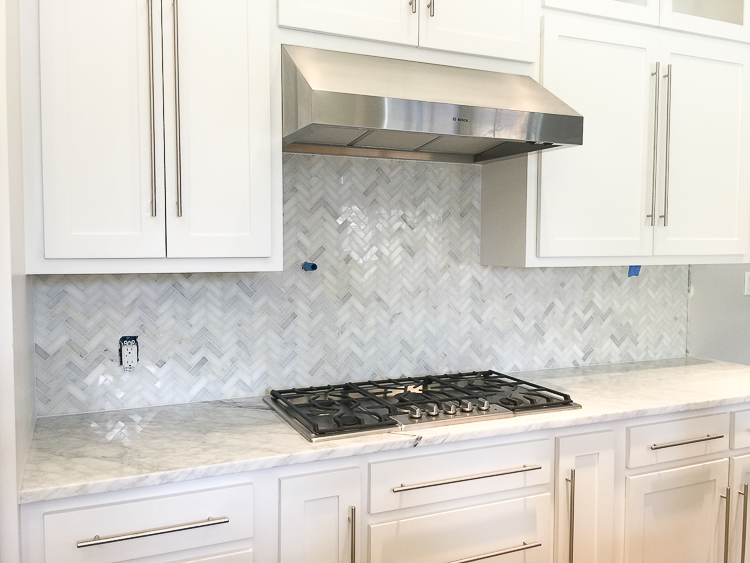 The Carrara marble herringbone backsplash was an easy decision because #1 it's white, and #2 it's herringbone. Herringbone is super on trend right now but is also a classic so it won't go out of style anytime soon. It was the absolute perfect choice for this space and I'm so glad now looking over my shoulder that we sucked it up and made the change!  Another huge thing I did as well during this process was to take out all of the outlets to the right of the cooktop. It may not be to code the way it is now but it is so much better not having all of the outlets there cluttering up this wall. There were two electrical outlets and one cable outlet that were never going to get used in my lifetime in this house (and that were completely unnecessary) so for me they had to go. I did the same thing on the opposite side of the kitchen as well and couldn't be happier with this decision. My husband did all of the electrical work so that part of the reno didn't cost us a dime.
And here is the end result below in the next several photos. I think the best thing about this whole debacle is that I learned a huge lesson (again) in patience and learned to be even more thoughtful in making big design decisions like this.  Even though I was basically forced to pick something out in one day due to our travel arrangements mentioned above, I probably should have told my builder this was one decision that would either have to wait until we were back in town for good soon or, that I would have to make this decision long distance.   If you find yourself in this scenario in the future, just know that you aren't alone and that yes, even designers and others in the trade that have been designing spaces for years make bad design decisions from time to time.  It's unfortunate but it happens and then hopefully a lesson is learned like in my case.  And believe you me, it's happened to me more times than I care to admit but the best advice I can give is to chalk it up for experience, change what you can when you can (to make that decision gone wrong right again) and most of all to love and accept your home the way it is one way or the other!!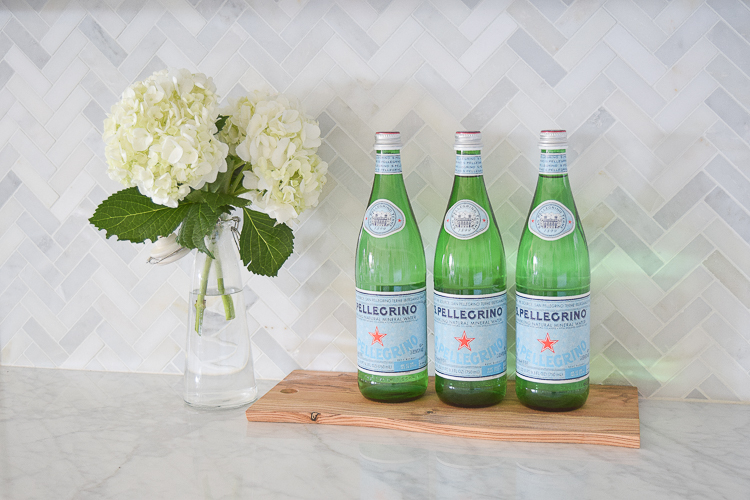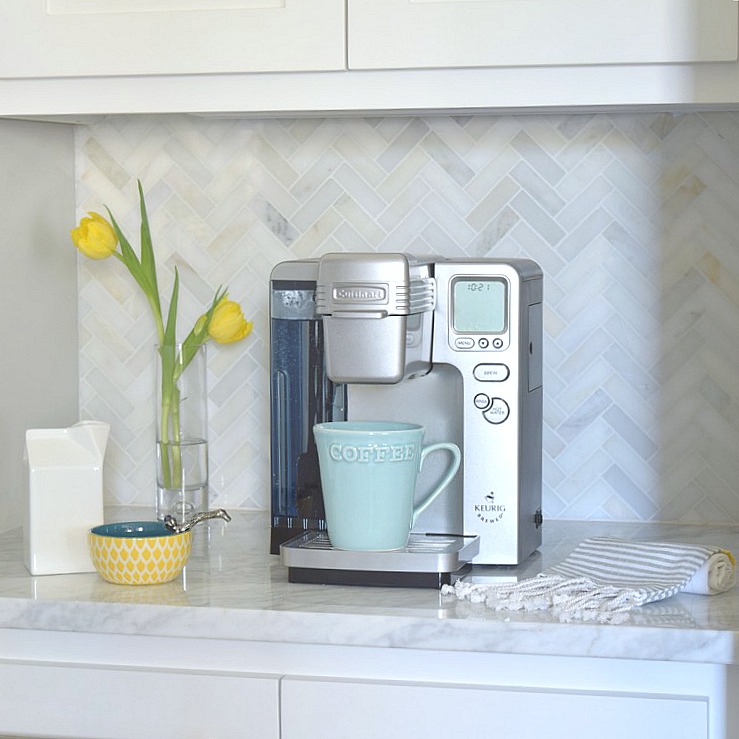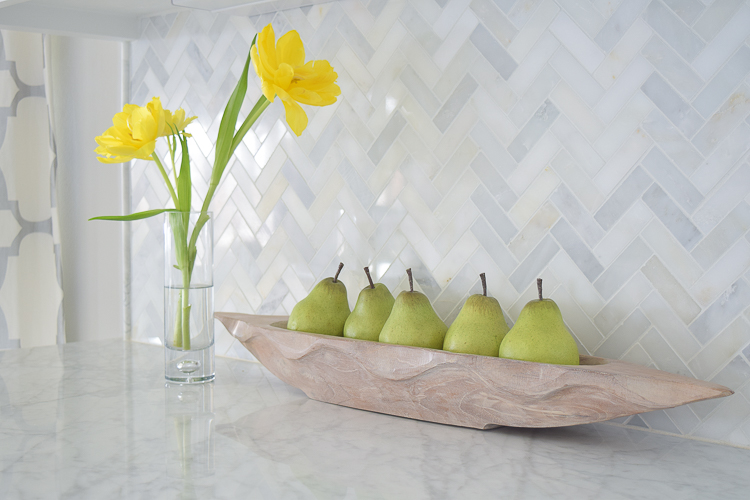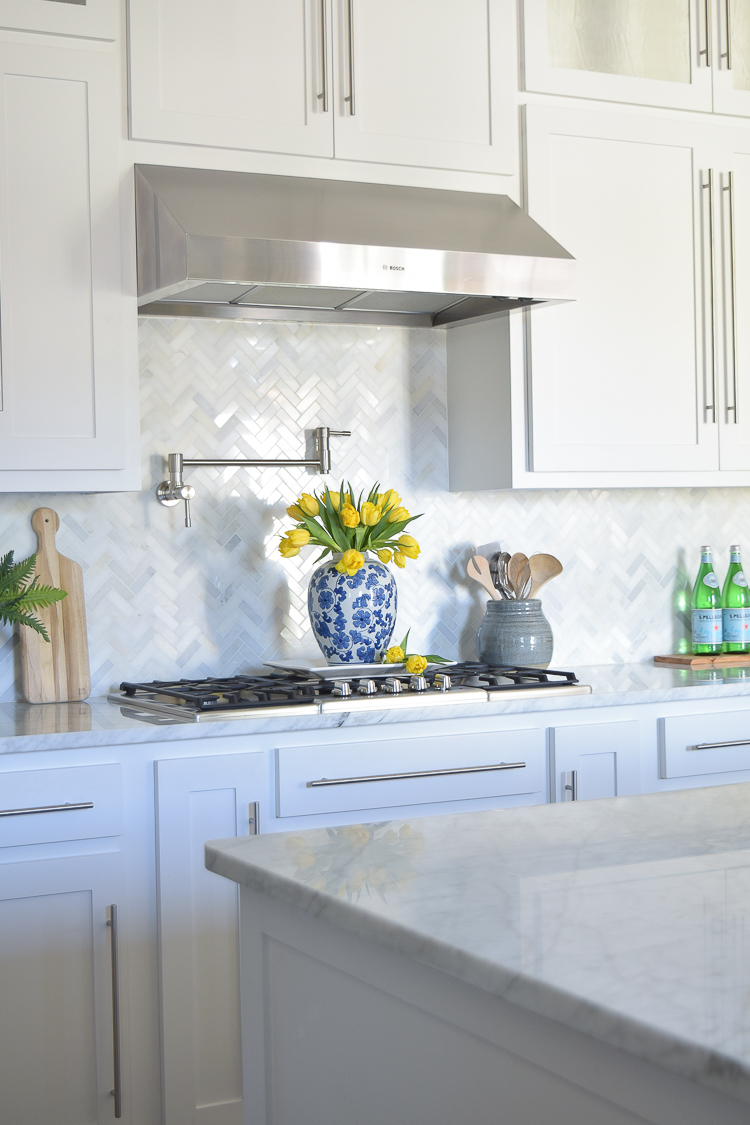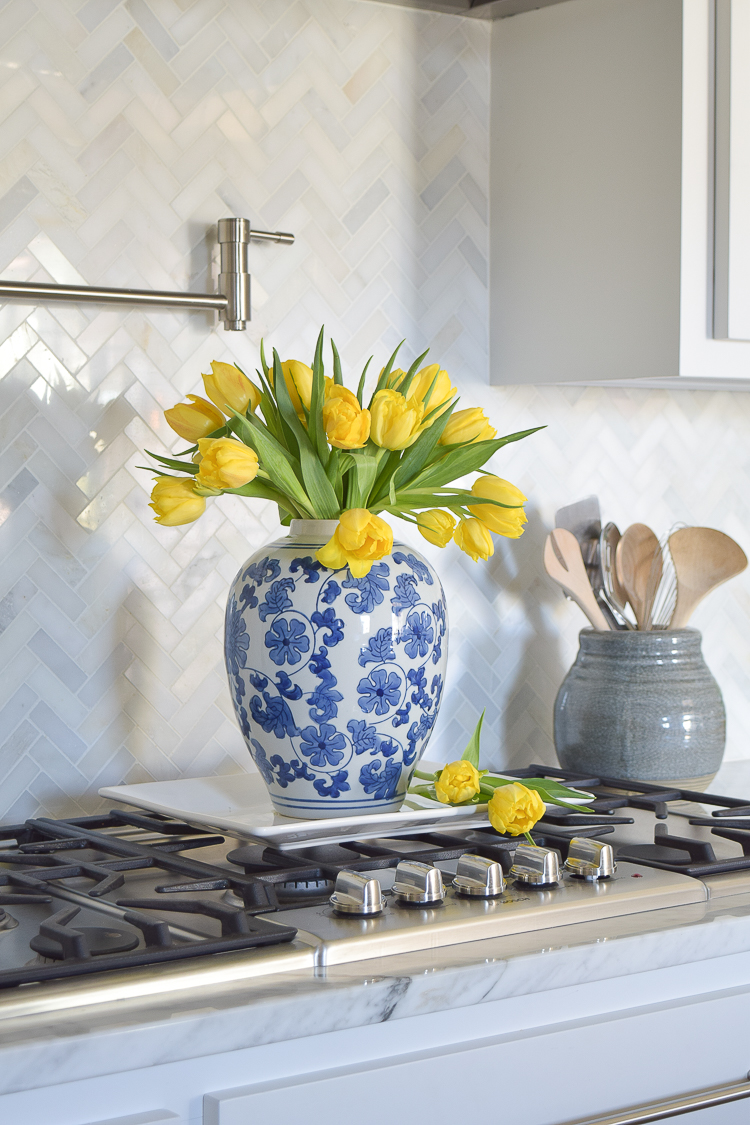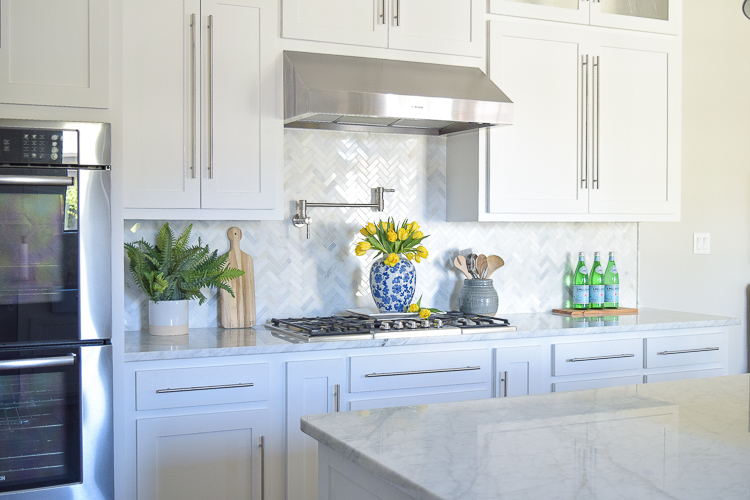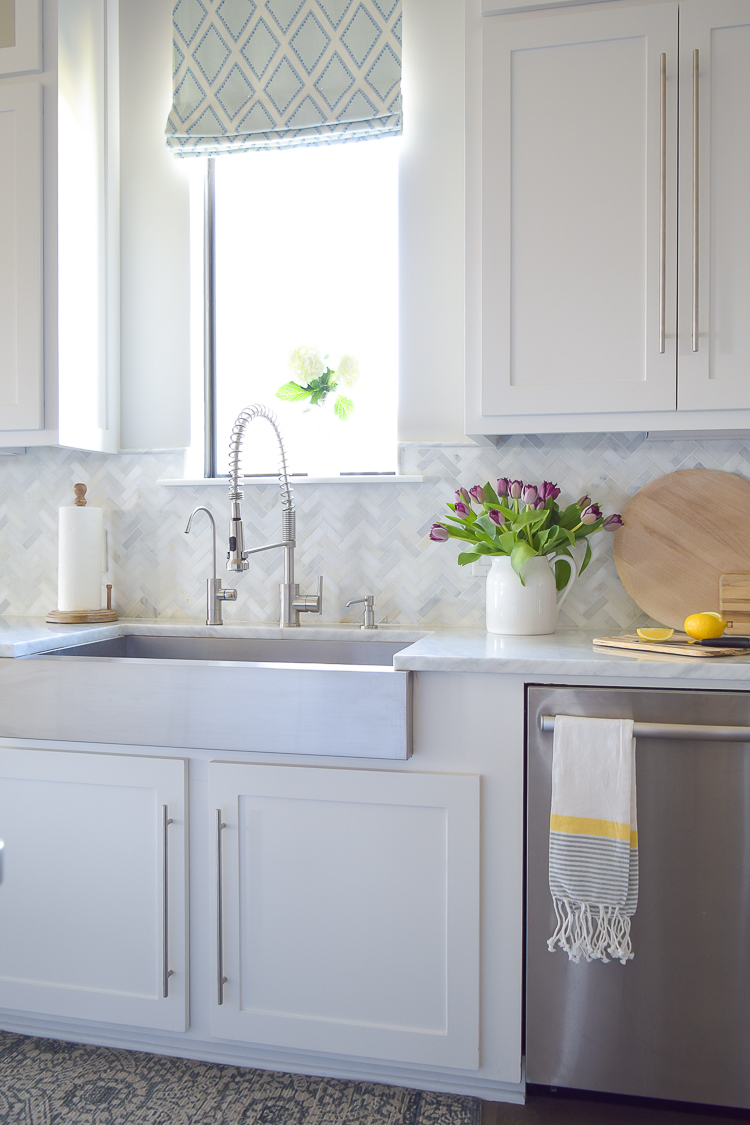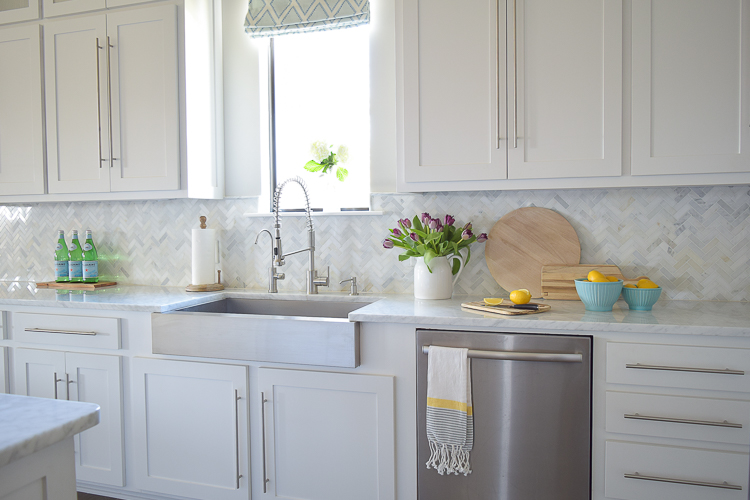 Get the Look

I hope you enjoyed my crazy design dilemma story and please let me know if you have any questions.  And, as always, thanks for stopping by the blog.  I hope you will consider signing up for once weekly emails if you haven't already to be notified when something new is happing at ZDesign At Home!
Xoxo, Bree

Tile:

Accessories:

Linens & Rugs:

Hardware & Fixtures:

*Affiliate links used in this post.  Where an item is no longer available a similar item may have been linked in it's place.
*For a full list of resources for this room please click HERE and for a full room tour please click HERE