I can't tell you how many times I've had a client, friend, or neighbor express to me how the curtains I helped them with in their home completely changed the look and feel of their space for the better.  Curtains can not only frame a window, but they can give your home that cozy, finished feel I think we all crave.  And, it's one thing to have curtains in your space(s) but it's a completely different ball game to have well appointed curtains that are the right fit for your space.  What I mean by this is do they hang right, are they well made with the proper lining, are they the perfect length & width, and is the drapery style appropriate for your space.  That last mention leads me to why I'm here today which is to help you to understand how to use what style of drape in what space in your home, along with details you should always incorporate into your curtains to make them a statement in your decor.  I'm a firm believer in that curtains are one of the items that can be considered an investment piece in your home and that you shouldn't necessarily skimp on.  Having cheap curtains is like having a cheap hand bag or cheap shoes and doesn't go unnoticed to visitors.  That said, that doesn't mean their aren't some lovely, well made, over the counter drapery options out there that I love and that I'll share with you at the end of this post, if you are looking for a more affordable option.
Here are my top 3 things to look for when choosing curtains for a space, whether you have them custom made or purchase them over the counter. There are a lot of details that go into making the perfect curtains so hang with me for a bit if you'd like to learn some good basics on this subject!
Lining:  Make sure they have a proper lining for the space like a blackout liner if necessary to protect furniture and other items from the sun.  A good liner can even protect your curtain fabric itself from the harshness of the sun, especially if you are using fabrics like linen and cotton, which I prefer.  If you do not need a blackout liner then at least make sure your curtains have a standard lining (unless you are going for a sheer look and/or want the sun to stream through).  An unlined curtain doesn't hang well and can appear to be unfinished.  And (if custom made) always try to line them with the color that will blend with your face fabric best which will usually be a white or off-white option.
Drapery Style:  Choose a drapery style (how the drapes will hang from the rod up top) that is fitting for the space.  This can be subjective but we'll talk more about this in a minute to help you better understand this topic.
Length:  Consider how you want them to hang at the bottom for example, do you want them to puddle, break, or just hang right above the floor?  We'll discuss this topic further in detail also in a moment.
Here are two other very important things to consider as well:
Width:  Do you need a single width (48″-50″ wide), width and a half (approx. 75″ wide), or do you need a double width (96″-100″ wide)?  If you are planning on opening and closing them, you will want to make sure they cover the span of your entire window when closed so you'll need to make sure each panel is wide enough to achieve this task.  You will also want to make sure the panels are wide enough to suit the size and scale of the window.  You wouldn't want to have single width panels for example on a widow that is 120″ wide.  Not only would they look skimpy, they wouldn't be functional either.  If you aren't using them and if they are only there for good aesthetics, I would still always consider making them wide enough so that they don't look too skimpy to dress your windows properly.
Hanging height & width for rod brackets:  I always try to hang my curtains at least 5-6″ above the window, if not higher at times depending on the situation.   I'm sure you've heard this before but this lifts your eye up and makes the ceilings appear taller.  Plus it gives your windows and any beautiful trim you might have room to breath.  Additionally, I like to hang the brackets out anywhere from 1-3″ away from the window and/or trim.  This will give you the illusion of a larger window as well.  You can use this trick also to balance out an awkward space (I talk more about this design tip here).
Now that we've considered these points, let me share with you how to know what style drape is appropriate for what space, along with 4 real life scenarios of the top styles I like to use
Below are my guest room curtains which I wanted to have a more casual feel for my guests.  I needed to completely block the sun plus have privacy in this space so I chose to have them made with a heavy blackout liner.  I also chose to have them made in a flat panel style that hangs from rings up top.  This style has a more casual feel and is what you will see most commonly used.  The drapery rings that hang from the rod are attached to the back of the drape via an S hook that is pinned into the back of the drape.  Sometimes when you purchase this style drape over the counter they will have a plastic loop in the back up top that you can attach clip rings to.  I like the ring on ring style used with the S hook on the back of the drape vs. using the clip ring style but both work.  The flat panel with ring on ring style (or clip ring style) is appropriate for most spaces but is something I would most commonly use in a living room or guest room because they aren't overly stuffy feeling and give you a nice, relaxed look.  Additionally, this window is 48″ wide so two single width panels were perfect to cover this window properly.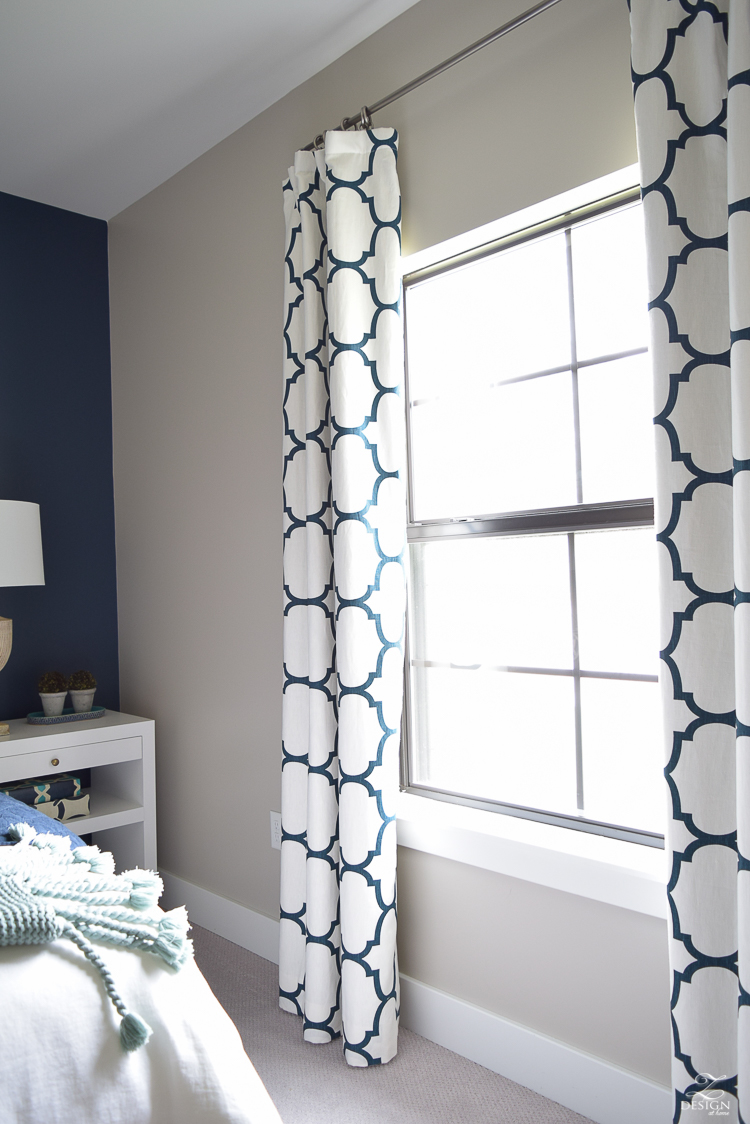 I like to hang all of my curtains just about 1/4″ to 1/2″ off the floor because we are a busy house hold with pets and kids and the more fabric lying around at the bottom just leads to more dirt and dog hair attaching itself to the curtains.  Here are some points on how your drapes can hang at the bottom.  I commonly prefer to use one of the 3 in my home but all are welcome:
 Puddling:  If you are going to puddle your drapes I would have no more than 2 extra inches of fabric at the bottom.  Much more than that may be too fussy and end up looking overly stuffy in my opinion for today's styles.  I would only do a puddle in a formal dining, formal living room, or a more formal or glam style master bedroom.
Break:  A break is nice and can be created by having about a 1/2″ of extra fabric at the bottom.  You can do a break in any space but I always like to consider traffic in the space and whether or not your curtains will get stepped on and/or dirty at the bottom before doing so.  Consider a break in your curtains to be just like a break in your pants for the perfect length.
Just above the floor:  This is my preferred style for the clean look it lends to a space.  In my personal opinion, this look is most appropriate for today's modern styles offering a nice, tailored look with clean lines and no fussiness.  If you purchase over the counter curtains and they are too long for your application, you should be able to have any local taylor or even your local dry cleaners to hem them to the desired length.
Never hang curtains any more than 1″ off the floor.  They'll be too short and like they were an afterthought to your design for the space.  Even over the counter curtains come in many different lengths now a days so you should be able to find something long enough to suit your needs.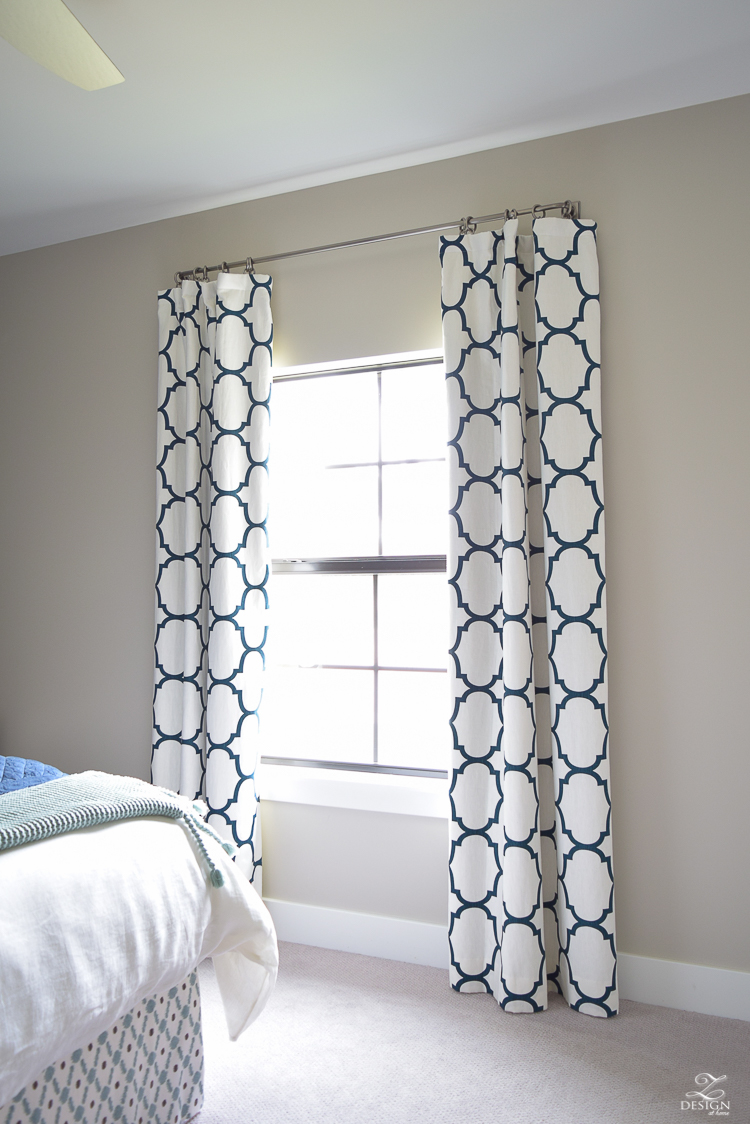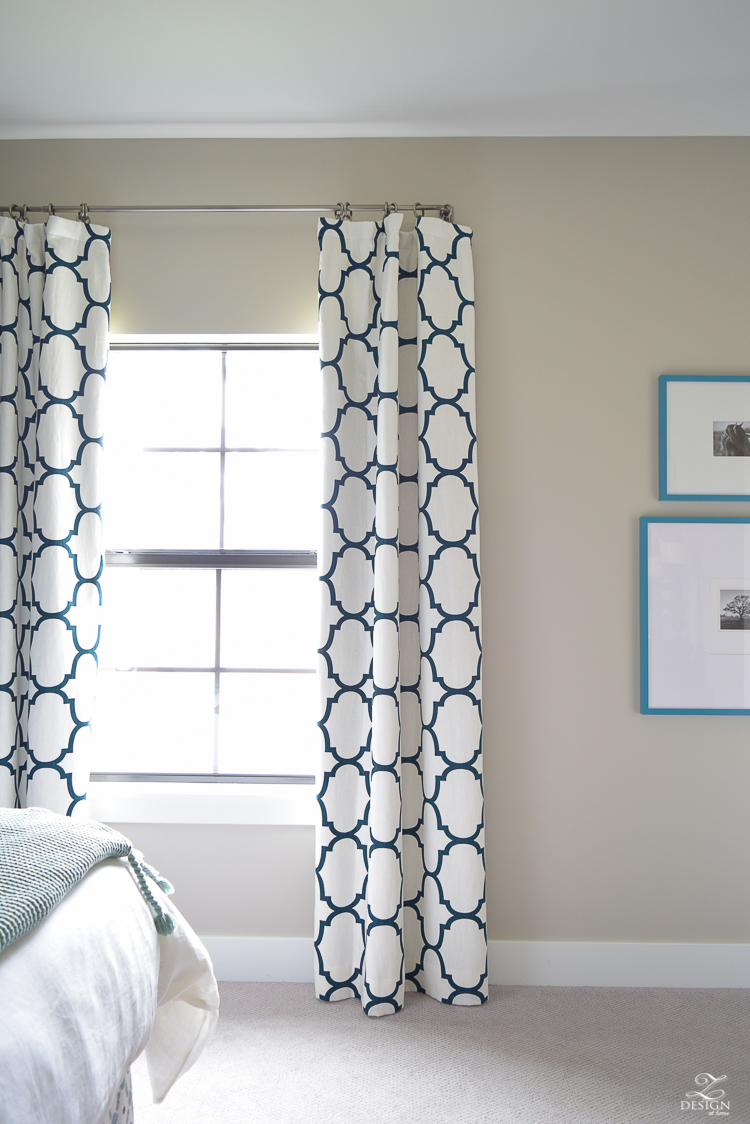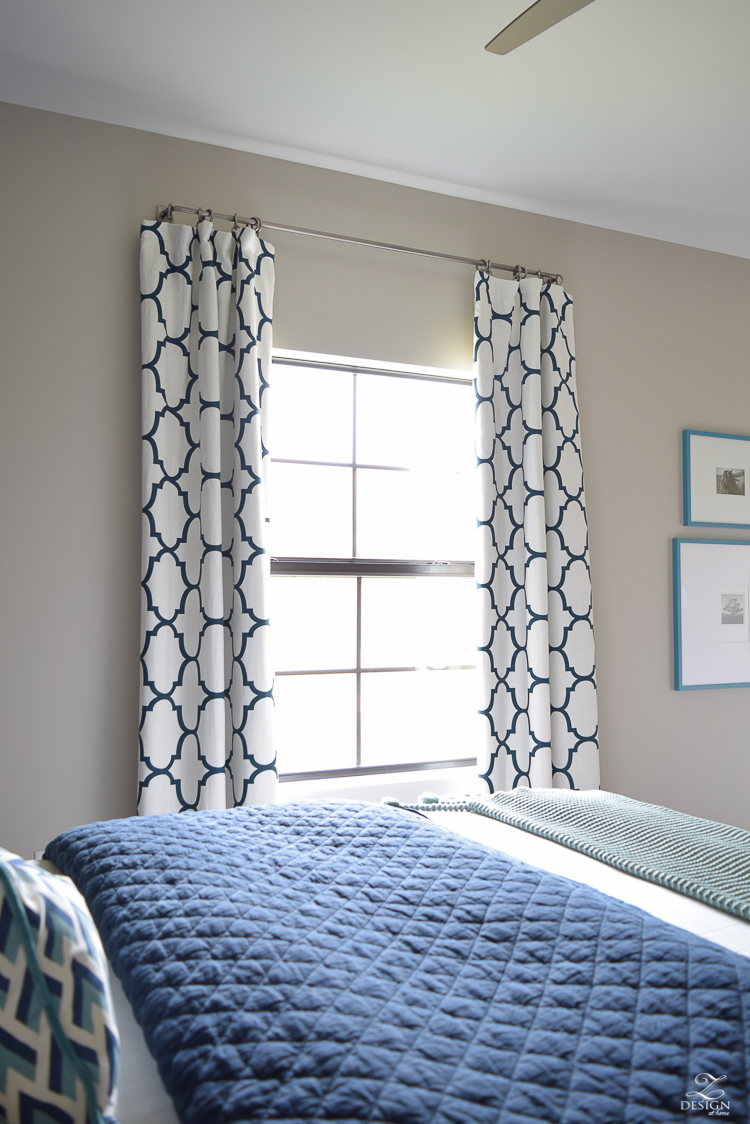 You can see closer here that I've used the ring on ring style drapery ring for hanging…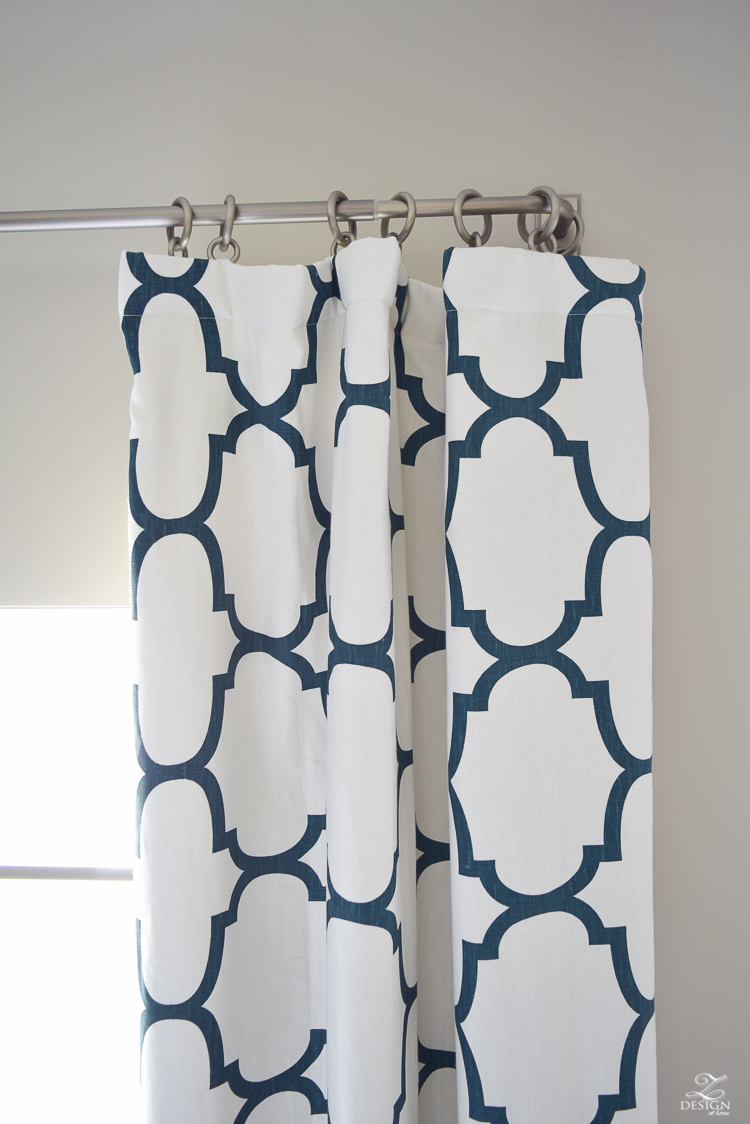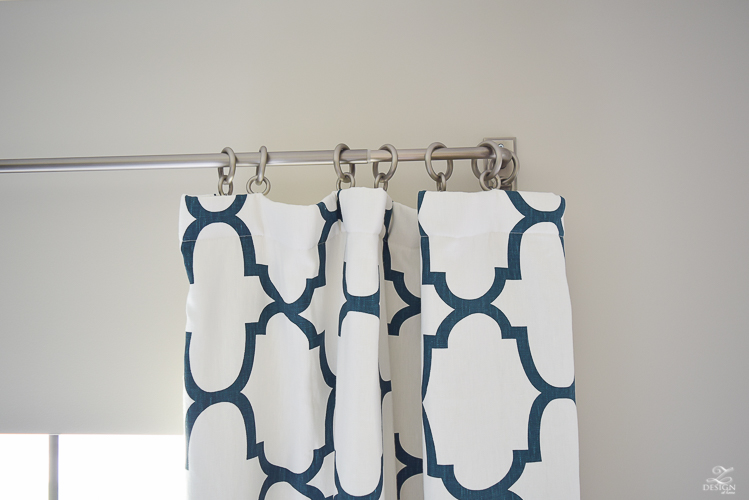 Below is a closer look at the S hook in the back of the drape that attaches to the ring.  Again, this is the version I prefer but the clip works as well, if you have a loop on the back of your drape to attach the clip to.  This is a personal preference but I don't ever like to see the clip attached to the top of the drape where it's visible.  The clips can be unsightly and this style offers of an unfinished look in my opinion.  Go the extra step by using the S hook with a ring on ring style or make sure your curtains have the loop in the back to attach that clip to so that the clip is hidden.   For non custom curtains, Pottery Barn for example constructs their curtains with a plastic loop in the back to attach the clip to.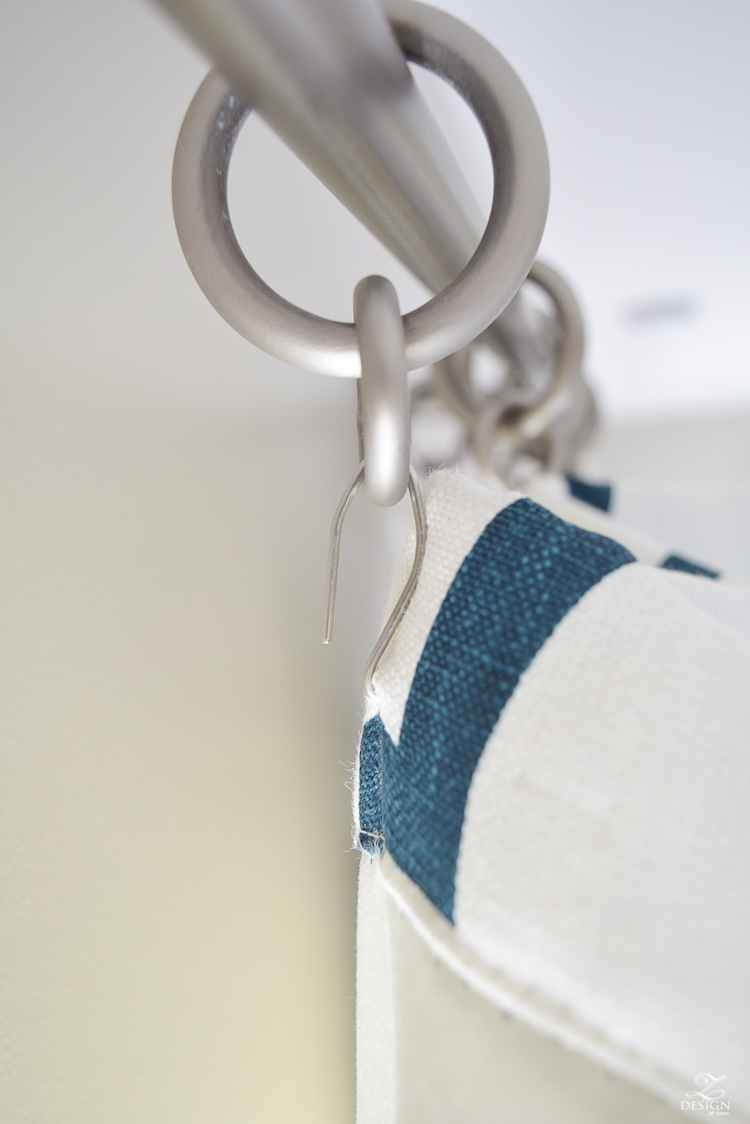 If you are having curtains custom made, I recommend having at least one pillow made in the same fabric to place somewhere else in the room.  For example, on the bed (in this case) or the couch (in the case of a living room for example) is a great spot.  This will tie the two spaces together to bring continuity and flow to the design (I talk more about repeating patterns and items in design here).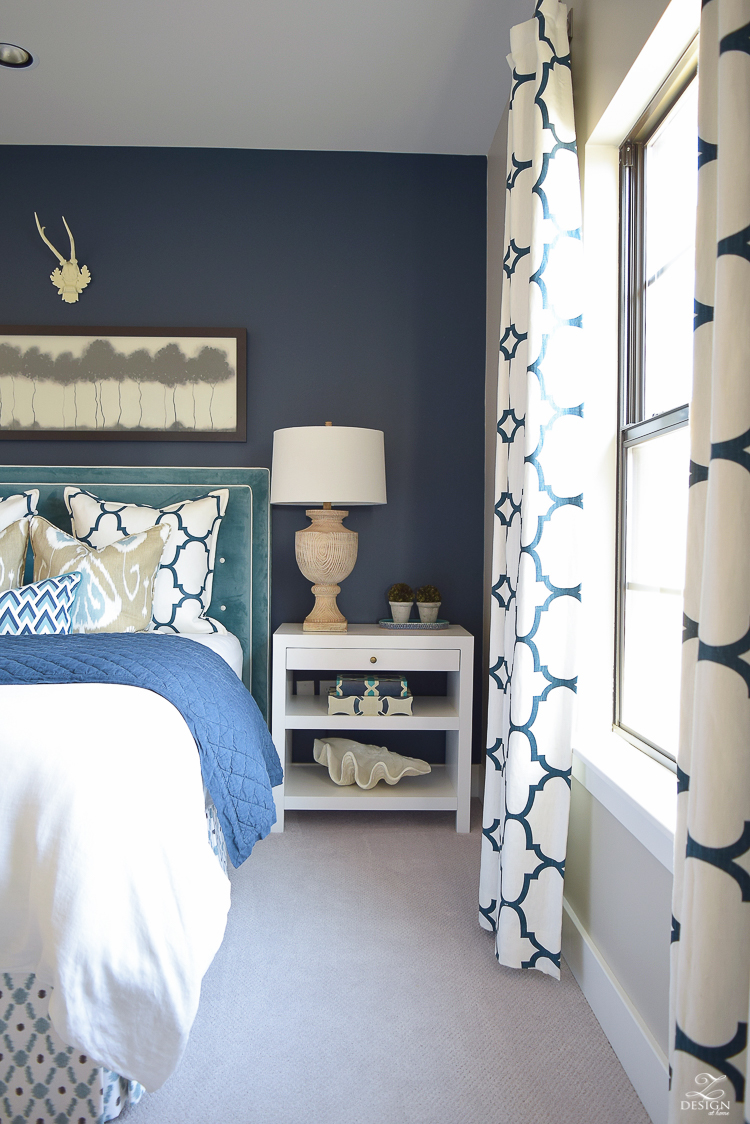 The 2nd curtain style I want to share with you is a tad more formal but still somewhat casual with a Parisian pleat up top.  This look is more casual than a traditional pinch pleat but still has a nice tailored look.  You might notice that I used the exact same fabric as in my guest room but in a different colorway.  I don't necessarily recommend this but that's just how it worked out for me in my home because I love this fabric and it just turned out to be perfect in this room as well.  And lastly, I hung these again just above the floor because this is a high traffic area and I didn't want them touching the floor to prevent them from getting dirty.  This style drape is good for a living room, formal living room, master bedroom, and/or dining room.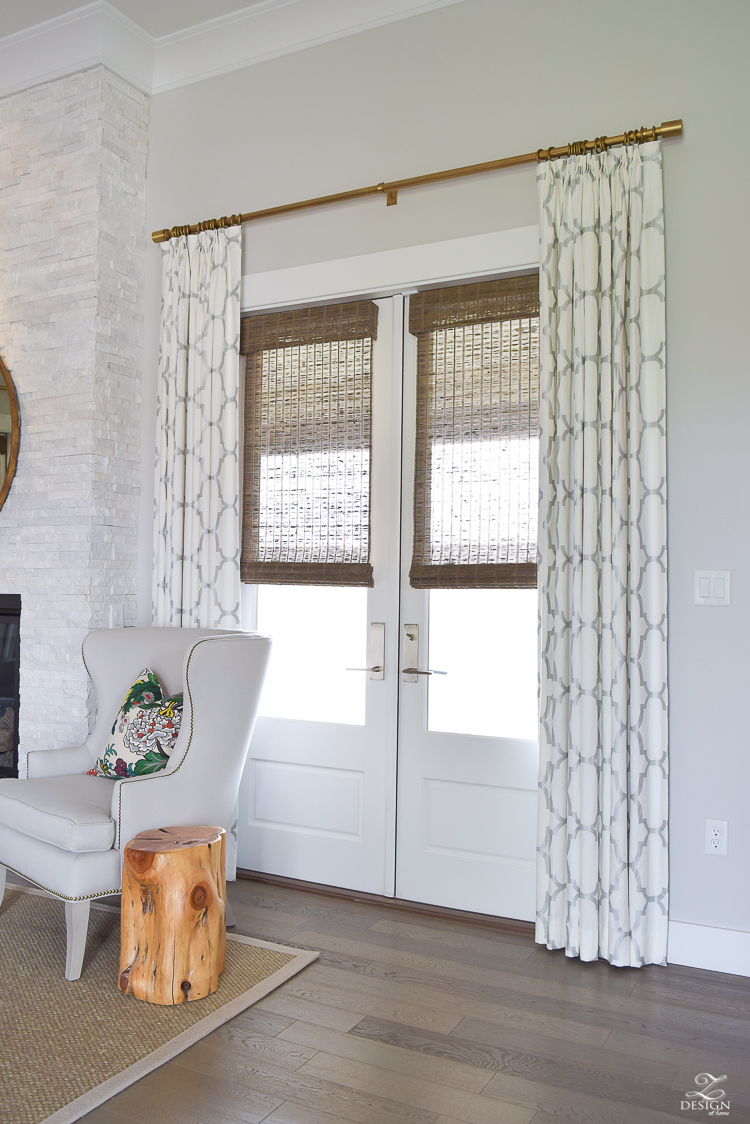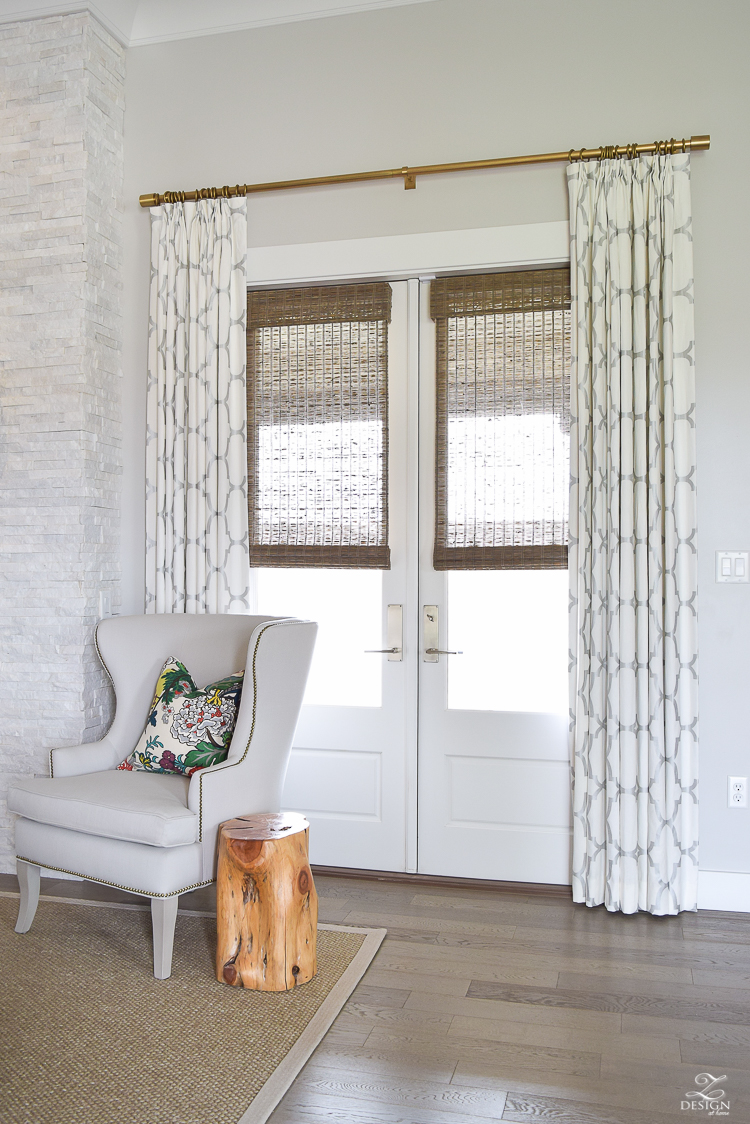 I used the ring on ring style (with S hook in the back of the drape) to hang these as well.  Additionally, I always like to put at least one but usually two rings on the outside of the bracket between the bracket and the finial.  When closing your curtains, this will keep them from sliding too far over revealing the window on the opposite side.  This also helps them to have that more polished look we are going for.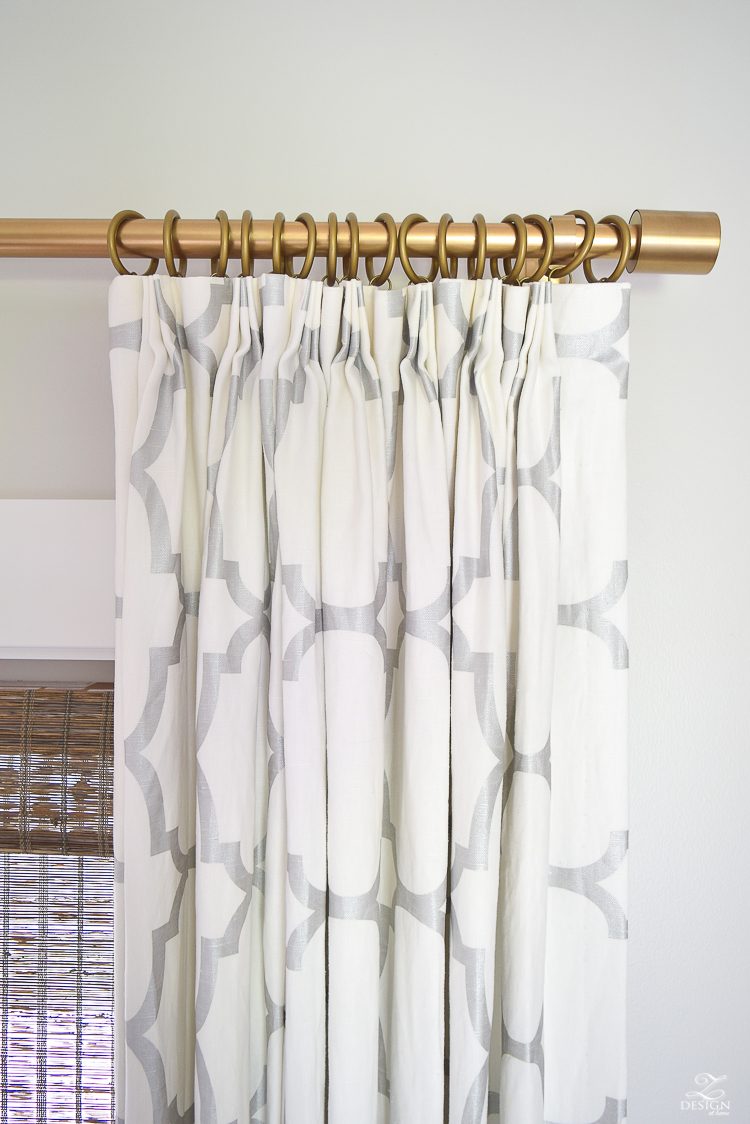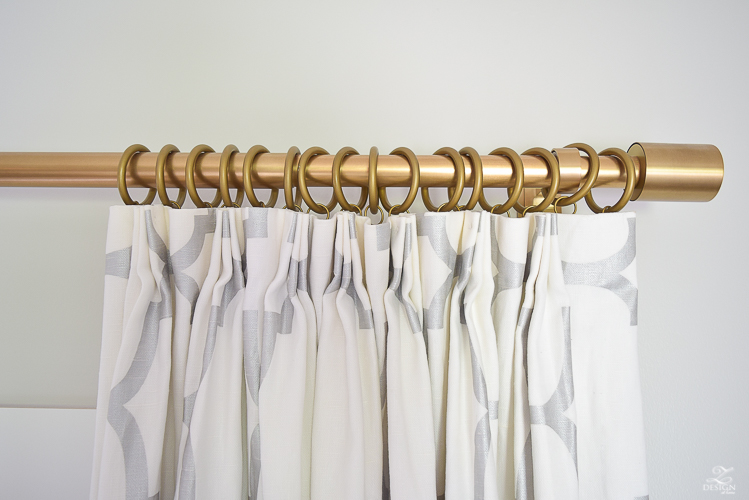 And the 3rd favorite style of drapery I like to use is the grommet style.  These are more playful and fun and are good for any modern style space, kids room and/or playroom.  If your design style lends itself to be more modern then this is definitely the style of drapery for you!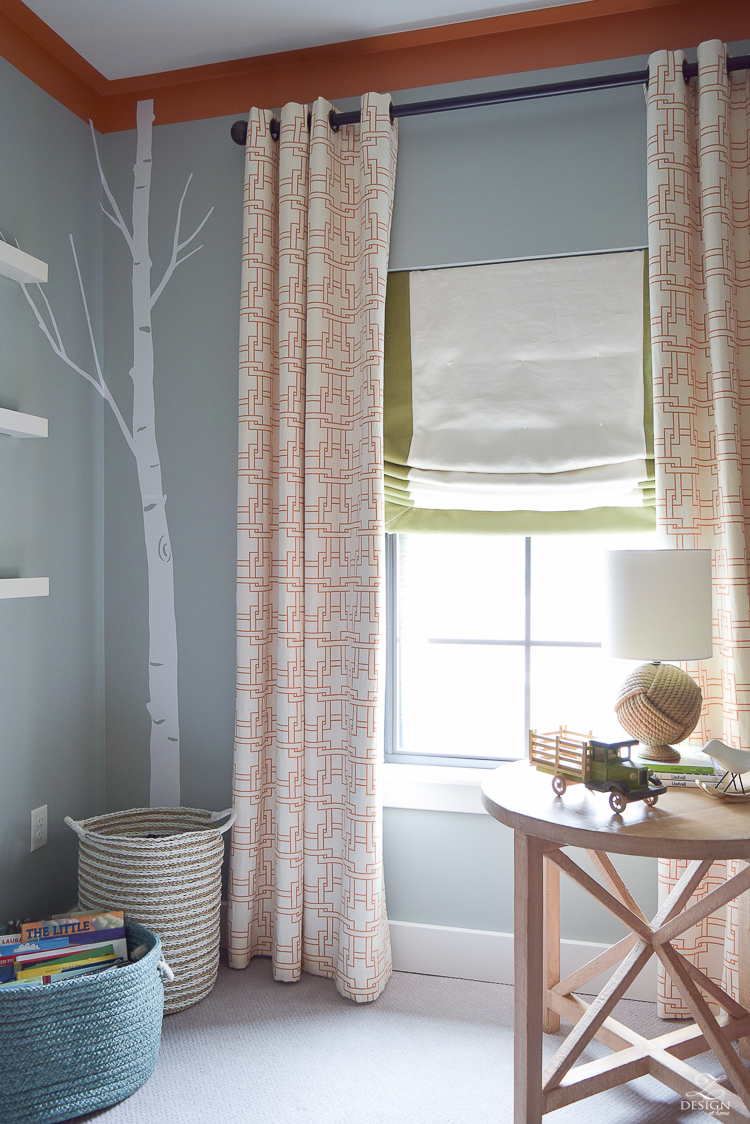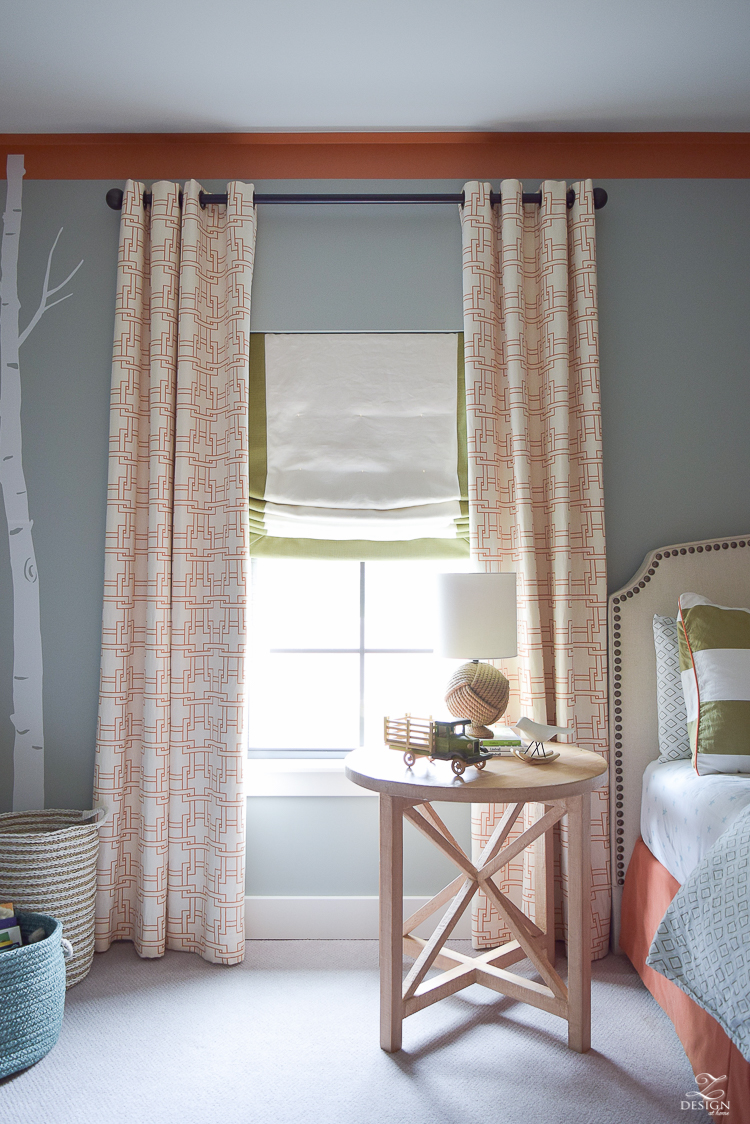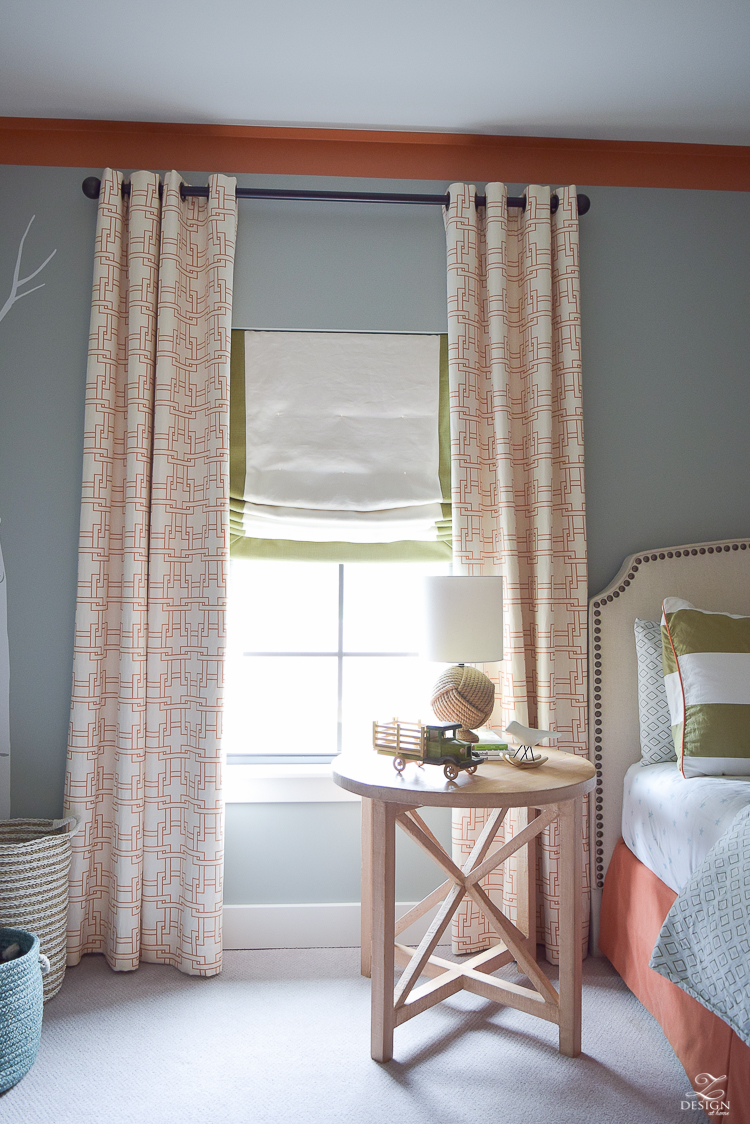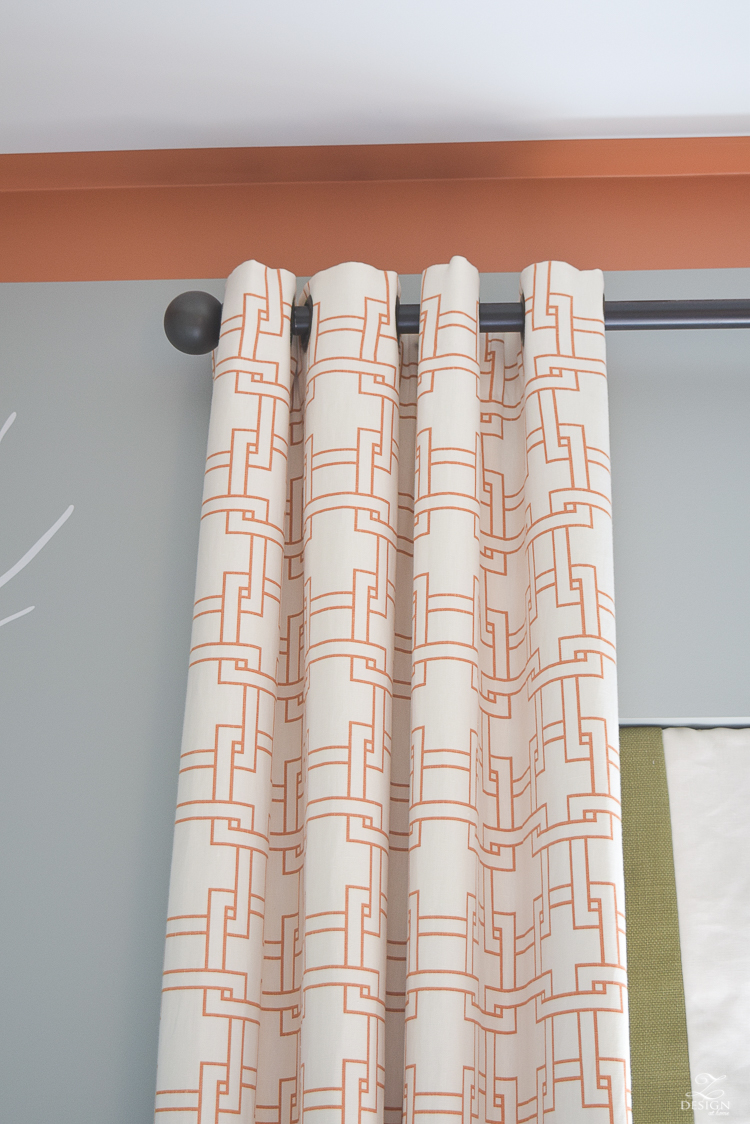 With this style drape, I always like to make sure that my grommets and my rods are the same color (or at least very close like in this instance where my grommets are aged brass and my rod is bronze).  Additionally, with a grommet style drape you will want to make sure they don't puddle.  One just doesn't go with the other in this instance as puddling is much more traditional and I believe a grommet drape should always hang just above the floor or it can have a slight break.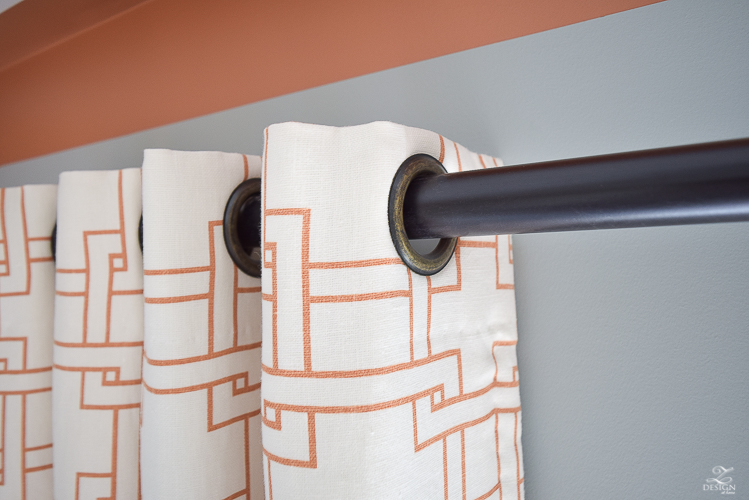 Another favorite of mine is the pole pocket drape used here by my friend Kelley Nan.  I especially like these that Kelley used because the curtains can be hung on the rod using the hidden tabs in the back to make them look more polished than the typical pole pocket drape.   This is also a perfect example of just the right amount of puddling at the bottom of a drape, not too much and not too little, but just the right amount! You can see more of this look and this space by visiting Kelleynan.com.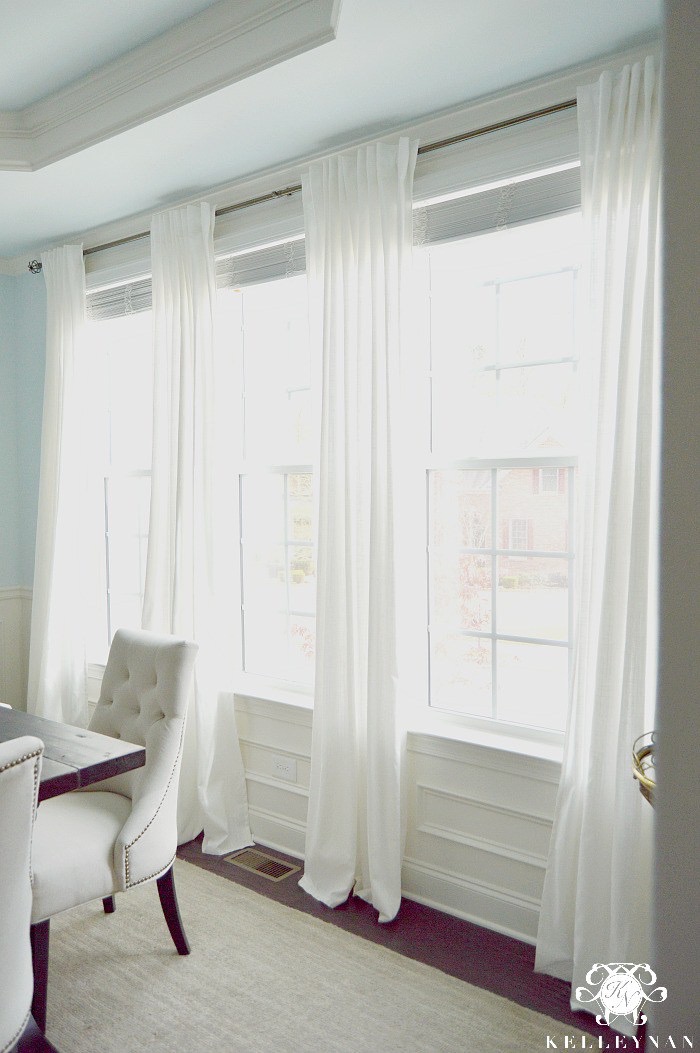 And this is where I'm super excited to announce that one of my favorite Etsy shops, Lynn Chalk is now offering for sale my exact living rooms draperies that I get asked so much about.  You can find them here and they can be customized in a variety of lengths, widths, colors, pleat styles or flat panel, and additional customization can be found in her Etsy shop as well.  Mine were made in the white/silver combination but there are 10 other color options available in this fabric.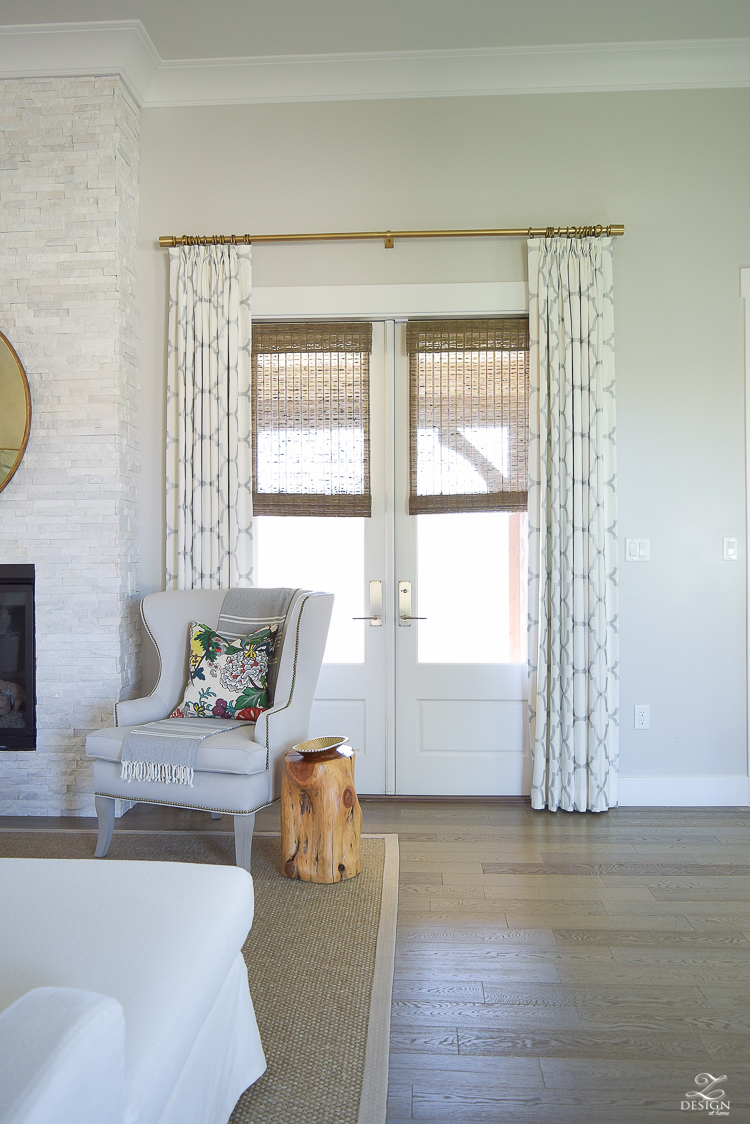 Beautiful Read-Made Options – Lastly, if you simply aren't up for going the custom route and/or if they aren't in your budget, here are some fantastic over the counter options I've rounded up for you.  All come in a variety of drapery top styles, colors, lengths, and some even come with lining & width options. I've included some outdoor options here as well since we are headed into the warmer months of the year.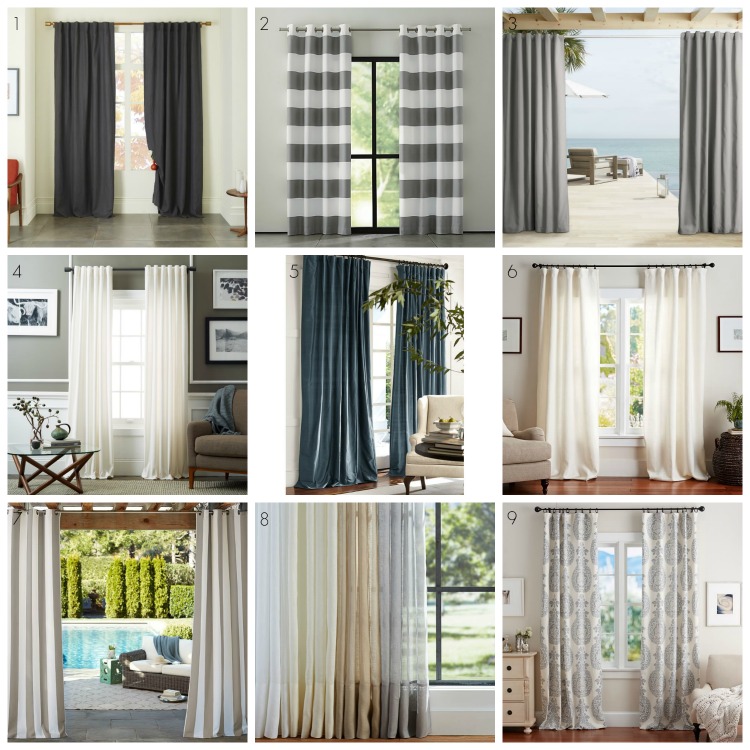 1. Belgian Flax Linen Curtain | 2. Ivory/Grey Striped Curtain | 3. Outdoor Solid Curtains | 4. Velvet Pole Pocket Curtain | 5. Dupioni Silk Drape | 6. Belgian Flax Linen Blackout Lining Drape  | 7. Sunbrella Indoor/Outdoor Awning Stripe Drape | 8. Belgian Flax Linen Sheer Drape | 9. Similar medallion Drape
Thank you for stopping by ZDesign At Home and please feel free to leave a comment and/or ask any questions you might like.  Next week I'll be talking more about my guest room and how I pulled that space together through drapery and pillow fabrics (You can see that HERE).  Hope to see you back then!!
Xoxo, Bree
Let's stay connected…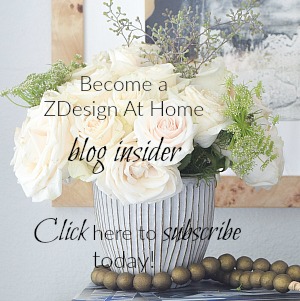 Pinterest | Facebook | Facebook