6 Beautiful Ways to Decorate with Velvet
It's sumptuous, it's luxurious and was often used by European royalty and nobility during the 16th and 17th centuries.  It also has that feel of Hollywood regency but still works well in any home when used sparingly.  I especially love using it in a casual setting to glam up a space and to take it to the next level with this opulent fabric.  Additionally, velvet has always been popular but is currently all the rage and, lately I have fallen hard for it and wanted to share some fun ways to use it in your decor.
With all of that said, I'm embarrassed to say that I never used velvet in my home/projects until just two years ago!  I love most textiles but am kind of simple with the fabrics I use in my personal home and have always just loved using straight up cotton and linen vs. mixing it up more than that.  I can't explain it other than I guess I just wasn't thinking outside of the design box enough with my personal decor but also just really love the simplicity of cotton and linen.  However, when I moved into my current home and had the need to reupholster my guest room headboard after it was severely soiled during the move, I was yearning to break out of my design shell in order to incorporate some gorgeous teal velvet into my home.
And so it all started with this beautiful teal velvet with white linen accent headboard and spiraled from there with a few more furniture pieces and some fun accessories as I was finishing up the decor in our home.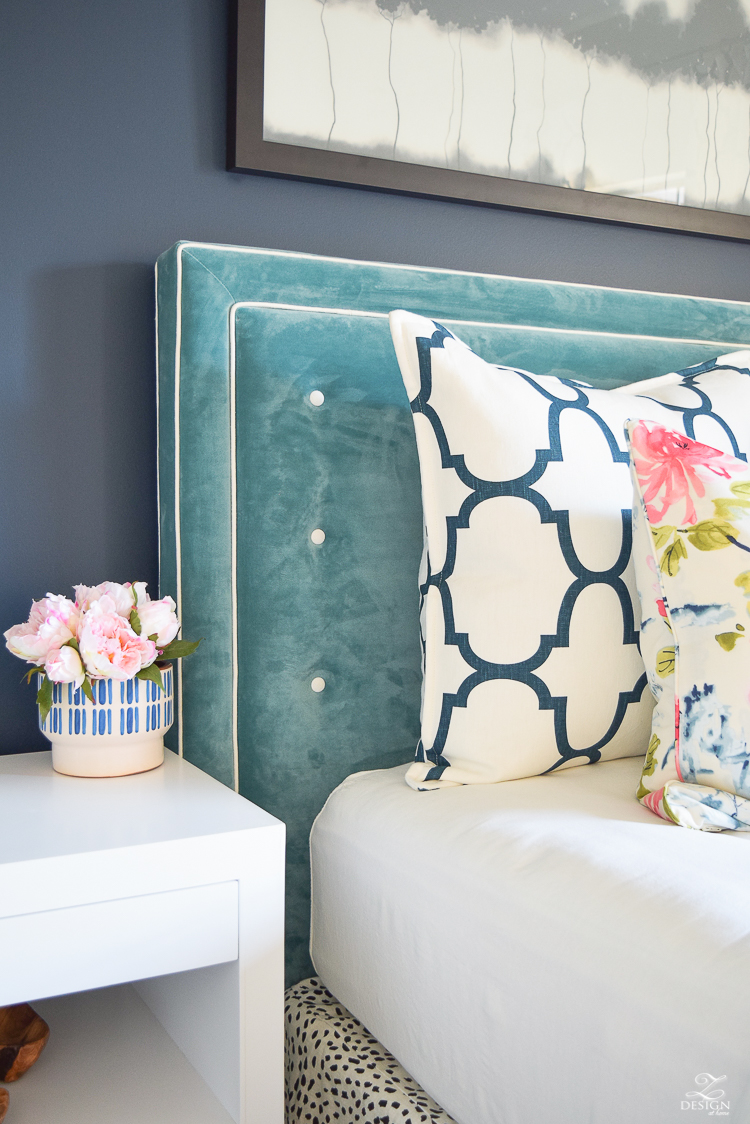 Nothing makes a bedroom more sumptuous and cozy than a velvet headboard…don't you agree??  You can see a full tour of this room HERE where I also share the details on my choice of fabrics and accents for this headboard.  The rich teal velvet takes this room to a new height and guests always say how warm and inviting this room is mainly due to the velvet headbaord!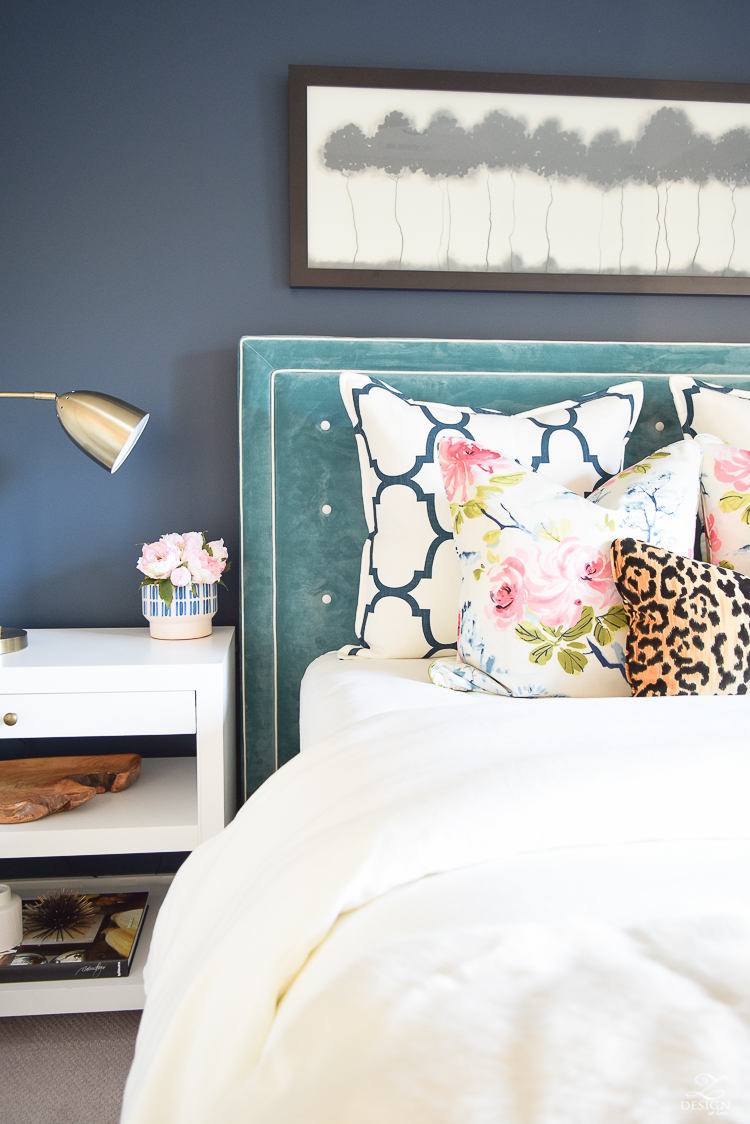 Shop Velvet Headboards

Have you seen the stunning tufted velvet headboard and bed belonging to my friend Jennifer of Decor Gold Designs?  If you haven't yet by some strange chance, you may want to head over and check it out when you're done here because her velvet bed & headboard will make you want to stay in bed for days!!  You can find her and more of this gorgeous space HERE.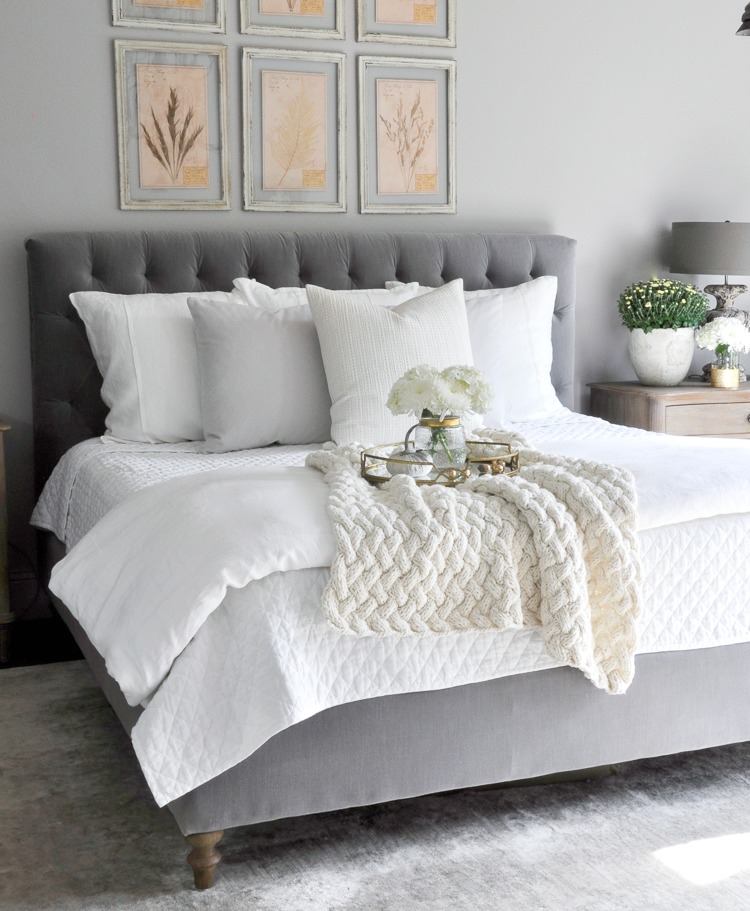 Nothing feels more comfy on the tushy than sitting on velvet, am I right??  Some might say I even over did it here with all of the velvet chairs in this space but the two velvets actually work pretty great together here in my dining room to make this large, bright, and airy space feel more eclectic and cozy.  The captains chairs are a vintage velvet so the texture in those vs. the smooth black velvet side chairs compliment each other nicely.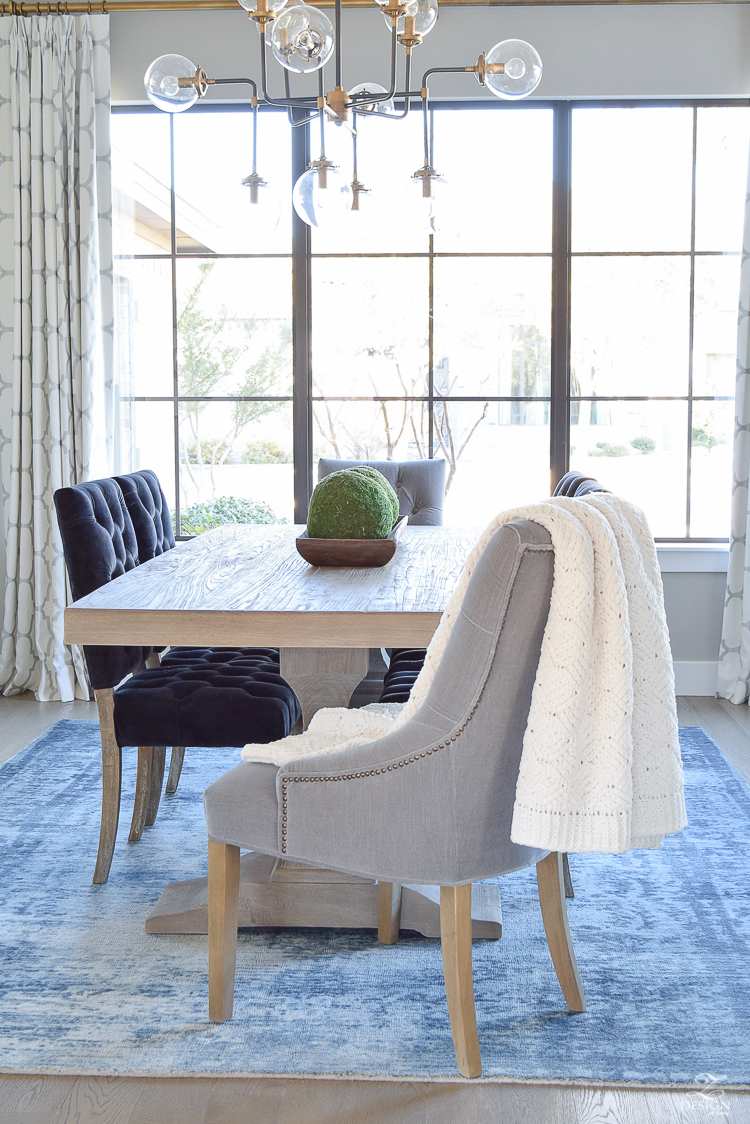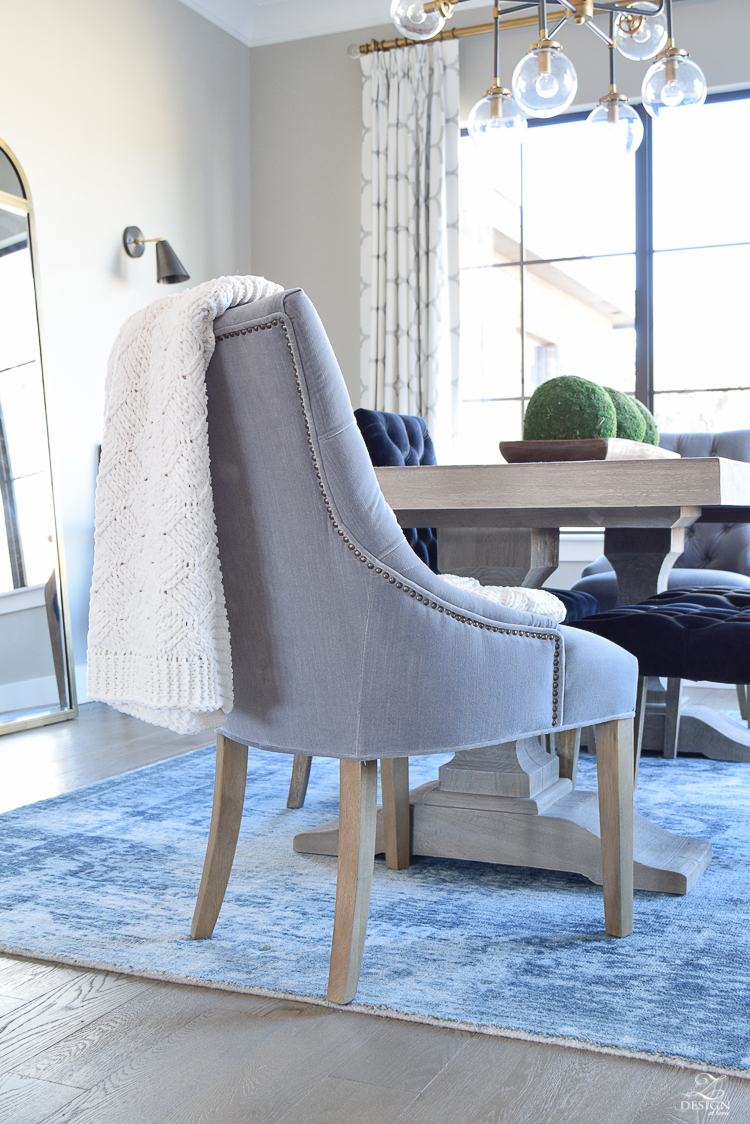 Shop Velvet Dining Chairs

And the only thing better than velvet is leopard print velvet, can I get an amen on that??  I'm also loving rich, jeweled toned velvets at the moment that will spice up a space and become the focal point of the room!  You can find this fabric HERE if you are looking for a great leopard to reupholster something and you can also can find a pillow HERE in this fabric as well.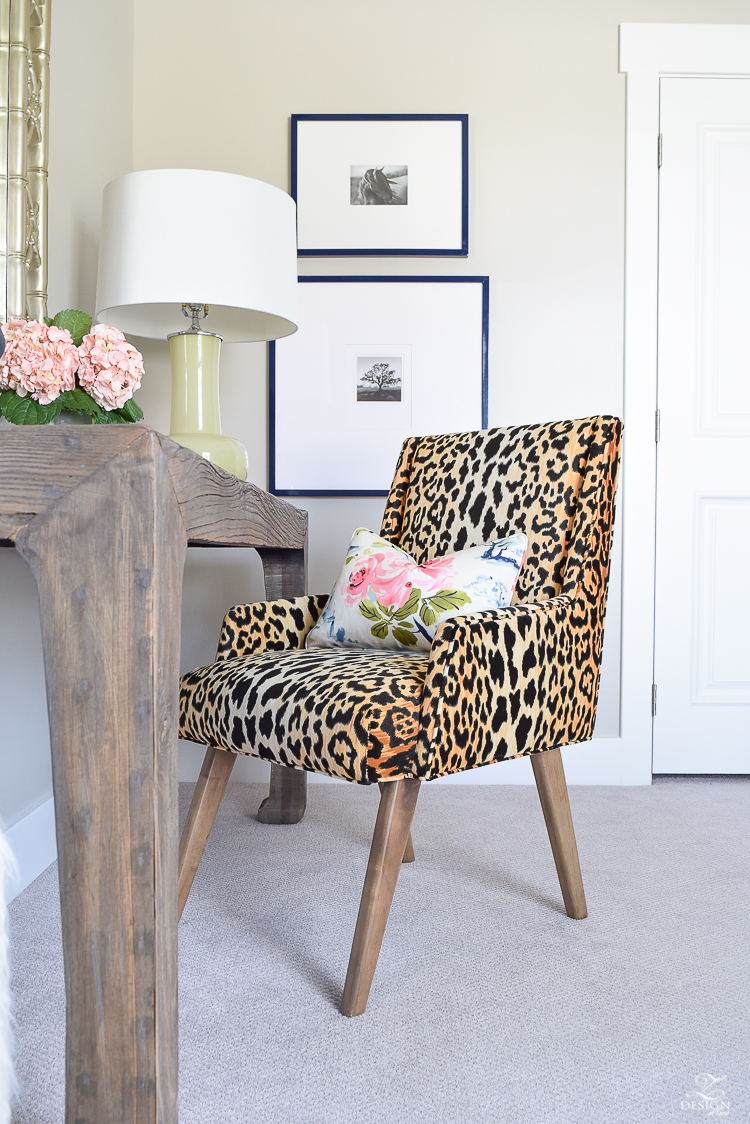 And don't be surprised if you see this chair pop up in a project I have coming up later this year (maybe even a pair of them)!!  The super-soft velvet combined with the back pleating and brass legs are so on point.  I recently saw this chair in the blush color at the outlet and I literally think I squealed like a young school girl…it was simply breathtaking!!
And of course there are so many great velvet sofas out there right now but here is one in particular that I'm loving at the moment and am considering using as a settee at some point in the near future for an upcoming project.  I haven't been able to get this stunning image out of my mind since I first saw it…just so dreamy!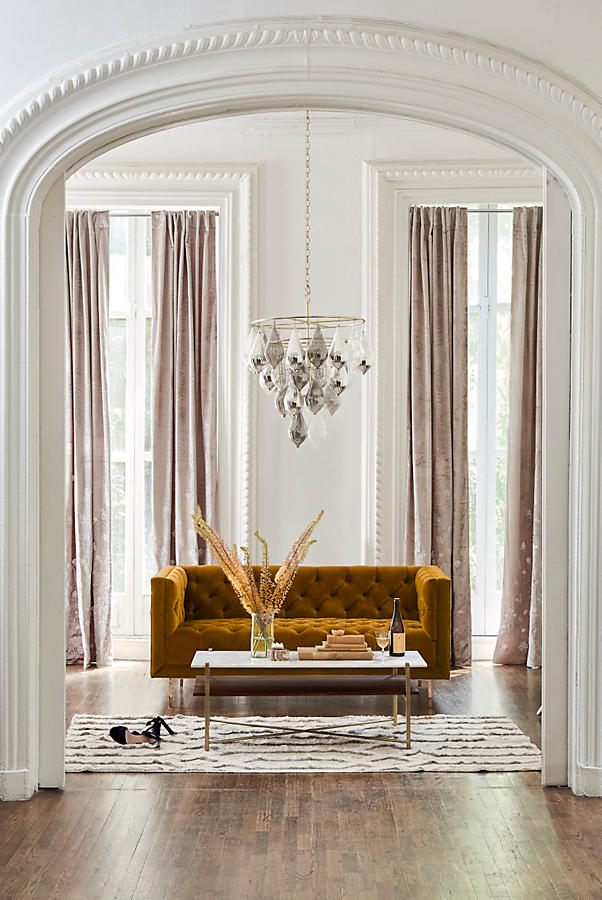 Shop this Item + Similar


It seems I must have a thing for teal velvet, hehe.  I purchased this ottoman locally but loved it so much I purchased a second one to slide under my console table in the heart of our home (nearby).  It's great because it can be wheeled all around the room as needed for extra seating.  The velvet adds a bit of texture and warmth, not to mention the fun pop of color.  It's a statement piece and I always receive compliments on it (I've sourced a similar one HERE).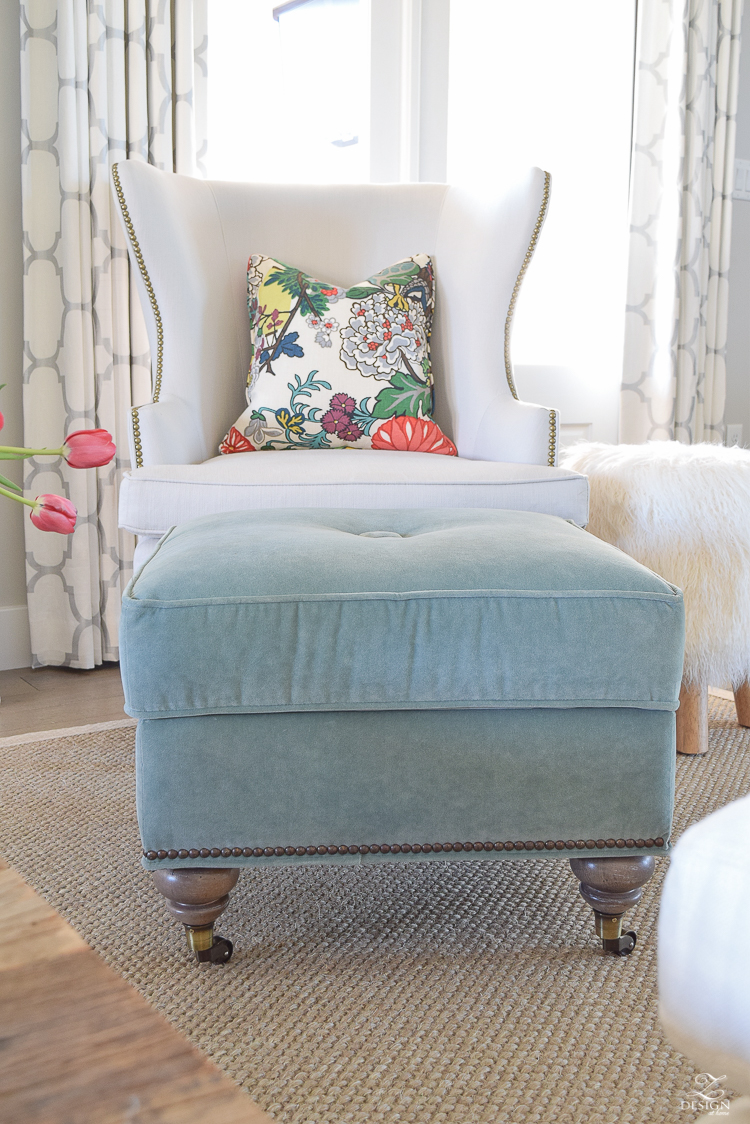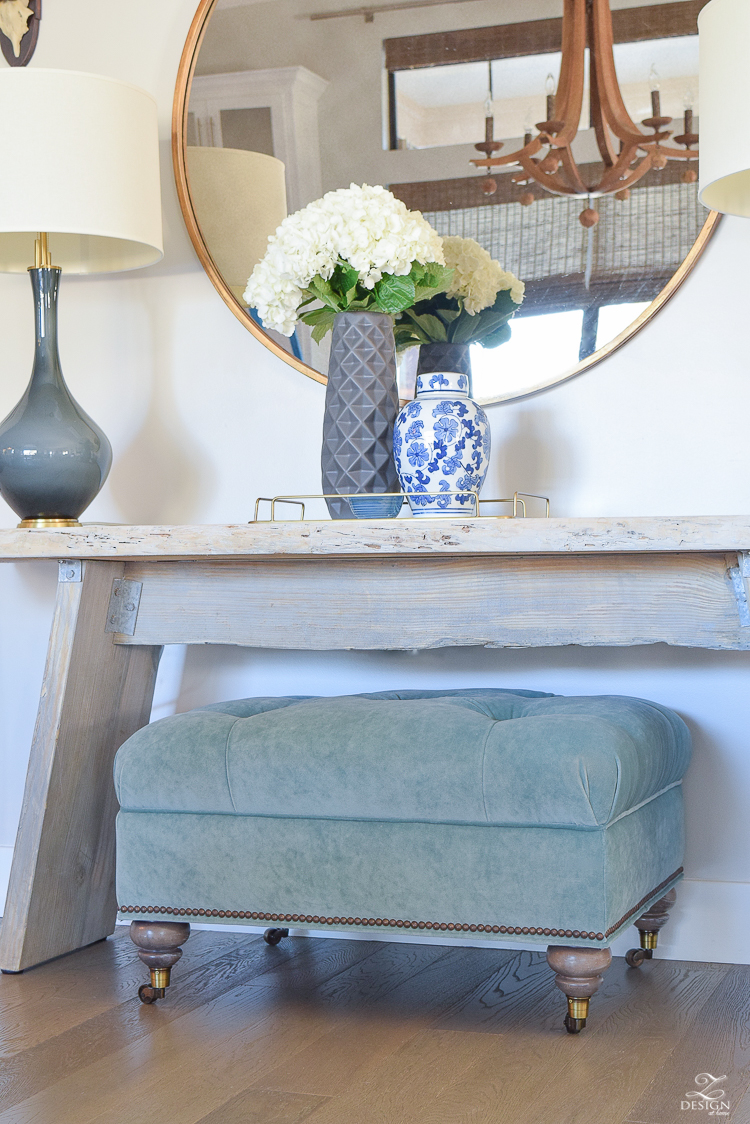 Shop Similar Items


I honestly don't think anything can warm up a room like velvet curtains and these velvet damask curtains in the bedroom of my friend Randi of Randi Garrett Design do not disappoint!!  If somehow you haven't seen her dreamy bedroom yet, you can visit Randi and see the rest of her gorgeous space here.  I have a full post all about how to know when to use what curtains here if you are interested in learning more about this subject.  I also sourced several great over the counter options in this post that you won't want to miss.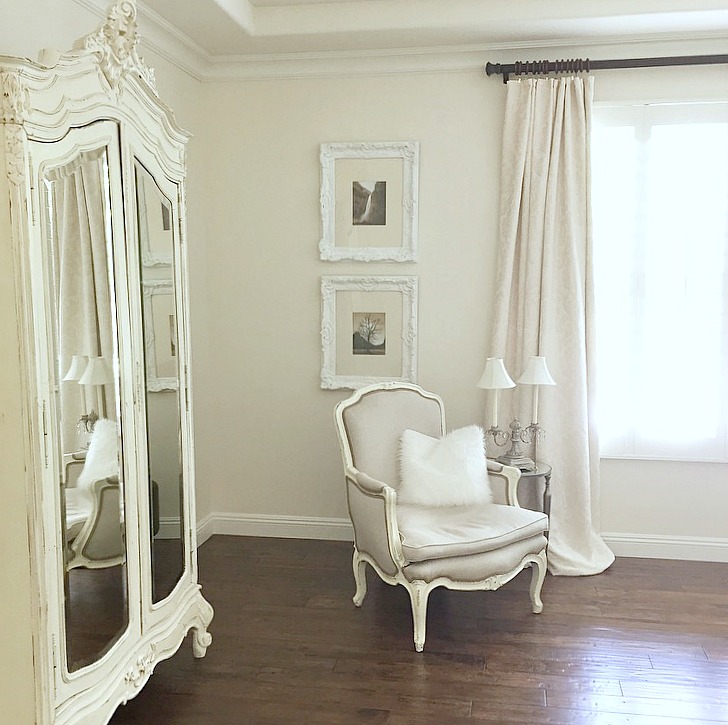 I've never had velvet bedding before but recently updated my bedding for the winter and can't get over the luxury and comfort this washed velvet quilt and shams brings to my bedding ensemble.  It's soft and sumptuous and makes for a great night's sleep during the cooler months, or any time if you're cold natured.  The cranberry pillow is also velvet and adds a much needed pop of color to this all white and gray ensemble.  This is a perfect example of how using velvet can be beautiful and functional all at the same time in a space!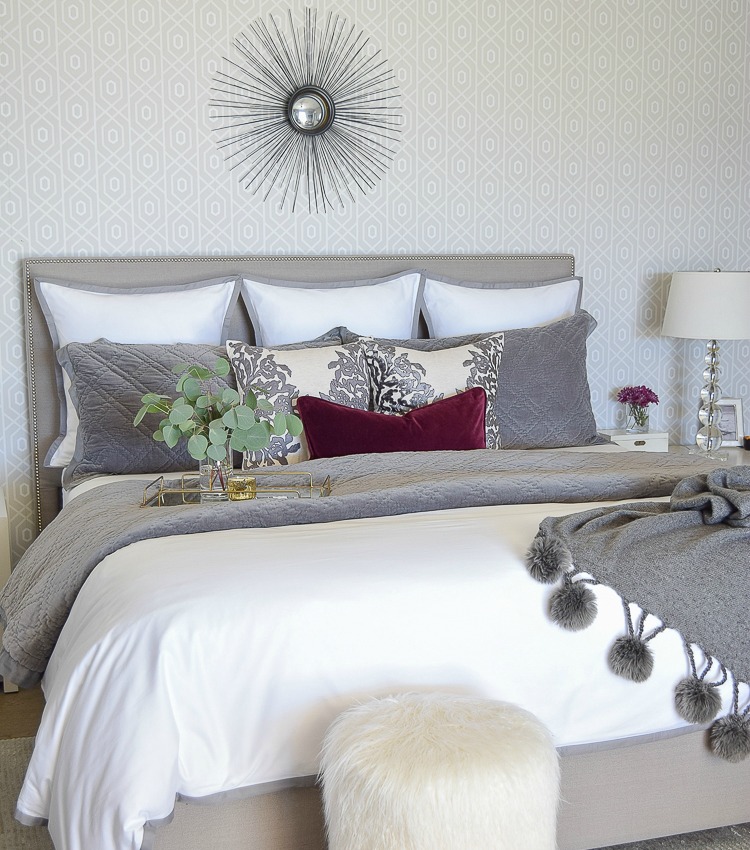 Shop Velvet Bedding


And last but not least (and if you are not yet ready to commit to something larger covered in velvet) velvet pillows are probably the easiest and most affordable way to add this luxurious, on trend fabric to your home.  There are so many great options out there but below are a few ways I've used them in my home.  For a full post all about what to look for in a good quality pillow whether having them made or buying over the counter, look HERE.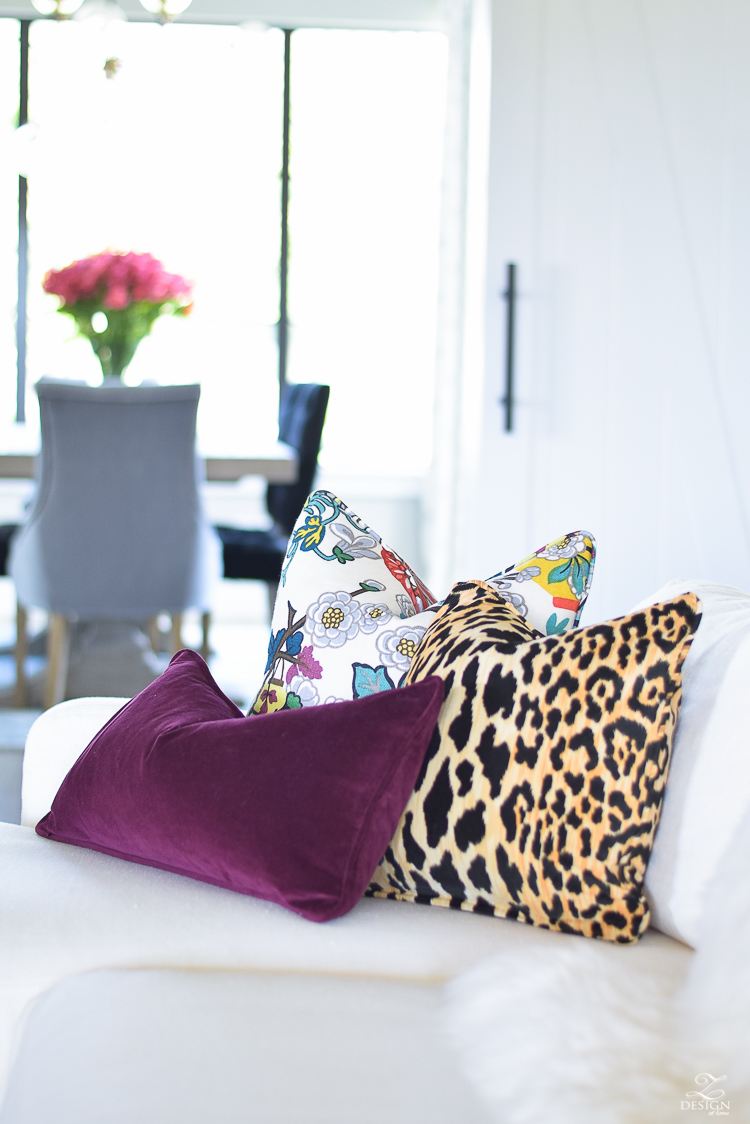 This solid blue velvet pillow grounds and compliments this floral linen pillow.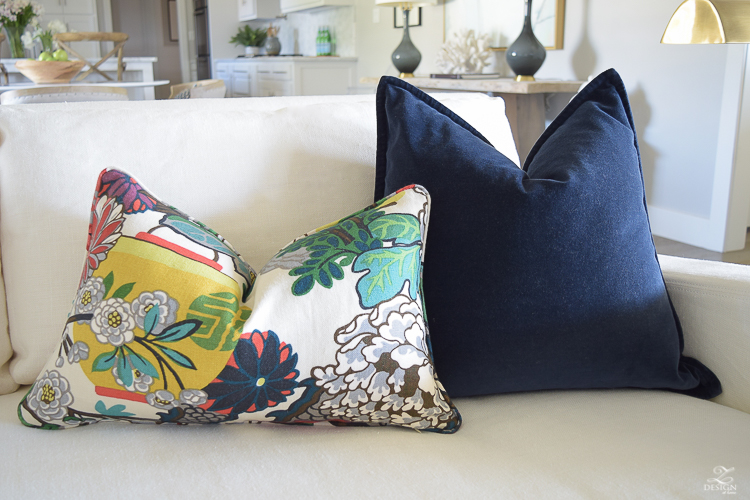 Just a touch of leopard velvet in amongst all of the linen and cotton here is just the right amount to mix things up and add a little interest to this pillow combo!  The leopard pillow is available HERE and the floral pillow is available HERE.  Geometric pillow available HERE.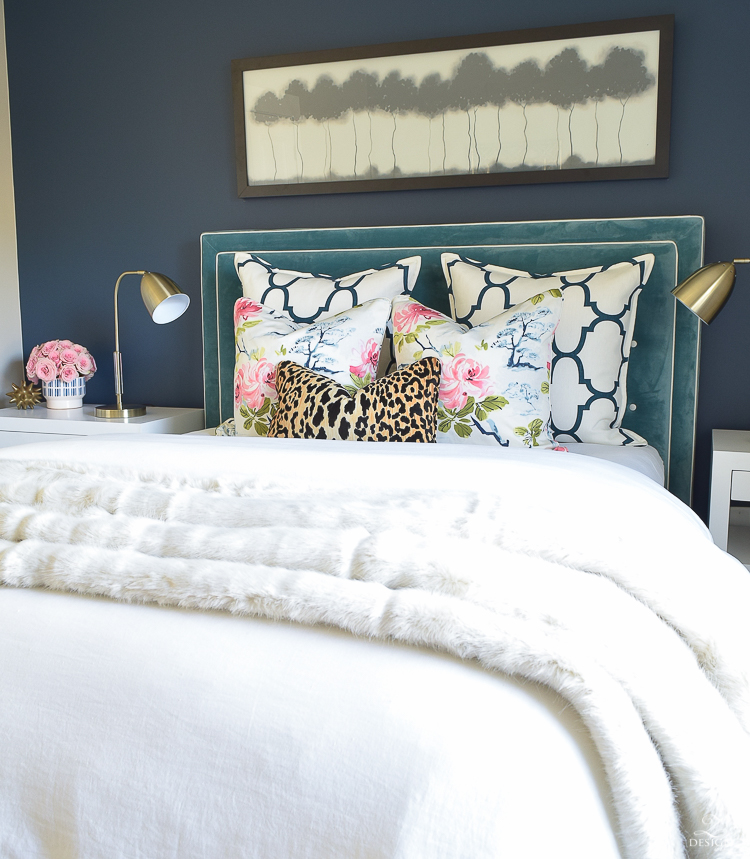 This pillow has a velvet appliqué over cotton/linen which makes it elegant and fun all at the same time.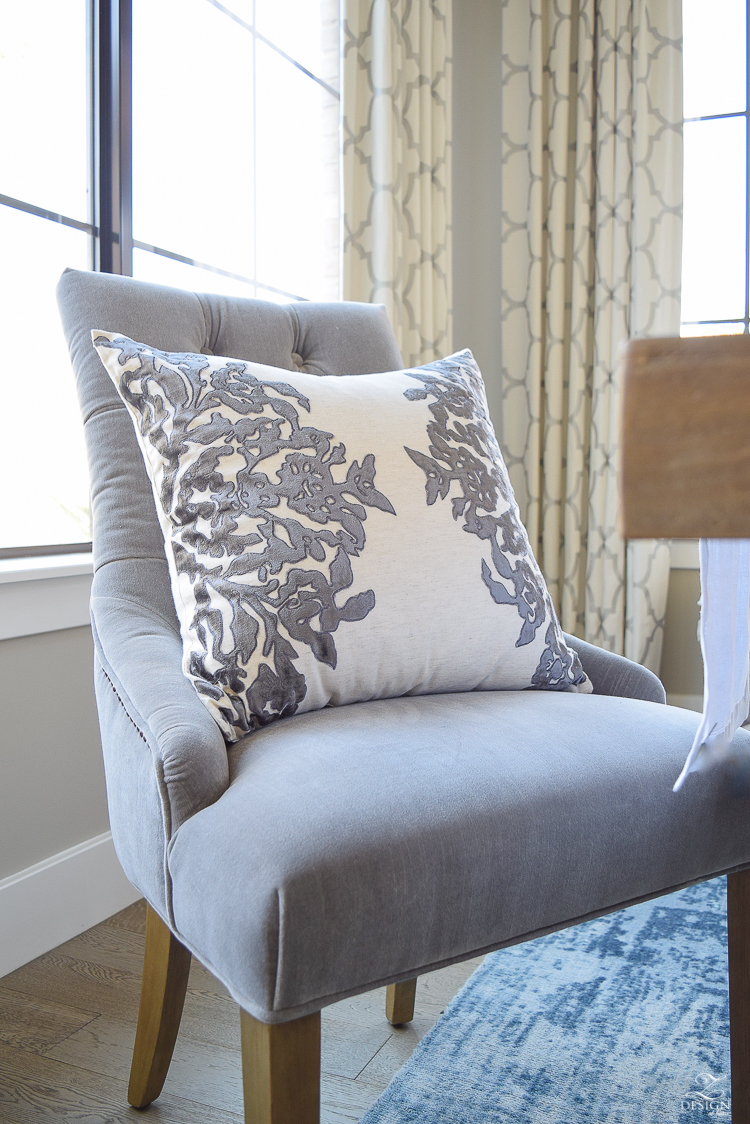 shop Velvet Pillows

So the next time you are looking to freshen things up a bit, add some warmth or luxury to a space, or just to try something new, adding this incredible fabric to your decor might just do the trick.  Don't make the same mistake I did by over looking velvet for way too long.  It never goes out of style and always keeps things looking and feeling fresh!
As always, thanks for stopping in and please let me know if you have any questions in the comments section below!
Xoxo, Bree