5 Simple Tips For Layering Your Rugs + Rug Updates Around The House
Fall has officially arrived here and dreams of warm, fluffy floor coverings underfoot have been on the brain for many of us I'm sure.  I know they have been for me!  Speaking of fall, if you haven't been able to catch my two fall home tours yet, you can do that HERE & HERE before we get started today on tips for layering your rugs + rug updates around the house.
First I thought I would share a few rug shenanigans around my home and how sometimes your decorating plans don't always work out.  With cooler weather on the way I have been looking for some cozier rugs that will work not only in the temporary place we're in now but they must also work in the new house once we get moved in next year, which is something very hard to predict (you can catch the latest update on our new build project HERE)!
With all of that in mind I recently ordered a few rugs that I thought would fit the bill for both but unfortunately all isn't working out;).  One rug that is however working out (0r I should say will work out) is this amazing Turkish runner from my friend Nez at Kaya Kilims.  I have been stalking her shop for over a year to find just the right rug although this quest started out in my previous home (before I even knew we would be moving) for this spot in my kitchen between the sink and island…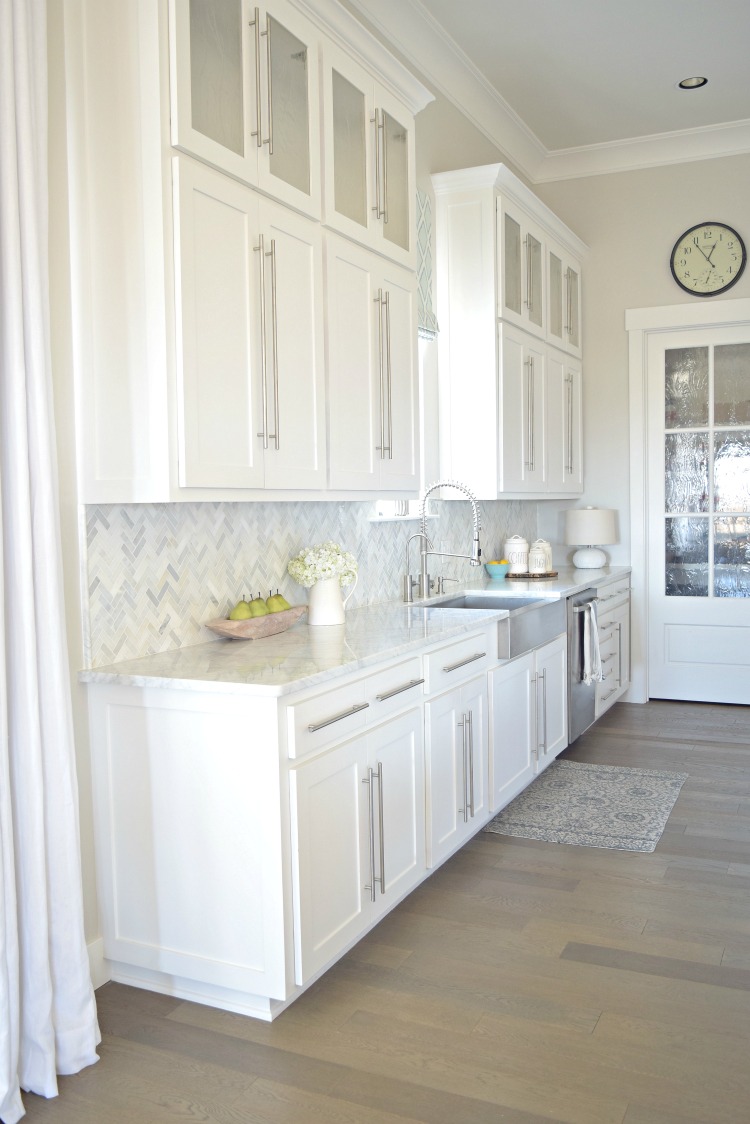 Unfortunately I never found one while we were still there but recently I saw one in her Instagram stories and new it was "the one" for our new home to be!  Since I designed the kitchen in our new build (and knowing the dimensions of this rug) I knew it would work out perfectly in the same spot in the new kitchen.  I'm actually not going to leave it where you see it in the photo below because I want to save it for the new house but I just had to share it now out of excitement since finding one of these Turkish rugs in just the right color(s) and size can be a daunting task (like I said, it took me over a year to find "the one").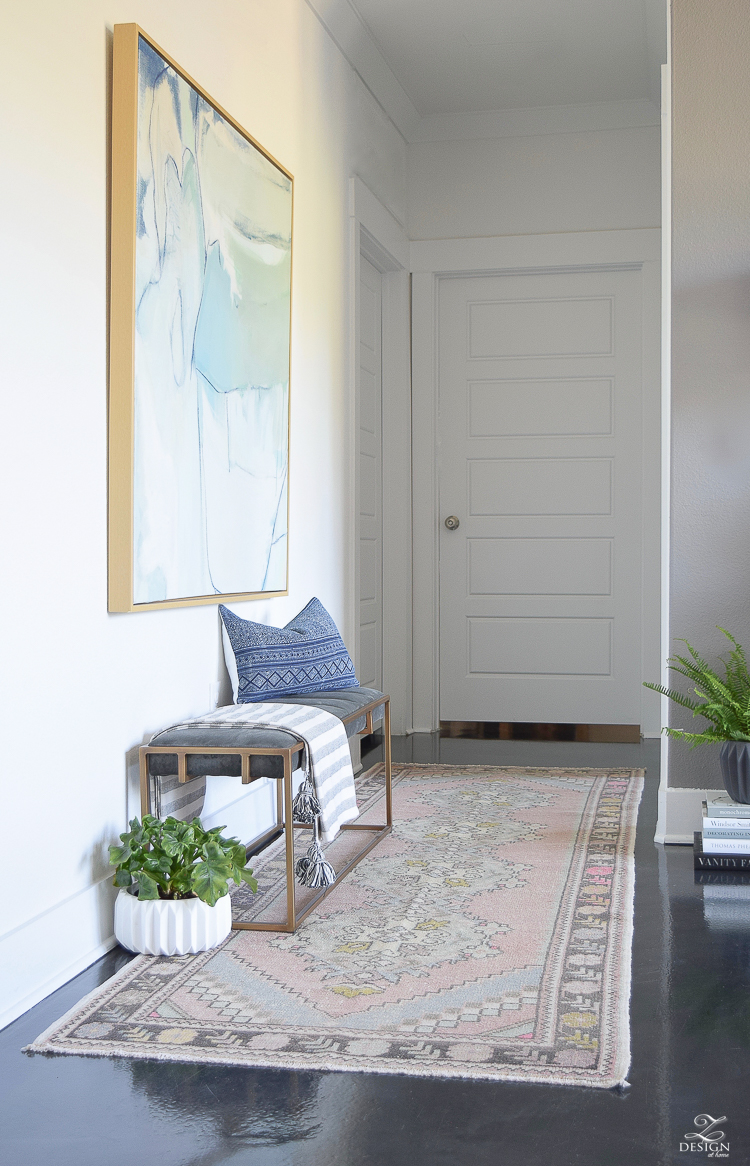 *Affiliate links used

Nez has a beautiful selection but her beautiful rugs sell out fast so you have to scoop up "the one" as soon as you see it (and it's so fun to get a package full of beautiful goodness like this straight from Turkey…kind of made me feel super special when it arrived!).  The muted, neutral shades in this one along with the subtle pattern will look amazing in our kitchen once we get into the house and I couldn't be more excited about it!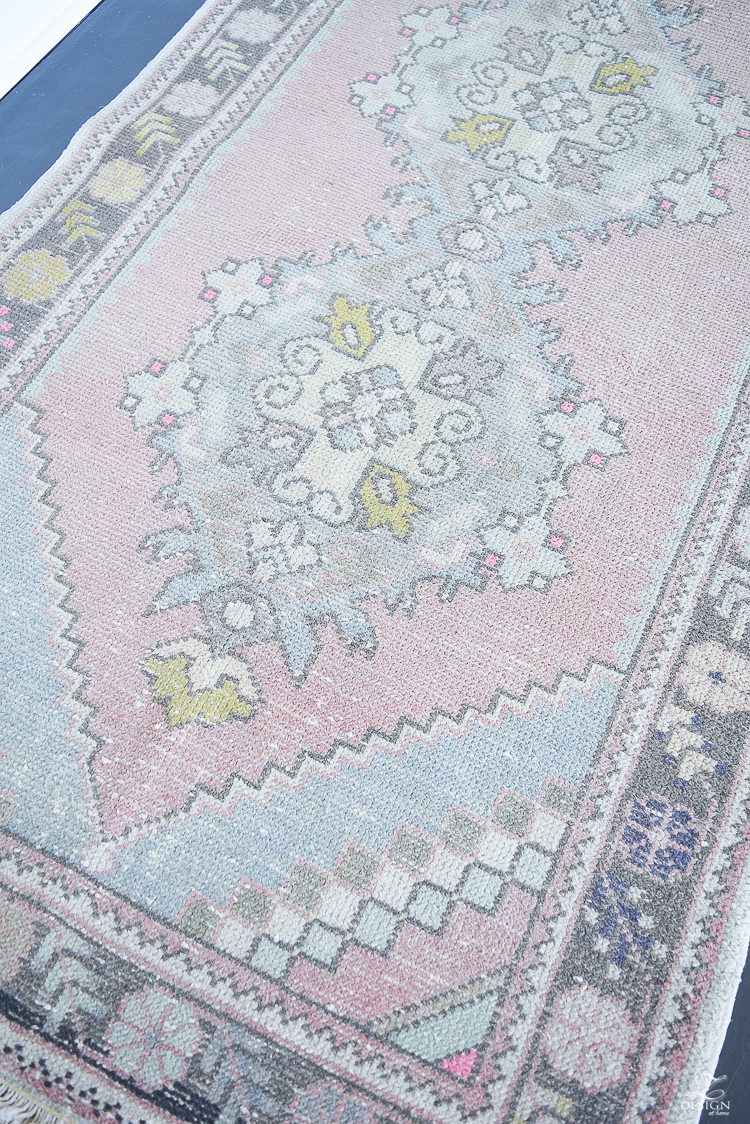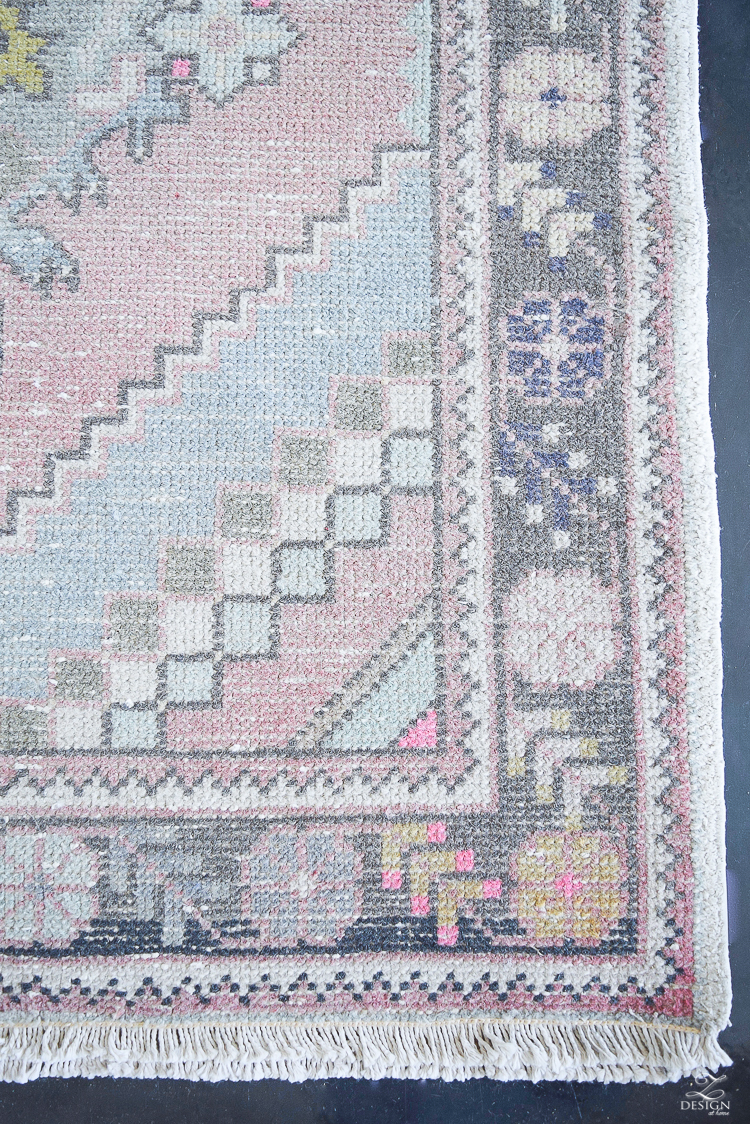 Next up on the rug chain is this vintage inspired rug that I ordered for the breakfast area to either replace or layer under my cowhide.  The size and colors are just right and I love how soft the rug is for sure (it's a 6×9 and my table is 40″ in dia. for reference)!  I even shared about how amazing it is in my Ig stories but the most beautiful part of the rug is the medallion, which of course gets completely covered and lost by my pedestal table….Ooops!  I didn't even think about that when I ordered it, darn it!  If however you have a coffee or dining table with four legs it's an amazing rug and I highly recommend it for adding a vintage touch or a pop of color to any modern home.  As soon as I put the table and chairs back in place I knew it wasn't going to work for that reason so I immediately rolled it back up and repackaged it (of course right after I snapped this photo;).  I'm truly so sad this one didn't work out!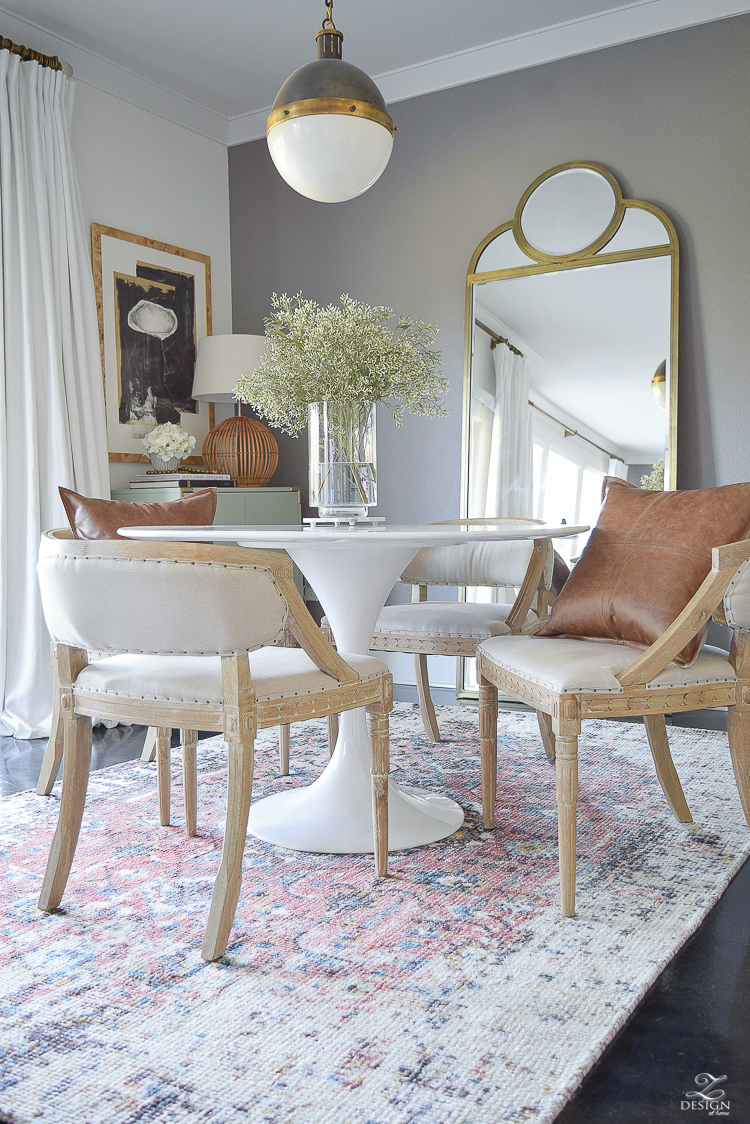 It looks red here but it's not…it's a dusty rose with subtle pops of blue, gold and plum, with a cream base.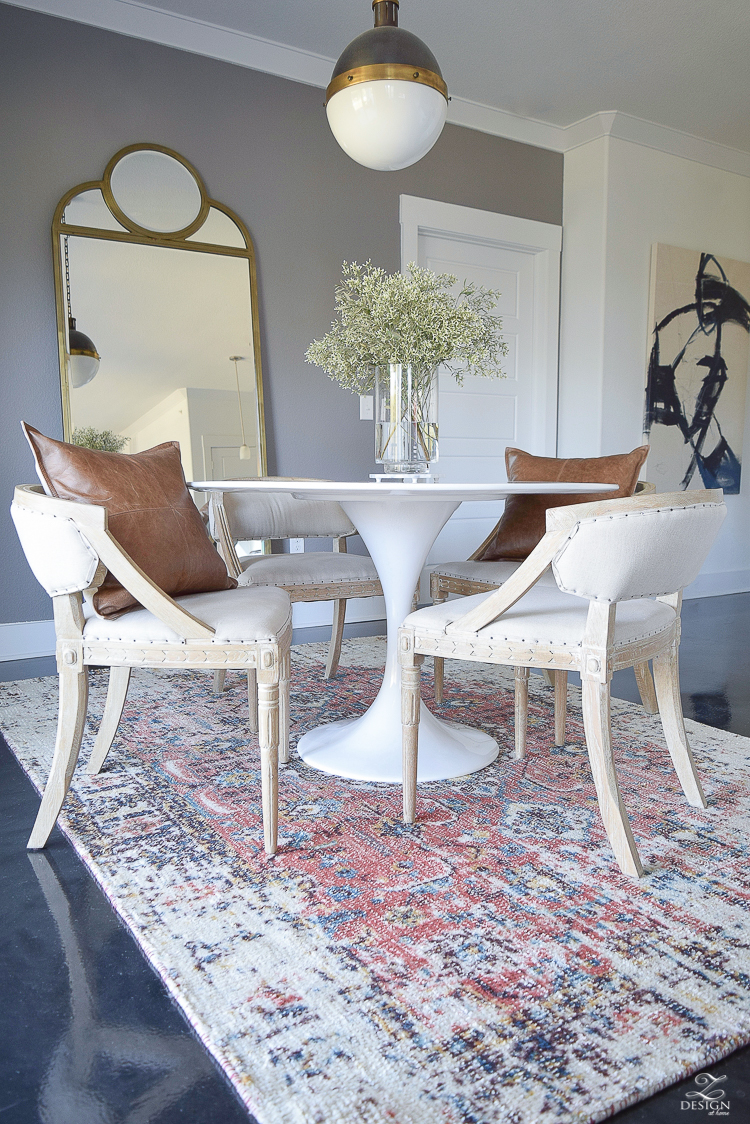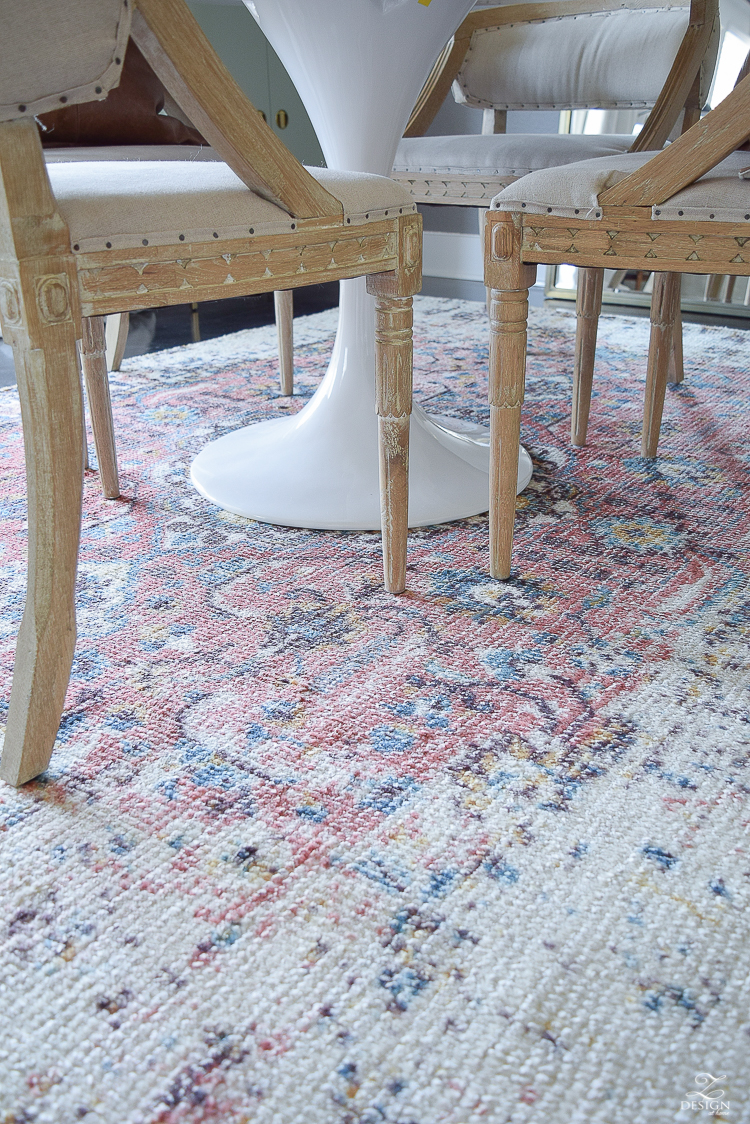 Last but not least is the rug I ordered for layering in the bedroom.  The stained concrete floors we currently have will be cold this winter and the rug I purchased when we moved in is so thin (super nice but thin) so I really wanted something to layer over it for the winter and fell in love with this blush & gray distressed rug.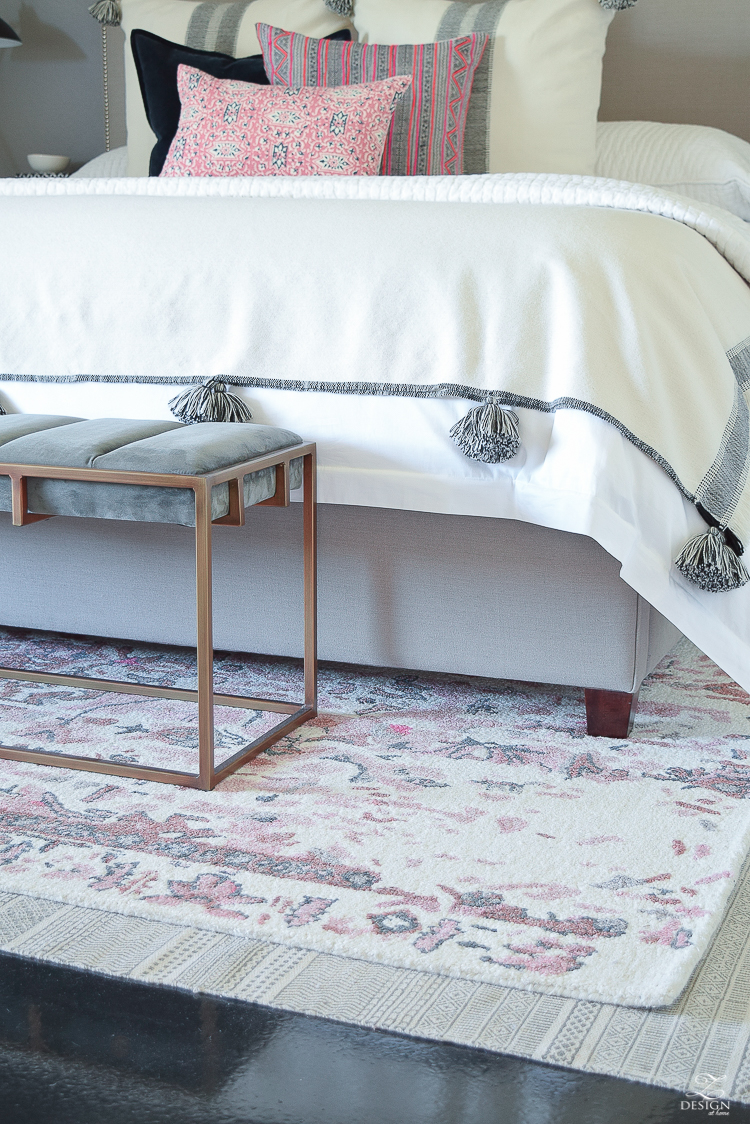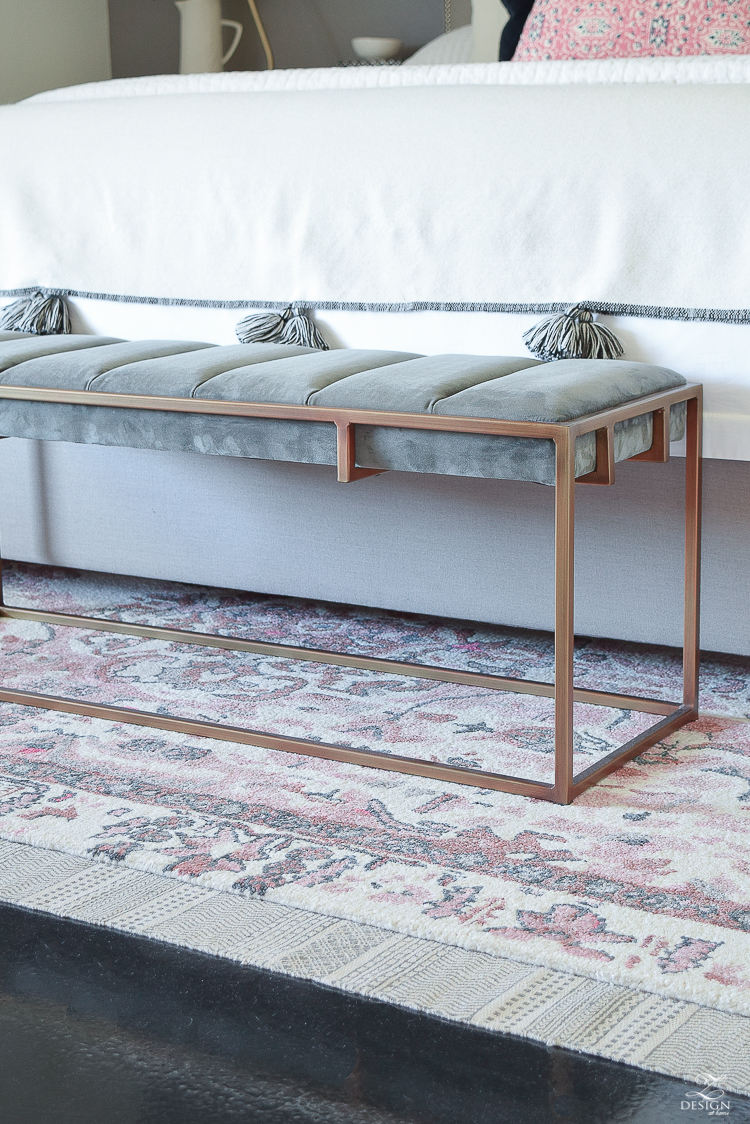 I really love the way the two complement one another with one having geometric lines and the other being more of a floral, but still having similar lines.  The colors work together perfectly too.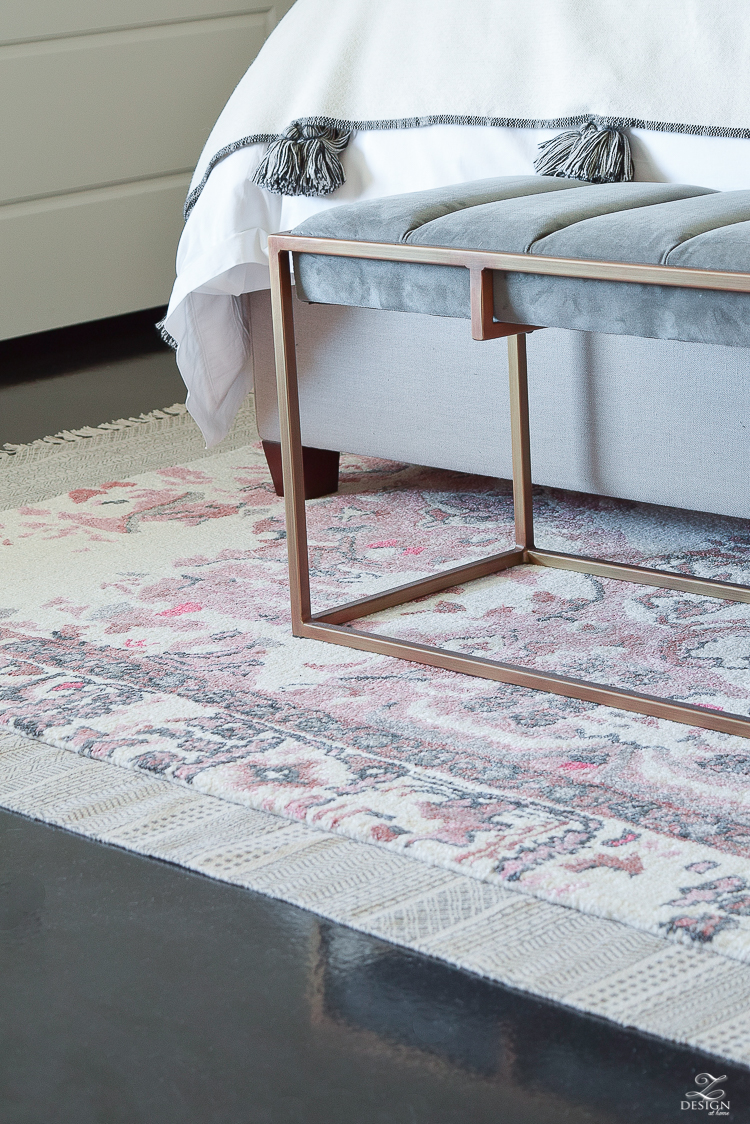 The only issue I'm having is that this is a 5×8 and after seeing them layered I feel like I need a 6×9 to cover a little more of my rug underneath.  It's ok but not completely ideal in my book.  This rug unfortunately didn't come in a 6×9 and if I were to get an 8×10 it would completely cover my existing rug, which would defeat the purpose of course so I'm still contemplating what I'm going to do.  I also pulled this one up as soon as I snapped these photos just in case I decide not to keep it but man, I'm so torn!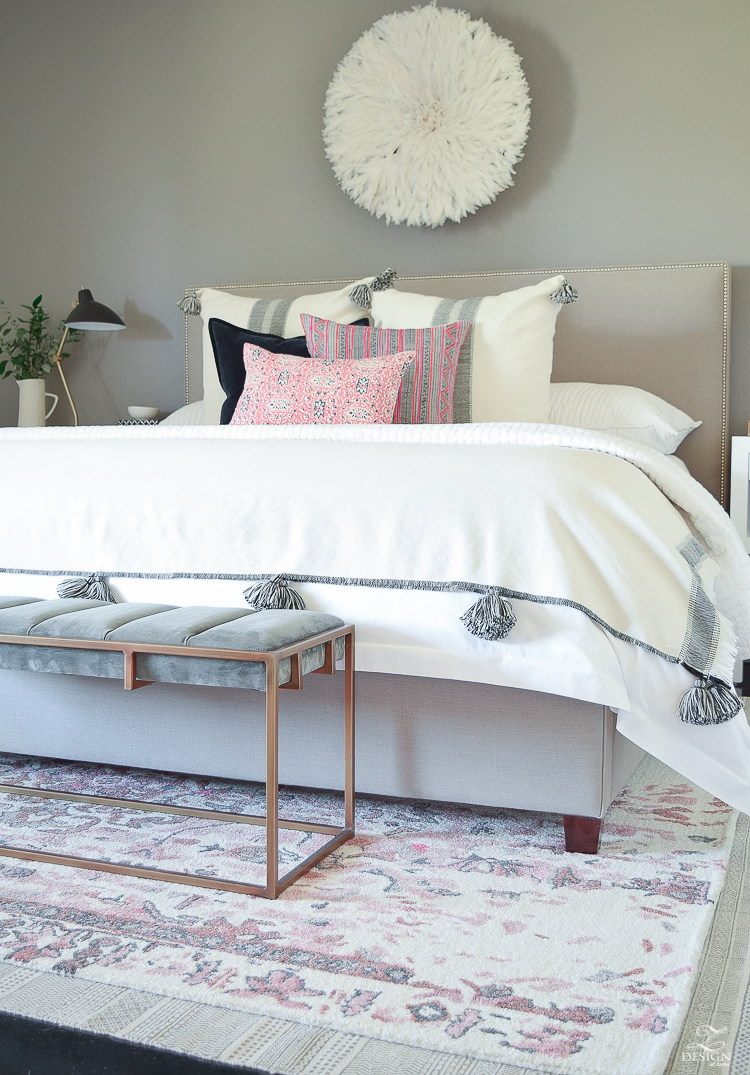 It's so soft under foot and the blushes and pinks add so much vibrancy to the space!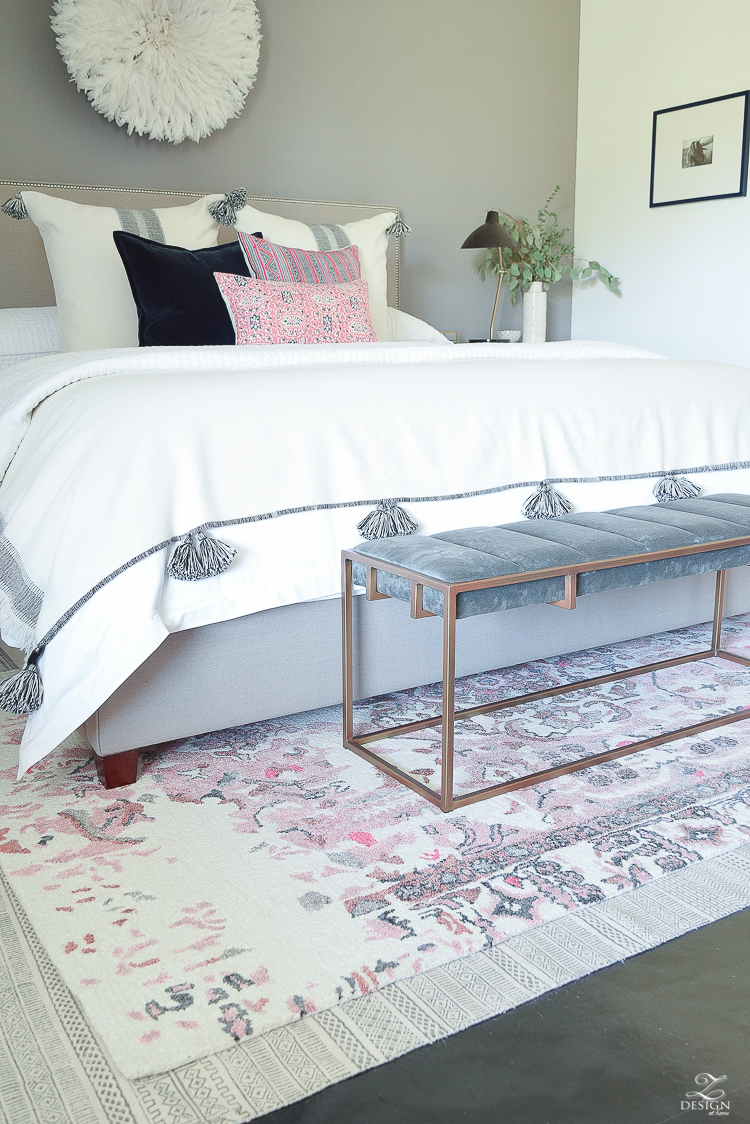 As you can see, it just doesn't quite come out far enough on either side of the bed and a 6×9 would have been a more appropriate size I think.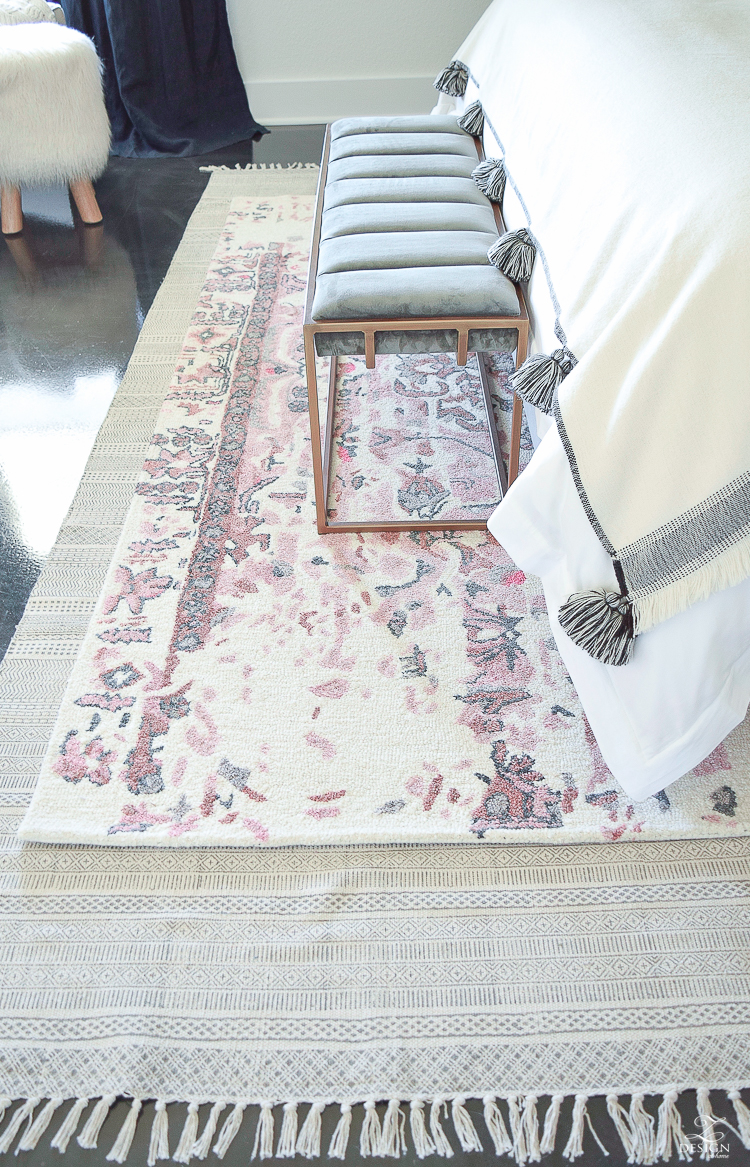 It also doesn't go up far enough so that when we step out of bed in the morning our feet will land on it, but it's so beautiful and I love it (and I plan to put it in my study when we move into the house).  So what do you think?  I would love to hear your thoughts!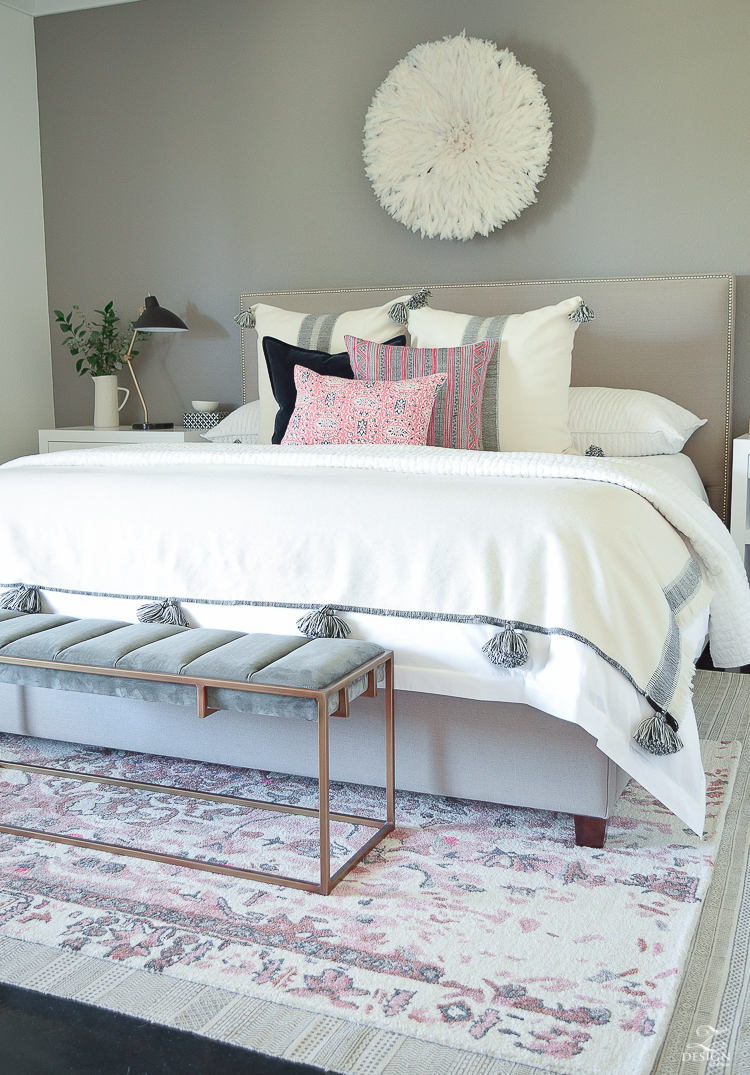 I may keep it or I may just opt to send it back and drape a colorful throw over the bench!  Oh, I almost forgot to talk about the bench.  We needed something small here to sit down and put shoes on, store bed pillows at night, etc. and this one was perfect in our small rental bedroom (now only available in leather HERE).  It would also be perfect for a small entry and you could even store baskets, etc. underneath for shoes and more.  I also had that last thought in mind when I purchased it but it was just a tad too deep for our small entry so at the foot of the bed it went and I love it here but just need a pop of color here now so that was another reason for the whole rug shenanigan.  Lol, it's a vicious cycle but I'll get it figured out soon…we all make decorating mistakes but figuring out these design dilemmas is half the fun to me!
Now here are those 5 simple tips for layering your rugs...
Choose a neutral for your base rug
This will allow your rug layered on top to pop and stand out with color and/or pattern.

Allow a minimum of 6″ to 8″ of space on all sides
This will allow you to fully appreciate the contrast between the rugs you've chosen to layer with and will create contrast between the two.

Use rugs that have a common design element and/or color
This will help to "marry" the rugs and create harmony in the space.
Layer with hide
Layering with hide can bring an extra special warmth to your space, not to mention add texture and character by incorporating these interesting shaped rugs
Layer Rugs over Carpet
Using this design concept can ground your space and create a lot of coziness in a space, especially in a child's room like I did here in my son's previous playroom…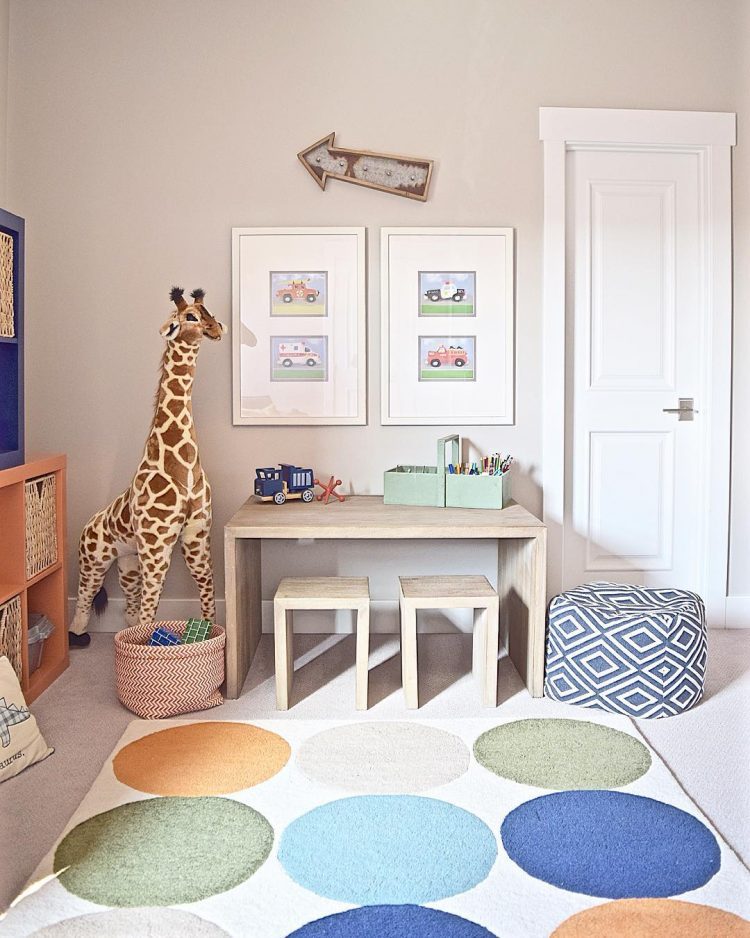 There are so many reason to layer your rugs (some mentioned above in my tips) but I think the main reason is that it creates so much interest and coziness in a space.  The warmth of layering always provides an inviting place to live in and this added design detail can give your space that custom look that shows you went the extra mile with your design.  Layering especially in the fall and winter months is important in a neutral space to warm things up and rug layering in the rooms we create for our tiny family members is important for keeping those toes nice and toasty, all of the time!
Thanks for stopping in today!  I hope you've enjoyed my 5 simple tips for layering your rugs and if you'd like to stay up to date with weekly updates from ZDesign At Home please click HERE to become a subscriber to the blog!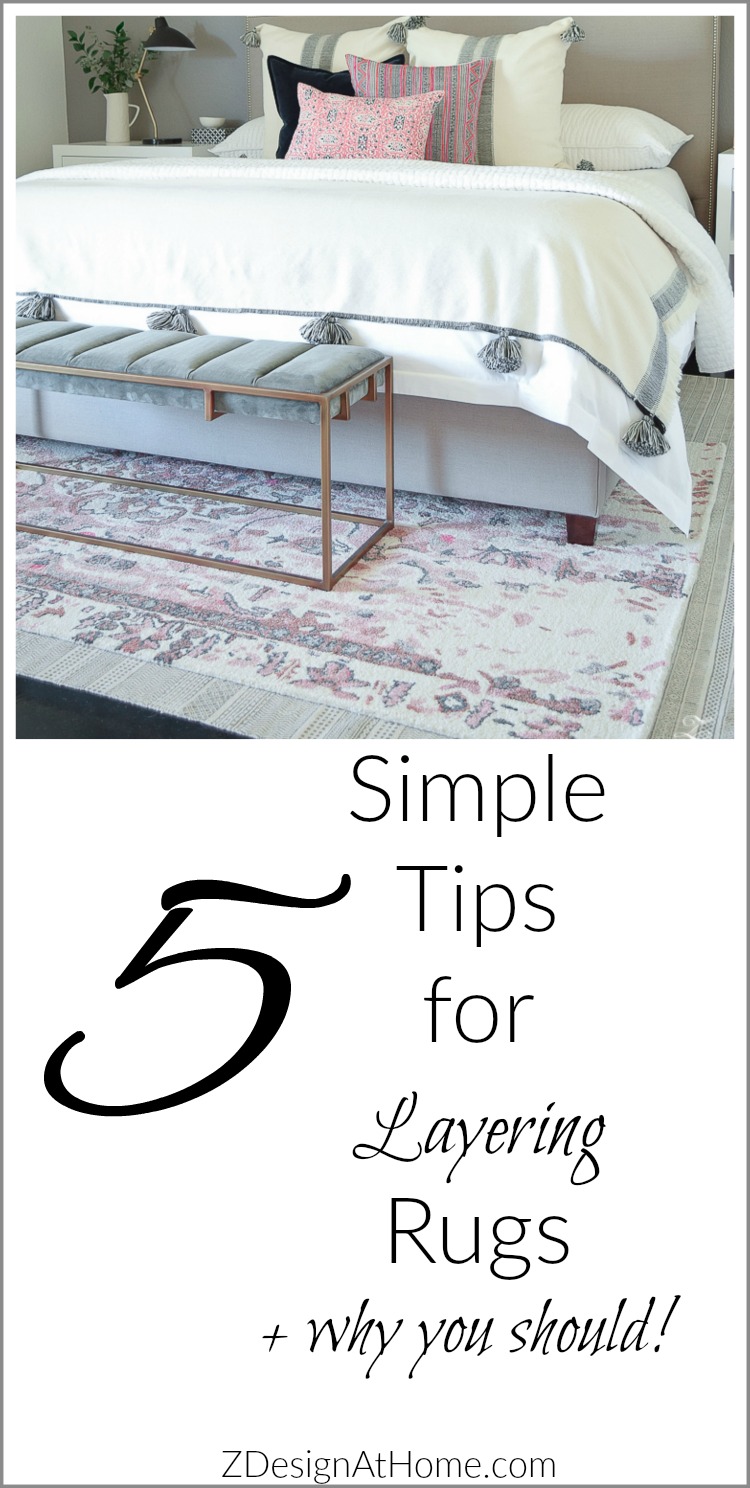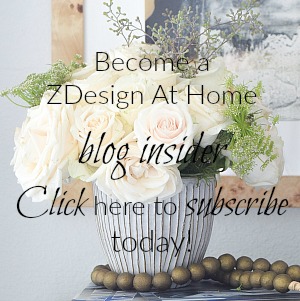 Hall Way

Dining Room

Bedroom