Summer Home Tour + Tips for Simple Summer Living
Hi friends!  Well, the time has come that I'm finally sharing a little nugget of our rental that we'll be staying in until the construction of our home is complete some time next year!  And, if you are new here and/or if you need to get caught up on all of the details of our recent move and Finally Home Project, you can do that HERE.  I hope you'll enjoy visiting our temporary abode today though plus a few simple tips for small space summer living.
If you are coming over from the super sweet and talented Laura of Duke Manor Farm, welcome (don't you just love Laura's beautiful, inspiring blog?!).  I am so excited to have you here for my summer tour (and for the 1st photos of our rental) and I can't wait to get started on the tour today.  Make sure to head on over to the person that I will send you to at the end of this post and to some or all of the other talented bloggers in this tour…30 in total which is a lot of summer inspiration from some very inspiring ladies!  And a huge thank you to Marty of a Stroll Through Life for hosting another fabulous tour, and for having me along!!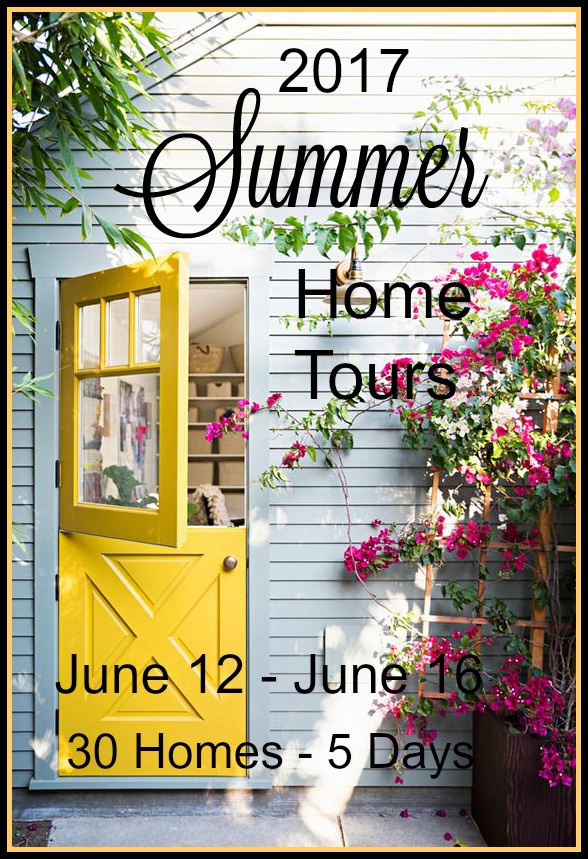 I'll try to keep this short but to say that this move has been anything but difficult would be an understatement, and this is only phase 1…ugh!  I'm certainly not complaining as I am super excited and feel beyond blessed to be building a new home this year but I'm sure you all can understand where I'm coming from so with that, I've decided to keep things simple and natural for my summer decor this year.
Most of our things are currently in storage plus I sold and donated a ton of things before we left our previous home (purging is always the best, right?!) but I did manage to add a few simple pieces to my outdoor collection…ones that I happen to be completely smitten with.  I'd like to share this space with you first since this is where we have been spending a lot of time since we got here.  Houston is hot but early in the morning or late in the evening we can still manage to sit out here, especially if there is a breeze.  This is the first glimpse you are greeted by when you walk into the outdoor space.
*Affiliate links used in this post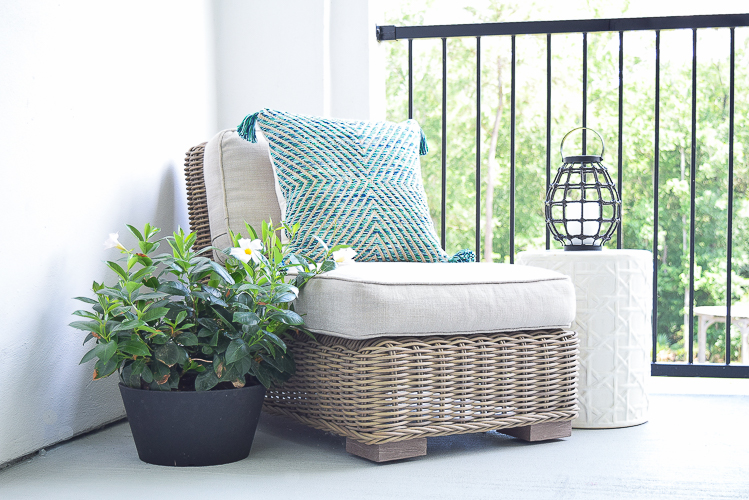 We disassembled our outdoor sectional and used the different pieces as needed on this smaller patio.  This pillow is a new addition along with the fun outdoor lantern and, this is the only plant we managed to salvage from our old address and I was super happy to see that it gave me 3 blooms over the weekend.  Love the tassels on this pillow by the way, and the texture that it brings to this spot!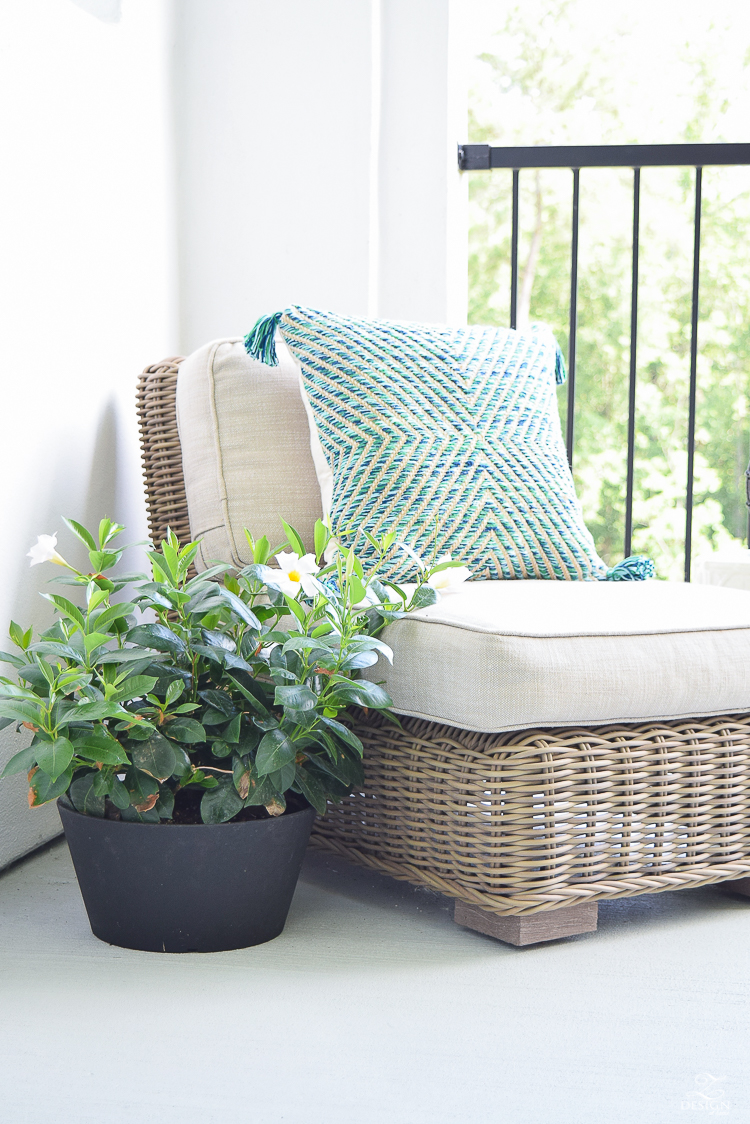 The reason I chose this particular apartment is for the rear view and because of some of the architectural features.  I love the white stucco and the generously sized outdoor space (for an apartment that is) that we can spend time in as a family while taking in the views since it backs up to a pond (that my husband and son enjoy fishing out of) and to the forest.  It has trails that we can bike ride on and take our dog for walks.
The oleander in the corner adds a pop of color and height which lifts your eye up to the gorgeous architectural features of the structure and the outdoor lanterns add ambient lighting in the evening hours for lounging and talking.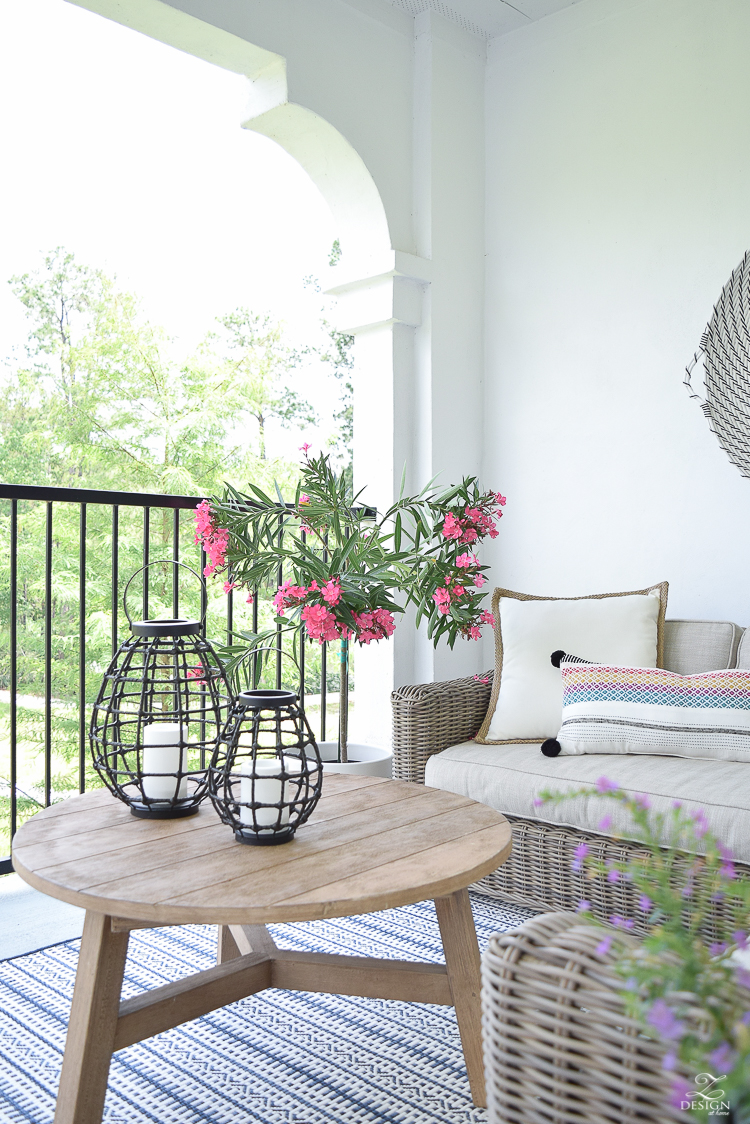 I shared this rug in my Insta Stories last week but I absolutely can't get enough of this outdoor rug!  It's super soft, the color and pattern are great and on trend, and I was able to scoop it up on a great sale.  You can find it HERE and it comes in 2 colors (blue & tan) and 3 sizes. Highly recommend it!!  Even my husband commented on how much he liked it:).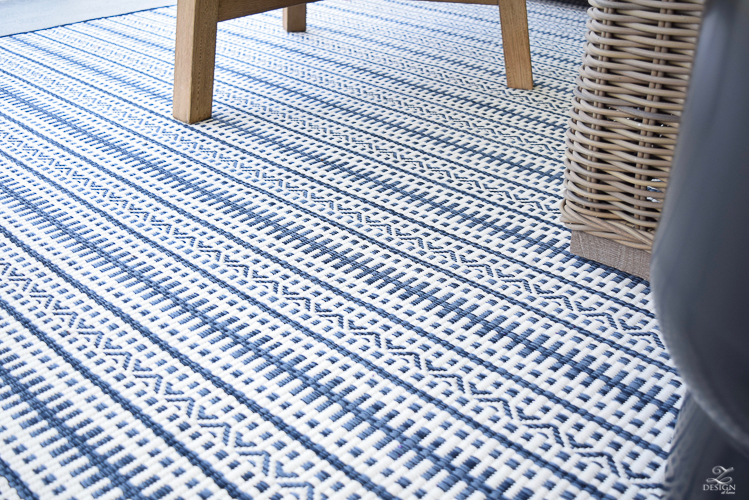 I stuck with my same pillows (here, here & here) that I've been using since spring (you can see my spring home tour HERE) and they work perfectly in the space.  The patterned ones are not actually outdoor pillows but were so affordable that if they fade over the summer it won't be a big deal, but so far so good.  The solid one is an outdoor pillow and is a great staple pillow I've been using for years.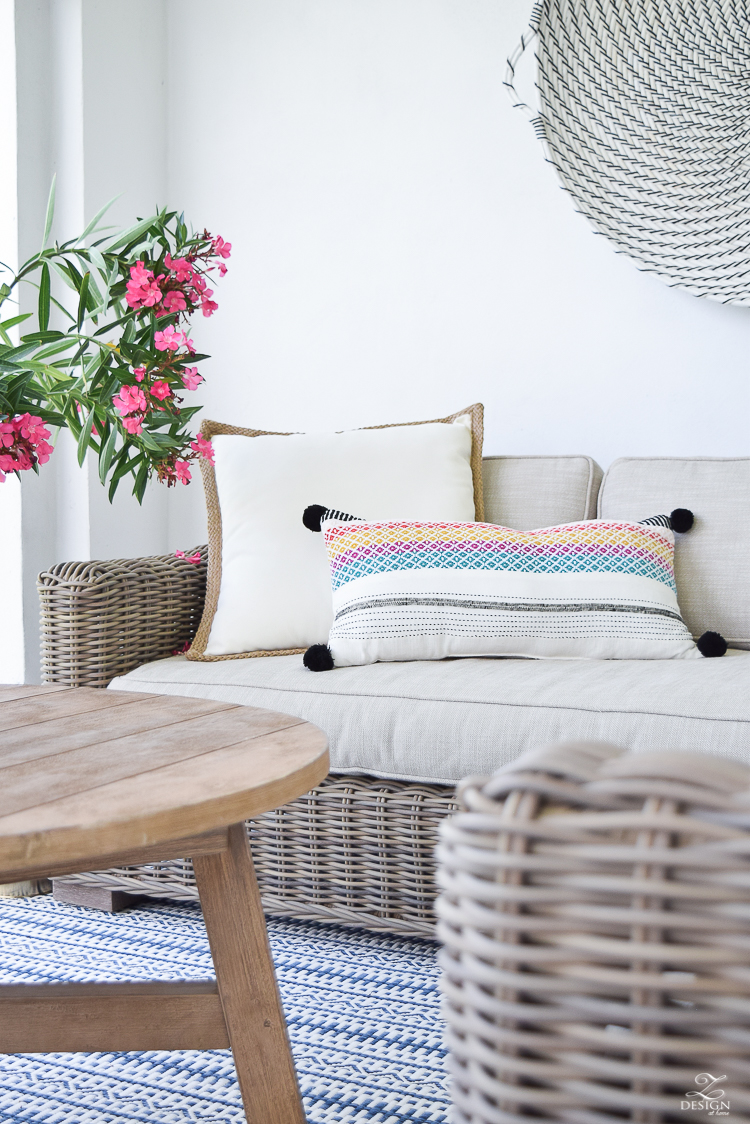 You may have noticed a little something hanging on the wall.  This was one of those things that the moment I saw it I knew exactly what I would do with it, not only in this space but more importantly in our new home.  This hanging basket is such a great piece for indoor or out and I love the way it pops off the wall adding a some much needed texture to this area!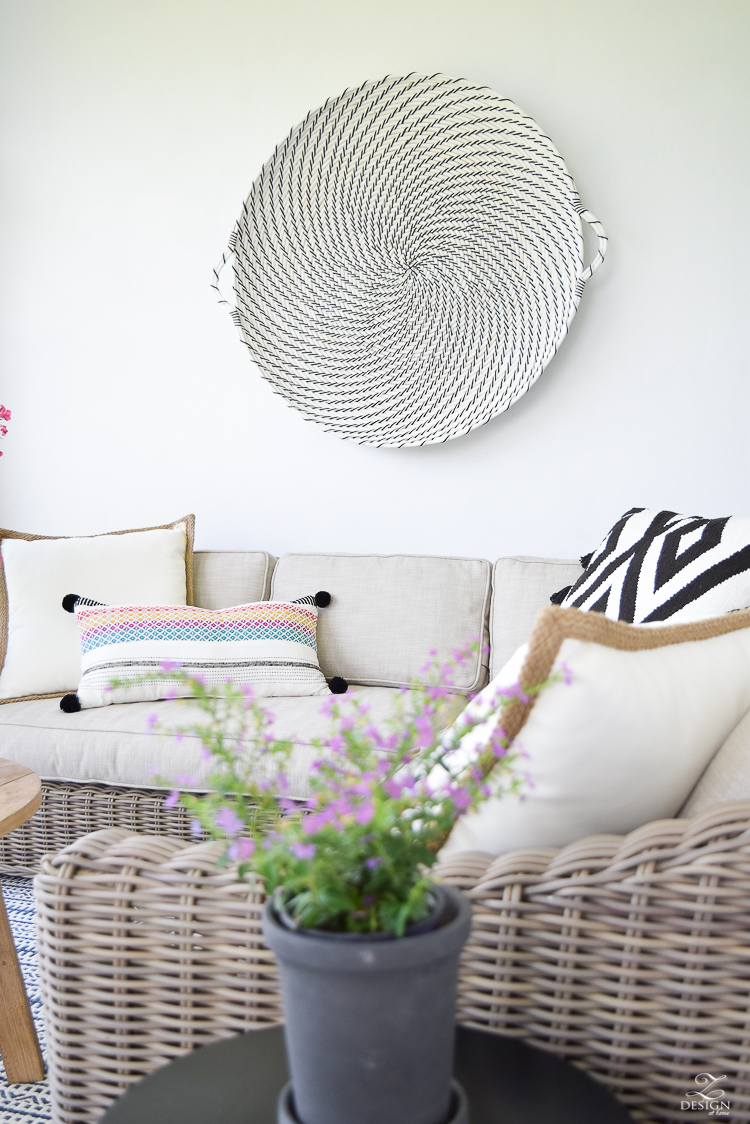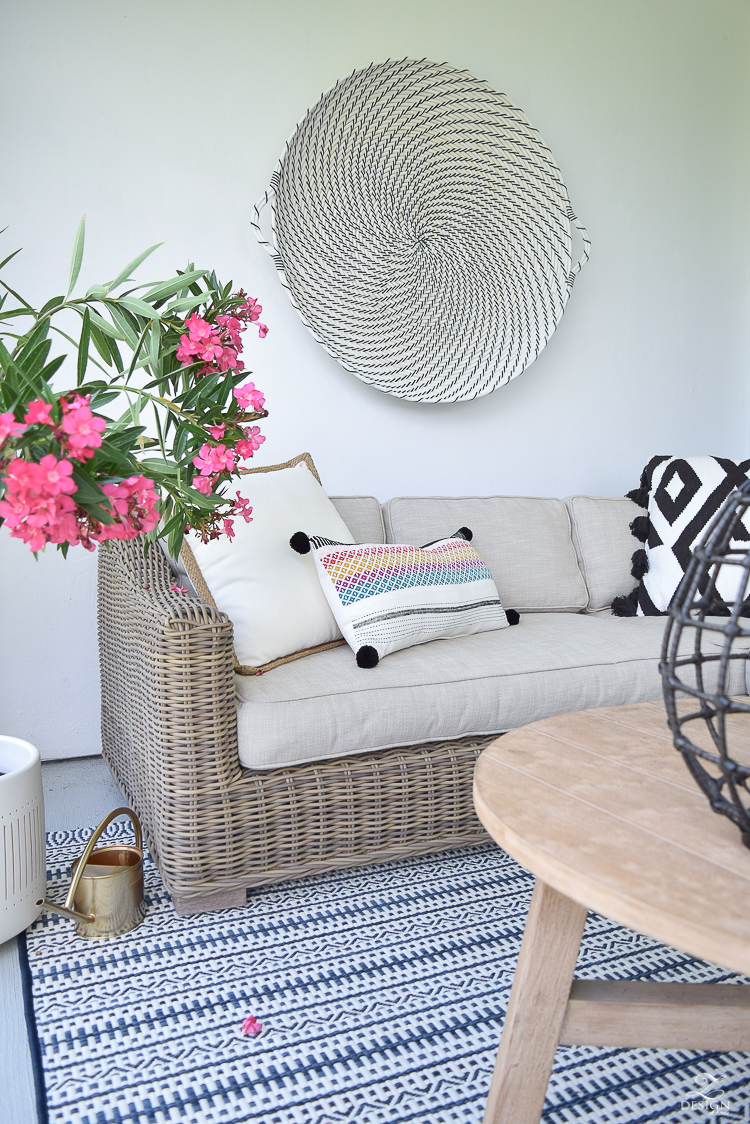 I also repurposed my mid mod planter.  I removed the stand (you'll see it inside though) and it works perfectly out here on the patio.  Also love this small gold watering can…such a perfect little piece for small space summer decorating (and for watering the plants of course)!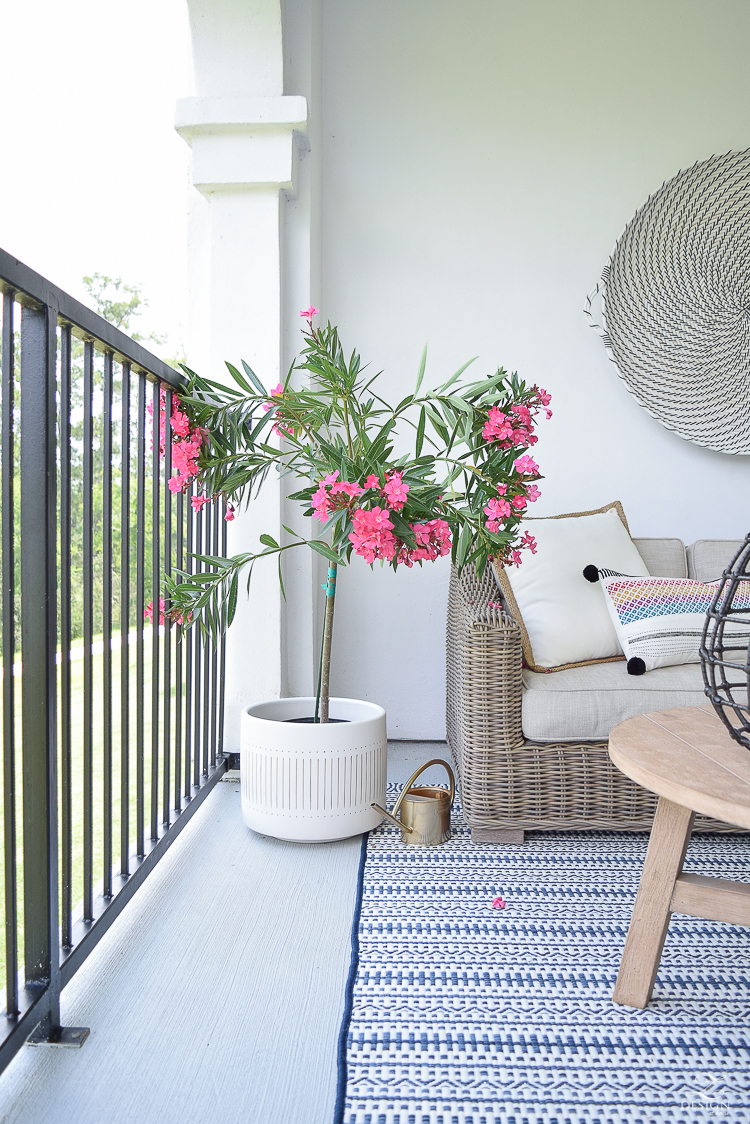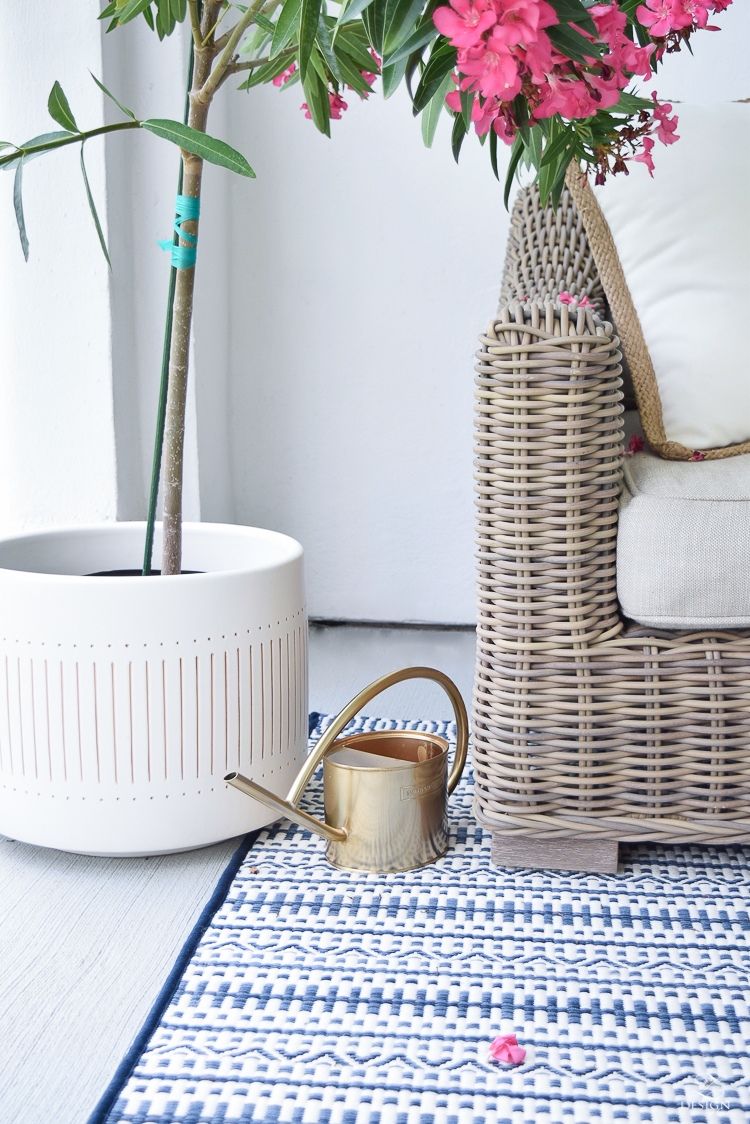 Adding pops of color and texture are a must in outdoor decorating so don't be afraid to do that.  It can liven up an otherwise cold space since you will usually be surrounded by hard surfaces (i.e. brick, stucco or the like).  Also, using pieces that you would normally use inside for outside (in an outdoor proof version depending on what it is) helps to bring the coziness of the inside out, like this outdoor poof…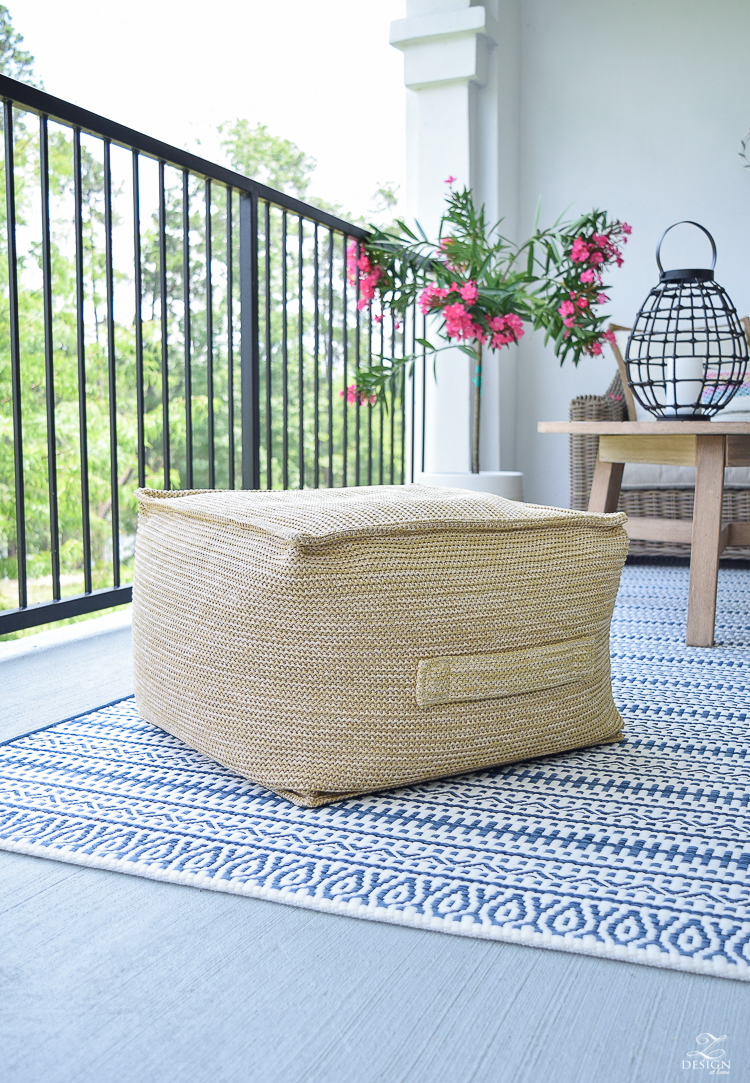 Black is all the rage in trendy and timeless color palettes these days so adding this black outdoor drum side table for drinks (or for a cute pop of color with a plant) was the completion of this space.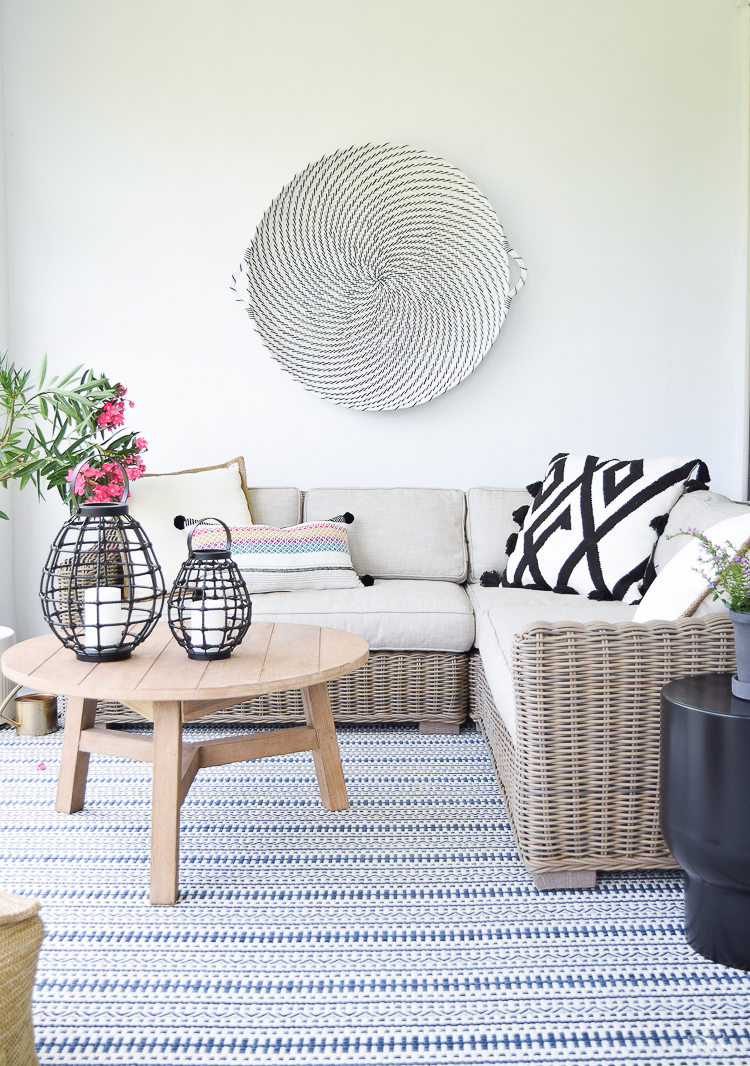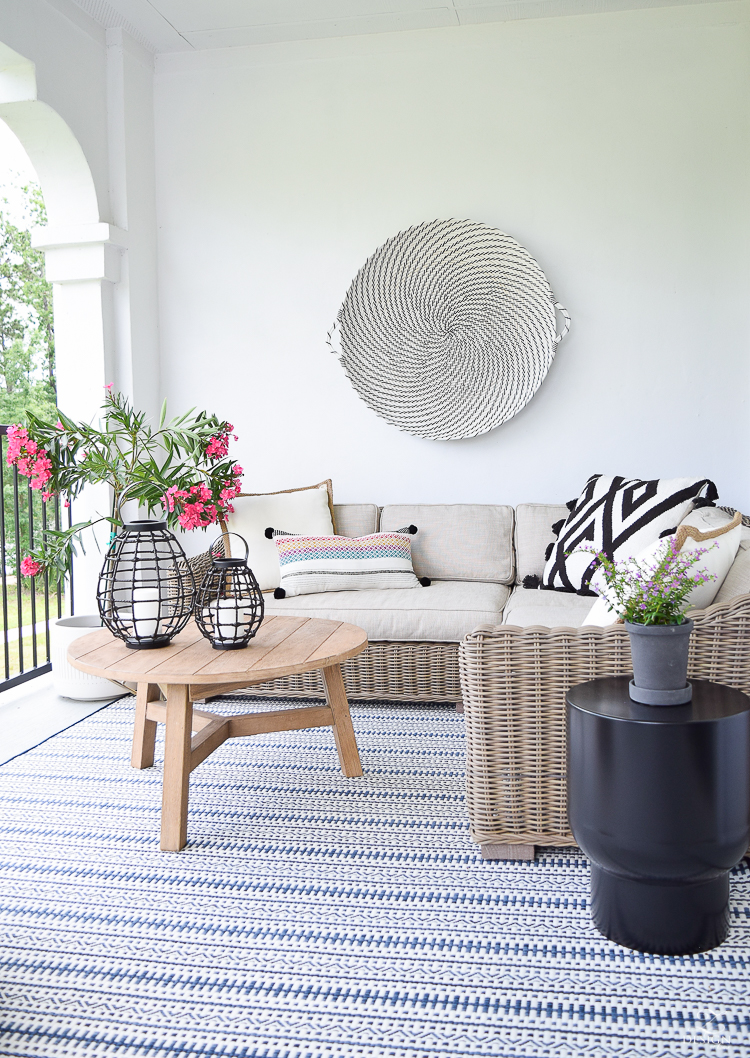 Next I'd like to take you inside…eeek!  I have to admit I have waffled back and forth about whether or not I was even going to share this part of the journey but it is part of our home building journey so I have decided to share.  Living in a smaller (much smaller) space has been quite the challenge but we are enjoying the simple living that it brings.  And of course pink peonies always help…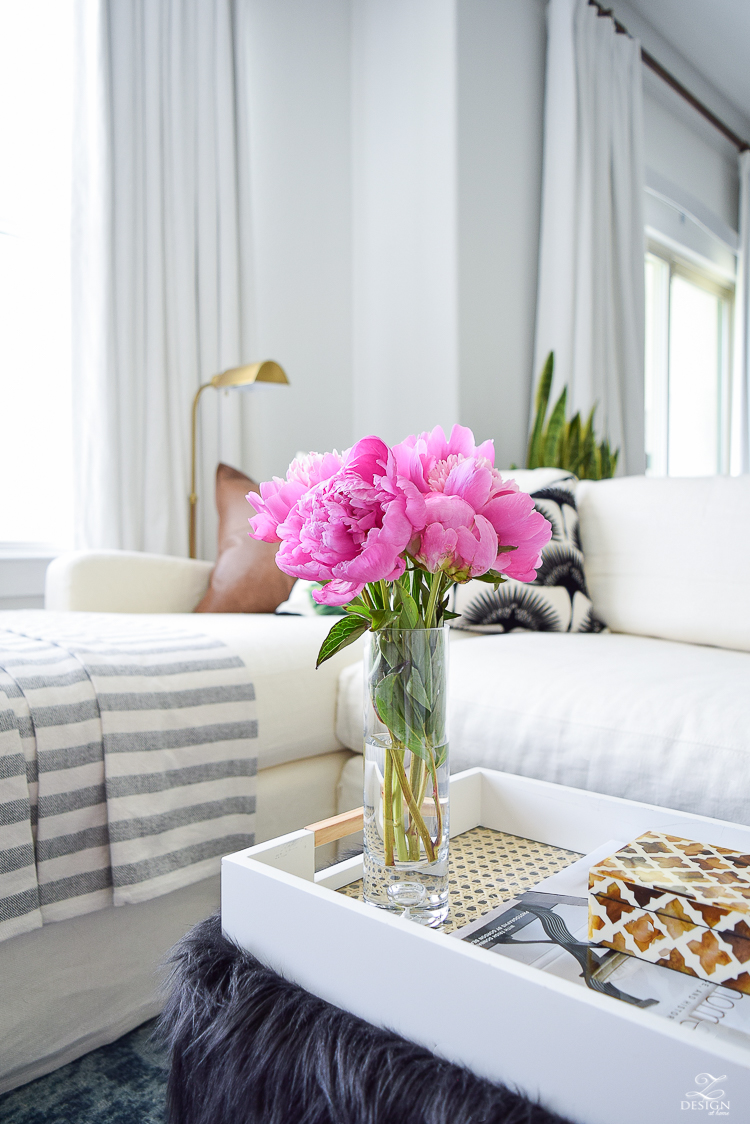 All kidding aside…one of my biggest tips for small space summer living (that I realized immediately upon moving into a much smaller abode) is that bringing live plants in is so important.  And I don't just mean branches from outside, I mean real live plants that will be part of your home and lifestyle.  After decorating several of the rooms in the house things still didn't feel quite like home until we brought in a few nice plant specimens to give these small spaces some character.
We started with this beautiful snake plant (aka Mother-in-law's tongue).  It pops off the wall with color and texture and warms up this otherwise empty corner.  I used a basket I already had to put it in and the stand from my mid mod pot that you saw outside.  It's perfect here!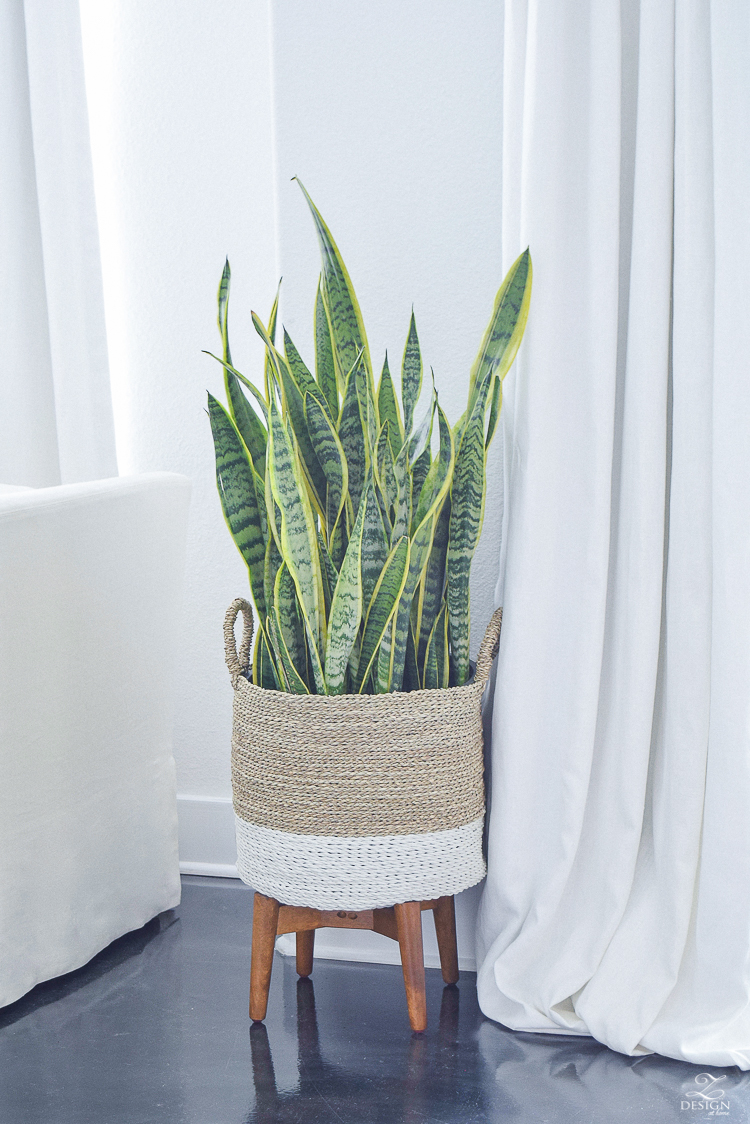 The floors in this apartment are black concrete (yes, black but they are really pretty in person…just really hard to keep clean…Ugh!) so plants were imperative to making the space feel cozy and inviting (I have a post HERE with my top 5 tips for making your home feel cozy & inviting)!  This grand fig in a large basket with gray moss at the base was perfect for the focal wall in our living room.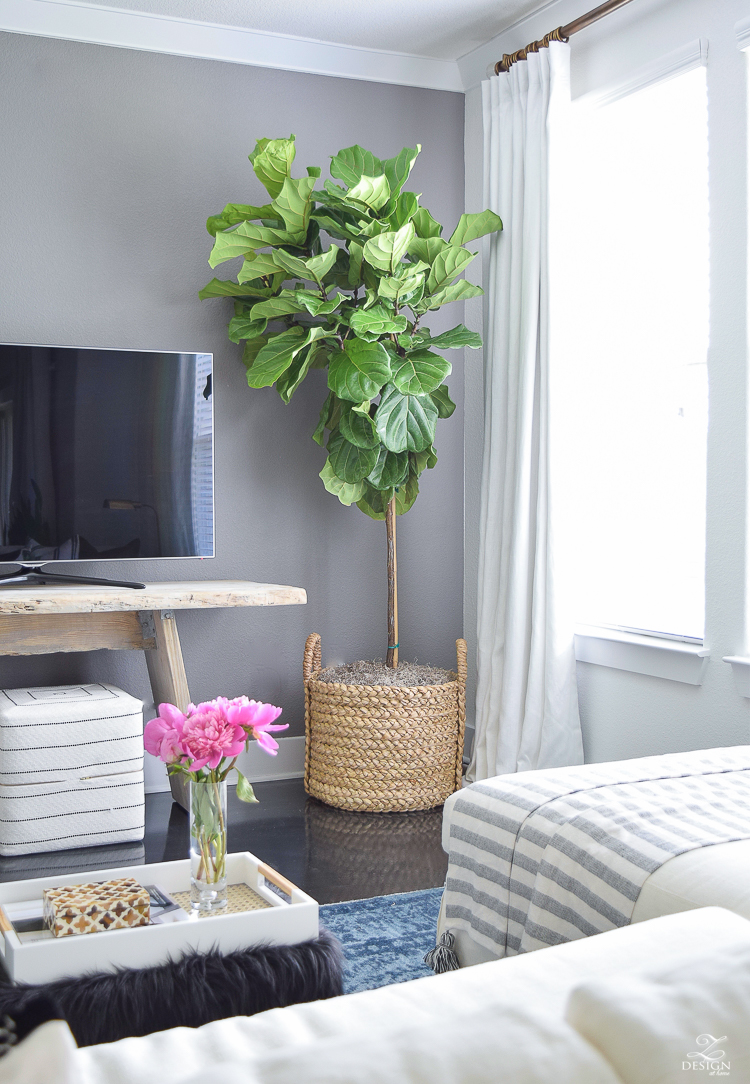 If you are in Houston and looking for a fiddle leaf fig, Tall Plants of Houston is your spot!  I thought it would be easy to find one in Houston since you can find just about anything here but I was wrong and once I found Tall Plants they became my one stop shop for all of my plant needs from here on out.  They are a family owned business and Denise (the owner), Chris and Henry were all so knowledgeable and helpful in helping me to find exactly what I was looking for, and they always have a large selection of figs on hand.
And on a side note, if you are looking for a large basket for a large plant like this, this one is the perfect size for a 17″ or smaller pot.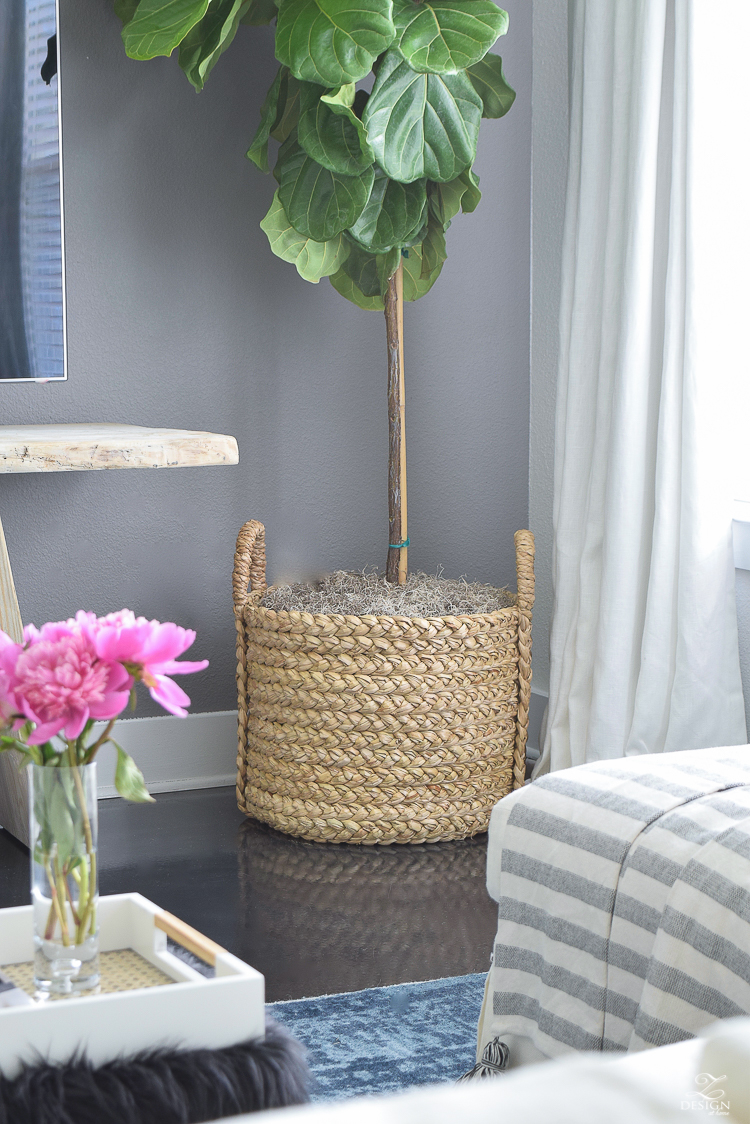 The TV wall is pretty simple for now but for a pop of color I used my gold bamboo lamp here along with a classic blue and white vase (similar) with fresh Virginia tulips that both make this space feel super summery.  But, my favorite addition here are the new cubes from Tonic Living!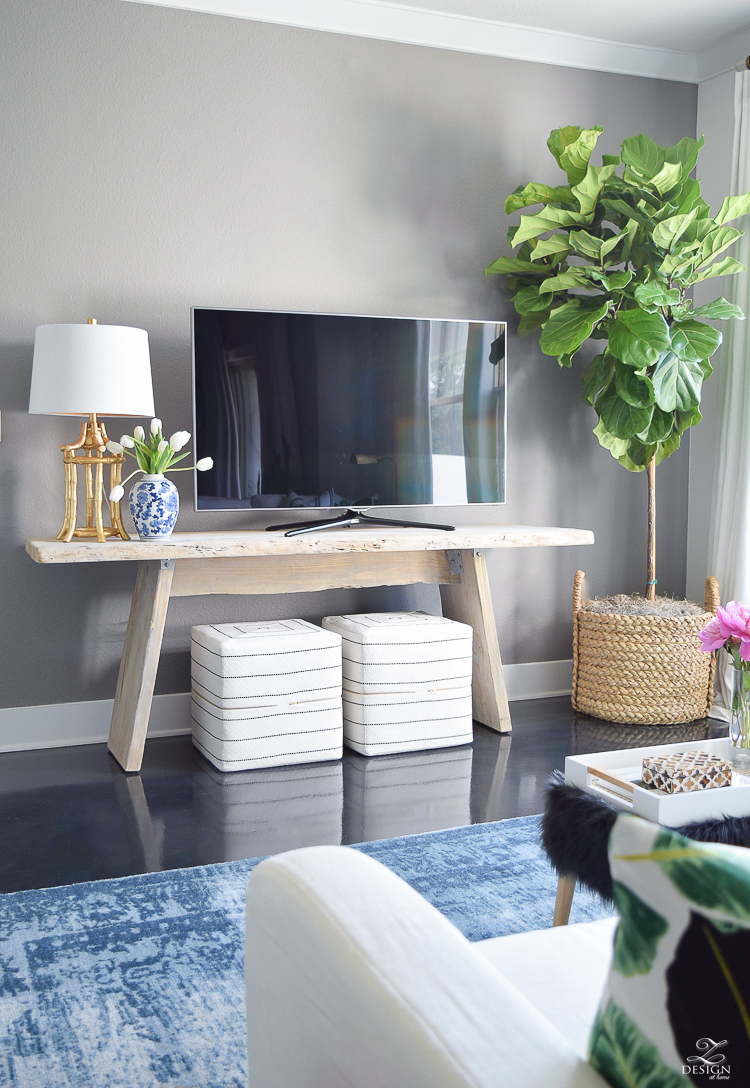 In small spaces, cubes are perfect for extra seating for company and/or can serve a dual purpose as a side table or coffee table with use of a small tray.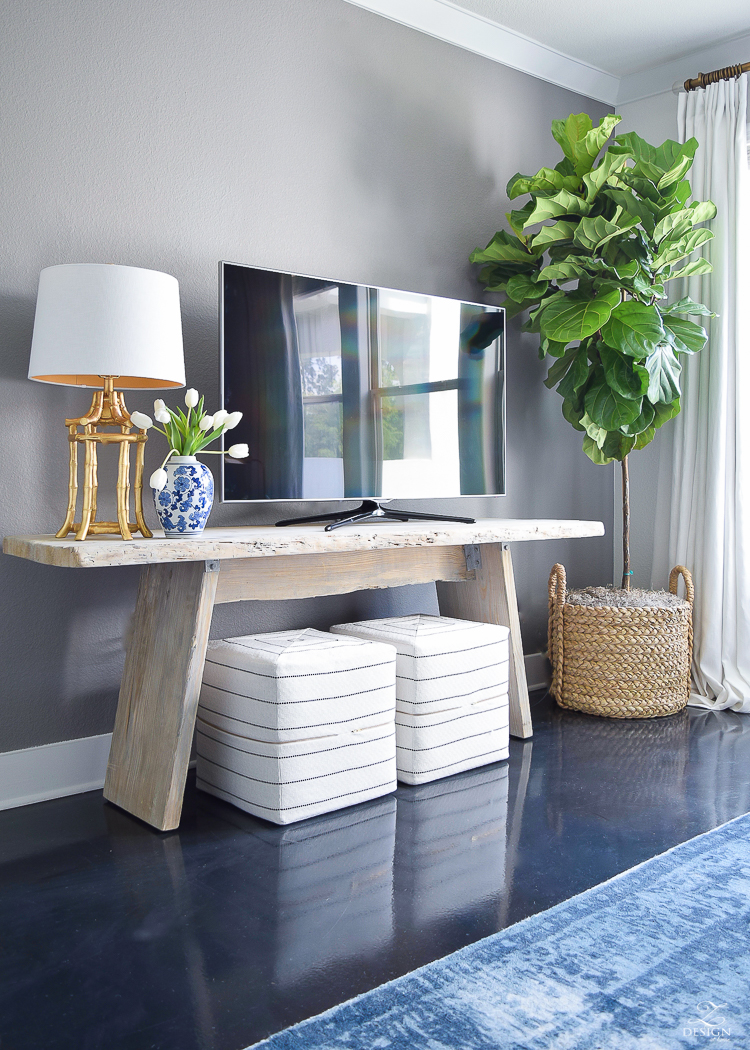 I especially love these cubes from Tonic Living for summer because this pattern in black and white is so hot right now!  In fact, it's so hot that it's on back order for another week or so but in the mean time if there is another in stock fabric you like in the ottoman cubes, Tonic Living is offering my readers 10% off cubes (only – can choose from any ready made cube version, does not apply to custom).  The coupon code you'll need is ZDESIGN10 and is valid until close of business June 17th.  HERE is another cube fabric I like but there are a few others you can choose from once you get over to their website.  Otherwise my cube fabric should be back in stock within another 7-10 days and you can shop it then:).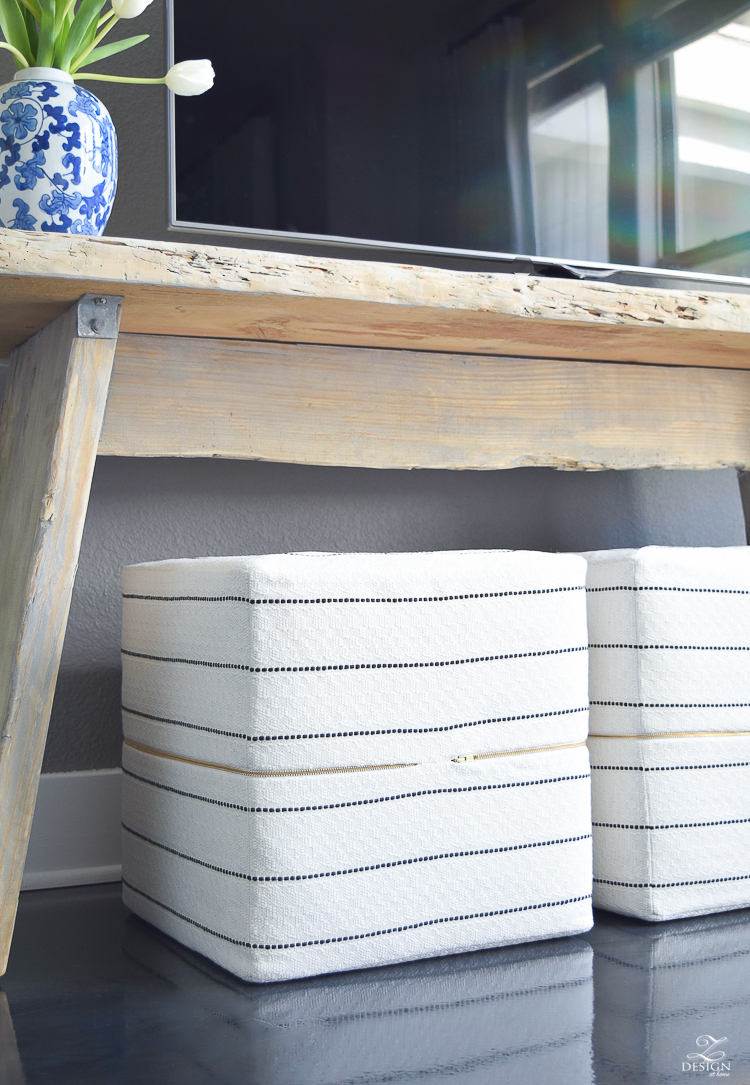 Also, get a good look at that zipper, would you!!  You may have seen my Tonic Living summer pillow preview + simple tips for mixing & matching your pillows a few weeks back (if not you can find that HERE) but the ottoman has the same gold zipper as my pillows.  I love the attention to detail Tonic Living incorporates into their products and that's why I keep going back to them for the majority of my textile needs these days.  Everything they do is so fabulous and I couldn't recommend them more (and I'm super picky about my draperies and pillows)!!
Speaking of their pillows…I'll be using them on the sofa for the remainder of summer and couldn't love them more.  You can shop my full summer line up HERE.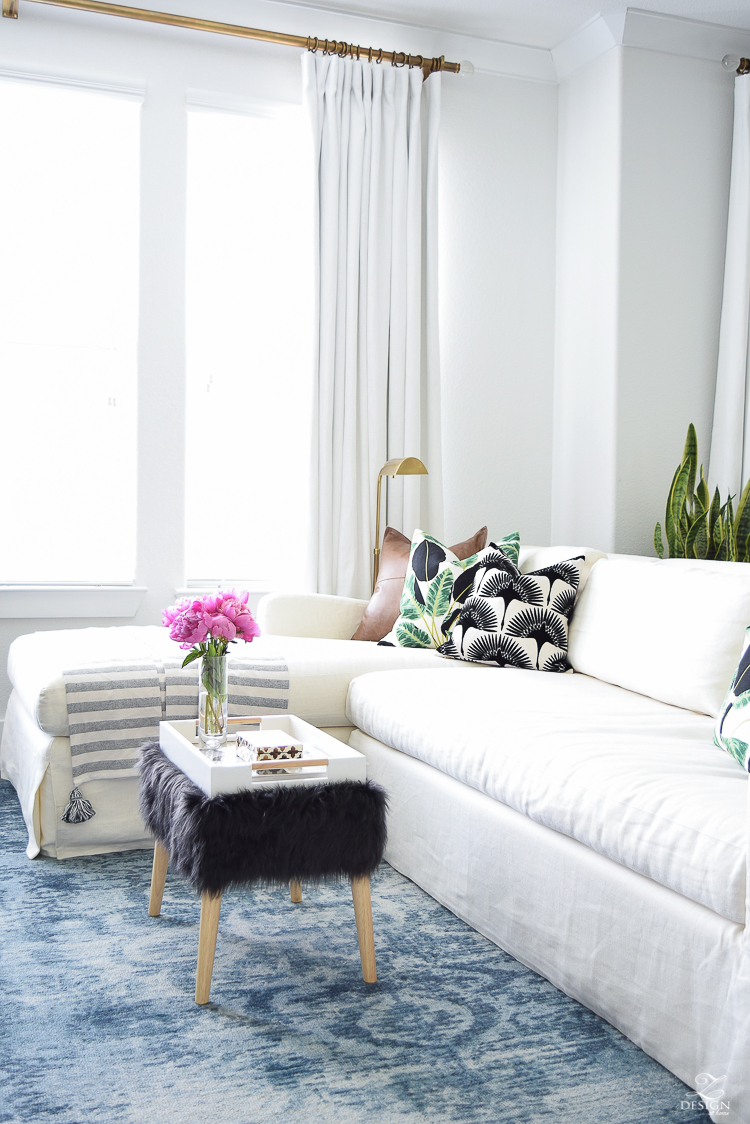 By the way, you may have noticed our massive coffee table (lol) and are wondering what happened to the one we had previously if you've been following along for a while and well, I decided it was finally time to part with that one.  Now that my son is a little older and my taste has evolved, I'll be looking for something a little more refined but in this small space for now, this small ottoman works great with a tray on it for drinks or we can remove the tray to recline and prop our feet up.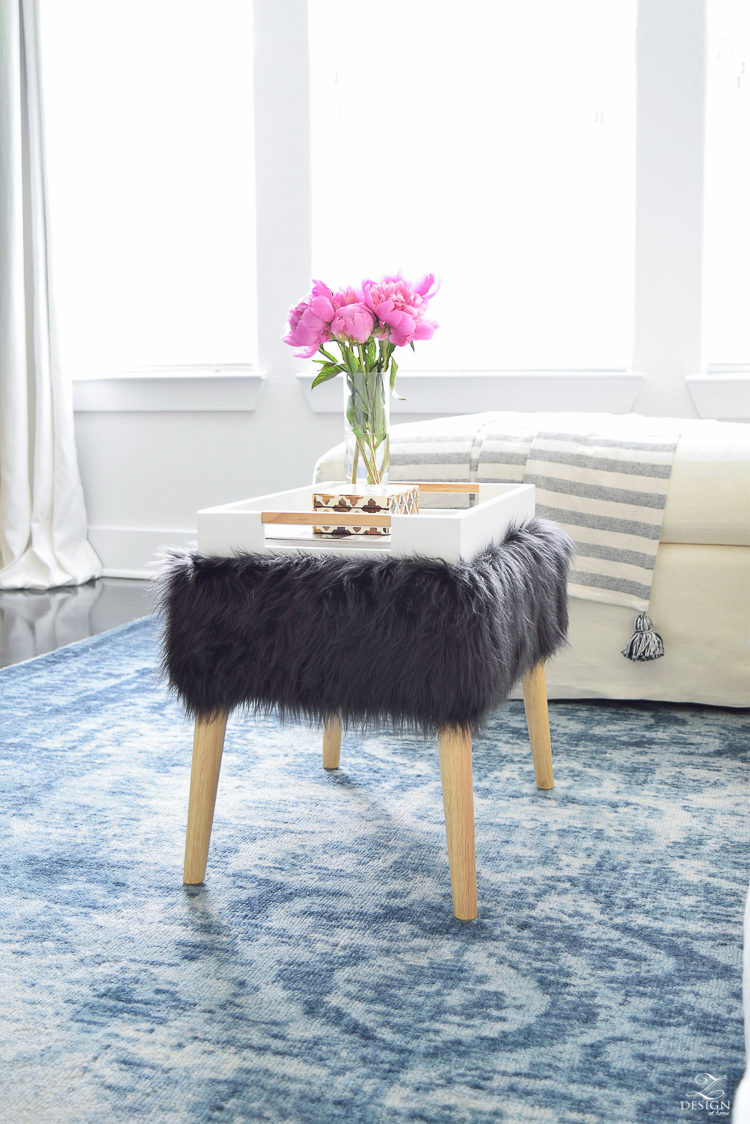 I'm also using our stump side table which is small and perfect for tight spots and, my favorite blue vintage inspired rug that was previously in our formal dining room works perfectly in here.  It brings a warmth close to what the plants bring and I LOVE having it in the space!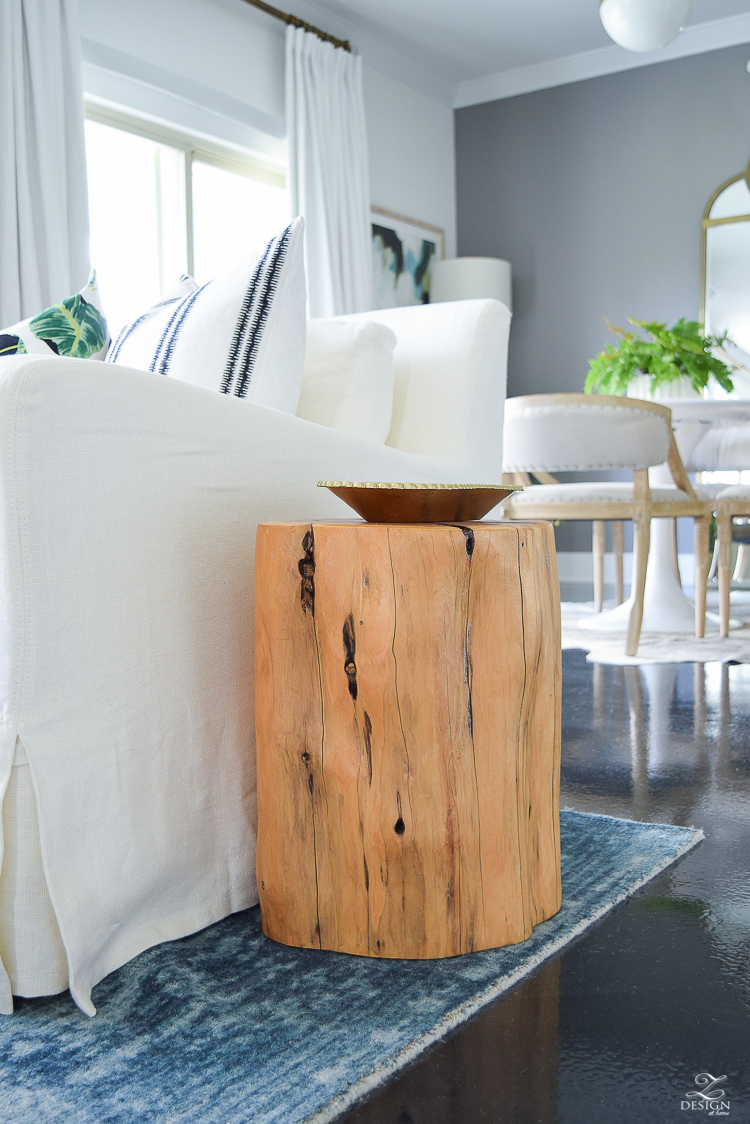 Another feature I loved about this apartment are the 3 decent sized windows in the living room.  They allow the light to flood in and allow for the outdoors to come in as well.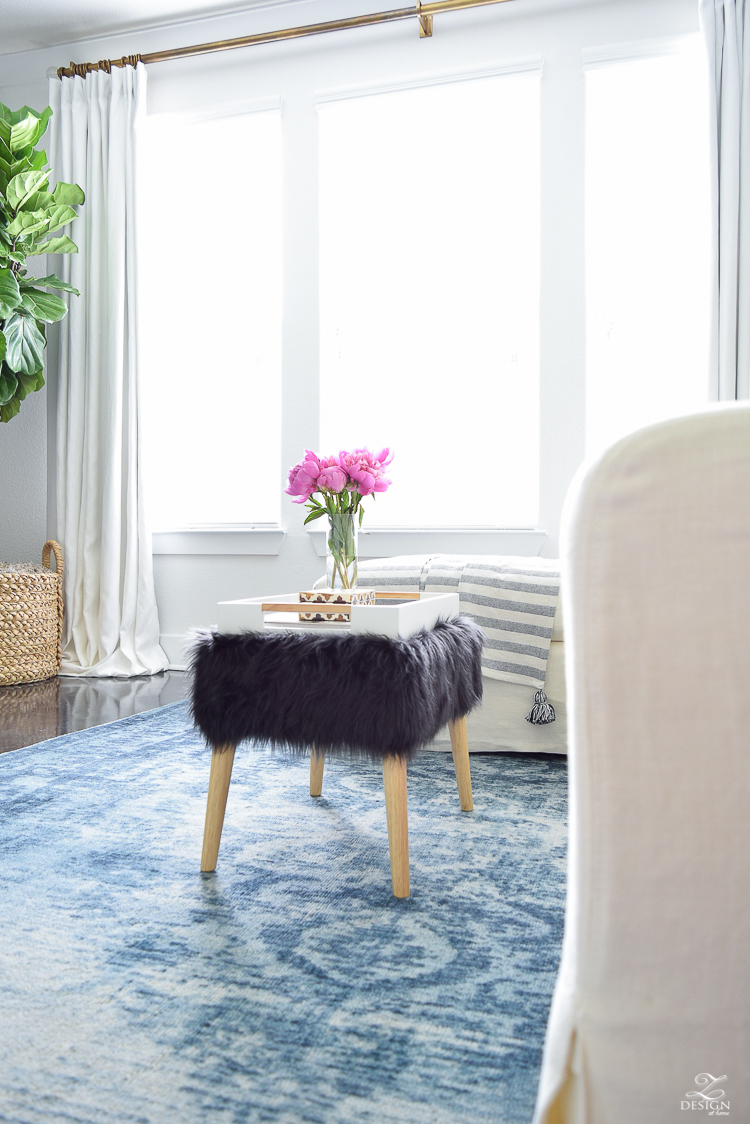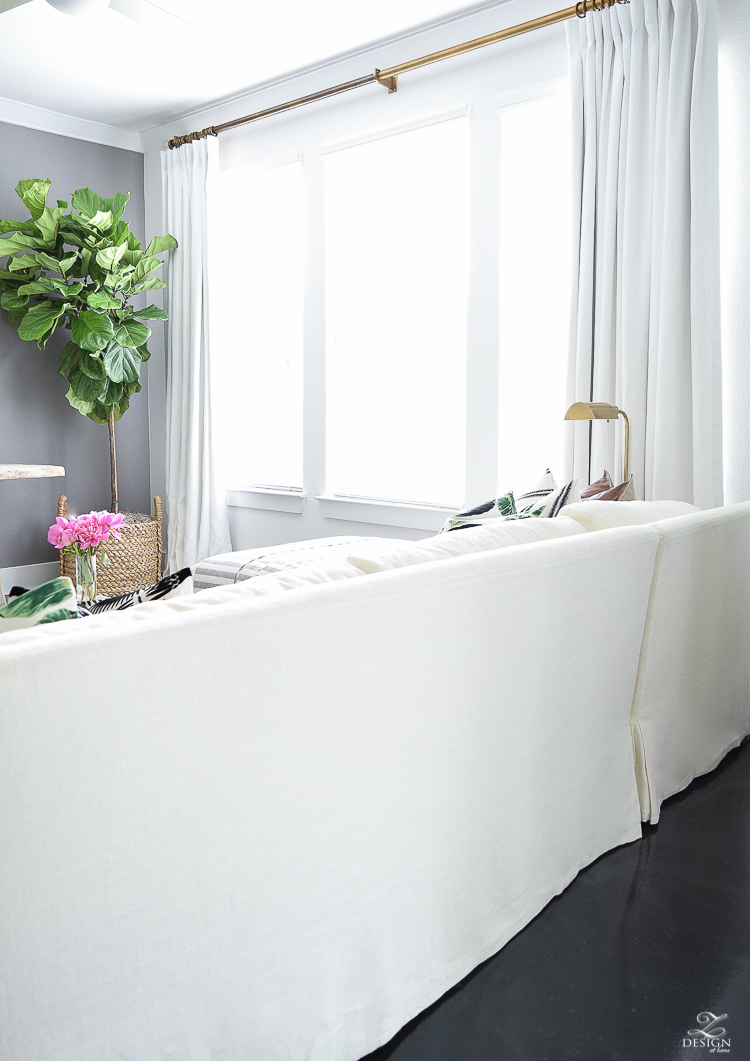 Another thing you may have noticed is that I've already hung my draperies.  These had previously been put away for a rainy day and that rainy day finally came.  They are a bit long for the ceiling height in here but I won't be having them hemmed because I'll probably need them to be the length they are if I use them in the house once it's complete.  I was worried that the white curtains against the white walls would be too stark but it's actually quite cozy and inviting.  I also used curtain rods that I brought from our previous home.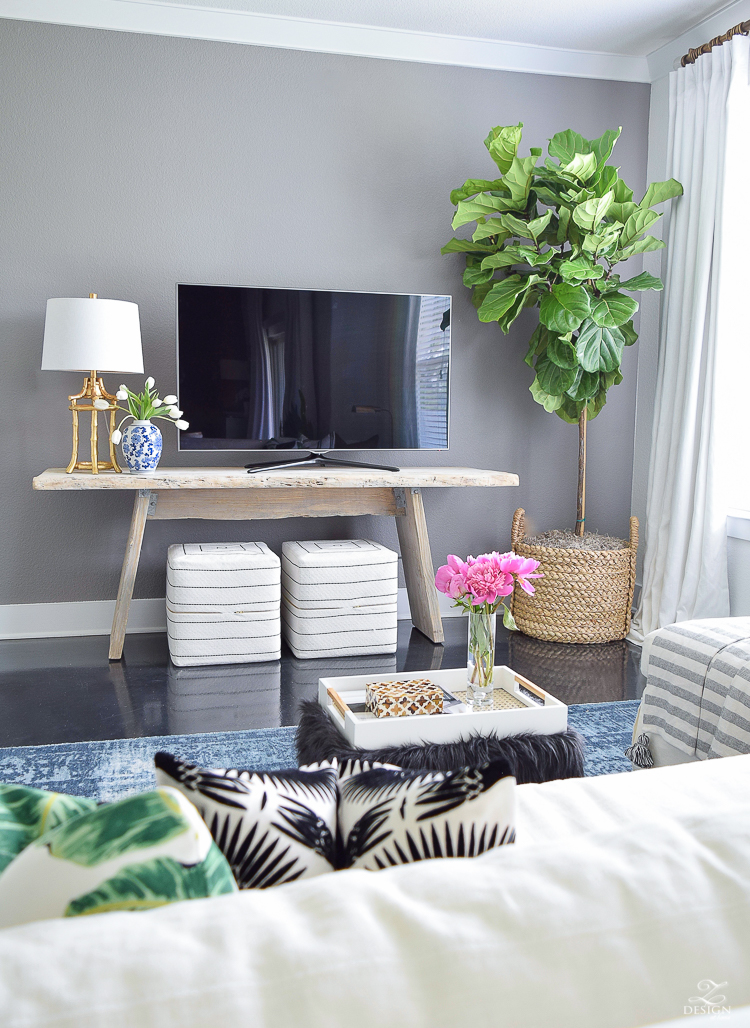 We also hung this amazing large piece of art that we already had on this long wall headed down the hall.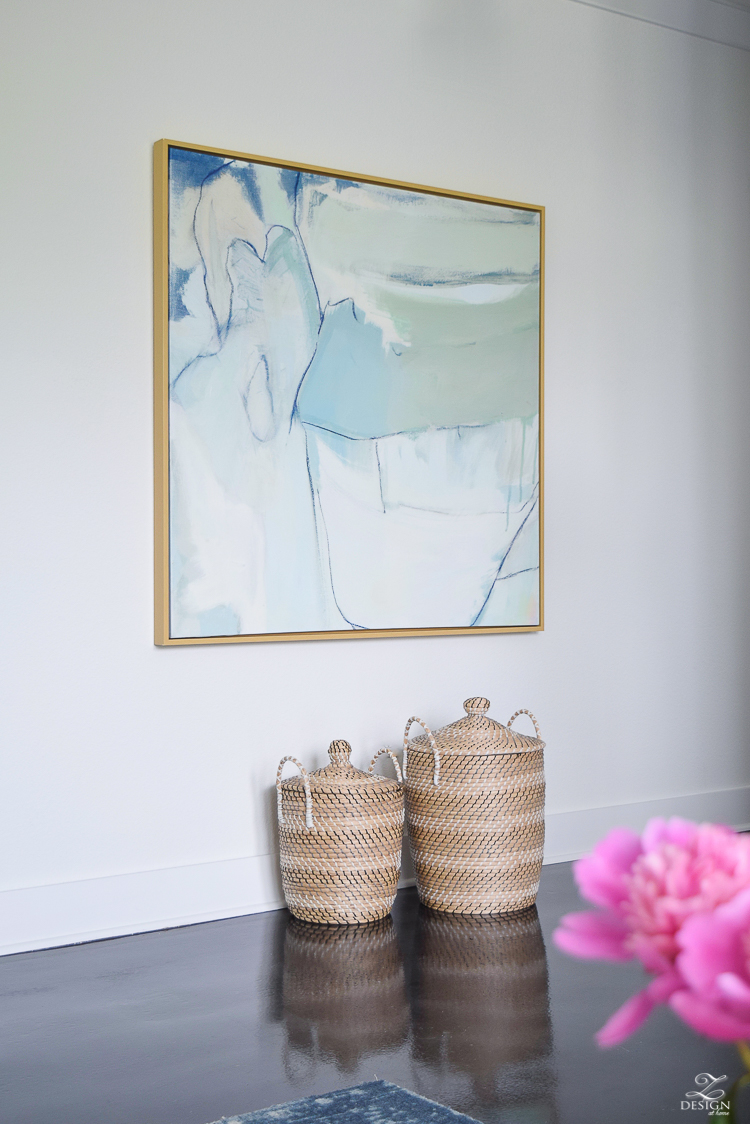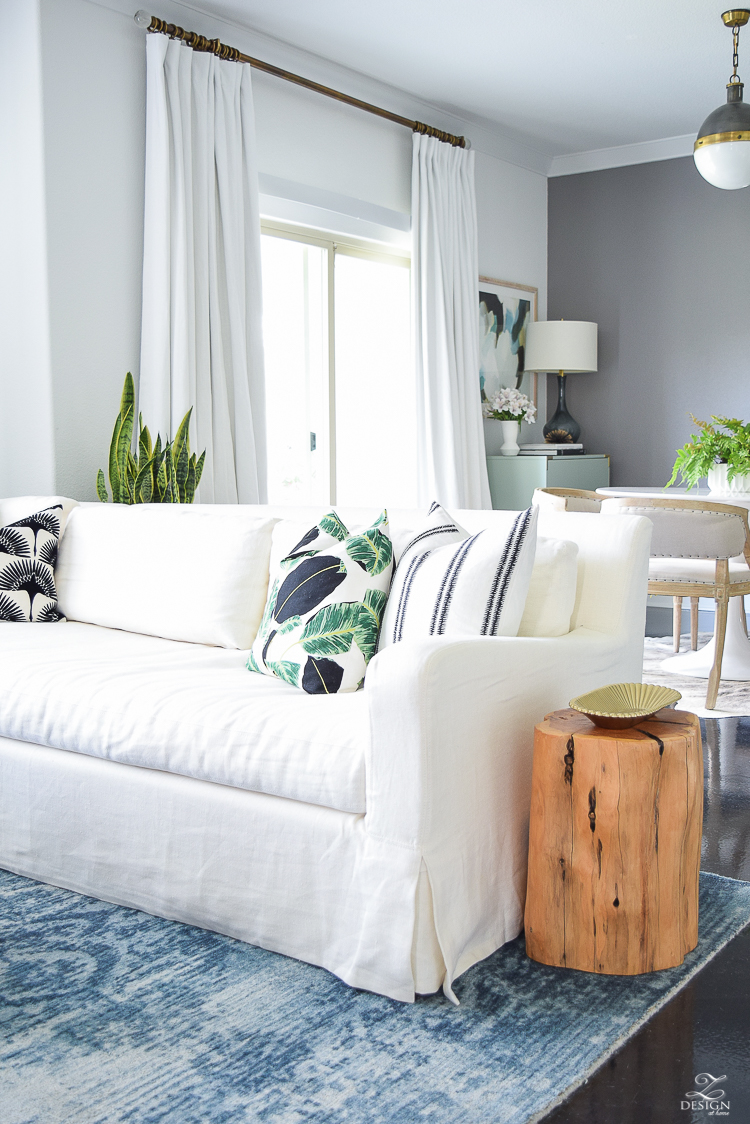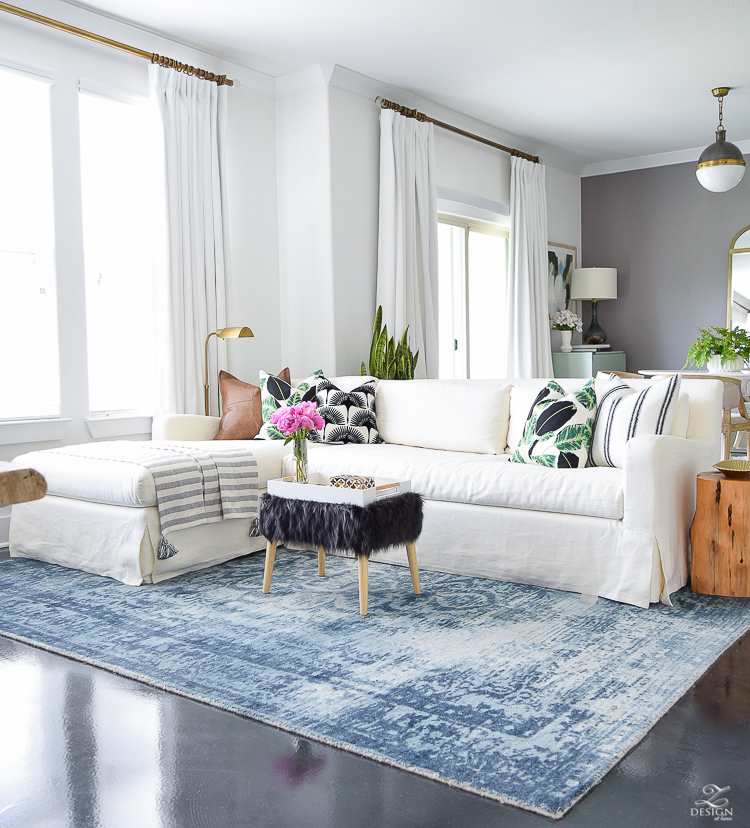 Shop pillows HERE


Back to the other side of the space…the dining area is just behind the living area and I brought my favorite dining pieces with me that would fit in the space (you can see my previous dining room HERE).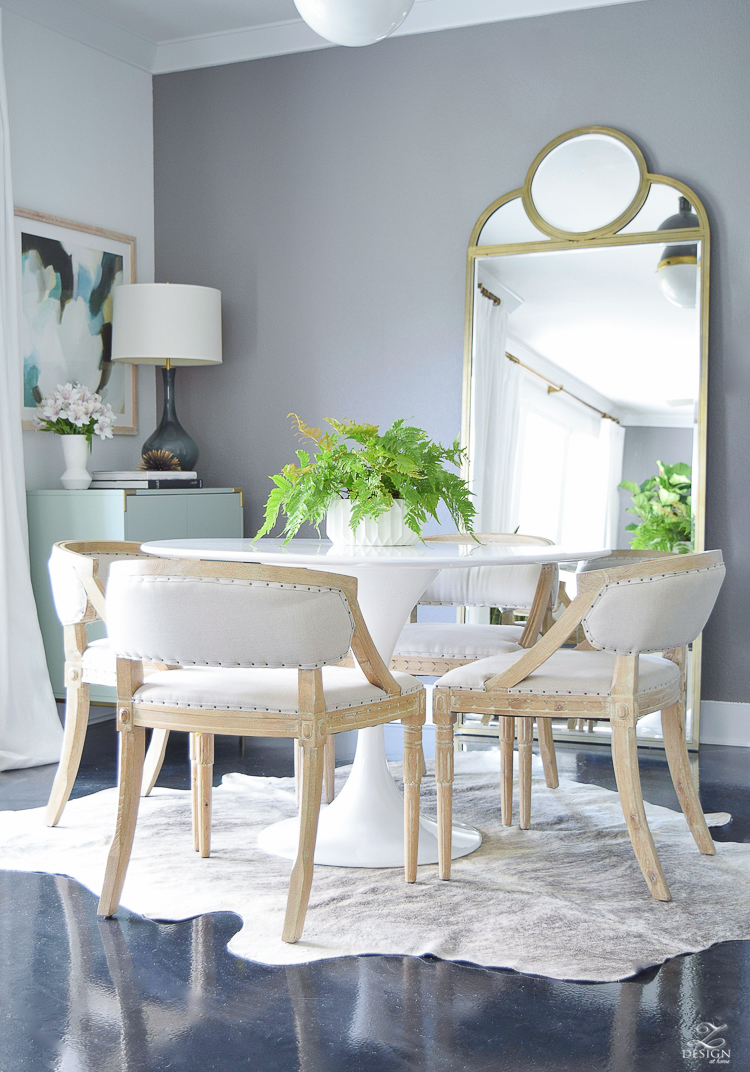 A favorite addition for summer to this space is this white fluted pot.  I also got this similar one in gray (haven't found a spot for the gray one yet) but absolutely love the white one here for summer ease vs. having flowers here that often have to be replaced.  And of course the pop of greenery (once again incorporating my house plant theme) is perfect here.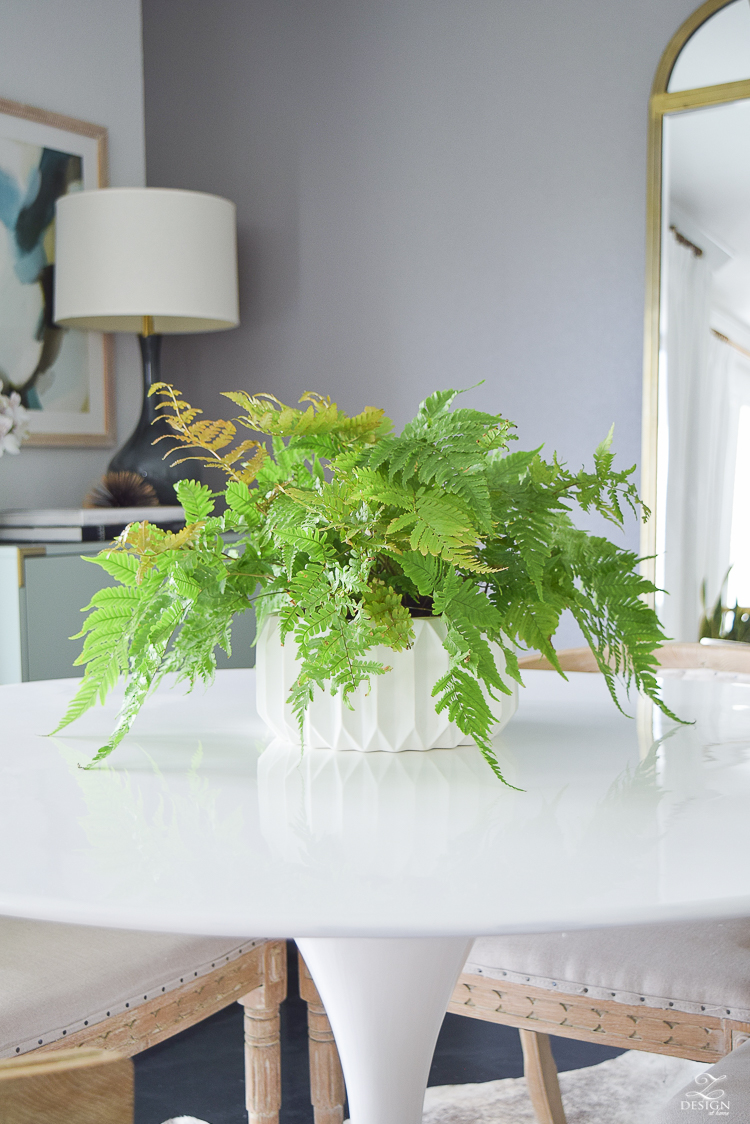 On a side note, a little bit of reality here with the chaos of moving…I adore the pendant light over the table but it's about 14″ short currently because this light was in our previous home by the back door (hung close to the ceiling) and when we moved we misplaced the extra chain that would make it long enough for table height.  I've ordered more chain but it didn't arrive on time so it is what it is for now;/.  I'll share more of it later once we get the chain installed so you can see it in all of it's glory but it's one of my absolute favorite lights of all time.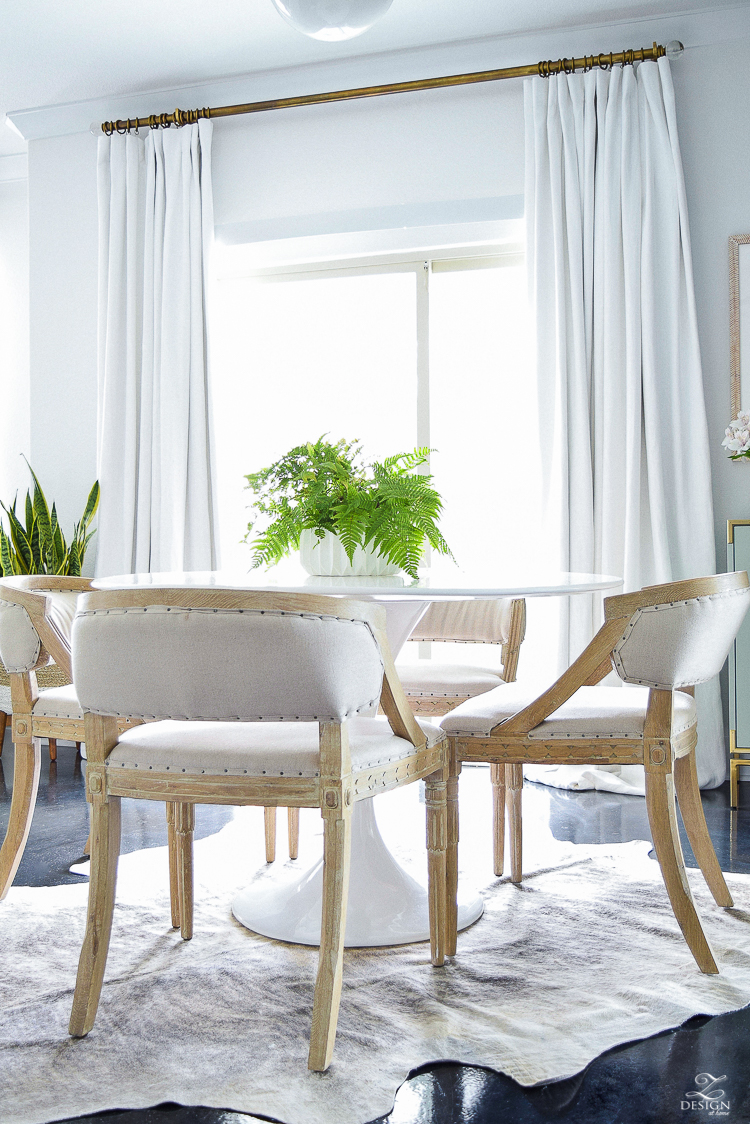 For small spaces use floor mirrors when and where you can to reflect light and to make the space feel larger. Additionally, using furniture pieces such as bar cabinet or credenza vs. a large buffet to store dishes, etc. are great space saving solutions.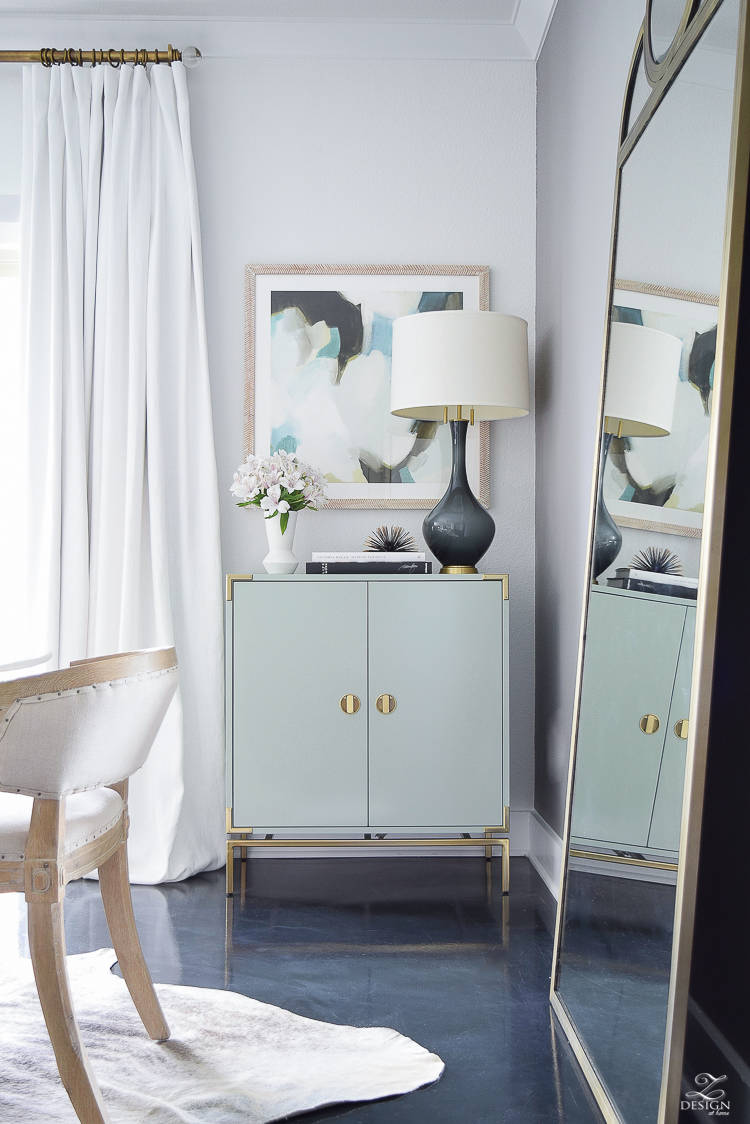 I decided on this art piece of mine from Minted for this spot. The white walls coupled with the white drapes called for a pop of color over here but I truly love this piece framed in their white washed herringbone frame.  It pairs well with my gray lamp (similar lamp HERE) and a new favorite vase.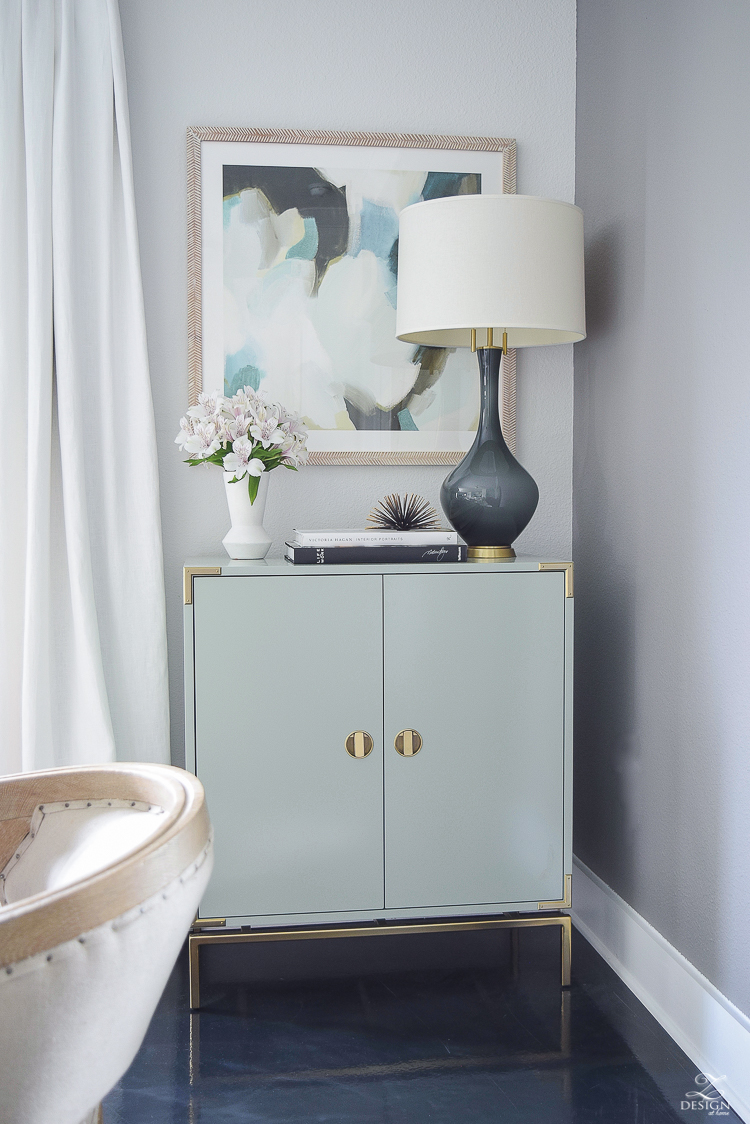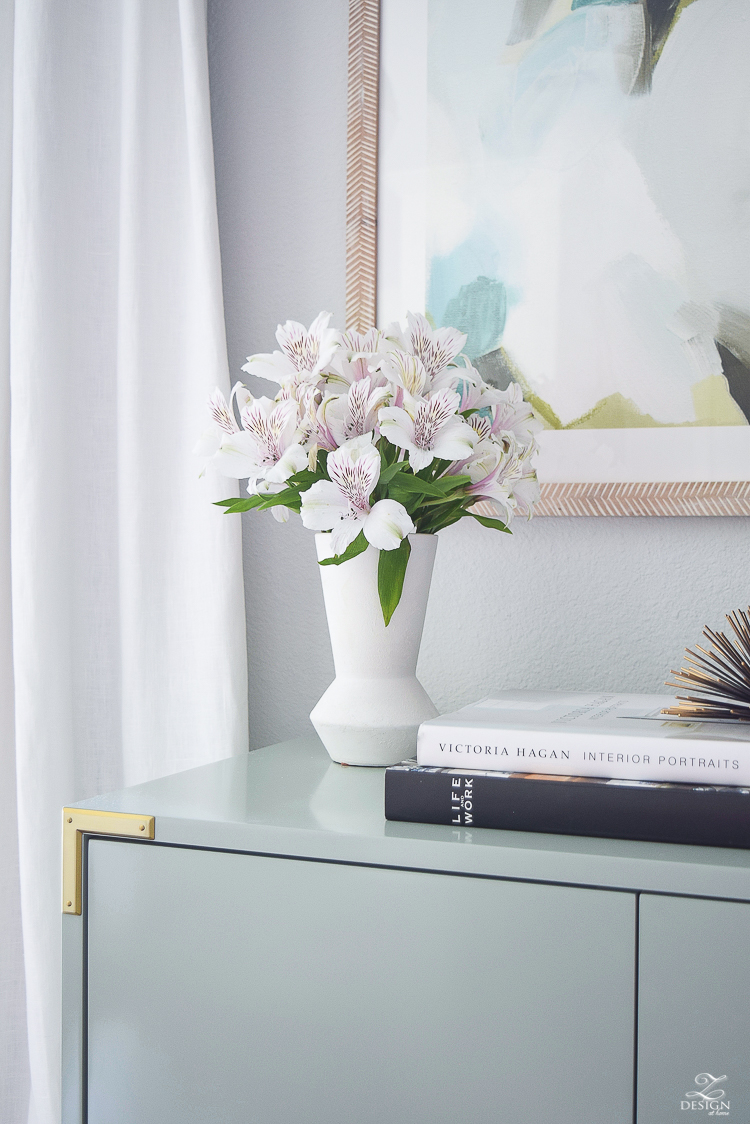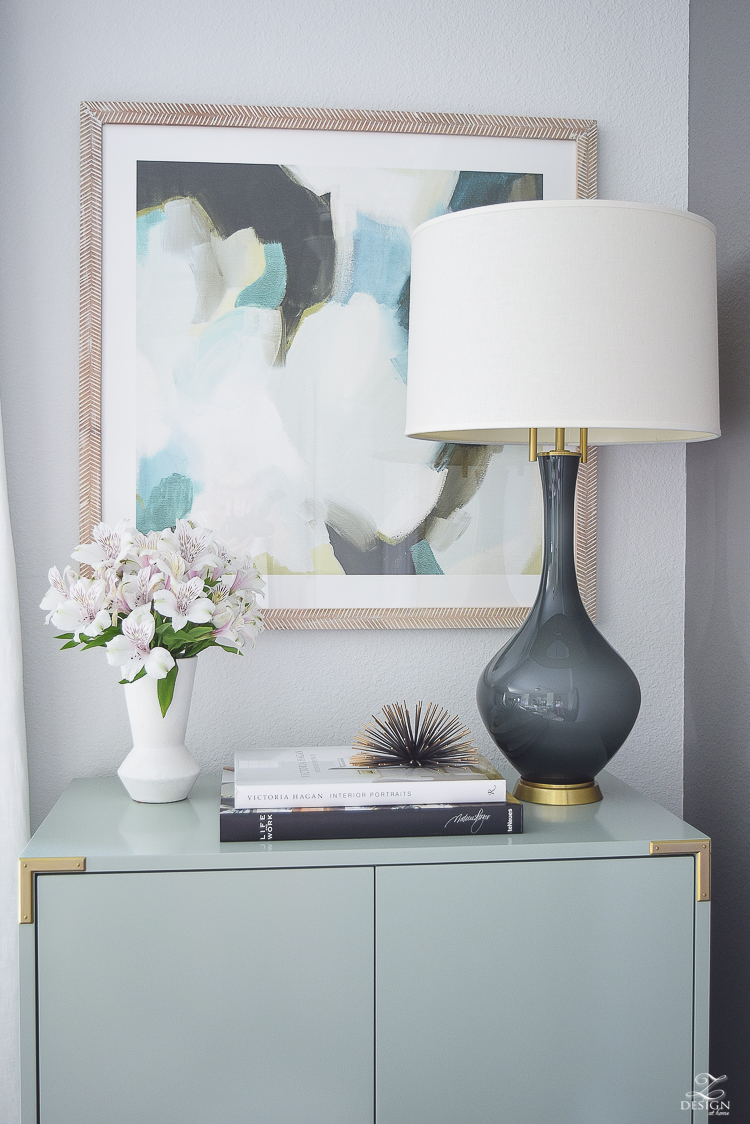 That about wraps things up for this tour friends!  In the days and weeks to come I'll be sharing other spaces in our rental but hopefully soon I'll also be sharing more about the construction of our home…we hope to break ground next month:).  I'll keep you posted on that soon.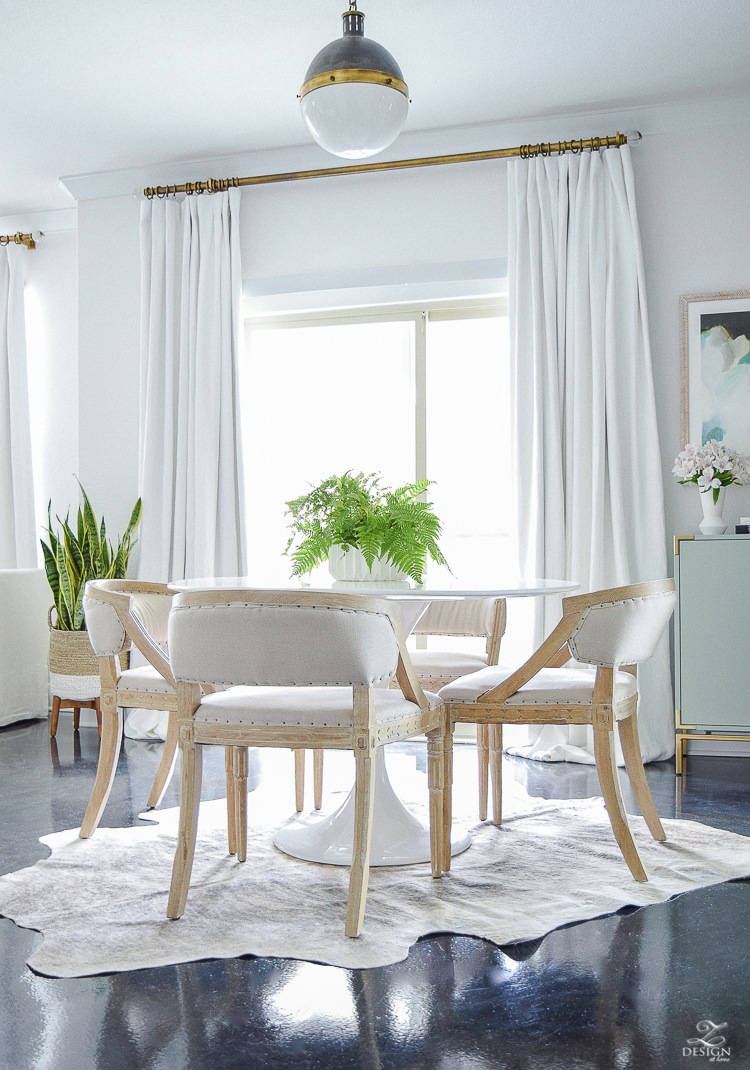 Don't forget to head on over to the next stop on the tour which is Carmel of Our Fifth House!  Her blog is beautiful, full of inspiration and I know you will enjoy taking her tour!  Please also see below a list of all of the other inspiring ladies on the tour that you can visit this week (and this summer) as well!  I hope you also enjoyed my Simple Tips For Summer living and that you'll come back again!  And if you are not yet signed up to get my weekly news letter, you can do that HERE at the top of the page.
Monday – June 12
Tuesday – June 13
Wednesday – June 14
Thursday – June 15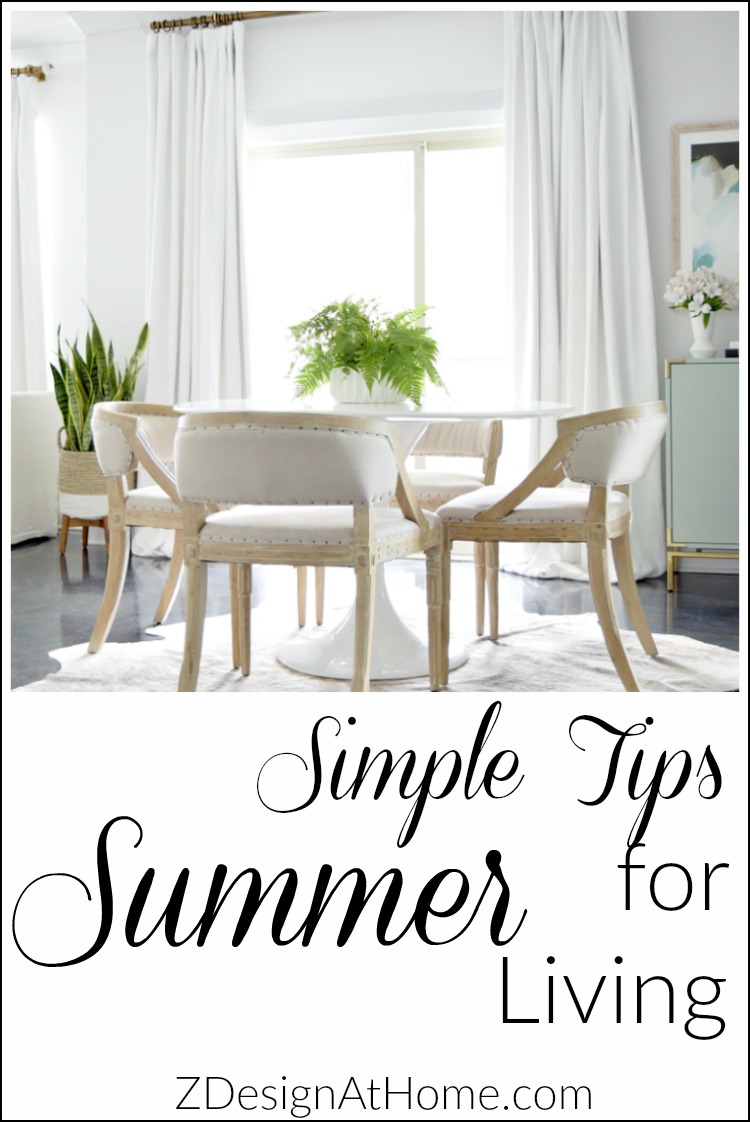 Pillows