Vacation Recap to Watercolor, FL
Are you the type that goes on vacation and after about 3-4 days you're ready to go home or are you the type that never wants to leave?  Well, usually I'm the former and not the latter but on this vacation to Watercolor, FL my husband had to almost pull me out of our beach rental kicking and screaming! I wasn't ready to leave one tiny bit and I'm excited to tell you all about what we did while there.
*Affiliate links used in this post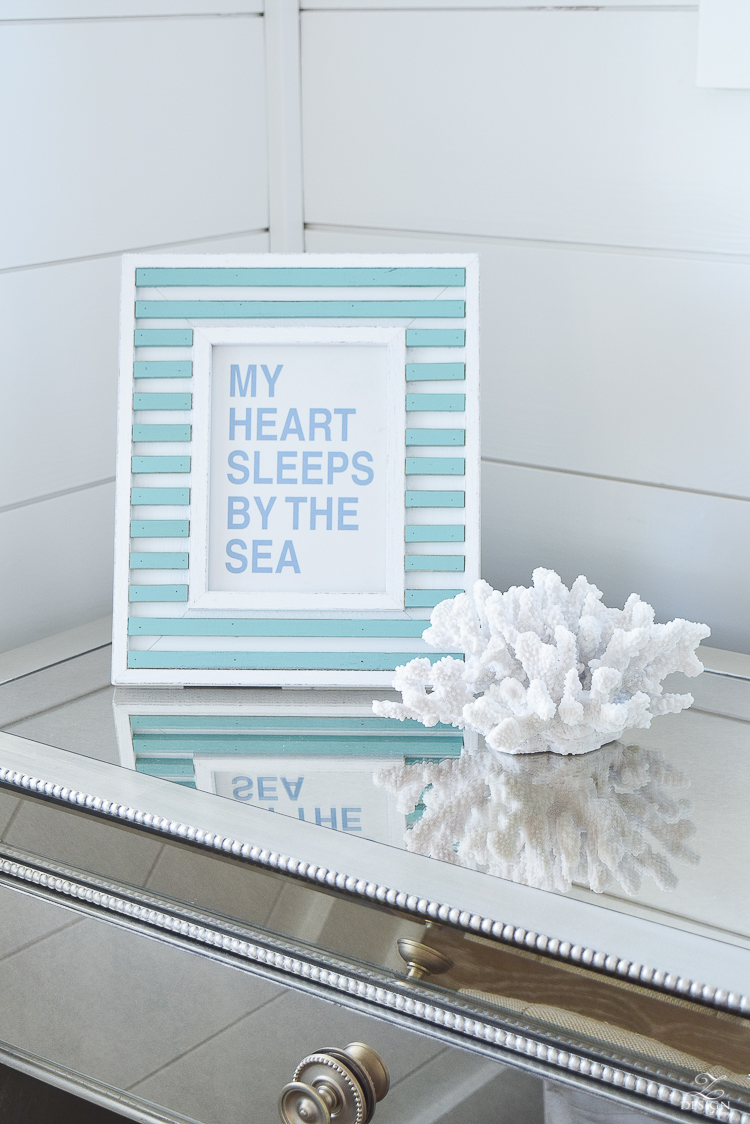 Of course one of the biggest highlights of the trip (other than spending quality time with family) that I've been dying to share more of is the super cute cottage we stayed in while there.  We needed enough room to sleep 10-12 and wanted something with a pool so we wound up renting this cute cottage in the charming neighborhood and town of Watercolor, FL.  I found it through VRBO.com and ending up renting through Sanders Beach Rentals.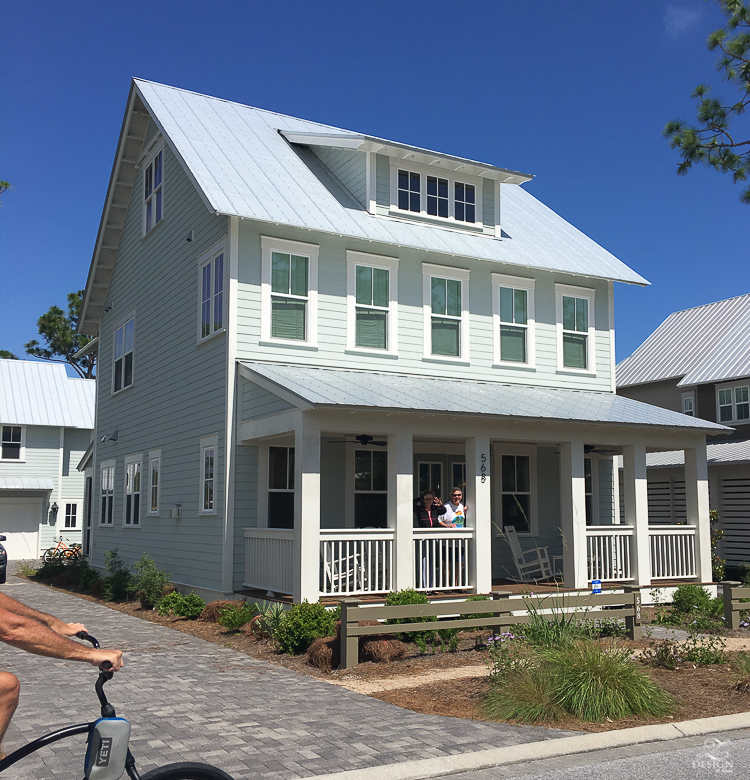 The crisp white ship lap really made the whole house feel like a beach house and from the moment we walked into the home it gave us the relaxing coastal vibe that we were craving for this trip.
When you walk in the front door the large dining space is to the right…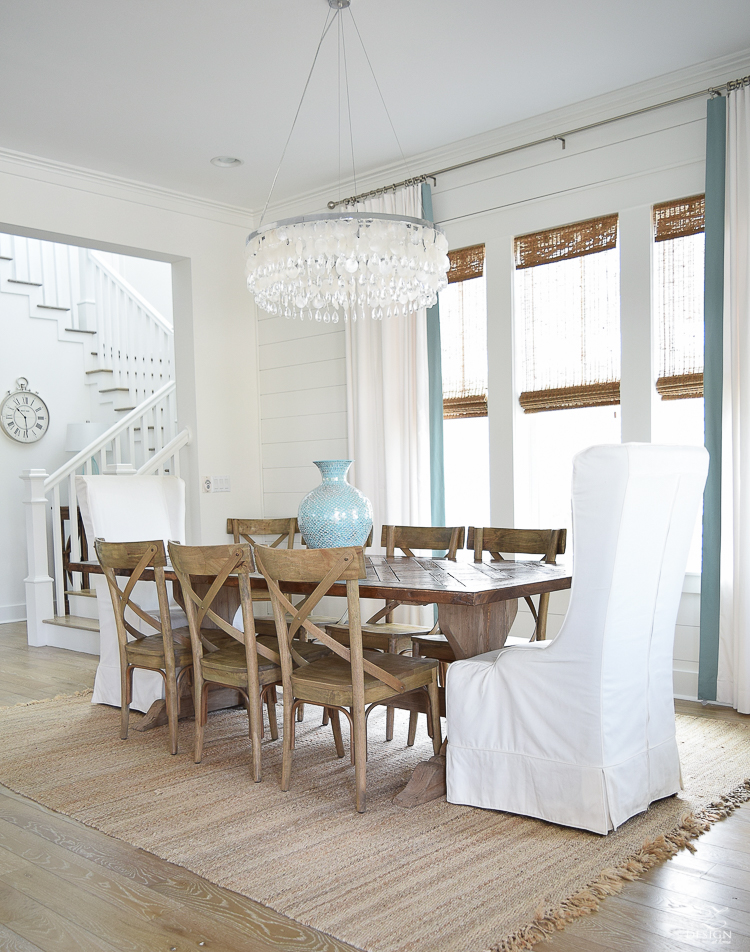 The beautiful capiz and crystal chandelier was a beautiful sight for sore eyes.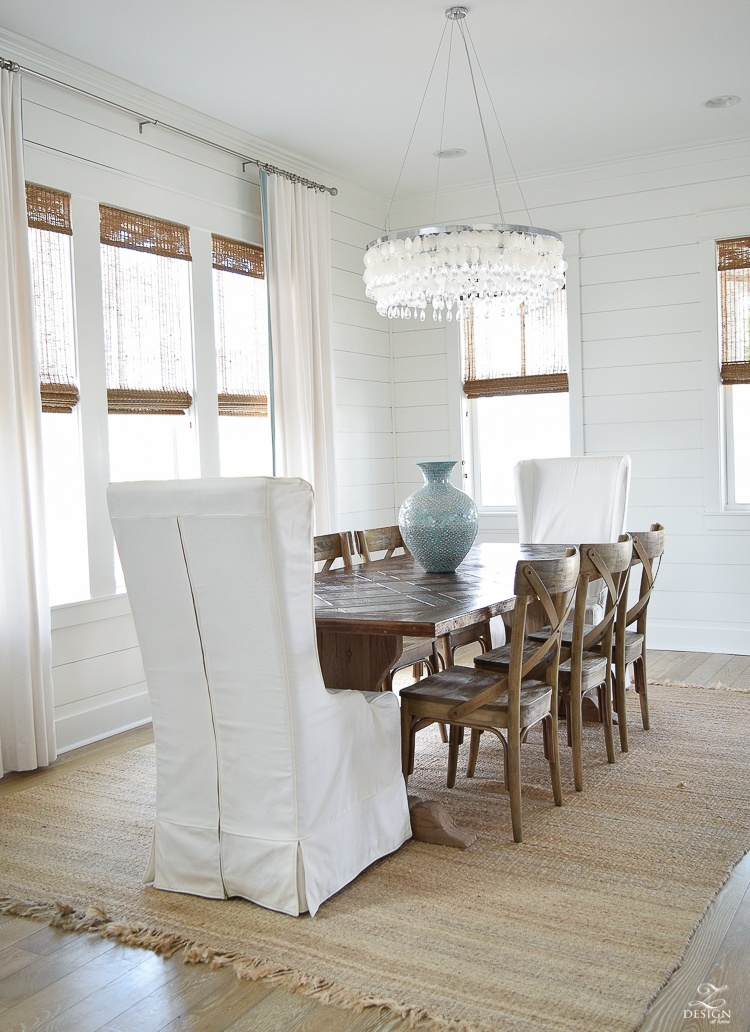 And the living and kitchen area were to the left.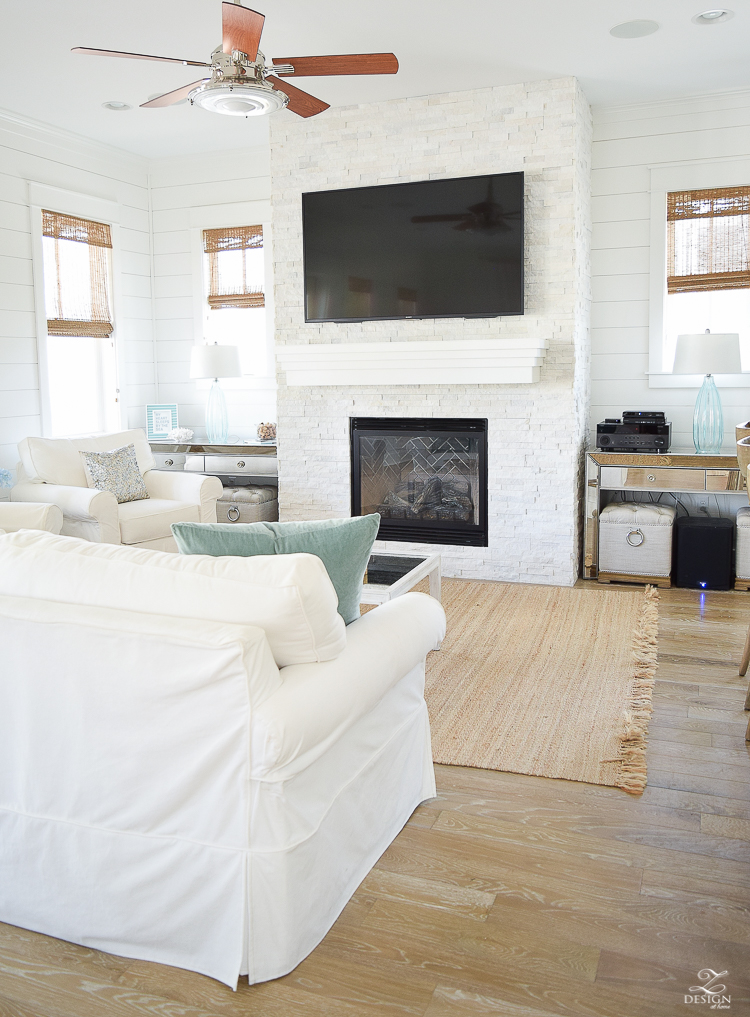 The furniture was slipcovered in a white cotton twill (similar) for no worry vacation relaxing.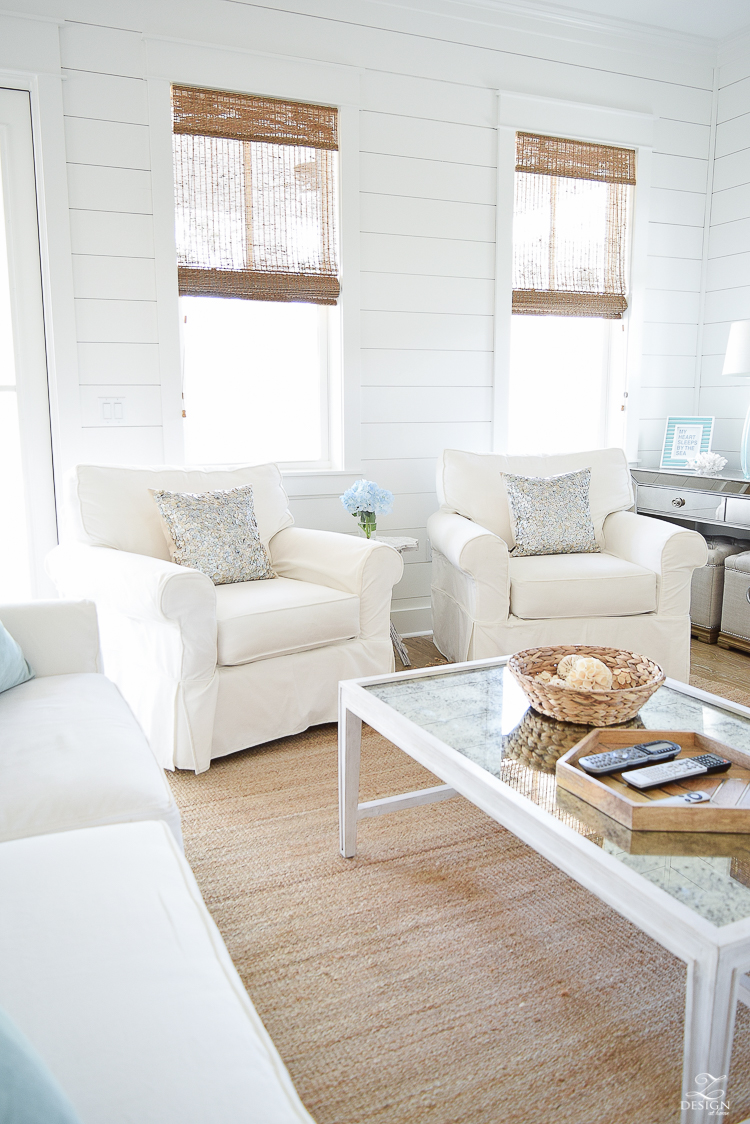 And natural jute rugs (similar) covered the floors in both areas.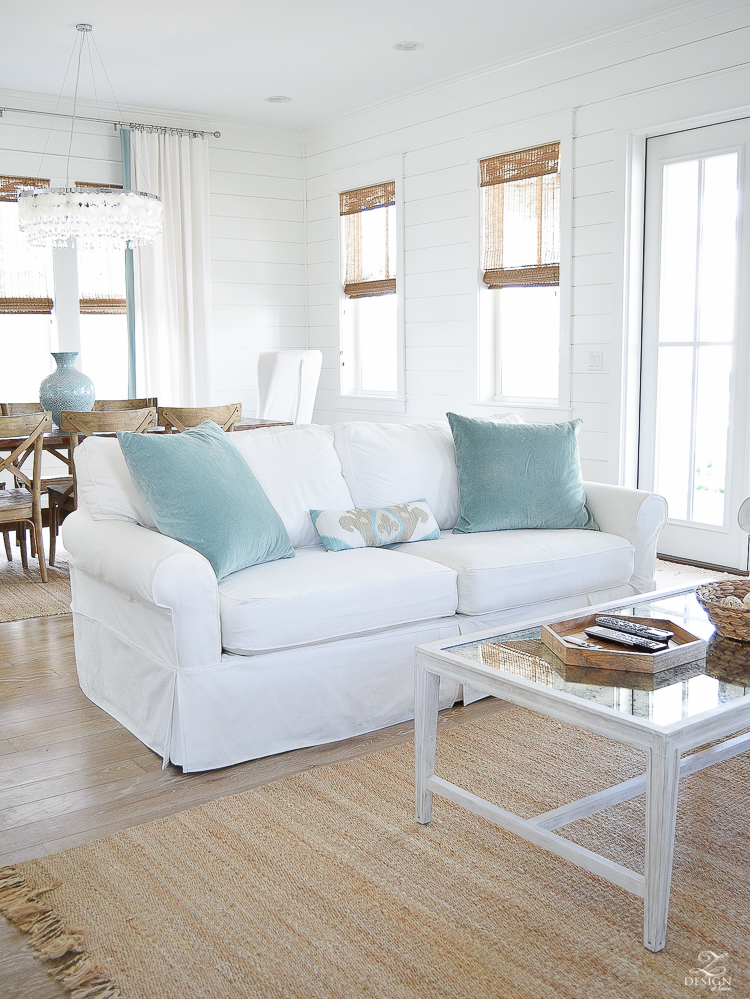 Did you notice I had fresh flowers while there?  There was a cute, quaint Publix not far from our cottage and I was so thankful they had a few bundles of these hydrangeas when we went to grocery shop upon our arrival.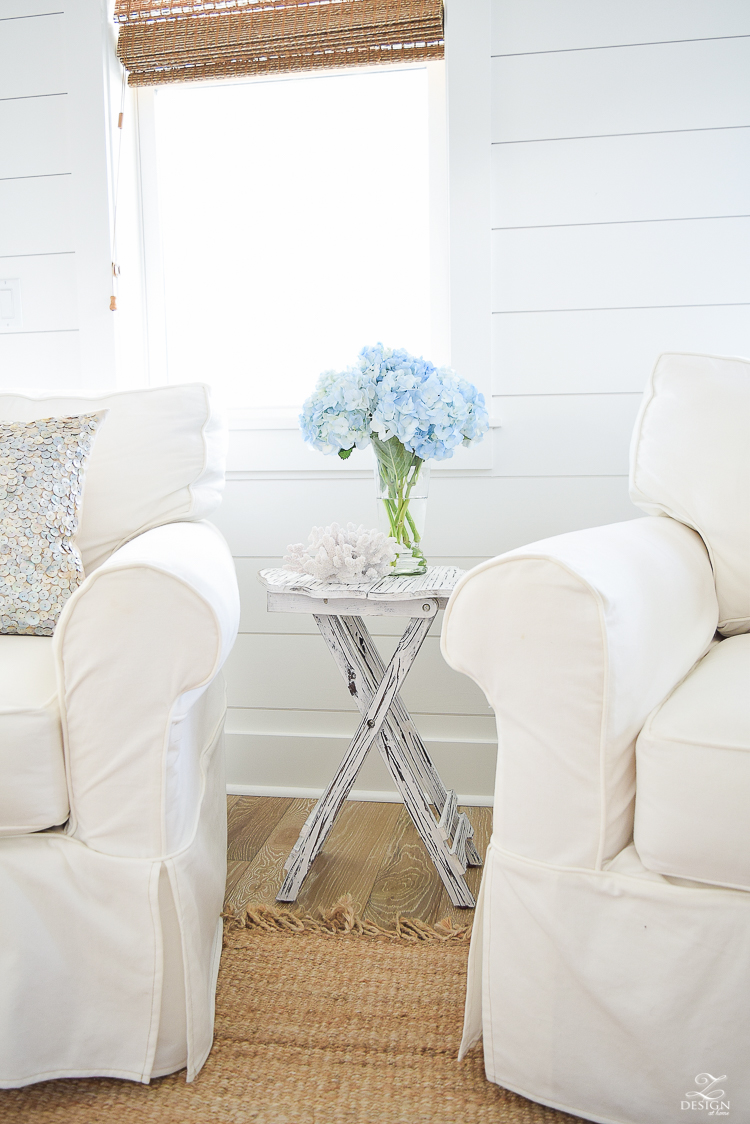 The kitchen was darling and perfect for on the go meals between activities.  All of the kids were so cute lined up at the bar during those times.  We ate in most nights while there which was great for family bonding time and story telling….and of course eating homemade ice cream (and memory making:)!!  I purchased this ice cream maker to use while on vacation and it works like a dream in case you were wondering.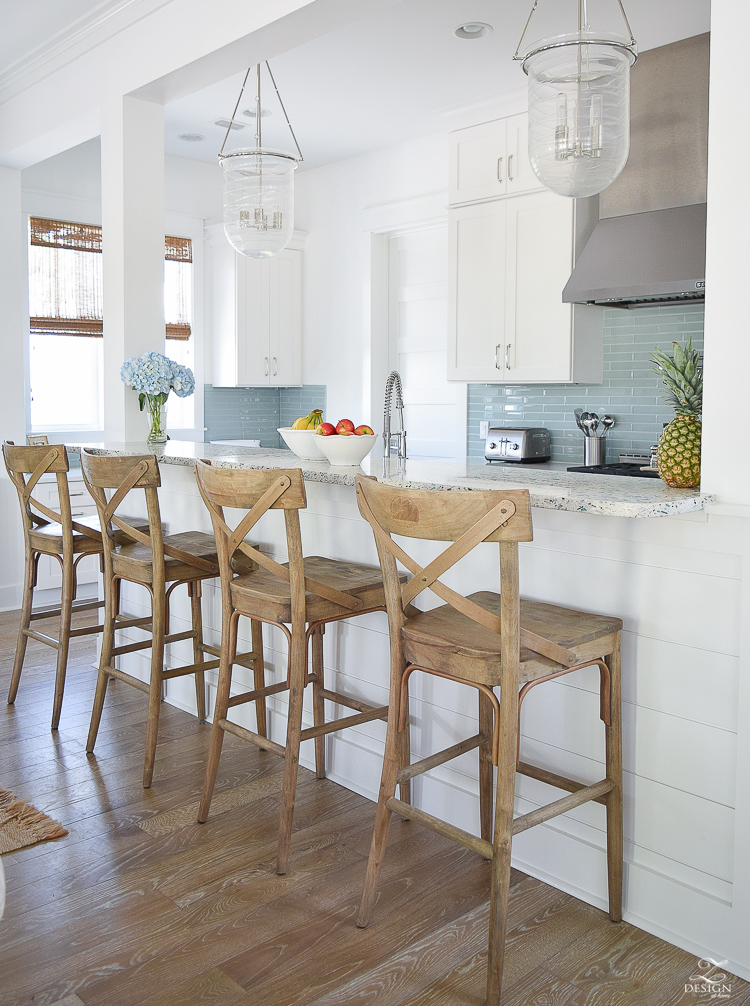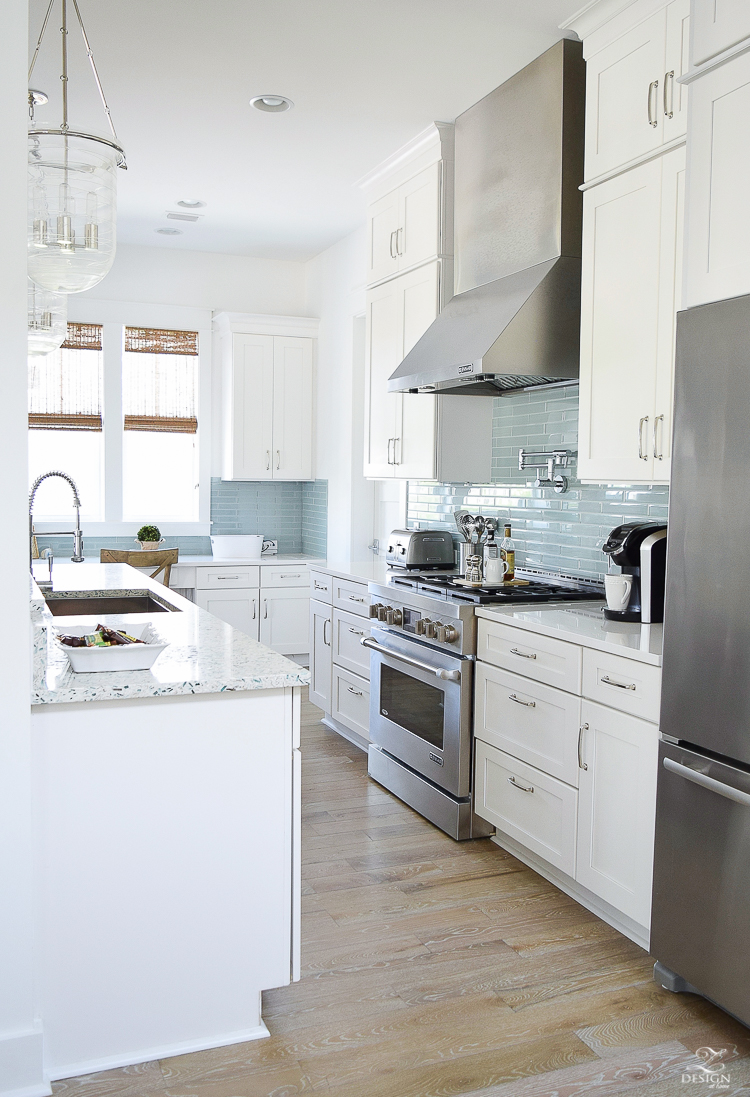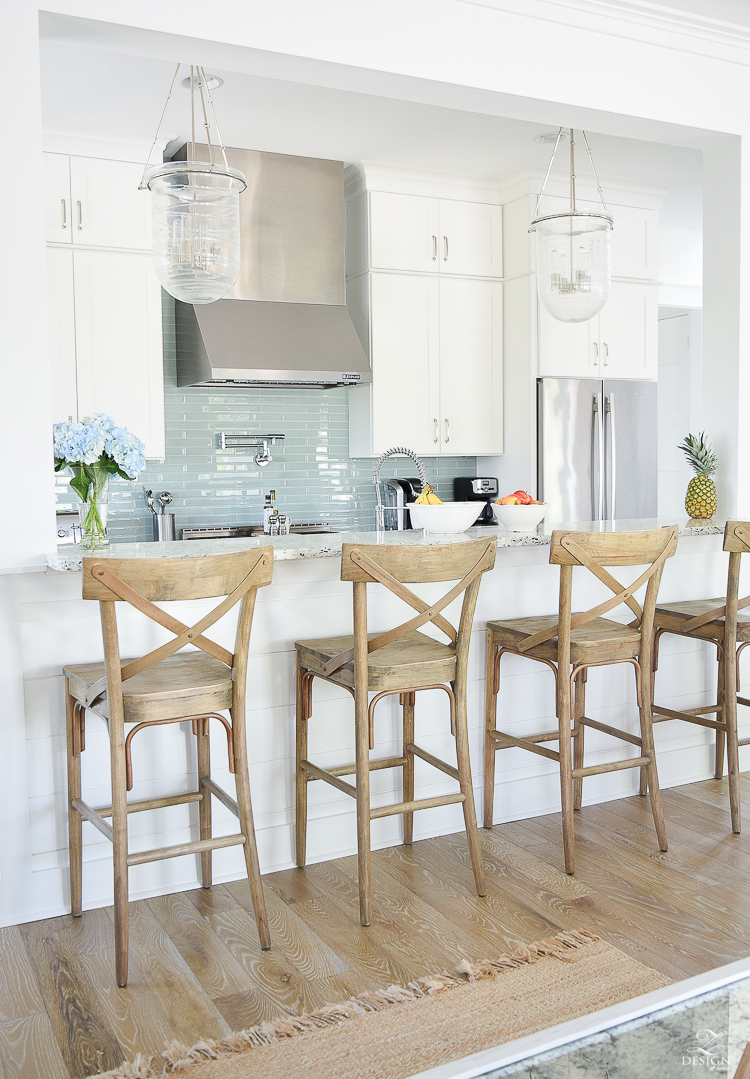 There was even a little desk area in the kitchen.  Not that it got used for it's intended purpose while we were there but it was good for overflow snacks and to be used as a charging station.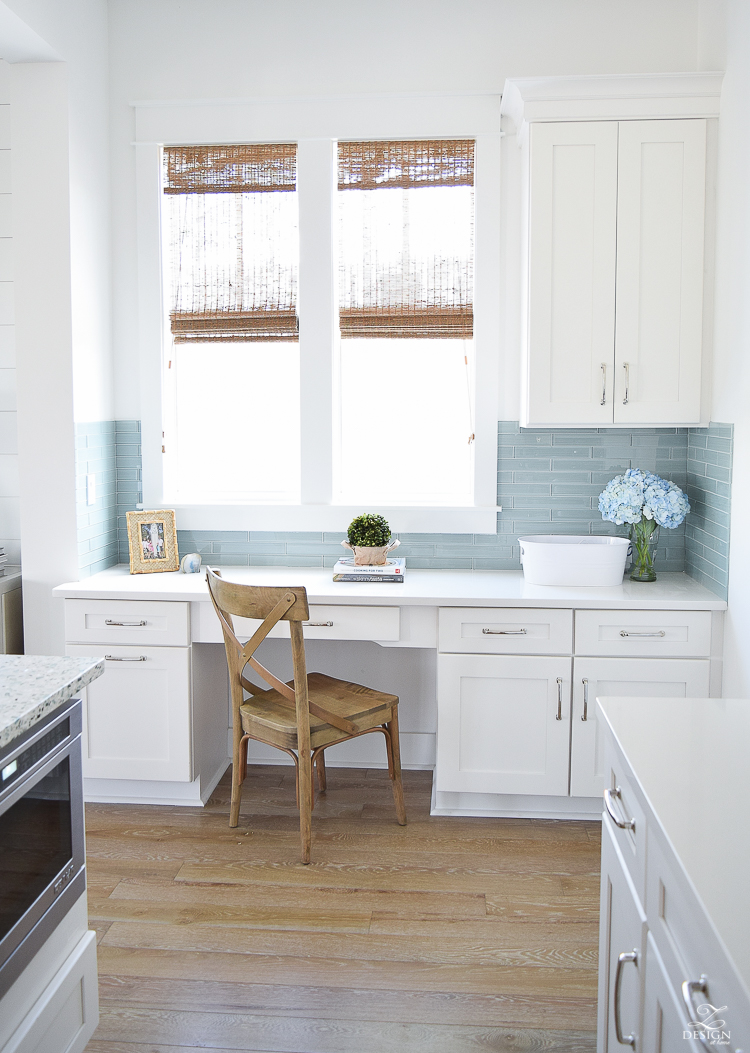 Next up is my favorite part of the house…the stairs!  It was so bright in the stairwell and I love the grid pattern on the walls, which is something I plan on doing in our new home this year (a little different than this but I'm definitely doing a version of this in our new build – you can read more about that here).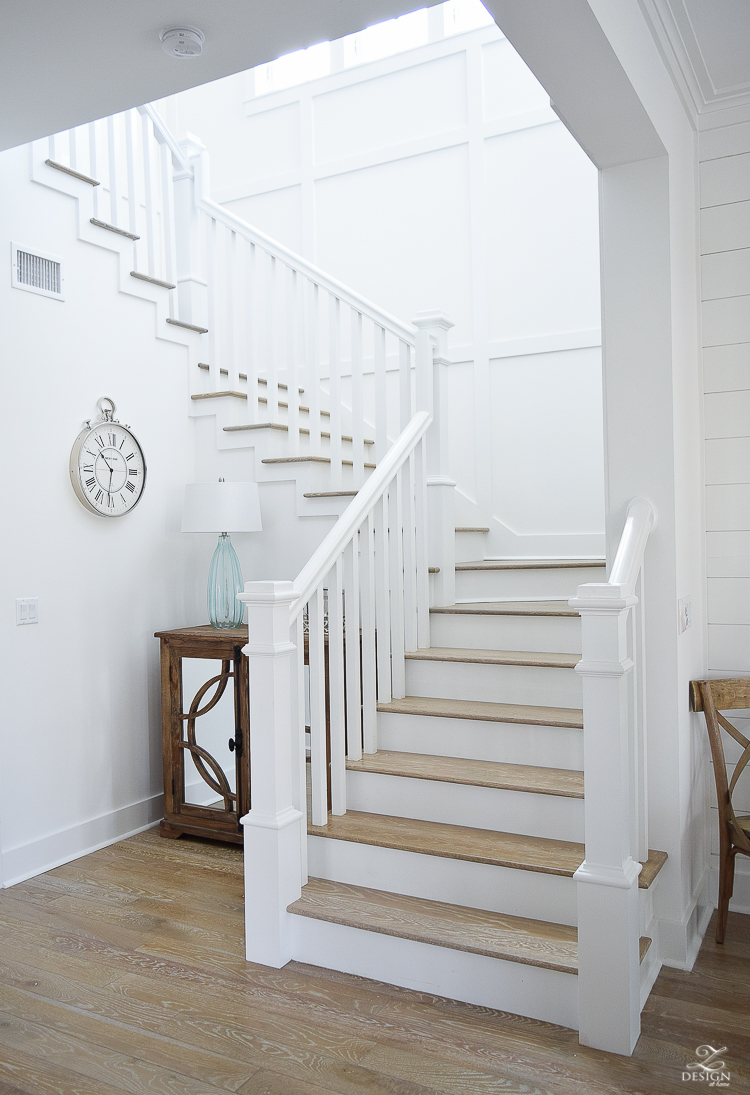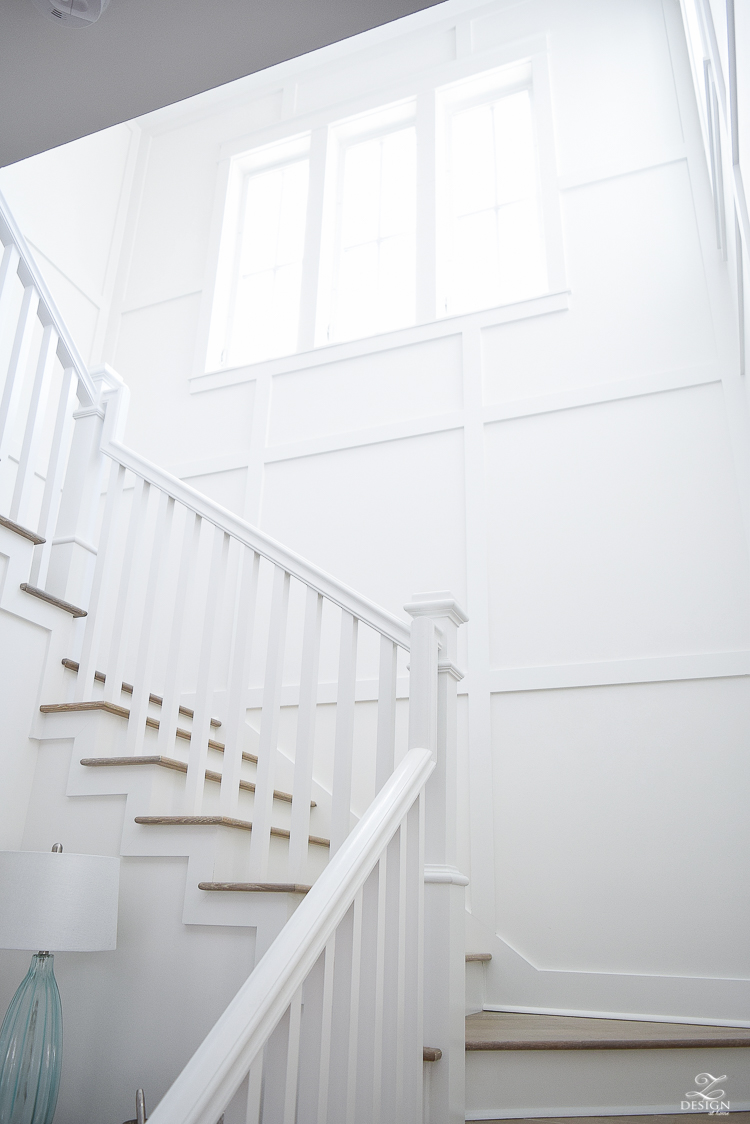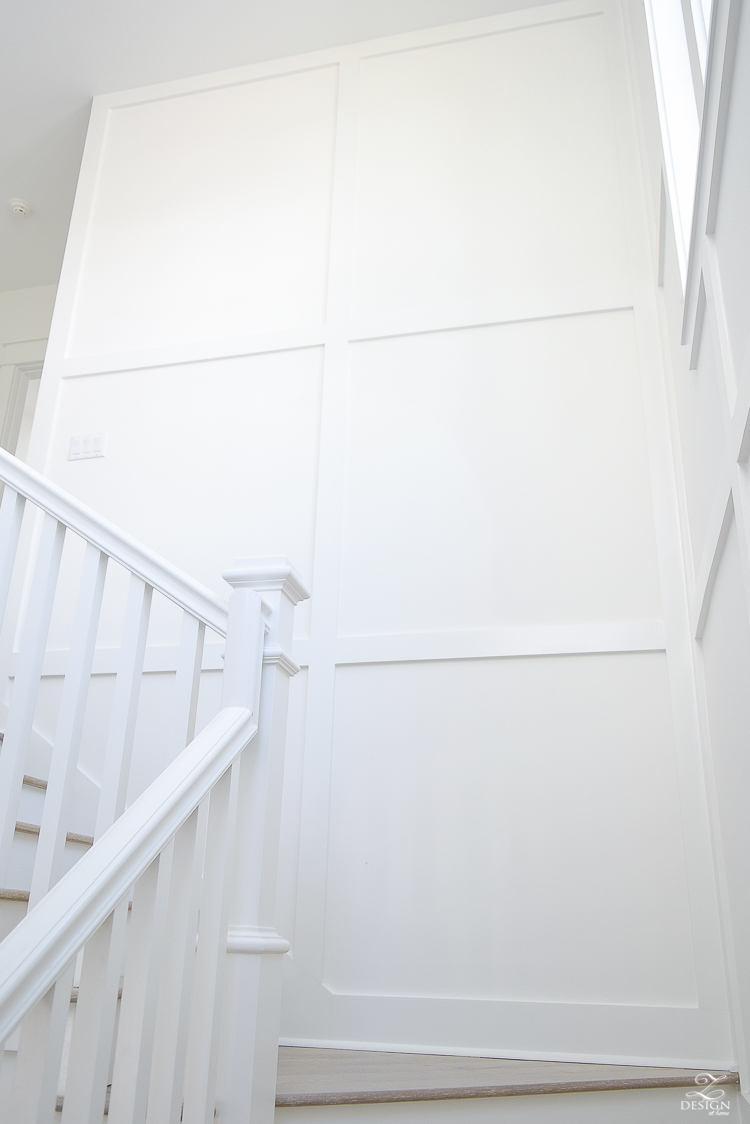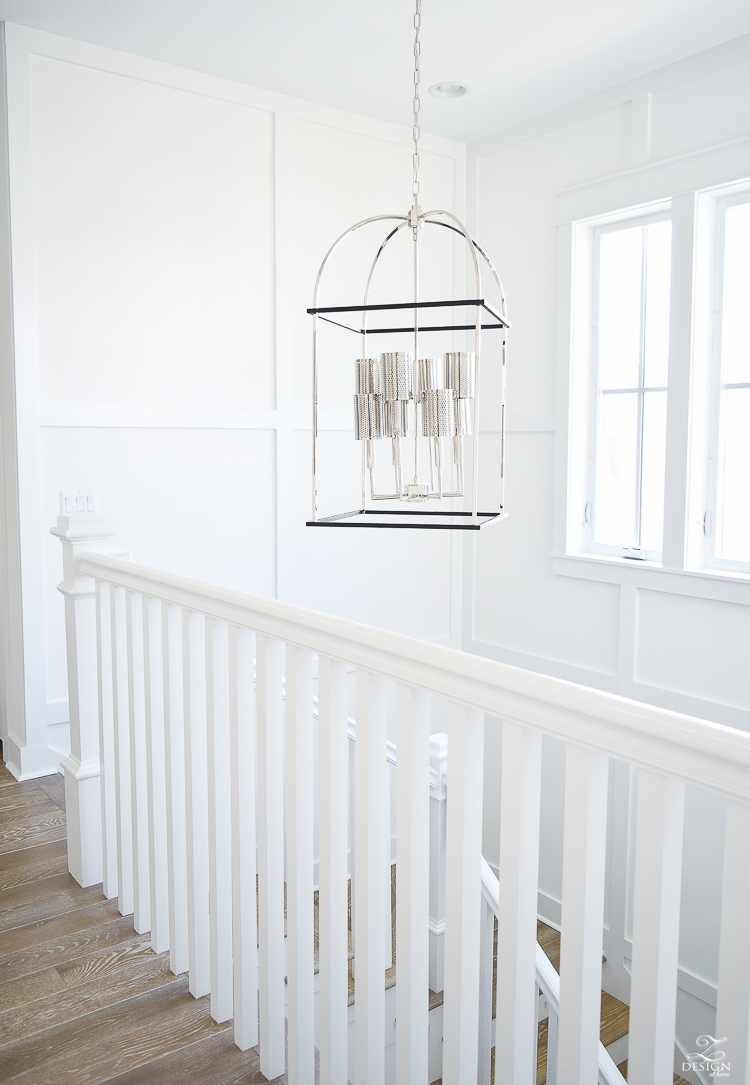 I don't know what shade of white this is but I'm warming up to the white walls more and more all the time.  I recently did a post on several white paints I'm going to try in our new build this year…you can read all about that here.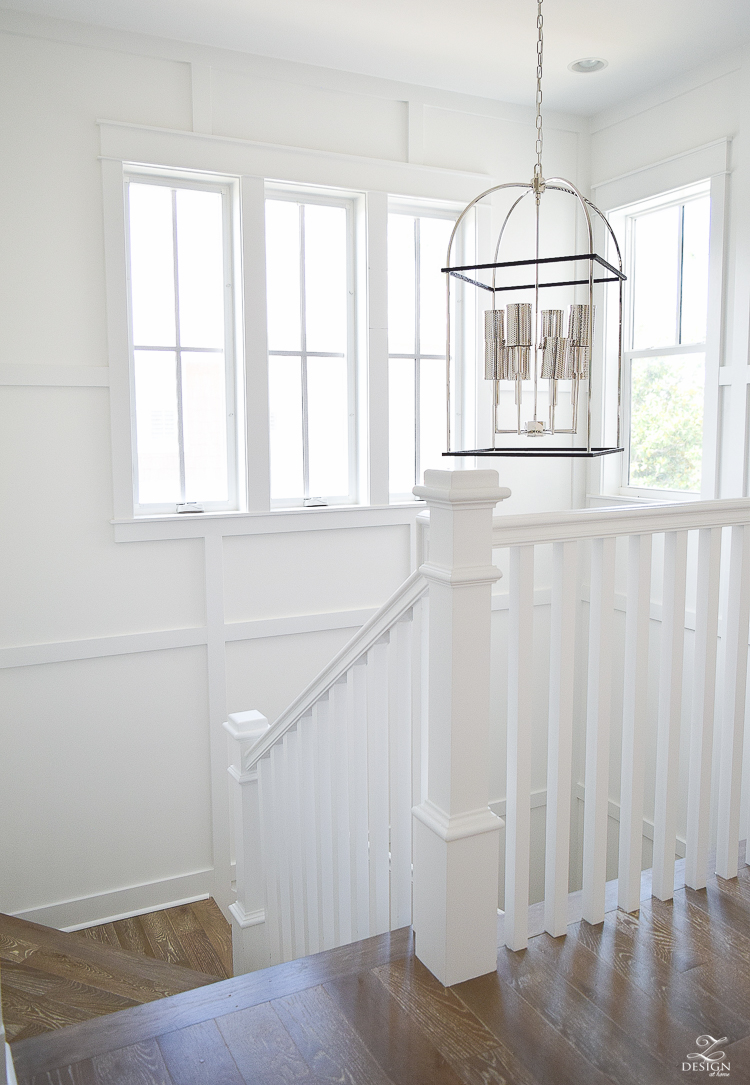 I do not know what brand or color the floors are but, to describe them I would say they were a semi-distressed blonde to grayish color.  Absolutely beautiful and perfect for a beach house (or any house really).  They hid everything well and were in all areas of the home except the laundry room and bathrooms of course.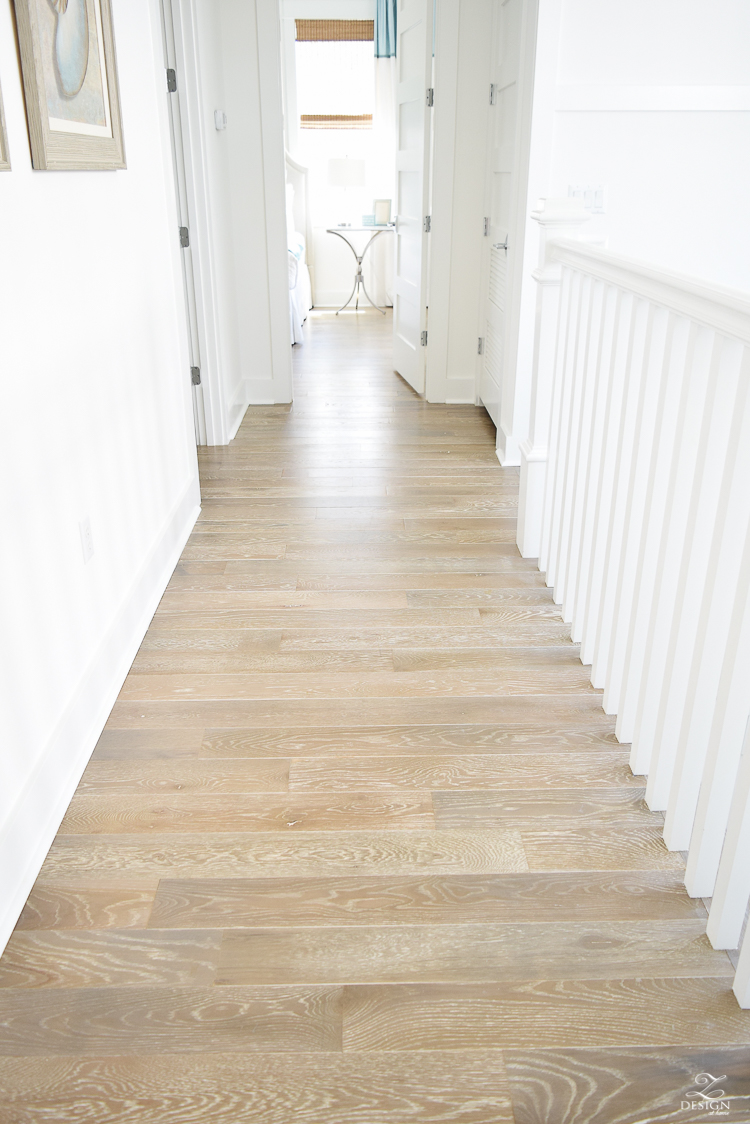 I wish I had time to share all of the bedrooms (5 total including the carriage house bedroom) but since I don't I'm sharing the master with you that my husband and I claimed immediately upon arrival.  I have to say though that each room was beautiful and comfortable and 3 of the rooms in total had king beds.  I really loved that the whole room was ship lap and love the nautical vibe striped rug!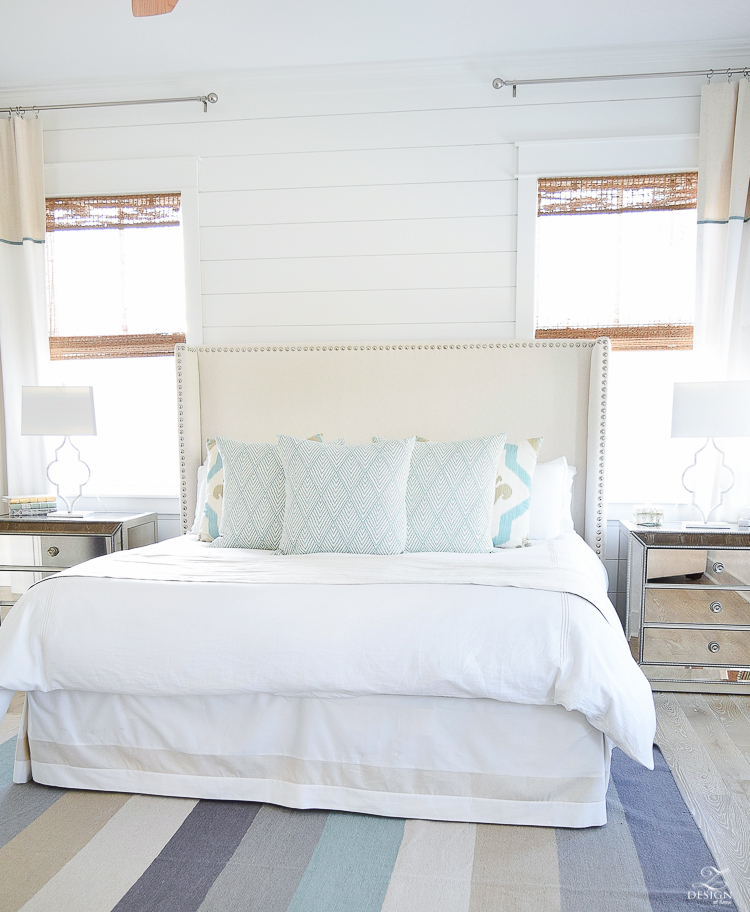 The master bath was appropriately appointed and I love the amount of sunlight that flowed through the space!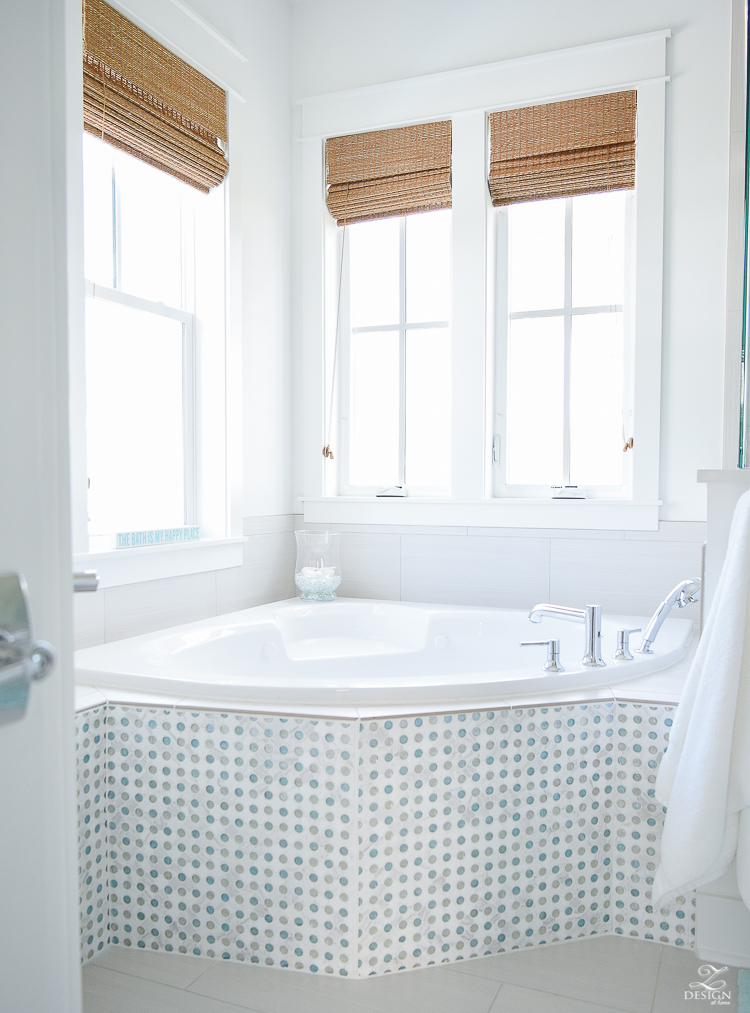 I love the way they ran the aqua tile that looks like running water up the wall behind the sinks.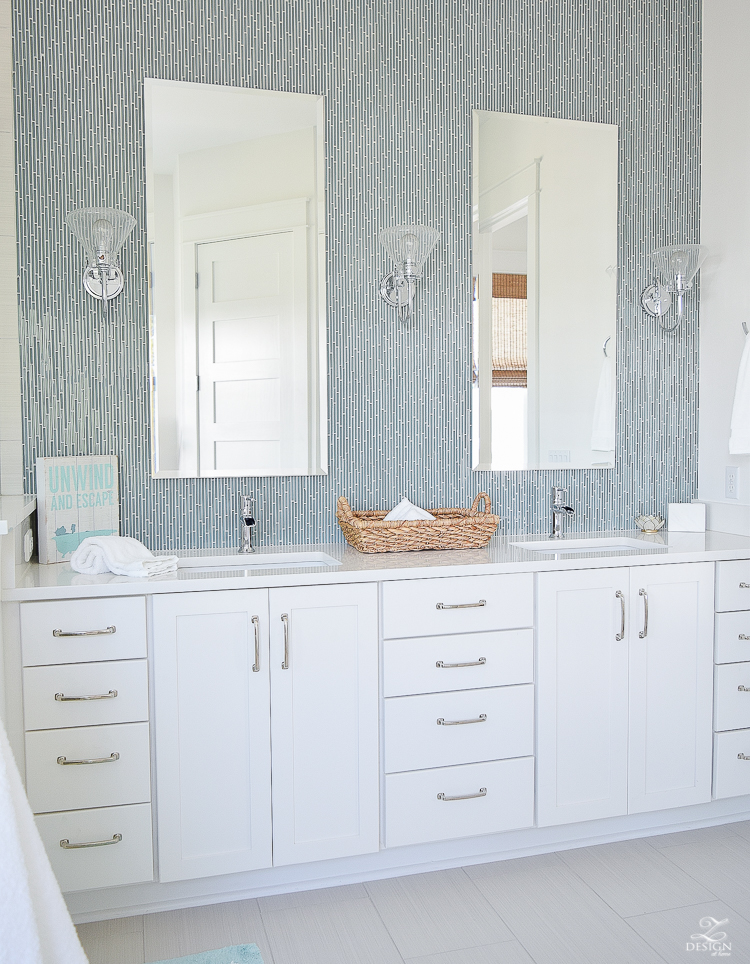 Next up we head out the back door to the pool and carriage house where you see the cutest little area with a bench and hooks.  The darling burlap pillow that says "life is better in flip flops" is perfect here.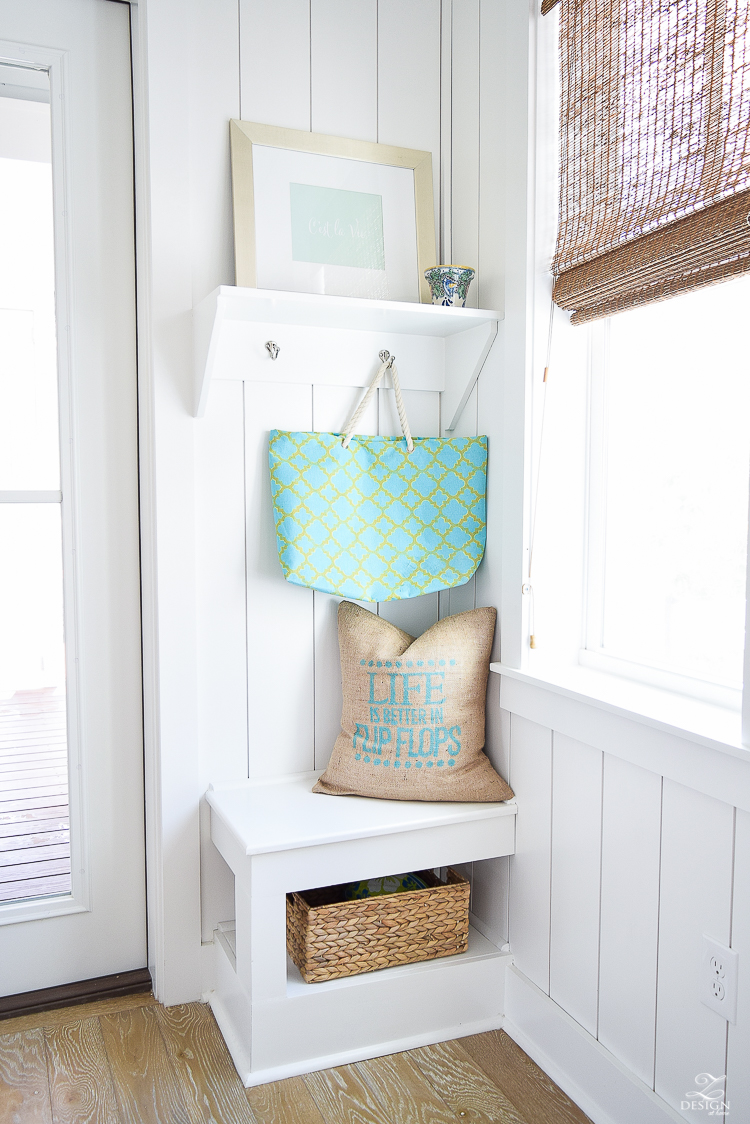 There was a cute back porch with a tv which was perfect for the guys to watch sports during the afternoons that we weren't bike riding or at the beach.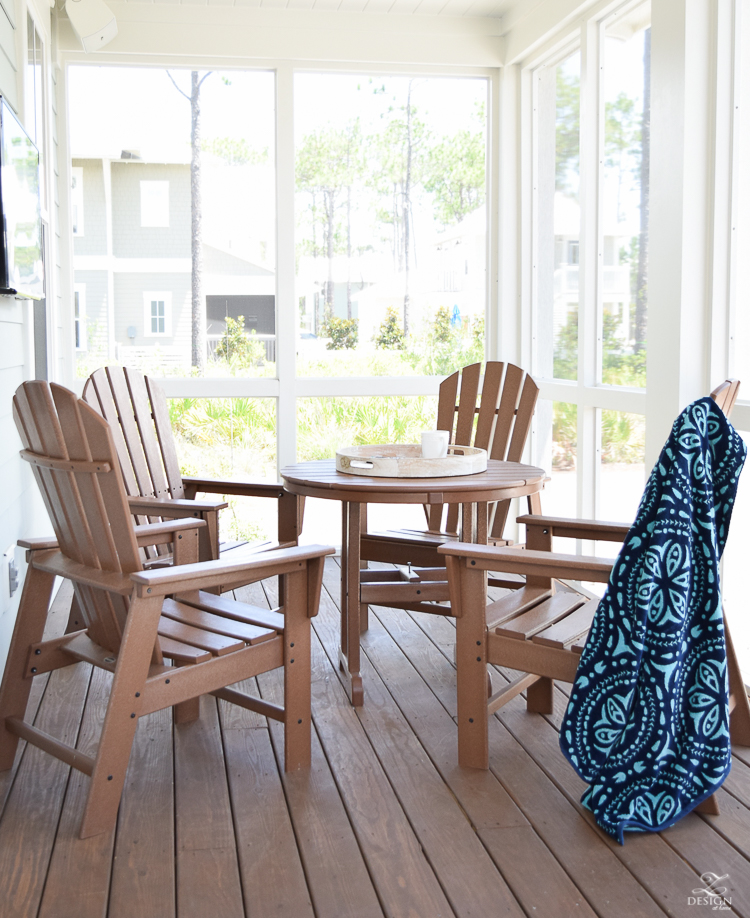 The pool was great because it had a shallow end there on the left for the kids to play in, a jetted tub area on the right and the rest was normal pool depth for splashing around and playing pool games.  It was definitely put to good use while we were there!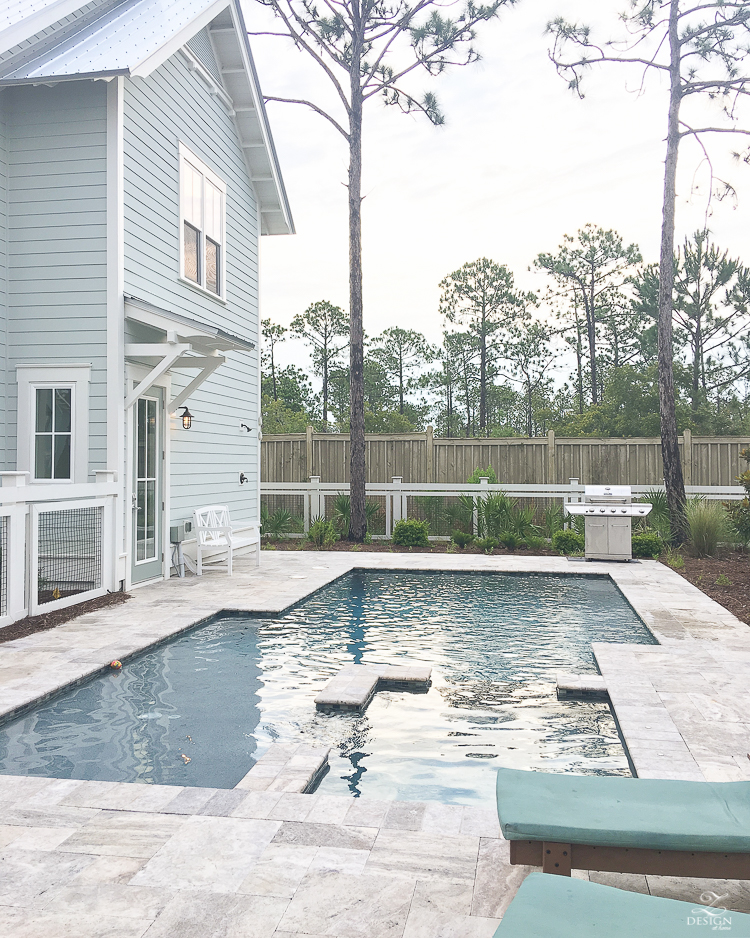 The carriage house you see in the photo above (to the left) didn't get much use but my brother and sis-in-law did stay there the last couple of days we were at the cottage.  It had a full size bed and a pull out couch so it could actually sleep up to 4 people (also had a full kitchen and bath).  I actually have that same outdoor poof that I shared here in my summer home tour this year!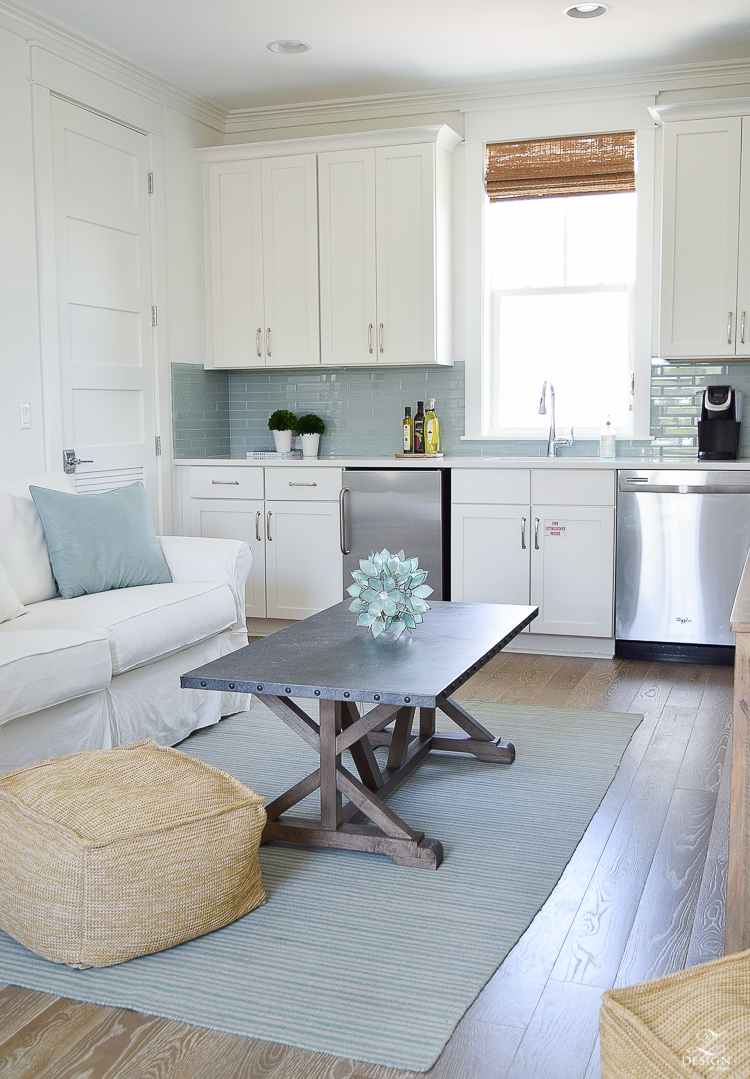 Moving on to some of the things we did while there which was mainly to eat out and to the beach.  The first day we went to the Watercolor Inn (a great place to stay as well if you are looking for a hotel atmosphere vs. a beach cottage vibe – my husband and I stayed at the inn several years ago and it was amazing!!) and town center where all of the shops are.  We rented their beach chairs which I have to say was a mistake from two angles.  1st of all it is way over priced and secondly you basically can't even get a view of the water from your chair since the first row of umbrellas and chairs is reserved for either the hotel residence and/or for the home owners of Watercolor, which I totally get so I'm not complaining at all but I just wouldn't spend the money to do that again.  The next time we visiting the beach we used a public beach access that was still close to the main beach area of Watercolor and we were able to get a front row seat to the gulf, which was so much more fun for everyone!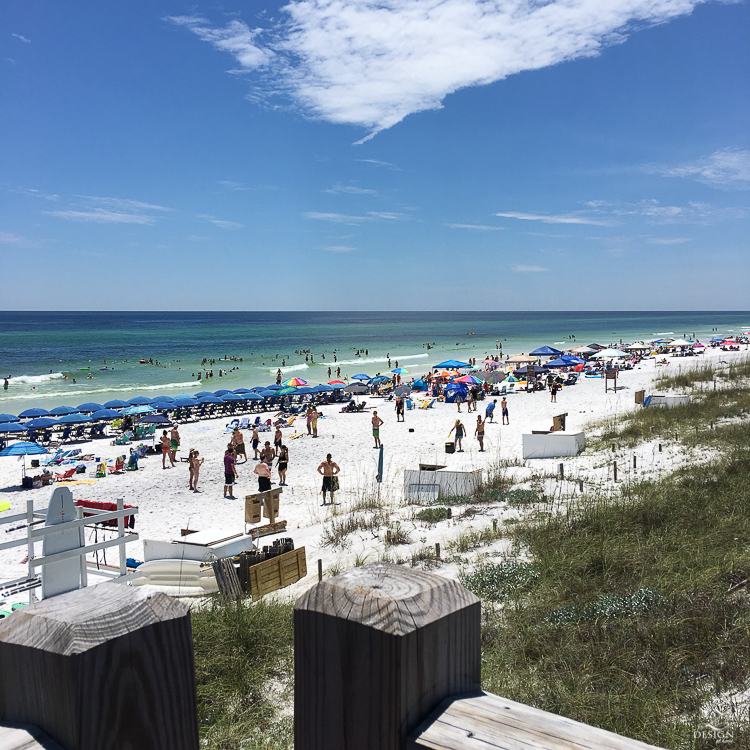 Since we mostly dined in we only ate out at 3 places while there (4 if you count the food truck we ate at the last day on our way out of town) but the highlight was Bud & Alley's which should be a must do on your list if you are planning a visit to Watercolor or Seaside, FL (Seaside is right next to Watercolor on 30-A, which is the highway that runs along the gulf in that part of the Florida panhandle).  The food is amazing and the service was impeccable.  Make sure to make your reservations far in advance of your visit to ensure a table big enough for your party (I made our reservations almost 2 weeks in advance).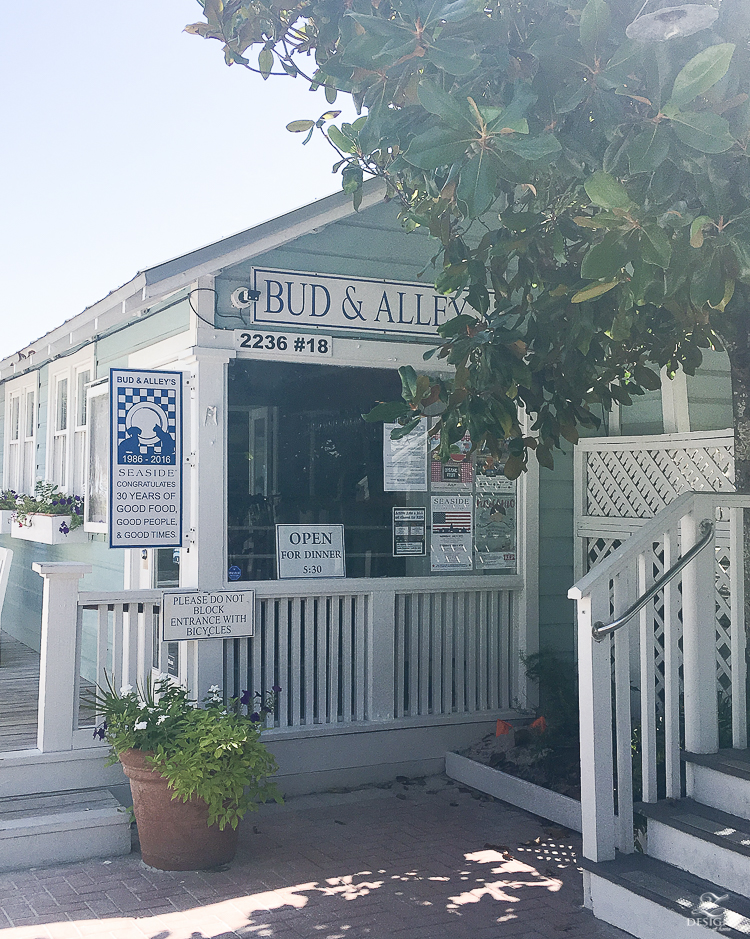 Right outside of Bud & Alley's is an open air shopping market that we patronized in Seaside called Perspicacity.  They have cute clothes, jewelry, darling hats, beach bags, and lots of other cute beachy things for sale.  If you love to shop this should also be on your list of things to do while there.  And of course you have to shop in Seaside Square (the neighborhood of Seaside is adjacent to the neighborhood of Watercolor)!  My favorite shop in Seaside was called The Seaside Style…we bought t-shirs there and they have some home decor items so I did manage to find a cabin quilt and shams there for my son's room that I'll be sharing in the near future.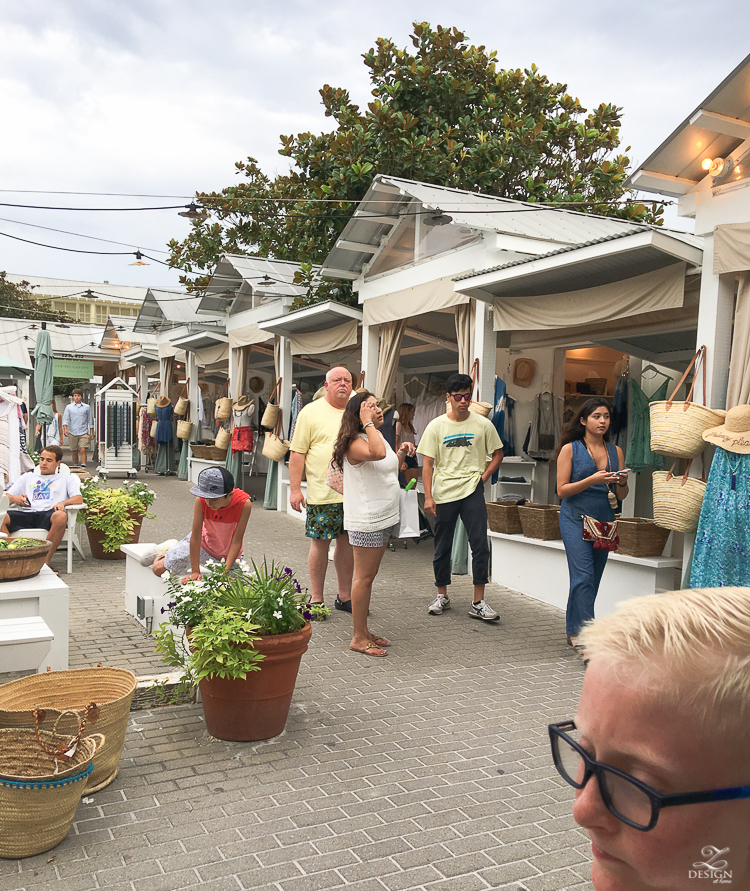 The final night we ate at Great Southern Cafe in Seaside Square.  The food was great…make sure to get the hush puppies though because they're amazing!!  The atmosphere was also great and it's a family friendly restaurant that we'll definitely go back to next time we visit!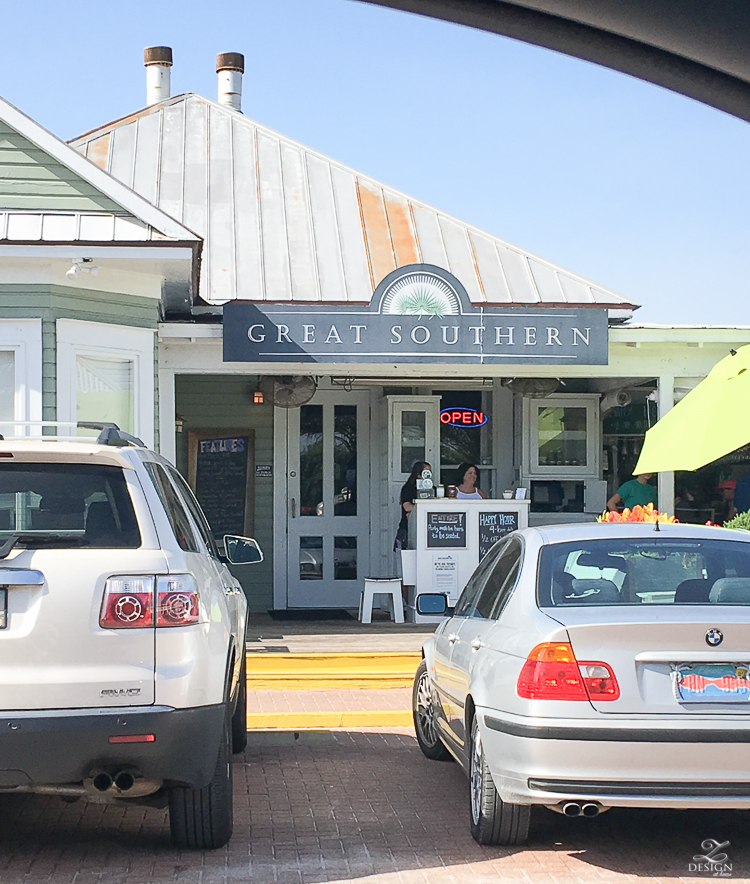 Another fun place we had brunch on our last day after we vacated the cottage was Whiskey Bravo.  The food was great here as well.  I had a shrimp wrap that was super delicious!  I understand this is also a great place for dinner and for it's night life.   This photo was taken on their roof top bar.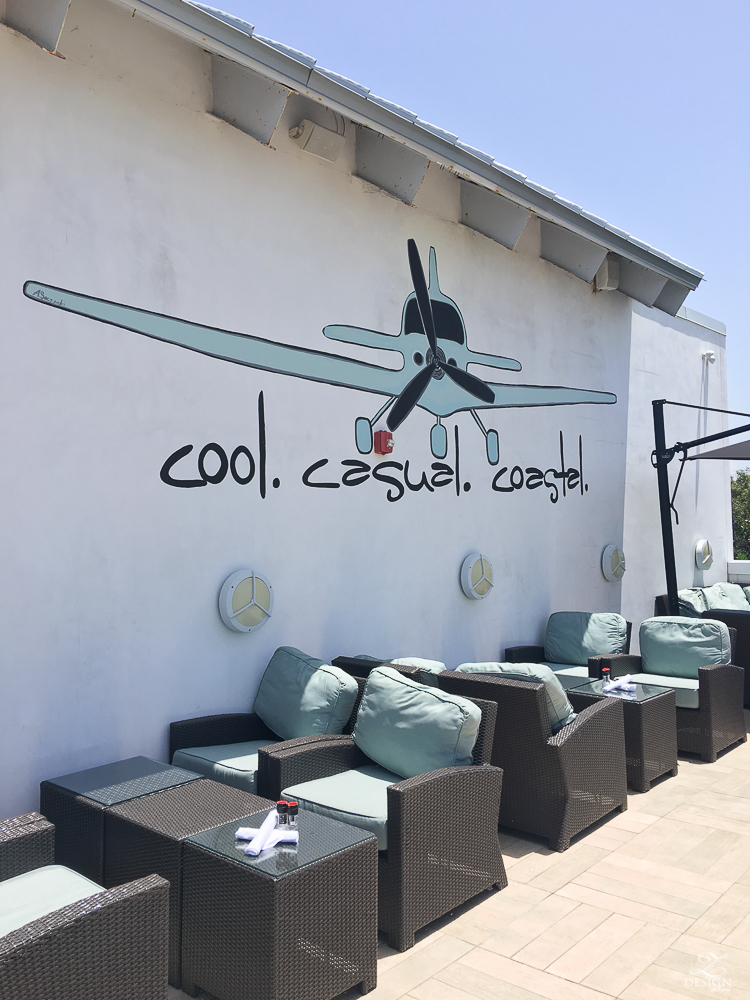 Our last food stop on the way out was when we hit the food trucks in Seaside Square where we had root beer floats and hots dogs at Wild Bill's Beach Dogs.  The hot dog buns were especially yummy!  There are several food trucks there that offer a variety of food and beverage to enjoy but the relaxed beachy atmosphere is the best part!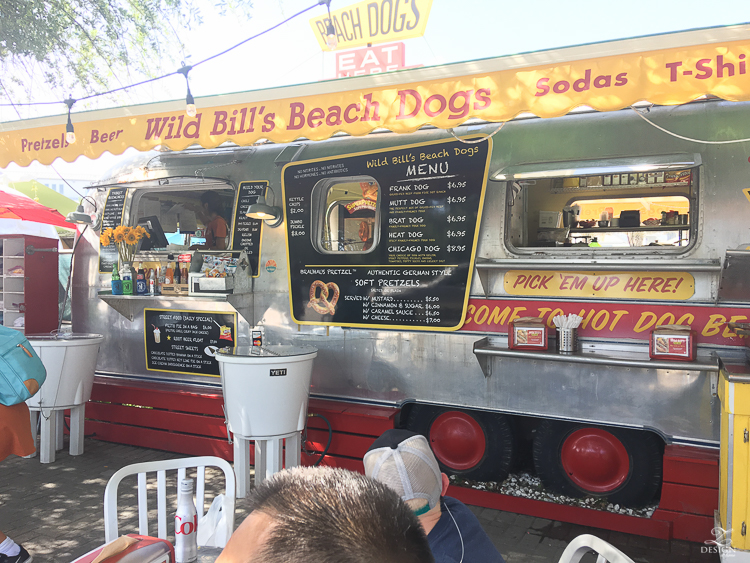 We also visited Dawson's Yogurt and Fudge not once but twice while we were there.  Their fudge is to die for and the yogurt isn't too bad either!
Now on to truly the best part of the trip which was all of the bike riding we got to do in and around Watercolor and Seaside.  Our rental came with 6 bikes which were all adult bikes so if you are planning a trip I would bring kid's bikes if you are going to need them or you can always rent children's bikes while there if you need to.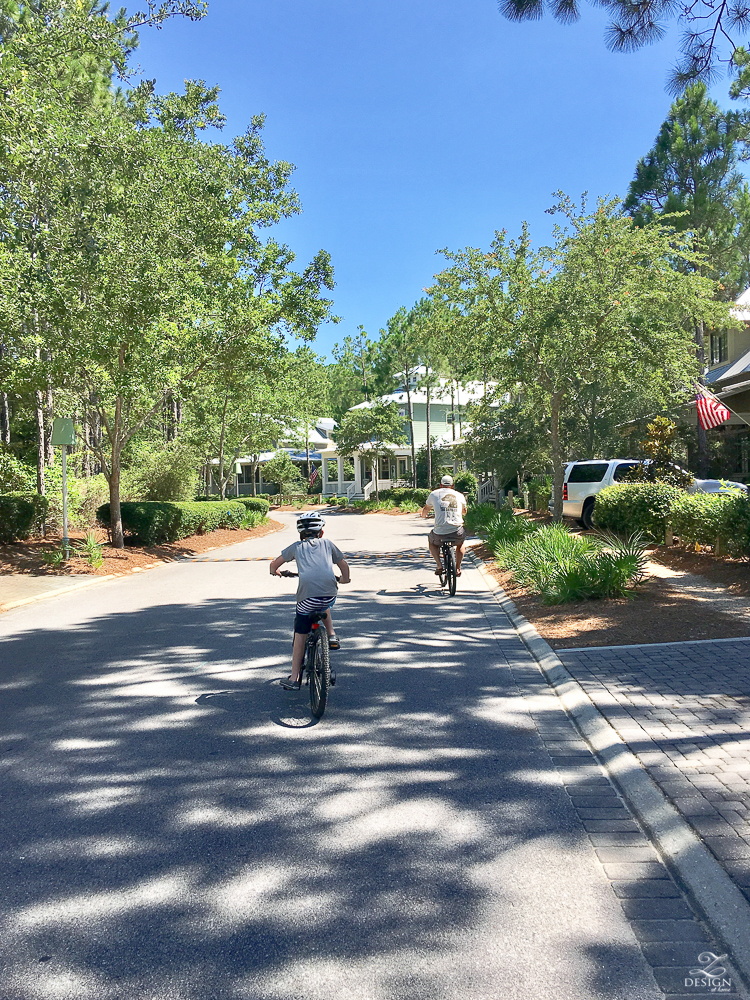 If you've never been to Seaside or Watercolor you'll be amazed at all of the people out riding bikes.  It makes things feel so light hearted and fun around the town and you can get to just about anywhere on your bike, including to the beach, restaurants and all of the shopping in the town of Watercolor and Seaside.  Below is one of the trails through Watercolor that was our favorite.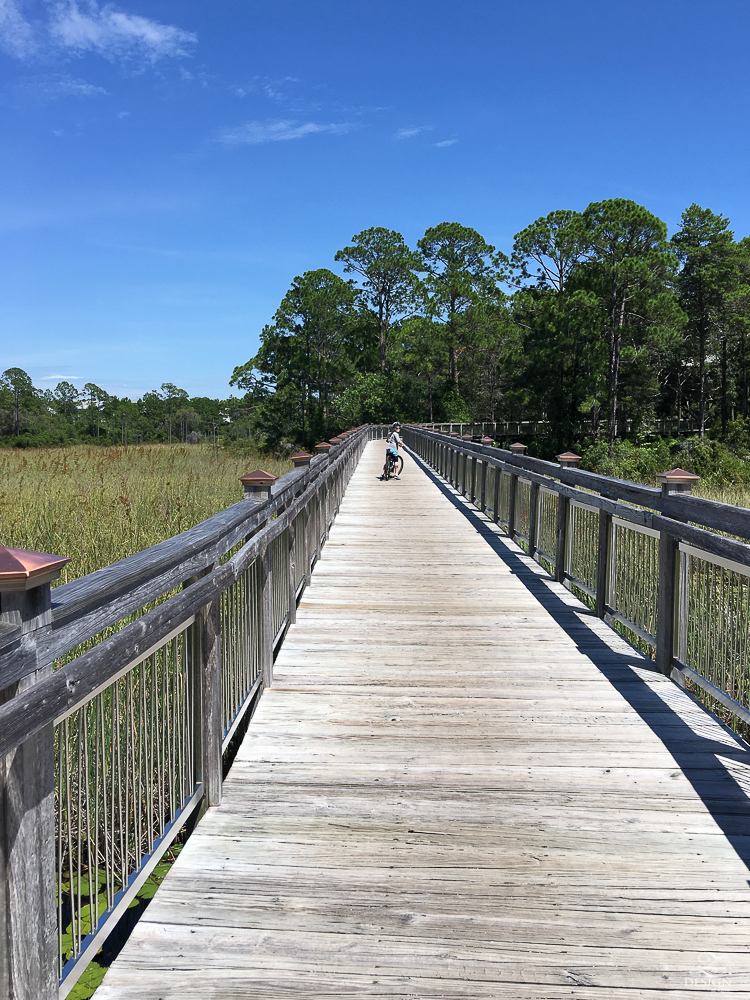 One day my brother and sister-in-law and my family went out on a two hour ride just to house stalk and drool.  Might sound silly to some but we got so many ideas since we are both going to be building homes this year.  On the house front this was truly a highlight of the trip for me.  Here are some of the lovely homes we took images of.  I wish I could include more but hopefully you'll get to visit this lovely place for yourself some day soon and you'll see what I mean.  This amazing little town is like heaven on earth!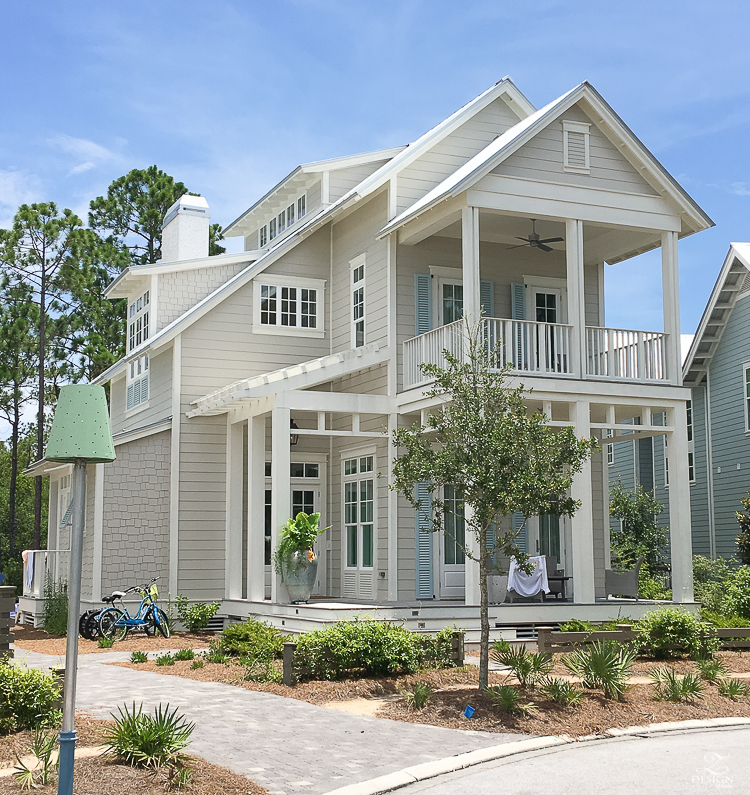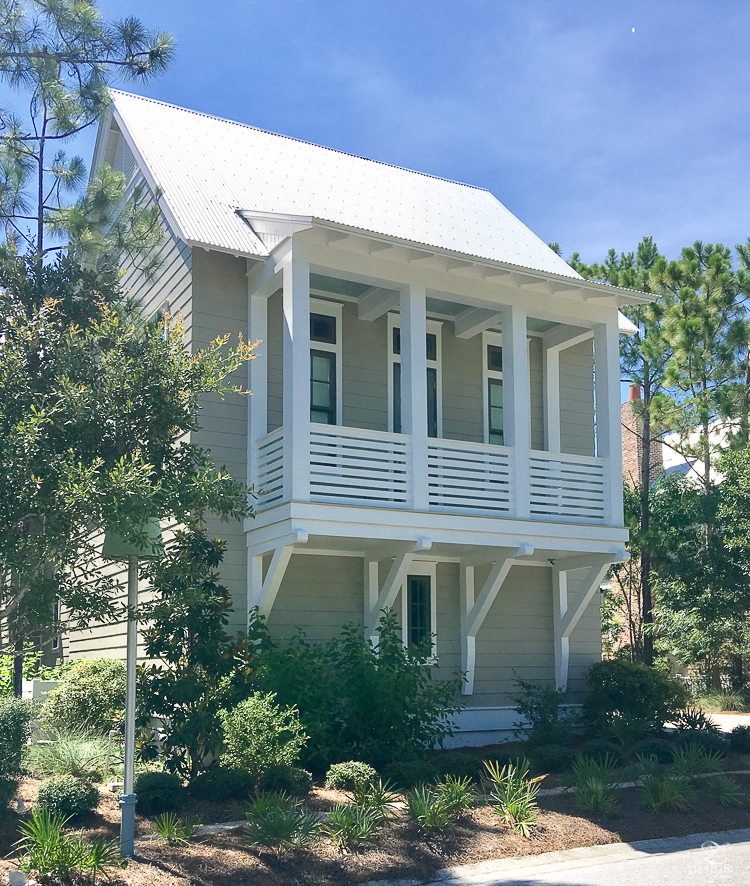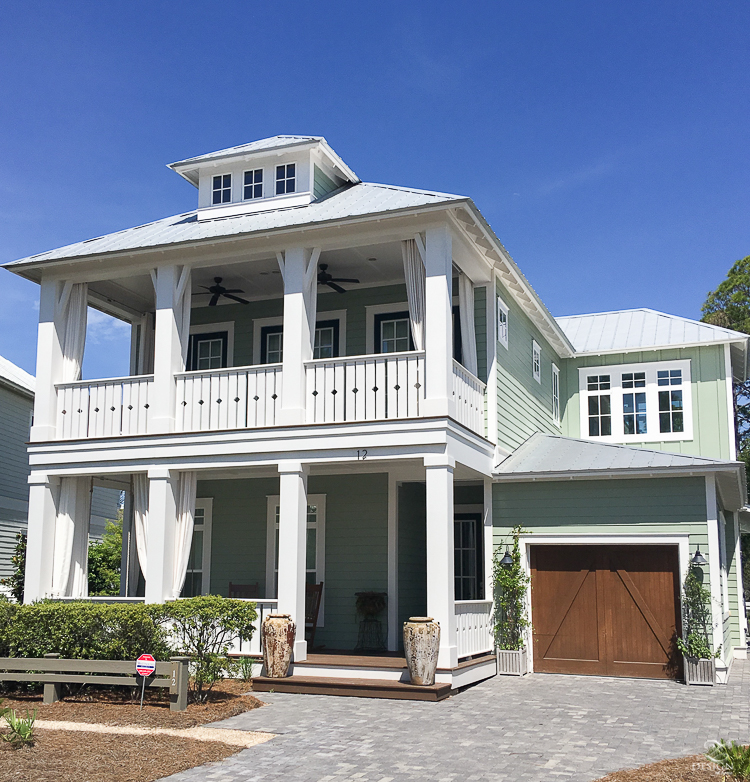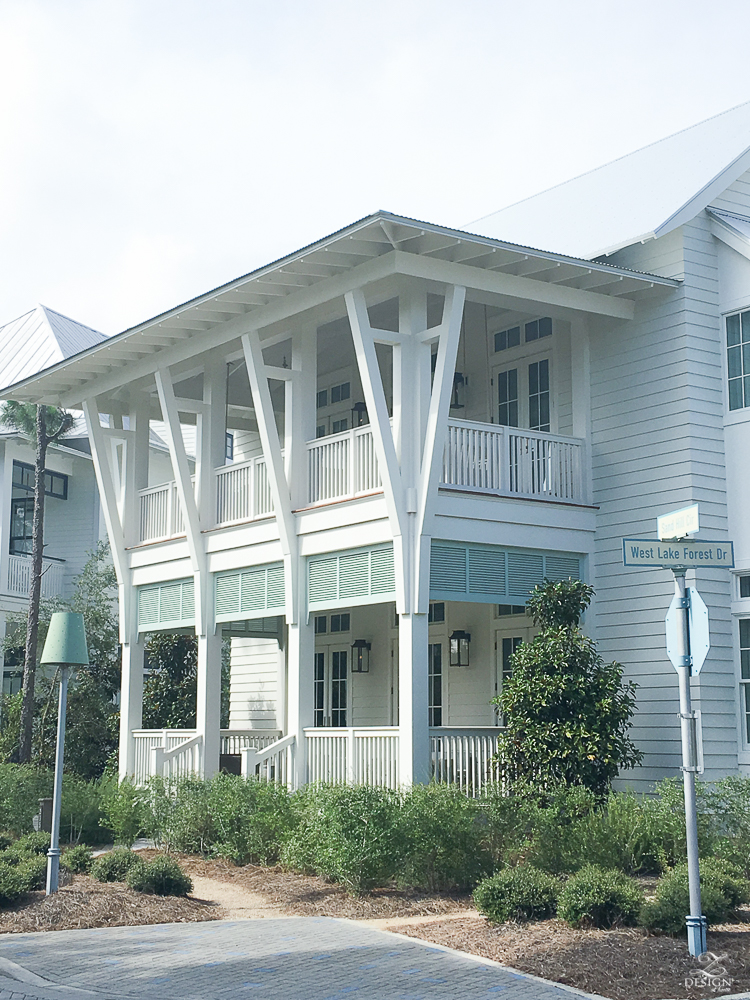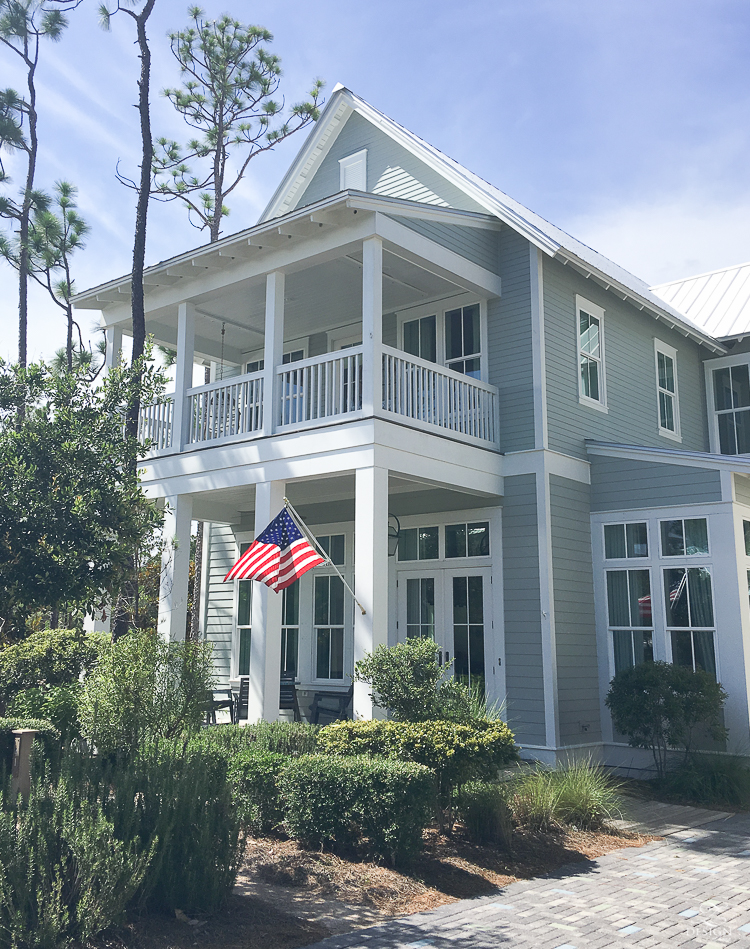 Below is one of the community mail facilities in the town of Watercolor.  This one was right across from Camp Watercolor which was a fun place within the community for the kids to go to the pool, splash pad, and playground.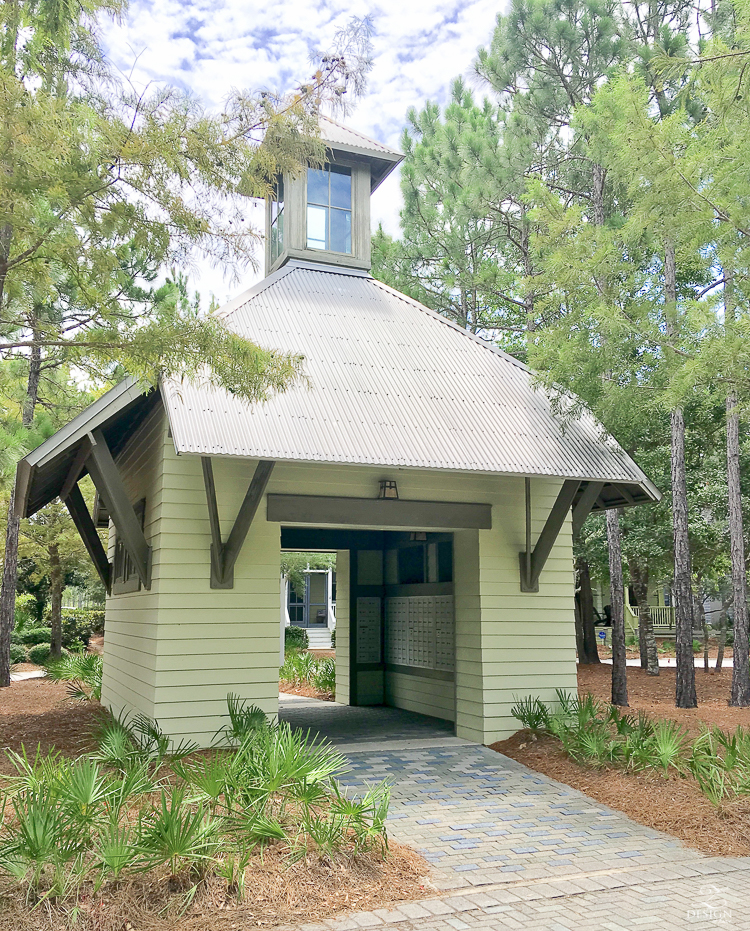 This particular house was in the Seaside community I believe but was typical of the patriotic display you might see from house to house in the area.  I really loved that about the area too!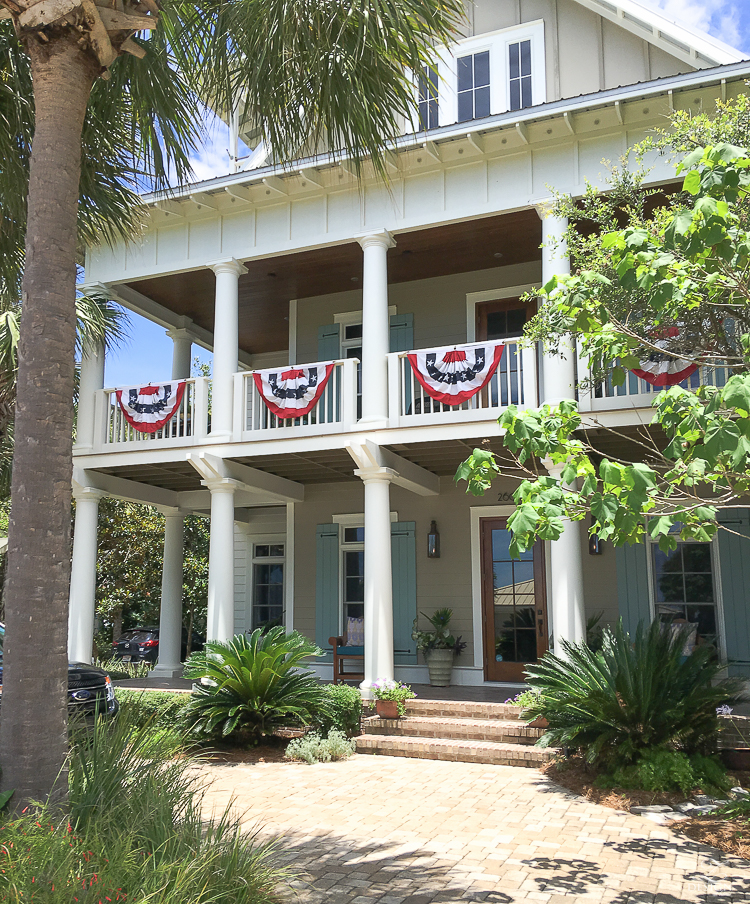 And last but not least is another beach community about 15 minutes east of Watercolor and Seaside called Alys Beach that we drove through to house stalk our last day there.  We toured an incredible model home there as well which you might have seen in my stories if you follow me on Instagram.  This is not the model home but is typical of the style of architecture you might see in this quaint sea side community.  We also drove through the Rosemary Beach community which is right next door to Alys that you might want to hit as well if you're down that way.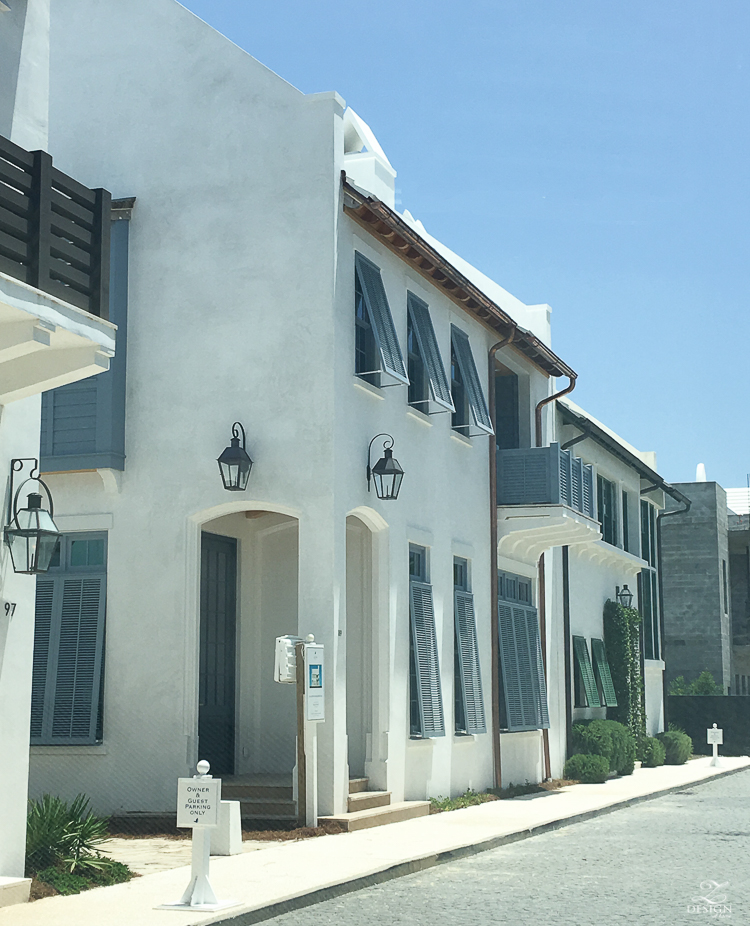 Well friends, that about wraps up this post but if you are planning a visit to the area and have questions please feel free to leave a comment below or email me here.
Happy Summer!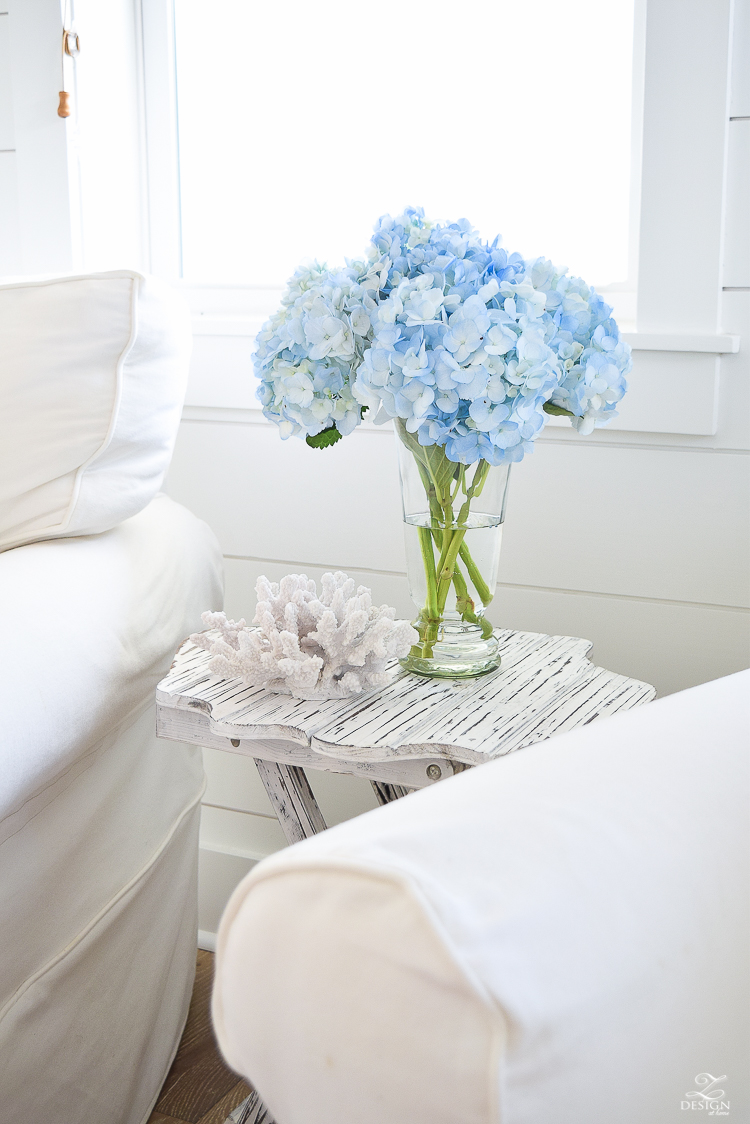 *Affiliate links used in this post – some similar items linked