What I Packed for Summer Vacation
Happy Summer and happy weekend, friends!  I'm so excited!!  I had my class reunion this weekend and now we are headed off to stay at the beach in Destin, FL in Watercolor for a week and I couldn't be more excited.  We rented a beach house big enough for our family to come in from Alabama and Florida and as we drive down the road headed that way I'm beside myself with excitement!!  We were long over due for a vacation like this (we are so bad about taking vacations…any body else?) so we are hoping this will be just what we need to get our summer kicked off right!  That said, I wanted to share some of my key summer fashion finds with you that I'll be taking on my trip (more on this awesome beach bag in a minute)!!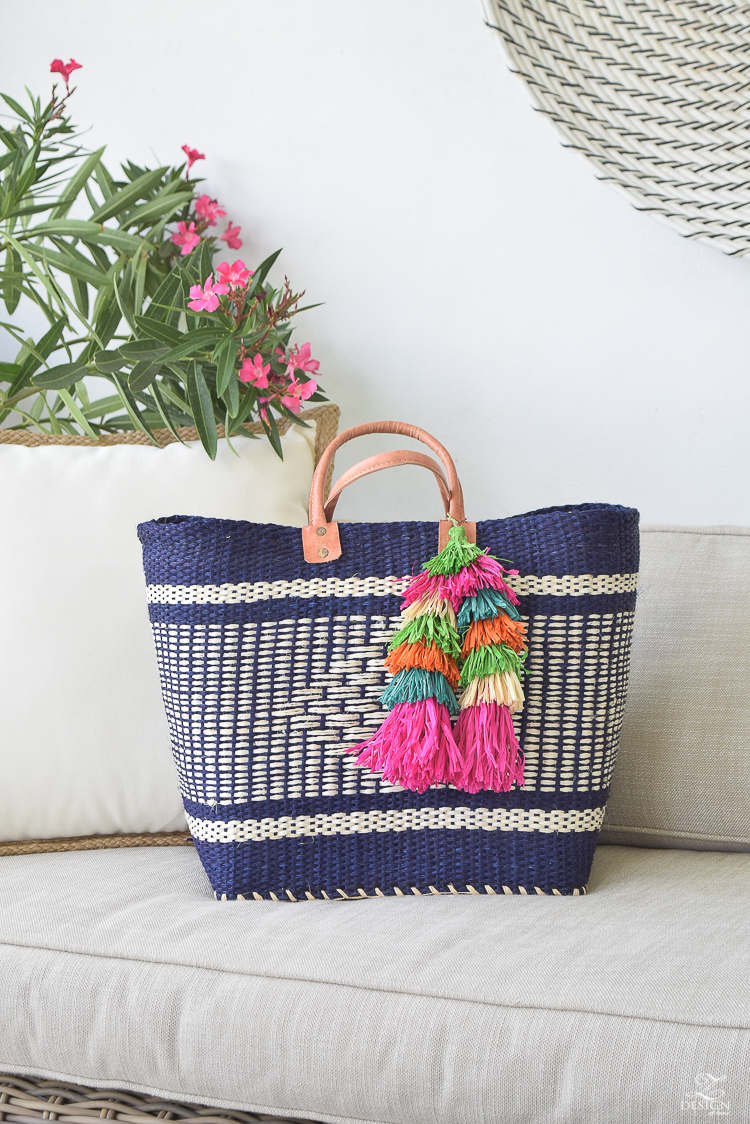 Speaking of my class reunion…you may have seen me share this super cute outfit on my Instagram stories since it's currently on sale!  I can't believe I totally forgot to take some photos of it but it is so flattering on!!  You can wear the top out or in and I paired it with my Tory clutch (that's no longer available unfortunately) and with this low healed Madden sandal in nubuck (I also tried it with the higher heel version of this shoe but the lower ones looked best) and with this darling beaded necklace.  I felt so comfortable and can't wait to wear it again!

Next up are just a bunch of cute tops, shorts, shoes and accessories that I lucked up on that I wanted to share since most of them are on sale now – woo hoo!  Earlier this year I went on a clean eating diet and lost about 17 lbs so I was in desperate need of some cute summer clothes.  This blue top is one of my absolute favorites of the bunch and I plan to wear it with these adorable pink tassel earrings (similar here & here).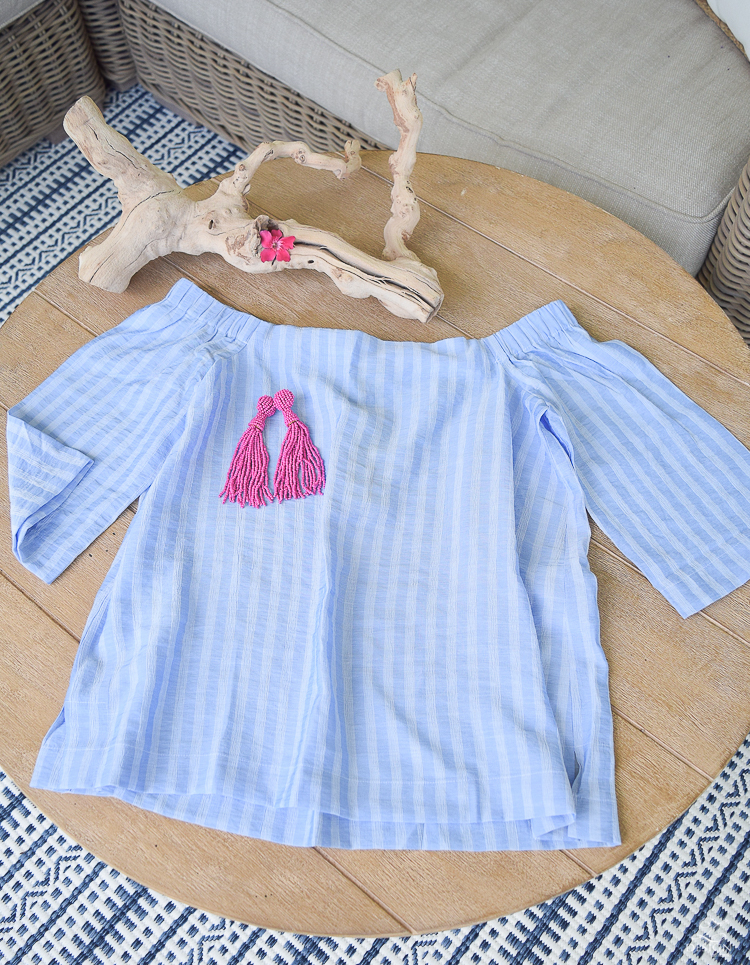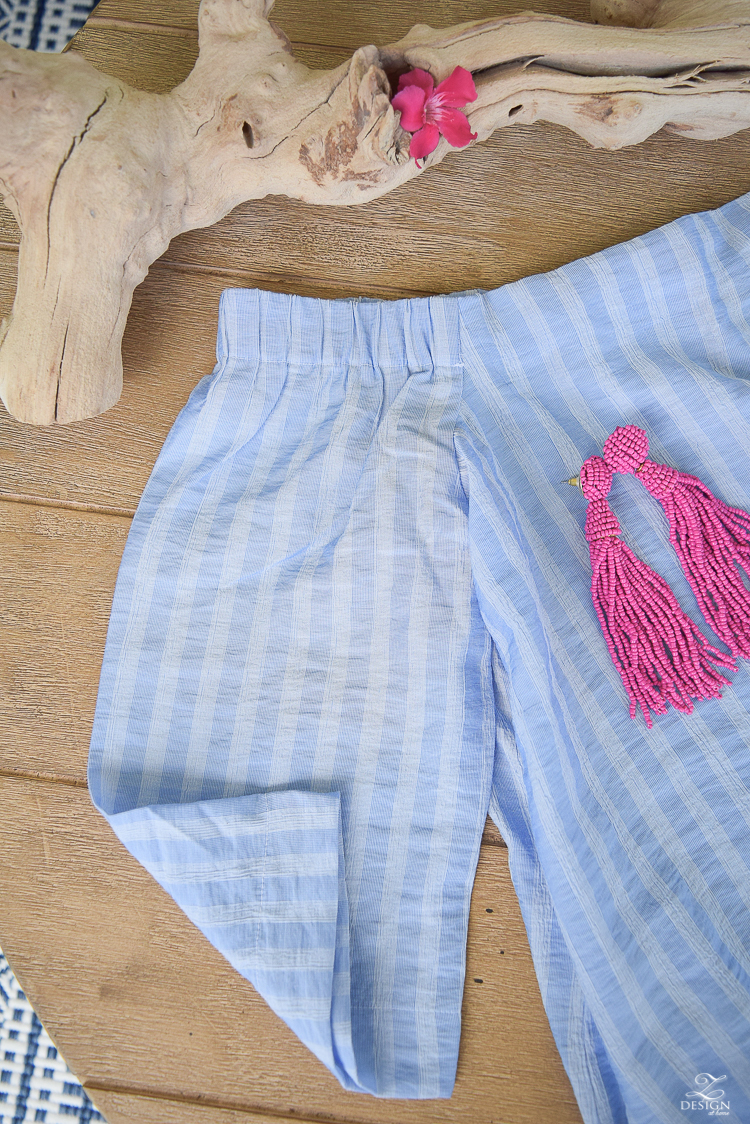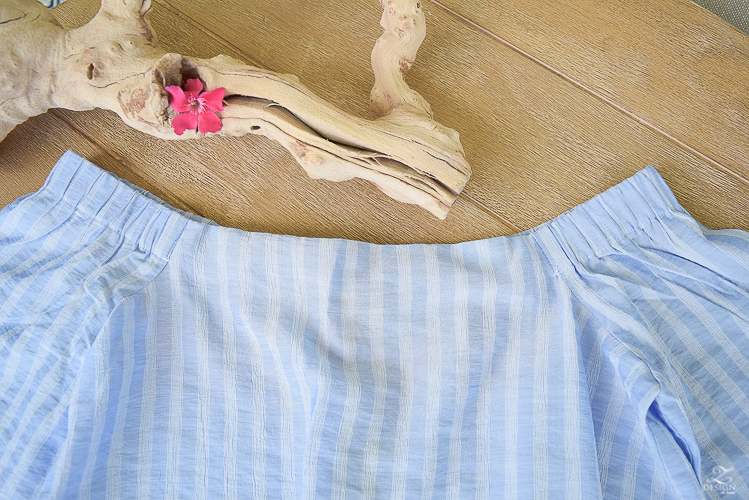 I also plan to wear it with white shorts and these PERFECT comfy slides (they come in 4 colors – mine are the blush suede)!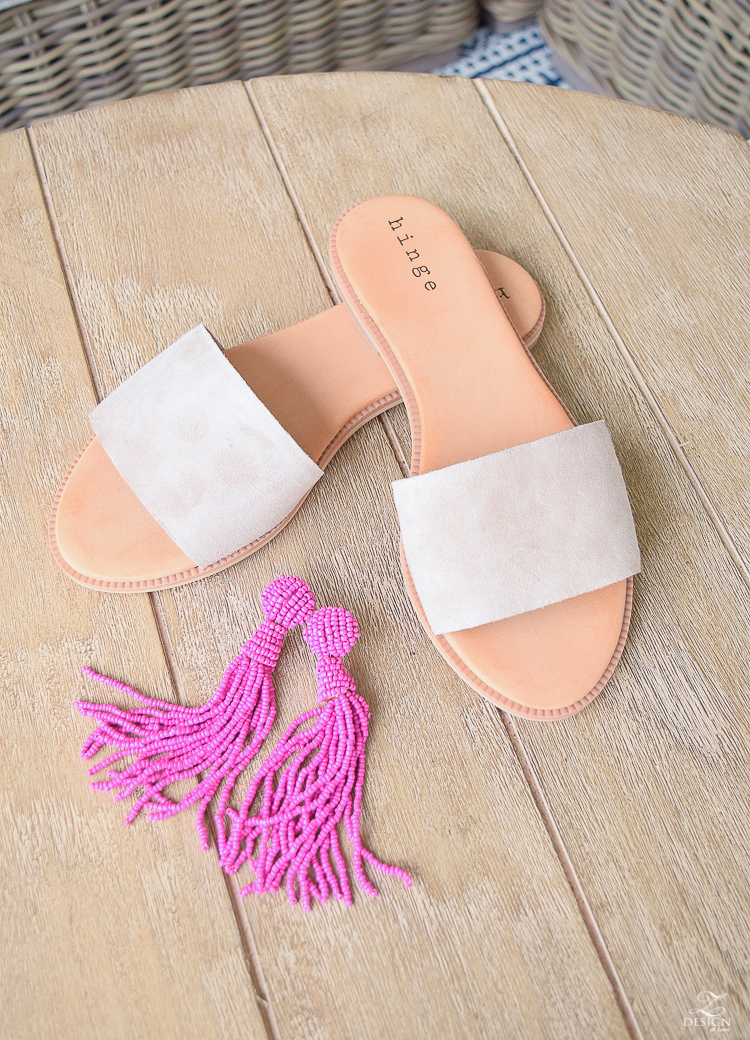 And speaking of shorts, here are some great 3 1/2″ inseam staple shorts.  I'm 5'4″ so these are the perfect length (not too short or too long and all on sale right now).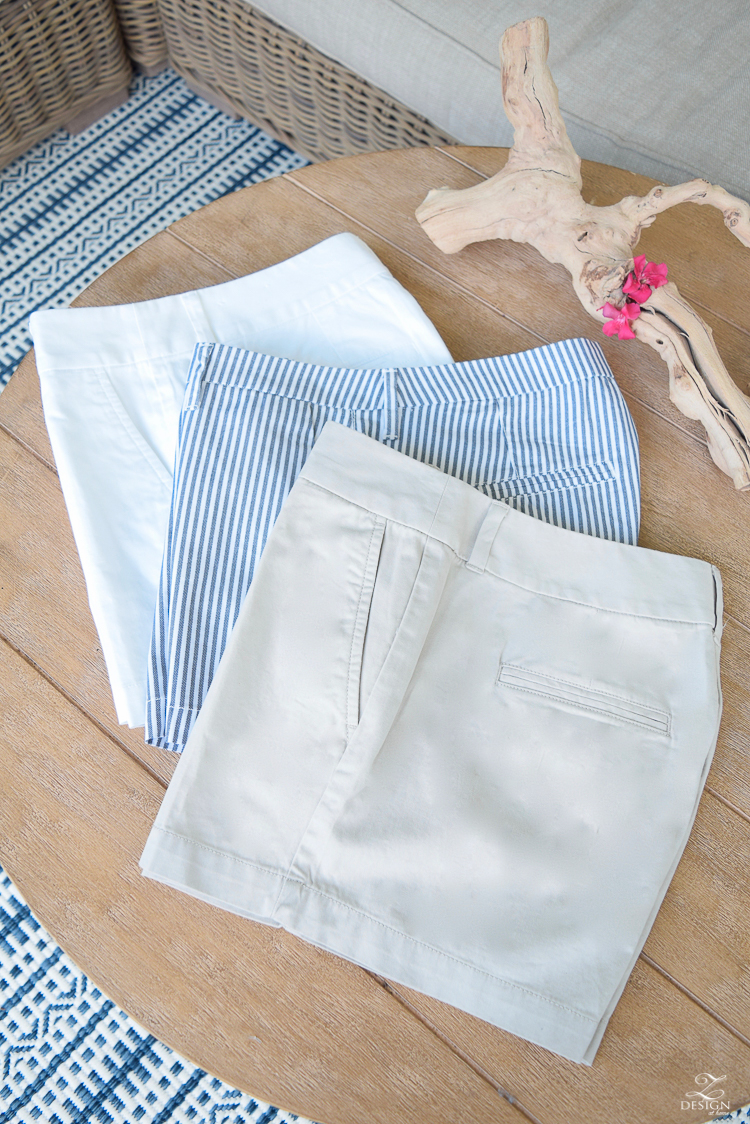 Same for these denim shorts (and they are on sale too!).  On a side note these are my favorite everyday sandals.  They come in 8 colors are just the perfect knocking around shoe that goes with everything (I have them in black leather and beige patton)!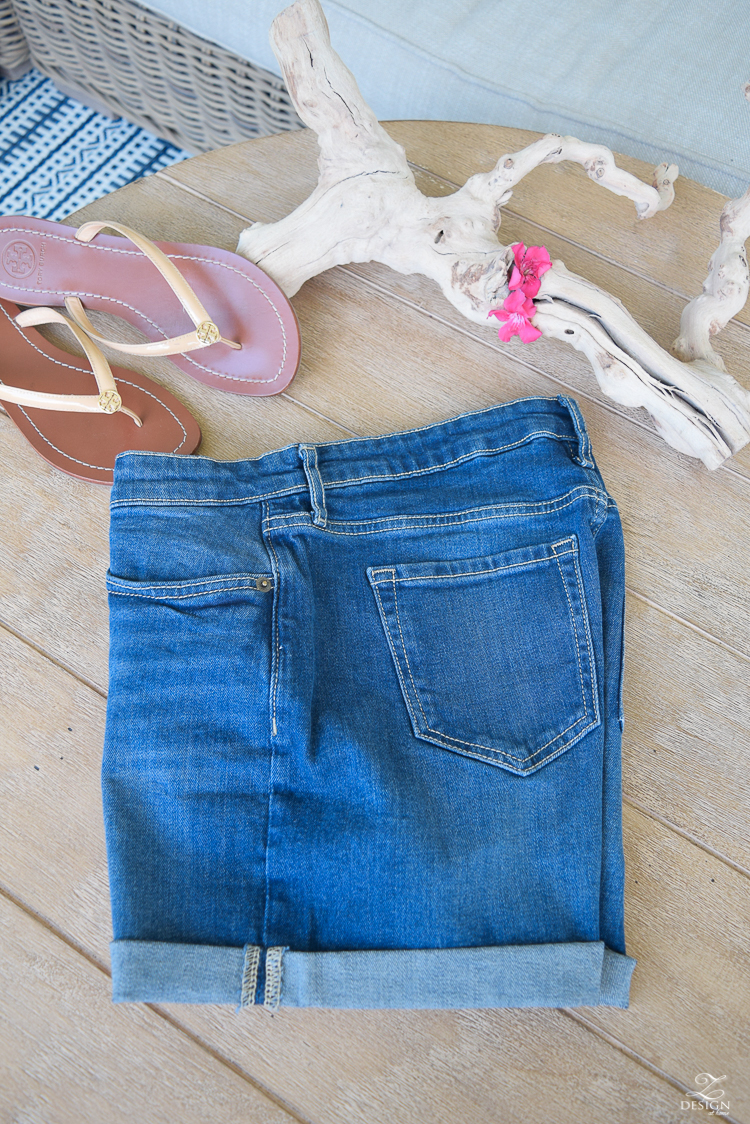 The color is off in my photo but this coral cold shoulder top is SOOO flattering.  It's perfect for date night (and for cold restaurants since it has a sleeve to the elbow) and is a great price right now!  Also looks super cute with these striped shorts from up above.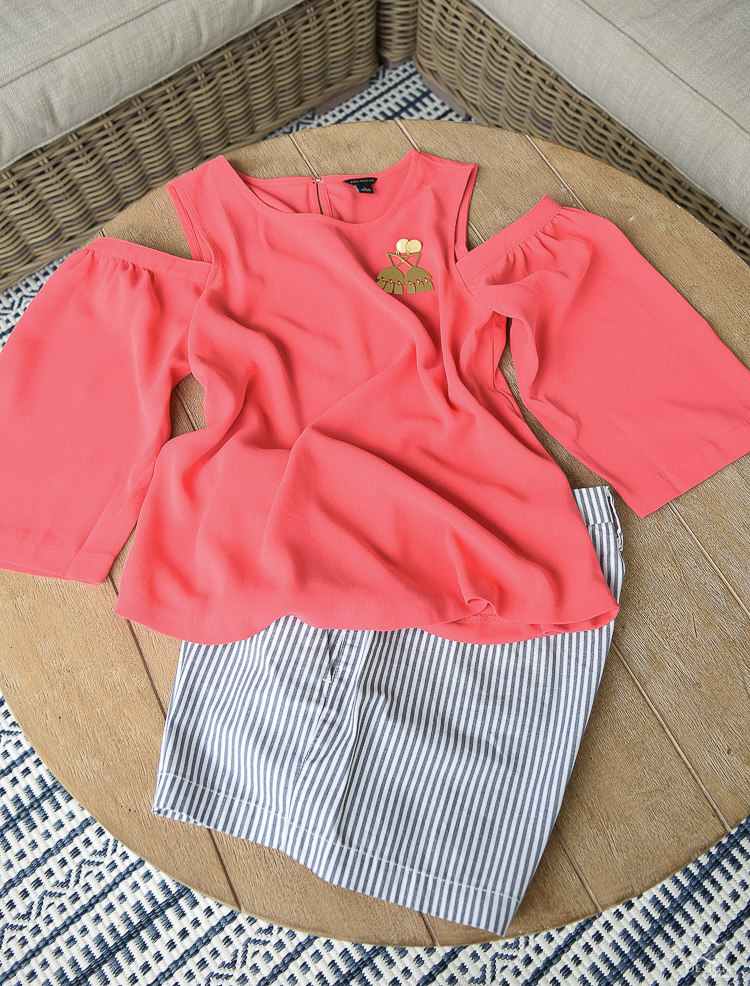 LOVE these earrings that I recently saw a cute new friend wearing…they were love at first sight!!!  They happen to look great with my coral top above;)!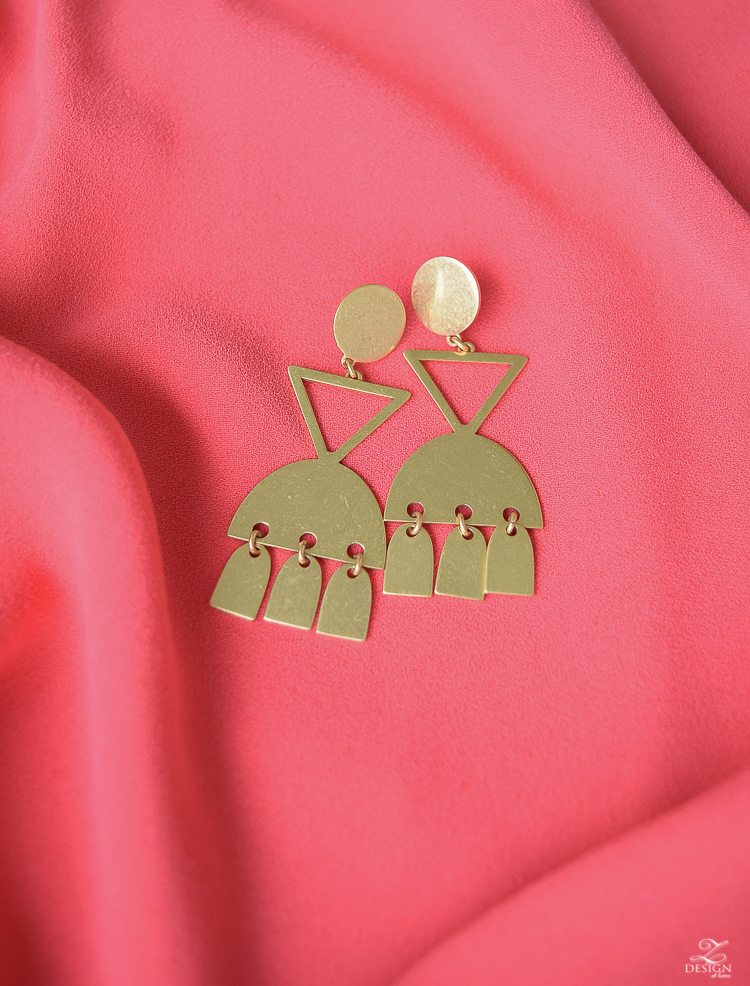 Another super cute summer top is this one shoulder ruffle black & white striped top!  I loved it so much I also got it in black and plan to wear both all summer long.  It's on sale too right now!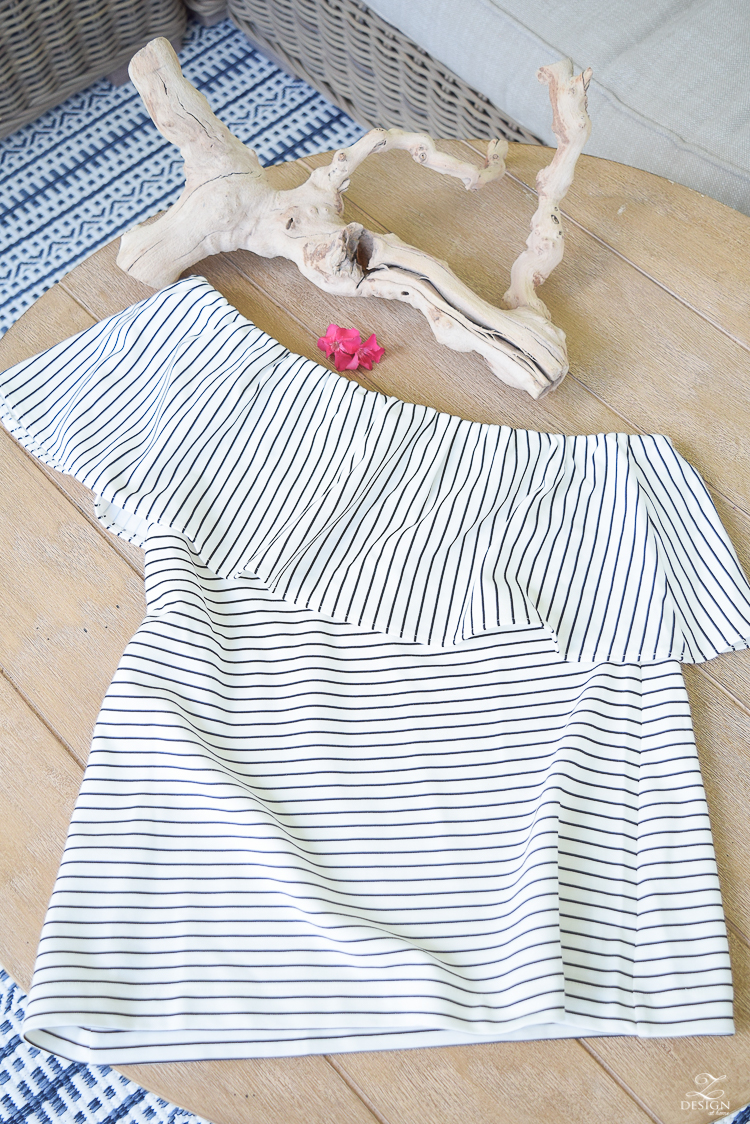 I've shared these before but still can't get enough of my buffalo check shorts!  They run a little big though so size down.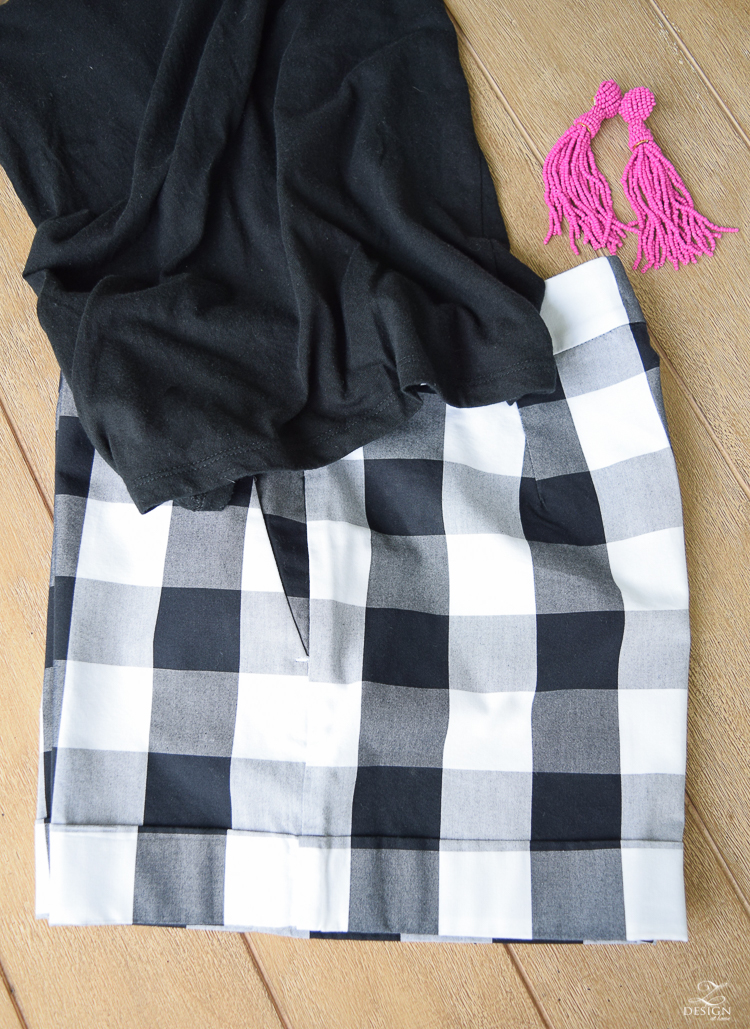 These comfy pom pom white linen/cotton shorts are no longer available but I've sourced a very similar super cute pair here.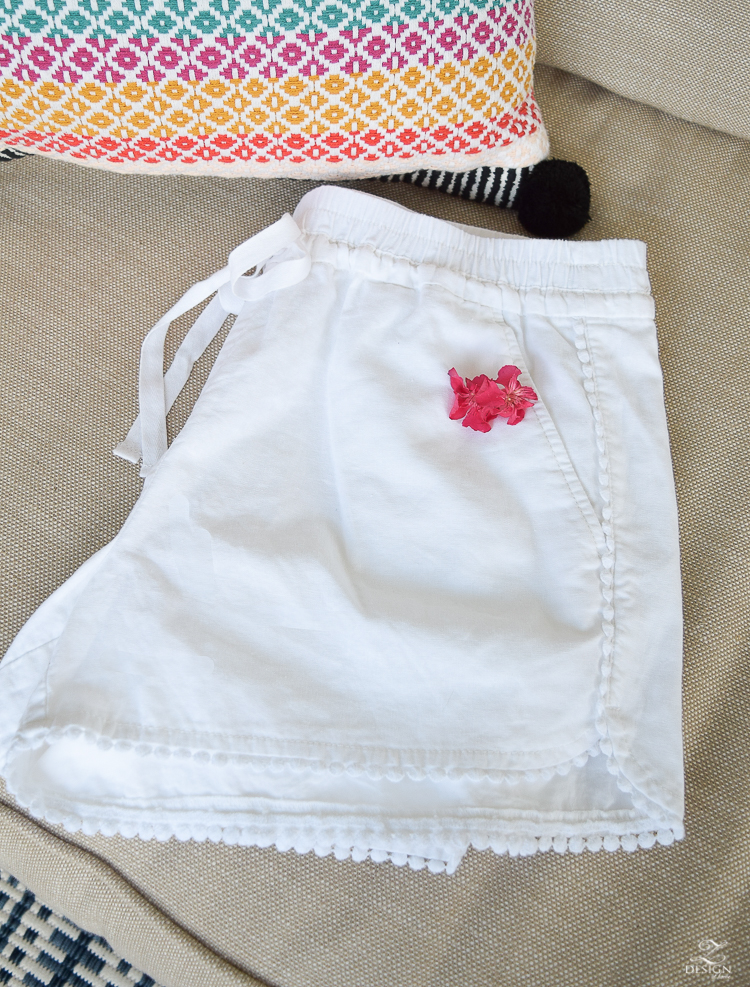 And you can't forget about cute, comfy lounging and sleeping shorts while you're on vacation, right?!  LOVE these palm print shorts and These tropical pom pom loungers.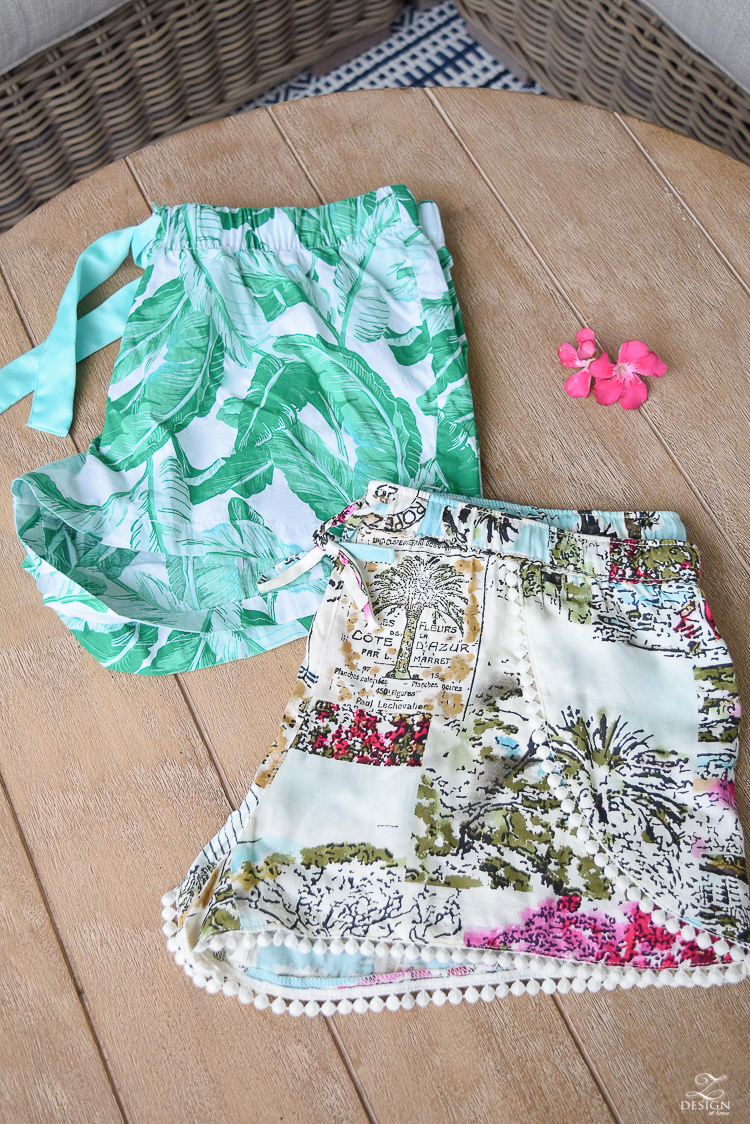 These deserve a photo of their own because they are just that perfect for summer and summer vacation lounging!!  A little more than I would normally spend on lounging shorts but soon well worth it.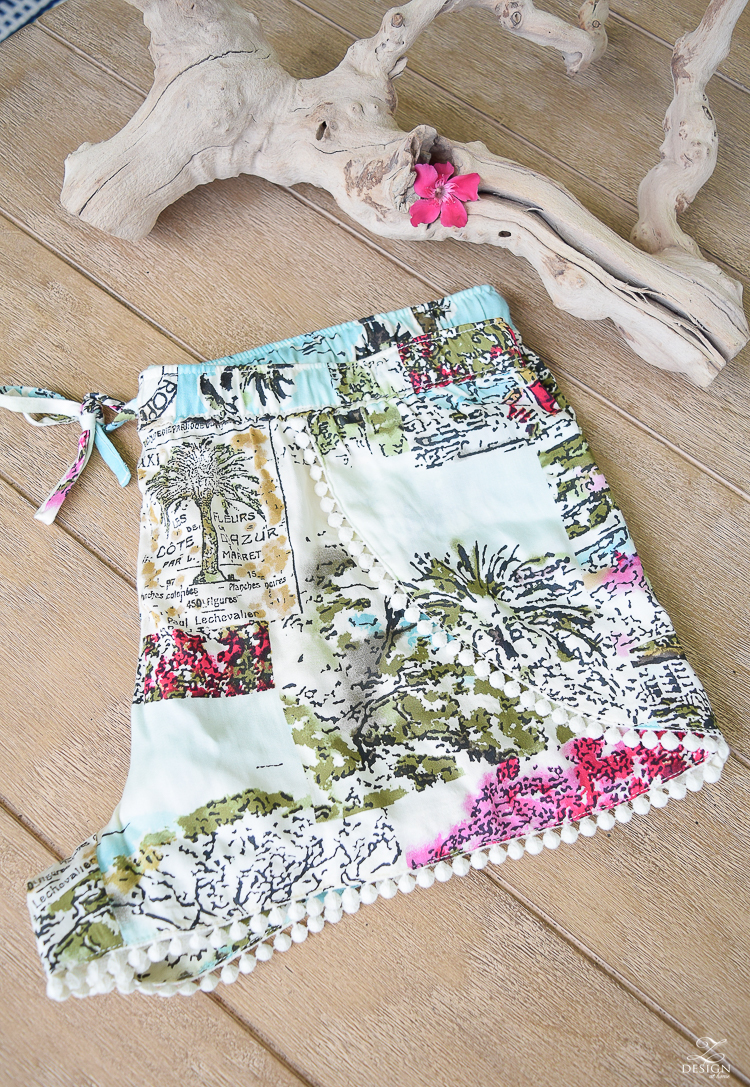 These are the best, casual most comfortable shorts!  I have them in 3 colors and even have them in the pants version for a light weight cotton/linen summer pant!  Bringing all of them on vacation and they are all on sale right  now!!

Of course I'm bringing along my denim ruffle top and coral wrap wedges and they are both also on a killer sale right now!!  The wedges come in black, navy, and coral and are currently under $60!!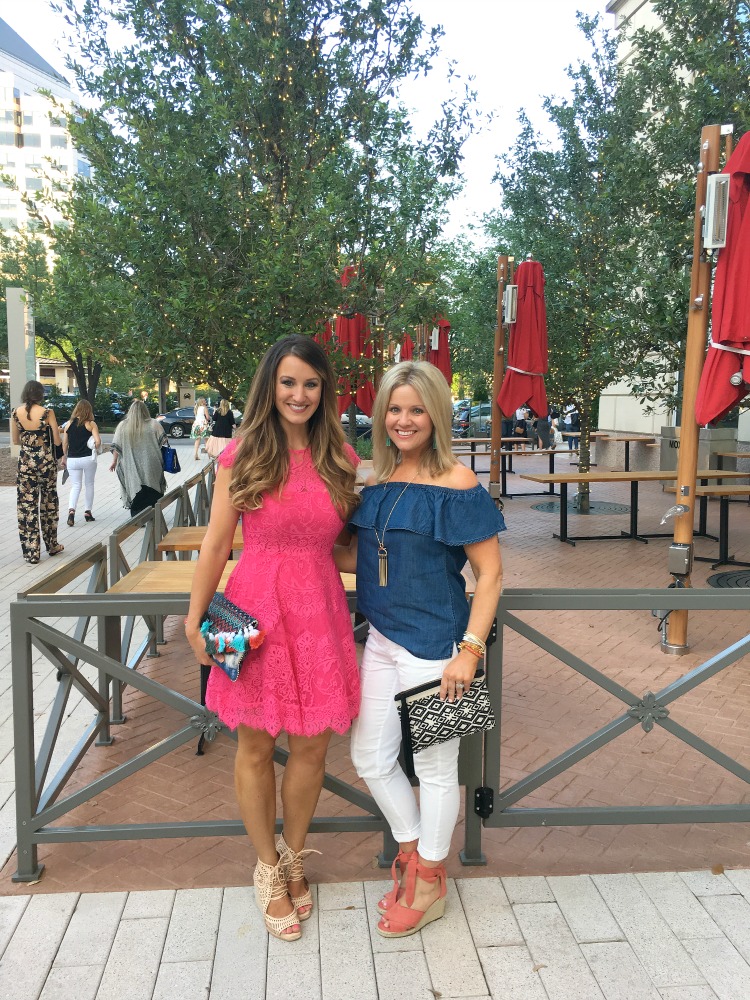 Brittany of Addison's Wonderland

And last but not least, this is one of the swimsuits I chose.  It was the least suspecting of the bunch I tried on because it seemed a little boring on the rack but it turned out to be so flattering and comfortable.  It looks a bit royal blue or indigo in this photo but I'd say it's a true navy.  I wear a small or extra small normally (or anywhere from a 2-6 depending on the store) and I ended up with a size 6 in this suit…seems like I always end up sizing up in swim suits, how about you??  It also looks super cute paired with my straw tassel bag!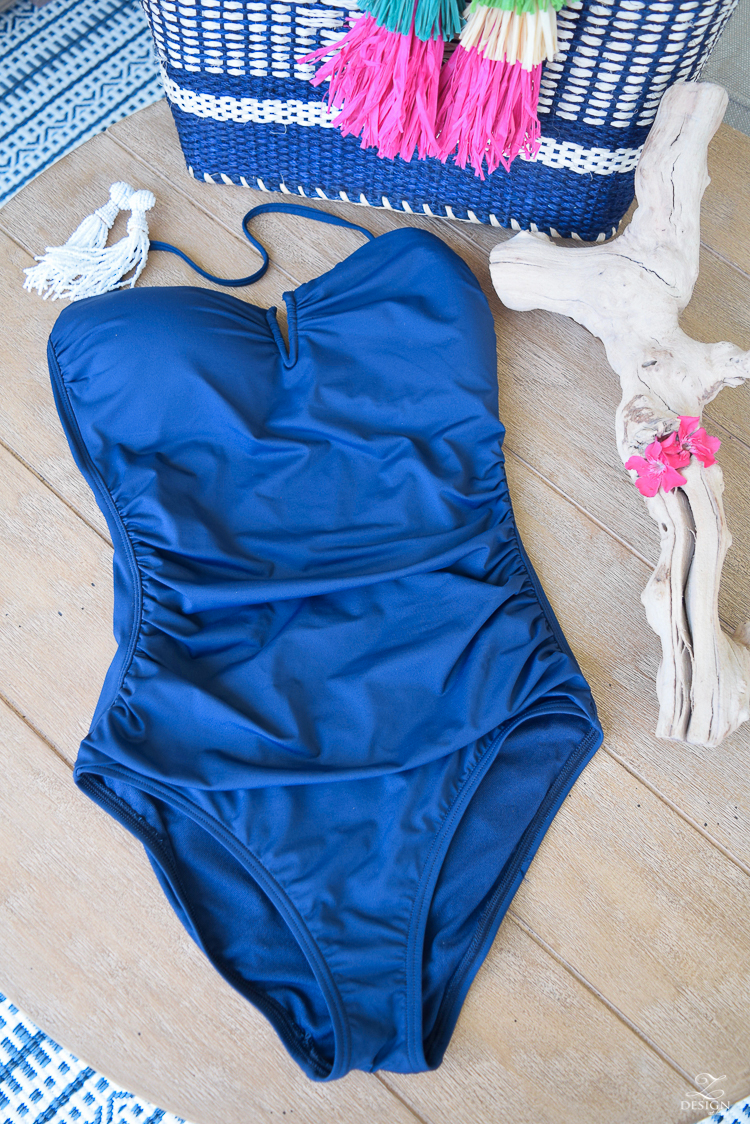 And last but not least is my tassel bag that I'm completely smitten with!!  This was one of those purchases that I held off on for the longest but finally gave in when I was shopping for this trip and I'm so glad I did!!!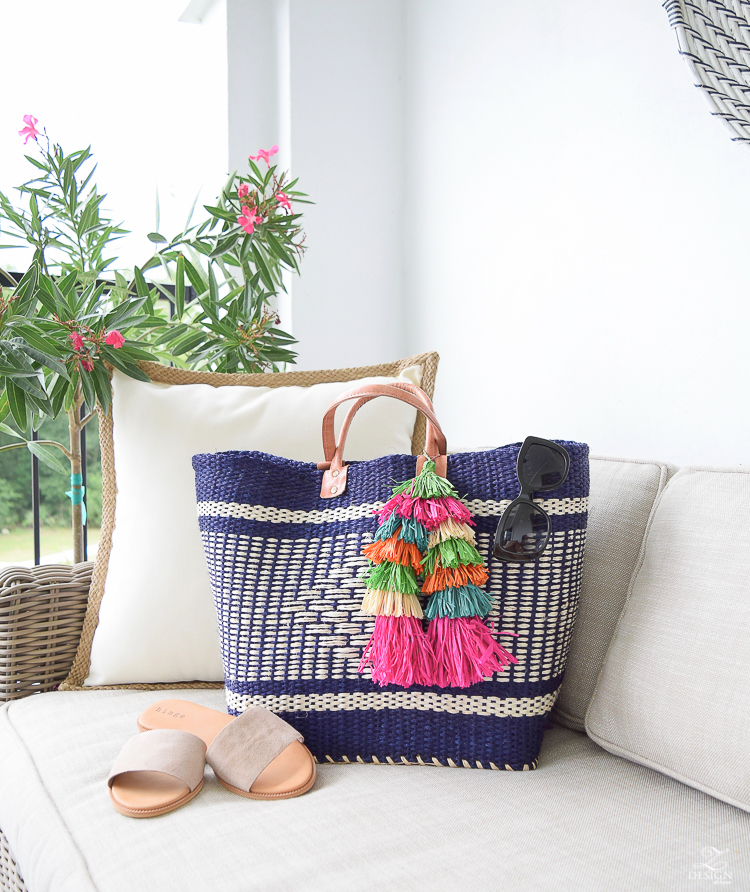 The cute tassel just screams summer, doesn't it?!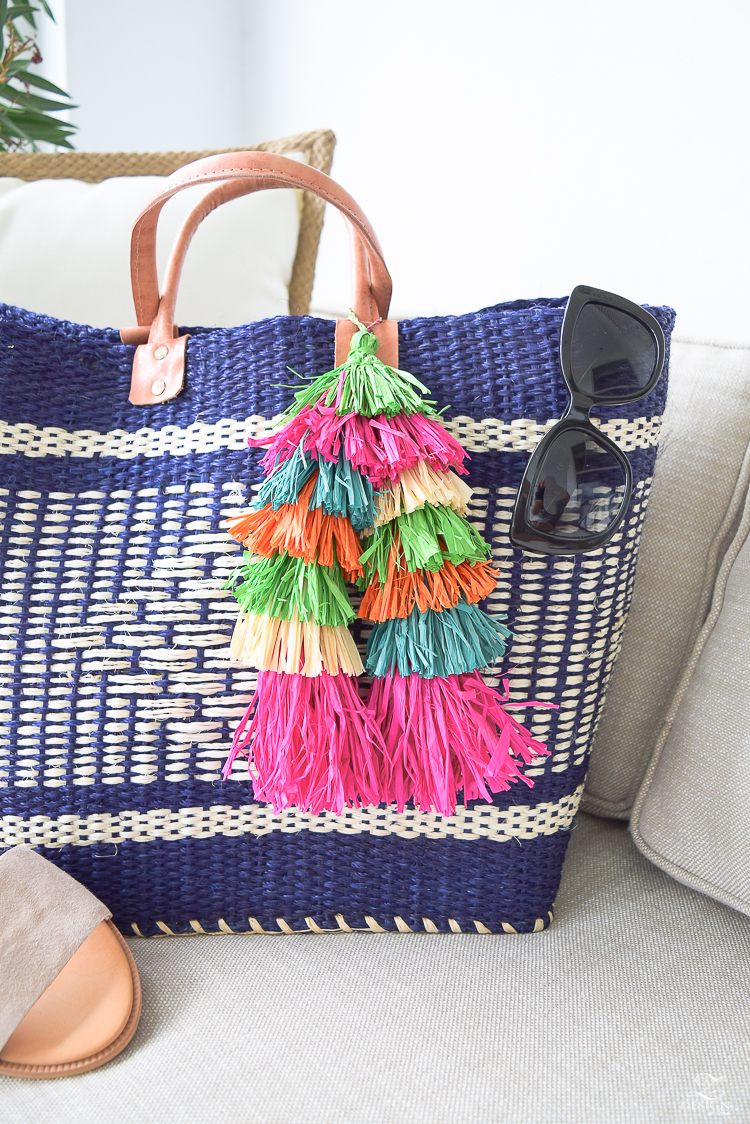 Tops
Bottom
Accessories
Shoes
Happy Summer, friends!!