Give me all the Tassels & Fringe!!
I remember when I started decorating our first home after we got married and tassels were soo0 in!  And I'm not talking about the hip, cool, trendy tassels we are seeing in design today.  I'm talking about your grandma's tassels as in tying your drapes back to the side with a big 'ole ugly tassel that was attached to a braided cord type tassel…ewww is all that comes to mind at the moment when I think about it now!  Now, as you probably know (and as I've learned over all of my years of decorating my home and for clients) everything comes back in style and there seems to be not much new under the sun so I was a little leary at first but am really starting to love the current trend we are seeing of tassels, fringe and yes, even pom poms, everywhere!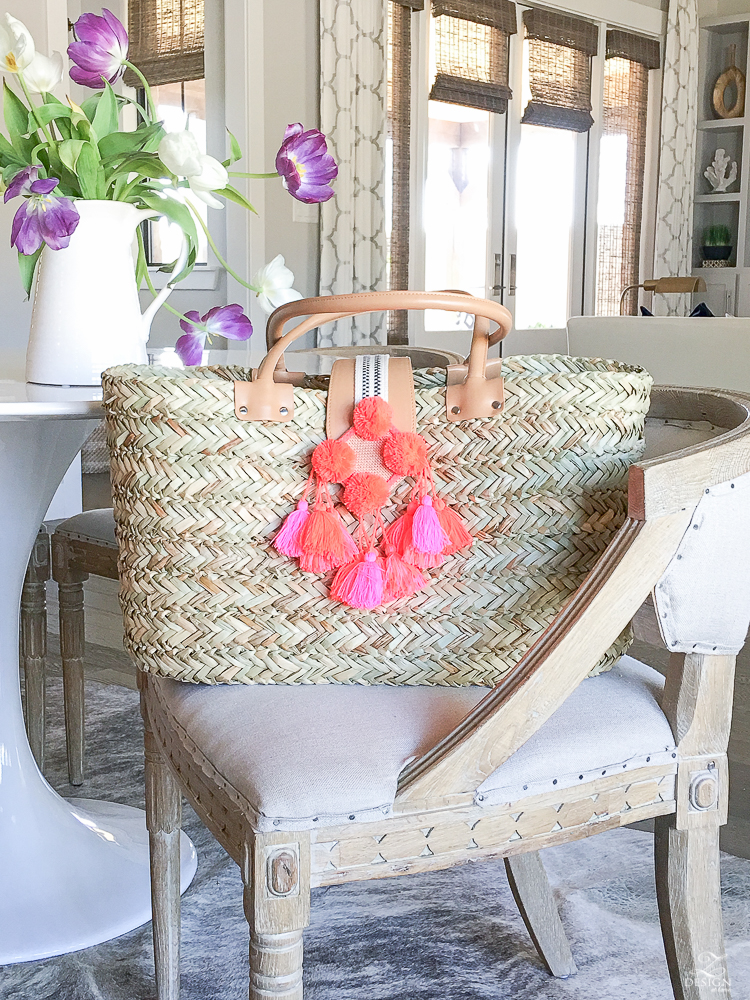 Anything from tassels on pillows, to fringe on poufs, to pom poms on purses, these three adornments are all the rage and the first thing I wanted to share with you today is this pom pom, tassel beach bag I found at Target.   So, if you like it I would run (not walk) to order it because after I purchased it I was at Target later the same week and they were already sold out. You may also want to take a look at the line up below of some other beautiful ones I've rounded up (*affiliate links used in this post)



The item that started my love for tassels again recently was this black and white striped tasseled throw!  I first shared it in my Decked & Styled Spring Tour (you can get caught up on that here if you haven't see it yet) and it was a huge hit!  It's truly been one of my favorite pieces this season.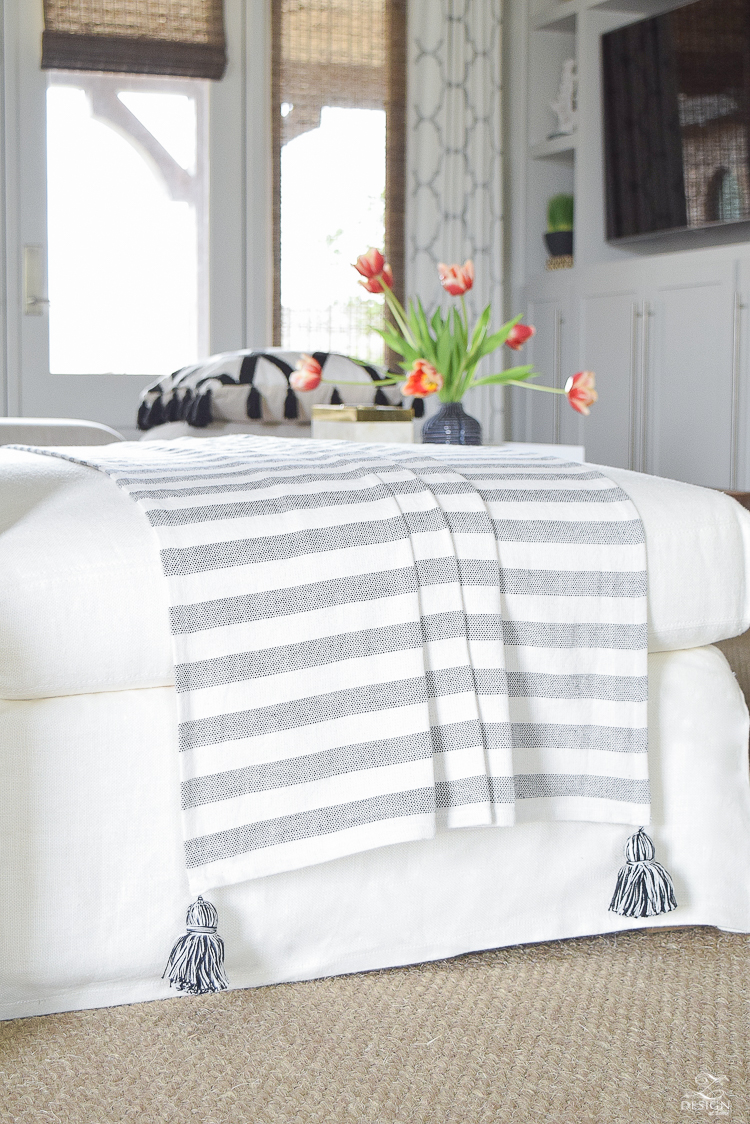 Here is another favorite tassel throw of mine (this one actually has fringe and tassels – similar here & here).  I have had this throw for quite some time but every time I pull it out like I did this spring it always feels fresh to me.  Fringe on a throw is nothing new but some of the modern fringe items we are seeing recently is taking home decor accessories and textiles to a whole new level.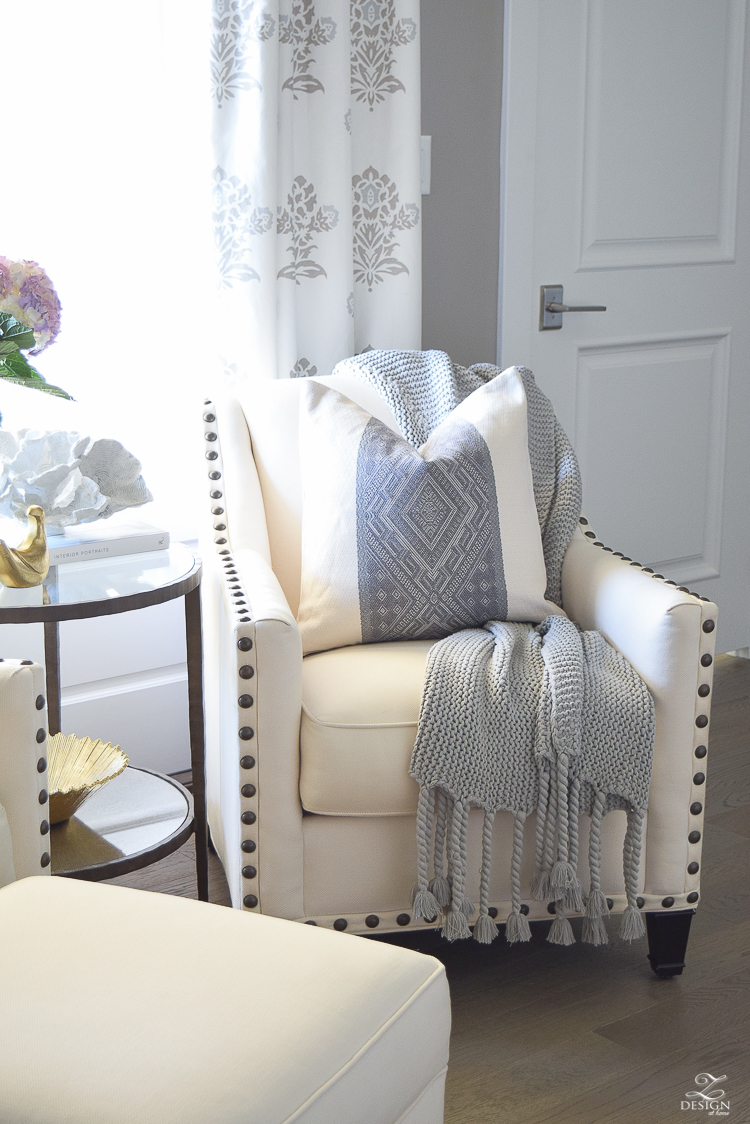 A recent find were these tassel and pom pom pillows I'm using in my outdoor space (if you didn't catch my final spring tour of  2017 where I shared our outdoor space you can get caught up on that here).  They are not actually outdoor pillows but they were so affordable that I decided I couldn't live without them outside so here they stay for now.  They might end up inside before it's all over with but for now they will live and look lovely here!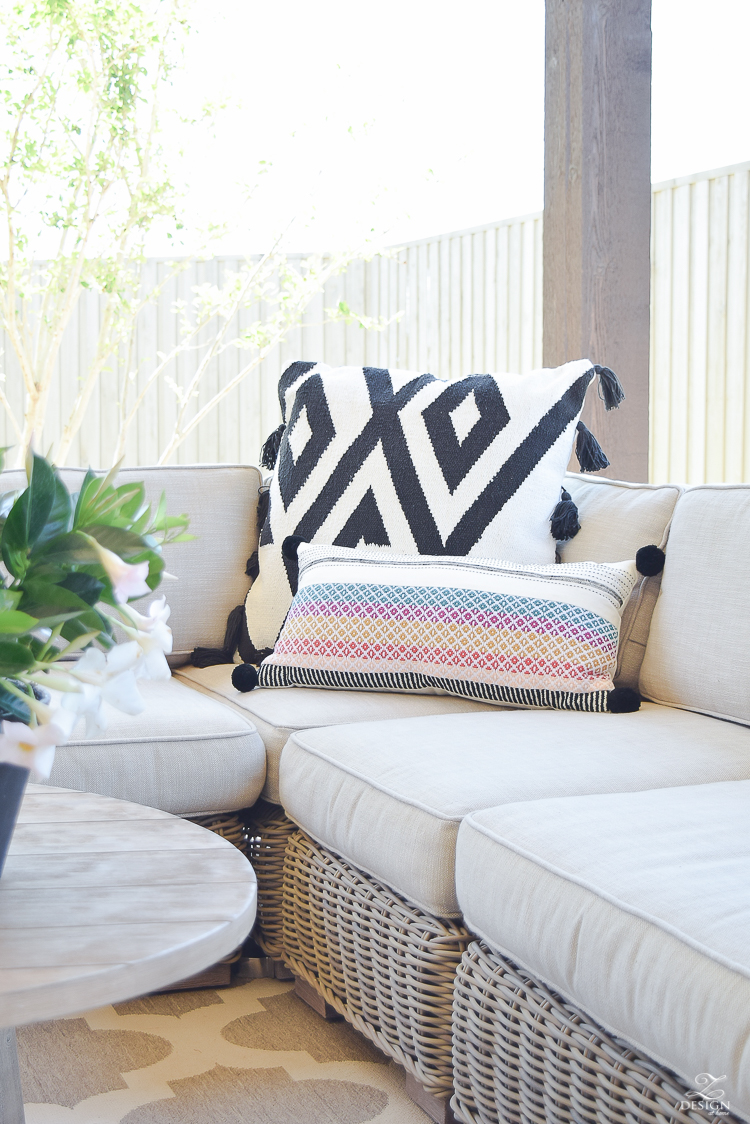 And last but not least, I always have a fringy hand towel by the sink or hanging on my dishwasher or oven.  This is such a fun, easy way to bring something soft into the kitchen and can give your kitchen a little personality in the process vs. just having a typical dish towel.  I have several that I've picked up at different places along the way but don't miss my fun round-up just below!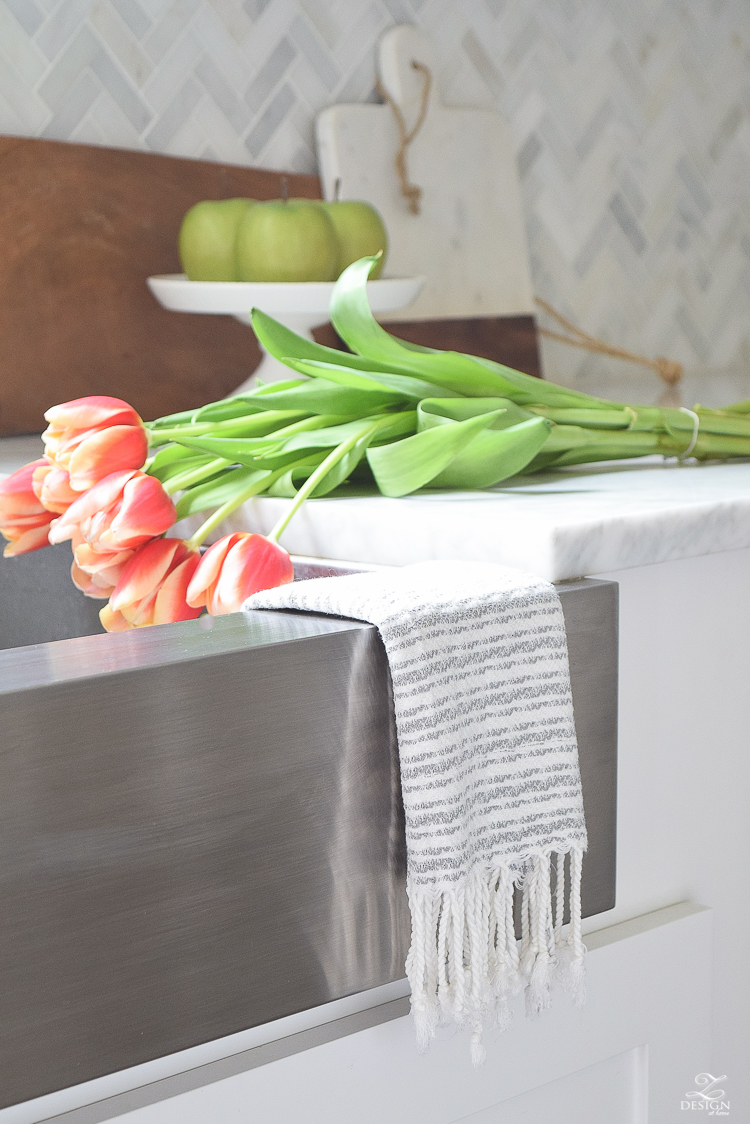 And of course you can't miss the fun fringe on the rug too;).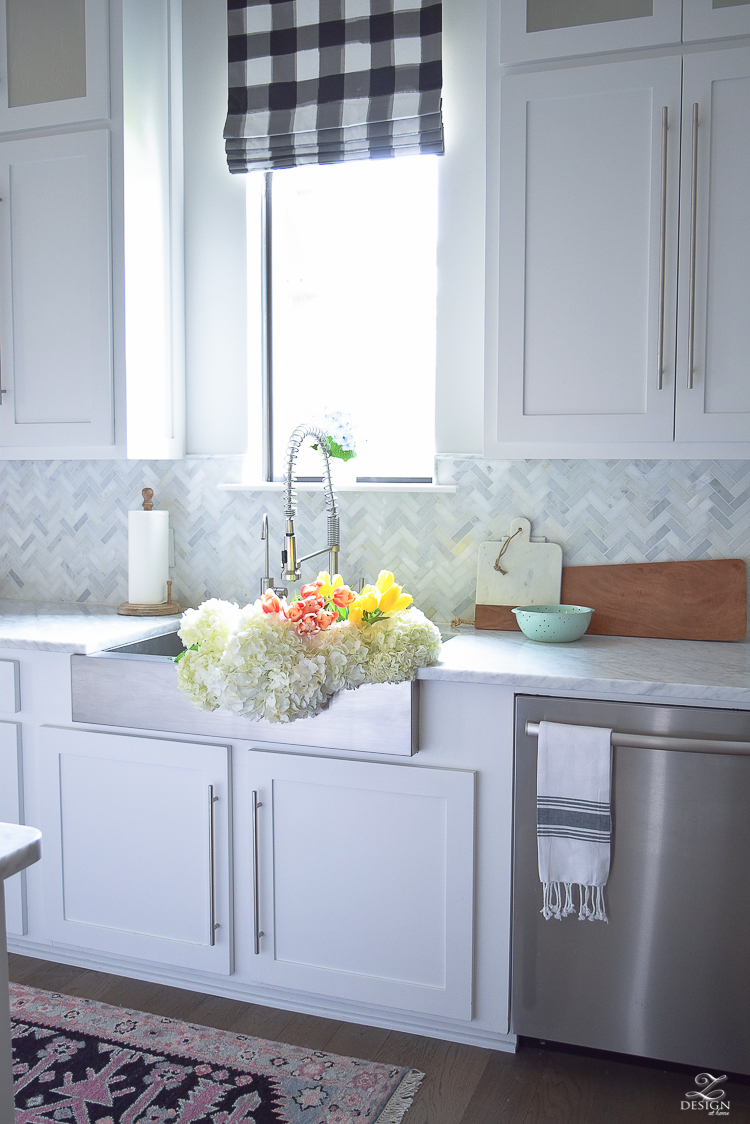 Also...UPDATE on my favorite new fringe bottom jeans that I shared a couple of weeks ago HERE when I had just ordered these…they're amazing!  So soft and comfortable but do size down!  I normally wear a size 4/27 but ordered this jean in a 25 and a 26 since they recommend sizing down in this jean and the 25 ended up working.  The fringe detail at the bottom is perfect and not too overly done and, they're super affordable.  Tap photo to shop…

I hope you enjoy this fun round up of some favorite tassel and fringe items I found around the web (and from my home) and that you can find something you love.  There are lots of sales going on this holiday weekend as well so many of my picks are currently at great prices!