If you are coming over from Instagram I bet by now you are wondering what on earth is the Big News?!? It couldn't possibly be that she's moving, right? Well, that would be incorrect! This decision has blindsided me just as much as it has you I'm sure as you read this but, it's true and it's happening very soon! Here's the story and why since I'm sure you might have lots of questions…I mean we just moved into our new home last year, right??
Why are we moving?
I hate to blame it on Covid but it did all start there. About 6 months before we even moved into our home things with my husband's work began to change drastically during the pandemic, like for so many of you. It took us several months over the course of 2020 to learn the full scope of those changes but by the fall of 2020 everything changed for us along with the whole reason we were in Houston to begin with. By the very end of 2020 (and at the exact same time we closed and moved into our current home) we now had an immense amount of flexibility to live wherever we wanted. We decided at first, since we had just moved into our beautiful new home, to stay in Houston but as 2021 progressed we began to realize there was simply no reason for us to stay here. So that, coupled with a strong desire to be closer to our families in Alabama and Florida (which as we get older has become more and more important to us after being away for so many years), solidified our decision to move back home. Additionally, we have an 8th grader who's school ends at 8th grade which means he was going to have to move schools anyway so the decision to move was the best decision all the way around for our family at this time. I know it seems strange to pick up and move not long after we just moved into this home we slaved over for so long but we just really felt that God was calling us to a different place at this time. Sometimes He just has a different (and better) plan and we were alright with that, and thankful for his guidance to take our family in the direction He wants us to go. And, in my experience I have found that listening to His call is always the best call:).
Where are we moving to?
In about August of 2021 we started discussing heavily either moving back home to the Alabama coast or to the 30A area in the Panhandle of Florida (these two locations are very close). We visited 30A for a week that August and although we do love it there so much (and love vacationing there every year) we decided it wouldn't be the best place for us to live right now. Tons of people are moving to the area and the possibility of getting a home custom built was basically out of the question. We found a couple of neighborhoods we liked (where they don't allow rentals) but everything is pretty much picked for you from the elevation, to the floor plan, to most of the interior and exterior selections and we just didn't feel like we wanted to move into something that would be at the top of our budget that we'd have to redo. Not to mention that getting something comparable to what we have now in Houston (home & property) would have cost a tremendous amount more, and then to not have the features in that home that we wanted to retire with would have been tough. As a designer that's such a hard pill to swallow so in the end it ended up being an easy decision for us to just stick to vacationing in that area for now. I won't rule out a second home there and/or a rental one day but that will be down the road. All of that said, we will ultimately be living in Fairhope, AL which is only about 2 hrs. away so we can vacation there anytime we like!
When are we moving?
Now here's the DOOZY!! It was after Christmas before we decided we were going to move, probably around early February sooo, we put the house on the market, it went into a biding war and we were under contract within 2 weeks. We closed May 2nd with a lease back through the end of May when school gets out which means we are moving out the last week of May – yikes! As I type this blog that means that the movers will be at our house literally in 2 weeks! It's been so crazy around here with pre-packing and trips back and forth to Alabama to handle the details there that I haven't even had time to sit down and type this blog until now unfortunately so please forgive my tardiness!
Where will we be living in the short term?
We have actually already purchased a small home in Fairhope, AL to live in until we can get our other home designed and built, which will most likely be about 2 years from now. We couldn't find a home to rent and didn't want to rent an apartment since we were in one while building our current home for so long so we decided to purchase what I affectionately refer to as the "tiny house". Our plan when we're done with it and move over to the other house down the road is to use it as an investment property. We actually closed on that house last week as well and immediately began updating the flooring. Once we move in later this month I plan to do a few other things like change out the countertops and some of the plumbing fixtures and mirrors, add cabinetry hardware and a kitchen backsplash but no major or structural changes as the floorpan is pretty decent.
Here is a peak of those floors. We didn't want to put hardwood down since we'll ultimately use this as a rental house but it's Nucore LVP from Floor & Decor, the color is called Butter Toast. It looks almost identical to my wood floors in my Texas house…truly the resemblance is shocking. It also has a cork backing so it's comfortable and warm to walk on just like hard wood, and it has a 15 year warranty and is water proof and scratch/dent resistant so it'll be great for renters. You can also see to the left in this photo the countertops that will be making an exit pretty soon after we move in. The floors were just the first stage to get that done before we move our stuff in soon.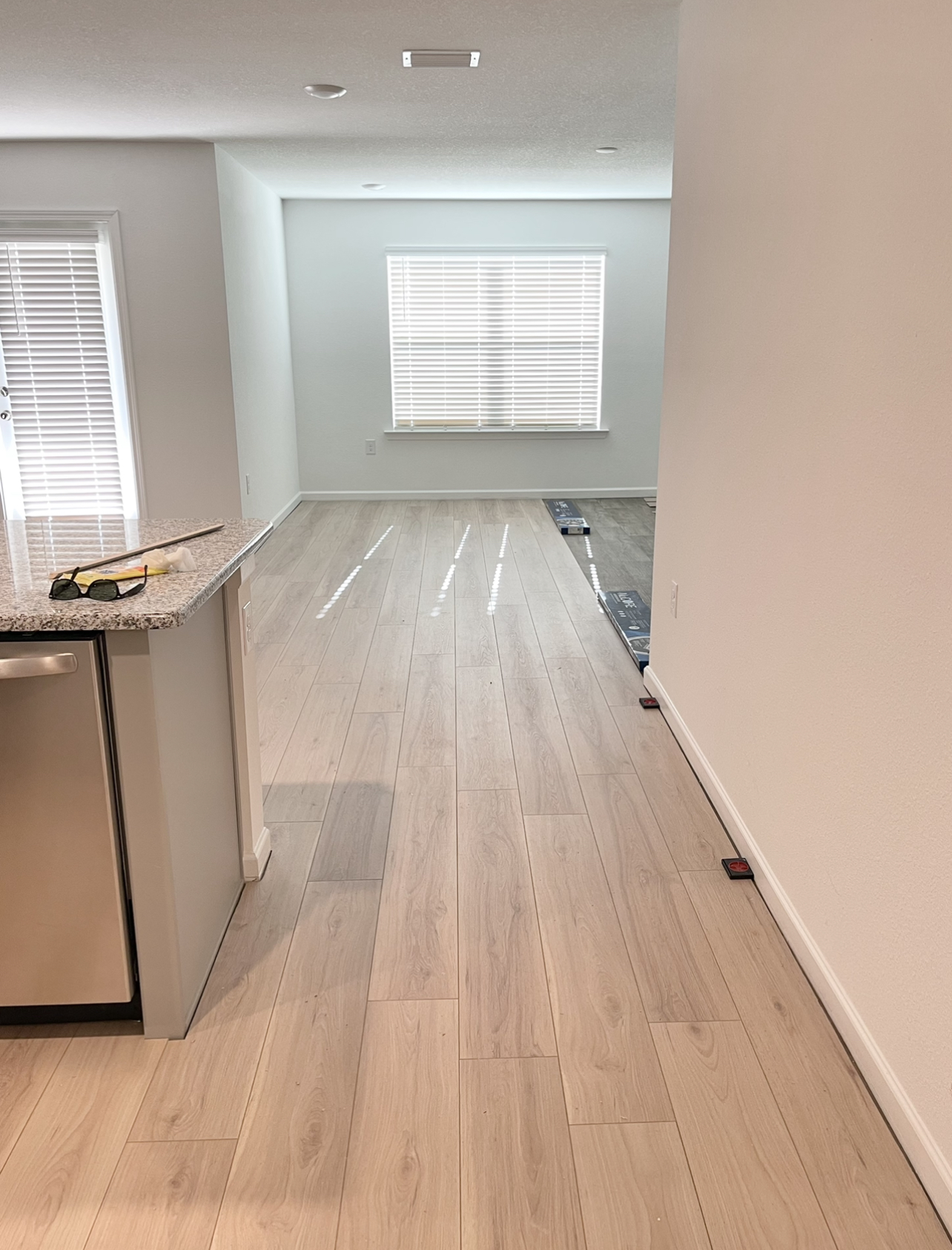 Where will we be living in the long term?
Our permanent home will also be in Fairhope, AL. If you've never visited Fairhope it's a beautiful, quaint town with loads of southern charm located on Mobile Bay. It has an artsy flare to it and a laid back, relaxed yet oh so elegant atmosphere. Take a look at these gorgeous photos with the sprawling oak trees, beautiful flowers that line the streets and gorgeous sunset and you'll understand why we decided this is where we wanted to be permanently! Plus the bonus is that my parents live here as well. I grew up in this county (Baldwin County) in Orange Beach, AL and lived in Fairhope as a single woman before my hubby and I met and got married (in Mobile, AL). There is something so special about a small town that gives you that sense of family and community. We are so ready for that and beyond excited to be moving back, and can't wait for the transition to take place in just two weeks!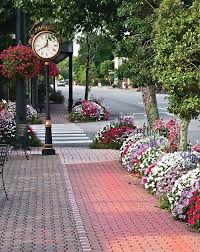 Source: Atlanta Magazine
Source: Destination360.com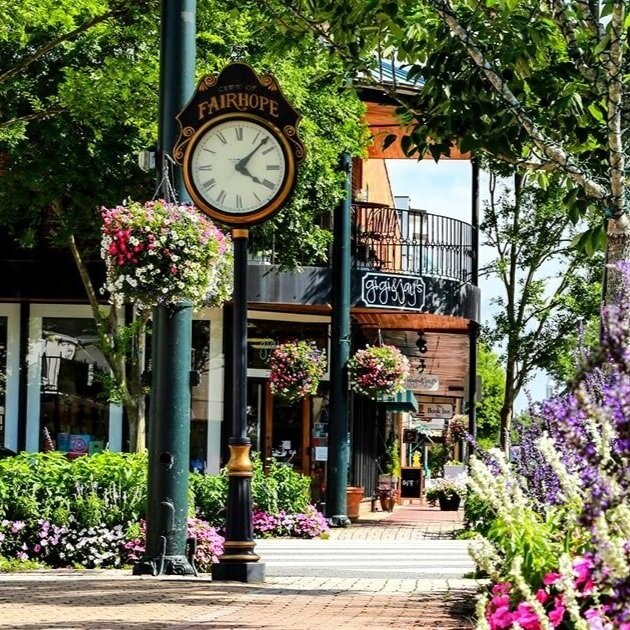 Source: Community Foundation
Source: Southern Living
This is the view from the Sunset Pointe Restaurant at Fly Creek Marina in Fairhope, AL where we just had lunch last week. This is one of many great places to hang out and dine in Fairhope.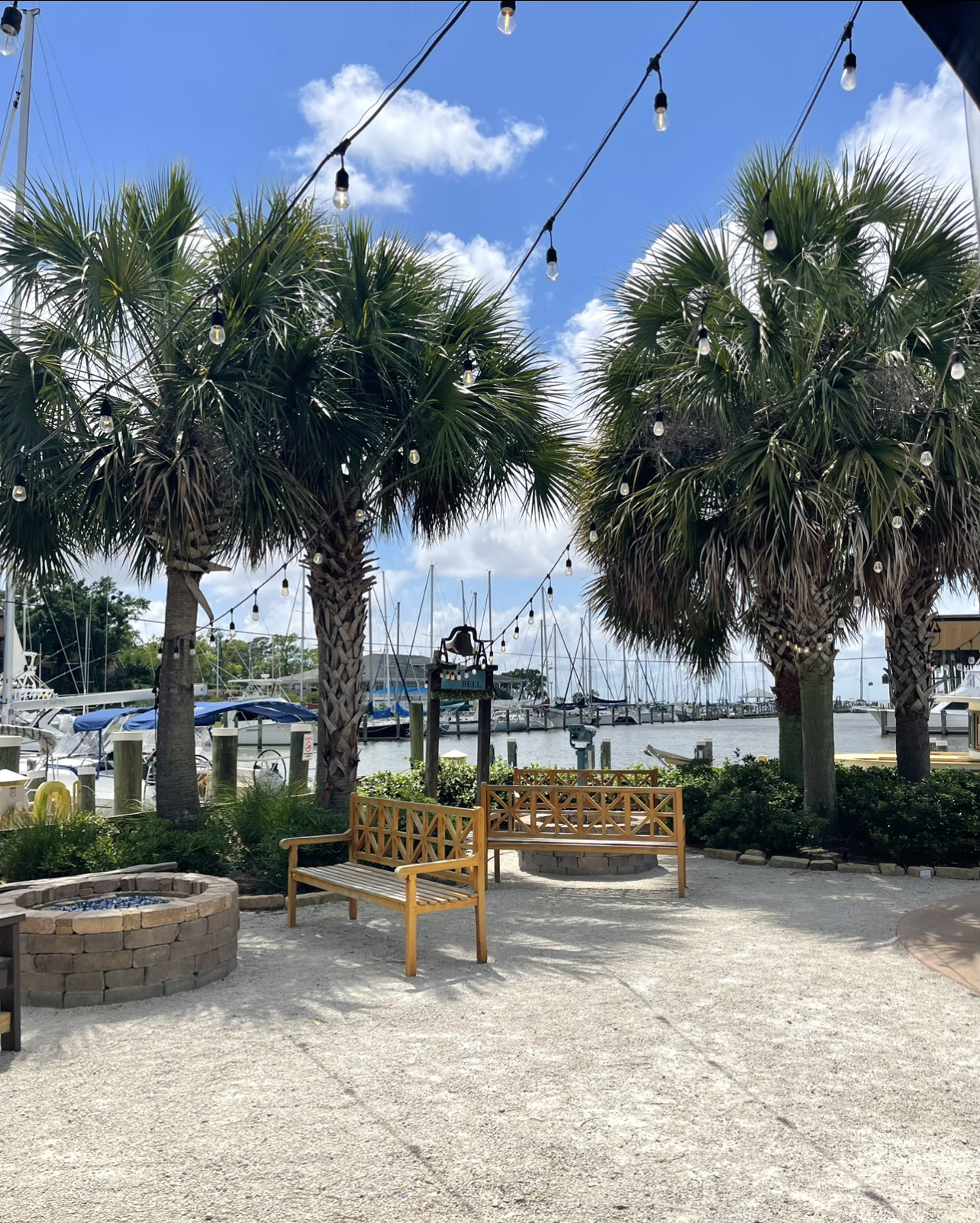 Now here's the exciting news…we have placed a reservation/deposit on a lot in Fairhope but the land/neighborhood isn't finished being developed yet so it will be around September/October before we can close on that. In the mean time we have selected a wonderful builder and architect and are very excited to see what they can bring to life for us in this home. Here is a shot into the interior portion of our lot…we hope to get started early next year on construction (at the earliest since the architectural process will take anywhere from 9-12 mo). My favorite thing about it (besides the big oak trees) is that the property backs up to land owned by Auburn University that will never be developed so we'll have some privacy and space in what we hope will be our final home, which was also important to us.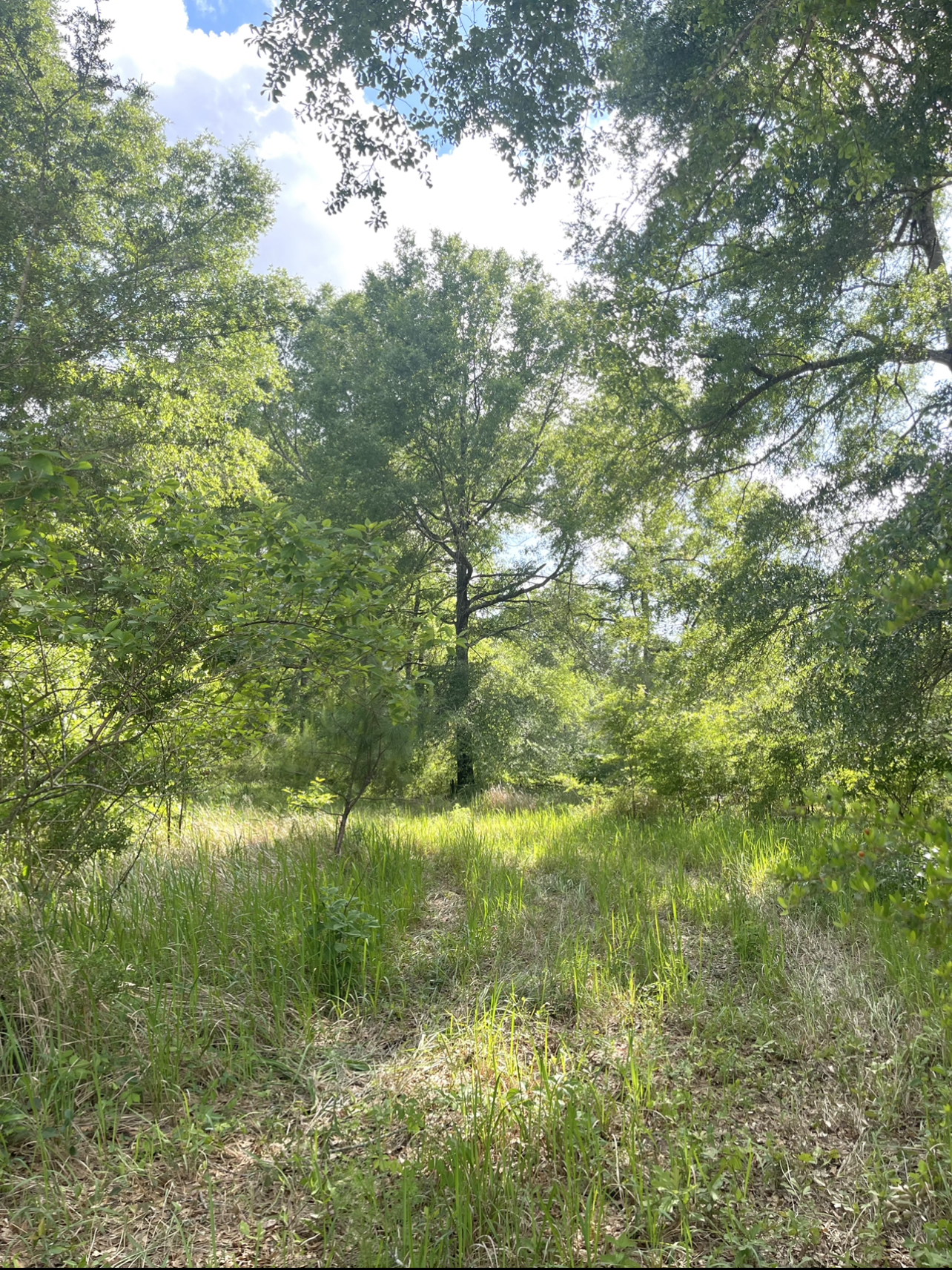 Did We sell our furniture with the house?
YES! That seems to be the trend these days but, the new owner was interested in the majority of our furniture, accessories and lighting so after much thought and prayer we decided that with such a big move and not knowing what our new home in Alabama will ultimately be like (the one we build) the best decision was to let it go. The home we'll be moving into temporarily is much smaller so most of it would have had to go into storage anyway. So, after weighing the pros and cons we decided it was the best decision because not only will it will save on moving costs but, it simply made no sense to haul it all the way to Alabama just to store most of it for the next two years.
What are my plans for the future and for the blog?
The last year and a half has been such an unbelievable whirl wind that right now I'm ready for some time off. Time to reflect on what's really important and most of all to just spend quality time with family this summer and get us settled into our new space. And, take a nice long vacation, spend time with old friends, etc…you get the picture:). I have ordered some furniture for the tiny house and will probably be sharing that in my Instagram Stories but since the supply chain issues are still on going it will be a while before I'll even be able to receive anything – no joke, we'll literally be sleeping on air mattresses and/or mattresses on the floor for a while until our beds come in. Most things I've ordered won't even arrive until July/August/September so we'll just have to wait and see how that goes but I will be sharing some of that either here or on Instagram when it starts to arrive, I promise. And, after I take some time off, I'm sure I'll also be sharing some of the updates I'll be making to the "tiny house":)!
Some other exciting news on this front is that my husband and I have decided to start venturing into some home restoration and remodeling. We've built several homes over the years and with my background in design and his background in architecture (he graduated from the LSU College of Architecture and Design but only worked as an architect for a short time before he was called into another profession) we've decided it's time to put that experience to work for us. We'll start small to get our feet wet but are excited about the journey ahead and what that looks like for us!
Thanks for stopping by to hear the Big News, and thank you to those of you that stop by here so often – it means so much to me, more than you know! And last but not least, stay tuned because there is lots to come down the road for us and we can't wait to share it with you!