My Skin & Hair Care Routine with Colleen Rothschild Beauty
Welcome to My Skin & Hair Care Routine with Colleen Rothschild Beauty! As I get older I've realized part of feeling beautiful is having a great skin and hair care routine! About three years ago I had the pleasure of meeting THE Colleen Rothschild at a conference and subsequently was introduced to her amazing skin and hair care products at that time. I have partnered with Colleen Rothschild on this post but since that day I haven't looked back and have used her products for all of these past three years, and can truly attest to how they've changed my beauty routine and how much my skin and hair have improved since! I'm excited to share today which products I use in her line (with a special BOGO sale at the end!) along with how they've changed my beauty routine and results for the better!
*This post was done in partnership with Colleen Rothschild Beauty, a brand I love. Please find my full disclosure policy here.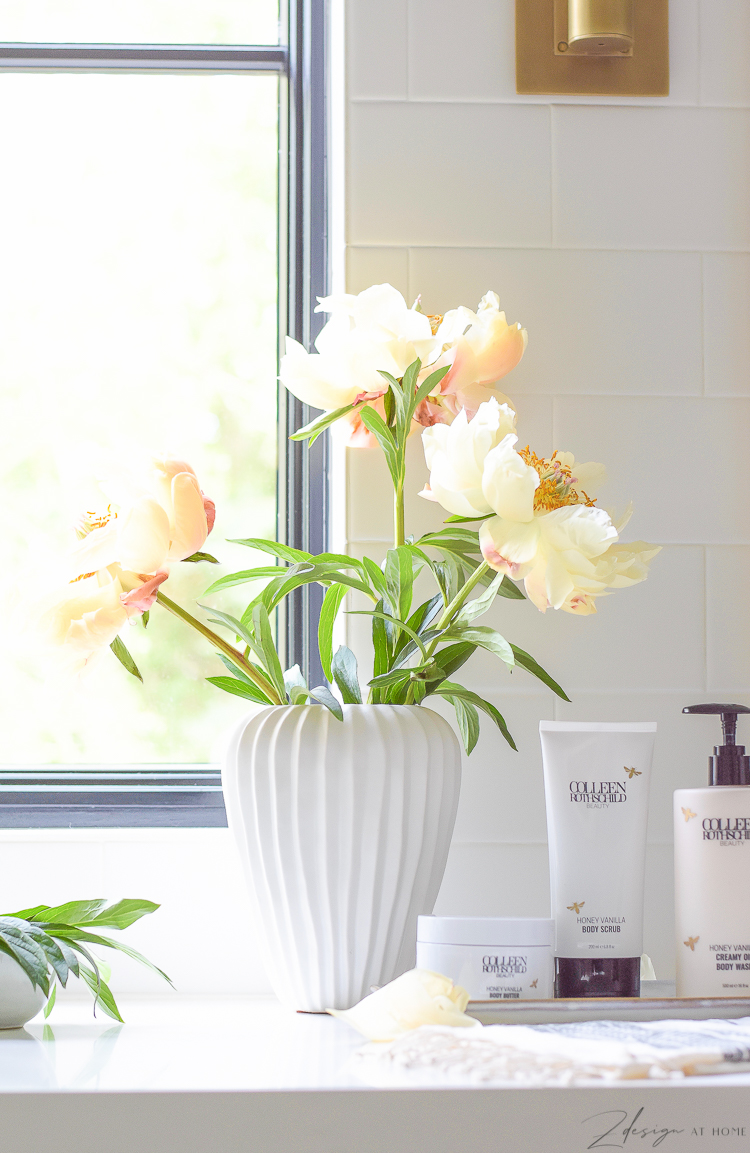 I have to confess that before I started using Colleen Rothschild Beauty products I didn't have a solid routine. I used several different brands and rarely ever purchased the same thing twice because I simply wasn't getting the results I wanted. But, once I started with CR Beauty there was no stopping me and I began to try more and more of her products, falling in love each time I tried something new!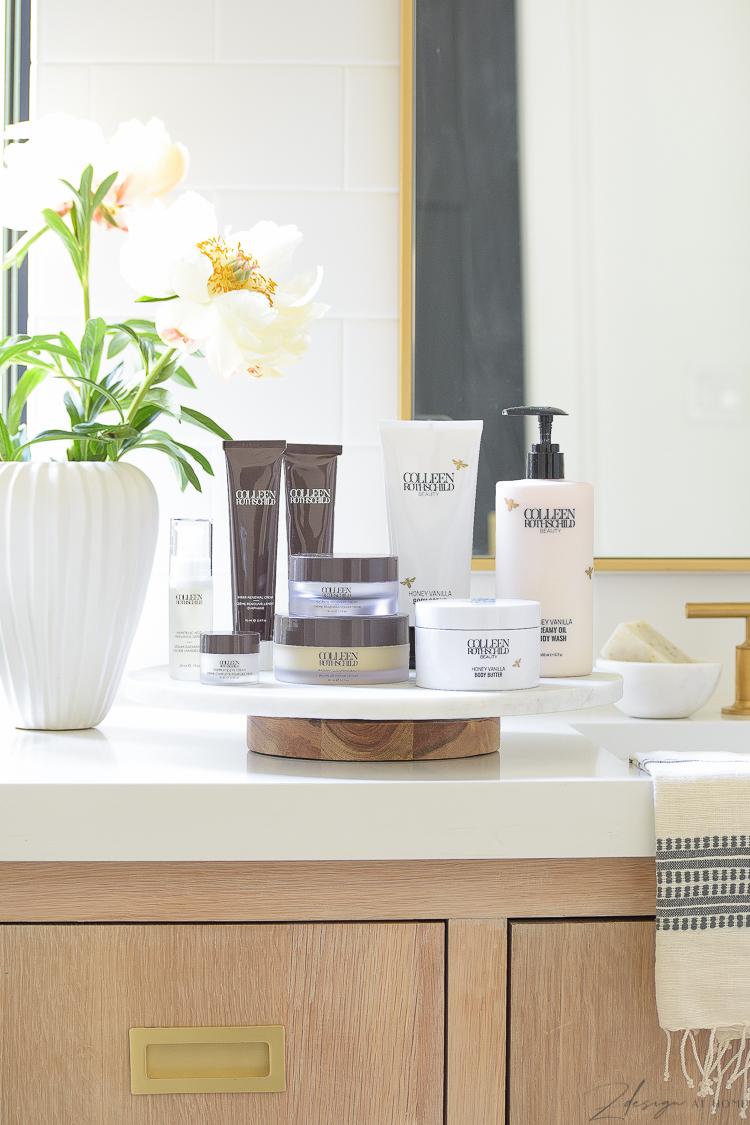 From Start to Finish with my Colleen Rothschild Beauty Routine
For Face & Neck
Sheer Renewal Cream ~ I start my morning each day with this cream – it is lightweight and soooo amazing! I use it alone or put it on under my makeup. It glides on and instantly hydrates my skin like nothing else! I live in the hot south so if I feel like I need a boost later in the day I'll use it again if it's a day where I have no makeup on (which is common these day!).
Intense Hydrating Mask ~ If I am wearing makeup and want my skin to look extra glowy, dewey and youthful, I'll use this under my makeup and after the Sheer Renewal Cream. But, I also use this at night as a last step when I'm feeling extra dry or again, want my skin to look super amazing the next day. The awesome thing about this mask is that you can take it off after a 15 minutes of use or leave it on to give your skin mega hydration and that amazing glow we all want!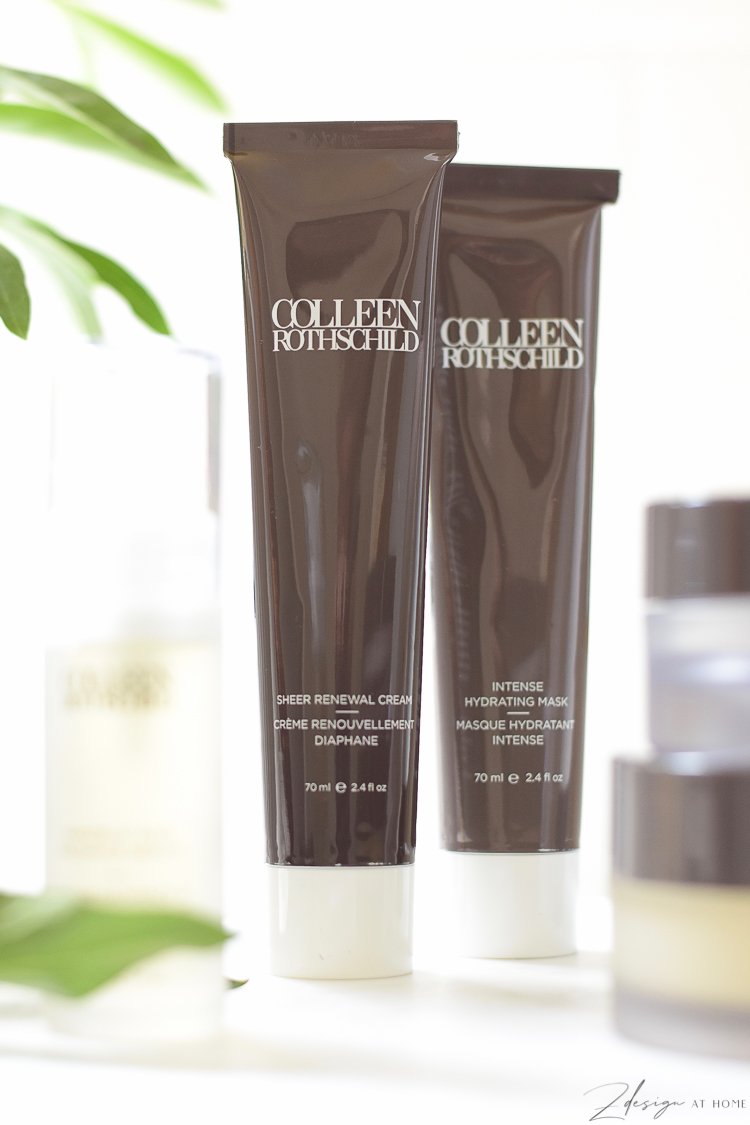 Radiant Cleansing Balm ~ I start my routine each night by removing my makeup and/or cleaning my face with the Radiant Cleansing Balm. It melts makeup and impurities away instantly and gives my face a fresh palette to begin my evening skin care routine.
Matcha Tea Treatment Toner – I follow the cleansing balm up with this toner. It makes my skin feel tingly fresh, clean and prepped and ready for my moisturizers and serums.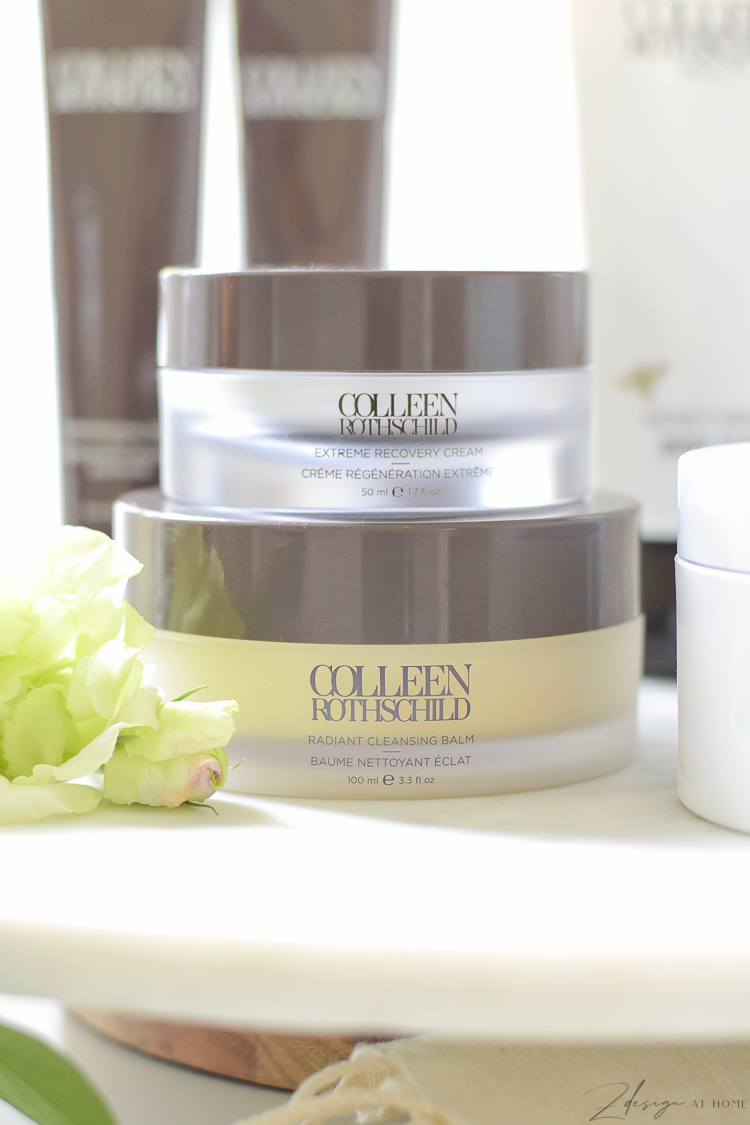 Micro-Mineral Resurfacing Scrub ~ next, I use the Micro-Mineral Resurfacing Scrub. I've seen a very noticeable difference in the brightness and smoothness of my skin so this one has become an absolute in my skin care routine. It seems to help with clogged pores and the overall tone of my skin.
Mandelic Acid Radiance Serum ~ This one is a gentle alpha hydroxy acid (AHA) which has drastically helped with fine lines, dark spots and my skin's overall texture. My skin has improved so much (it glows now!) with this one that it has also become a staple in my nightly beauty routine!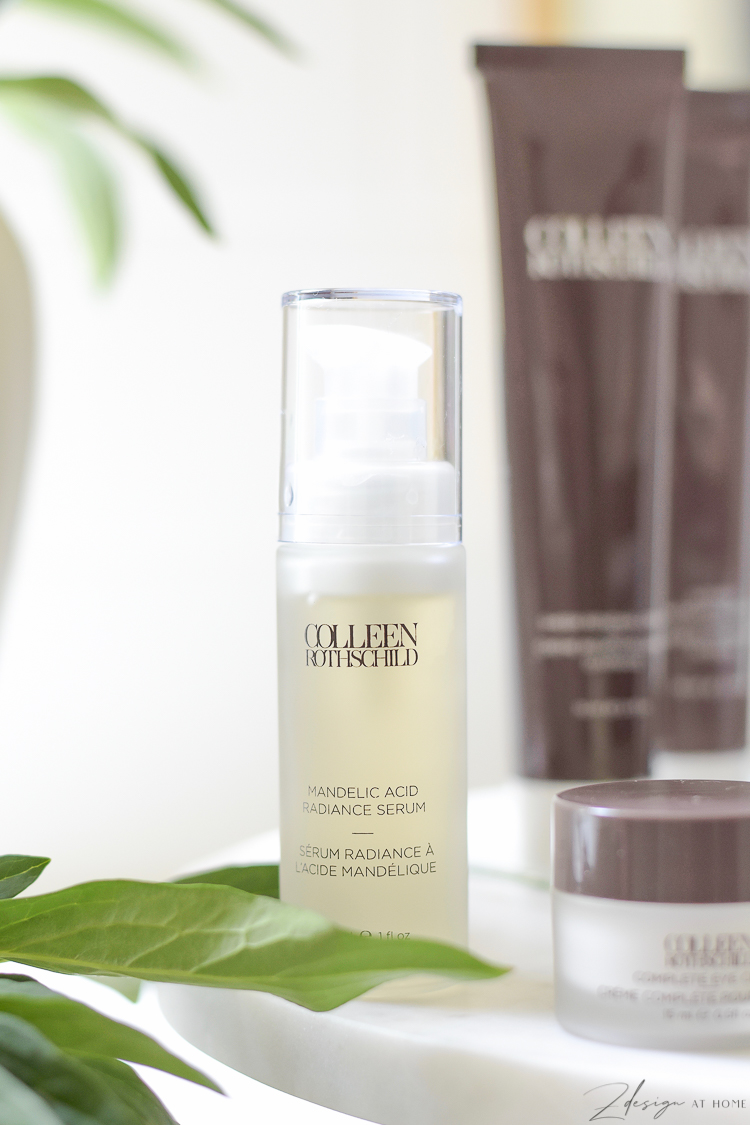 Retinol Supreme Night Oil & Age Renewal Super Serum ~ These are two more items I recently added to my routine. I use the Night Oil about 3 nights a week (but working up to more) and the Renewal Serum nightly. I've seen a noticeable difference in tone, texture, elasticity and hydration since using these and feel like I look more youthful and my skin is glowing even more.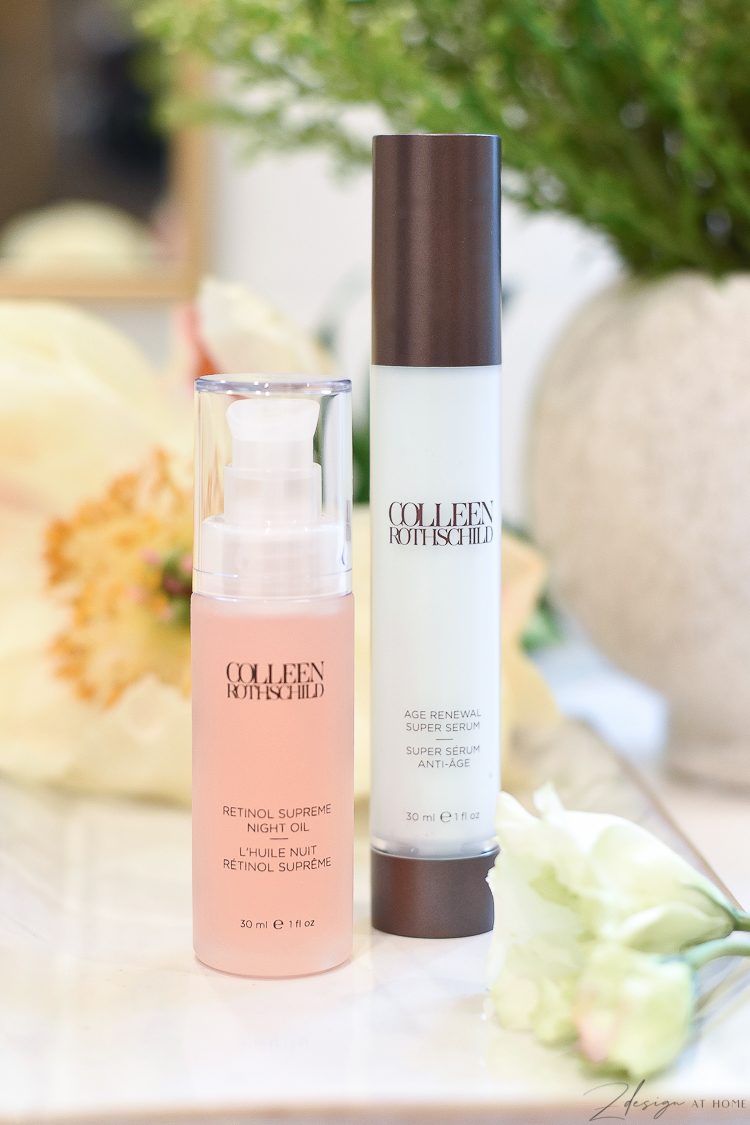 Complete Eye Cream – This eye cream has helped me with loss of elasticity and fine lines and wrinkles under my eyes. I've tried several of these and Colleen Rothschild is literally the only brand that has truly ever worked for me.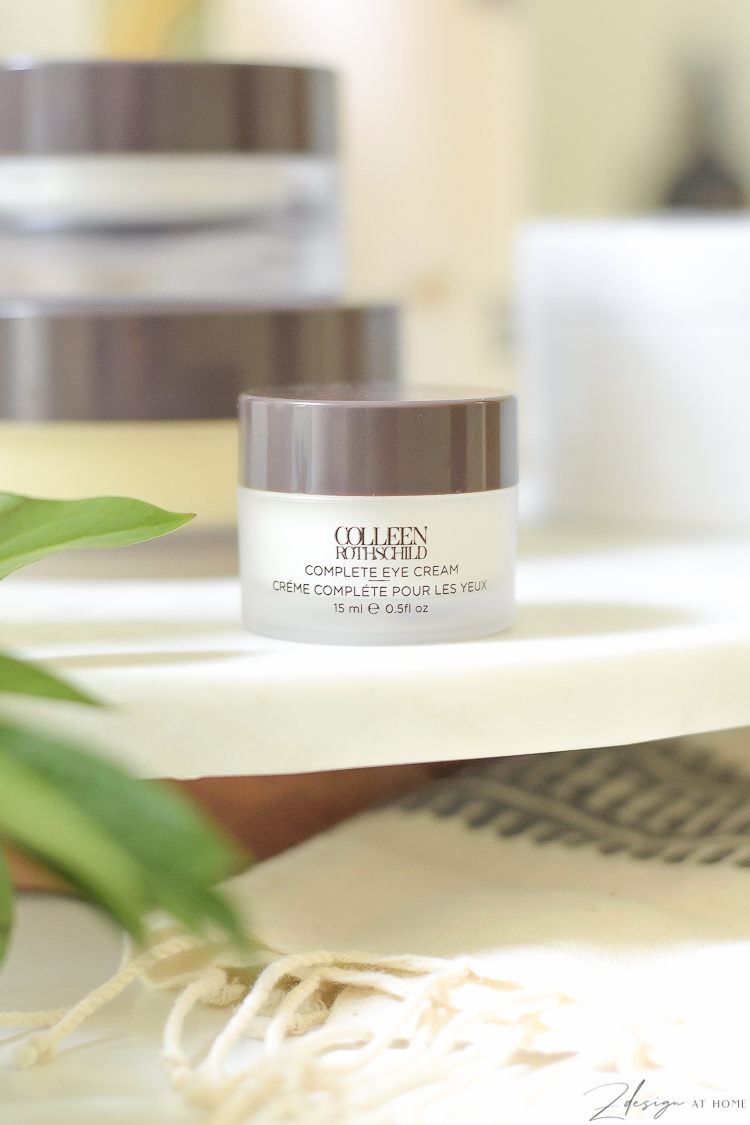 Extreme Recovery Cream ~ I finish up my nightly routine with the Extreme Recovery Cream – It's a luxurious cream that provides intense care for dehydrated skin. If you are over 40 or 50 like me (barely, haha!), in my opinion this is a must have night cream in your skin care routine. It hydrates my skin and makes it so soft and supple! Not to mention it's thick and creamy and makes you feel like a queen when you apply it:)!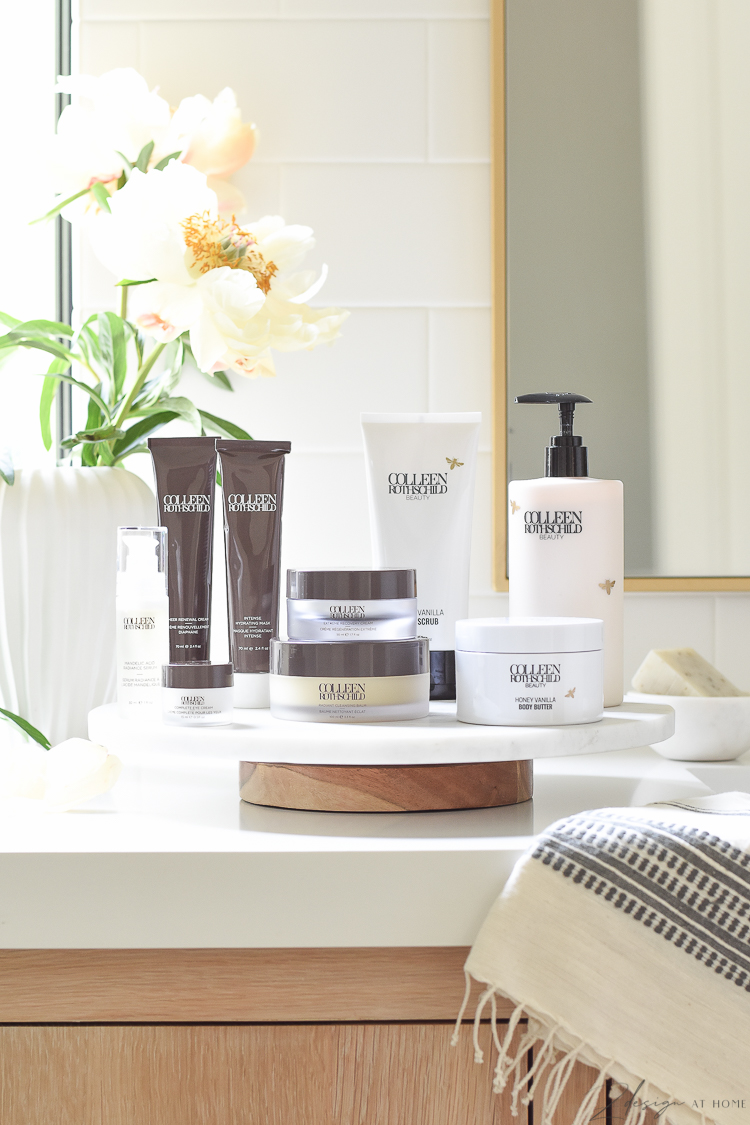 For the Body
Honestly I can't express how much I love the Colleen Rothschild Honey Vanilla Body Products! They are luxurious, creamy and again make you feel so special when you are applying them! And the smell is amazing – on that note I have to say that scented things tend to give me a headache so if you are one of those girls like me, no worries here! It's a very light scent that almost makes you want to eat it and you will love it! And as a home interior blogger – can we please also take a moment to look at that beautiful butterfly packaging?! It's beautiful enough to just leave out on your counter day and night as decor – and I do!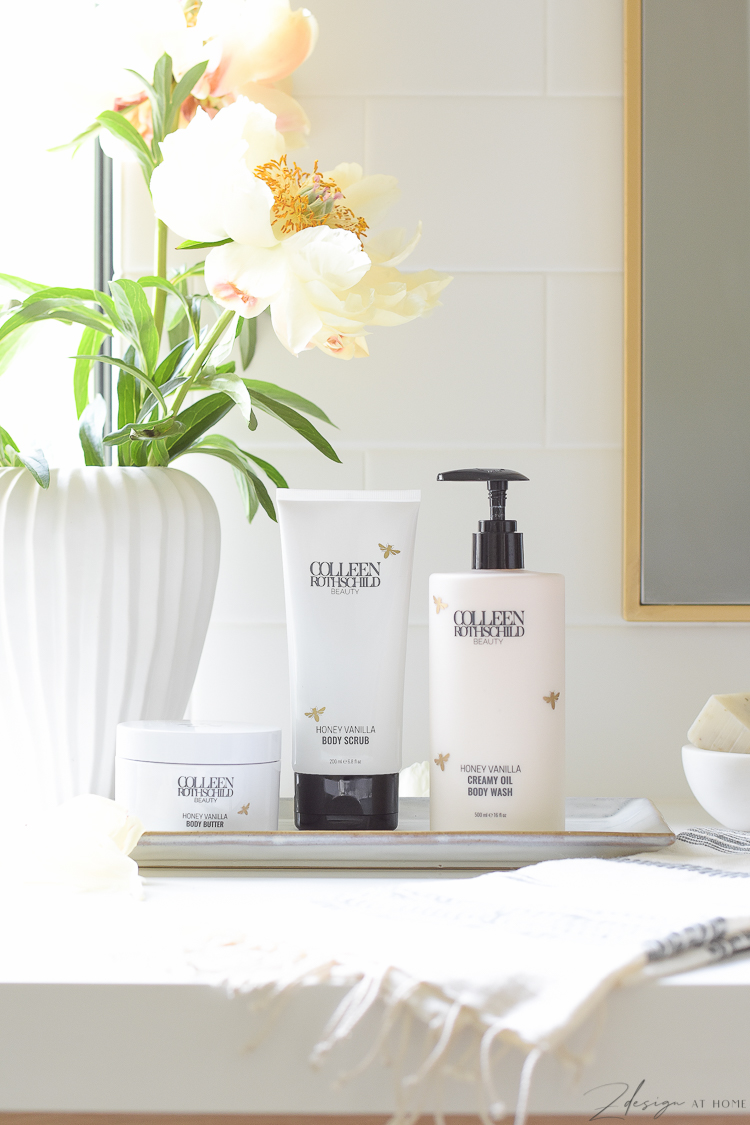 Honey Vanilla Creamy Oil Body Wash & Body Scrub ~ I use both of these in the shower. The scrub is a sugar scrub so it just feels amazing and then I follow it up with the Creamy Oil Body Wash which adds even more moisture and luxury back to my skin. They both smell incredible and the beautiful, light scent lingers on your skin all day or night.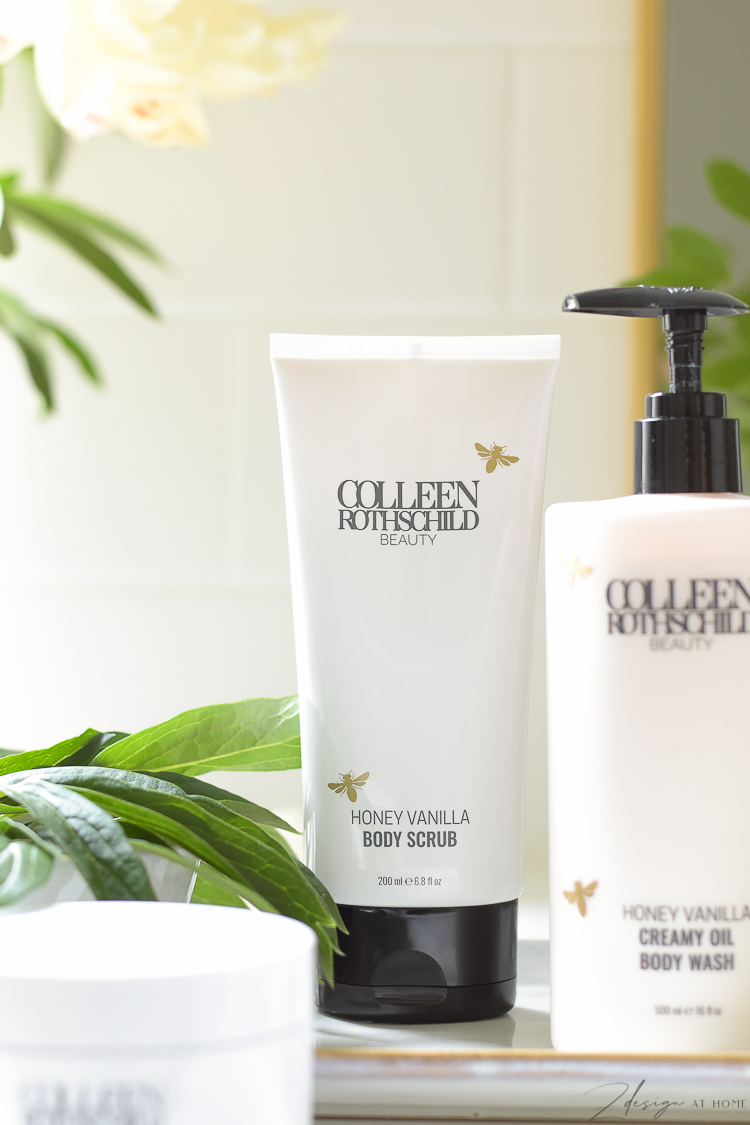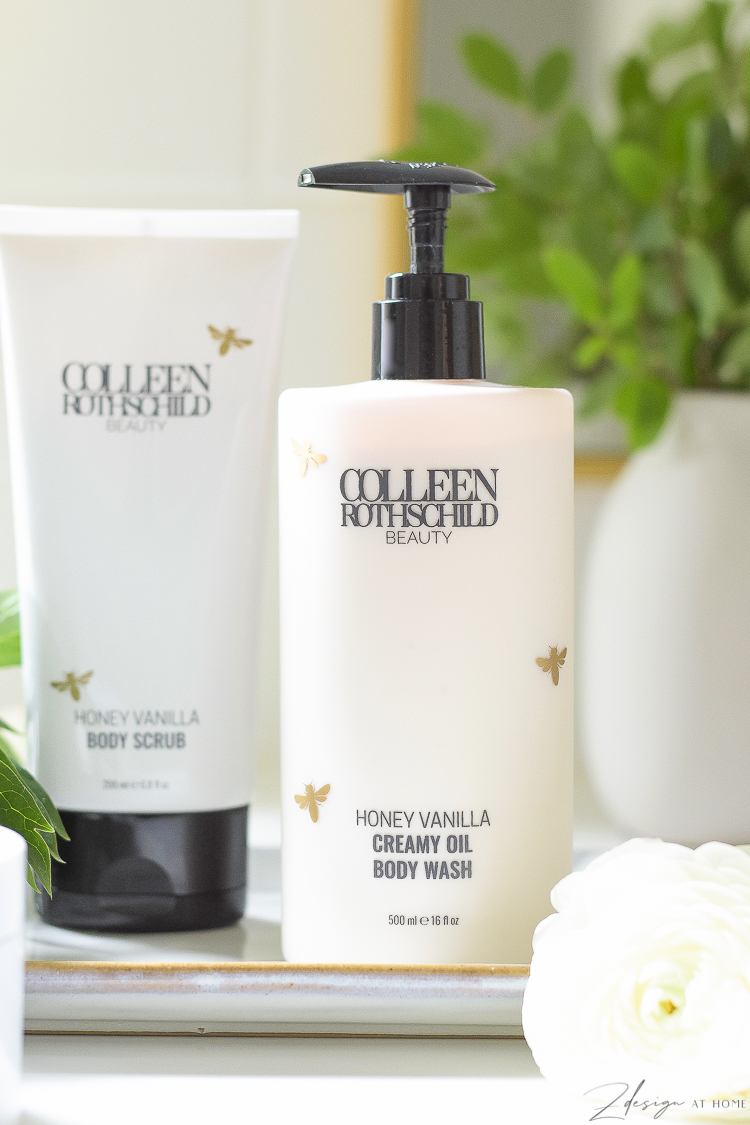 Honey Vanilla Body Butter ~ This body butter is completely amazing my friends!!! My husband raves about how great I smell after using it and again, it departs so much creamy luxury onto your skin you will never want to do without this one! I use this after the other two and after I'm out of the shower while my skin is still moist.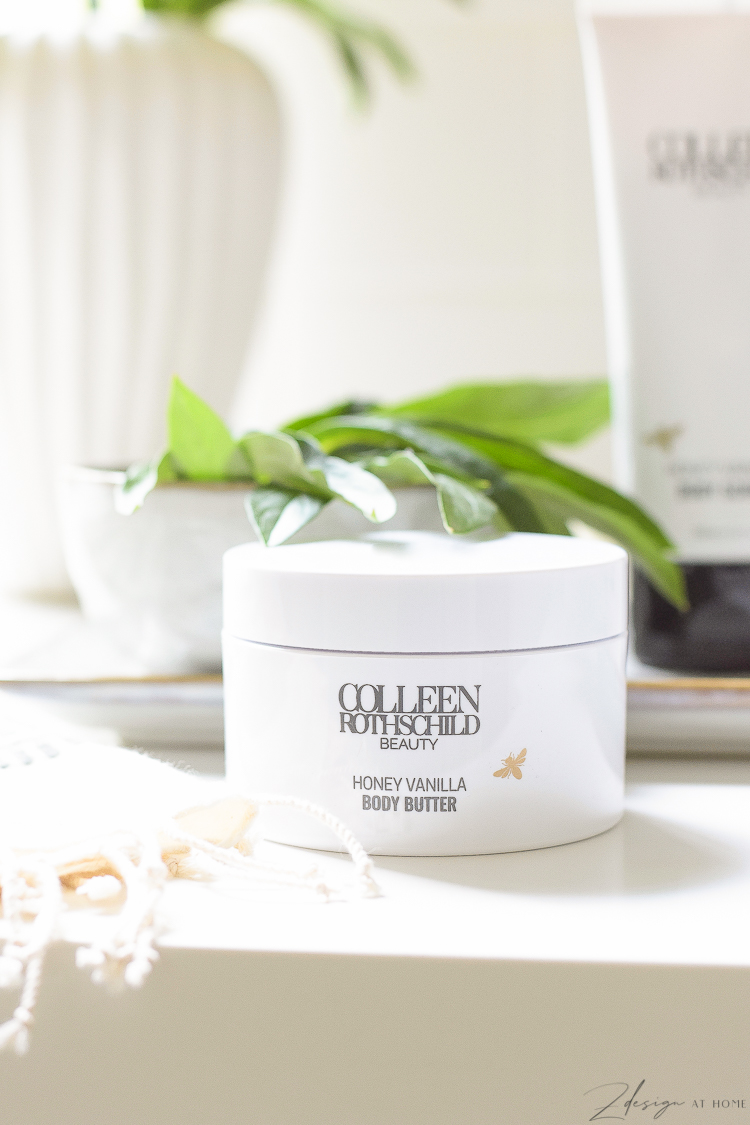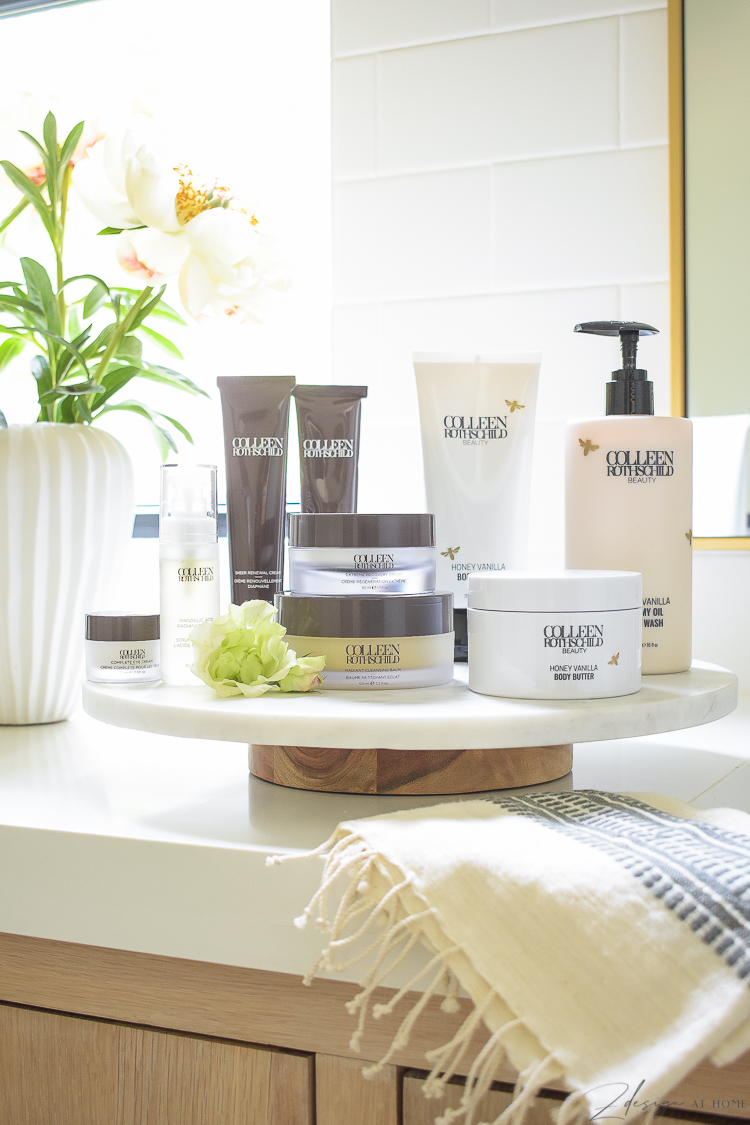 For the hair
This is where it all began for me with the Quench & Shine Restorative Mask! I started using the hair mask immediately after I met Colleen three years ago, adding the shampoo in sometime later when it came out.
I also recently started using the Smooth & Shine Hair Serum while my hair is wet and before I blow dry it – it makes my hair shiny and silky and ready for heat, and this is another product I couldn't go without now! I also use it sometimes when my hair is dry to tame fly-aways and to add some shine so it has dual purpose – I love that!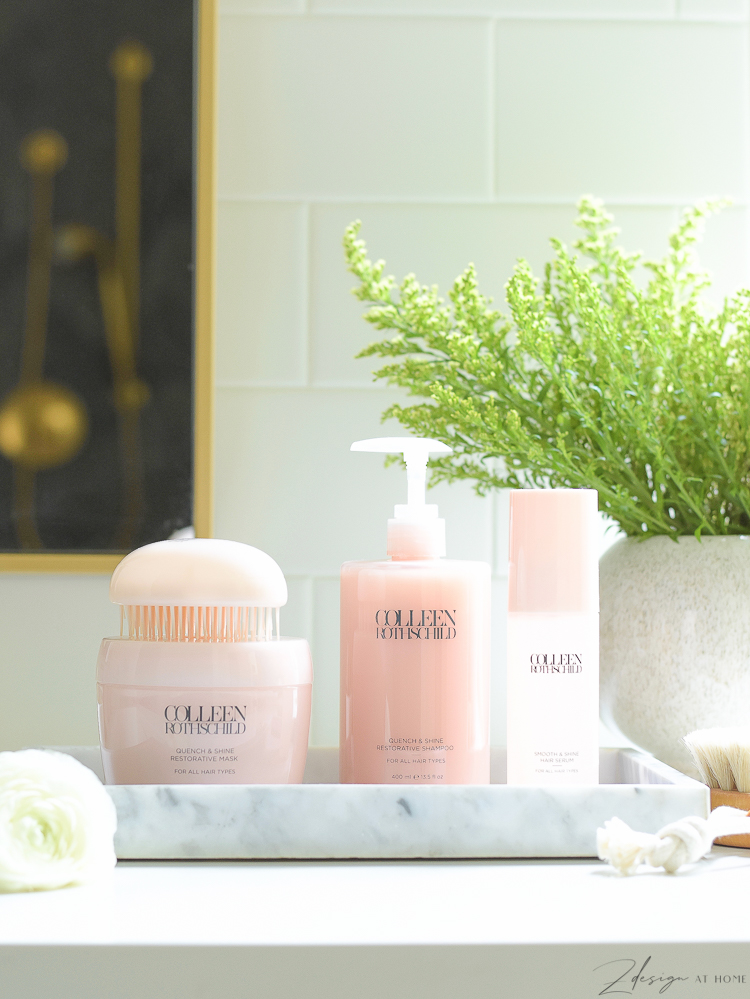 The Quench & Shine Restorative Hair Mask makes your hair feel like silk and smells amazing, along with the Quench & Shine Restorative Shampoo. You can leave the mask in over night for extra hydration or wash it out. I leave mine in the majority of the time I'm in the shower and then wash it out because that's all I need but the effects on my hair are incredible. My hair is silky smooth and shiny afterwards, and smells divine! If you can only get one of the Colleen Rothschild Beauty Products I recommend getting this one (or these two) – I promise you won't regret it…the mask is what got me hooked on CR Beauty and I hope to never go without it!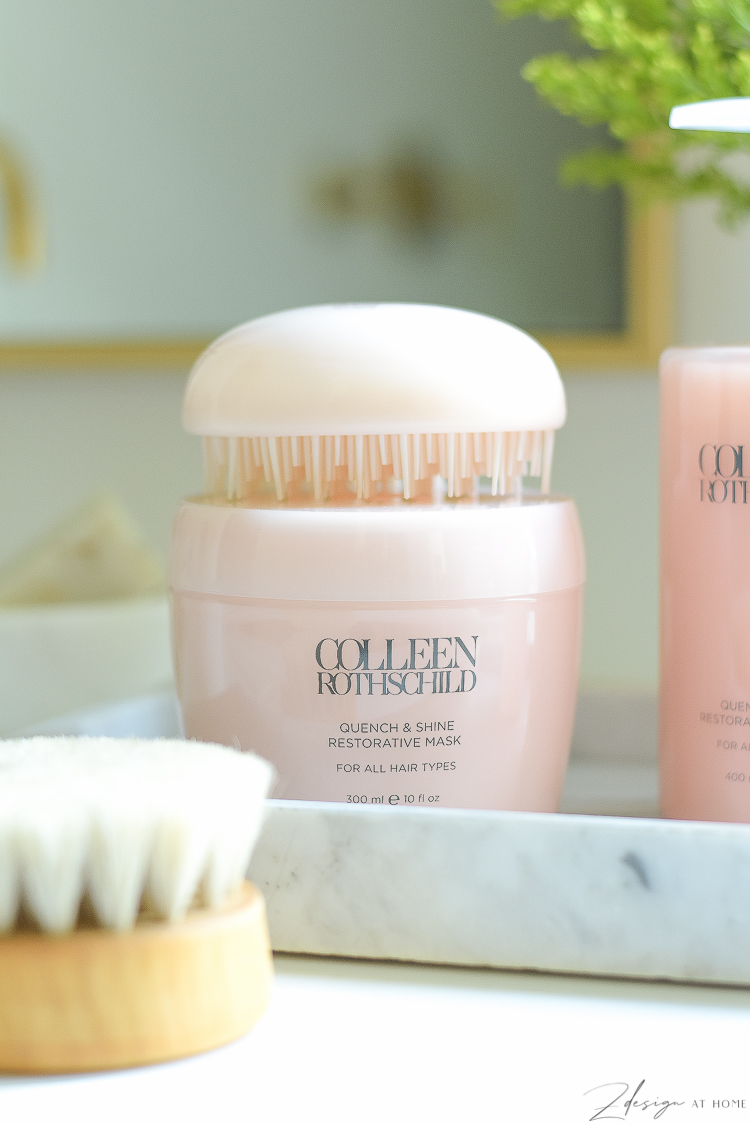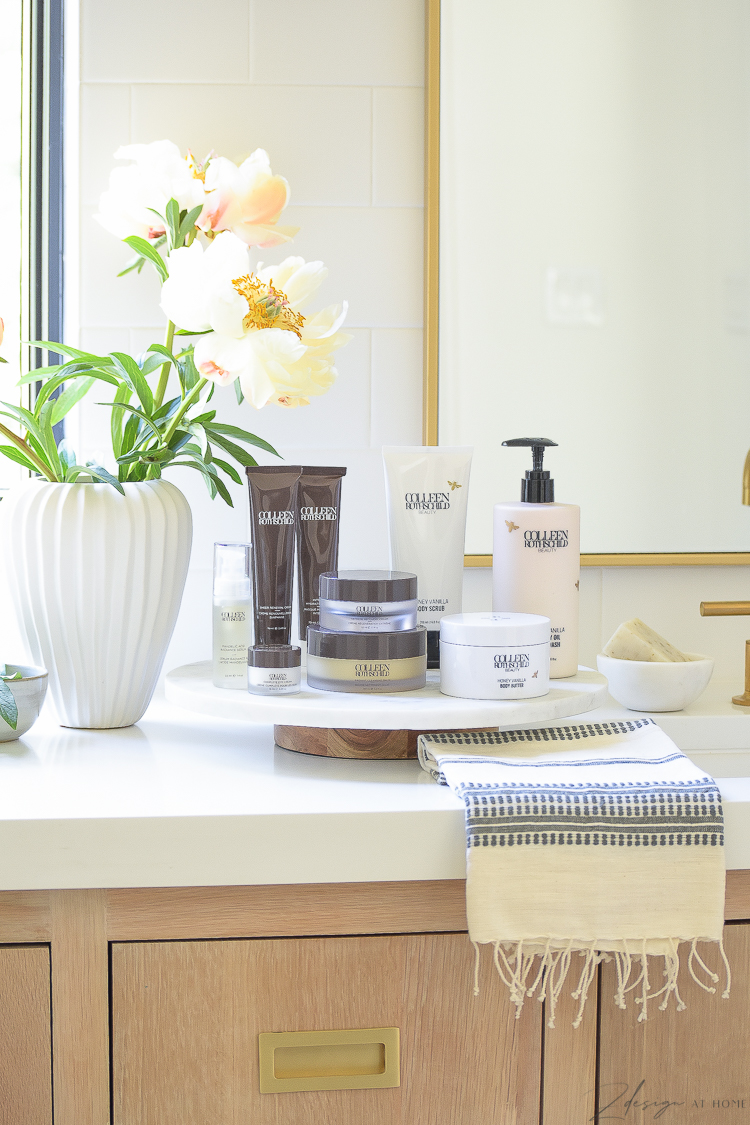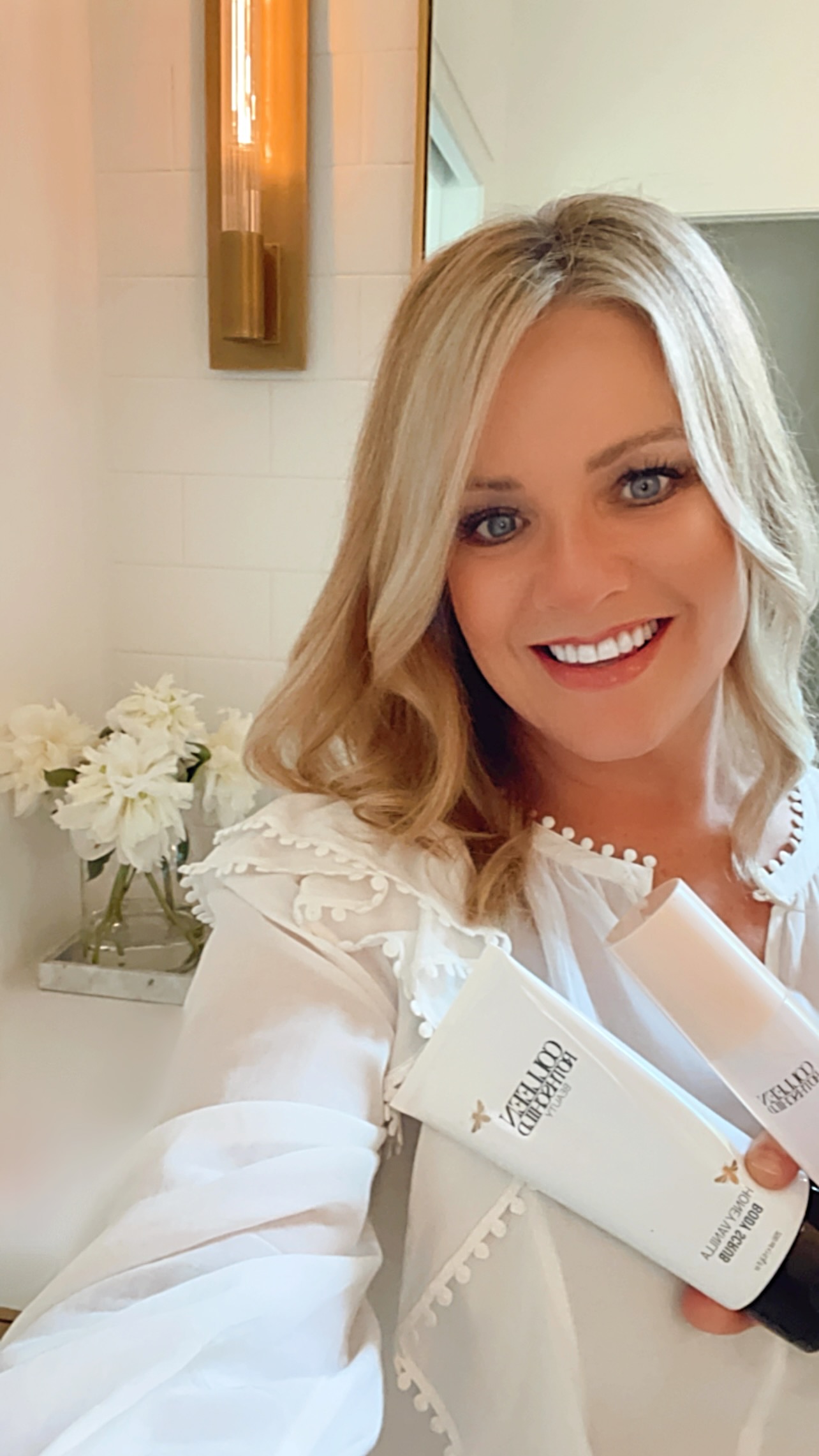 BOGO Sale!
From now through 6/20 Colleen Rothschild Beauty is having a Stock up for Summer Sale with a BOGO ~ Buy One, Get One 50%! The sale is site-wide and mix & match. Use code: BOGO50
Please let me know if you have any questions about My Skin & Hair Care Routine with Colleen Rothschild Beauty and I'll be happy to answer them in the comments below. I hope you find some products you love that will help you to feel like a queen too, and don't forget they make great gifts for the women in your life as well!!
Sources
Colleen Rothschild Beauty Products I love & use

Bathroom Sources