A Guest Room Retreat Tour
I think when any of us have guests over we always want things to feel comfortable and inviting.  I actually wanted our guest room to have a cozy B&B feel so that my guests feel warm and welcome while at my home and I am super excited you are joining me on a tour today of this guest room retreat!
I knew I wanted to use a combination of color, pattern, and texture through my use of textiles and furniture to evoke that feeling of calm and relaxed luxury in this space that I was looking for.  I knew to start that I wanted to use this large scale white/navy geometric print fabric (on the drapes and euro pillows) and the Ikat on the 22″ bed pillows but then, I had to find a fabric that would  bring those two together in harmony so that this whole picture would work.  I have a rather large stock of fabric swatches so I began sifting through those and found a small scale geometric print for the bed pillow in front that would do just the trick.
Tip Time:  It's always important when coming up with a pillow grouping that you have at least one pillow fabric that brings all of your pillows together.  That fabric should have at least one color in it that is in each of the other pillows to bring them all together so they make sense as a grouping, and you should have a different scale of pattern in each fabric.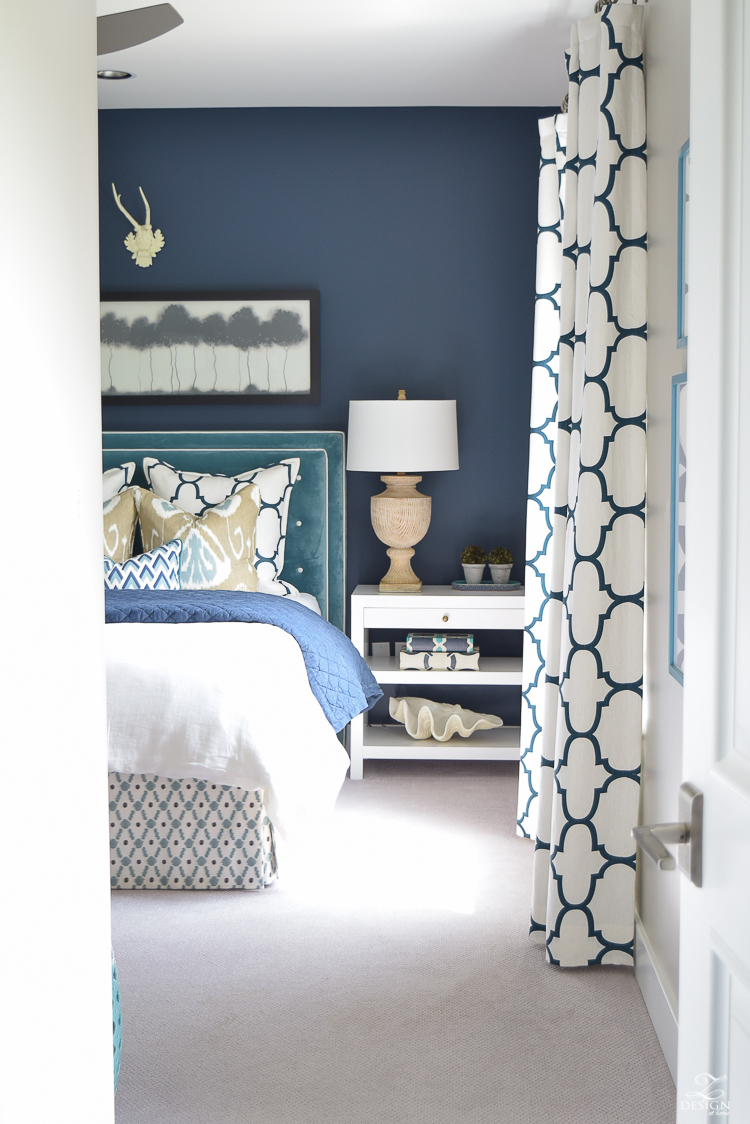 The next thing I did was to have the headboard reupholstered (similar).  I had had it for only a few years but when we moved into this home the moving company damaged the previous fabric pretty badly and had to reimburse us for reupholstering.  Needless to say, I wasn't disappointed because I knew I was ready to change it up anyway!!  I knew I wanted to use velvet because at the time velvet was a fabric I had none of in my home so I went through my fabric books and found this aquamarine that picked up on the aqua I was going to be using for the bed pillows.  I then picked a white linen for the contrasting cord on the headboard that was the same as the white linen in my drapery fabric.  The contrasting cord in the headboard helps to tie the headboard to the white linen duvet, drapery, and to the lamp shade across the room (more on that in a minute).  Do you see now how all of this is coming together?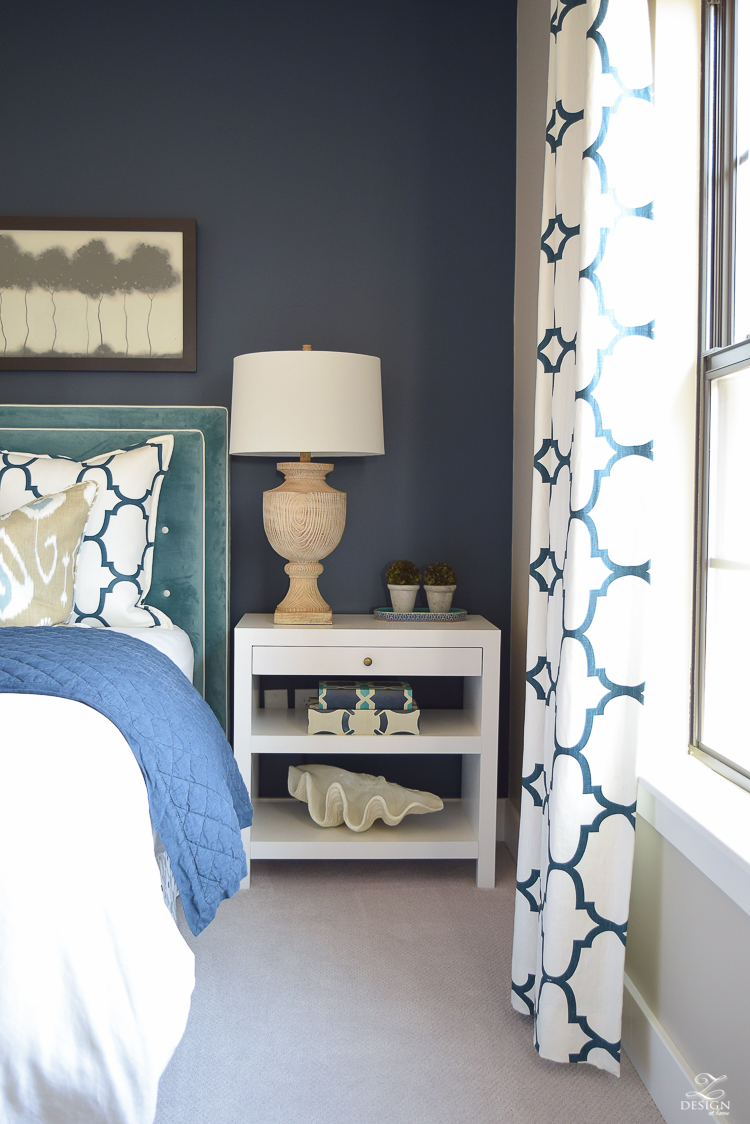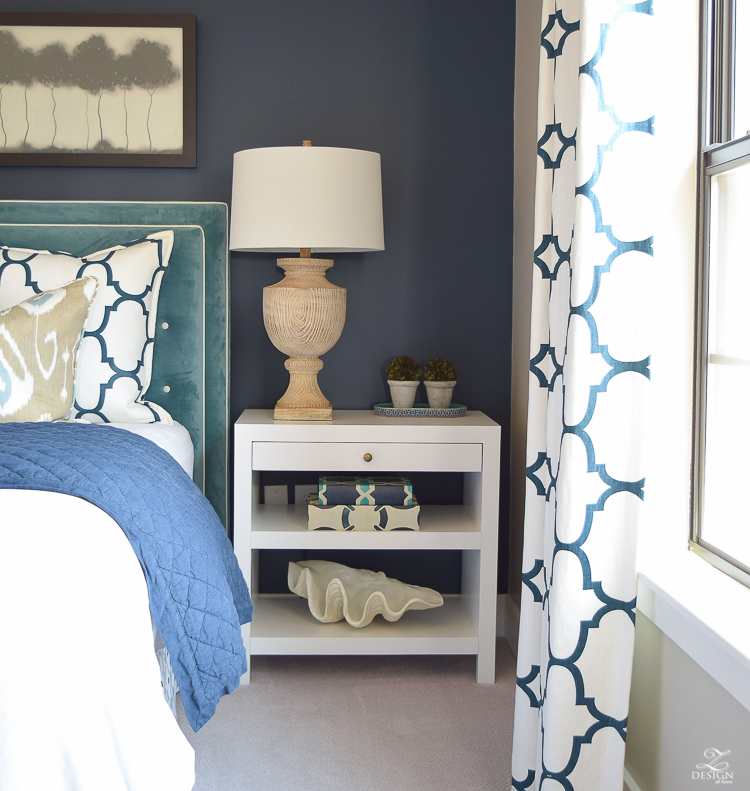 The obvious choice for bedding was white linen for the duvet and sheets, along with this cozy, navy quilt and that completed my cozy B&B bedding look!  I was also lucky enough to find this large tasseled throw in just the right shade of aqua at HomeGoods to further complete this look.  I've linked a similar one here.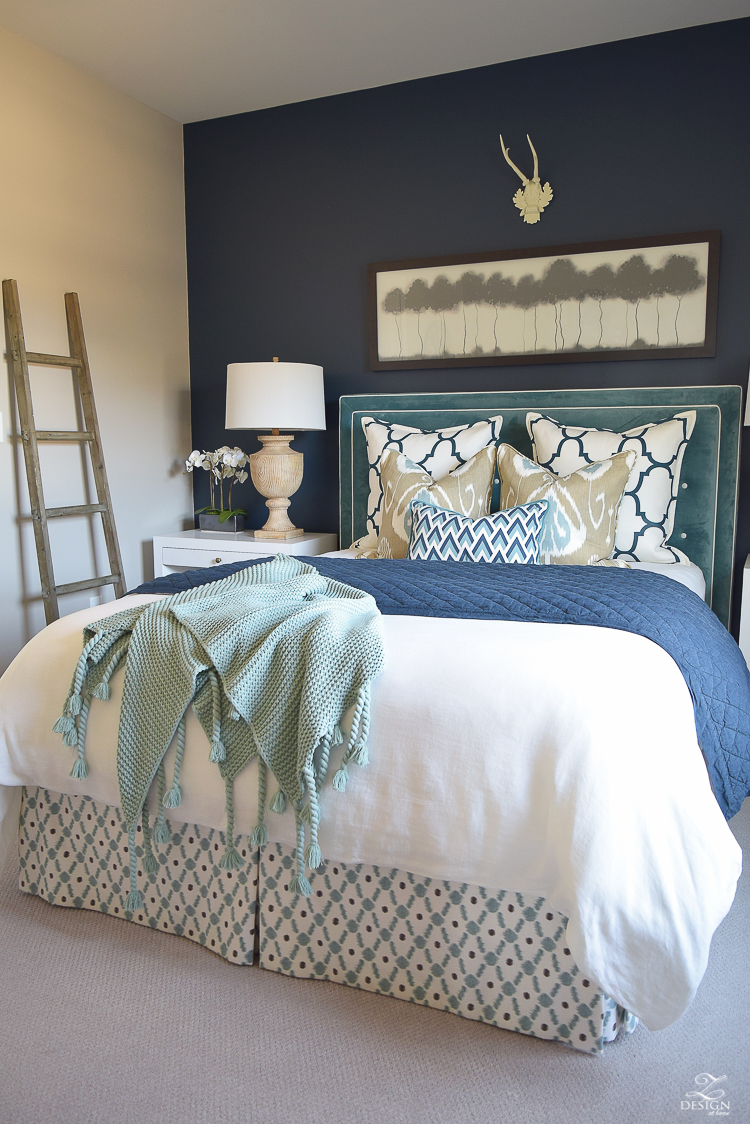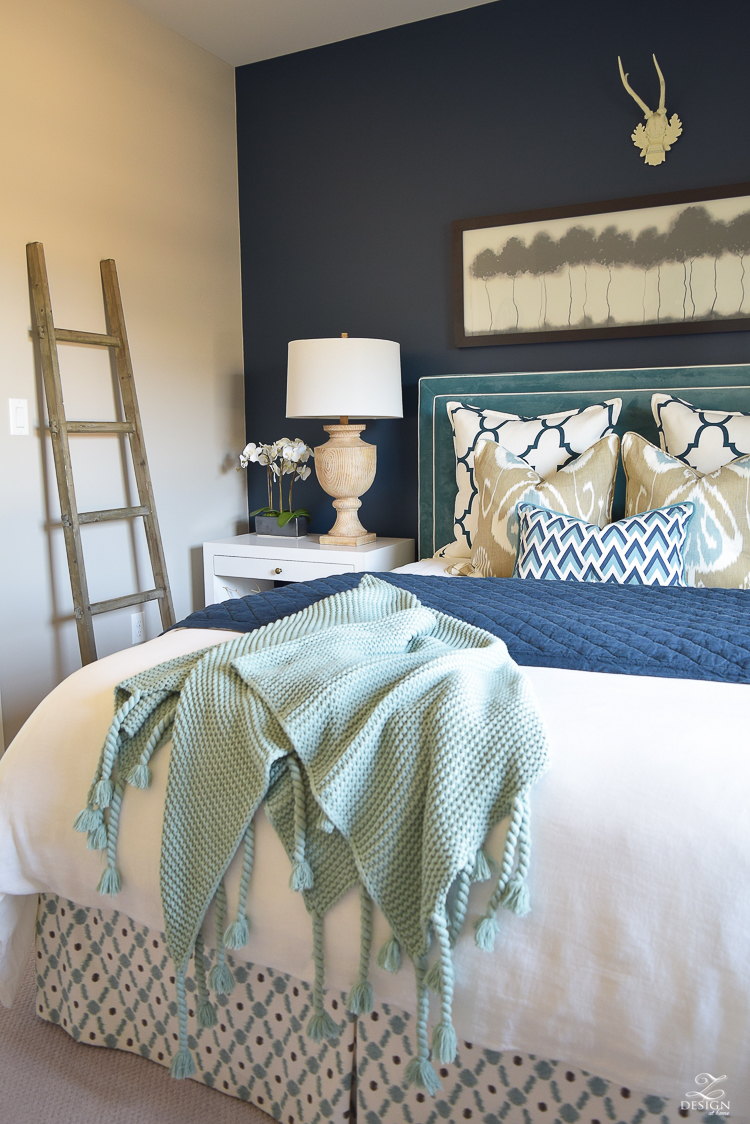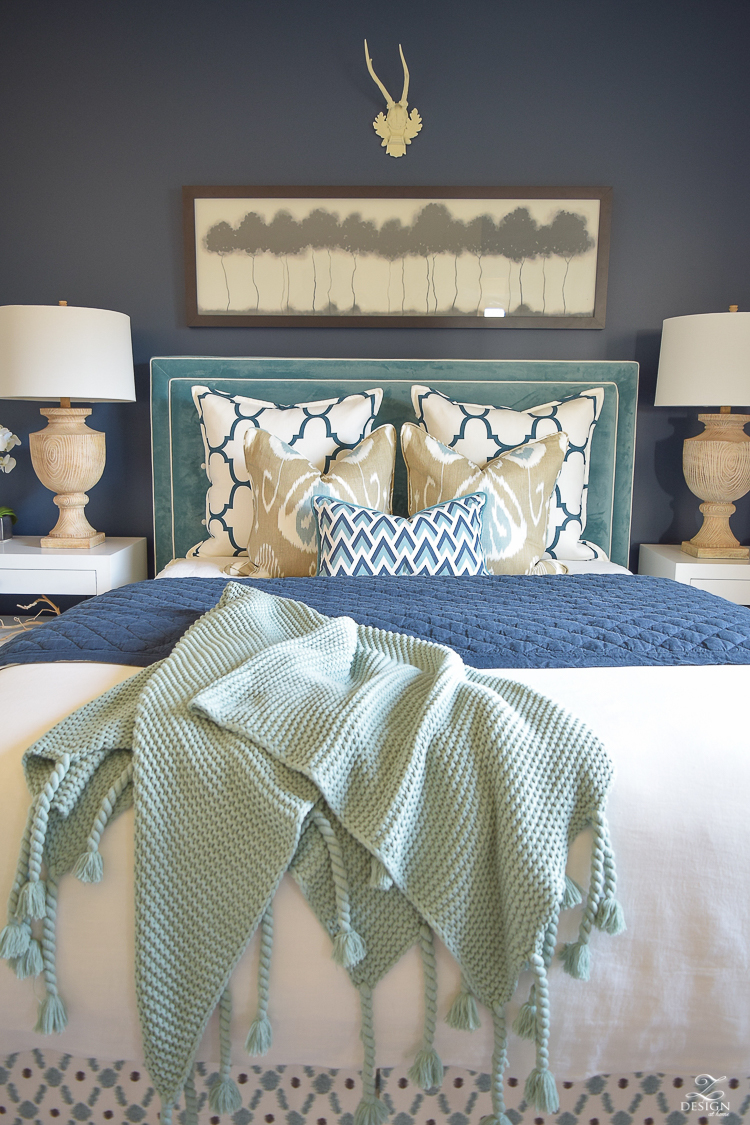 The night stands (similar) were a great find at a store called Wisteria in Dallas (you may receive their catalog in the mail).  I had had my eye on them for a while for this project and when I visited the store was lucky enough to find them in the back in their clearance section.  I couldn't believe I was lucky enough to find two of the exact ones I was looking for on such a great sale!!  One of them needed a little TLC to one of the corners but my hubby was able to fix that with no problem…certainly worth it to get them for about 50% off!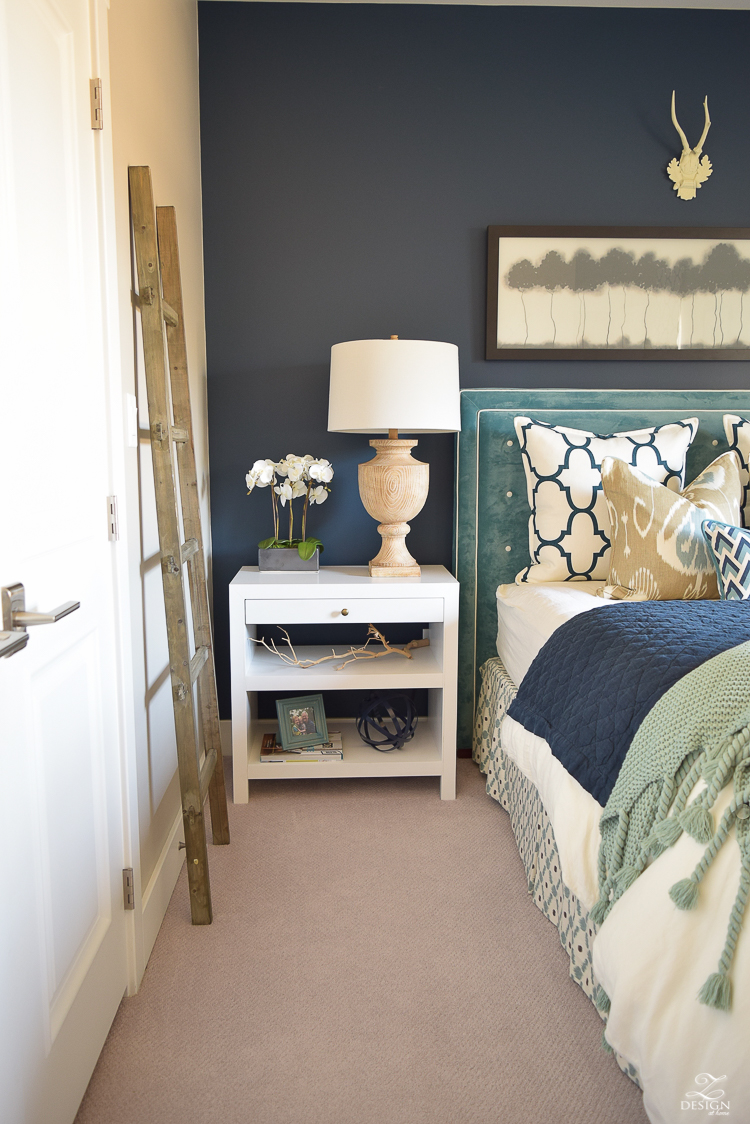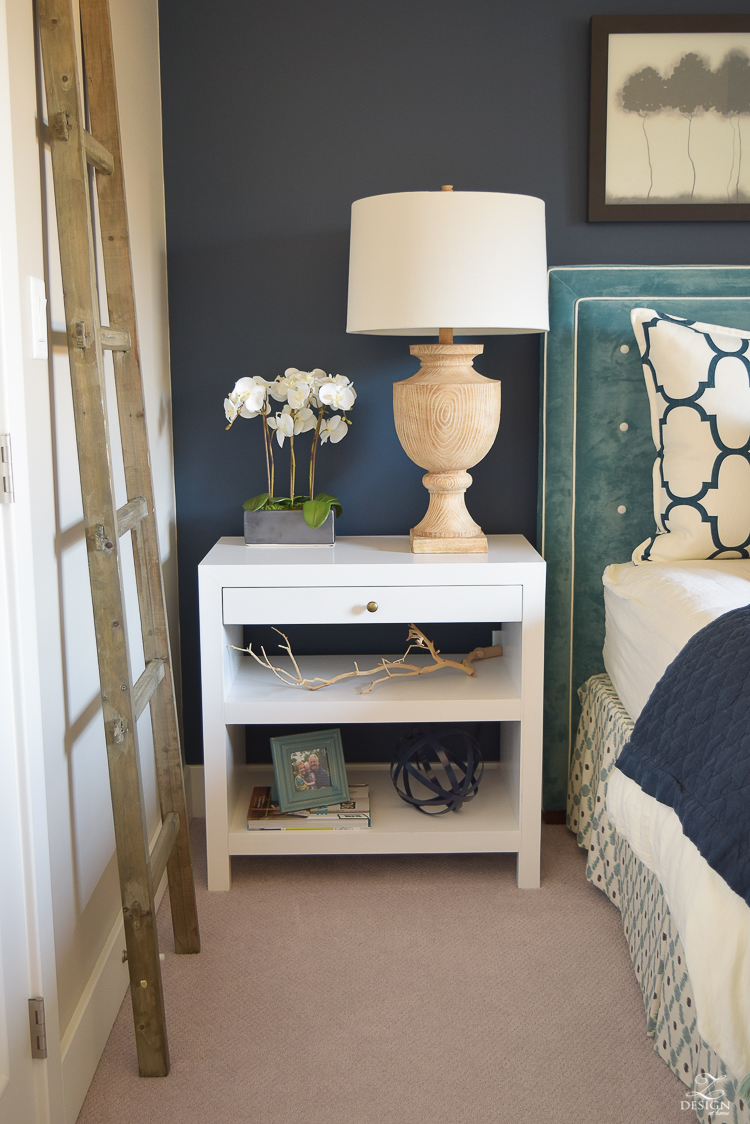 I got the wooden ladder through a friend but since I get asked about this item so much I have linked it here for you.  It's a great statement piece in the room and wonderful for draping a throw on, or for holding an extra blanket or a bath towel.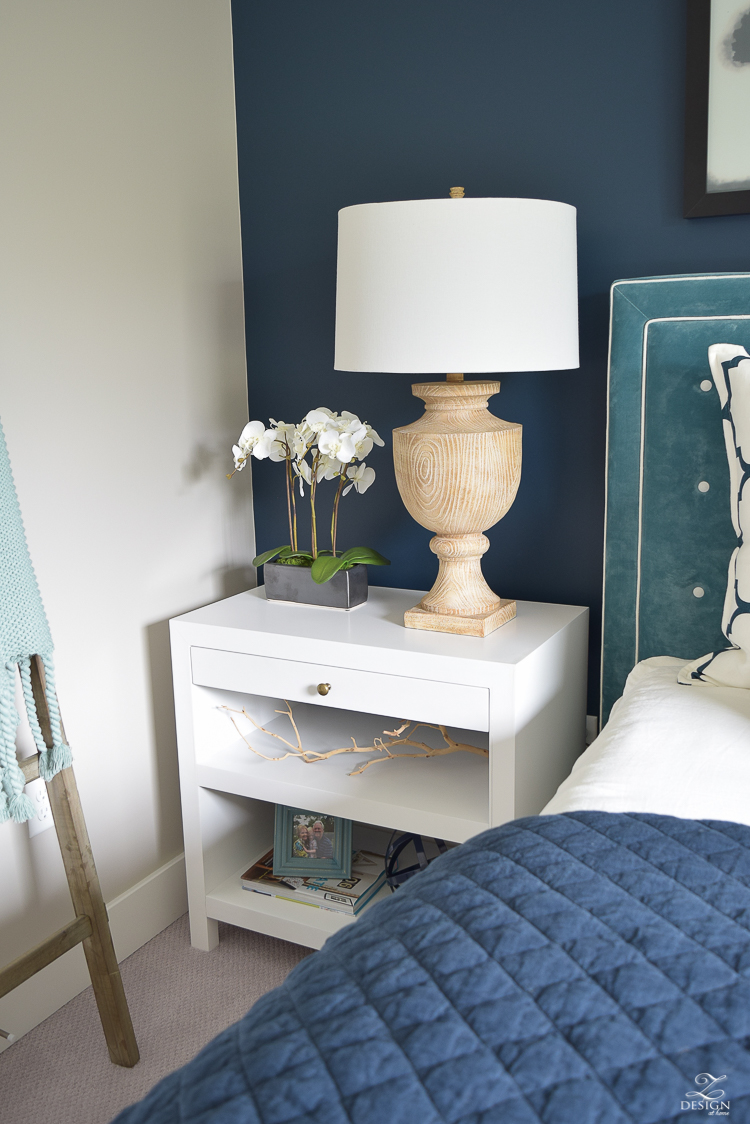 The accessories and lighting were items I already had or found at HomeGoods.  I love decorating with nature items and love this Grapewood Branch that I've had for years.  The lamps are stunning in the space and provide just the right amount of light and texture for the room.  They can be found HERE.  Lighting is such a crucial element in any space but especially in a space where your visitors will be staying the evening.  You don't want your guest feeling they are unable to perform simple tasks such as getting dressed or reading because the lighting is insufficient so, proper lighting is always something to keep in mind when designing a space, especially a guest retreat.  In this room we have can lights, a fan with a light, and a lamp on the other side of the room on the desk, in addition to the bed side lamps.  And speaking of the desk, this was actually a console table we purchased not long after moving into our home to go behind our living room couch.  It didn't work there but ended up working perfectly in here so this is where it found it's new home and we love it here.  This is a piece we will always have a use for and more than likely will never part with.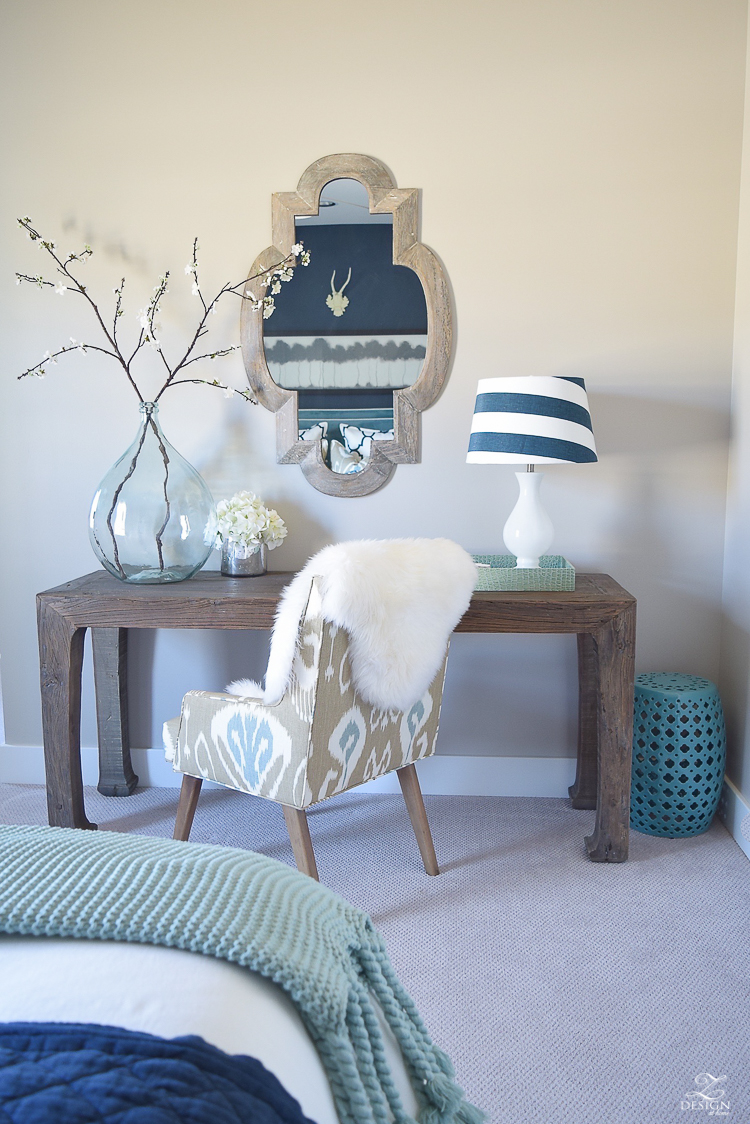 I talked more about this in my Well Appointed curtains post but one way I tied this side of the room to the bed side of the room was again through my use of fabrics.  I used the same small scale geometric print from the bed on a pillow for the chair and, I had this chair reupholstered in the same Ikat patterned fabric.  Another little tip about pillows here is that I used the same velvet from the headboard on this small scale geo pillow for a contrasting cord to again marry the fabrics I was using in the space.  This further helps to give the whole space continuity and flow.  And lastly, I had this fun lamp shade made by an Etsy shop that you can find here.  I sent them my own fabric but they have tons of fabric choices available!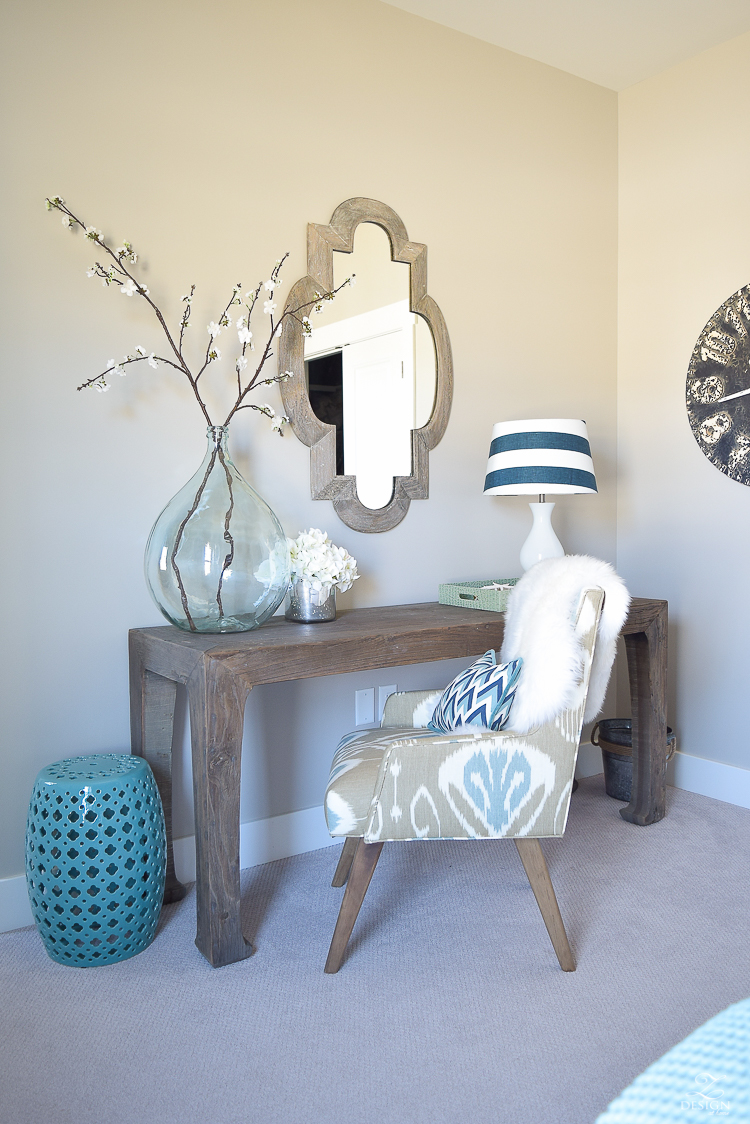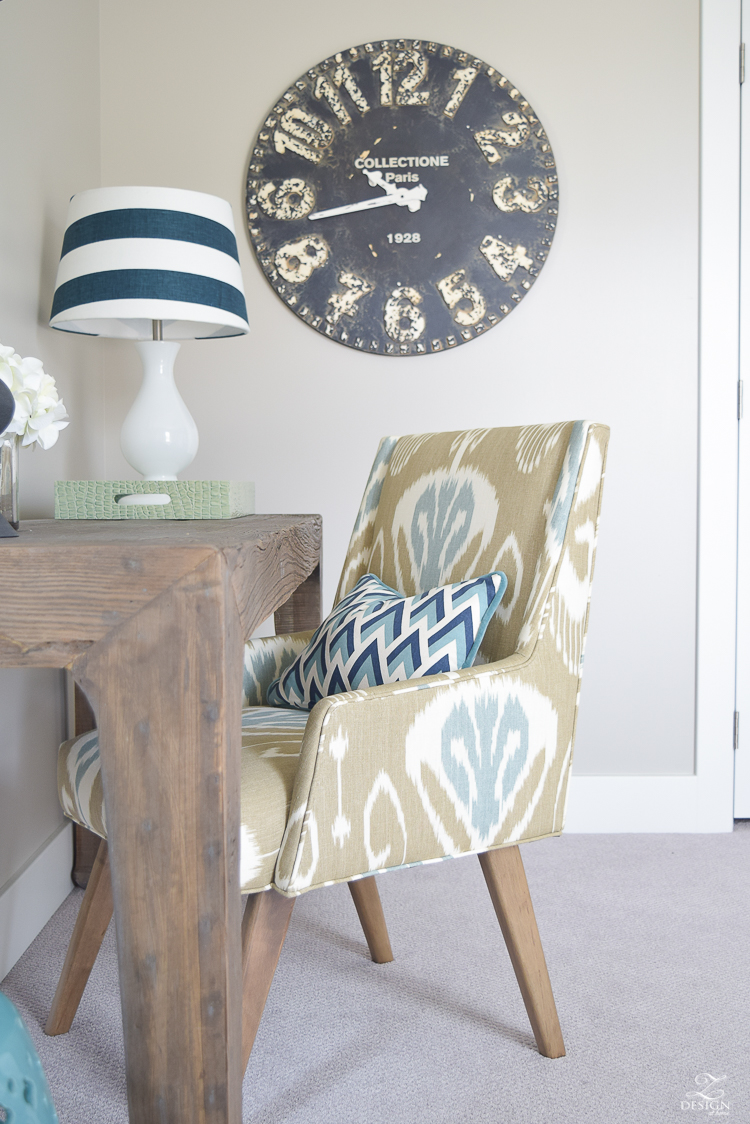 Another little design trick I used in this space was to dress two completely different types of windows in two completely different ways, but with the same fabric to bring them together.  The smaller window to the right is right beside the doorway so of course I didn't want to hang curtains there.  This roman shade fit the bill perfectly however (I show I lot more of my curtains in this space here).  I also sprayed these frames (that were formerly black) in the same color of the headboard fabric to bring that color over to this area of the room.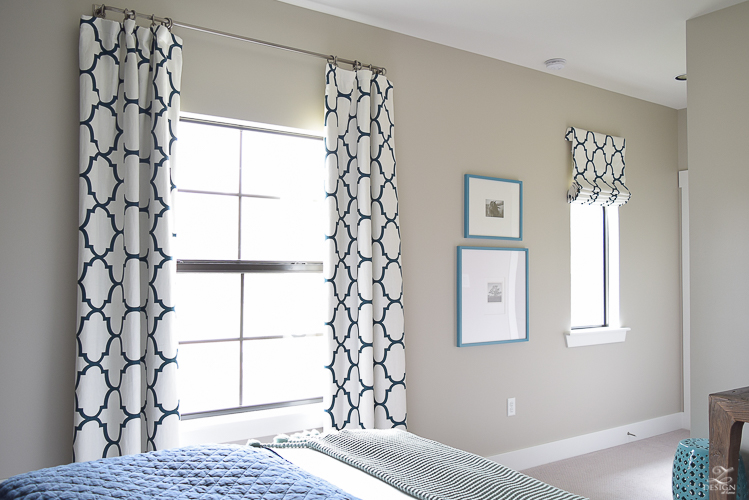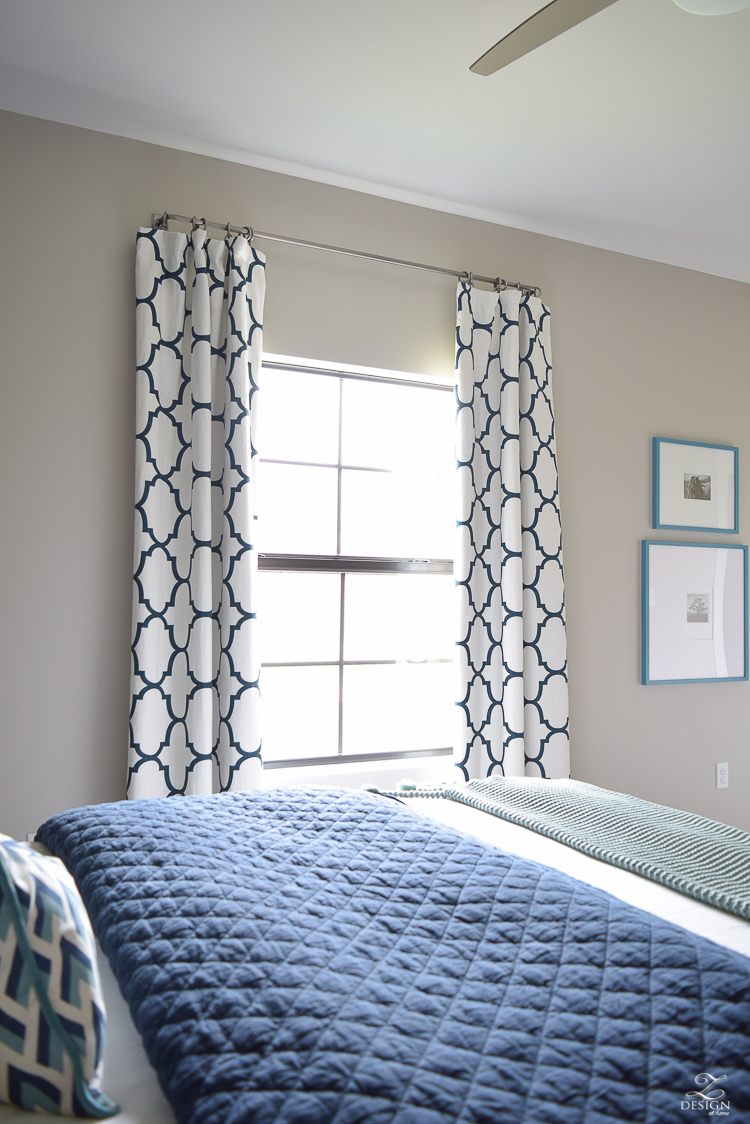 And back to the bed side of the room, I recently added the white antlers to add a little pop of contrast and to draw your eye up. The artwork over the bed was a find at Crate & Barrel a long time ago.  It's no longer available but I've linked something similar here since I get a lot of questions about this piece as well.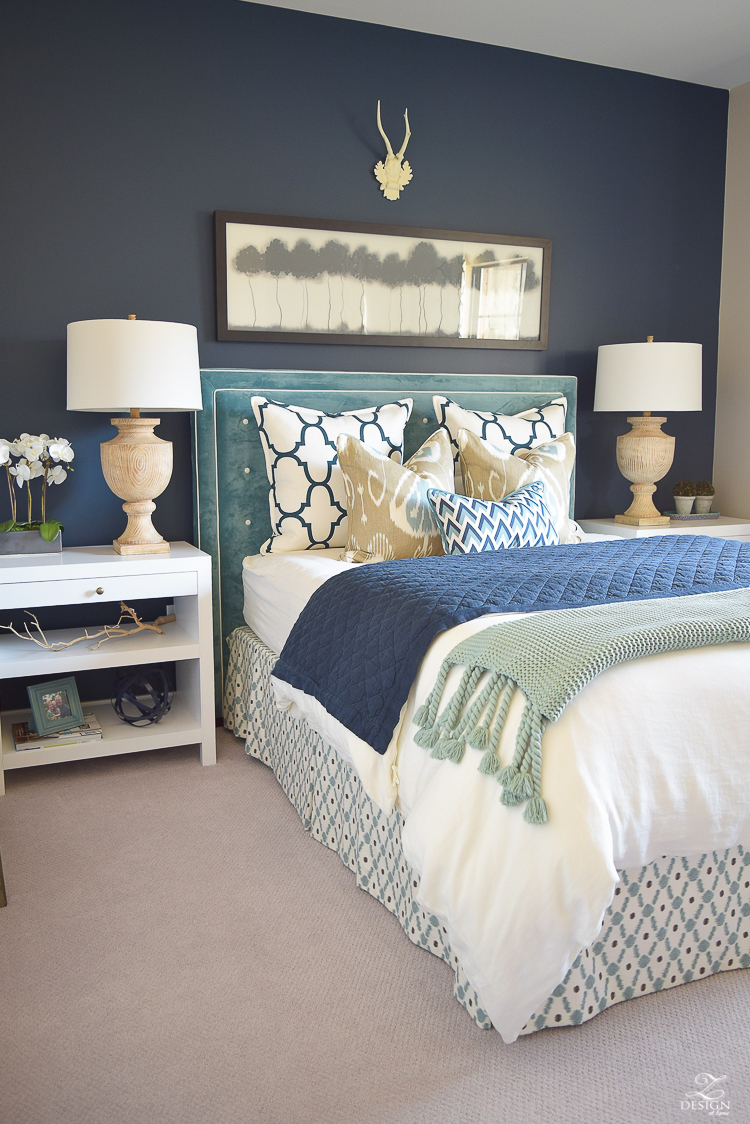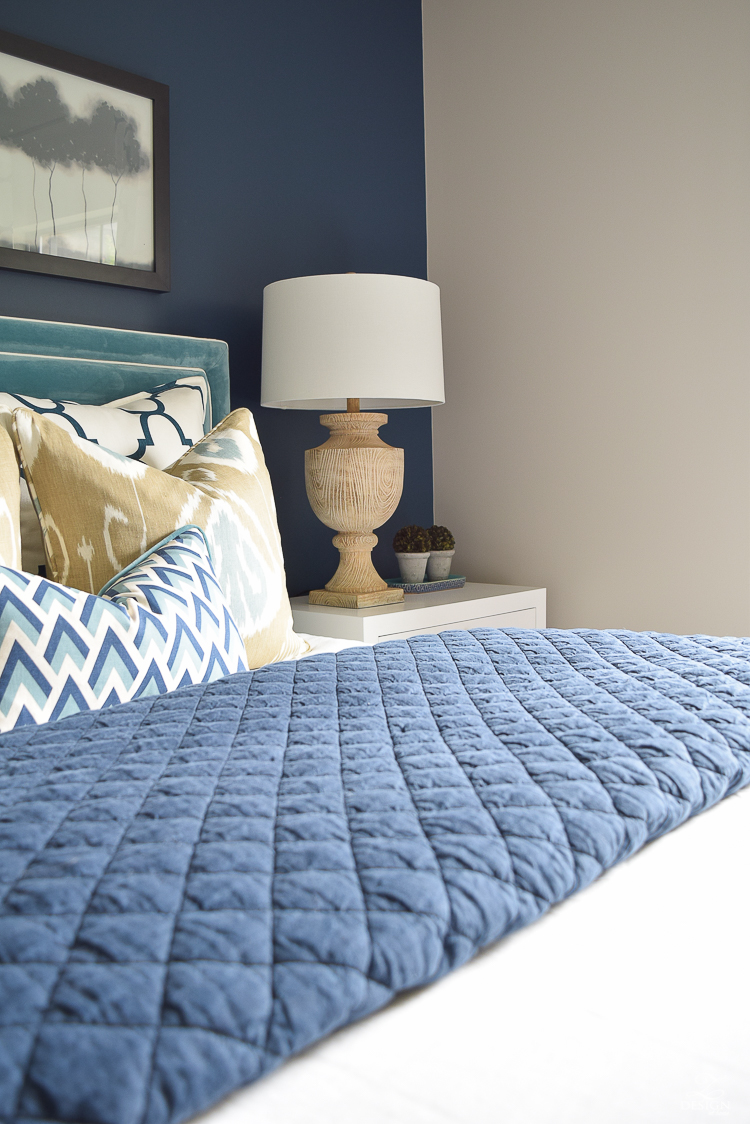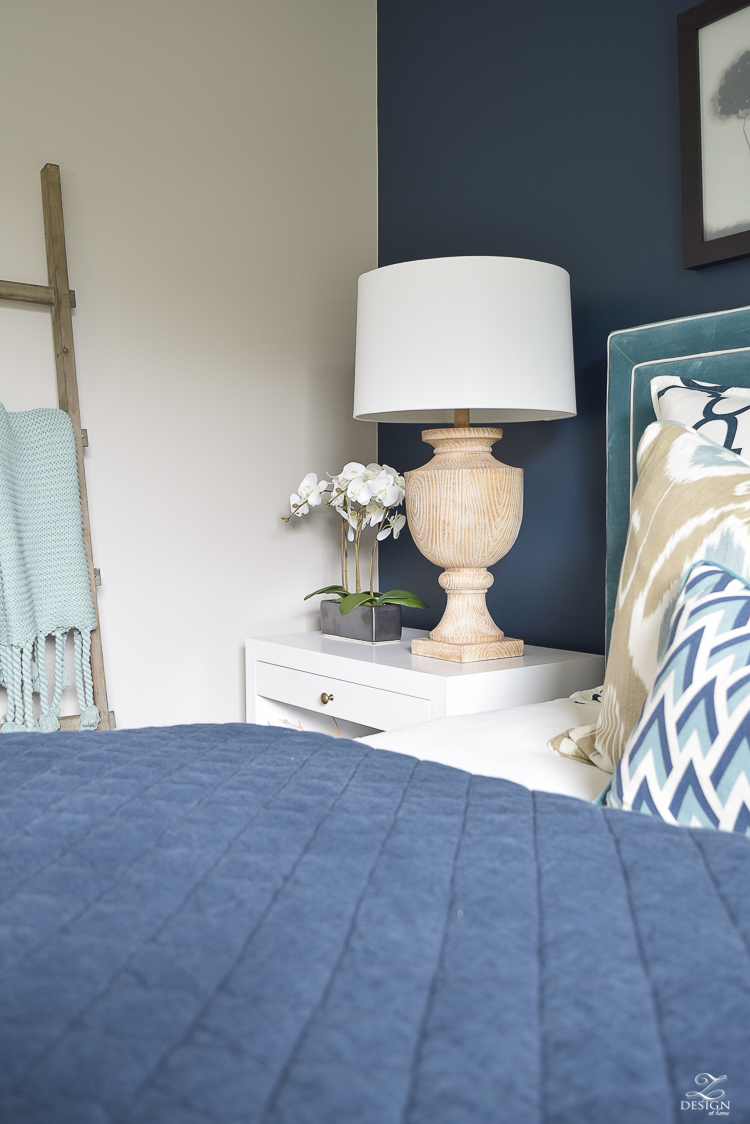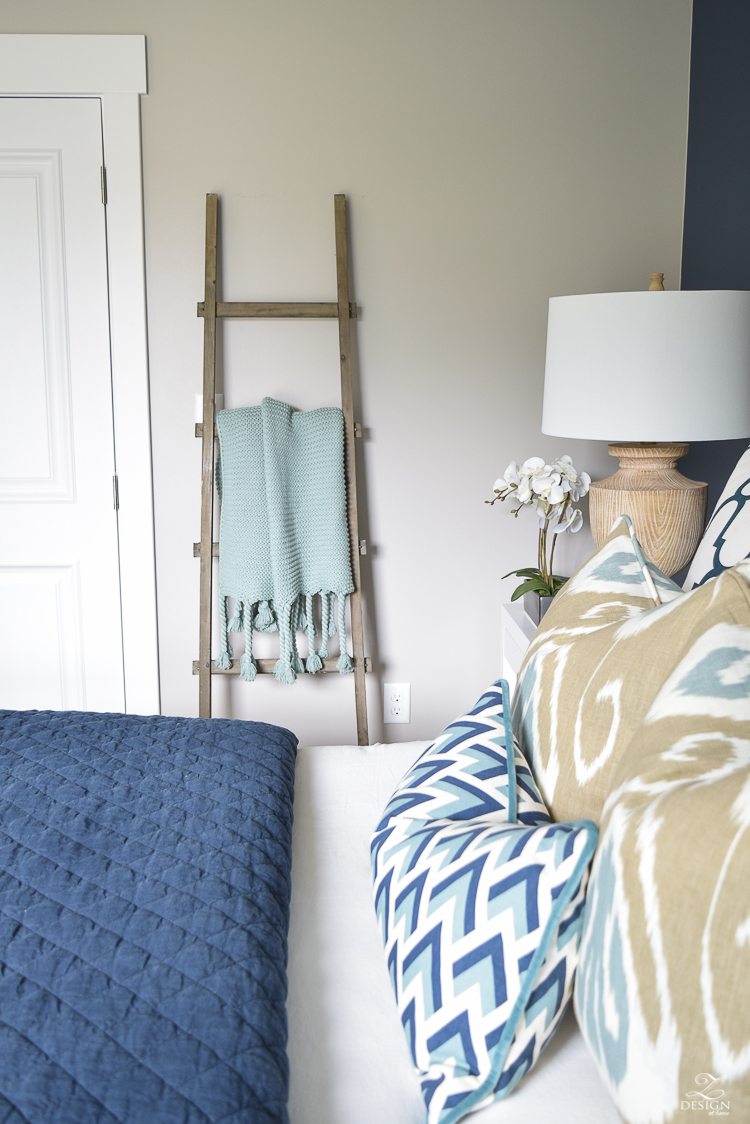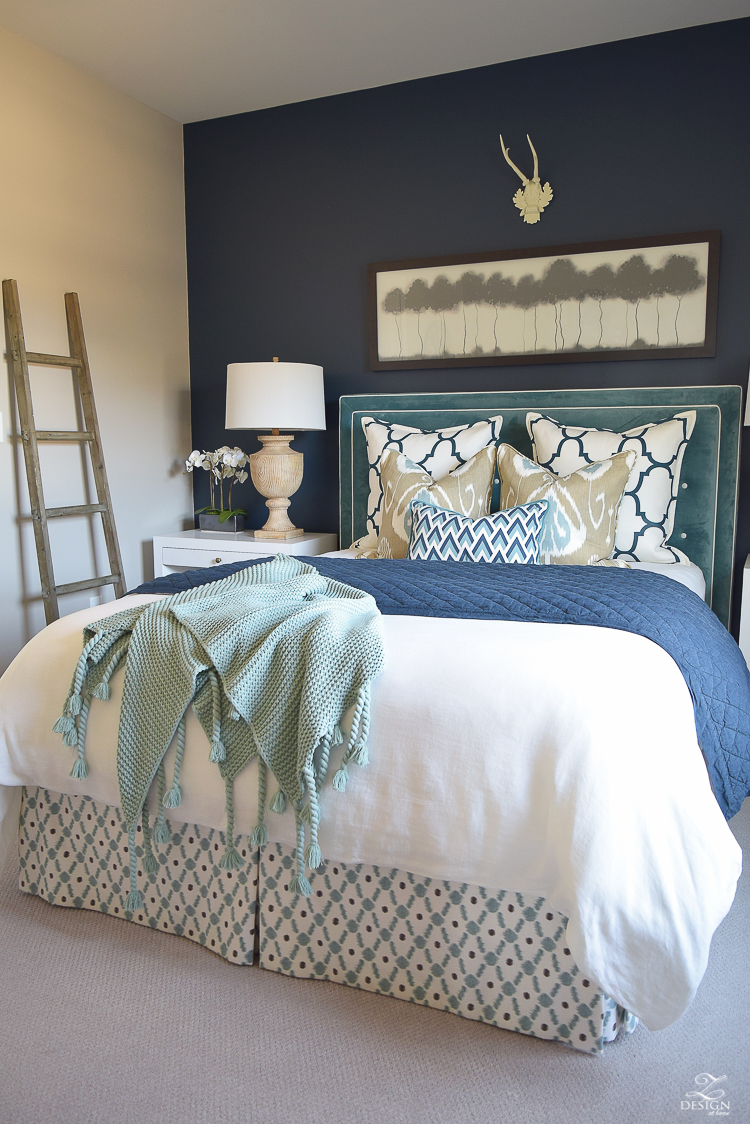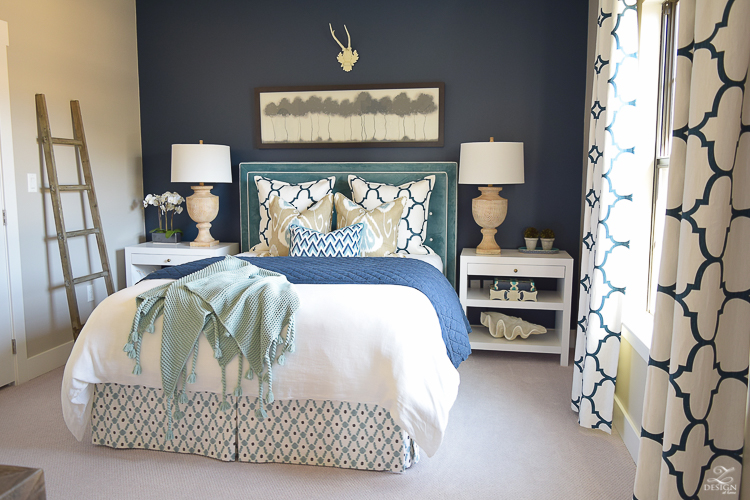 Another item I get asked a lot about in this space is the custom bed skirt.  If I use a bed skirt in a room I typically have them made in a tailored box pleat style.  Again, I went through my plethora of swatches and pulled this one for it's color, style, and playful pattern.  I had mine custom made by my workroom but I found something similar here on line.  If you are having one custom made, I have mine made to where they hit just above the floor (so about 1/4″ off the floor) and I measure down from the top of the box spring to get the perfect measurement/length.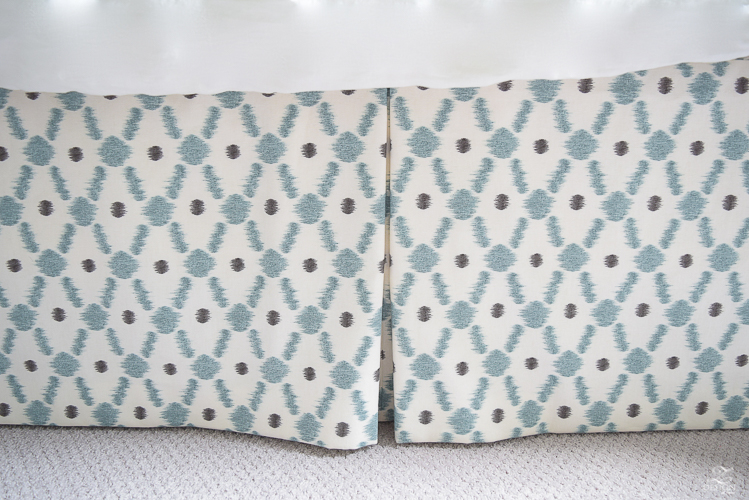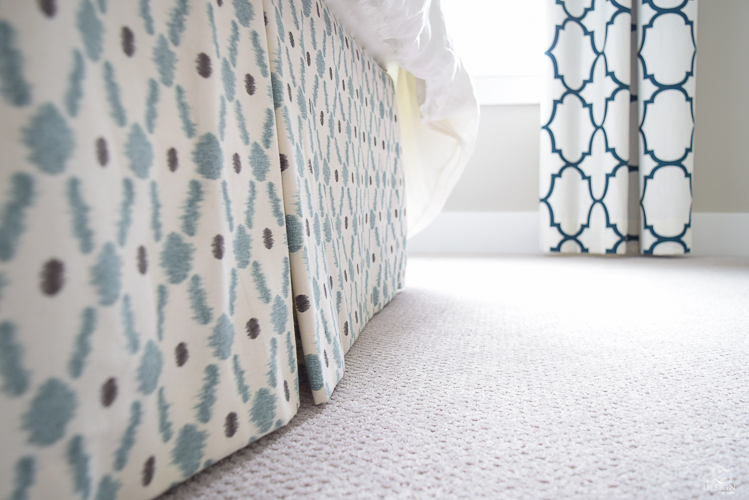 Well that about wraps things up here but I hope you enjoyed the tour of our guest retreat and please let me know if you have any questions!  I hope our guests enjoy it as much as I enjoyed pulling it together!  Hope to see you back here next week when I talk a lot more in depth about the making of the perfect pillow, and please don't forget to leave me your thoughts in the comments section below.  And as always, thanks for stopping in ZDesignAtHome:)!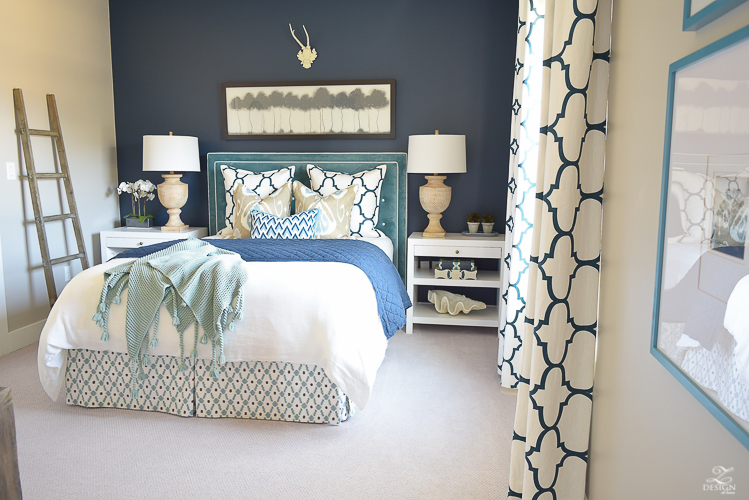 Let's Stay Connected…
Pinterest | Facebook | Instagram | Linkedin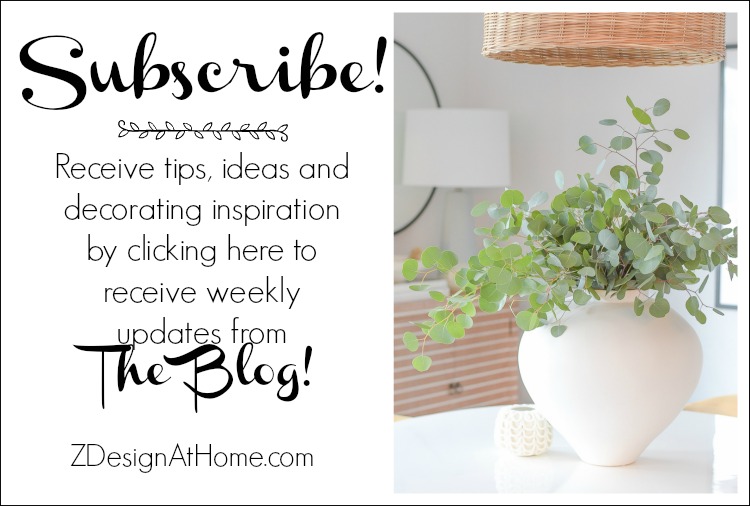 Guest Bedroom Sources
*Affiliate links used.  Where items are no longer available, a substitute has been provided