Guest Bedroom Reveal Tour & Sources
Hi friends! I'm back for another room reveal! The design of this space is simple and understated for a reason (I'll explain more on that soon) but meant to be cozy and inviting at the same time. Each piece was chosen with care and I can't wait to share it with you!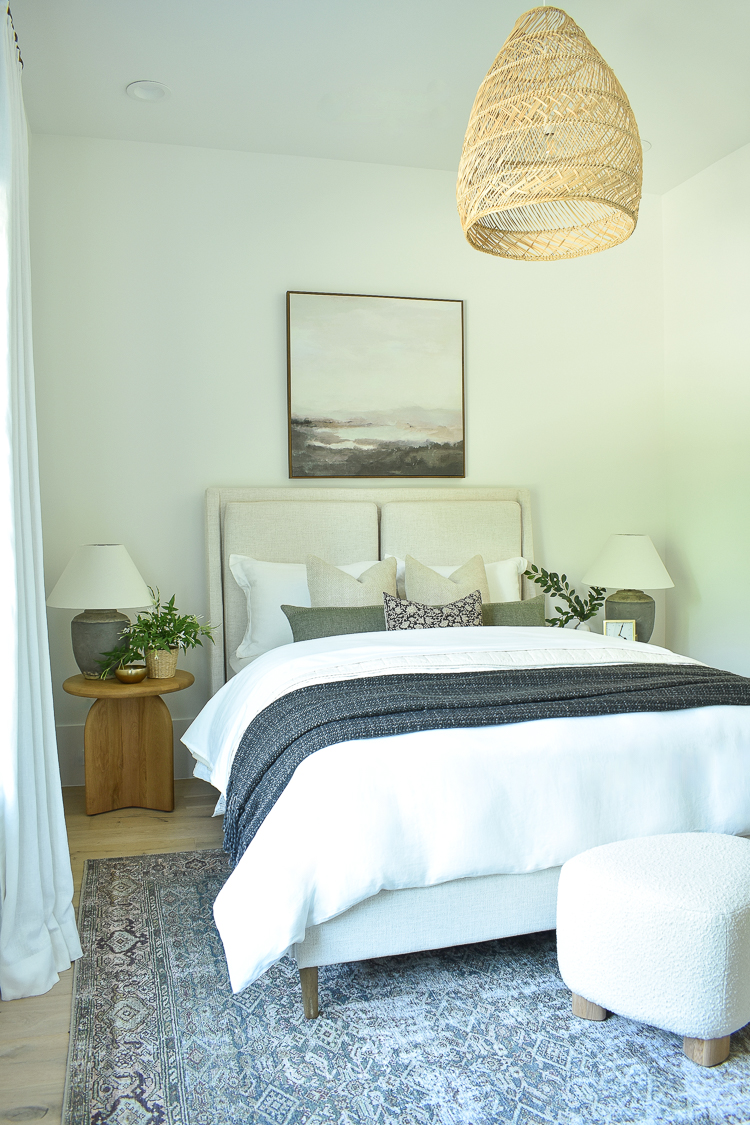 This post contains affiliate links and is sponsored in part by Saatva Mattress. All styling, product selections, photographs, etc., are my own. Please read my full disclosure policy here.
For this space I started with the bed. I fell in love with this upholstered bed and never looked back or thought about another piece for this space. I always say your staple pieces should be of good quality (please don't skimp here if you can avoid it!) and something you absolutely love. It has a subtle mid-century style that I love but then I mixed it with transitional-modern elements for an eclectic feel in the space.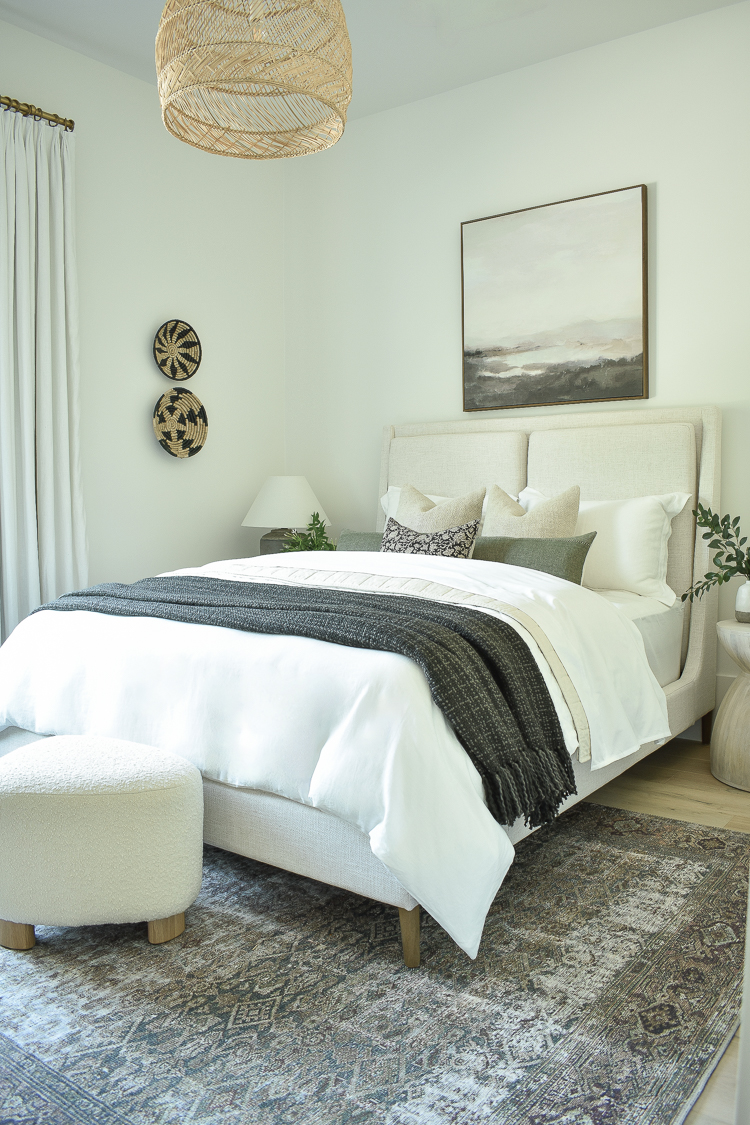 The fabric is great and will resist and mask stains. It's very sturdy and the legs are done in a white oak with multiple slats supporting the mattress. You don't need a box spring with this bed and I have a 14.5″ mattress on it from Saatva Mattress (I'll talk more about that near the end of this post:).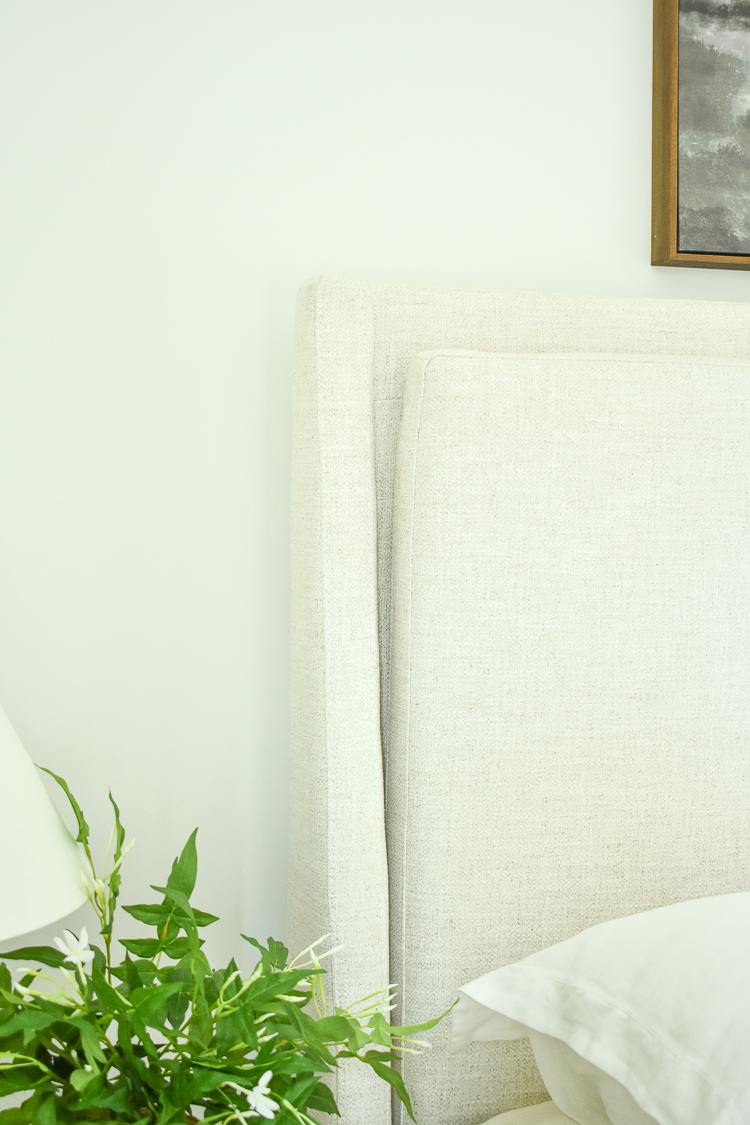 The night stands in our guest bedroom are mismatched and I love both of them equally! I love this whitewashed hourglass one so much, and it could be used later in another area of the house as a side table, which I love.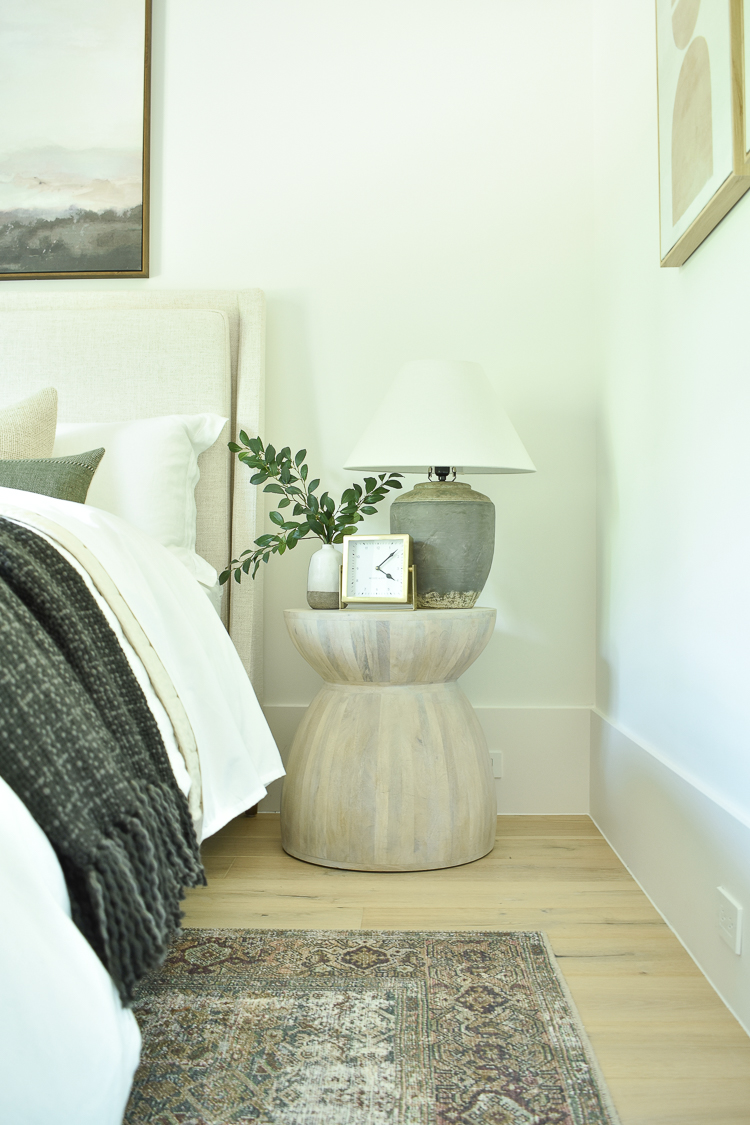 For nightstand accessories I chose a lamp of course (love this one from the Studio McGee for Target collection), a brass clock and of course some favorite faux stems.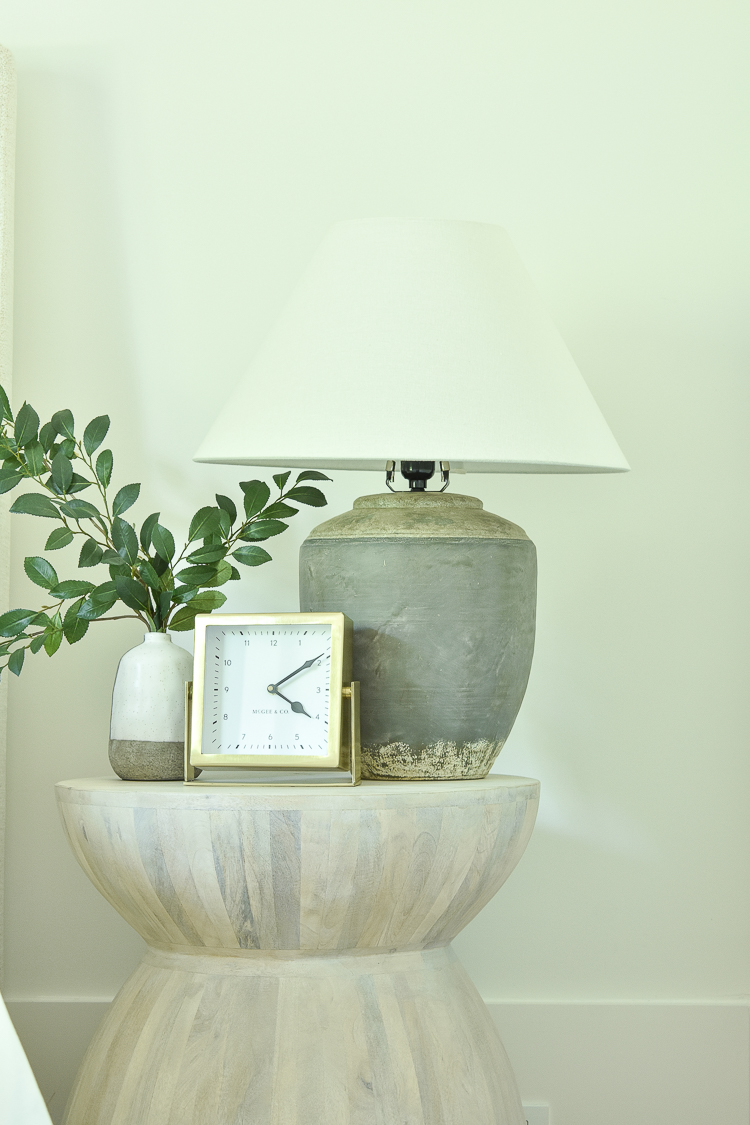 The opposite side of the bed is another nightstand (I had purchased this one for our living room but moved it to this space once I started working on it) and it goes perfectly in here. Again, the two nightstands don't match but that's ok and makes the space feel more interesting I think.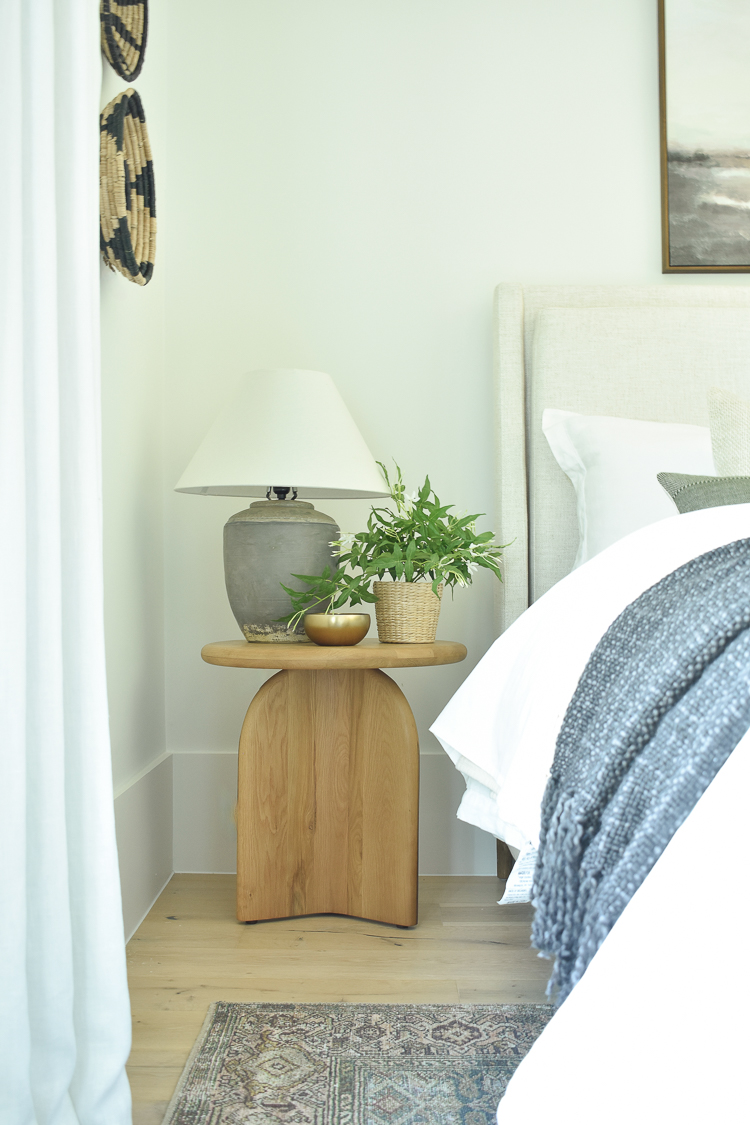 For decor on this side I chose another lamp of course, a basket of faux greenery, and a potpourri bowl in brass. Again, love these lamps and really love the shape of the shade.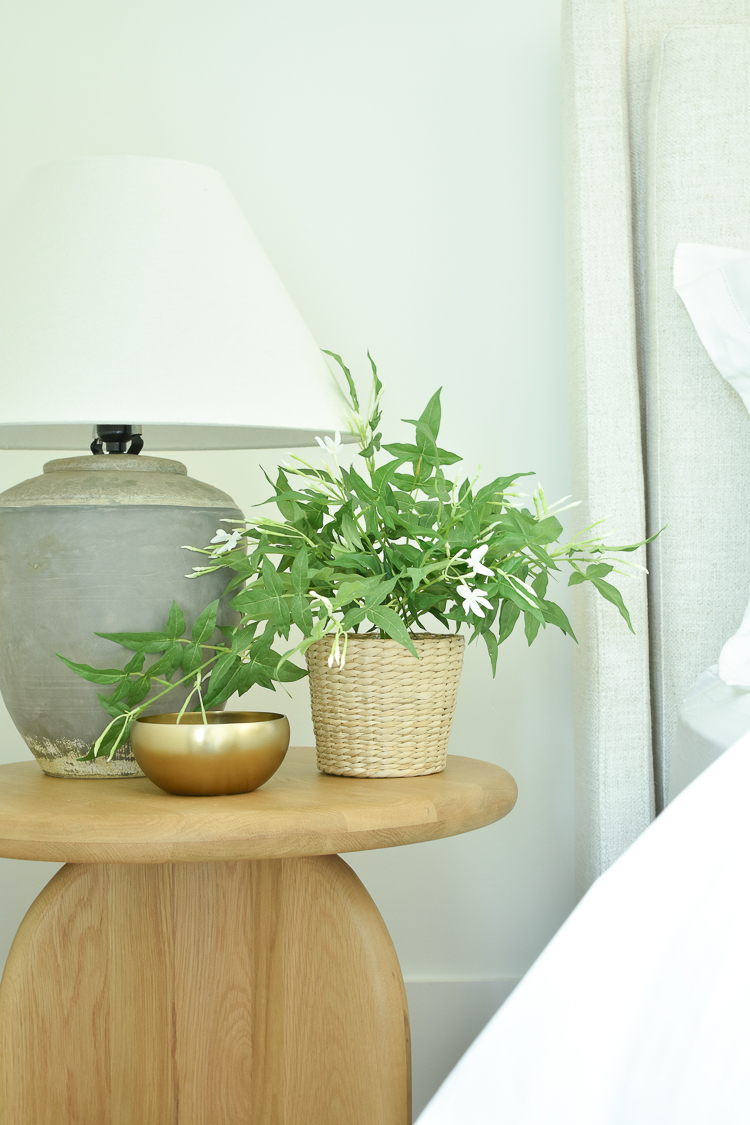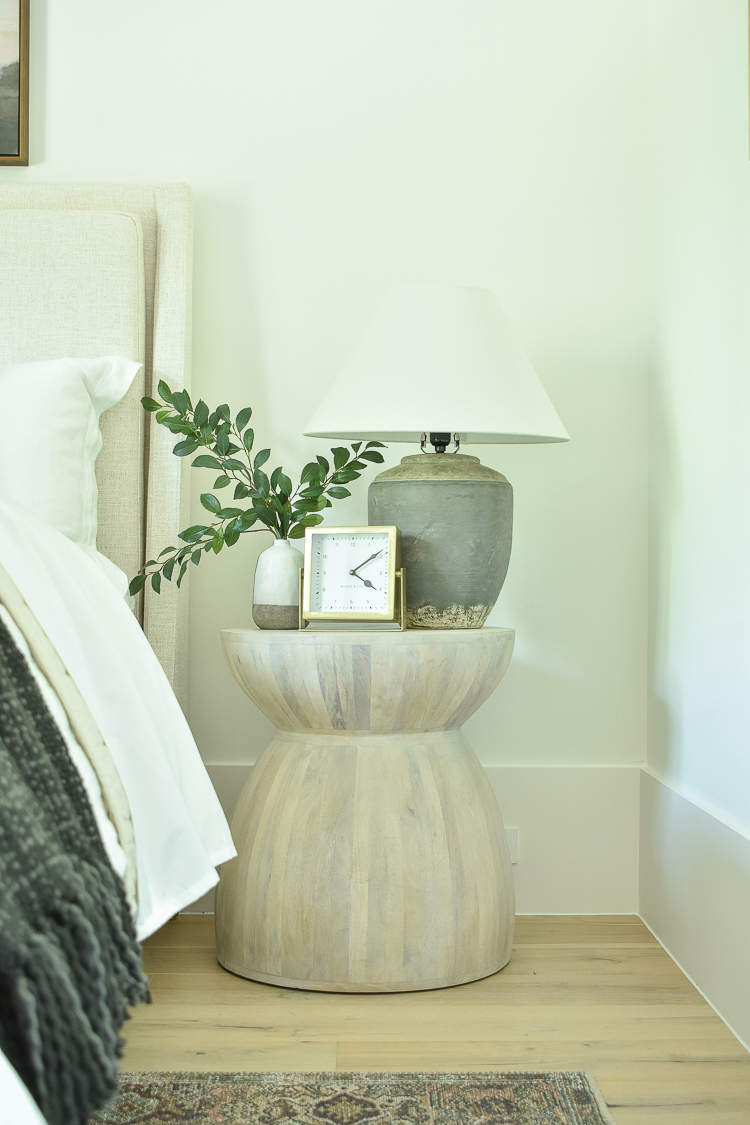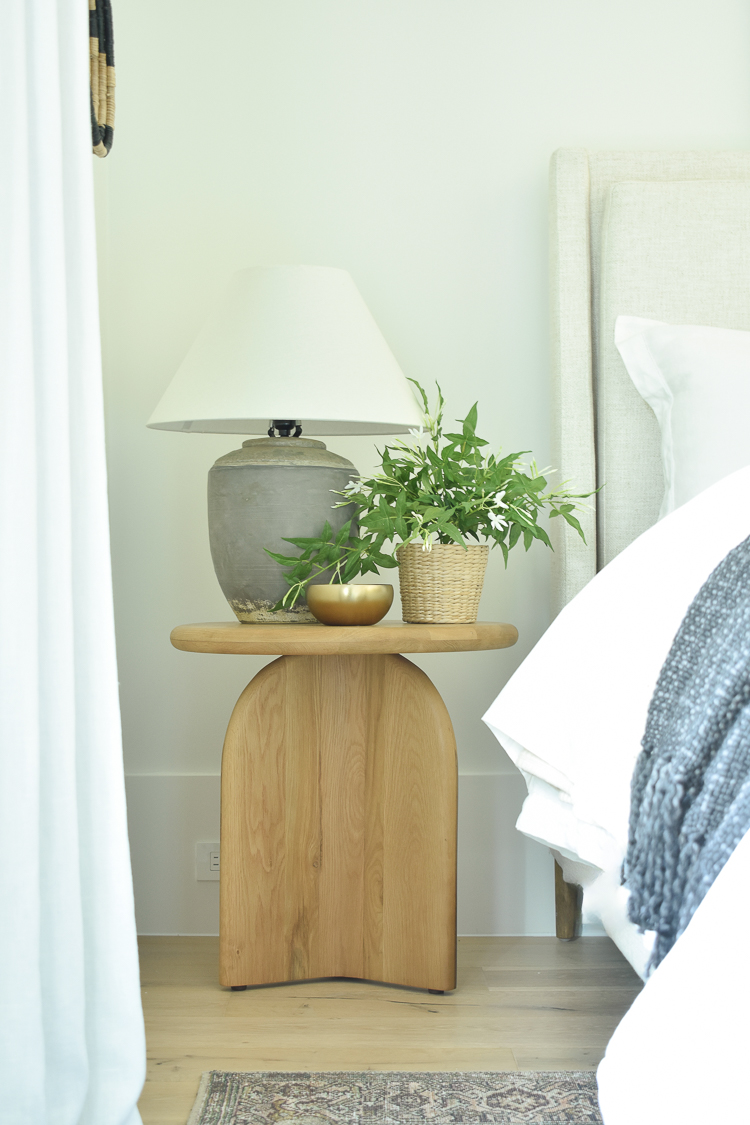 I just love the framed canvas art above the bed in our guest bedroom. It works perfectly with the rug and bedding I chose and it's 36×36.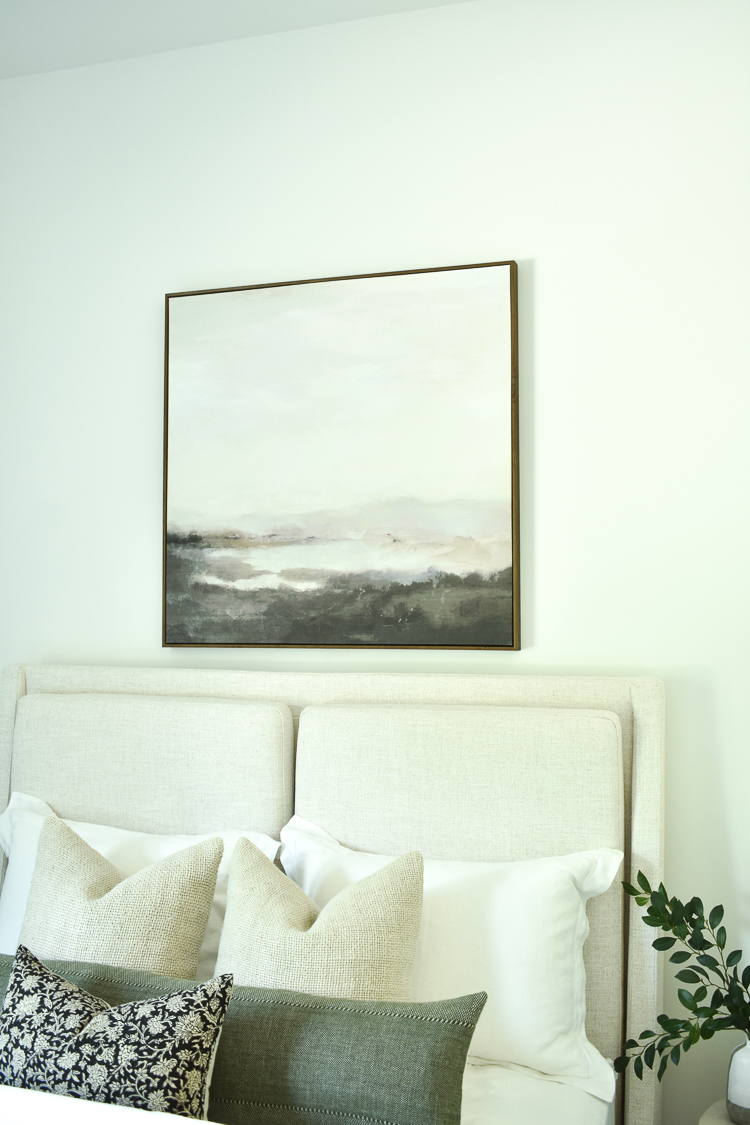 In addition to the art, I also really love this boucle ottoman at the end of the bed, with white oak legs.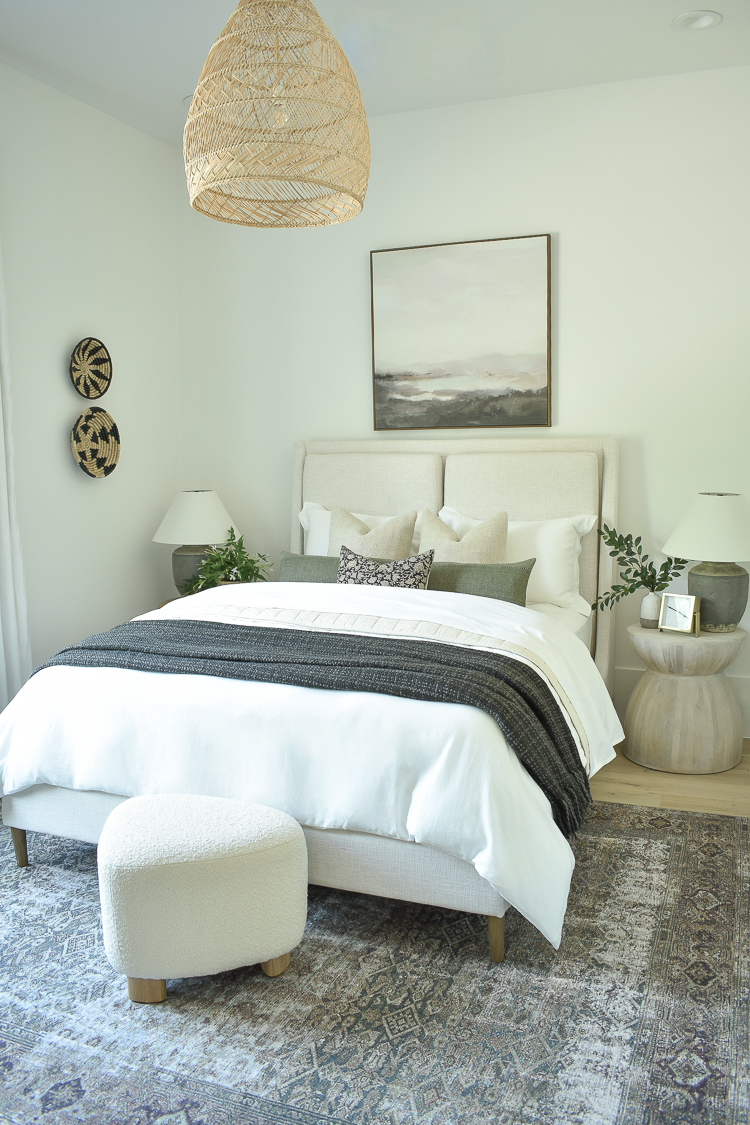 The bedding in our guest bedroom of course starts with a white linen duvet and shams, layers of quilts (white & cream), decorative pillows, and a luxurious throw in black at the end of the bed. The rug is also a new favorite as well.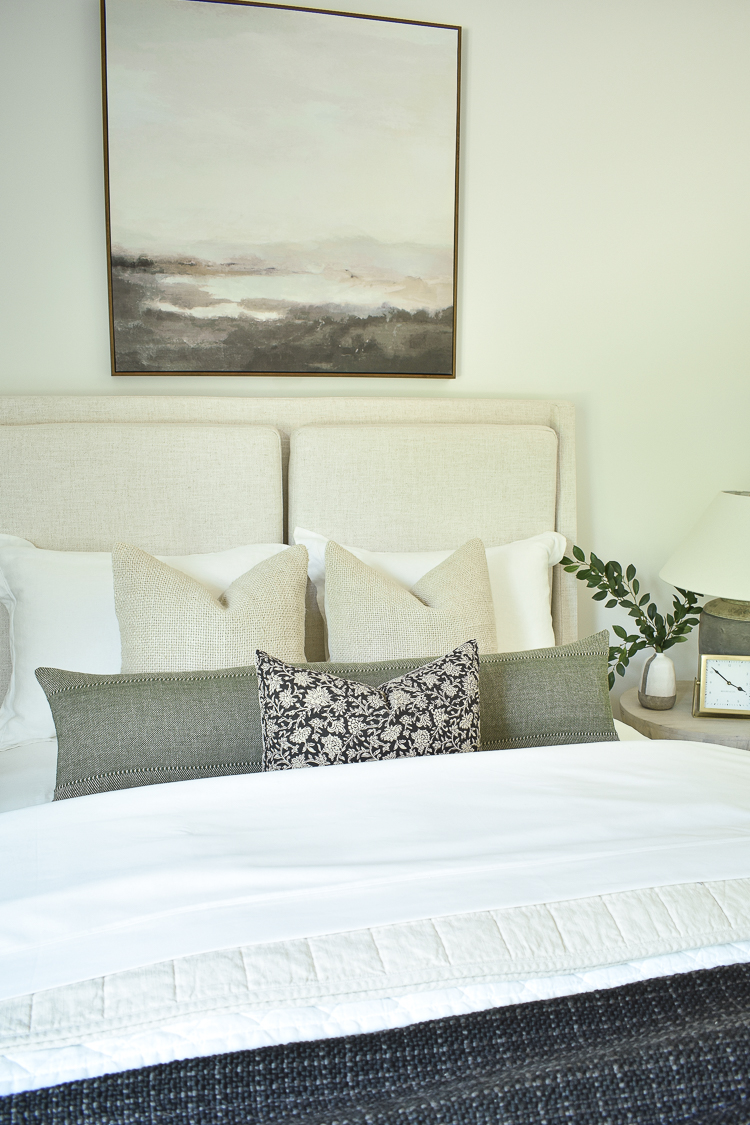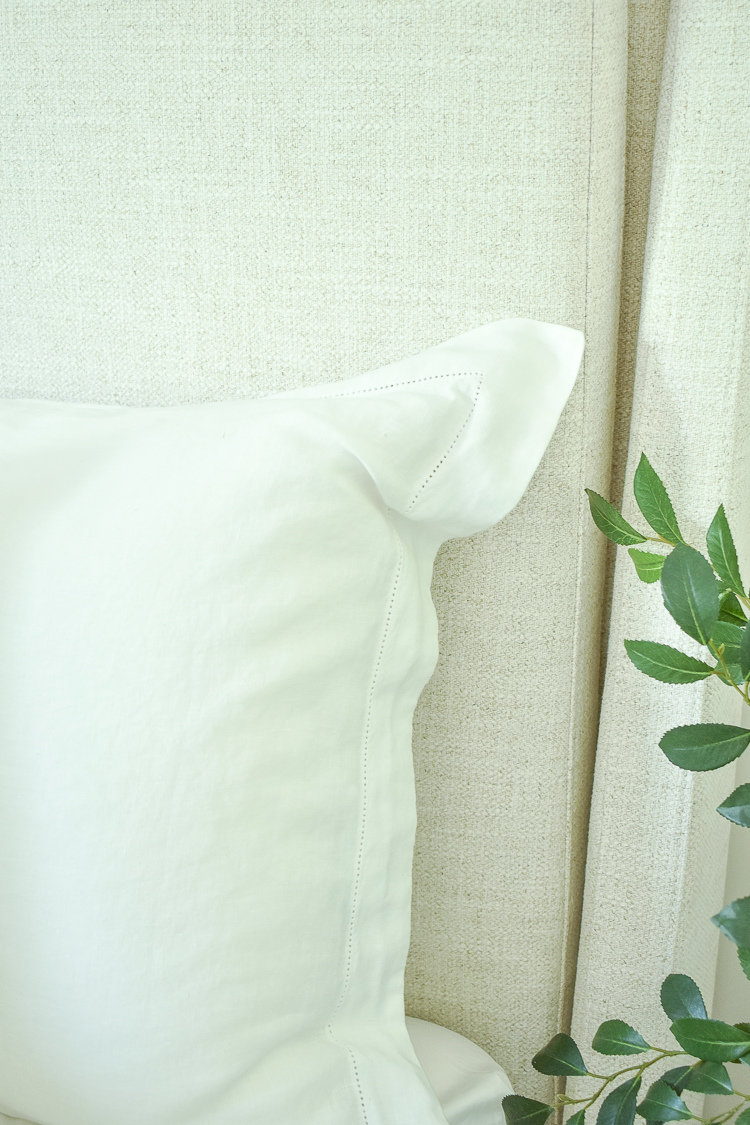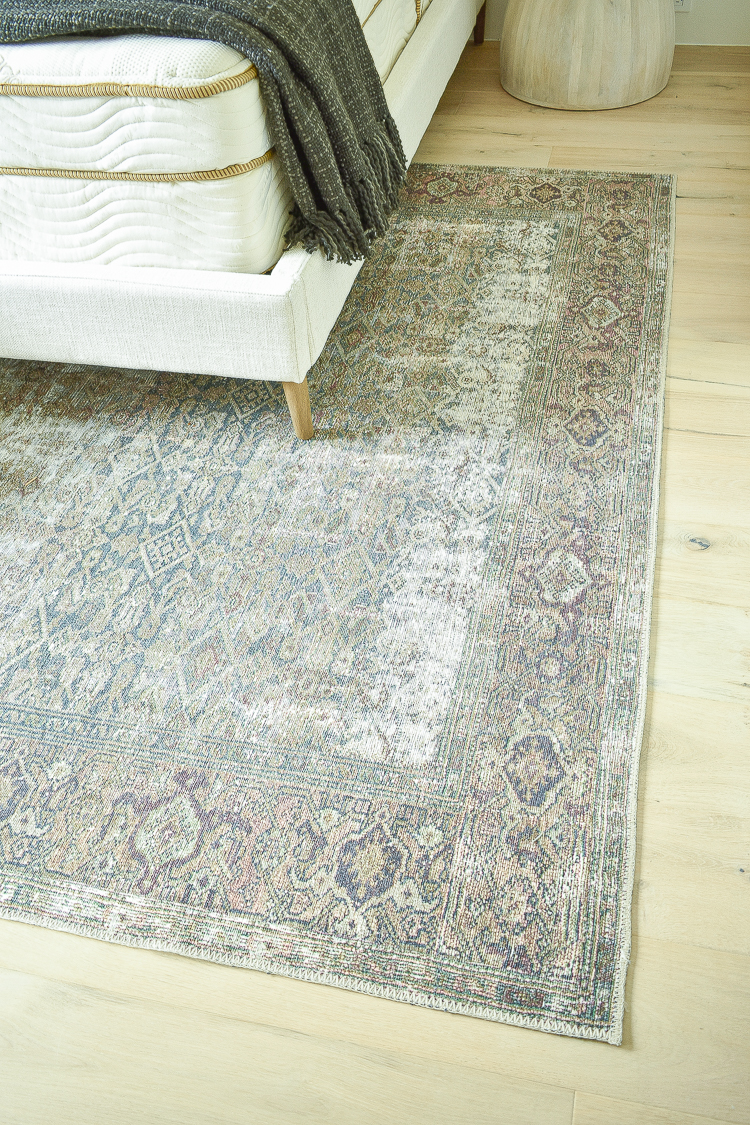 This lumbar pillow cover in green is 12×48. It requires this oversized insert but makes such a statement on the bed!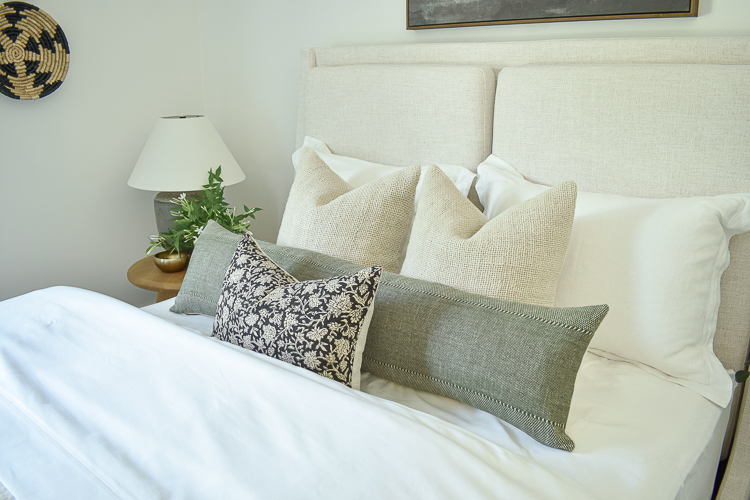 These textured linen pillows are amazing, I used a pair of them in the back in front of my pillow shams. I'm also using these this year in both of my living rooms, upstairs and down.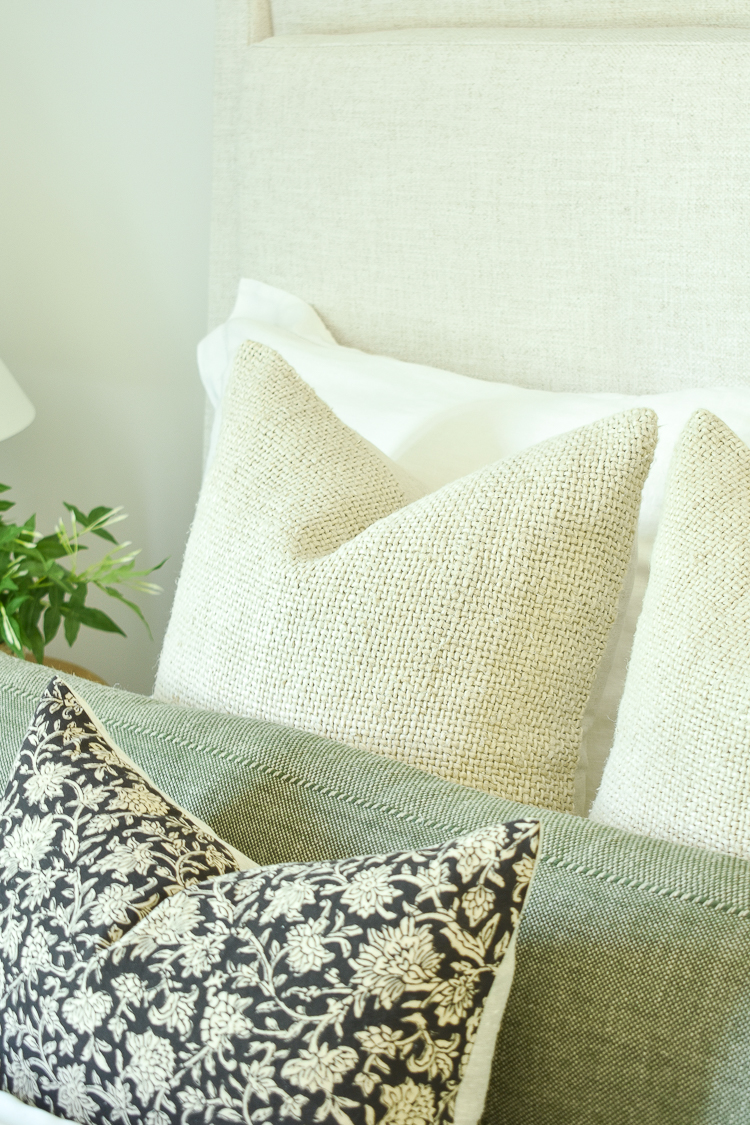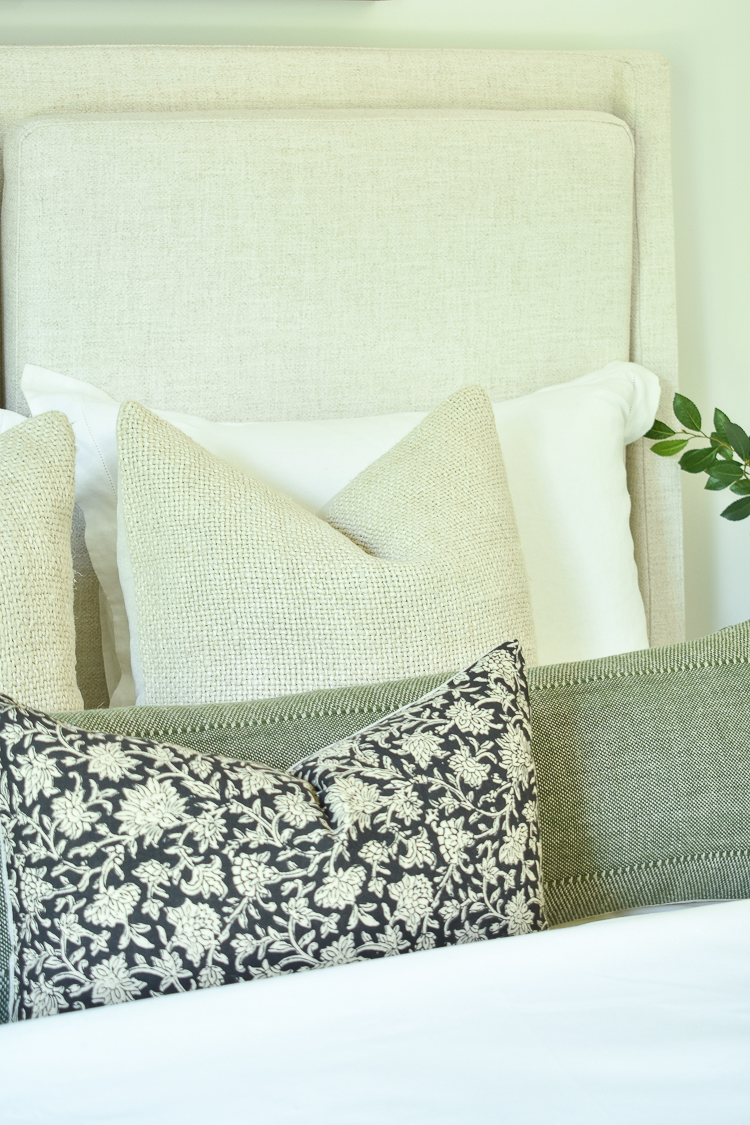 The black floral pillow is my new favorite pillow! I also got this one in a larger size to put on a bench in our upstairs hallway.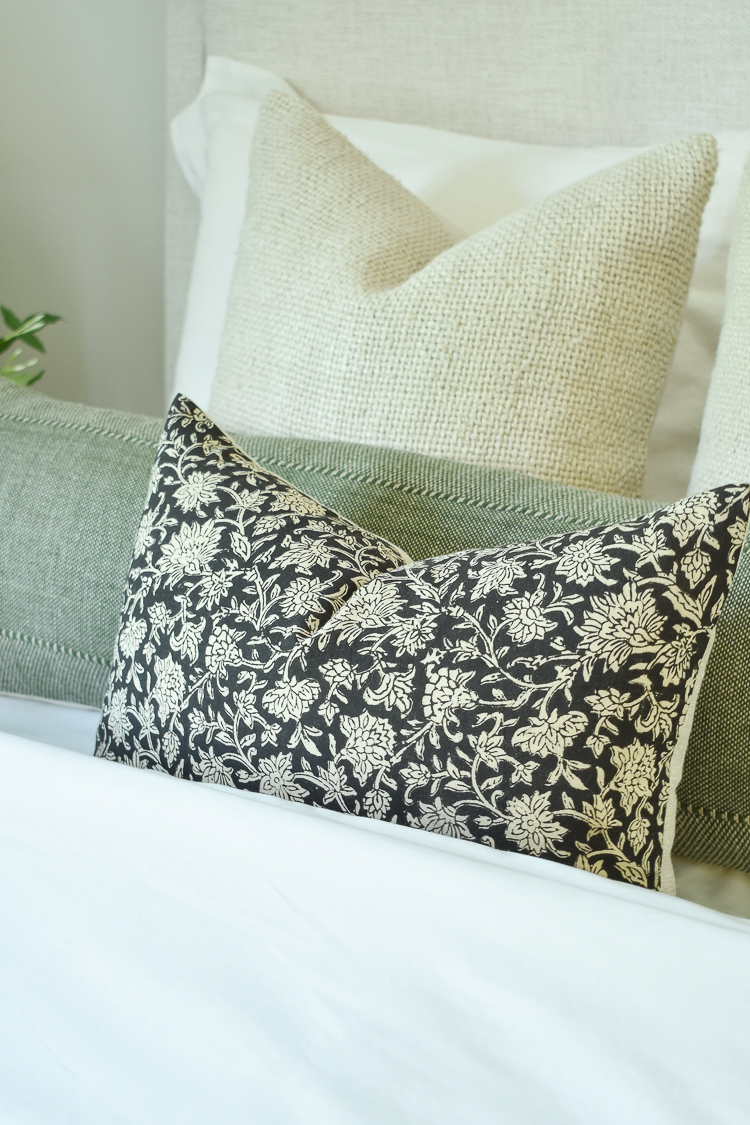 Next to the bed on one side I repurposed some wall baskets and on the other side a set of art prints I moved from downstairs. I had a hard time getting pics of the drapes due to the light flooding in but I had these custom made for our previous master bedroom in white linen with a blackout liner. The curtain rod is a simple brass rod used with brass rings to hang the drapes on (I aways use a ring on ring style, here).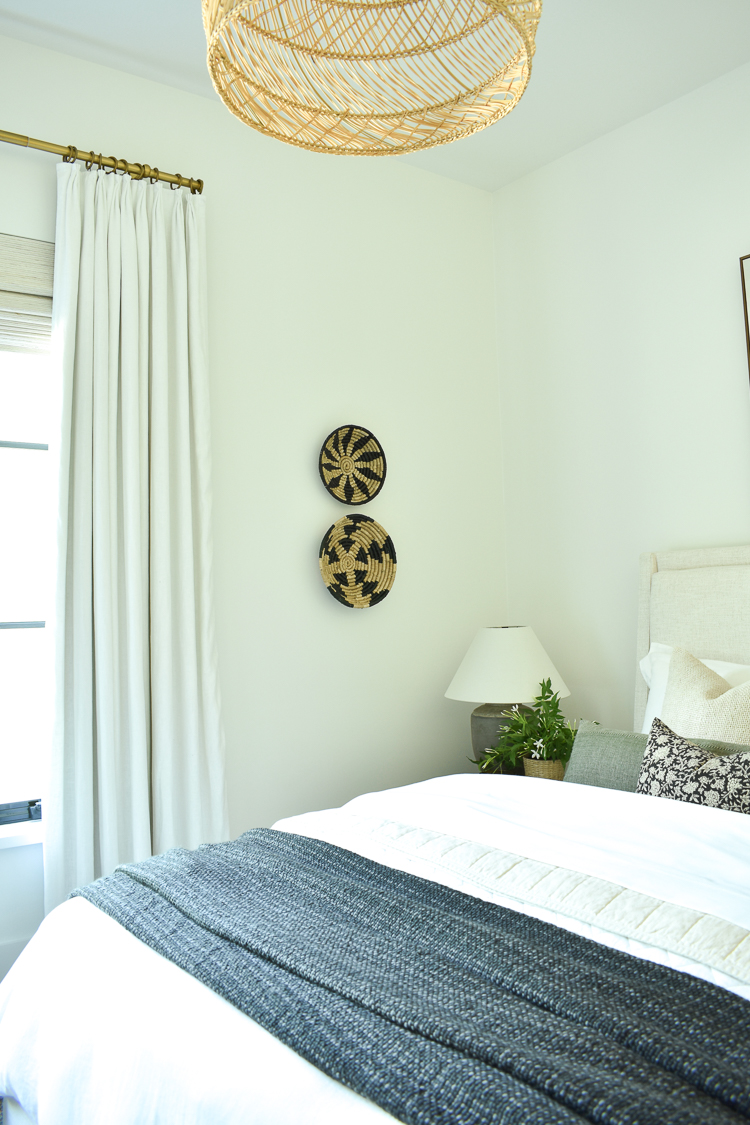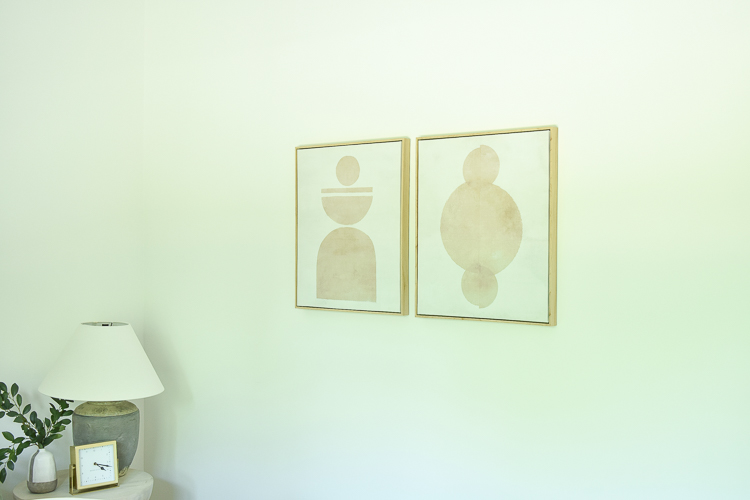 Across the room from the bed I used a large arched floor mirror. This is a guest room so a dresser or chest of drawers wasn't really necessary since there is a large walk-in closet in this bedroom so I chose to place a floor mirror there so guests can check themselves on the way out.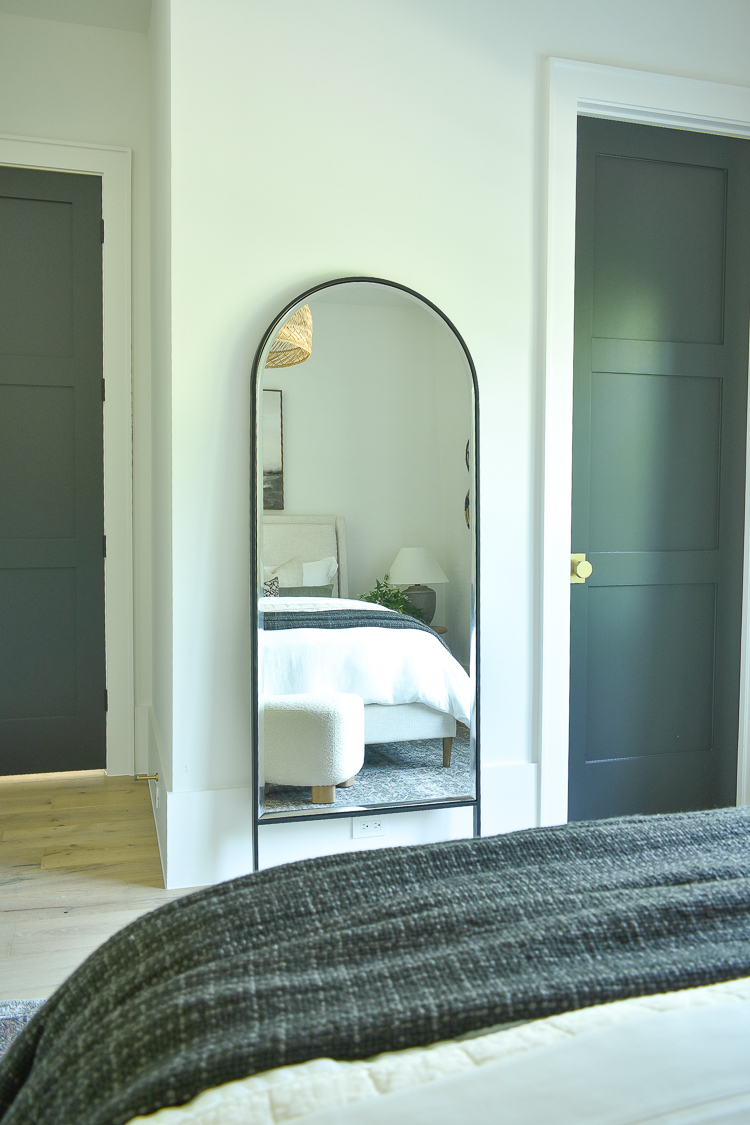 Our mattress is by Saatva Mattress and is the 3rd Saatva in our home! Obviously we love them and couldn't live without them! My husband and I have had ours for 4 years now which is what prompted and helped us to know that we absolutely had to have one for our guest bedroom (as well as our son's room). I love that their materials are all clean and organic and that they don't arrive with a horrible chemical smell. And, I really, really love that their mattresses arrive via white glove delivery and are placed exactly where you want them, with free shipping!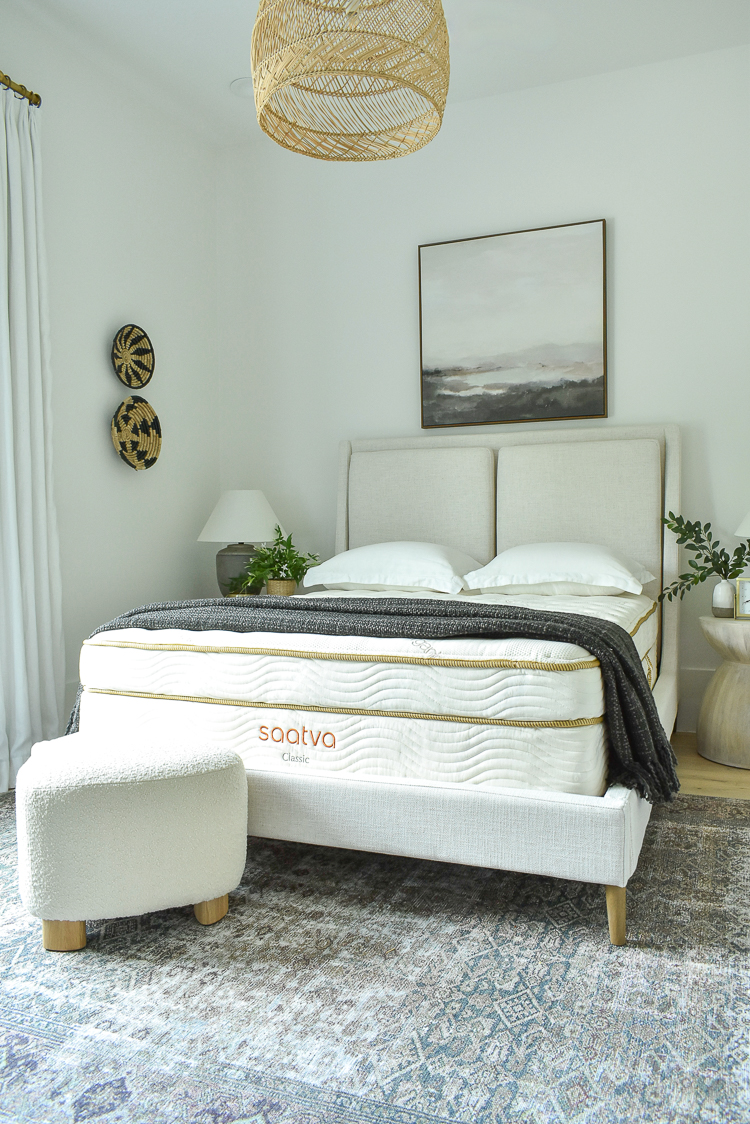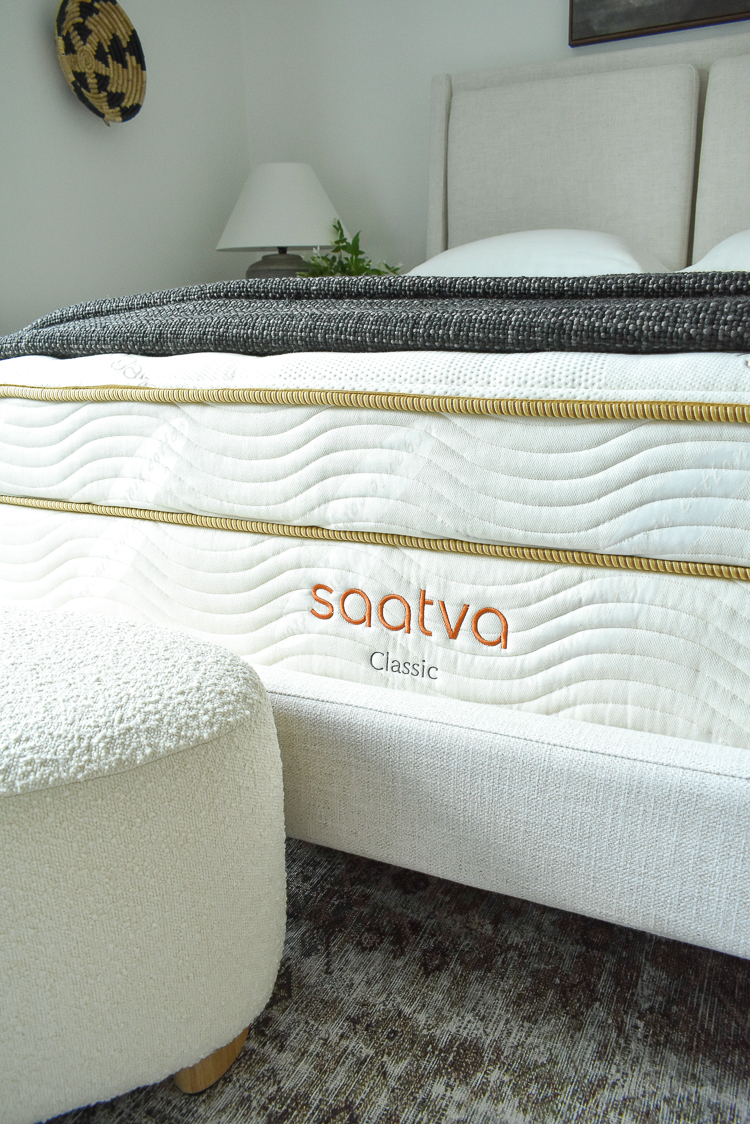 The bed is a platform bed so I used the Saatva Classic Mattress in the Luxury Firm, 14.5″ height with no foundation but Saatva does have foundation options to pair with your mattress. Just as they have other options on their site for firmness, plushness, etc. Please go check them out if you are in need of a mattress – I highly, highly recommend them!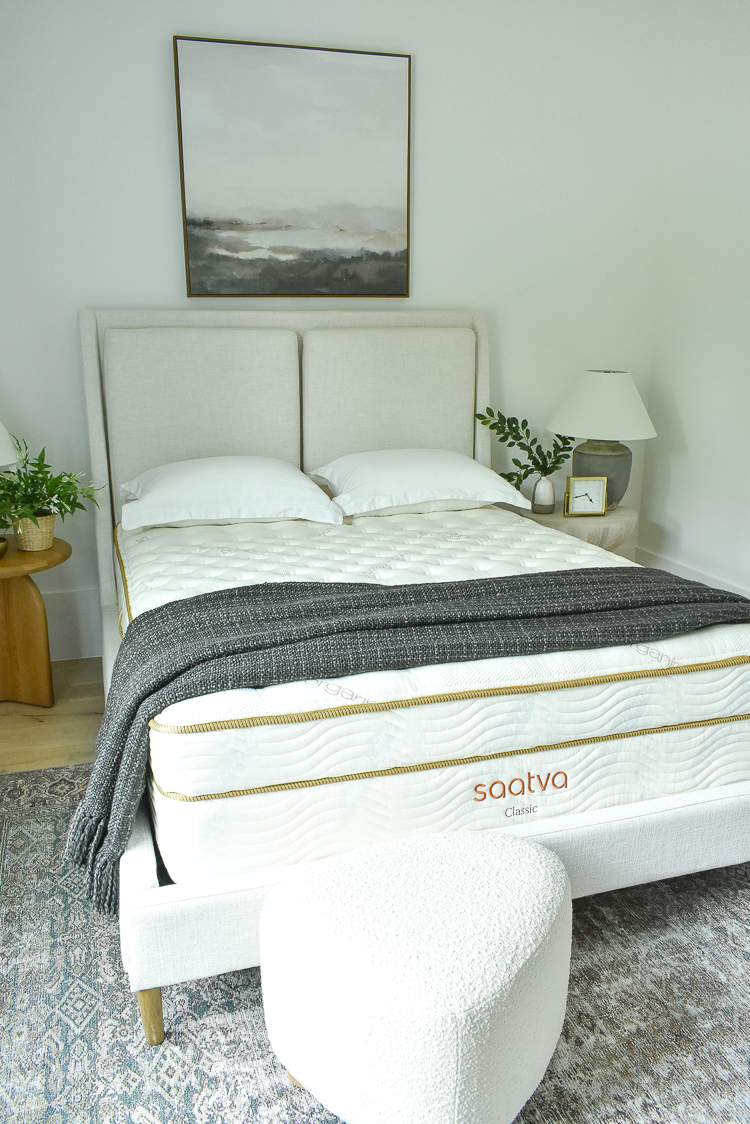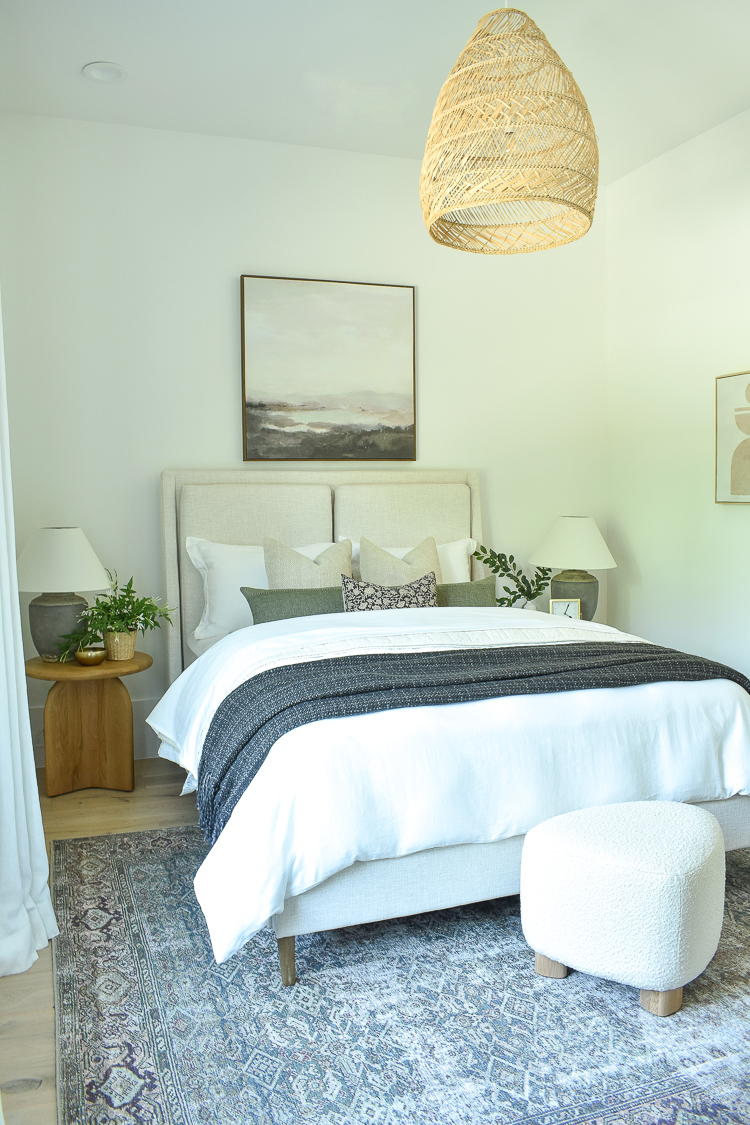 And last but not least in our guest room space is a peek into the ensuite bathroom. I hope to share more of this space soon but my favorite thing about it besides the hex marble floors is the two-tone white and white oak vanity that was custom made on site. I also really love the large flat round knobs I chose that are the same as in my primary bath.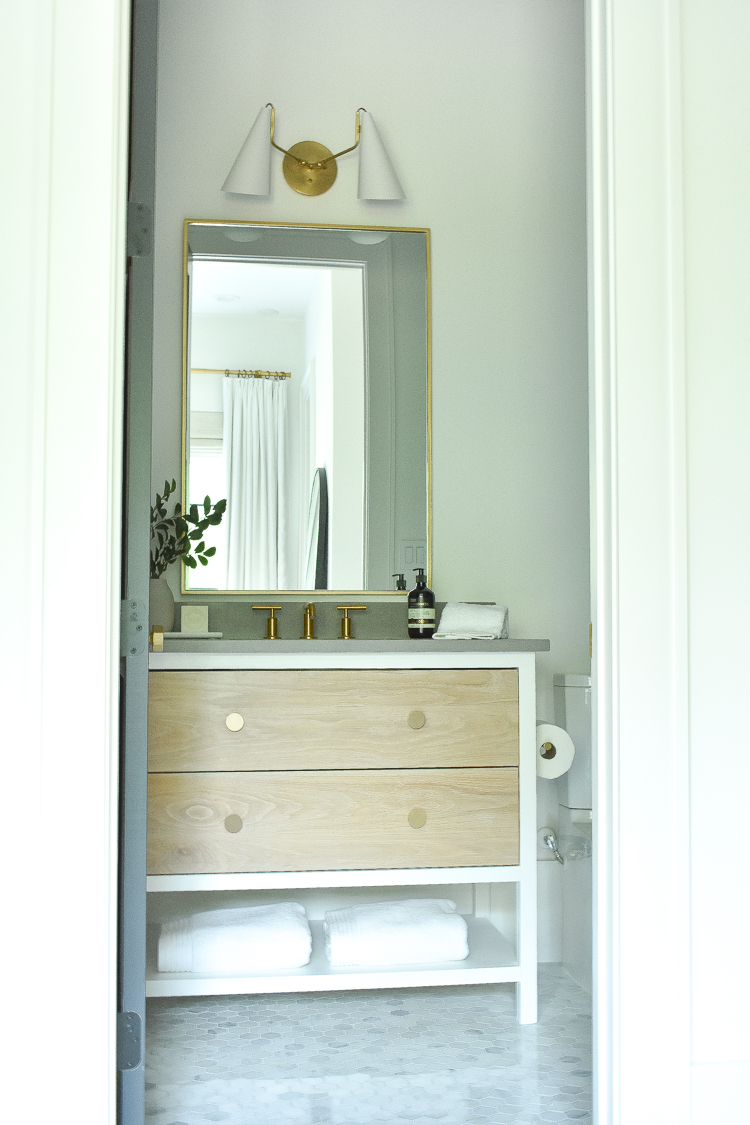 I hope you've enjoyed the tour of our Guest Bedroom and please let me know if you have any questions whatsoever! Thanks for stopping by as always and I hope you'll leave your thoughts in the comments below!

Guest Bedroom Sources
Saatva Mattress | Bed | Nightstand 1 | Nightstand 2 | Art Over Bed | Ottoman | Rug | Duvet | Black Throw | Black Floral Pillow | Textured Linen Pillow | Green XL Lumbar Pillow | Lamps | Basket Pendant | Brass Clock | Brass Potpourri Bowl | Faux Jasmin in Basket | Faux Stem in Vase | White/Gray Vase | Curtain Rod | Similar Curtains | Mirror | Set of Prints