Light & Airy Spring Living Room Tour
For some reason this year I am really paying attention more and more to all that spring has to offer.  The tiny buds that are popping out all over the trees, the sweet little flower blooms making their appearances, and the warmer temps have me feeling all the feels for spring this year.   I'm so glad you're here for my Light & Airy Spring Living Room Tour…I'm very excited about this one and can't wait to share it with you so thanks for stopping in!
If you missed my Spring bedroom tour last week, you can do that here.  This post contains affiliate links.  Please find my full disclosure policy here.
I think this might just be my favorite look to date in my living room.  So many fun details that I'm just beaming about.  I had been looking for a new rug for quite some time for spring/summer, along with a few other pieces and this is the end result.  I'm thrilled with how it's all come together but, I've also used some oldies but goodies, like my pillows, throws and accessories.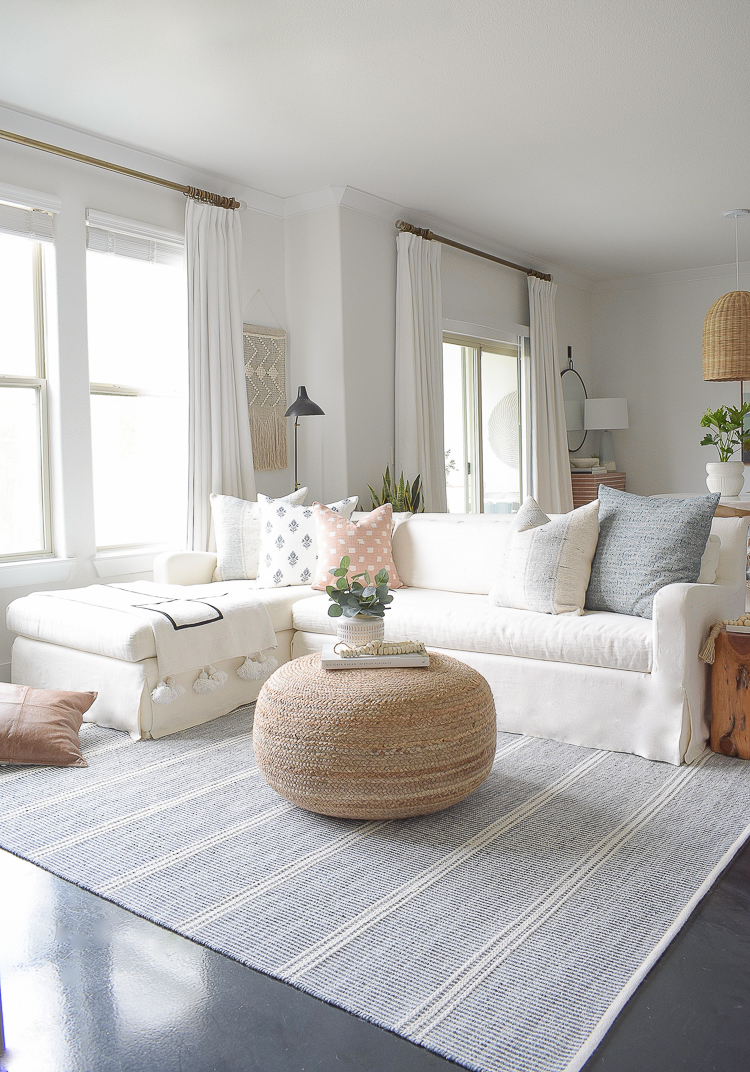 I'm just over the moon about this rug and how it's turned my living room into such a light and airy space.  It's woven but somewhat soft.  Not crazy soft but pretty good for a natural woven rug.  The background is a creamy white and the blue is navy.  But the look comes off so soft and airy and would work great in any space.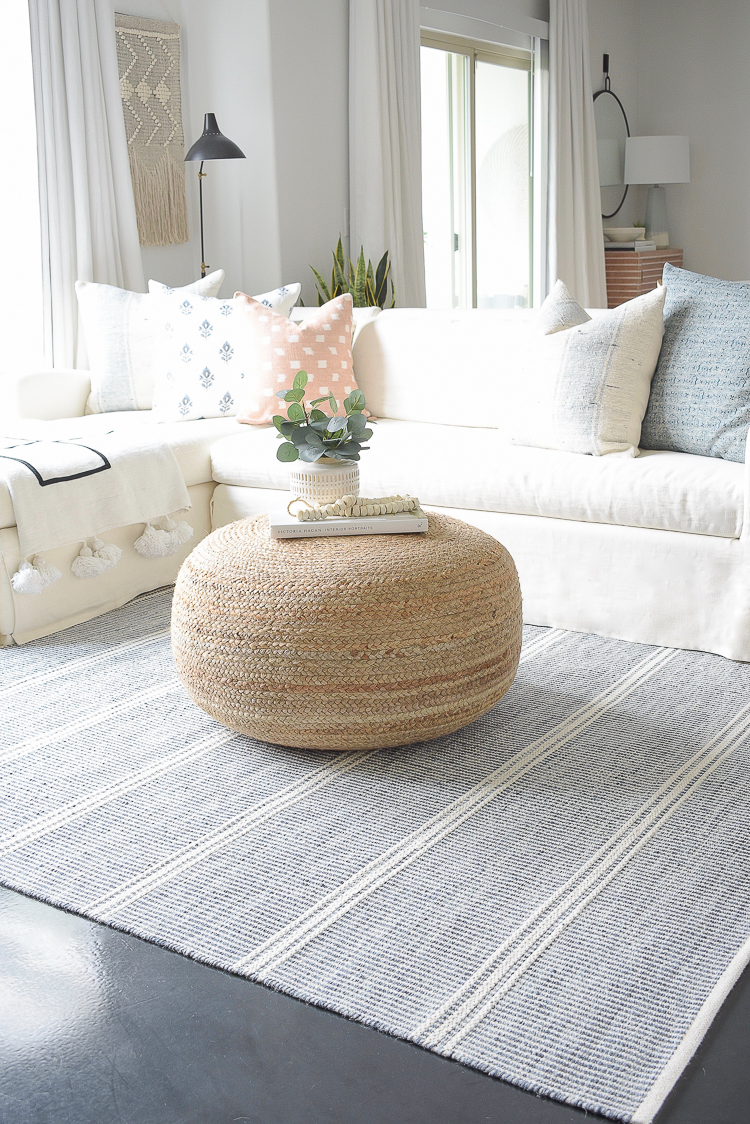 I also added this jute pouf.  I already have its little brother that I move around the house but for the price, this one was perfect for a coffee table update at 30″ in dia.  It's just big enough that you can put a small tray (or book like I did) on it for essentials or whatnots.  Can't get over how great both of these make this space look and feel!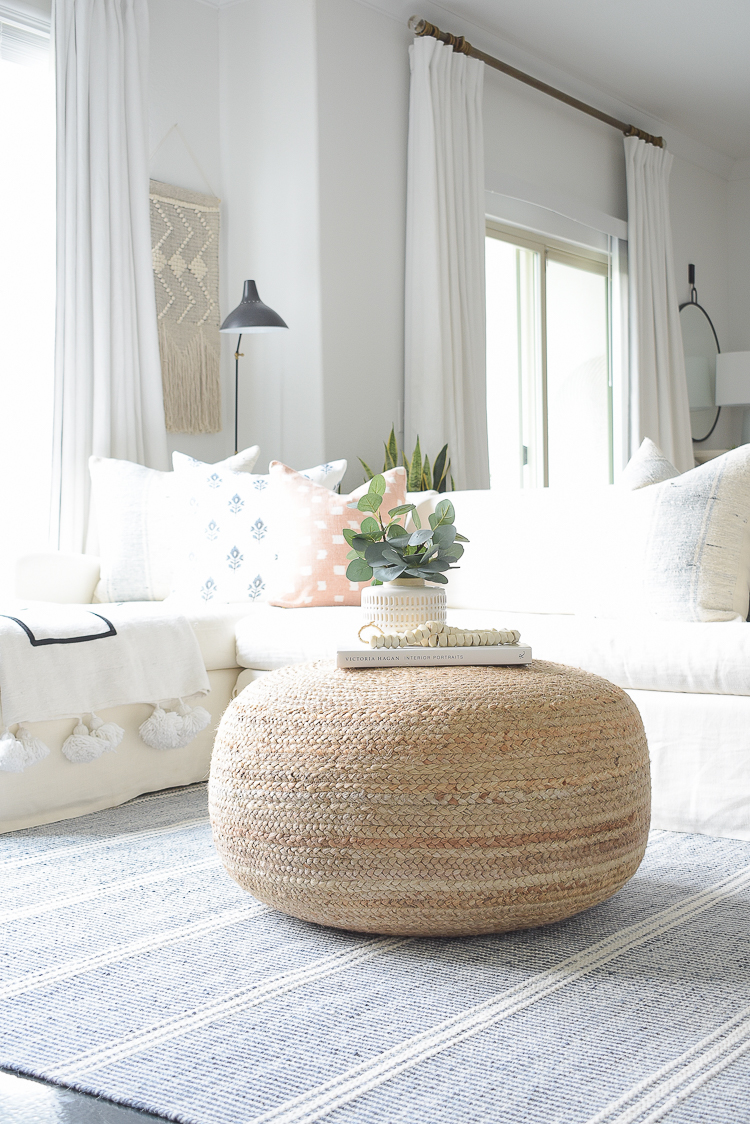 For the top of my pouf / coffee table I assembled a collection of a few small items to include my new favorite faux eucalyptus stems.  Can't get over how real they look!  And these favorite bone beads that are fairly new.  But, I pulled in an older vase (similar vase) that I adore and set it all atop an old home decor book.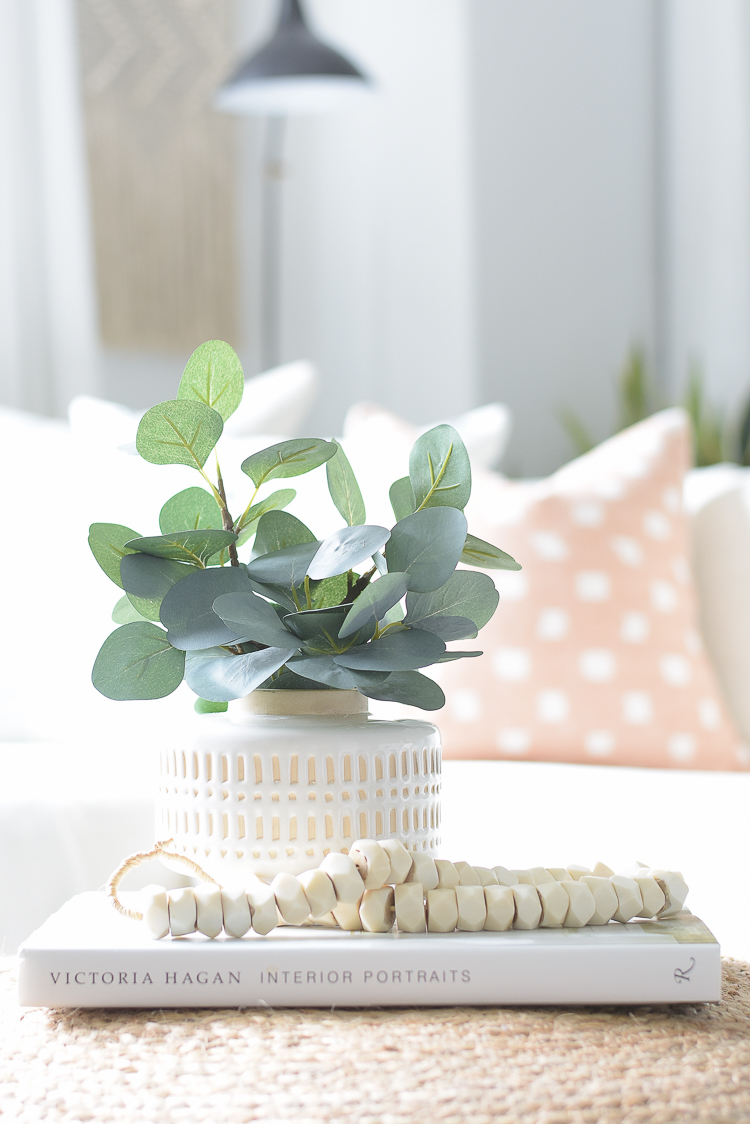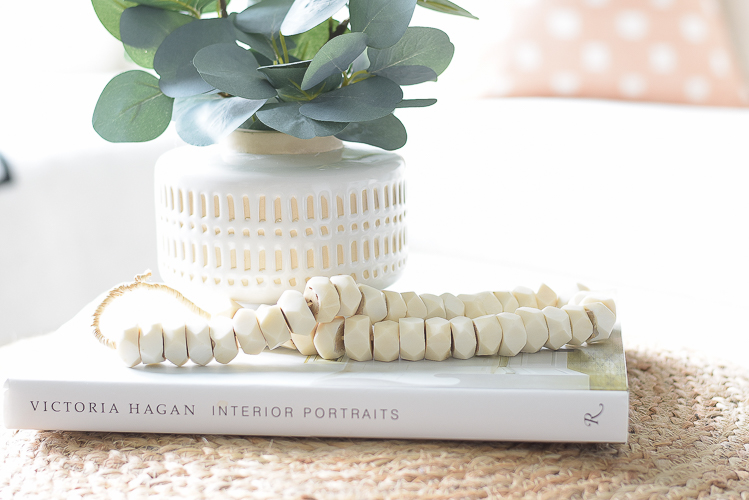 For pillows I used only what I had.  You've seen some of them before but of course the arrangement may be different.  On this side of the sofa I used a fav from last fall, this blue and white medallion pillow, a blue and white wide stripe (similar) from Home Goods and this peach and white dot pillow.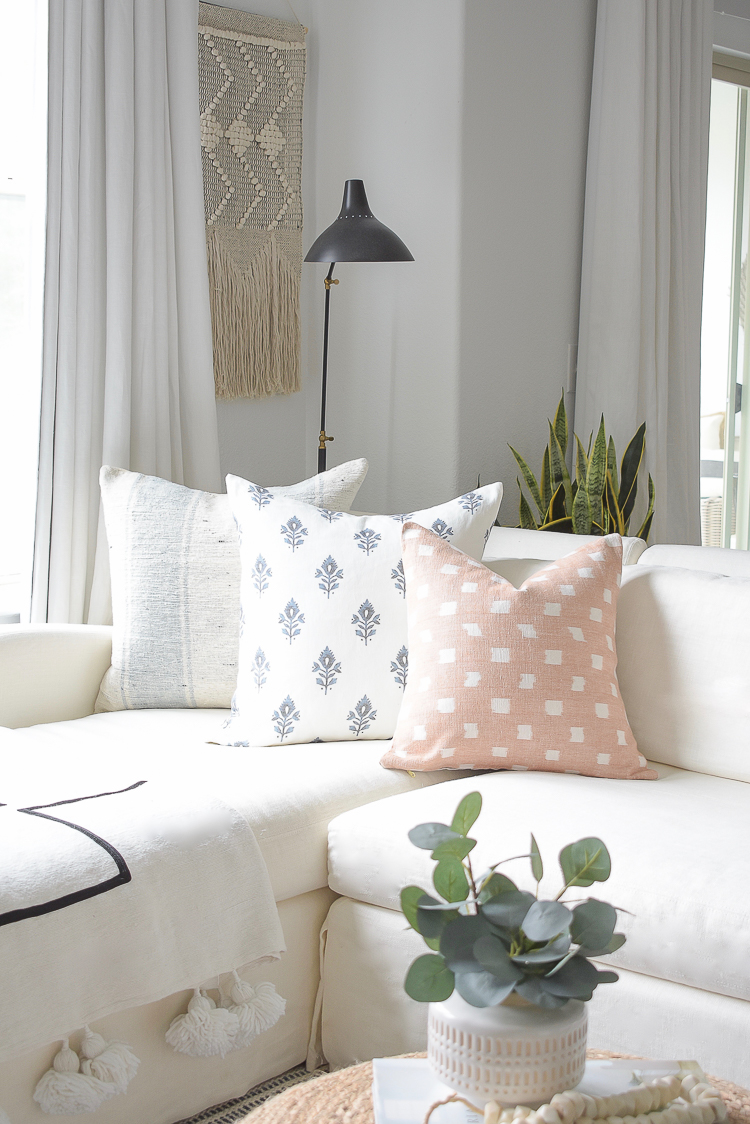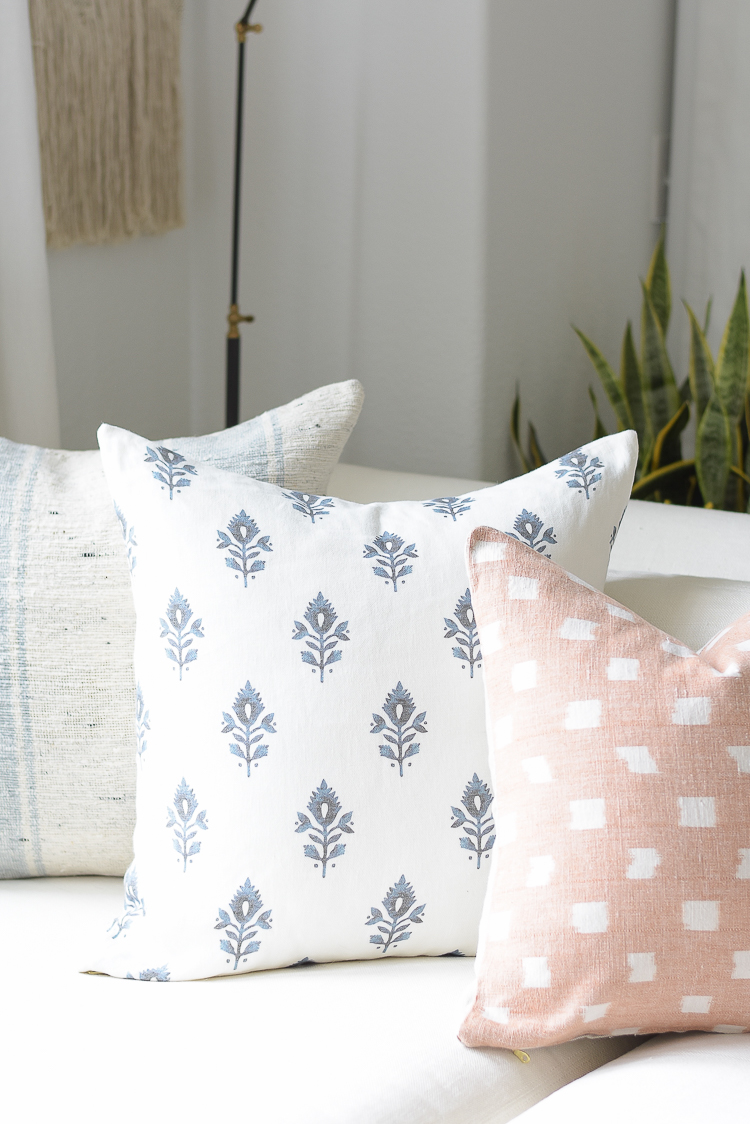 Also used this fun, light weight, oversized, cotton tassel throw (wow that was a lot of adjectives) but this throw is truly fabulous and deserved to make a reappearance this spring!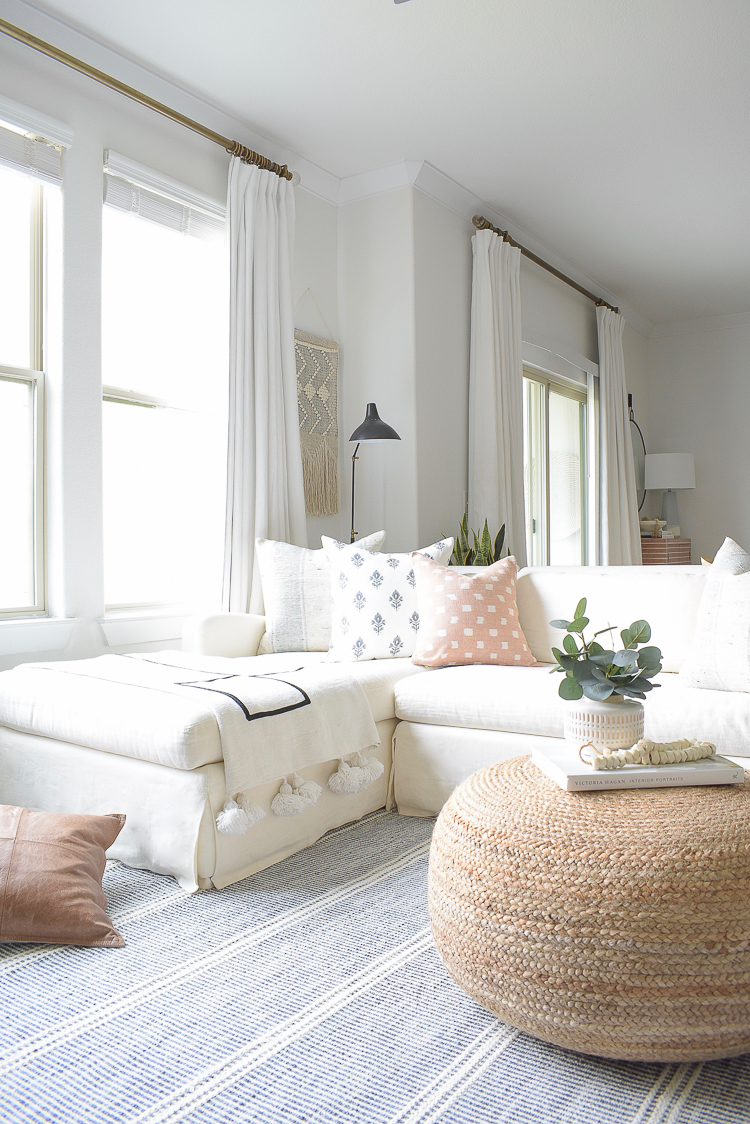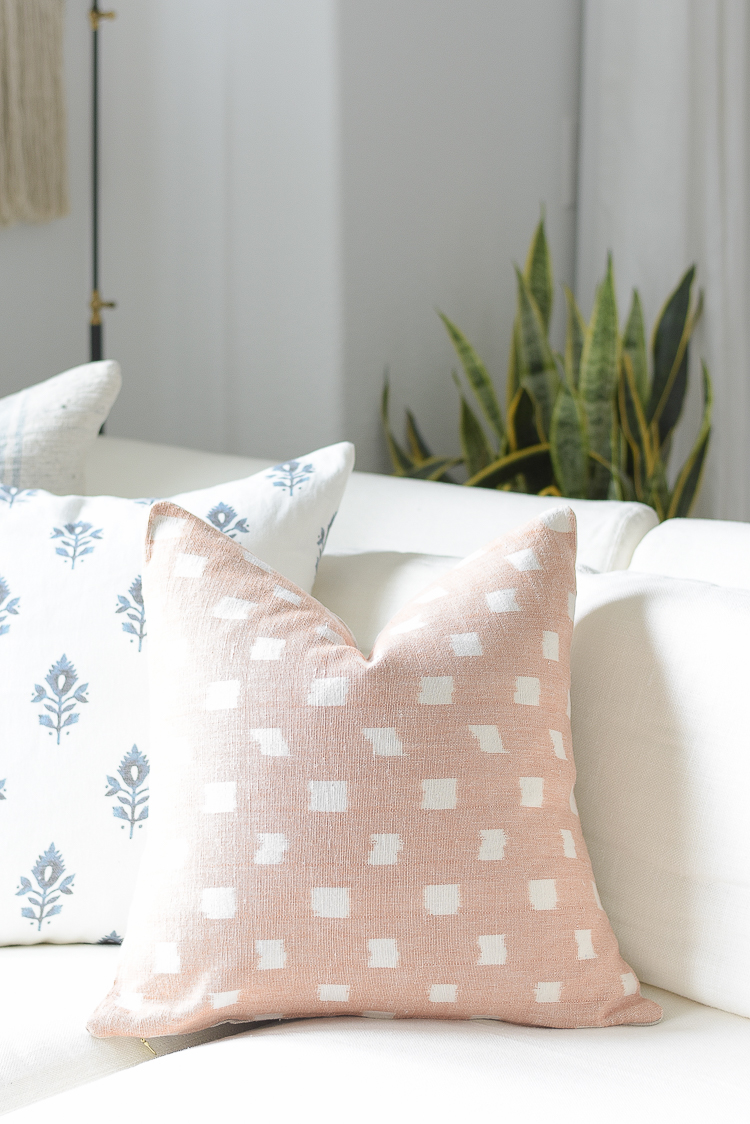 On the other side you'll find a pillow I also used last fall.  Love the subtlety of the pattern on this pillow and the nice pop of blue it adds to the space.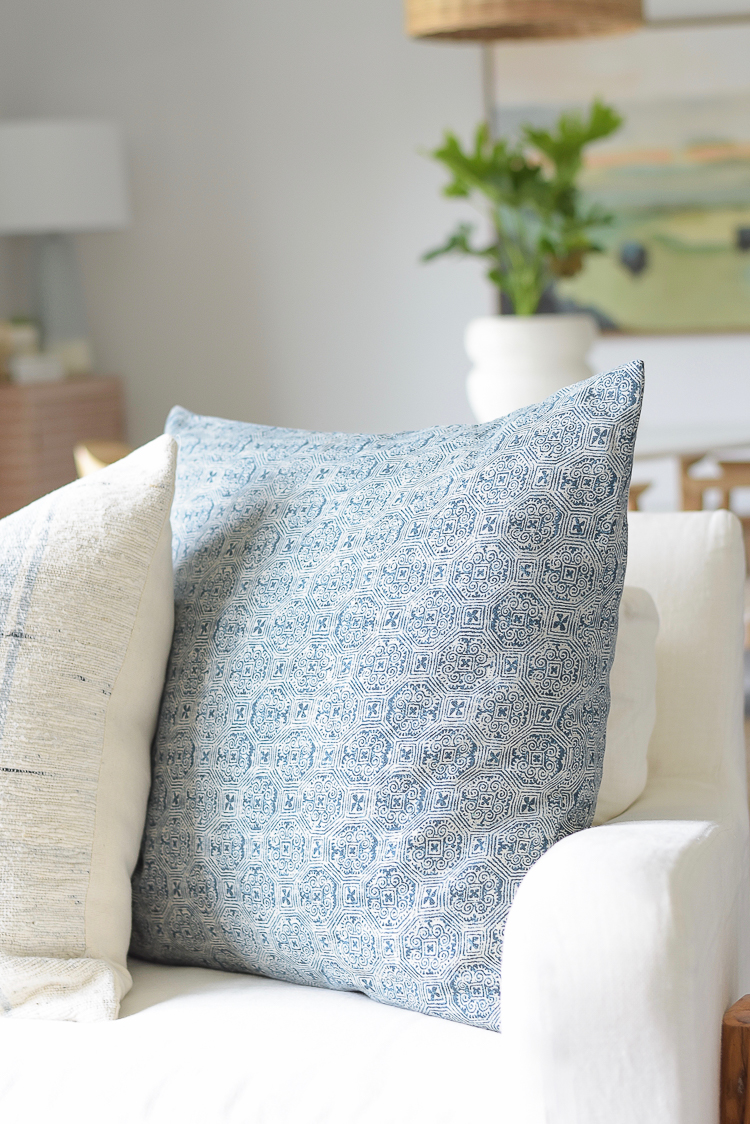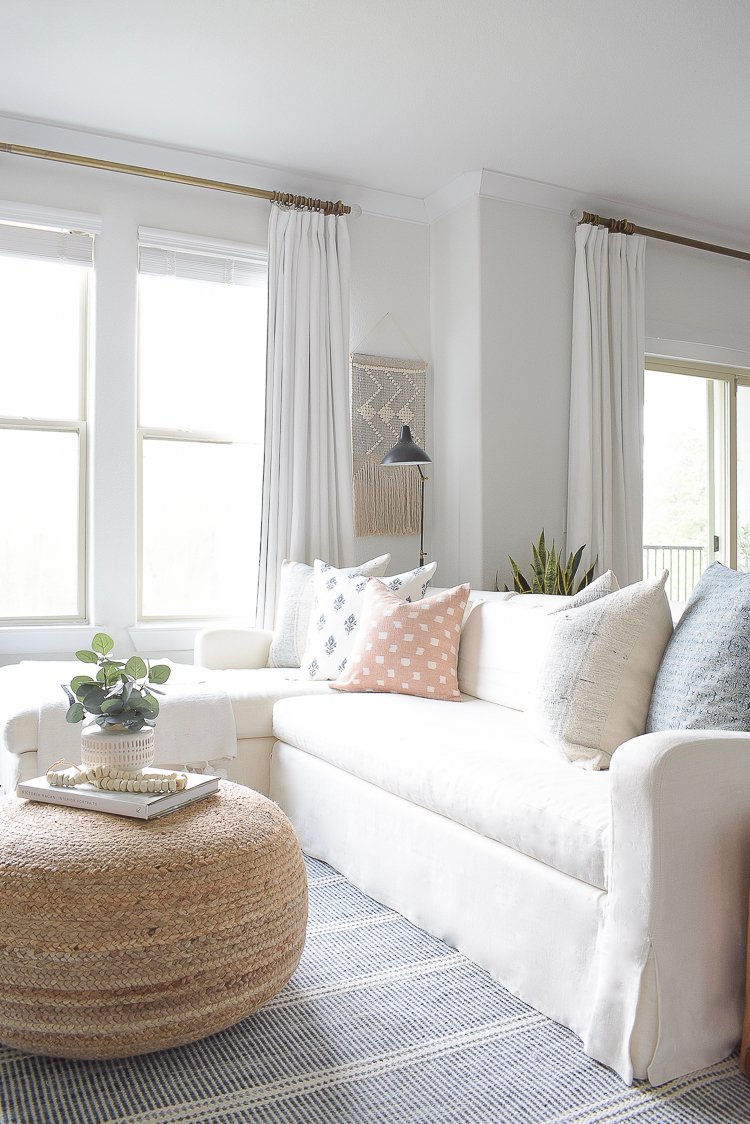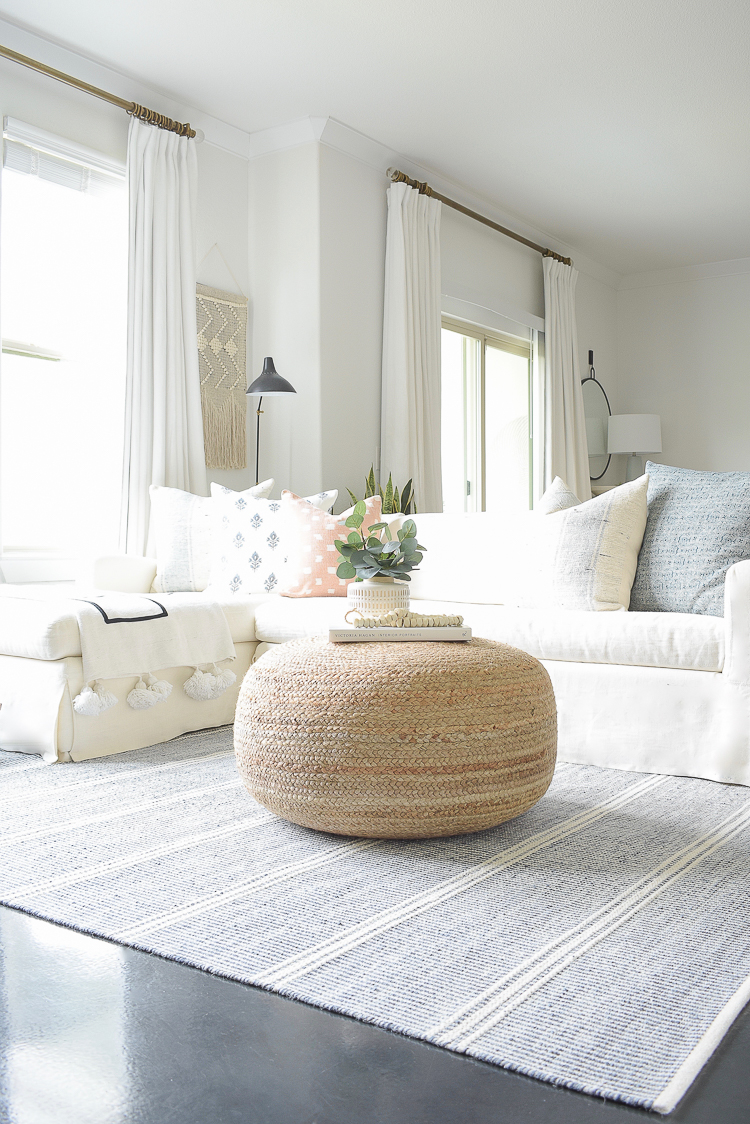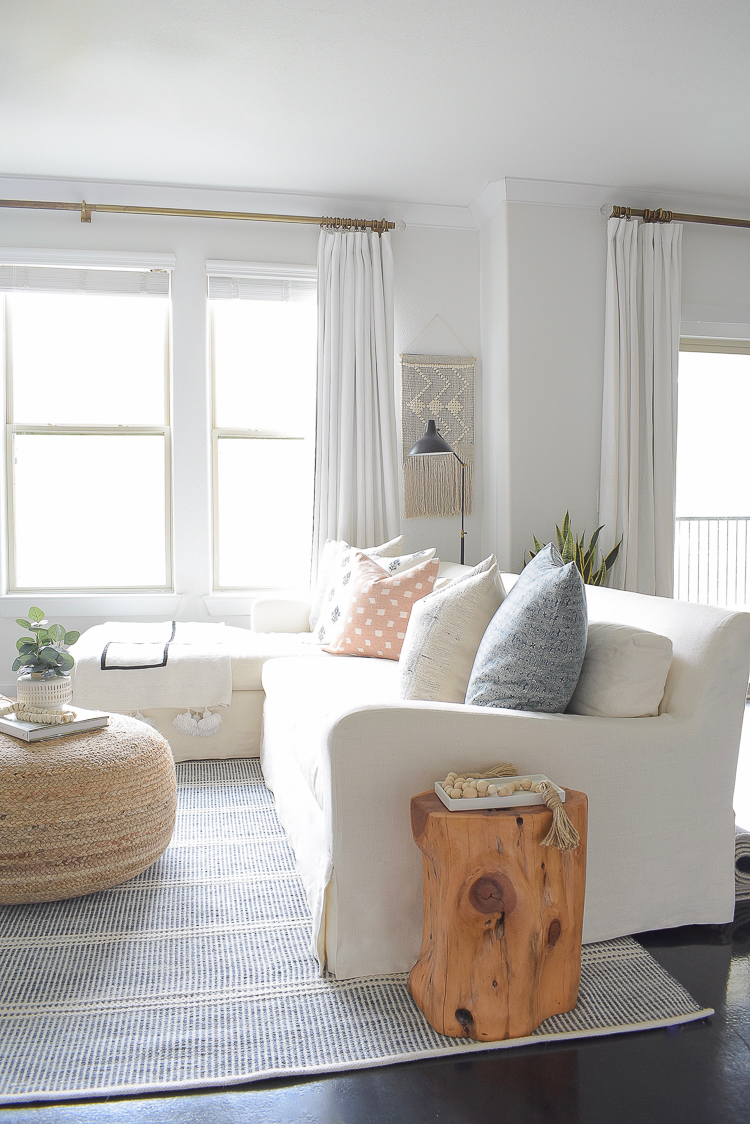 I love the light and airiness of the space now for spring and summer.  I hope you love it just as much as I do!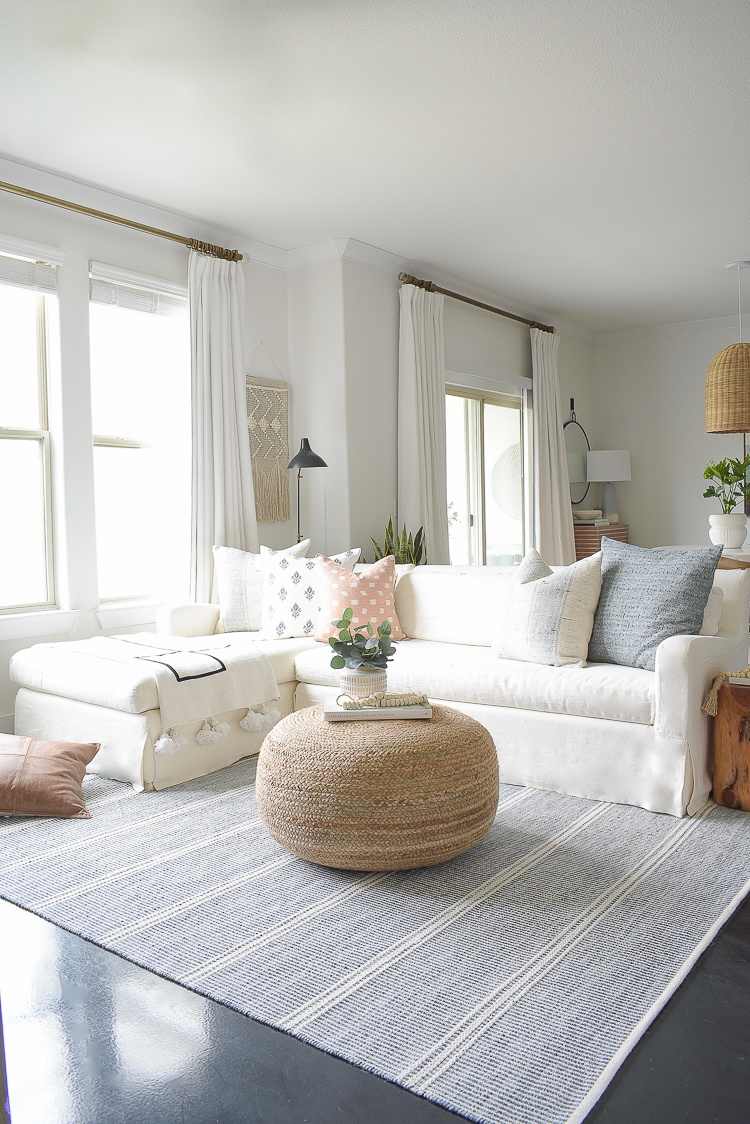 Turning to the opposite side of the space, you can see a different view of the rug and I'm still using my new faux olive tree.  Really love how realistic it is and love the life it brings to my living room!  You can see my review of it here in my TV/gallery wall reveal post.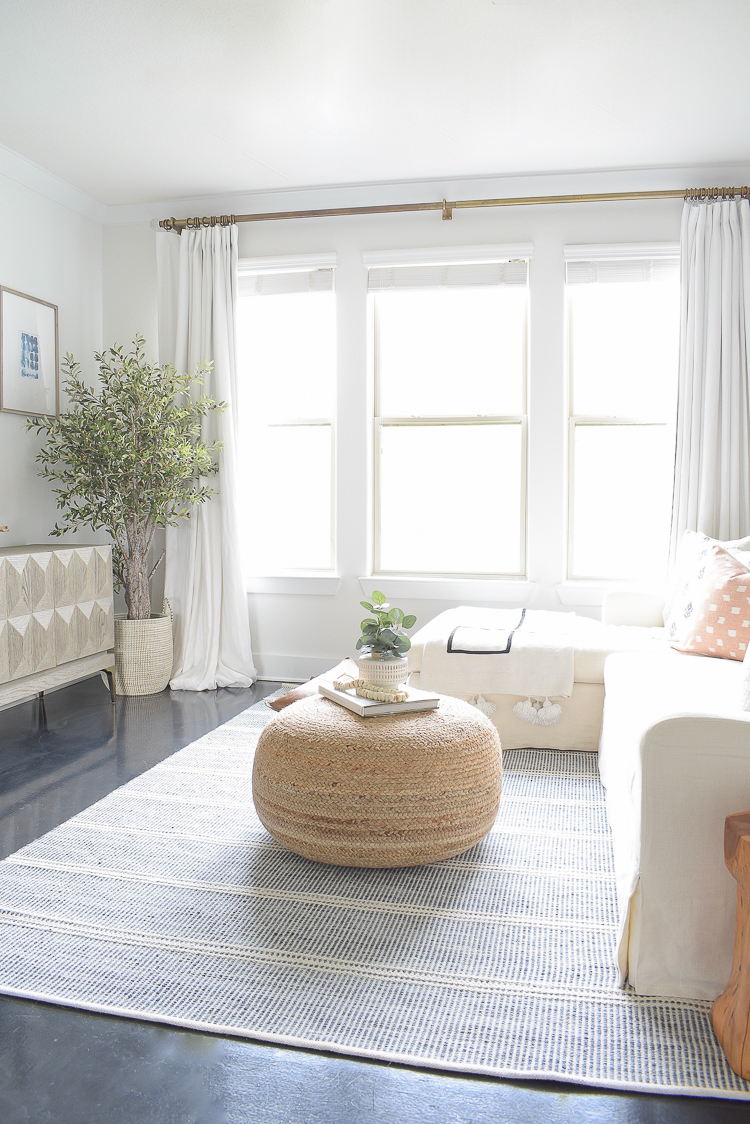 On the TV side of the living room everything pretty much stayed the same except a new lamp, a faux peony bundle and I always pull out my Grapewood branch this time of year.  You can see the full, recent reveal of this wall here.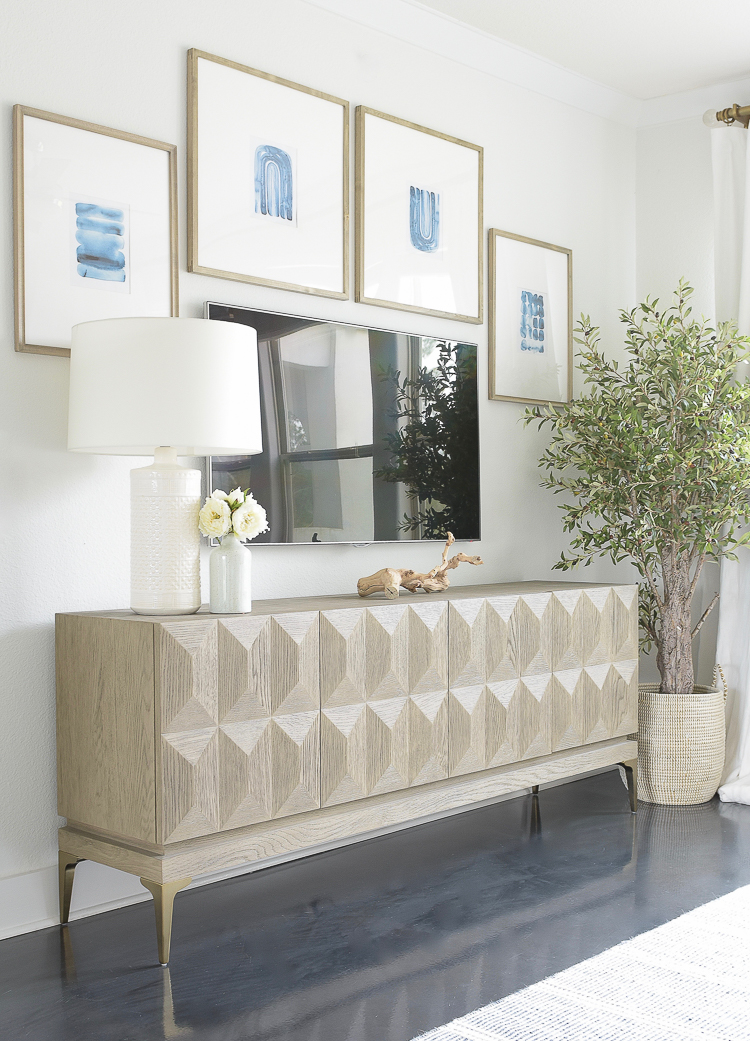 I'm kind of obsessed with the style and texture of this lamp…it's so good!  And it's by one of my all time favorite lighting designers.  I picked it up during a recent sale and I'm smitten!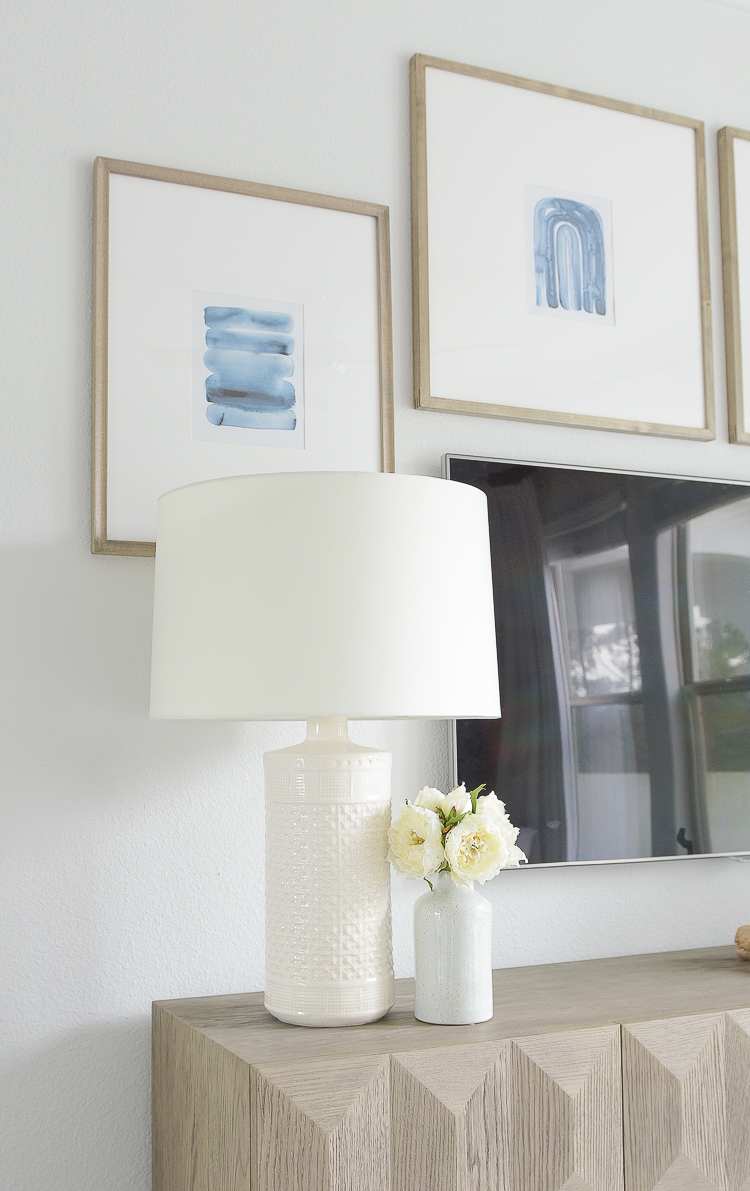 Love these faux white peonies, too!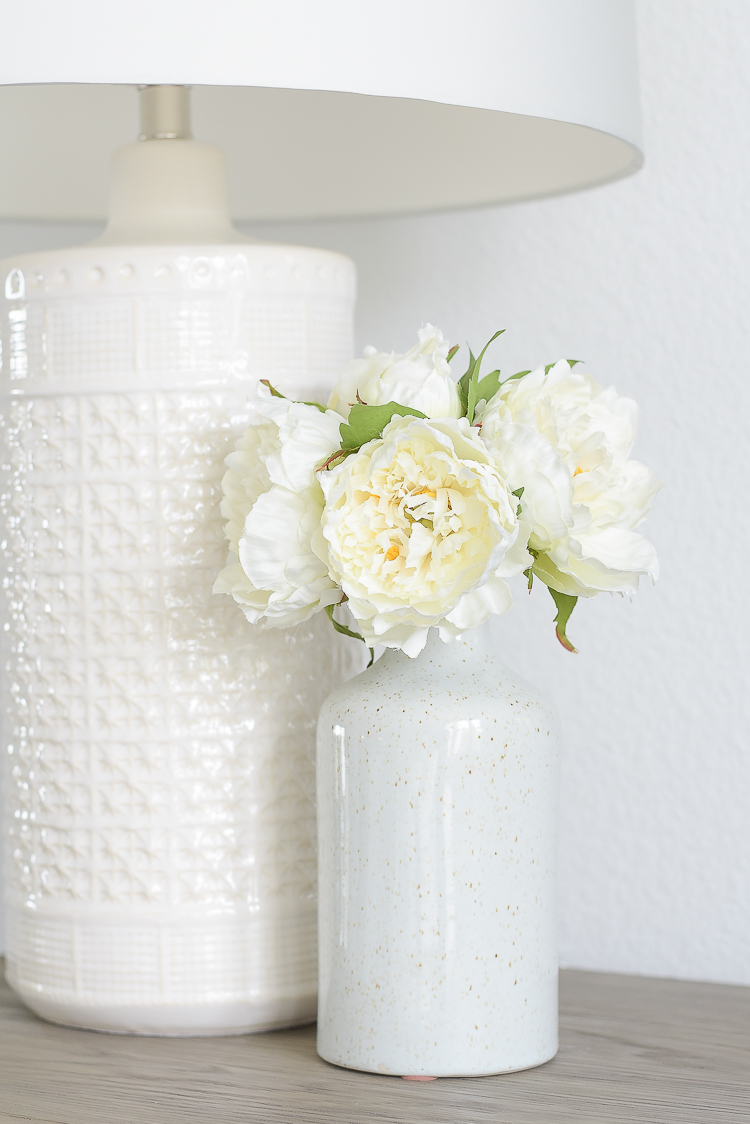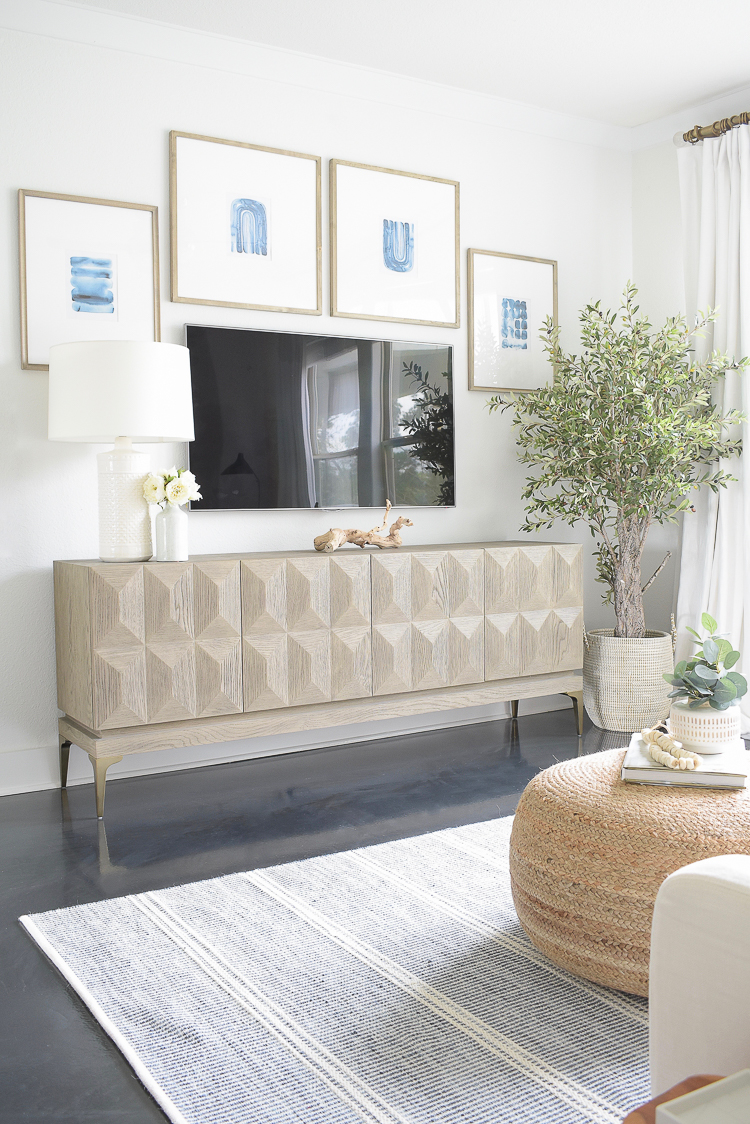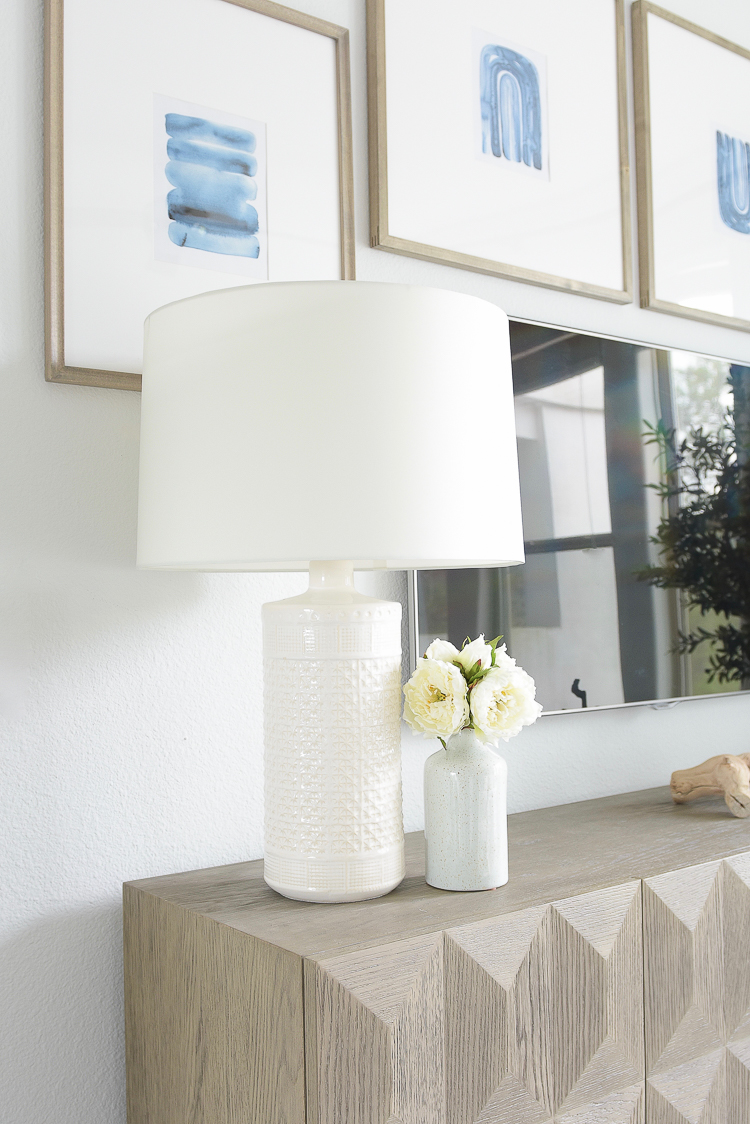 Still really loving my faux olive tree in this corner!!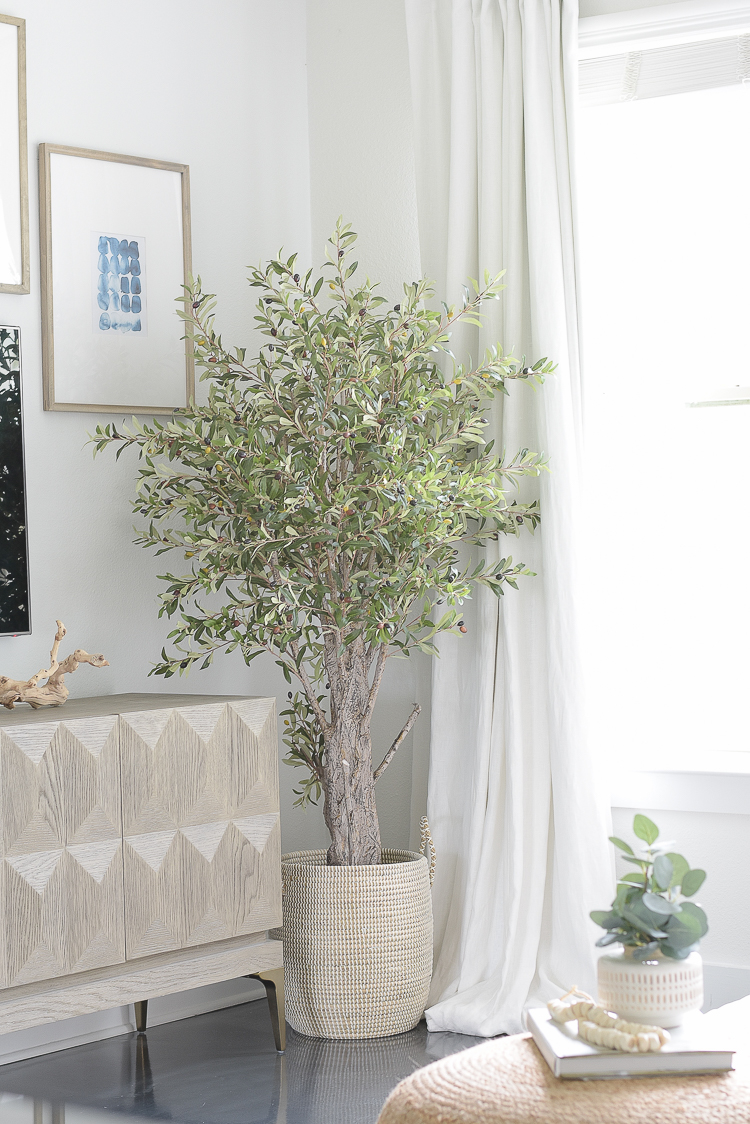 Love this view from the sofa and I love how clean and simple this spring look is!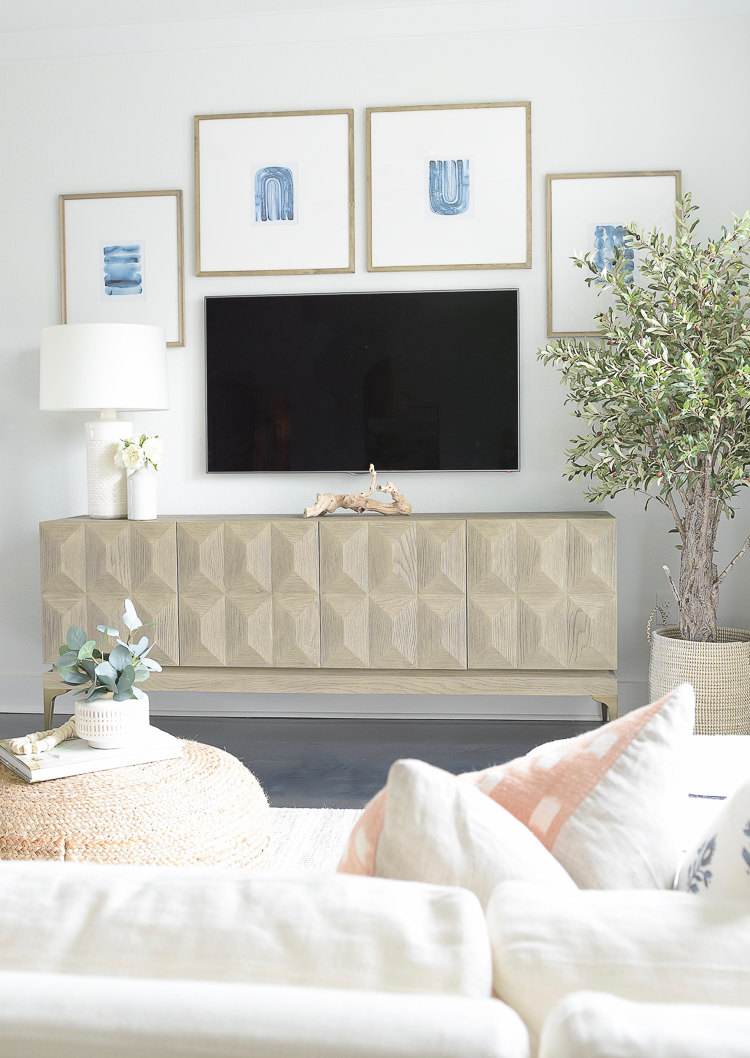 Across from the living room is our small rental kitchen…I'll spare you of that but do love the arrangement I've been keeping over here for spring with more faux eucalyptus stems and a favorite rattan tray!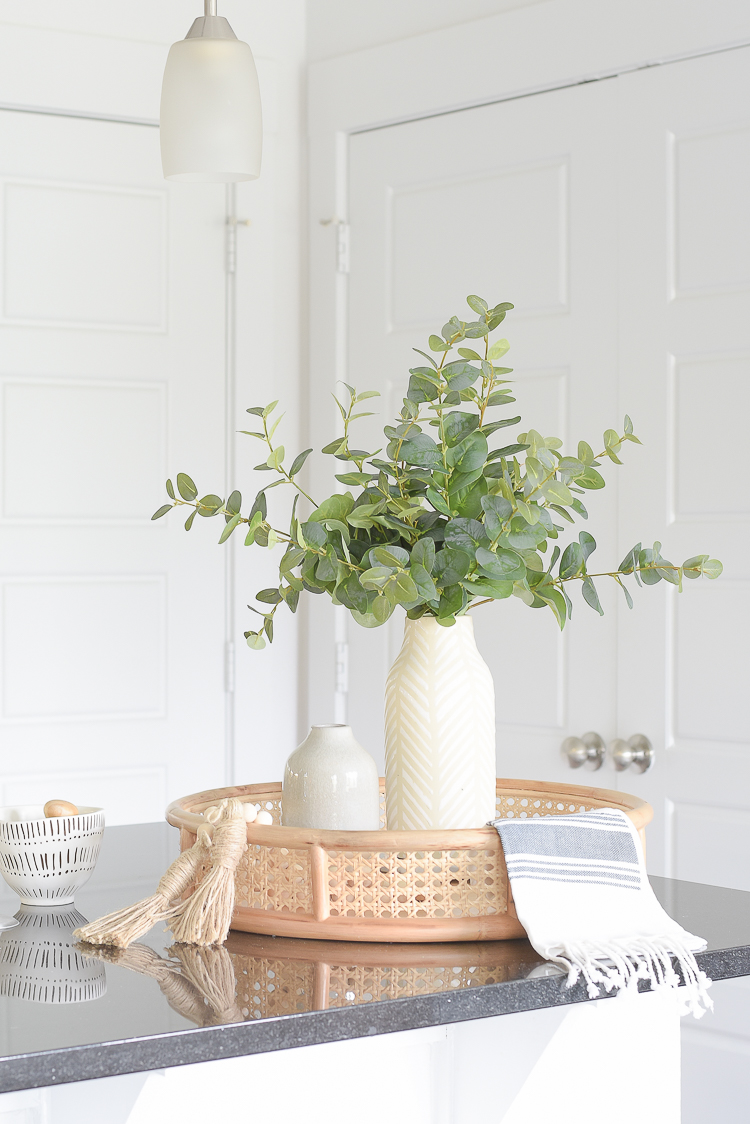 One last look at my Light & Airy Spring Living Room…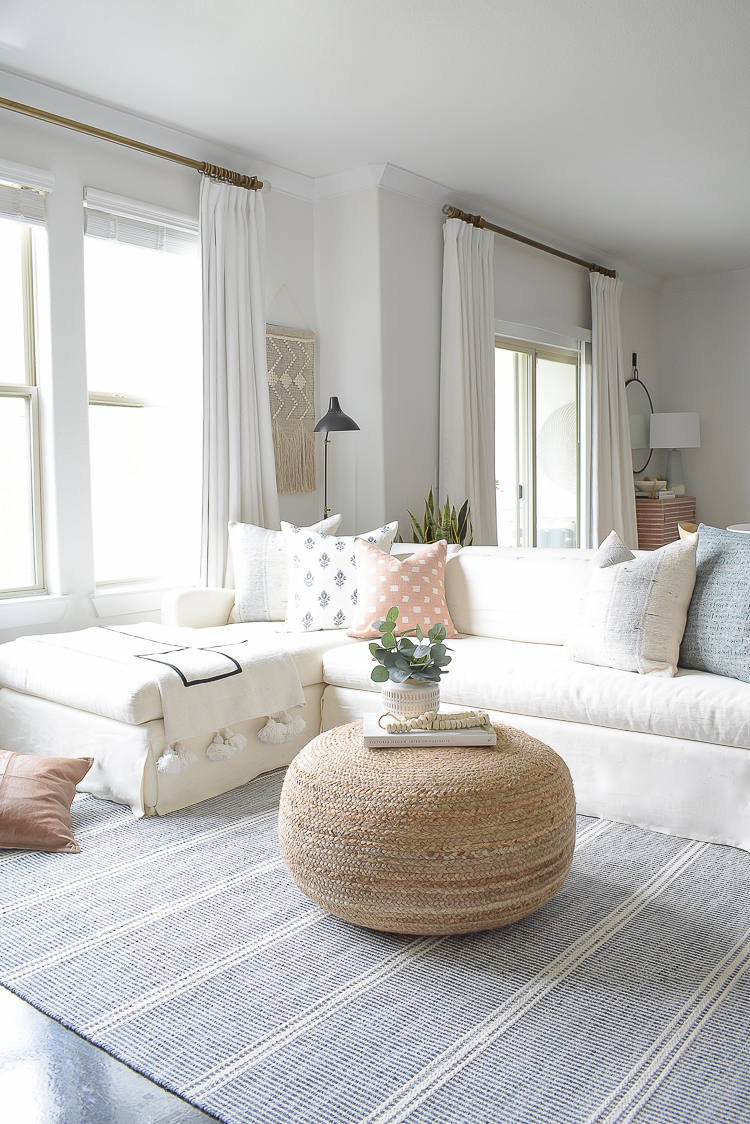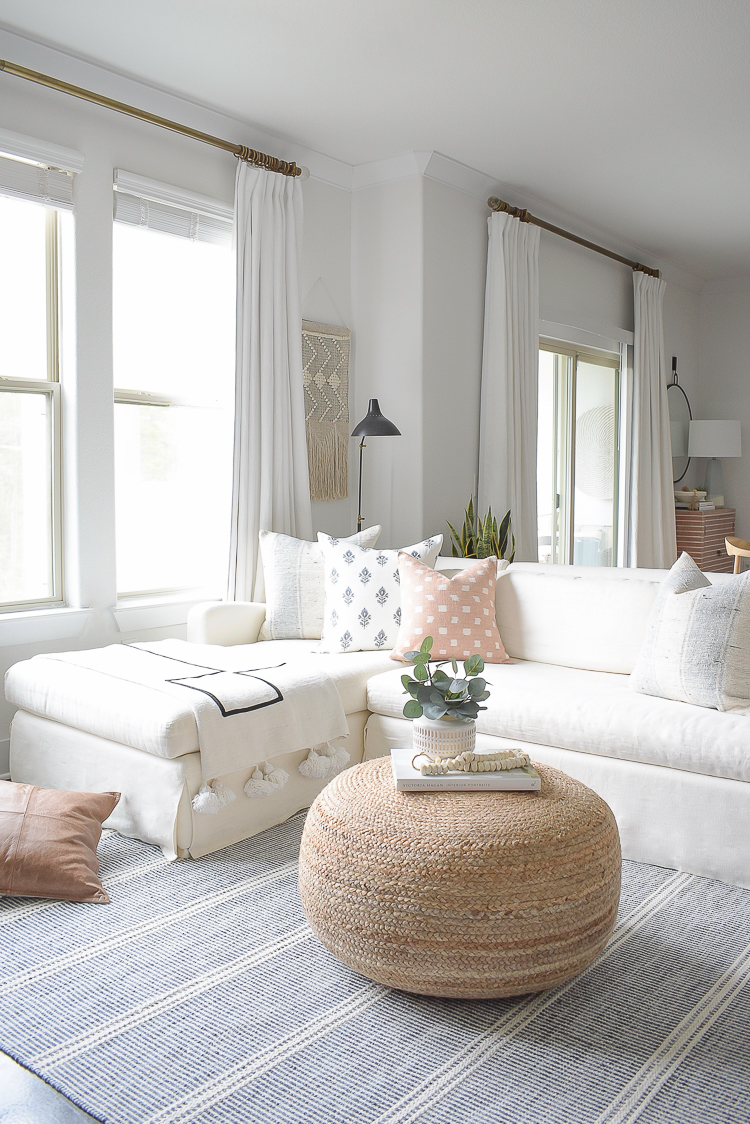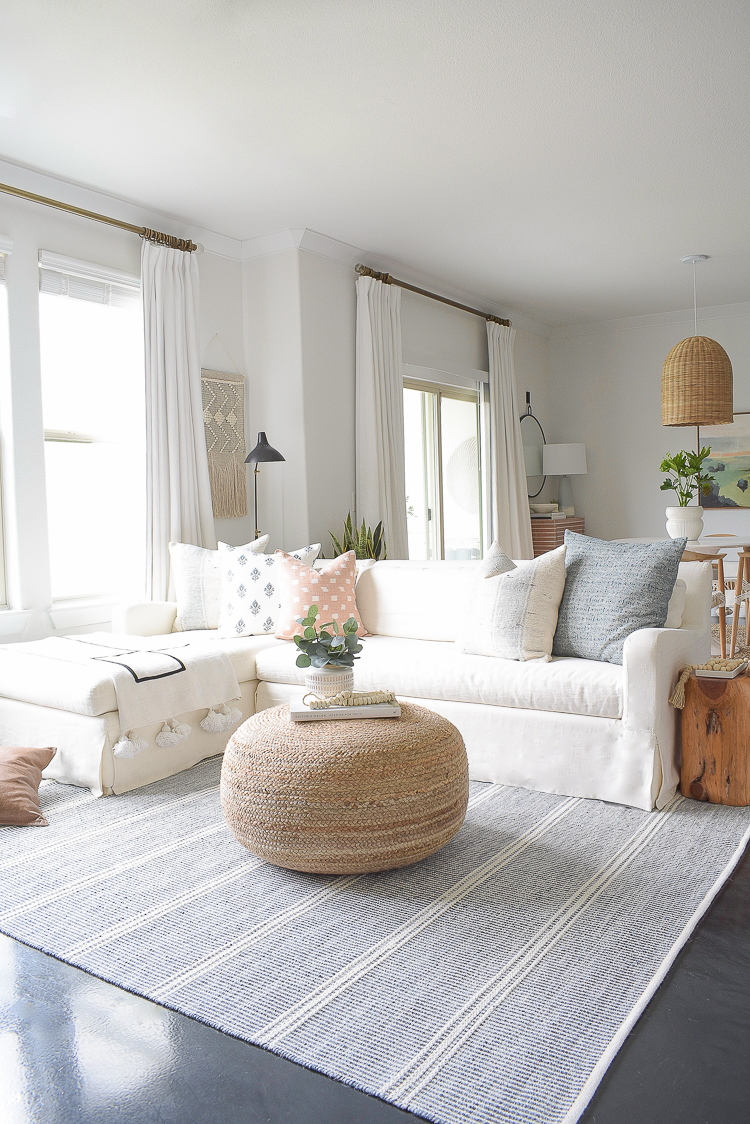 That about wraps up the tour.  If you'd like to see my current tips for modern spring decorating this year you can do that here.  Otherwise I hope you've enjoyed the tour and as always I would love to hear your feedback!

Stay connected with me here…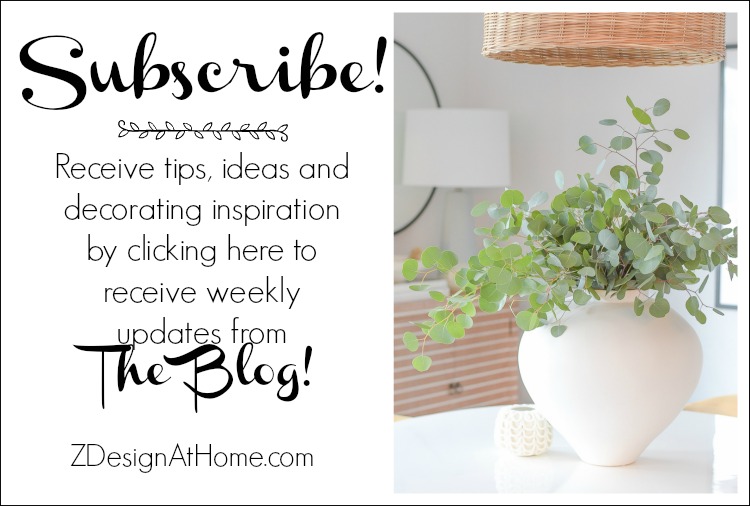 Pinterest | Instagram | Facebook

Rug | Jute Pouf | Eucalyptus Stems | Bone Beads | Book | Sofa | Blue/white Medallion Pillow | Peach Dot Pillow | Blue Pattern Pillow | Similar Blue/white Striped Pillow | Similar Curtains | Similar Rod | Floor Lamp | Fringe Wall Hanging | Similar Media Cabinet | White Table Lamp | Faux Olive Tree | Gallery Wall Frames | Abstract Prints one, two & three | Faux Peony Bundle | Round Rattan Tray | Similar Vases one & tw0 | Dish Towel | Similar Vase On Book | Round Rattan Tray