Decked & Styled Spring Tour 2018
Happy spring, friends!  It's finally here…my favorite time of the year for decorating and I'm so excited to share it with you via the popular Decked & Styled Spring Tour with some of the most talented ladies in blog land!!  If you are coming over from my dear friend, Tana of Your Marketing BFF, welcome!  This is Tana's first time on the tour and we are so excited to have her with us this time around!  Her home is lovely, especially this time of year so I hope you were able to take it all in and enjoy her light and airy spring decorating!  If you missed my Easter entertaining post last week you can catch that here.
As you come to the close of this post make sure to pay special attention to the next person to visit on the tour plus the list of other talented bloggers on the tour that I want to encourage you to visit today or some time throughout the week!
*Affiliate links used in this post…see our full disclosure policy here.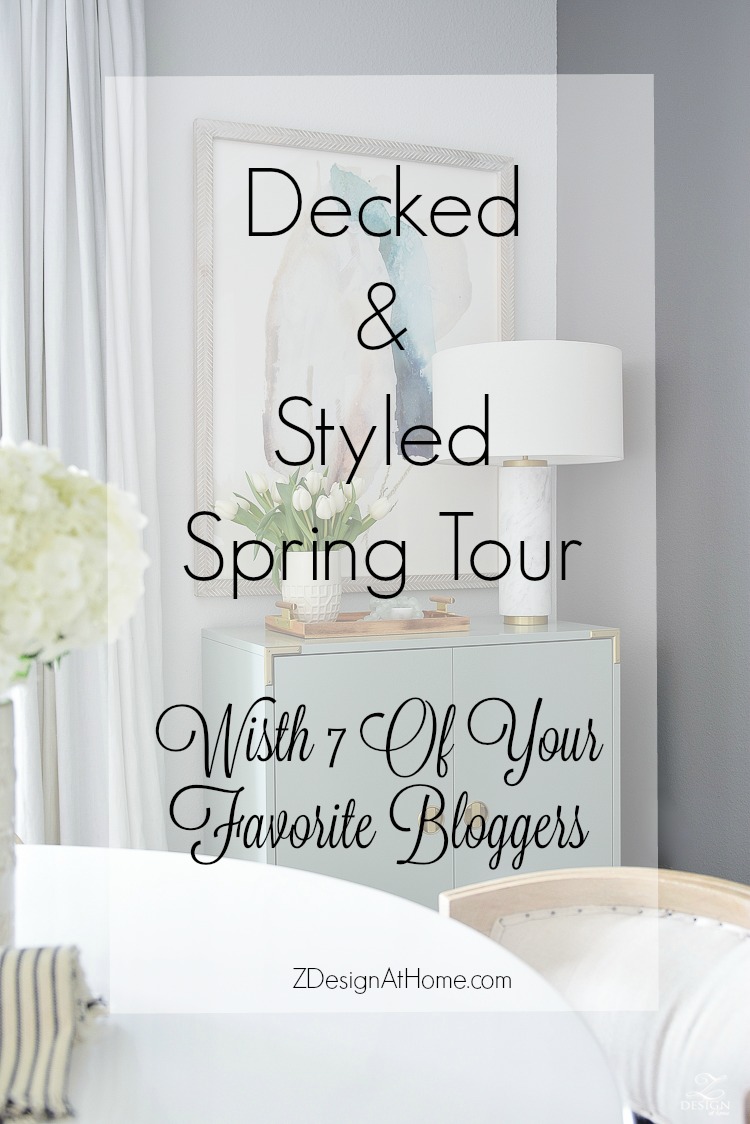 My theme this year is simple, although I have some fun updates to share with you to include some new pillows, a new coffee table that we desperately needed, and the biggest update is the TV wall in our rental (which may have included a fresh coat of fresh white paint!:).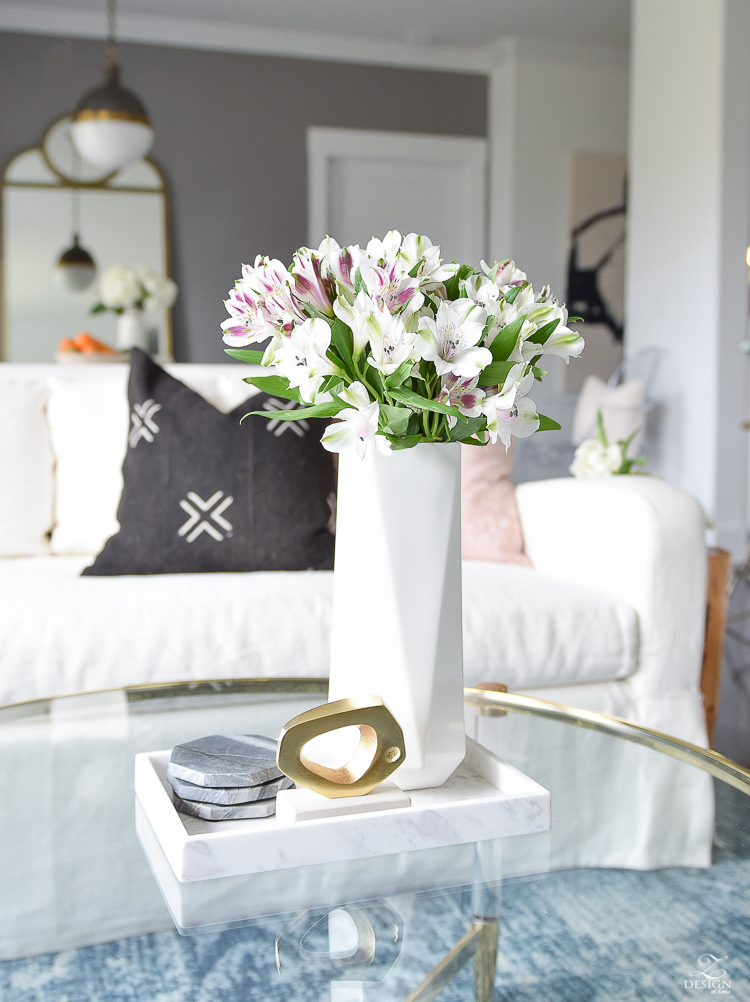 For those of you that might be new around here, we moved to Houston last summer and are still in the process of figuring out where we want to be permanently as Houston and the surrounding area is so vast and there are so many options that we are still trying to nail down exactly where we want to be.  When we first arrived in Houston last year we thought we had nailed down a lot and builder but unfortunately things with our builder went south quickly after breaking ground and sadly we are no longer building the home that some of you have read about here.  I will share more details about our situation later on the blog as I am able to along with tips for how to avoid the scary, unfortunate situation we have found ourselves in the middle of in regard to home building and choosing a reputable contractor.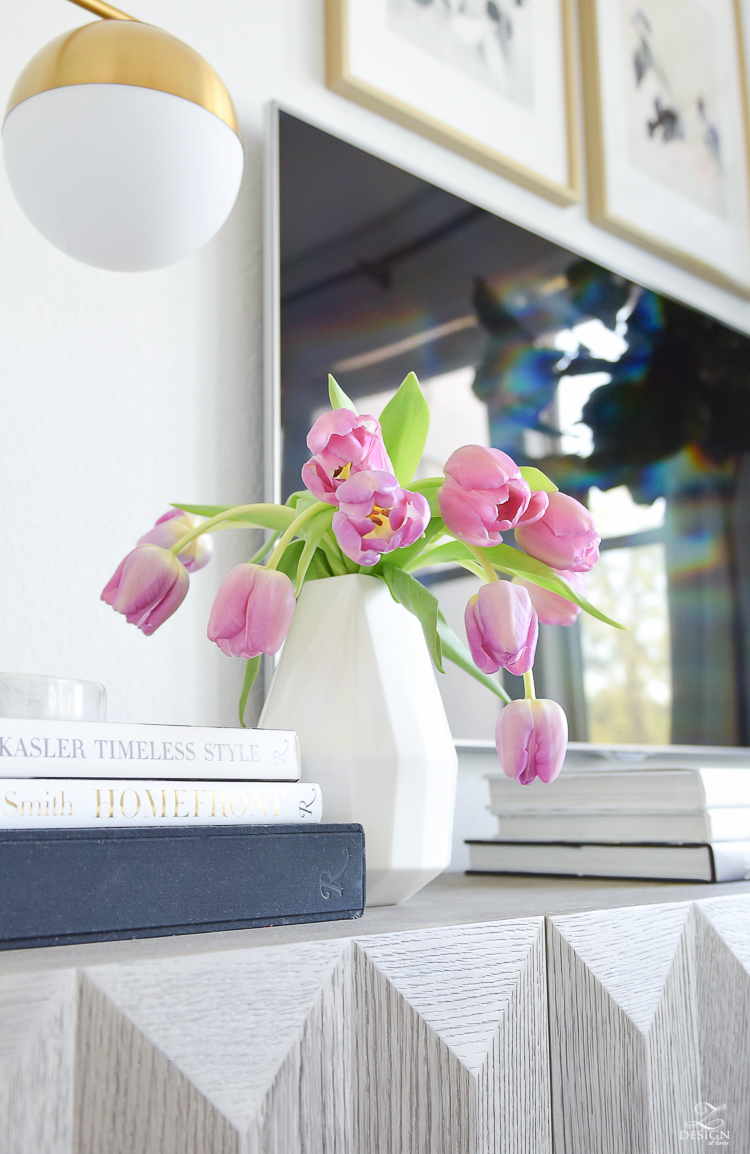 So, now that we know we'll be in our cute rental for quite a bit longer than we had originally planned we are trying to settle in a little more to make ourselves completely comfortable while here, starting with the TV/gallery wall.  You may have noticed a new piece of furniture that we also desperately needed for storage purposes plus, we mounted the tv on the wall (best decision ever!!).  This piece is from RH and we just love the look and feel of it in the space.  I actually wanted THIS ONE or THIS ONE over the one I ultimately chose but neither were quite long enough for this wall so we ultimately ended up settling on the one pictured below.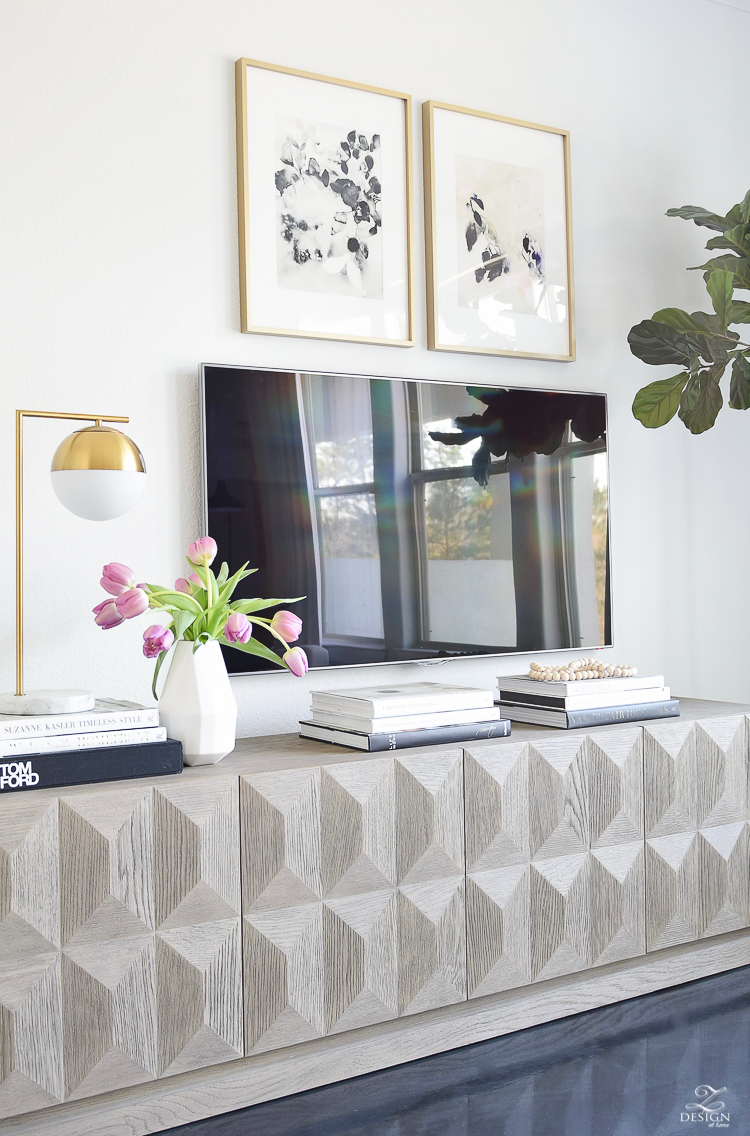 Painting the walls white (we just used our rental complex paint which is a PPG paint called Towers Bright White) and mounting the TV on the wall (blog post tutorial coming soon) was the absolute best thing for this small space!  It's amazing how much a coat of white paint can make a difference not to mention, now that the TV is about a foot back and attached to the wall, both literally make the room feel 5 ft deeper.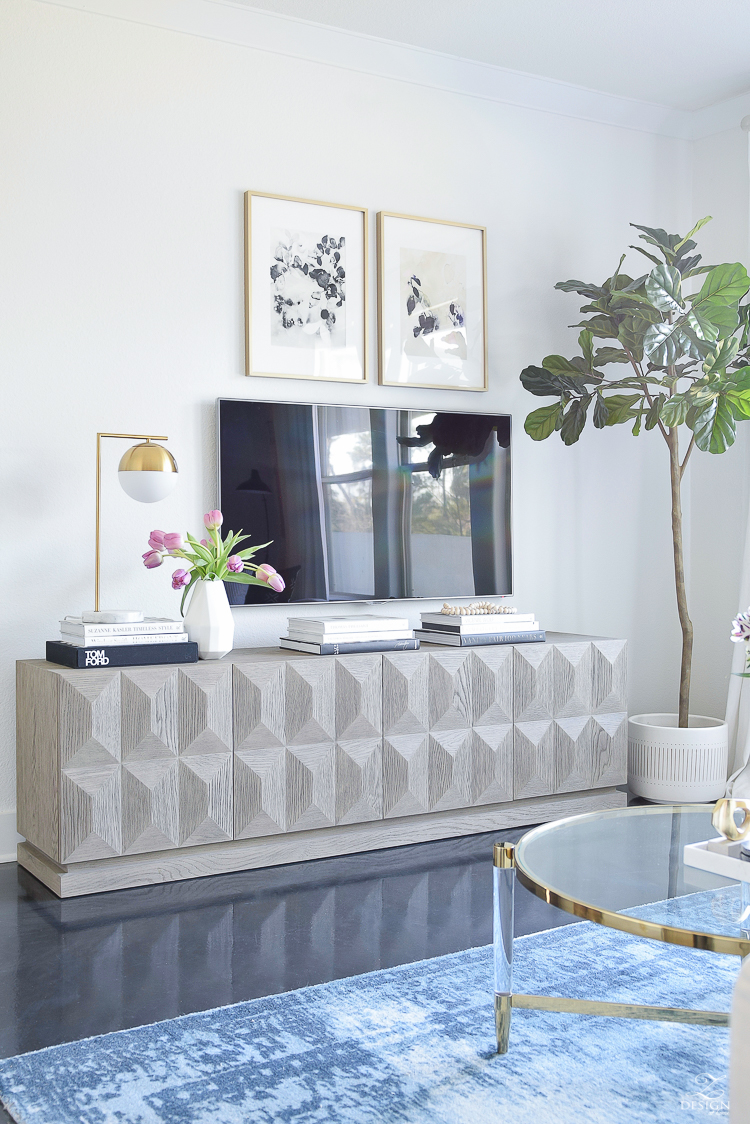 I used some of my favorite coffee table books (full blog post HERE on decorating with coffee table books) to decorate the top of the media cabinet and added this new lamp for the project.   I had every intention also of getting shelves up over the lamp to balance this wall but just haven't been able to get around to it so I'll do a follow up on that real soon!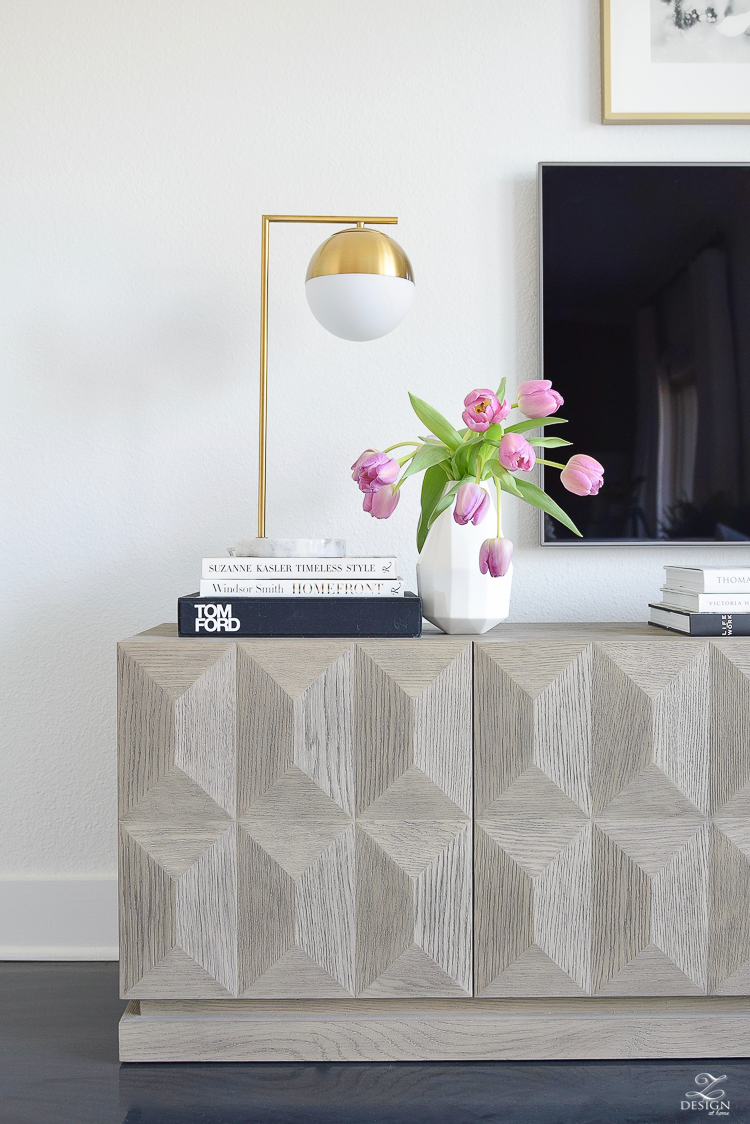 You may have noticed I added some new art as well from my friends over at Minted.com.  Minted is my go to place for art updates as I love their wide selection of prints plus love all of their great framing options. I chose THIS PRINT (that my dear friend Jen of Decor Gold Designs used recently – as soon as I saw it in her beautiful home I knew it was the right piece for this spot) + THIS ONE, both by artist VERYMARTA.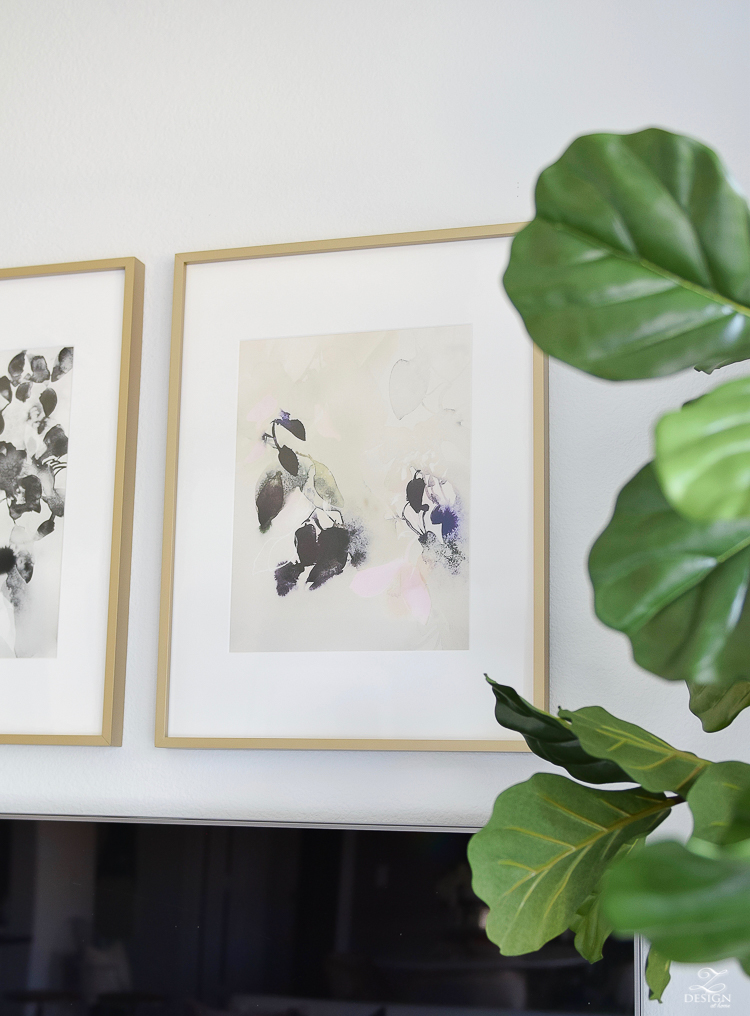 I chose their option to have it matted plus used their matte brass, chic metal frame.  I couldn't love this little spot more now and love how the watercolor abstract art truly characterizes my current design style!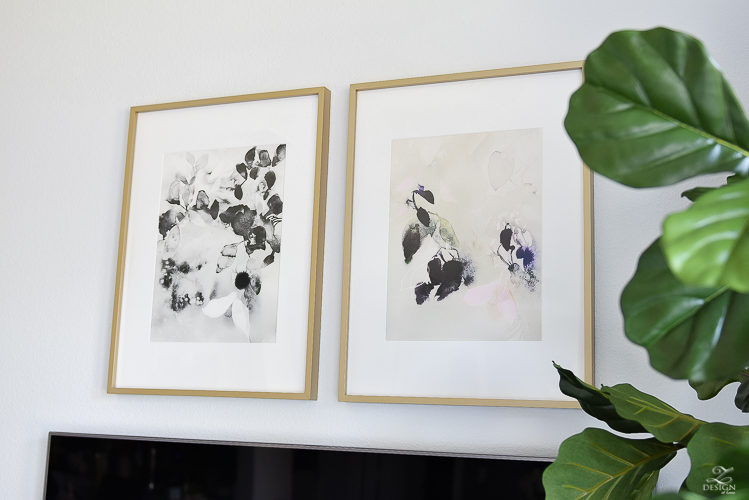 You may have also read about my faux fig update but HERE where I reviewed the top 3 fig trees available right now.  We still love it and can't get over how realistic it looks, giving this corner so much life!  I changed pots back to THIS ONE for spring but love it either in a basket or in this favorite pot of mine anytime.  You can shop mine HERE.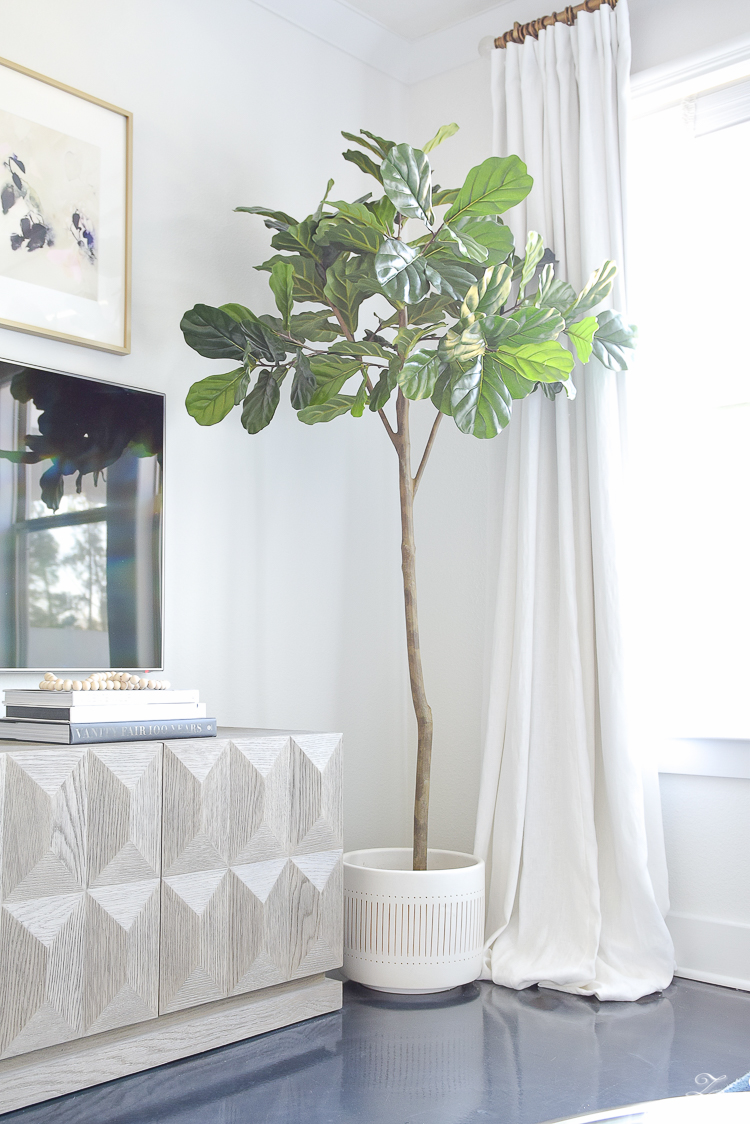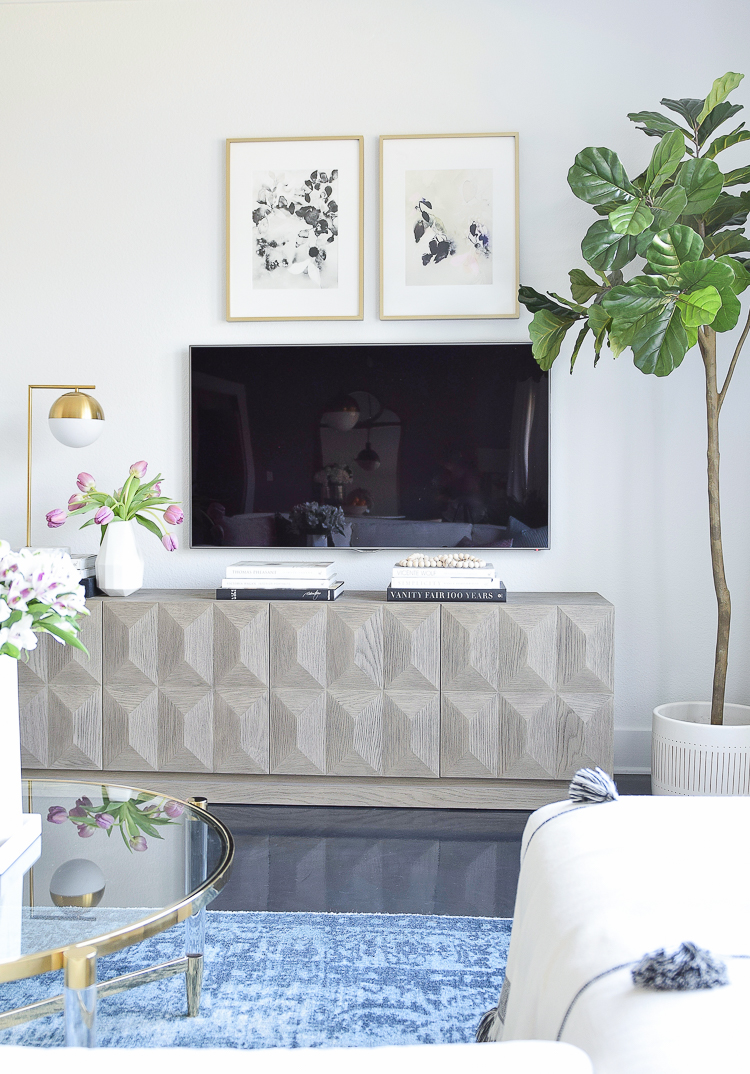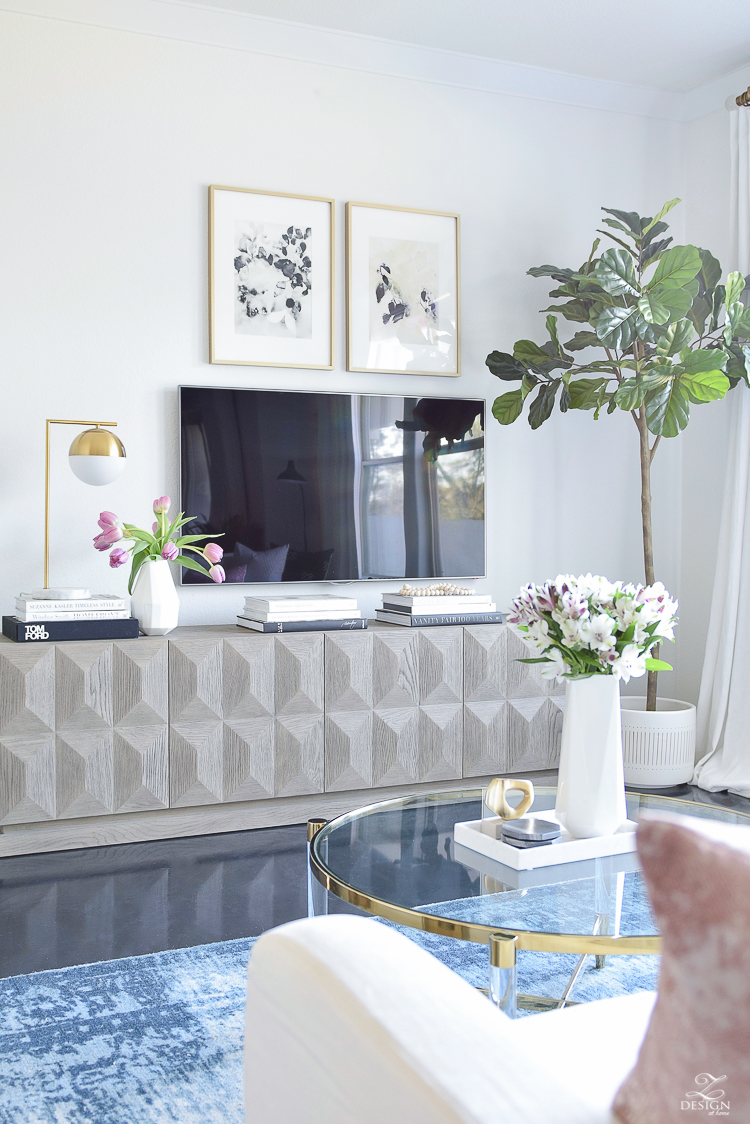 Another fun update that was much needed was a coffee table for this space!  I've literally had my eye on this one for over two years but finding one in just the right size, style, and material was quite the challenge so I'm glad this one that I loved already worked out (not that I didn't stress over the decision way longer than I should have;).  I needed something on the smaller side and something even more importantly in lucite or glass so that it didn't take up a lot of space visually.   I LOVE the lucite legs but it has a glass top so there are no worries of the lucite getting scratched.  You can shop it HERE if you love it as much as I do!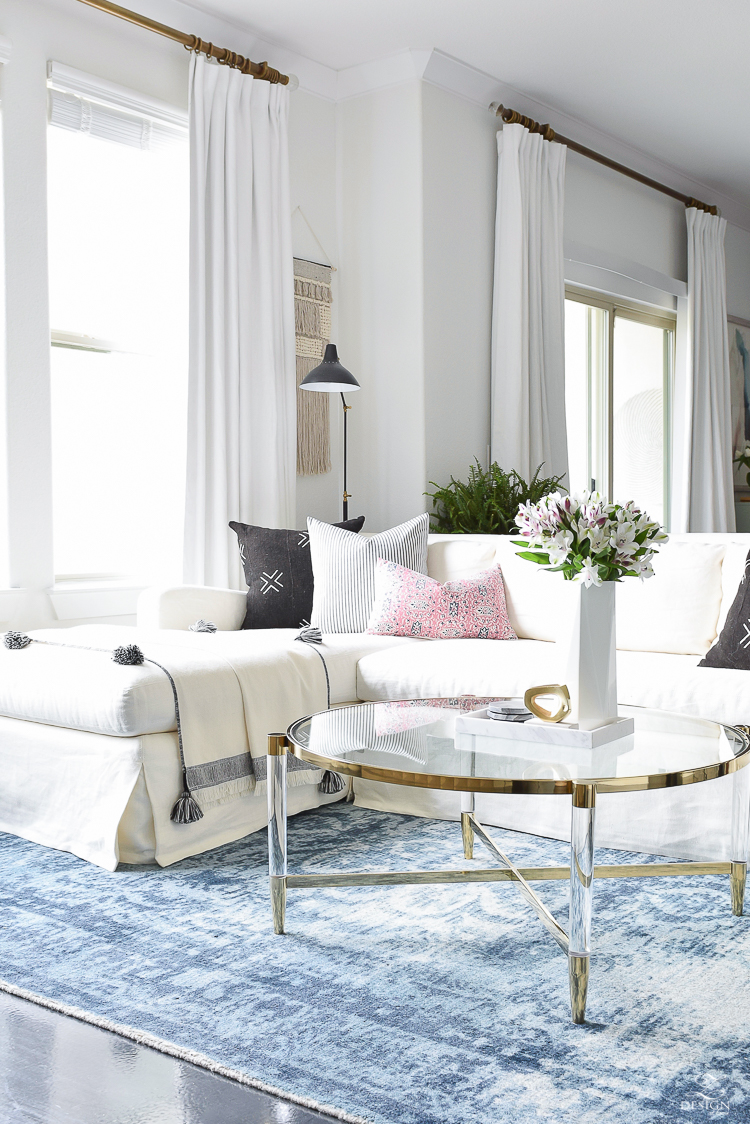 Coffee table decor simply consists of fresh flowers – Alstroemeria (one of my go to's that I talked about recently in my flower styling post) placed in a white marble tray, with black marble coasters and a simple new gold accessory (that I'm totally digging, btw!).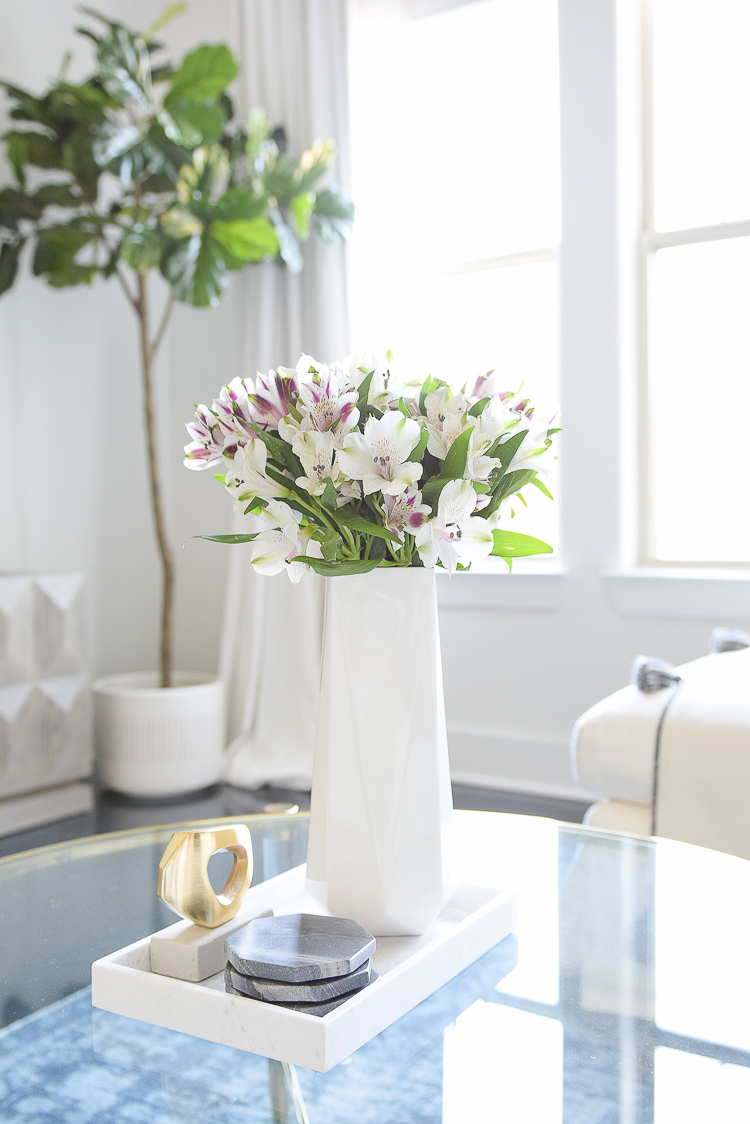 And of course you had to know some new pillows were on the agenda for spring…I added this (similar) black mud cloth pillow and then this classic black and white ticking stripe from my go to pillow source, Tonic Living!  The pink lumbar (similar) is a hold over from my fall bedroom and I was happy I was able to reuse it.  The throw (similar) was also a hold over from my fall bedroom.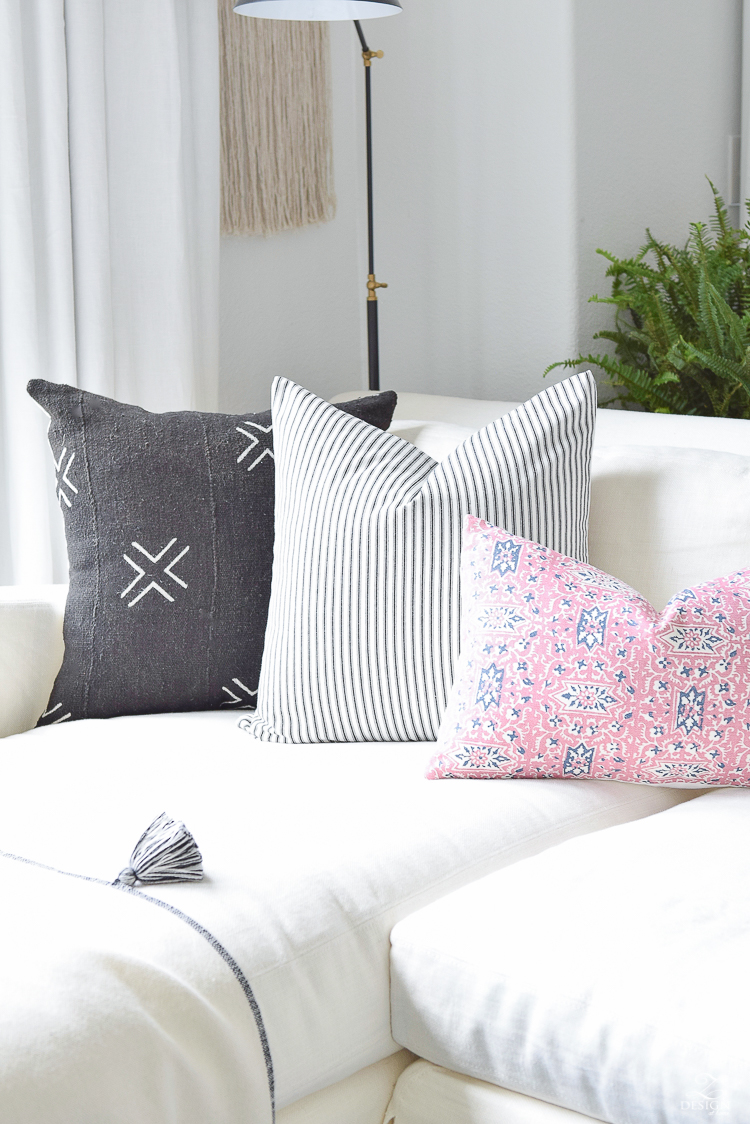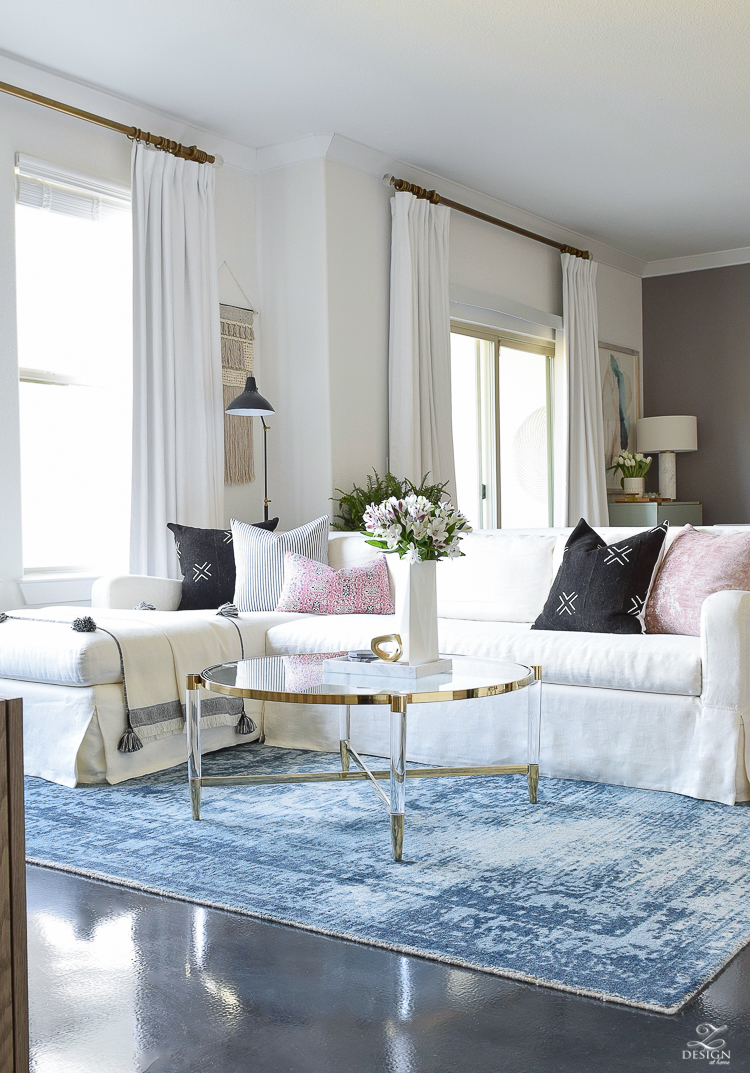 I also reused this blush velvet beauty from my Christmas tour to bring in some texture and a pop of color (also from Tonic Living).  So many of you seemed to loved it over the holidays so if you missed it then, you can shop it HERE.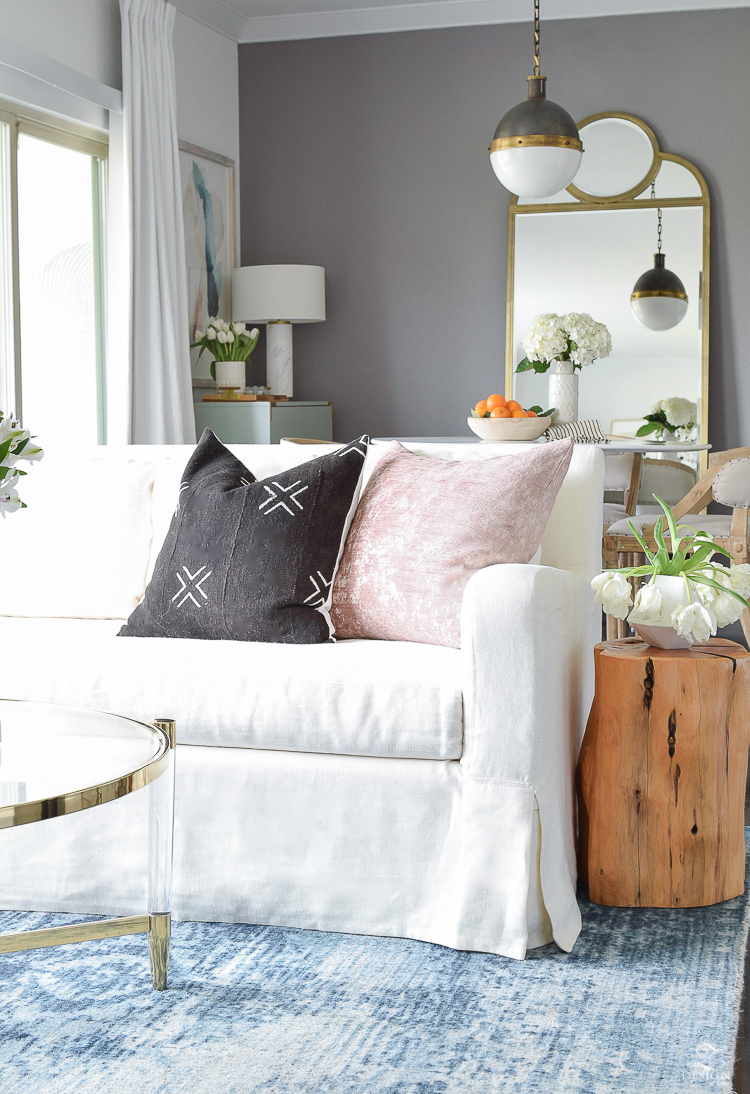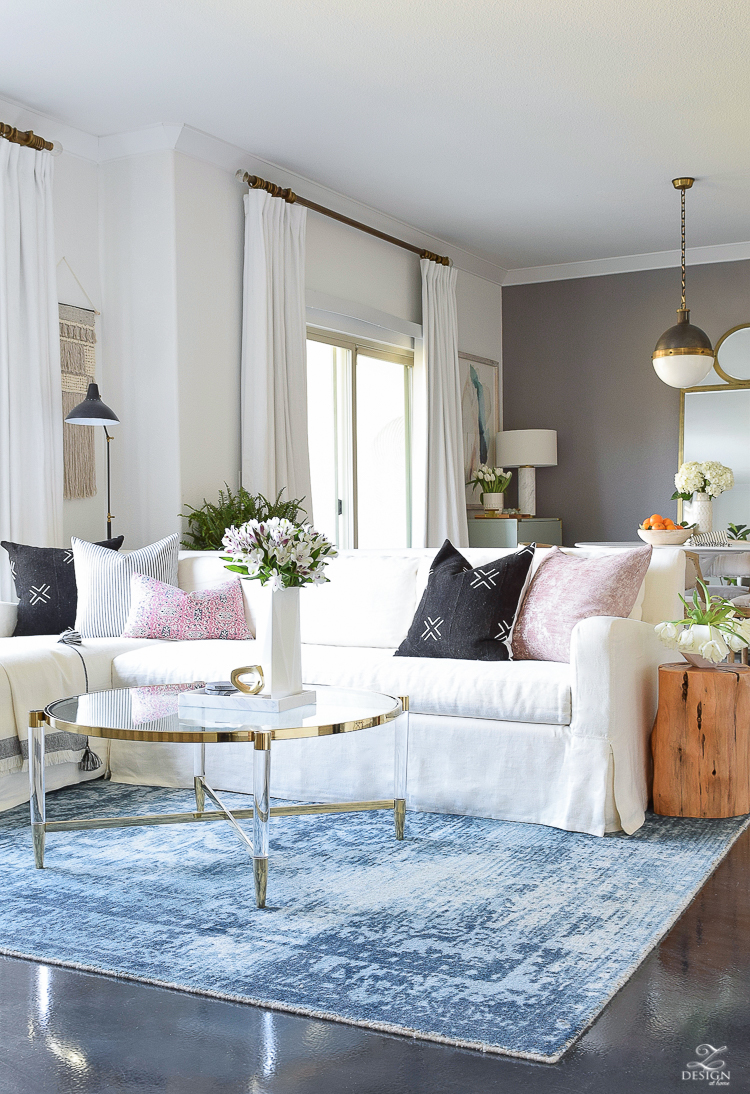 Hopping over to the dining room you will find some simple spring touches here as well.  I love displaying oranges this time of year (and eating them too) in a large wooden bowl.  This bowl is a new piece and I love the texture and natural element it brings to my space.  I used rose leaves as garnish within my display.  I also love using these new black and white striped dinner napkins everywhere for everything!  You can see more of them in my Easter entertaining blog post HERE.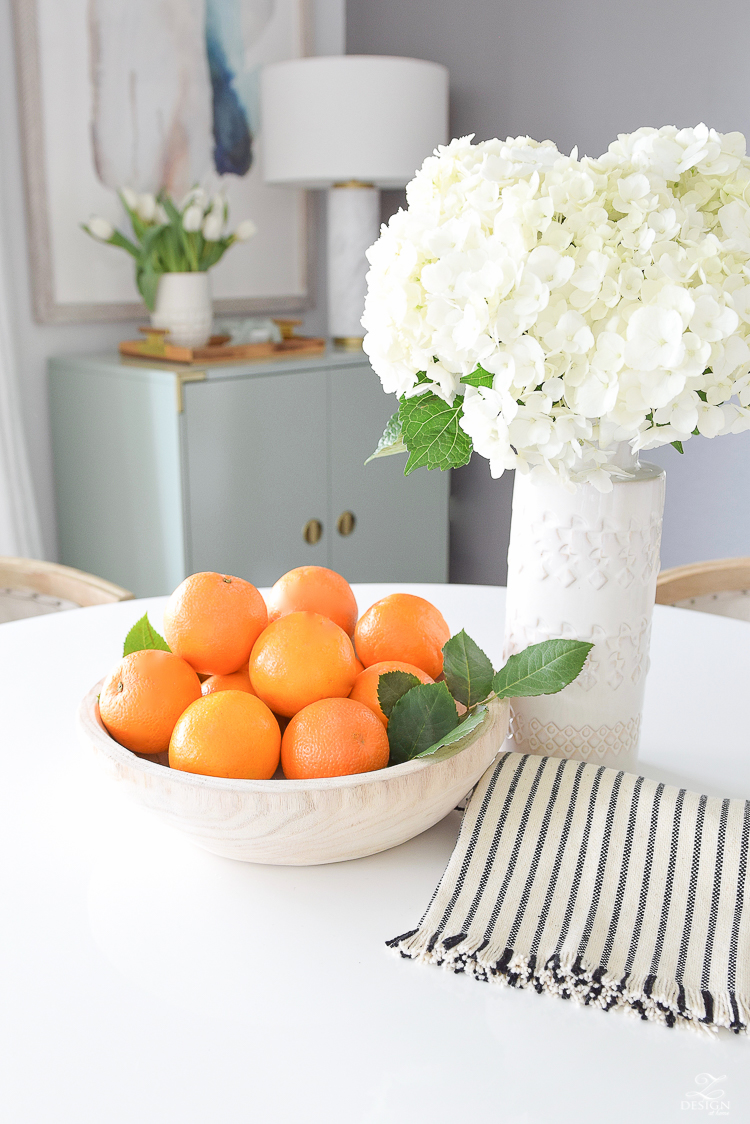 And you guessed it!  More art from Minted.com over here!  I'm not sure if it will stay here but for spring it works beautifully here.  It's called Advection and is by artist Aeriel Scholten.  I also really love it in Minted's whitewashed herringbone frame (my go to frame).  A new wooden tray with brass accents was also perfect for this spot to ground all of the color between the bar cabinet and the art.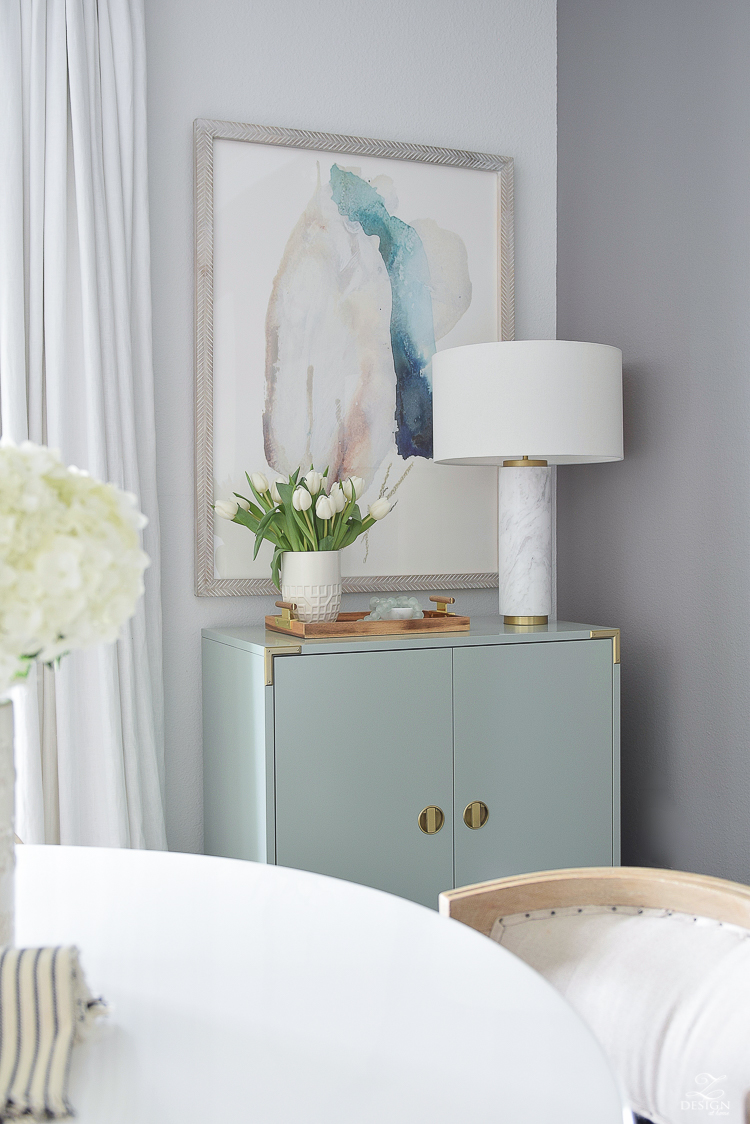 Spring wouldn't be complete without tulips, right?!  And some of my favorite glass beads that remind me of the water.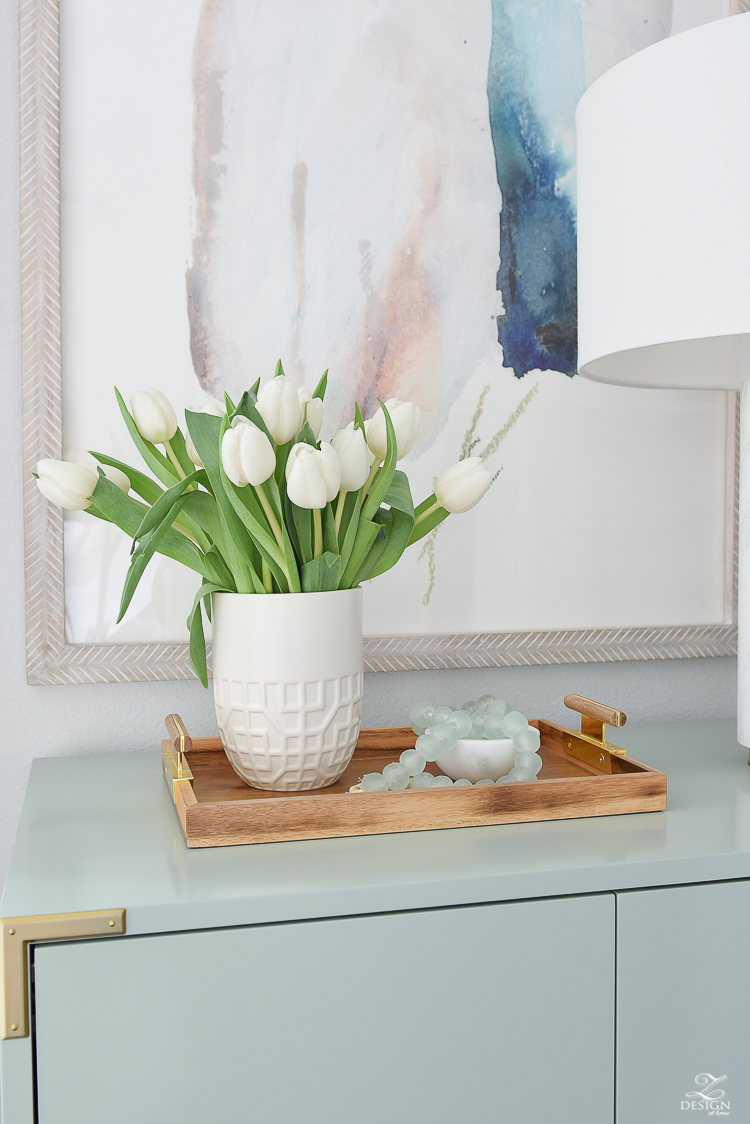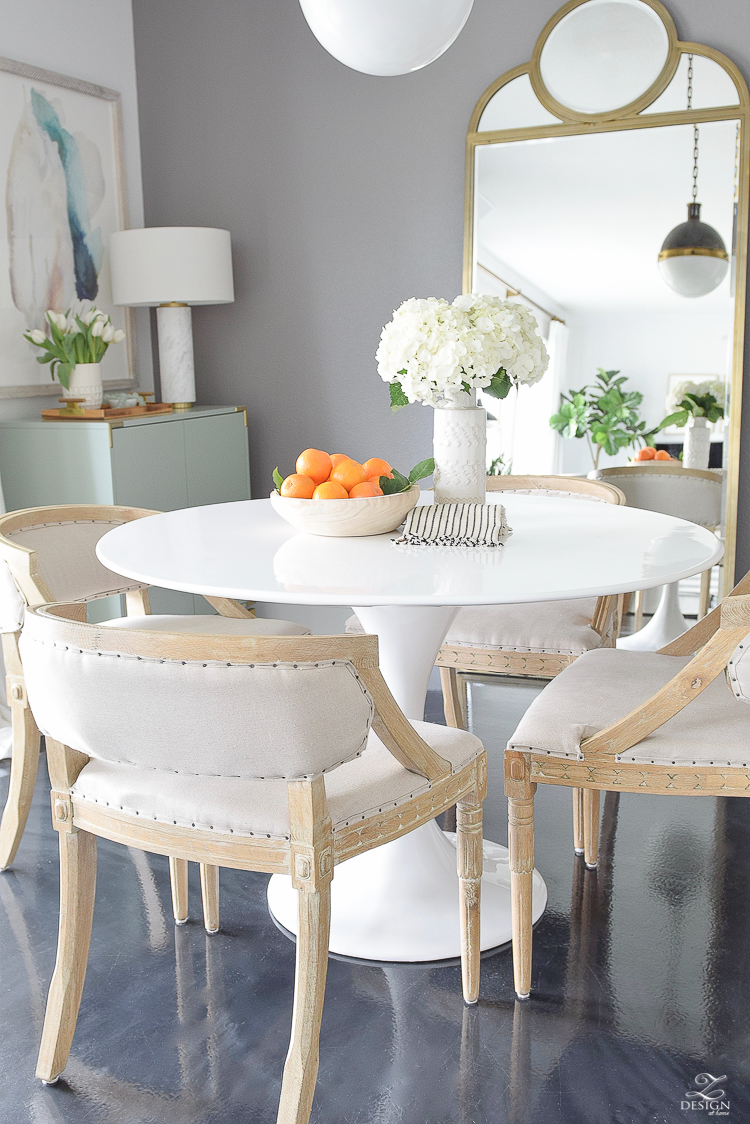 From the dining space you can see my favorite planter that I've added a fern to for spring/summer!  I also moved my Vintage Chinese bench over from the entry (reveal/update on that coming soon to the blog).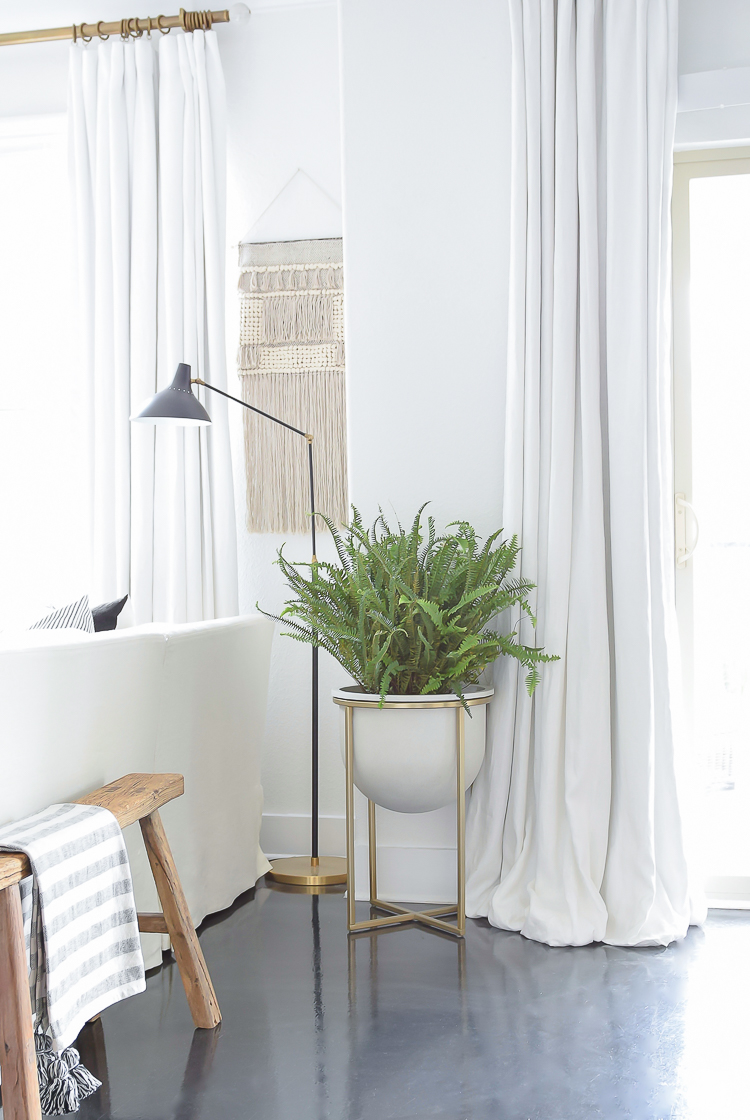 Skipping over to our cute little rental kitchen you'll find simple spring touches and the Turkish runner I haven't had a spot for until now.  I got this about the time we started building last year and had another rug in here that was too thick (I kept tripping over it) so recently switched it for this one and love it in here!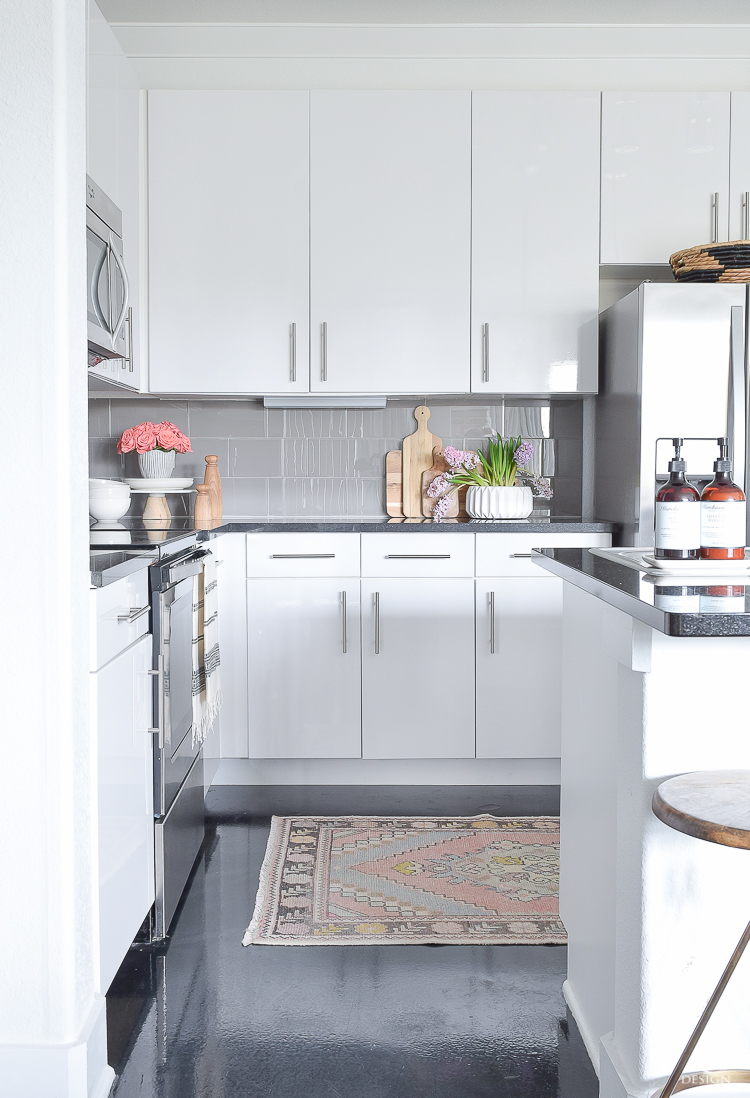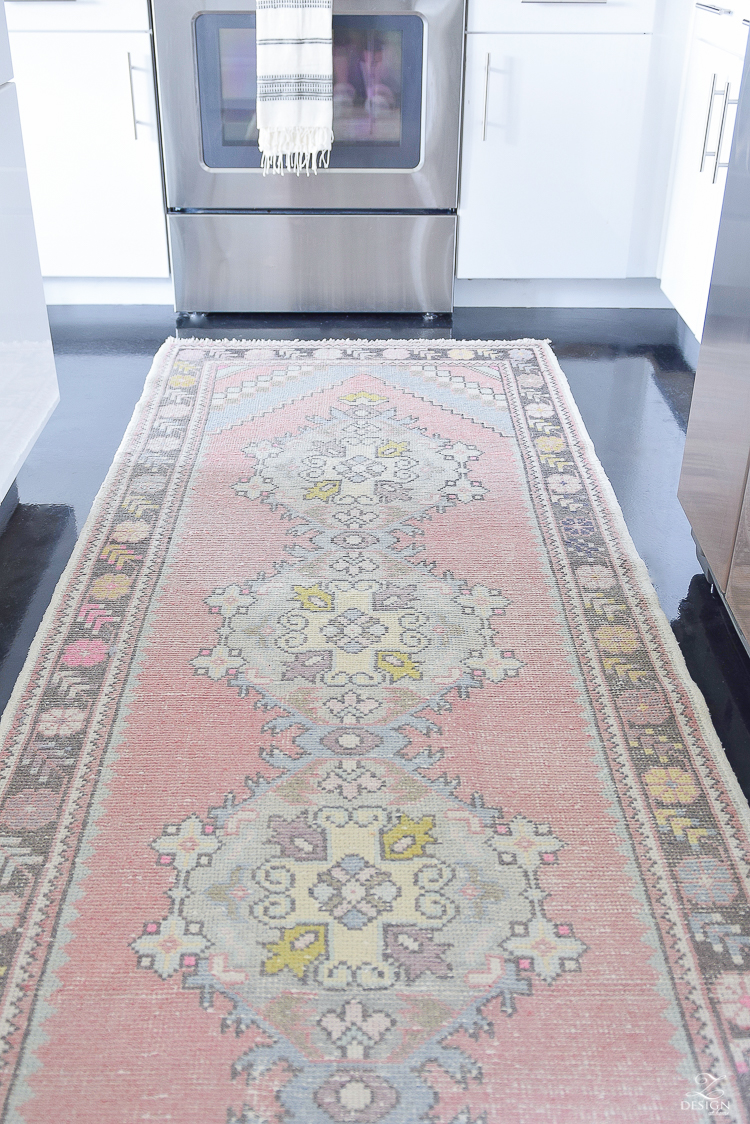 I love how the coral roses pick up on the colors in the rug…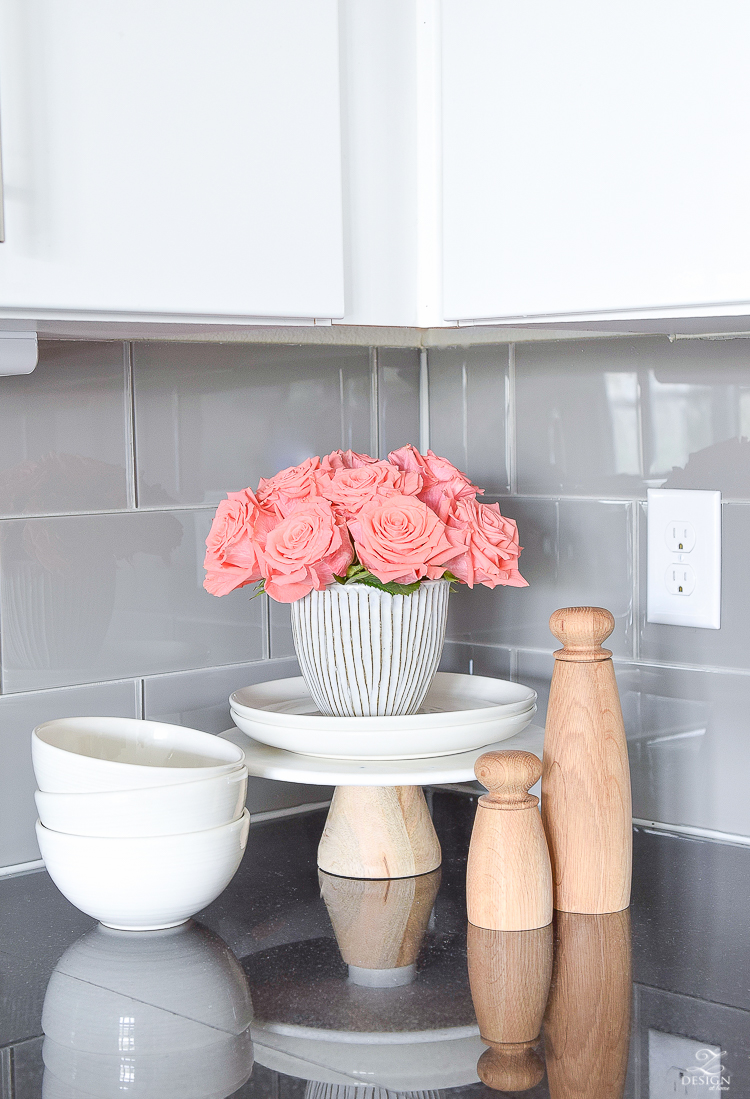 I love displaying cutting boards and dishes (find my fav new white/ivory dishes HERE) but one of my favorite things to do in the kitchen is to have a spring potted plant to brighten the space for the season – hyacinth in this case in my favorite white fluted pot!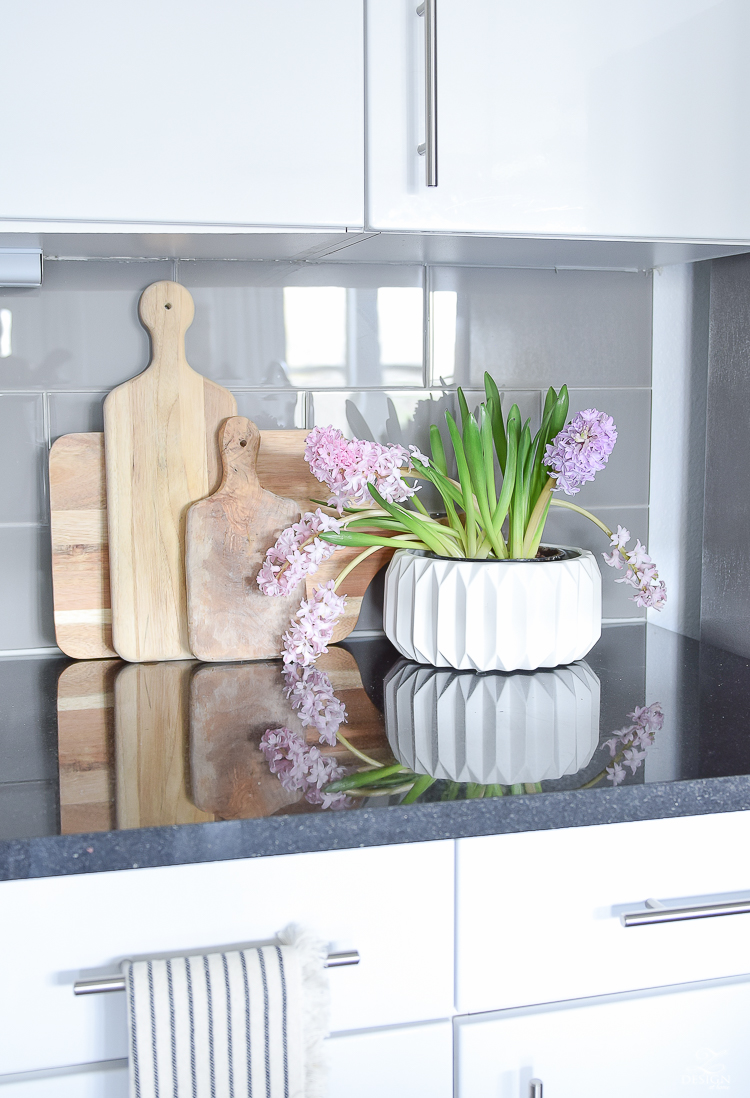 I also love to use faux branches in the spring (similar here).  They really add a pop of color and texture to a space and make it come alive for the season at hand!  They are also a great alternative to the sometimes struggle of keeping fresh flowers around (I have a recent post HERE with styling tips plus all of my favorite faux florals this season).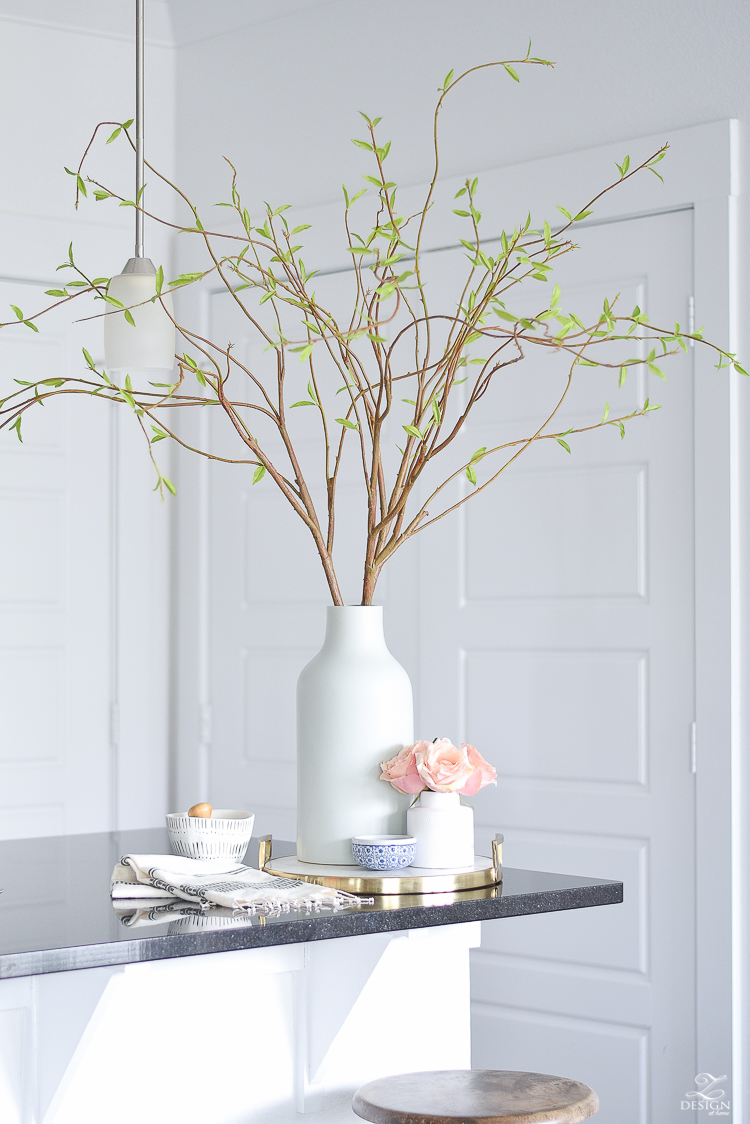 And one last thing…this amazing chandelier arrived after all of the spring prep was completed and we literally got it up just in the nick of time to include in the tour!  My design style is trending more and more modern these days and this light from Wayfair.com (always one of my favorite places to shop) speaks to my modern loving heart!  It adds a ton of character and warmth to the room that I didn't expect and I couldn't be more excited about it.  What do you think?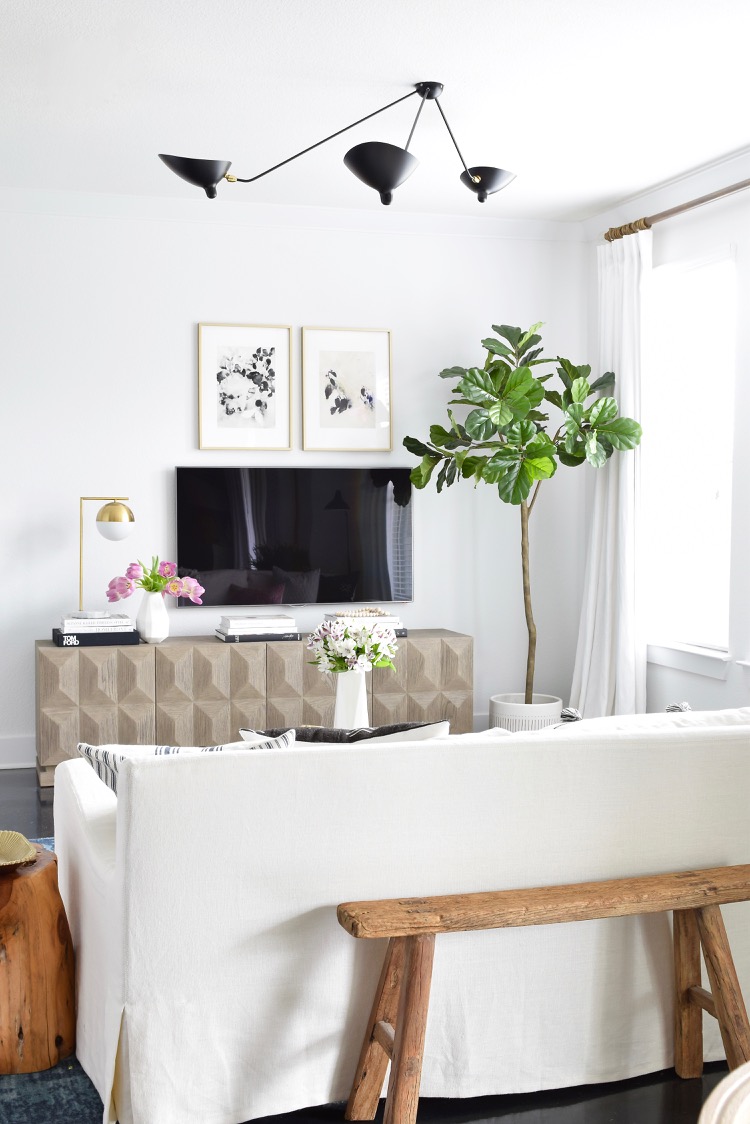 I hope you've enjoyed visiting me for the Decked & Styled Spring Tour this year!  Please hop on over to visit my darling friend Megan of Honey We're Home!  Megan has such a lovely design style (home & fashion) plus she's the absolute sweetest thing in the south and I know you will love her just as much as I do!!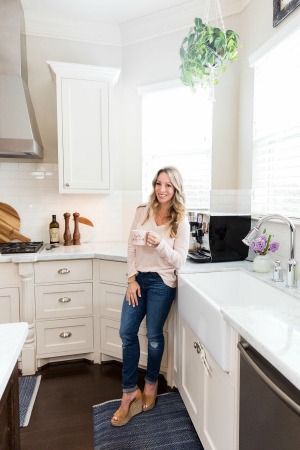 When you are finished visiting Megan please remember to visit my other talented friends on the tour today or sometime this week!!
Let's stay connected…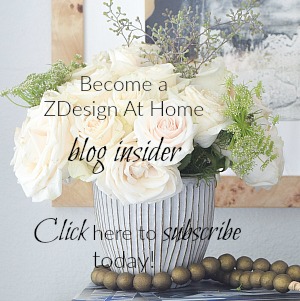 Pillows:
Black Mud Cloth Pillow (similar) | Blush Pillow | Black/White Ticking Pillow | Black/White Ticking Pillow
Living Room:



Dining Room:


Kitchen: