Hi friends!  The 2017 Christmas holiday season is well underway and while I do happen to have my tree up already, I still have some decorating to do so I thought it might be fun to share  a Christmas Past Recap until this year's Christmas decor is fully unveiled!
If you haven't seen our Christmas tree yet this year with Balsam Hill, you can do that HERE.  Additionally, you can find my Holiday Gift Guide HERE and my Black Friday/Cyber Week picks HERE.
2015 was my first year of Instagram and only a glimmer of the blog was in my mind at the time but here was our tree that year.  One of my favorites to date!  I really loved our silver and gold tree with white poinsettias as a completer to our tree decor!  Simple and clean…just the way I like it!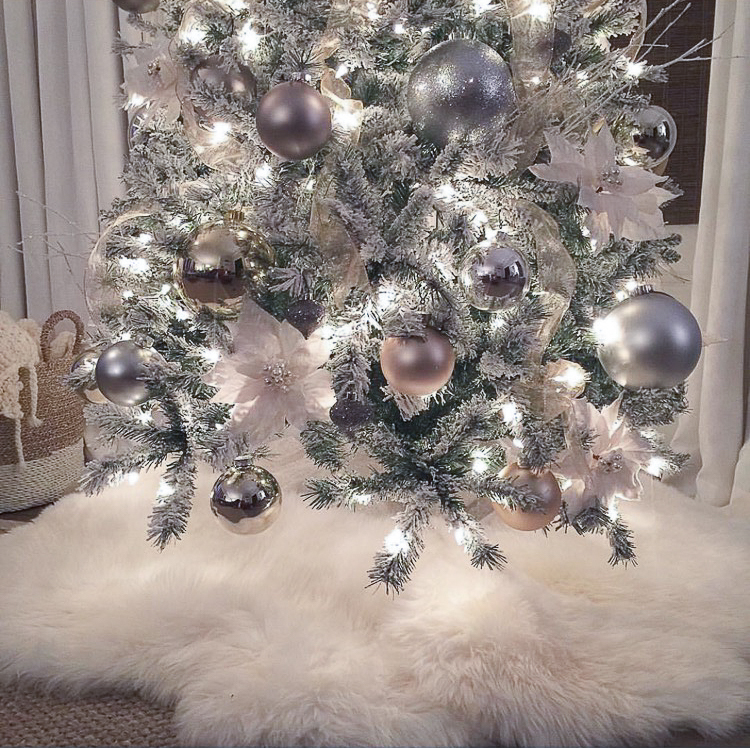 I did a mixed-metal tree that year, just like this year.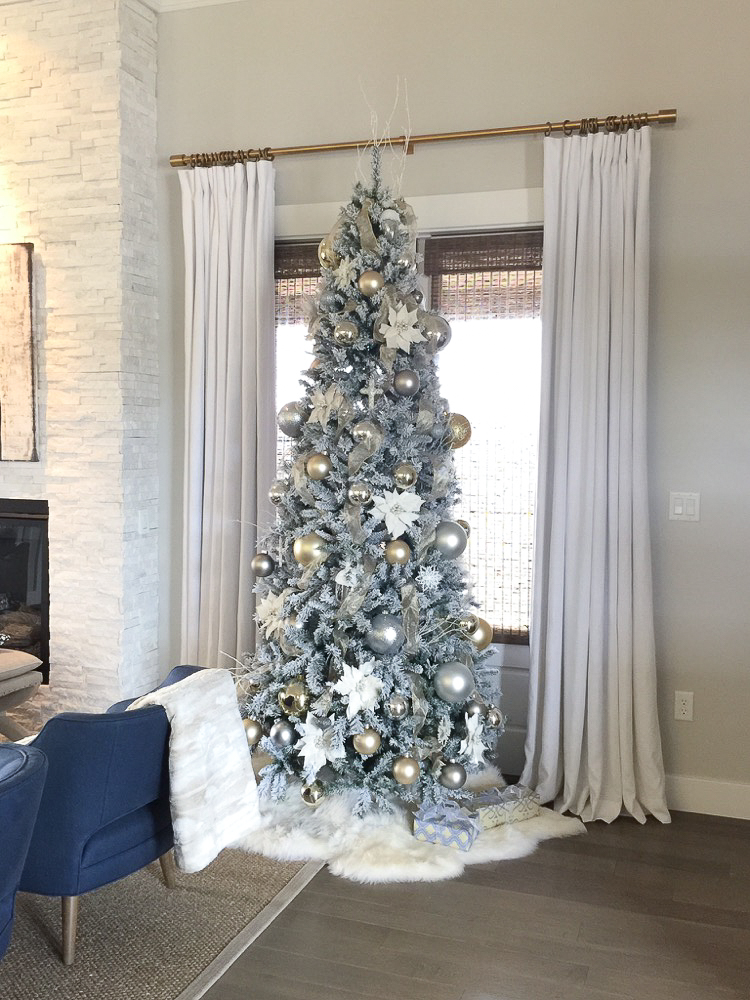 In 2016 we put up more trees than we ever have before and our family enjoyed every moment of it!  Our traditional tree was in the dining room.  This tree held all of our sentimental ornaments, including all of the ornaments my son has made over the years along with all of the ornaments my mother and others have given to us as gifts.
You can find a full Christmas dining room tour HERE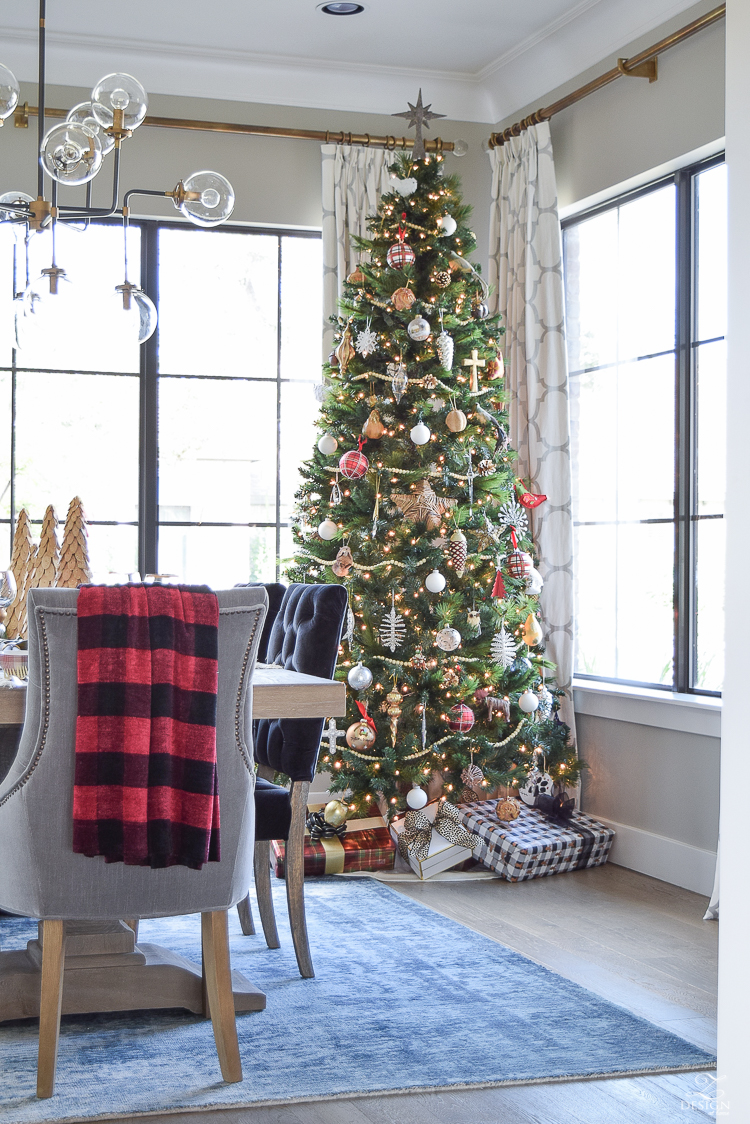 My favorite Christmas items in the dining room were this boxwood garland and the buffalo check pillows.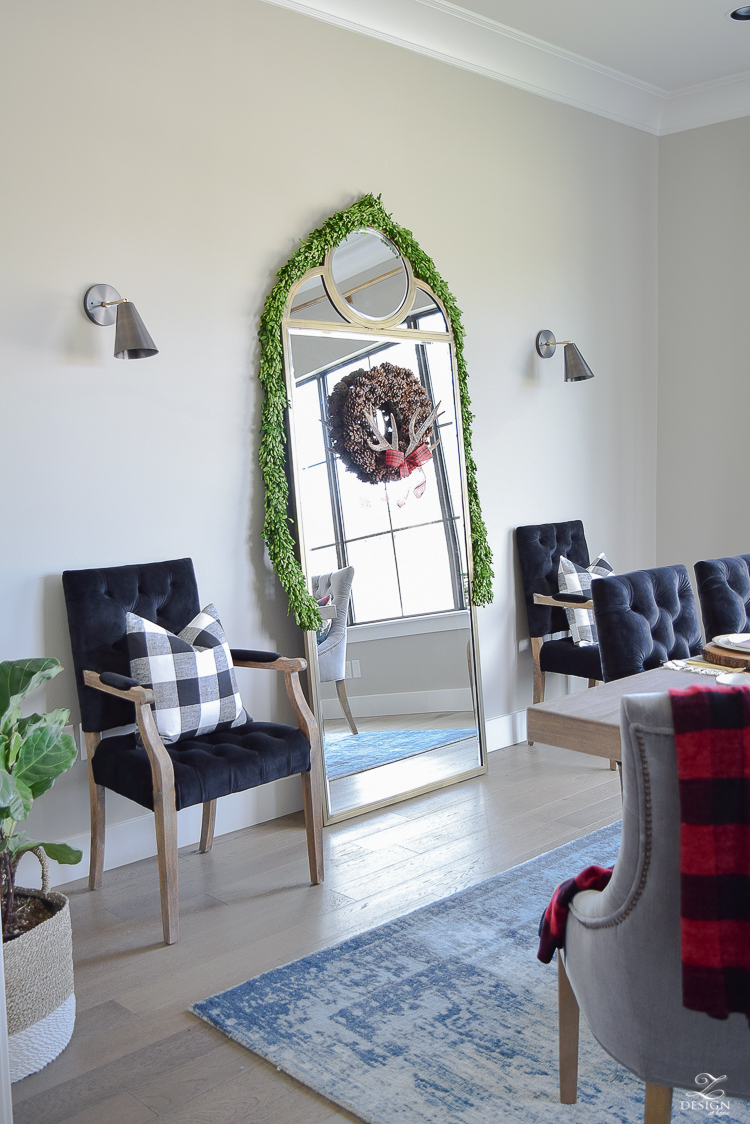 In the living room I did a flocked white and gold tree (similar tree here).  I like simple trees. Period.  Honestly I'm not even a huge fan of using ribbon for myself.  I like it when I see other people use it but for myself I just like to keep things simple for some reason.  I used simple mesh ribbon on this tree but not overpowering as to allow the tree to stand out.
A full tour of the living room and breakfast room can be found HERE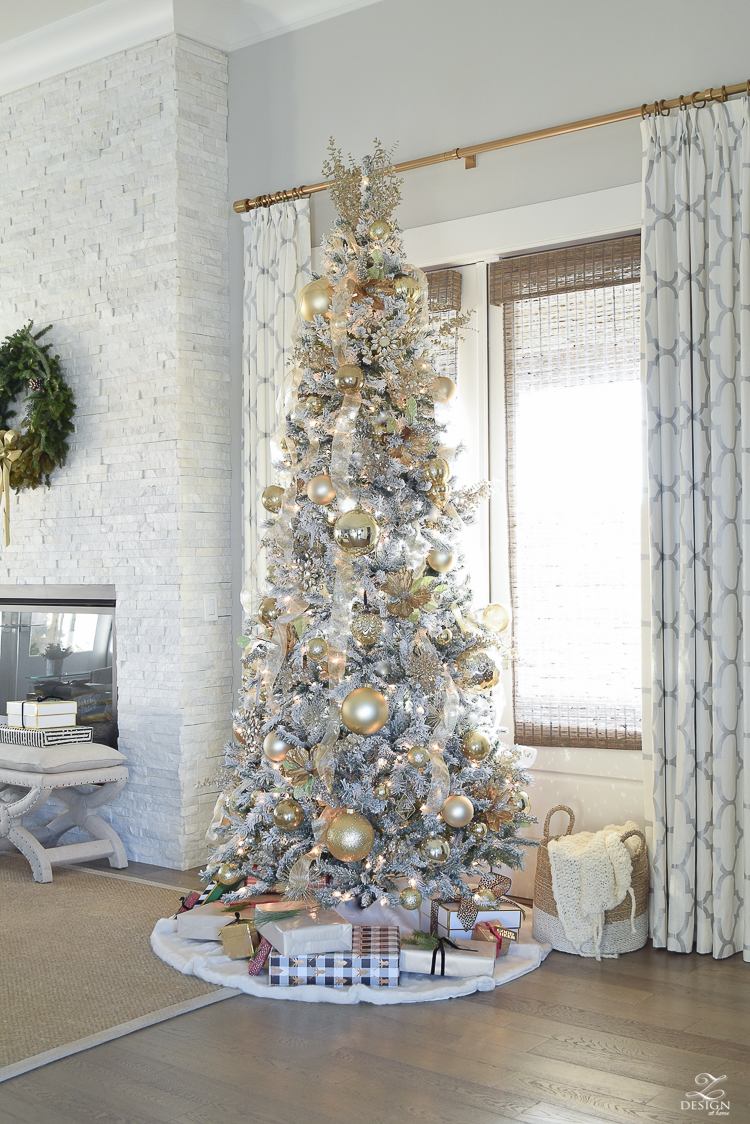 My favorite – all lit up at night!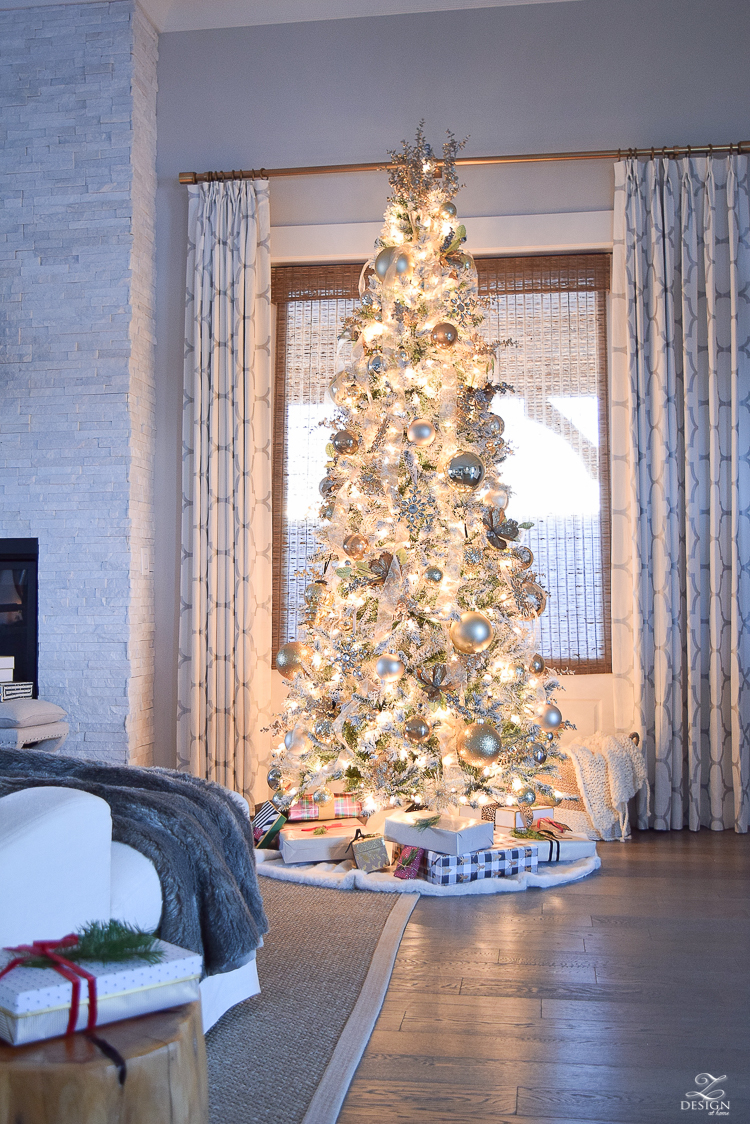 I used a real wreath on the fireplace and real garland everywhere I could place it.  One of my favorite tricks is to go to Home Depot and grab some of their left over Christmas tree clippings.  They usually have a bin that you can just grab from for free.  I use these all over the house and the best part is that it never costs me a dime to do this.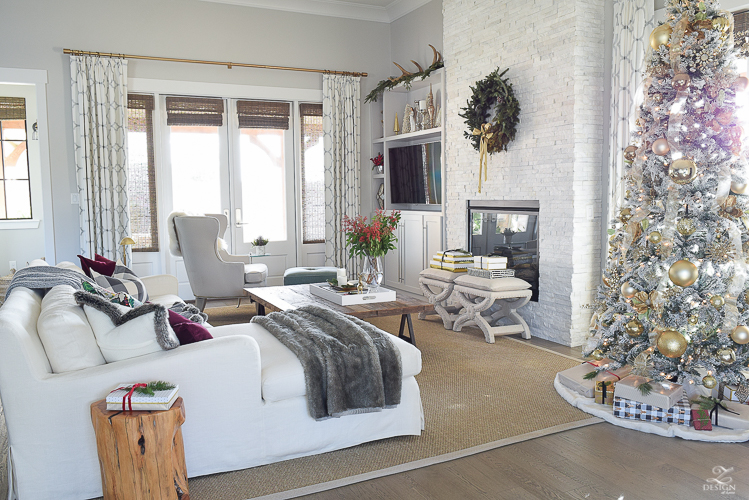 Had so much fun last year layering the sofa with fur (favorite fur throw) and velvet (favorite velvet pillows), and of course my favorite pom pom throw!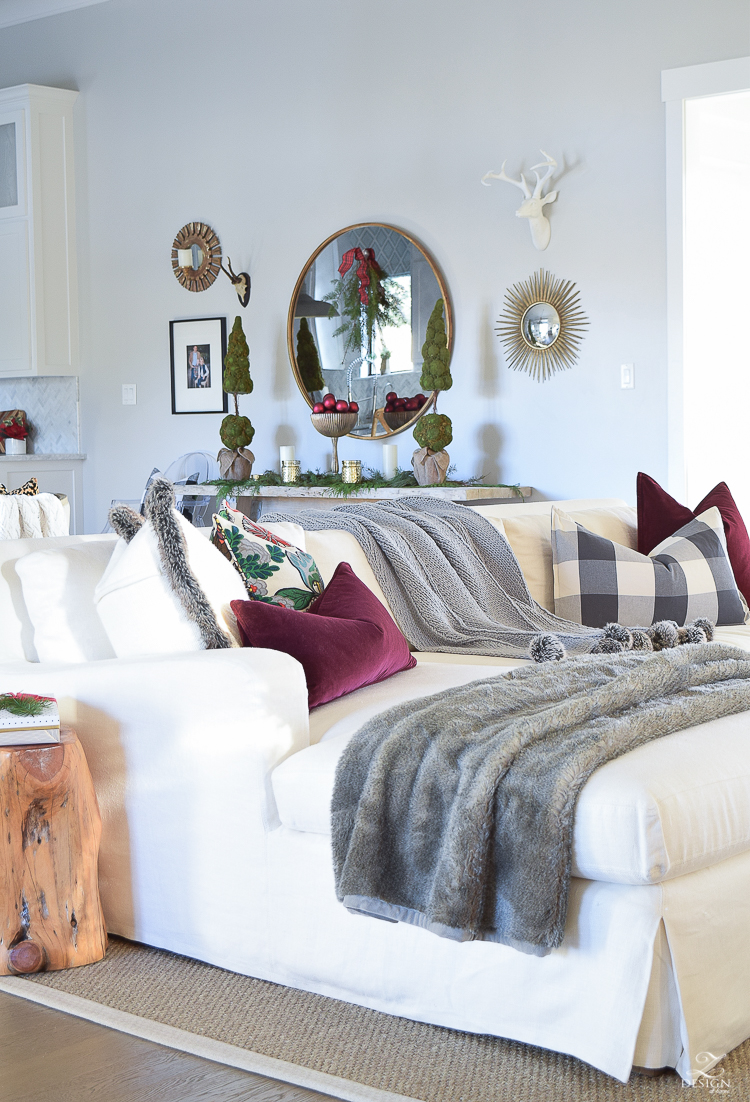 The console table in the heart of our home received some Christmas cheer as well.  Once again with those free clippings from Home Depot.  You can find my topiaries HERE.  I love that my fur stools were put to good use over here as well for added seating during Christmas gatherings since this space is adjacent to our breakfast area.  Stools like this are great to be used and moved all over the house as needed.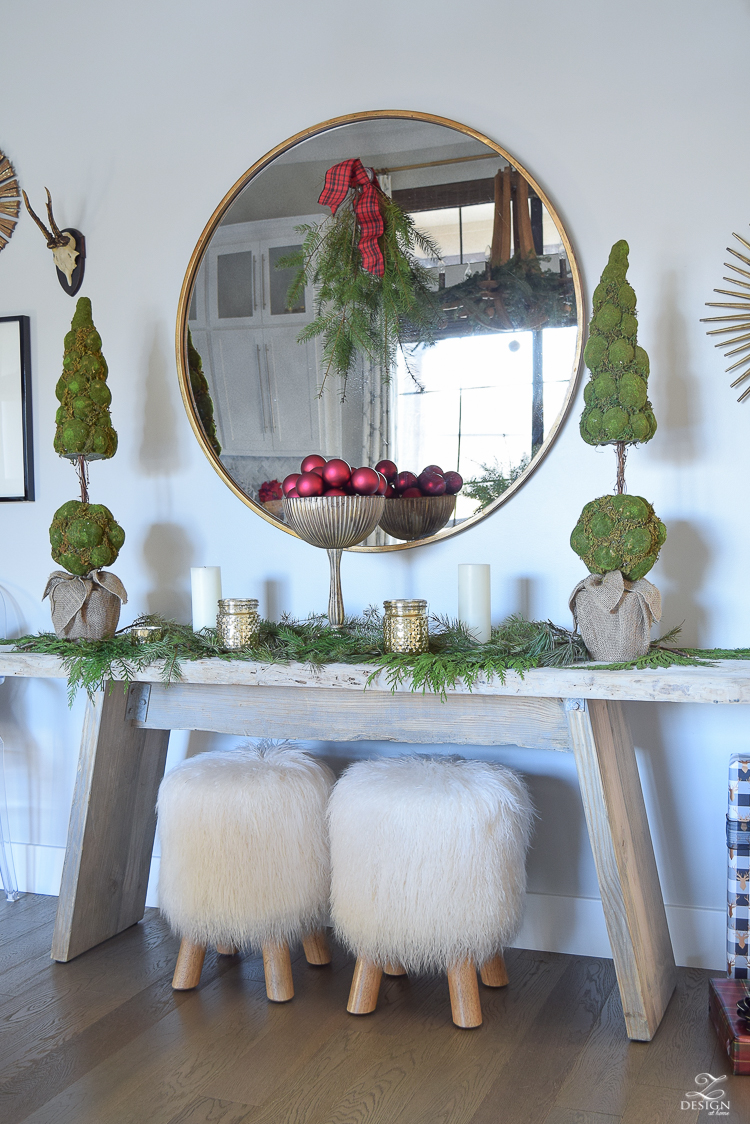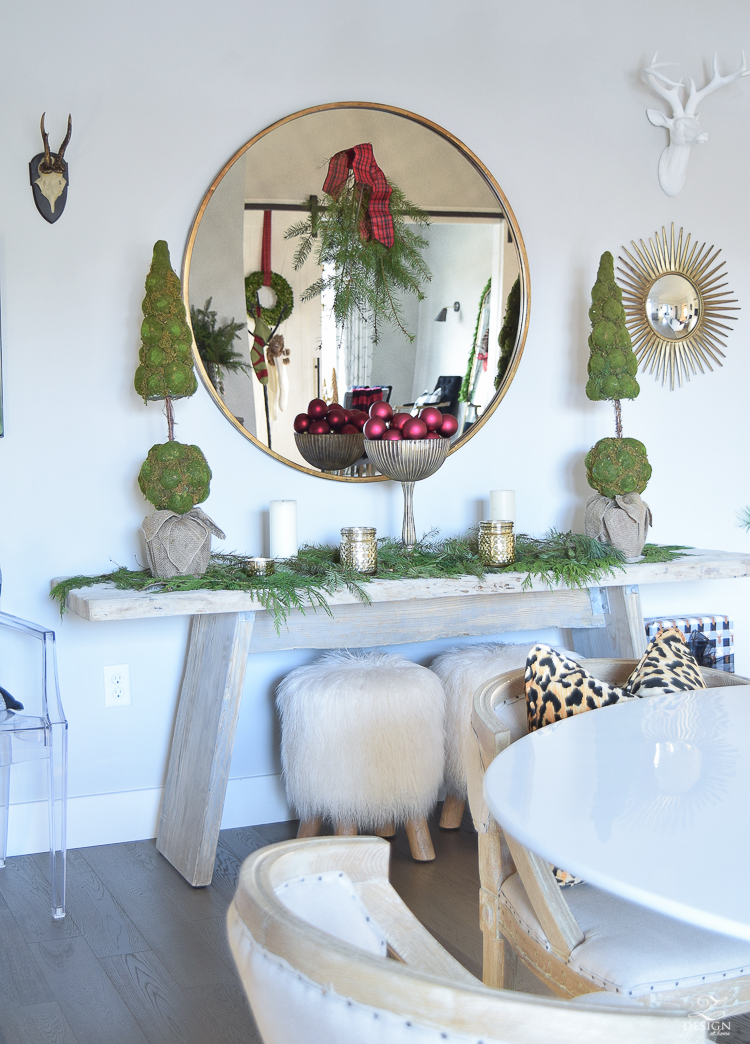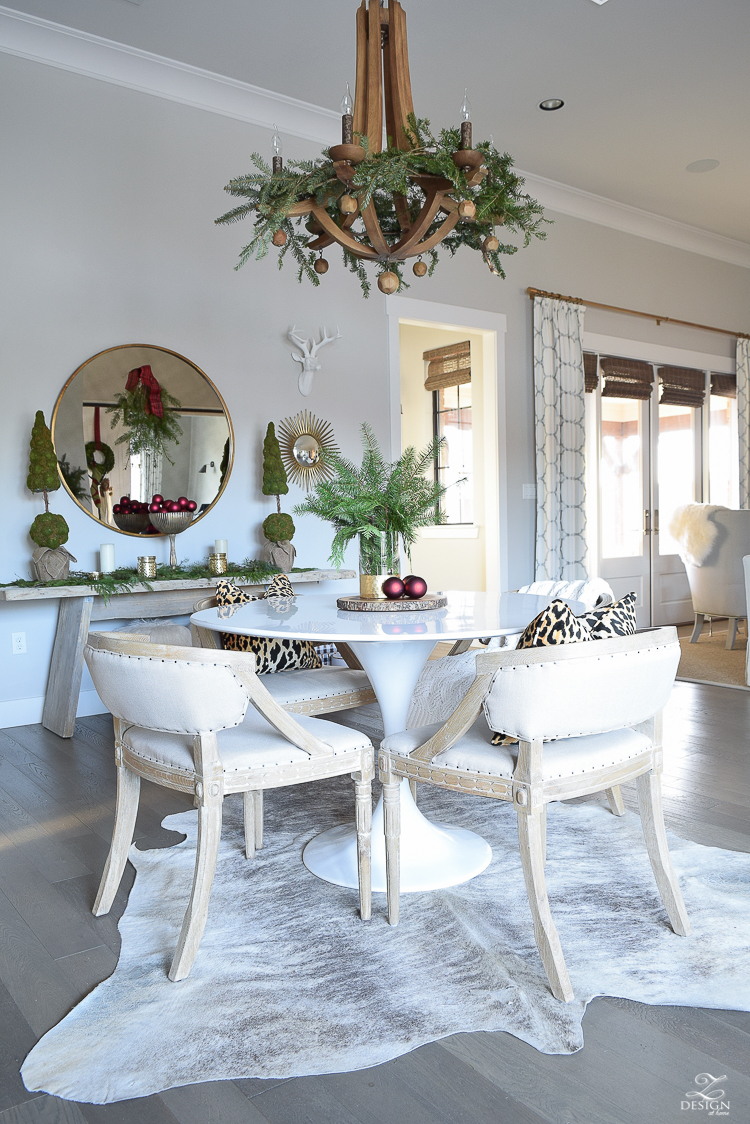 Moving on to the bedroom…this was my absolute favorite tree all dressed up in white, silver and gray.  You'll notice it's also very simple and has no ribbon.  You can find a similar tree HERE.
A full Christmas bedroom tour is available HERE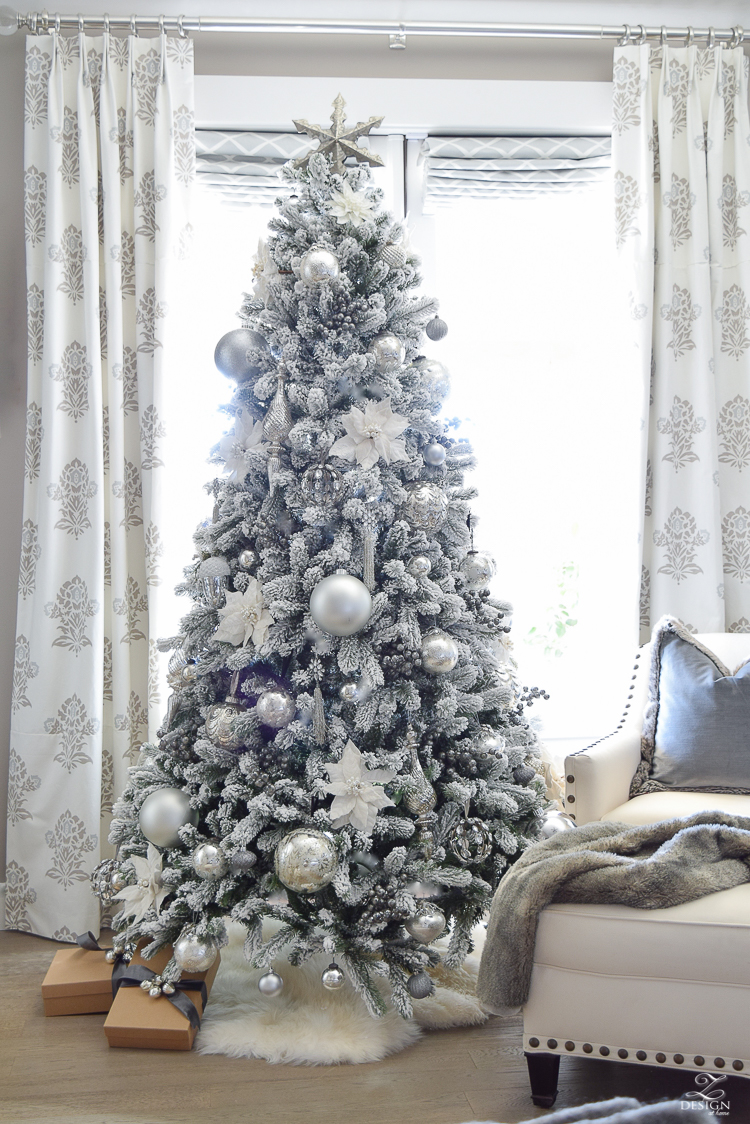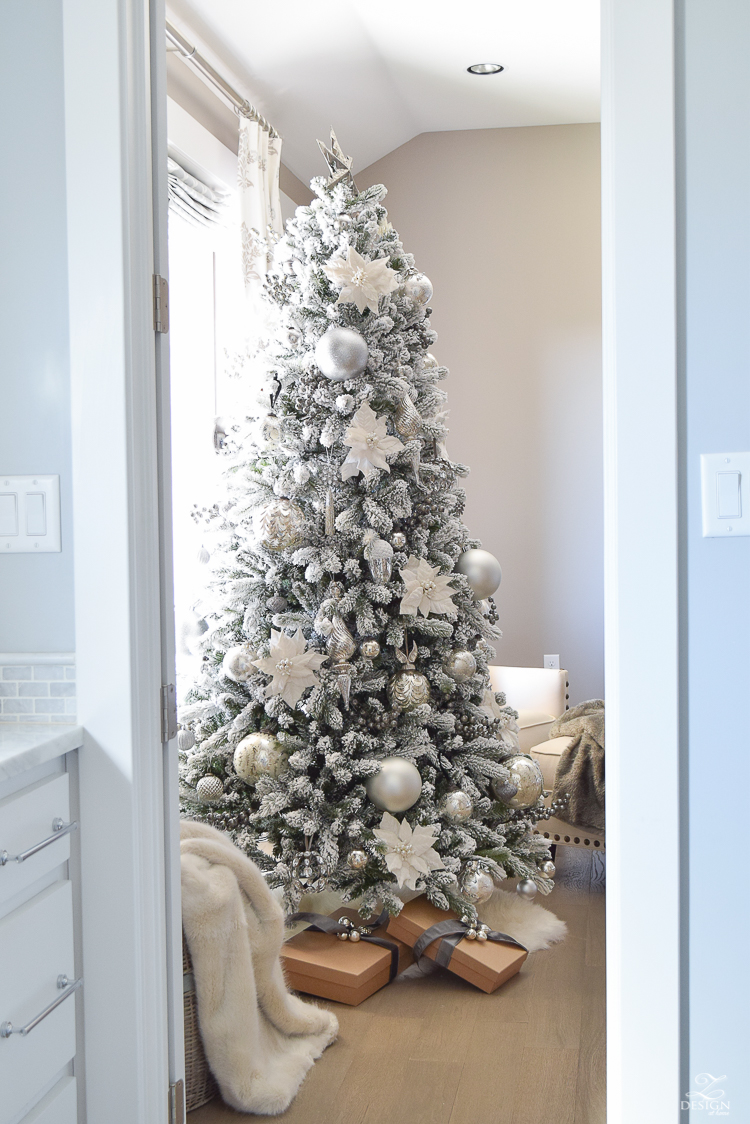 The sitting area was transformed into a cozy winter spot for reading a book or taking a nap with fur everything (pillows & throw here)!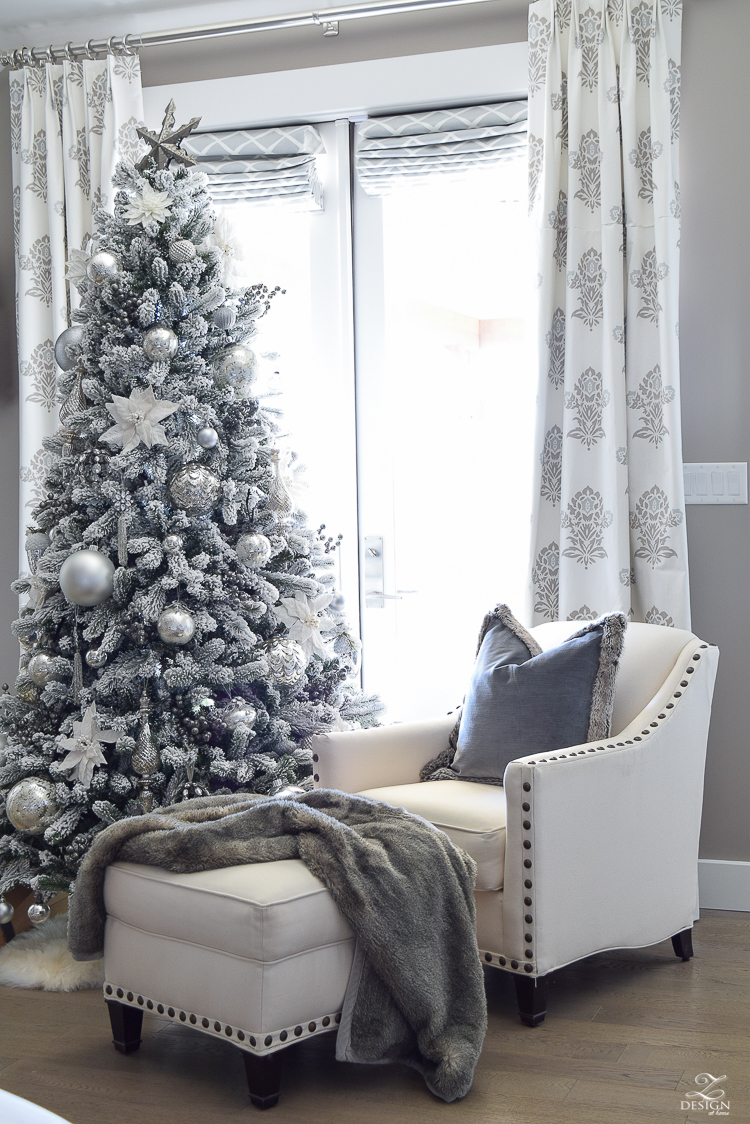 Some favorite details from last year…I simply used tiny ornaments and tied them onto the gray ribbon to create this look.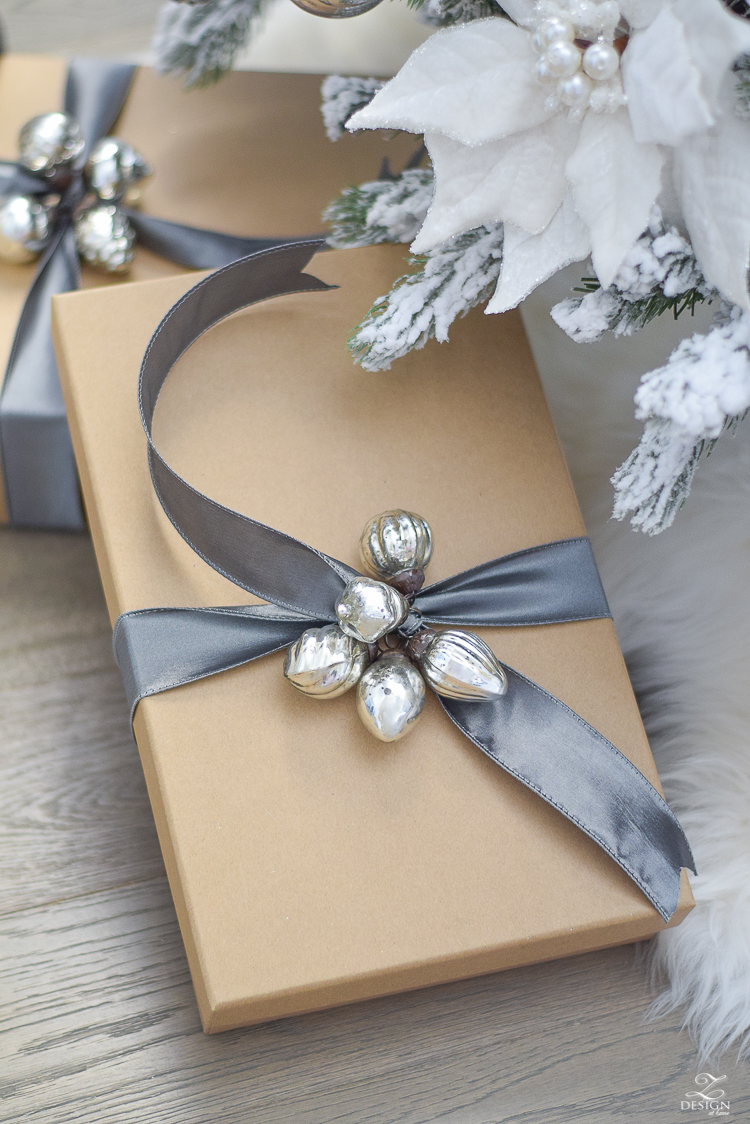 On the dresser I used those free clippings again along with a few other sentimental pieces.  The cute santa clause was given to me by a dear friend last year.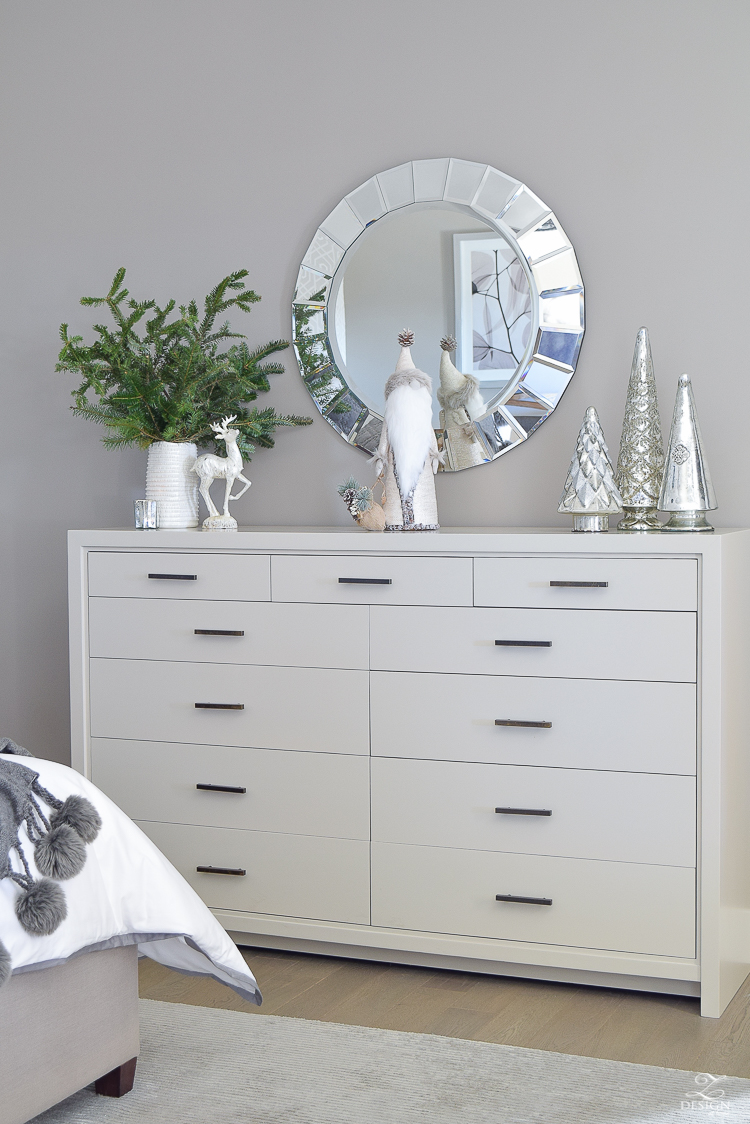 The bed side of the room received winter and Christmas updates as well.  I started with this quilt and shams that are still a favorite.  Also added a pop of color with a cranberry pillow and a rich, gray pom pom throw.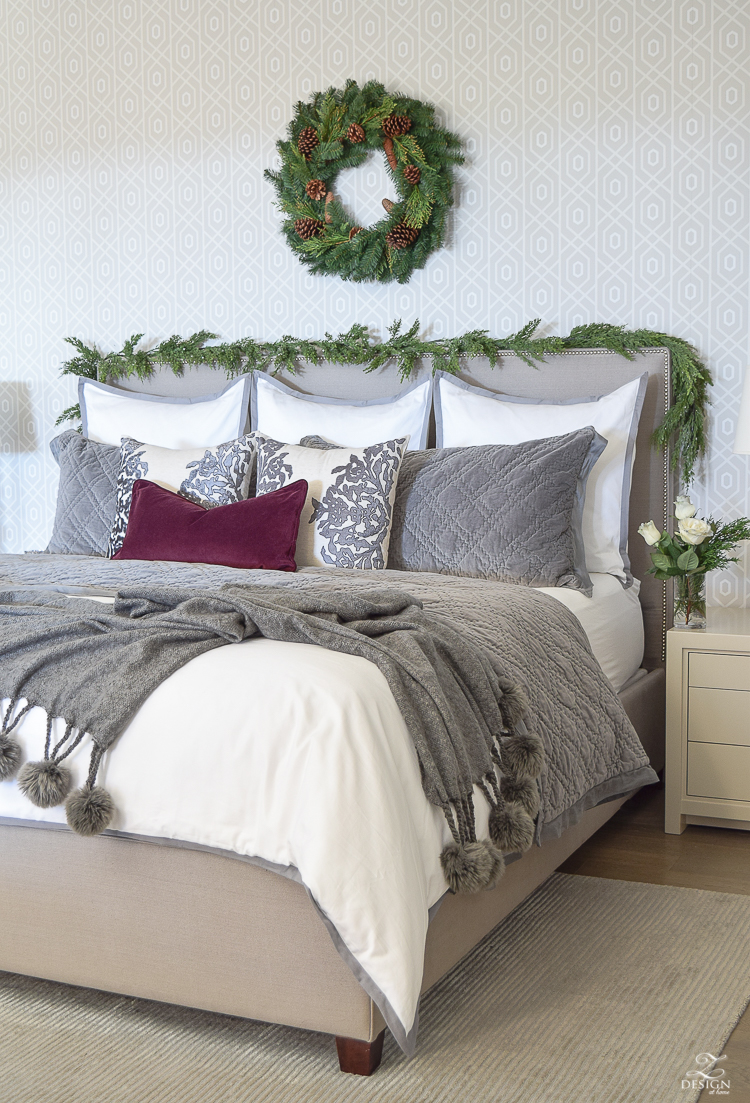 Added this wreath above the bed along some garland atop the headboard as well (similar garland).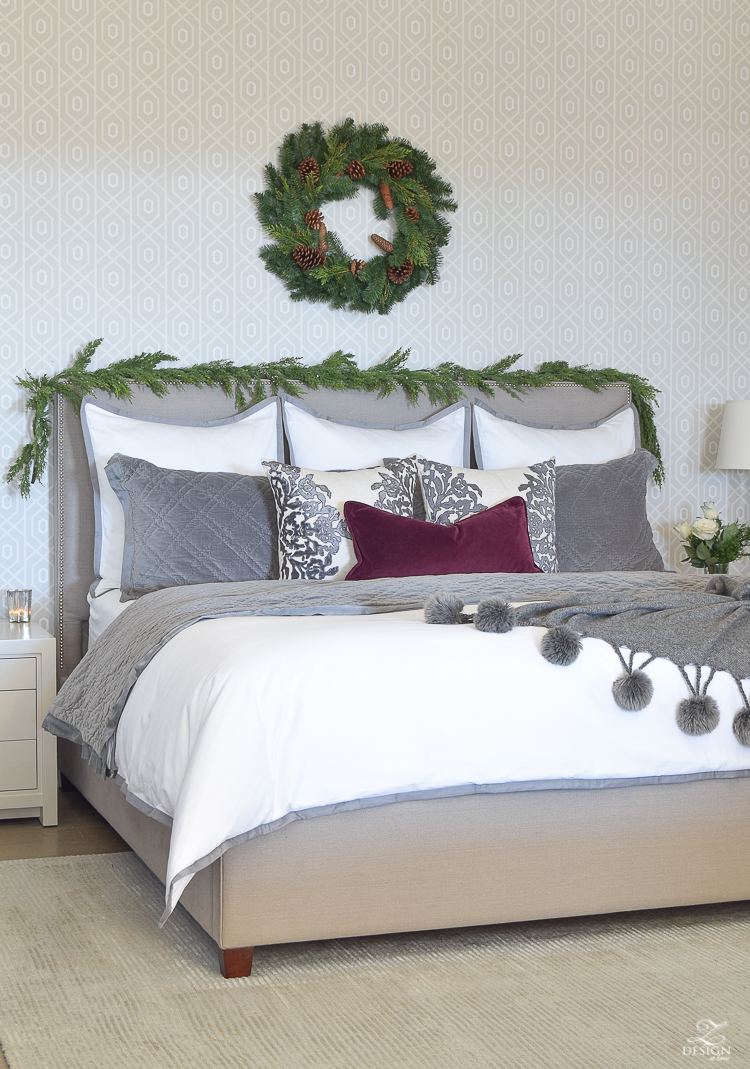 Moving on to the kitchen which was my shiny happy place to hang out last Christmas!  My favorite moment in here were the real poinsettias in the large bread bowl but there were lots of other little moments we enjoyed for the holiday as well.
Full kitchen tour can be found HERE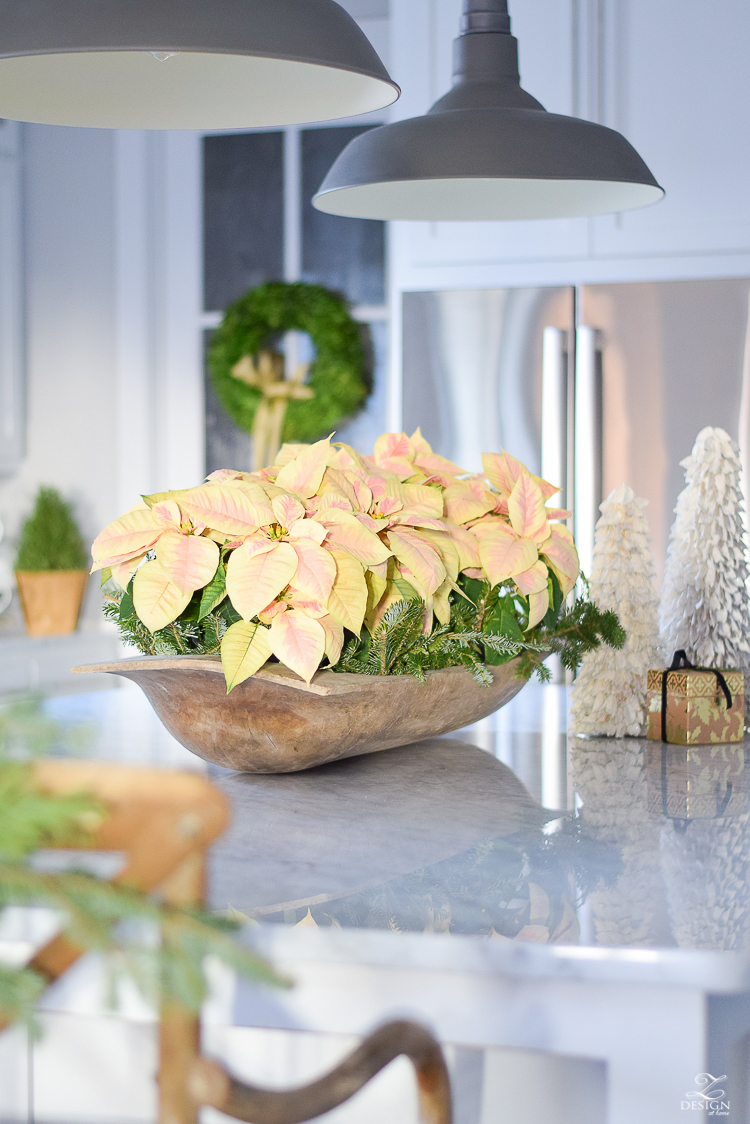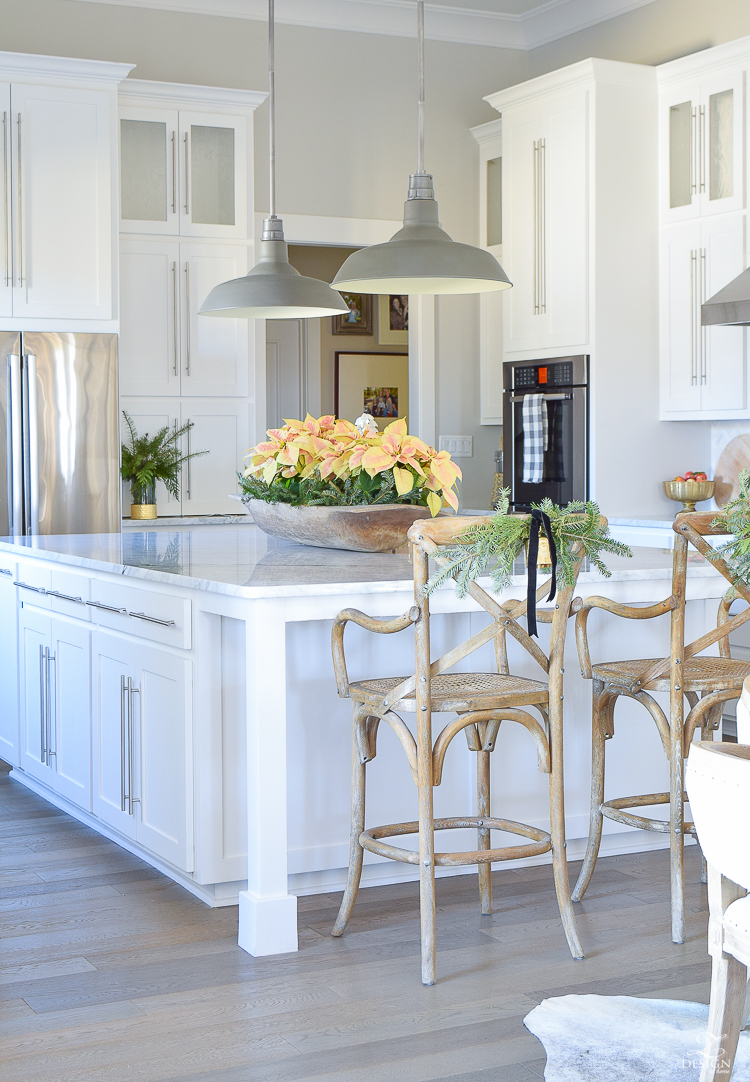 I had a lot of fun creating this chair swag.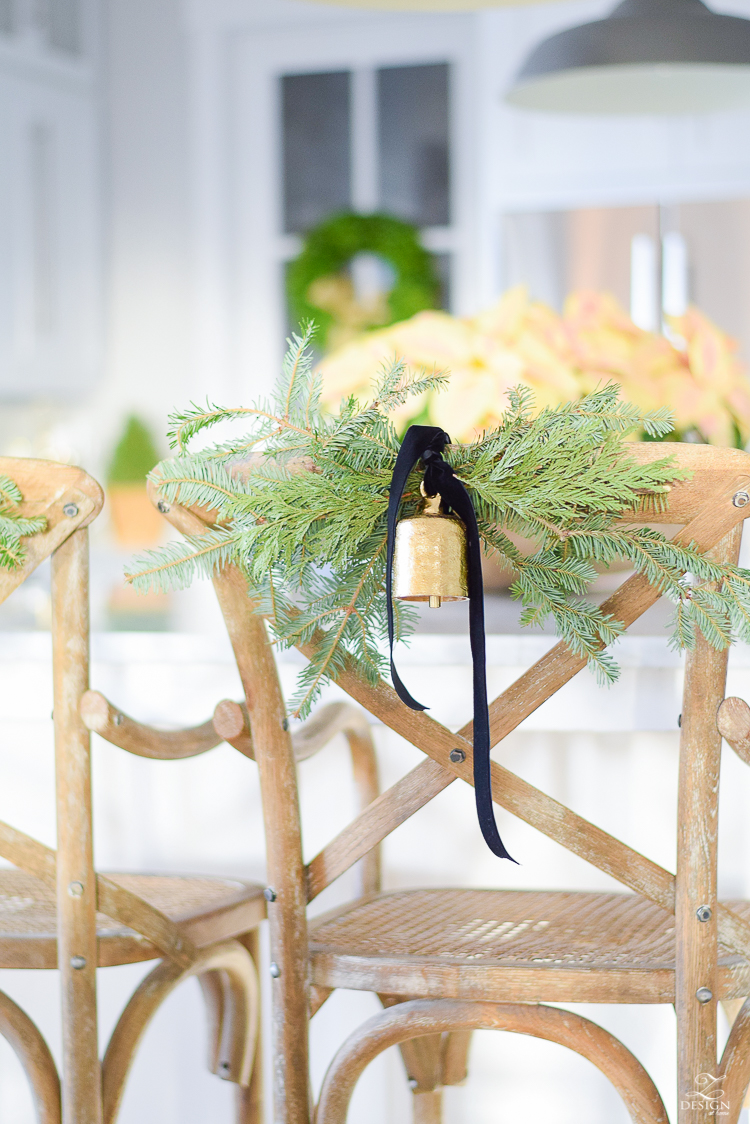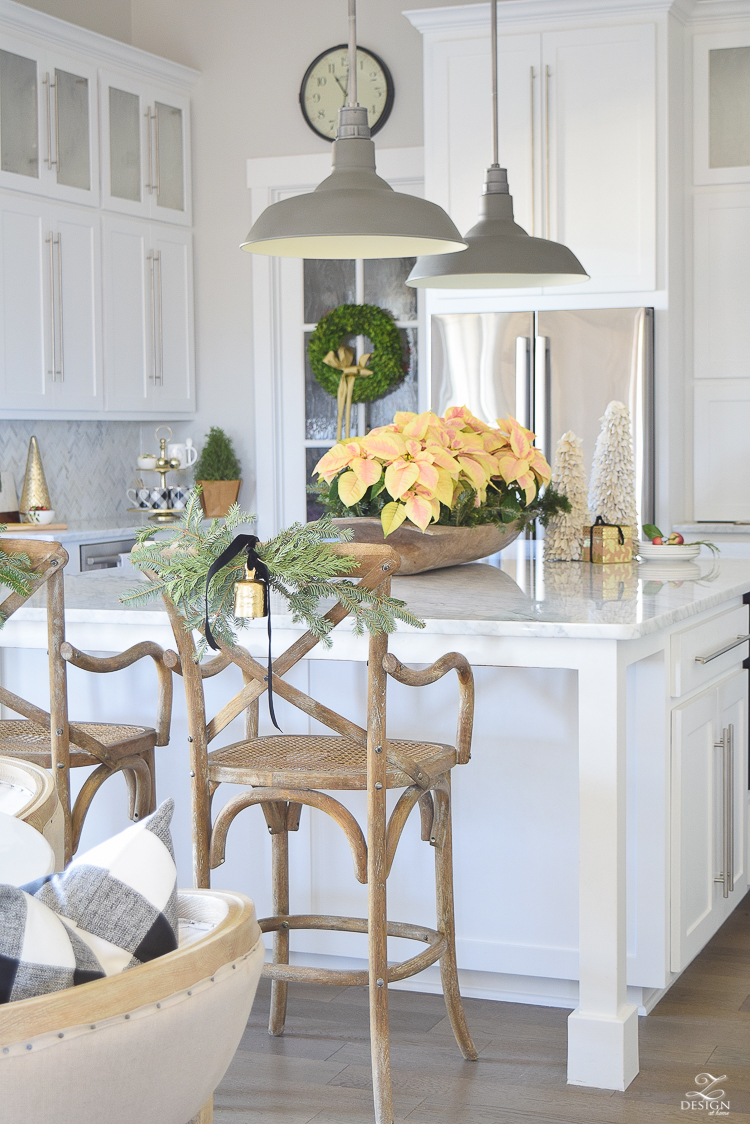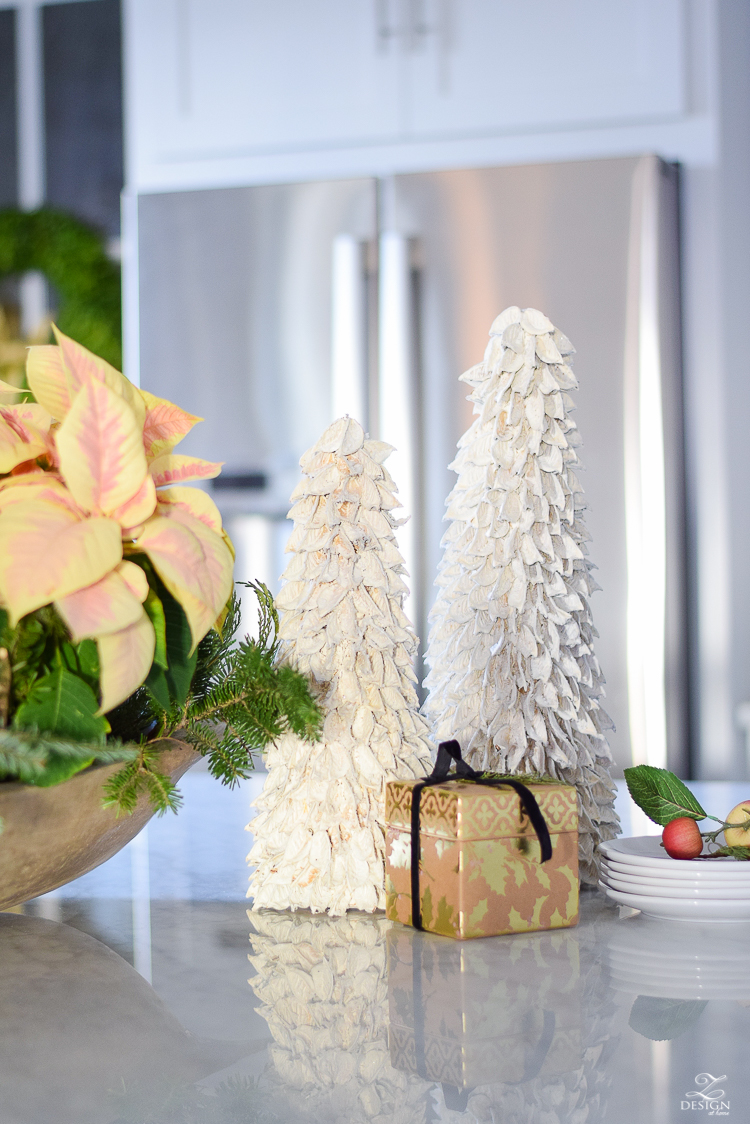 The buffalo check coffee cups were a favorite as well.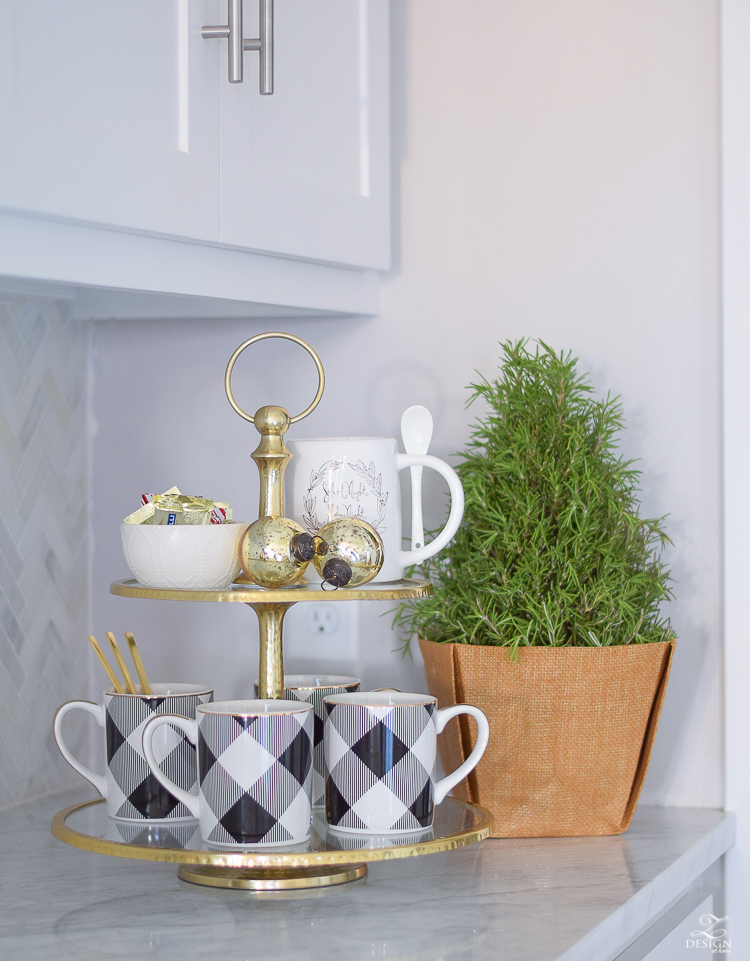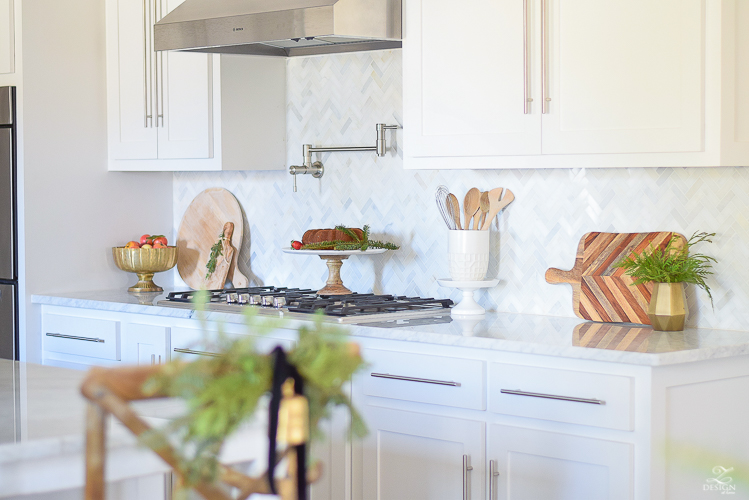 We added this shade right before the holidays and it turned out to be the perfect addition.  You can read all about it here in a full Christmas kitchen tour.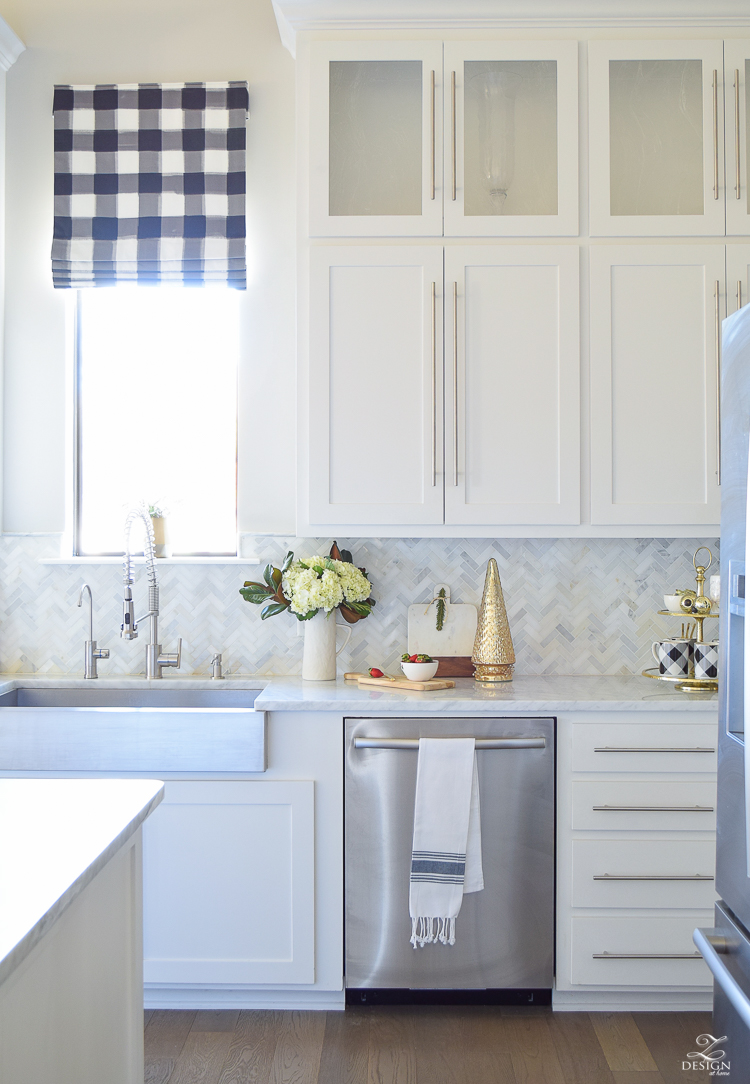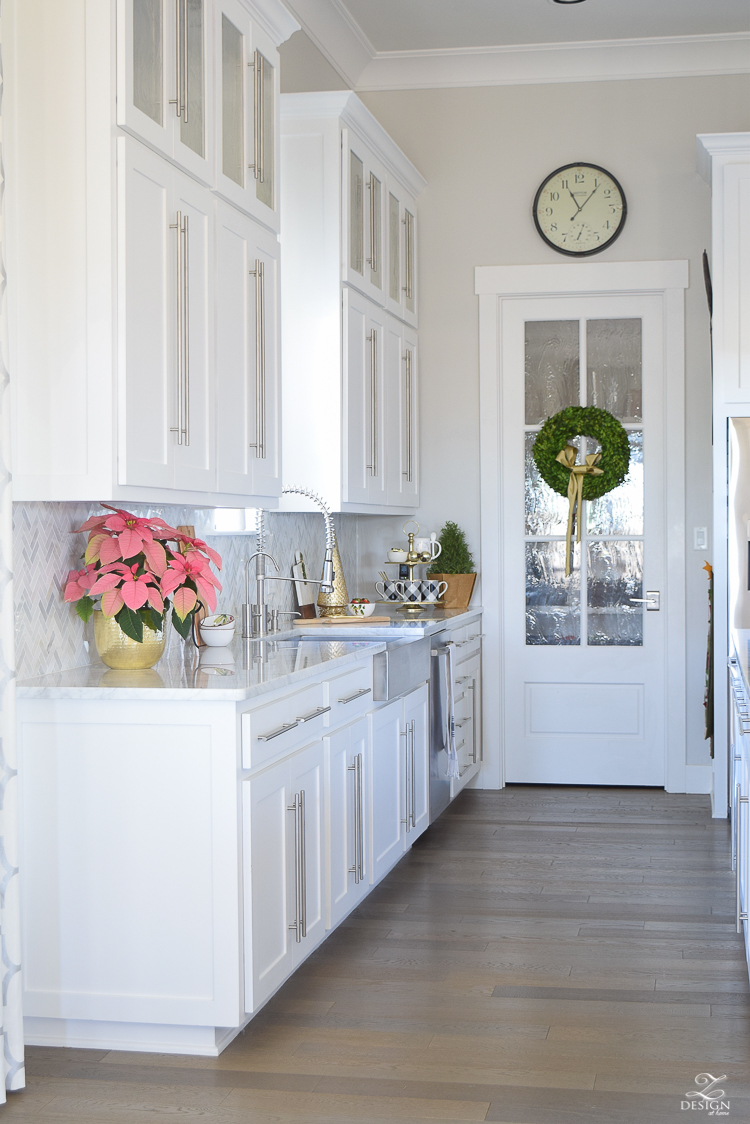 I hope you've enjoyed this year's recap of Christmas past!  It's truly the most wonderful time of year and I hope you'll come back next week and the following week for tours of the living room, dining space and bedroom of our temporary living quarters (get caught up on our new build here).  I'll leave you with an image of our tree from this year, that will have some tweaks coming soon:).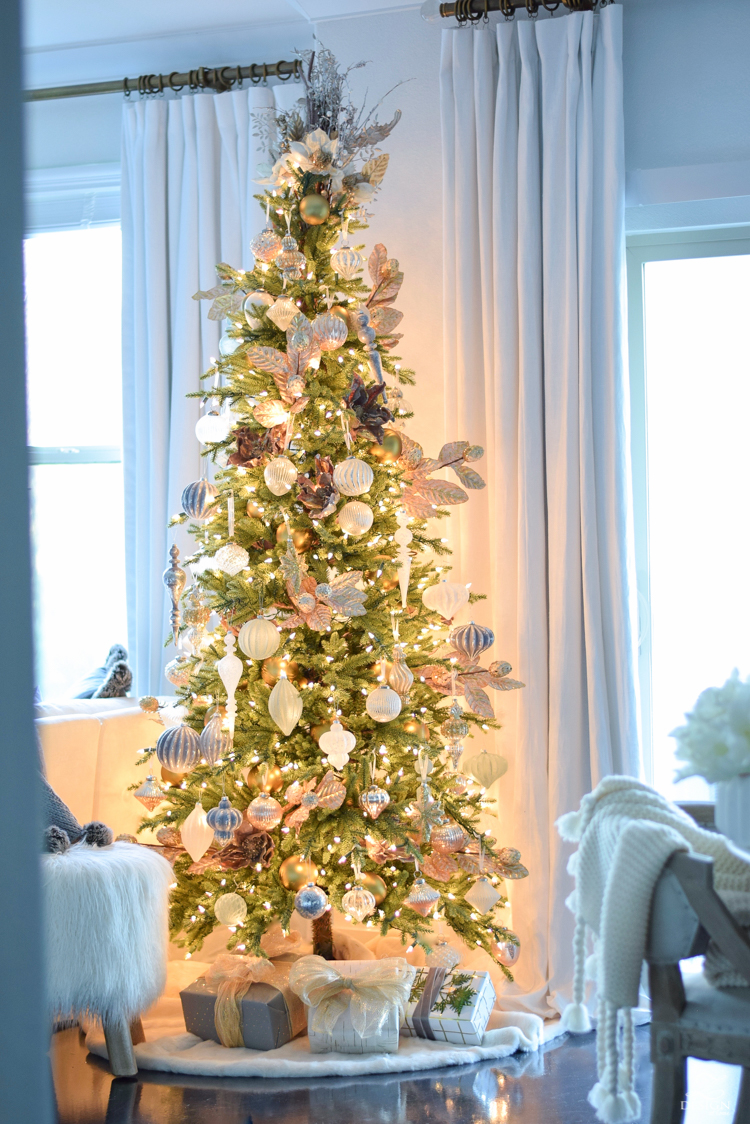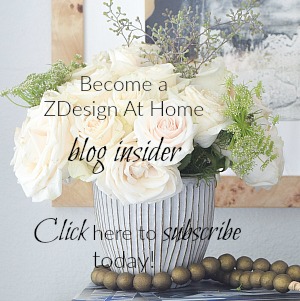 Dining Room

Living Room


Breakfast Area


Master Bedroom


Kitchen