Christmas In The Kitchen with ZDesign At Home
Hi Friends, Merry Christmas and welcome to Christmas in the Kitchen with ZDesign At Home!!  At this point Christmas is only a few days away and we've finally had a little time to slow down from all of the preparation and decorating to soak up the spirit of the season.  Christmas is very special to our family for many reasons but I talked about the main reason Christmas is important to us here in my Decked + Styled Holiday Tour where I shared our Christmas bedroom, just in case you missed it (I hope you'll get caught up if you did!).
We all know that the kitchen is where we spend the vast majority of our time during the holiday season prepping for the big day by doing anything from baking, to wrapping, to entertainment prep, etc so it would stand to reason that Christmas decor has to make an appearance in here as well, in fact there could be no better place as far as I'm concerned.  Additionally this year, I wanted to go a step farther and do a little holiday updating that will stick around well beyond Christmas by updating our faux roman shade in the kitchen since the previous one had such a spring/summer vibe.  I loved the fabric before but really needed something that felt a little more fall/winter in here for the season at hand.  Enter my friends at Drawn Company!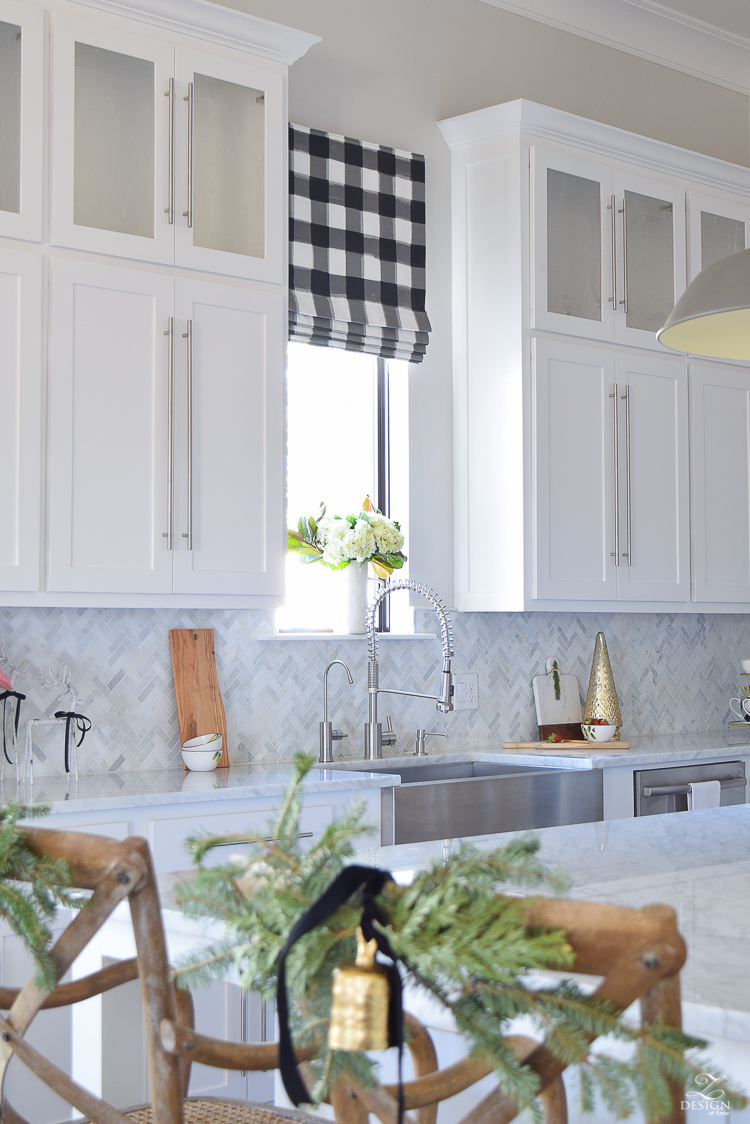 I knew I wanted to use the Caitlin Wilson buffalo check fabric so I ordered that separately and had it shipped directly to Julie and Jen at Drawn Company.  I have followed them for almost 2 years now on Instagram and have followed their Etsy shop as well and knew that the quality of their work was exactly what I was looking for to update my shade.  Isn't it just perfect here over my sink (if you would like to see the before, please go HERE for a full room tour of the kitchen)?!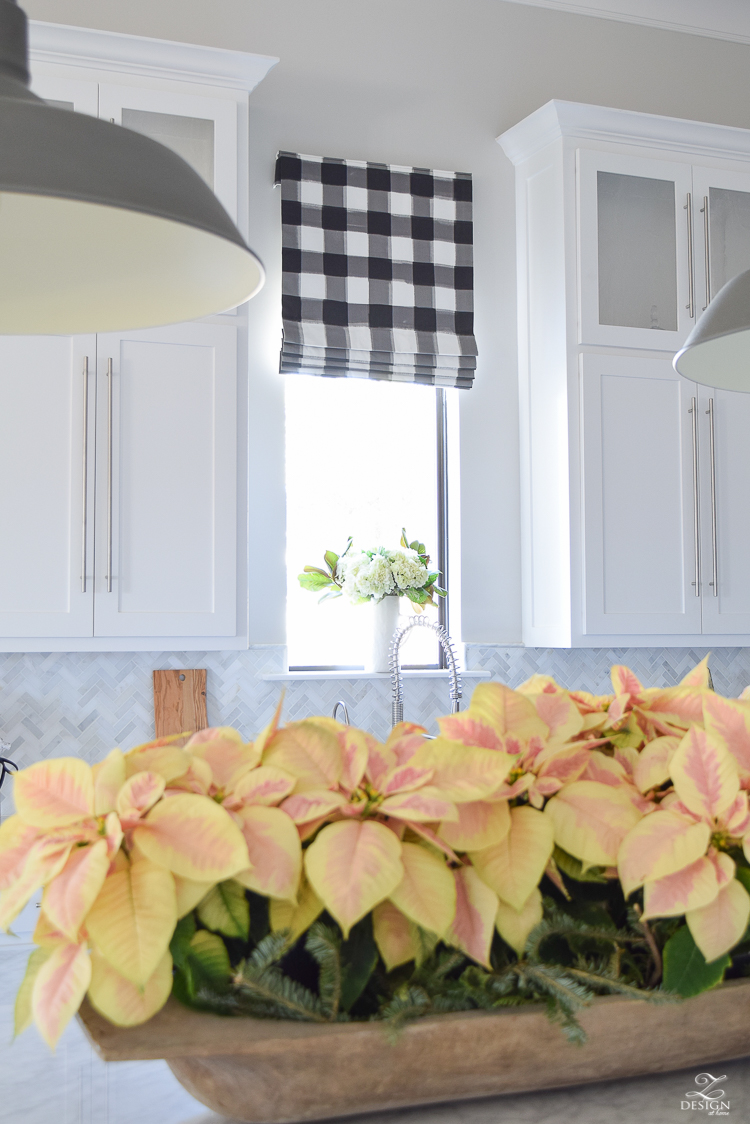 I needed very specific measurements for this window along with other details I wanted like a 3″ long return (A return is the distance your drapery hangs away from the wall) on the sides to hide the board holding the fabric and, four folds of fabric at the bottom included in my finished length, and Julie and Jen were able to accommodate everything I needed and then some to specifically fit my window.  I say "and then some" because even though I knew the quality of their workmanship would be fantastic before it arrived, of course I didn't know just how fantastic it would be until it showed up at my door step with details like self piping detail along the top of the shade and, thin, steel rods (versus a wooden dowel) sewn into the back of the lining for better stability.  These are the kinds of details that I am always looking for in custom drapery work that let me know no detail was left un-thought of.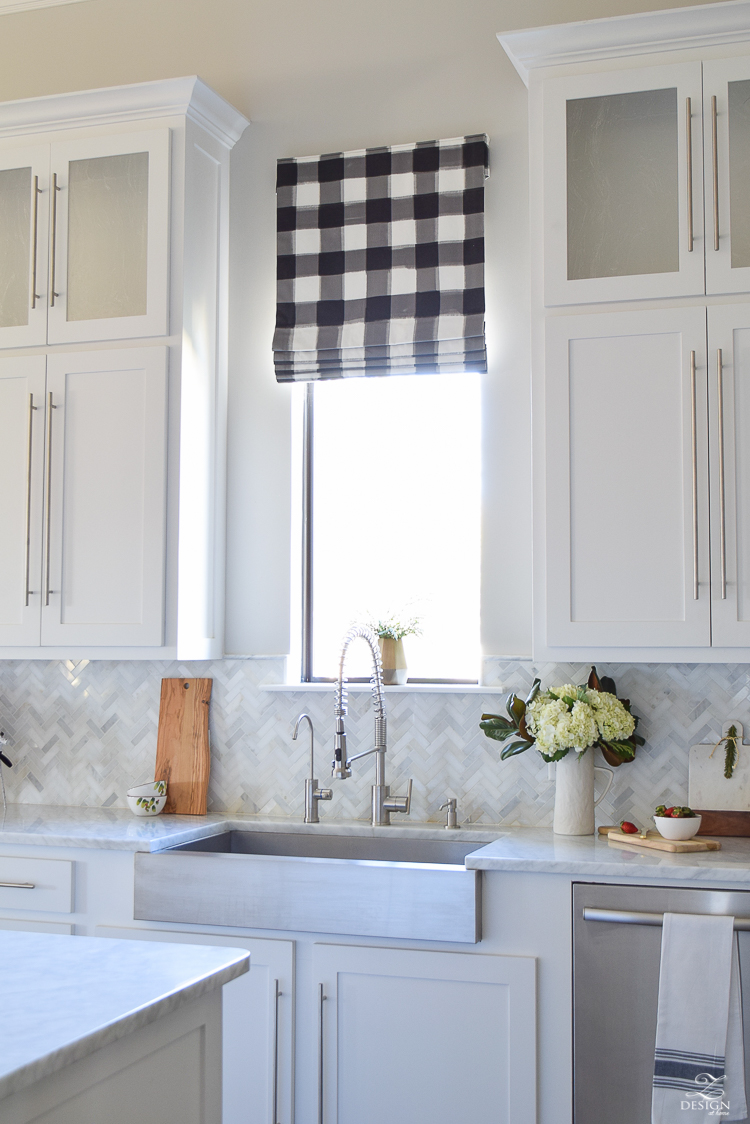 At Drawn Company their passion is to create unique, high quality window treatments using up-to-date design trends, fine fabrics and expert workmanship . Or as they like to say, windows with an attitude, and they certainly delivered on that for me!!  I couldn't be more happy with the quality craftsmanship in my window treatment and I will definitely use them again and again for projects in my home.  Here's one last look at my beautiful faux roman shade…it goes perfectly in this space, don't you think?!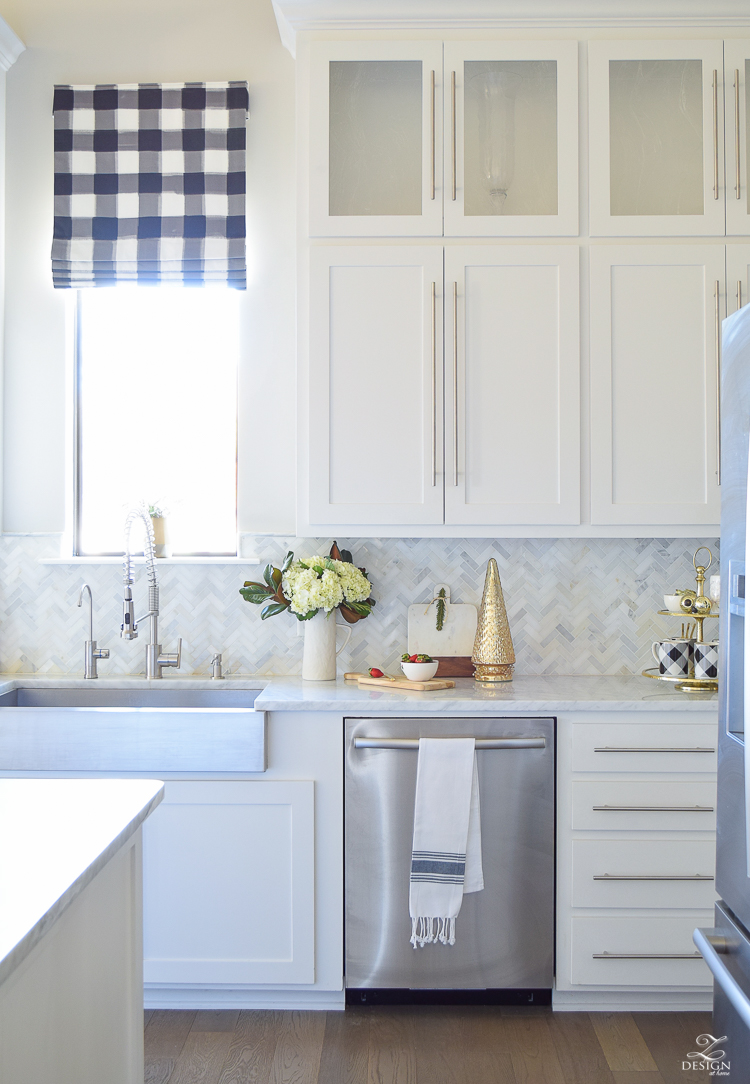 Shop this Kitchen Look

Julie and Jen offer some fabrics in their shop or you can purchase your own fabric and send it to them as I mentioned above to create your own custom shade.  Additionally, they do panels and pillows that are all custom to your specs.  If you need help designing something they can assist with that as well and you can find more info here about that process by scrolling to the bottom after clicking over.  The next time you are looking to dress the windows of a room in your home I hope you will consider their services as I know you will not be disappointed.  I have some exciting things coming up in 2017 that I will be using Drawn Company for again since I know I can trust the quality of their craftsmanship again and again.

Now that you've got the low down on my darling window treatment in here, let's get on to the rest of Christmas in the kitchen at my home!  For each season (and sometimes daily) I like to change up my counter top decor so I'll keep the gabbing to a minimum and mostly share what changes I've made for the holiday through photos.  Merry Christmas and enjoy!
I love the mix of hydrangeas and magnolia stems from our backyard (with a side of cedar) that make for a light and airy Christmas bouquet…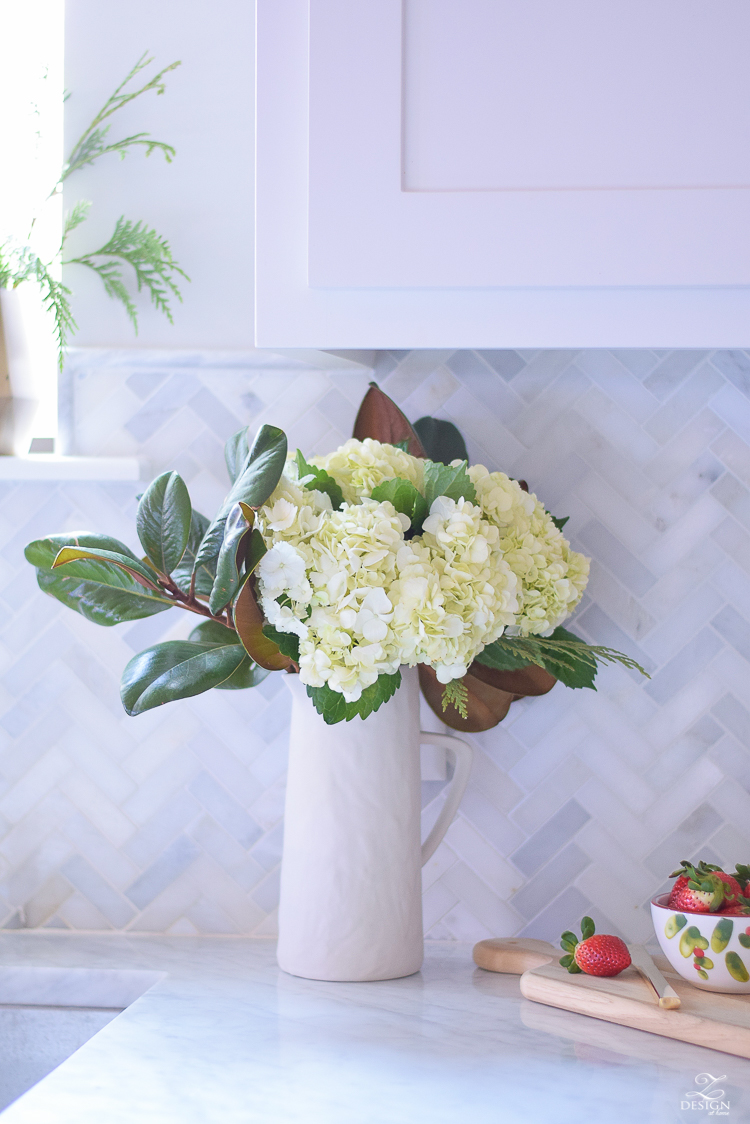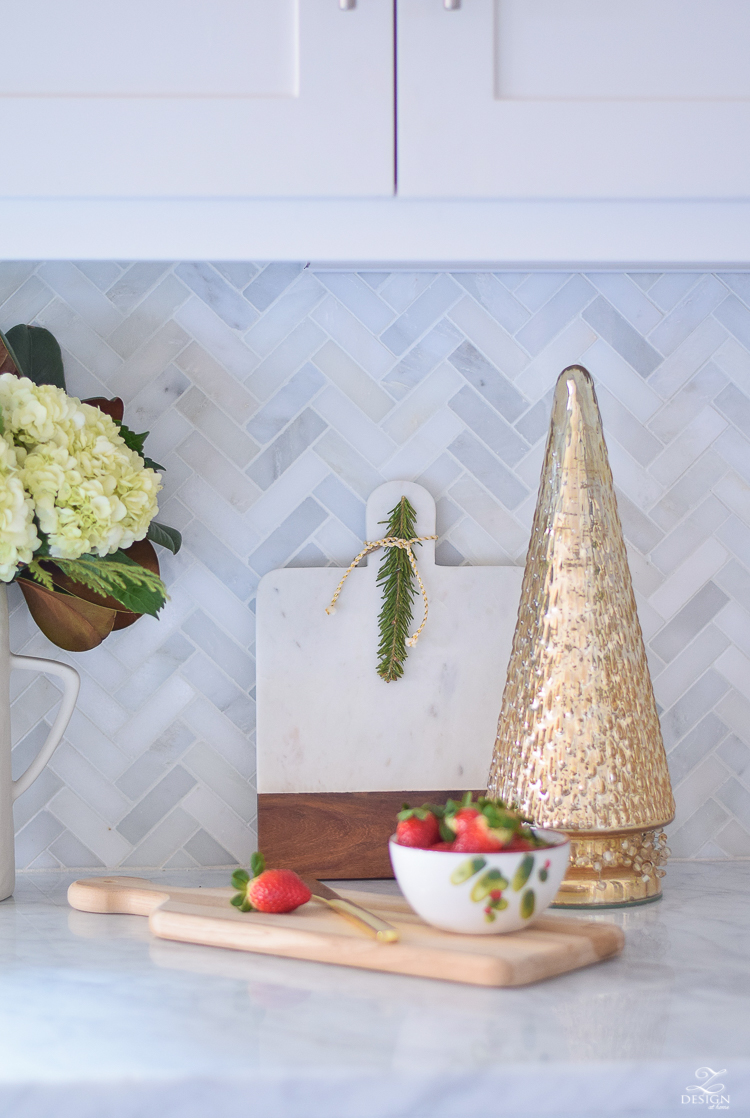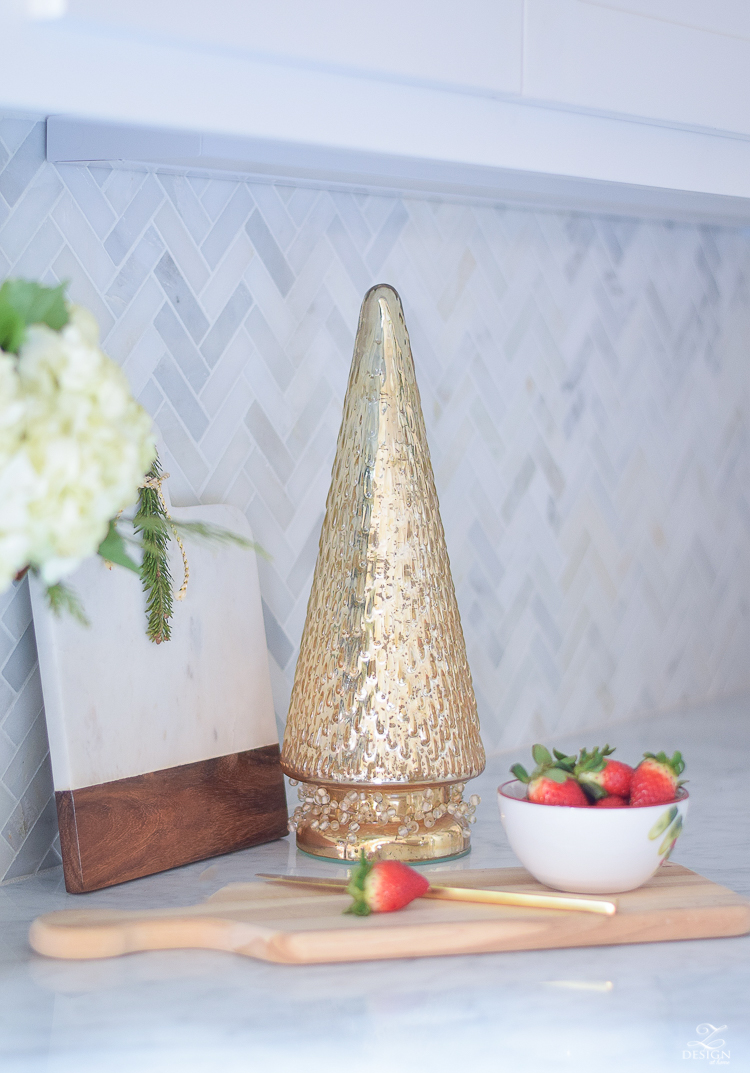 I just fell head over heals for these buffalo check coffee mugs with gold trim!!  I found mine at HomeGoods but if you aren't able to find some there I've sourced some similar ones here, here & here!  I also love using this brass and glass tiered tray around the house for different projects as well (you can see here & here where I used it for other projects)…it's so versatile and can go in any space.  Similar items here & here.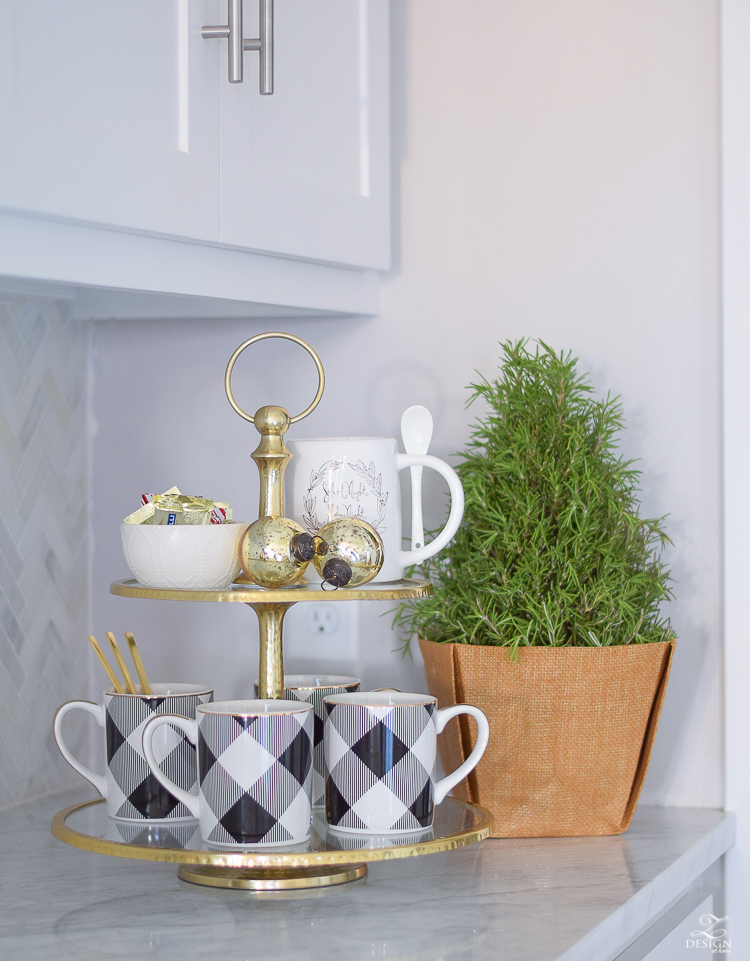 Shop this Accessory Look

A gold hammered ice bucket was used as a pretty pot to hold a pink poinsettia.  I love using things for purposes other than what they were intended for as this is part of how and why decorating can be so fun for me!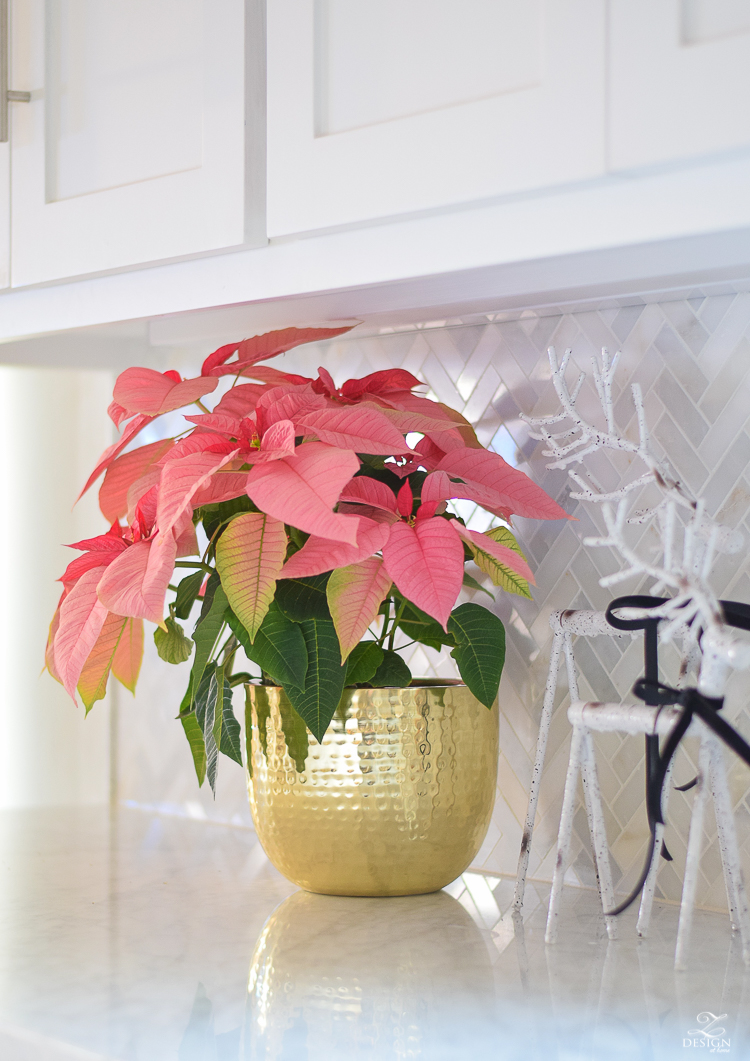 Simple black velvet ribbon was tied around the necks of my little white reindeer.  I also used the same ribbon on some of my holiday gift wrap this year that you can see more of in my Holiday Home Showcase Tour found HERE.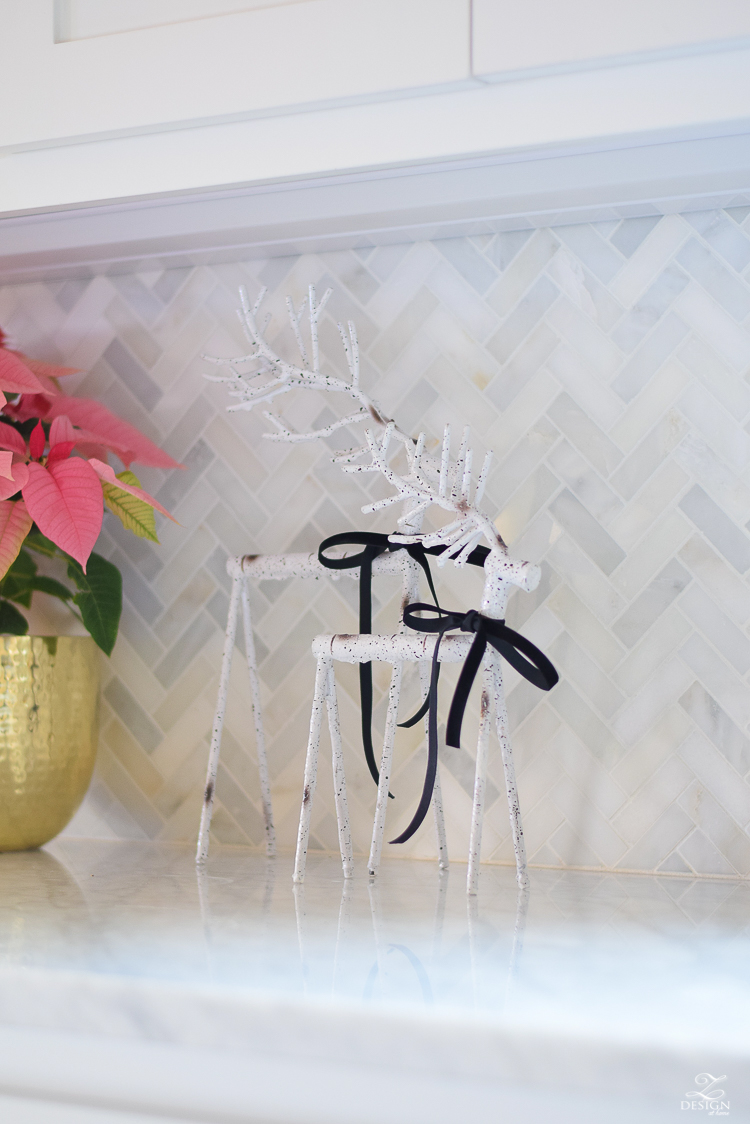 On the other side of the kitchen you'll see my Nana's yummy banana nut bread, along with some accents of spruce and cedar, and some favorite brass items and cutting boards that were used to warm up the all white counter tops and back splash.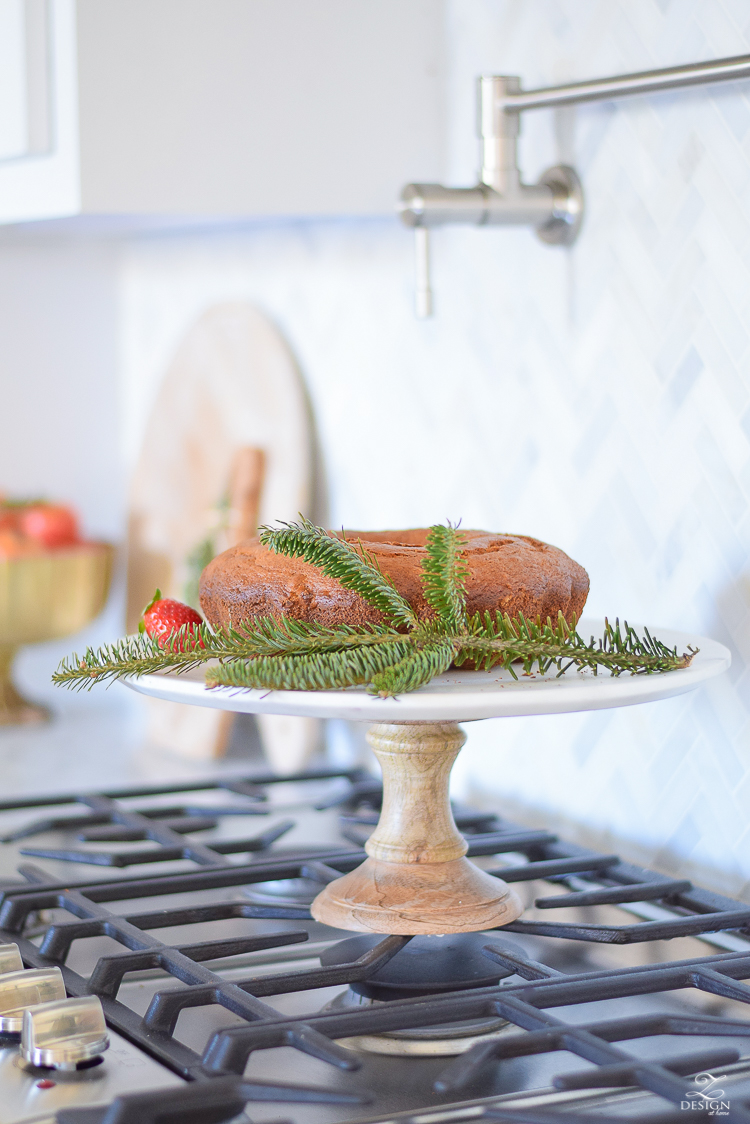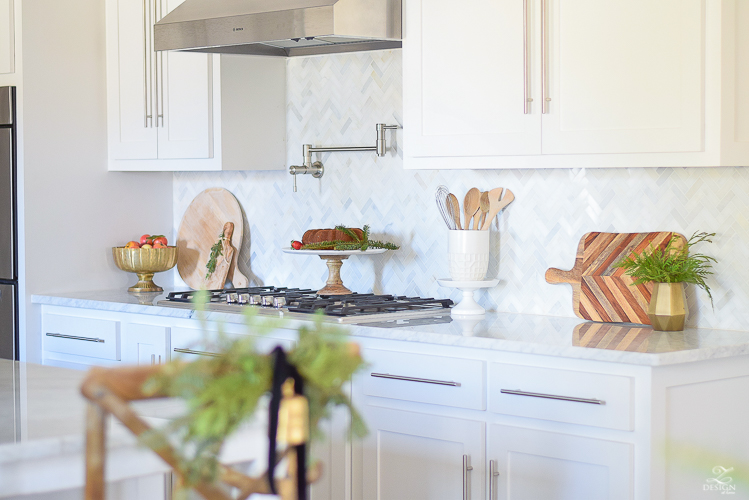 You may have noticed in the previous photo that I dressed up the back of our barstools with some fresh greenery and the cutest little gold bells I've ever seen (found here)!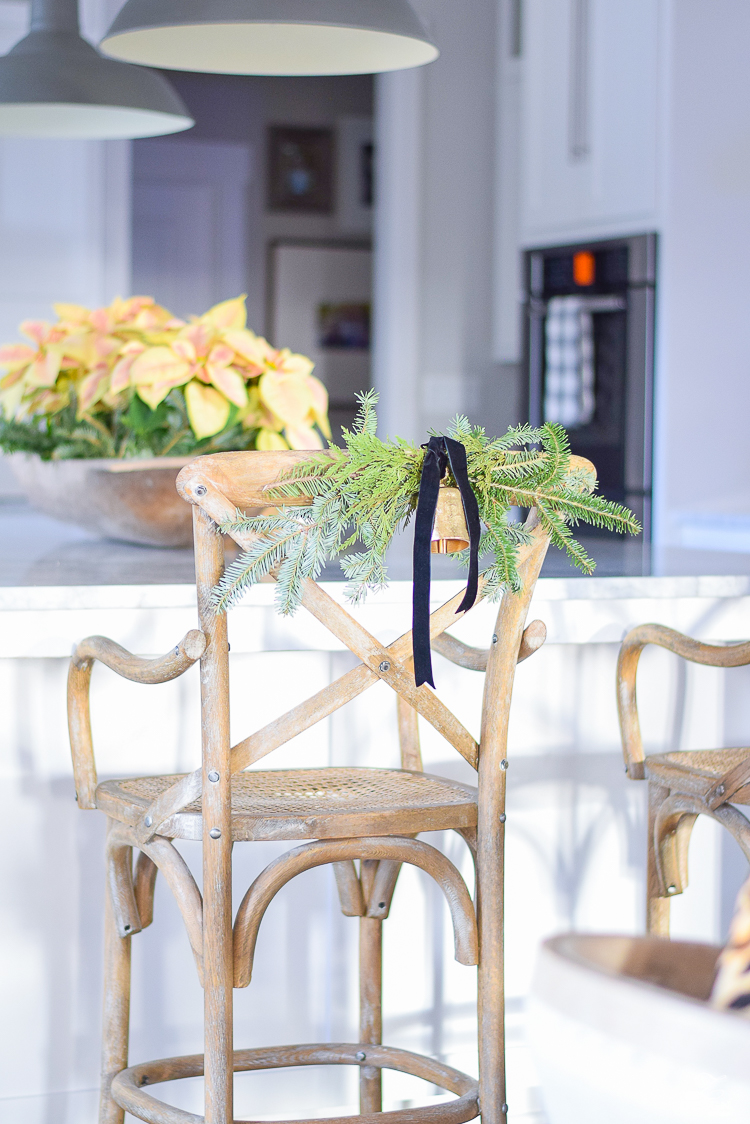 This was such a fun DIY and I'm planning to do a more detailed tutorial on how I created this look in the not so distant future but let's just say there were a few zip ties involved since the weight of the greenery and bell combined were a bit too much to be held up with just ribbon.  The black ribbon was the perfect compliment to the greenery and gold bell too.  But for now, here are a few simple steps on how you can recreate this look if you're looking for something fun and pretty that will dress up your space for holiday gatherings this year:
Use a combination of fir and cedar greenery and pull a zip tie tight around the center to create your swag
Then use another zip tie in the center to attach it to the back of your chair or barstool
Lastly, loop your ribbon through the bell and tie it around the center to hide your zip ties….it's just that simple!
Enjoy your festive chair swag!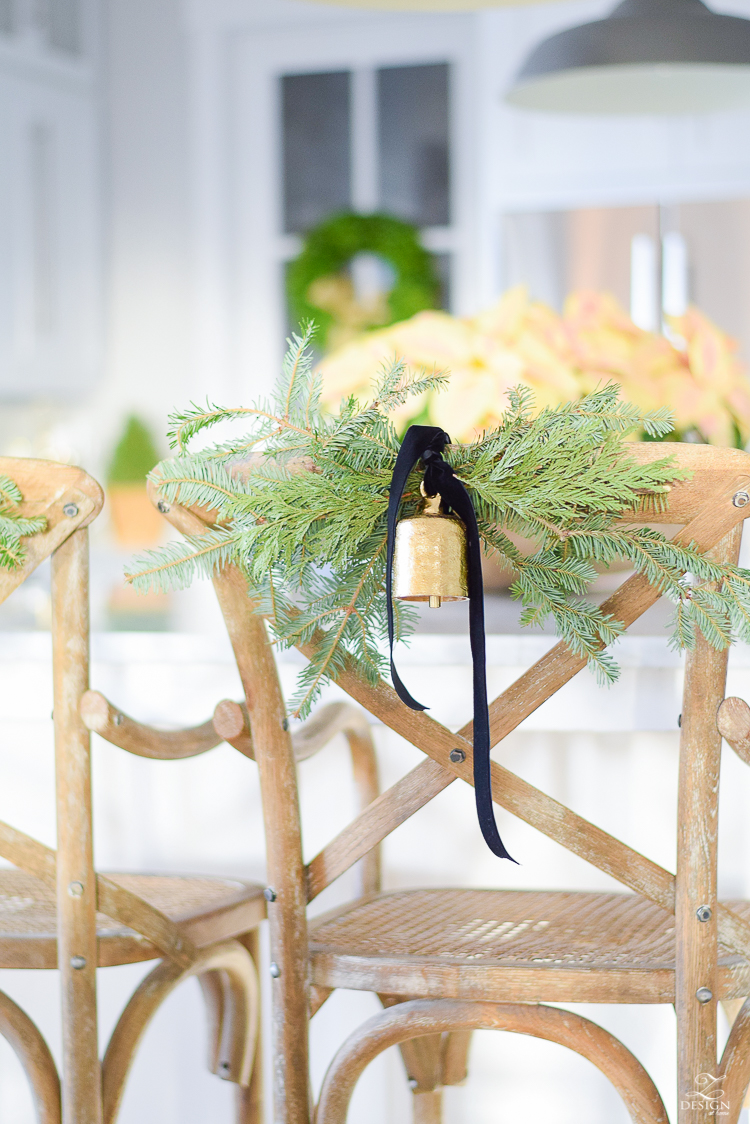 Shop the Look

Another fun yet easy project was filling up my large dough bowl with these gorgeous pink and creamy-yellow poinsettias.  I kept them in the pots they came in and simply added some fresh greenery I picked up for free at Lowe's (I talked more about that here) around the bottom to hide the ugly plastic pots.  The greenery also gives it that added Christmas touch!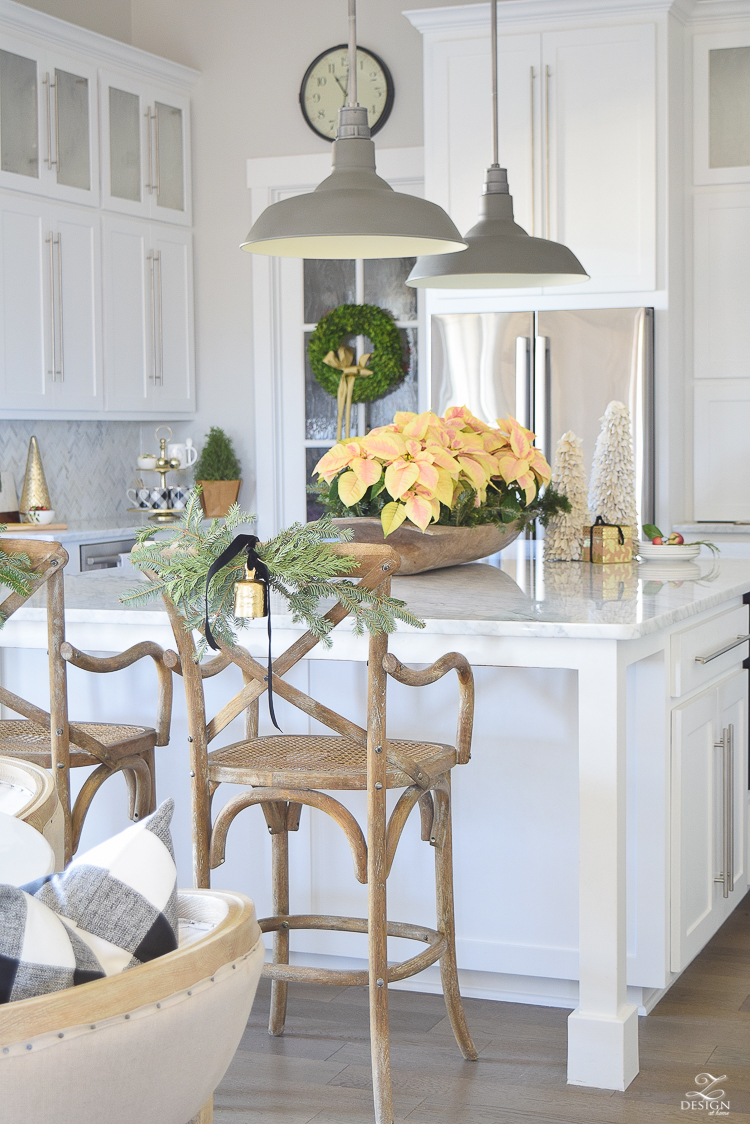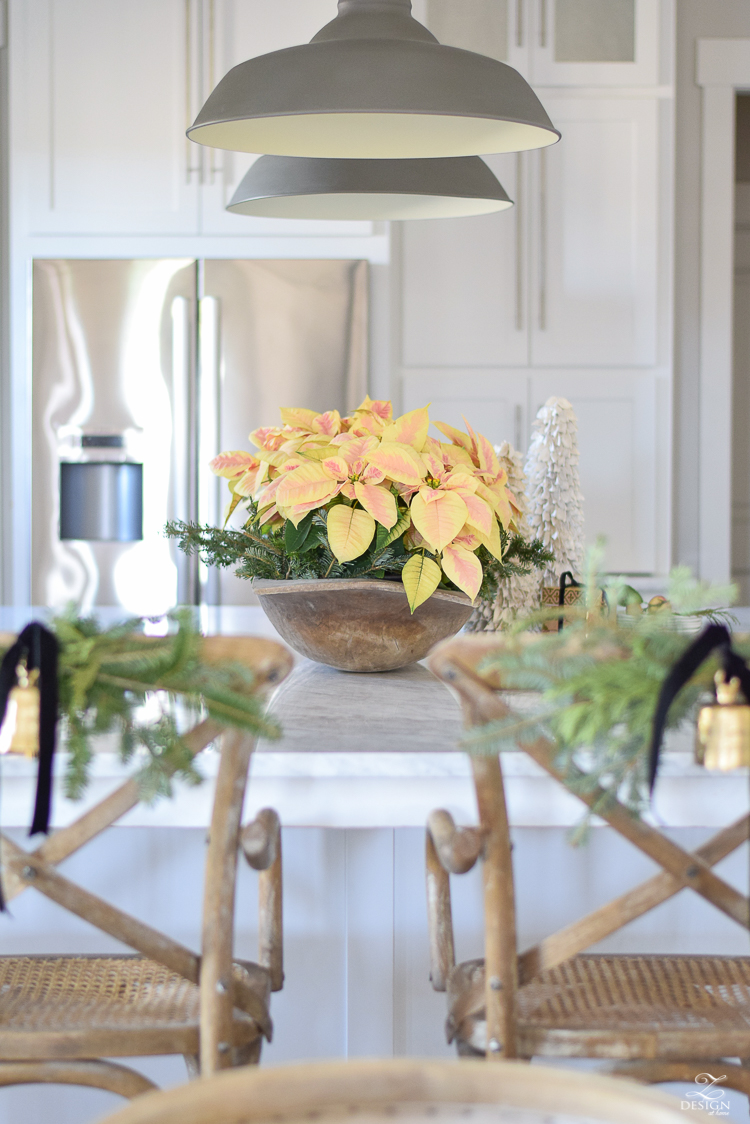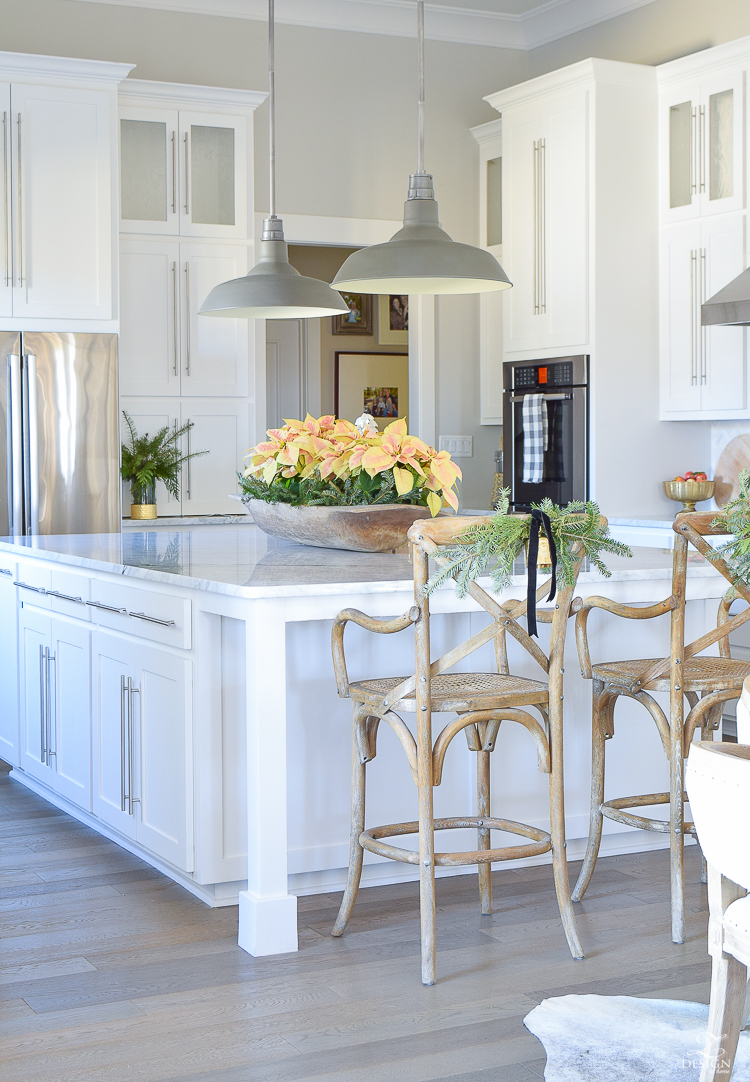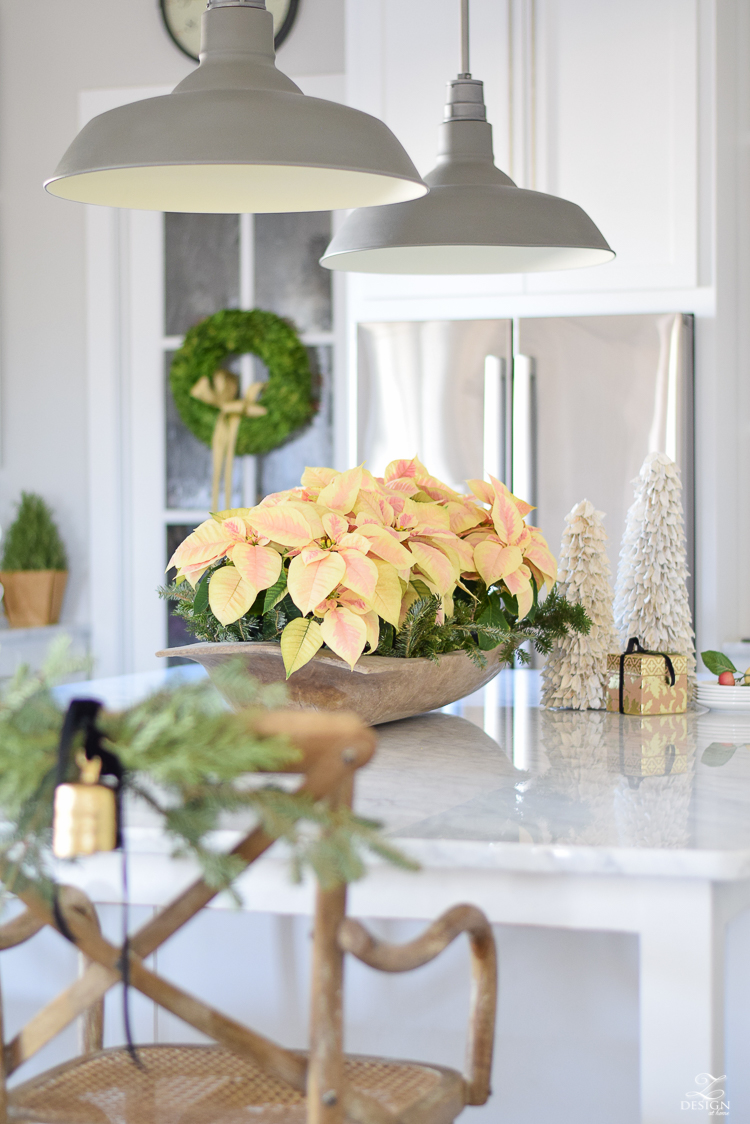 This simple boxwood wreath with a gold bow fashioned with Sugar Paper ribbon was added to the pantry door.  Now I'm afraid I will want to keep it here on end since I love the pop of greenery it adds to the space!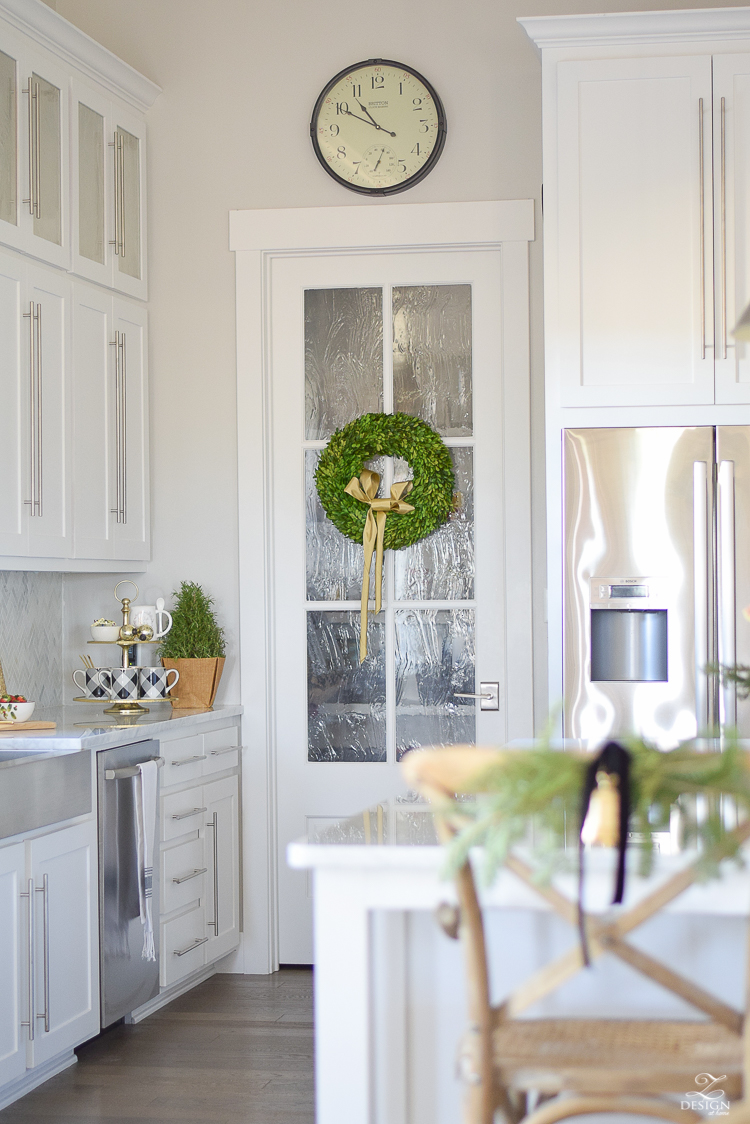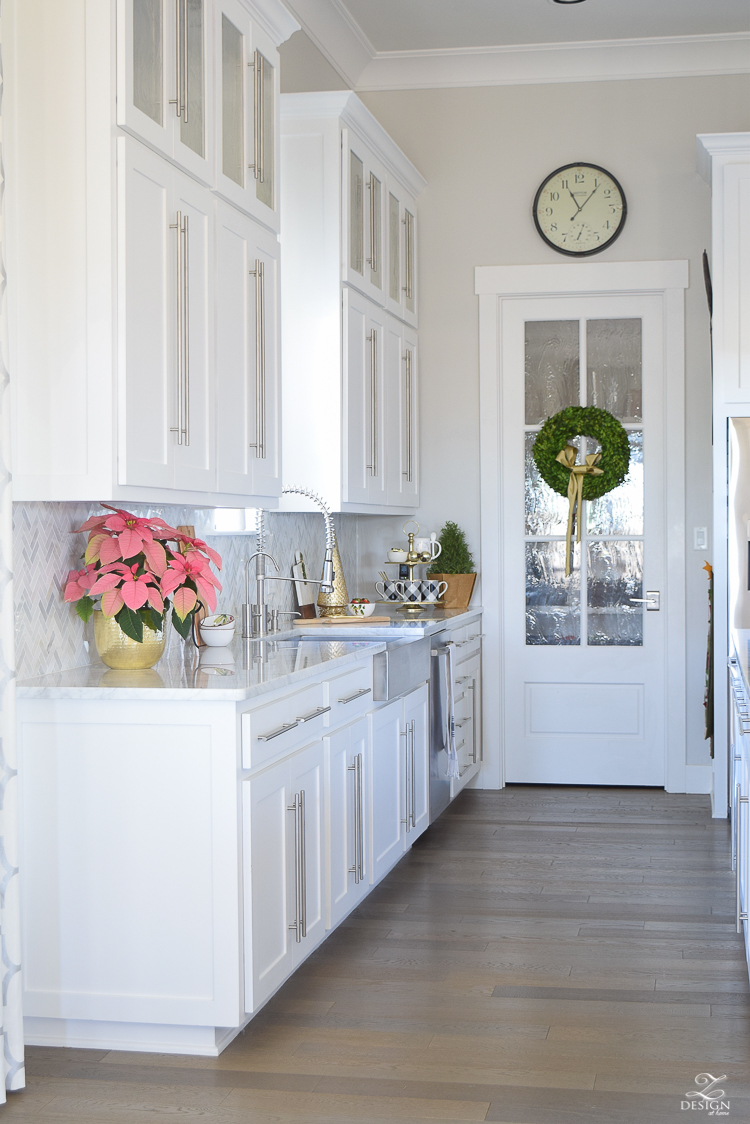 Shop the Look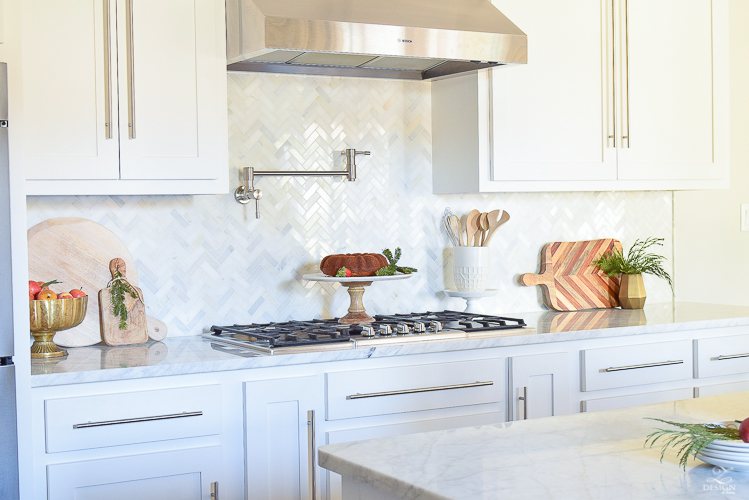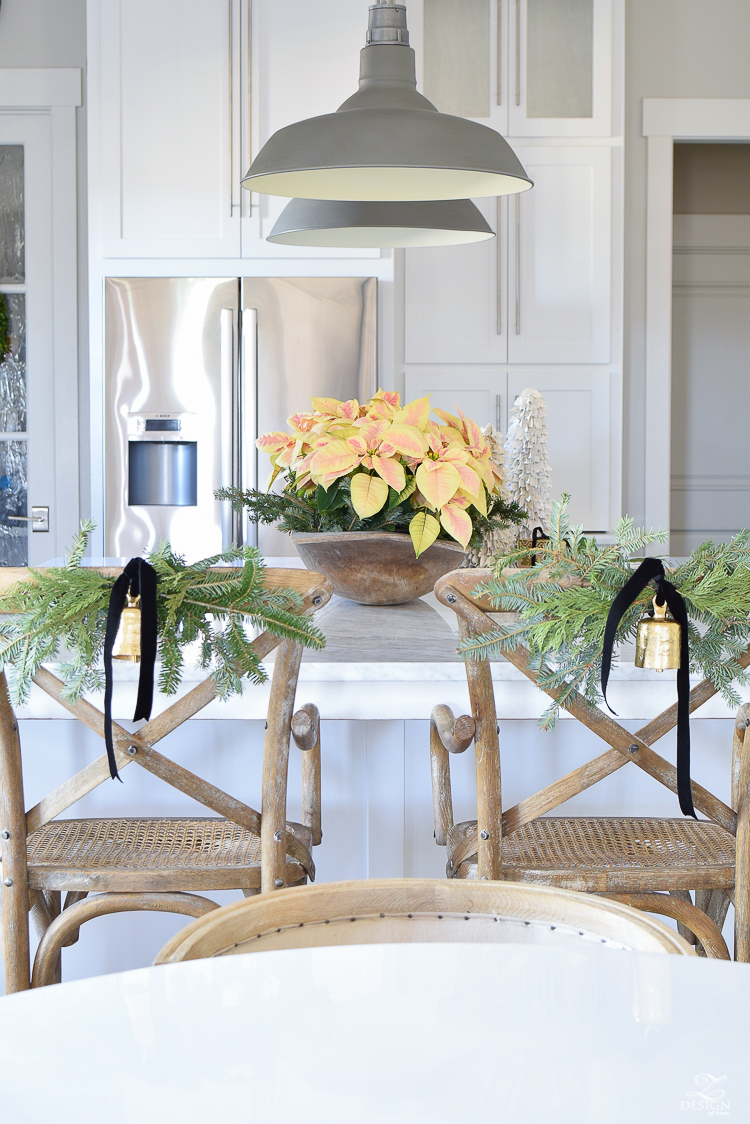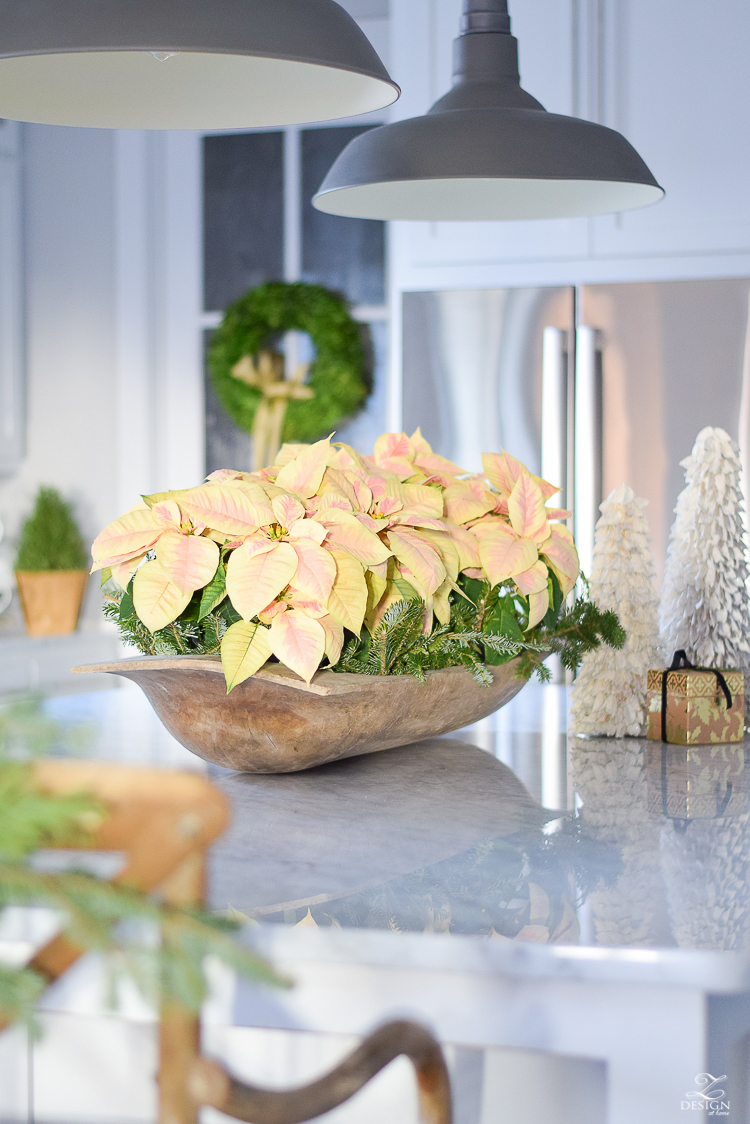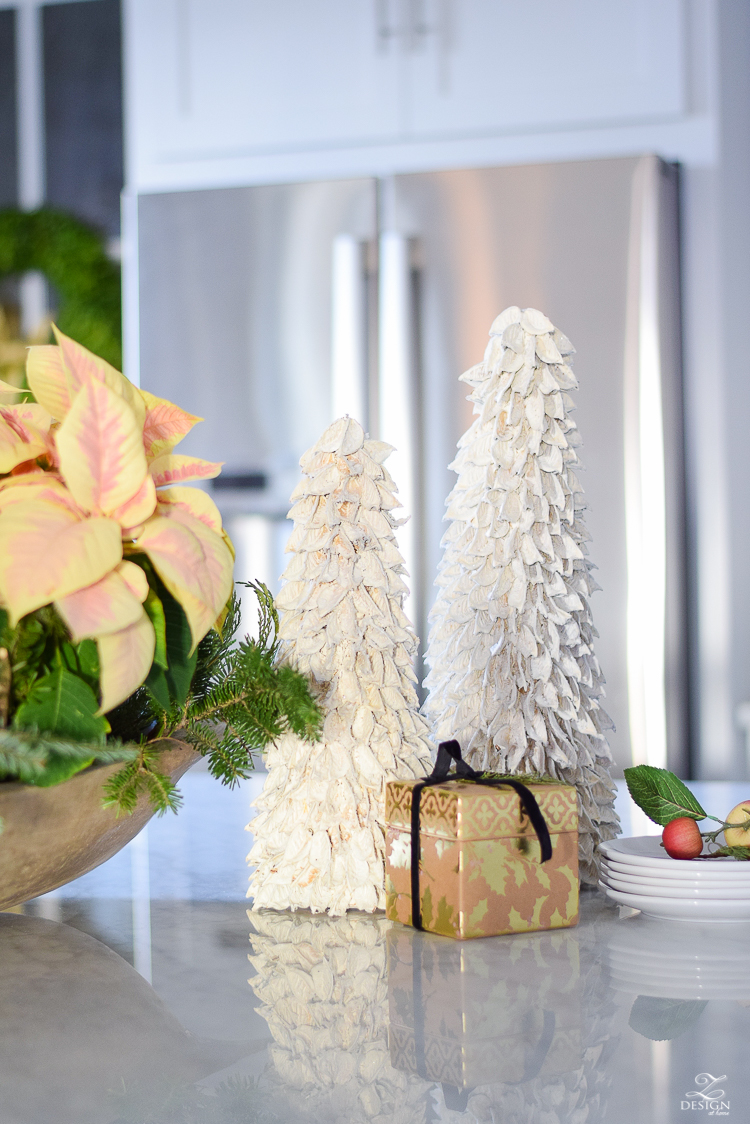 We've been enjoying our festive kitchen for several days now and I hope you've enjoyed it too!  I also hope that you'll visit my friends over at Drawn Company for your next window treatment project and please feel free to leave any questions that you might have for me below in the comments section as I am always happy to help!!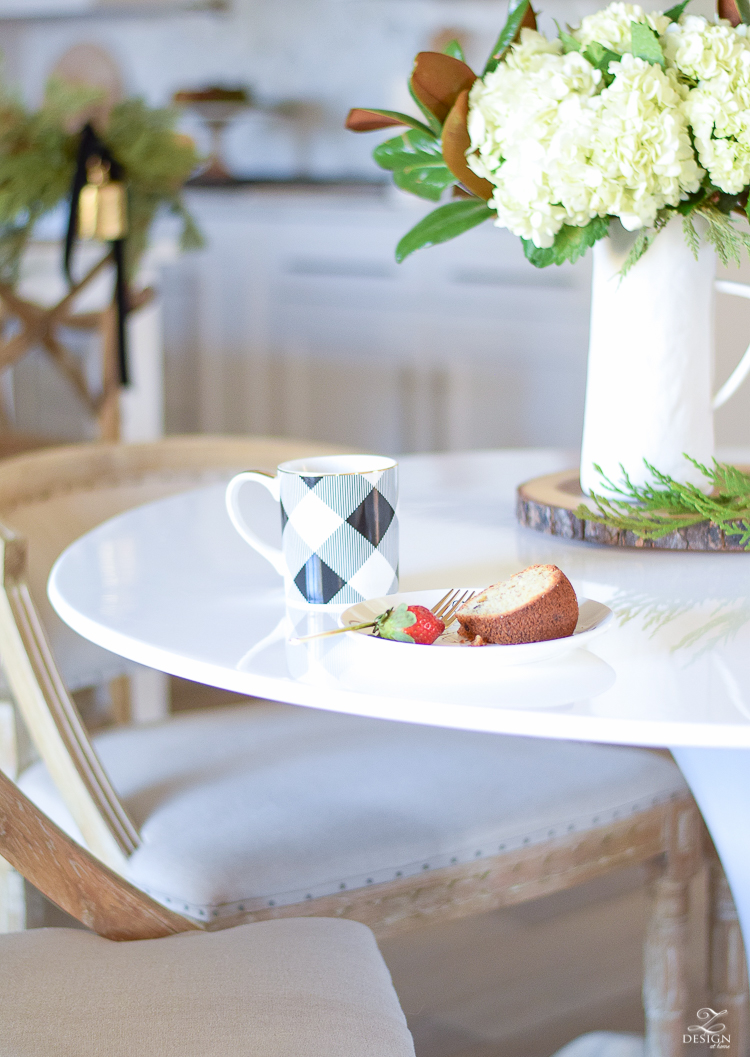 Thank you again for joining me for Christmas in the Kitchen with ZDesign At Home.  If you are new here I hope you'll sign up for my weekly newsletter below and I hope to see you back in the near future as I share more design shenanigans and tips from around the house!!
Merry Christmas, Bree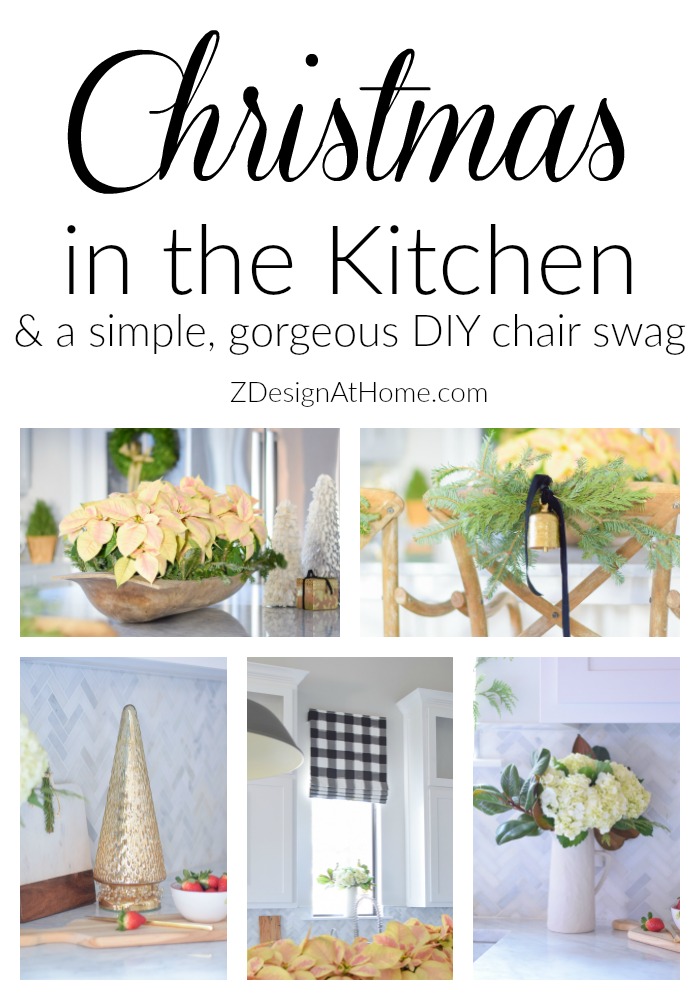 *Affiliate links used for your convenience.  Similar items linked in some cases.  For a full resource list for this space, please click HERE.
Kitchen Fixtures:

Furniture:

Accessories:

Featured Items in this Post:

Other Christmas Posts you might enjoy while you are here: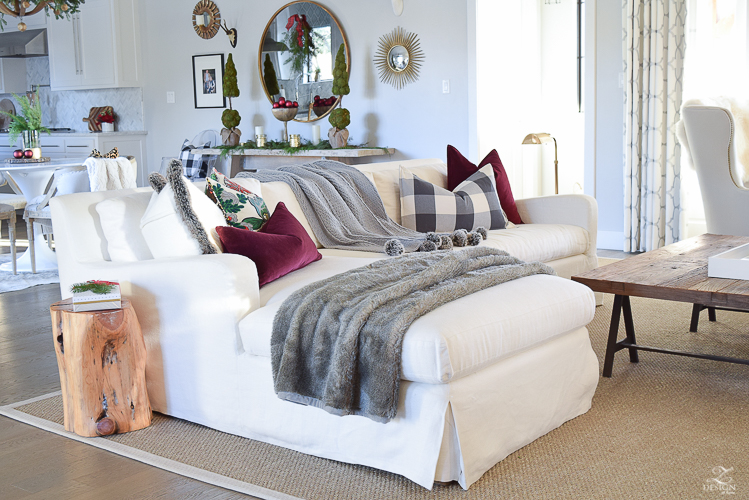 Styled + Set Holiday Christmas Tour