Simple, Neutral Thanksgiving Entertaining
Fore some of us Thanksgiving entertaining is smaller in scale if you are like my family and live far from your extended family.  Traveling home for both Thanksgiving and Christmas can be cost prohibitive at times so for all of the years we have lived away from family we have always had to make the decision every year as to which holiday we would travel home for.  I'm sure some of you can relate?!  And, we always travel to our family instead of some of them coming to us so that everyone can be together the day of, which is super important to us!
For the holiday that we choose to stay back, the reality is that sometimes we end up eating out at one of our favorite restaurants or, we stay in for a nice but intimate dinner with just the 3 of us which means there isn't necessarily a need for a lavish table setting.  Although decked out tables are lovely and I always enjoy them, when it's just you and your little family (no matter the size), sometimes simpler is nicer.
With that in mind and with Thanksgiving just a stones throw away, I've created this simple, neutral table scape that I'm calling my "reality" table for the day of.  I hope you enjoy it and that it will inspire your table the next time you are looking to do something a little more laid back (affiliate links used).
For me (and simply put), table scaping is really all about decorating your table for the event so to get started I wanted to share 5 tips for creating a simple table scape for the day of.  If you are in the mood however for something a little more formal this year, you can see my more formal Thanksgiving day table here.  As we move throughout this post I will show you how I've incorporated all of these elements into my simple table.
Layer your dishes
Use different colored dishes to create contrast
Use texture to create interest
Use something shiny
Use something natural (flowers, greenery, wood slice place mat, etc)
I started my table layering with these wood slices to create some contrast between my white table and white dinner plates so that each individual item I was using for my place setting would stand out.  I also layered in my gray every day salad plates and topped off my place setting with these white pumpkin bowls that I've had on repeat this fall (and of course I couldn't resist the artichokes for garnishment).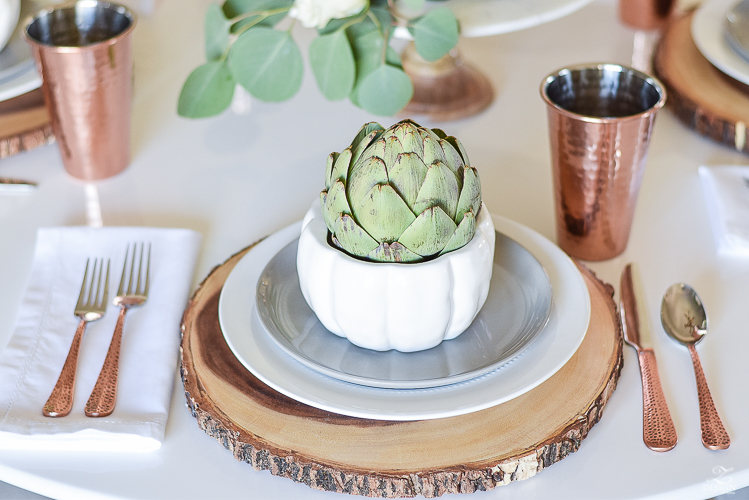 I also used these lovely copper tumblers & copper flatware to add a little shine to my table.  Their style and texture emulate the pattern in the bark of the wood slice (more on the importance of repeating patterns in design here) which creates continuity in my design for the table.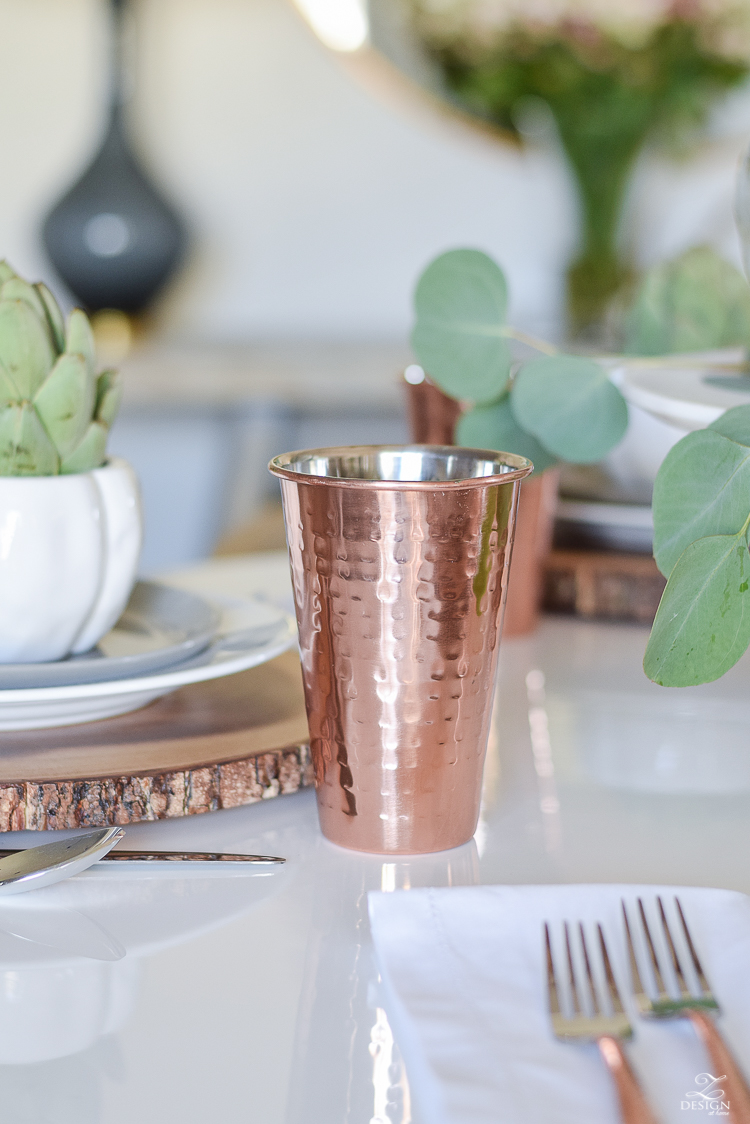 I just used some simple white eyelet napkins so as to not take away from the beautiful  copper flatware.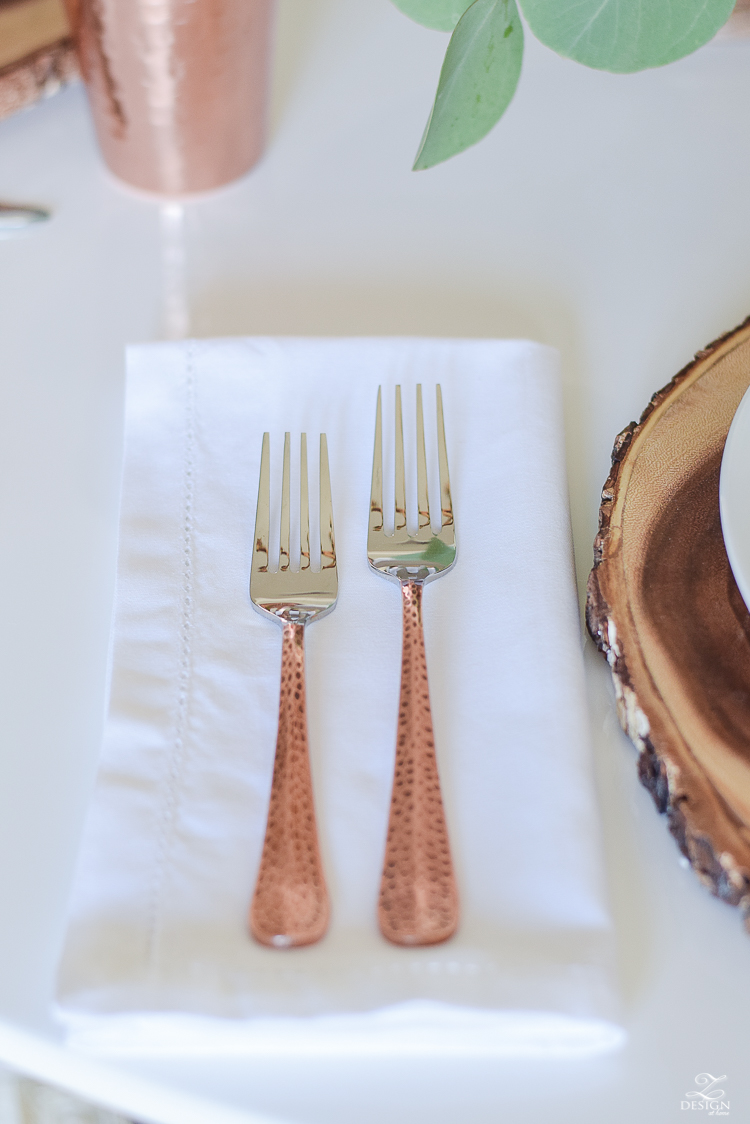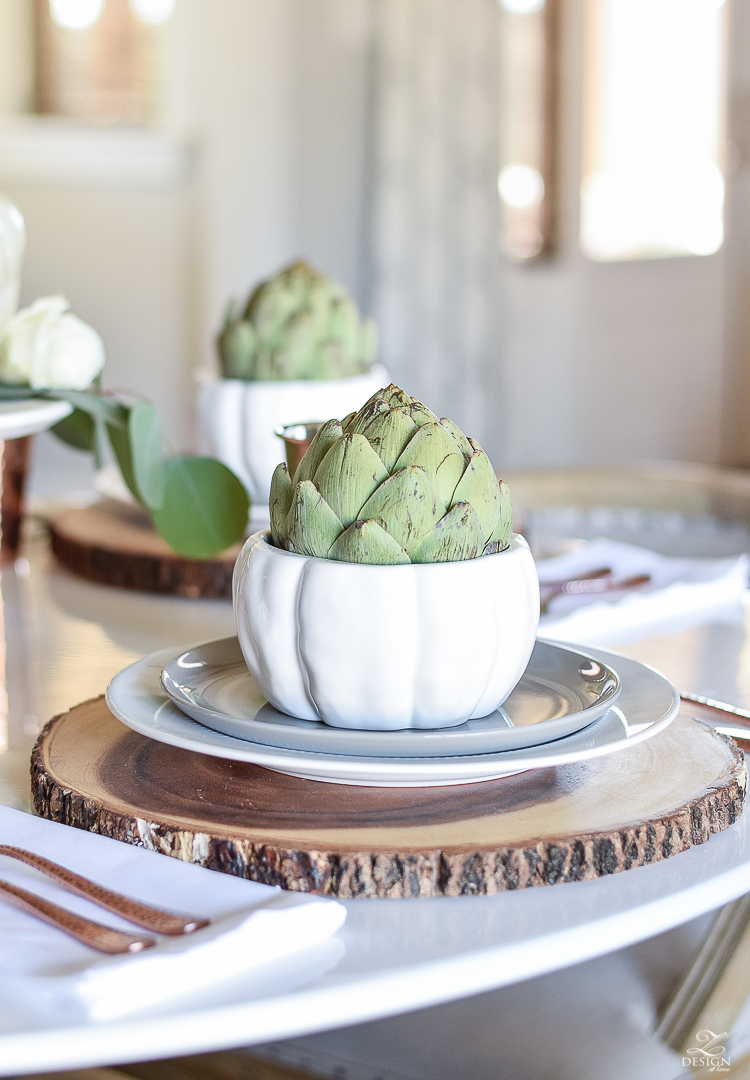 Recreate the Look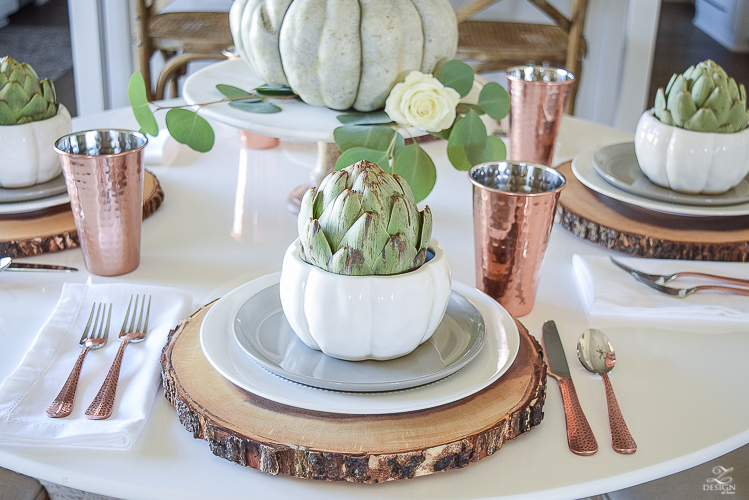 Next I turned my attention to my simple centerpiece.  I already had this beautiful Jarrahdale blue pumpkin that I used in my fall front porch design that you can see here.  I simply layered some eucalyptus underneath it on top of my favorite cake stand and that was it (besides adding the pretty white rose…I could't help my self:).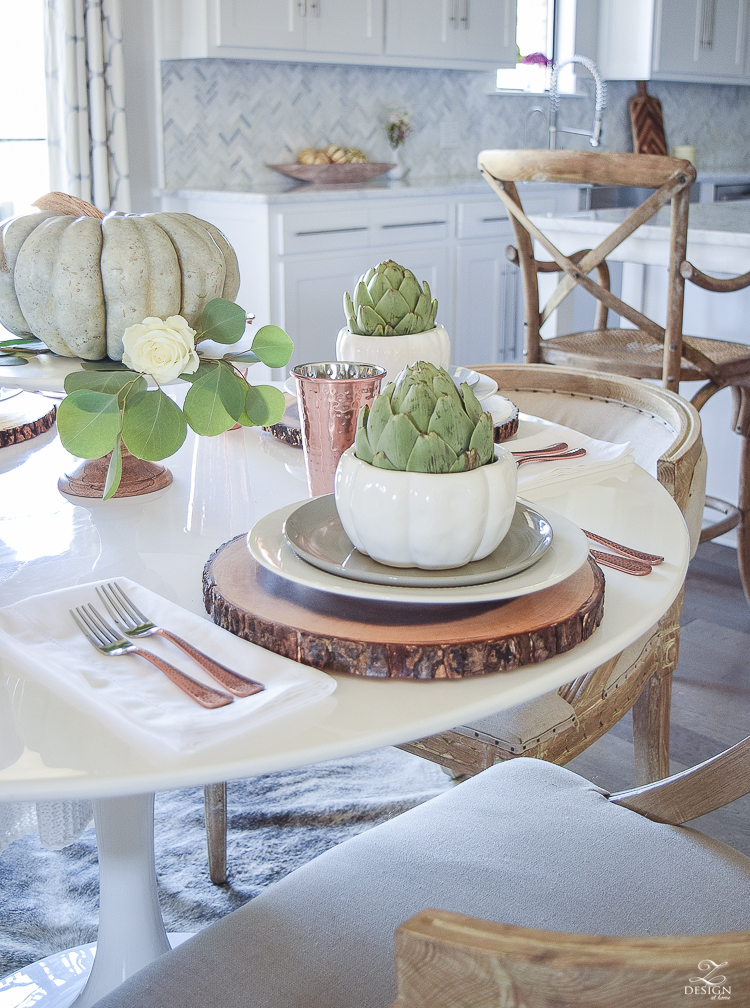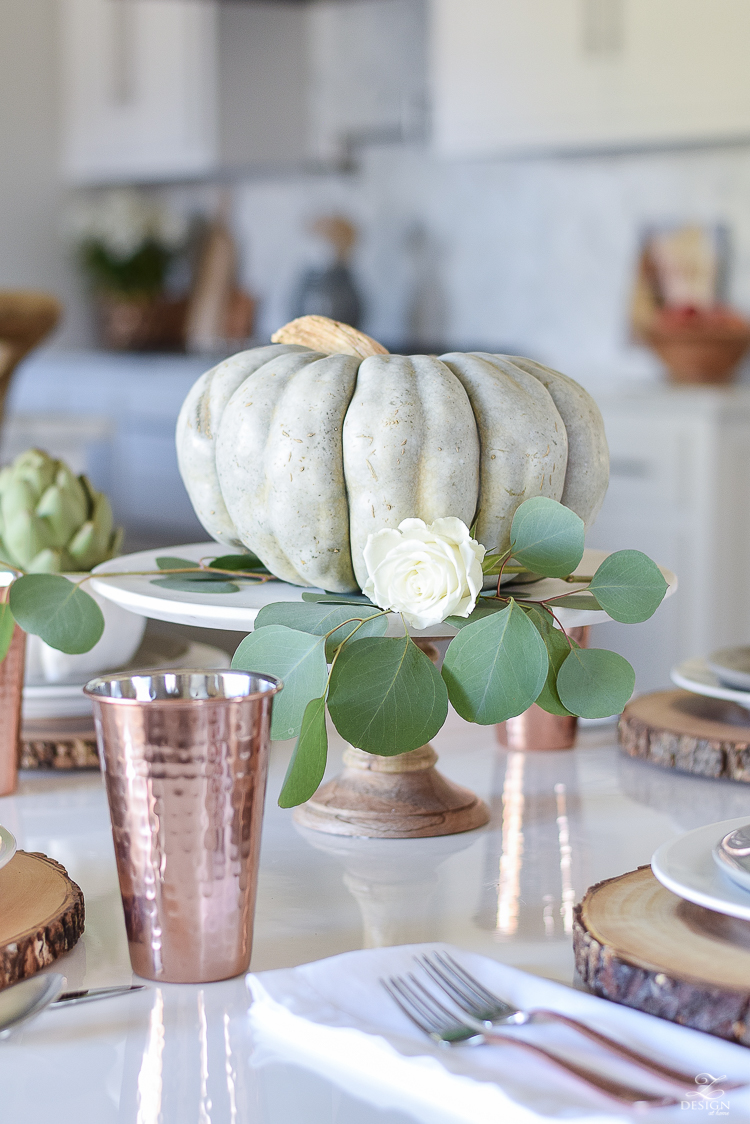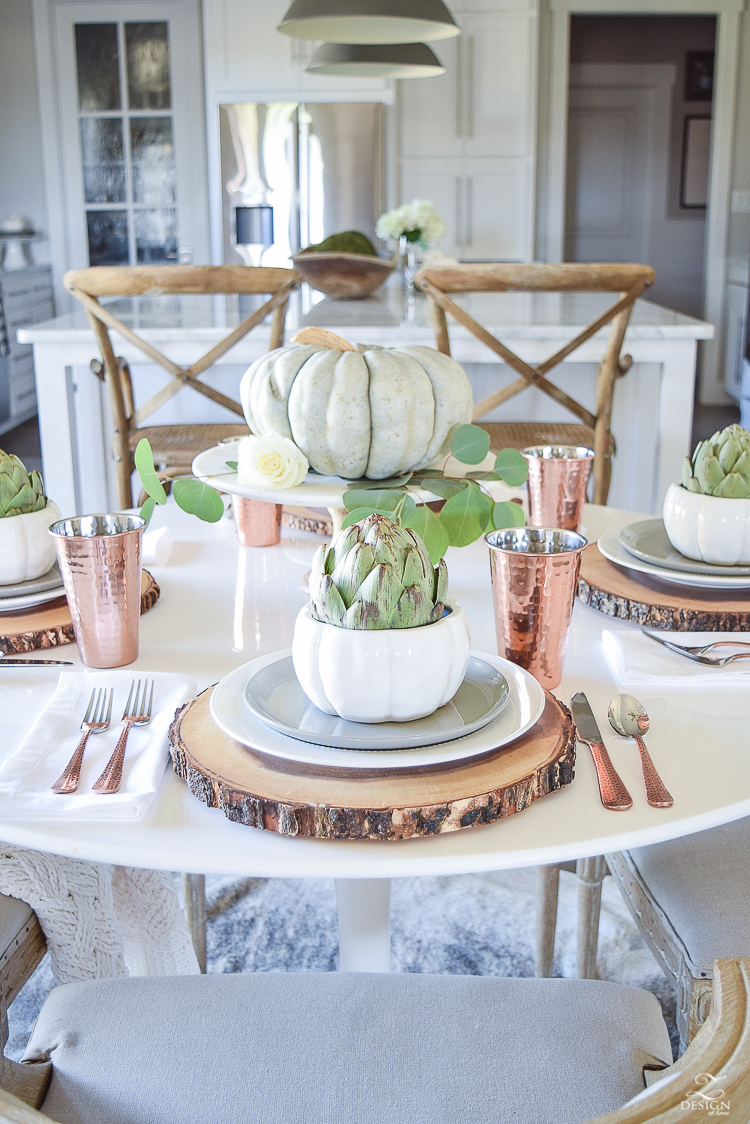 I love the way the blue/green, white, copper, and the rustic wood in my cake stand and wood slice place mats work together to create a relaxing, laid back table for our Thanksgiving day meal and I hope you enjoy it too!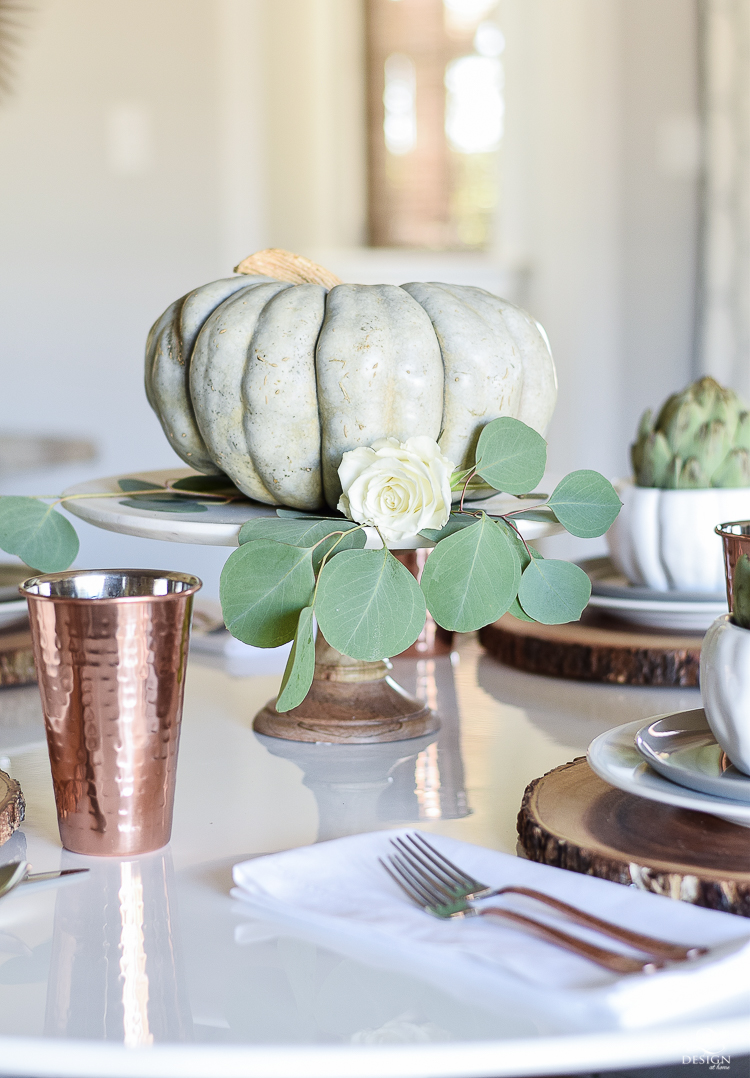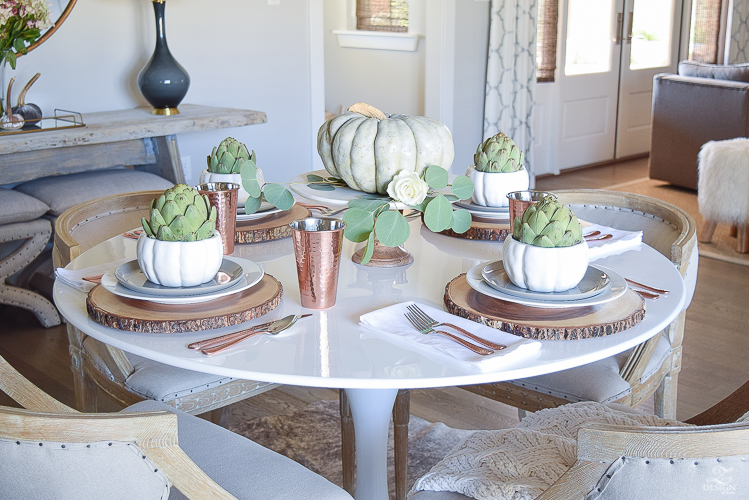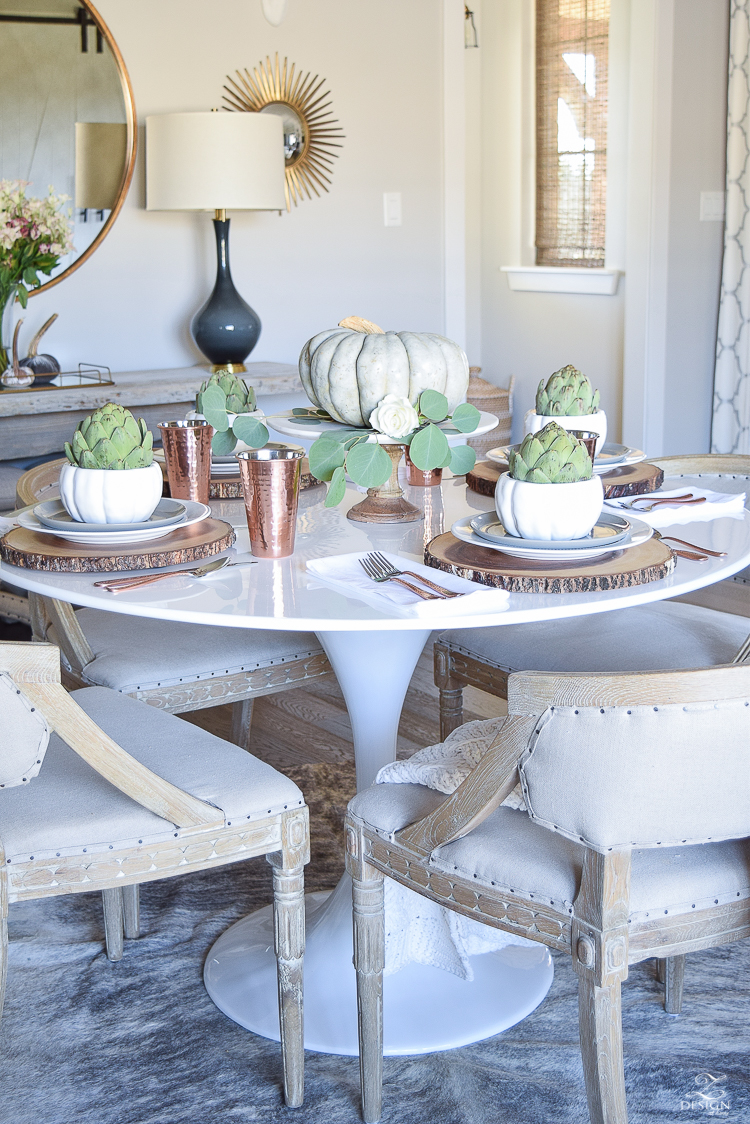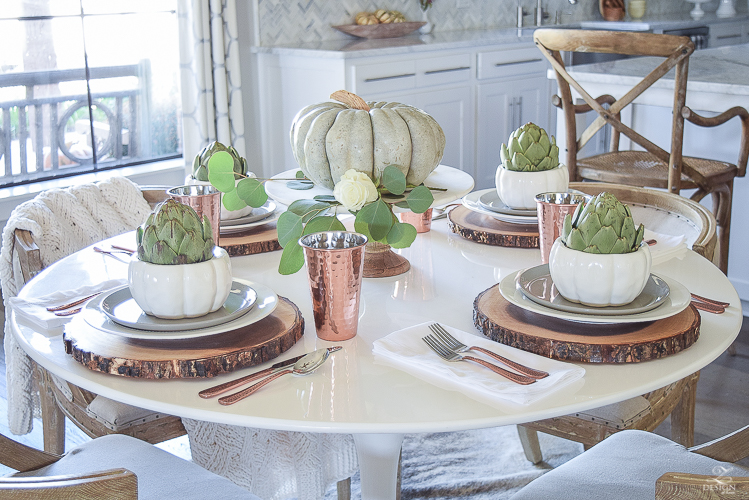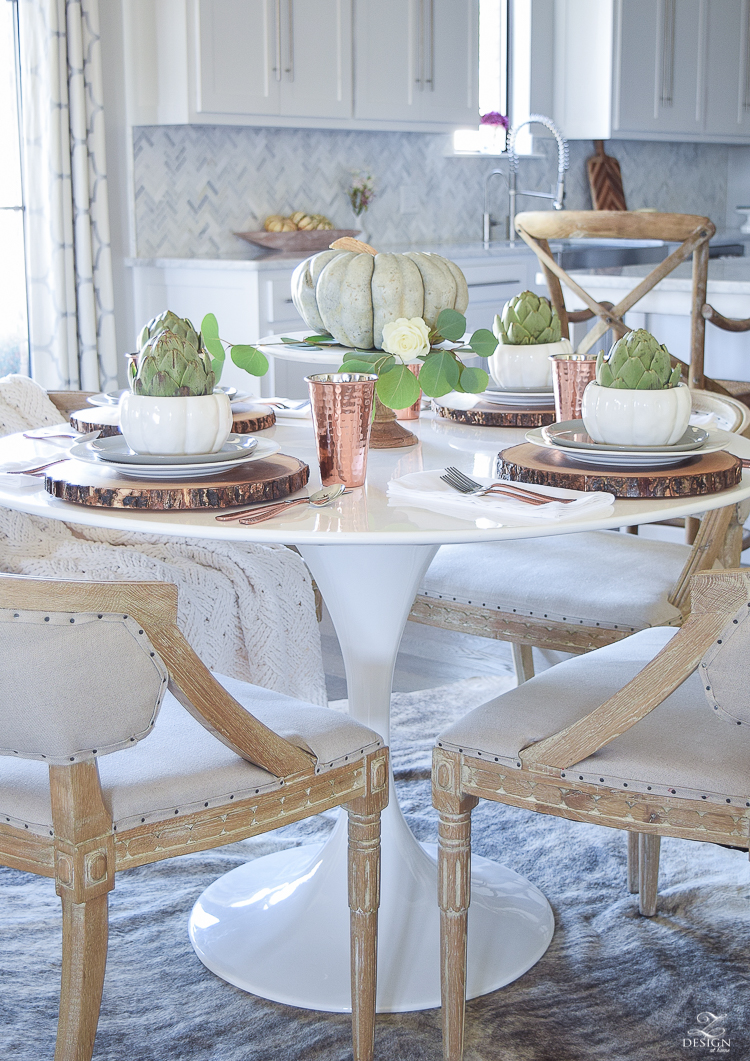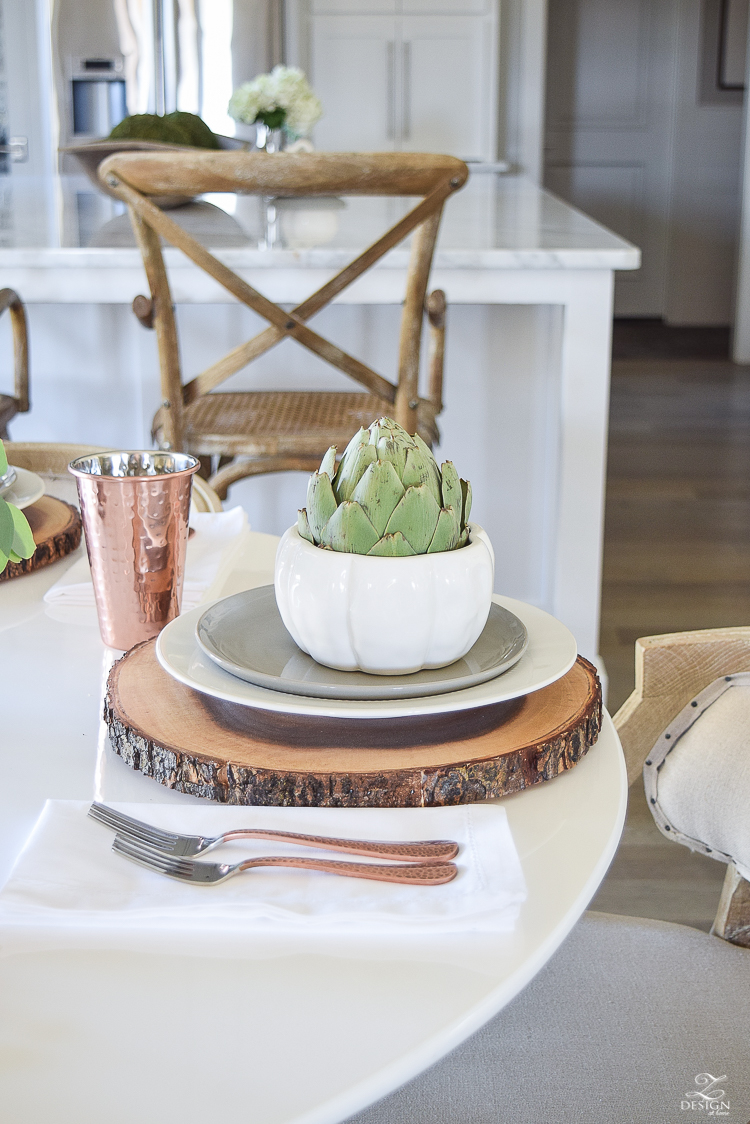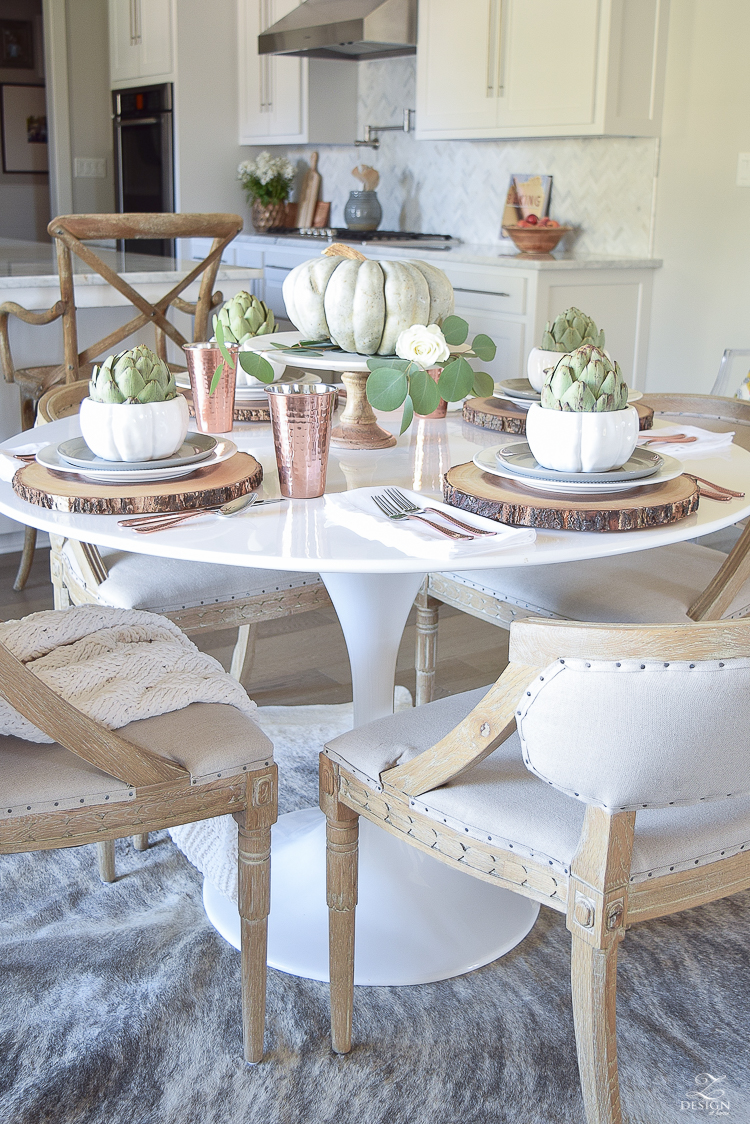 Shop my  Table

I also did a bit of updating to my ever changing console table close by to go along with the soft colors in my table.  Love these little velvet pumpkins in shades of gray and blush so much and you can see more of them here in my formal Thanksgiving table (you'll love the creative way I used them!).  This gold mirrored tray has become a quick decor staple in my home recently and I moved my x-benches (similar here & here) in here from my dining room to make room for the Christmas tree;).  I also did a recent post on  Chic Fall Decor Styling Tips using this area if you are interested.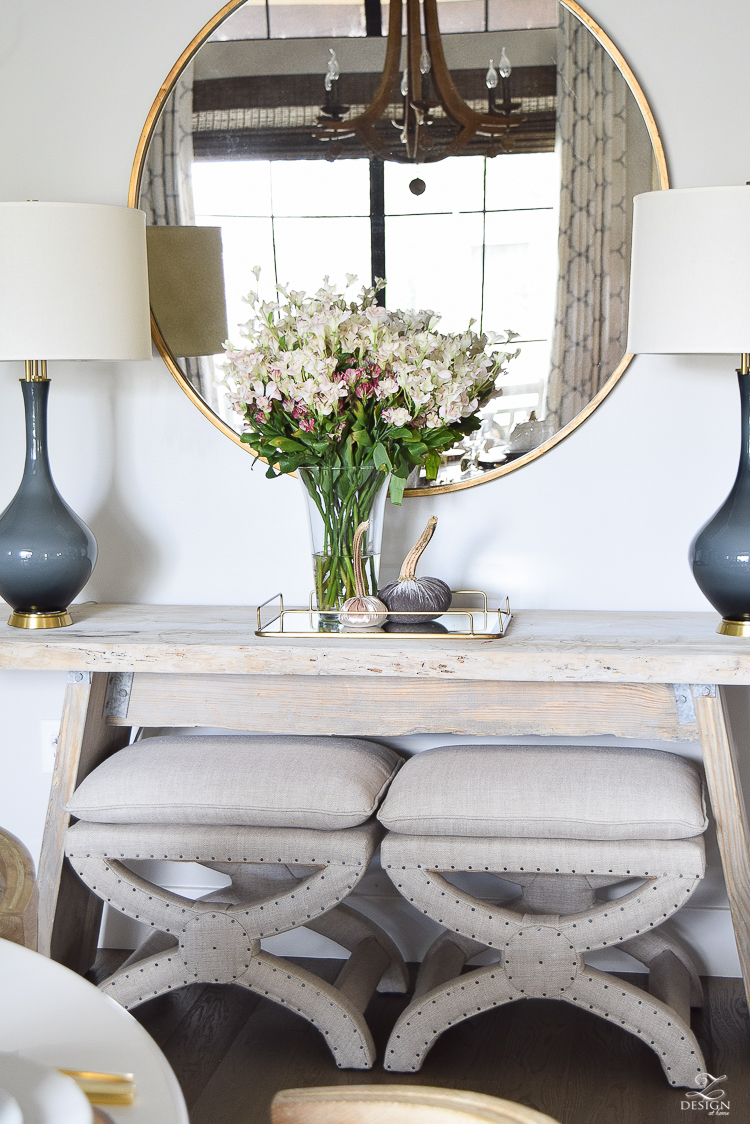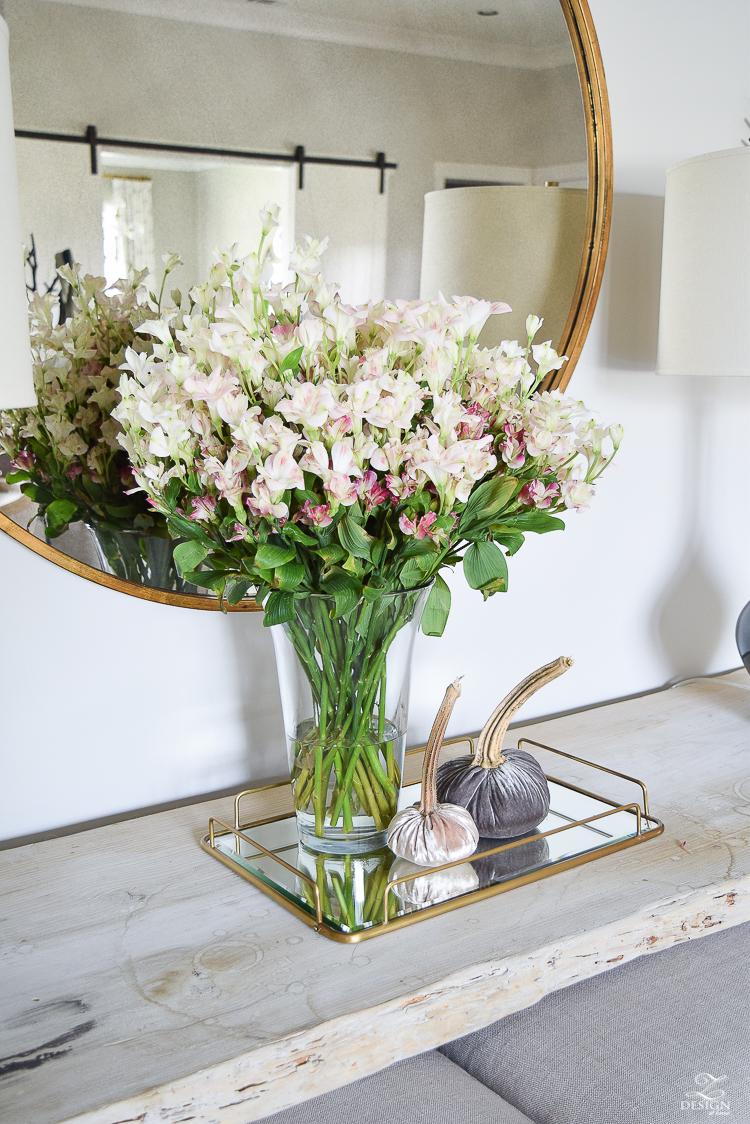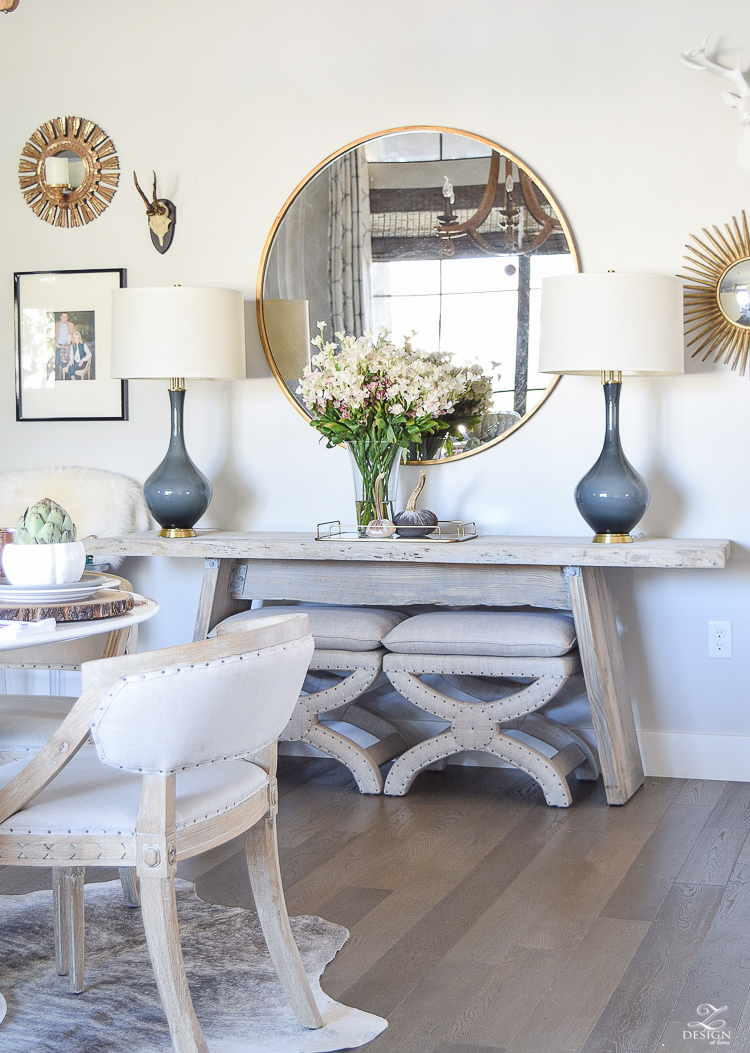 Recreate the Look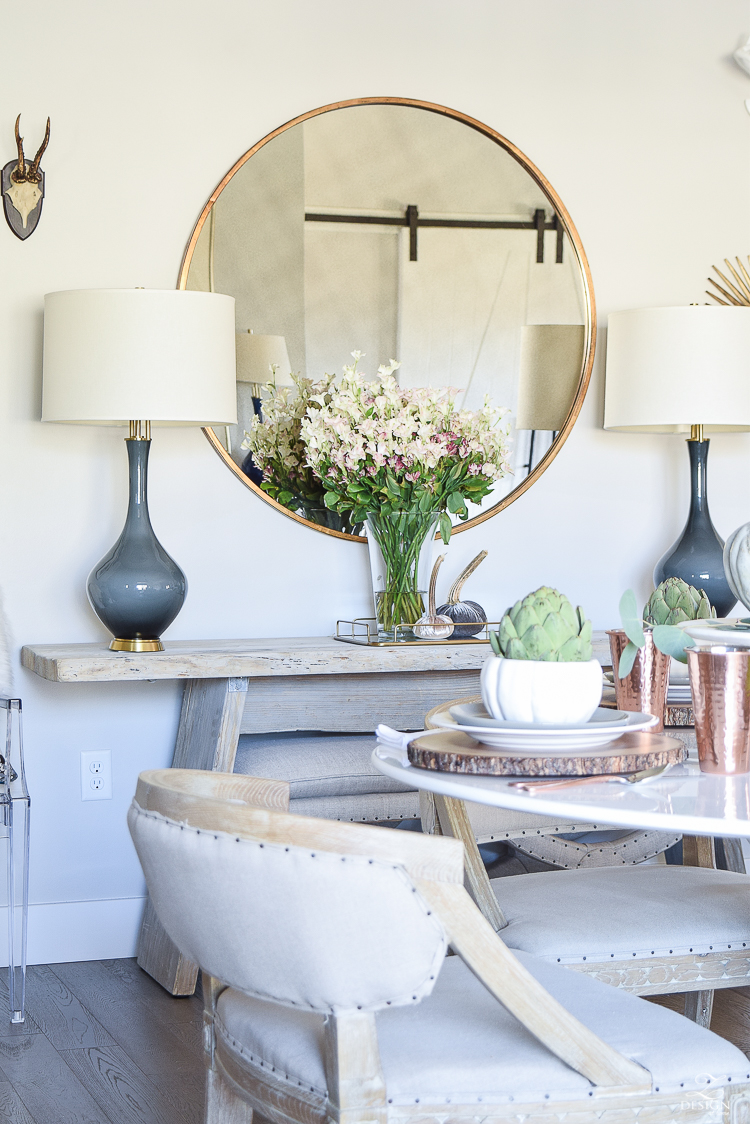 Happy Thanksgiving and I hope that if you are looking to create a simple table for the day of that this post was helpful!  And remember, just because it's pretty doesn't mean it has to be complicated.  With this 5 simple steps you too can create a beautiful table that  you and your family can enjoy the day of.  Please leave any comments or questions you might have below and thanks as always for stopping in!!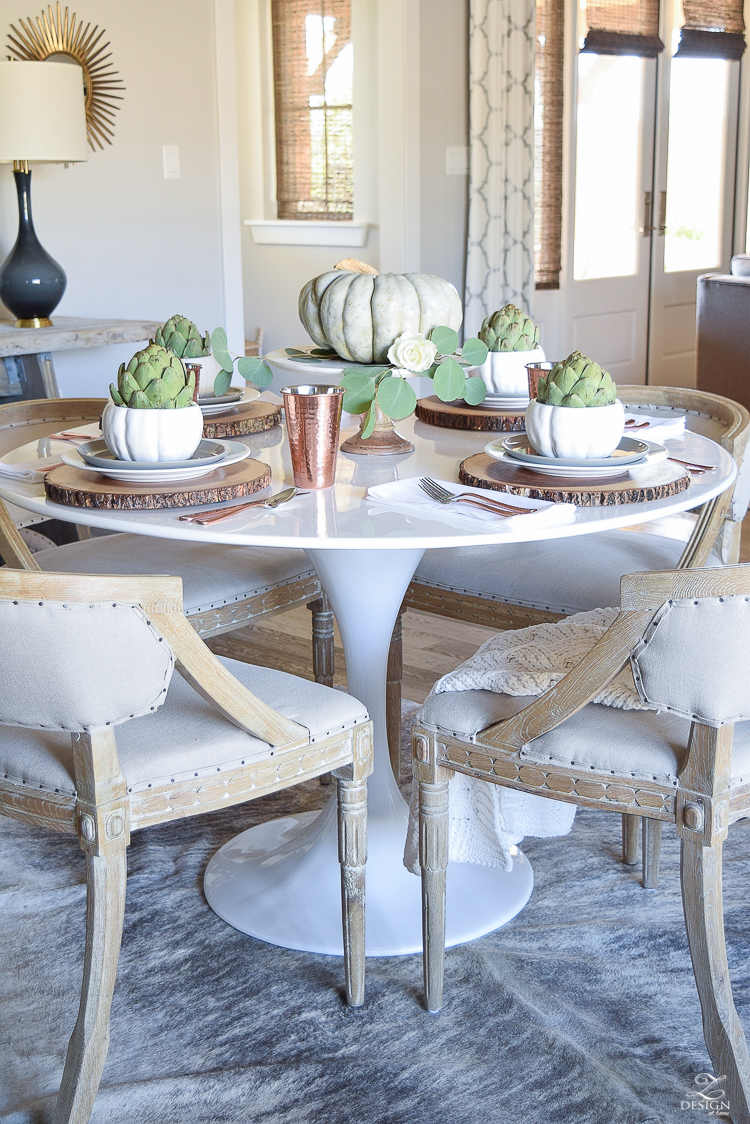 *For a comprehensive list of furniture and accessories CLICK HERE and/or shop the clickable images below:
Furniture:

Lighting:

Dishes:

Table Accessories:

Linens & Rug:

Wall Decor & Draperies: