Finally Home Project: We Have A Cleared Lot + More Inspo Photos
Hi friends!  I hope this finds you doing well on this beautiful Sunday!!  Can you believe how long it's been since I've had an update for you on our Finally Home Project??  We now have a cleared lot plus I want to share a few more inspo photos with you today so I hope you'll hang in there for the ride (even though the lot clearing stuff might not be the most exciting)!
Get caught up on post 1 & 2 of our new build project HERE  & HERE!
If you follow me on Instagram then you might have already seen some video in my stories of the day they started clearing our lot.  It was such an exciting day and one to document for sure!  When we first arrived at the property this is basically what we saw around mid-day.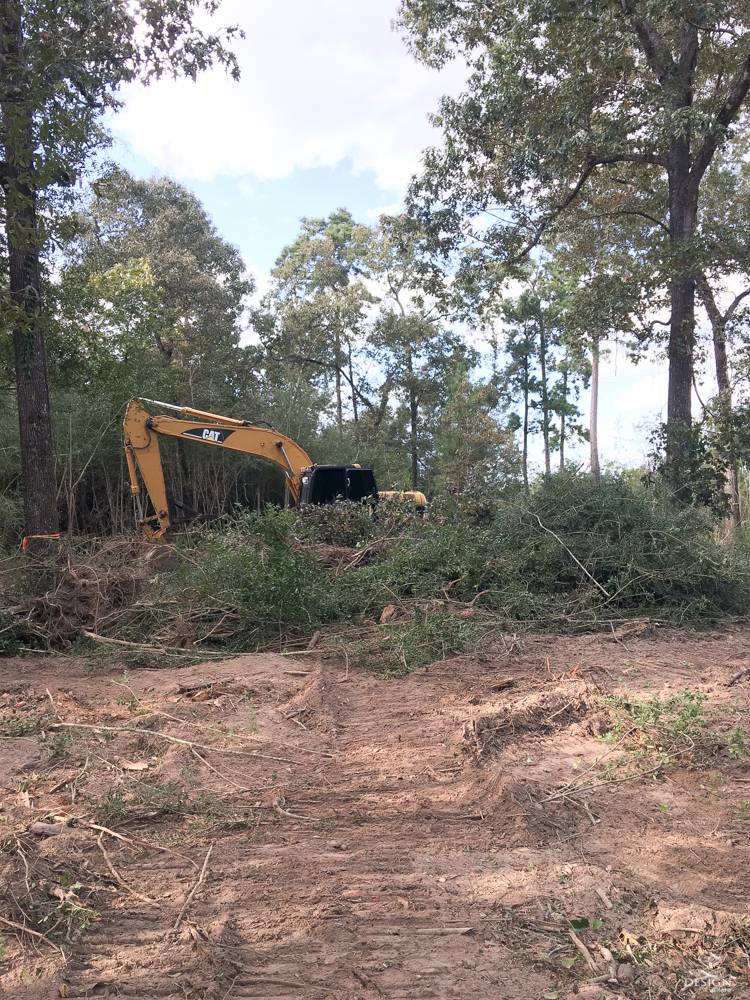 So I have to admit there wasn't much to see there on that 1st visit but it sure was an exciting moment for us.  We then went back later that afternoon and this view definitely seemed a little more promising…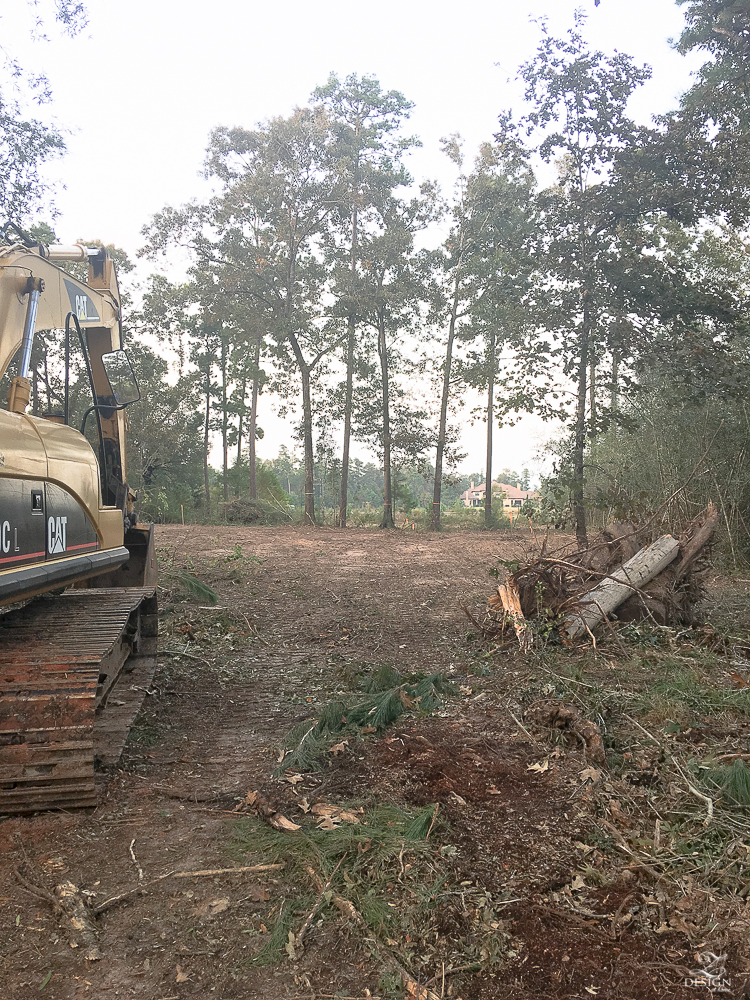 At the stage above we met with our builder on the property to do a once over of the whole property one last time before any further lot clearing and prep occurred over the next few days.  When the lot was surveyed the larger trees were marked but as we walked the property with him this day we marked additional trees we wanted to make sure stayed and let him know of any trees we wanted to be cut down that hadn't previously been earmarked for cutting.  There were a couple of larger pine trees that were kind of blocking the view and we also felt we just didn't want to deal with the clean up they would cause us later on in the yard (and hopefully pool).
This was the first time I stood in the spot where the sink would be to see what the view will be like (this shot is actually a little zoomed in).  Talk about an exciting moment for me and one of those moments I secretly found my self thanking God for his abundant blessing through this beautiful property and soon to be home for our family and extended family to enjoy and be blessed by.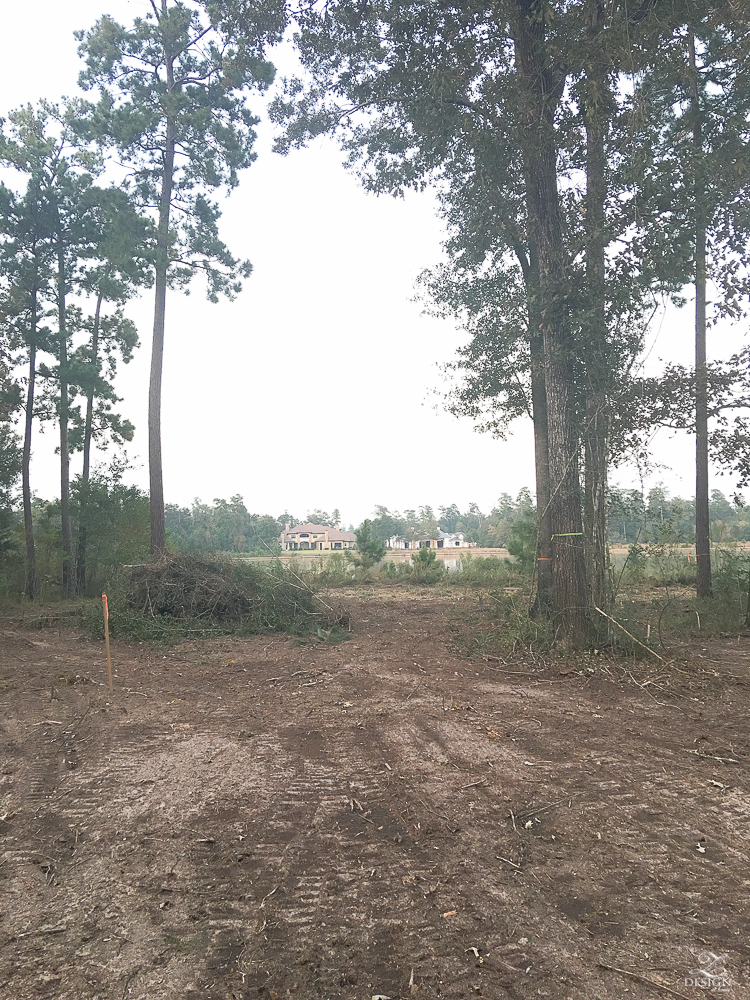 I can envision it looking somewhat like this but without the doors in front of it shown here.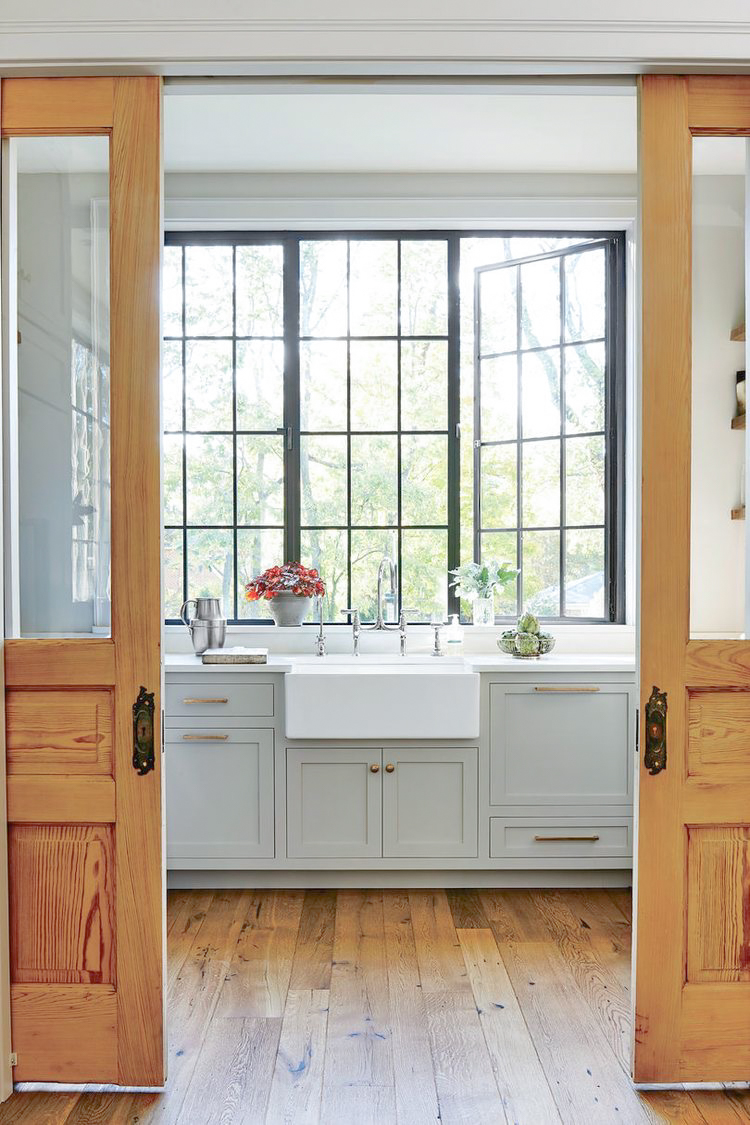 And even more so like this with the shelves flanking either side of the sink and window.  Our windows will be a little smaller I think (but with the same horizontal divided lights) but the shelves a little larger, done in a natural oak finish.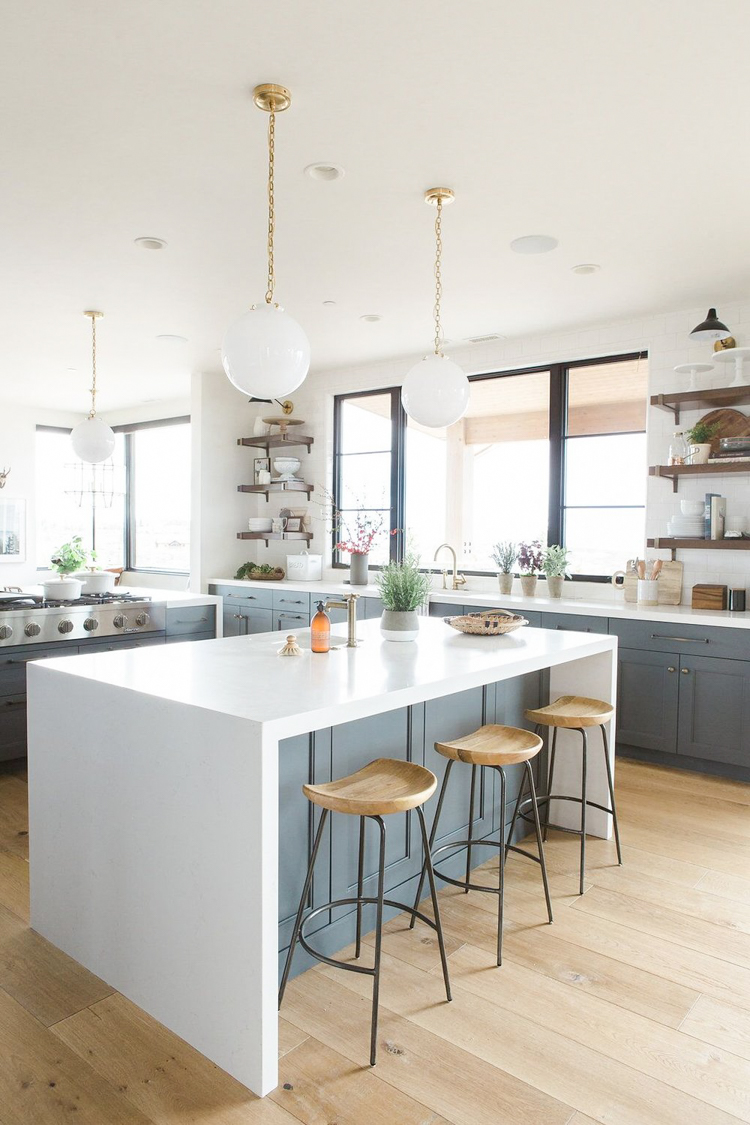 Design by Studio McGee – their Promontory Project
Below was the view from the back of the property toward the road.  One big thing we also discussed with our builder that day was leaving several feet of trees and brush on either side of the lot to create a buffer between us and any future neighbors.  I love my neighbors but if I don't have to look out my window and see them every time I look out the window, I'm alright with that lol (can anyone else relate?)!  I can't remember what we decided to leave on either side but I think it was something like 15-20 feet, which we knew would provide a good screen giving us ample privacy surrounding our lot and home.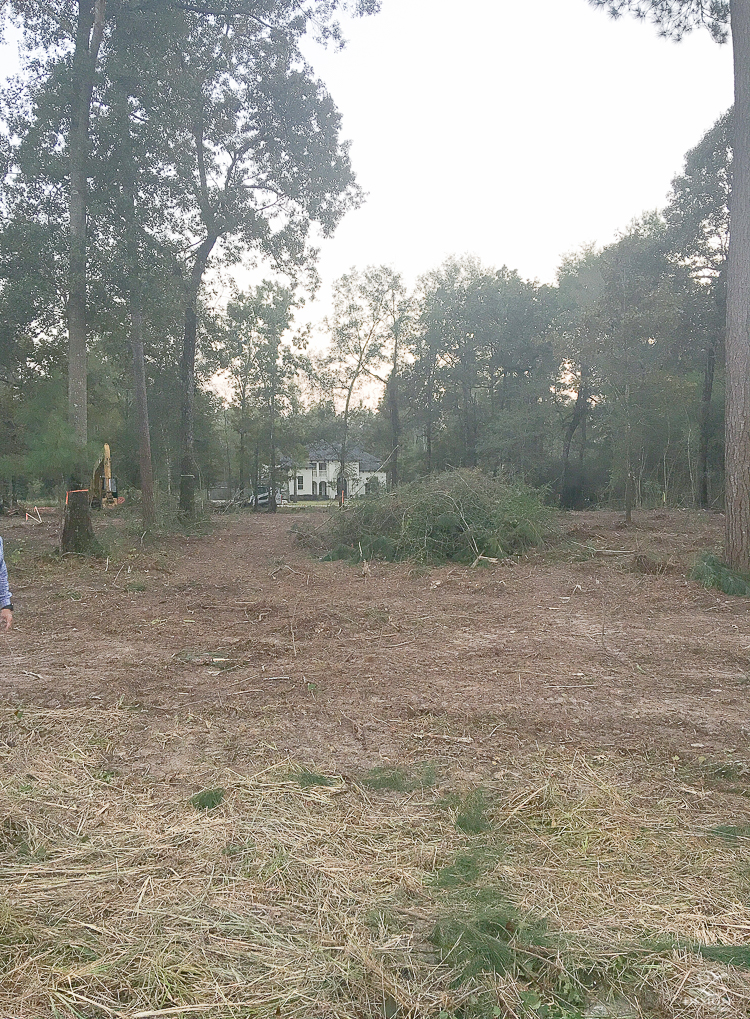 The next day I believe it rained and then we came back the next afternoon late to find a lot more lot prep had been completed.  This was a much prettier sight to see but on a side note…we debated heavily as to whether or not to cut down the oak on the right front hand side of the driveway because it's a bit sickly but in the end we decided it would stay because we liked the way it frames the front of the drive way.  At some point we will have to call someone in to clean it up and help us with keeping it healthy.  It's not a massive oak but definitely nice enough to save if we can!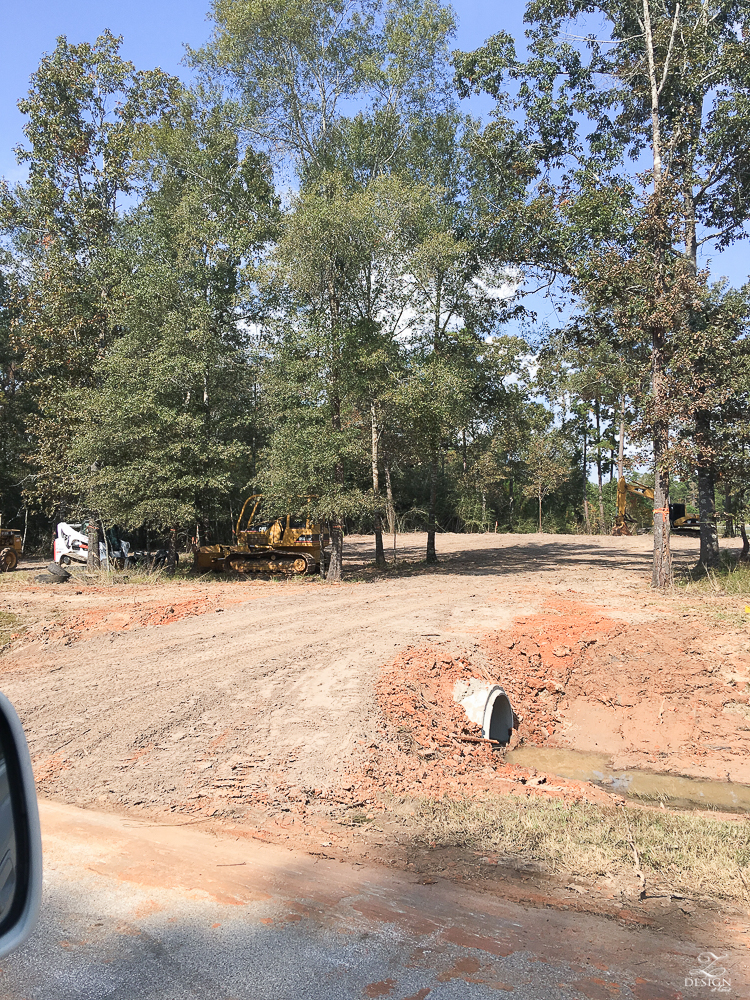 Further into the lot.  First time seeing the full view…so exciting for us!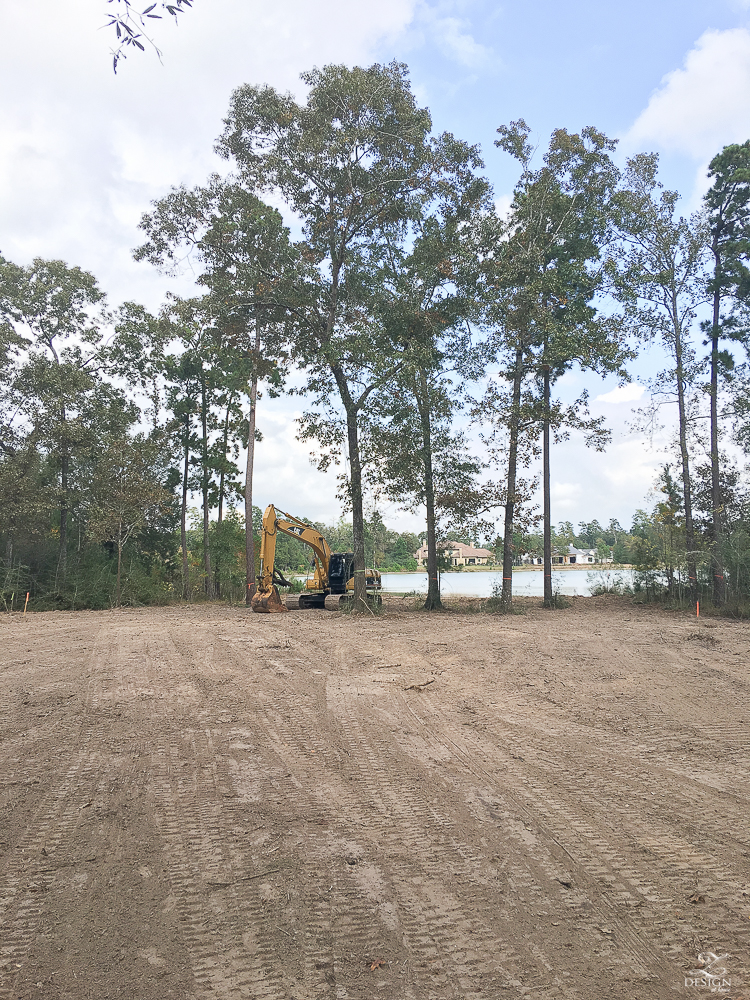 Here you can see the brush we decided to keep on either side of the lot to give us that privacy I was talking about previously.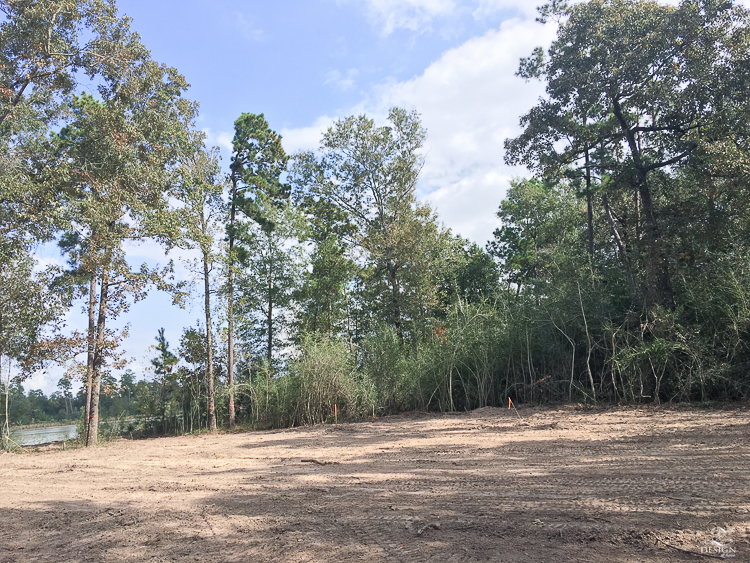 Looking back to the front of the property you'll see some of the trees and clusters of oaks we decided to keep.  We will crop and clean them up and this will give us a buffer from the road but by cropping up the trees, this will still allow the house to been seen from the road.  Lots of pretty oaks up there we are super excited about!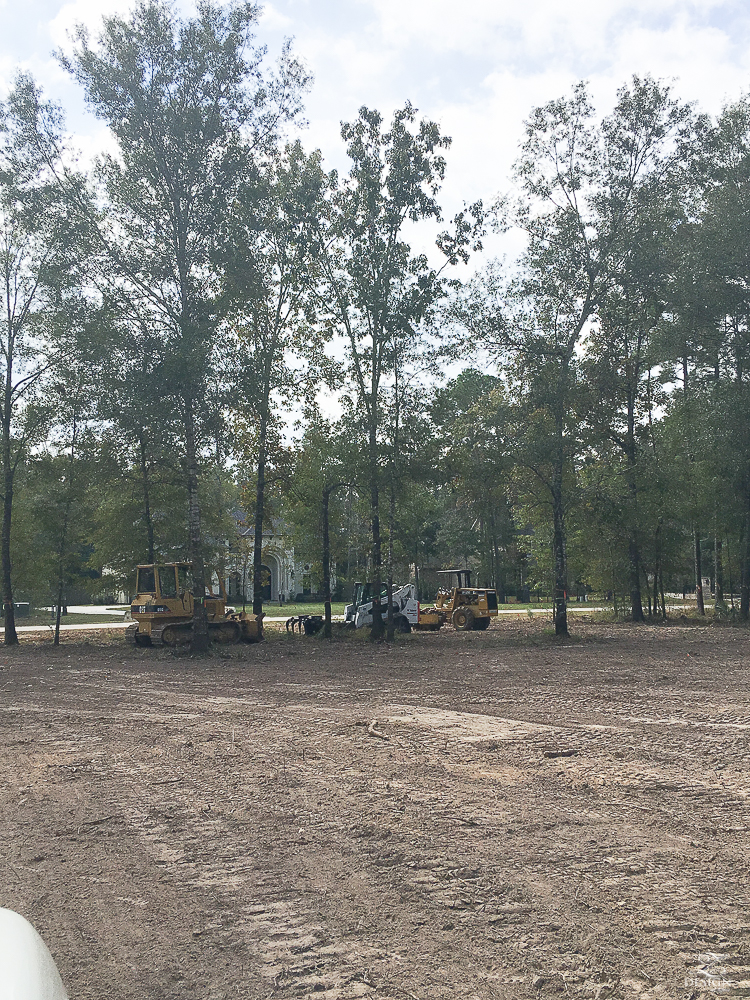 Looking back toward the entrance to the driveway shows those oaks framing the drive…do you see now why we wanted to save that sickly oak?!  I hope we can help to give it a new lease on life soon:).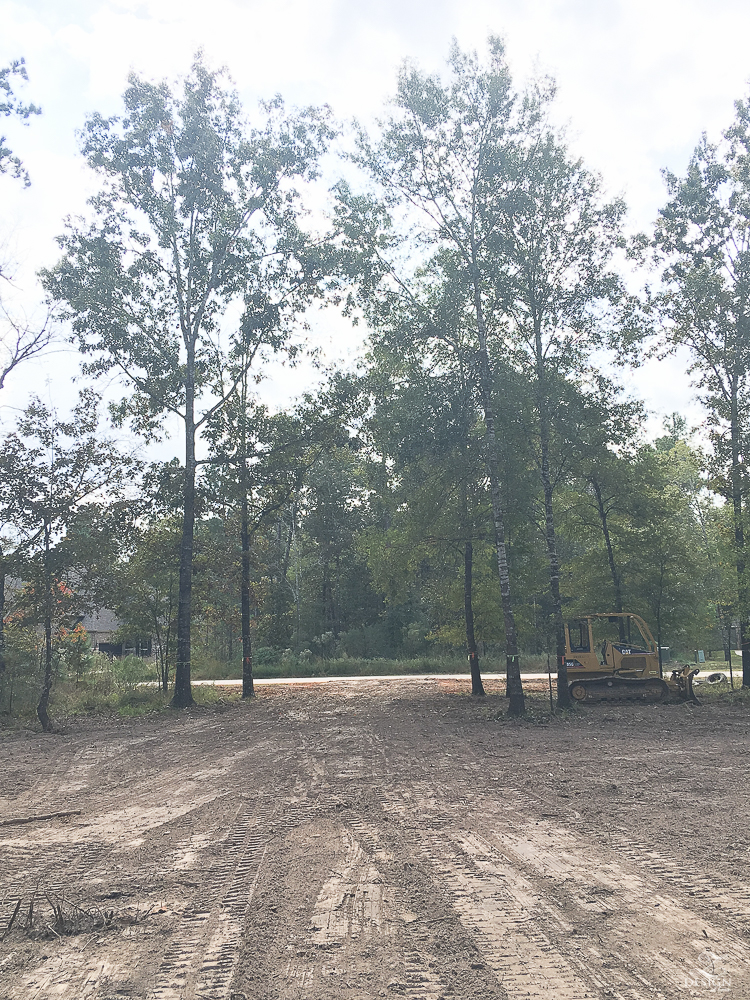 And last but not least this again!  That's the corner of the master bedroom there to the left where you see that marker…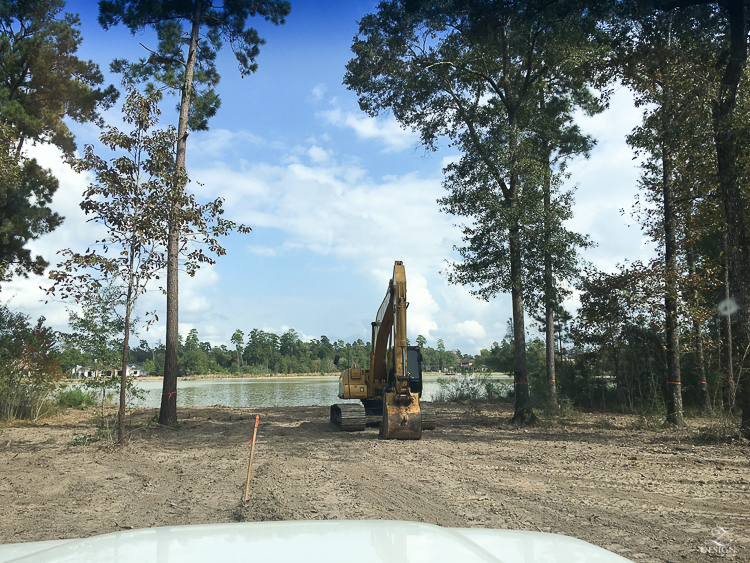 Over the past 3 months since I updated you last (HERE) a lot has changed about our plan and too much to share here but here are few points that stand out that we've either decided on or changed our minds in regard to certain design aspects of the house…
I found this house while riding around Dallas recently and while we were going for a similar look to this already with the large steel looking windows with the horizontal divided lights, we decided to add these lintels and sills above and below the windows.  I'm pretty sure everyone knows what a window sill is by now but I was unaware of what a lintel is so thought I'd share.  A lintel is a horizontal support of timber, stone, concrete, or steel across the top of a door or window (source – Google).  I mean I had seen them before but didn't know the technical term for them (I've just called them headers or eyebrows in the past).  Typically to save money most builders will use a piece of wood or other material and wrap it in whatever exterior material they are using on the house (stucco in this case) to cover it but I have to say this goes the extra mile with the concrete lintels and sills.  It will give the home a bit more character and more of a transitional modern feel, which is what I truly love.  We are also adding the inset above the windows over the door and the window over our garage.  I'm sorry I have no source for the builder or architect for this home but there was no sign in the yard.  If you happen to know, please let me know so I can properly credit but the photo is mine.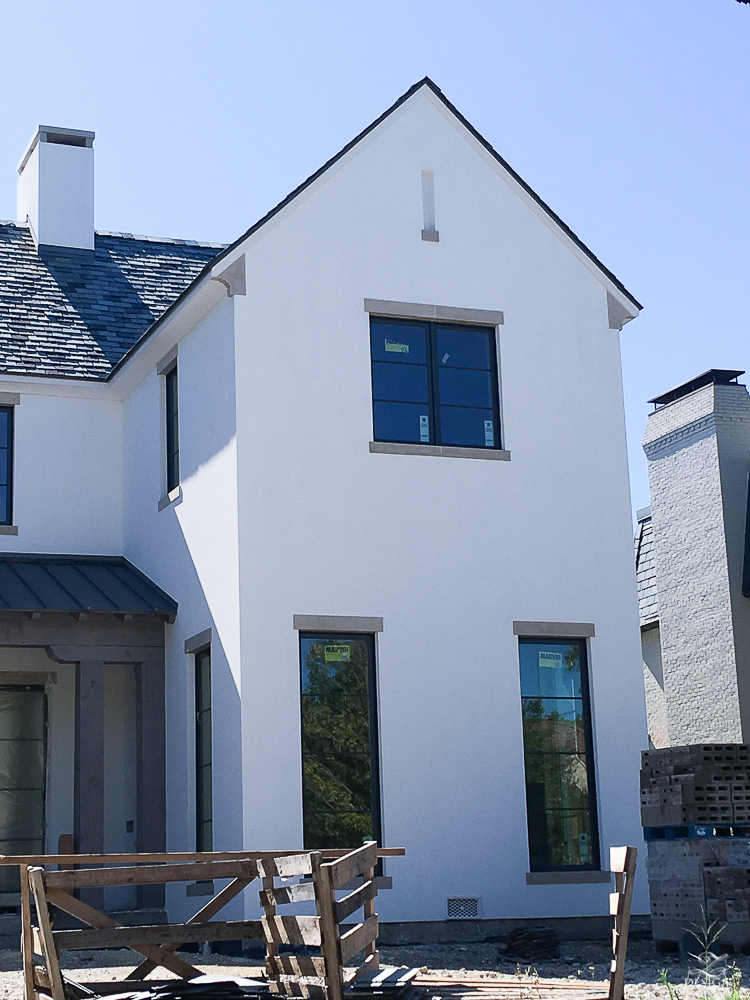 We'll also now be adding a metal roof over the garage and a few other smaller areas of the home, similar to what you see below.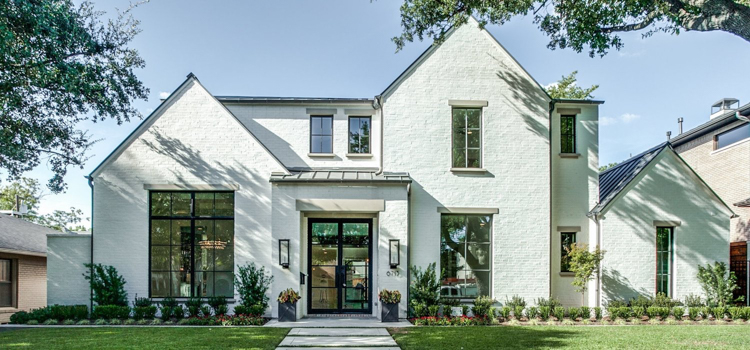 Via LRO Residential
Finding a more modern chimney cap look is trickier than you might think but we love this one on that same house above and will do this and/or something very similar for ours.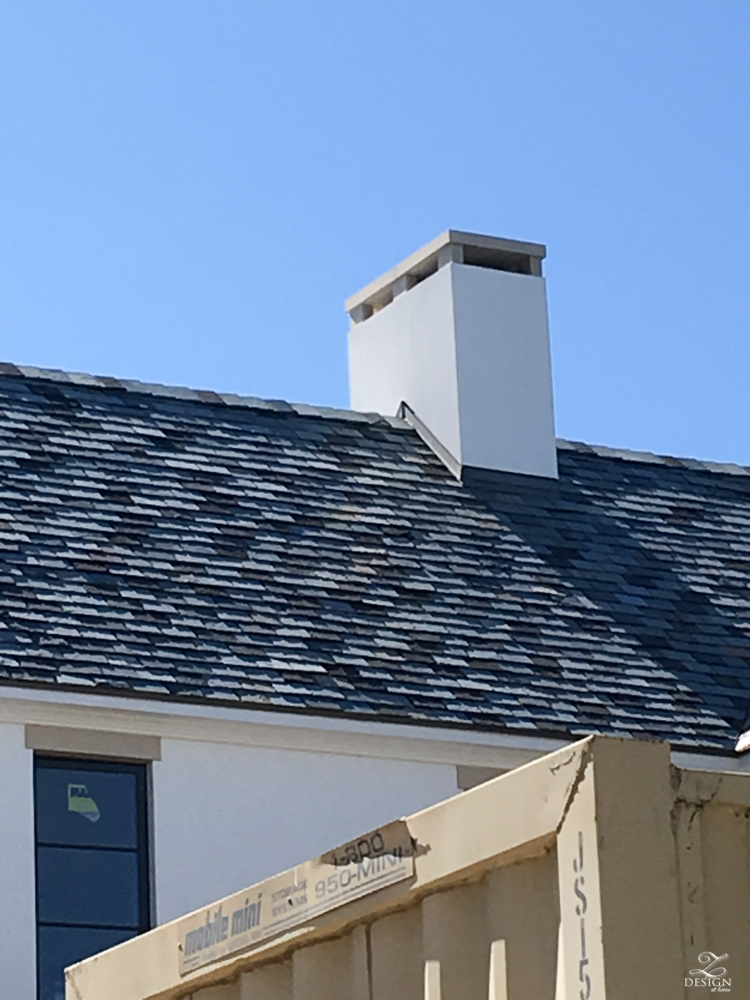 We decided on the design for the steel doors off the living room that will go out to the back patio which will be somewhat like this with one large double door in the center.  The whole unit will be 10×10.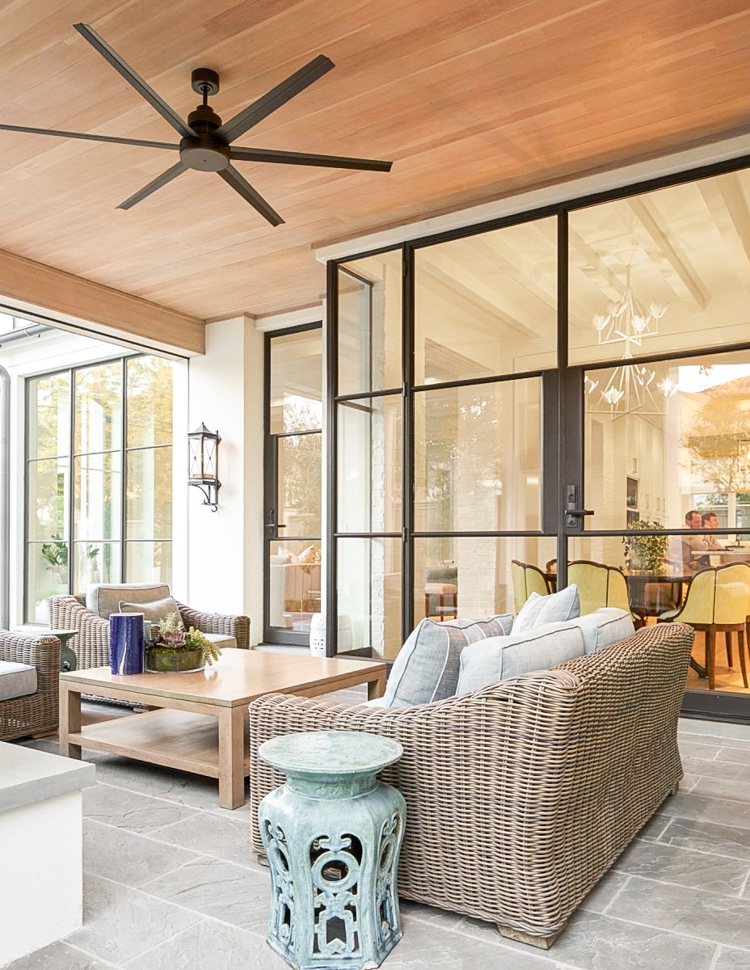 It will have 8′ doors with a 2′ transom something like this…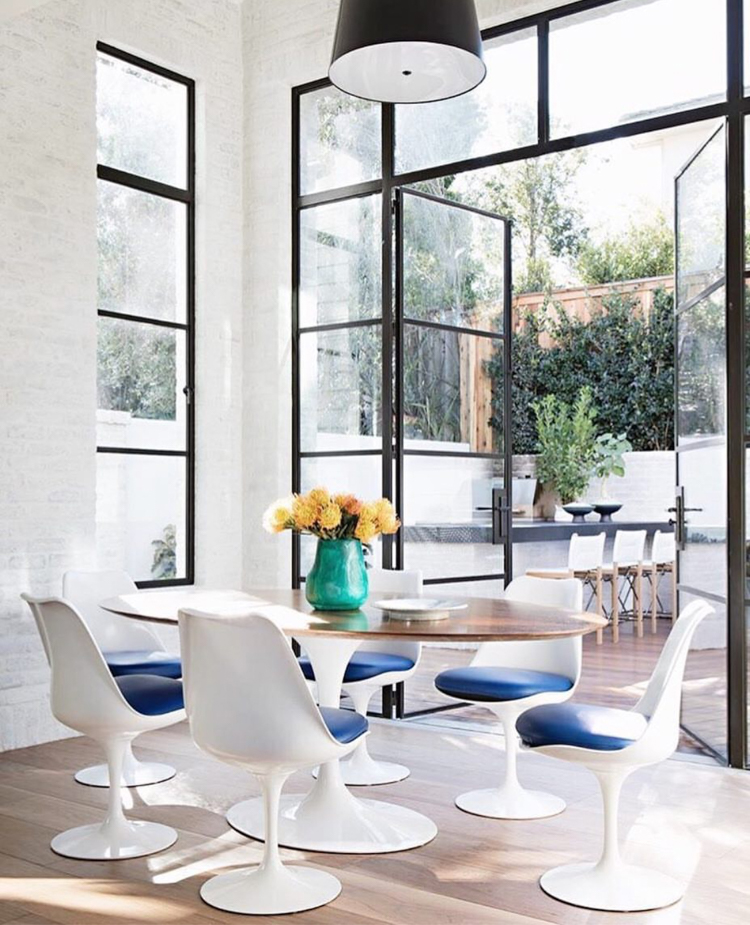 Architect: Brandon Architects | Builder: Patterson Custom Homes | Interior Design:  Bonesteel Trout Hall
Photography:  Karyn Millet
In the master bedroom I went back and forth about a thousand times as to whether or not to do a vault because I was having trouble figuring out how I wanted the fireplace to run into the vault at the ceiling.  Ultimately after seeing this design by Lori Paranjape and her team on the Nashville Parade of Homes this year, I decided to roll with the vault because I like the way the fireplace seamlessly transitions into the beam and now can envision doing this or something similar. I may just take the fireplace all the way up without the taper (and wrap it in tongue and grove) but either way it will be gorgeous!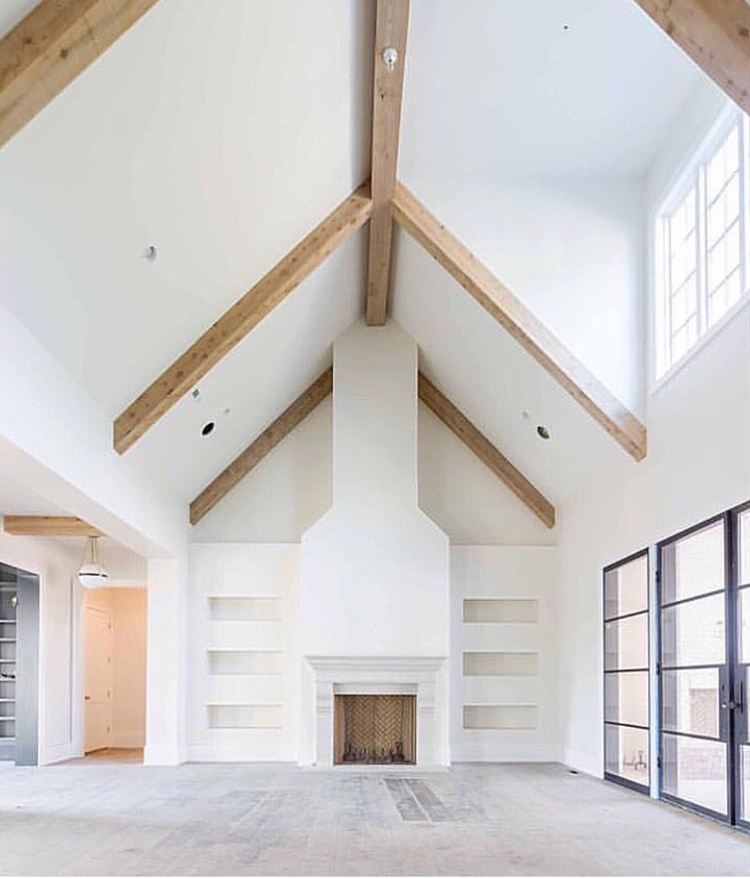 But the vault will be much more gentle like this bedroom by Studio McGee in their Promontory Project (except our vault will run the opposite direction).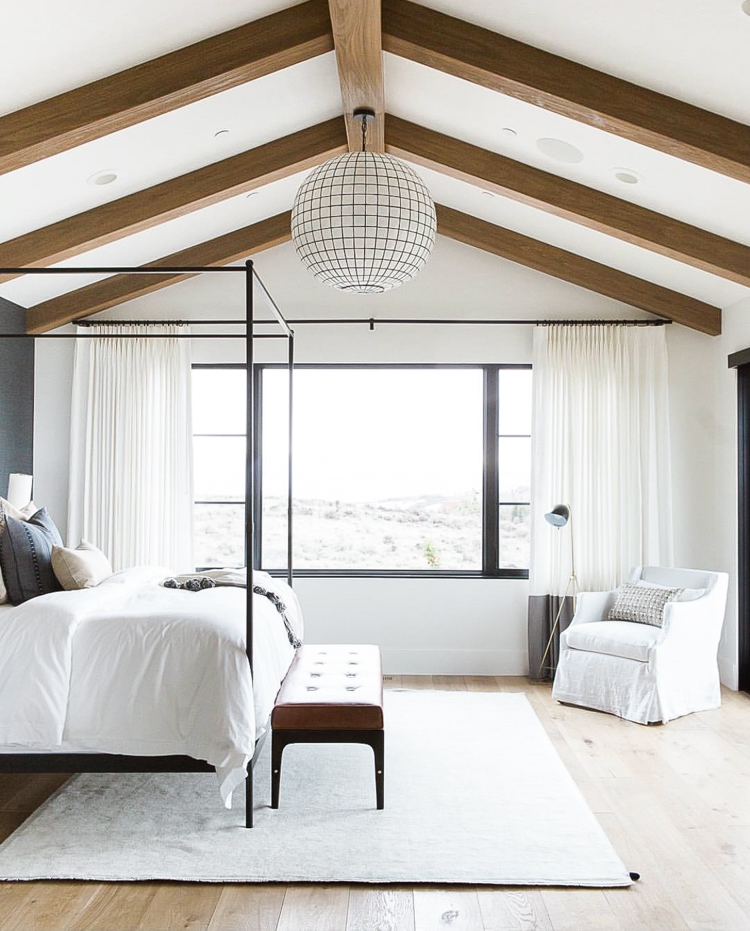 Studio McGee – their Promontory Project
Here is another example from a house we stalked in Dallas recently that was under construction.  There will be 4 vaults in the house and most of them will be like this except the living room vault will be a little bit higher.  I love a nice vaulted ceiling but I'm not into the ski chalet look for us down here in TX so this gentle vault will be just perfect.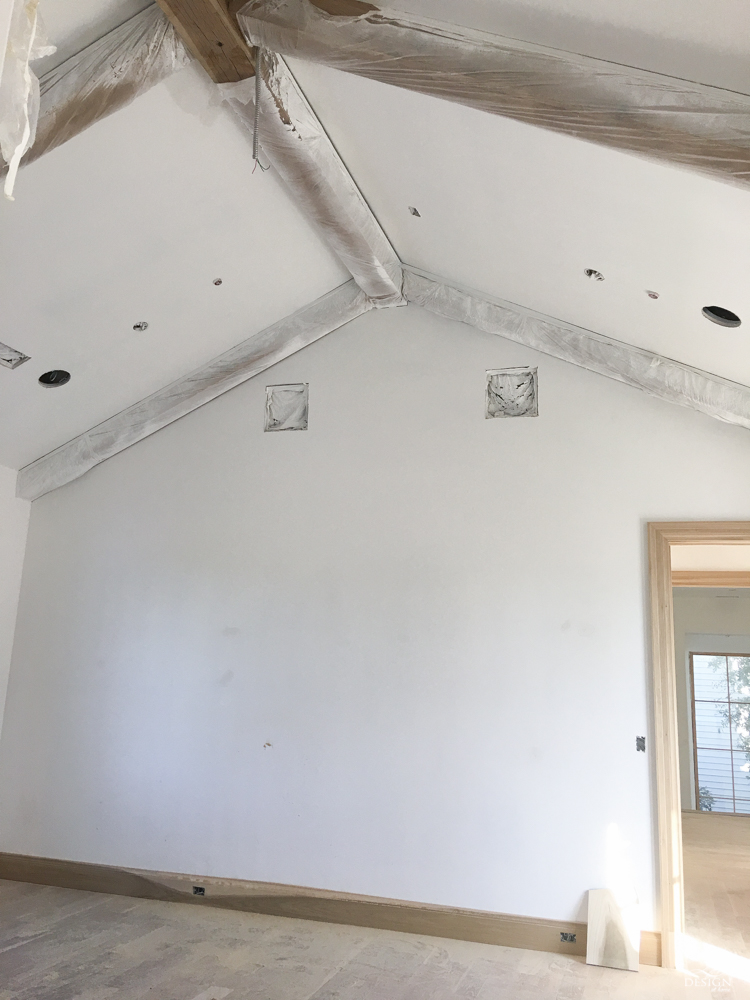 I'm finding over the past few months as I see more and more of the lighter oaks that I would love to do something like this in the kitchen but, my only concern with this is that you will probably never be able to match the floors to the cabinets (at least I've never seen a good match) and I have a pet peeve about the floors and cabinets being different stains from one another because it always feels like you missed the mark when they don't match or blend well enough so I'm not sure yet if I'll be working in something like this or not.  Definitely in the master bathroom but maybe just one small section that is adjacent to the kitchen will make it's way in…we'll see.  I also kind of like the linear modern air vents which is a possibility as well. This is yet another home we stalked in Houston and I do not have a source for the builder but will update this post if I get one.  The photo is mine.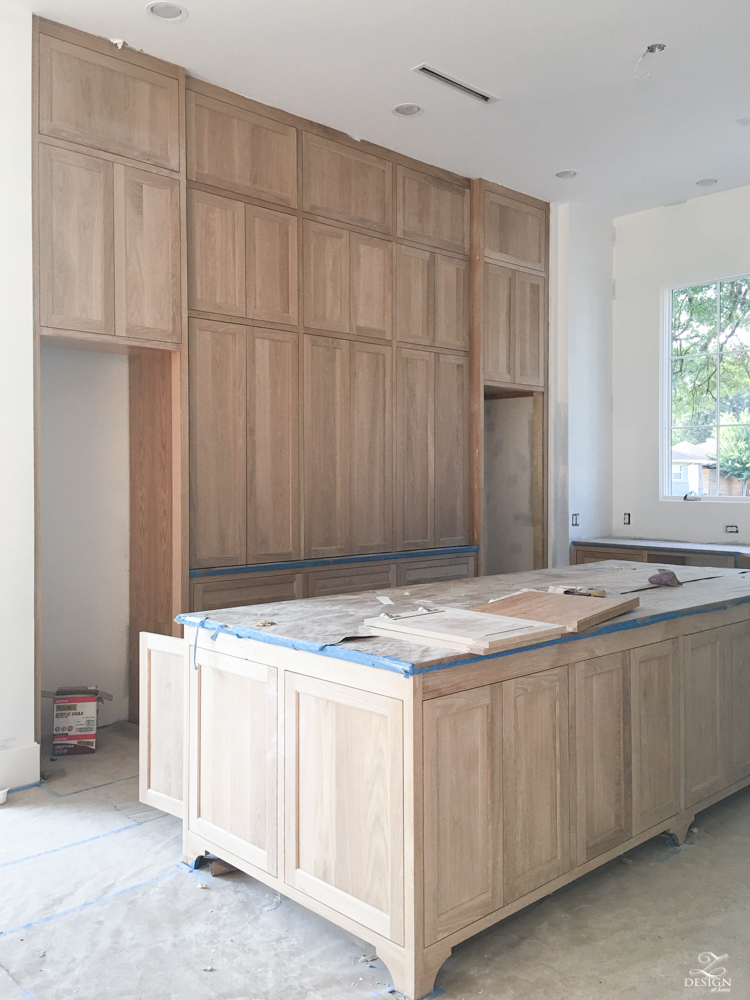 Same house and we love this simple transitional modern staircase.  Ours will be very similar with more than likely a heftier hand rail.  And, the base boards as well will be 8″ with the outlets in the baseboards which in a way kind of disguises them.  Of course you can still see them but at least in this type installation they aren't disturbing the look and feel of your walls so much.  This is something we've always wanted to do so we are kind of excited about this design decision!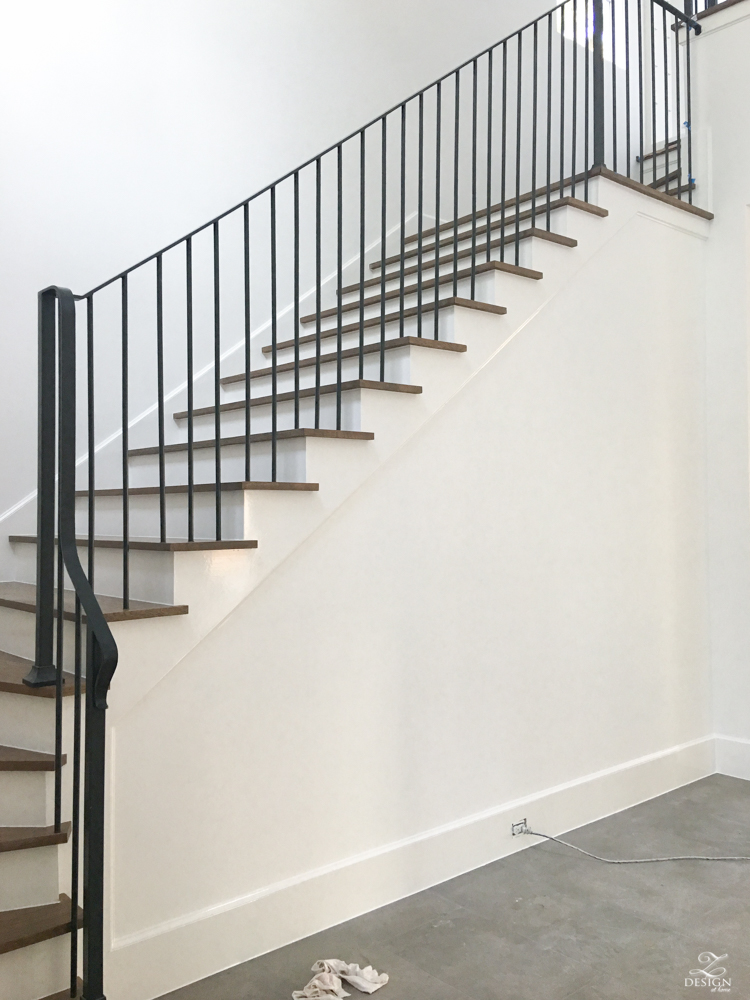 And finally something pretty to look at in the way of finishes for the house.  We will definitely be using these octagonal passage and privacy knobs with more than likely a rectangular rosette (a rosette is the plate between the knob and the door).  I'll be working with one of my favorite brands on these and I couldn't be more excited about it!  As mentioned in my previous house update in August, our exterior trim will be Iron Ore by Sherwin Williams and we will carry that into the house for doors (and other things) and I think the brass knobs will be stunning and create quite the statement on the doors.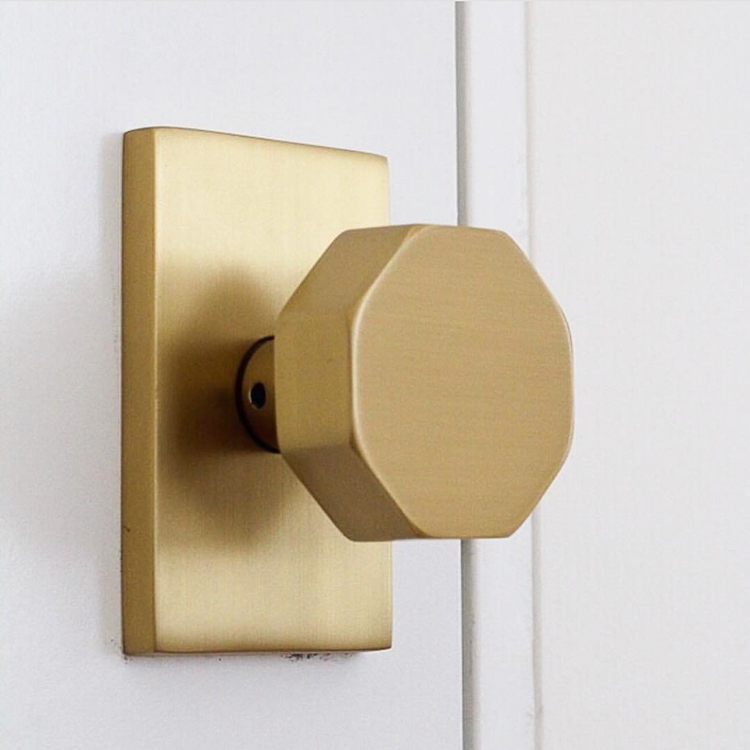 I hope you've enjoyed this update on our Finally Home Project.  As soon as the holidays are over I'll try to share updates more often now that construction is under way.  As we speak they are starting to prep the lot for plumbing and pouring of the foundation so hopefully things will start to move along quickly since we are running about 90-120 days behind at this point – Yikes!
Thanks for stopping in and please consider signing up for my news letter below if you haven't already to receive weekly updates from the blog!