Black, White & Gold Modern Christmas Living Room Tour
Well, the holidays are officially here and I'm excited to share my Black, White & Gold Modern Christmas Living Room Tour with you…I have lots of photos to share this time around!  I hope you are enjoying the holidays so far and I'm so happy you stopped by – thank you!
*Affilate links used in this post.  A comprehensive source list is located at the bottom and some throughout this post.  Please read my full disclosure policy here.
When you are building a new home and every ounce of design energy you have is being put into that it can be a little hard to get motivated to decorate for the holidays but, in the living room this year I primarily worked with items I already had (especially pillows) and gave my tree a totally different look by adding a few more white ball ornaments, and some black ones this year which is finally beginning to motivate me for holiday decorating!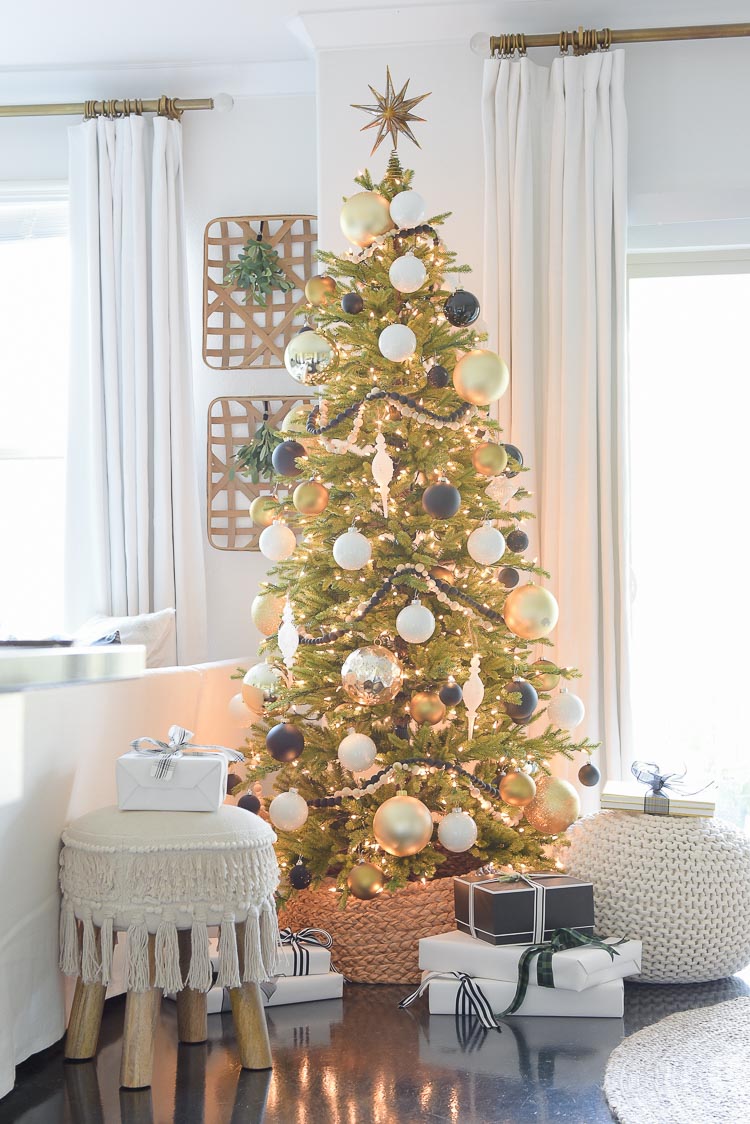 Instead of white and bright, I went for a more moody, cozy look and I have to say I am loving it!  I really love the woven tree collar that adds a bit of texture at the bottom of my tree as well!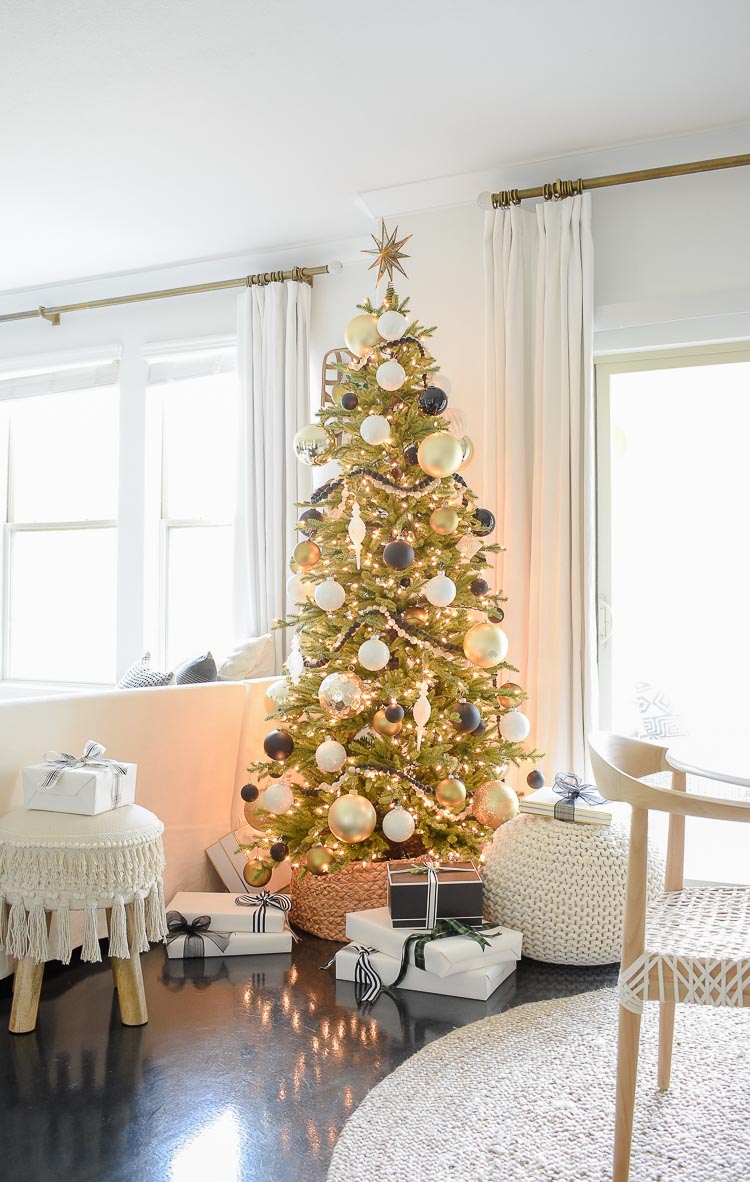 We'll come back to the tree in a moment but for now I want to share my black, white & gold living room with you.  I kept my pillows neutral in shades of black, white and gray.  My faux fur pillows are always a staple this time of year.  I love how they soften the space and speak Christmas winter whites to me.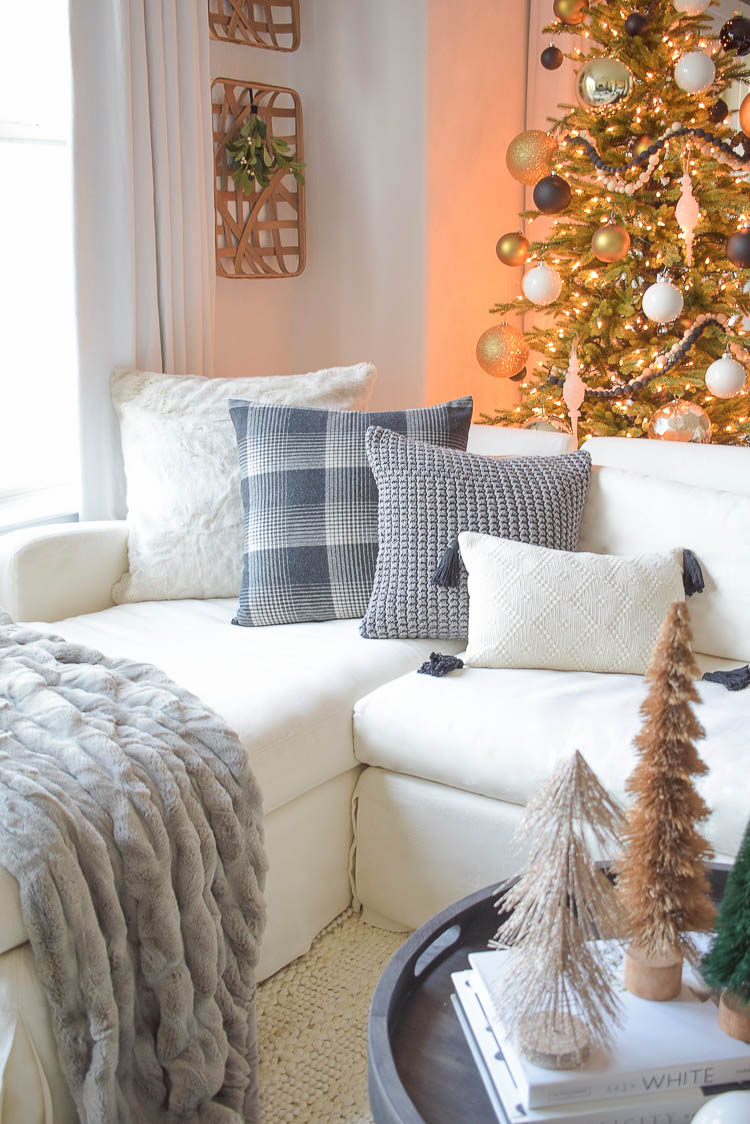 This faux fur throw in gray is a new addition.  I also have it in ivory and this by far is my favorite faux fur throw I own since it's so soft and cozy.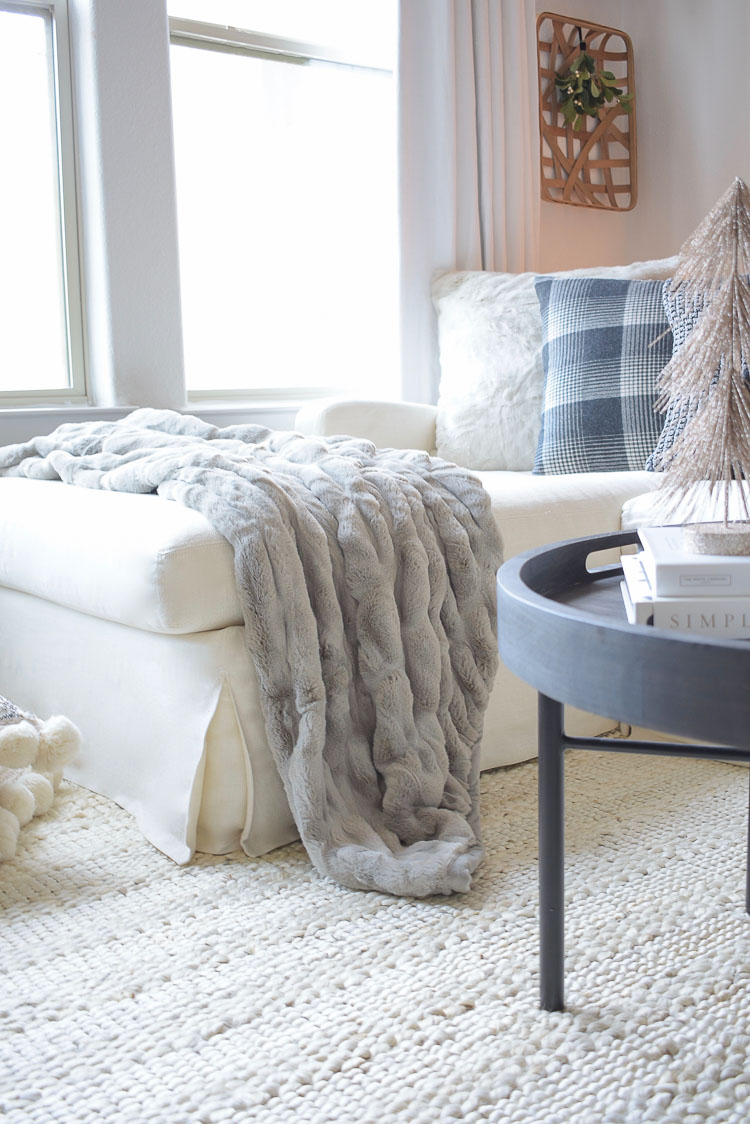 Such a cozy look this year and everyone around here is loving it!
These darling baskets on the wall were a very easy DIY project where I simply attached this mistletoe bundle to the baskets and hung them on the wall.  Love the modern farmhouse feel it adds to the space.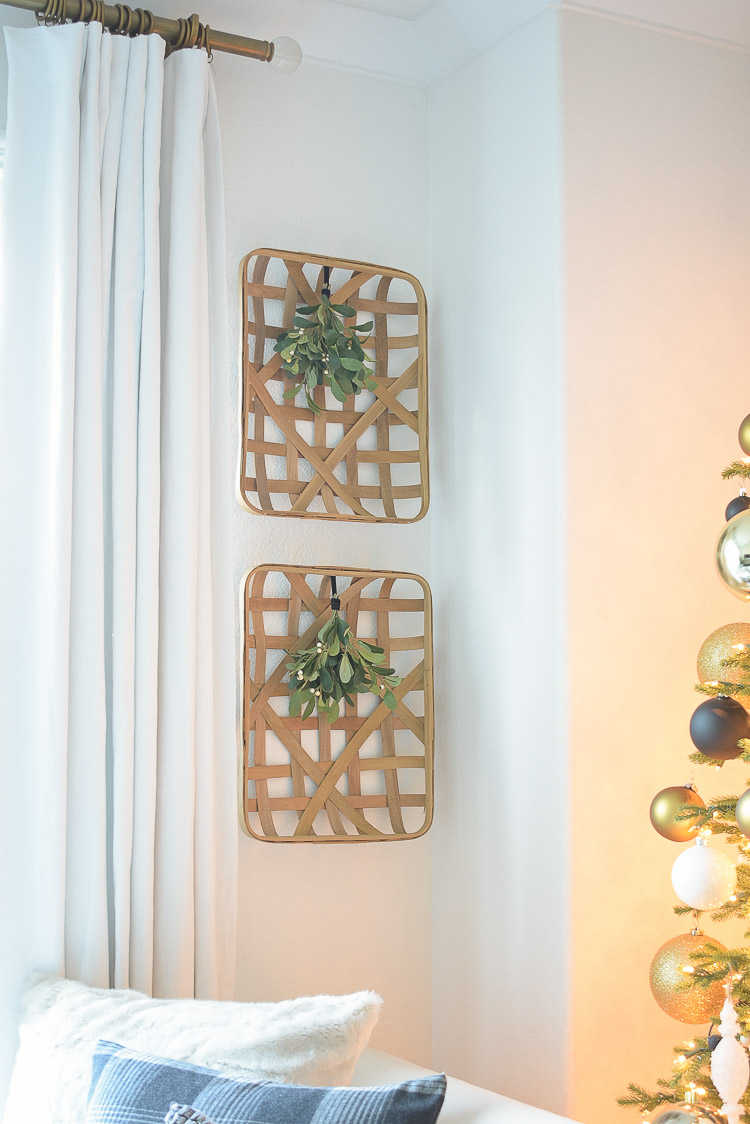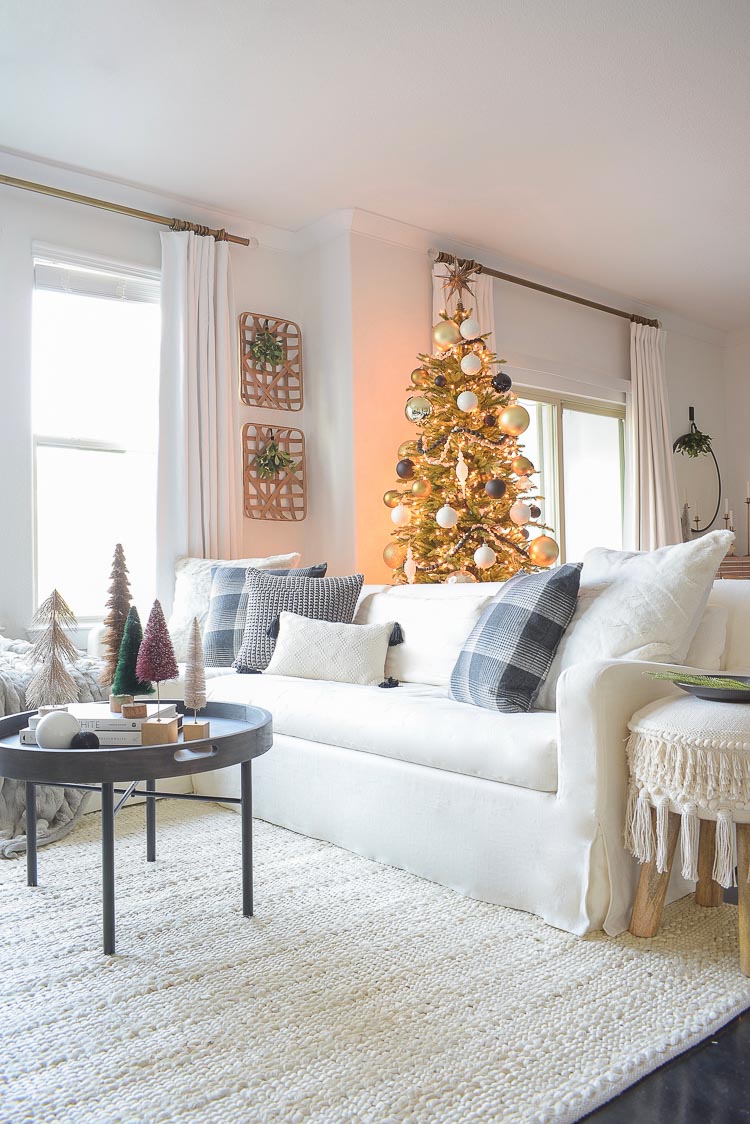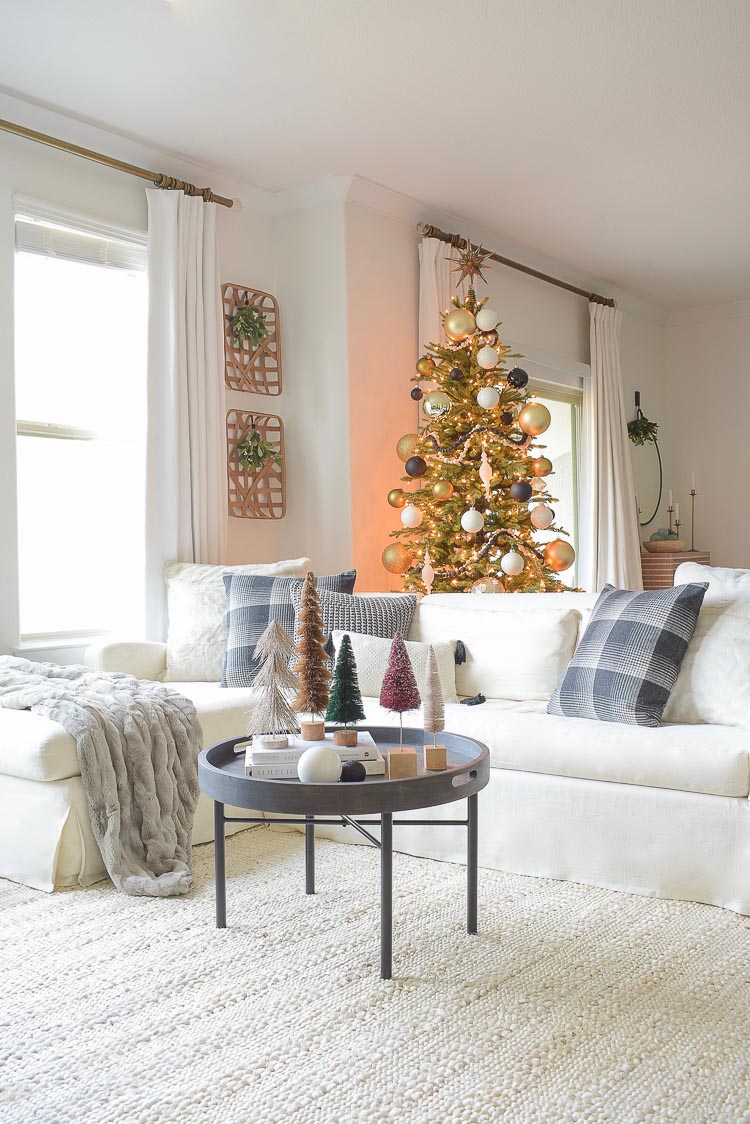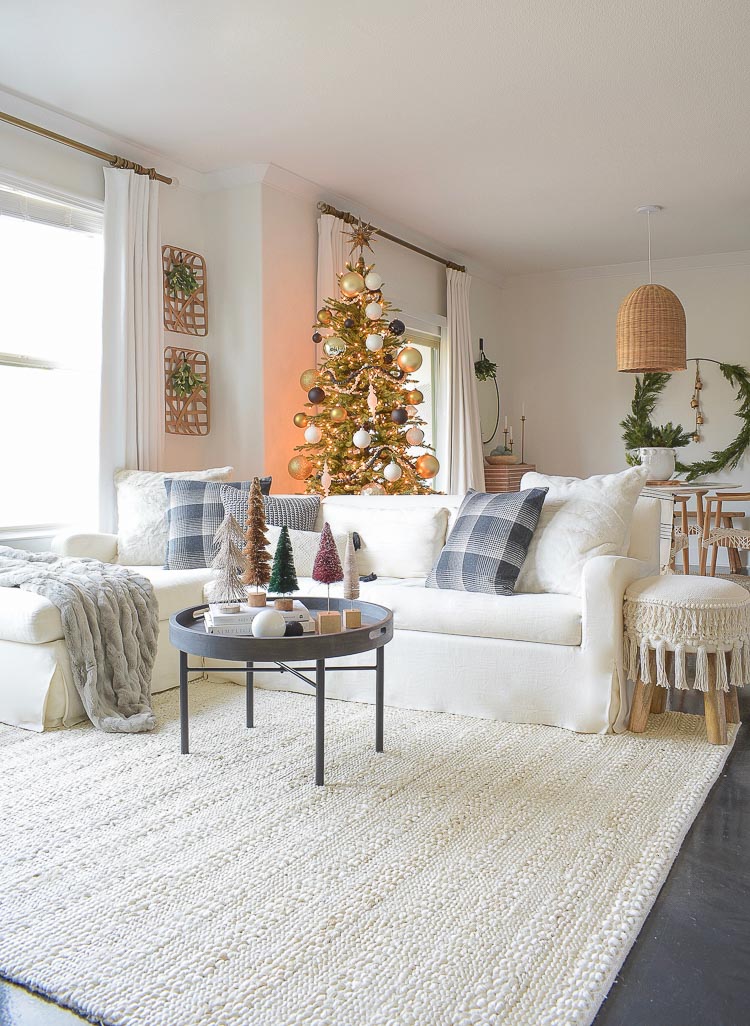 The coffee table holds a grouping of bottle brush trees in champaign, gold, green, and wine for a slight pop of color in the space this Christmas.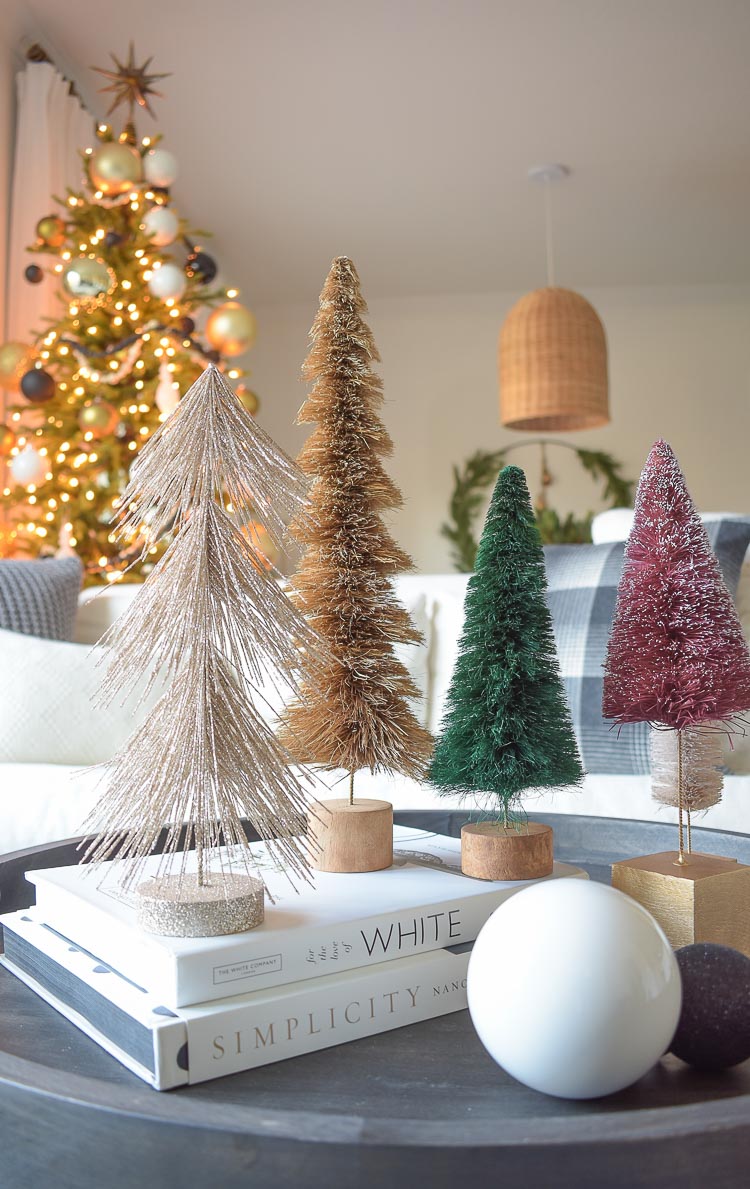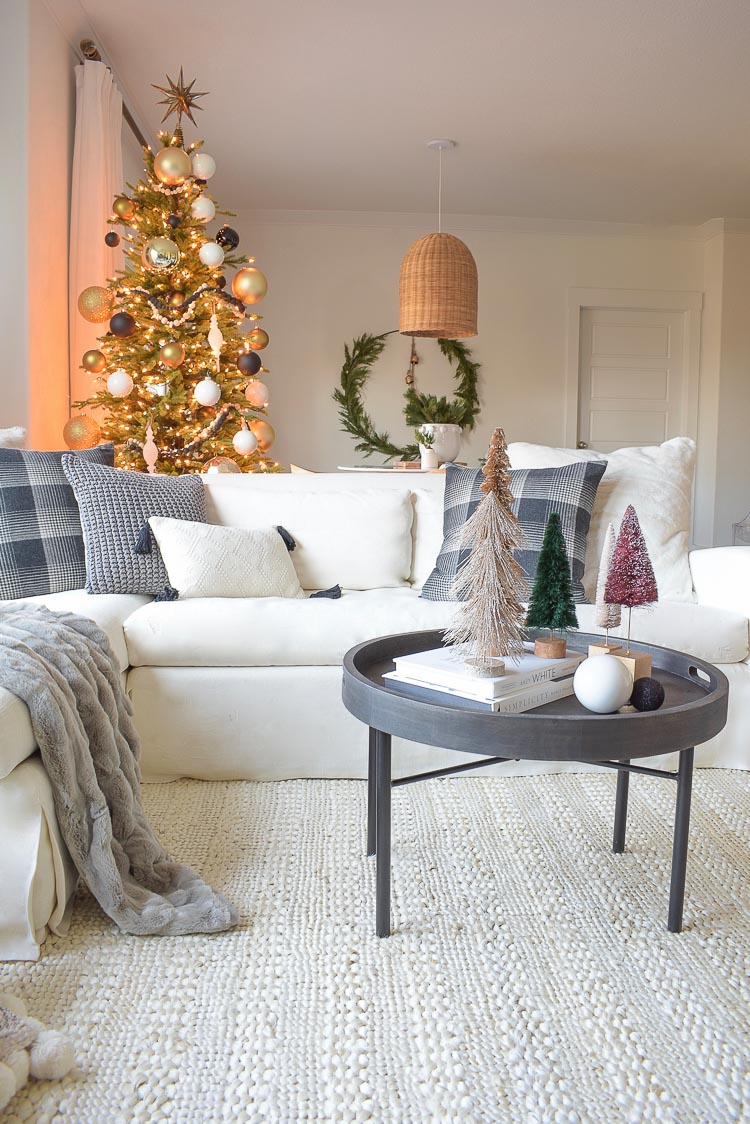 My favorite little fringe, tassel stool still serves as a side table in the living room this holiday as well.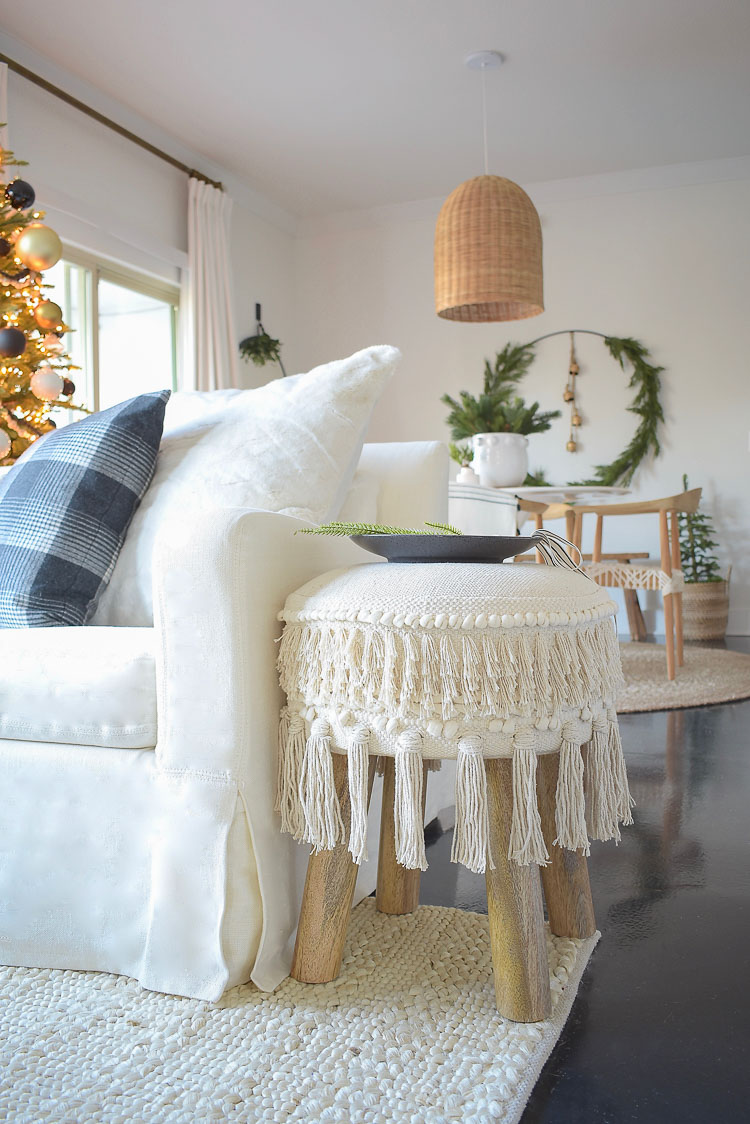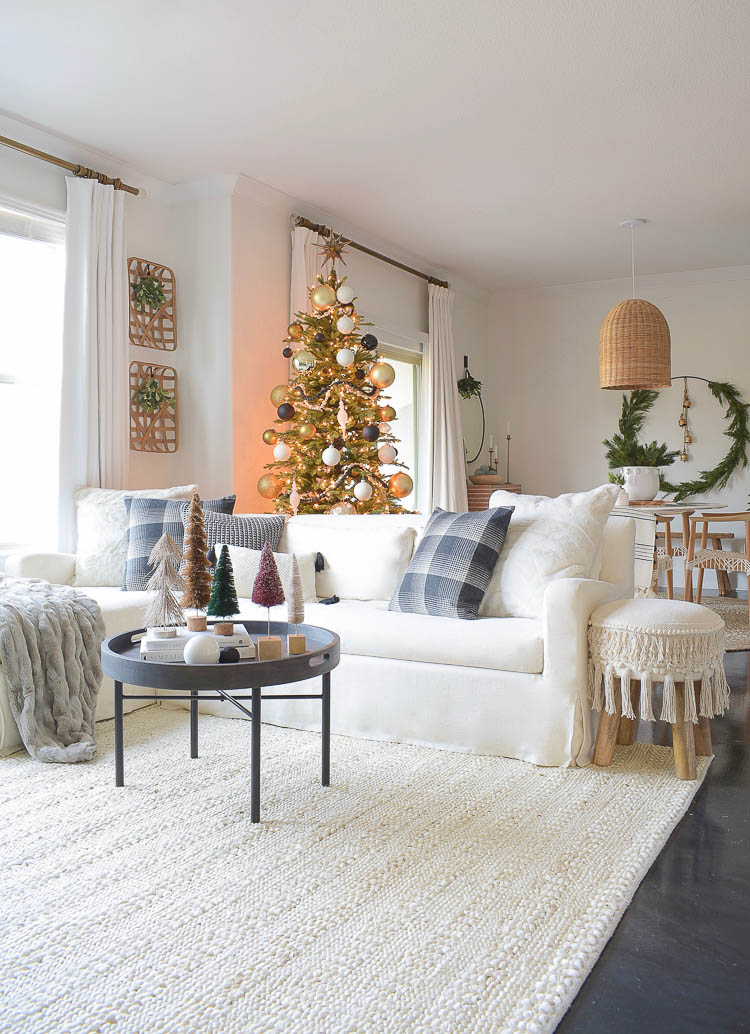 The other side of the living room where the gallery wall is received some simple Christmas cheer, but my favorite part is always the real tree I always place in a planter or favorite basket in the corner.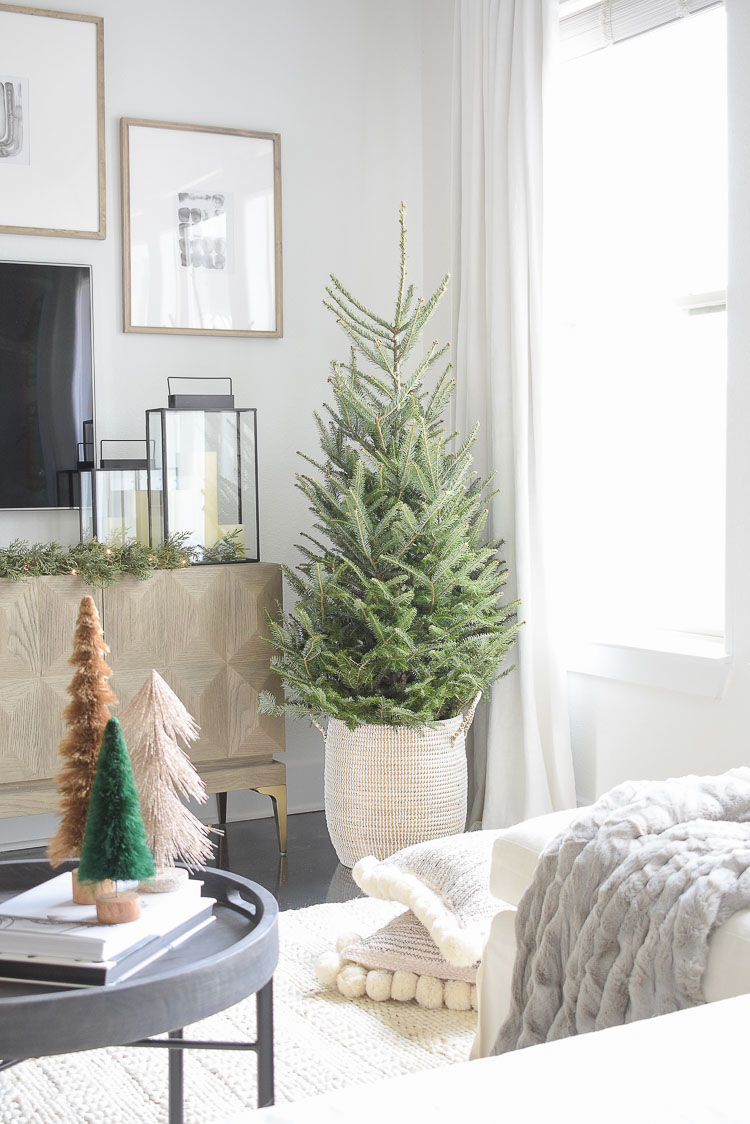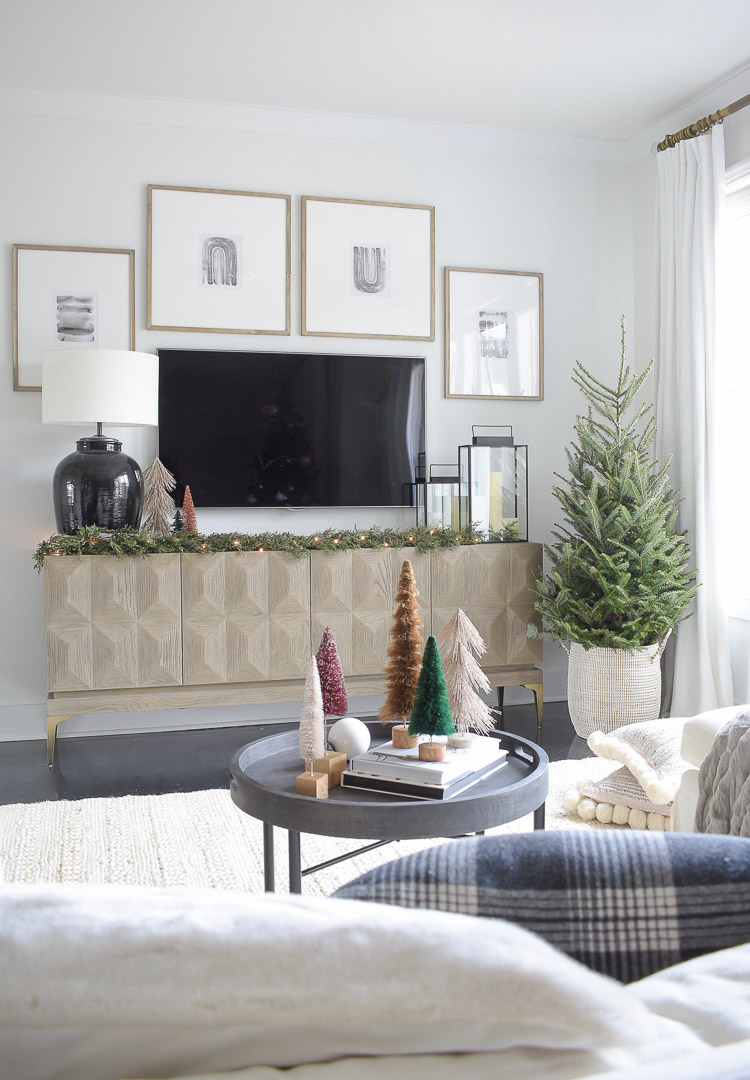 I used these modern lanterns with flameless LED candles and really just love this set up that can be used any time of year, and in multiple places in my home including the outdoors.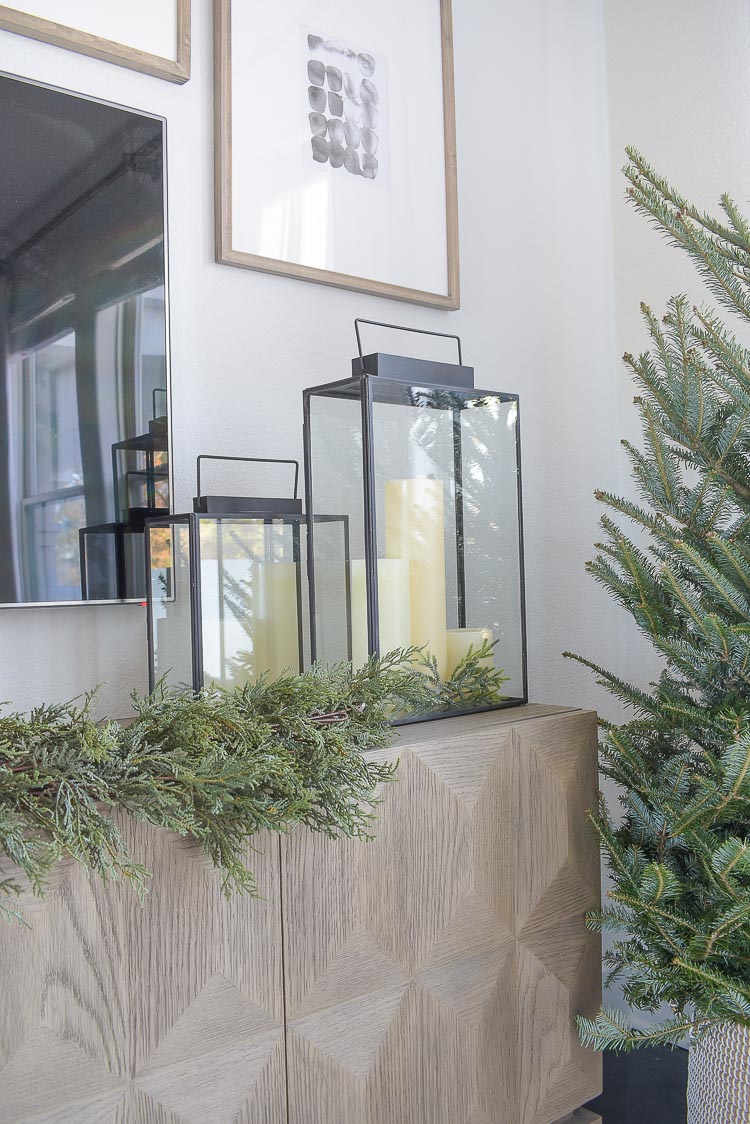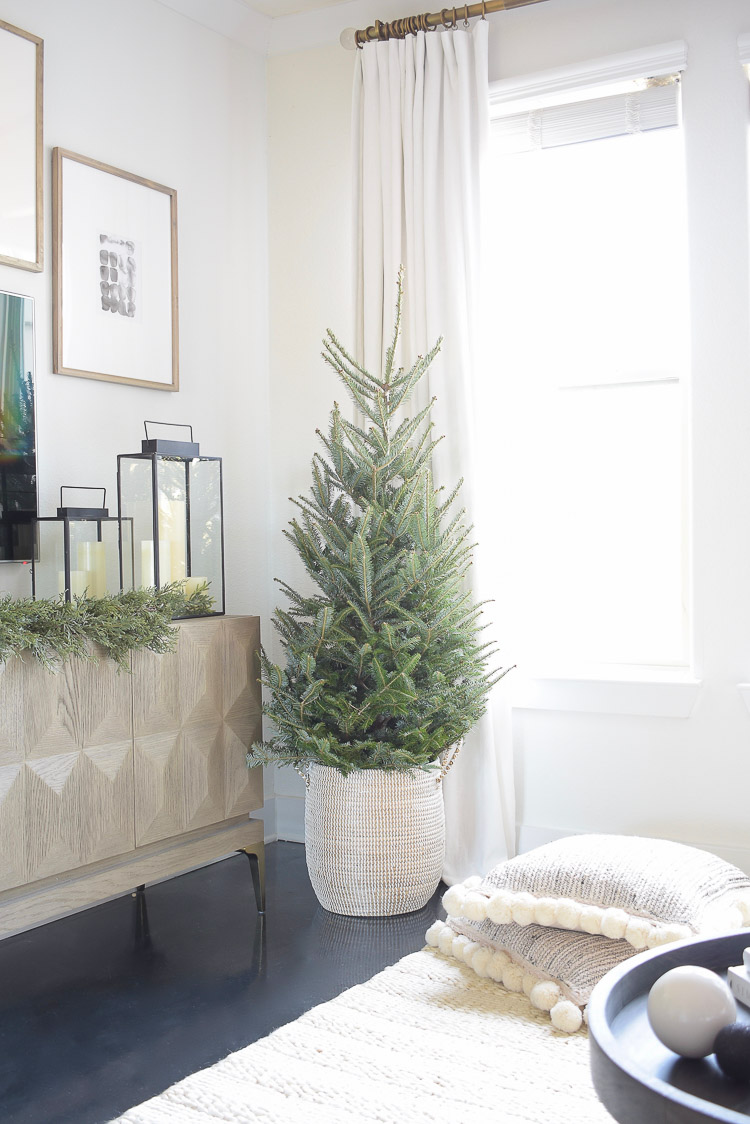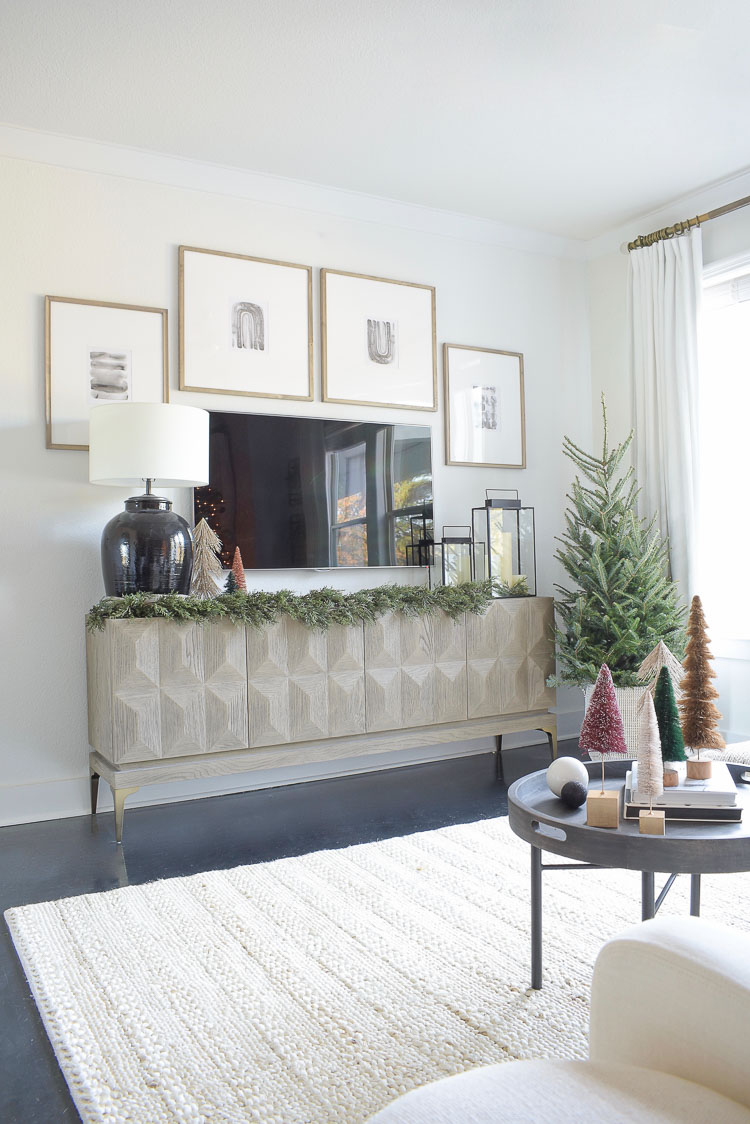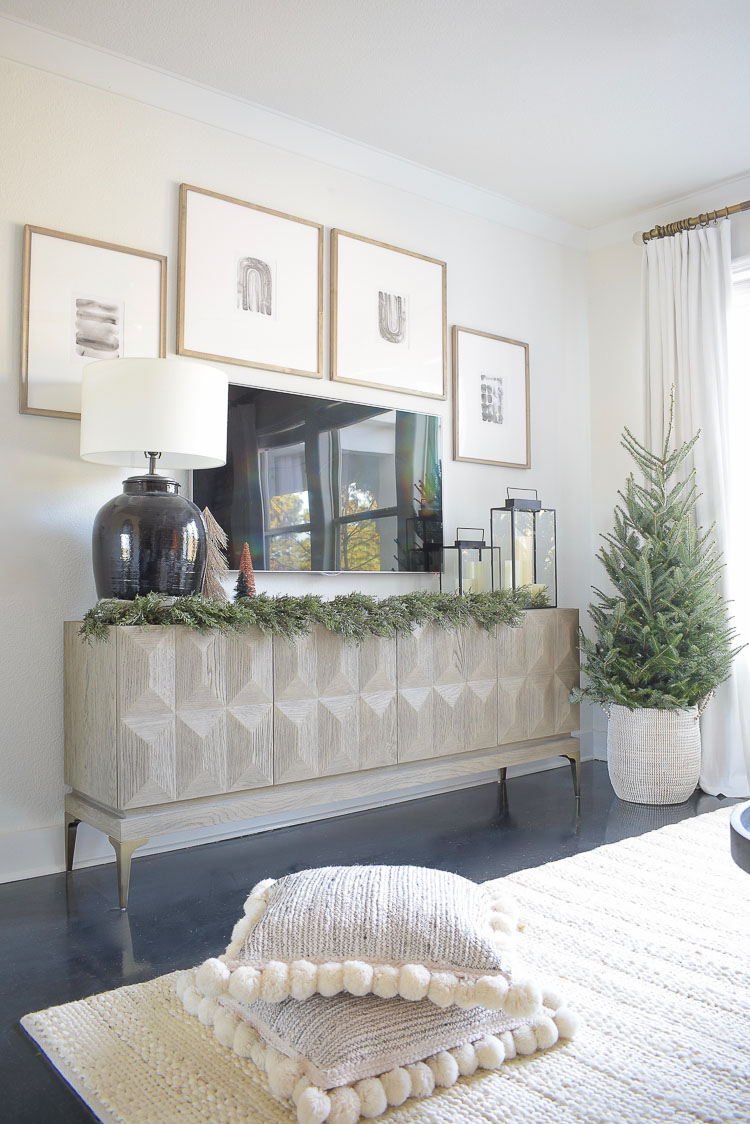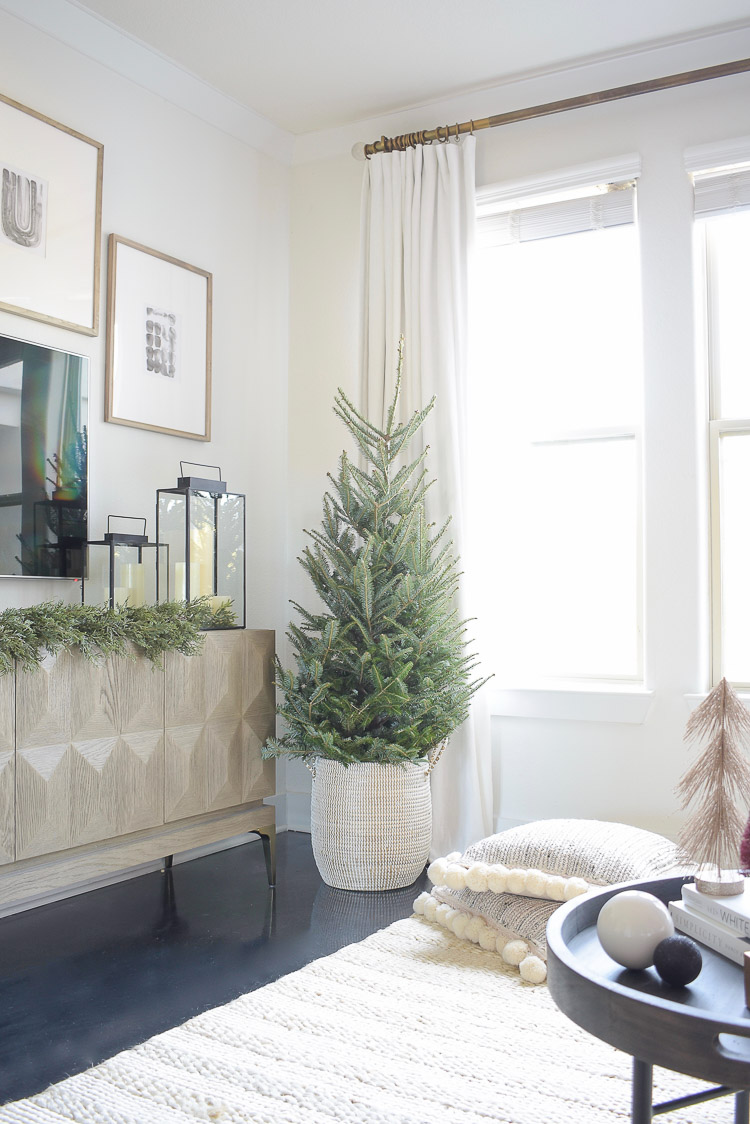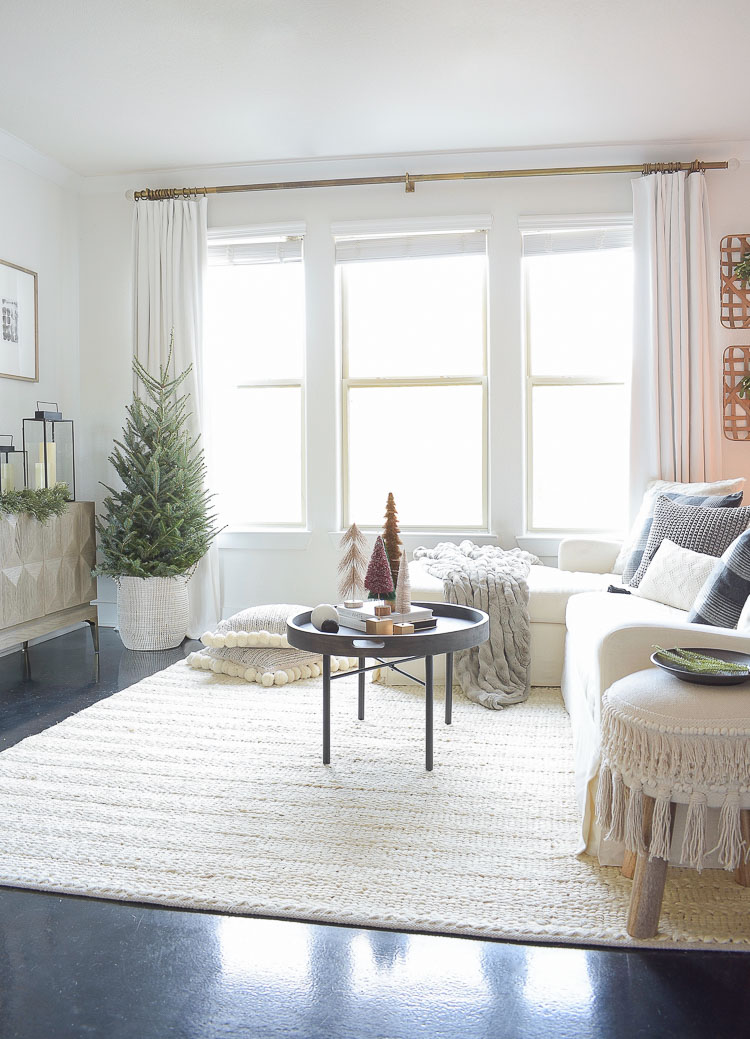 Back to the tree side of the living room.  I really just wanted to keep the tree super simple this year with pops of black, white & gold.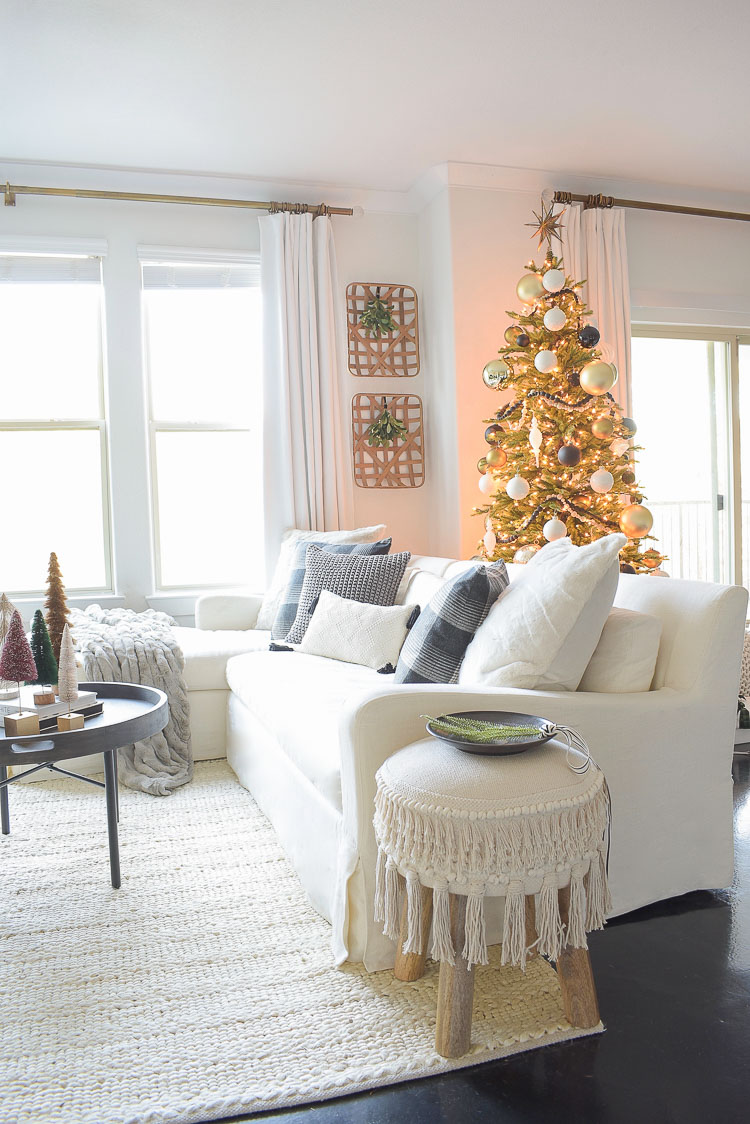 I'm also using these natural and black wood bead garlands that I'm really smitten with and will be able to use in a myriad of places once we get into the new house next year!  Can't wait!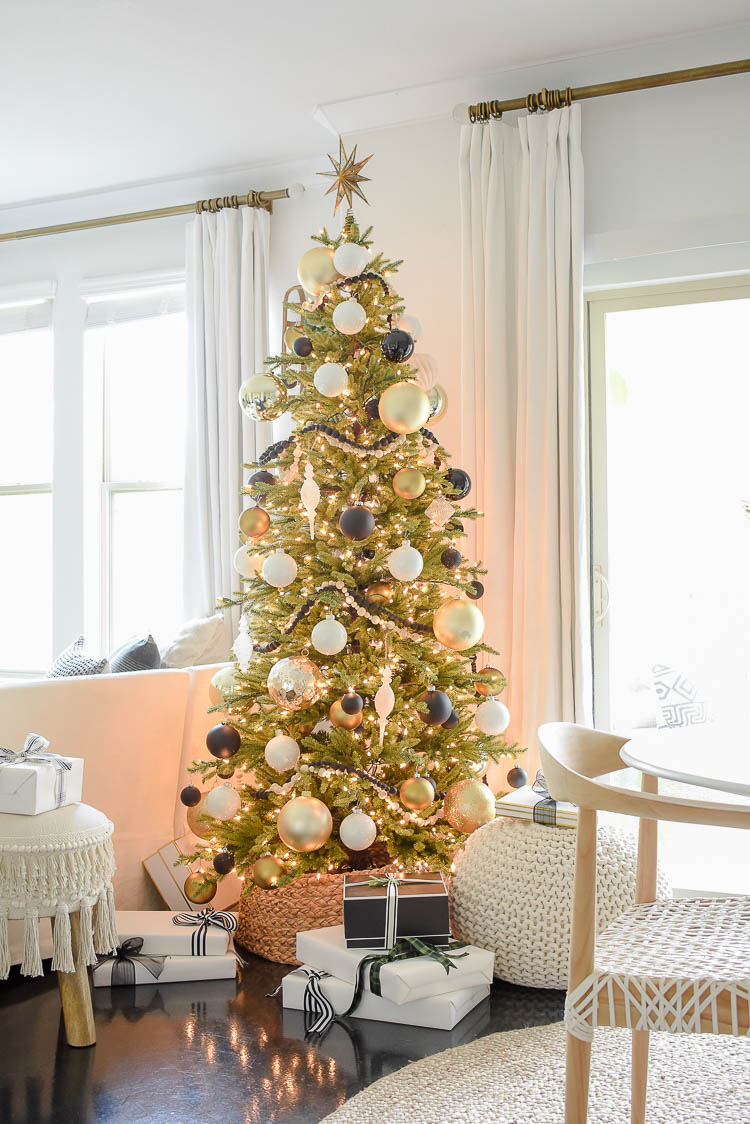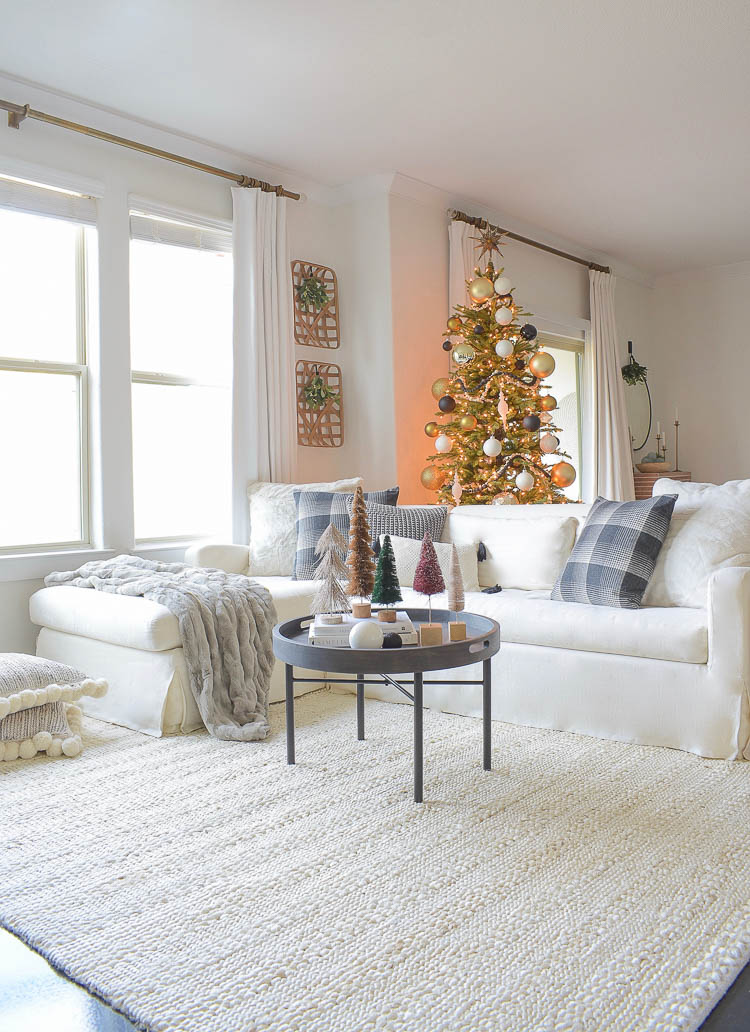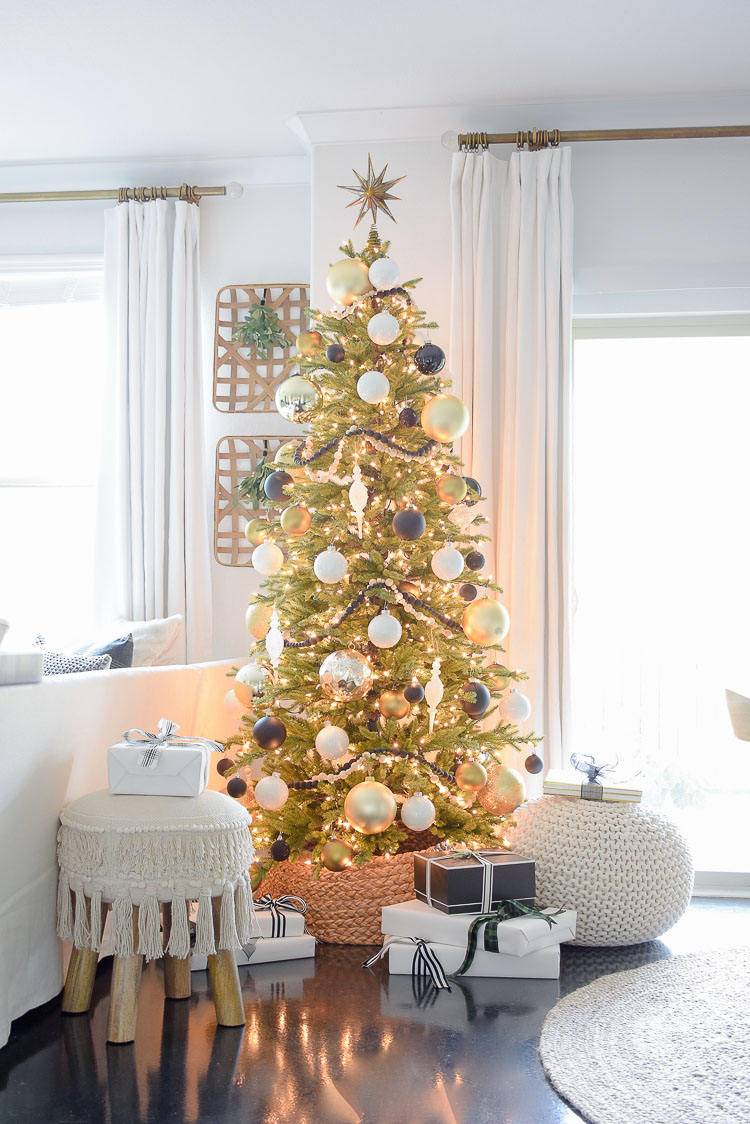 I used a combination of black and white modern gift wrap, along side this white knit pouf.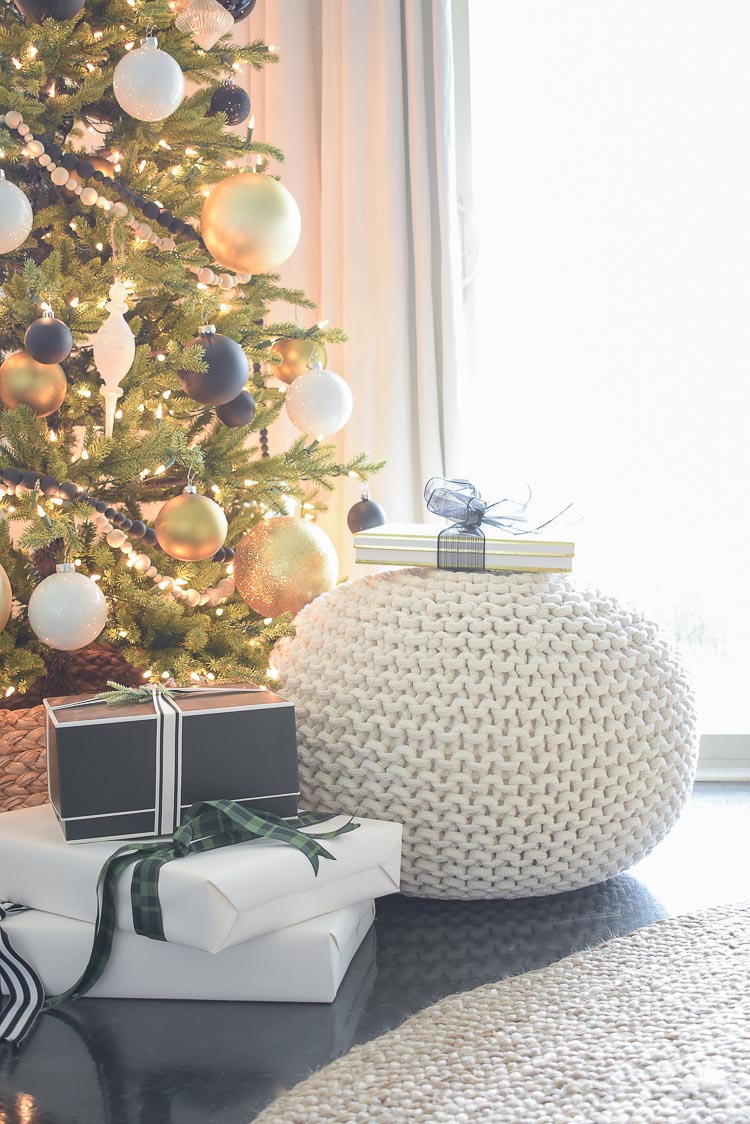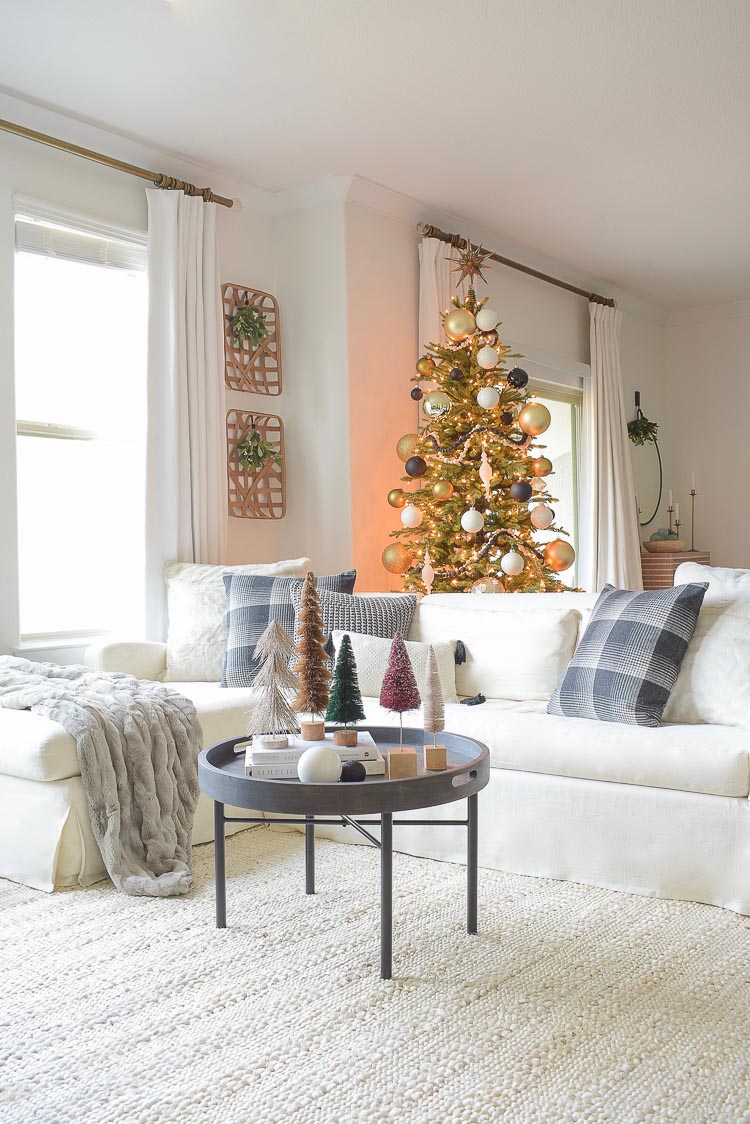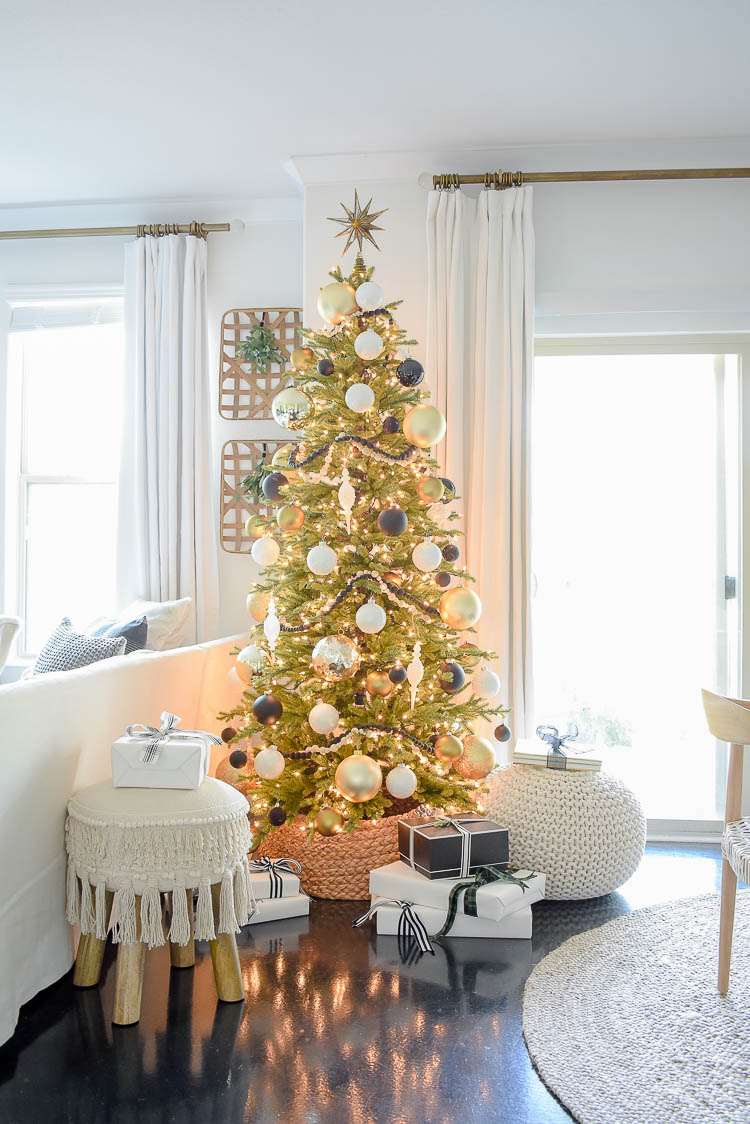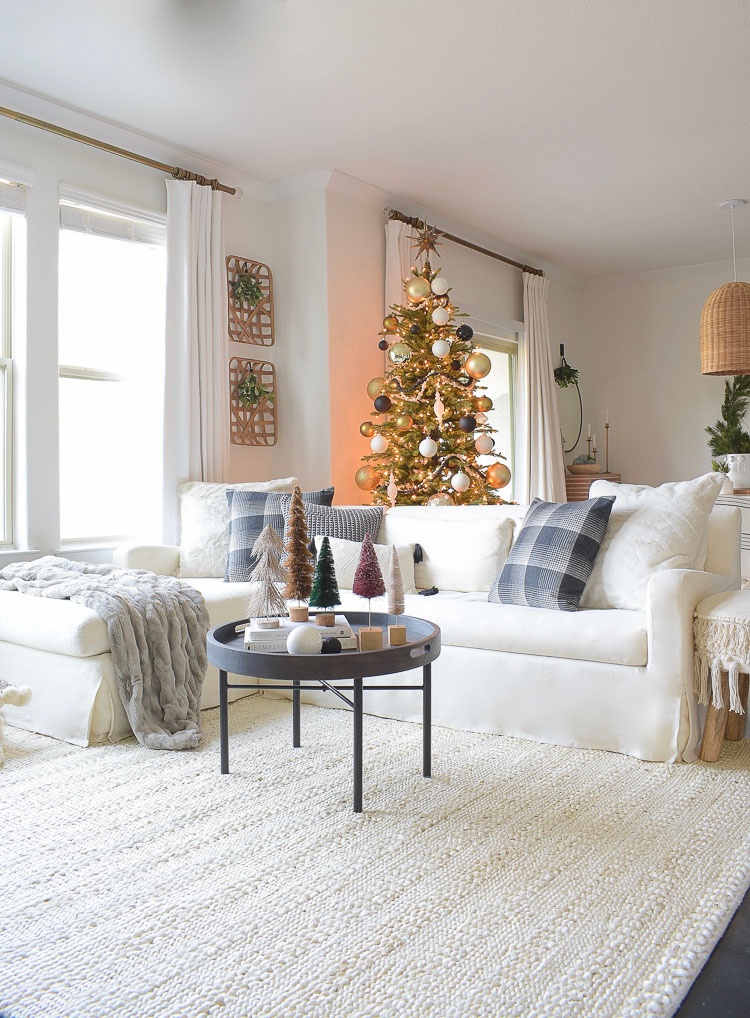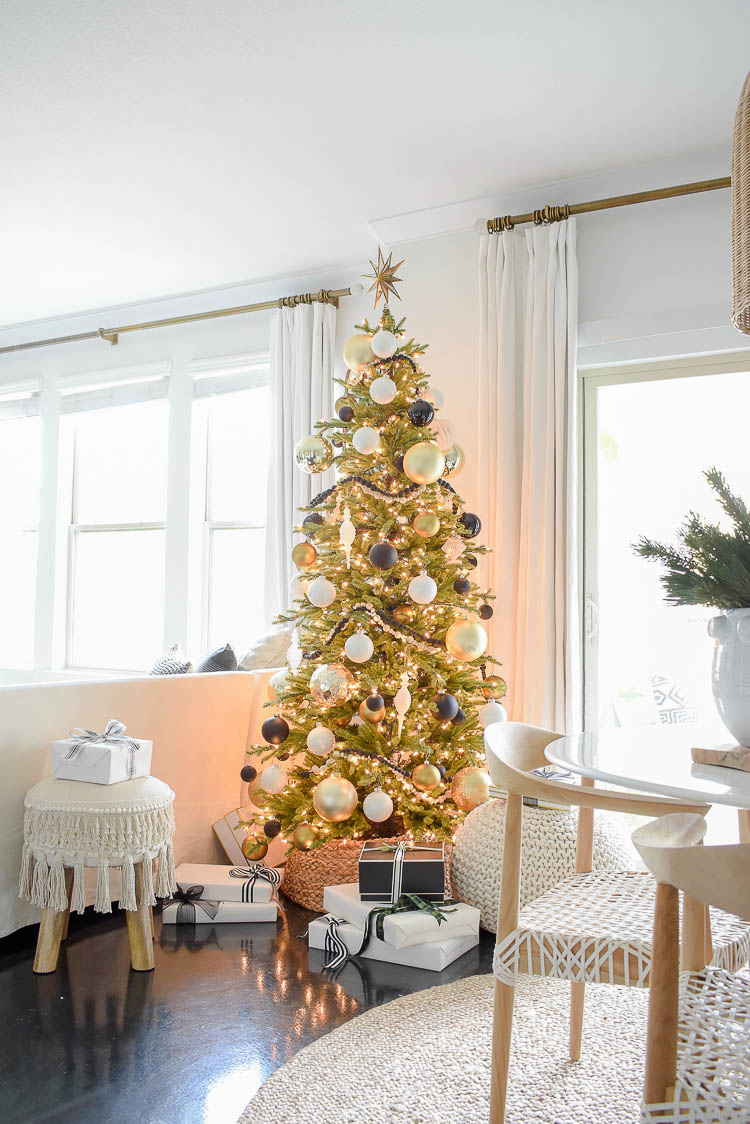 I love this view into the dining room, just beyond the living room in our rental.  I bet you are curious about that space by now and I'll be sharing it hopefully later in the week!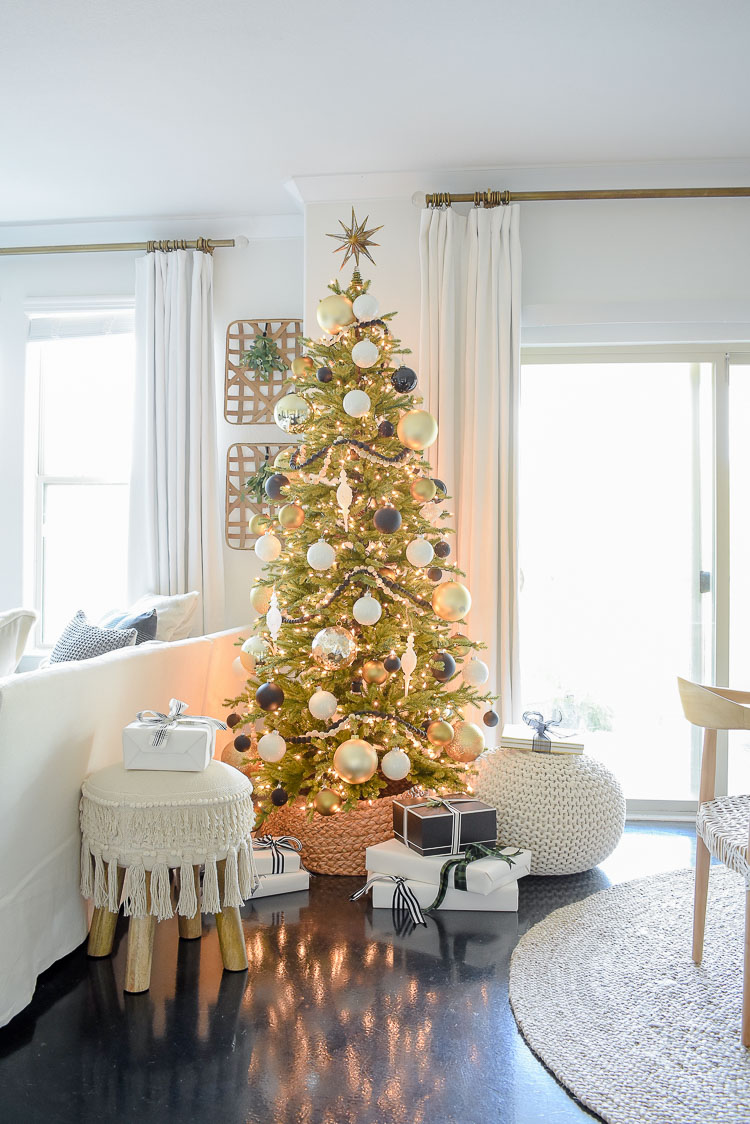 Thank you for stopping in to visit my Black, White & Gold Modern Christmas Living Room Tour.  Here is a sneak peek of my Christmas dining room coming soon.  I hope you'll pop back by for that and don't forget to subscribe to the blog below for weekly updates on the blog.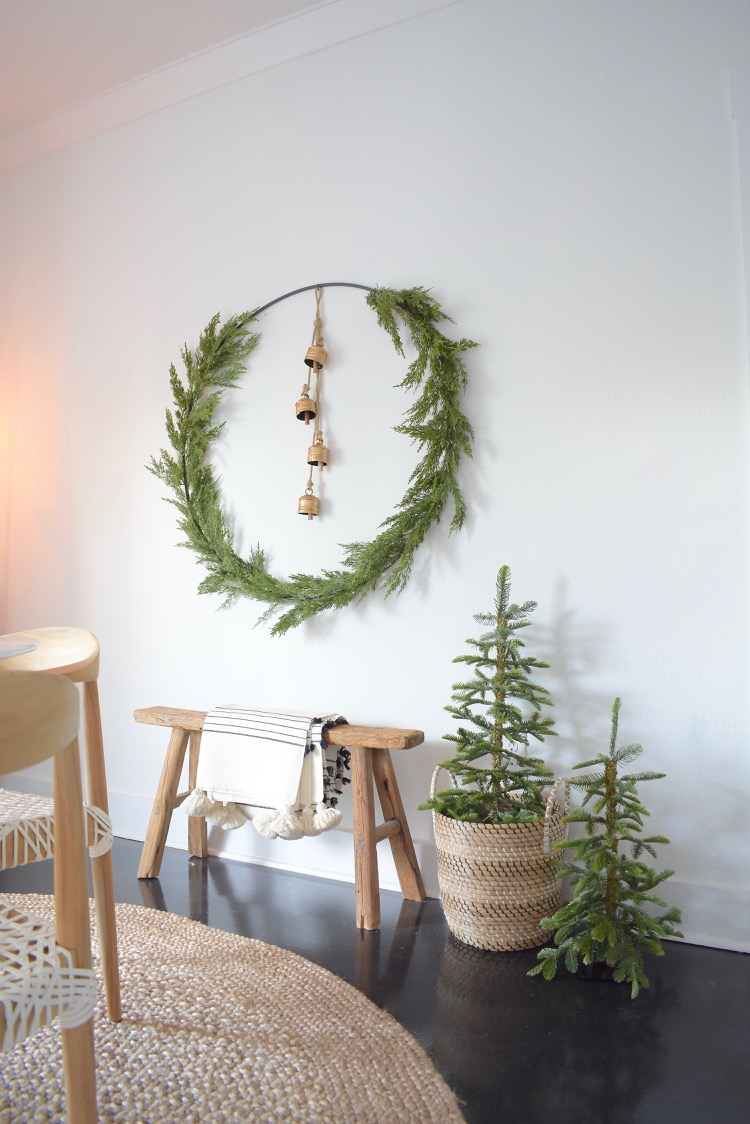 Black, White & Gold Modern Christmas Living Room Tour
Bottle Brush Trees | Christmas Tree | Rug | Coffee Table | Black Lamp | Basket w/ Tree | Tree Collar | Black/White Ribbon | Lanterns | Faux Fur Throw | Sofa | Faux Fur Pillow | Similar Black/White Plaid Pillow | White Tassel Pillow | Tassel Stool | Framed Prints | Frames | Black Ball Ornaments | Gold Ball Ornaments | White Ball Ornaments | Natural Wood Bead Garland | Black Wood Bead Garland | Garland | Bells | Floral Ring | Wooden Bench | Table Top Trees | Tree Topper | White Knit Pouf | Farmhouse Wall Basket | Mistletoe Bundle