Spring Home Tour + Spring Decorating Tips
Spring has definitely sprung around here so last week I couldn't wait any longer to do some updates for spring and to get ready for a spring home tour.  This is truly my favorite time of the year because I grew up in a beach town so I always get excited about pulling out my spring and summer decor.  My absolute favorite spring item to decorate with is coral, and fresh flowers are a close second these days!  I literally have coral in every single room that I spend any amount of time in because it brings back good memories of my childhood and, because it reminds me of home and the hope that we will again live in (or at least near) that little beach town I grew up in one day.  My 3rd favorite item for spring decorating would be pillows of course but I think one should decorate with any item that reminds them of spring and that evokes that feeling of fresh and new.  Whether you decorate with flowers and greenery from outdoors, or make that weekly run to your local market for fresh flowers, or shop in store or on line for that favorite spring item, it's always nice to make those updates that give us that renewed feeling.  And I don't know about you but I always feel like I can breathe again when the (mesquite) trees around here start blooming because I know at that point that winter has passed until next time!
First I'm starting with updates I've made to the kitchen, mostly with fresh flowers.  This first arrangement was left over from my white vase challenge post I collaborated on with several other talented bloggers last week.  If you haven't seen it yet you can see it here but after the challenge I was left with this gorgeous organic spray of forsythia stems, which we enjoyed on the kitchen island for a few days before they went on to another life.  I also have a simple arrangement of white snap dragons left over from my Easter table scape that you can see here if you haven't seen it yet.  I love repurposing and rearranging existing flowers into a new vessel for a new space like I did here to freshen up my kitchen.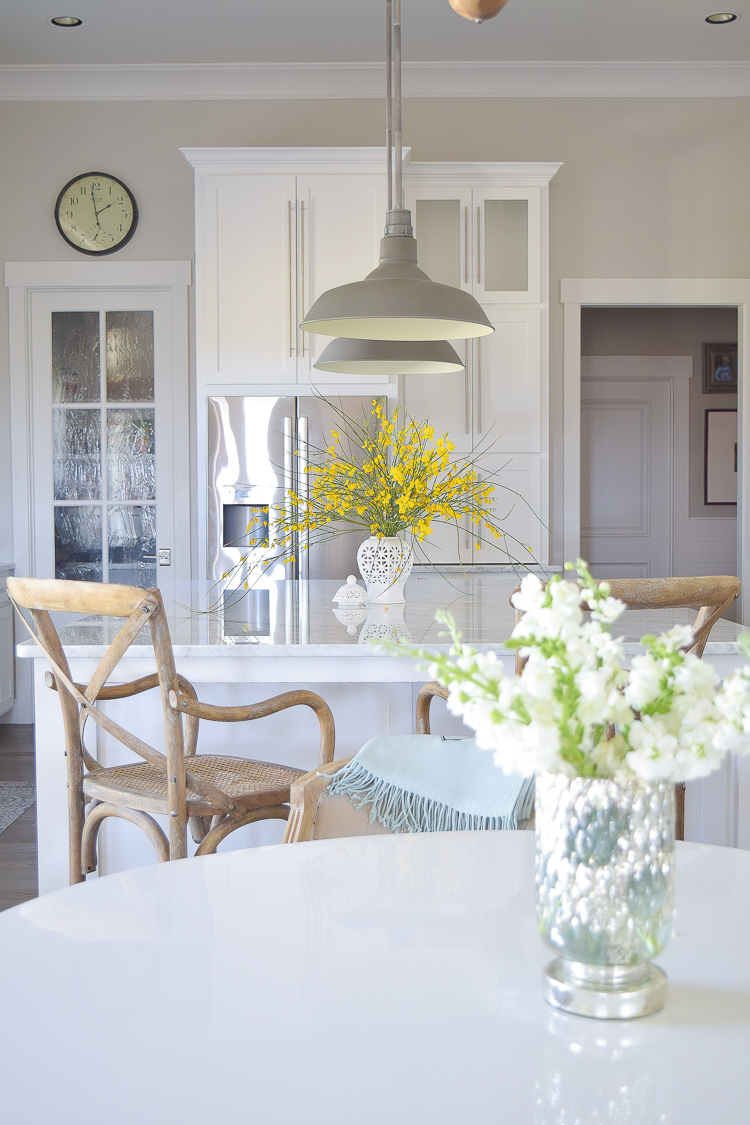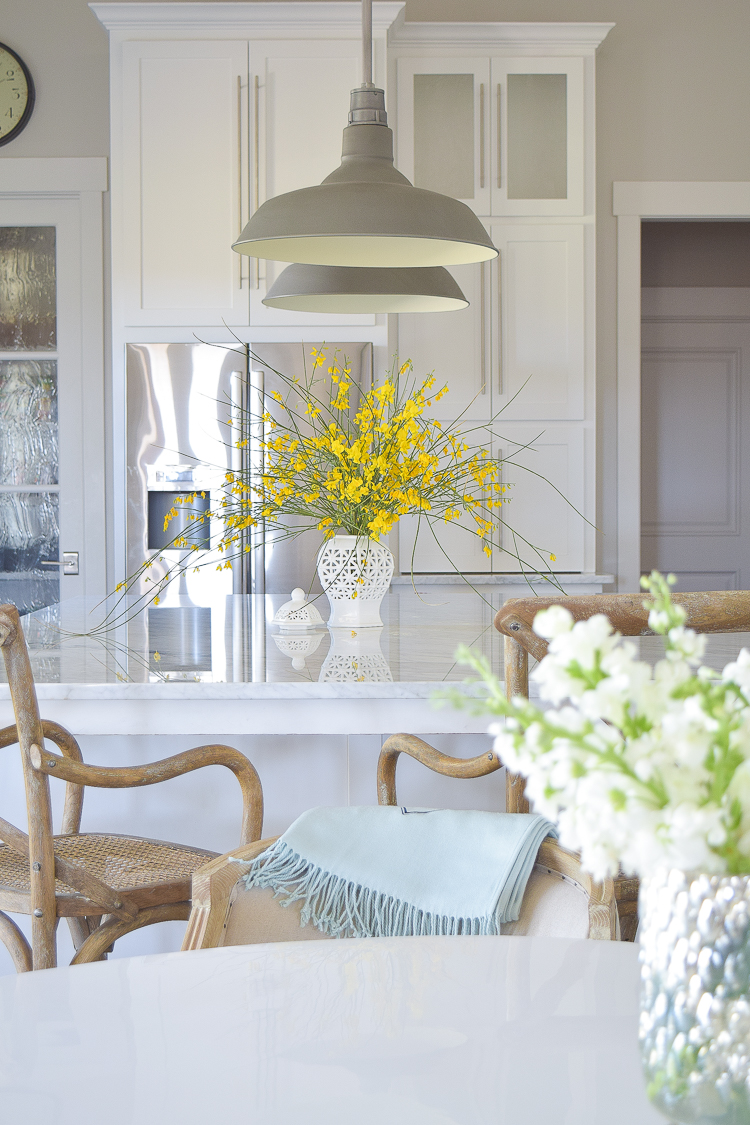 When I go to the market to get fresh flowers I'll literally just weave in and out around the flowers to see what speaks to me.  When I found these stunning yellow tulips I instantly knew they would be so lovely in one of my blue and white ginger jars so they had to hitch a ride home with me!!  I already had purple tulips at the moment as well but these yellow beauties just made my heart sing (and they are doubles so that makes them even more yummy:)!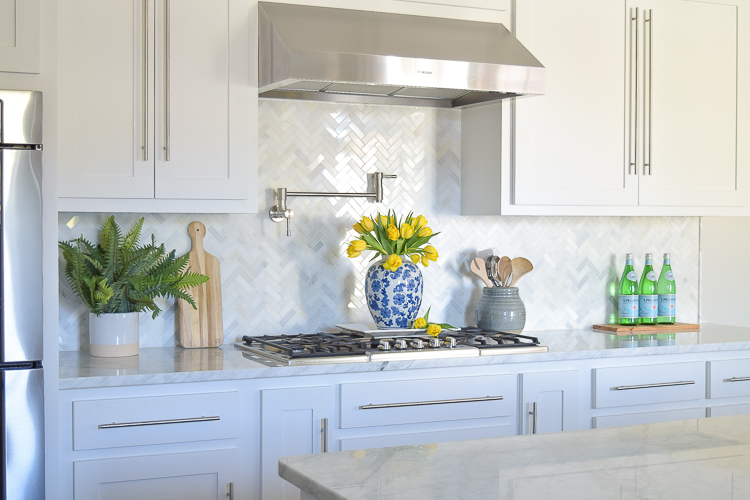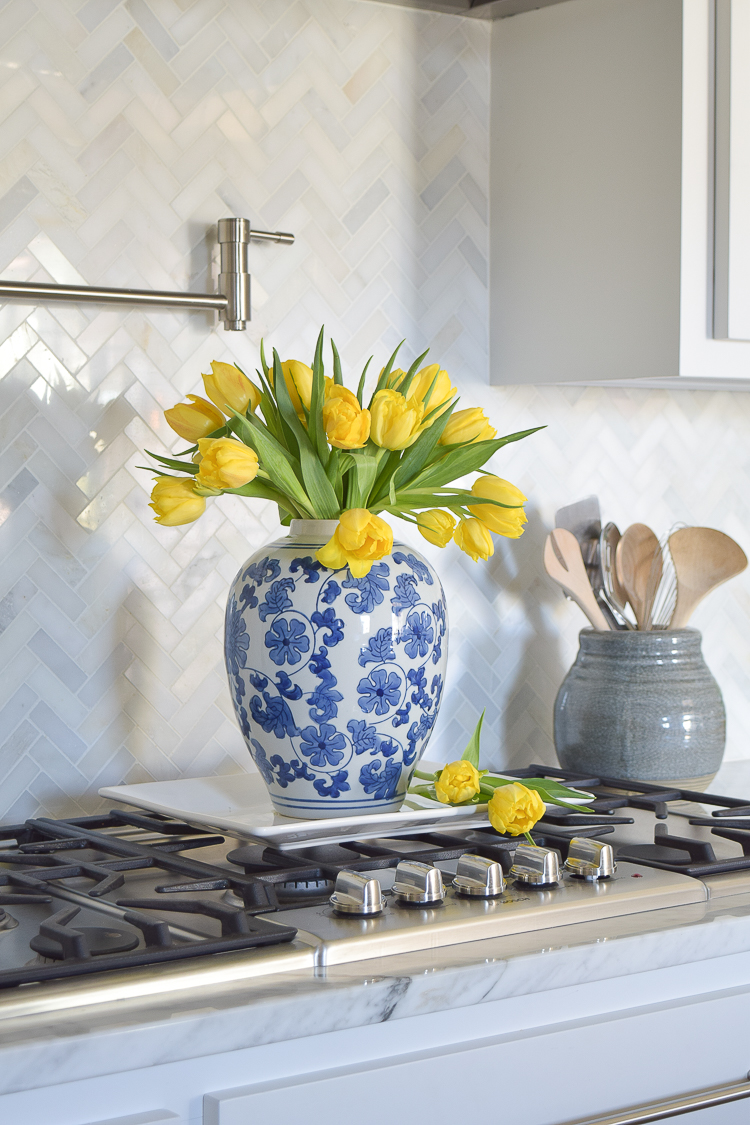 Even the coffee station received a spring update!  And I'm not a coffee drinker but my husband is so do you think he will like the aqua coffee cup? Hehe!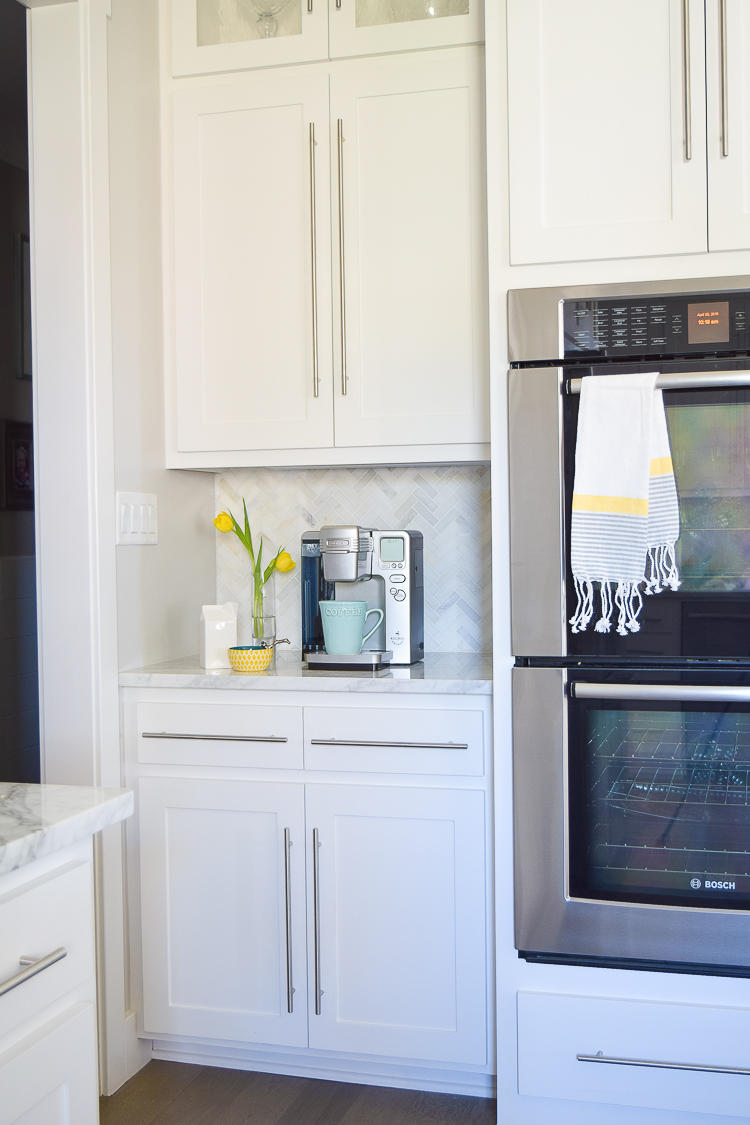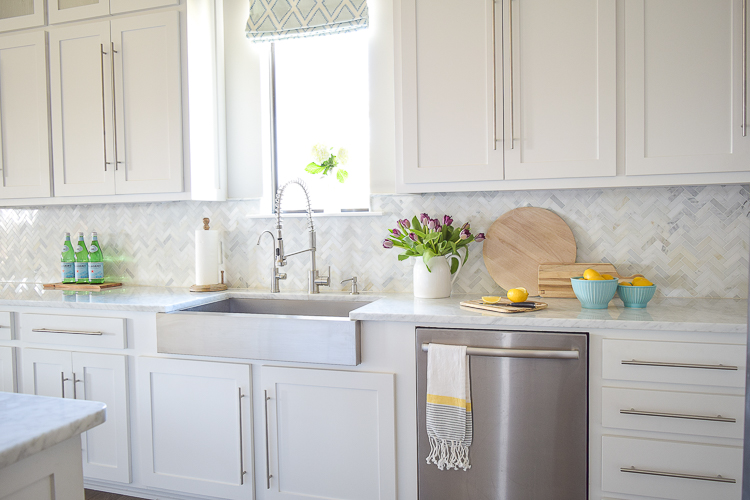 I also love changing out my dish towels for the season.  I have several that have pops of yellow and blue in them and it always gives my kitchen a fresh look to pull these out in the spring.  I typically find all of my dish towels at HomeGoods but I've sourced some items here & here that are similar.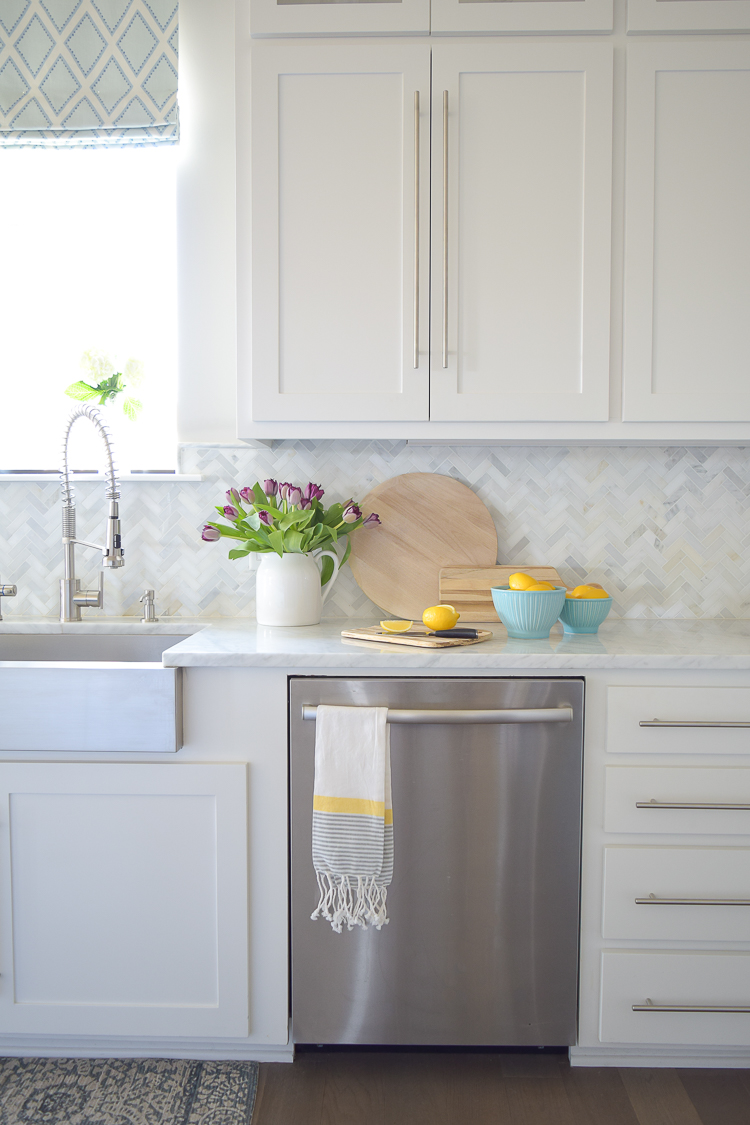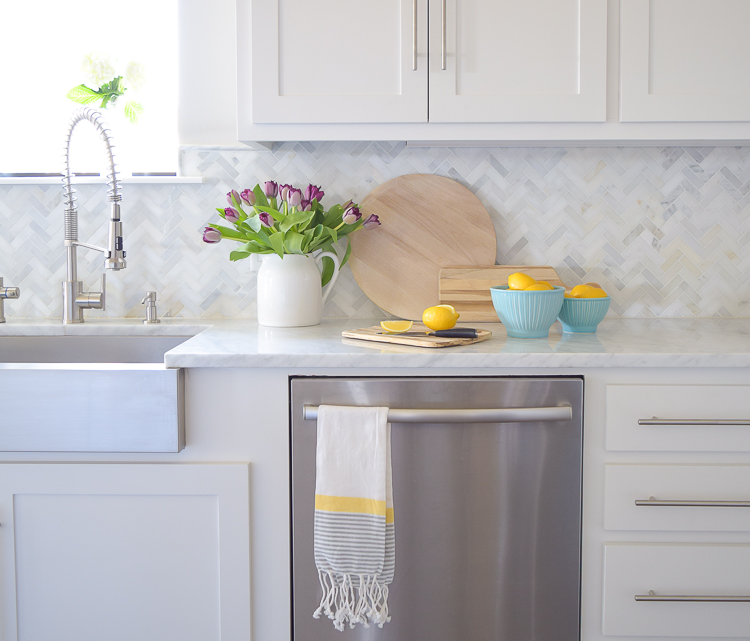 Get the Look

And these purple beauties stole my heart as well.  These are fringed tulips where the yellow ones are double tulips and I couldn't be more smitten with both:)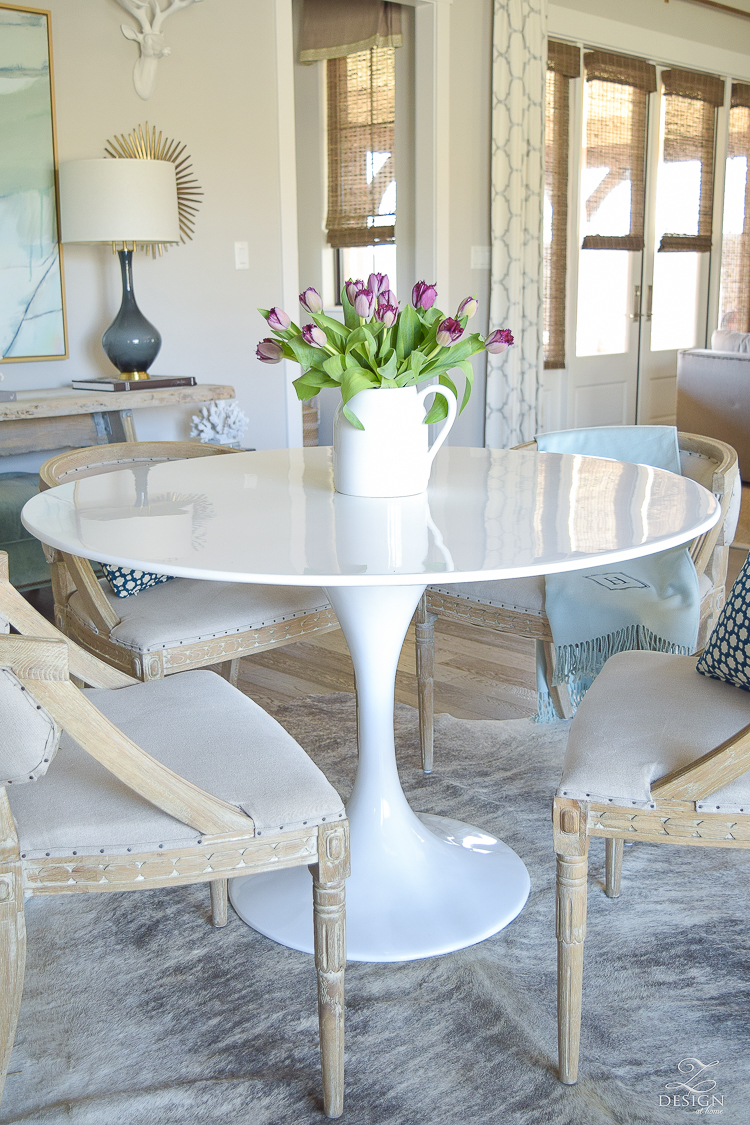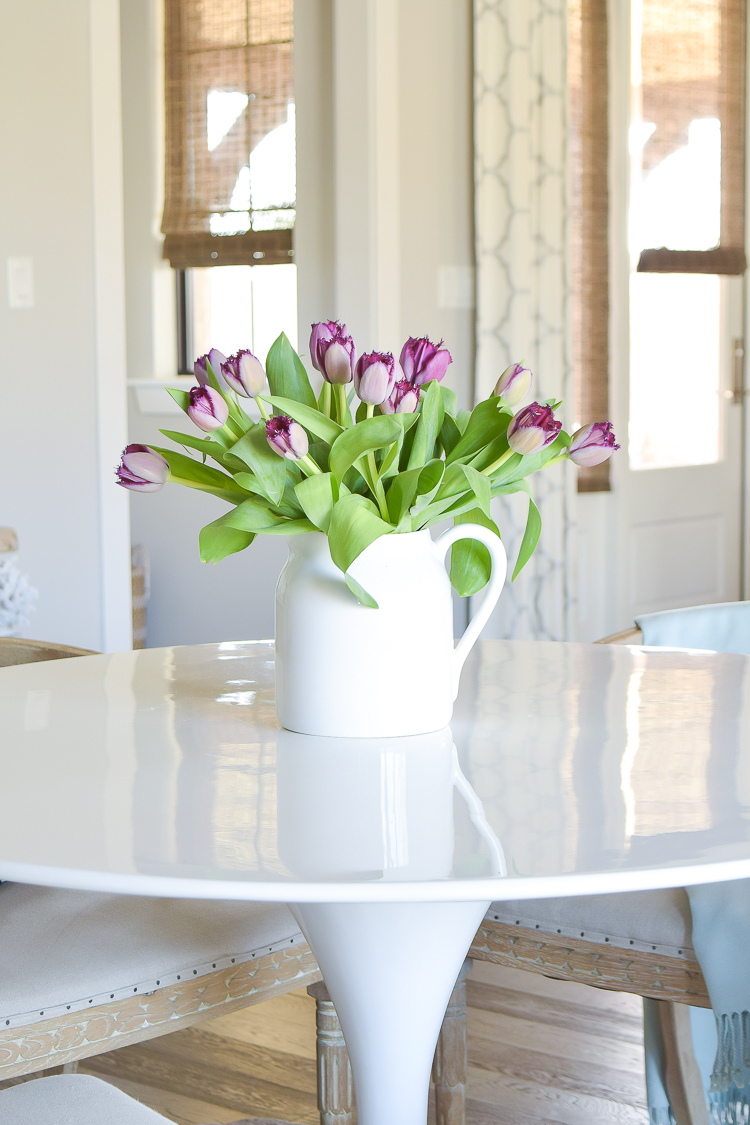 If you've followed me for any length of time I'm sure you have seen this floral pillow.  I haven't made any other major pillow updates for spring yet because I typically have all of mine custom made however, I do have one (or maybe two) on the way that I'll pair with this floral pillow below, but to use on my couch.  My floral pillow is perfect because it takes me through all of the seasons and therefore I can just change out coordinating pillows as the seasons change.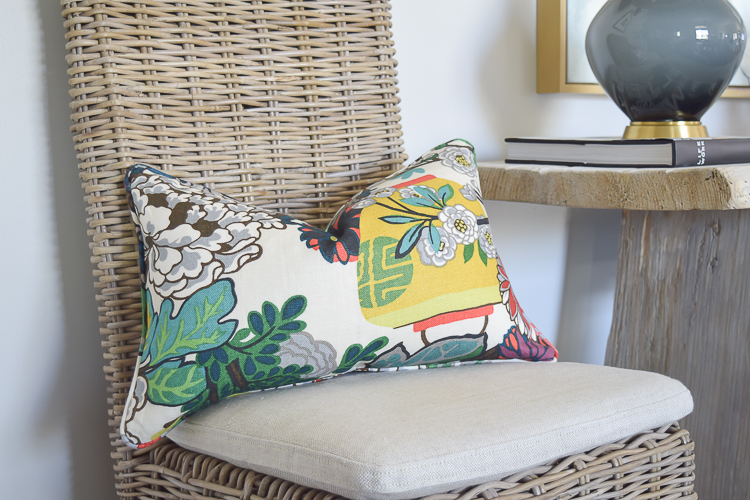 This is what the new pillow will look like and I absolutely can't wait to receive it soon!  Loving the fresh black and white too for spring!  My floral pillows (I have several in different sizes throughout my living space) have black accents so these two will pair beautifully together.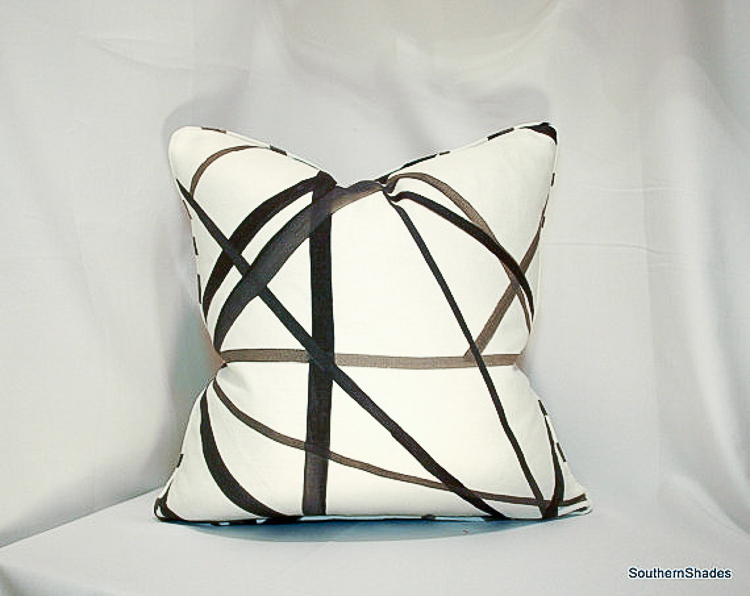 One unconventional update I did for spring was to change out this black frame our family photo resides in.  It used to be a muted aqua but for some reason black is feeling so fresh to me this spring so I updated it with this black frame with a crisp white mat.  And here also is where my favorite spring item makes an appearance on the tour, right in the heart of our home as it should be.  This large piece of coral was the perfect piece to take center stage on our favorite console.  I've had this piece for years but I've sourced some similar other pieces here and here.  This art is also a new welcome addition for spring as I've been looking for just the right piece for this spot since we moved in.  It had to be the right colors, style, and size to help fill this large wall and this piece fit the bill perfectly!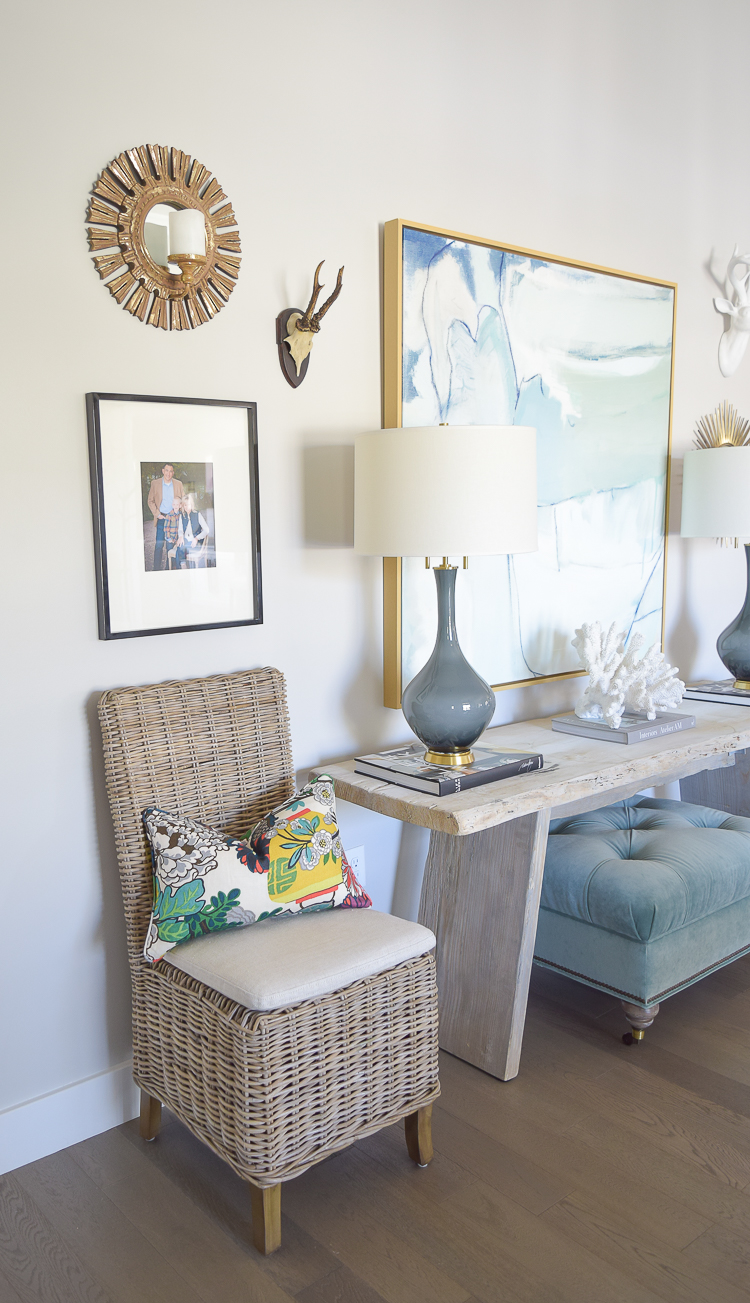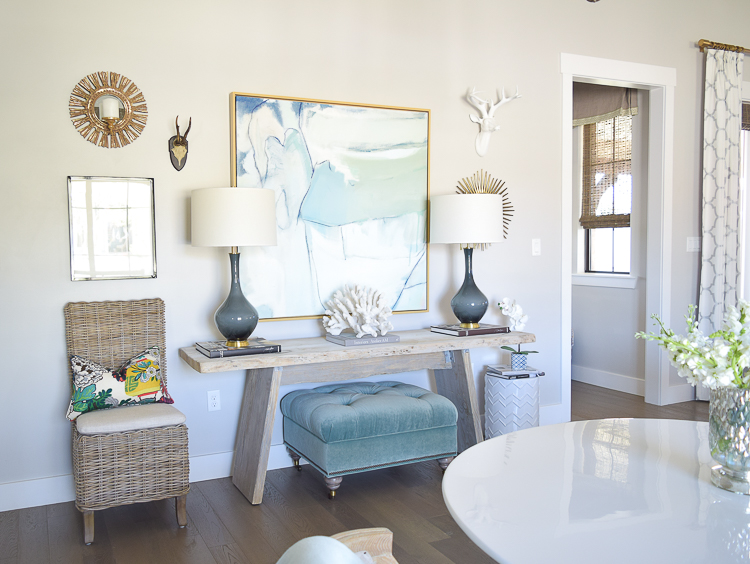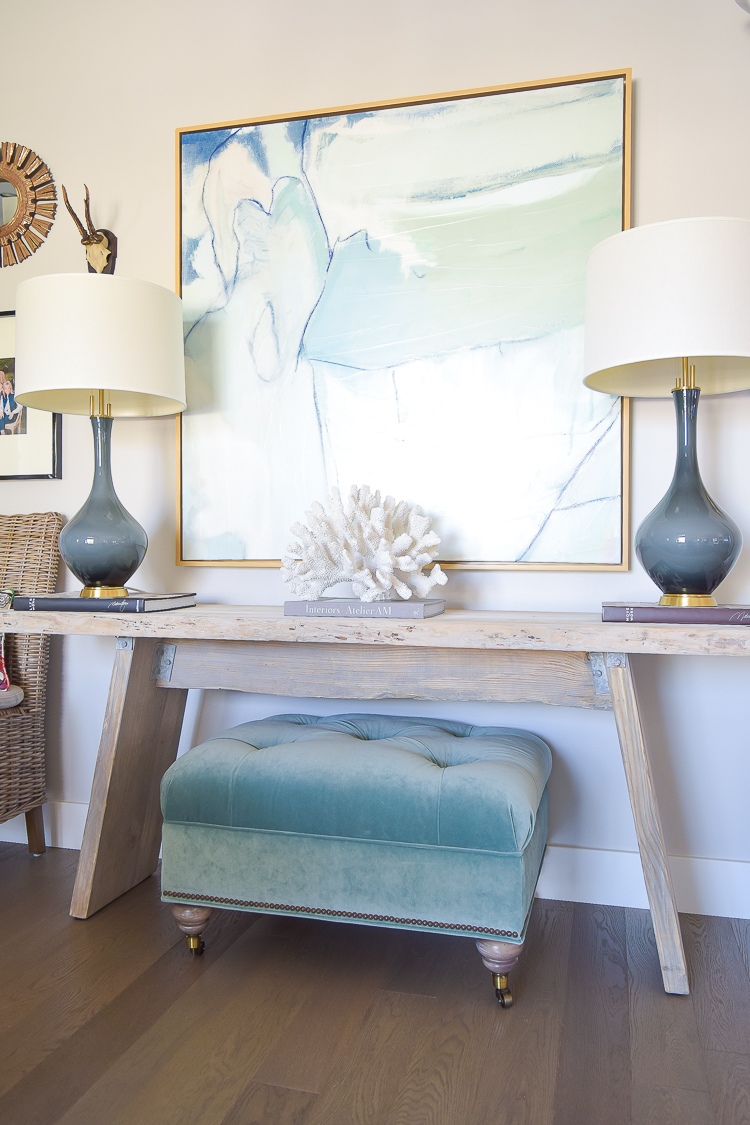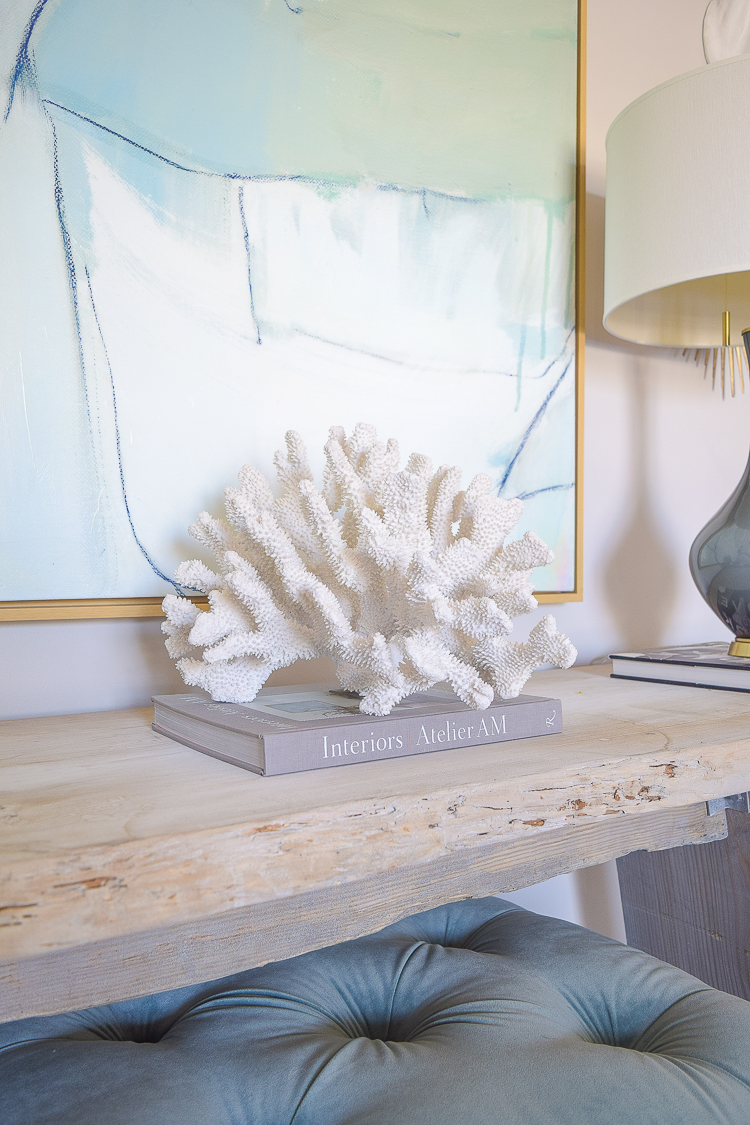 Get the Look

And just a couple of spring updates here in the living room.  Of course some coral and, I found these faux quince blossoms at my local market back a few months ago and I knew they would pair well with this gray vase I've had for years (similar items sourced).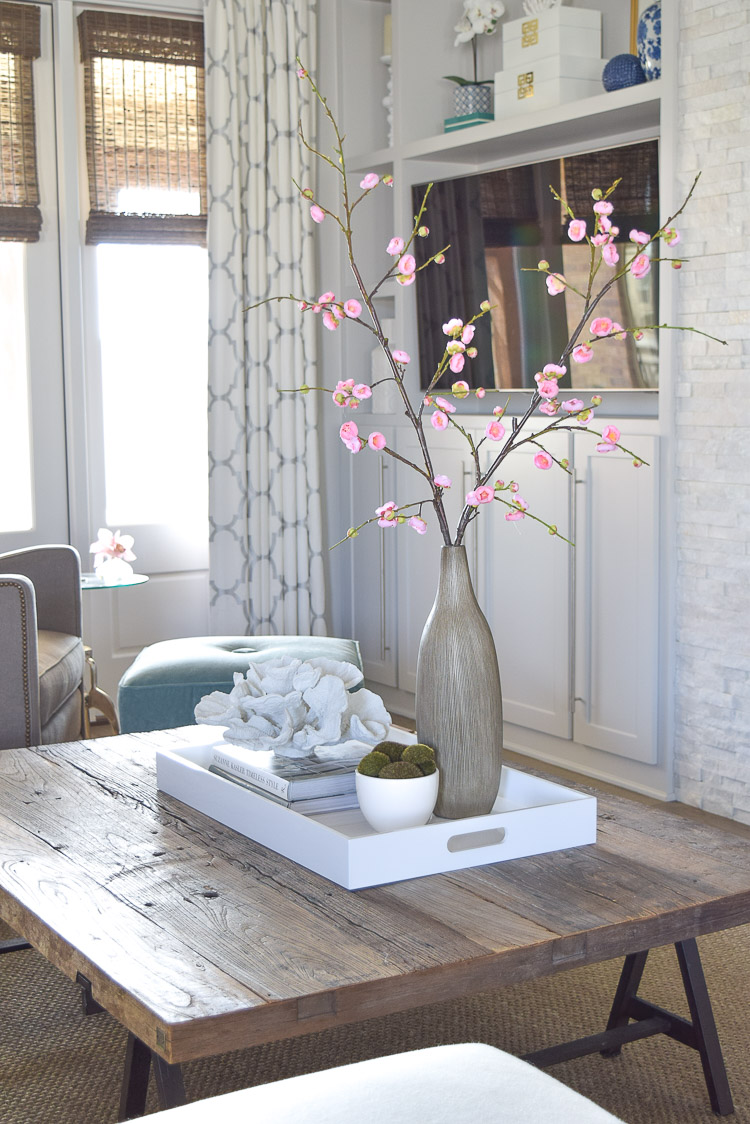 Another coral update to our living room bookshelves and this anchor print.  I actually keep this out all year as a reminder of home.  I love the pairing of the gold, black, and white but I just adore that little anchor!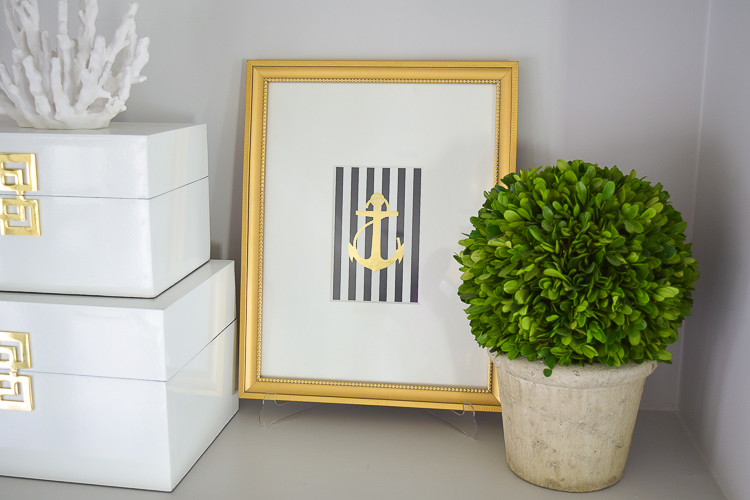 I also just did a simple faux orchid update in the dining room.  I've had white faux hydrangeas in this spot really ever since we moved in 2 1/2 years ago so I decided this was the year to update what adorns this table.  I haven't done my dining room reveal yet because I'm still waiting on chairs and a rug and a couple of other items but, I just had to share these pink orchids because they steal the show in this space.  And just a little tip here, I love using faux and fresh flowers in my  home.  Fresh are good when you need a pick me up or for a special occasion but faux stand the test of time and look amazing all year round.  The trick is to find faux flowers that are nice quality.  I get most of mine at Pottery Barn, West Elm, Wayfair and HomeGoods, among a few other places.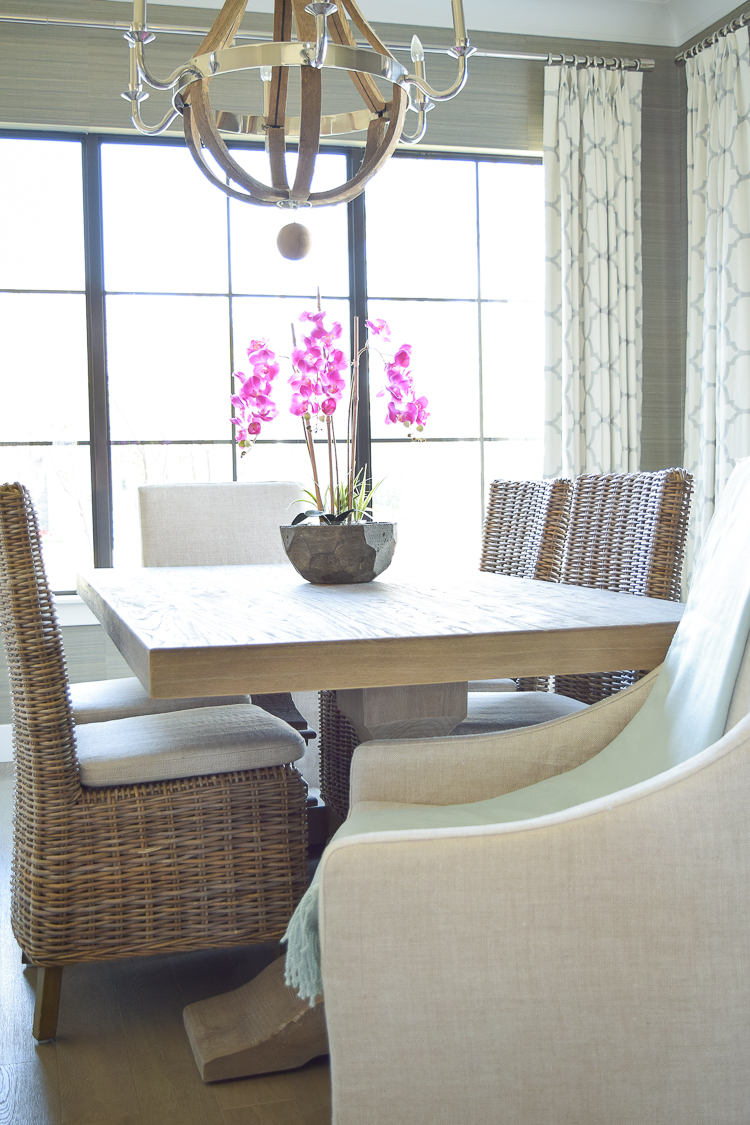 Get the Look

Moving on to the bedroom…I found a set of wooden birds years ago that I just love and pull them out every year at this time.  Birds are another favorite of mine to decorate with (I love to decorate with nature items) and I have them in several places in my home.  This little guy adorns my bedside table for the moment and I just adore him:)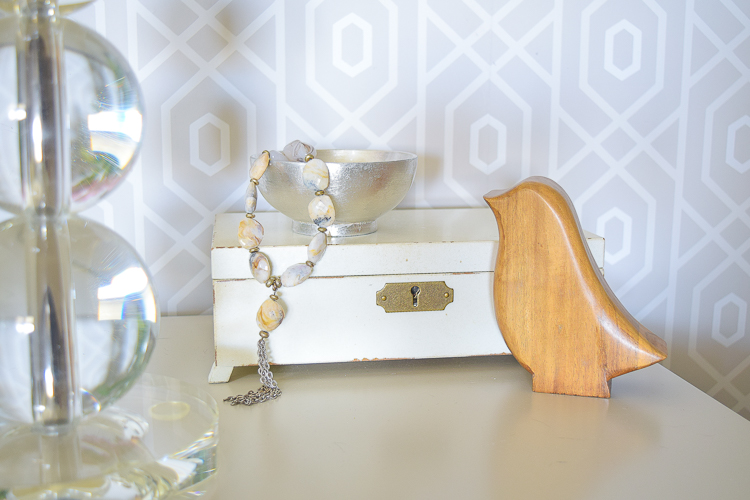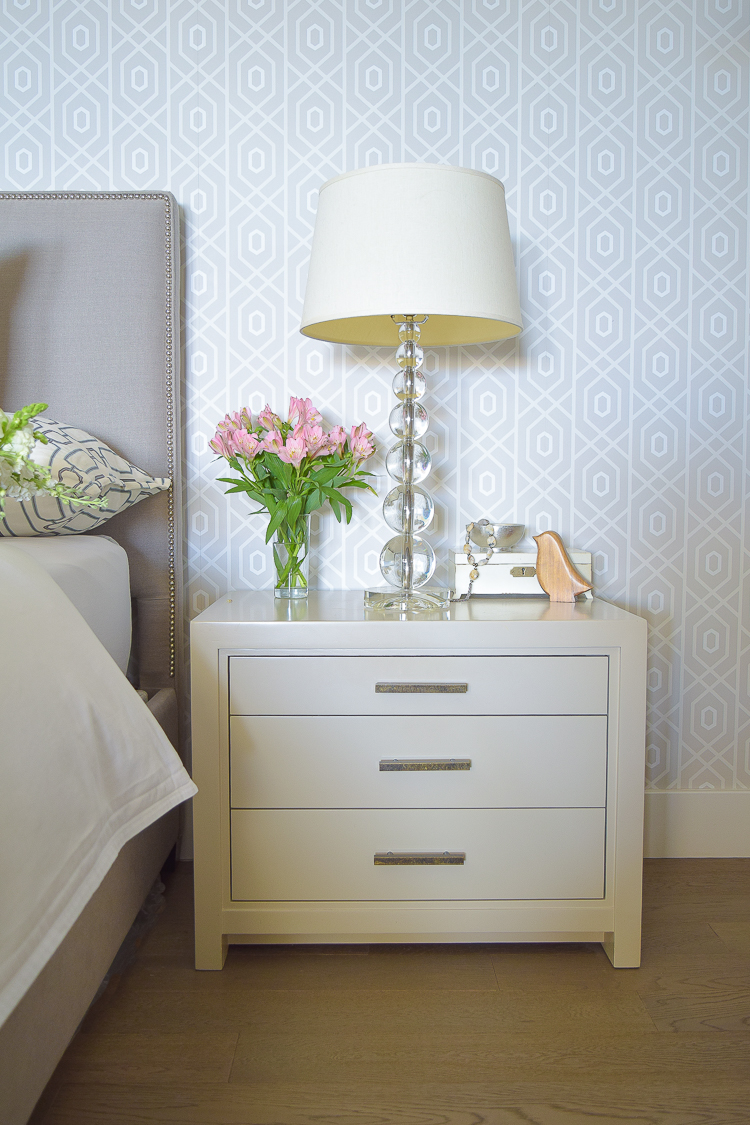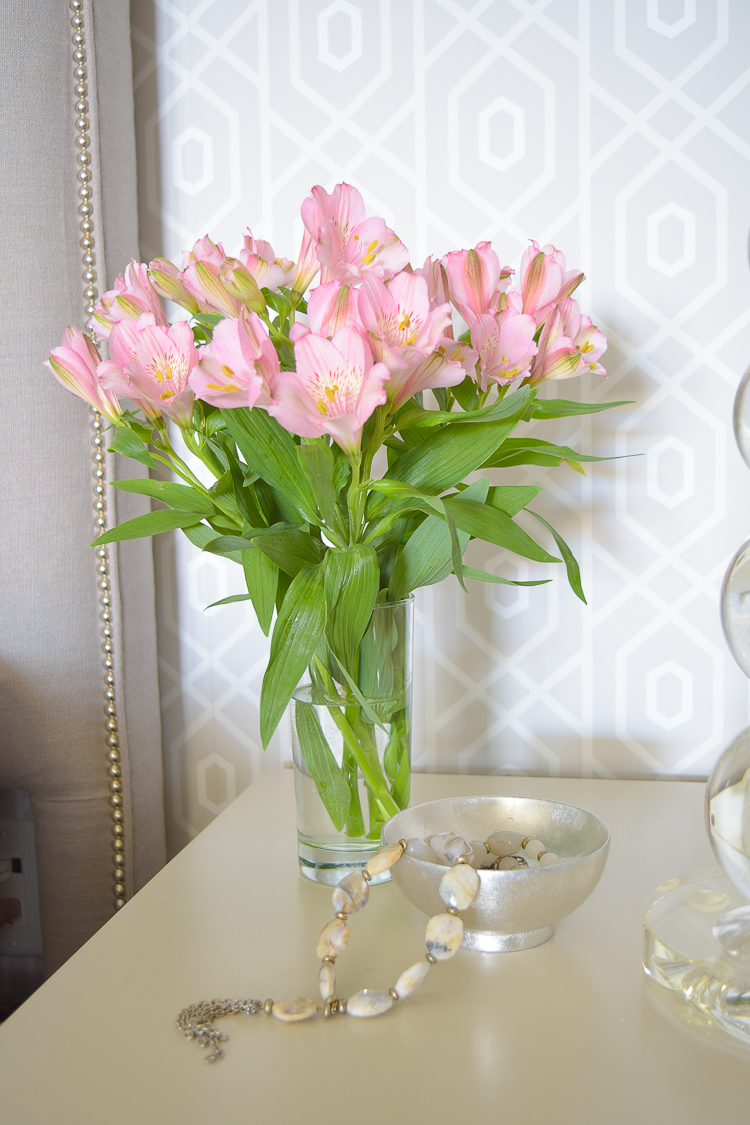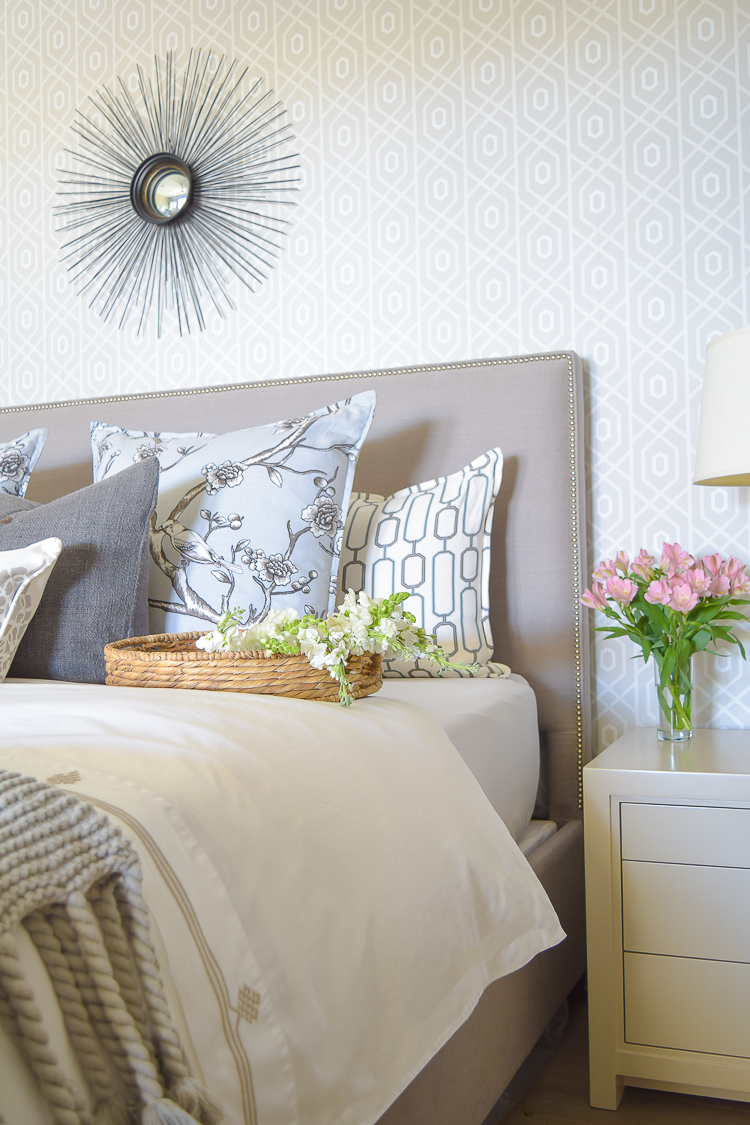 Over on the dresser I have more faux blooms (these are magnolia blooms which are another reminder of my home state) that actually stay out all year but here is my coral again…I know, I just can't stop with the coral!  I love it and love the texture and interesting shape it provides in this vignette!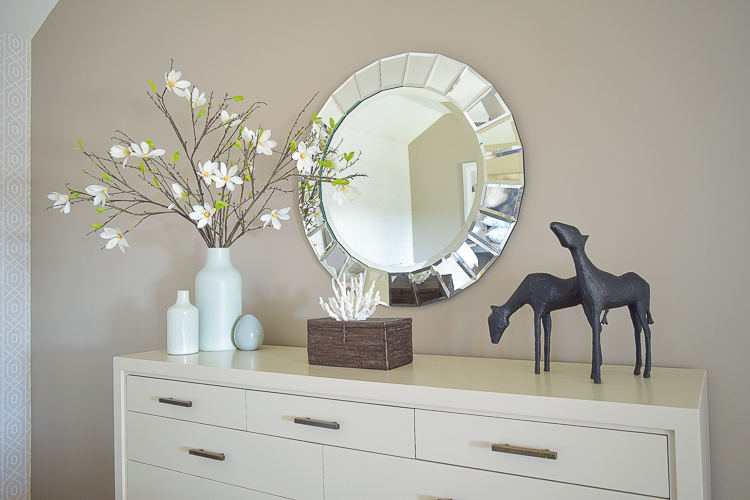 And moving on to the master bath now…these were the last of the double lilies from my Easter table scape this year.  I cleaned them up and placed them in this cylindrical clear vase to place on my vanity.  I love how they pair with the white hydrangea in a champagne flute I borrowed from my kitchen in the afternoon streaming sun.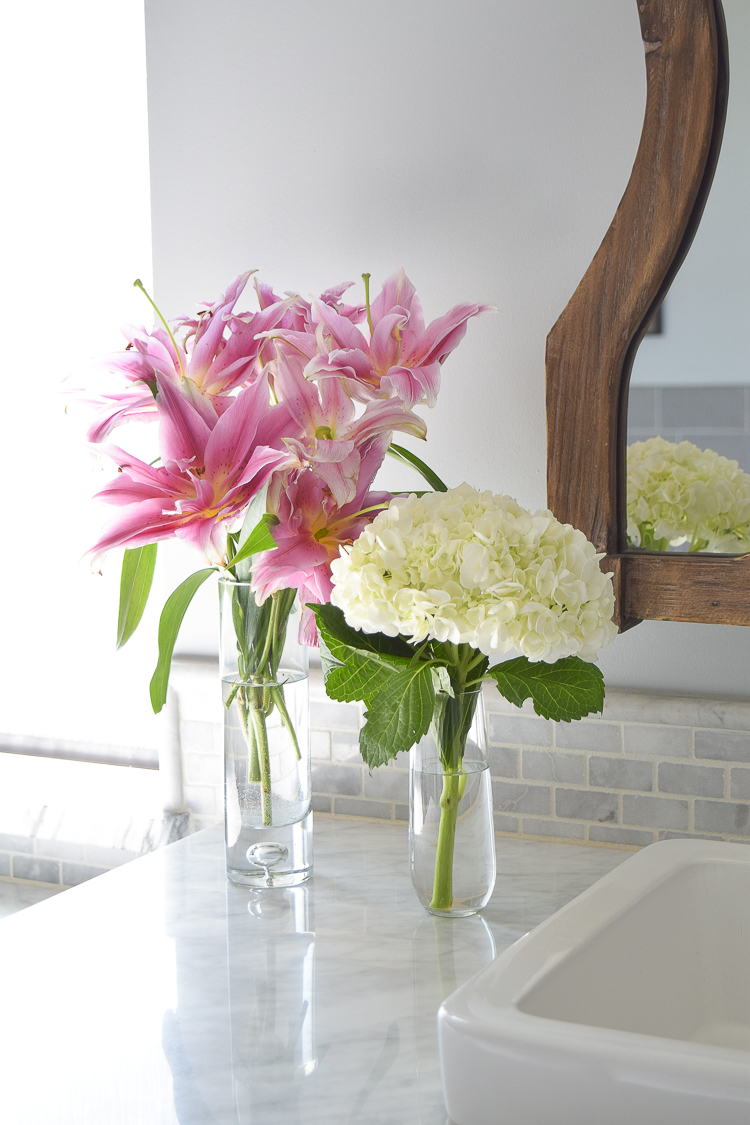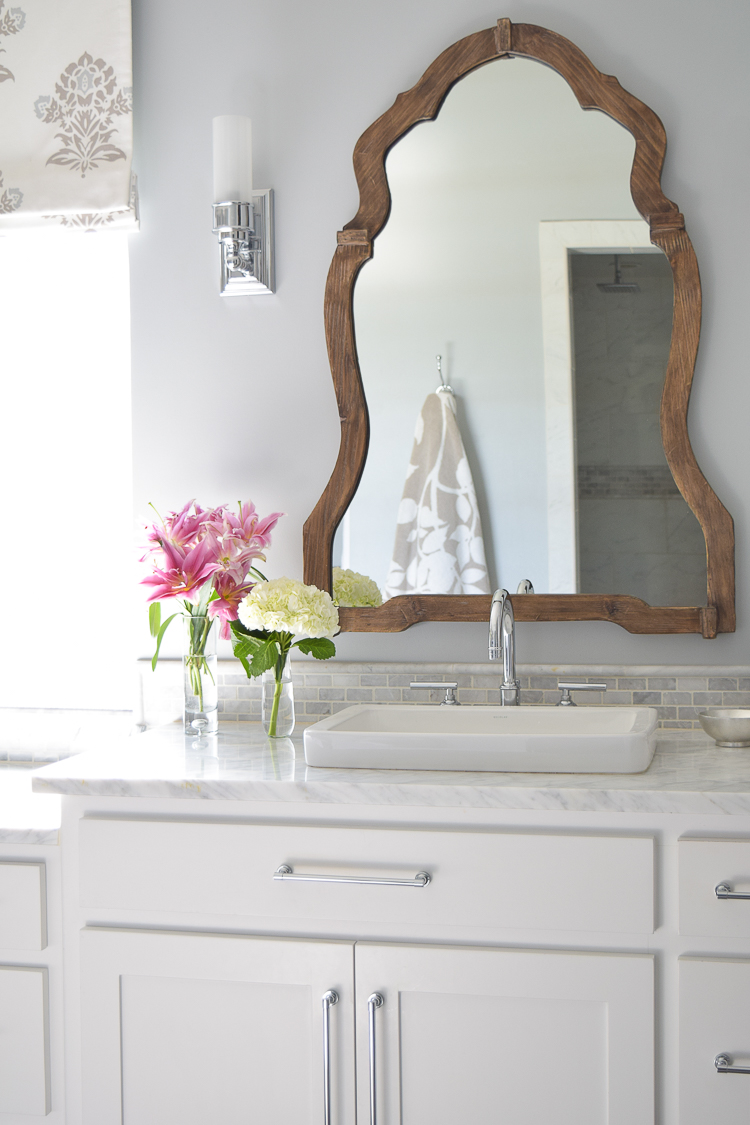 I told you I use coral in every room that I spend time in and I feel like the bathroom should be no exception.  Another white hydrangea with a faux star fish here is perfect for this little table next to my tub to add pop of color and a little bit of texture.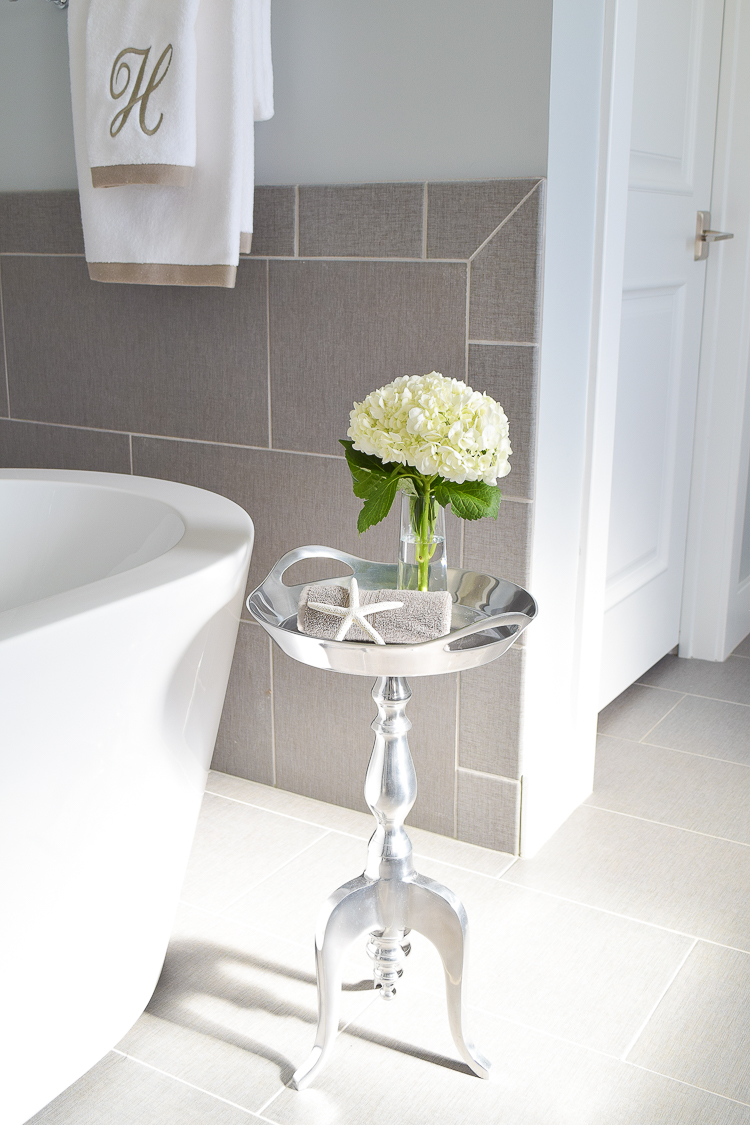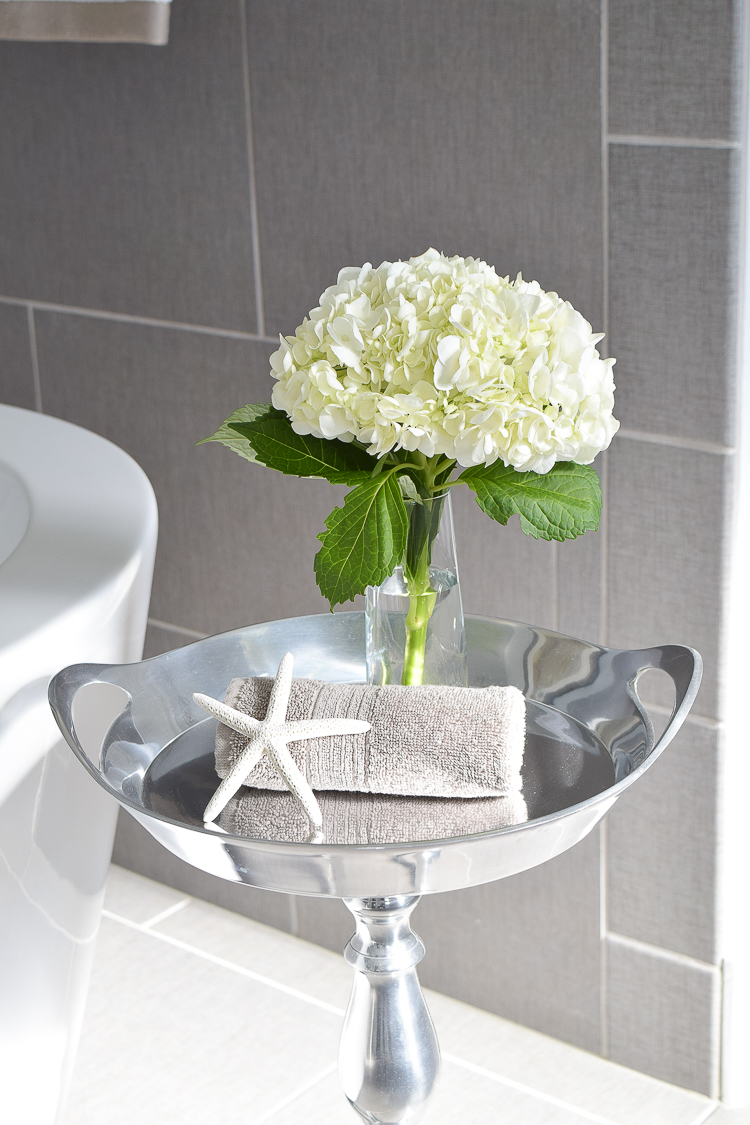 Get the Look

I hope you enjoyed the tour and that you leave feeling inspired to update your own home for this spring season.  Thought I would leave you with those yummy yellow tulips again before we say goodbye and don't forget to check out all of the links below to some amazing talent for more spring inspiration…happy spring my friends!!!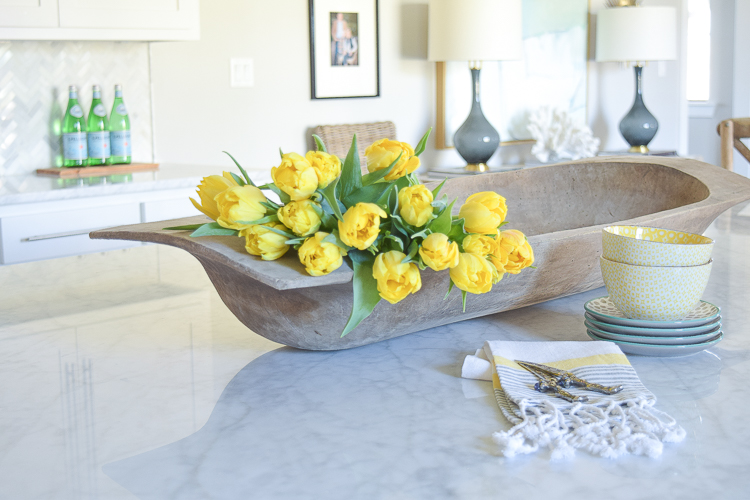 *Affiliate links have been used throughout this post and where items are no longer available, a similar option has been linked
Loading InLinkz ...