Fresh Flower Roundup (+ my flower tips)
If you love fresh flowers as much as I do I just know you will love this post!  I mean who doesn't love fresh flowers, right?!  Flowers can make your home look, feel, and smell amazing so since I've photographed what feels like a literal ton of them in the past 6 months since I started blogging, I thought I would round them all up in one spot and share their beauty with you here.  I'm even sharing some tips at the end on how I keep mine living longer than the norm so I hope you'll stick around for that.
1st up were some simple white baby hydrangeas where I discussed my tips for keeping your hydrangeas around for weeks.  In that post I started with a hydrangea that had wilted and I went through the process of bringing it back.  you can read more on that here.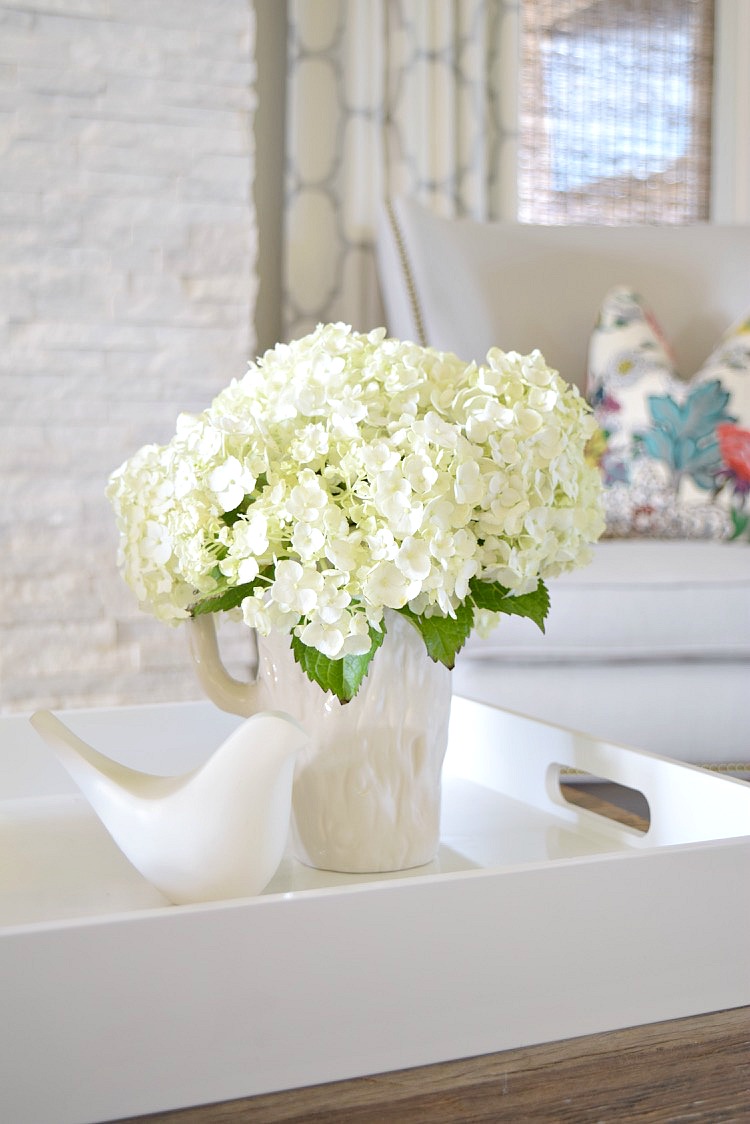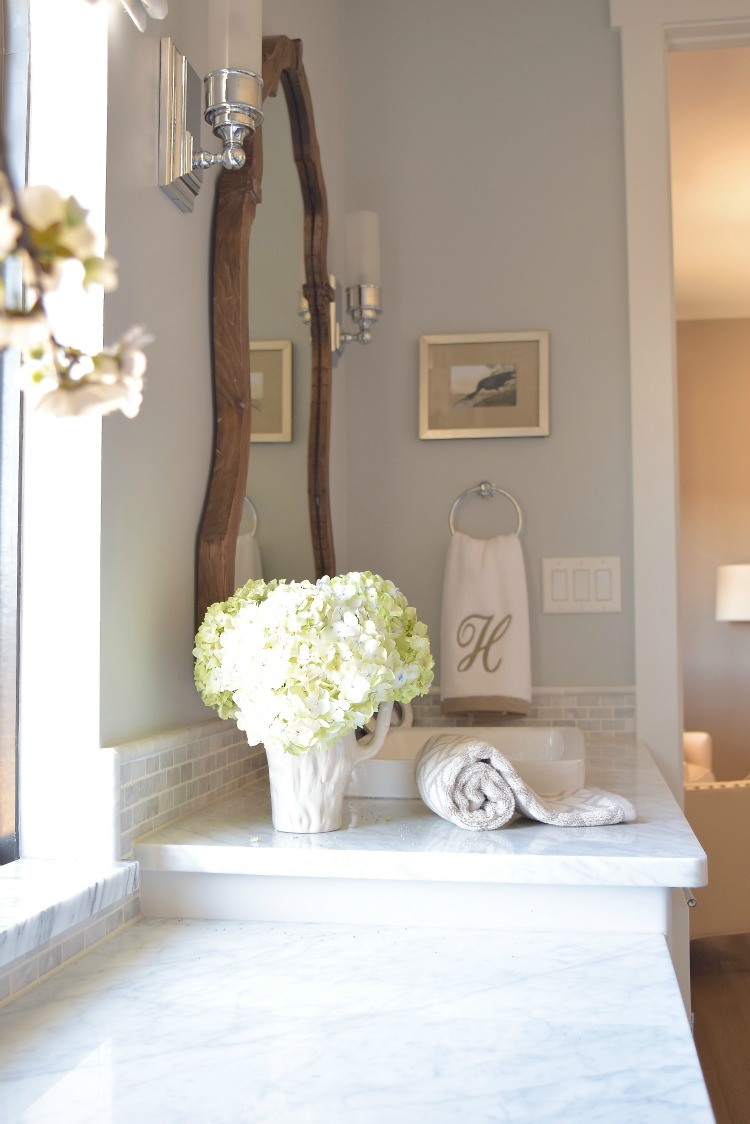 Get the Look

Next up were these lovely hydrangeas and pink roses, and of course they started out in the sink.  These were for my Valentines DIY post that you can see more of here.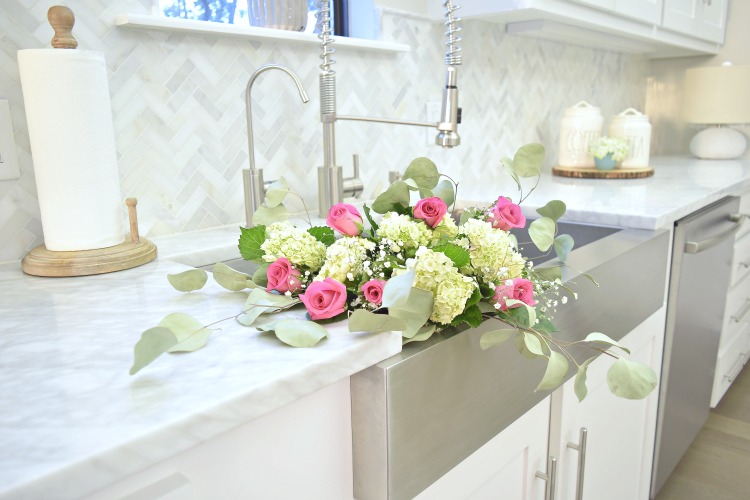 And here they are in action.  This was one of my absolute favorite combinations arranged in just a simple white pitcher.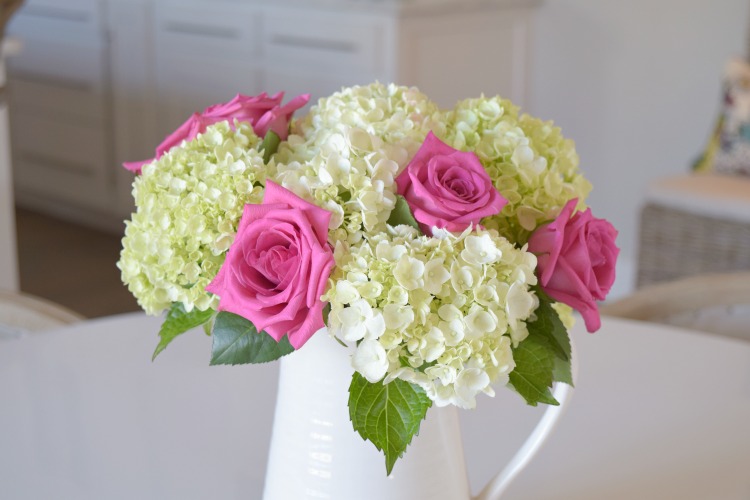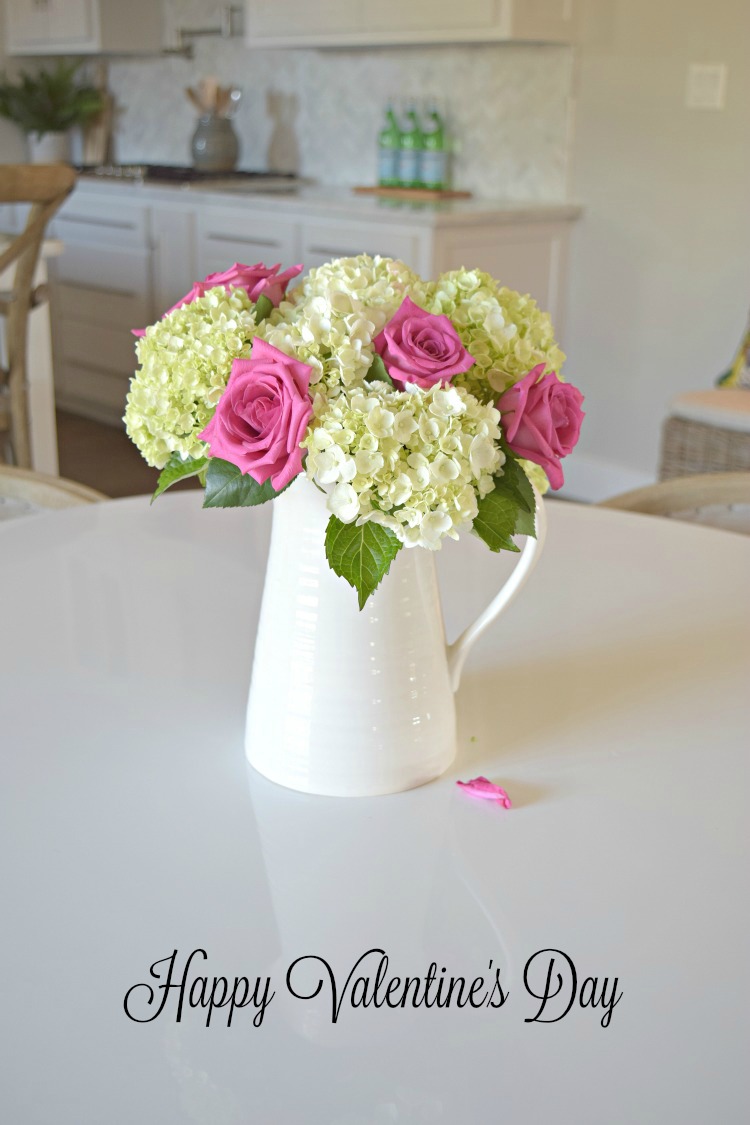 And speaking of Valentines, here are my valentine flowers from my sweet heart of a hubby.  Love the impact of the pink and red roses paired together with just a simple sprig of greenery.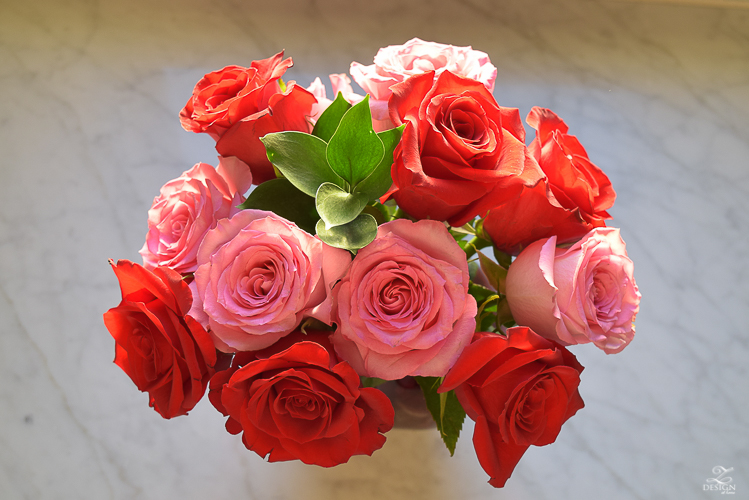 Next up were these lovely white hydrangeas and white roses mixed with some market greens.  This was for my kitchen tour post and for an Everything Home Magazine feature I was fortunate to be asked to do.  You can see more of my kitchen tour here.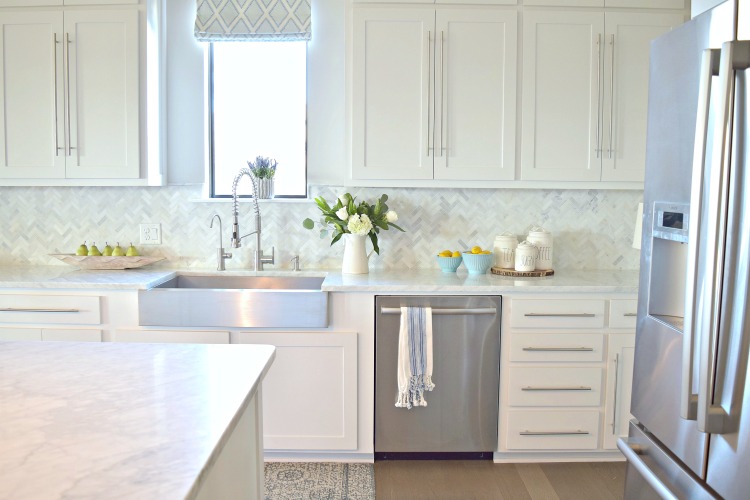 I also had a simple arrangement of white hydrangeas on my island for that tour.  They were the perfect juxtaposition to the moss balls, marble cake stand, and decorative bowls.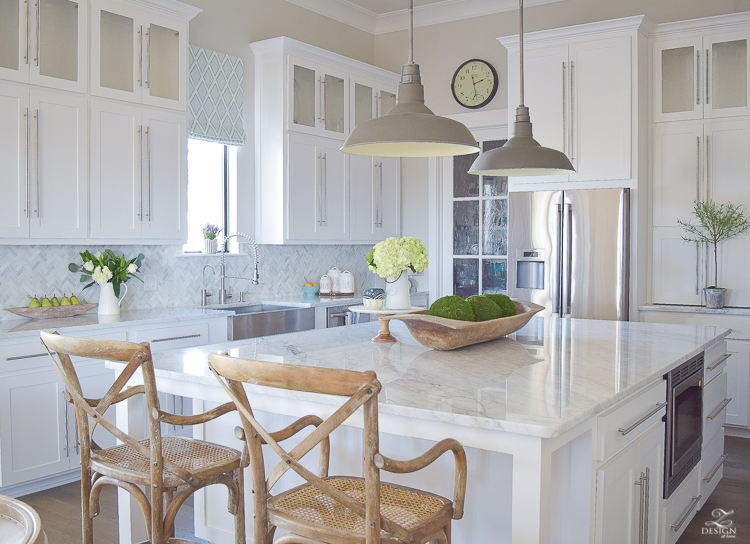 Next were these gorgeous pink tulips I used in my Easter Table Scape, which you can see more of  here.  These were so stunning I let them stand alone with the exception of a tiny sprig of greenery here and there. Of course they started out in the sink first…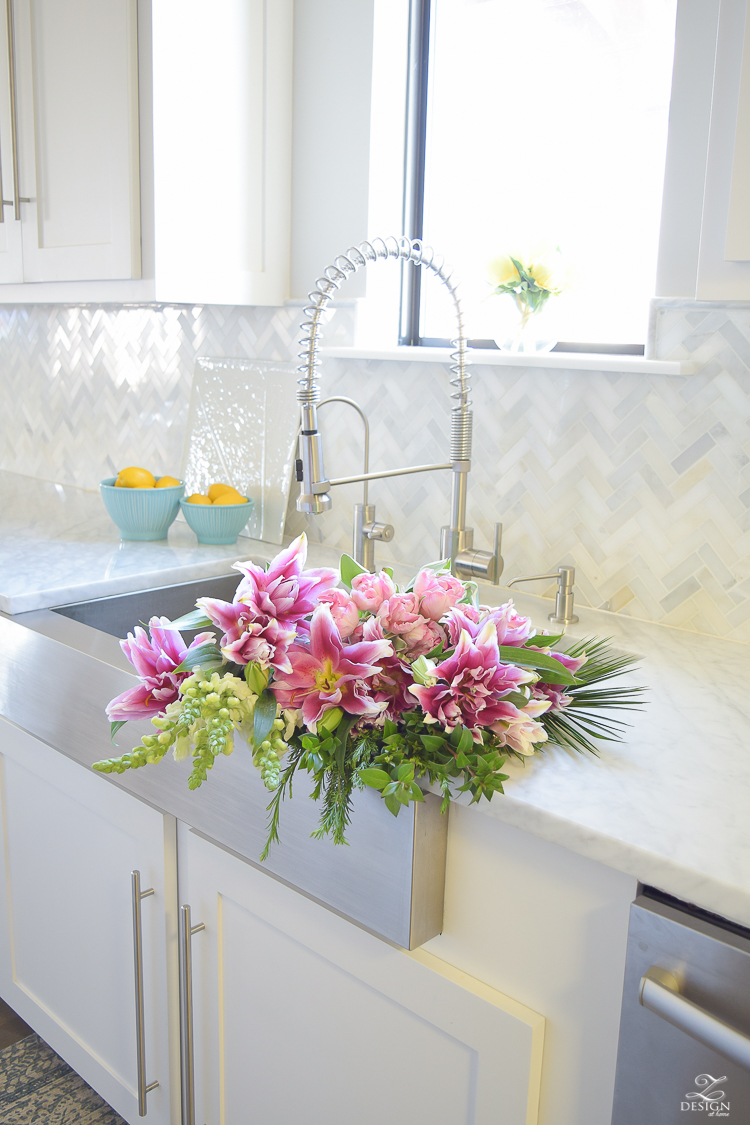 Get the Look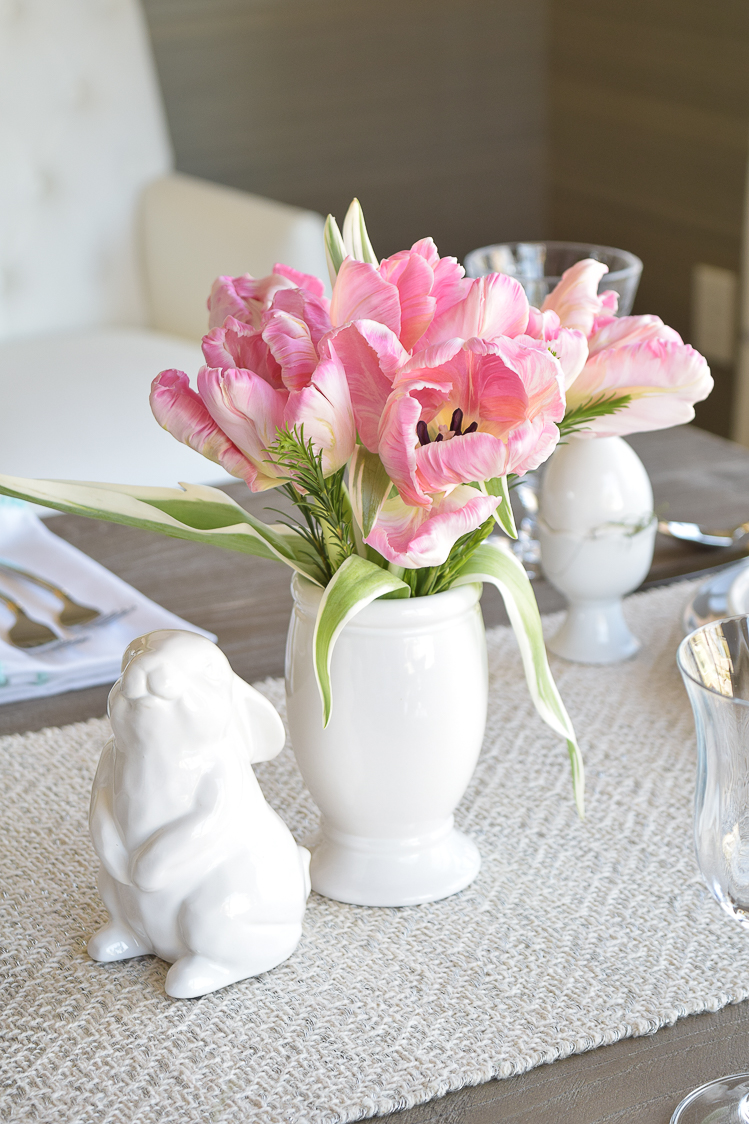 And I think they are worth sharing twice so I don't mind if I do.  I had two arrangements of these on my table to flank the centerpiece.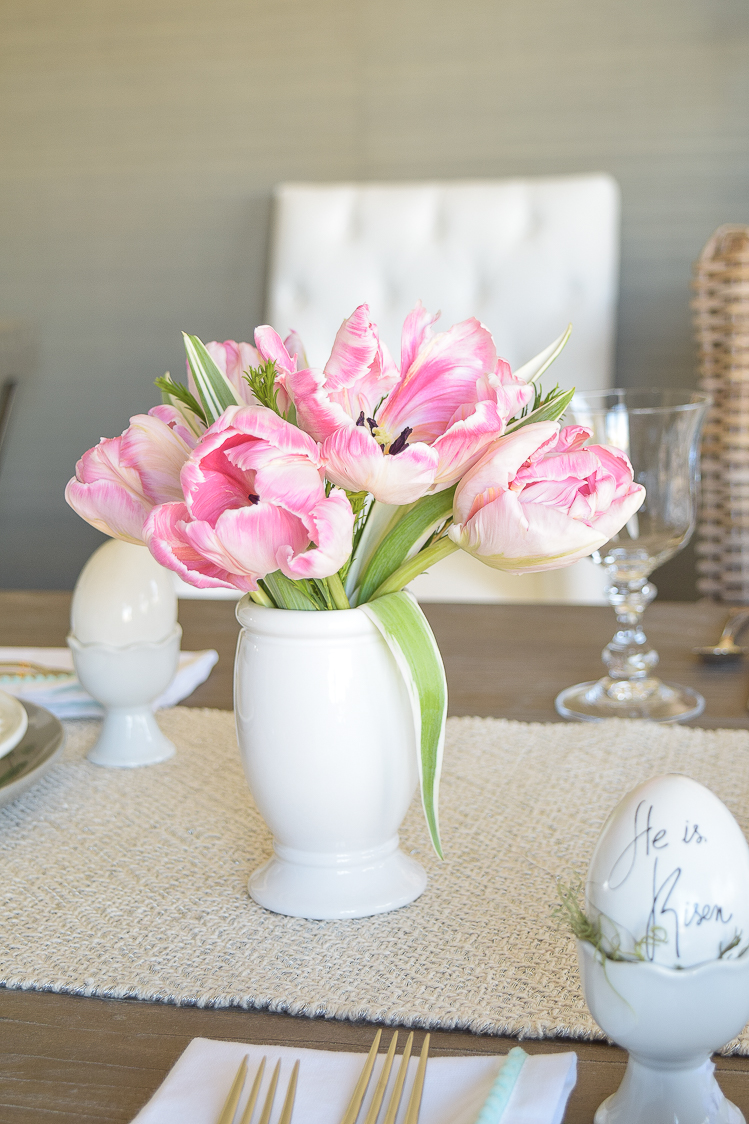 And speaking of the centerpiece, these pink star gazer lilies I used for my Easter table centerpiece were out of this world!  I mixed them with white snap dragons, some market greenery, and a couple of palm branches as a nod and symbol to what the Easter season is truly about.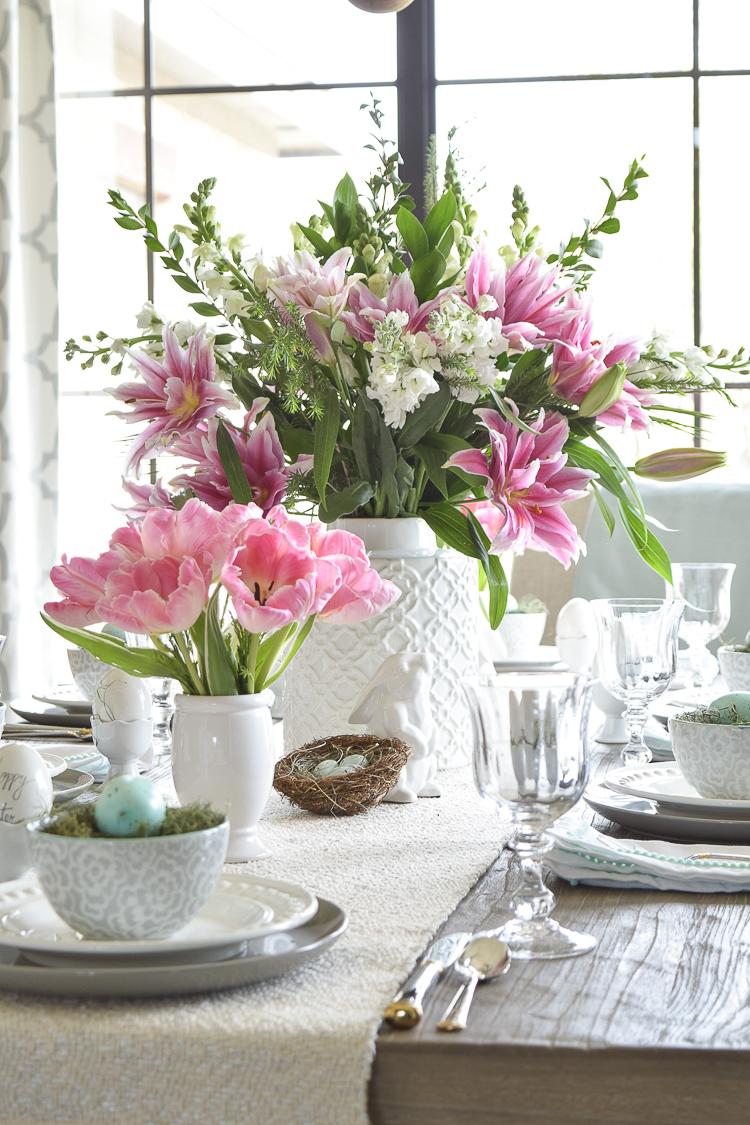 Next up is this arrangement I made with locally picked forsythia.  I simply clipped these stems off the bush and placed them into a clear cylindrical vase that would fit down inside of my patterned filligree vase.  I also raised them by using a cake stand and then layered lemons and greenery underneath.  This was beyond fun to create and was so simple!  I take you through the steps of how I created this spring brunch scenario with flowers and fruit for the white vase challenge I did with some fabulous blogger friends here.  You'll also get to catch a glimpse of their white vase arrangements as well so don't forget to check it out!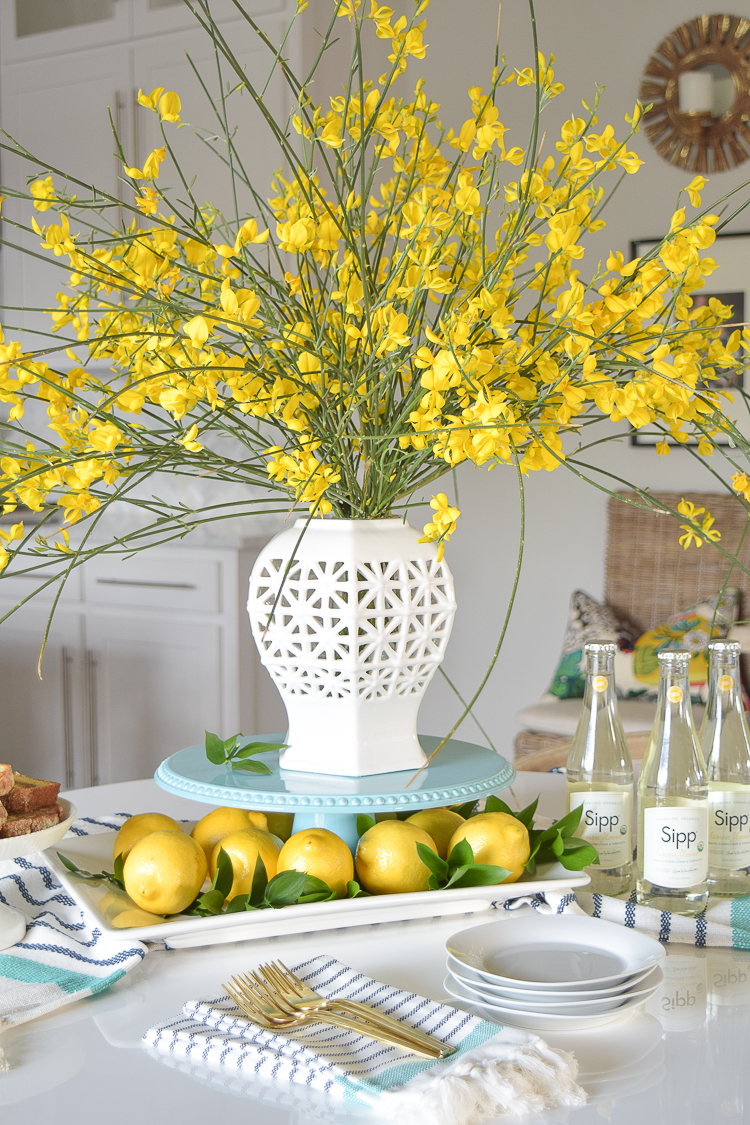 When I was done with them for my spring brunch scenario, I moved them to the kitchen island to dress it up for a few days.  They were stunning there!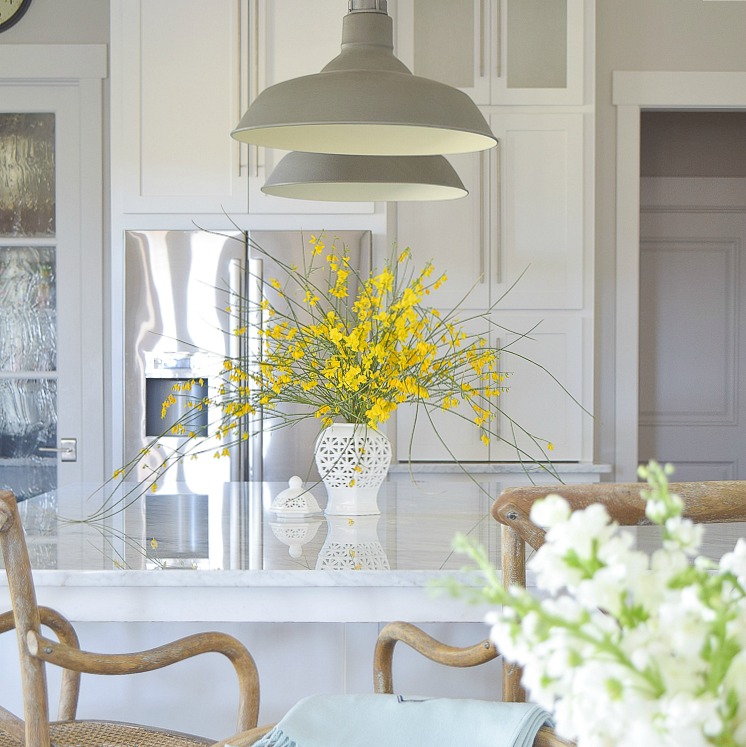 Get the Look

One of my favorite posts with lots of fun flowers was my spring tour found here.  To start I had so much fun with these double yellow tulips.  I got a lot of mileage out of them too as they stuck around for quite some time.  I can't wait for you to see all of the different ways I used them in the almost two weeks they were with me.  To start though I thought they would be lovely in my giant bread blow on my kitchen island.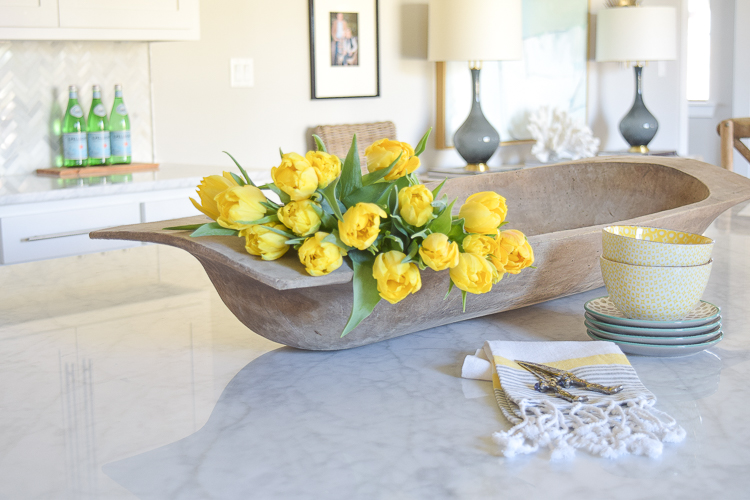 Next I styled them up for my spring tour in this blue and white ginger jar to dress up the kitchen in blue and yellow…a favorite combination of mine.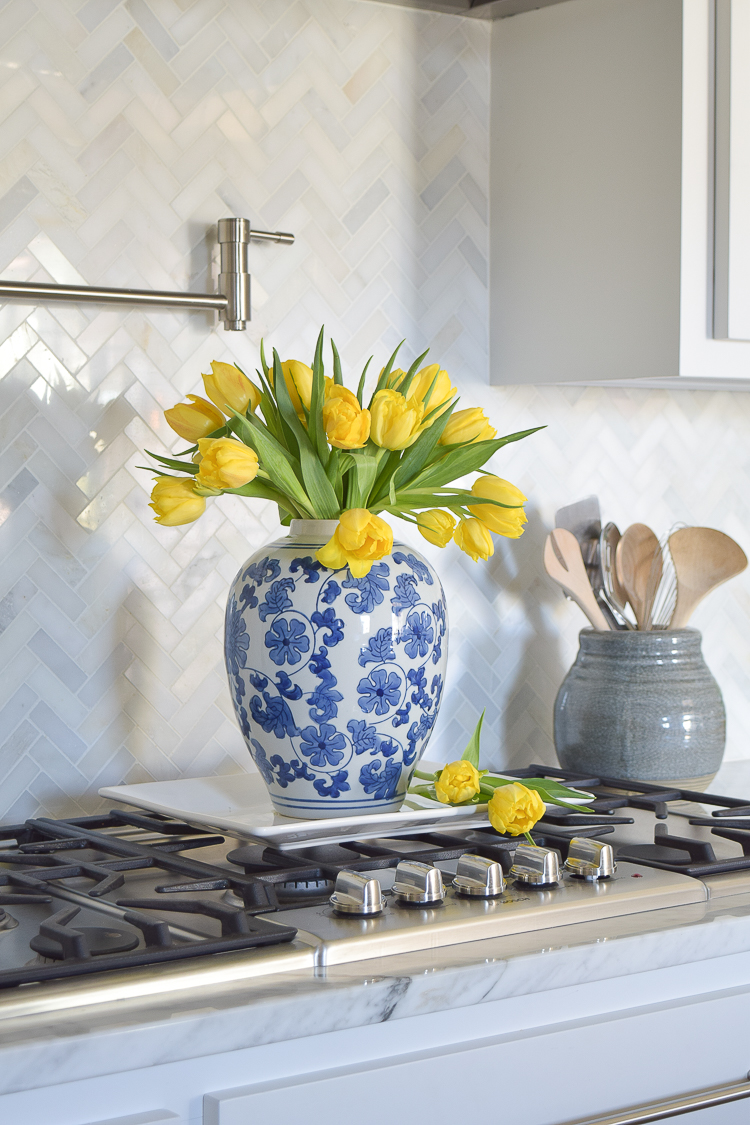 I also used one to style our coffee station.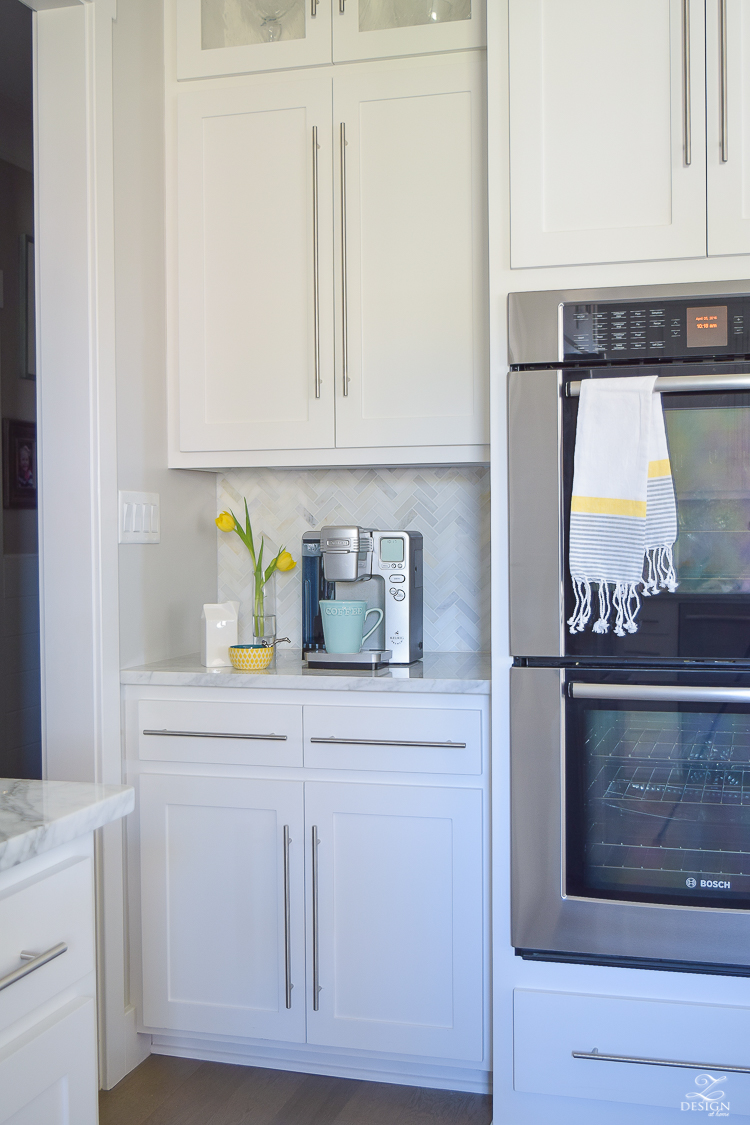 I was so smitten with these yellow tulips that I had to get several shots of this one in a few different spots.  This little flower really was the perfect welcome to spring around our home.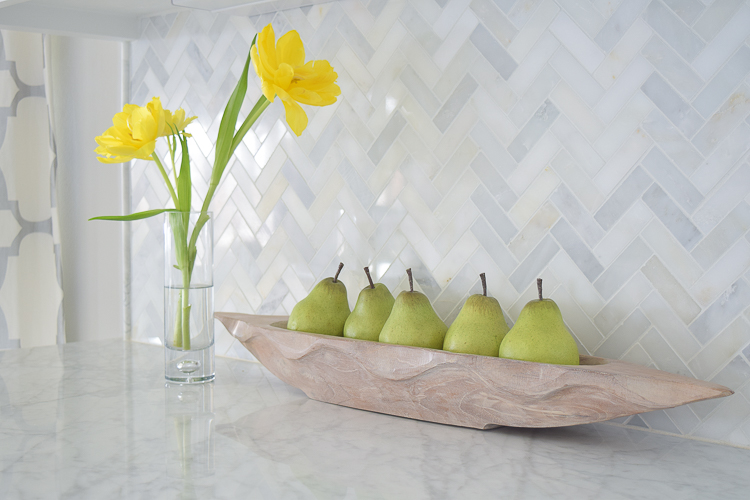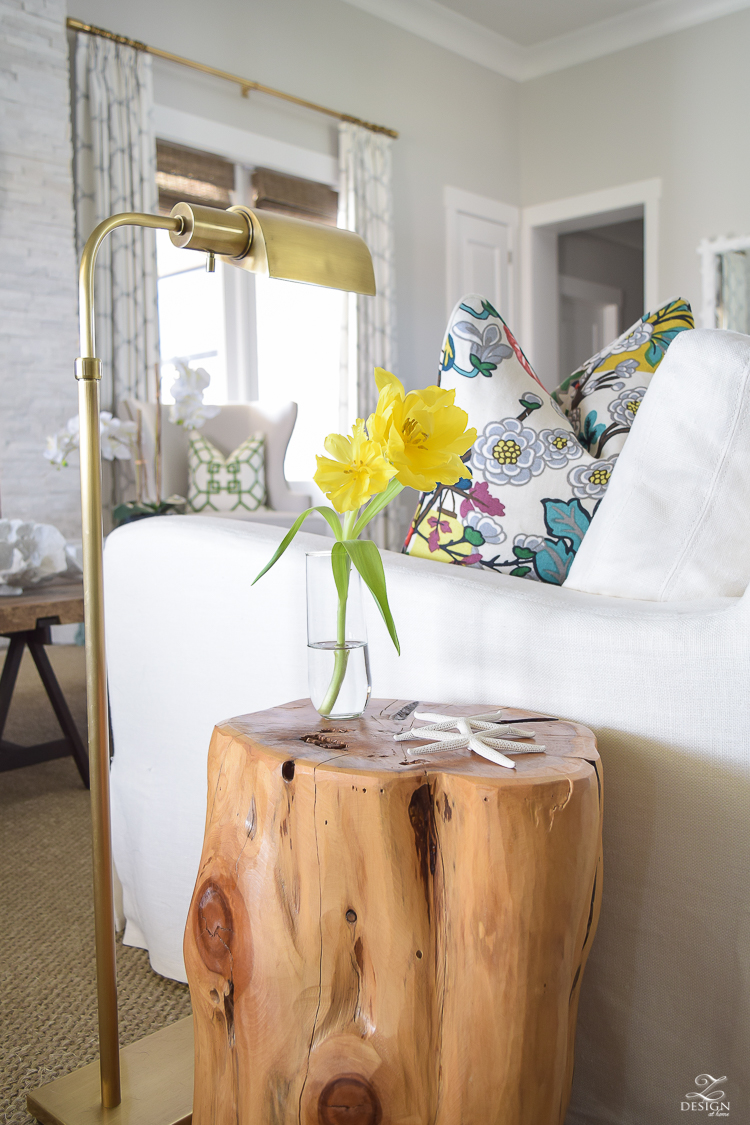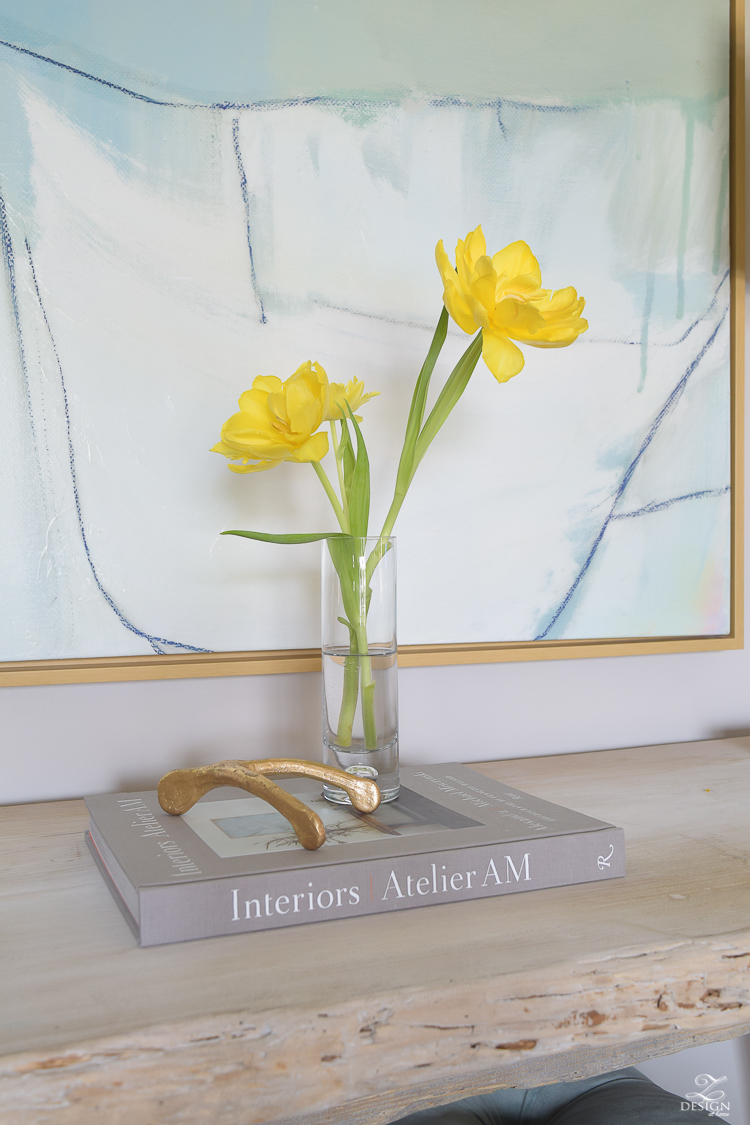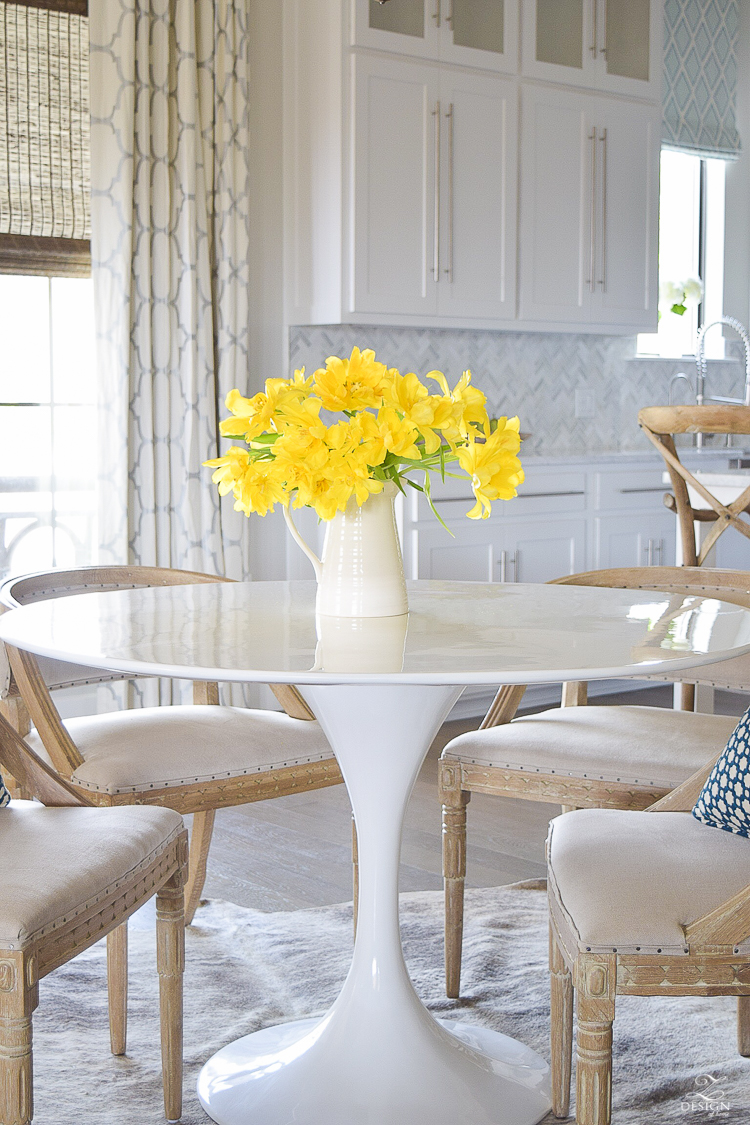 And here are some more flower images from my spring tour.  These purple fringed tulips stole my heart as well.  They were so stunning that I just put them in a simple white pitcher to cause their purple beauty to pop against all of the white!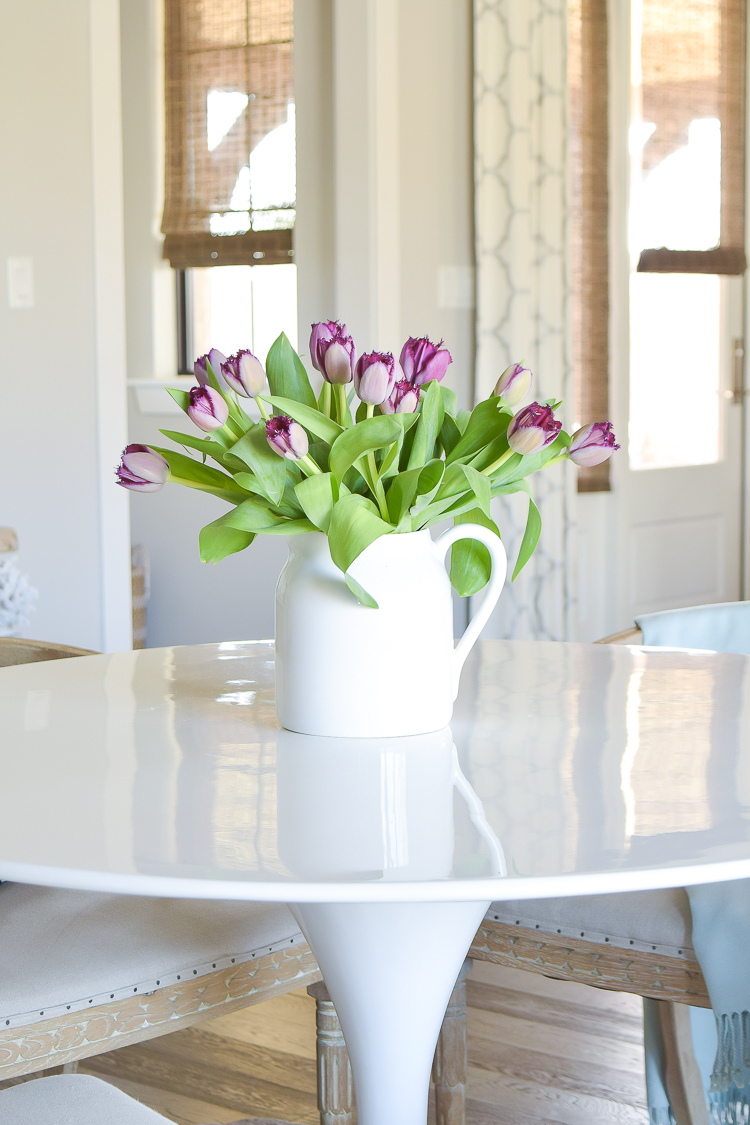 Get the Look

These pink star gazer lilies pulled double duty since they were held over from my Easter Table.  Don't ever be afraid after you've had flowers for a few days to place them in a new vase with fresh water and move them to another room of the house.  Even though you've had them for a while they will still seem brand new in a new space in your home.  They were stunning and became the star of the show in these small clear vessels, here and here.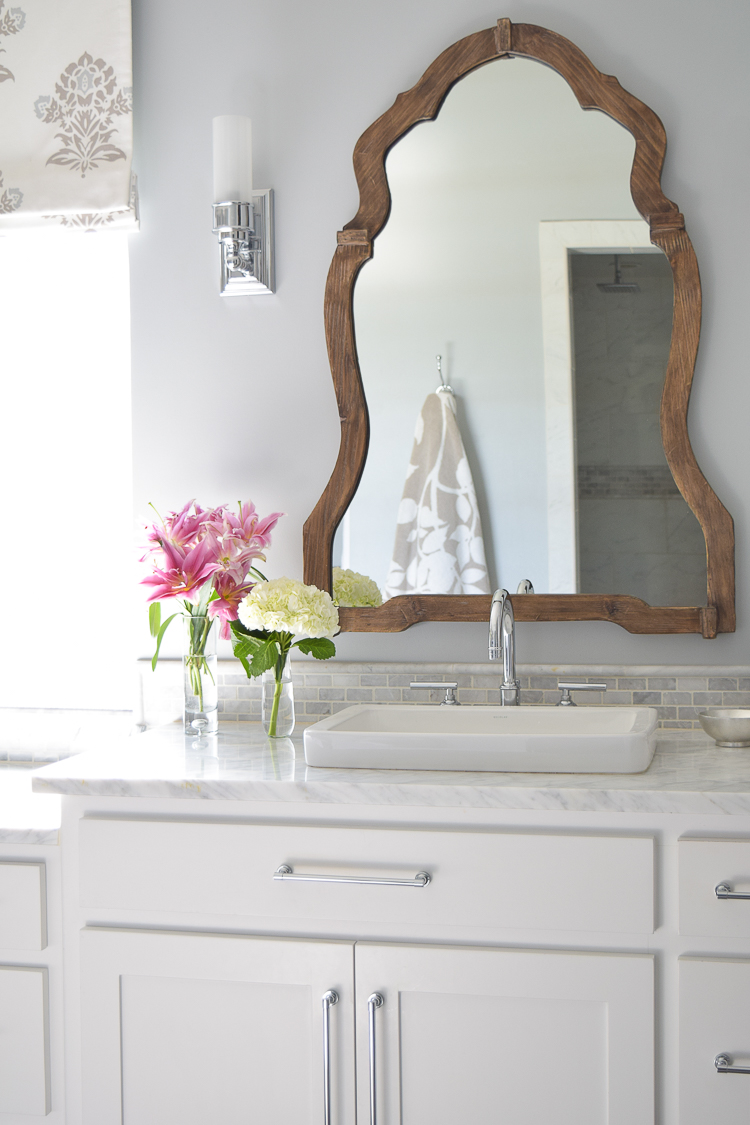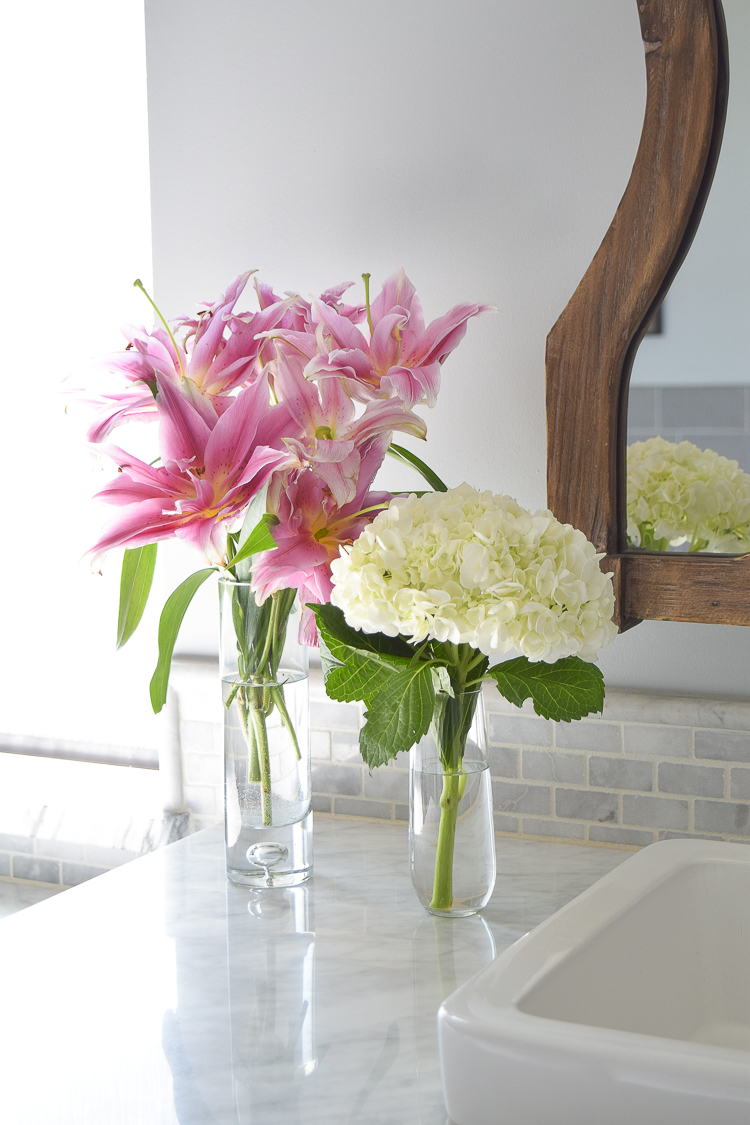 This hydrangea was stunning beside the tub on this globally inspired silver side table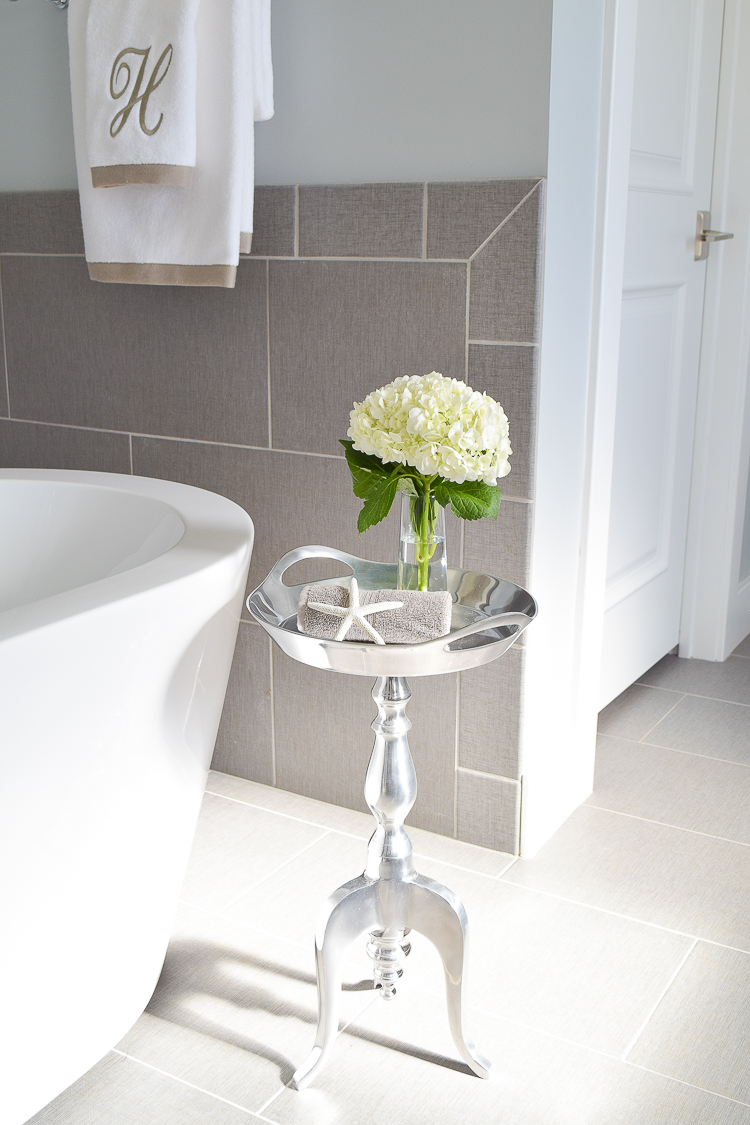 These pink alstroemeria are some of my favorites.  They last for weeks (usually about 3 weeks if you take care of them…tips coming soon below) and they have the prettiest little flower.  They are usually pretty affordable too at just $4 for a market bunch.  I used a simple clear tumbler from the kitchen as their vessel.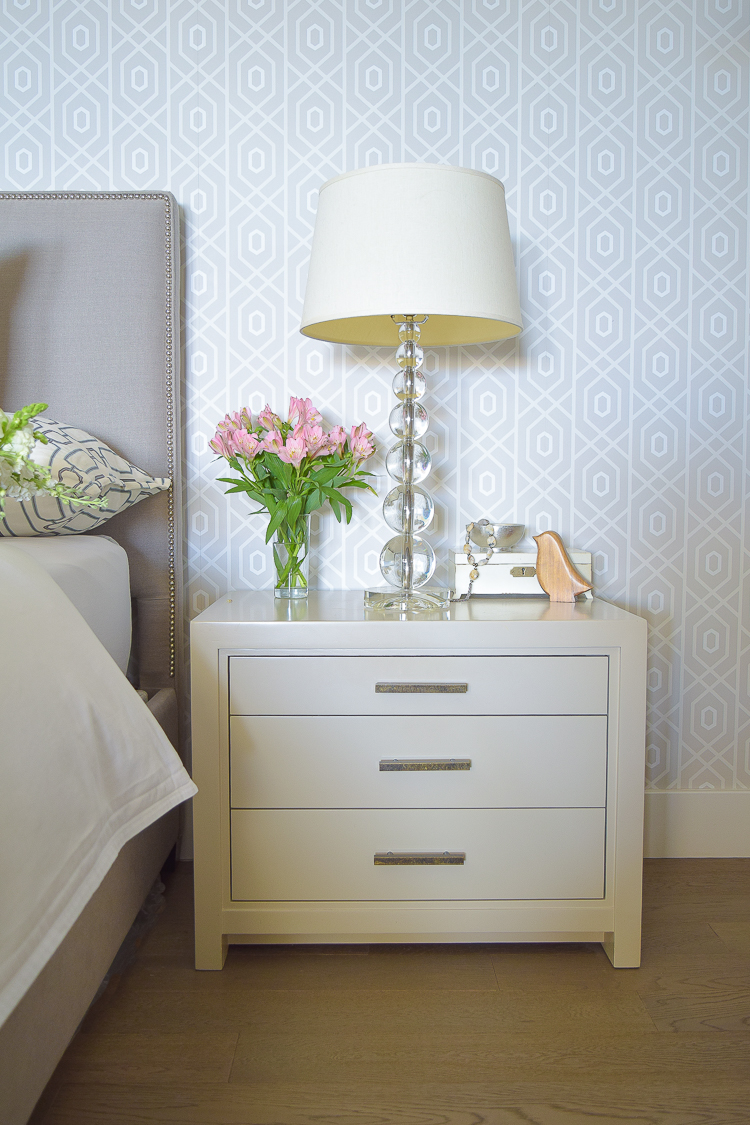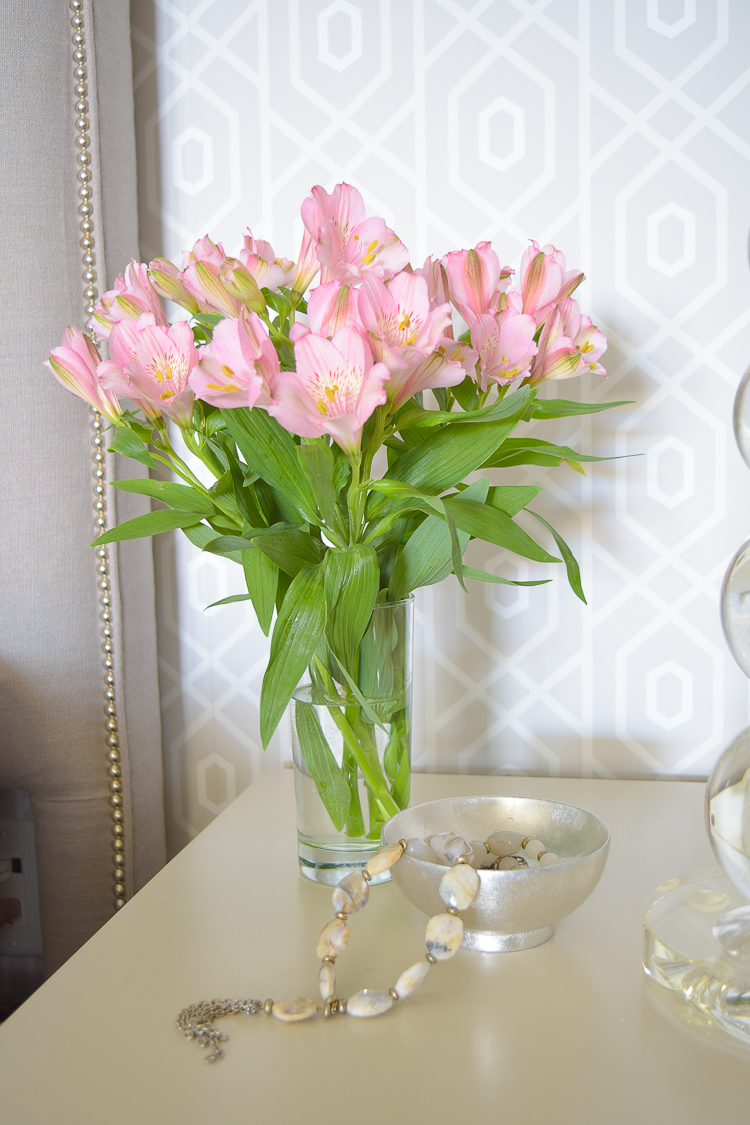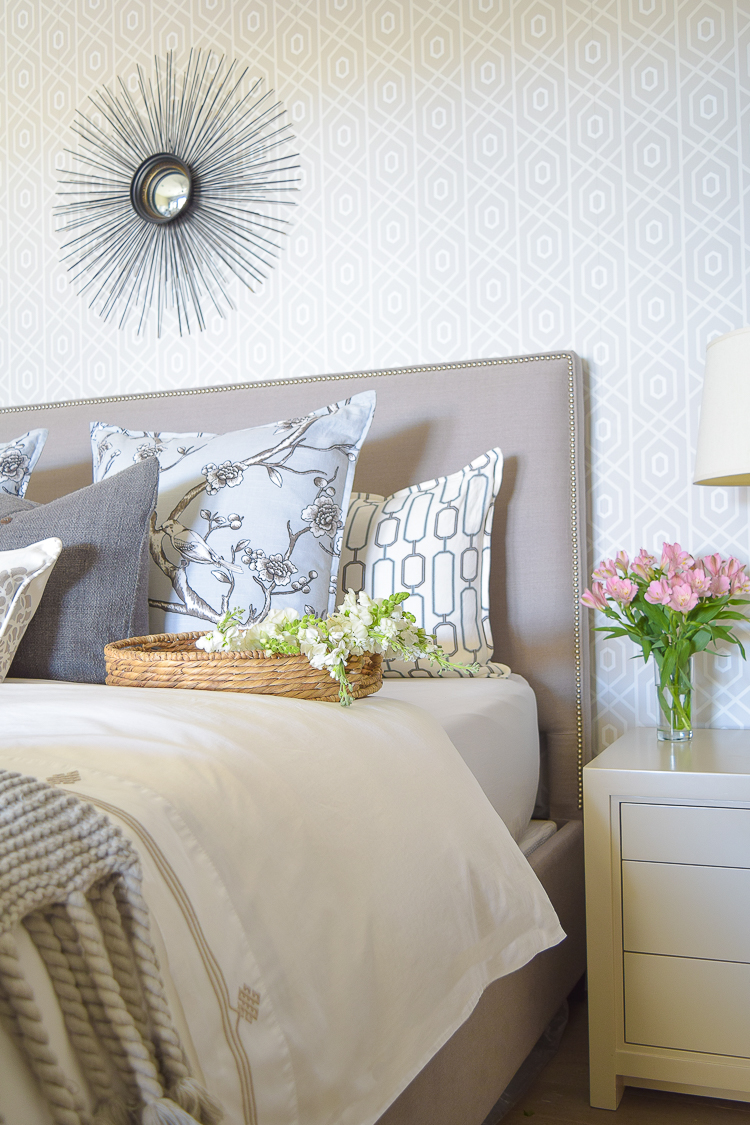 Get the Look

And here are some more dark pink alstroemeria that I used for a few projects.  They started out with a shot in the bread bowl as well and lasted about 3 weeks with my simple tips found below.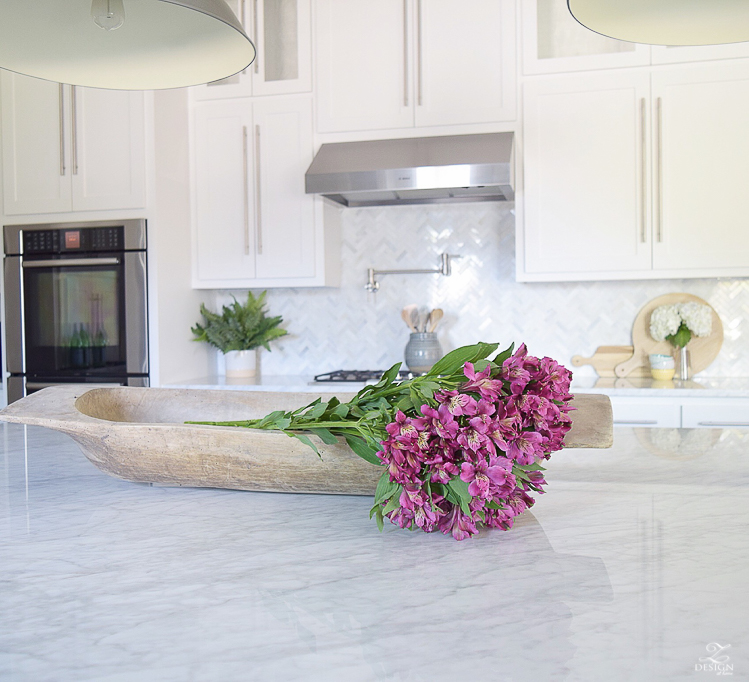 Here is where I kept them first for a bit.  This white beaded vase from is one of my absolute favorite vases.  Similar sourced here.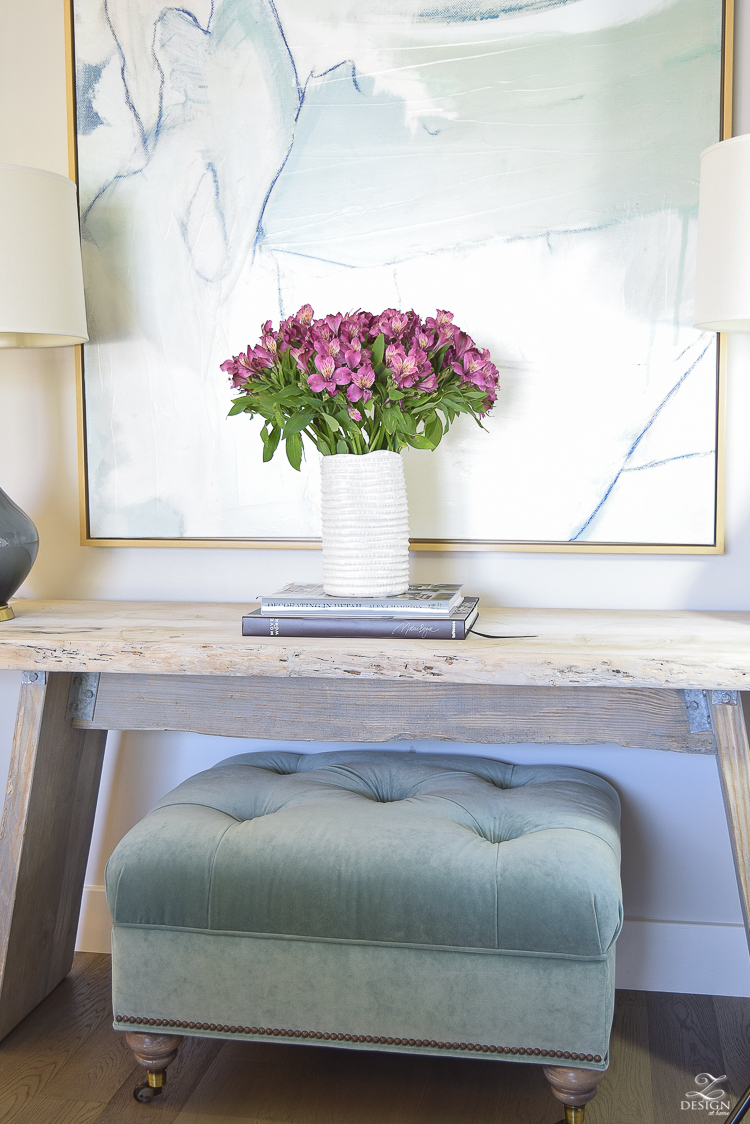 Ultimately I ended up using them to adorn my dining table for our barn door story post (that you can read about here).  You'll definitely want to check that out if you haven't had a chance yet.  But first, here is a shot of my first peonies of the season in the foreground.  You'll also see more of those below for another post.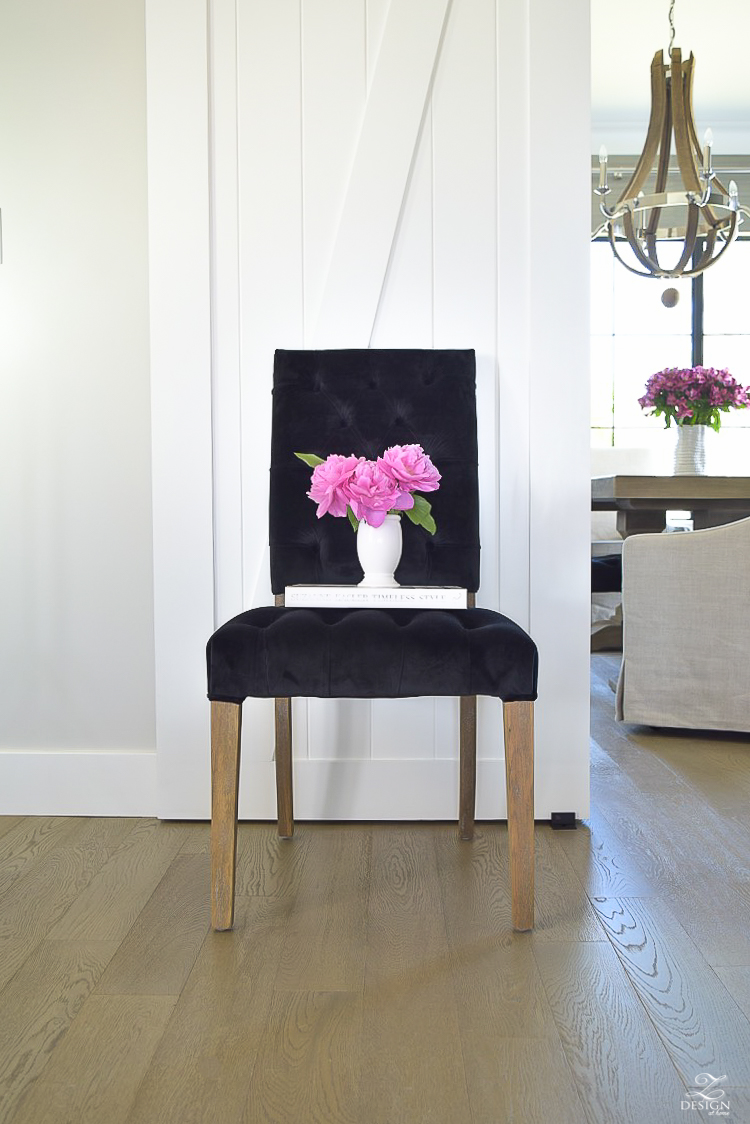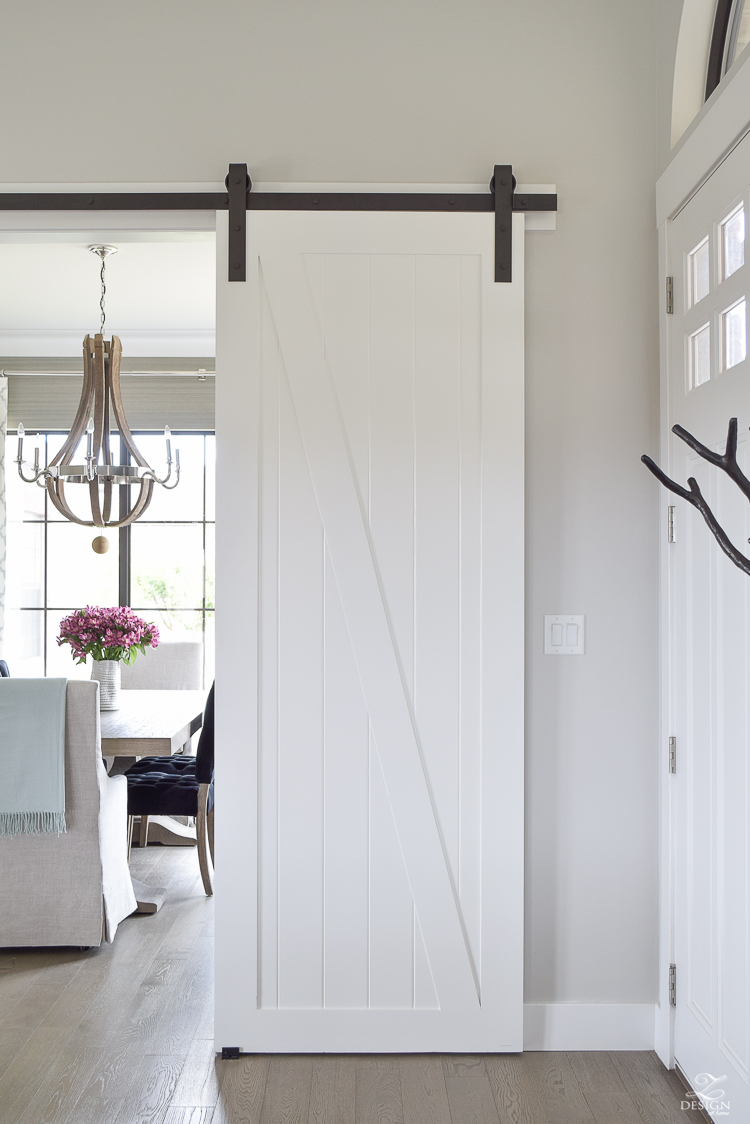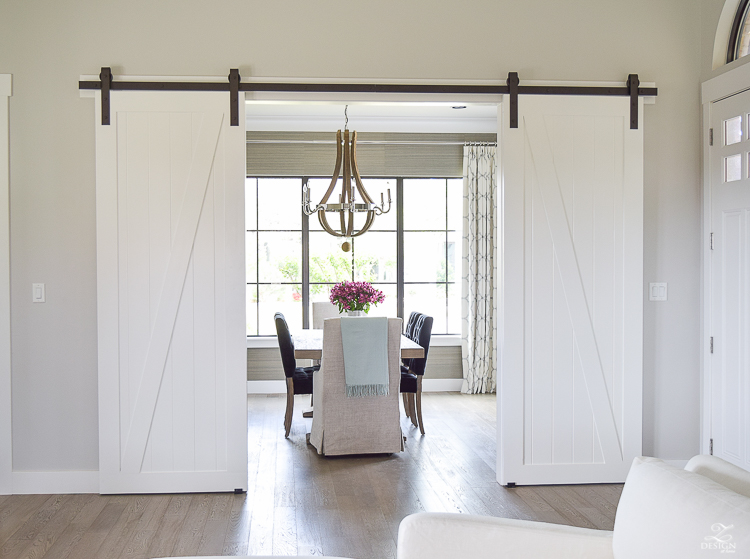 As mentioned above, I also used the peonies and the dark pink alstroemeria in my Mother's Day table scape post found here.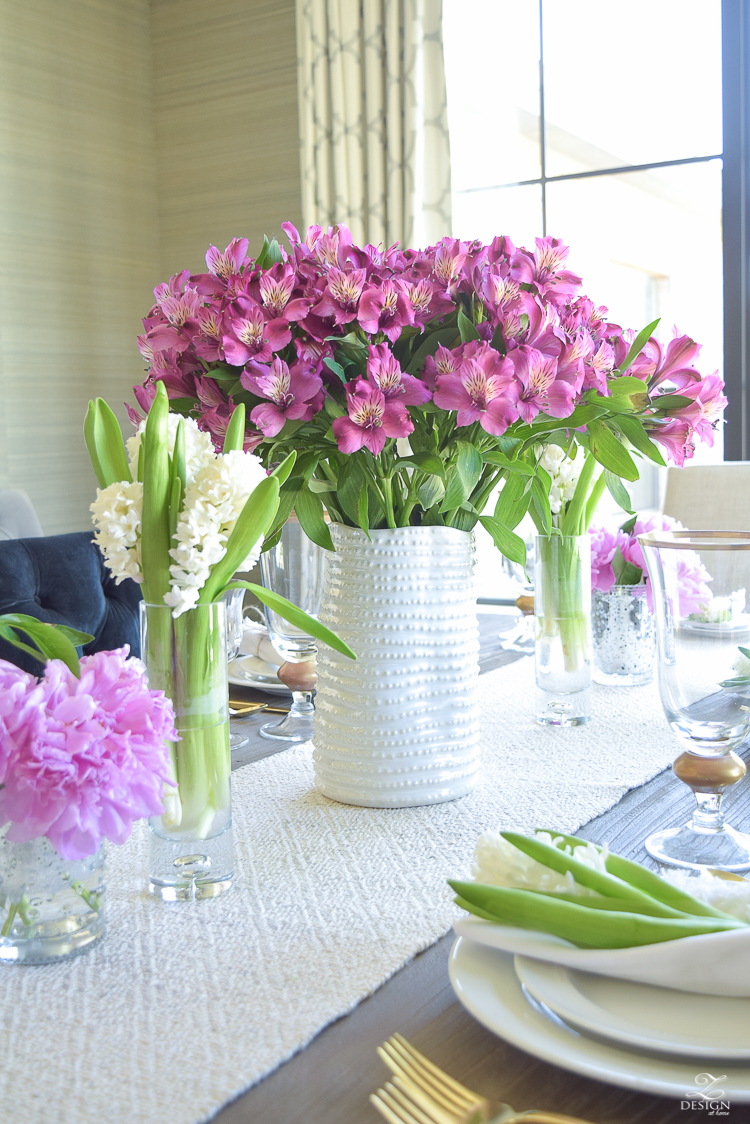 Speaking of Mother's Day, my favorite part of this table scape were the hyacinth.  They were darling in a clear vase to let them shine but, they were also perfect on a plate.  I tied a simple white fringed napkin around them with a piece of twine, added a name tag and viola!  I had a beautiful yet simple DIY addition to my table scape for mom.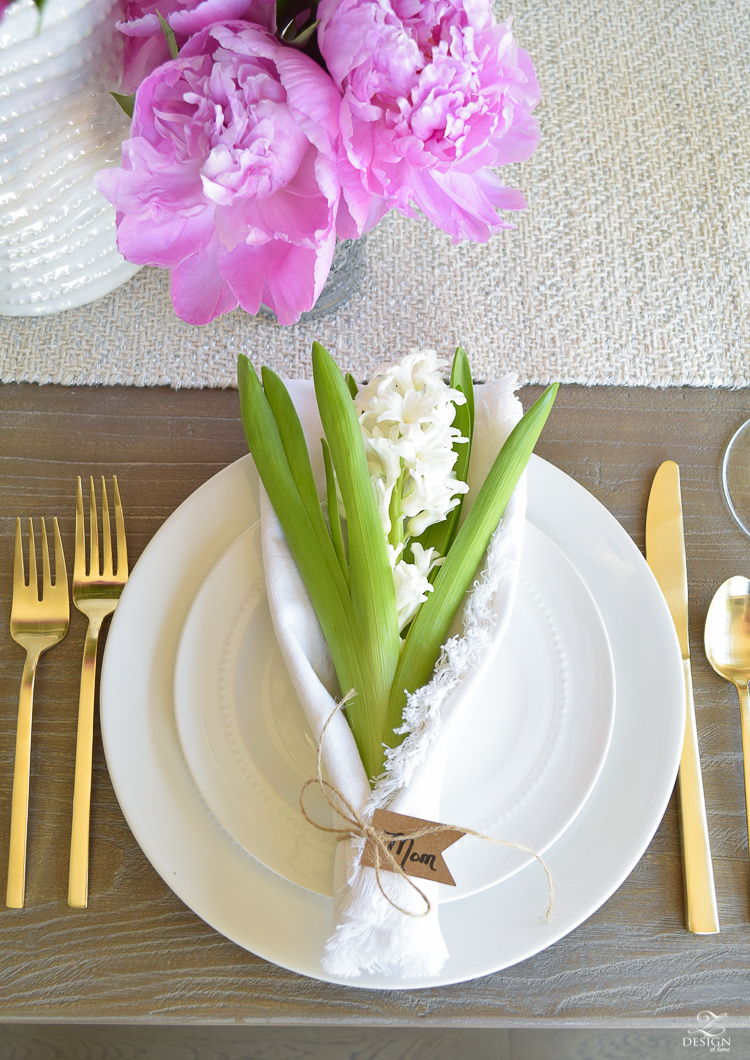 Get the Look

Next is another flowers in the sink shot (some of my faves).  These flowers were for a couple of projects but they always have to start out in the sink to be sorted and placed into a carefully selected vase so why not get a shot first, right?!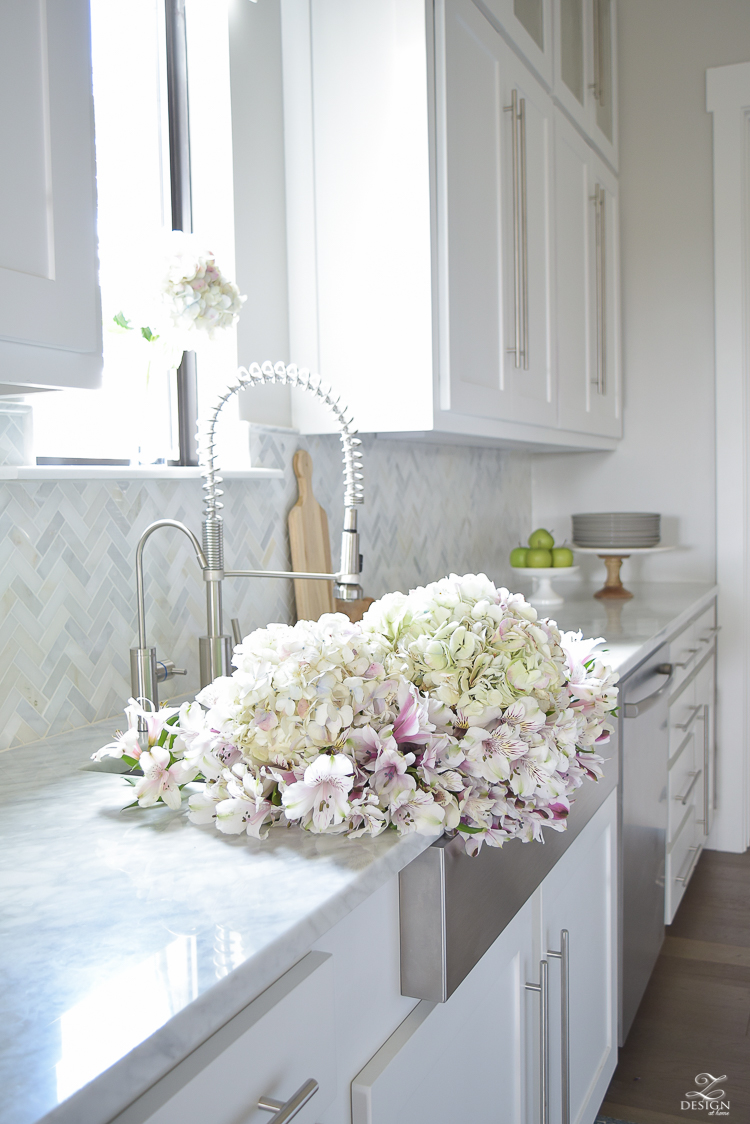 Here are those light pink altromeria on my island where I started out with a shot of them in the 'ole faithful bread bowl.  The flowers against the bread bowl is just so yummy!  Again for me it's that juxtaposition of materials that I love so much because it creates so much interest in the space!!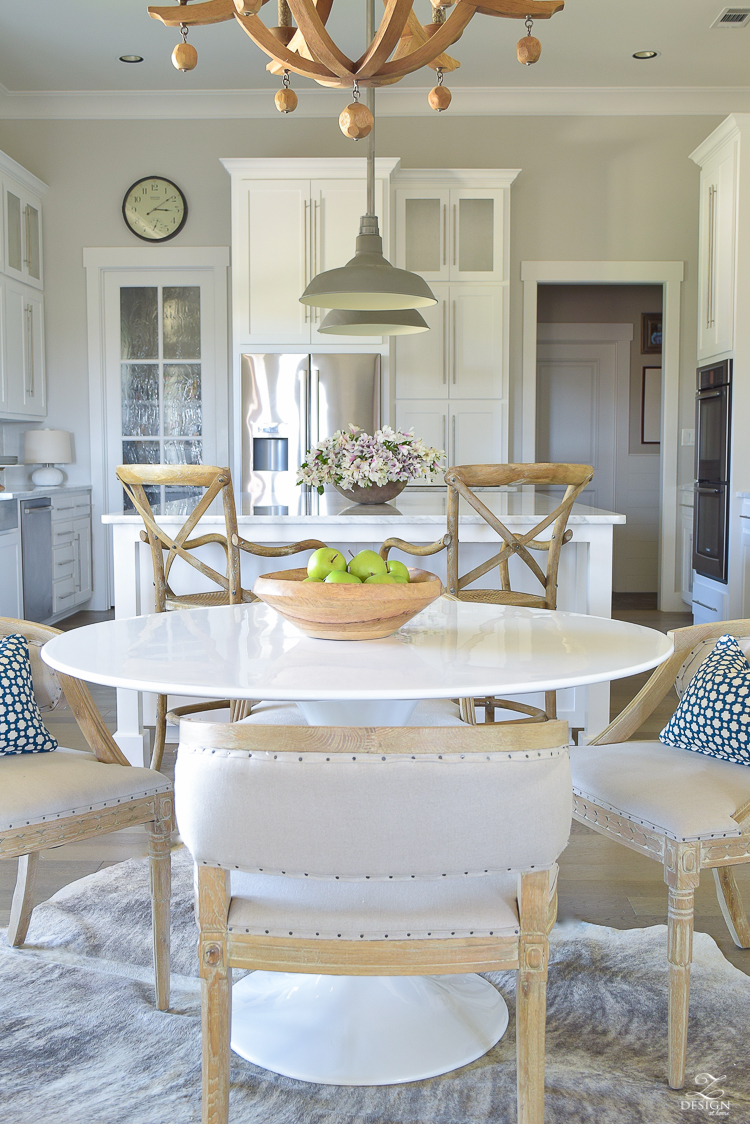 Then they went into a simple clear vase (that my anniversary flowers came in) for the island because I moved the bread bowl to my dining room table (more on the white tulips pictured later).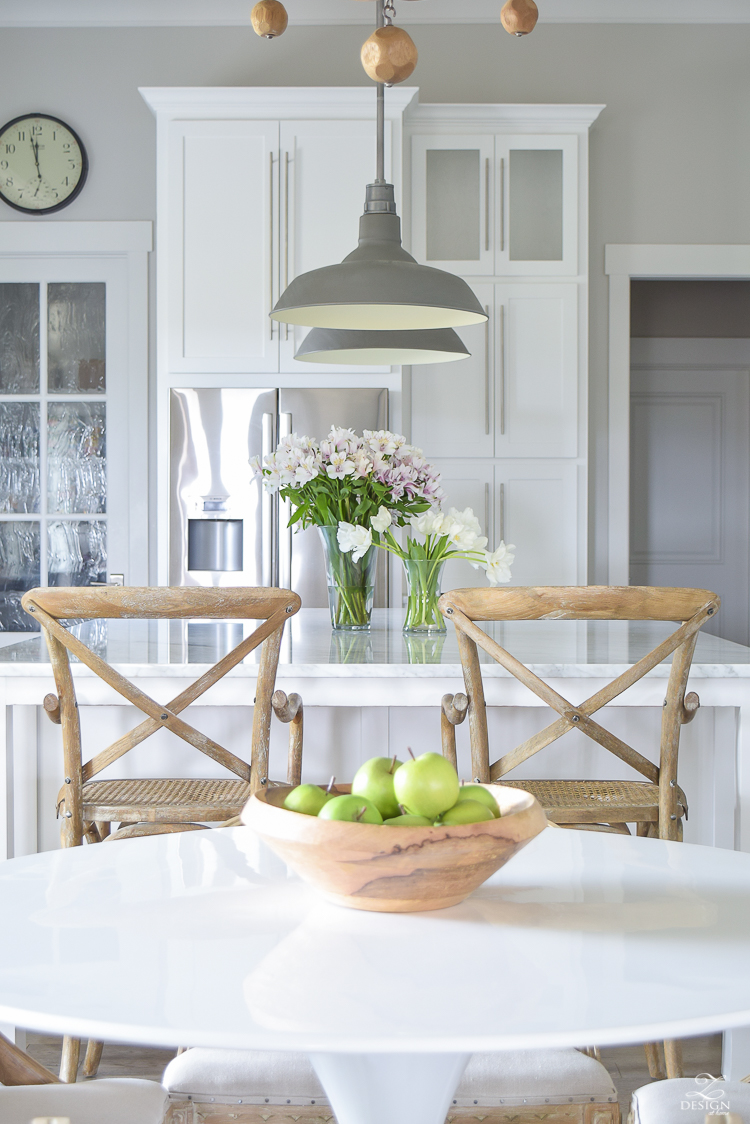 I also used these on the console table in my breakfast area for a little while, in place of the coral that usually adorns this spot.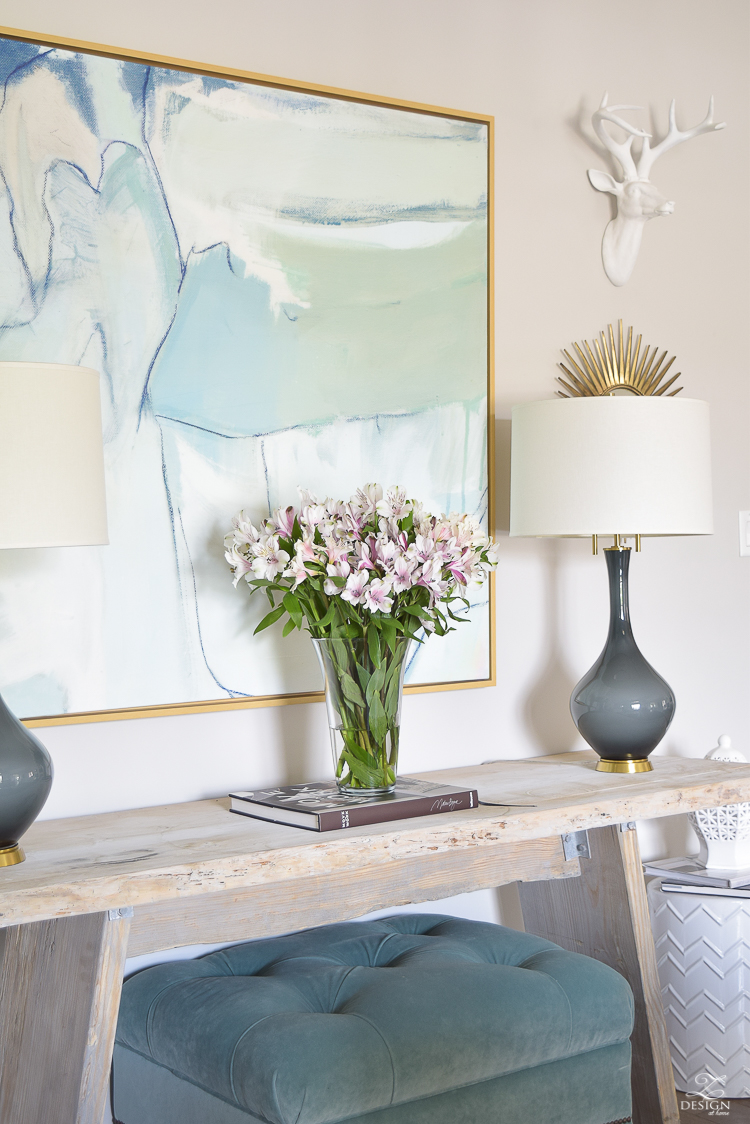 And speaking of my anniversary flowers…my hubby knows just how to capture to my heart, don't you think?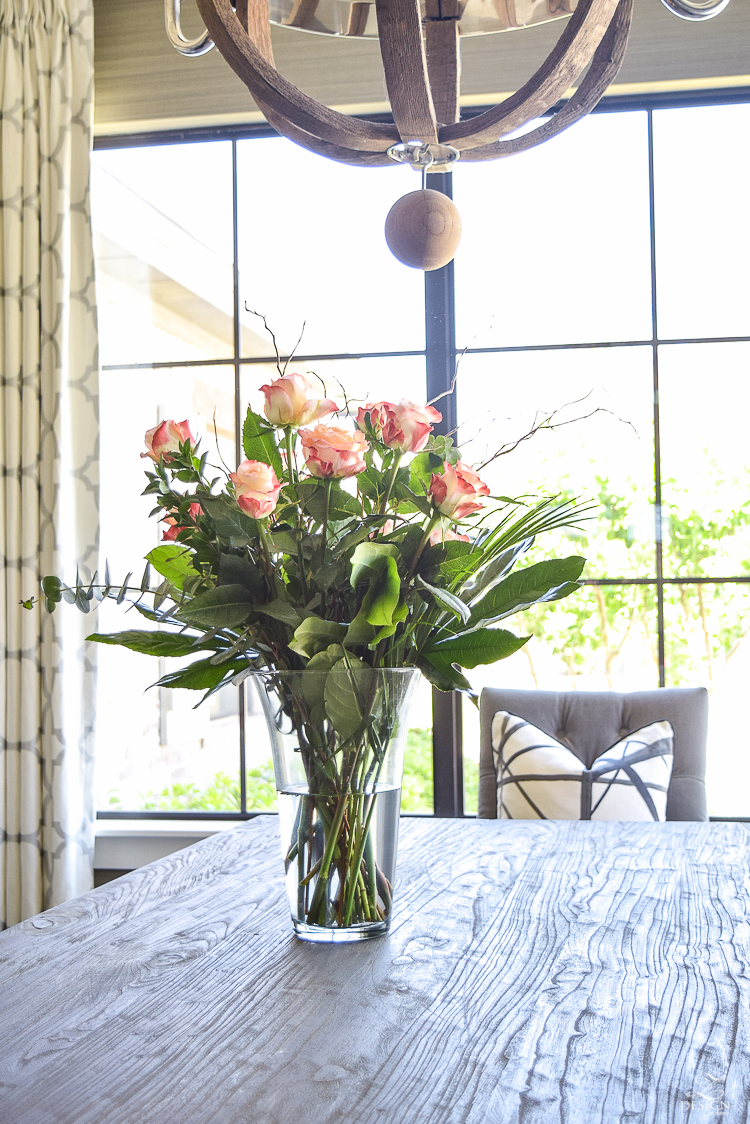 Get the Look

I used those hydrangeas for a #BrightWhiteWednesday Instagram collaboration (organized by my dear friend Randi Garrett Design) to style this lovely cake plate a couple of different ways.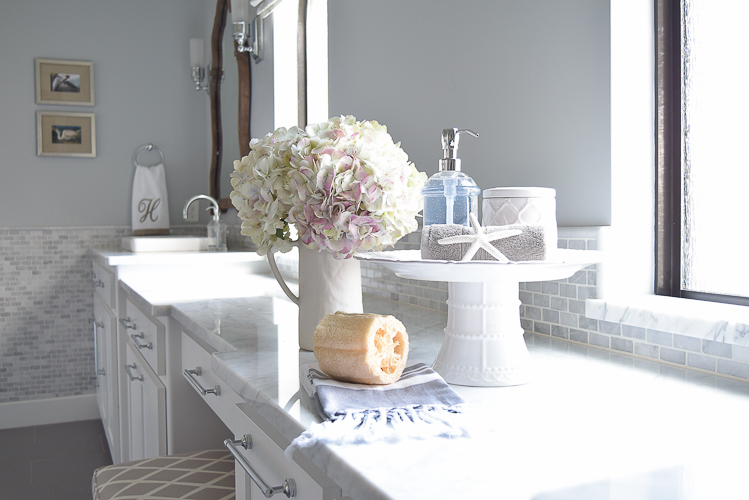 Here is the second way I styled that cake plate with cake and flowers.  It was truly so much fun styling for this shoot!!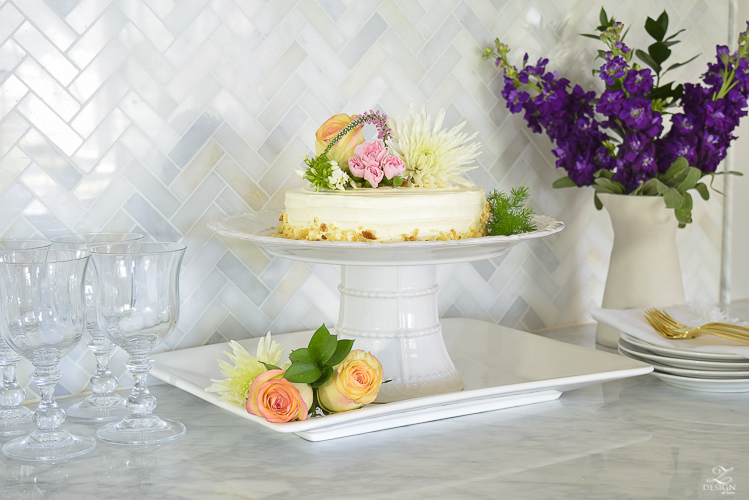 And here is what I did with the left over flowers for a few days to enjoy them on my vanity.  My favorite is the flowers in the bowl.  I had to clip these short to place on the cake so a small bowl was perfect to use as a vessel to hold them to help give them life for a little while longer.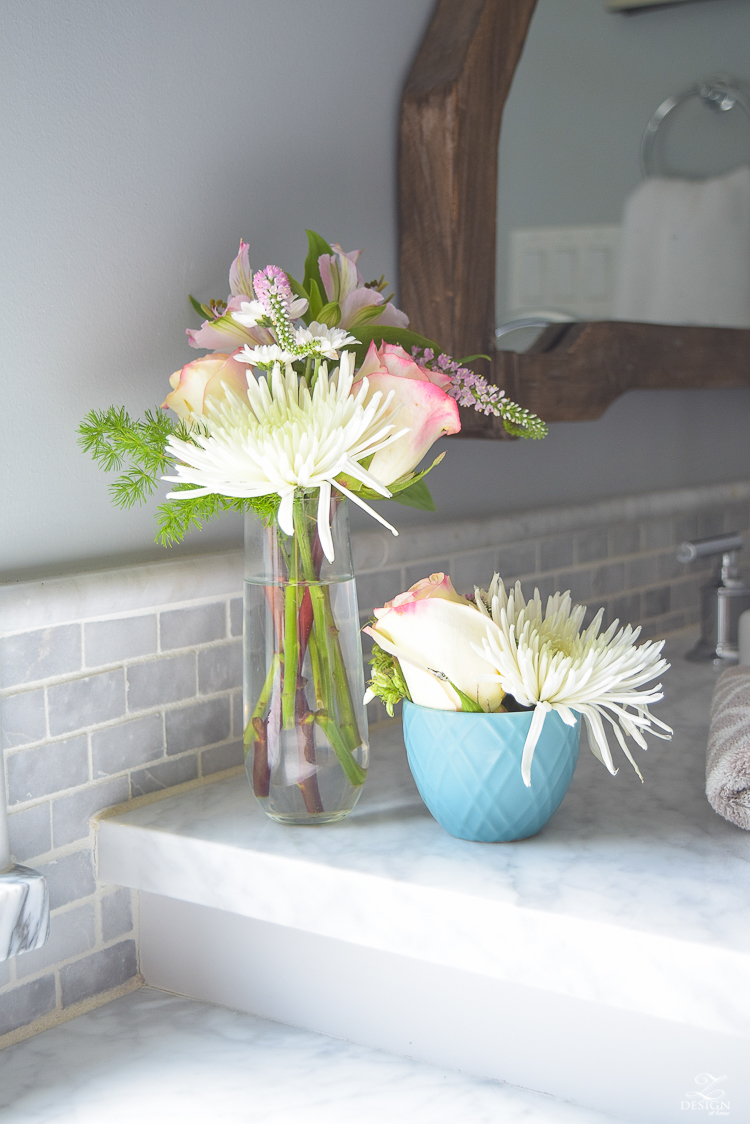 And now for those white tulips and how I used them to style my living room book shelves in my summer living room tour, found here.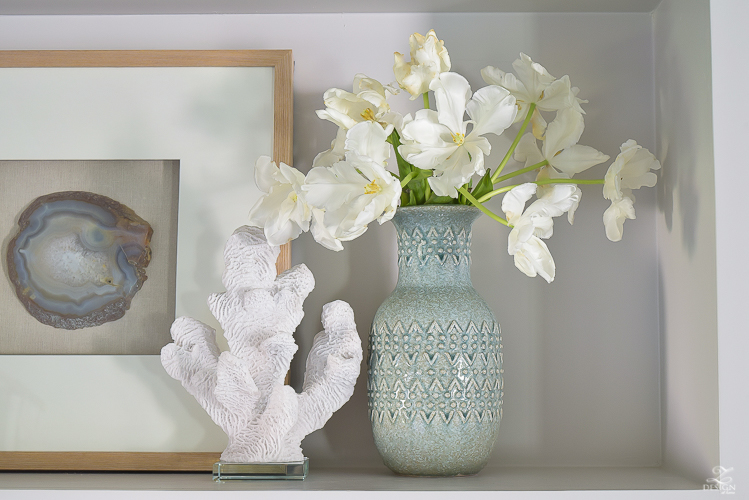 Get the Look

And speaking of tulips.  This was a different batch of tulips but what I love most about this arrangement is that I had some purple peonies that would never really open up so I arranged them in with the tulips to make this stunning yet simple arrangement for my perfectly appointed pillows post found here. This combination of flowers in this white carafe was perfect for this spot!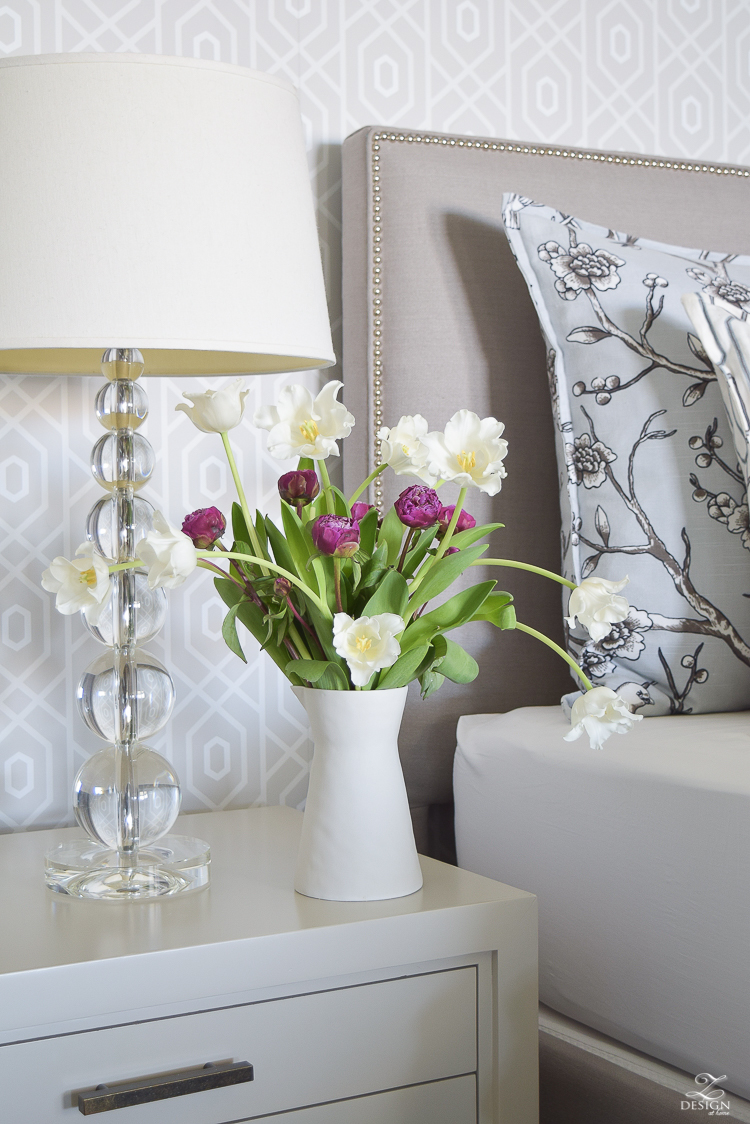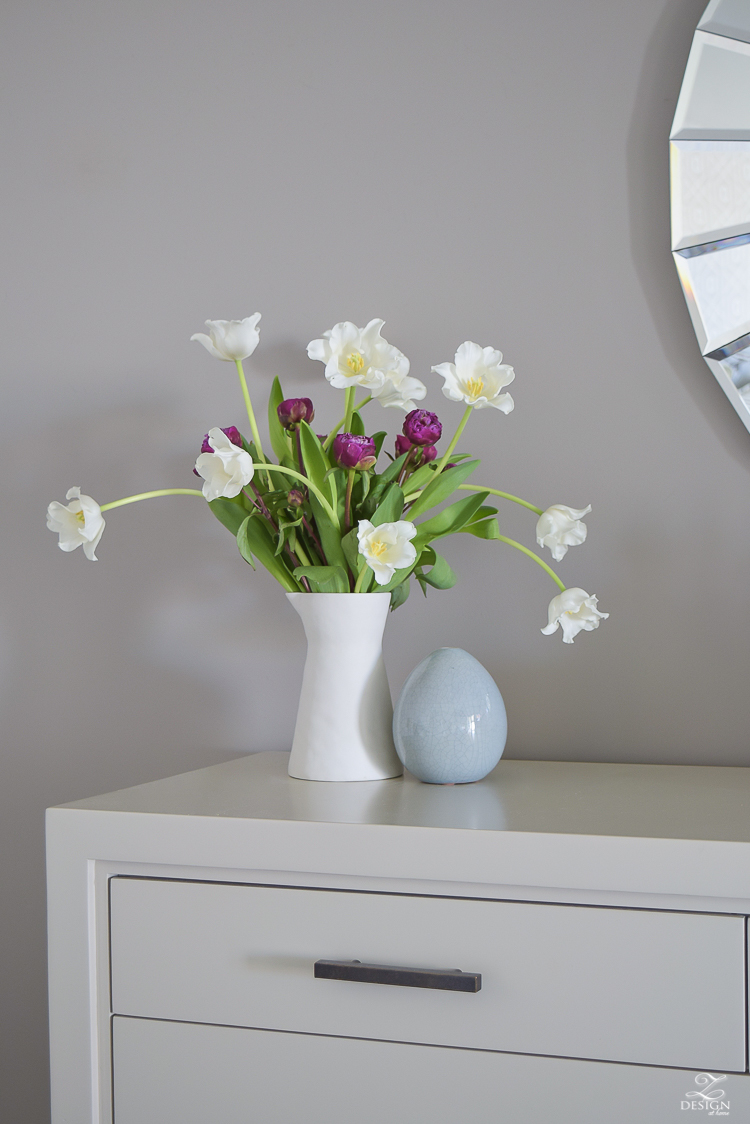 And since we are nearing the end of peony season, I'll leave you with a few shots of my current batch of flowers…pink and white peonies.  I initially used them for this #BrightWhiteWednesday shot for a Pottery Barn Instagram giveaway (that has since expired) organized by my good friend and talented blogger Kelley Nan.  This shot was so fun and the pink peonies really brought the beauty and bright whiteness out in this Pottery Barn lantern I think.  The pink peonies were absolutely perfect and stunning in the blue and white vase, but I also loved that one stem in the simple, clear, cylindrical vase.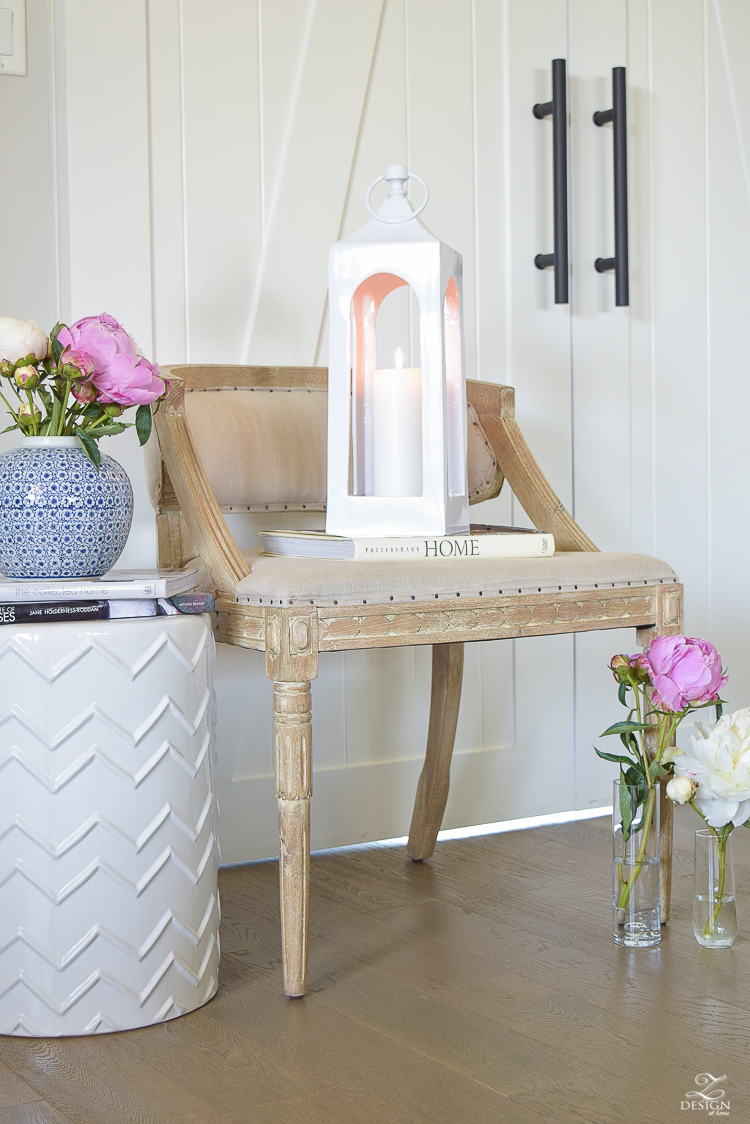 After this shot and in the days to follow, I moved them to my breakfast table.  This gold honeycomb bottom vase was perfect for the peonies in this spot!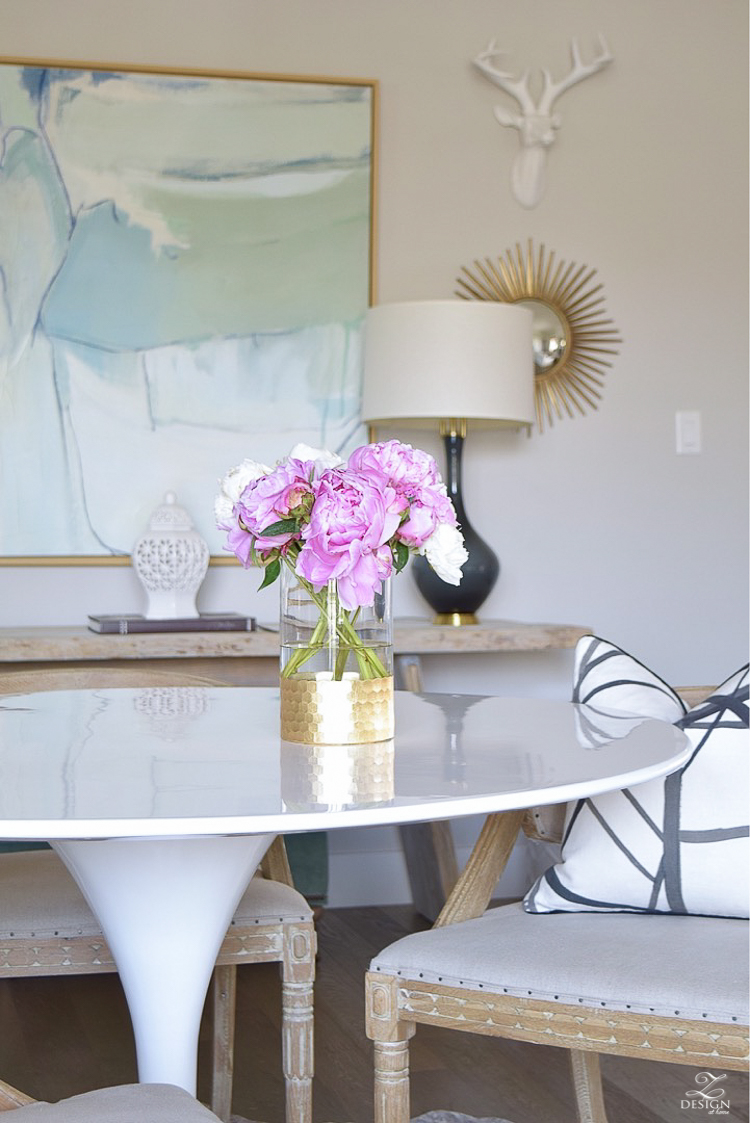 And then on to my bedroom to adorn my bedside table for a while.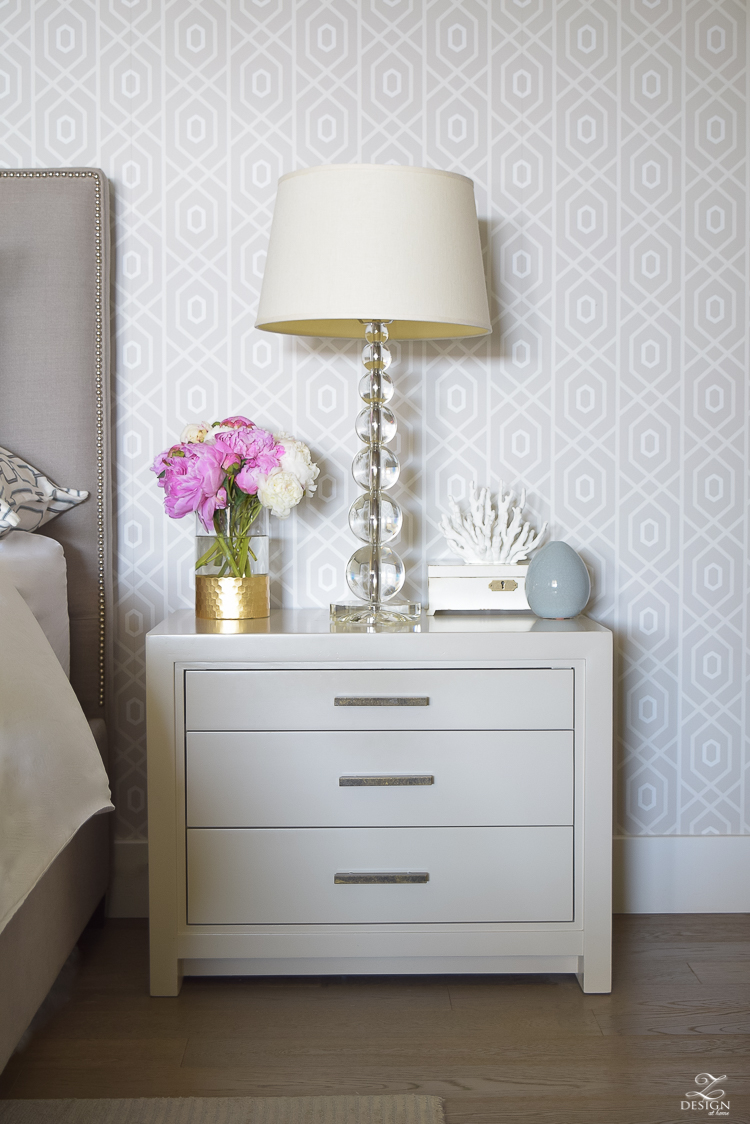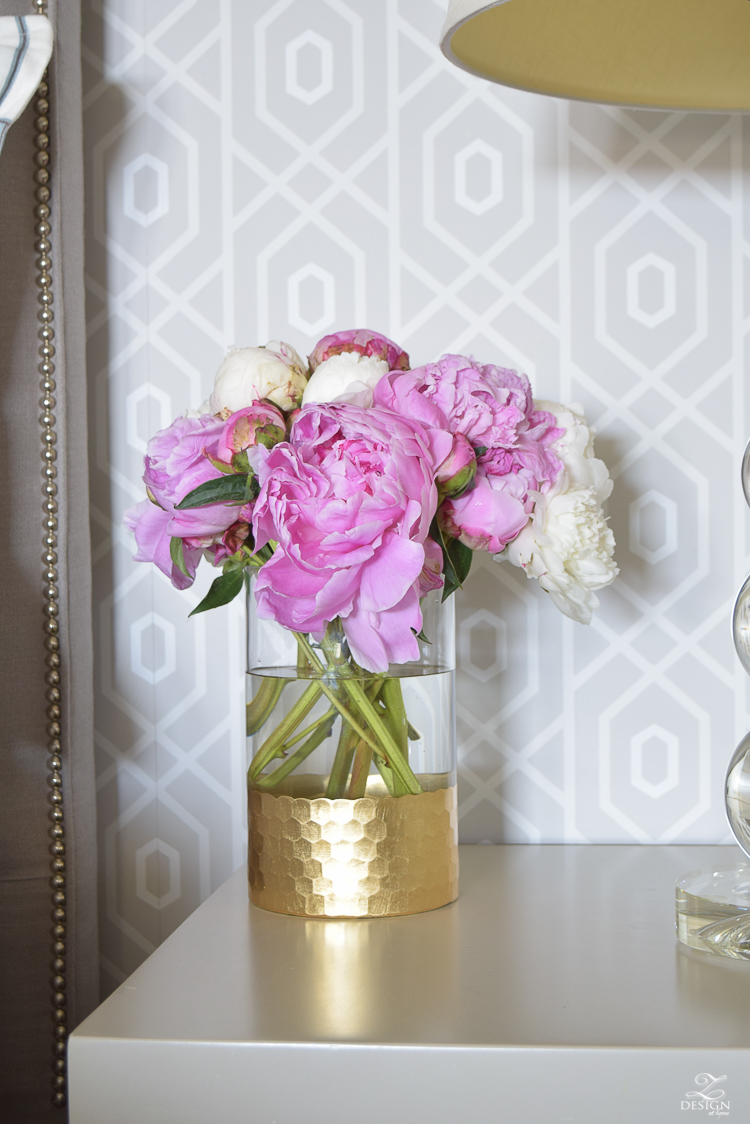 And since they were half off I went back and got more white ones to use in a clear vase in our master sitting area.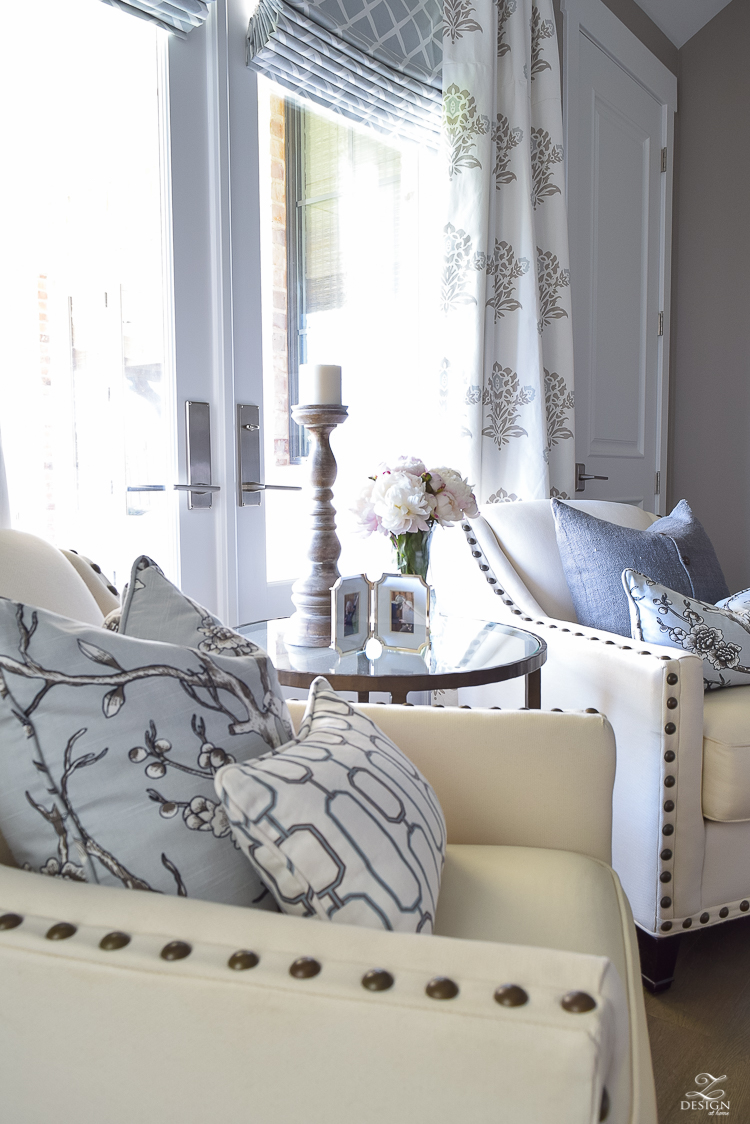 Get the Look

And last but not least here are a few simple tips for making your flowers last longer.  When you purchase them at your local florist or market, make sure they give you some of the alum packets (this is the fresh flower food packets – you can see more about what that is here) and then follow these simple tried and true steps that always work for me:
 Once home, immediately place them in a vase with fresh water including your alum (fresh flower food packet).  Cut them if you need to in order to suit the size of your vase but if not leave the stems as is for a few days.  Enjoy!
After 3-4 days cut the stem in the same way the florist cut it which will either be straight or at an angle.  I use this pair of gold scissors to cut mine
Then, replace the water with fresh water in a clean vase and make sure to add your packet of fresh flower food again
Repeat as long as the flowers last
I hope that was simple enough to follow so that you can now get as much life out of your fresh flowers as possible.  I have even more tips in my happy hydrangeas post if you'd like to check that out here.  Thanks for stopping by the blog and please let me know if you have any questions!
Xoxo, Bree
*Affiliate links have been used throughout this post and where an item is no longer available a substitute has been provided