6 Easy Steps for Making a Beautiful Bed
It's probably cliche by now but making your bed first thing in the morning truly does get your day going in the right direction.  I try to make mine as soon as I jump out of bed but if I'm rushing and unable to at that time, I always get it done before mid morning.  I do typically give myself a break on the weekend but even then I like to at least turn it down neatly, however skipping the fancy bed pillows.  There is nothing more cozy and comfortable than getting into a made (or at least mostly made like my weekend regime) bed in the evening!!  With all of that said, I thought I would share my 6 easy steps for making a beautiful bed with you today.
One of the things that people always say when visiting my home for the first time is that our bedroom looks and feels like a hotel suite.  Not that that's necessarily what I was going for (although that's a super nice compliment) but I think a lot of it has to do with the way the bed is made up and I'm excited to share my tips on this with you today (affiliate links used throughout this post).
Here is what you'll do to get started…
1. Remove all pillows and pull fitted sheet tight from both sides up top near the headboard, smoothing out any ripples in the fitted sheet with your hands.  If your blankets are already on the bed at this point they should be folded down or pushed to the side about half way down the bed to give you room to complete this step.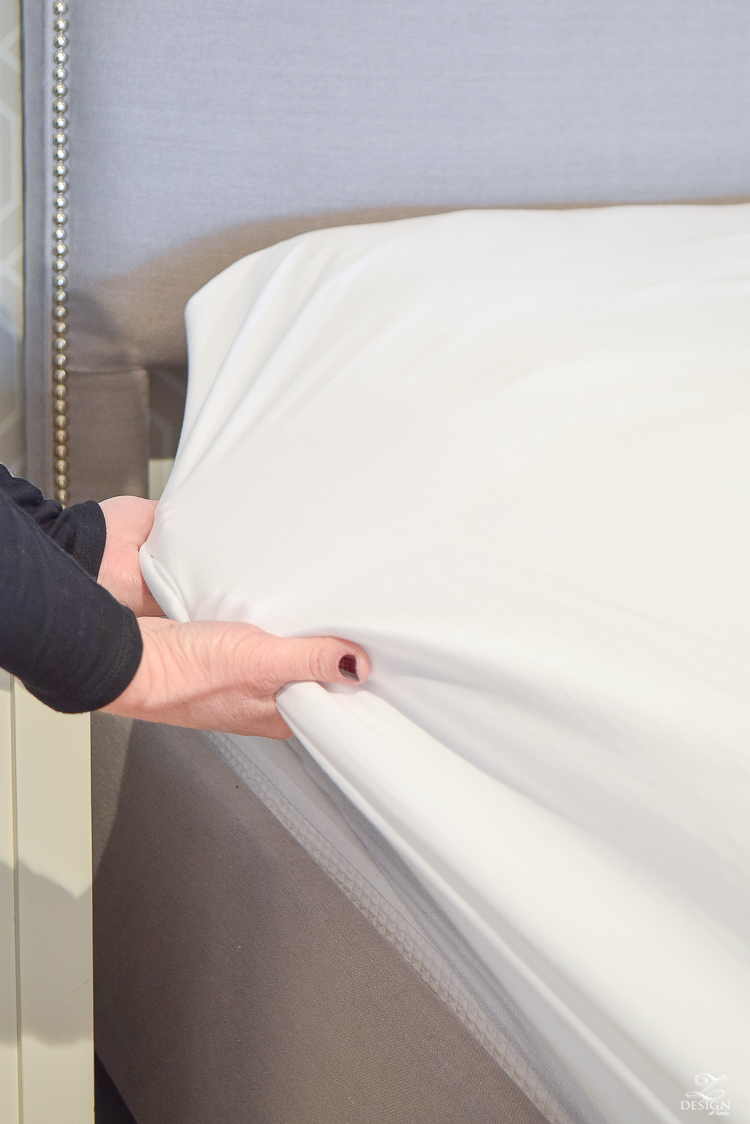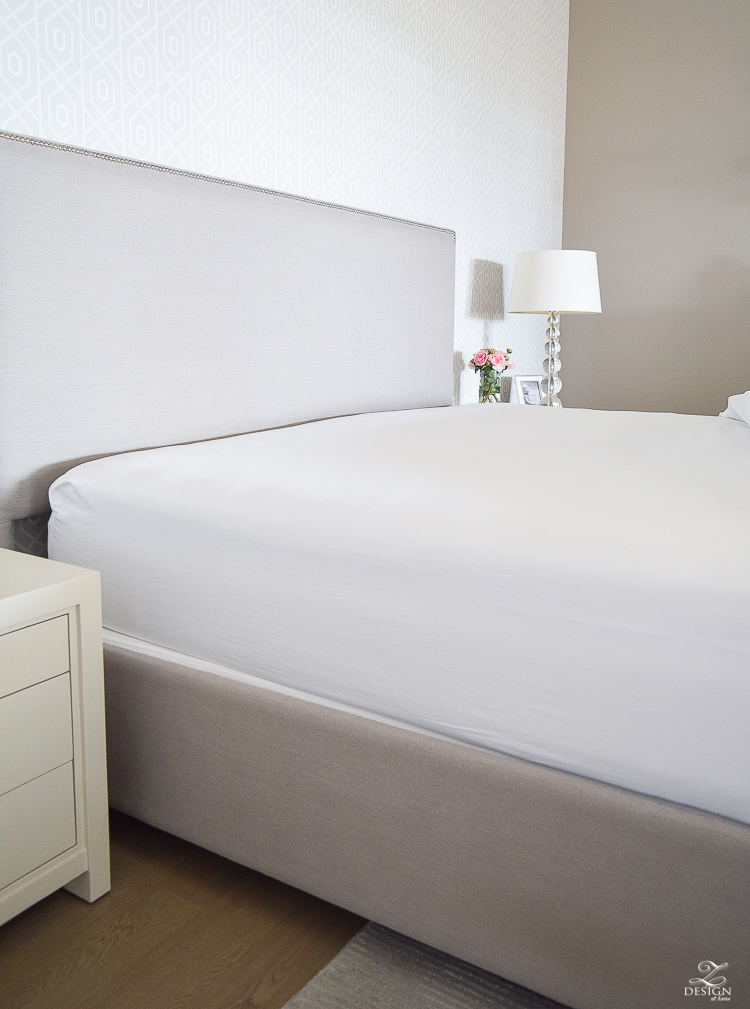 2. Reveal the bottom sides of the bed by pulling up your duvet or quilt to make sure your corners and bedding sides are neatly tucked under the mattress. A hospital corner is recommended but be sure to tuck your covers neatly under the mattress from the foot of the bed all of the way up to about half way up the sides of the bed.  If you aren't familiar with how to do a hospital corner I'm sure Google can help with that (gotta love Google;).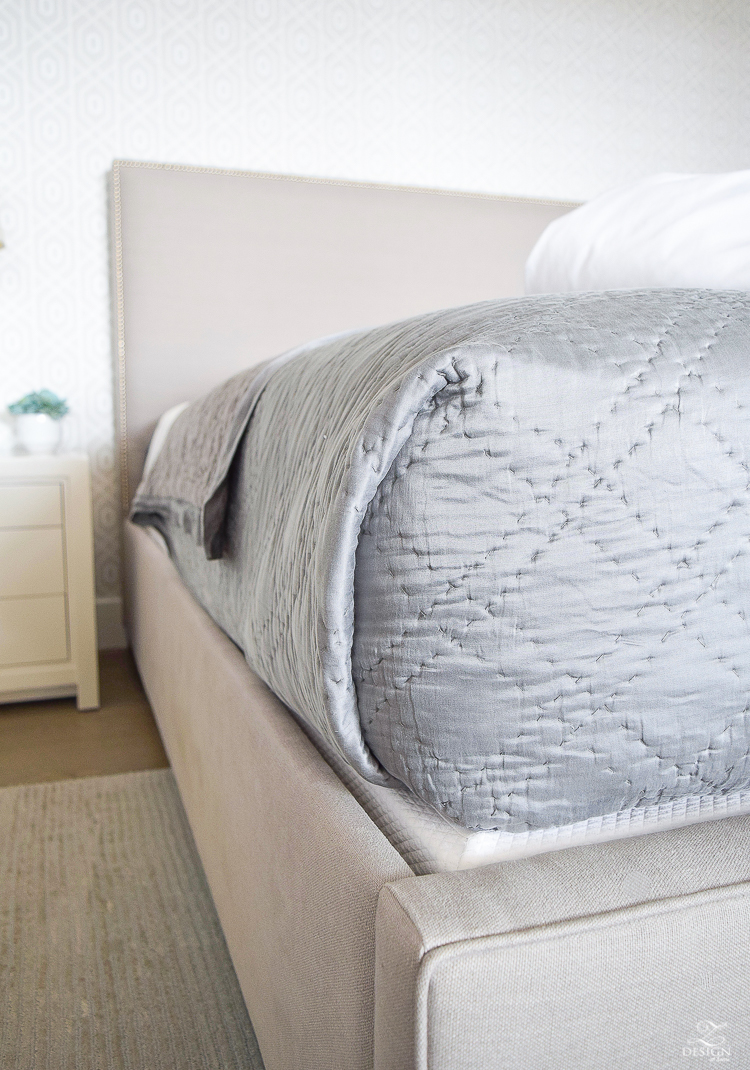 3. Bring your sheet, quilt, and duvet (or whatever blankets you are using) all the way up to the headboard pulling them taught, straight, and square on top of the mattress, with equal parts falling over the sides.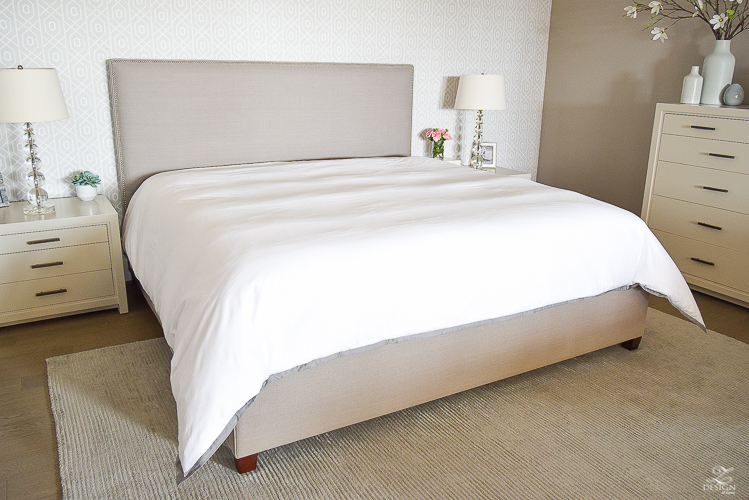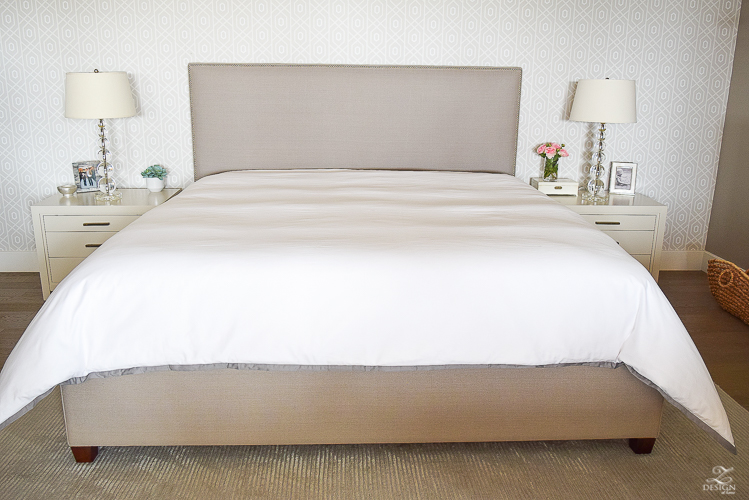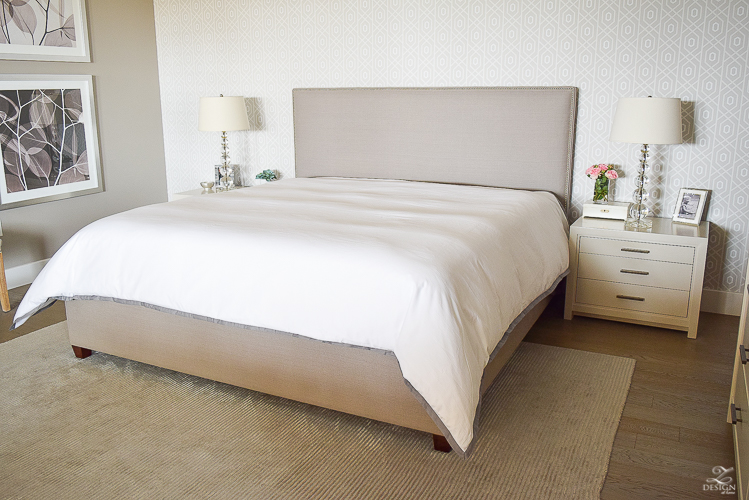 4. Now you are ready to turn down your duvet (or top layer) half way neatly, then turn down your next layer over the duvet neatly (in my case the gray quilt shown). Lastly, turn down your sheet…I tucked my sheet neatly under the quilt since I wanted my quilt to show on top but if you want your sheet to show on top like I did HERE then you can do that too (this part is personal preference) but either way, after it's turned down you should pull all blankets taut from both sides again smoothing out any ripples with your hands.  Important tip:  Always remember to put your blankets where you want the pretty side to show face down on your bed.
With duvet (or top layer) turned down…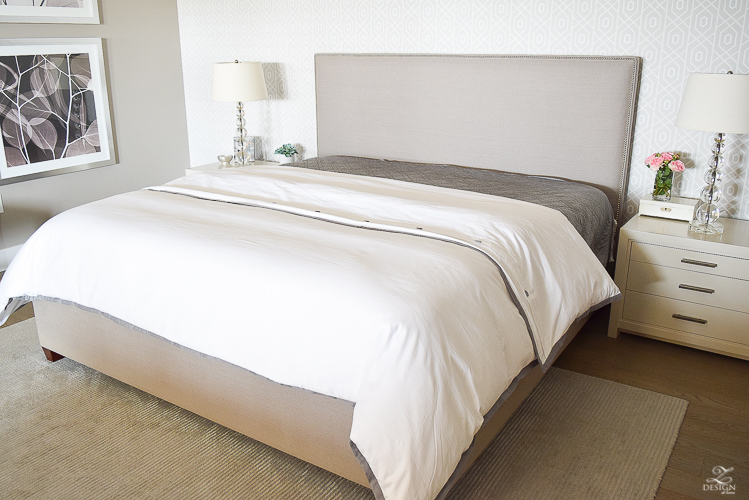 With quilt (or middle layer) and sheet turned down…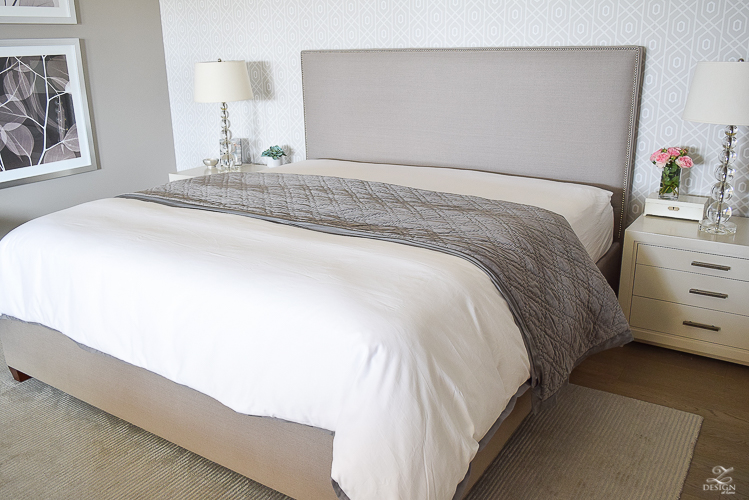 5. Add your pillows using the examples below as a guideline but generally speaking this is what I do for each size bed, and of course this can be altered to your liking:
Twin size bed: 1 standard sham (or you can use the sleeping pillow) propped up against headboard / 1 euro sham in front of that / 1 20 x 20 (or similar size) decorative pillow in front of that
Full size bed: 2 standard shams or sleeping pillows propped up against the headboard / 2 euro shams in front of that/ 1 20×20 pillow in front of the euro shams
Queen bed:  2 euro shams in back against headboard / 2 20-24″ pillows in front of the euro shams / 1 lumbar in front (I like to use a 12 x 21 lumbar insert found HERE).   See my guest room as an example of this scenario…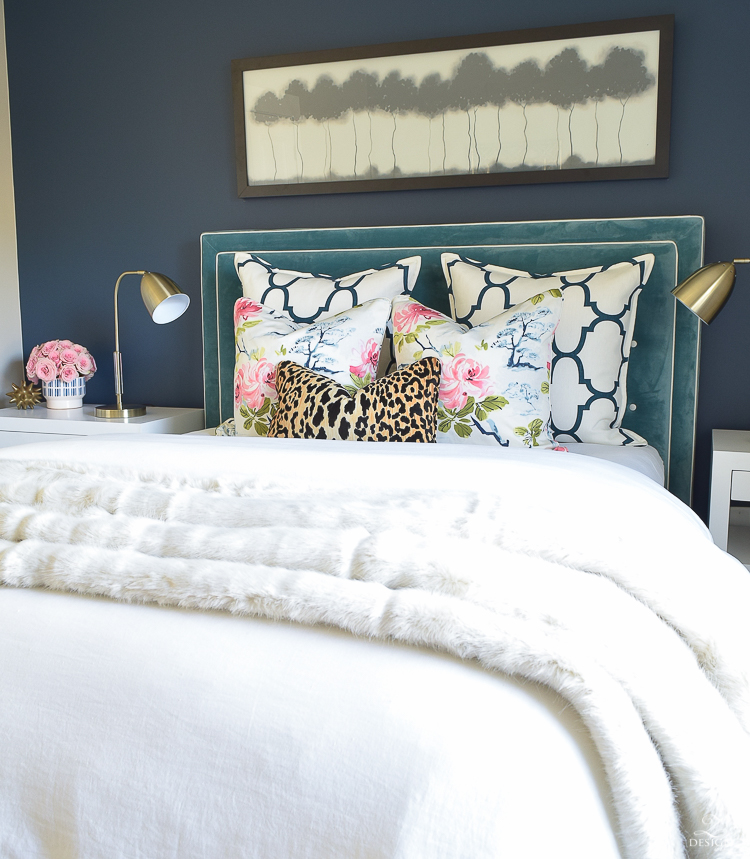 Full Room Tour HERE
King size bed: 2 king size shams in back – leaning or flat  / 2 or 3 euro shams in front of the king shams (personal preference here) / 2 20x 20's in front of the euro shames / 1 large lumbar in front – See progression of adding pillows below…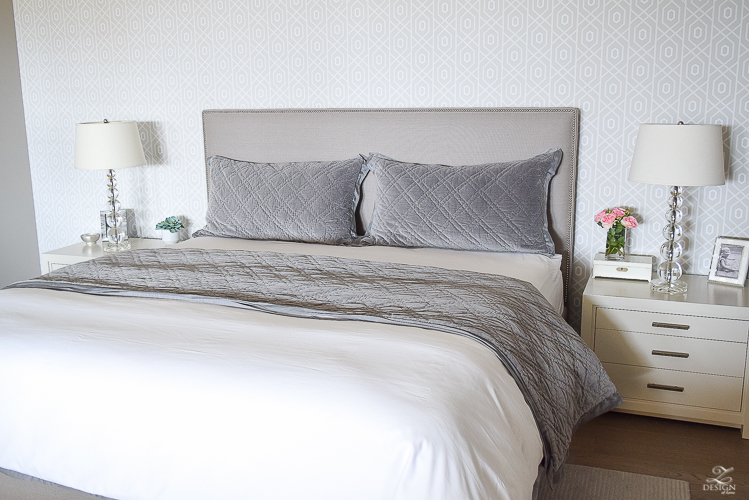 I like to use THESE euro sham inserts in a size 28″.  This size seems to work best because they fill up the standard size euro sham nicely to give you a nice clean look with no floppy corners.  The standard 26″ just doesn't do the job for me because there will be space left over inside the sham and the end result can look sloppy.  I have a full blog post on perfectly appointed pillows that you might want to catch while you're here for more info on this subject….you can find that post there HERE.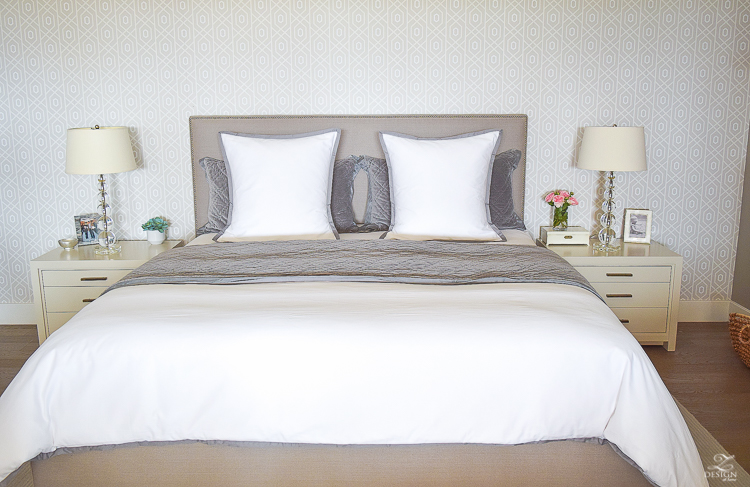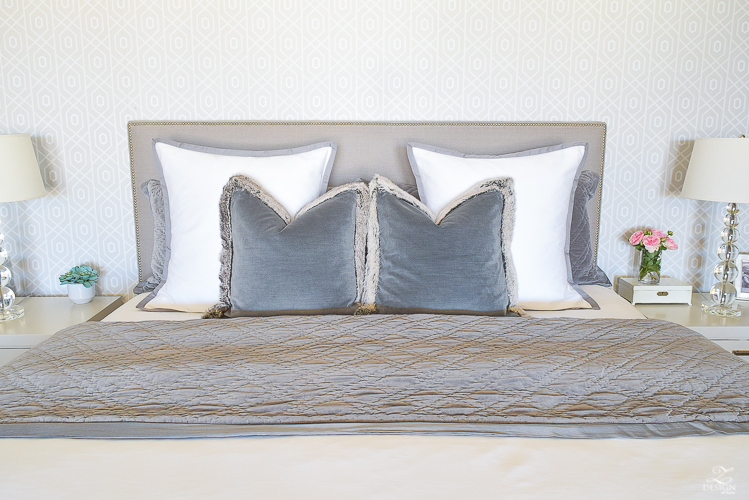 One point I'd like to make here is that I usually place my pillows in such a way that they will contrast nicely against one another.  Contrast always creates interest in any setting or grouping and can make any space pop!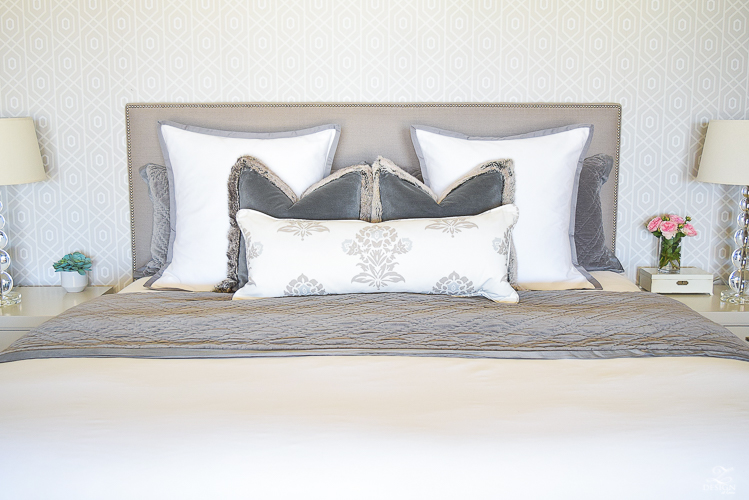 This large 14 x 36 lumbar insert that I use is perfect for a king size bed and can be found HERE.  The pillow cover was custom made to fit the insert (fabric no longer available).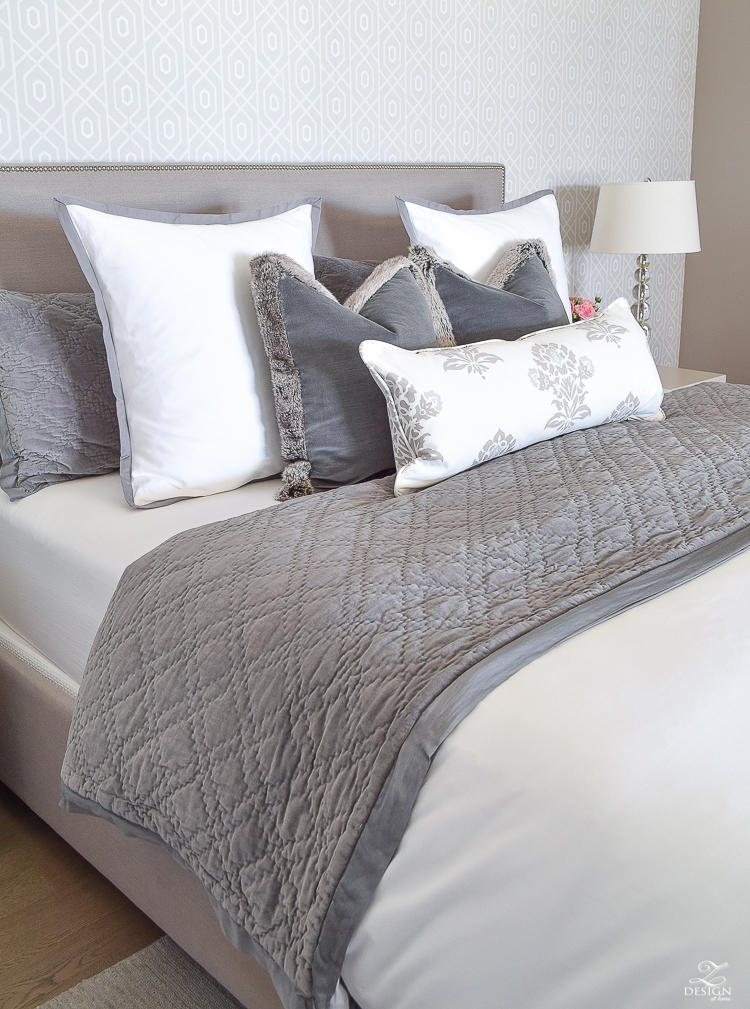 Shop the Bedding

6. And last but not least I always use a throw at the foot of the bed but you could use a pretty blanket or your comforter folded down if you like. Sometimes I pull it straight across the end (as seen HERE in a full tour of this room) and sometimes I throw it over the corner but you can play with this part to see which works best for you.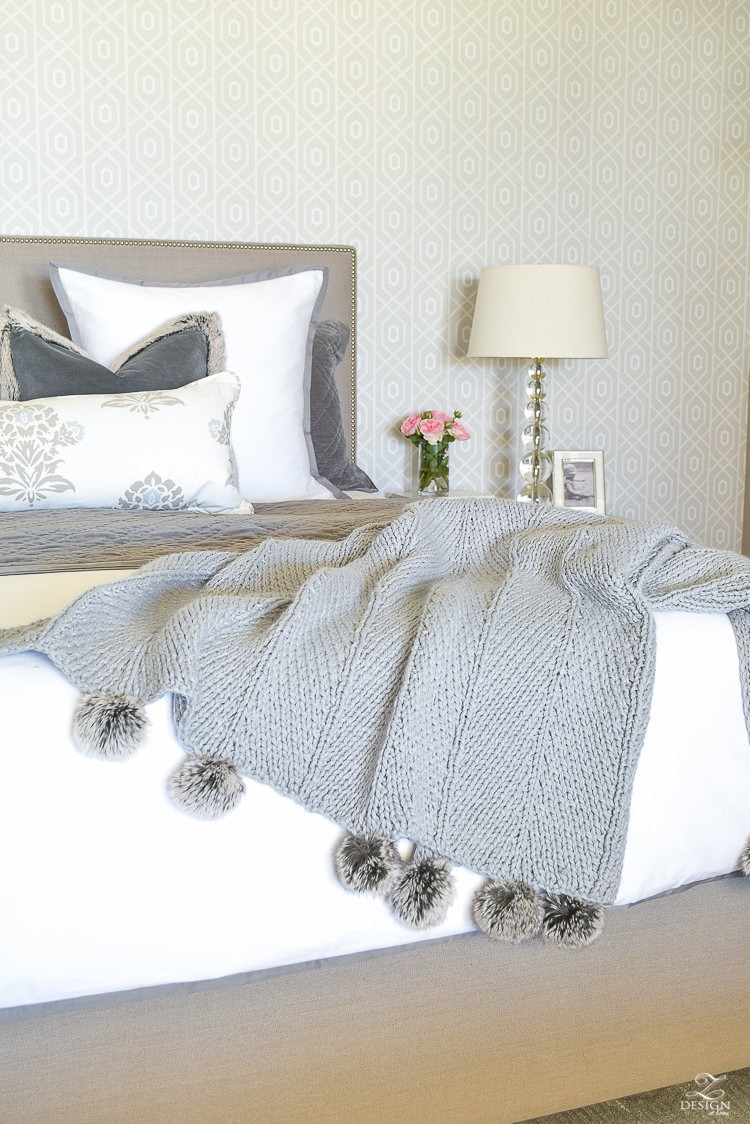 In closing, at first this may sound like a lot but once you get used to the process you will be able to do it quickly. The bonus is that when you walk into your bedroom at the end of the day it will be a serene sanctuary for relaxation and sleep for you and your partner.  There are truly so many ways you can display your pillows and this just happens to be the way I like to do it so I hope this post was helpful but, you can certainly adjust this process as needed to fit your needs. For me, less is more so I tend to not have an over abundance of pillows on the bed when made up but of course you can add more to this mix as you see fit.  I think you actually achieve a more polished, luxurious look and feel by not having too many pillows on the bed as clutter can mean chaos and the last thing you want in the bedroom is chaos in my opinion:).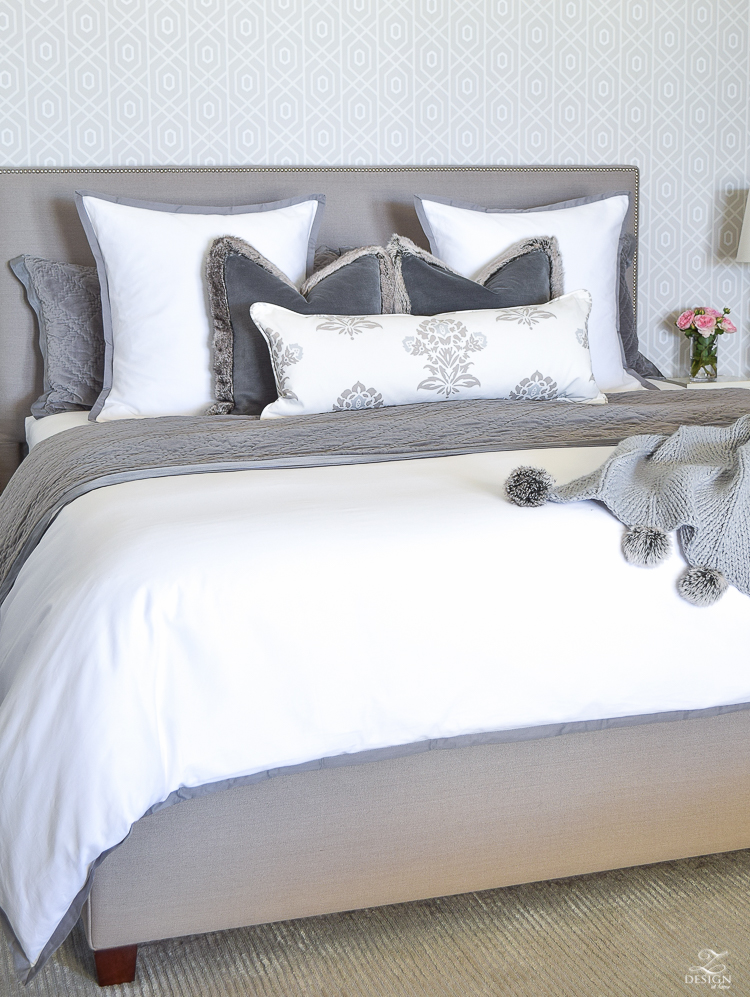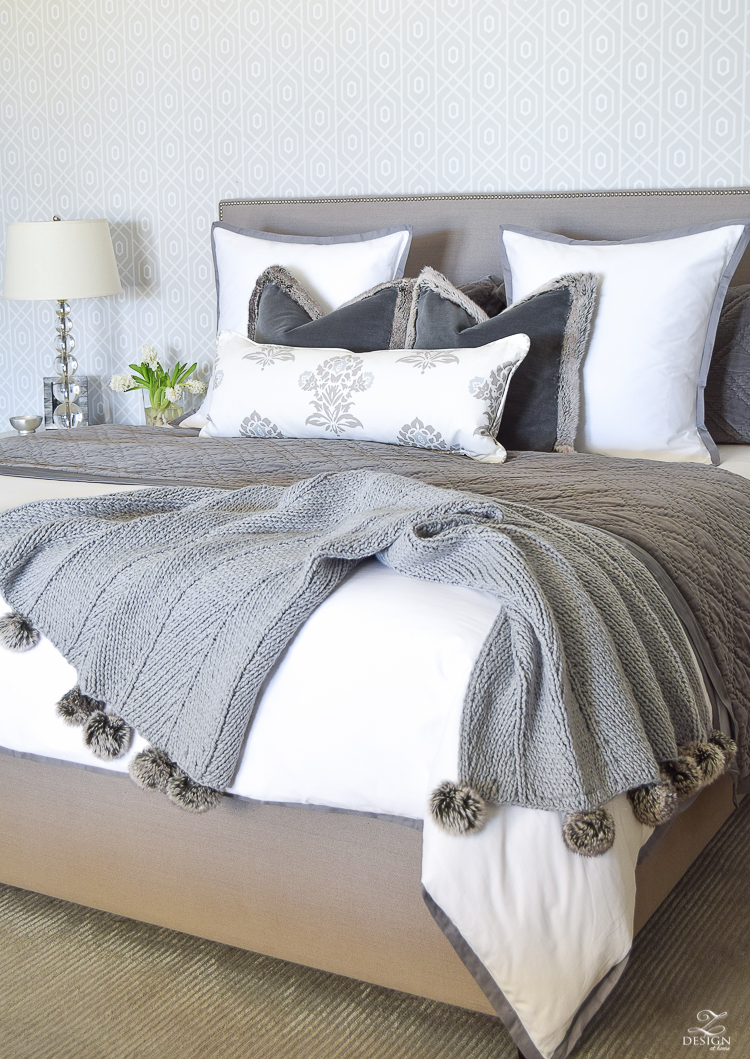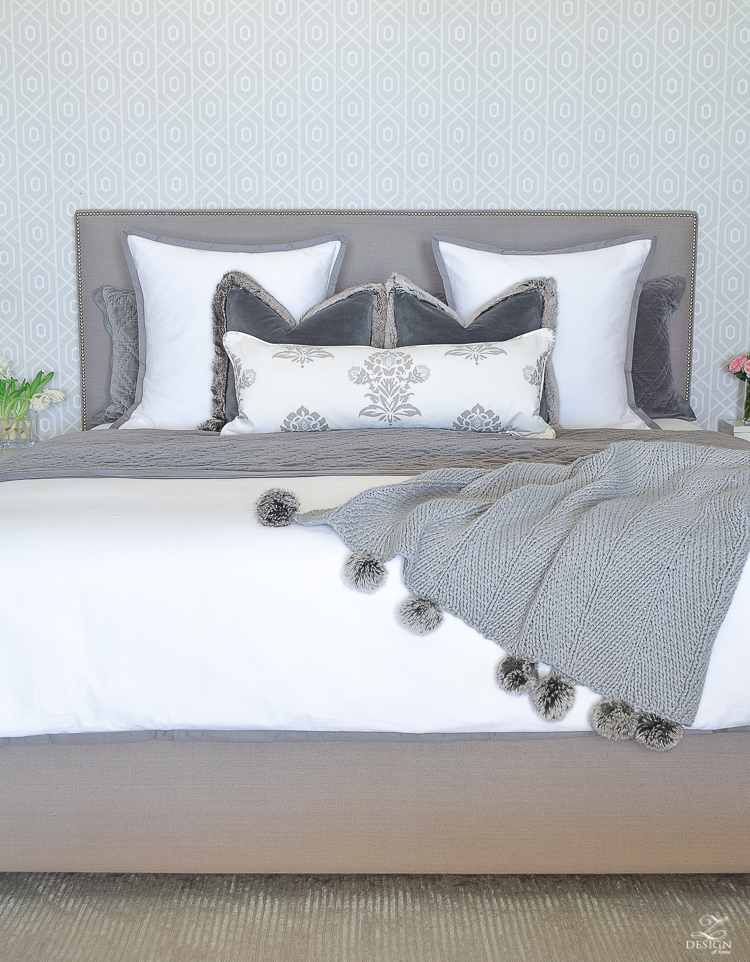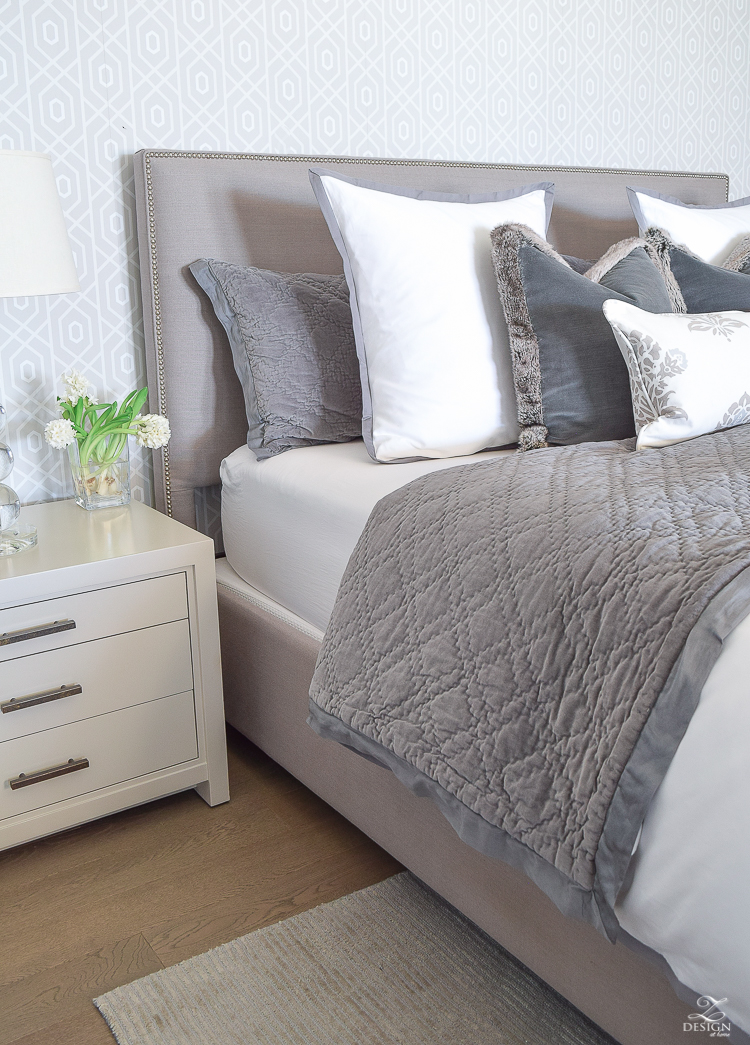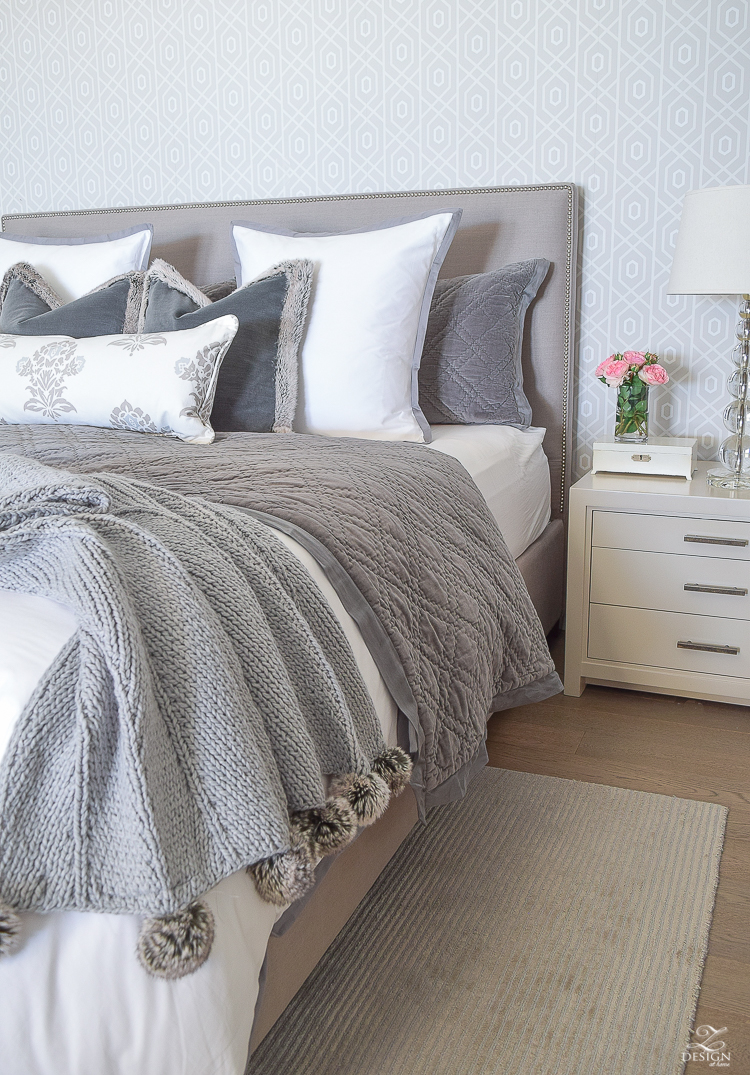 Shop the Bed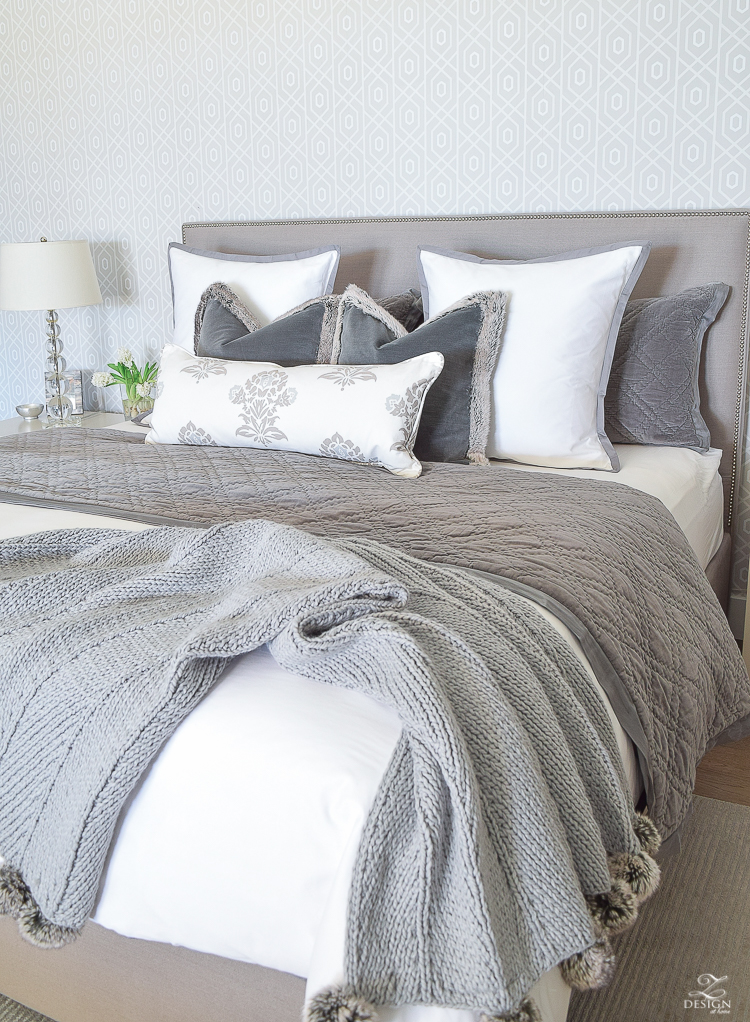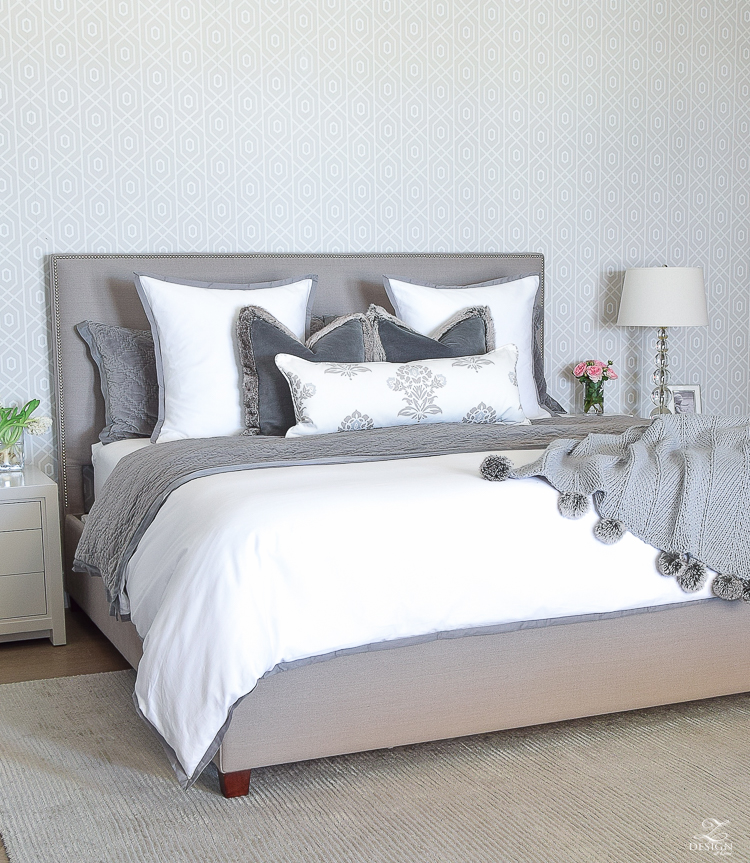 And last but not least and in case you were curious, we have drawer storage in our closet so during the day our sleeping pillows are stored in the dresser close by.  In previous homes however we have stored them in the closet…anything to get them out of site during the day and to help keep things looking picked up but here are some ideas for you for day time pillow storage.
In the closet
Inside an armoire or any other piece of furniture
In an ottoman that has storage at the foot of the bed or elsewhere in the room
A large lidded basket in the closet or somewhere in the bedroom (we have utilized this option before)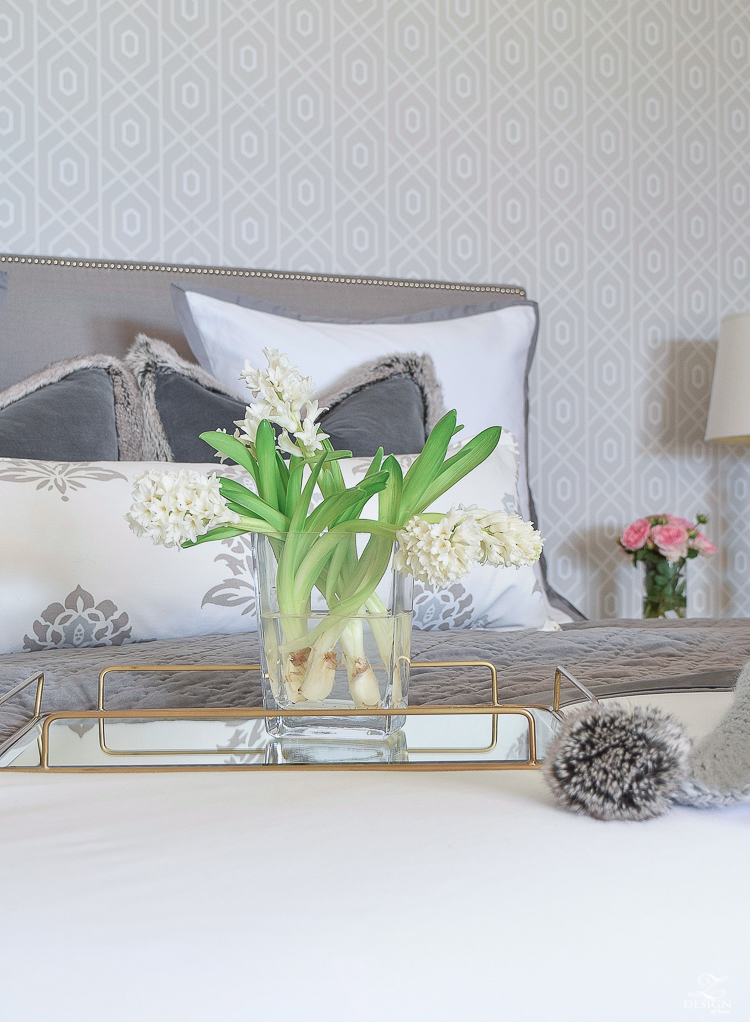 If you have any questions please feel free to leave them below and thanks for stopping in this week to ZDesign At Home!  I always appreciate each and every one of you stopping in and I love to hear your feed back so please don't forget to leave me a note in the comment section below! 🙂
Xo, Bree

*For a full tour of this room go HERE
For a full resource list of this entire room go HERE
Simply click Images below to shop!
Bedding:
Upholstered Bed & other furniture:
Lighting & Accessories:
Rug: