Basic to Beautiful Custom Velvet Headboard
Today I'm going to show you how I took a basic white headboard and turned it into a beautiful custom headboard to better suit my design style and I'm going to show you how you can do it too.  This is what I started with upholstered in a white cotton twill.

I purchased the headboard several years ago and for the longest time it was the white twill which was fine but, the last time we moved the fabric was damaged during the move.  The moving company paid for the damages to replace it but being the lover of fabric and a lover of customizing my home decor to my liking, I wanted to keep it since it had good bones and just have it reupholstered.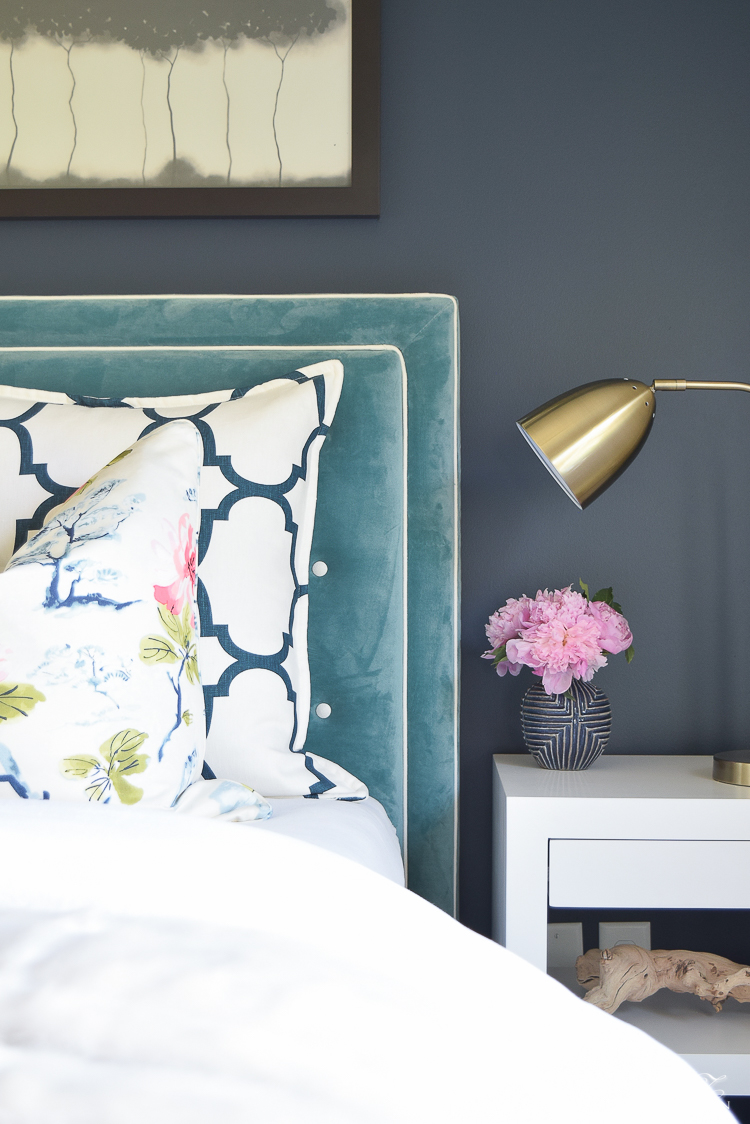 I had already chosen the navy and white fabric below for my euro pillows and curtains and knew I wanted a navy accent wall to compliment the fabric but, I also really wanted to inject some teal into the space and that meant it was going to be in the headboard.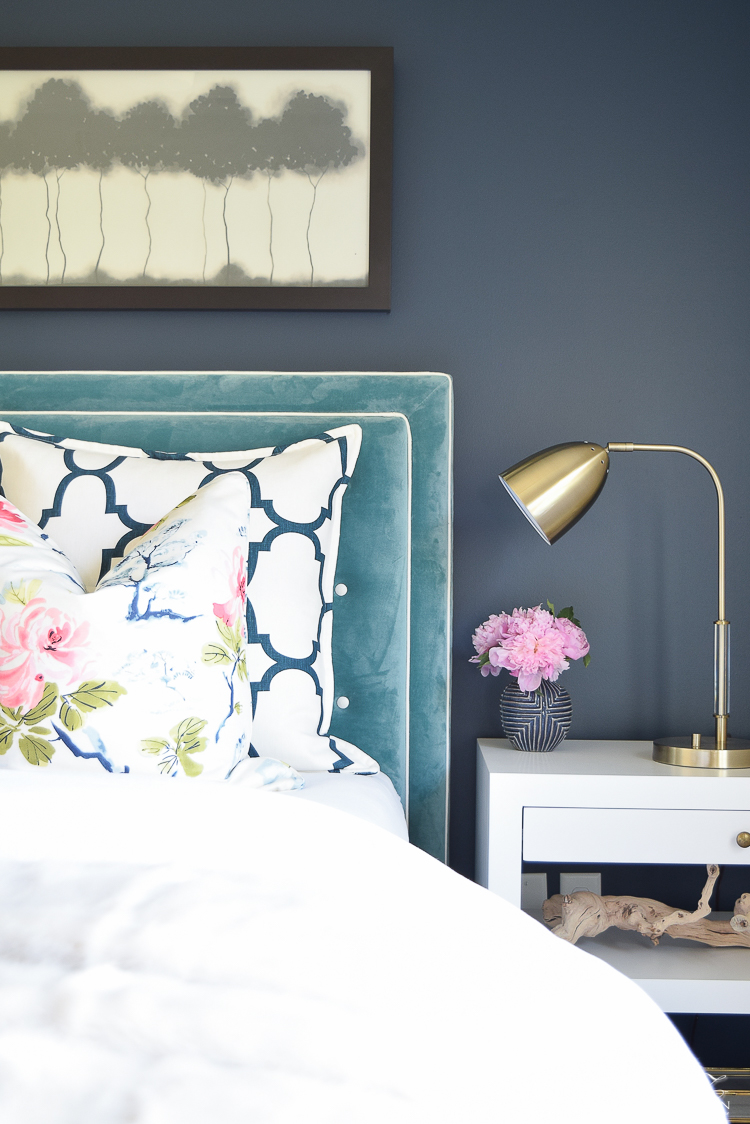 I wanted to do something a little different and unexpected with my headboard so I used not just one fabric on the headboard but two!  When I took it to my upholsterer I simply had him to recover the existing welting and buttons in the white linen and to of course do the headboard itself in the teal velvet.  If you are looking to do something similar I've sourced both fabrics (similar) here and here.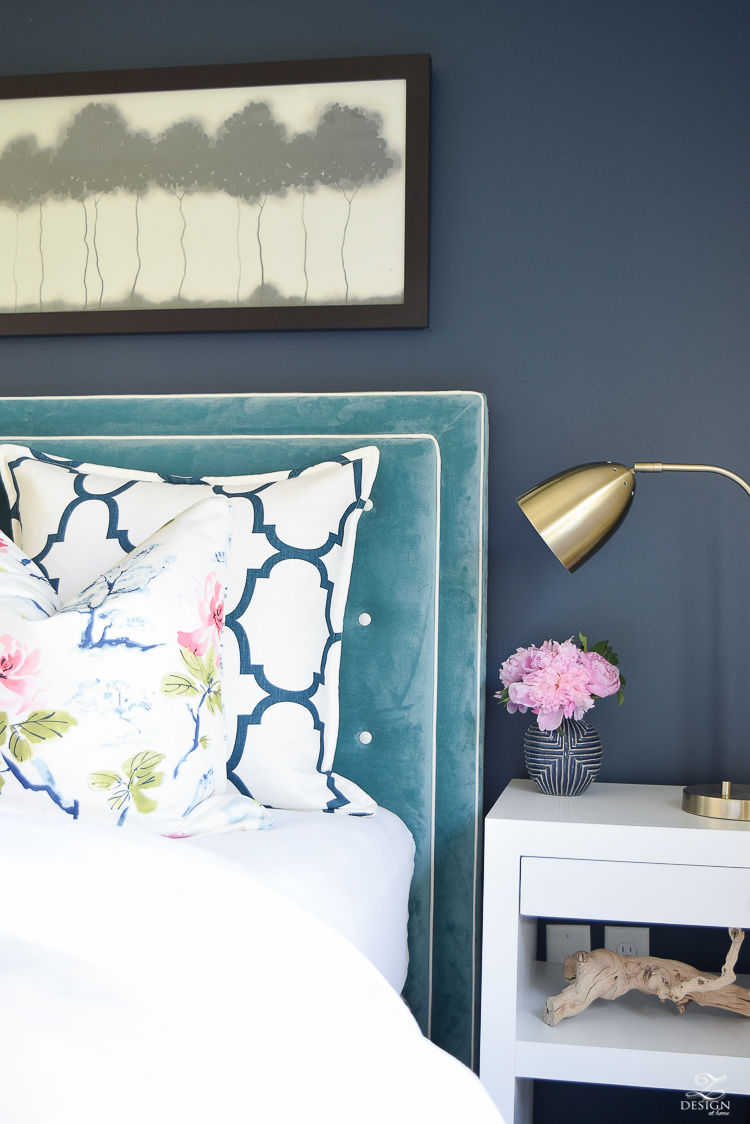 I also did the same thing to the bed/headboard in our master bedroom after having it for just a few years.  I started with this bed but when I purchased it originally it came without nail heads and welting and was super basic…

And I turned it into this by adding nail heads and gray linen that make this bed quite the show stopper.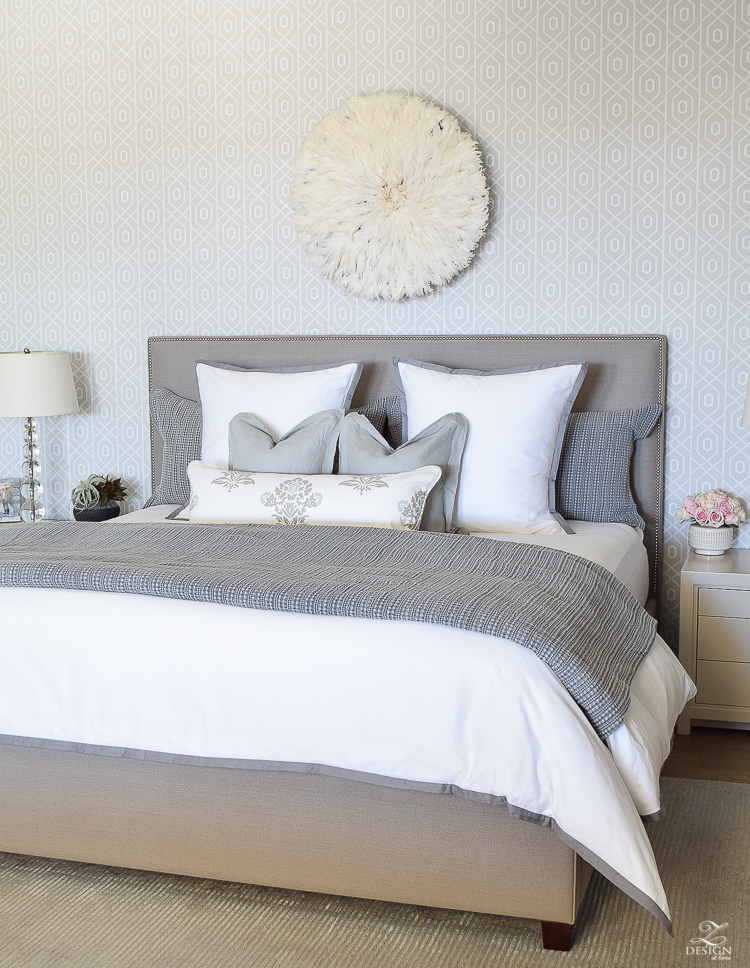 So the moral to the story is to not ever be afraid to take an existing piece and make it your own.  Even if you can't find exactly what you are looking for in the marketplace, find something with good bones and alter it to make it what you want it to be.  Recovering a headboard doesn't take that much fabric (my teal one is a queen headboard and I think it took approx. 3.5 yards of the teal fabric and 1.5 yards of the white linen to cover the welting and buttons) so the expense shouldn't be outrageous.  And, if you have reupholstering skills (unlike myself) you will save even more by doing it yourself.
Even if you have a headboard to reupholster that is not tufted like mine, you can always get your upholstered to add the welting, tufting and the buttons like mine to recreate the look.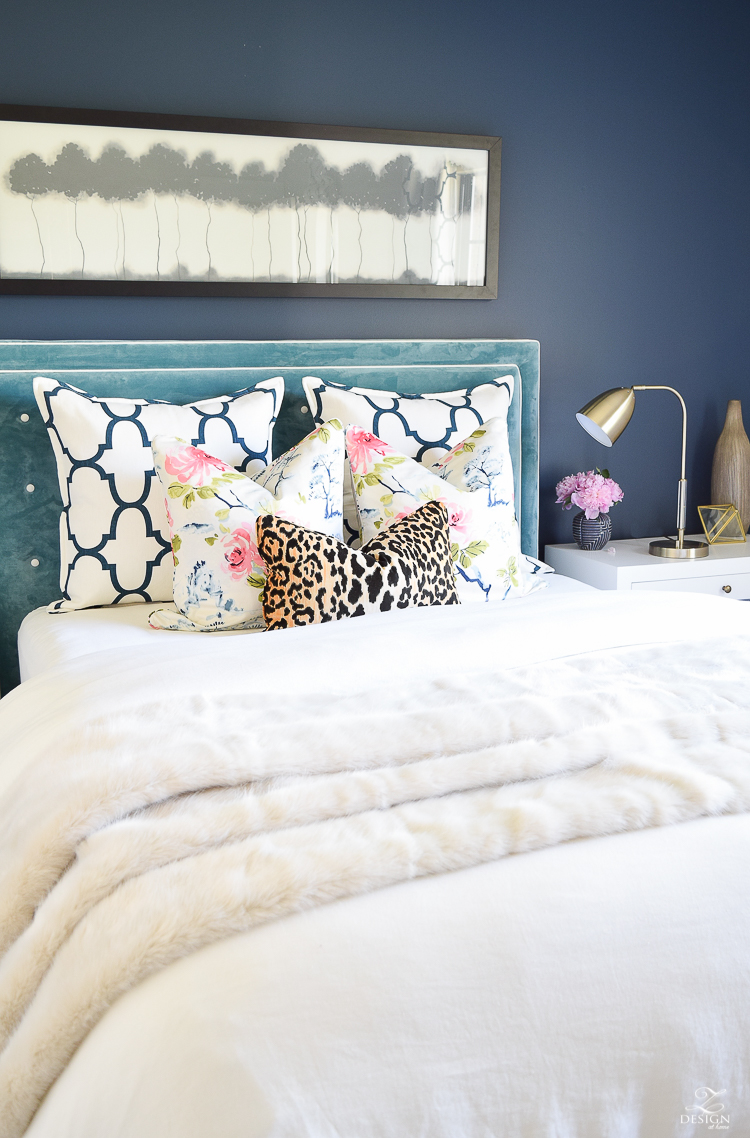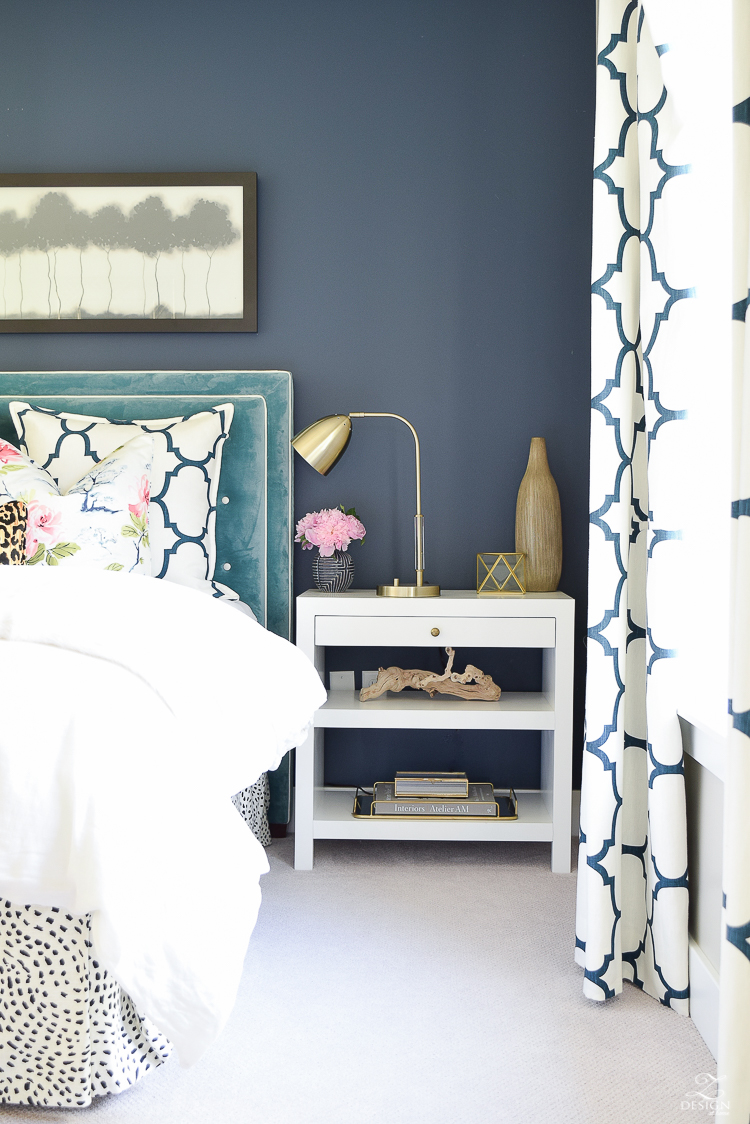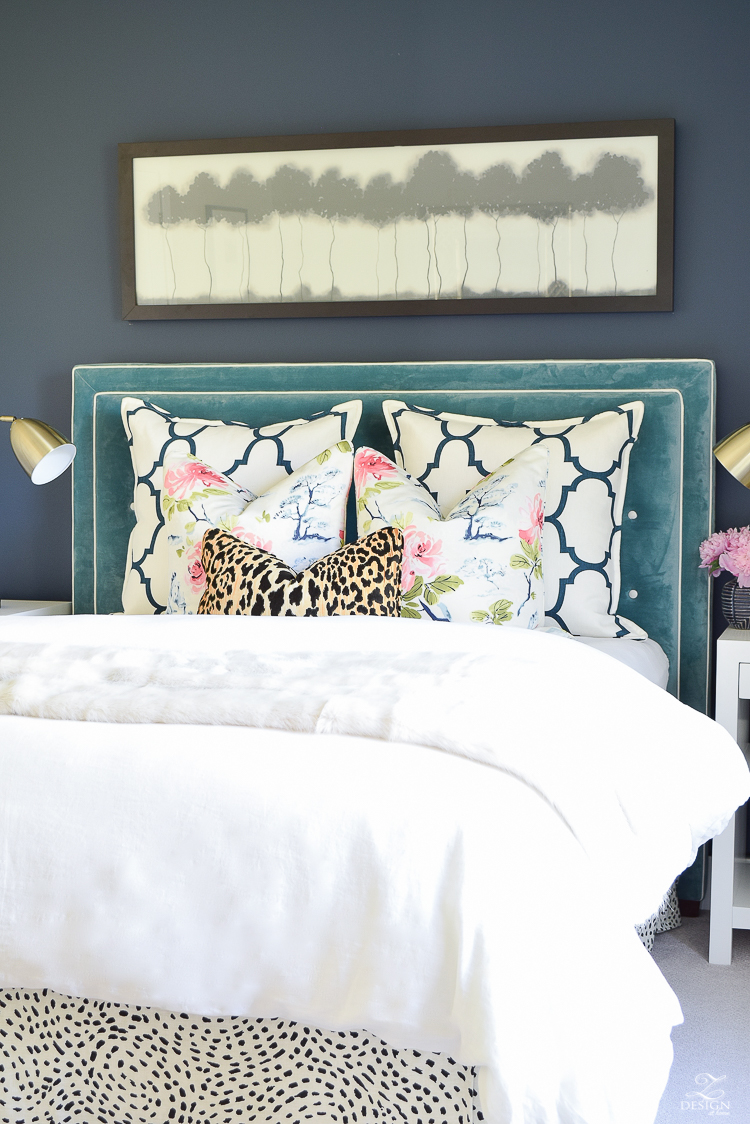 If you really like my headboard but aren't into spending the time or money to recreate it, I've sourced some that are as similar to mine as I could find.  I did fortunately find one with the contrasting welt like mine and I've rounded up several other navy and teal headboards that I think you might like as well.  Here is the one with the contrasting welt first…

And here are several others, most of which come in multiple sizes and colors…

Lastly and in case you were wondering, you can shop my
floral and leopard pillows here…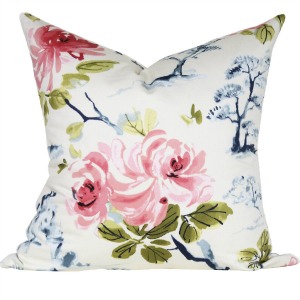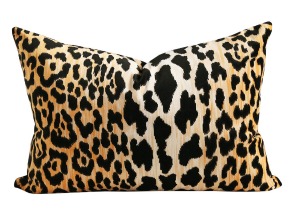 I hope this post was helpful and thanks for stopping in today!  While you are here, don't forget to sign up for my weekly newsletter to stay up to date with all of the latest going on at ZDesign At Home.





For a full tour of this room please go HERE and for a full resource list please go HERE