Favorite Bedding Essentials From My Home To Yours
As the mother of an extreme preemie and child who's lungs were greatly compromised as a baby and young child, you can probably imagine how important it is to me to keep the bedding essentials that surround my child (especially while he's sleeping) clean, organic and non-toxic, right?!
*Some affiliate links have been used in this post at no additional cost to you
Up until recently the bedding essentials throughout our home such as sleeping pillows, euro pillows and duvet inserts have been somewhat random until I was recently introduced to a company by the name of Under The Canopy, which I'm super excited to share about with you today.
One of the questions I get asked the most in regard to my bedding and decorative pillows is what type of inserts do I use.  Recently when doing a redesign of my son's room I wanted to not only update the pretty things that you see when you walk into the room but, it became imperative to me to update the essentials that you don't see as well.  After all, they are just as important as the other even though you don't see them at first glance, and actually even more so in my opinion!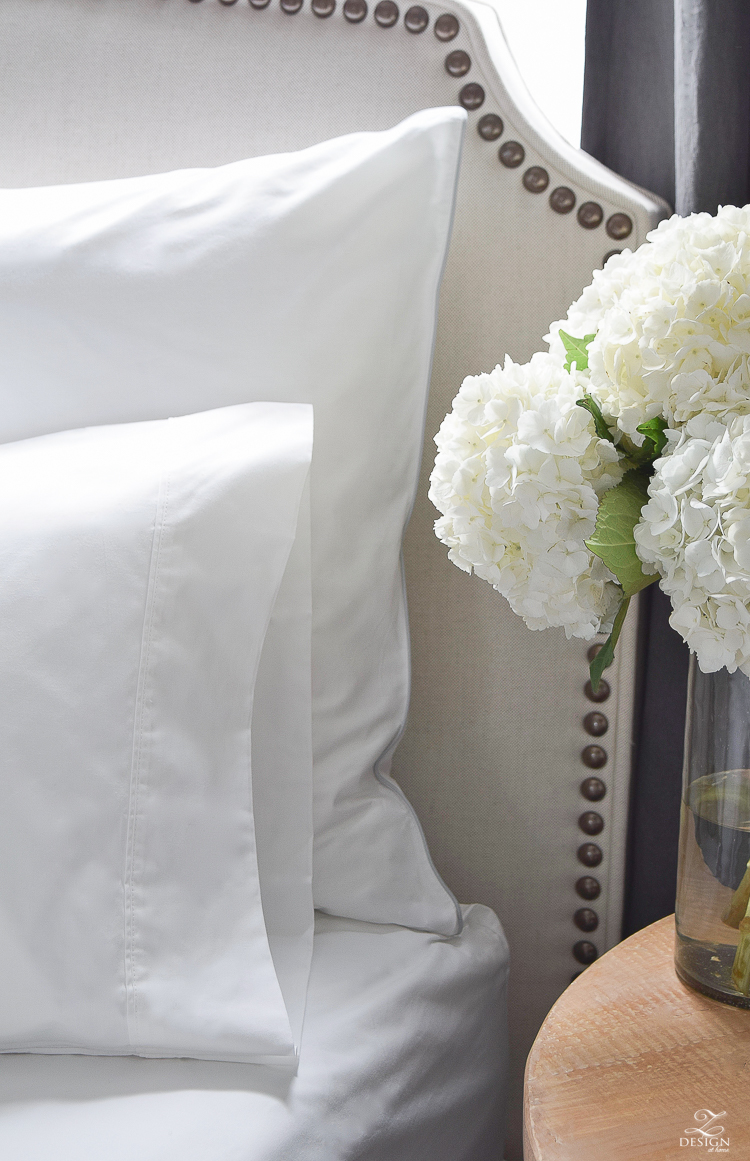 Previously we had so many random things going on with our bedding choices in this space that it is finally nice to have a cohesive set of pieces that are non-toxic, ethically made and GOTS certified for the reasons I mentioned above (GOTS stands for Global Organic Textile Standard and is recognized as the world's leading processing standard for textiles made from organic fibers – source: UTC).
Under The Canopy provides a simple yet affordable way to do this with their EcoPure Organic Essentials Bedding Bundle which includes a white sheet set, a beautiful white comforter and two standard sleeping pillows.  Additionally, I added two of their EcoPure Organic Euro Pillows to the ensemble to keep everything consistent and to keep me feeling comfortable about the bedding I am providing for my child that is sustainable, eco-friendly and safe for him to be surrounded by as he sleeps.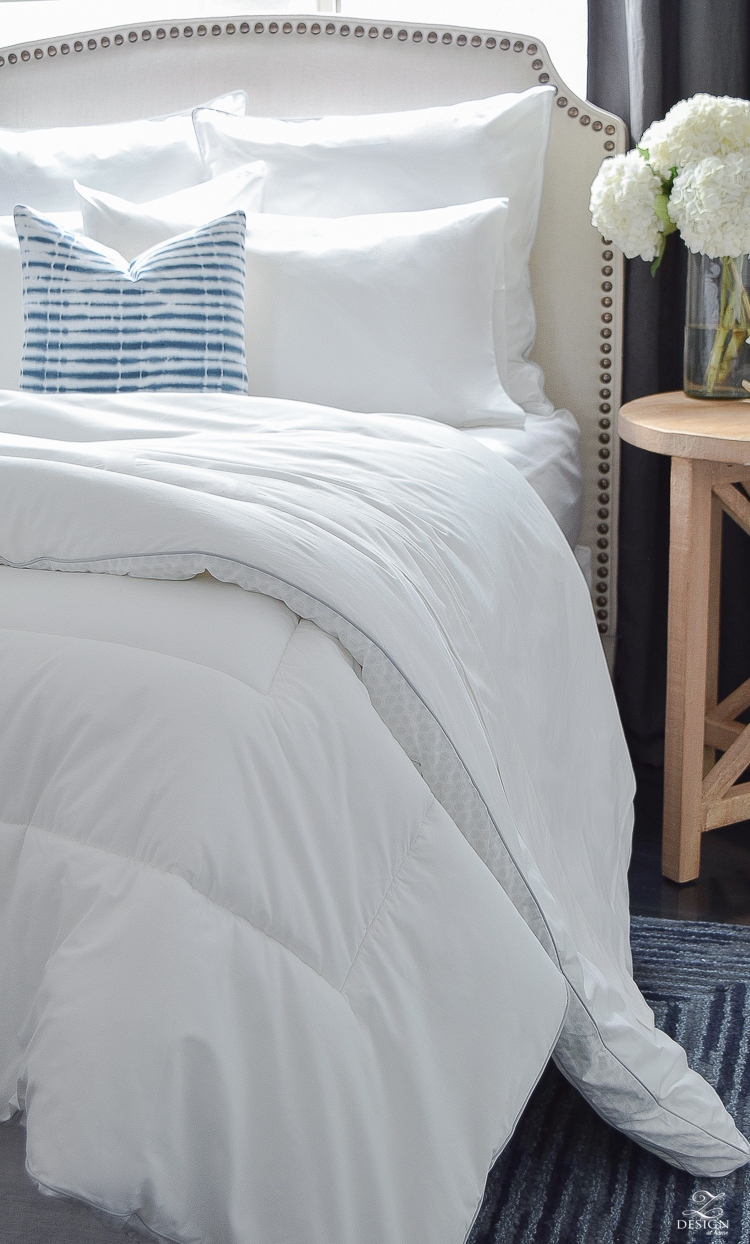 I am currently using the comforter as a duvet insert but it is so beautiful and full that it can certainly stand on its own as you see it here to create a gorgeous, light and bright bedding ensemble.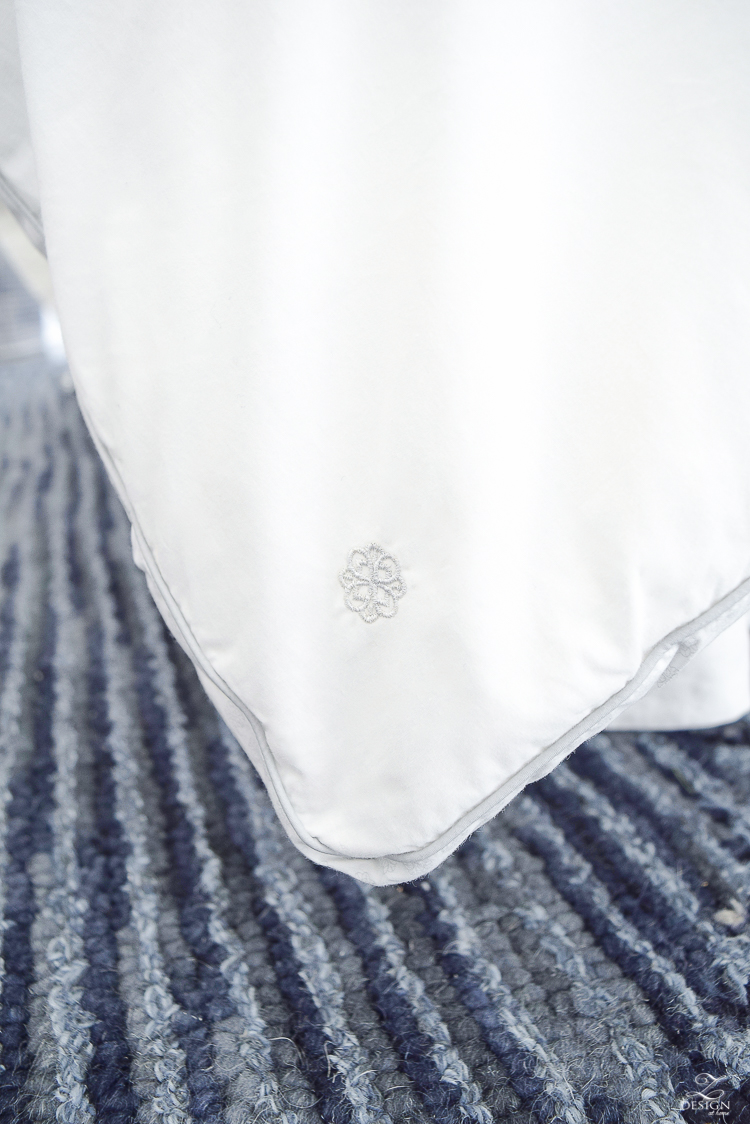 I just love the detail in their pieces and really like the soft gray trim detail around the perimeter of each item.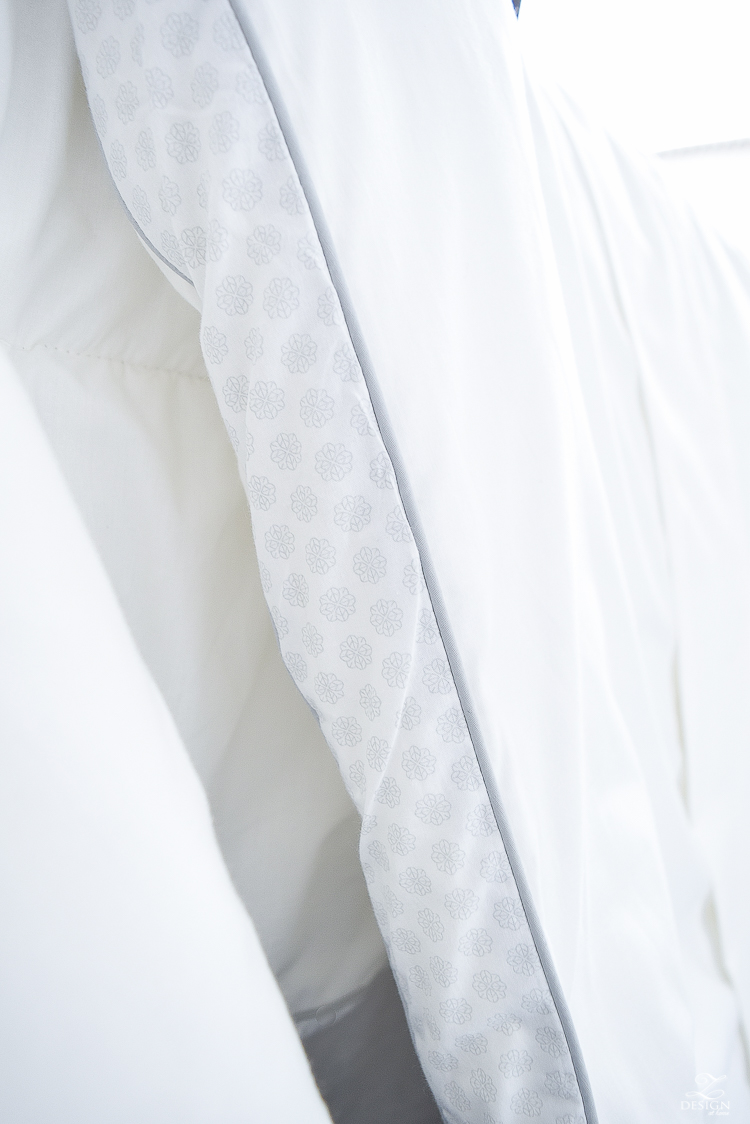 The Euro pillows as well come with a gorgeous, soft, zippered cover with simple gray trim and can be used by themselves without any decorative pillow cover if you like.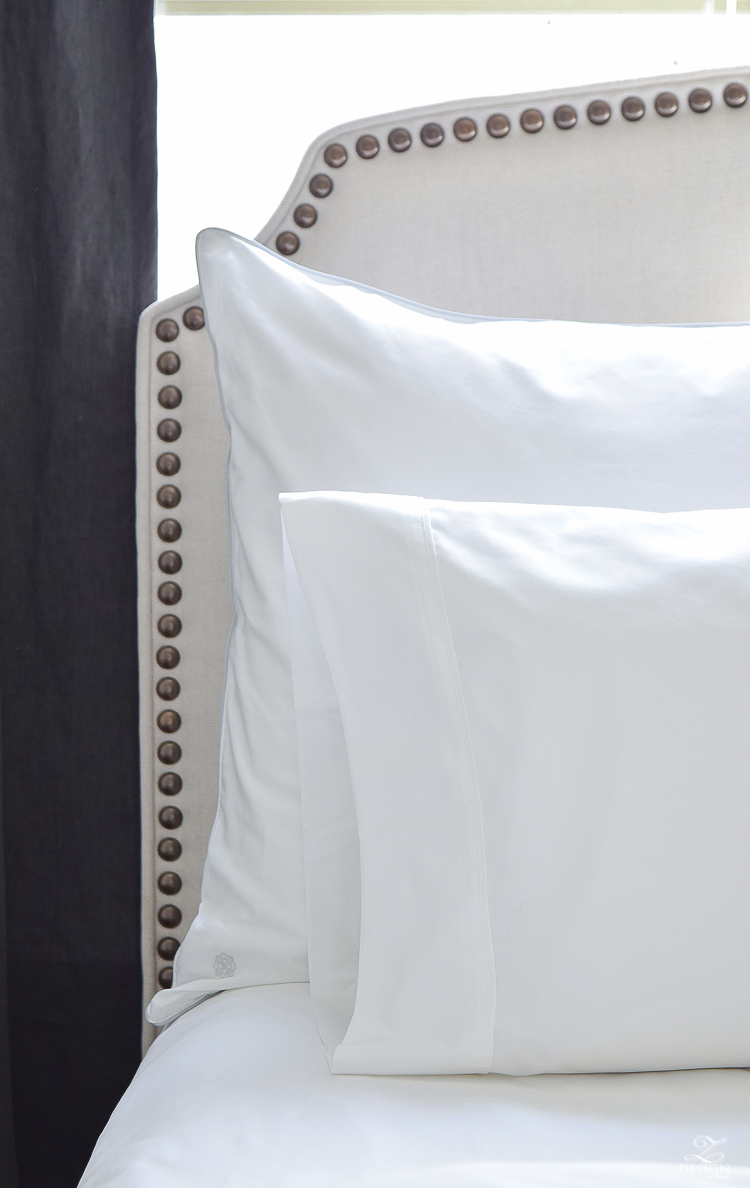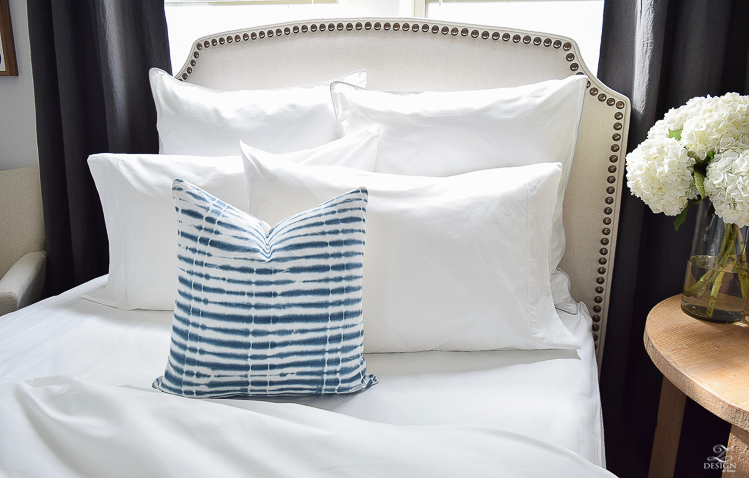 You may have also noticed I added some decorative pillows to the space starting with this fun, current blue and white Shibori print pillow.  So not only does Under The Canopy carry sustainable, safe bedding essentials for your family and home, they also carry decorative ones too!  I love the fun, chic pattern that blends perfectly with the new boho chic style of my son's room (you can see more of that space here).  This pillow comes with an insert included as well.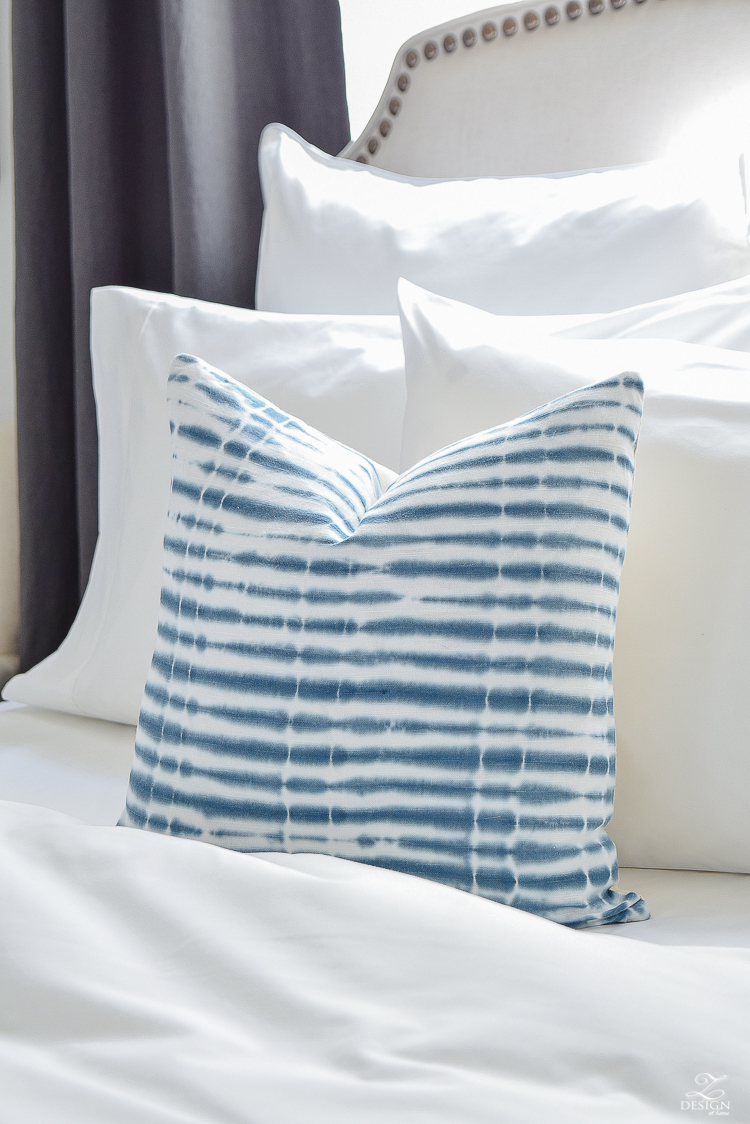 You might remember I mentioned last week that my son's favorite color is orange so when I overhauled the room recently I wanted to take out some of the orange that was previously in the space but leave a few pops here and there for him to enjoy so, I've also added this fun cross stitch decorative pillow from UTC to his ensemble and am loving the addition.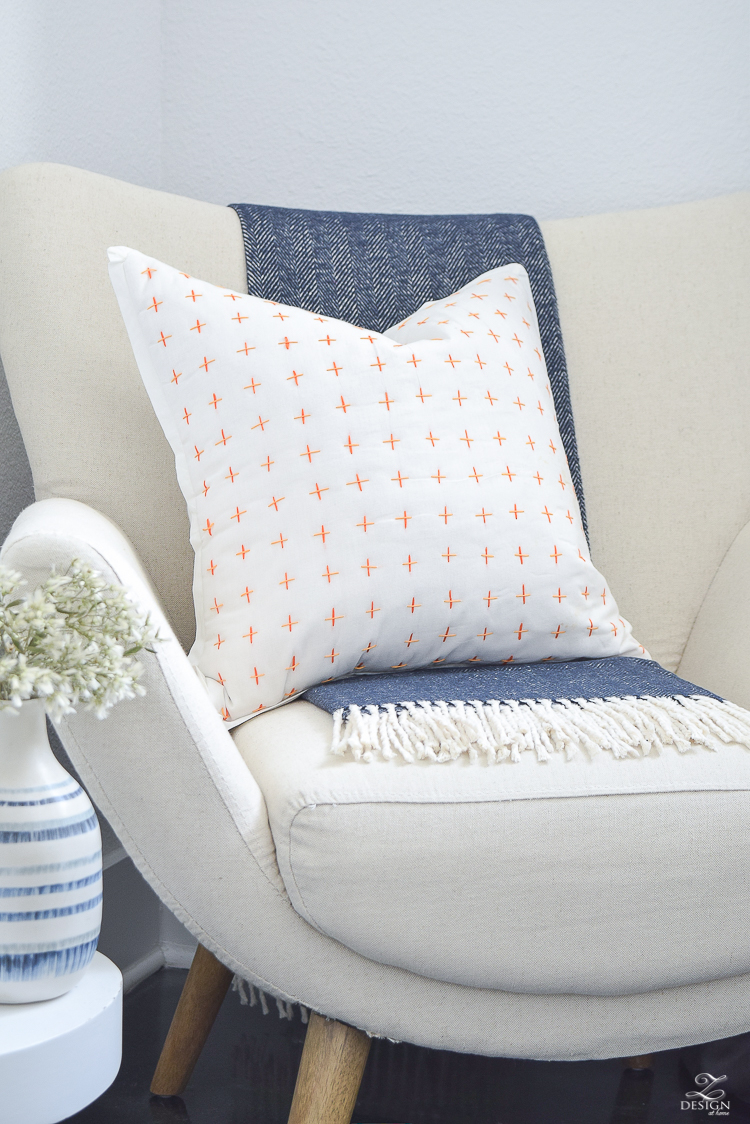 My only problem is that now I can't decide where it's going to reside permanently…in the reading chair or on the bed?!  Hmmm!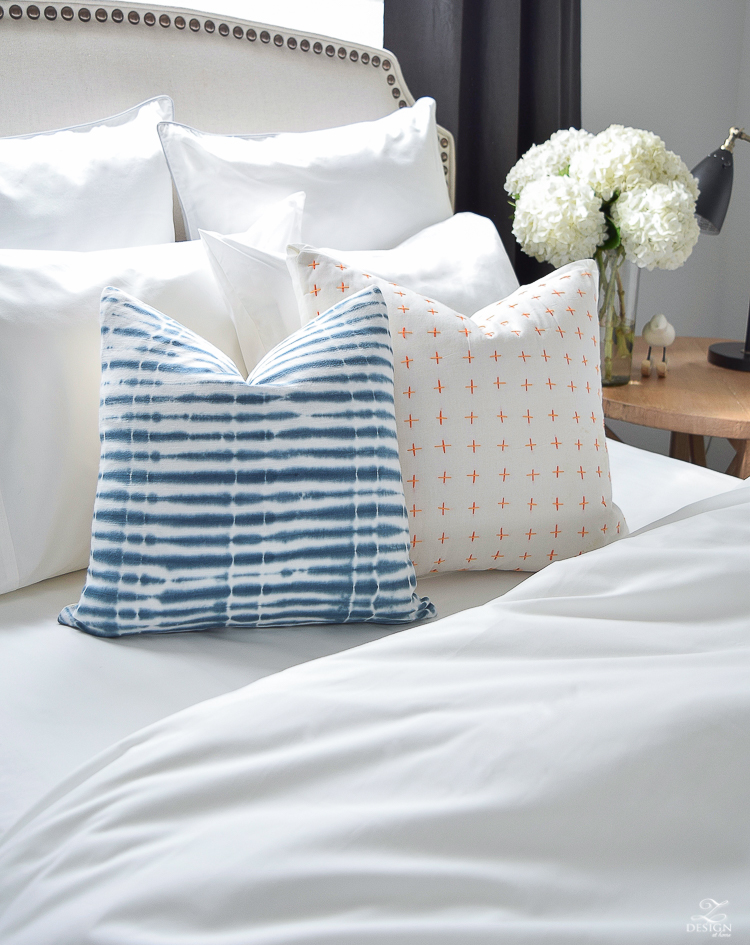 One little thing I really love about their decorative pillows is the gold zipper detail.  I've said this before but it is details like this that really make a piece super special for me.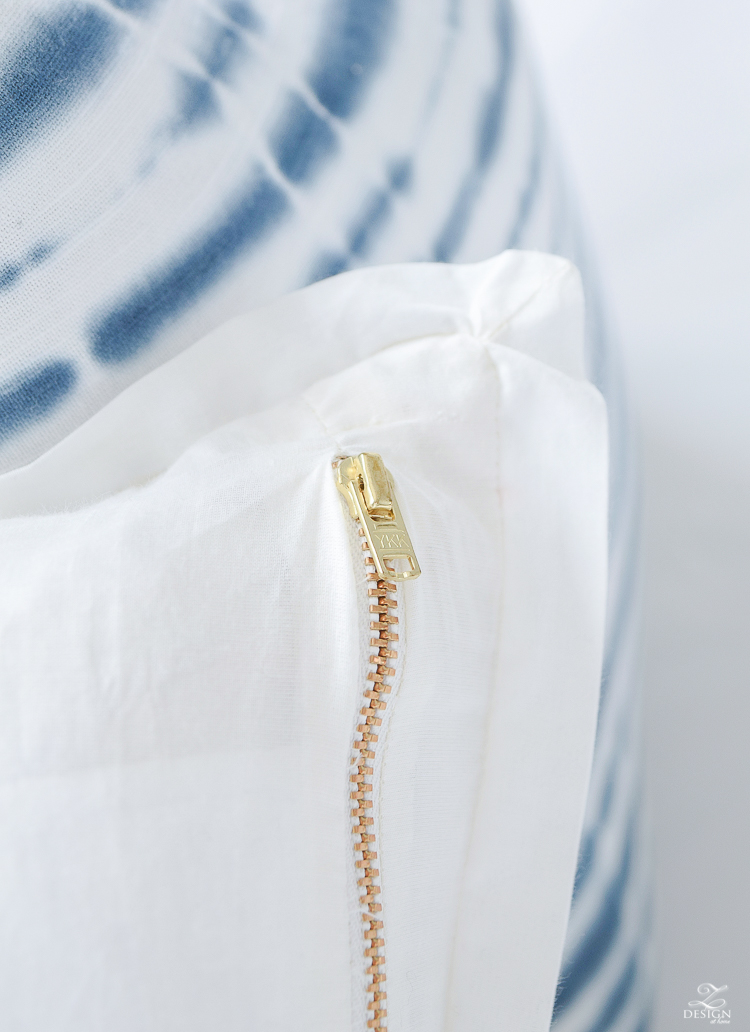 Now beauty is one thing but we all know that comfort is king in the bedroom and I have to say that for the affordability of UTC's bedding I was very pleasantly surprised by the quality, softness and comfort of their pieces.  Each piece is quite luxurious and incredibly soft and I truly feel great about using their products now all throughout my home!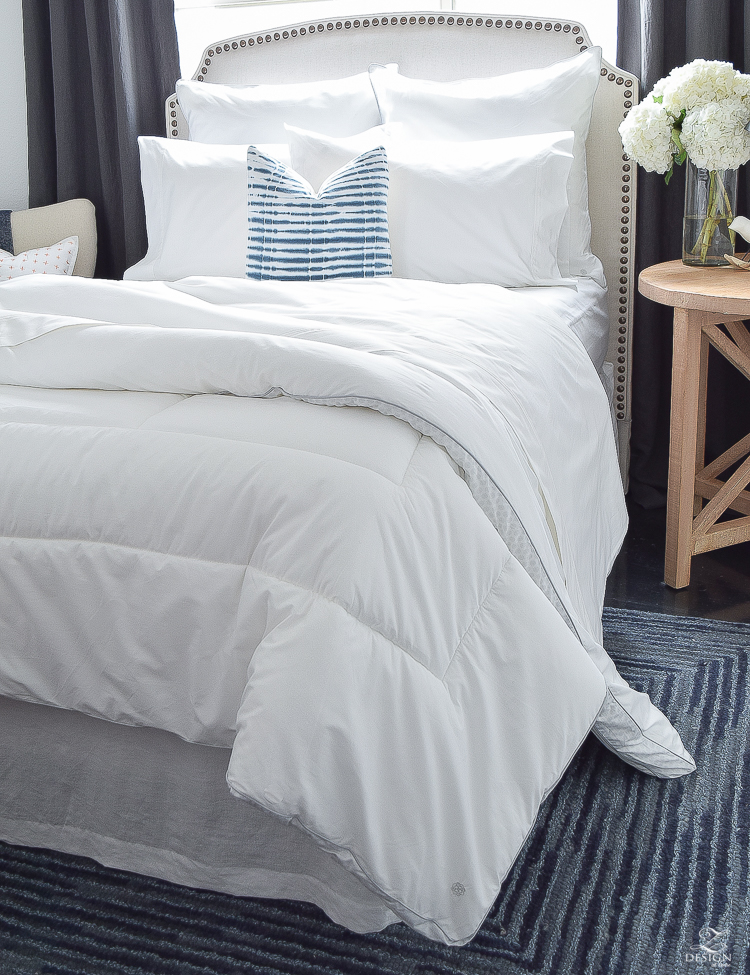 I have heard a lot of chatter about this lately and have done my own research on the subject but, I have found that it is a complete misnomer that higher thread count is directly related to a better quality bedding product and that it is the products used and the process by which it is made that determines the quality of it.  UTC offers a lower thread count but still offers an incredibly high quality product that is affordable and attainable to everyone, which I love!  I mean who doesn't want great quality at a great price, right?!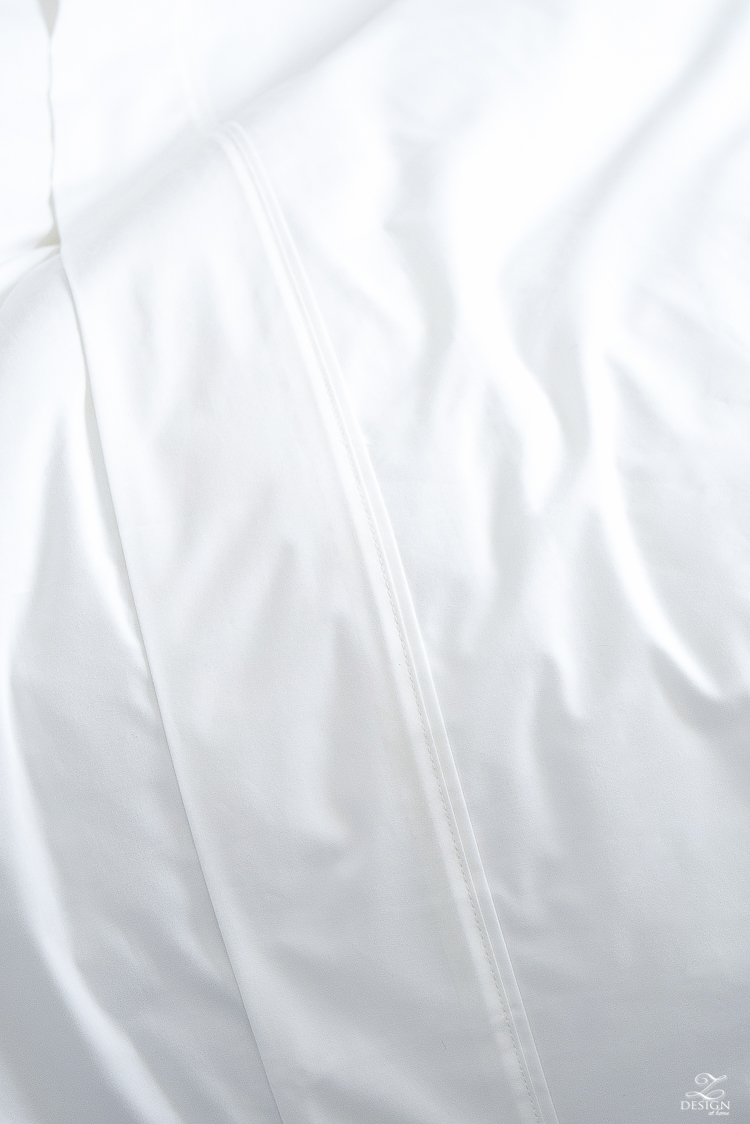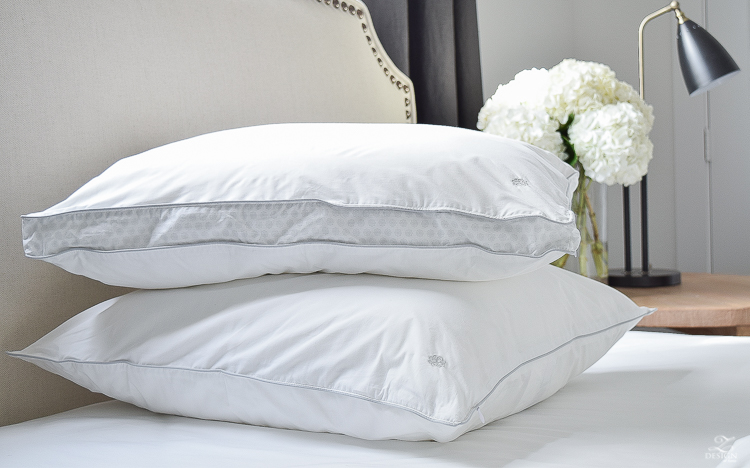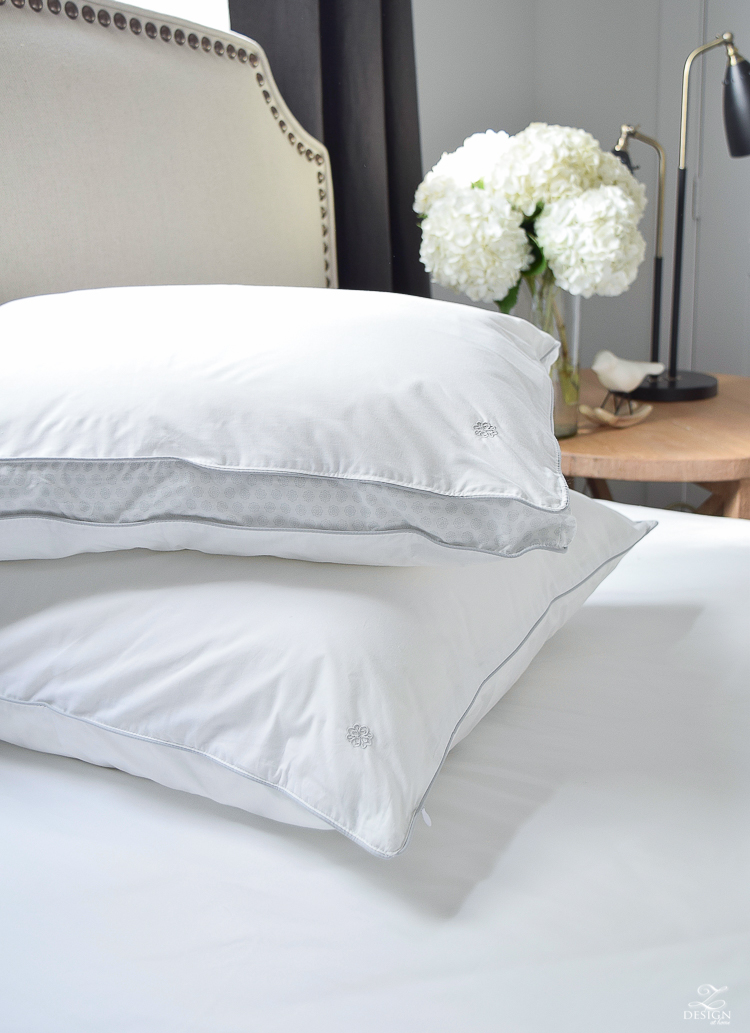 Now that I have my son's room taken care of with the proper bedding essentials I am working on using these same pieces for the rest of our home, and as our new home is completed next year (get caught up on that here) I will outfit each bedroom with these same beautiful, functional, eco-friendly pieces.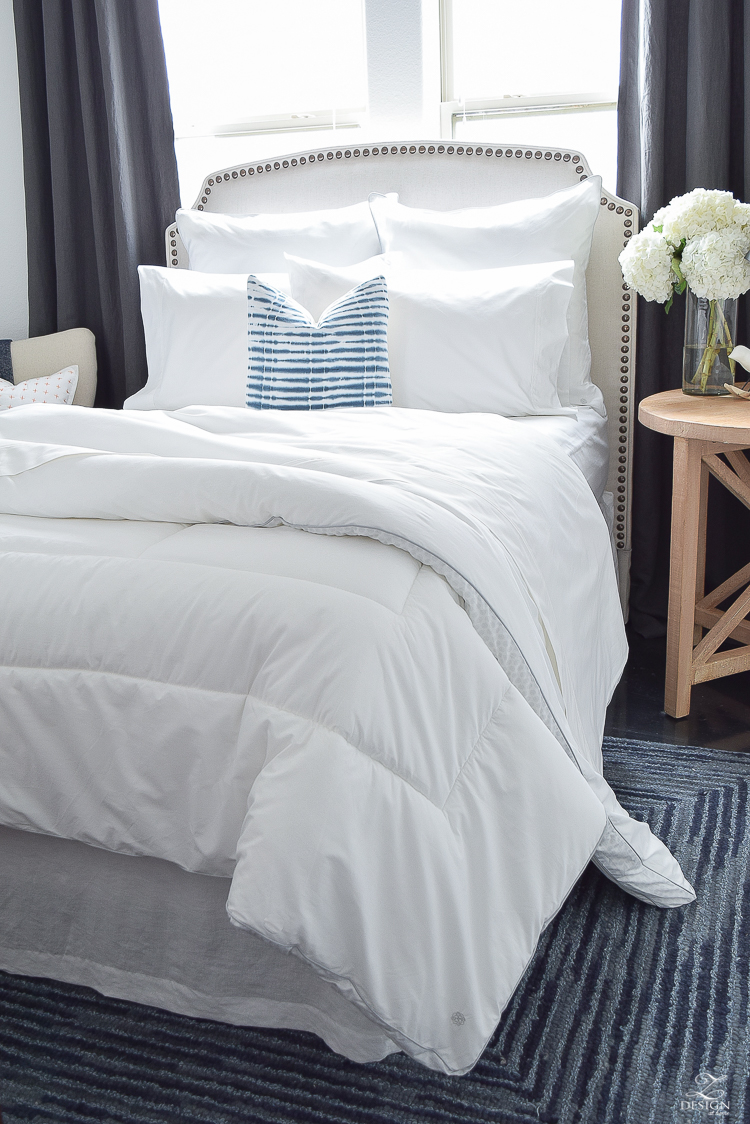 EcoPure Bedding Essentials Bundle | EcoPure Organic Euro Pillow | Shibori Chic Decorative Pillow | Cross Stitch Pillow | EcoPure Organic Comforter | Organic Cotton Percale Sheet Set | EcoPure Organic Sleeping Pillow | EcoPure Pillowcase Set
I hope you've enjoyed this post and while it was done in partnership with Under The Canopy, as usual all opinions are my own and I only work with the brands I love and trust to offer you, my readers the best products.  And last but not least, a big thank you to Under the Canopy for sponsoring this post!