Favorite Vases, Vessels & Stems + Styling Tips
Since we moved last December I've been working to style our new home to help it feel more lived in, curated over time, and cozy which means I've done a lot of accessory revamping. While I still have some older pieces, I've also brought in a few new ones that flow better with the style of our new home, and that I'm excited to share with you today. Thank you for stopping by to check out my Favorite Vases, Vessels & Stems + Styling Tips!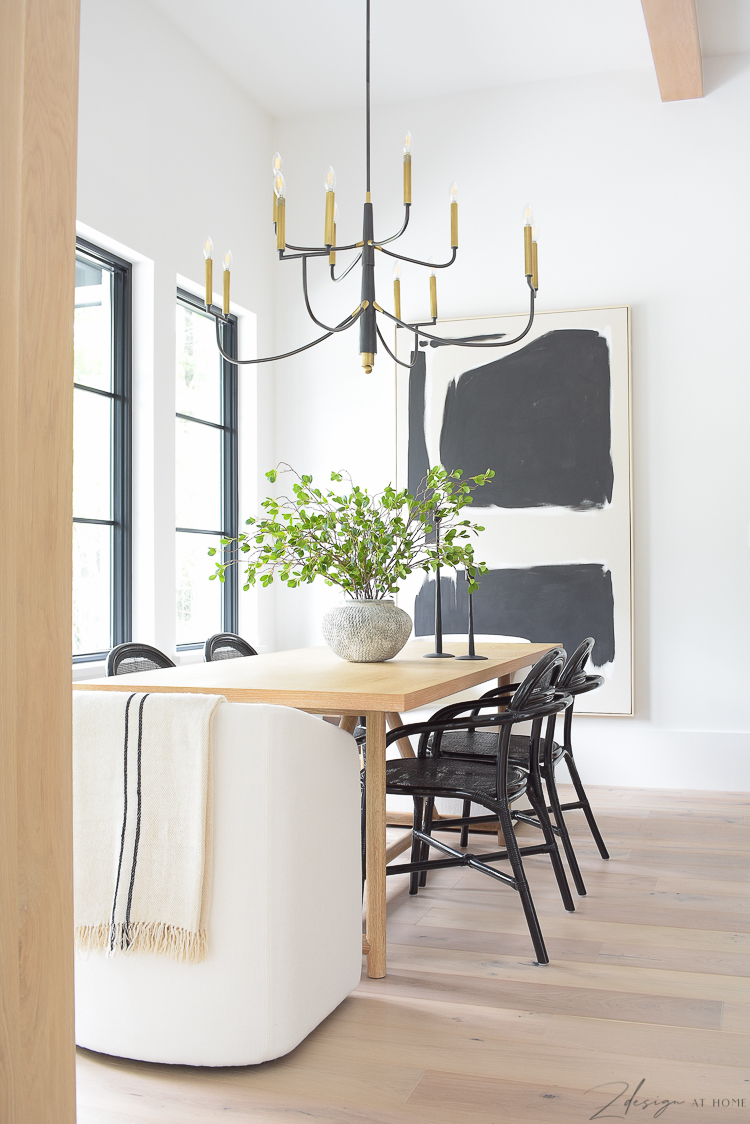 *This post contains affiliate links. Please read my full disclosure policy here.
One of my new favorites is this gray stoneware textured vase. I have it in two sizes, one on my coffee table and one on my dining table.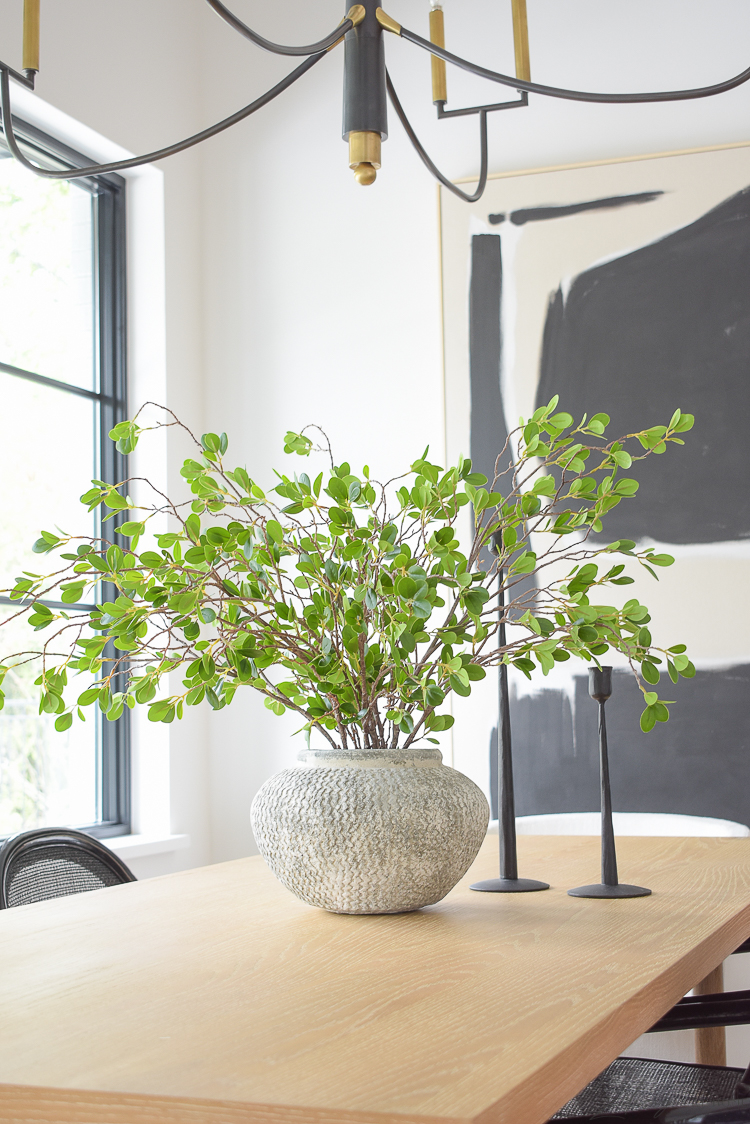 These faux green stems from Amazon are great also! They come in a bundle of 3 and look so real. The trick with any faux stem is to purchase ones that are pliable so that you can really work with them to get them looking realistic. I started with 6 stems in my vase and ended up ordering one more bundle of 3 to fill in the negative space. I also used a clear small vase on the inside of my larger vase to hold it all together because my vase opening is wide.
Here are few tips to make all of this happen and to style your faux stems beautifully while achieving a realistic look…
Use pliable stems that you can work with, bend, manipulate, contort or yes, even cut.
Bend each stem at the bottom so that they come out of the vase right where the vase stops and the greenery starts.
Bench each stem at the bottom a varying heights.
At the middle to top, bend each individual stem in different directions until it looks like a natural/realistic arrangement.
Make sure you have enough stems so that it doesn't feel sparse or look like you didn't do enough to complete your arrangement.
Use a small vase (or any vessel) inside your vase to hold your arrangement together better if necessary.
Stand back and take note to see where it needs to be tweaked and fill in the gaps, but sometimes gaps are ok for a more realistic look – you'll have to determine this on a case by case basis.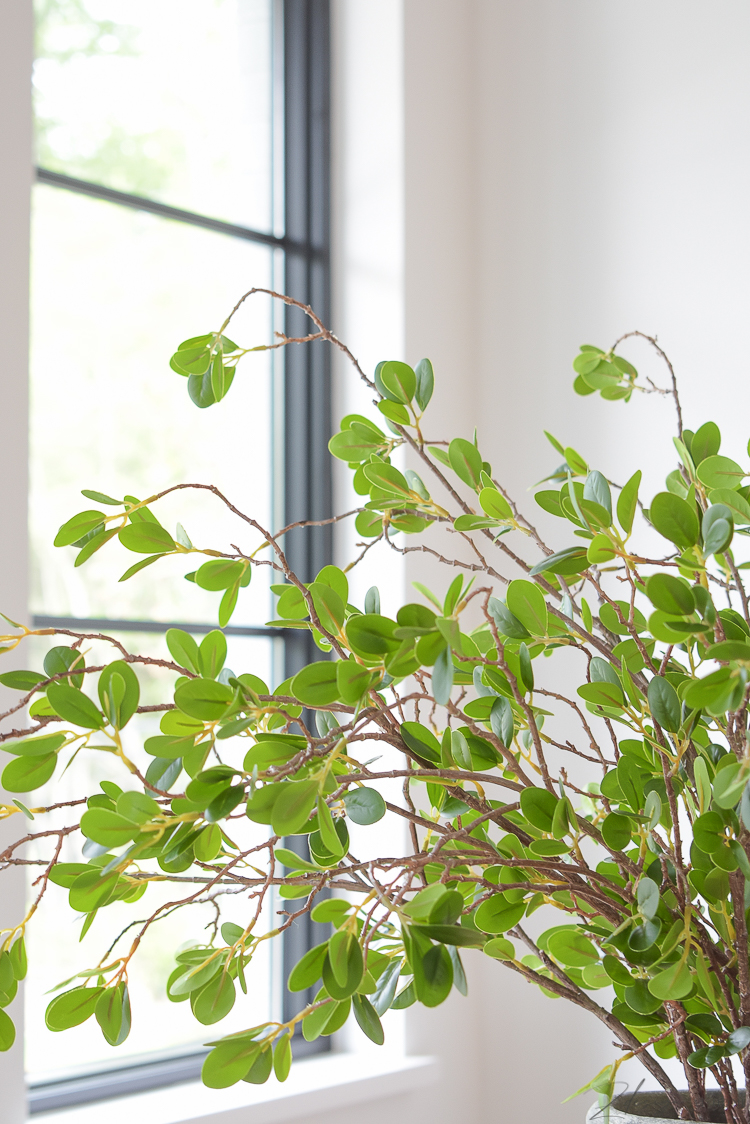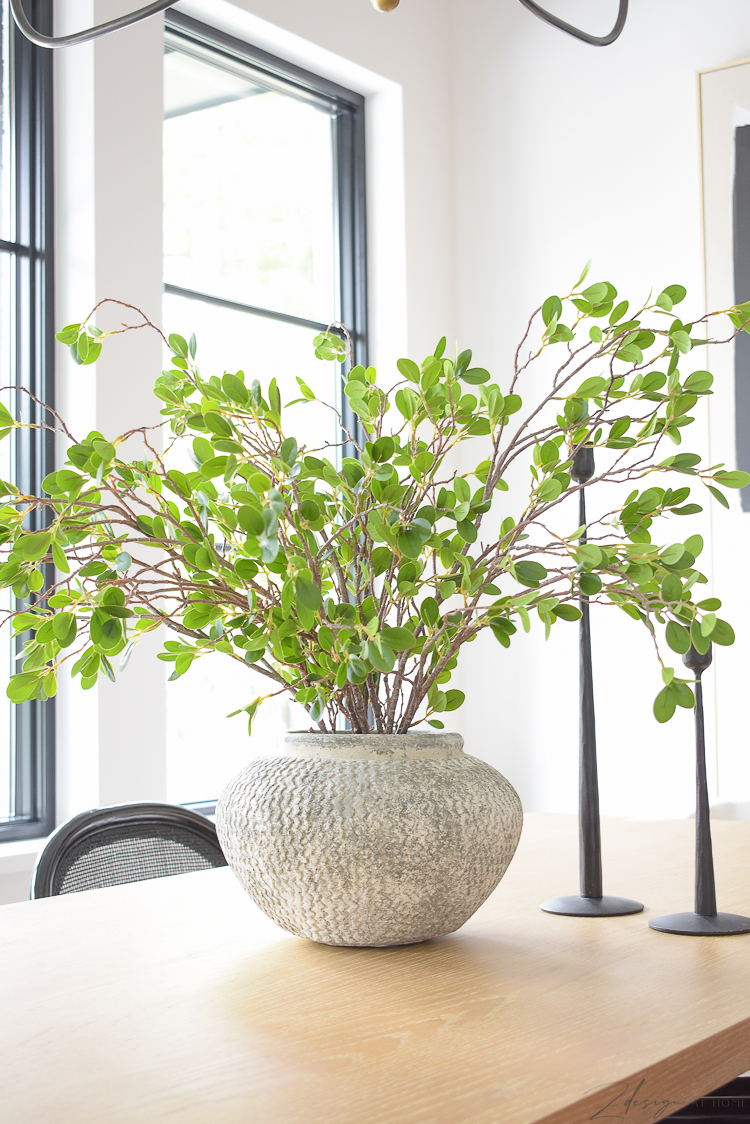 Here is the same vase but taller, with another great quality faux green stem that I really love – it's called a petal leaf branch.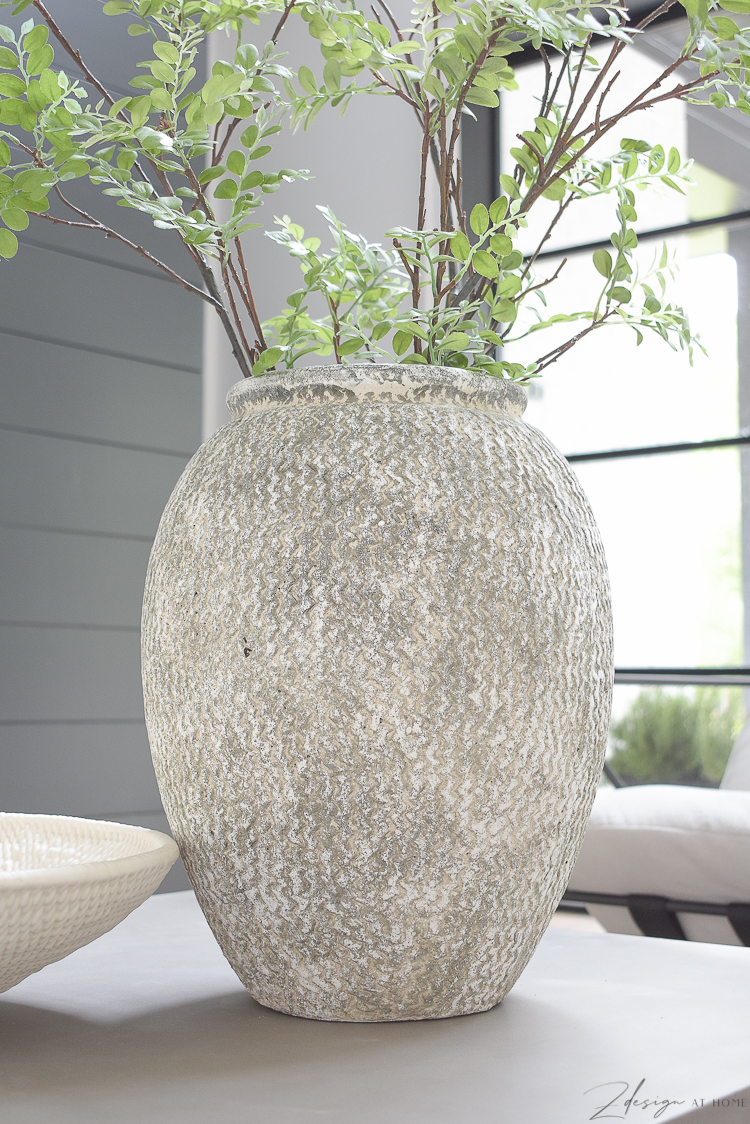 Again these stems are very pliable and easy to bend into just the shape I wanted with the most realistic look but, these are different in nature and only required three stems in my vase for what I felt was the best look. In this case more space between my stems (or branches) worked better, although you could fill this vase up more if you wanted.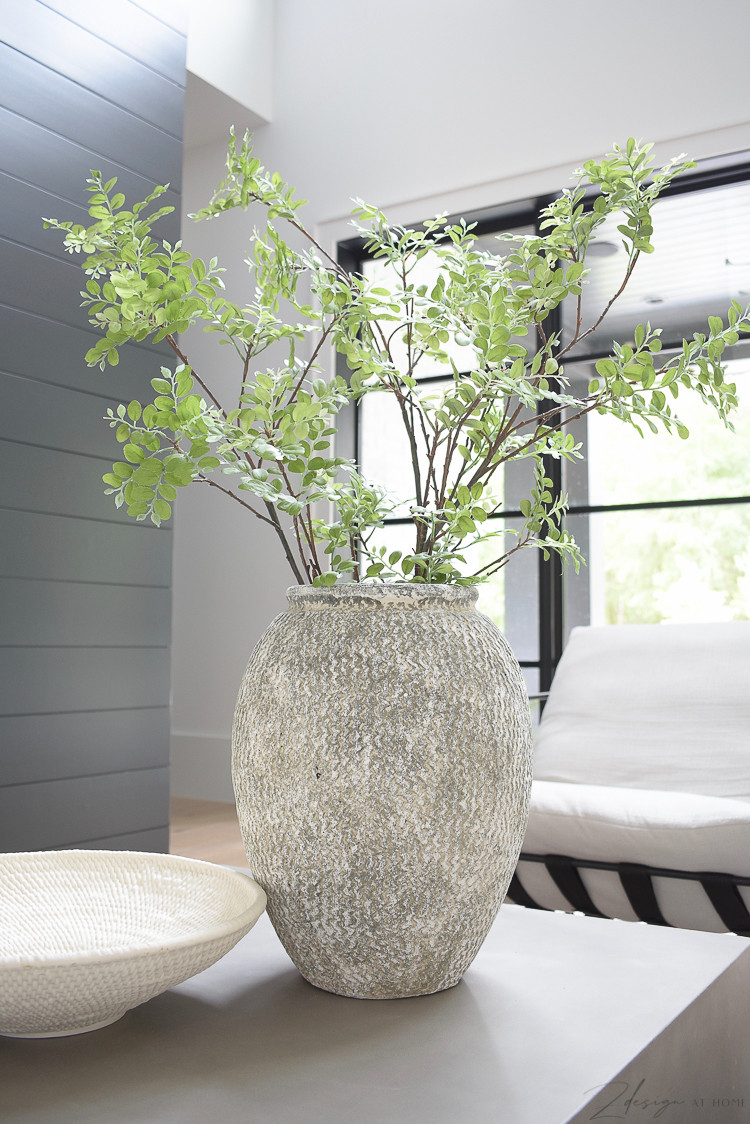 The color and authentic feel of these stems make me want more of them in my home!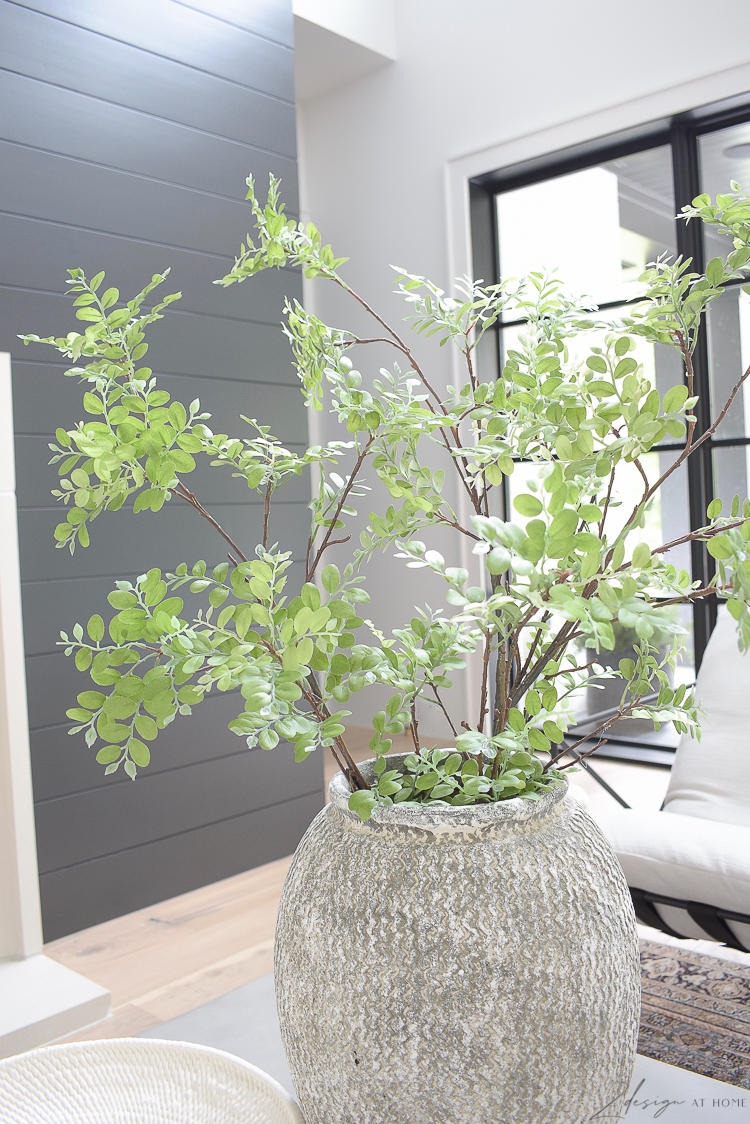 Another favorite next to my vase here on the coffee table is this white textured bowl – you can never have too much texture! It looks beautiful alone without anything in it, or you could fill it with beads, or use it as a fruit bowl in the kitchen.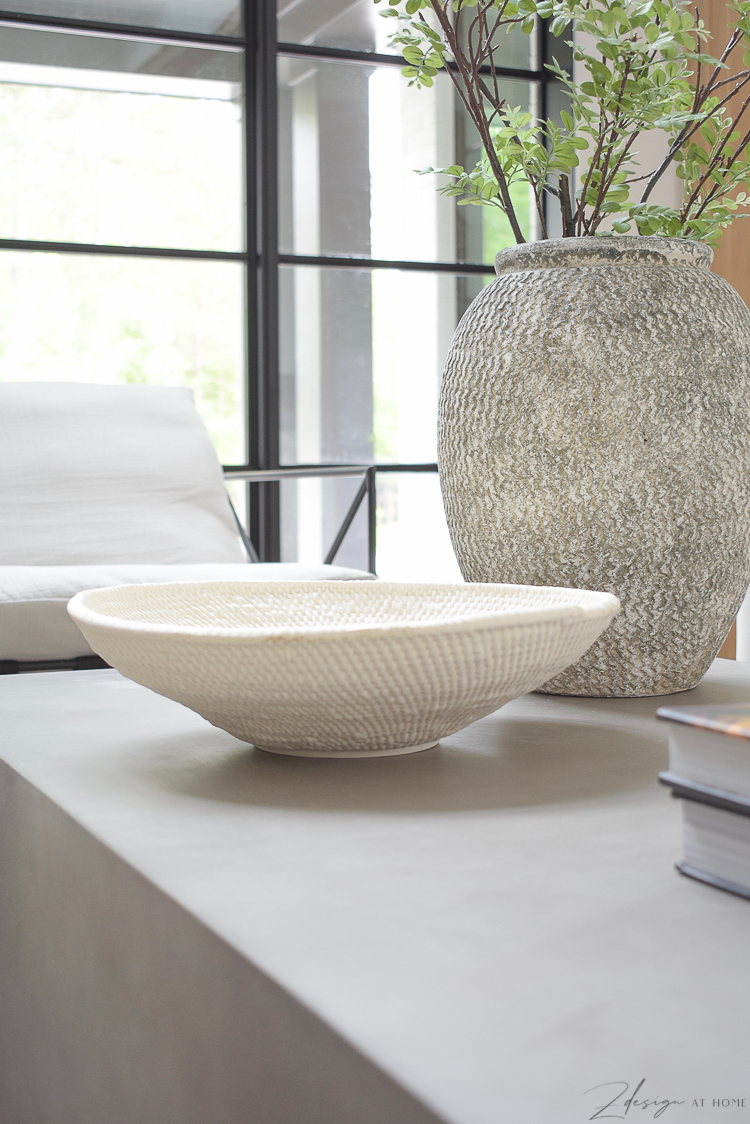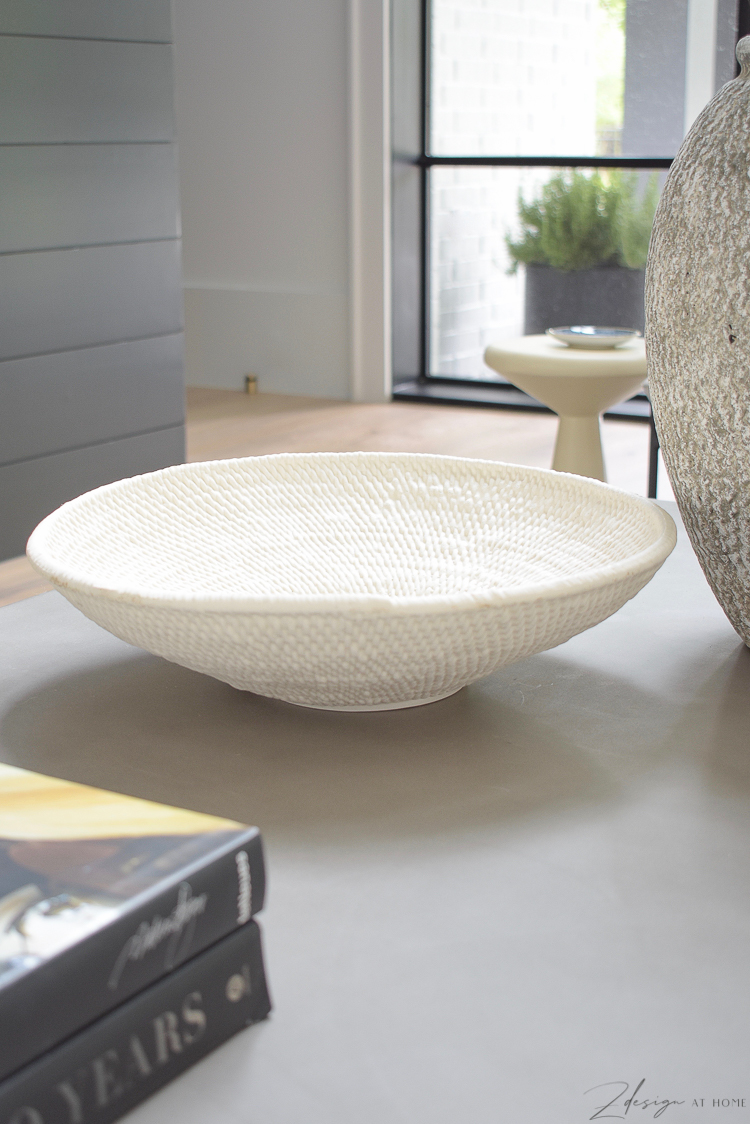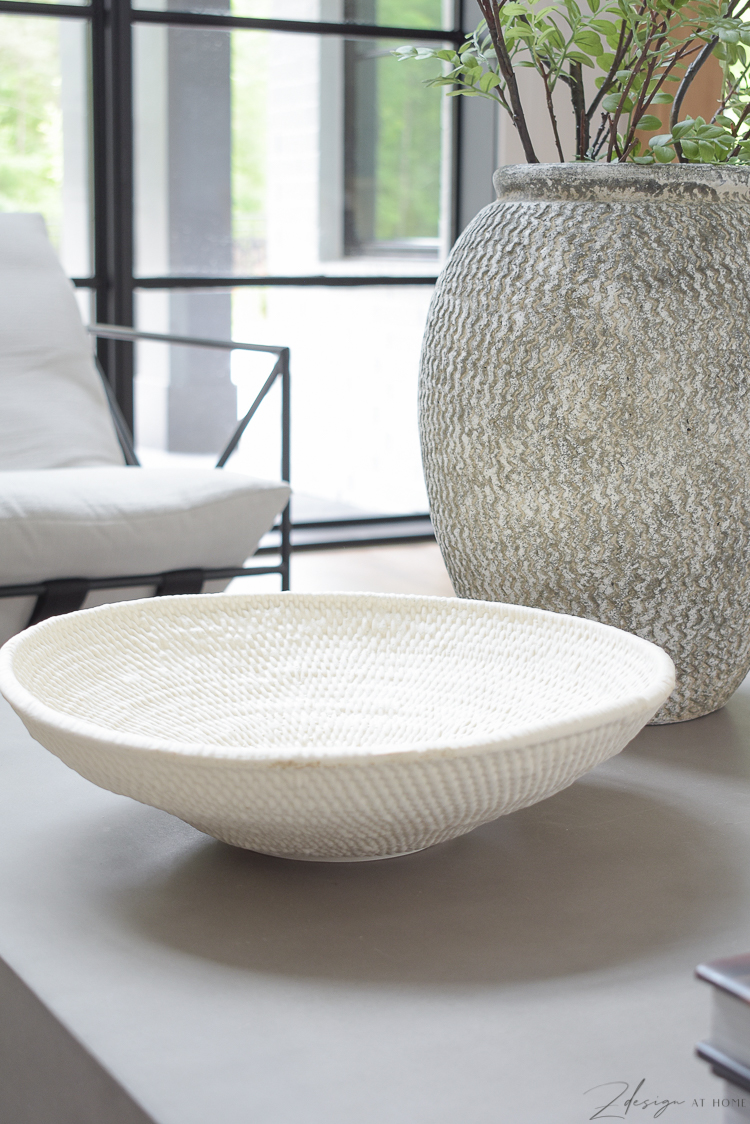 I also have a darling white textured small bud vase in the same texture as my white bowl. Perfect for left over Mother's Day flowers that made it a little longer than the others:)!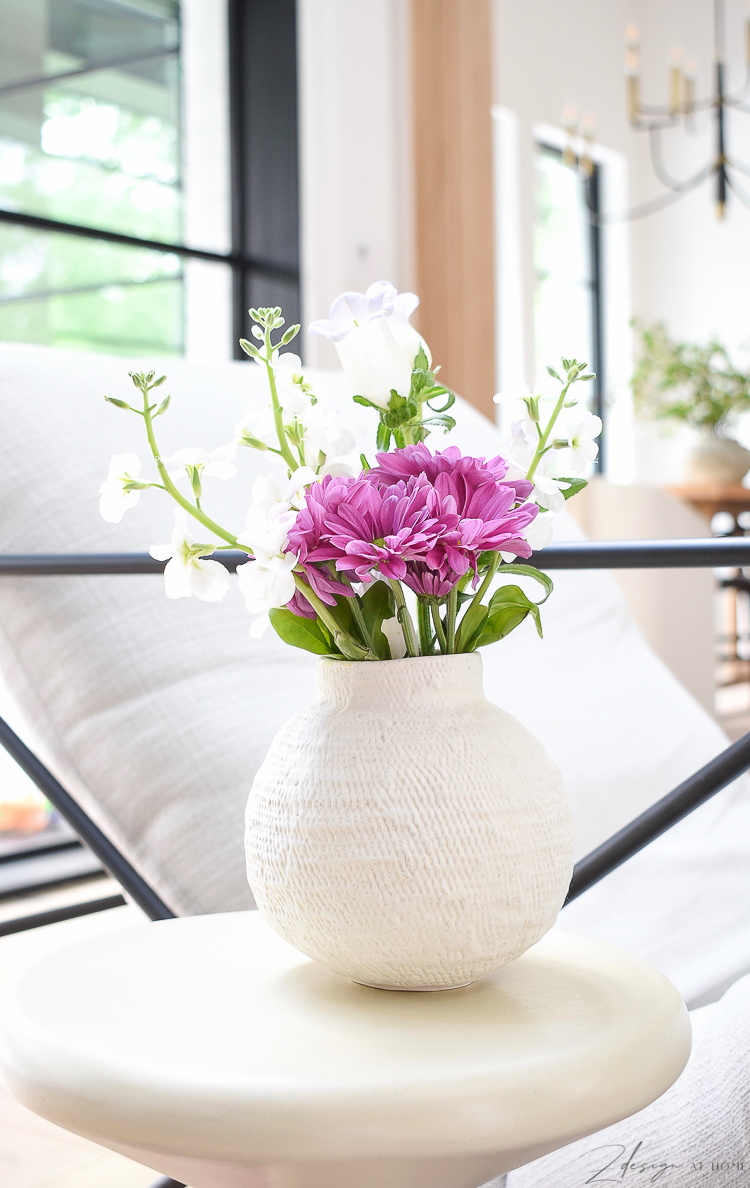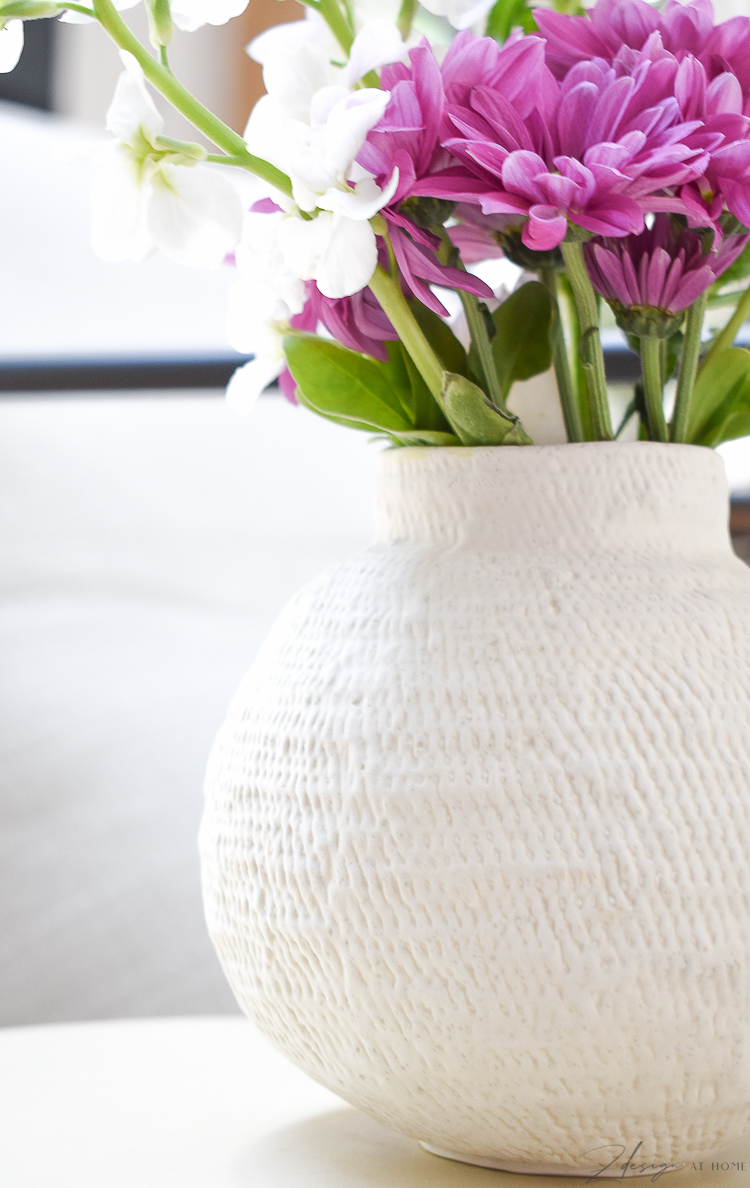 In the kitchen, I have a few new items I've picked up to style my shelves with but first I found this vintage inspired vase that will move about the house that I'm currently using on the island. It also looks great on my dining table but feels timeless and works in any space. And it looks amazing with just one large stem in it that I cut from a tree in our beautiful forest outside!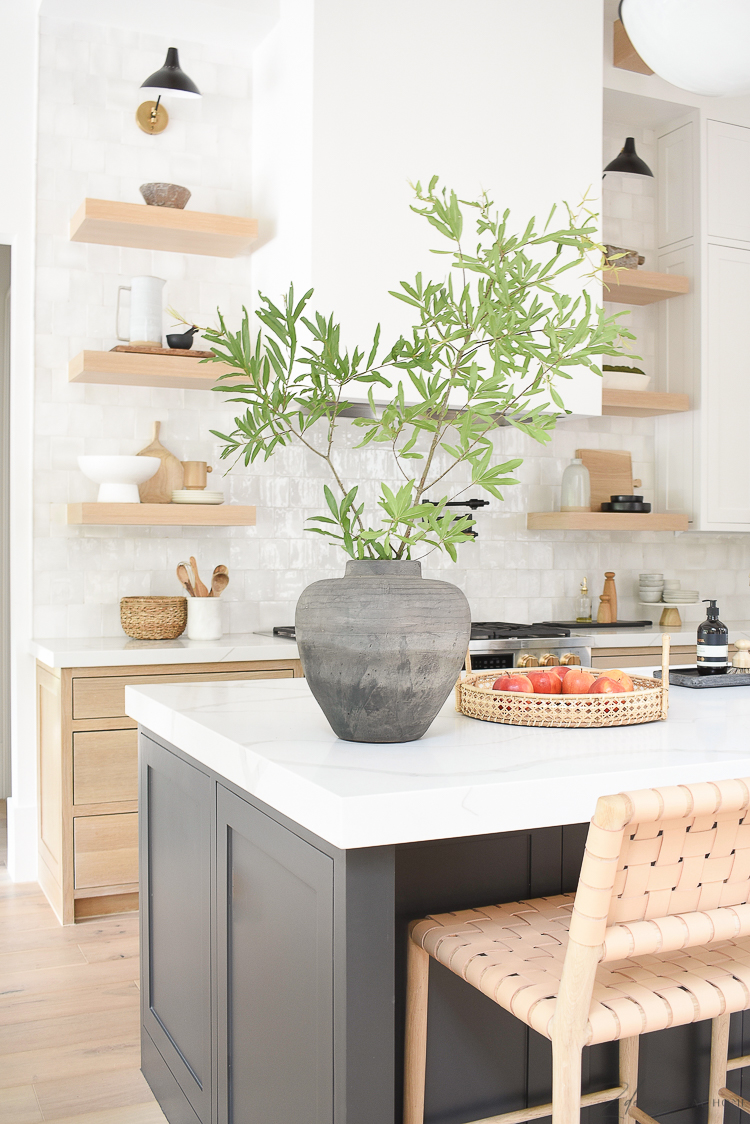 The texture and pattern is never the same on any one that's purchased as it's made from natural materials.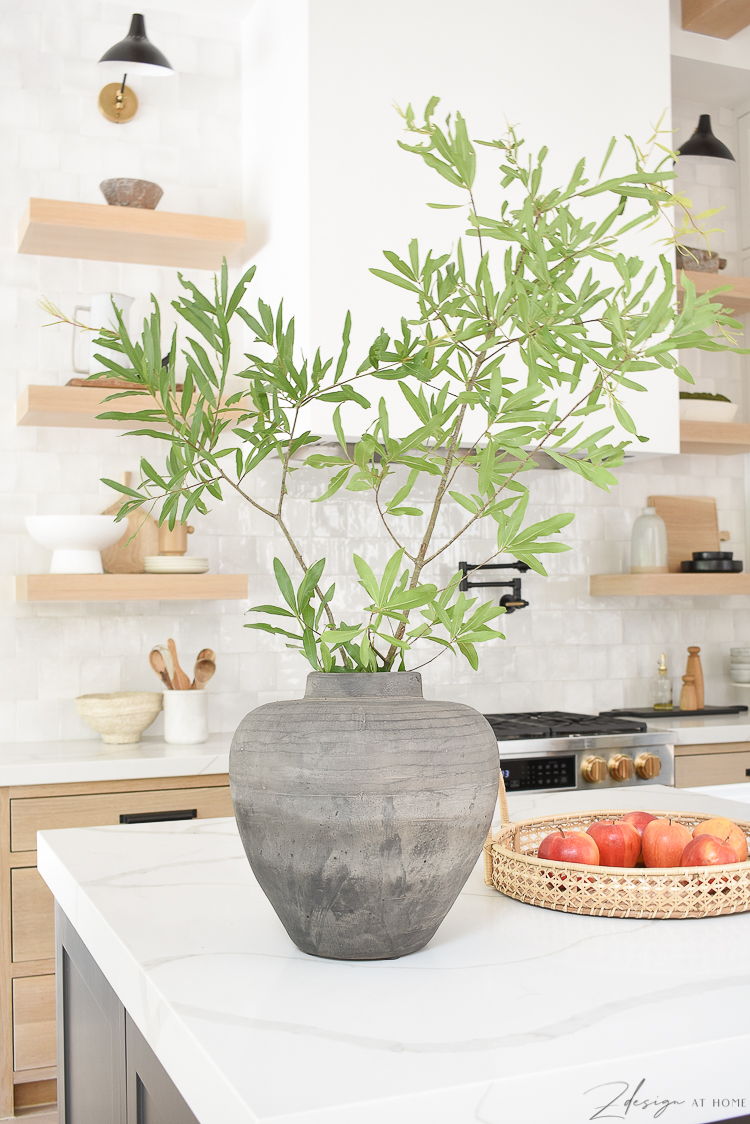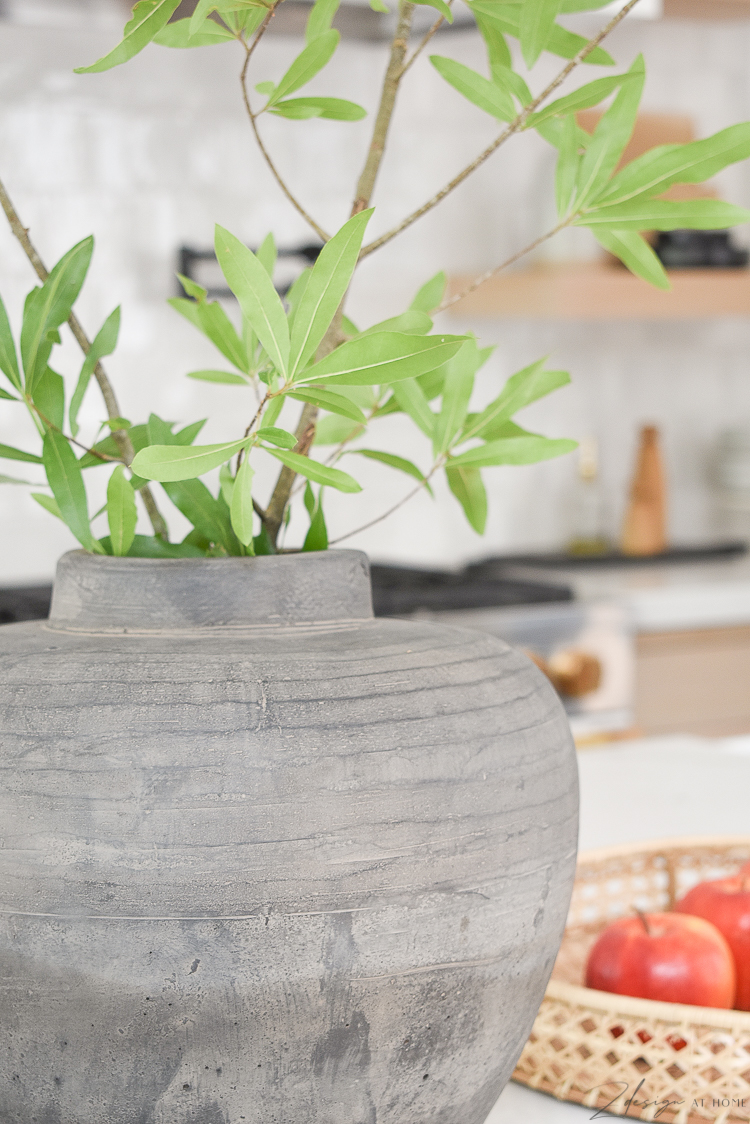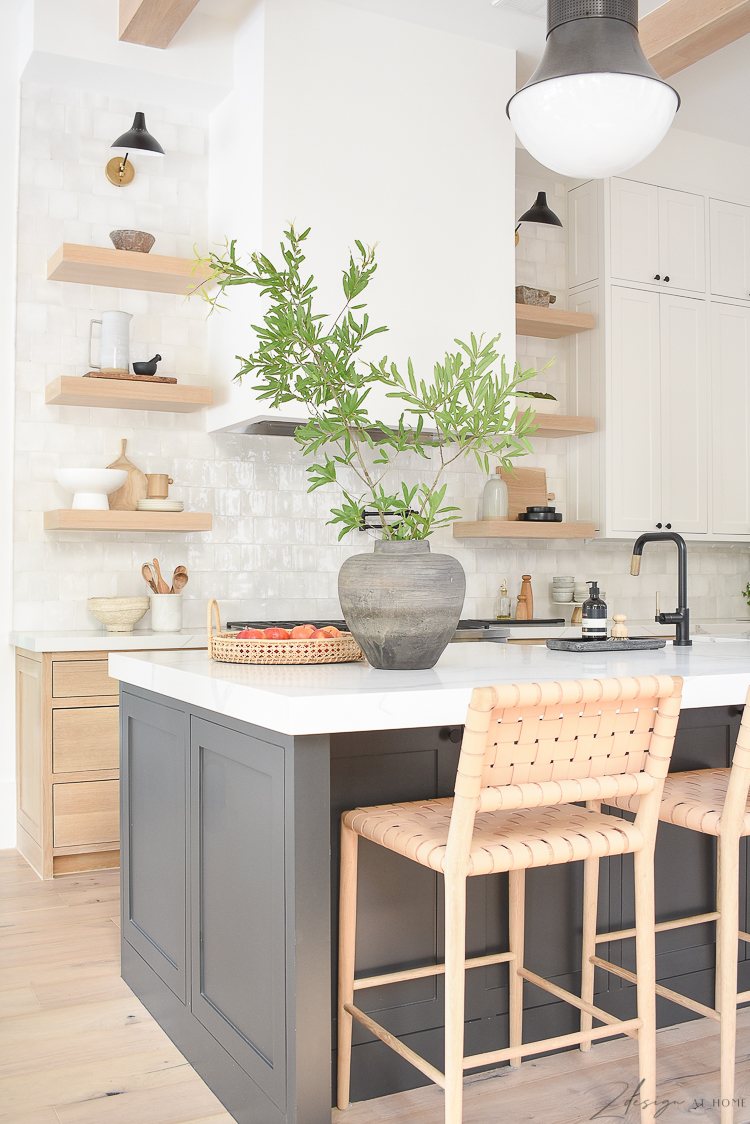 One item I love from my kitchen shelves to start is this light gray stoneware pitcher/vase that I adore. I love the square modern handle and that it goes with everything – it's got to be the perfect styling accessory for the kitchen, but of course it's also functional, which is important around here.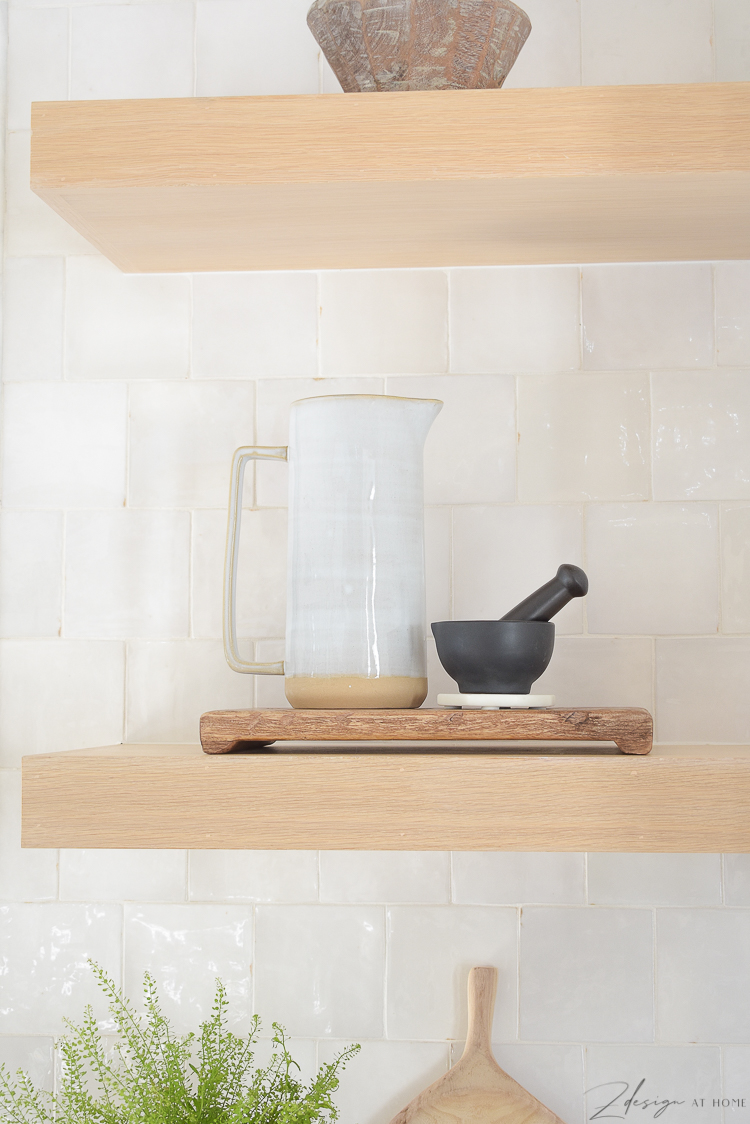 Another is this white pedestal bowl. I use it for fruit or just to display on my kitchen shelves. I also really love the small wooden handle tray behind it resting on the wall – it adds a lot of depth and character to this space.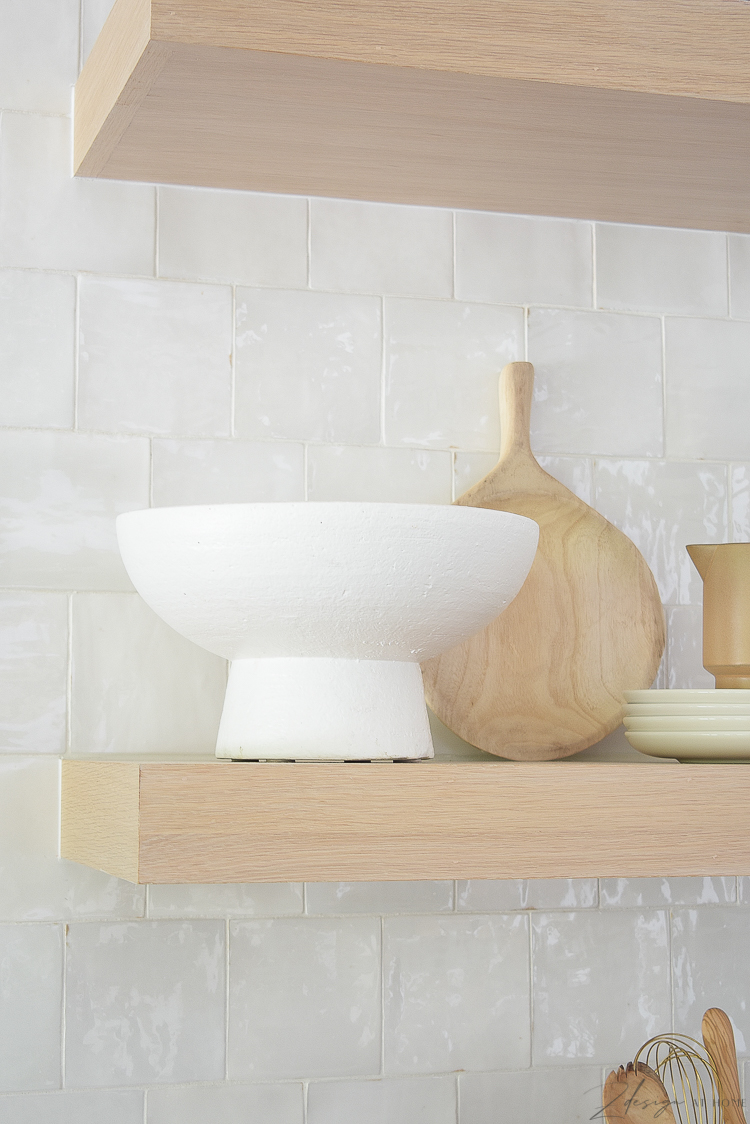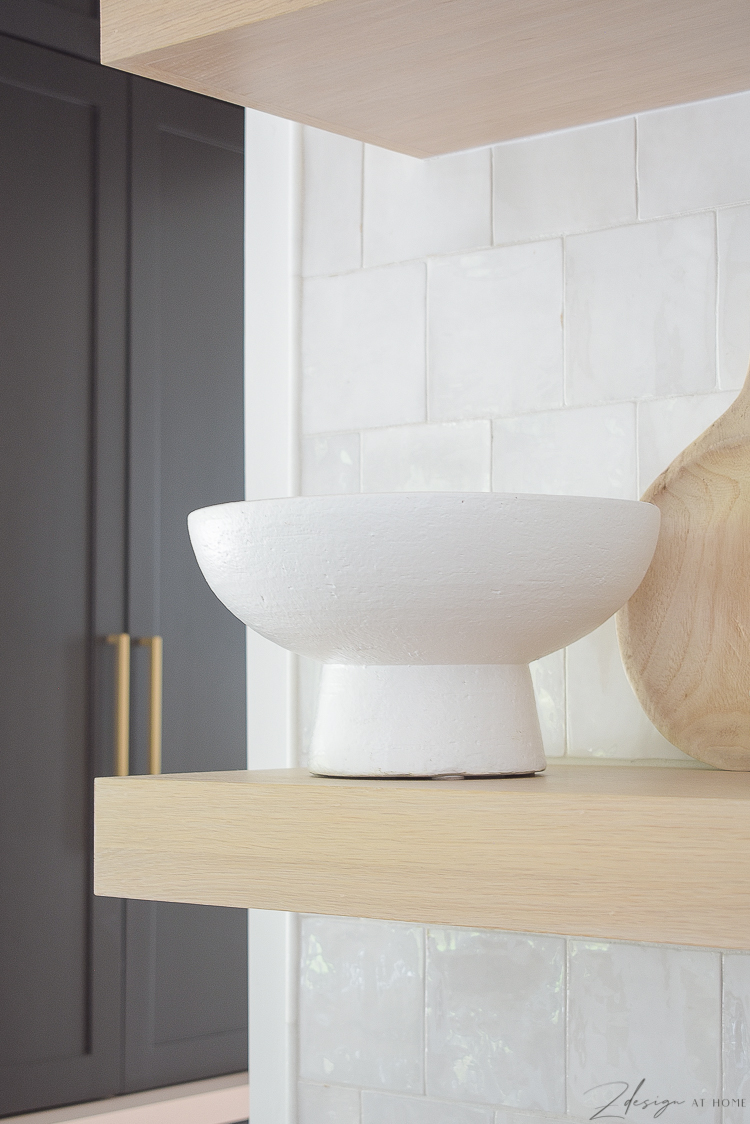 Another favorite that I use but also style my kitchen countertops with is this black colander below my shelves. Also looks great with red apples in it!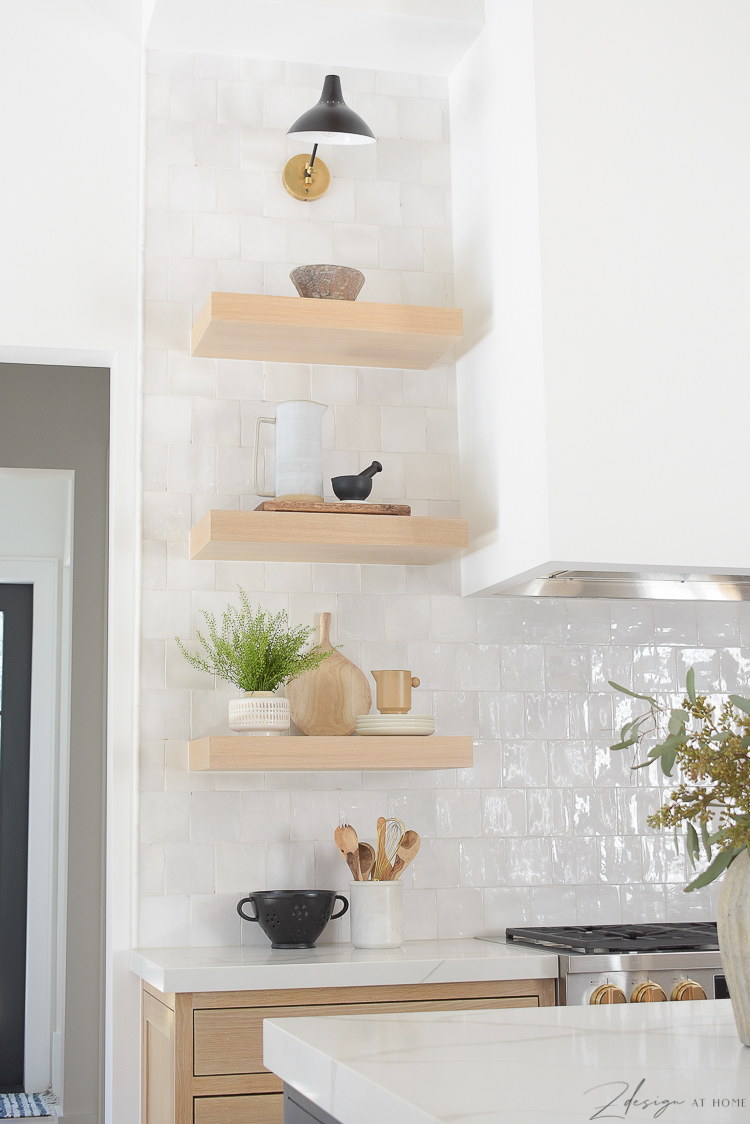 Another vessel I love is this light gray two-tone double handle jug. Perfect for kitchen styling and love it paired with the duo handle bread board behind it.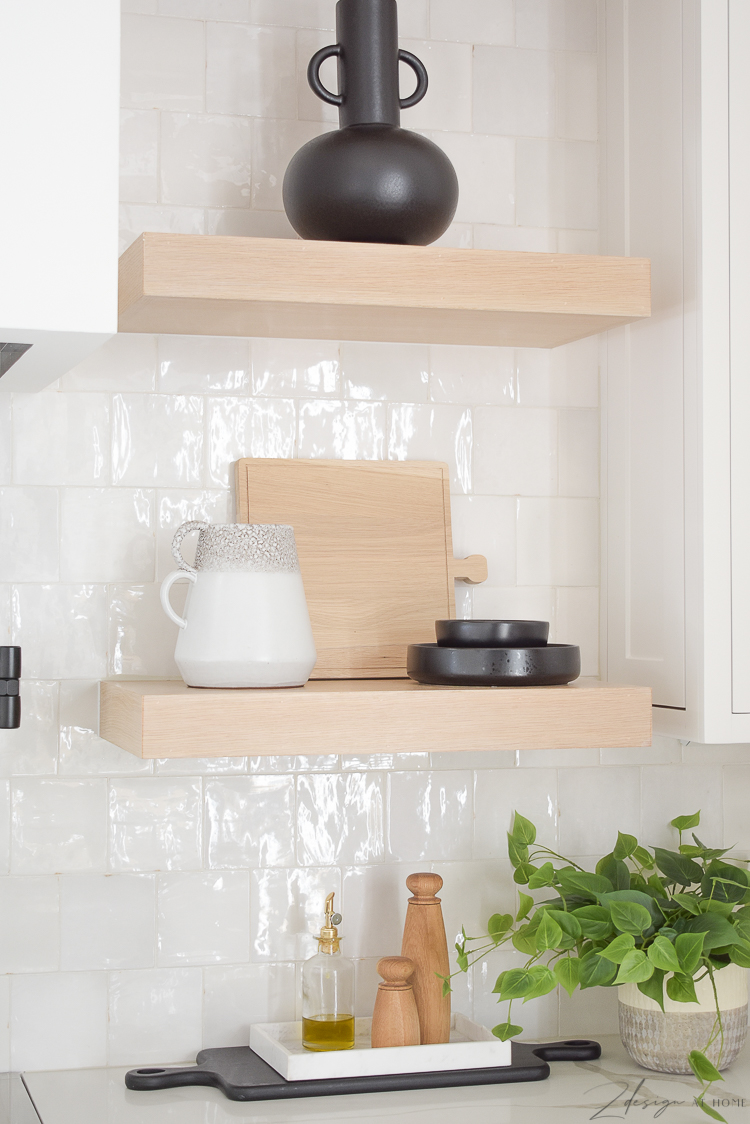 And I love the uniqueness of this vase as well. I love the shape and that it feels like a small olive jug or something primitive. For this piece I left it alone on the shelf to allow it to shine. I prefer to keep things simple and clean so that you can see and enjoy each piece without clutter.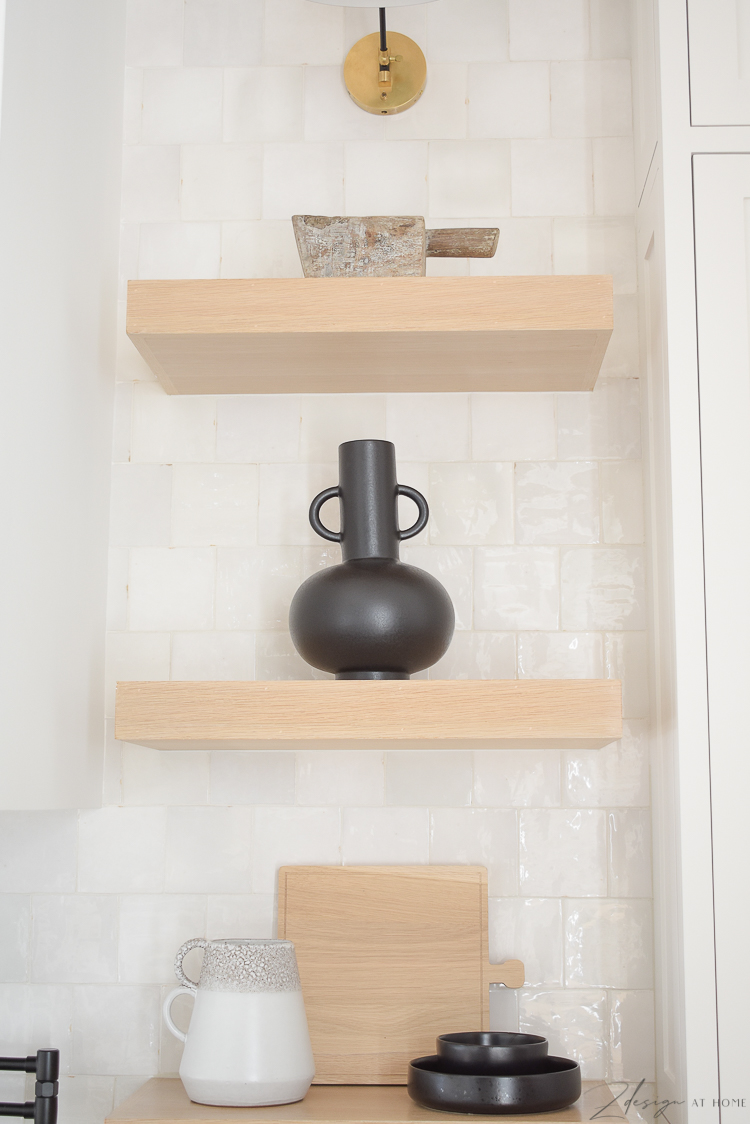 I also really love the faux plant below on the countertop. It's another really good quality faux plant that moves about the house.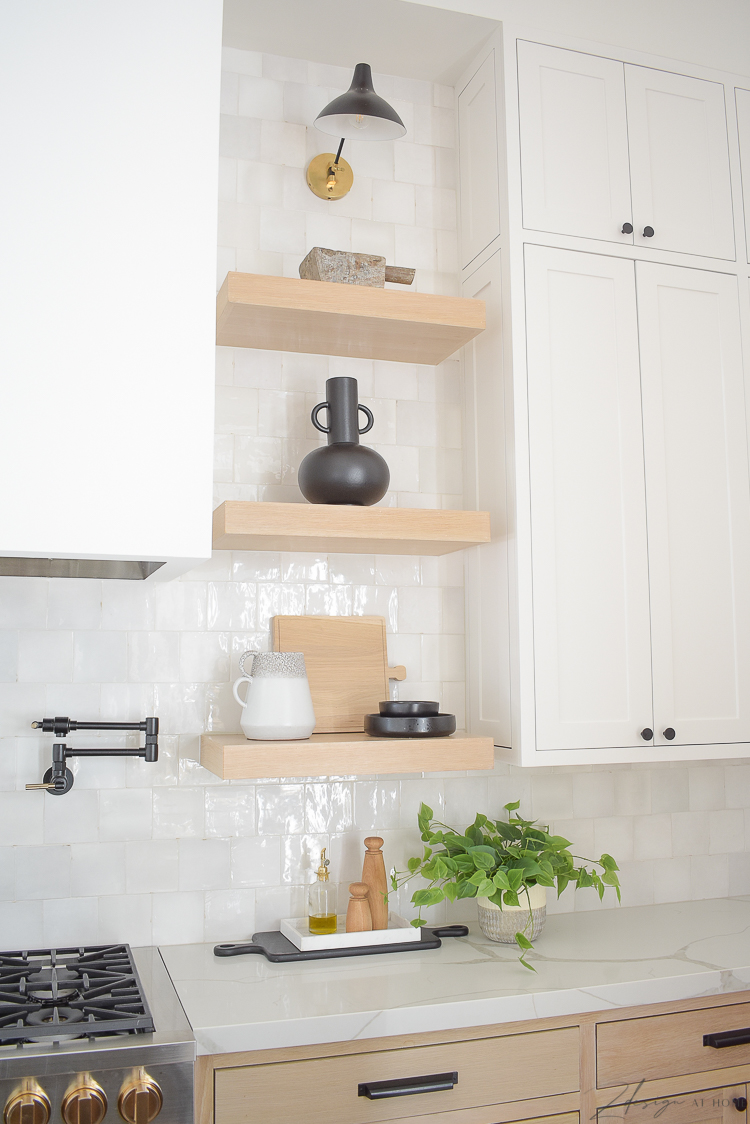 On the opposite side of the kitchen is a black textured pedestal vase that has a lot of character. I used one real oak stem from outside here but have styled it many ways. The unique shape and texture of this vase allows it to stand beautifully alone as well – you'll see that in a moment.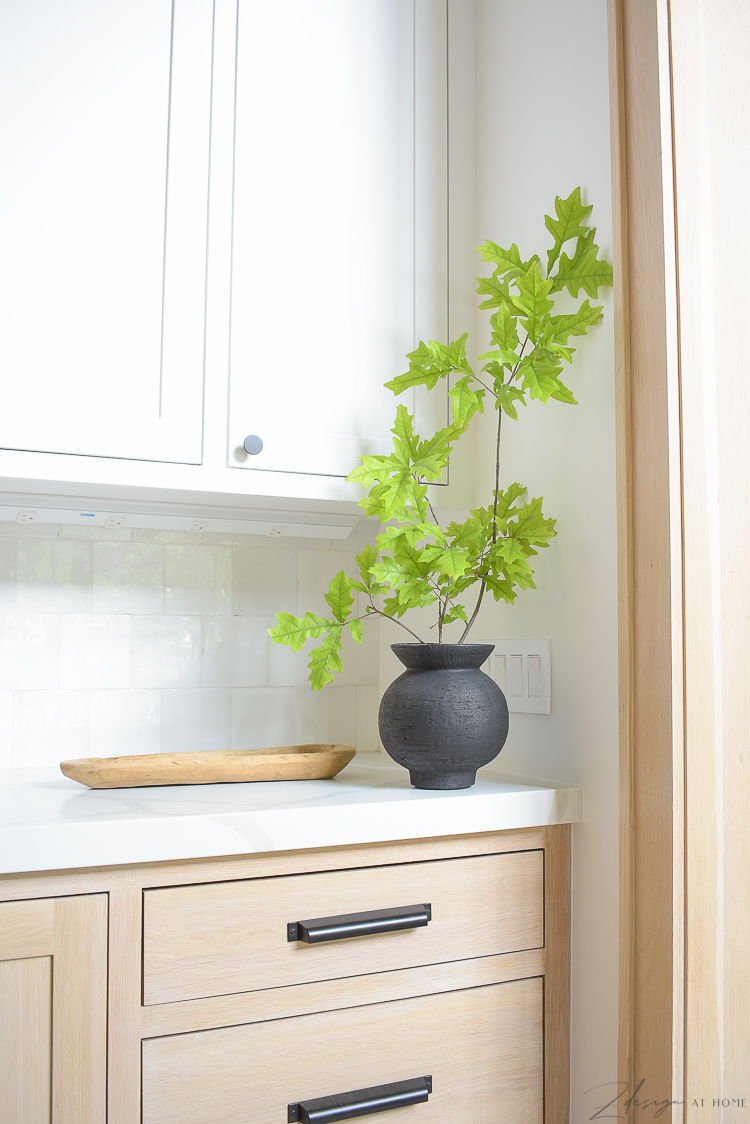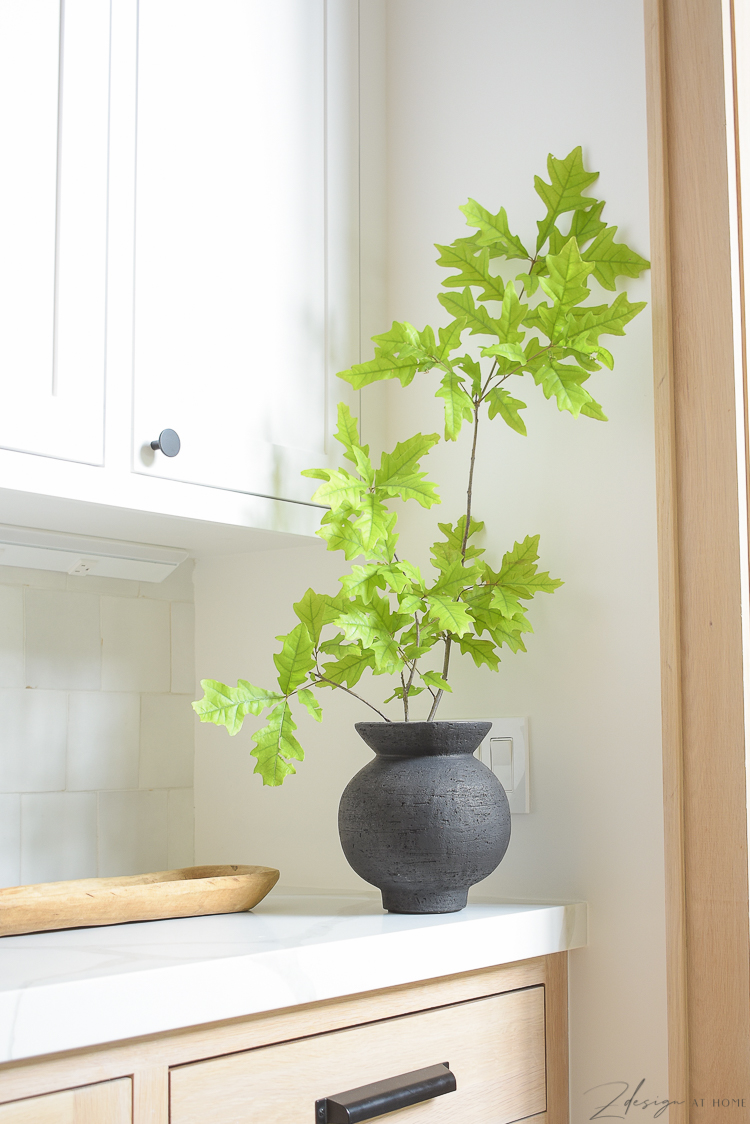 In my living room I have lots of fun vases and vessels over here. A few I've shared already but a couple I haven't in detail. I love, love this decorative bowl. It's great with some beads in it like my bone hex beads or with nothing at all. The base of it is so, so good!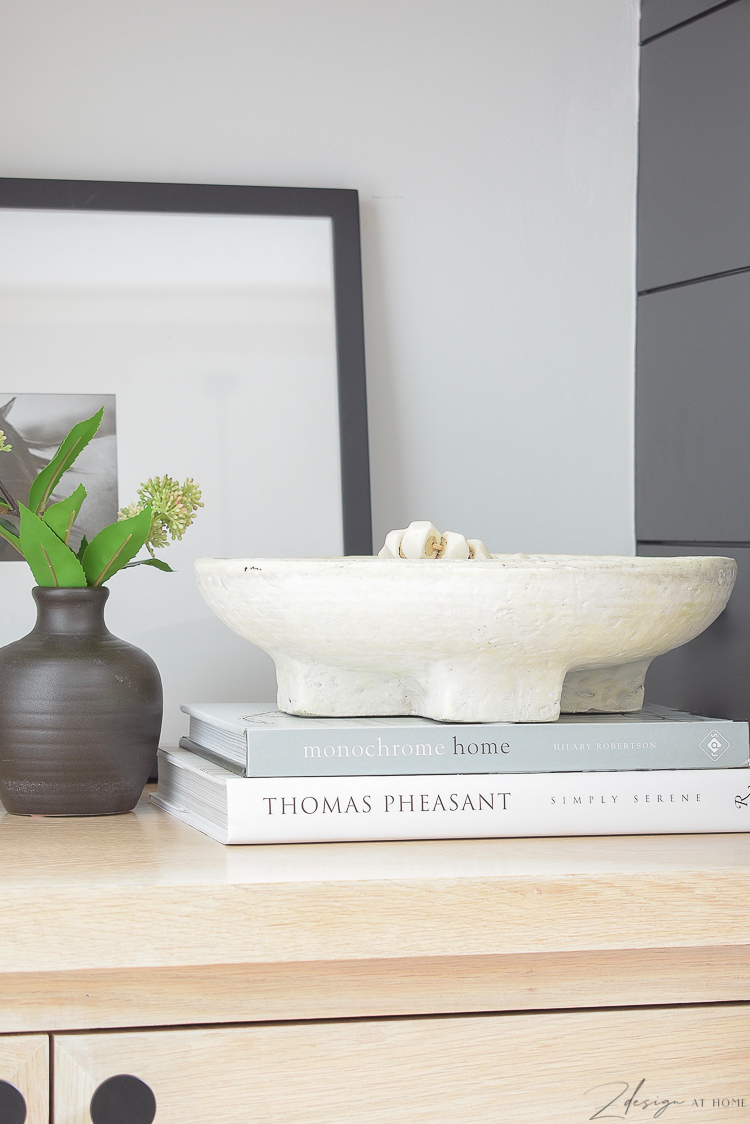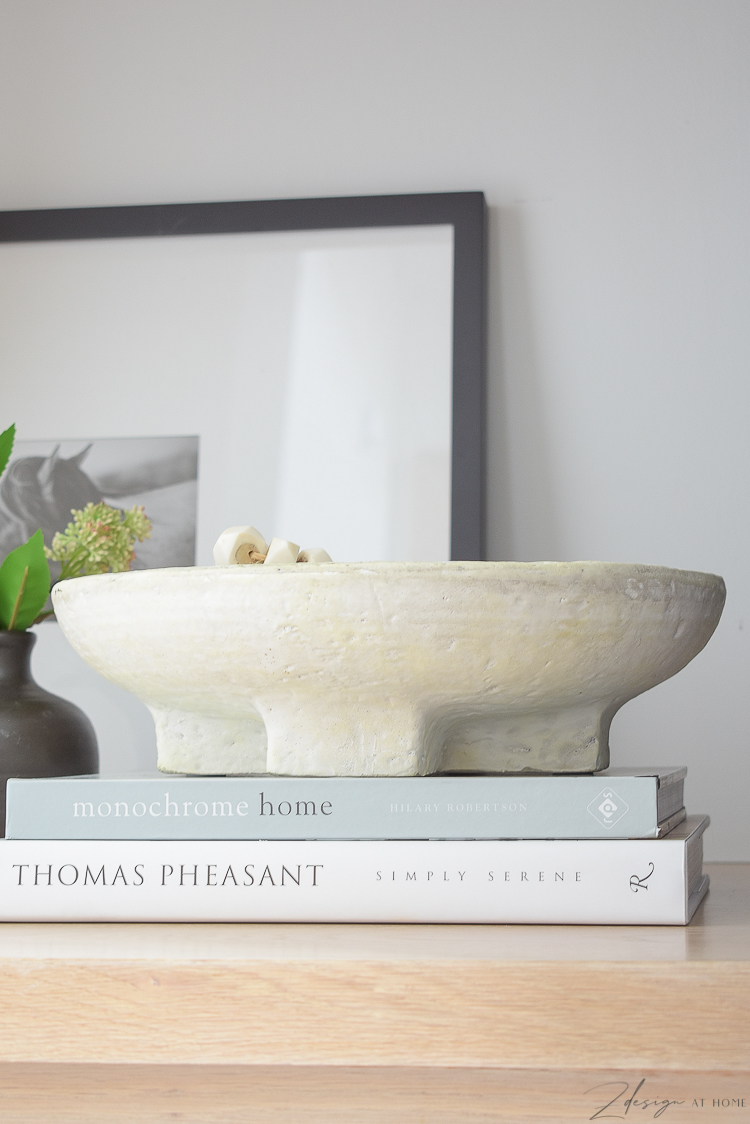 This black bud vase is darling also. I have two of them and love the faux stem in it as well, it adds just a touch of pink;).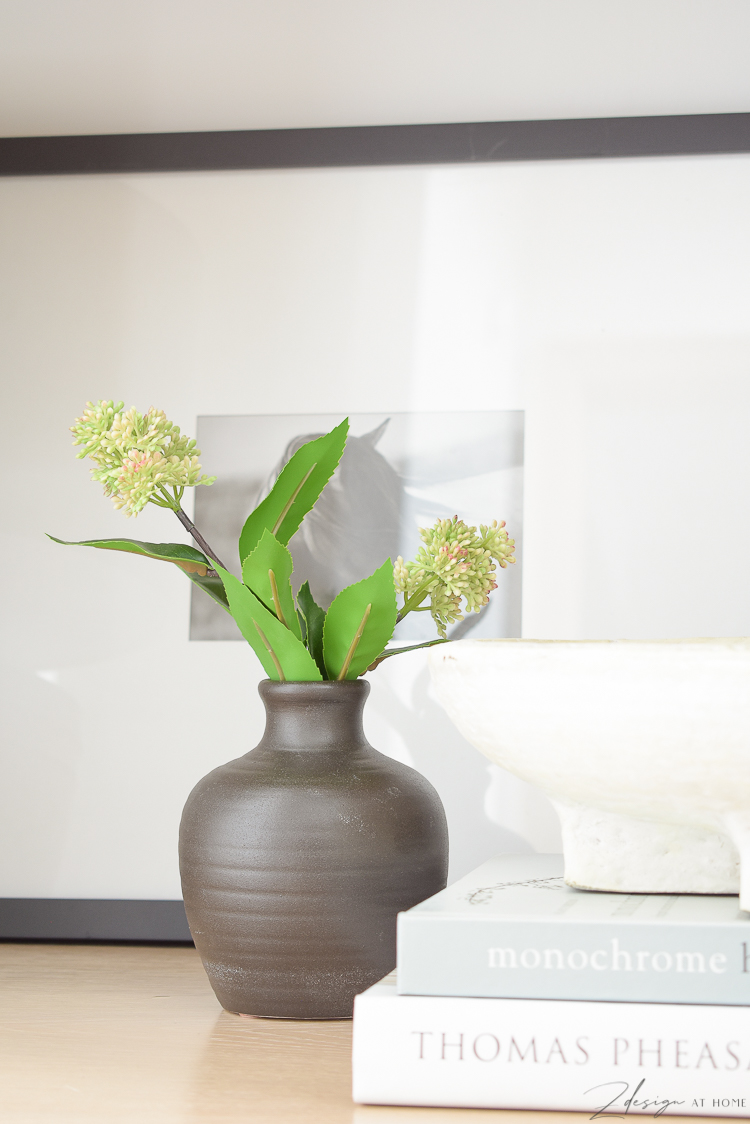 I really love this clay colored pedestal vase as well! And it looks great with one simple, faux Target stem in it.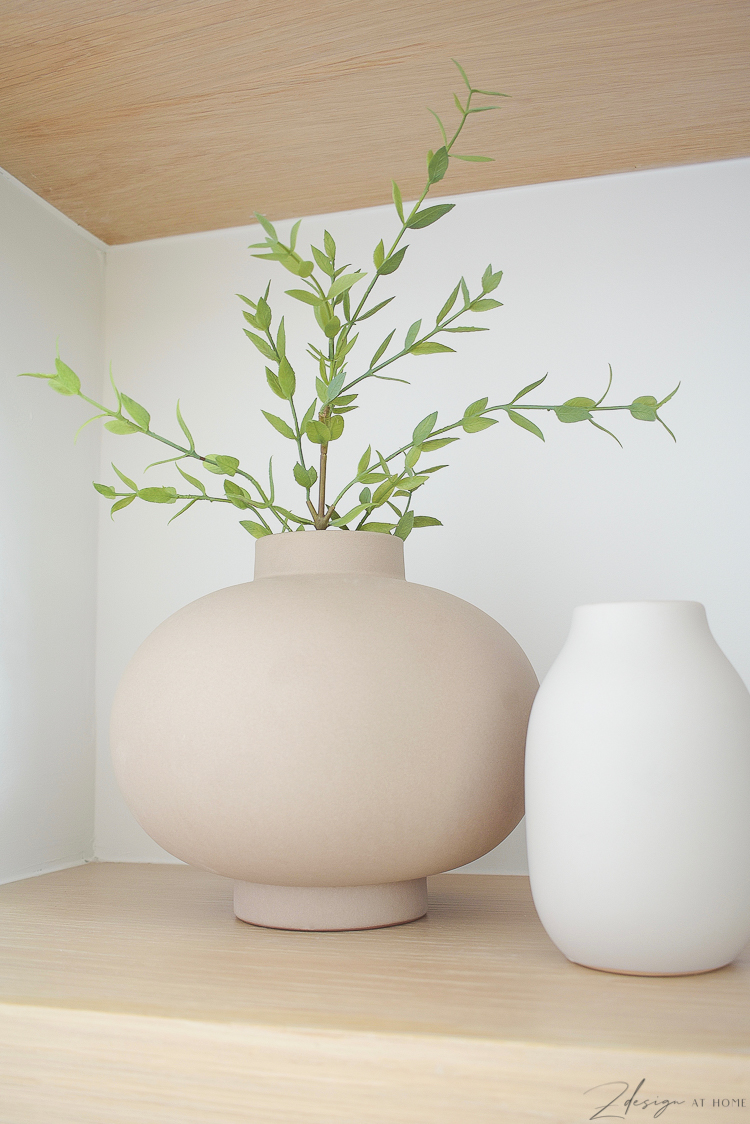 Love this concrete nubby pot with the Studio McGee for Target fern in it. The pot comes in a set of two, one small and one large.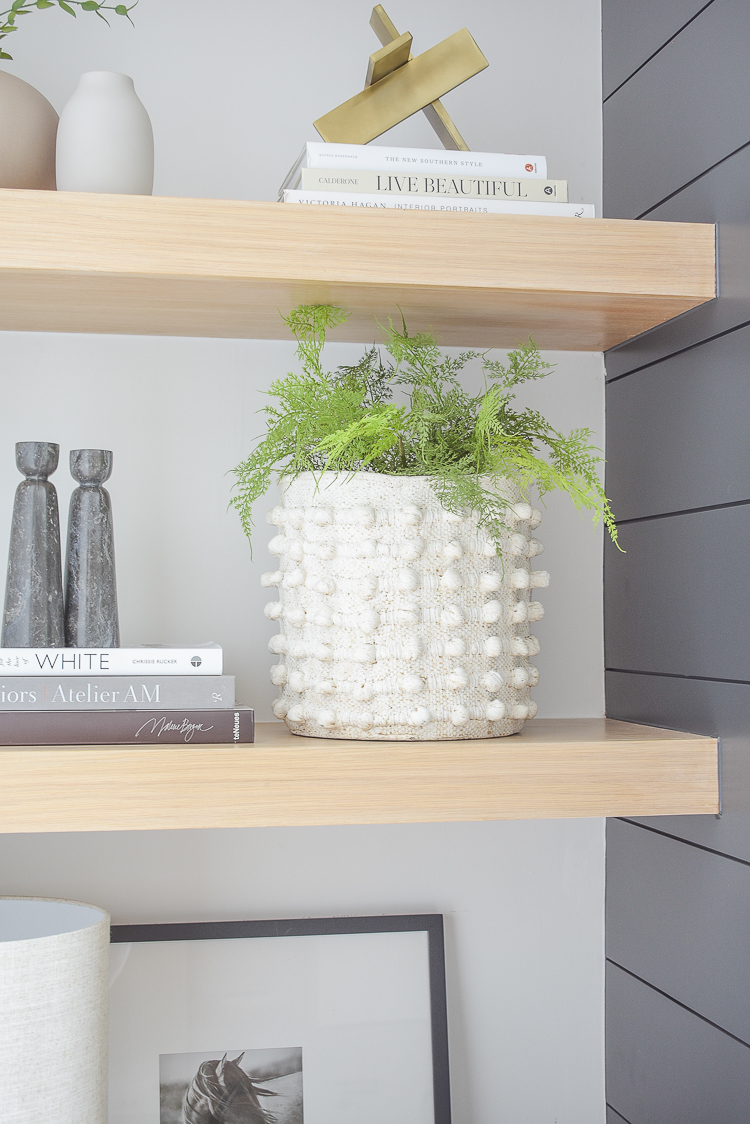 This is the smaller pot of the two and the same faux plant from earlier.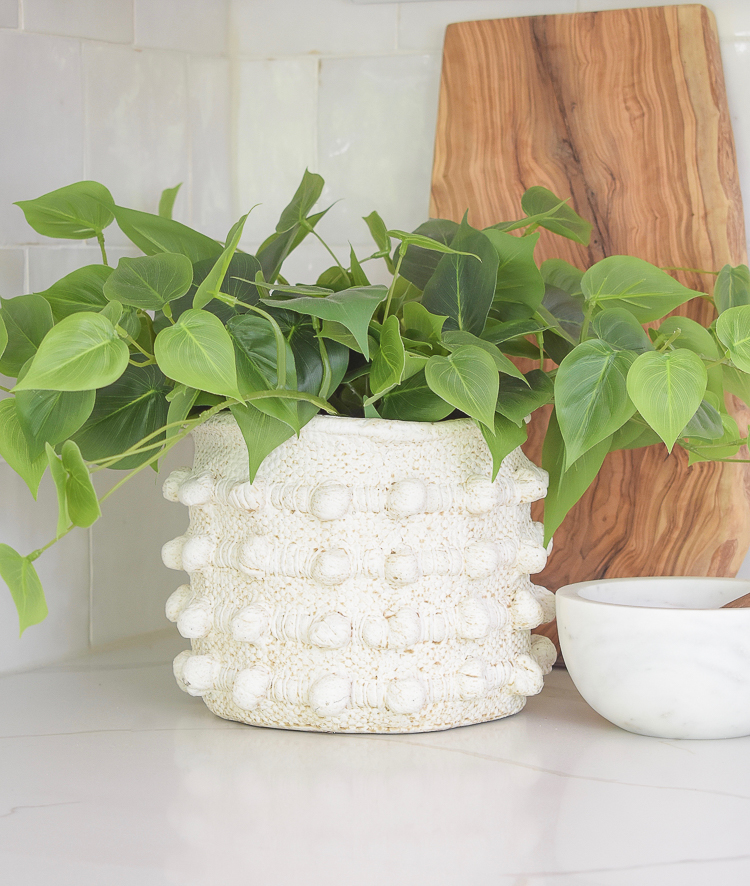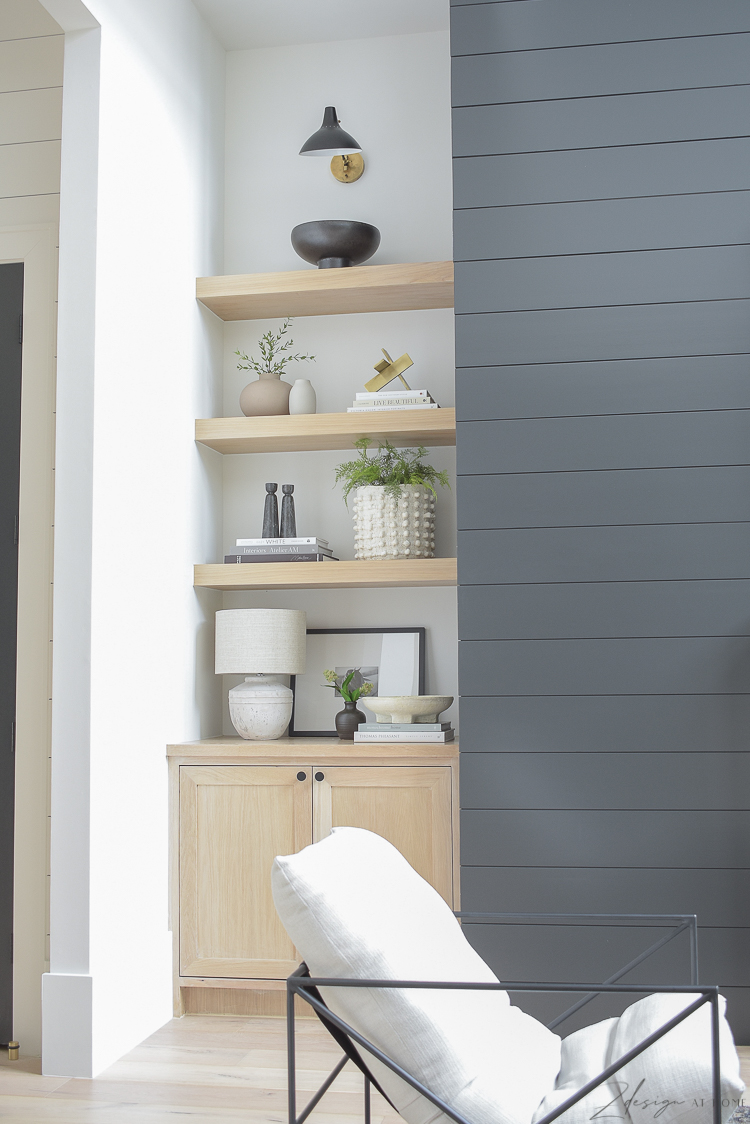 In my entry hall I have a large white statement vase that is really gorgeous. It has these beautiful square handles with a curved tip at the ends and makes such a beautiful statement! The stems unfortunately are no longer available but I'll link something similar below.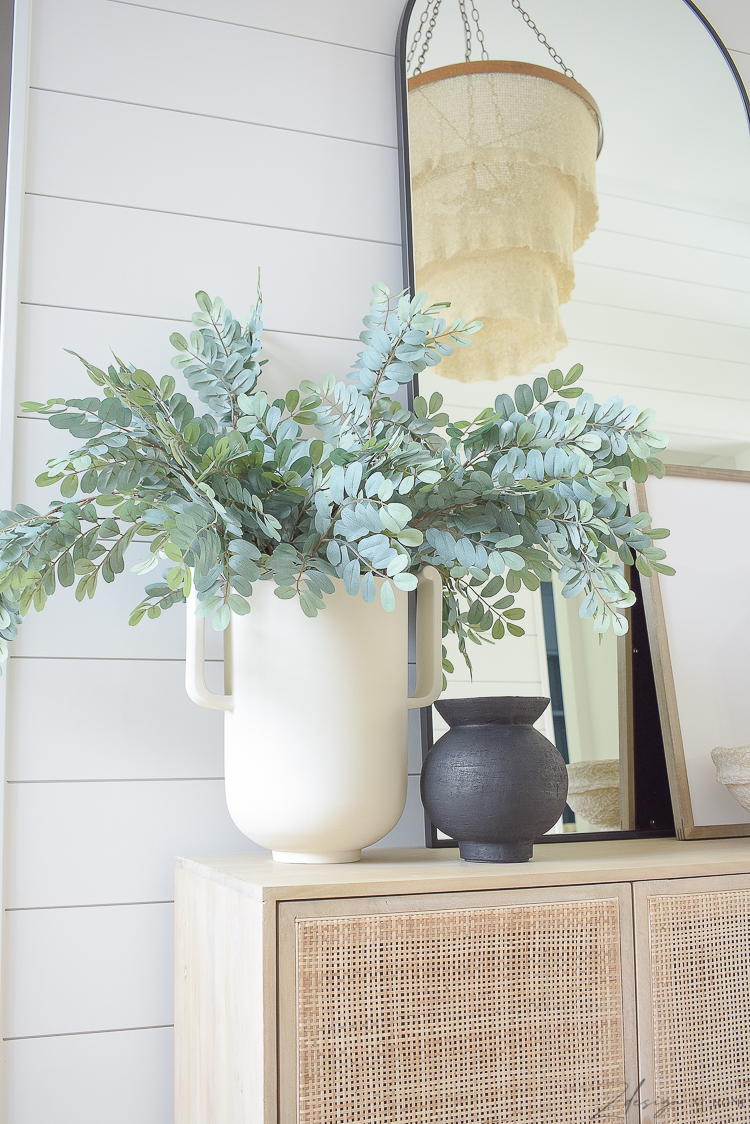 For reference I have about 6 large stems in this vase but please know these stems are very full and visually take up a lot of space. I also have these inside of a tall clear that is much slimmer than the opening of my big vase to hold them together nicely, like I talked about before.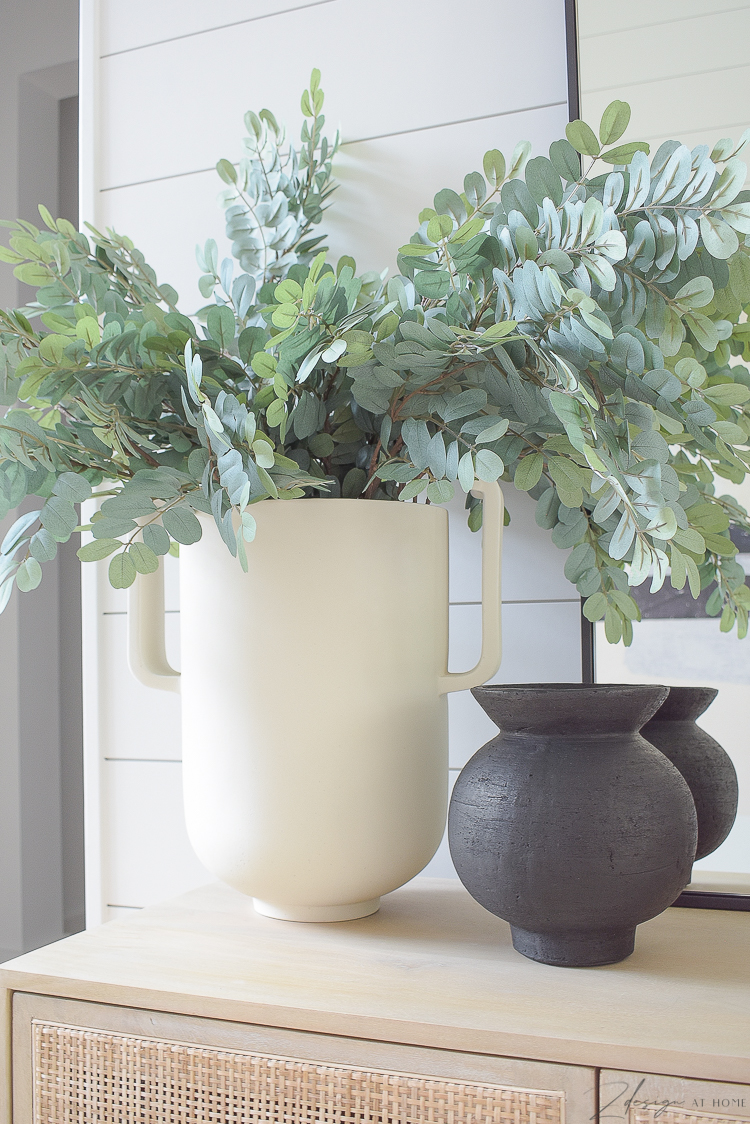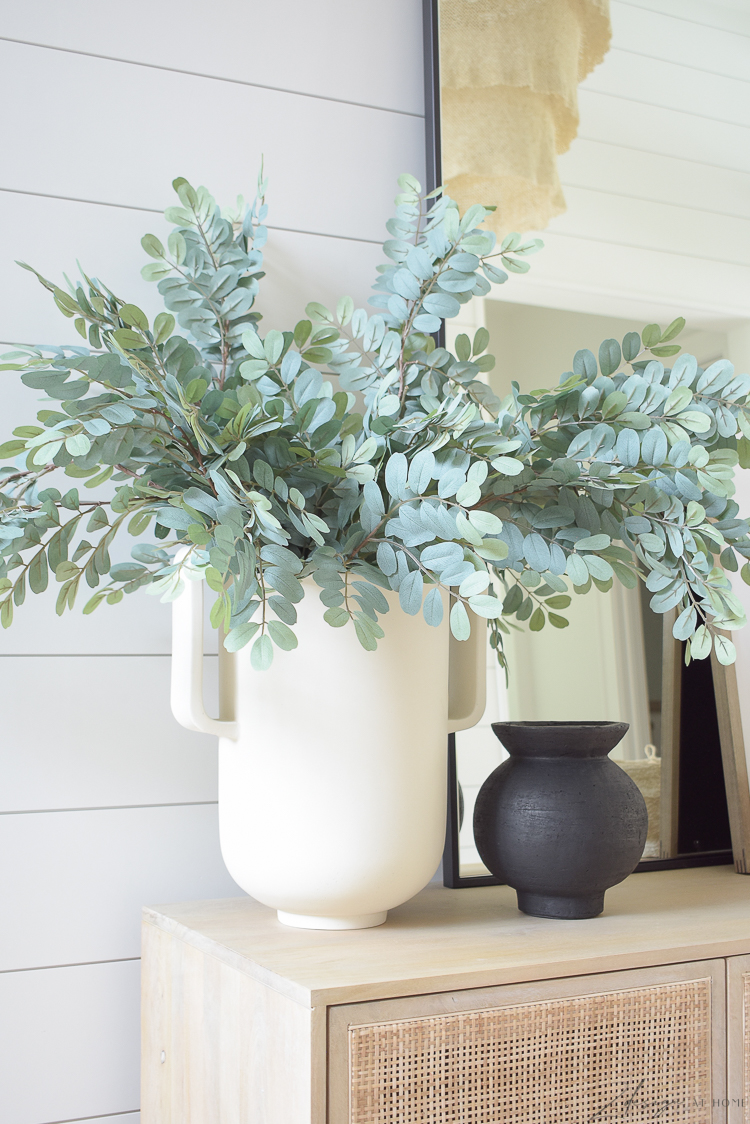 Paper mache is also pretty hot in design right now. This paper cache bowl is a great accessory for the kitchen or dining table but, I currently have it on my entry credenza. I love it and it looks great with a set of tassel beads draped over the side!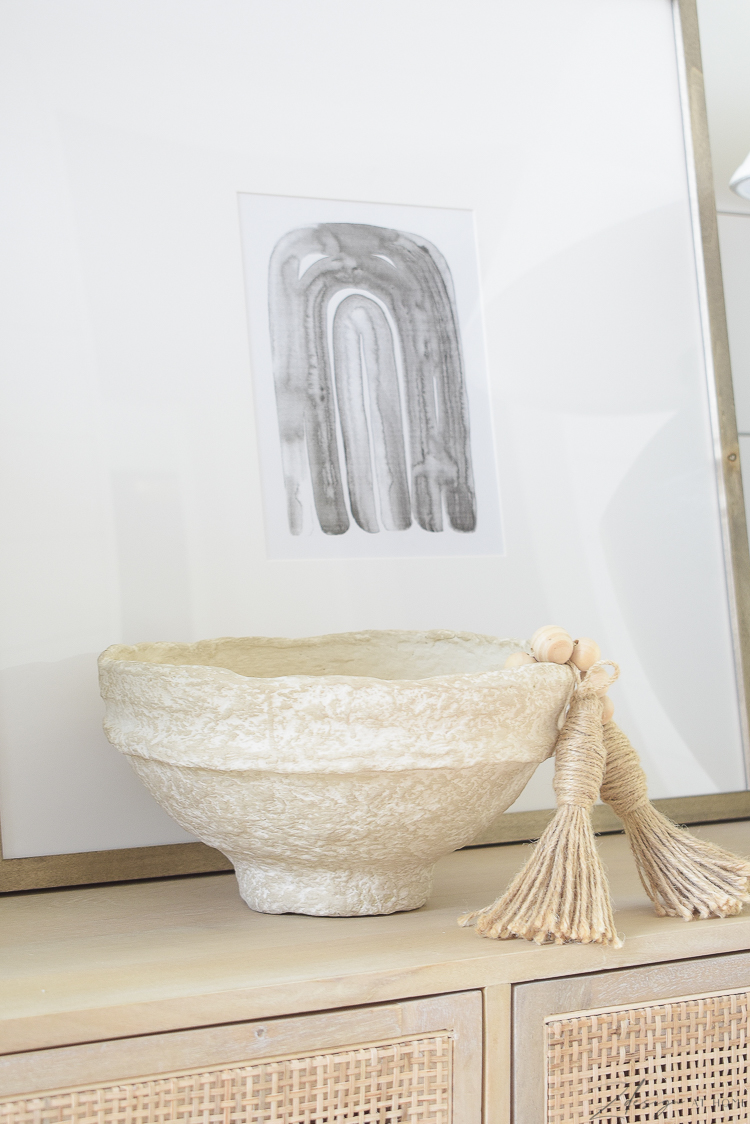 Around the corner is my son's room…this room is under construction but we are getting there. His new dresser arrived recently and I had to style it right away. I've had this ribbed vase for a bit but it turned out to be just the right look for this spot for some added texture. I used a branch from outside but also have used it with faux and other real eucalyptus stems.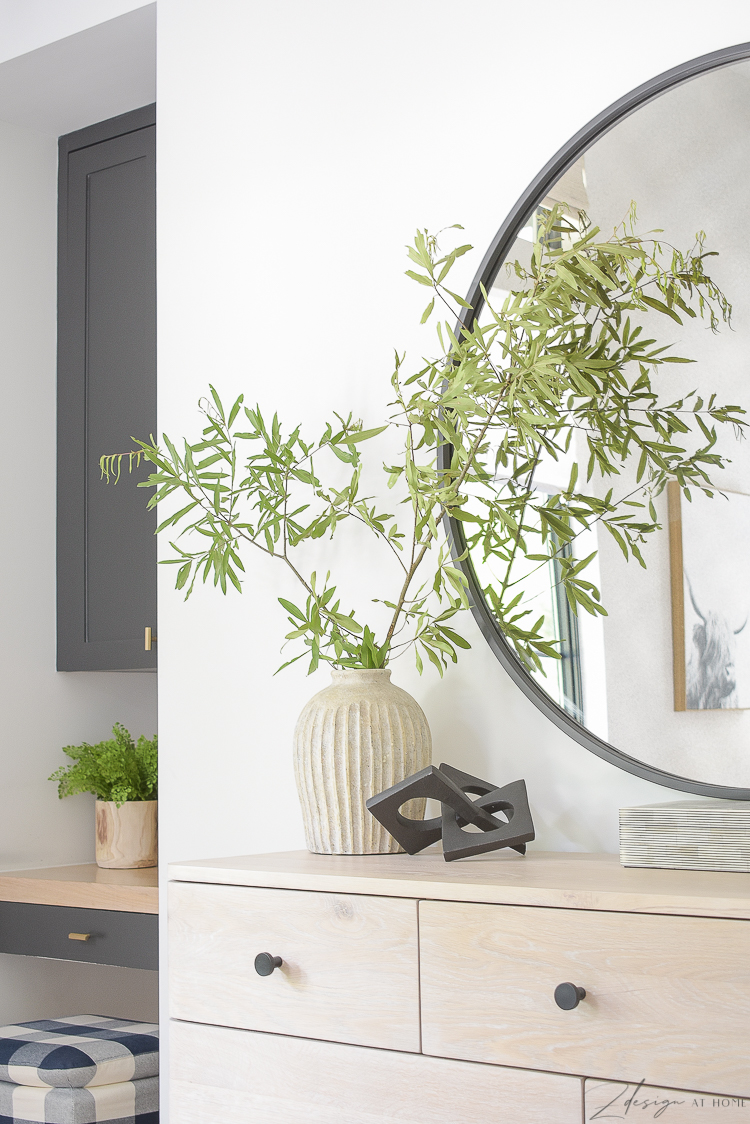 This one is truly a favorite with the ribbed sides and texture. This vase is great because the opening isn't super large so it's easy to style stems and hold them in place properly without the use of another vase inside.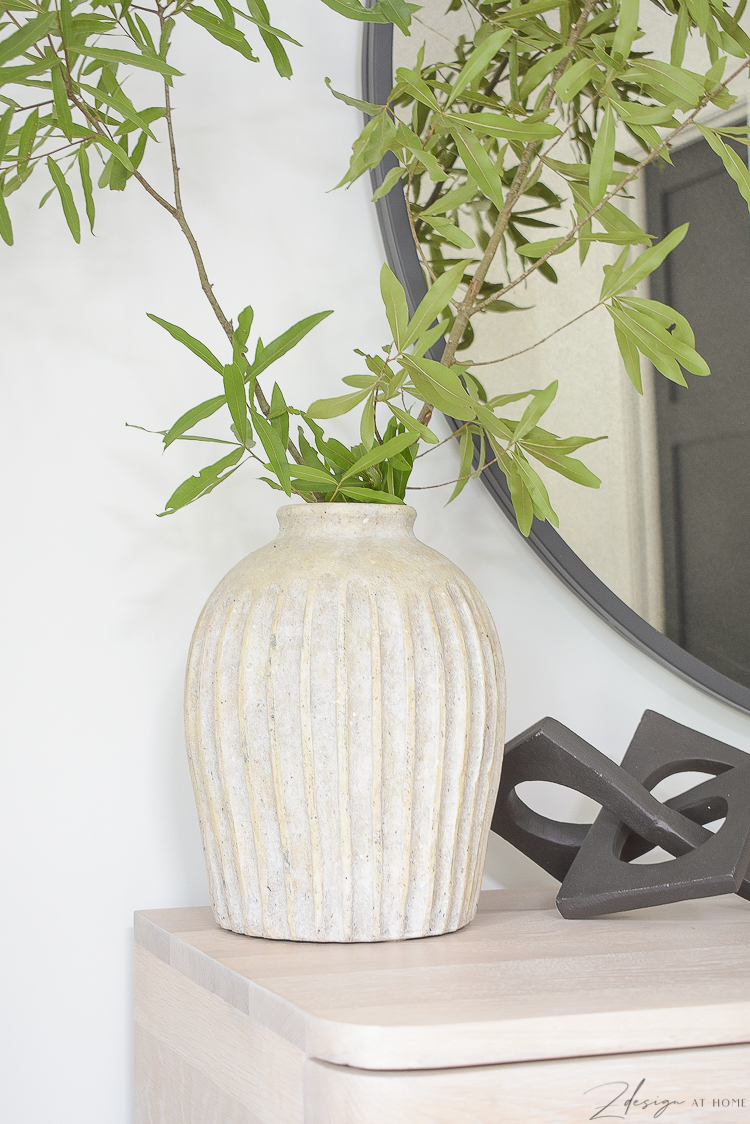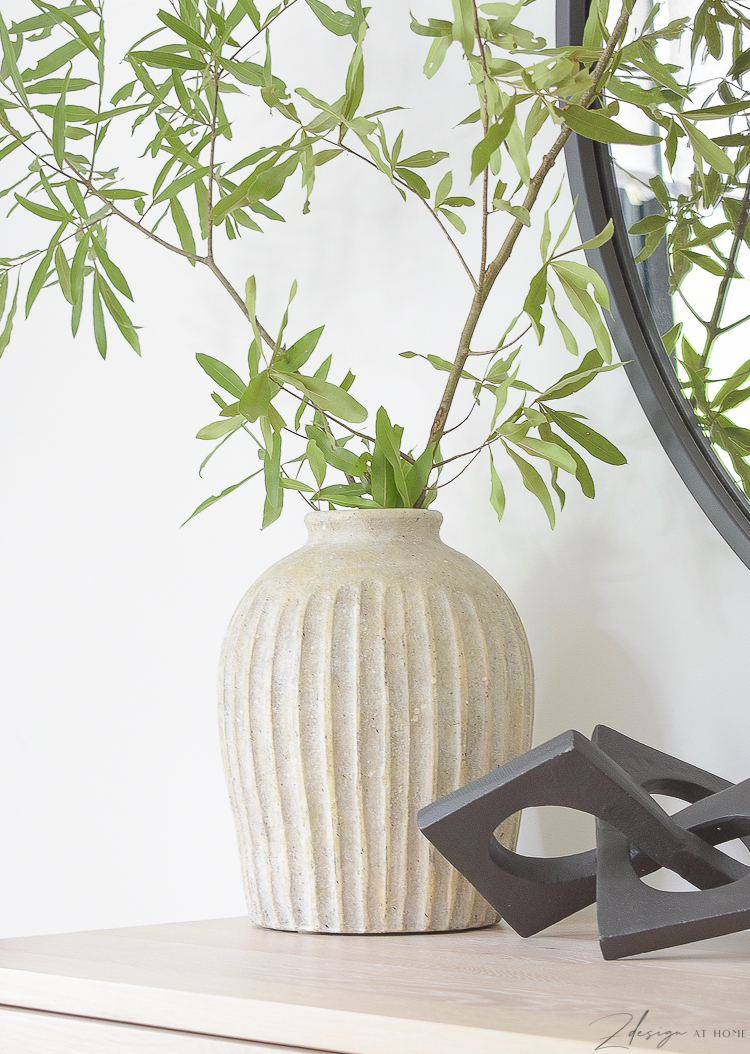 These little white vases also arrived recently. They come in a set of three so one is missing here but I love the interesting shapes of each individual vase and that they've become a focal point on this side of the dresser.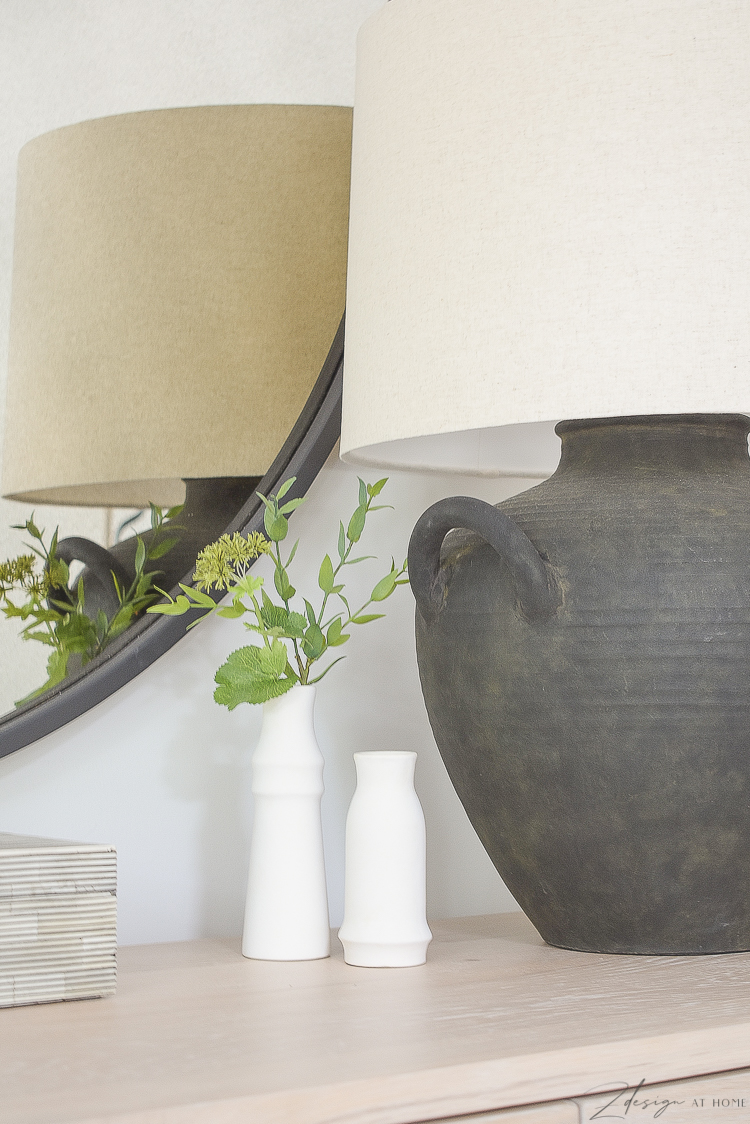 These stems are also a big new fav from Target (1 & 2). Very realistic and pliable, and work super well in a small bud size vase.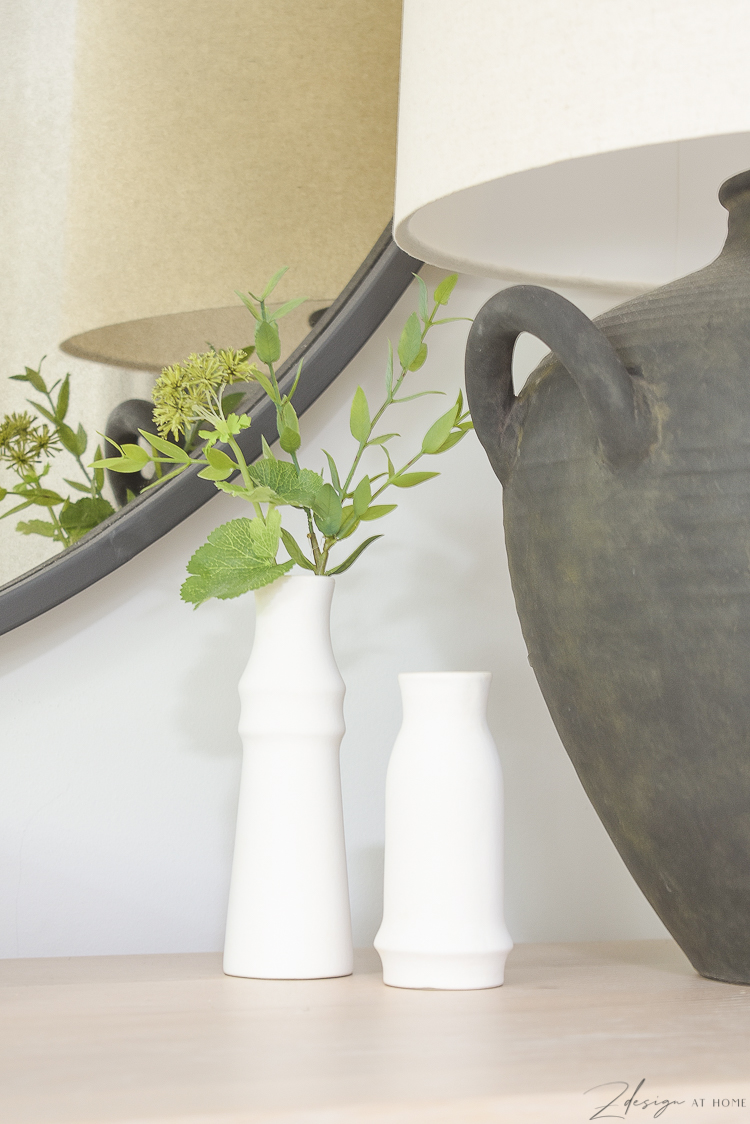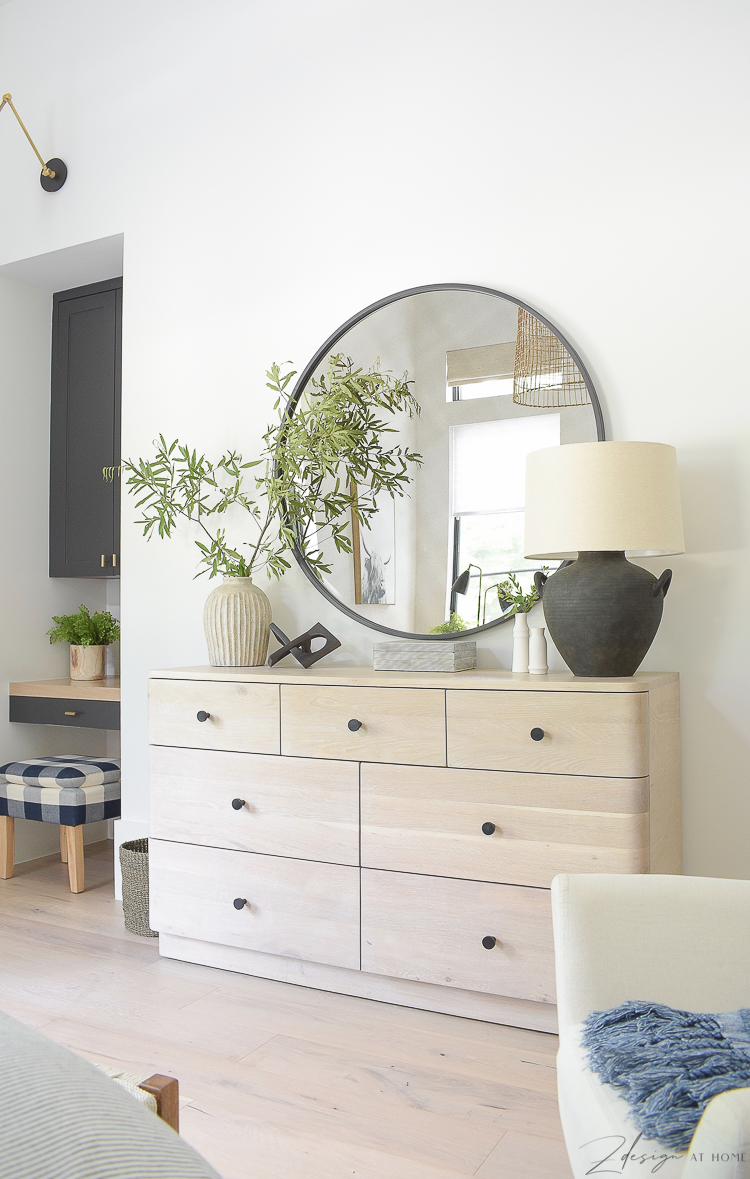 Here is the same ribbed, textured vase styled in my kitchen with some real seeded eucalyptus in it.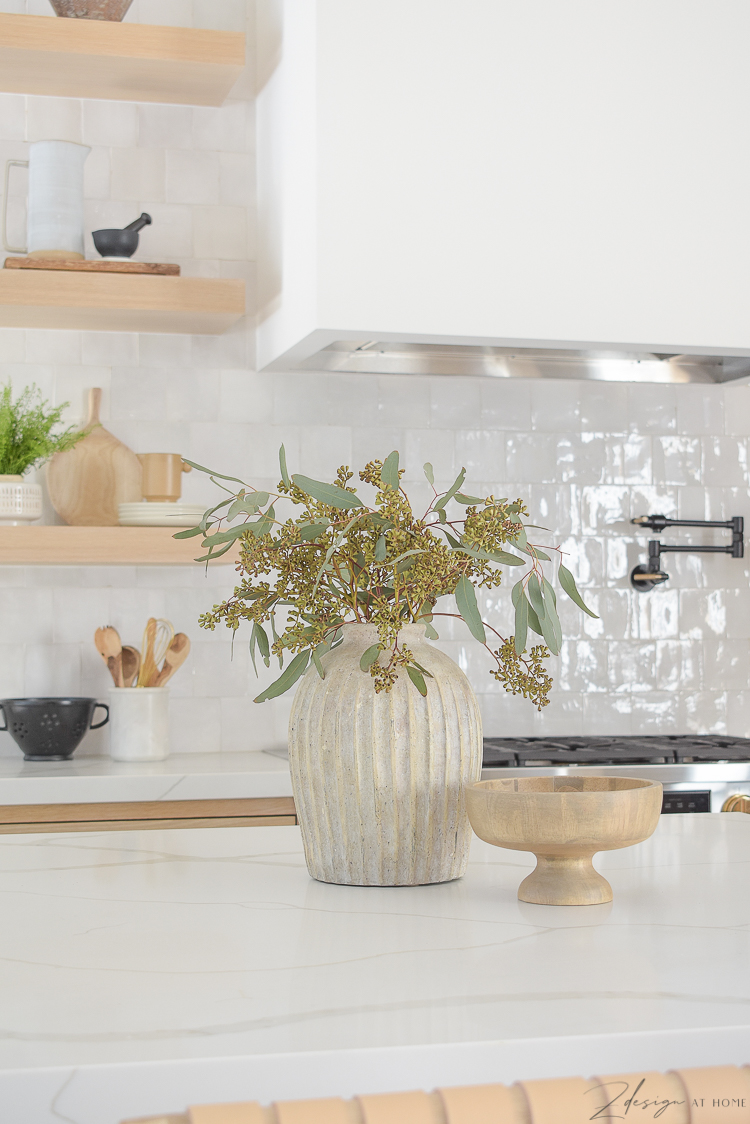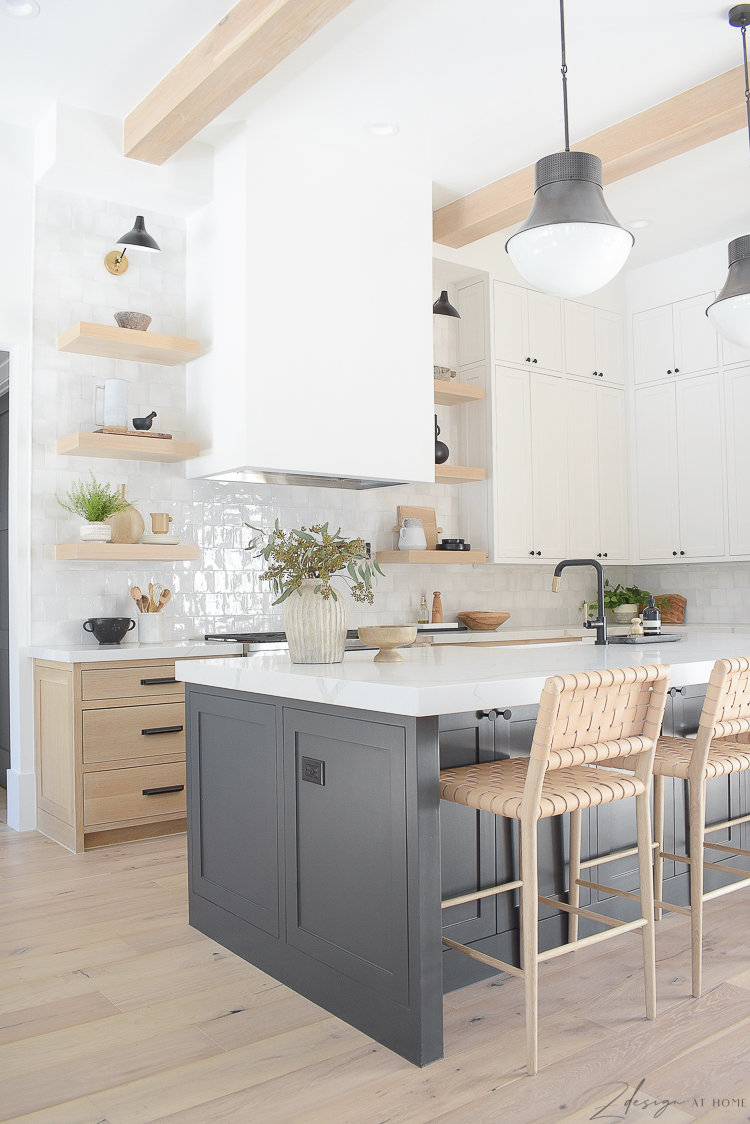 And last but certainly not least are these stunning ribbed white vases. You can purchase these separately or as a set. They are really pretty in person and make such a nice statement together or alone. I'm using them here on my vanity with just some simple greenery from outside but these are new and the styling possibilities are endless for me with these I'm afraid!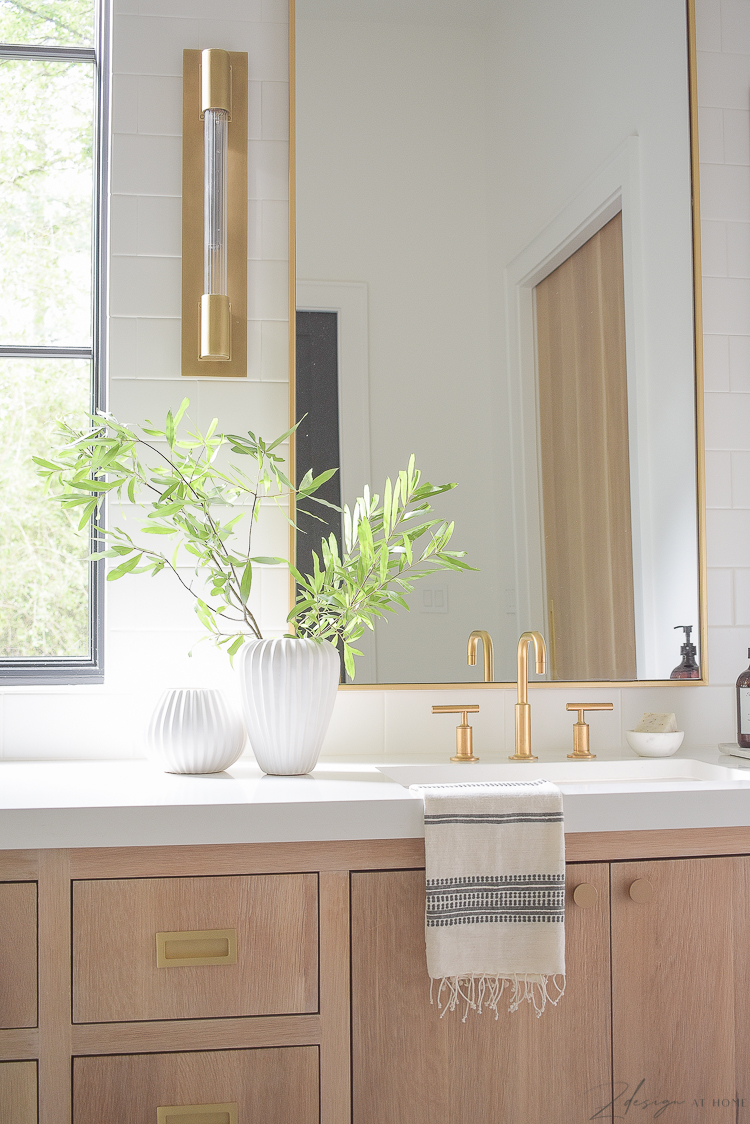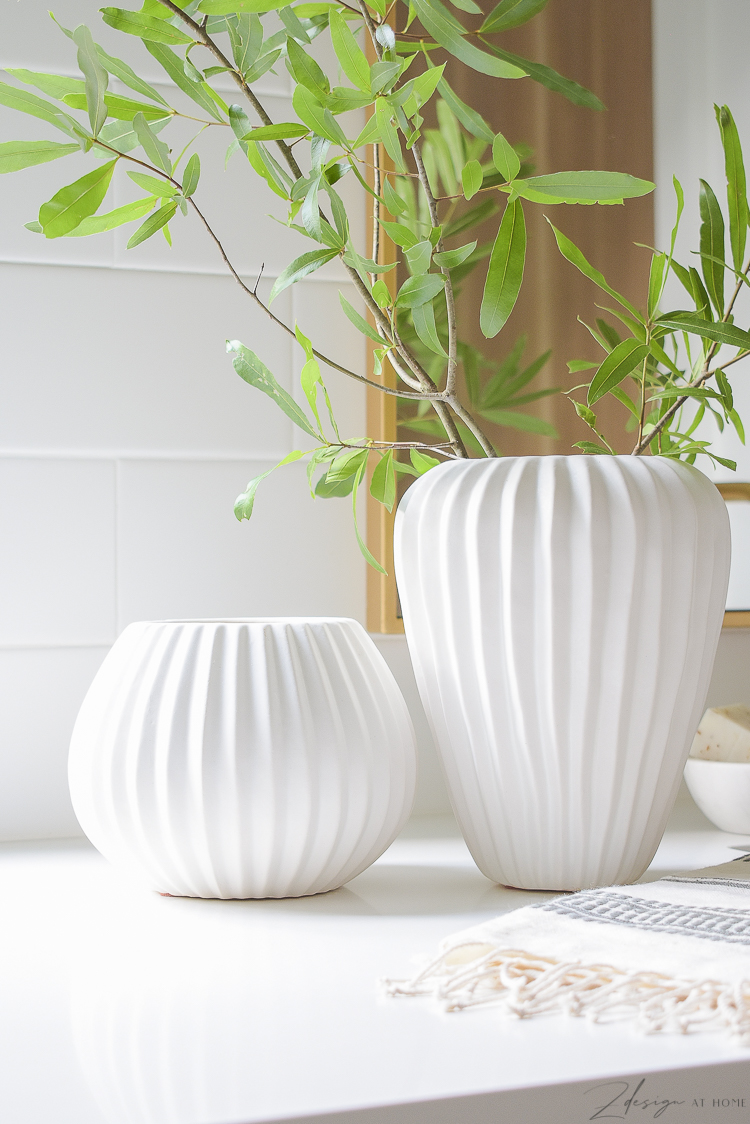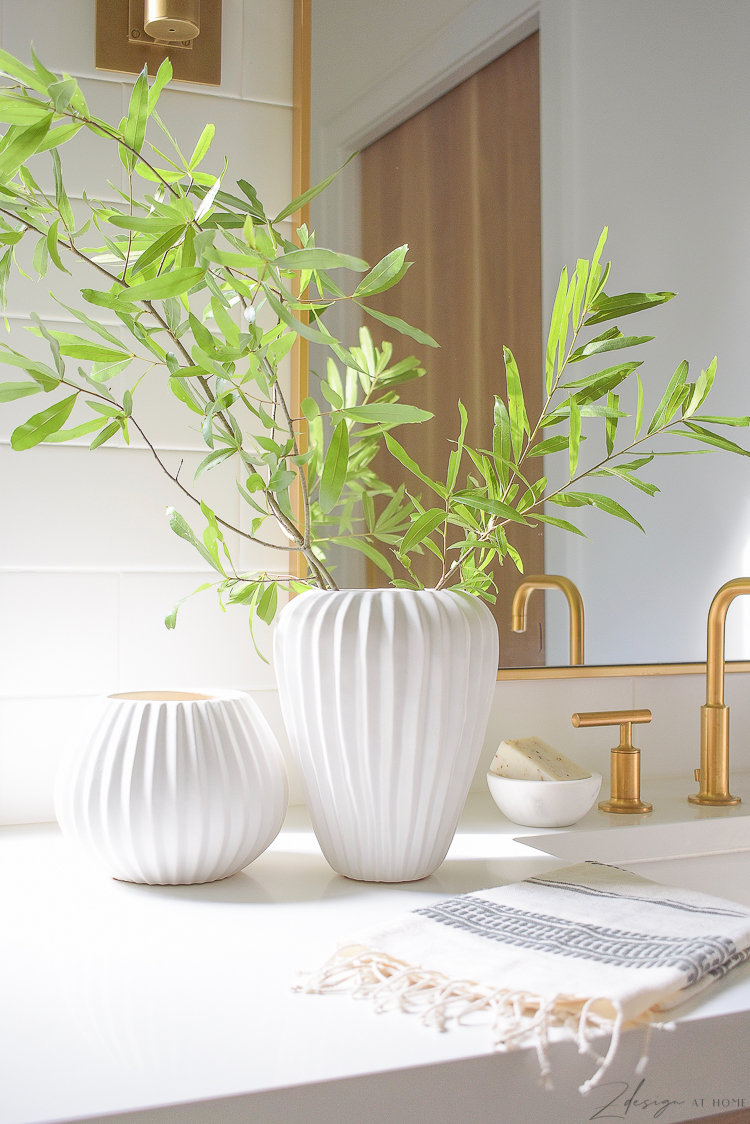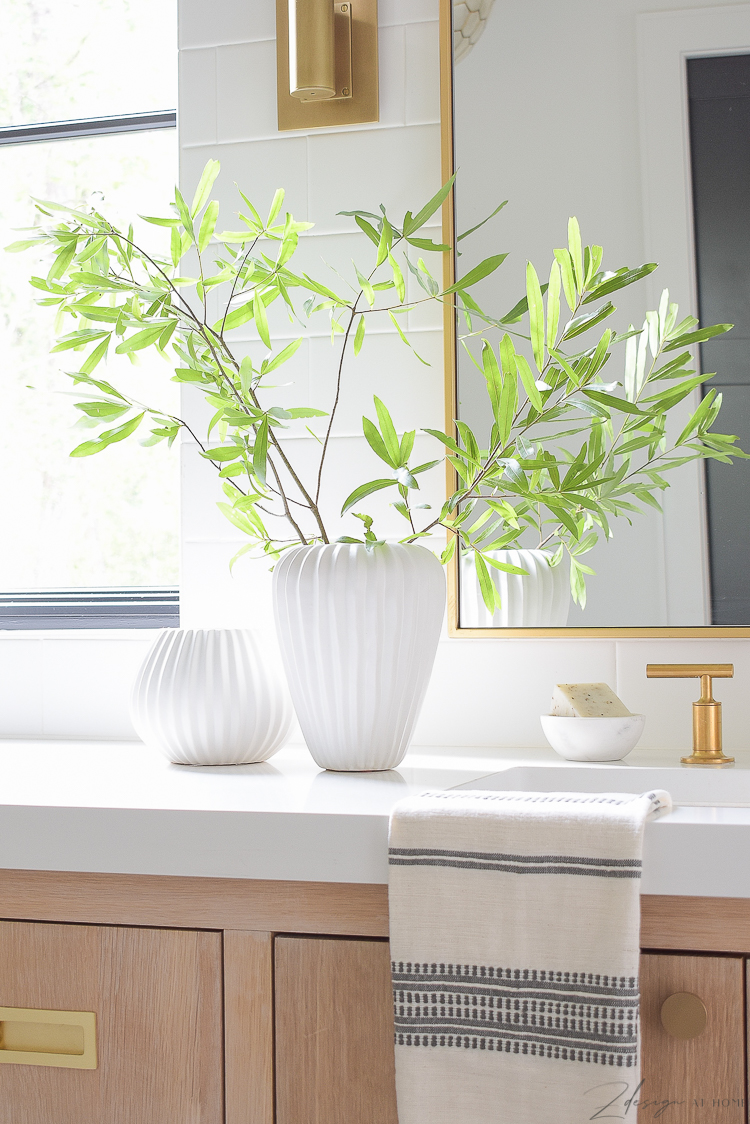 And there are many more that I didn't include here but I tried to save the best and my Favorite Vases, Vessels and Stems for you! I hope you've enjoyed my tips and that they help you to make your own faux arrangements beautiful, realistic and eye catching! All of my sources are linked below but please feel free to drop a comment below if you need anything or just want to chat!

Vases




Bowls, Other Vessels & Accessories


Stems & Faux Plants