Boy's Boho Chic Bedroom Reveal + Tips for Layering Any Bed
Hi friends!  This post has been a long time coming…thank you for stopping by!  A literal thousand and one times I walked by my son's room in our previous home and though…Ugh!  I really need to start working on a bedroom update for my growing boy (he's 9 going on 19 now – you get the point, lol) so I'm excited to share with you today his Boy's Boho Chic Bedroom Reveal + Tips for Layering Any Bed.
While in our previous home (you can get caught up on our recent move HERE) I knew I wanted to change this space but I also knew we wouldn't be there forever so waiting to update was a practical (and good) decision.  I designed the look of his room below when he was 3 turning 4 to update his bedroom from its nursery look but before I started blogging I wasn't much on taking photos and somehow I managed to not ever get one of the bed side of the room.  However, here is an image of one little corner of the room I took while working on a post about window treatments (you can find that HERE if you are curious) just to give you an idea of the look and feel of the room…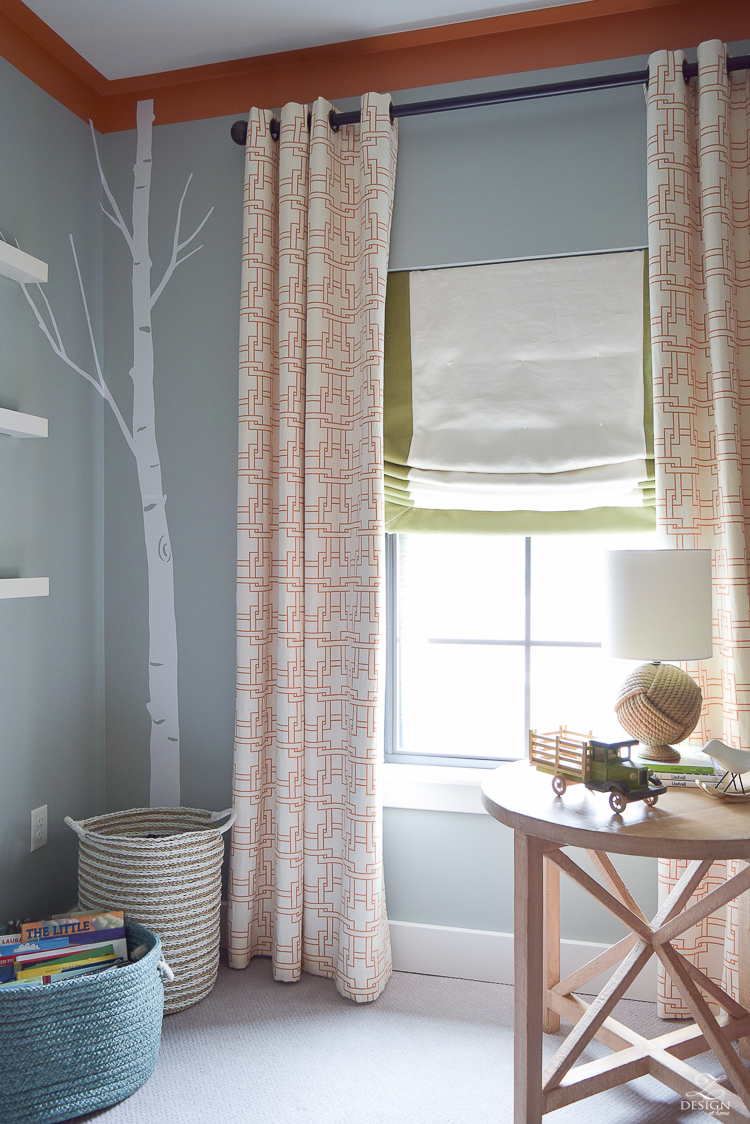 *Affiliate links have been used in this post which provides a small commission to ZDesign At Home but at no additional cost to you.
It had lots of color and pattern and was such a fun space for him at that age!  This tree wall decal was one of my favorite features of the room:).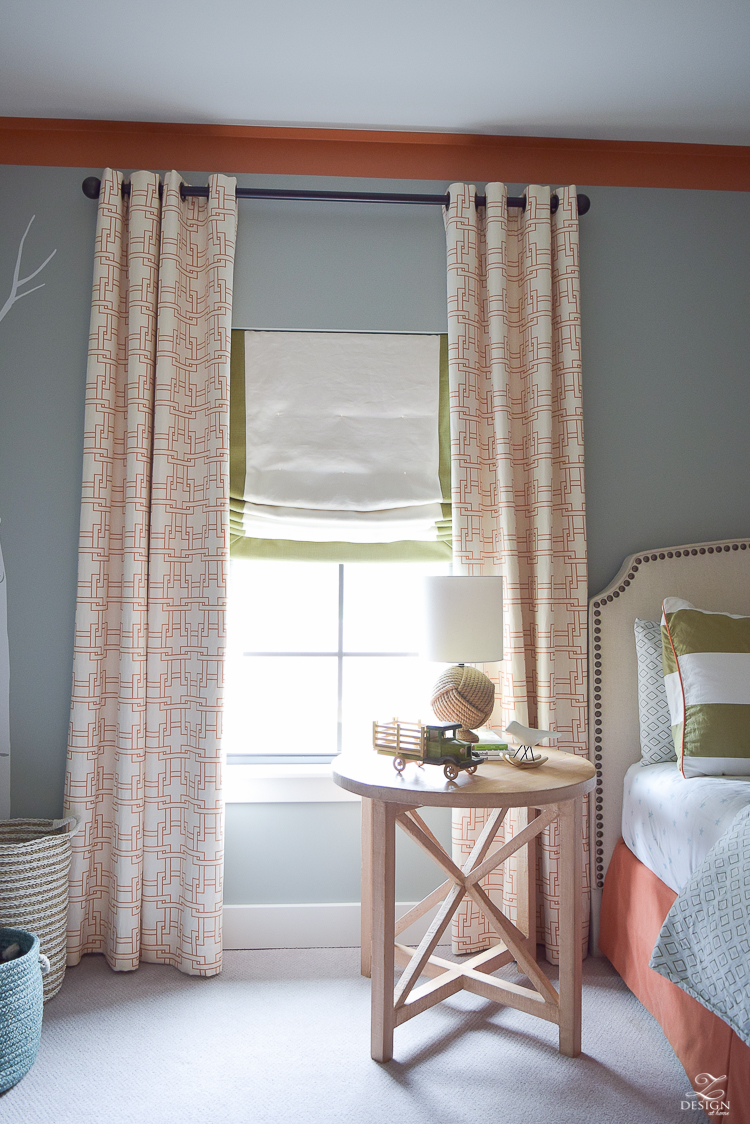 So while I have some time on my hands as we build (get caught up on the latest HERE) I thought I would go ahead and update his room to get him all set for the next several years and possibly even until he goes off to college.  My philosophy (and tip) on decorating kid spaces has always been to decorate for something they can grow into because they are never going to get any younger, only older (boo, hoo – why can't they stay our babies forever?!) and that way the space won't feel outdated in just a couple of years.
I decided on a boho chic theme that will carry him through for many years with minimal tweaks.  All of the furniture stayed the same and the updates are simple but make a huge difference!  This amazing side table (SIMILAR) that I'm using for his night stand was a splurge at the time but so worth it.  The side table accessories even pretty much stayed the same but I did switch out the lamp (with one I already had from the guest room) and of course his bedding and window treatments changed as well.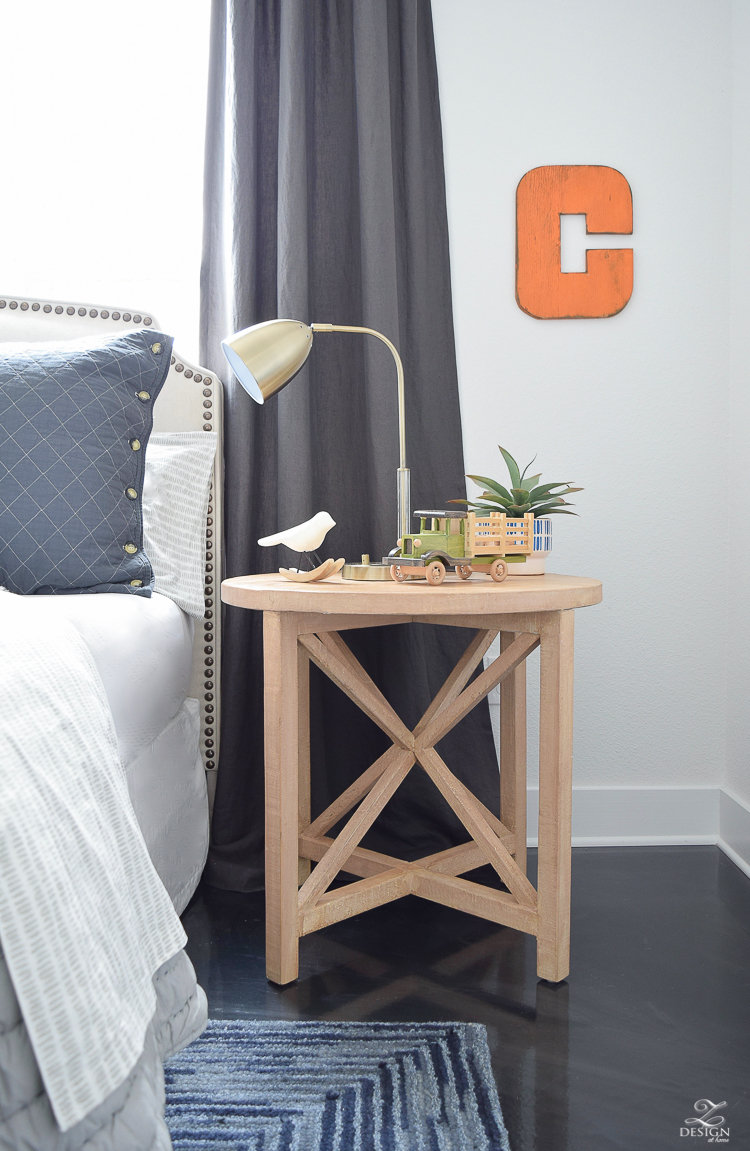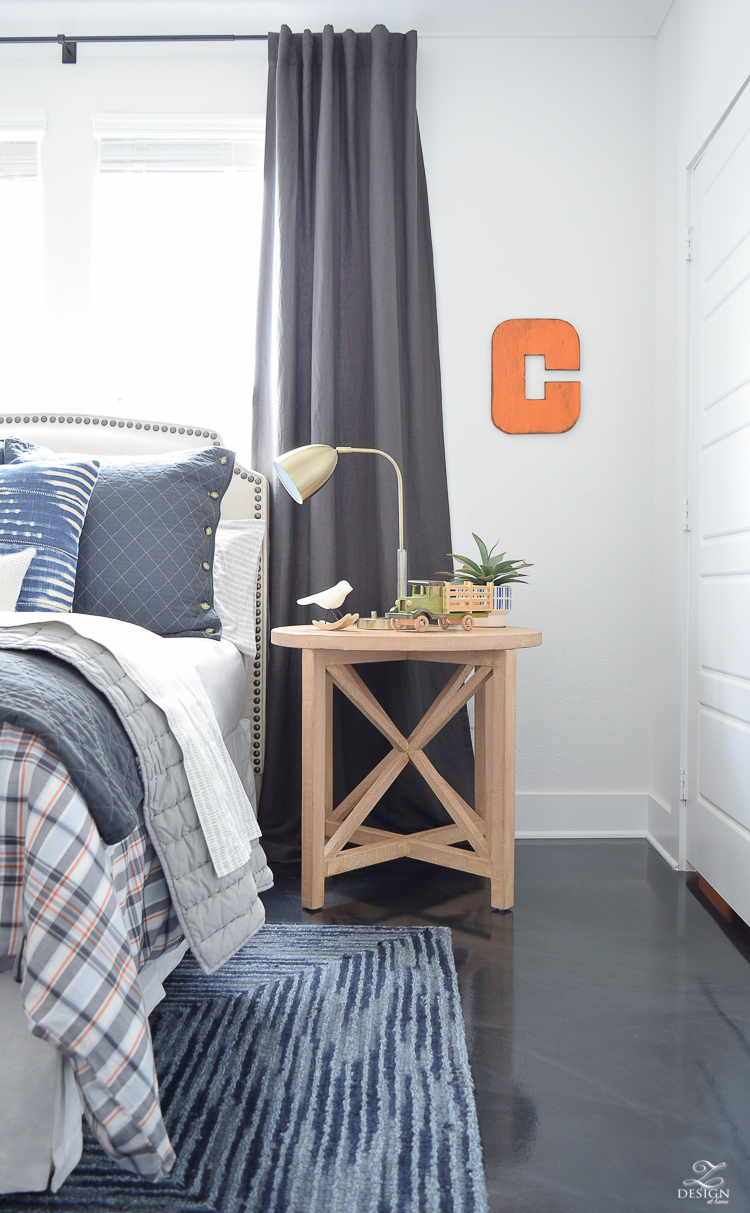 I found this darling wooden truck years ago and knew it would remain through this overhaul.  He loves it and loves to put rocks, sticks and/or whatever he can find that will fit in the back of the truck;).  Same with the cute little rocking wooden bird.  They remind us of the outdoors and make the perfect "boy room" accessories.  The large distressed wooden C you see on the wall has a similar story and can be found HERE.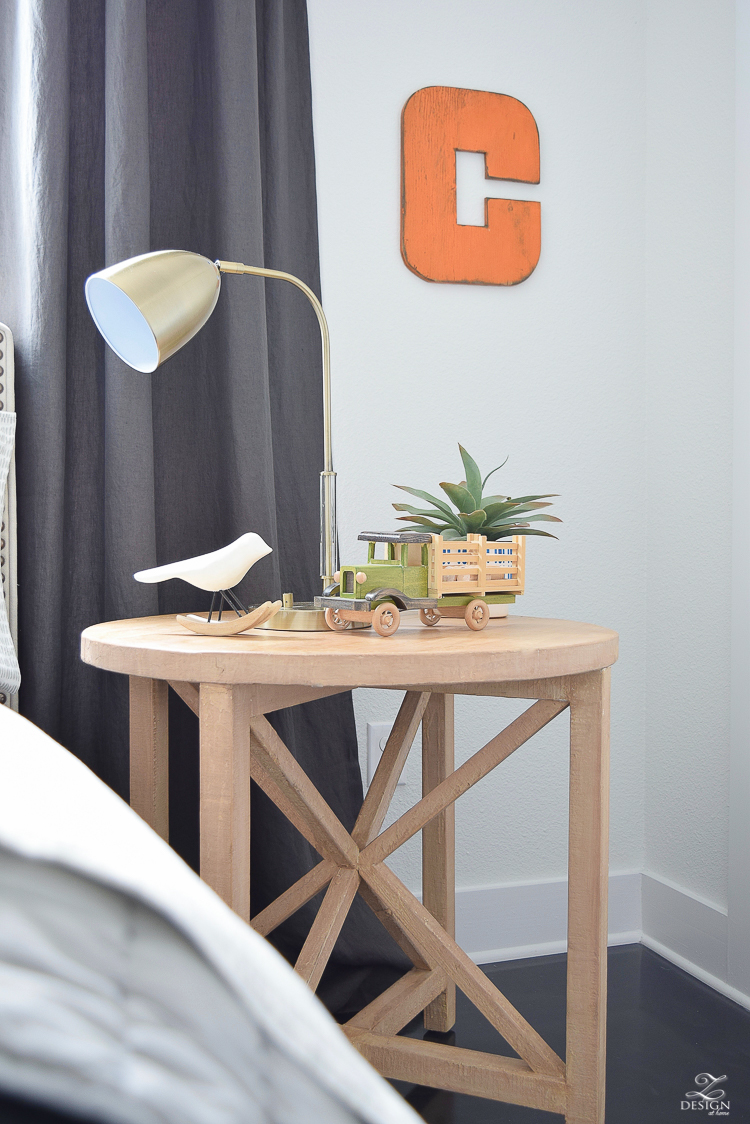 For the bedding I went with layers of blue, gray, white and cream, with a touch of plaid in the duvet that peaks out at the bottom (more on Tips For Layering any Bed in a moment).  This ensemble (linked at the bottom of this post – some similar) will grow with him being perfectly fitting even through his teen years.  I had the headboard custom made several years back but HERE & HERE are two similar headboards that I love!
This rug was a sale find and this great linen bedskirt and Belgian flax linen blackout curtains completed the look.  I could do a blog post just on these items alone but this rug is perfect for a boy space (or any high traffic area) and grounds the room just like I wanted.  It will pop nicer than it does here in the new house since we'll have light floors then.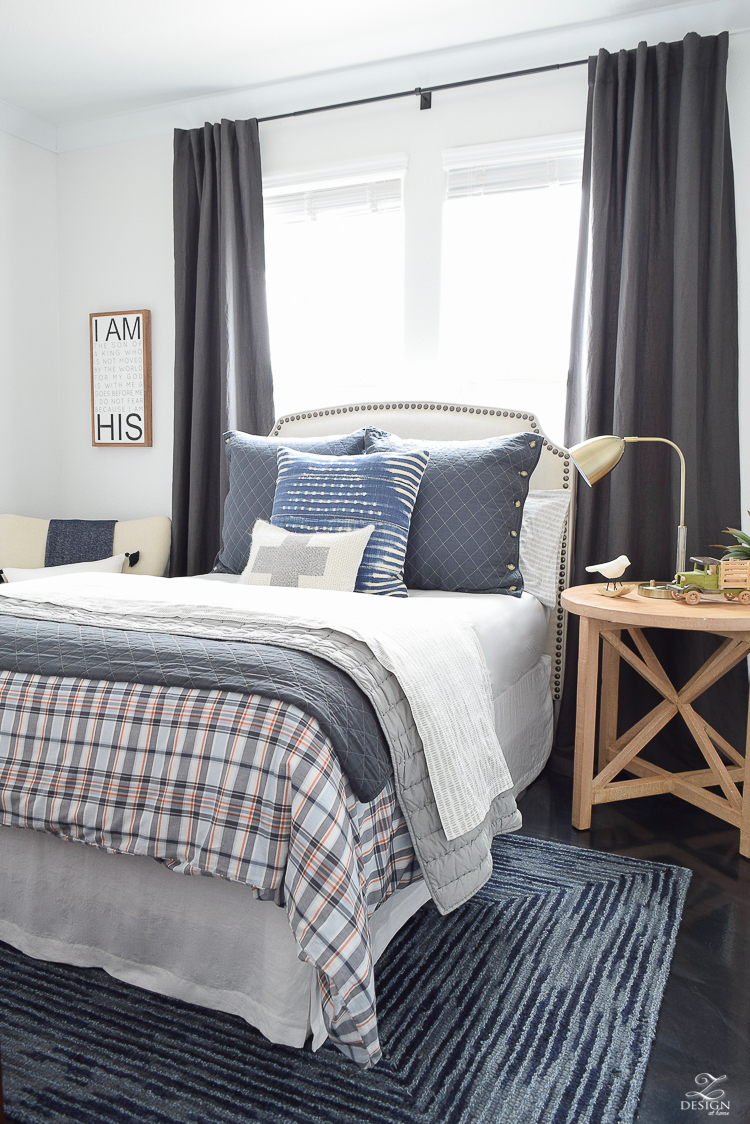 The cute wooden antlers were also a hold over from his previous room and the fish art (SIMILAR) was tweaked to better suite the new space.  The exterior part of the frame was green and we sprayed it gray but left the interior part of the frame orange since that is my son's favorite color, which you can also see more of in the plaid duvet in the photo below (similar duvet HERE).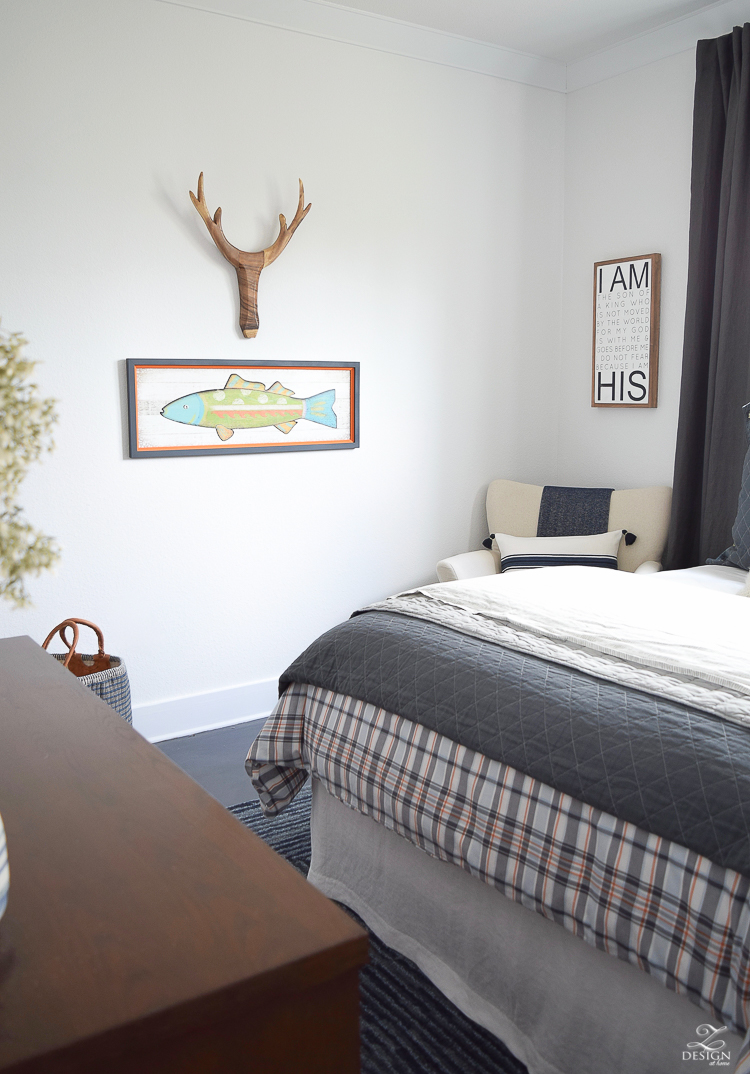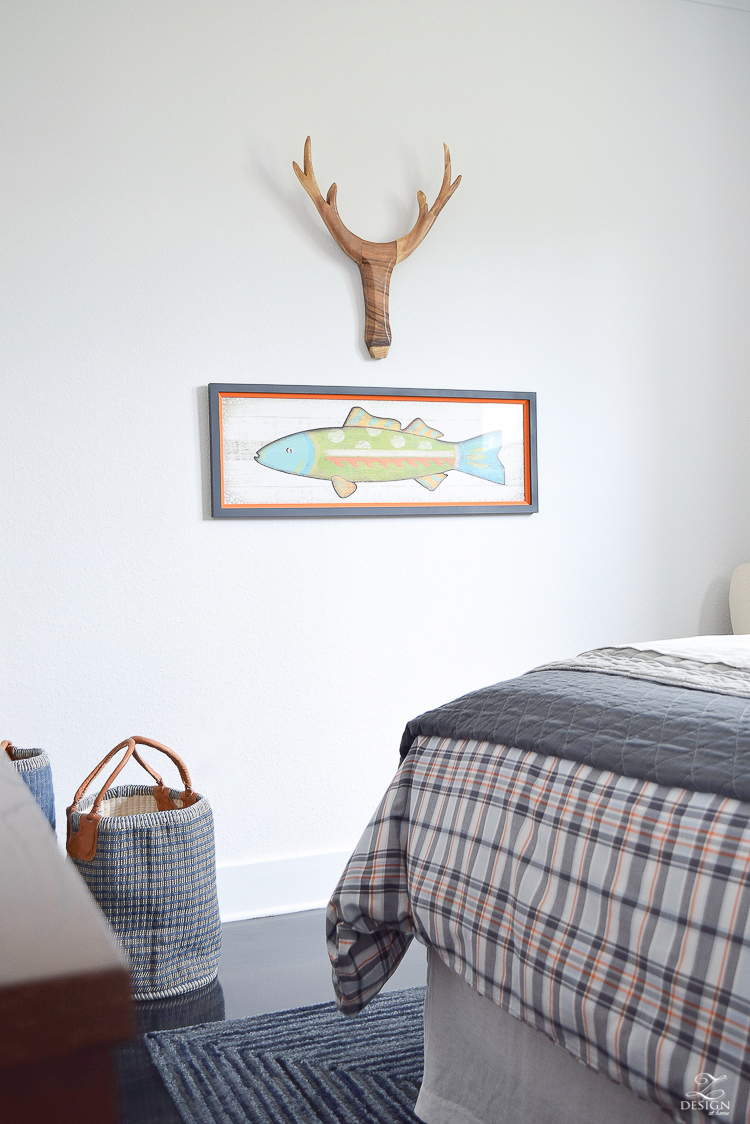 Speaking of the duvet, I love using quality bedding with interior corner ties that keep your inserts from slipping around since you can actually secure the duvet to your insert (this is life changing if you aren't familiar, lol).  I actually found this duvet however on clearance for $36 this summer but I've rounded up two other similar options (HERE & HERE).  Plaid just says "boy" to me and I just love having a touch of it in the room, plus it never goes out of style so it's always a good choice!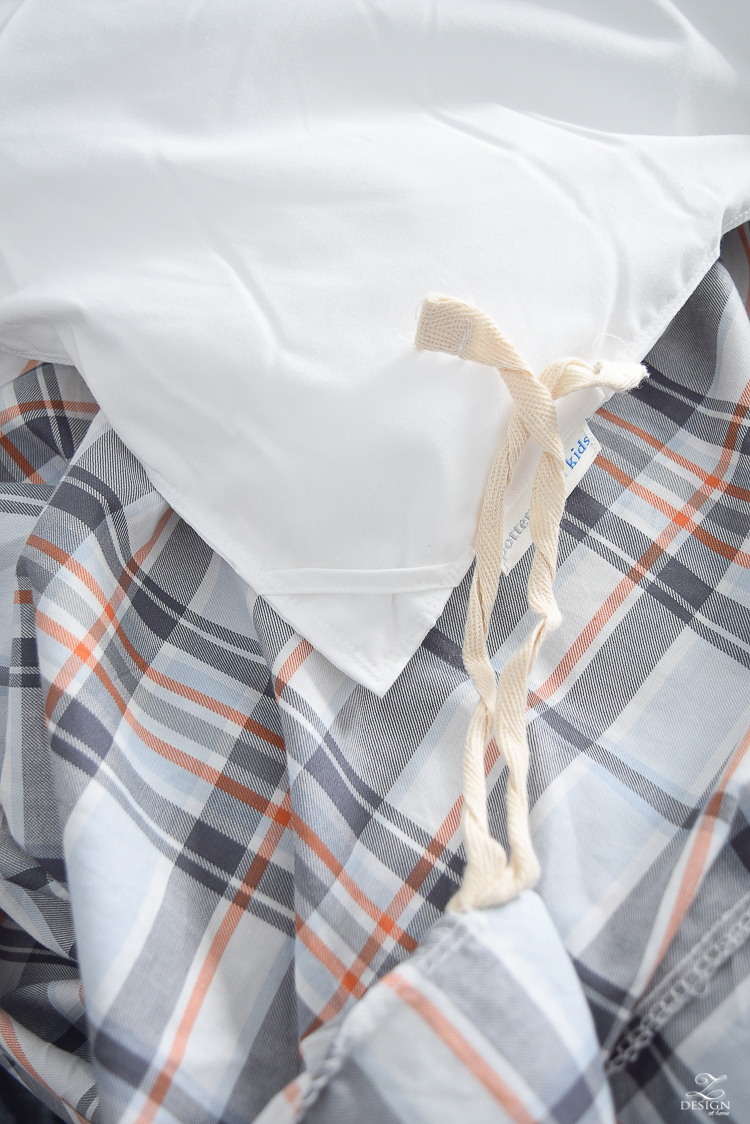 The chair in the corner was a HomeGoods find some years back but it received updates as well with a new throw (SIMILAR) and this pillow.  Man I can't even begin to tell you how much I love this pillow!!!  It's a heavyweight linen with the stripe on both sides and the tassels are everything!!  It is actually what held up the reveal of this room since it was on back order for 3 months…it's crazy the things we go through for just the right piece of home decor, right?! Haha!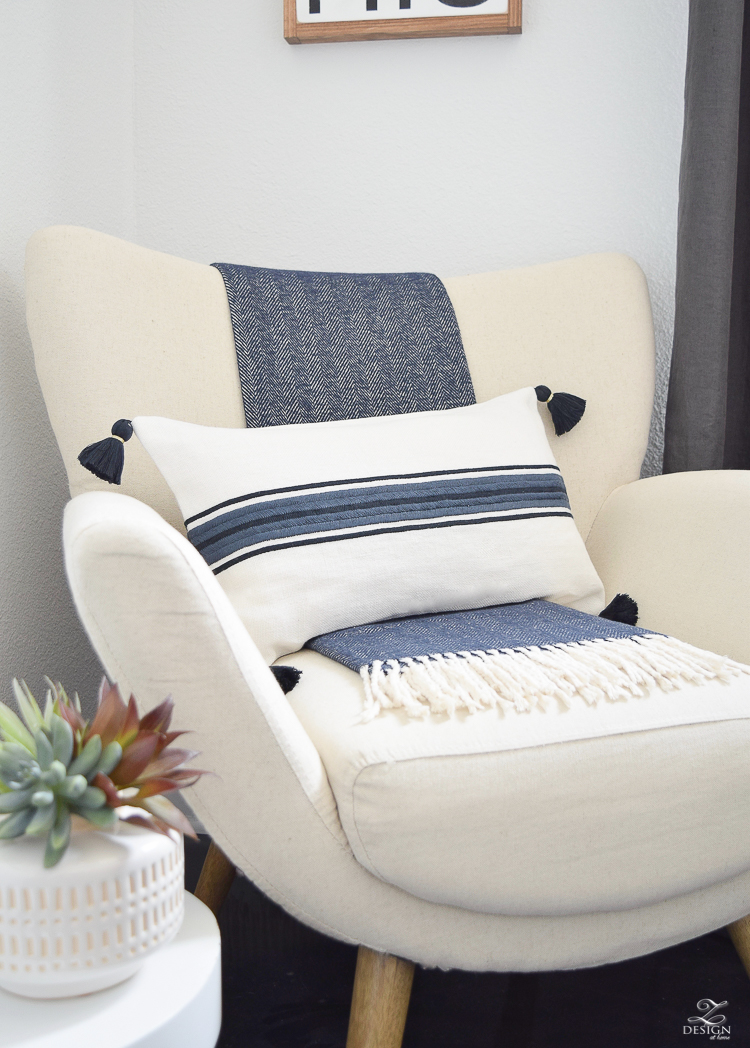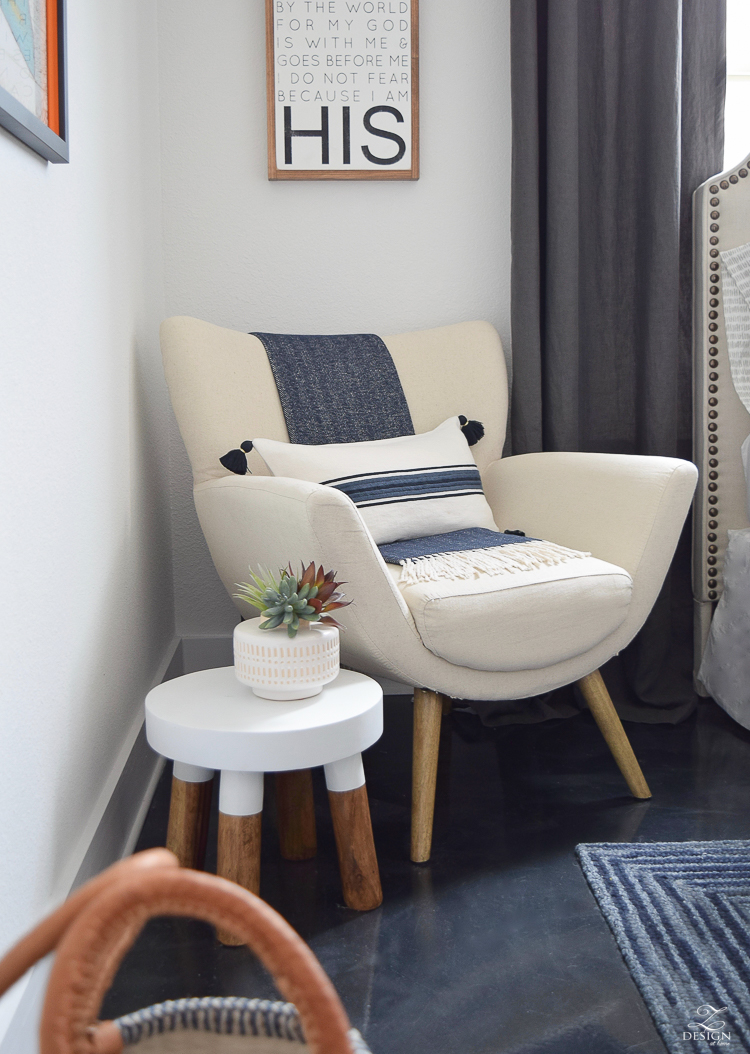 The I AM HIS sign is a new addition and is from House of Belonging (found HERE). I love the gentle reminder it provides that he is the son of a king…the one and only King:).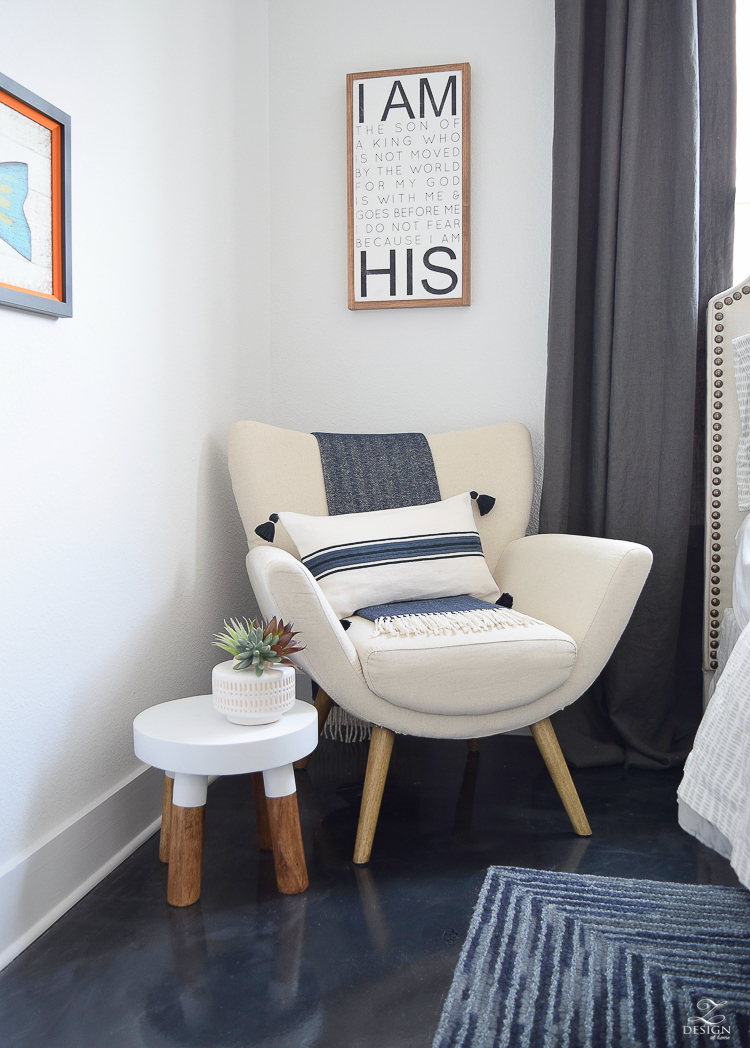 And then this other corner of the room might just be my favorite spot.  I LOVE these baskets!!  They are perfect for stuffed animals, toys, a clothes basket or anything you might need them for.  I like that they are kind of slouchy and imperfect.  They also have some amazing leather handles that make them just the right baskets for a boy's room.  Maybe I'll tell the story here one day when I'm ready but my husband and I got that cute teddy bear for our son while he was in the NICU for 4 1/2 months after birth as an extreme preemie…having a child born at 22 weeks, 5 days is an experience that changes you forever, friends.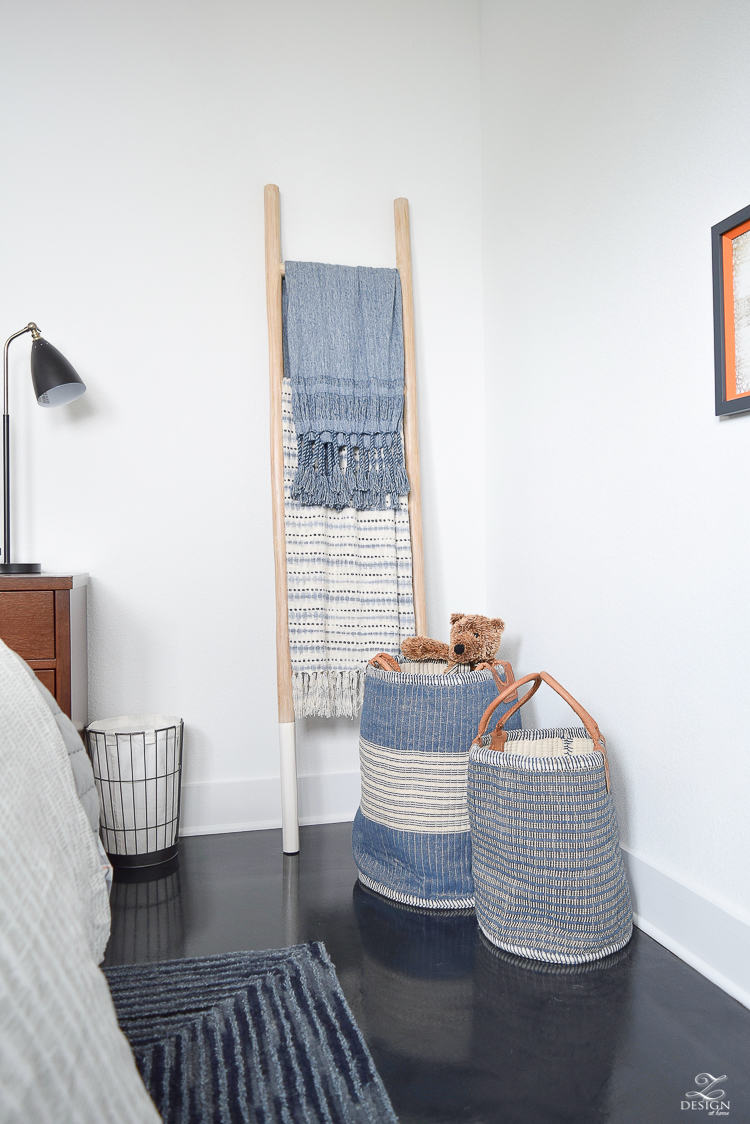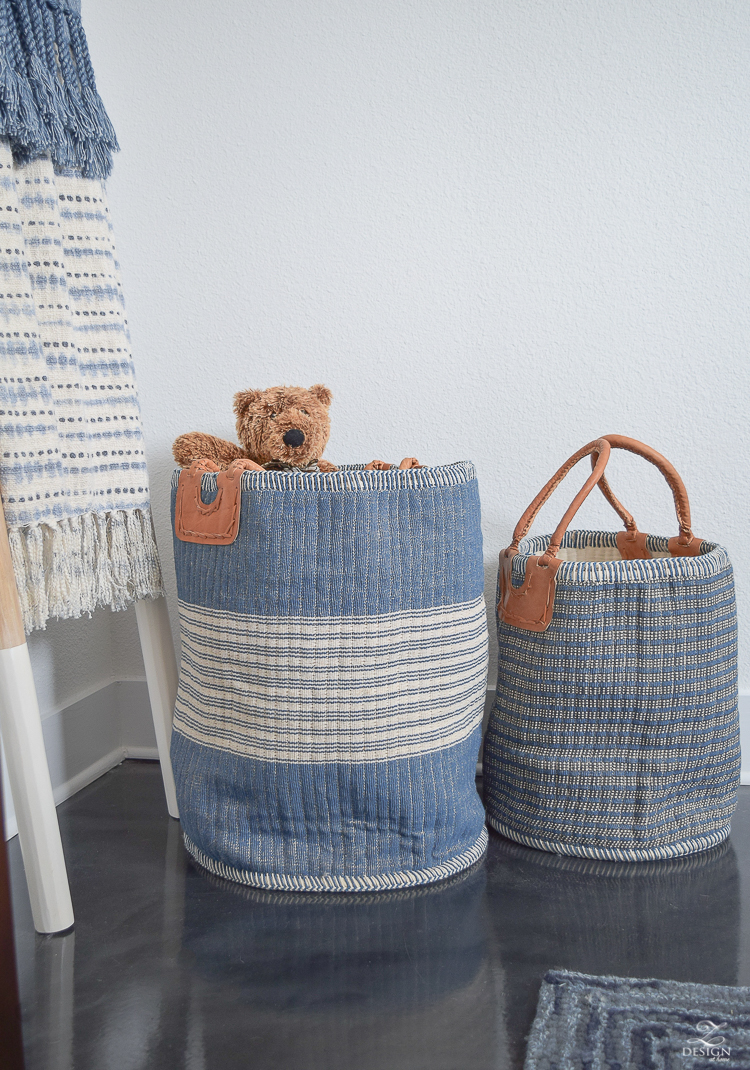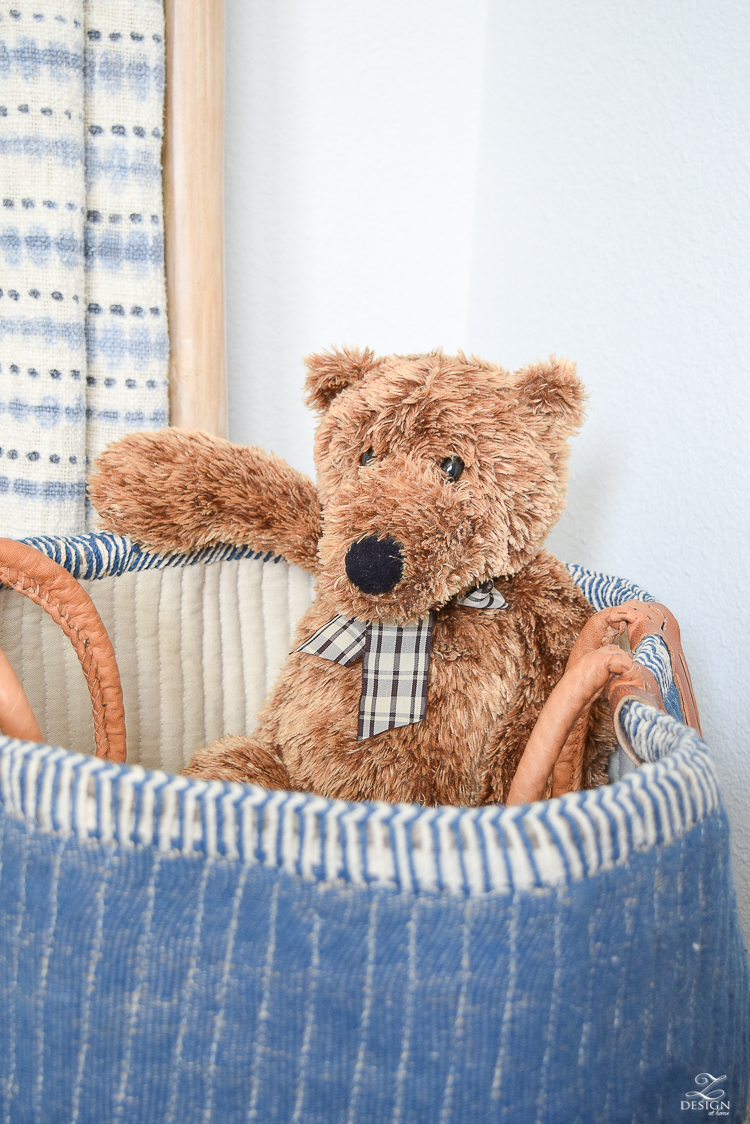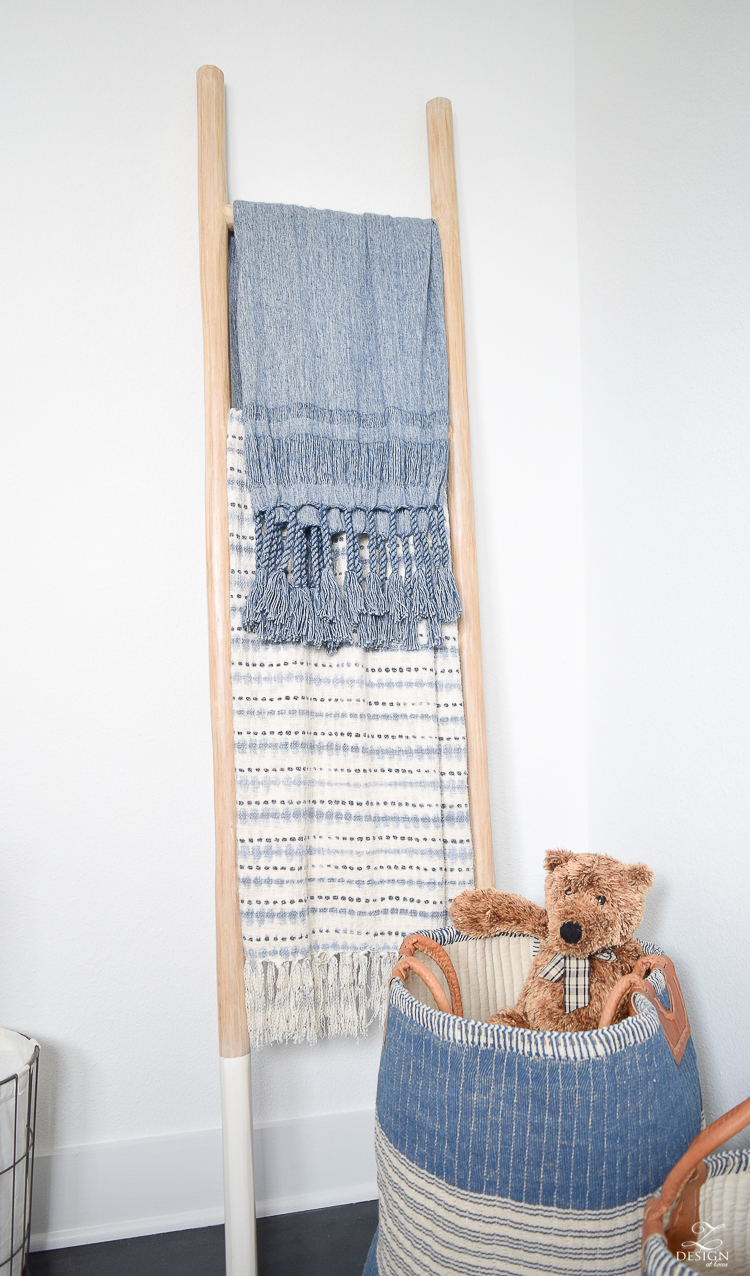 The dipped ladder is also a new addition to throw extra blankets or throws over and I'm kind of obsessed with it.  From a design stand point it helped to balance out this side of the room and allowed me to add a pop of color with the blue tassel and cream throws draped over.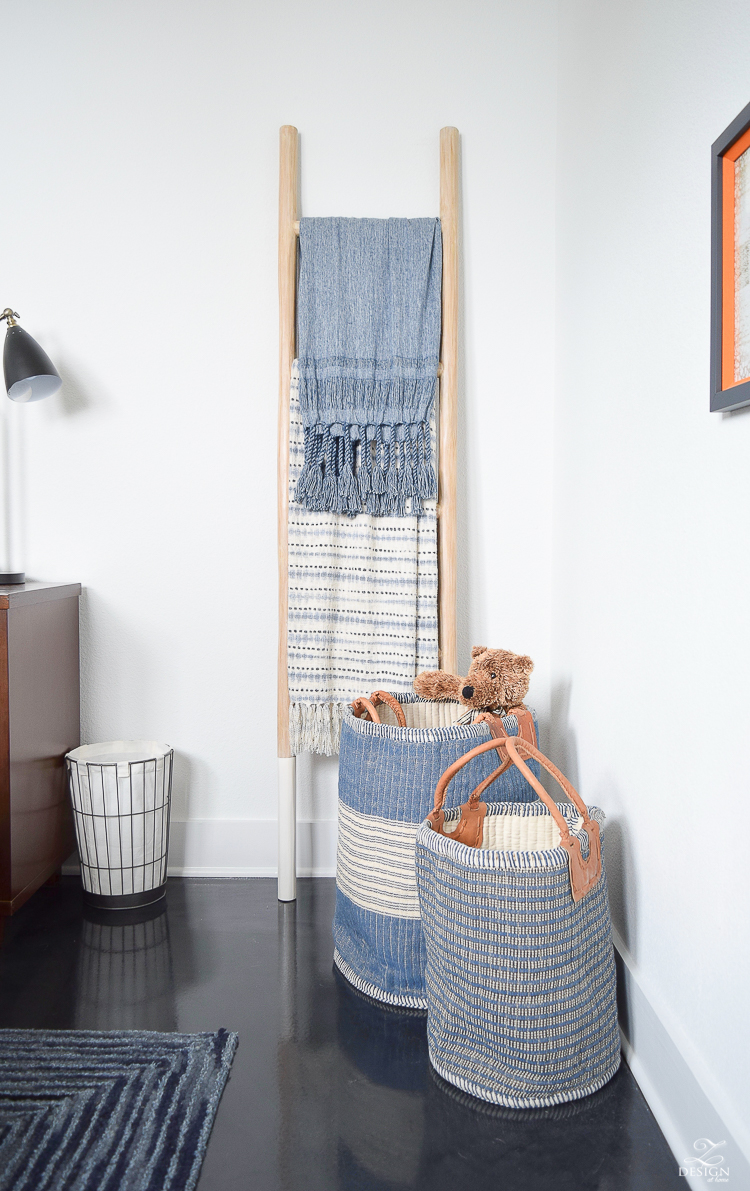 Moving on to last but not least, an updated dresser.  The mid-mod dresser (SIMILAR) Stayed the same but everything else around it changed with a rope mirror we had in our previous home, some new and some old accessories, and a new lamp, of course, from one of my favorite brands, Wayfair.com.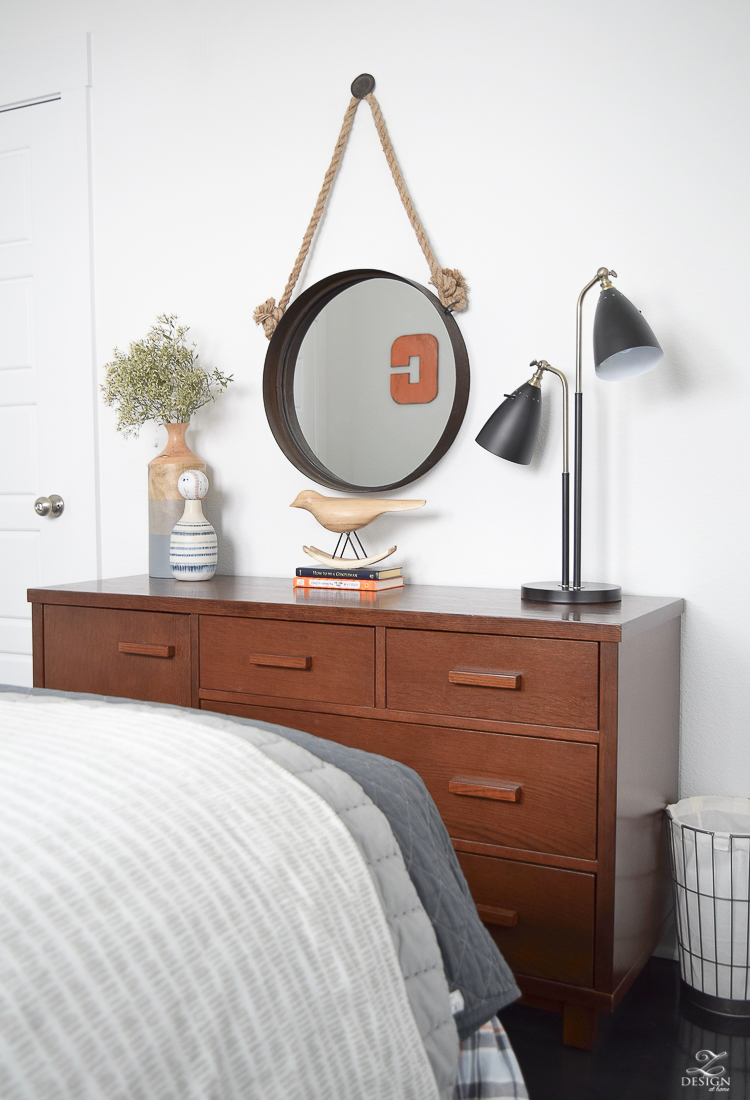 I can't get enough of this lamp!  It's the perfect task lamp and adds a fair amount of light to the room which we needed with no can lights in this space, plus with its black and brass base and body it's pretty chic to look at too!  In the Wayfair app you can download a photo of the spot you want to place the lamp (or other item) and that is how I knew this lamp would be just perfect here…don't you agree?!  I just love it!!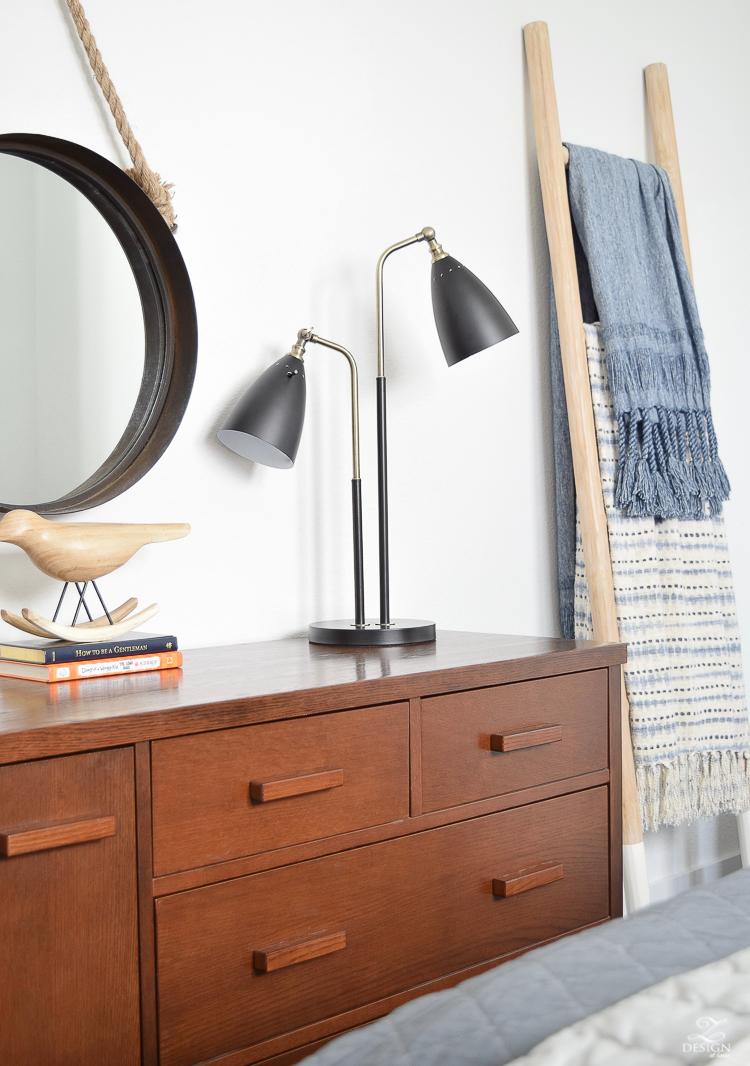 Recently my husband took our son with him to a men's clothing store and my son saw this book and became completely enamored with it, so of course it came home with them.  Normally we don't do that but thought we'd make an exception for this book on How To Be A Gentleman.  Since we already teach these principles at home it was a win, win and a perfect addition to his dresser decor as well.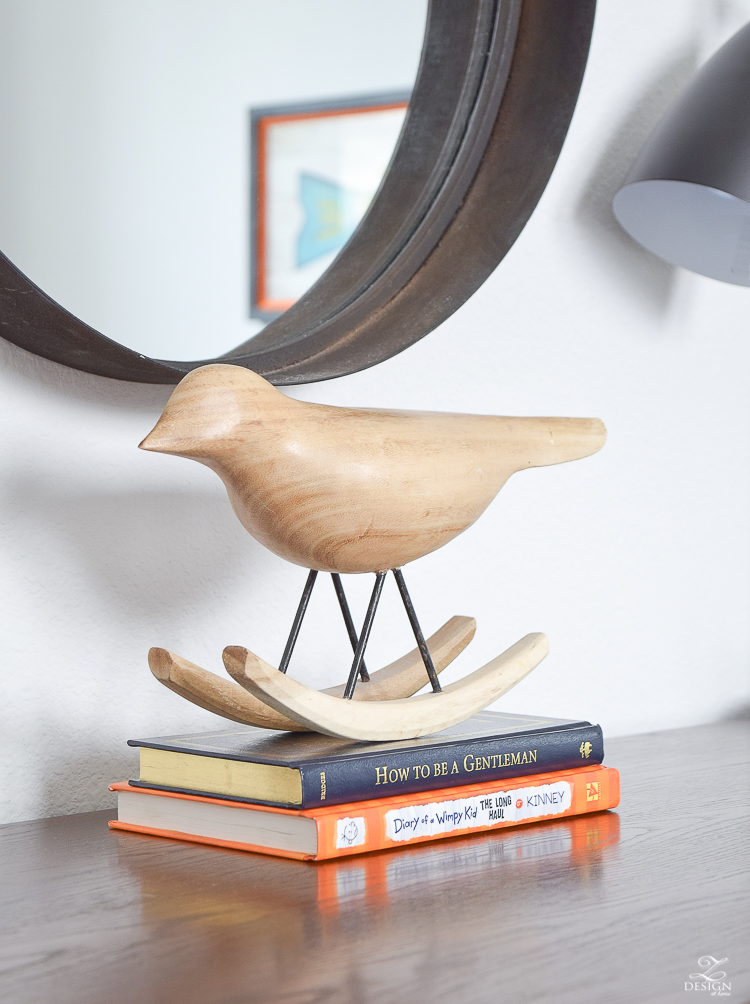 The baseball was from when my son had the privilege of escorting a college baseball player out onto the field for the National Anthem so it holds a special memory for him and he likes to keep it on display in his room.  The vases were recent HomeGoods finds (similar HERE & HERE).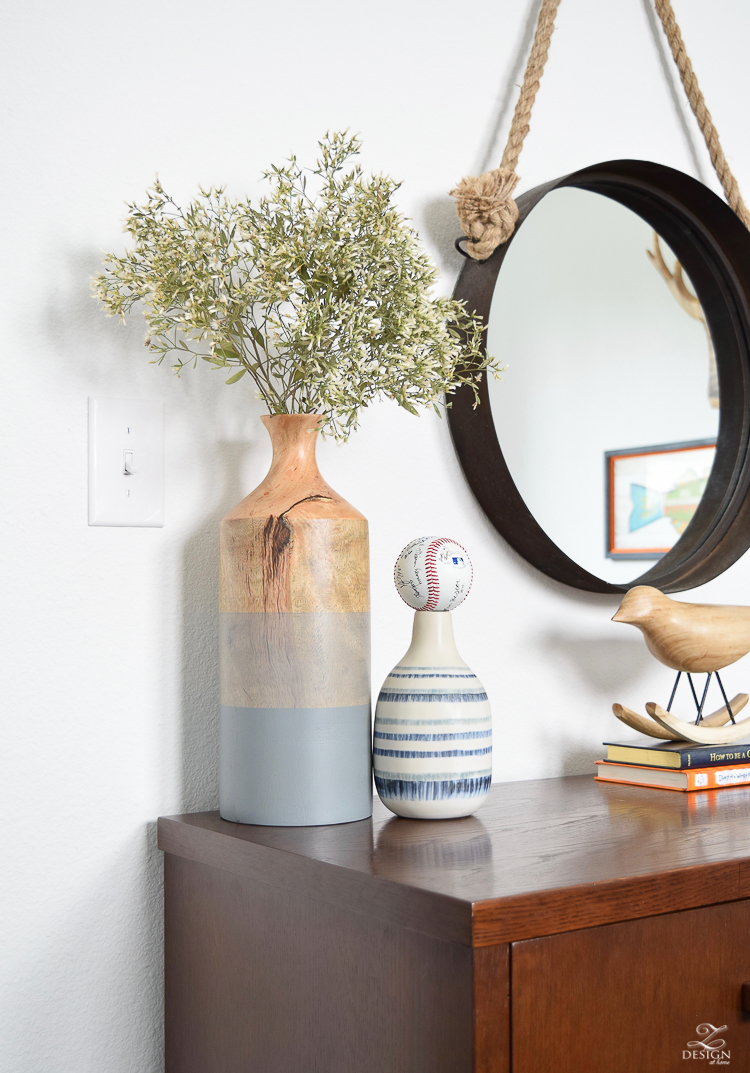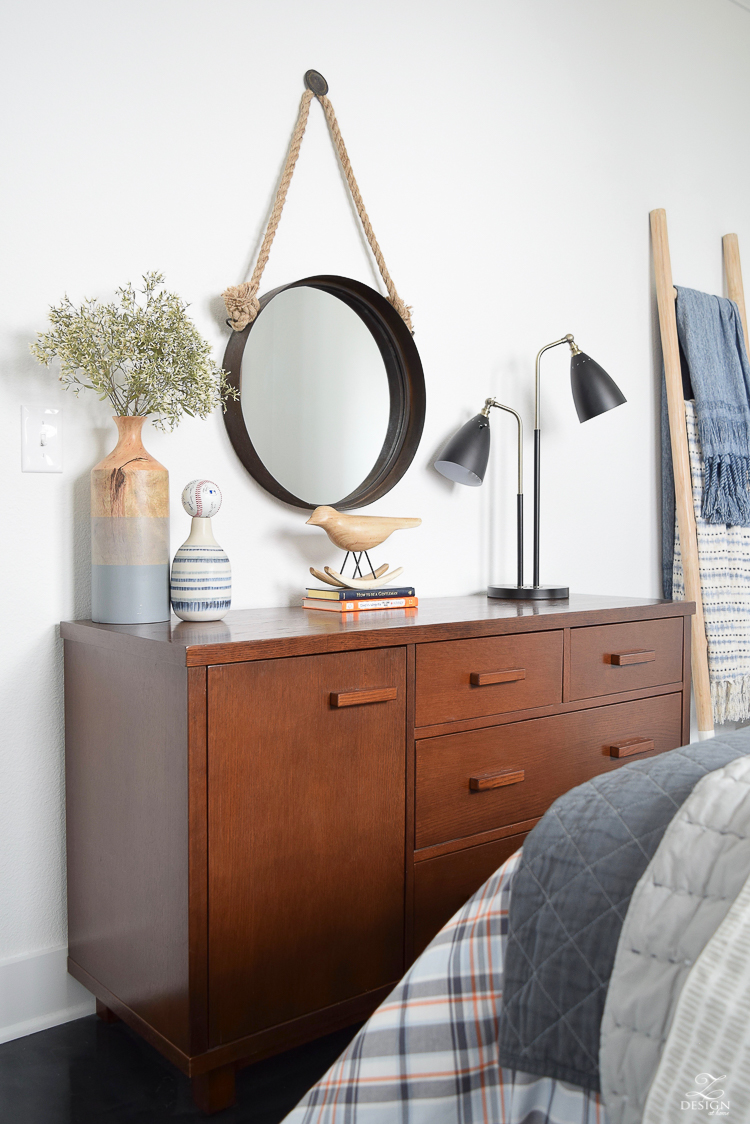 Now that you've seen the room reveal there are a few principals I always like to keep in mind when layering bedding and even though this is a boys room, you can apply these principles to layering any bed in your home!

I like to start with my sheets and a lot of the time will combine two sheet sets using the fitted sheet from one set and the flat sheet from the other set to create an interesting combination.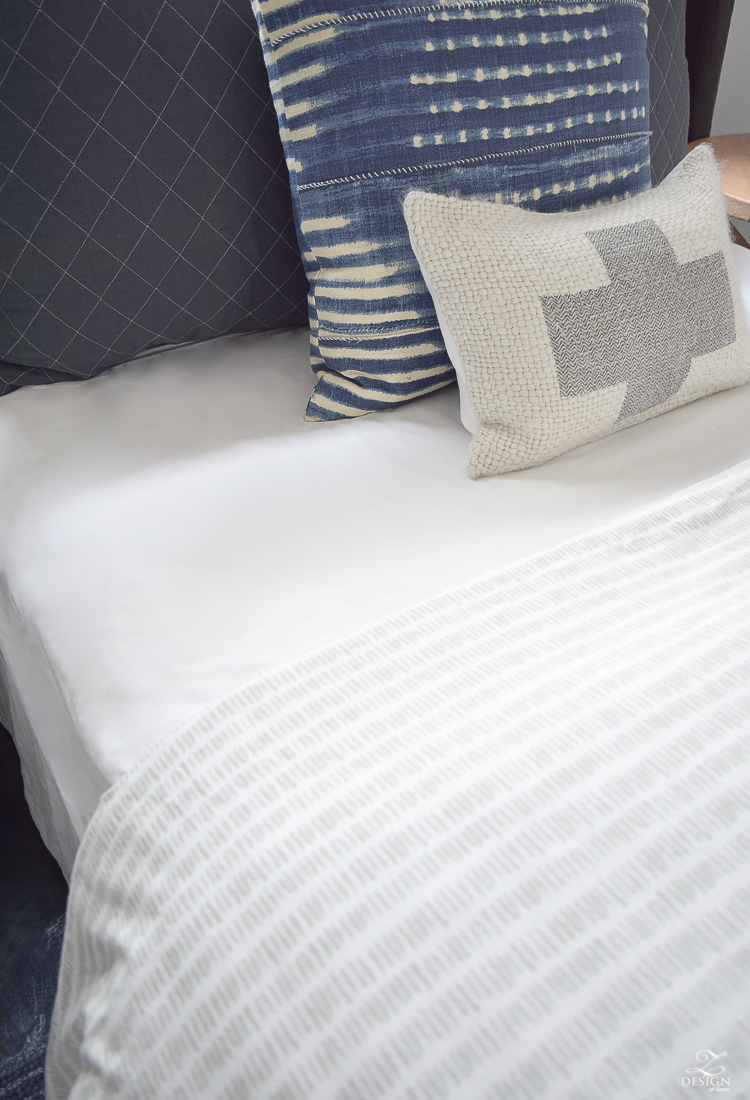 If you are using a patterned sheet place your flat sheet on the bed with the printed side down so that when it's turned down (folded over) the pattern is nicely displayed.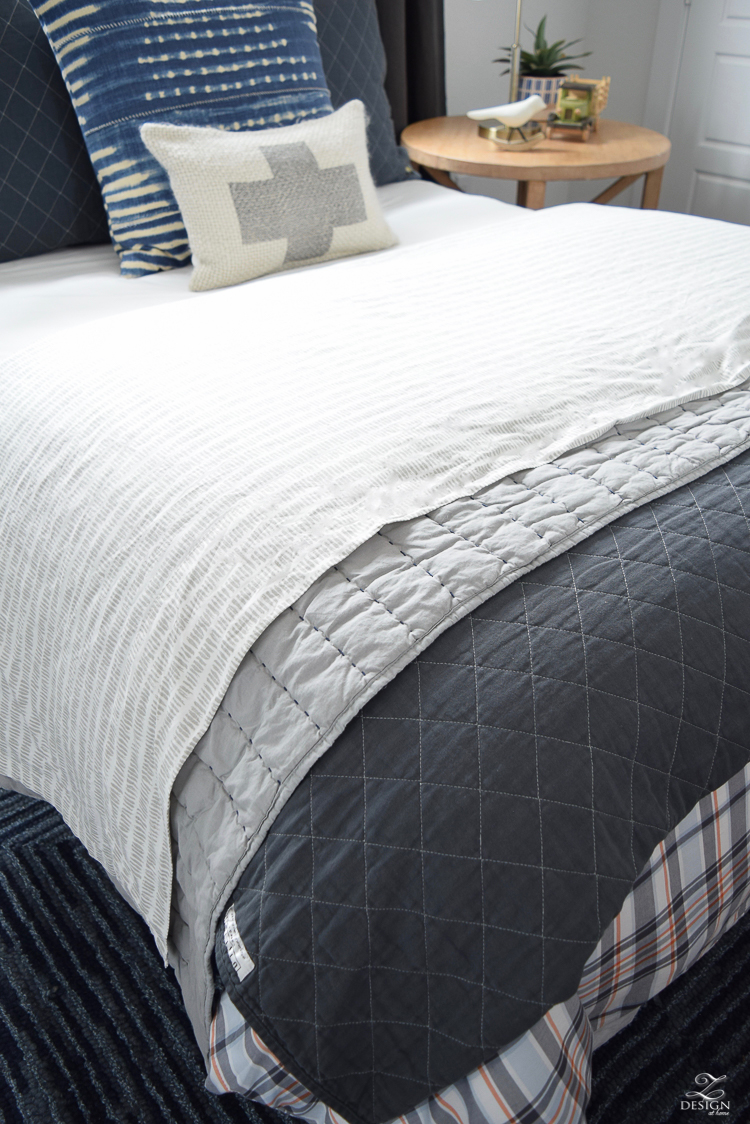 From there layer your bedding with a quilt or blanket over the sheet for warmth and then a duvet or comforter over that.  Then top the foot of the bed off with a large throw or another blanket folded or strewn nicely at the bottom.  When turned down each piece should show as one layer after the other to create a beautiful bedding ensemble but where you can also fully appreciate each piece.  This creates interest and makes a beautiful bed.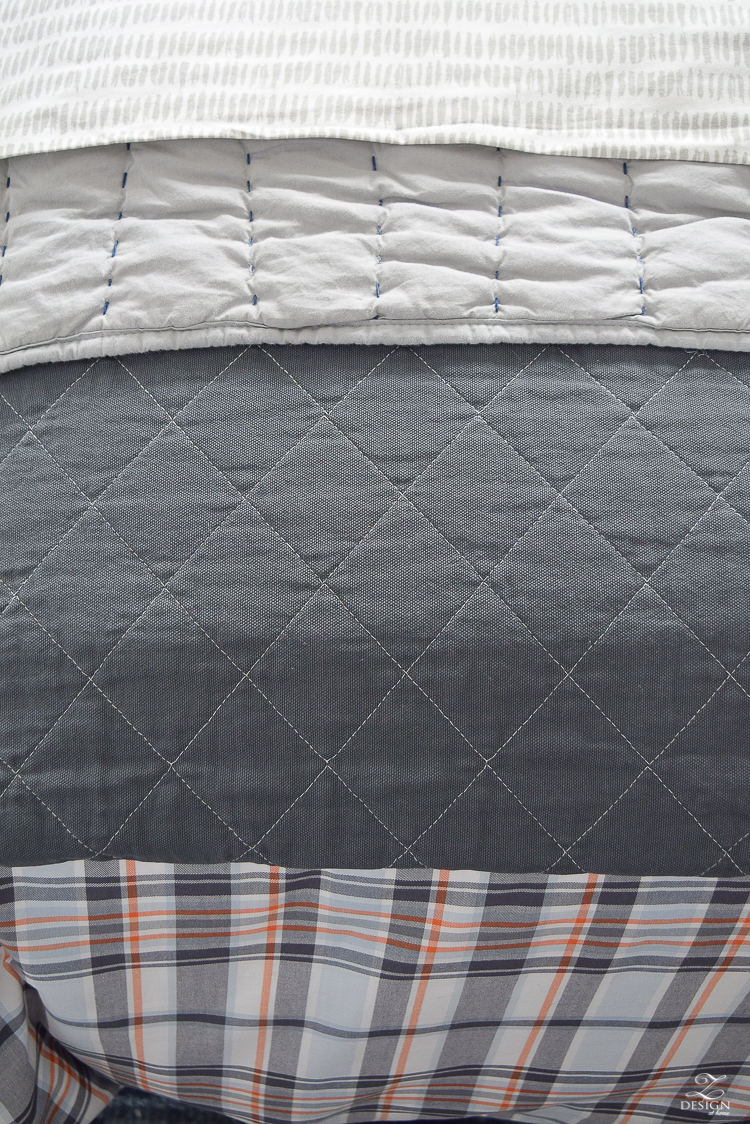 The different layers should contrast and complement one another at the same time.  For example, for my flat sheet here I used a small scale pattern which is layered over a solid light gray quilt with a stitching detail in navy that adds a pop of color.  That quilt is then layered over another solid (darker for contrast) canvas throw with diamond stitch detail, which is then layered over the plaid duvet.  Each piece contrasts with the other creating an interesting ensemble that feels cozy to jump into at the end of the day.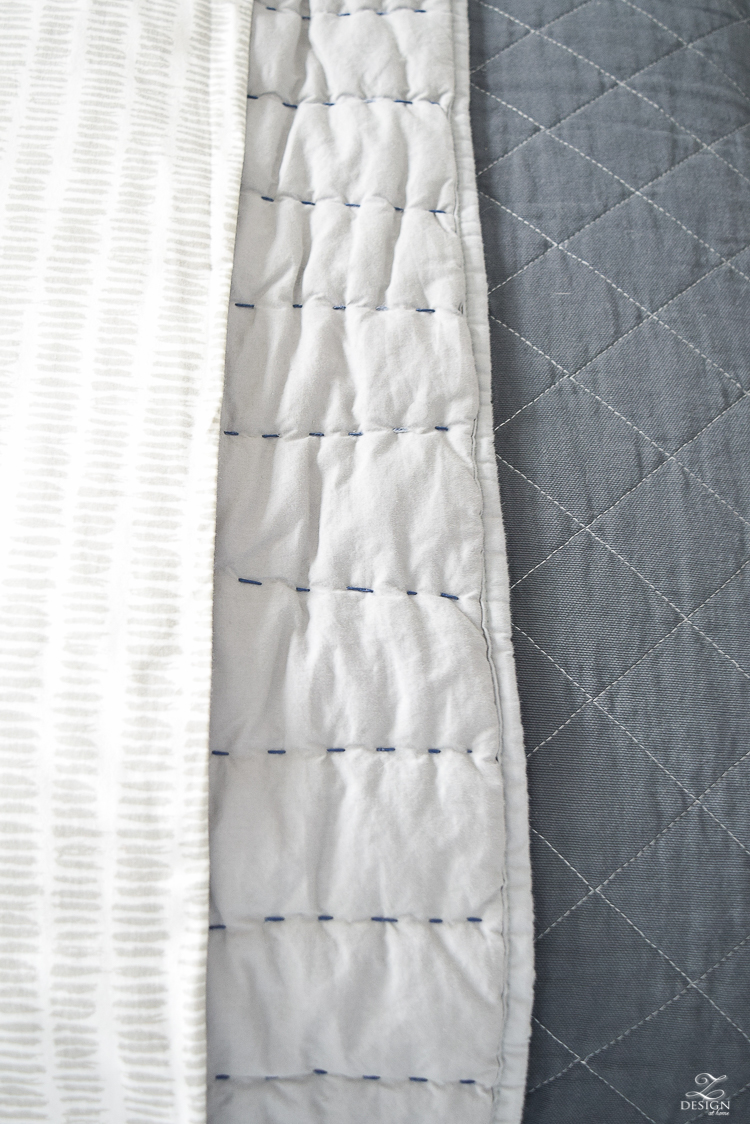 For Pillows I use the same contrast and complement principle by alternating my colors and patterns to create an interesting pillow combination to finish off the look.  If you are using neutrals only then be sure to add some texture and subtle pattern within your fabrics in order to create contrast between your pieces.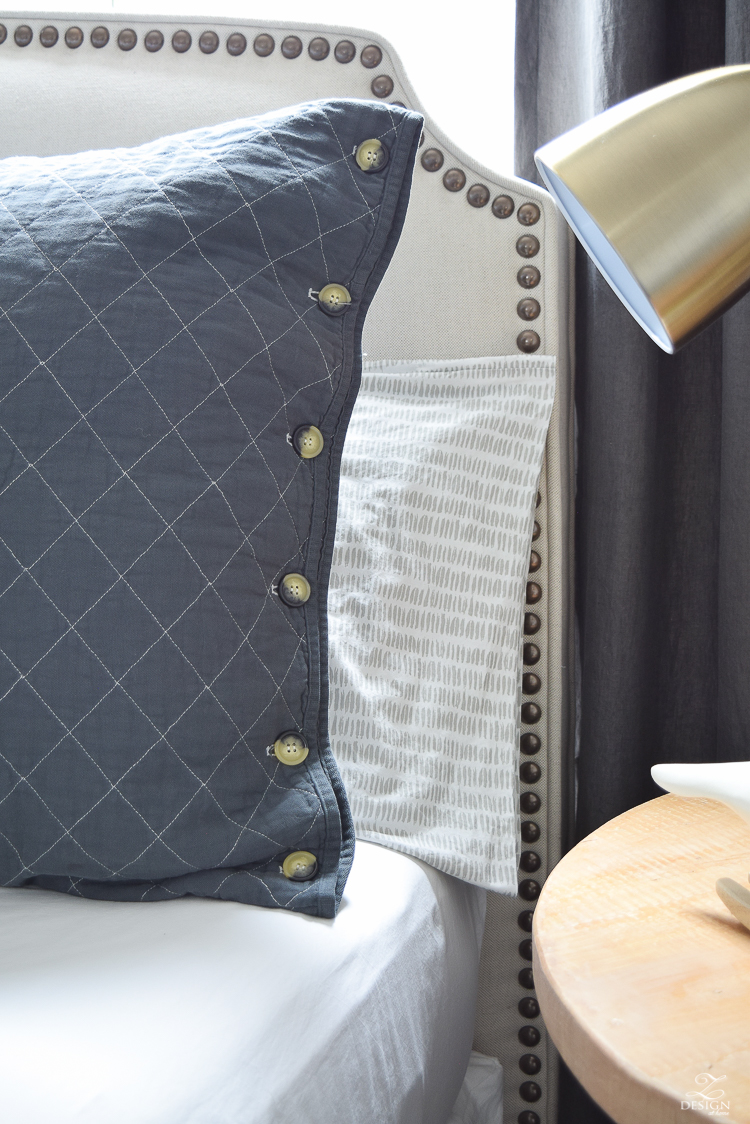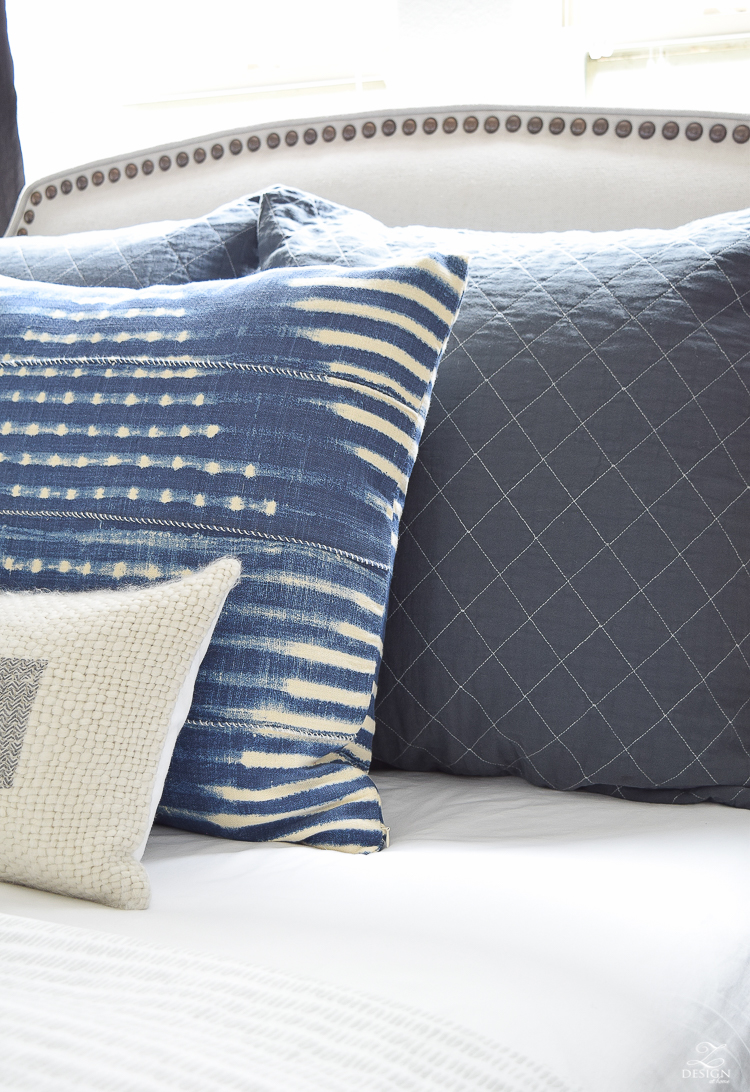 Be sure to alternate the size and scale of your patterns as well to create a cohesive mix & match ensemble.  I have a post HERE with tips for mixing & matching your pillows.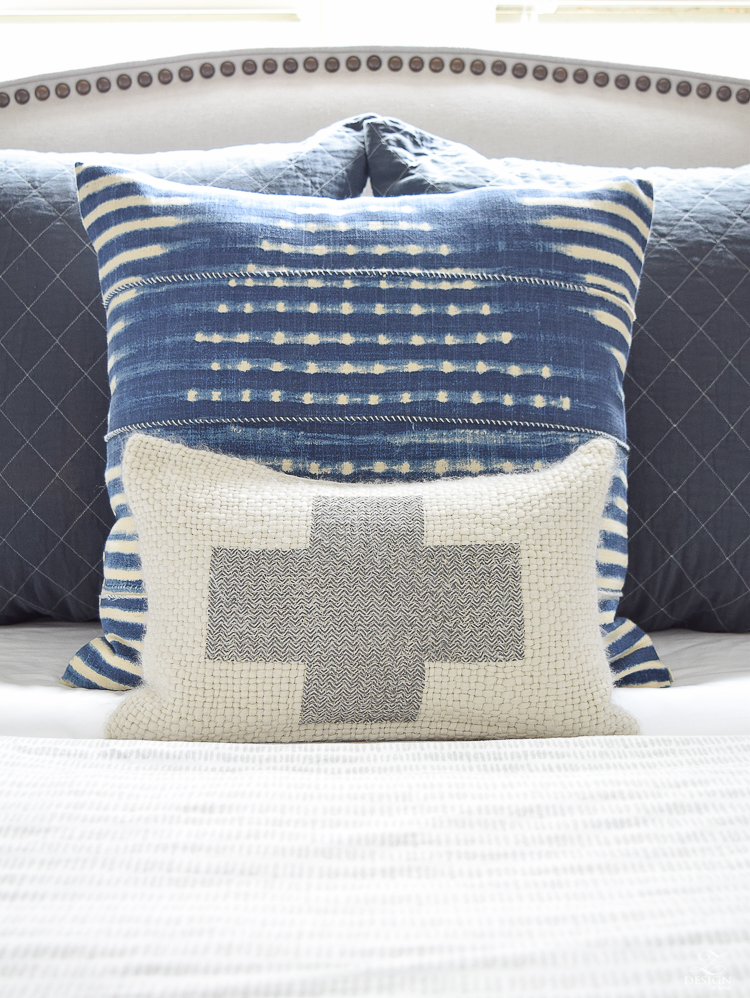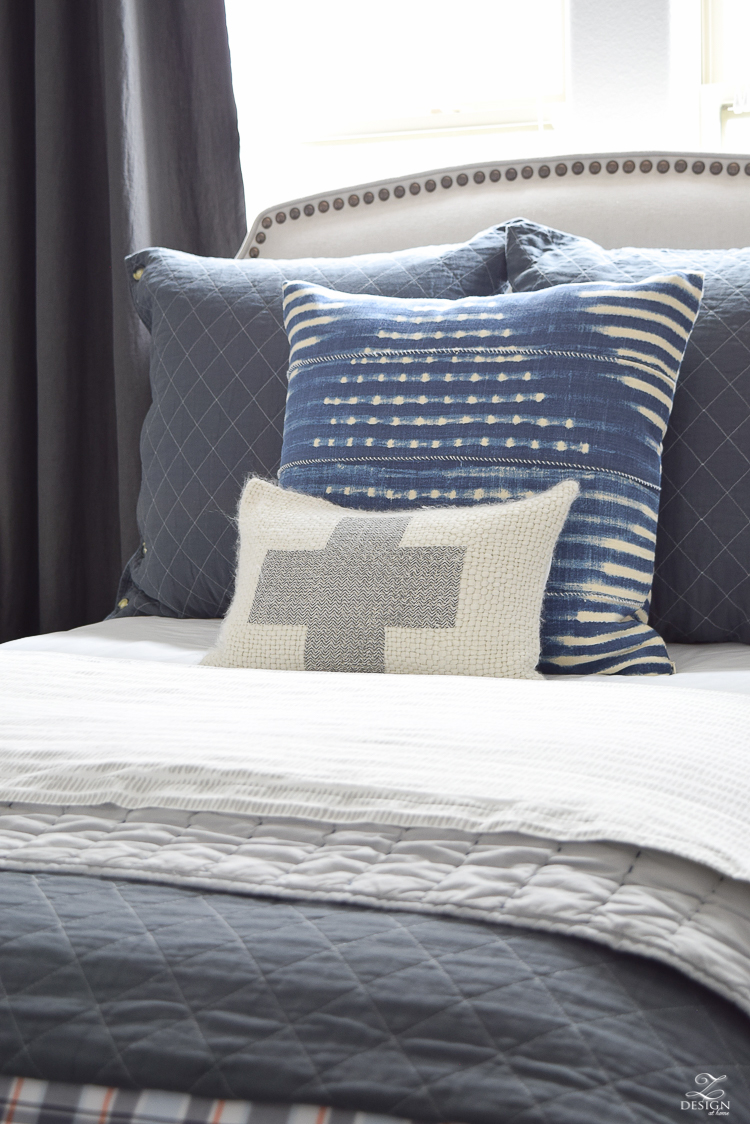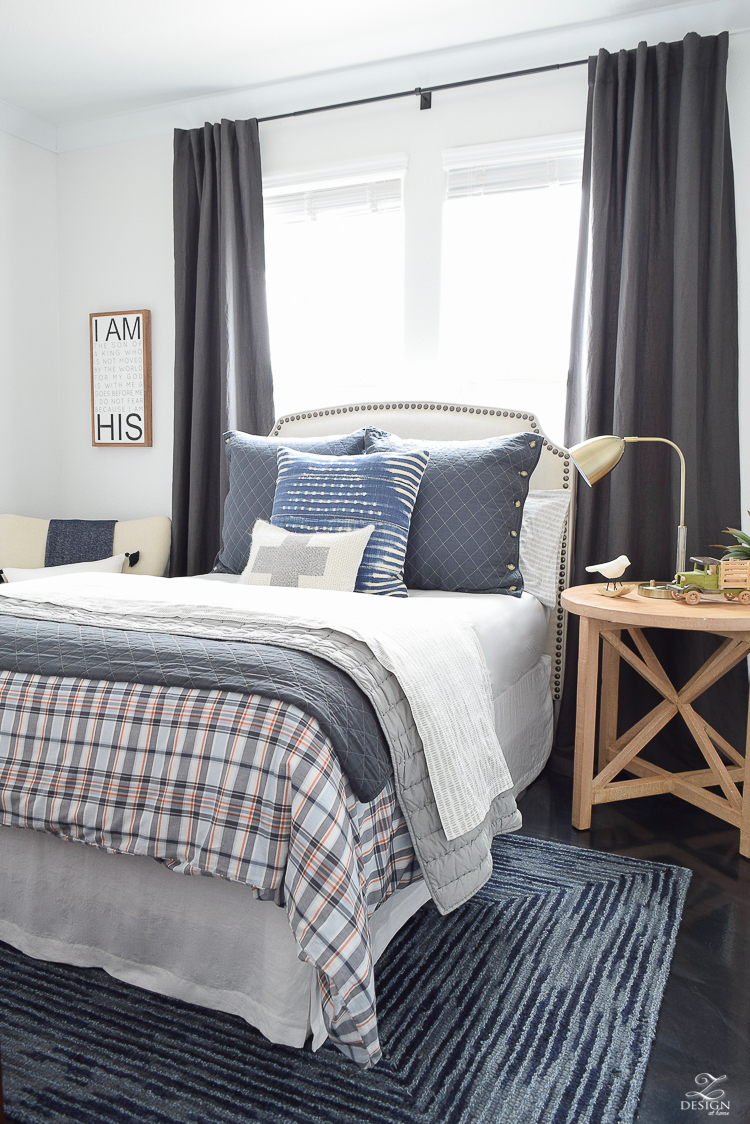 I hope you've enjoyed this Boy's Boho Chic Bedroom Reveal + Tips for Layering Any Bed.  Thanks for stopping by today and I hope you'll sign up for my weekly newsletter below to keep up with all of my most recent posts.