5 Super Simple Tips for Guest Room Readiness
We all want our guests to feel welcome when staying at our home, right?  Mostly I tried to accomplish this through creating a cozy space for our guests that feels like a chic yet cozy B&B but there is still more than can be done in regard to guest room readiness when it's time for those special guests to arrive.  So, today I'm sharing some super simple tips to help you be the most gracious host yet when it comes to your guest quarters.  And, if you missed the full tour of my guest room recently, you can catch that here.
Besides the obvious of providing comfortable bedding and making sure the guest bath is stocked with toilet paper and plenty of shampoo and soap, here are a few simple tips that you can whip out quickly to make your guests feel comfortable, not to mention special.
Easy tip #1:  If you're like us and sometimes weeks or even months go by in between over night visitors, it's a great idea to rewash your sheets and towels just before guests arrive.  We all know that when guests leave we wash the sheets but if it's been 3 months since someone slept in your guest room, you might want to consider rewashing those sheets to make sure they have that freshly laundered scent.  Same goes for your towels and then display them in a pretty fashion if possible such as a beautiful pile of clean smelling, fluffy towels at the end of the bed, or like I displayed mine on my decorative ladder (found here) in the bedroom.  This lets your guests know you went the extra mile to make sure the linens are clean and fresh and hopefully this will make them feel like they are staying at a cozy B&B far from home.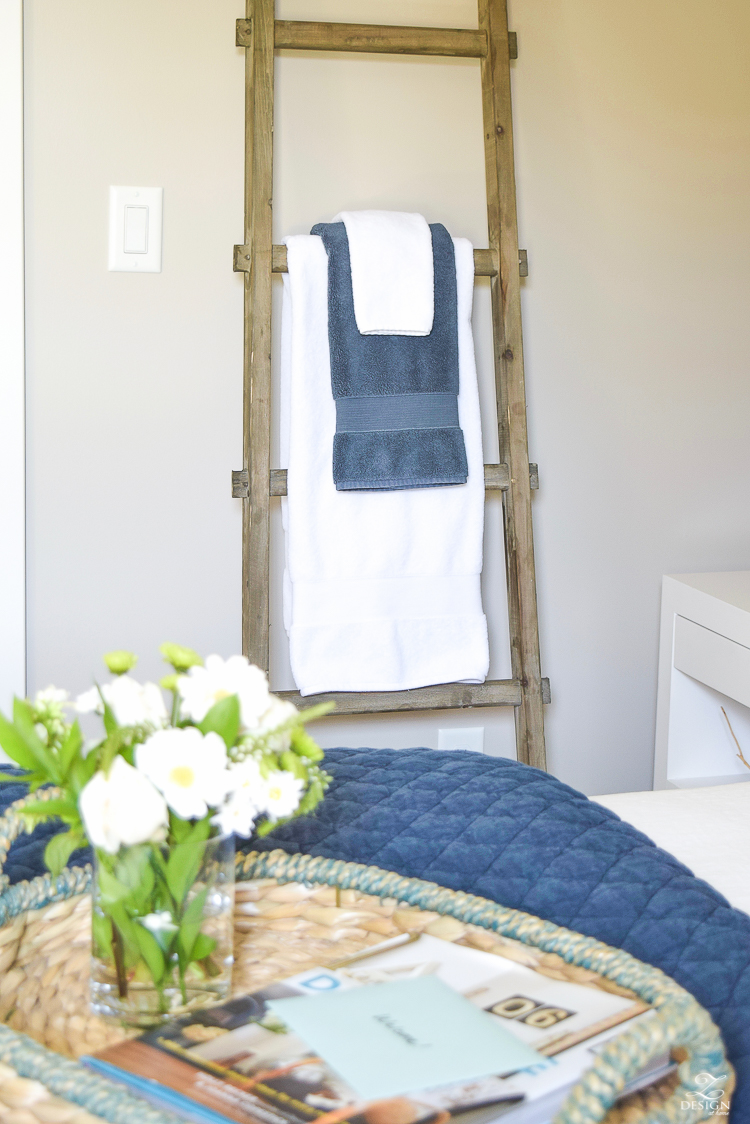 Get the Look

Easy Tip #2:  Just before your guests arrive turn on the lamps in the guest room (my lamps are here) even if it's day time (and if you don't have a lamp in the room, get one!).  It will give the room a warm, welcoming glow and your guests will know that you are ready for them and have put some thought into their visit.  This is a little something I learned from my mom over the years as it always feel like home when I step into the guest room at her house with the glow from the lamps!  And a little sub tip here is to make sure that no bulbs are burned out.  There is nothing worse than trying to get dressed or put on makeup in a poorly lit bedroom and/or bathroom.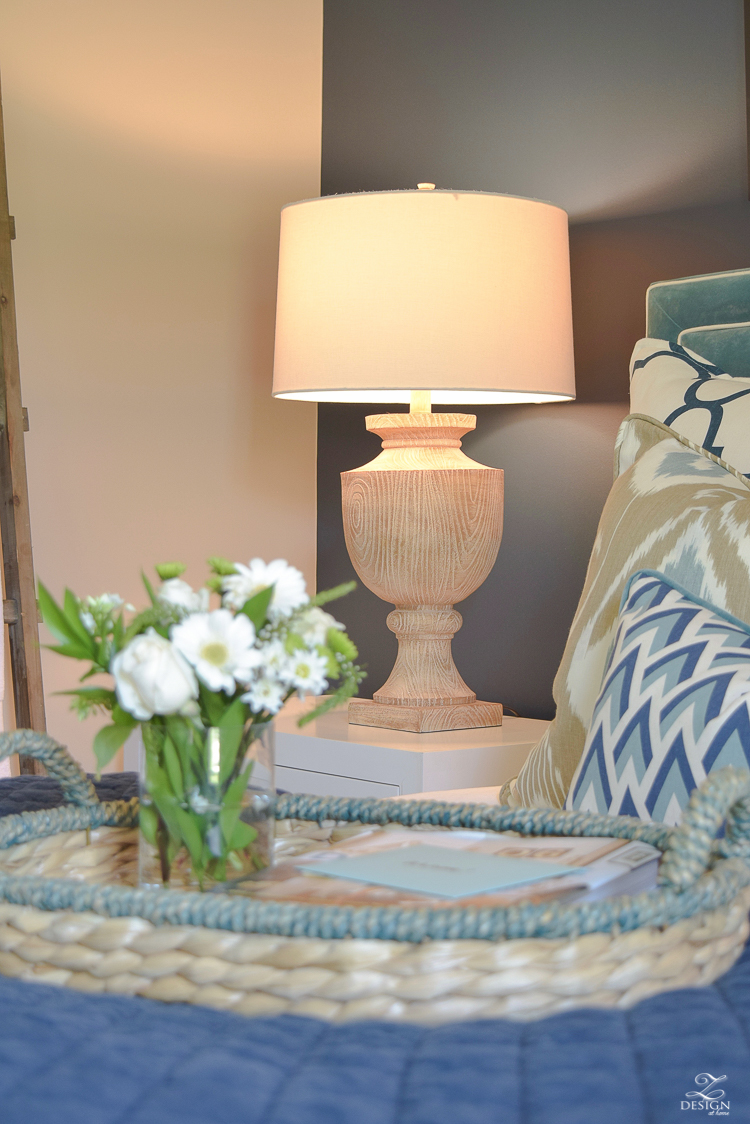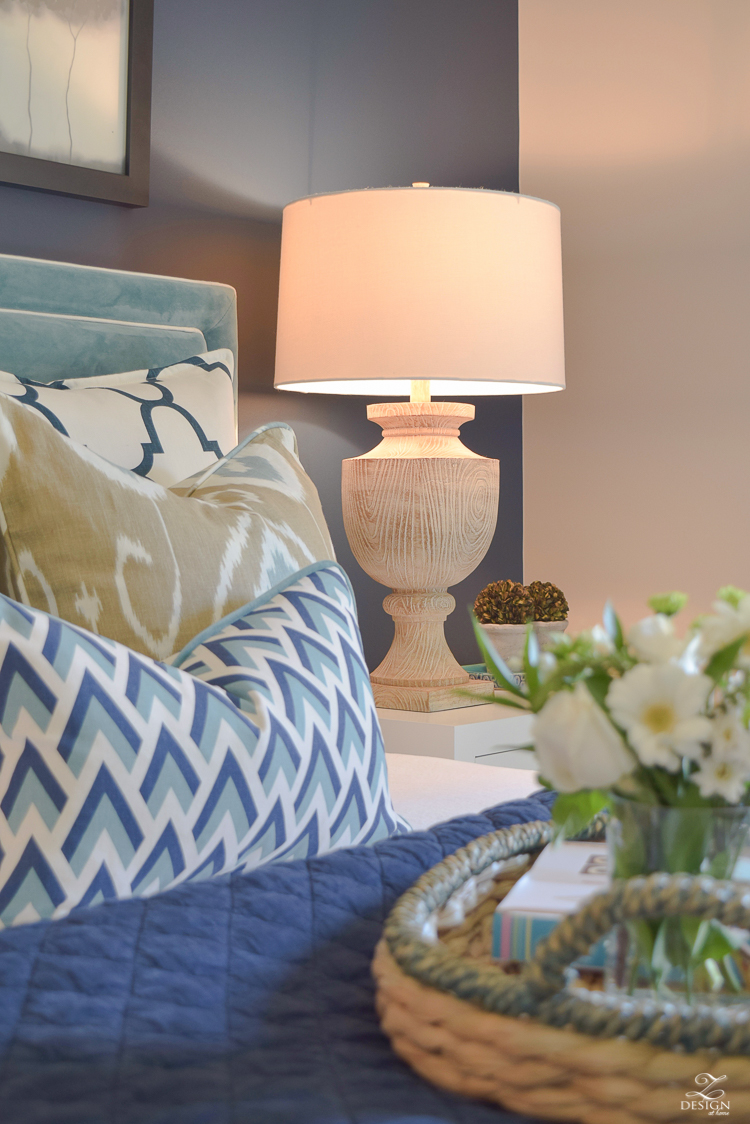 Get the Look

Easy Tip #3:  At home most of us have a special place to put jewelry when we take it off so having a stylish dish or tray in your guest room for jewelry or coins, etc., will make your guests feel even more at home.  This little bowl is a simple piece that I borrowed from my kitchen for just this purpose so it didn't cost me a dime but will give my guests a safe place to stash their pretties or pocket change when they come off or out (similar tray found here, bowl found here).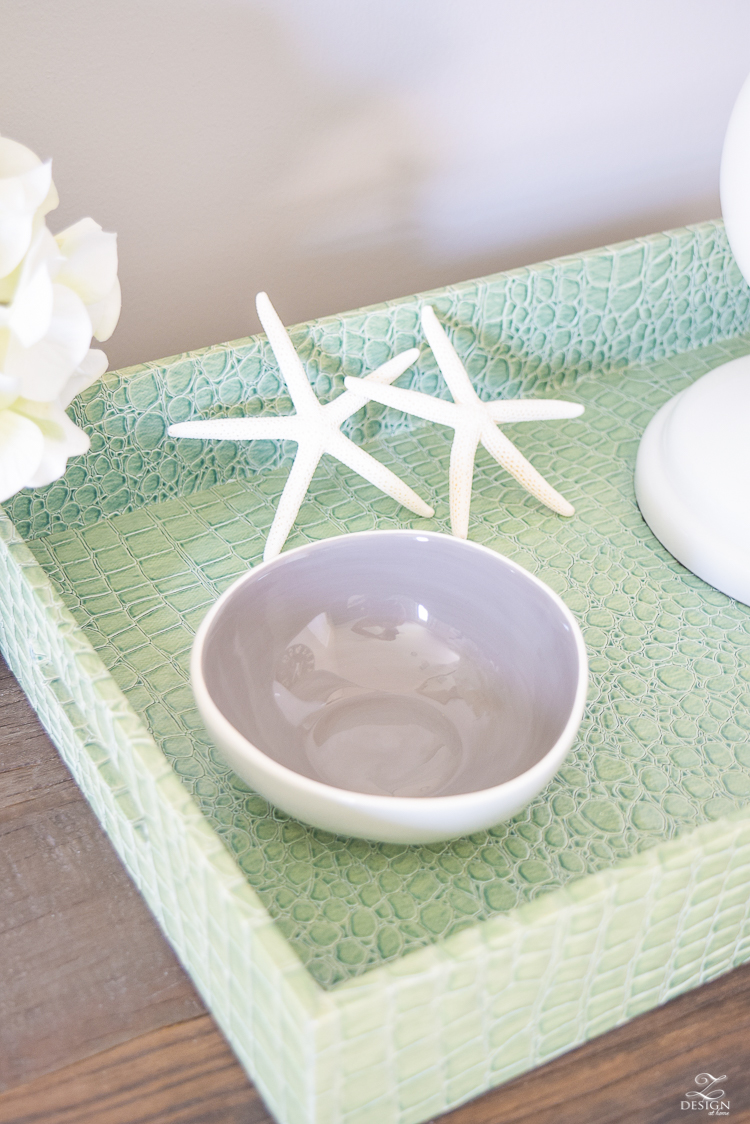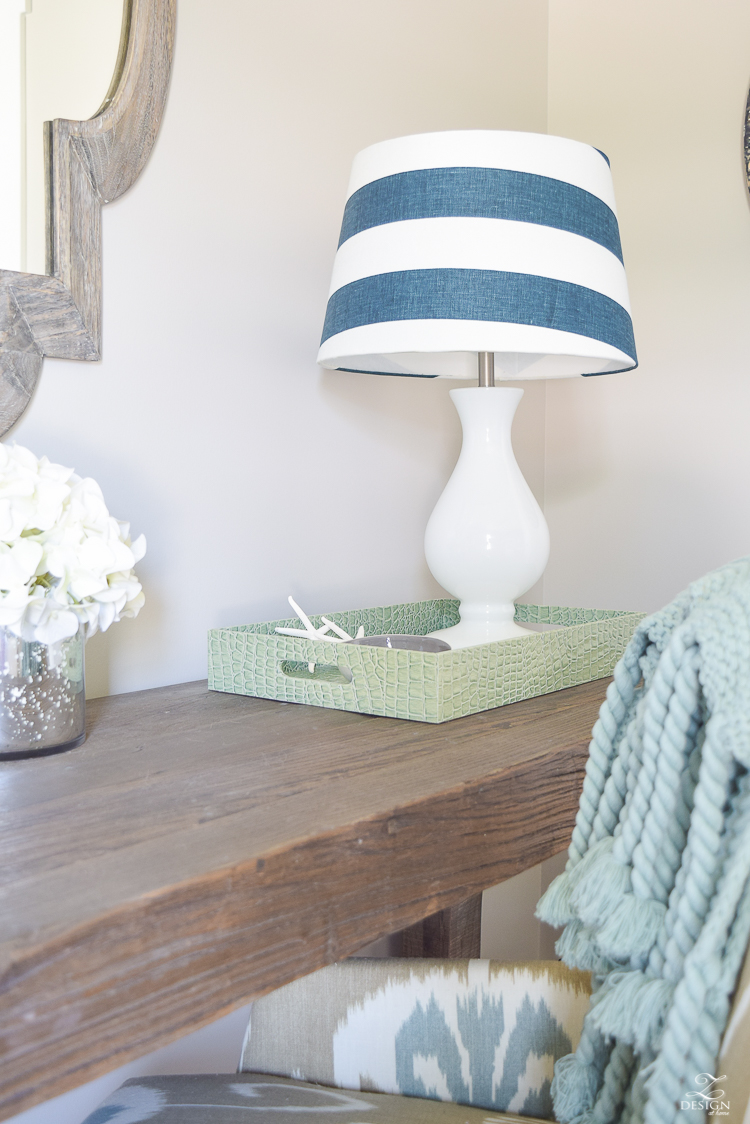 Get the Look

Easy Tip #4:  Flowers in any space always make it feel warm and welcoming so don't forget those pretty blooms before your guests arrive.  What makes this arrangement so super easy is that I simply just purchased one of the small pre-made arrangements at my local market, placed it in this clear vase and then onto a simple tray (similar) on the bed.  Also be sure to included some reading material just in case there is some downtime and they didn't bring something with them to read.  Make sure the reading material you provide is relative to your guest as well (This fun and informative home decor book can be found here).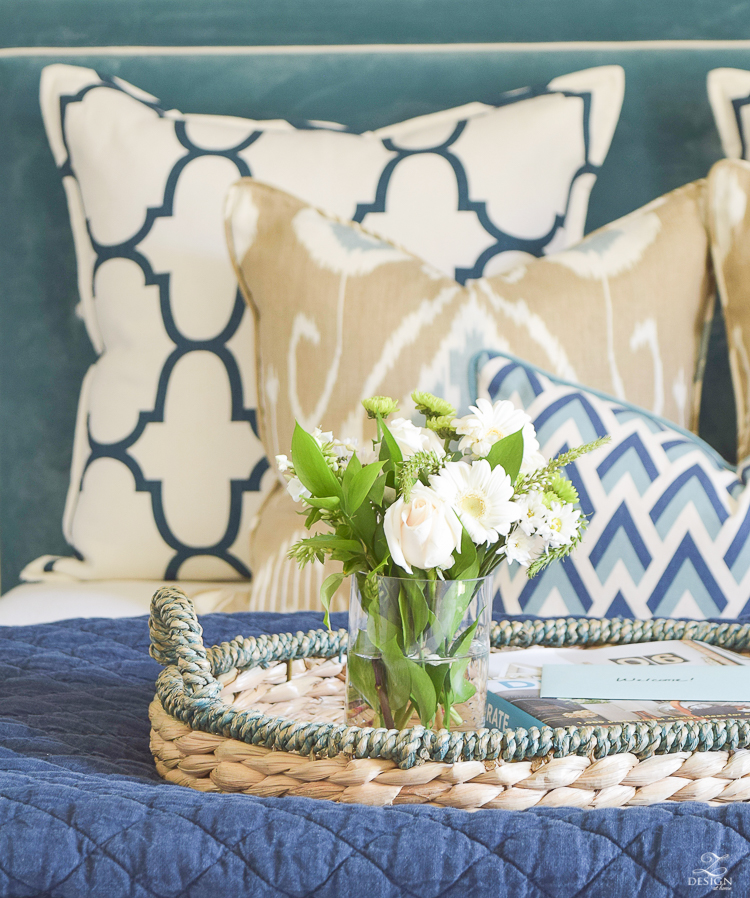 Pillows can be found here, here, & here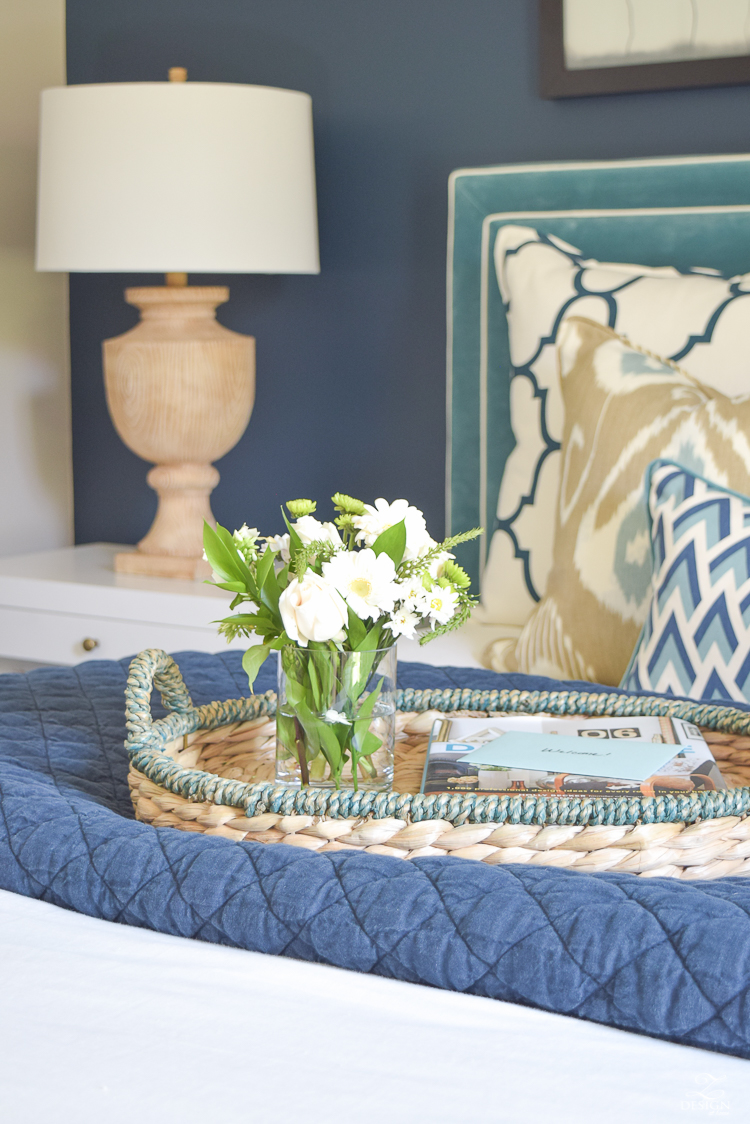 Easy Tip #5 (and last but not least):  Include a welcome note!  This is something that I have never done before but that I am now beginning to incorporate into my guest room readiness plan.  If your guests have traveled far (or any distance for that matter) let them know with a little heartfelt note just how much you appreciate them taking time out of their busy schedule to make time for you and/or your family.  I can promise you that this is a little something that will go a very long way with your visitors!!  Again, when visiting my mom, she always has a little gift for our family and it always means so much because that lets us know just how much she cares and just how incredibly welcome we are in her home.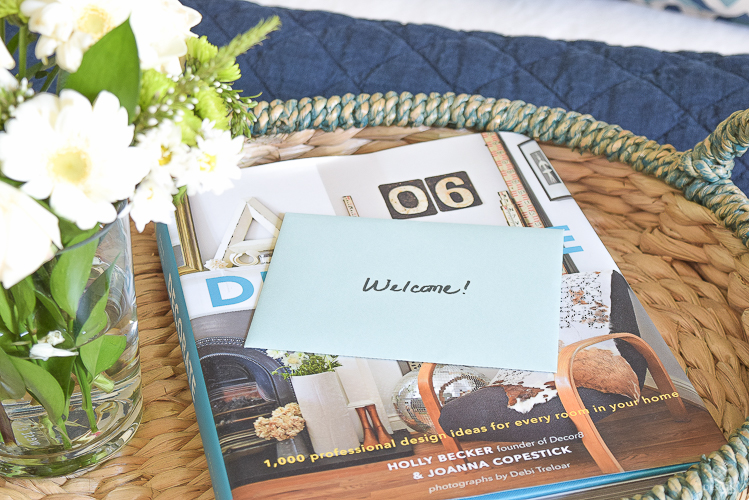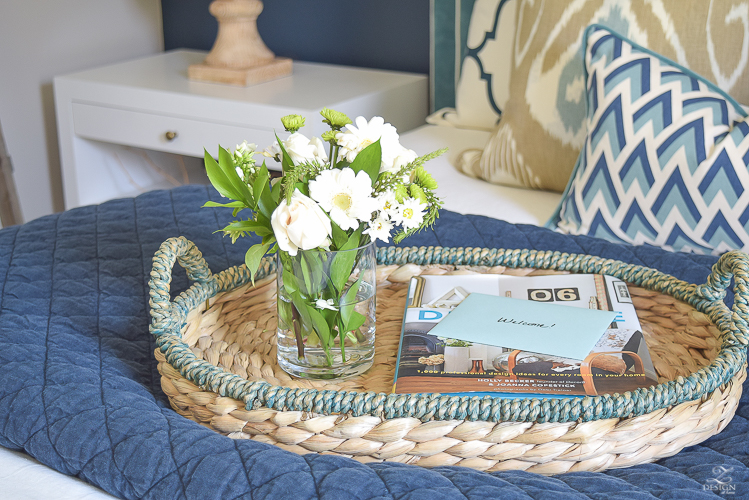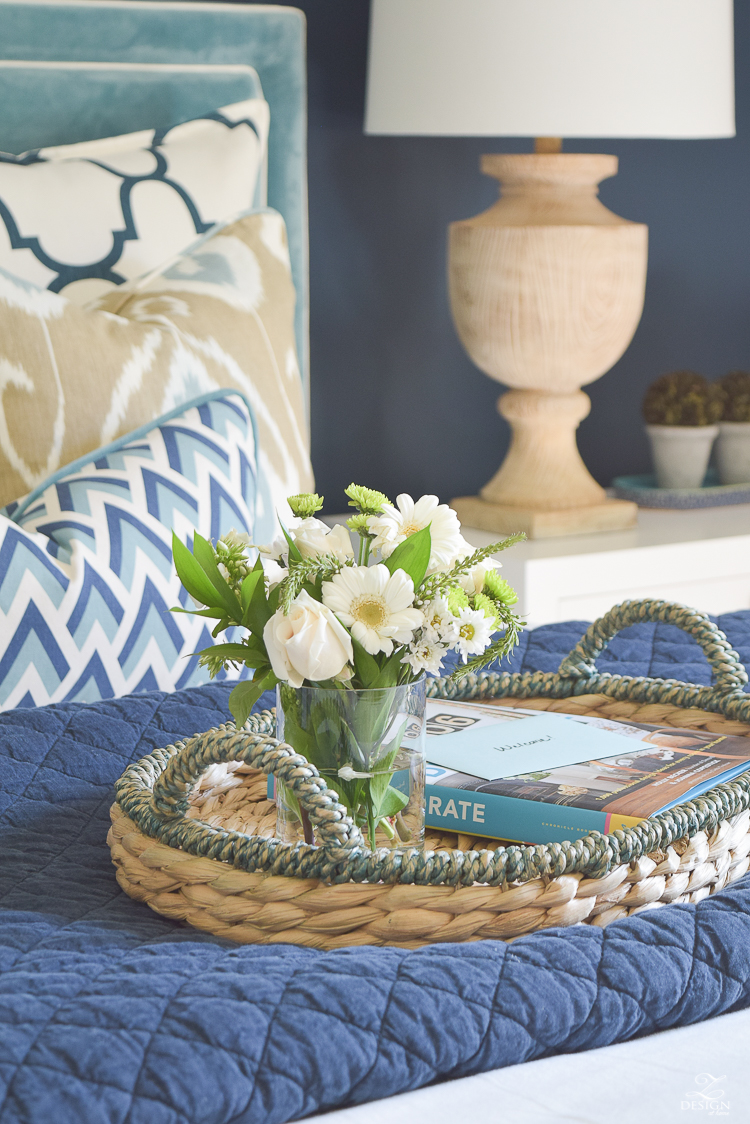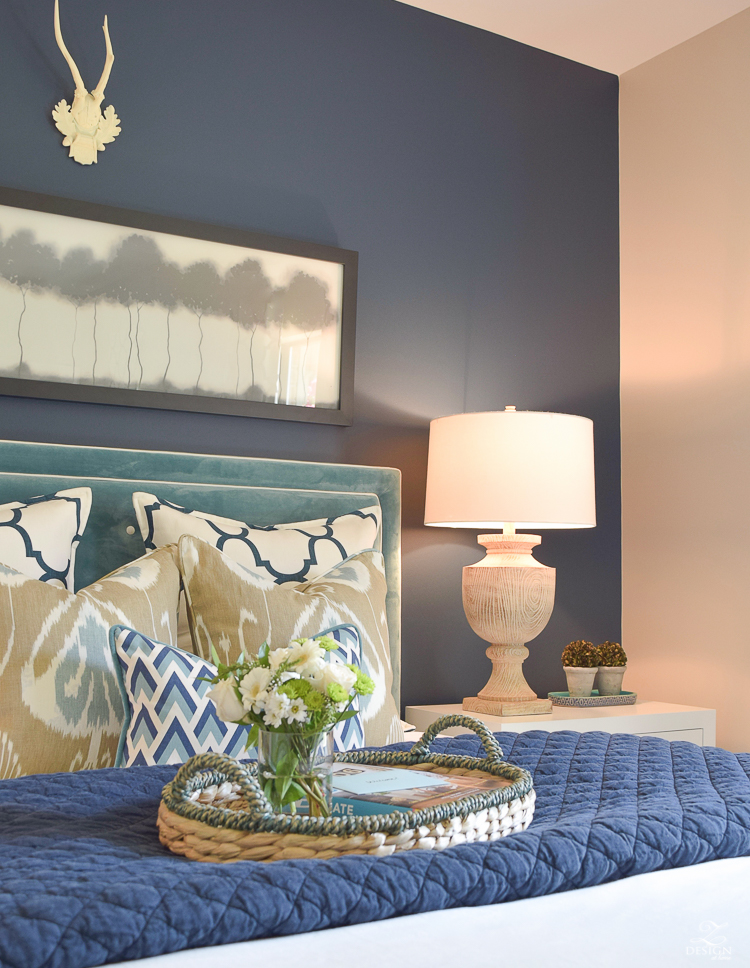 Get the Look

And here is that exciting news I promised if you follow me on Instagram…I know many of you love this space as do I but it's definitely time for a modern refresh in here!!  I decorated this room when I was going through more of a rustic farmhouse phase which is lovely but not my true design style and as I look back I realize I should have stayed more true to myself which means you'll see some modern updates in here soon.  The furniture will stay the same but most of the fabrics, lighting and accessories will change to reflect my true design style.  I have lots of fun stuff in my attic so I'm thinking I'll be shopping my home as well, which is always a win/win when redoing a space as far as I'm concerned!
Tip Time:  Always stay true to your style and don't allow yourself to be swayed by Instagram or any other social media platform.  Sometimes that's super hard because we see things that don't necessarily fall into our own design style but that look good in someone else's home so, just always remember to carefully contemplate each design decision before making purchases and ask yourself if this is truly you or are you purchasing it because it looked good in someone else's design.  It's great to be inspired by others and let's face it, that's what following others on Insta and other platforms is all about but first and foremost always remember to stay true to yourself when decorating YOUR home!!  I decorated this room before I even ever graced the squares of Instagram but I have been guilty of this myself and have regretfully made purchases for my home that I now look back on and wonder why I purchased them.  I'm happy to report that I've come to my senses and more of my true design style will come through in the changes I'll be making to this space and I can't wait to share it with you in the coming months!!
Additionally, here is some even more exciting news…I've decided to partner with one of my favorite shops, Tonic Living to help me make these changes.  If you haven't yet perused Janine's shop (at Tonic Living) you should do so now and you can do that here at TonicLiving.com and here via her Etsy shop.  She has some super gorgeous, super on trend fabrics and I'm incredibly excited to be working with her on the changes to this space.  With that said, here is a look back at this space the way it is now before it changes and again, you can see the full room reveal and tour here…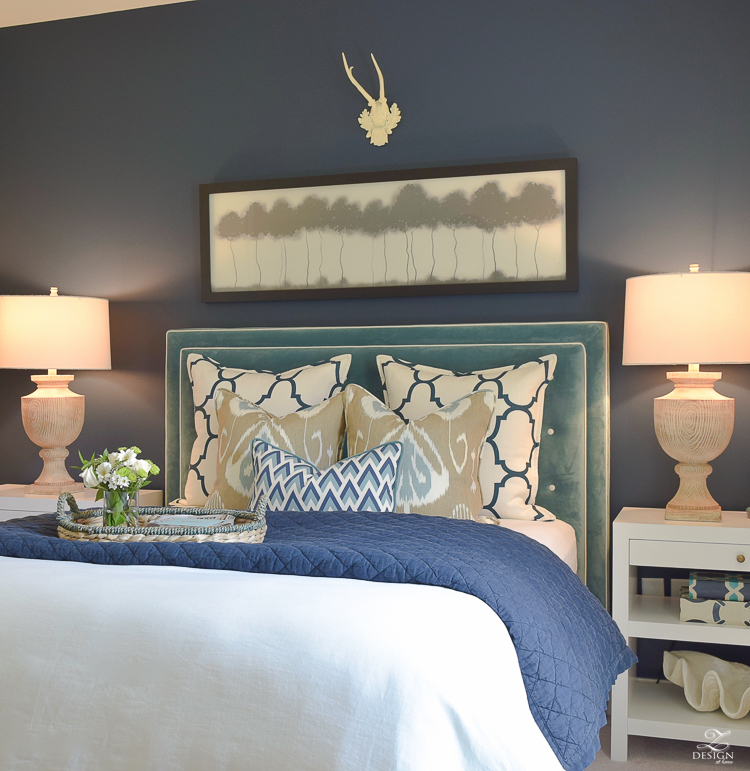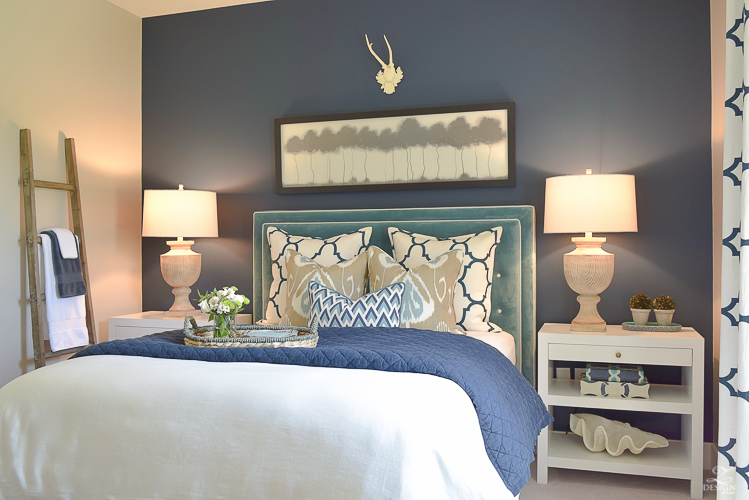 Get the Look

I hope you are feeling that guest room readiness now that I've been talking about for those late summer (and beyond) guests that will be arriving soon.  For more guest room tips and inspiration, please visit the beautiful blog of my friend Randi Garrett Design where she recently discussed 20 tips for hosting guests.
Don't forget to sign up for my weekly newsletter to get all of the latest from ZDesign At Home and as always, thanks for stopping by this week! Hope to see you again next week!!
Xoxo, Bree

A full UPDATED tour of this bedroom is available HERE (with the floral & leopard pillows) and a full resource list can be found HERE 
Furniture, Lighting & Wall Decor:

Bedding & Throw Pillows:

Accessories:

*Accent wall color is Benjamin Moore Gentleman's Gray and all other walls are Sherwin Williams – Collonade Gray
** Affiliate links have been used throughout this post