6 Simple Tips For Updating A Traditional Chair
Simple updates are all about making a tired space or piece of furniture work for you in a whole new way.  We may still love said space or furniture piece but by now it may have either started to feel dated or maybe it's just no longer our style.  However, it may not be feasible at the moment to replace or reupholster already so today I'd like to share how to easily update a traditional chair (or any piece of furniture for that matter) by using items you may already have around the house and/or making small investments to update the space instead of purchasing a new piece of furniture.
This is my chair in a previous moment in my home when the chair and its decor was in a more traditional state.  I still absolutely love the floral pillow and velvet tufted ottoman but they helped to give the chair a more traditional vibe which is the opposite of where I'm wanting to go with my decor at the moment.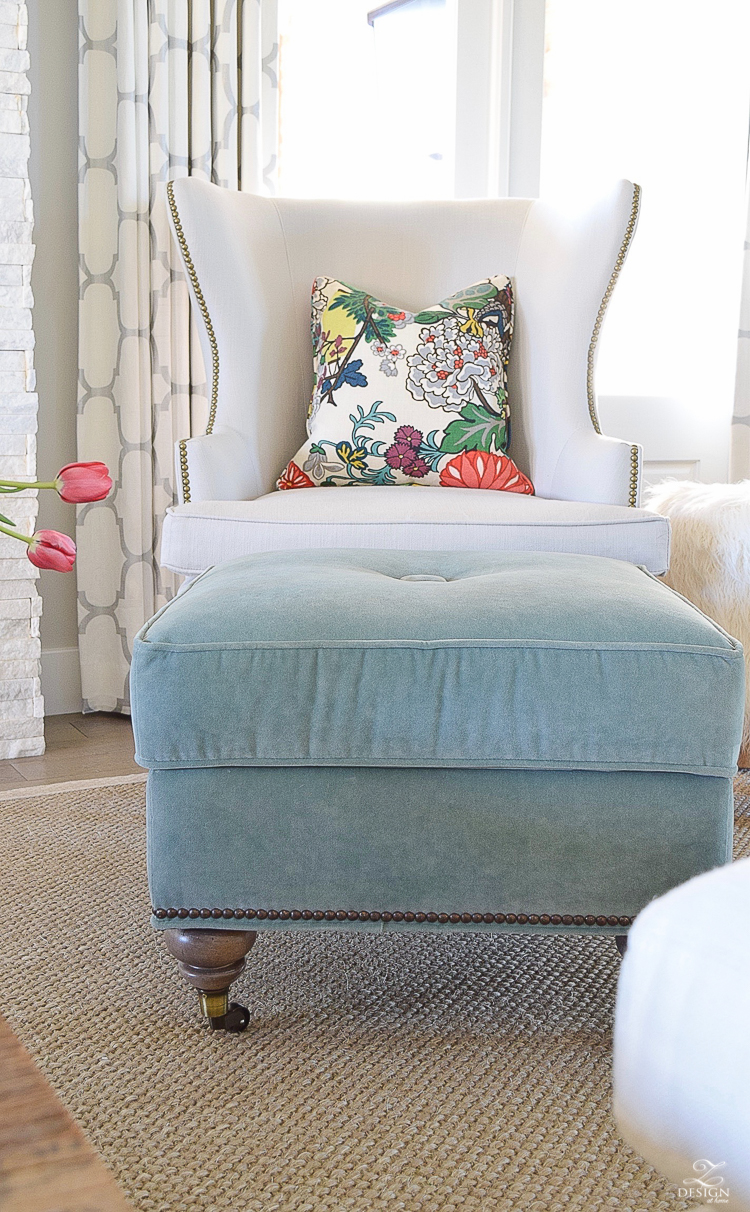 And here is the chair recently in my Decked & Styled Spring Tour.  You can catch the full tour HERE in case you missed it.  A little bland but I was moving in the right direction I think here by adding the leather pillow and fur ottoman.  I had the leather pillow on hand and the fur ottoman was a recent affordable find at HomeGoods.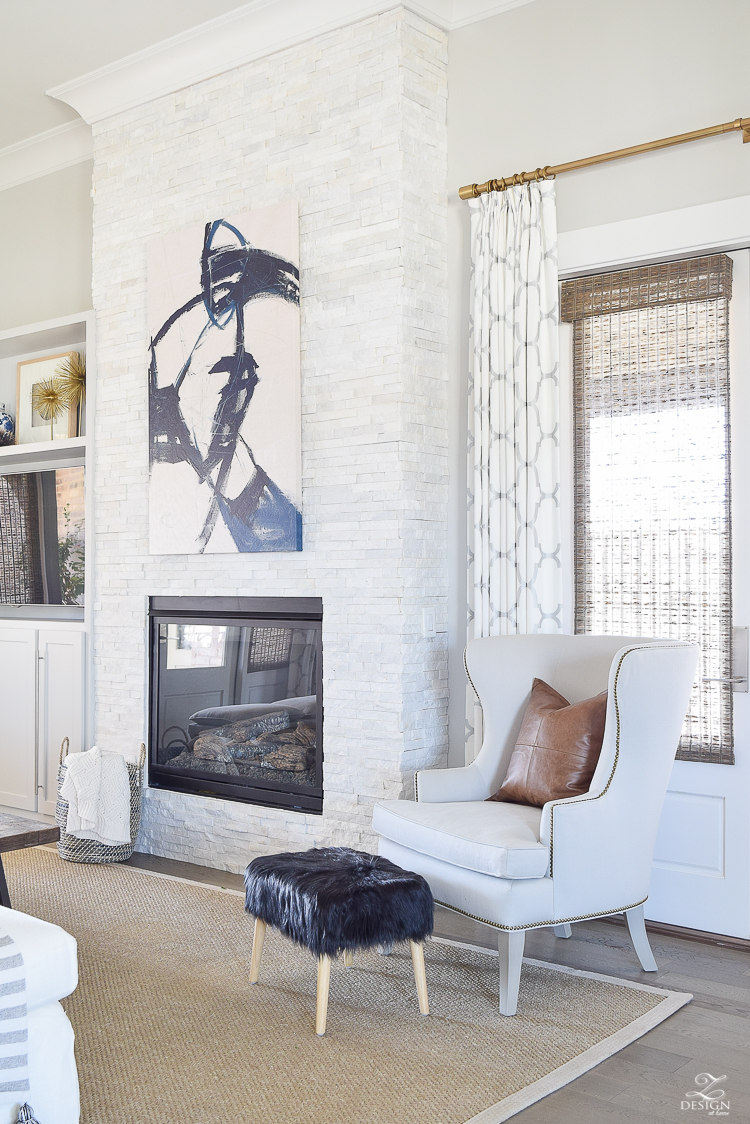 I left things a little light and simple over here for the spring tour but afterward kept feeling like it needed a little more to complete the look.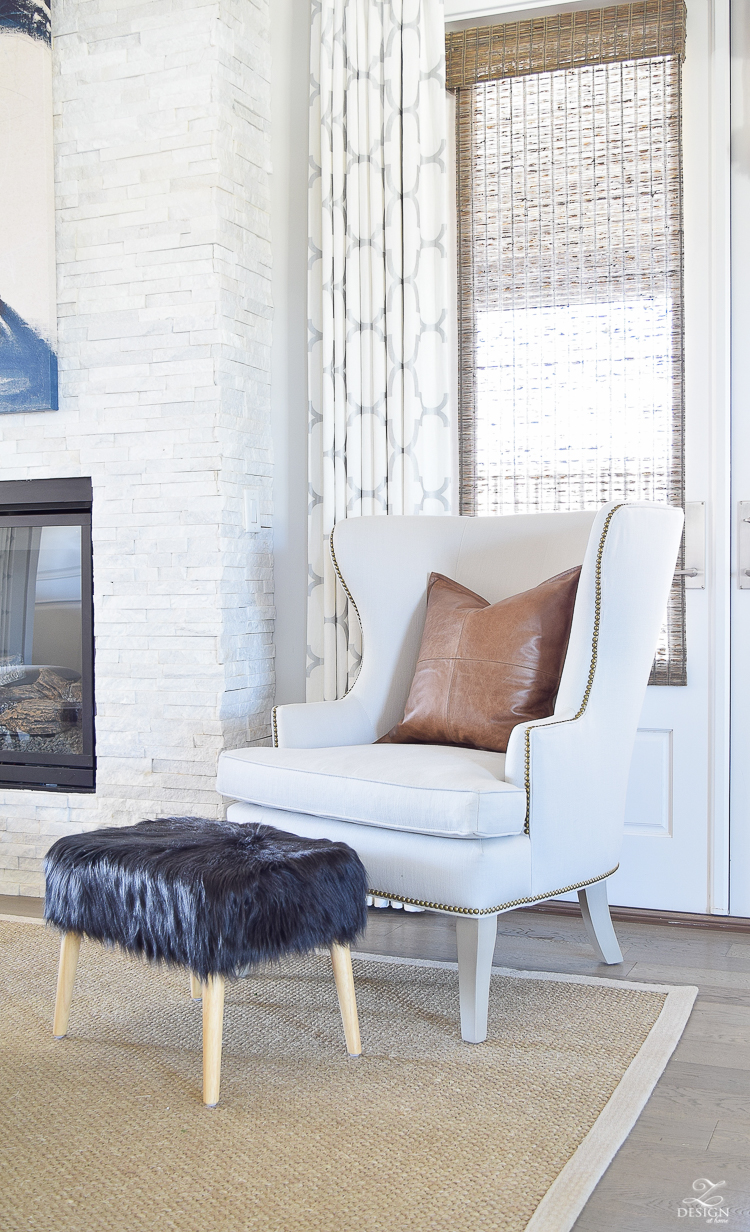 Just by adding a leather pillow and a white, light weight throw to my chair I've given my chair that modern touch I was looking for by making it feel a little less traditional already with these items.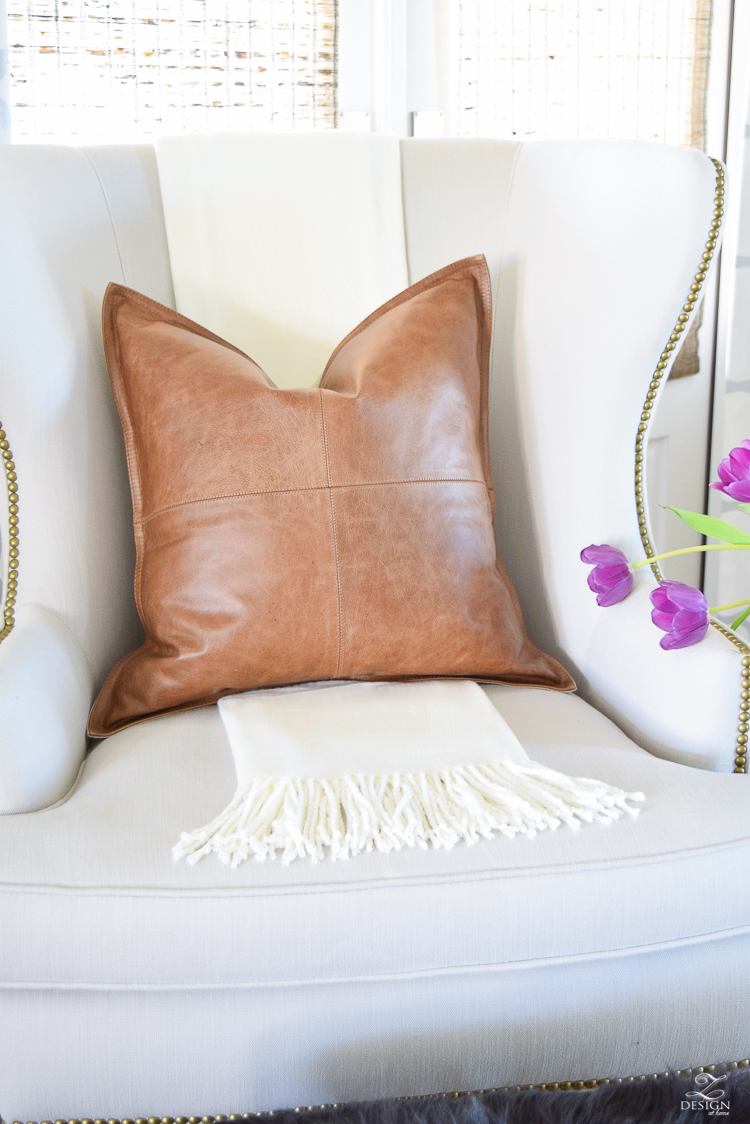 Currently, natural colors of leather are making spaces have a more modern, updated vibe.  Adding this material along with natural woods can instantly bring any chair, couch or space into the modern spotlight rather than replacing it or spending hundreds to have it reupholstered if you can't afford or justify going that route at the moment.  A nice leather pillow is a small investment but well worth it and much less than purchasing a new piece.  Don't get me wrong, I love to reupholster and breath new life into a piece of furniture but sometimes it's not always feasible to do so.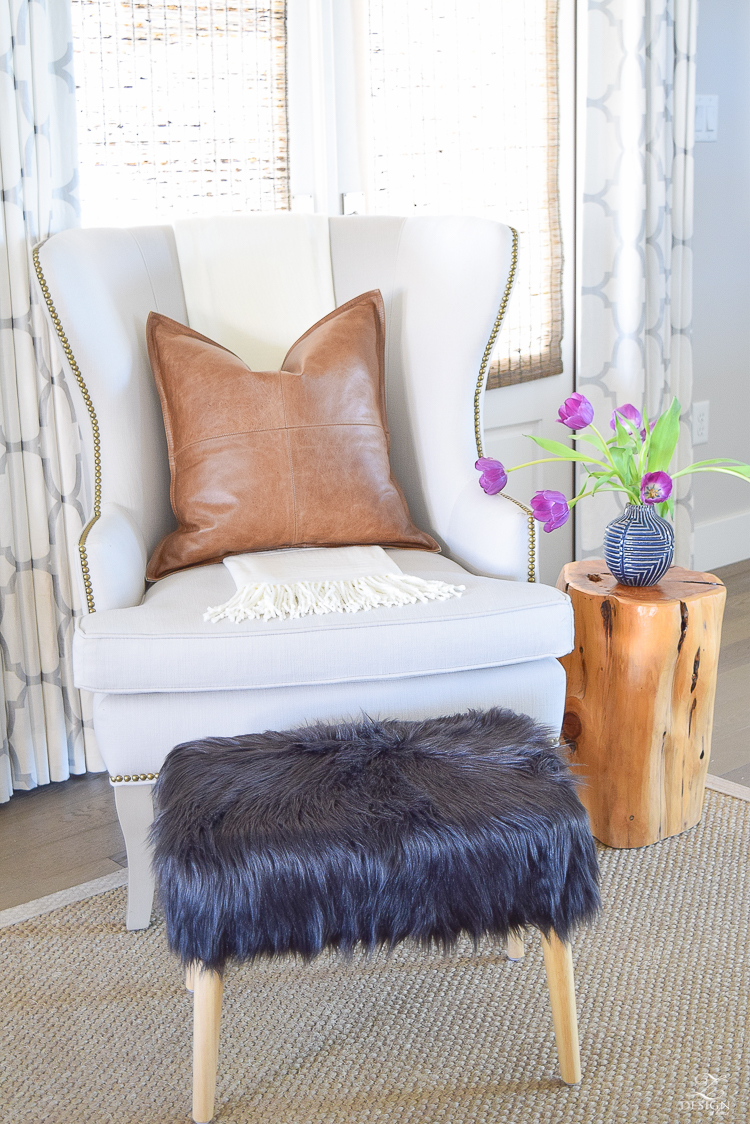 I borrowed this natural tree stump side table from beside my couch to add that natural wood element to further update my chair.  The eclectic mix really makes this space more interesting and inviting in addition to making the chair feel more modern.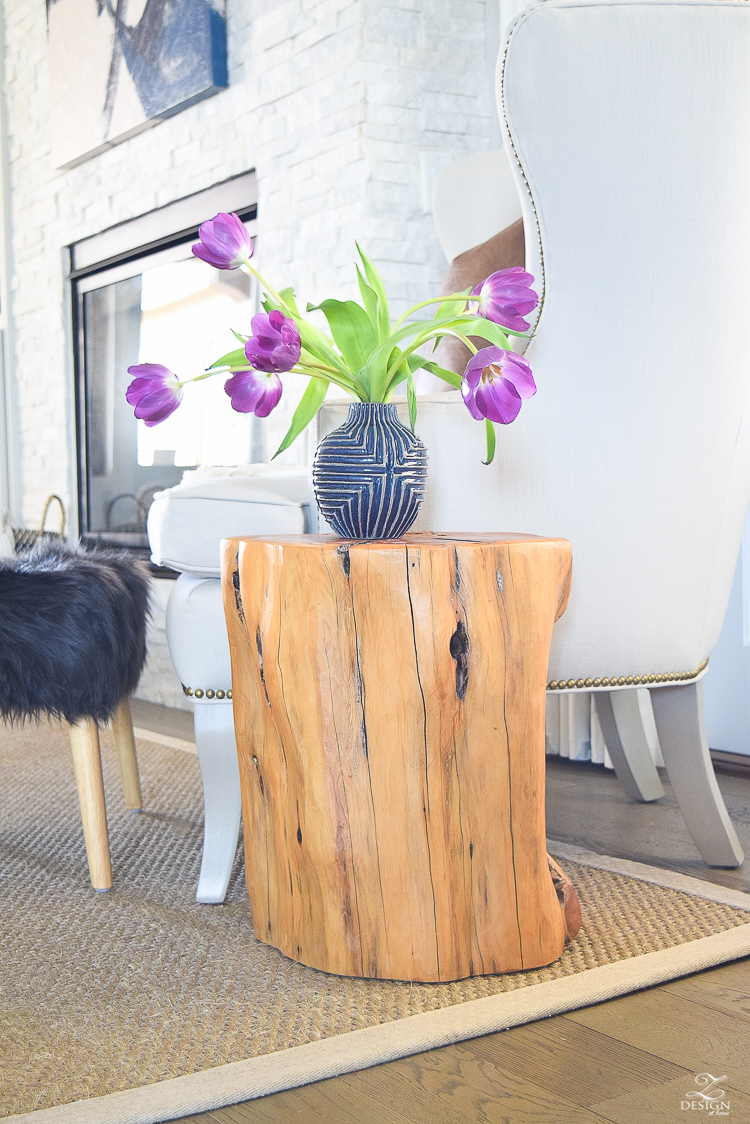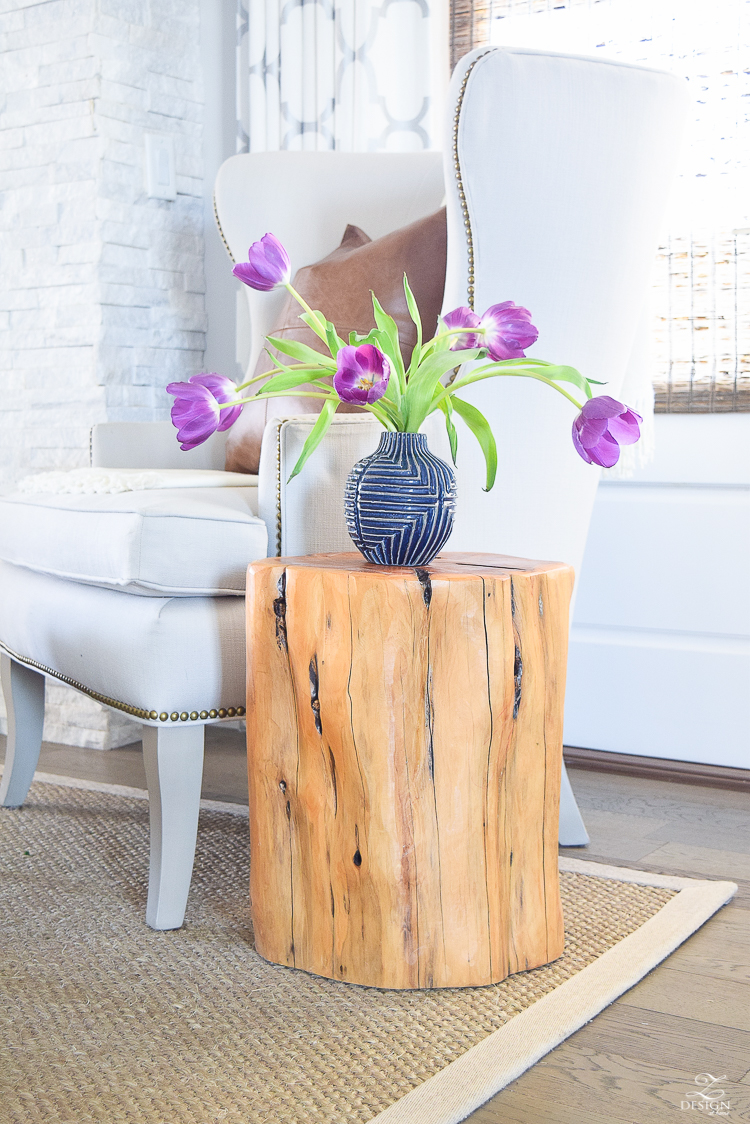 Additionally, the black fur mid century ottoman really takes the chair to a whole new place by giving it a more transitional-modern feel.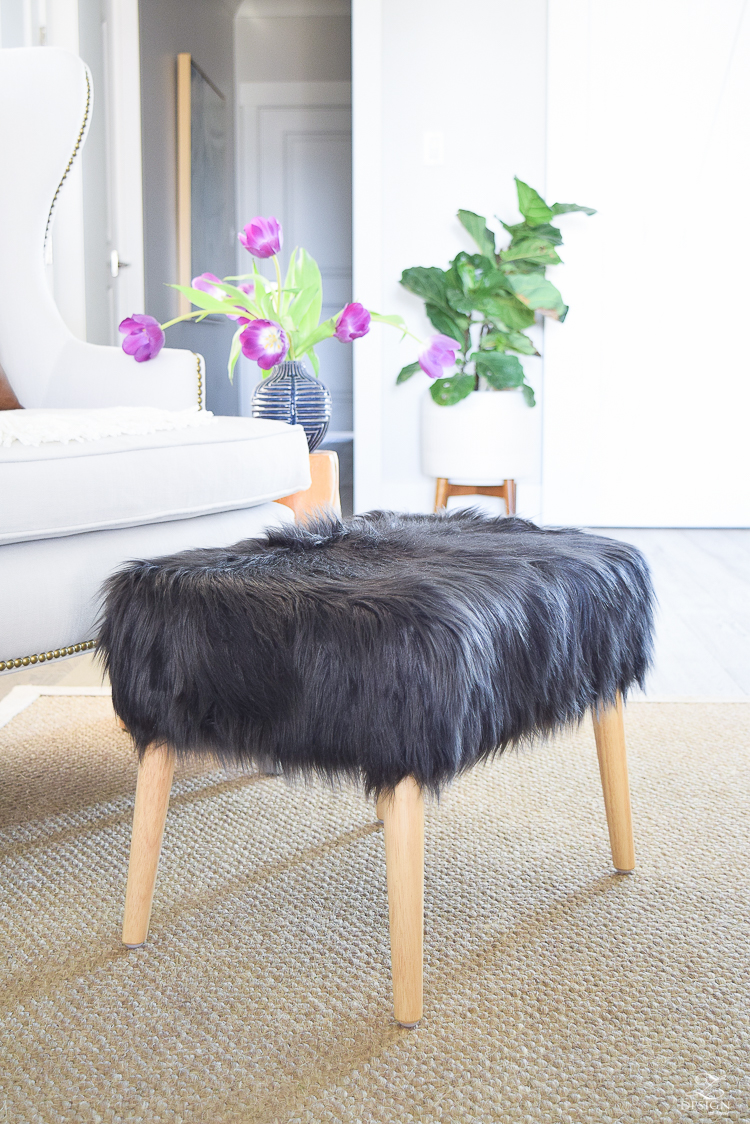 Adding a colorful, patterned vase or pot can also make things feel fresh and modern.  Be sure to include fresh flowers or real succulents if you can like I did HERE in my spring tour.  Again, bringing in that natural element will make the space feel more modern and in the moment.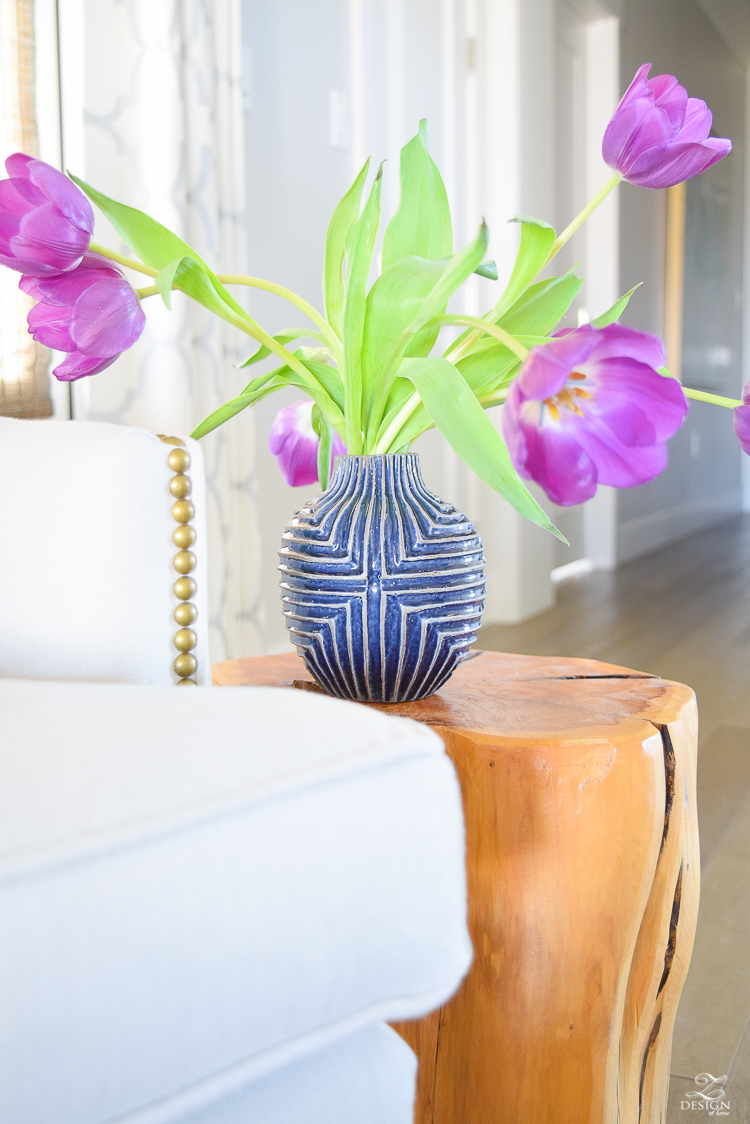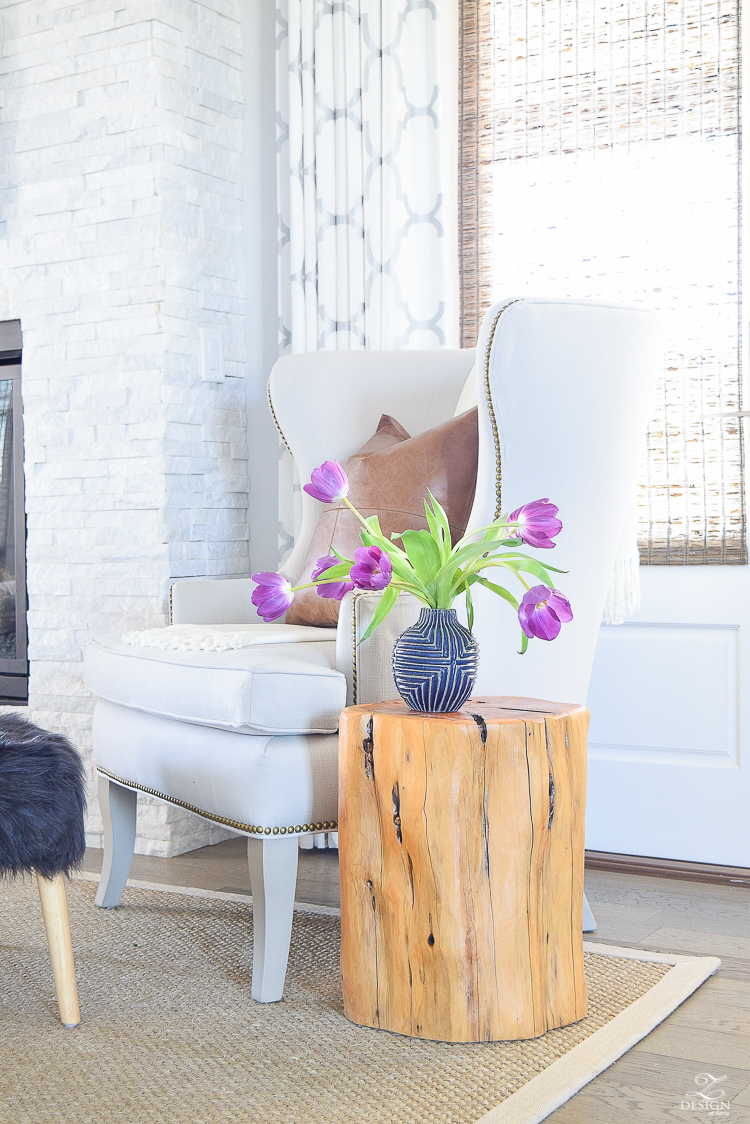 On the other side of the fireplace I also brought in this woven basket with a touch of navy in it to modernize the space.  It's not right next to the chair but is in close proximity and does further help my traditional chair to have a more modern vibe.  Baskets are always good for bringing in a modern, global flair.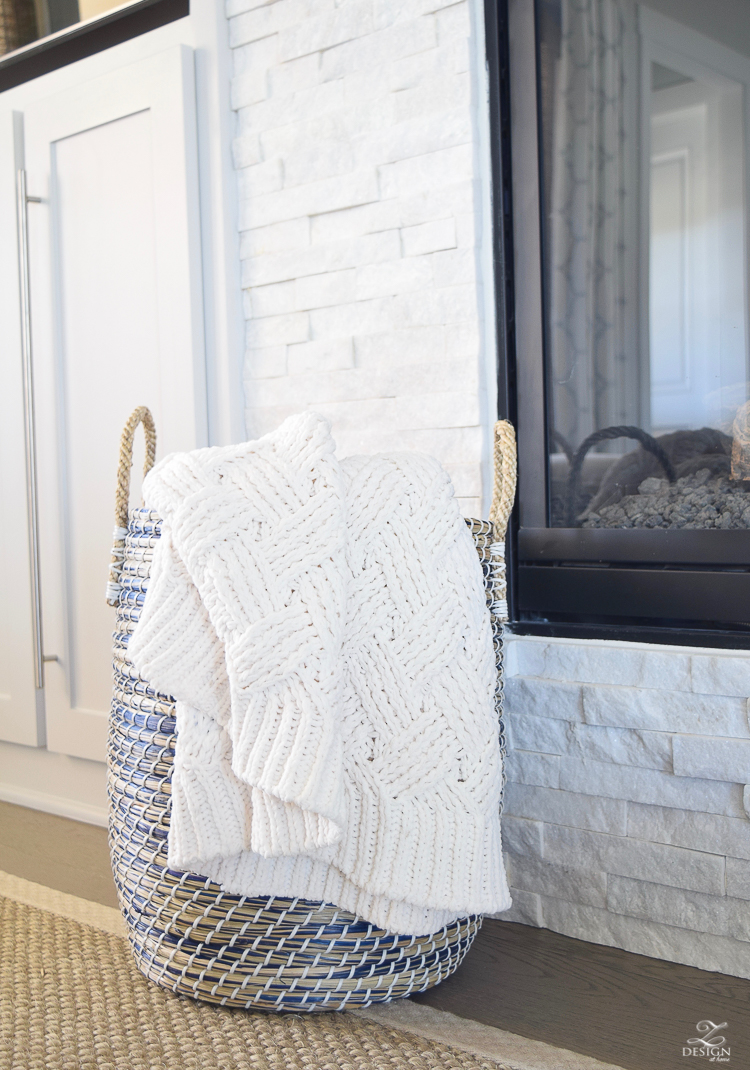 To recap, here are my 6 tips for updating a traditional chair, or any piece that has left you feeling underwhelmed and dated at the moment.
Add leather
Add a white light weight throw
Add fur
Add something with mid-mod style
Add natural elements such as wood, flowers, or plants
Add a pop of color with a vase, pot, tray or the like
In a scenario like this you could also mix things up by using a leather poof like this with a fur pillow like this.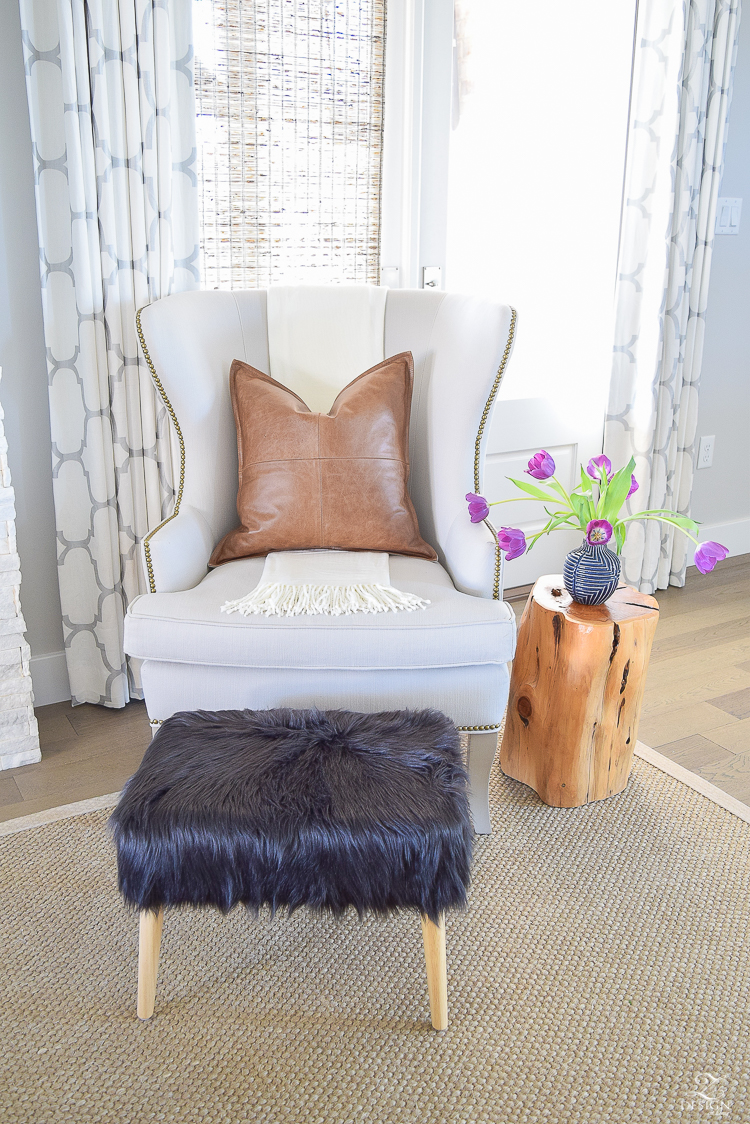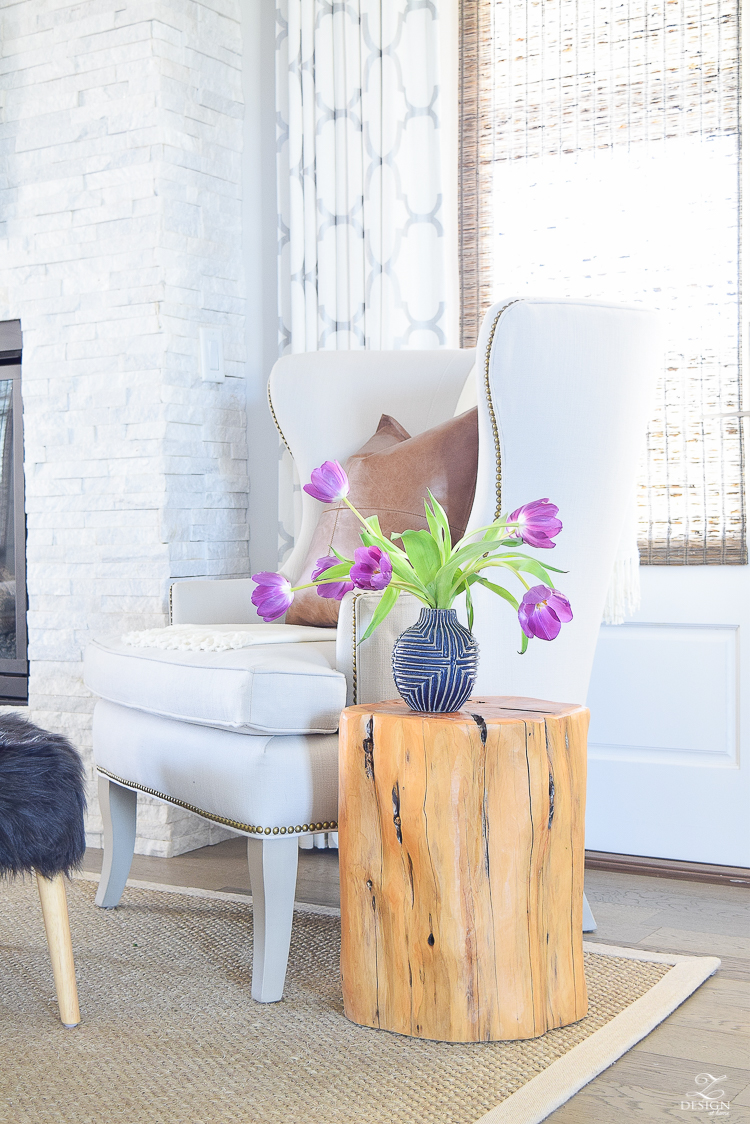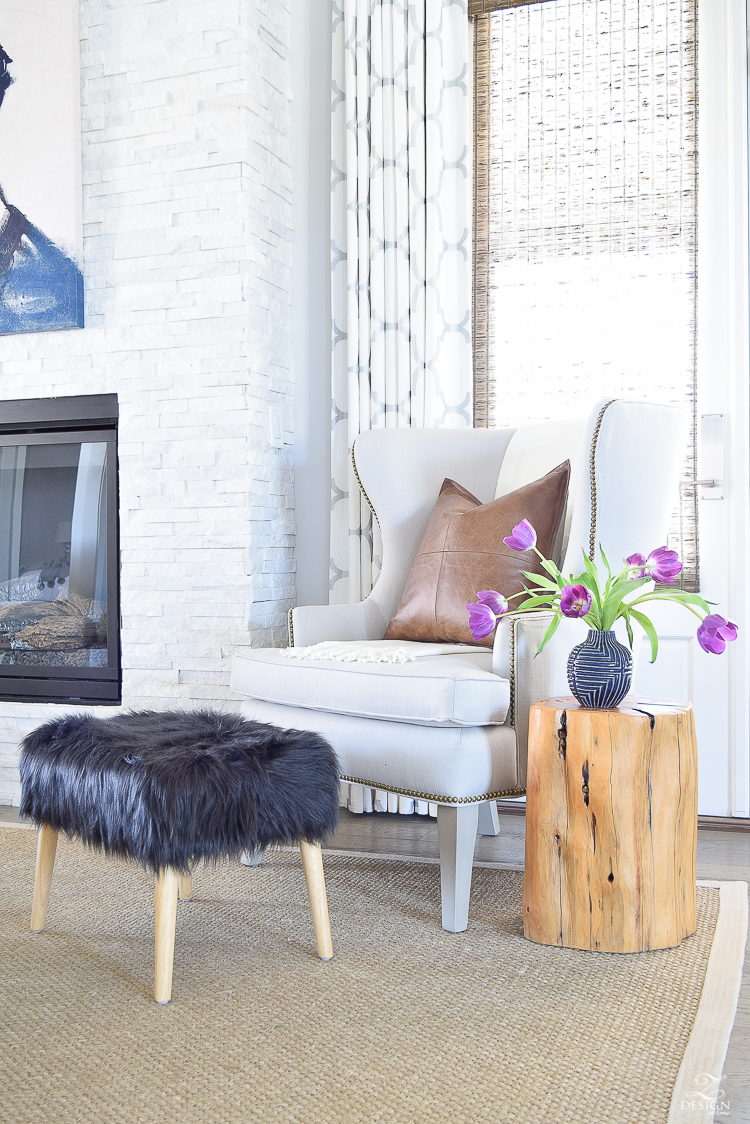 My style and taste is constantly evolving but I can't always replace an item just because so updating a traditional chair this way with minimal expense was a win, win since I barely spent any money by using things I already had around the house (besides the new fur ottoman I lucked into at HomeGoods recently – source here).  The modern updates find me loving this great chair again without having to reupholster or replace it and I love that!
I hope this post was help and please consider signing up for my news letter at the bottom of this post if you would like to receive weekly updates from ZDesign At Home.  And, don't forget to pin this image for future reference…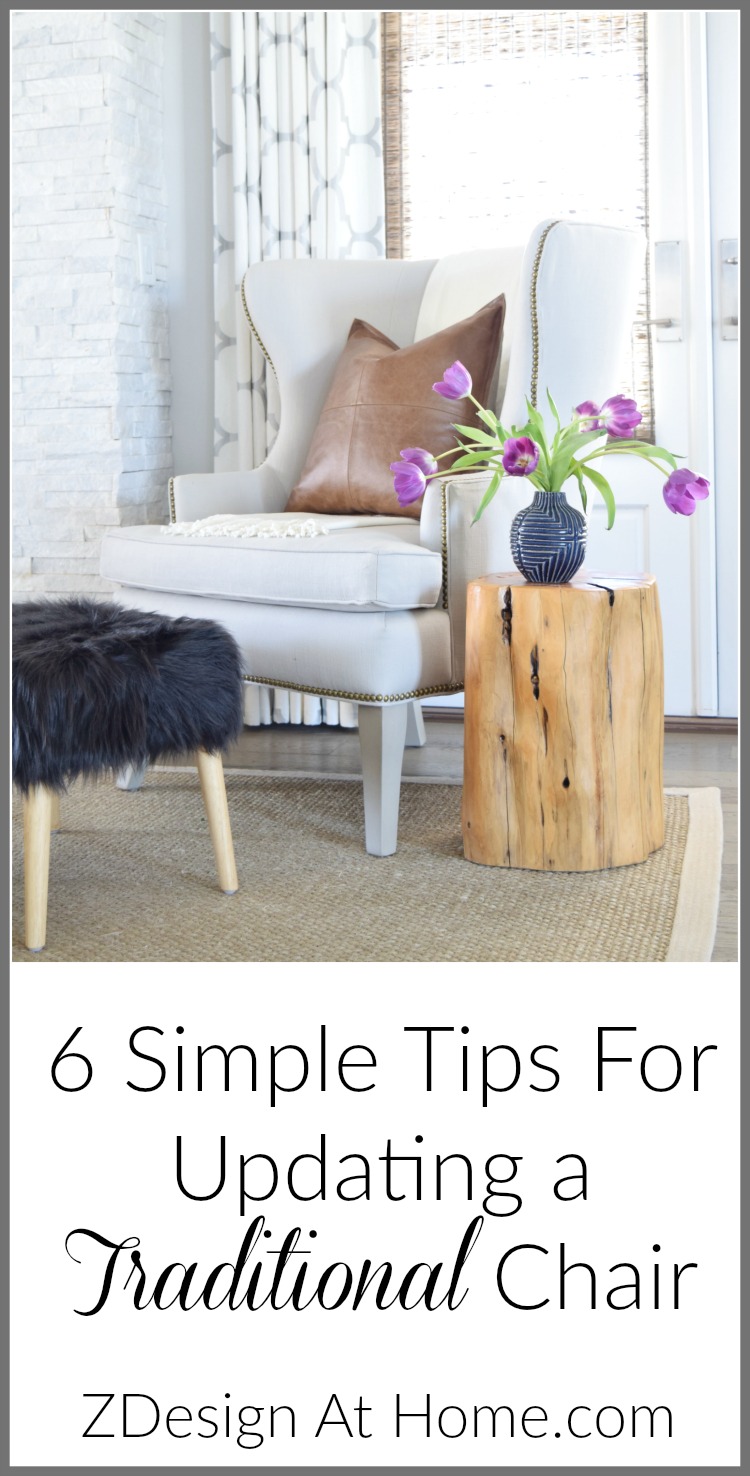 Rug & Drapery:

Accessories:

Furniture: