Beautiful, Sustainable Home Accessories
One of the best parts of my job is getting to share beautiful home furnishings and accessories with you.  I always say that your accessories are the jewelry to your home and that styling the surfaces in your home is the art of putting the finishing touches on your designs.  It is the part that gets me all giddy about decorating and today I am excited to share some very special home accessories with you that I've recently come to love!
I am always sourcing beautiful, timeless pieces for my home and work and when I find something as beautiful as this recycled color block mason jar in gray (it also comes in gold) from EtúHOME, I know it will be a perfect addition to my accessory collection!  This was one of those pieces that took my breath away when I first saw it.  It also comes in 6 other colors (and clear) and all are incredibly beautiful!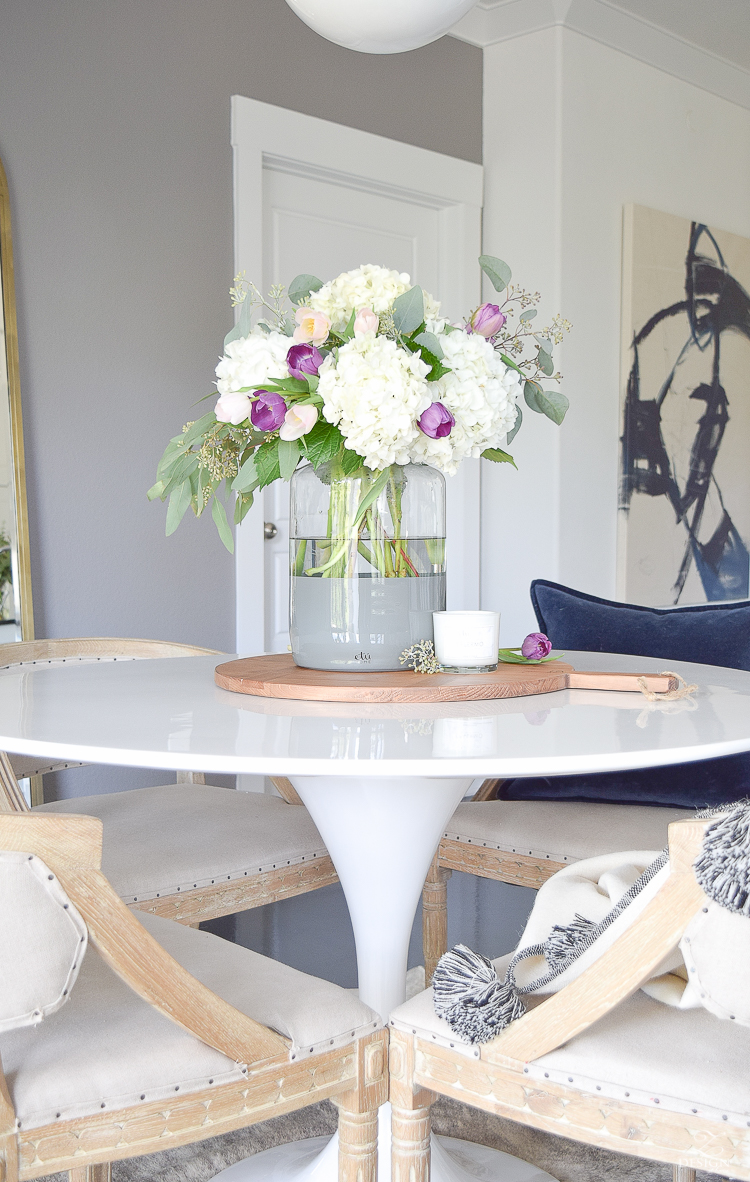 The quality of the dipped portion of the jar is amazing and I love the modern element it brings to this traditional piece!  Mixing those modern and traditional elements are what makes your vignettes and home more interesting and gives it that collected over time feel.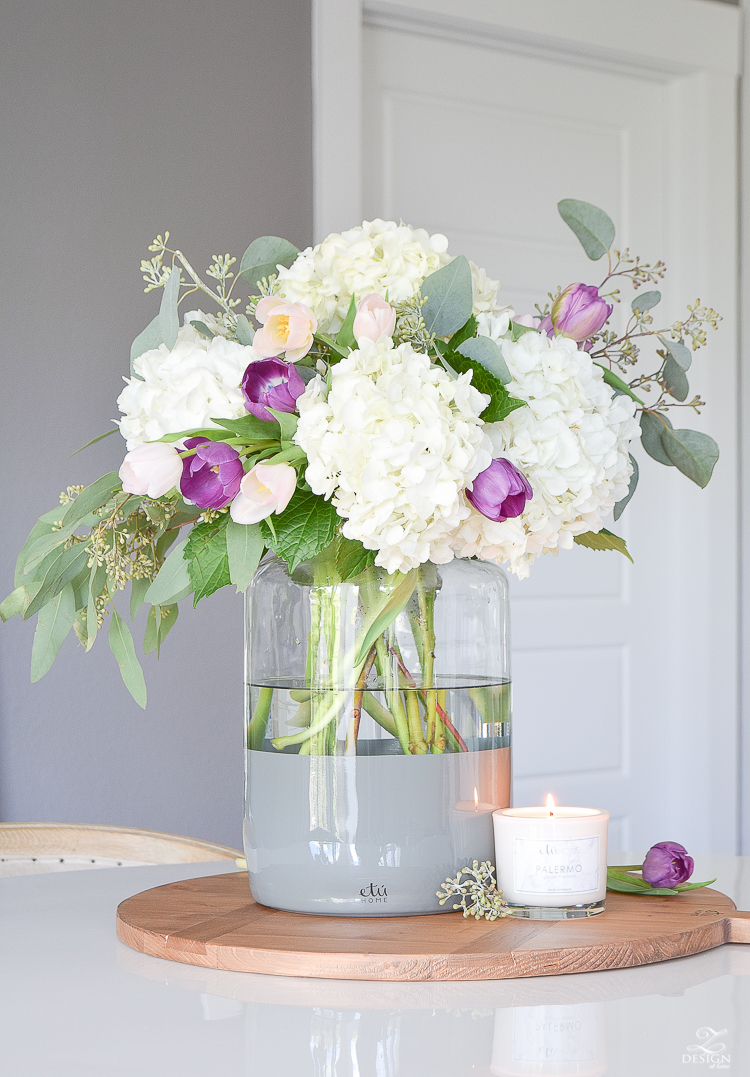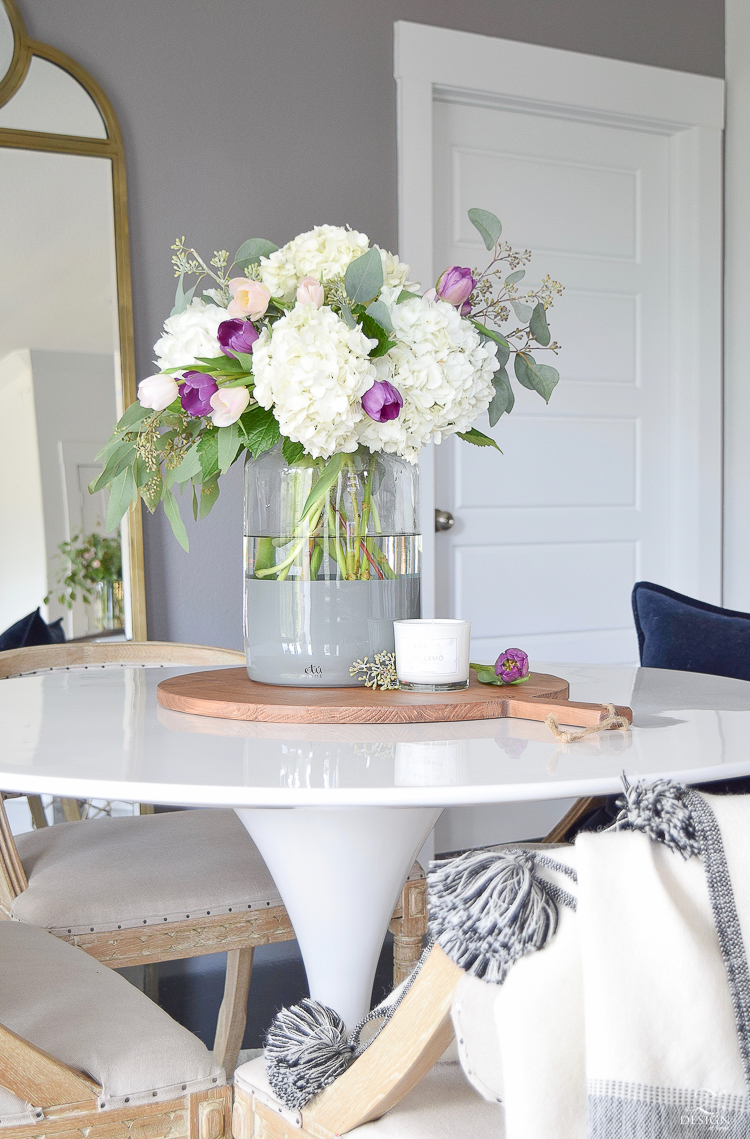 You may have also noticed this beautiful pizza board and candle that I'll talk more about in a moment from etúHOME?!  I'm kind of obsessed with both to say the least:).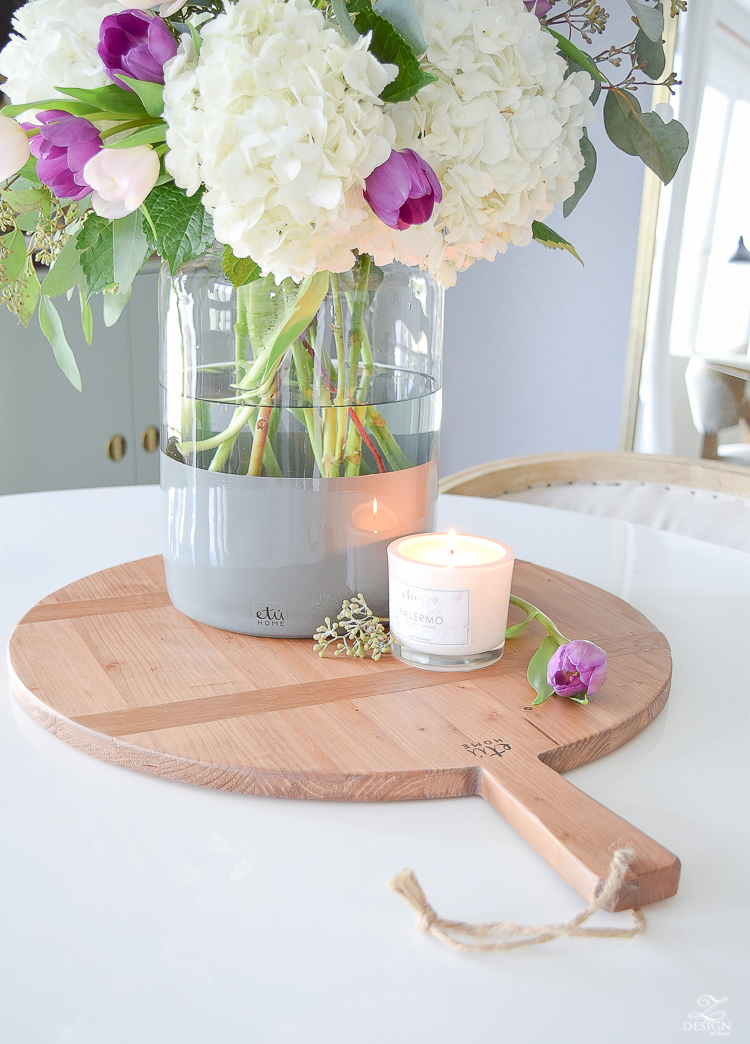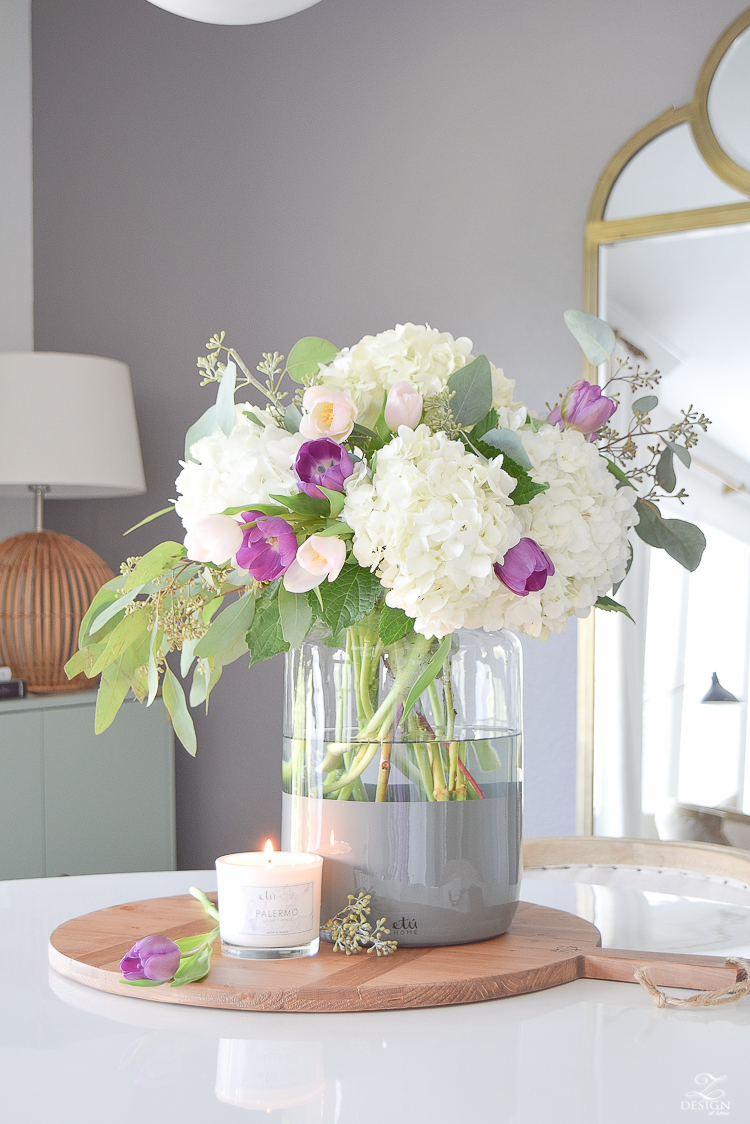 I love the way the reclaimed this beautiful pizza board can double as a tray to place my Recycled dipped glass jar on while it's full of beautiful flowers!  I'm always looking for unique ways to display my flowers and I love the rustic element the pizza board adds to my trendy yet timeless new vessel.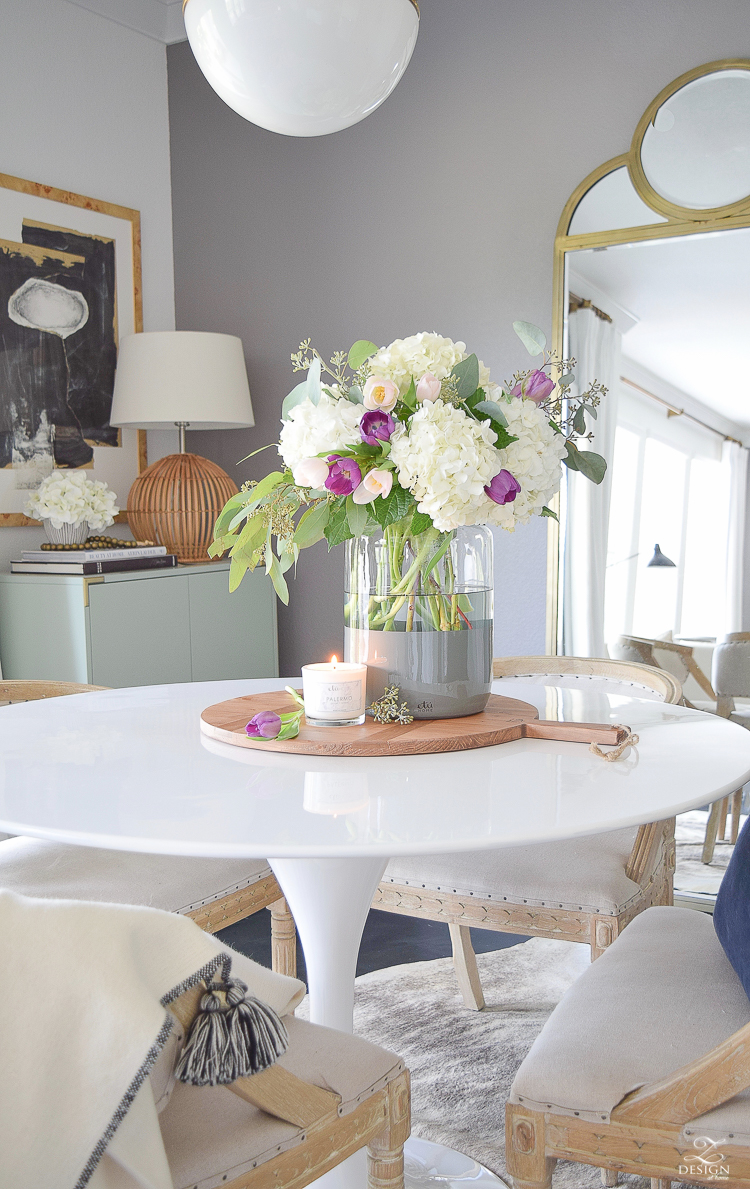 Another item I'm loving for more reasons than one are the etúHOME candles! Each essential oil scented candle has its own story, each unique in its artisan craftsmanship.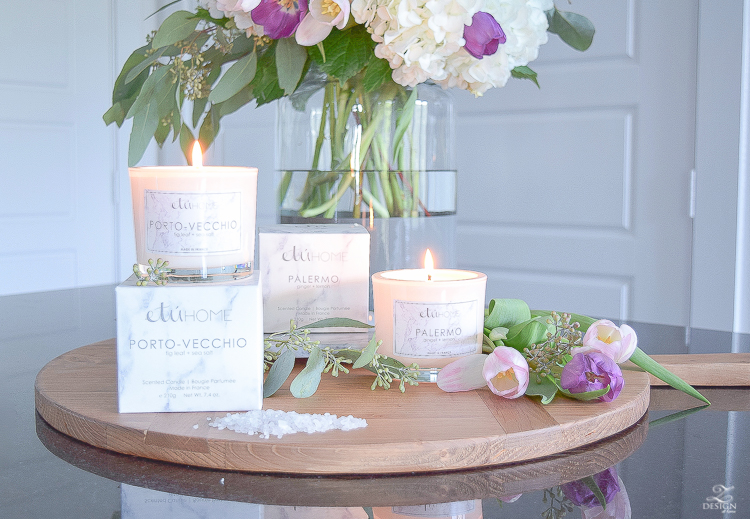 Now I have to admit, for someone that loves and adores everything home decor I'm not much of a scented candle girl.  Not because I don't love a beautiful scent in the air in my home but because I am sensitive to certain smells and even find it hard to wear perfume most of the time so a scented candle can really make me leery.  But, what I love most about these candles (besides their clean, modern look) is that the scent is clean and fresh and doesn't bother me one bit and even more importantly, doesn't give me a headache.  Additionally, I love their aesthetic and really love how they blend seamlessly into my existing home decor.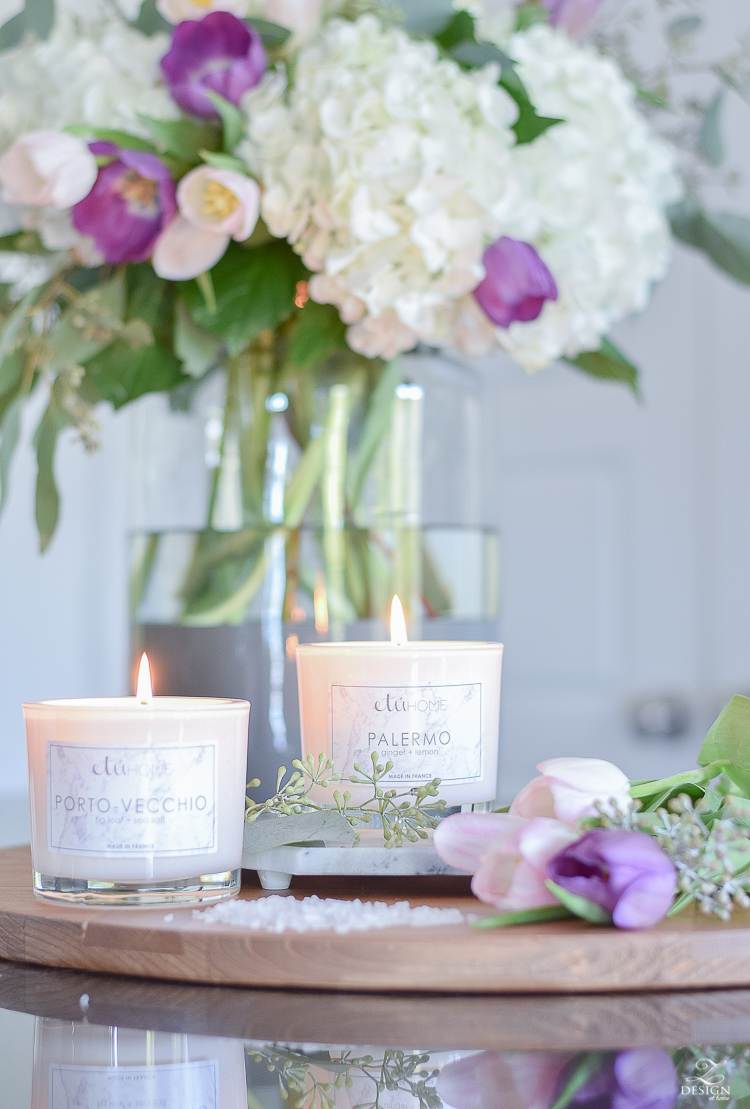 I have the ginger + lemon scent and the fig leaf + sea salt scent and both are simply lovely!  They evoke a sense of calm around our home while burning that my family and I enjoy and appreciate.  There are however currently several scents available and even an unscented candle is available as well.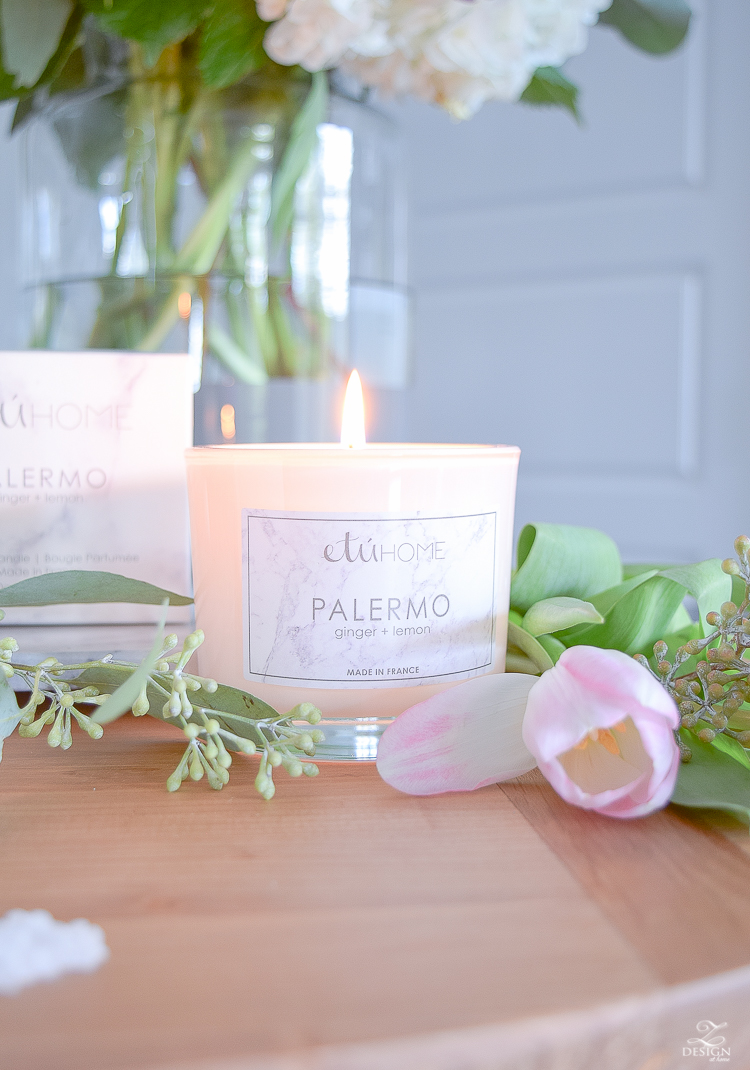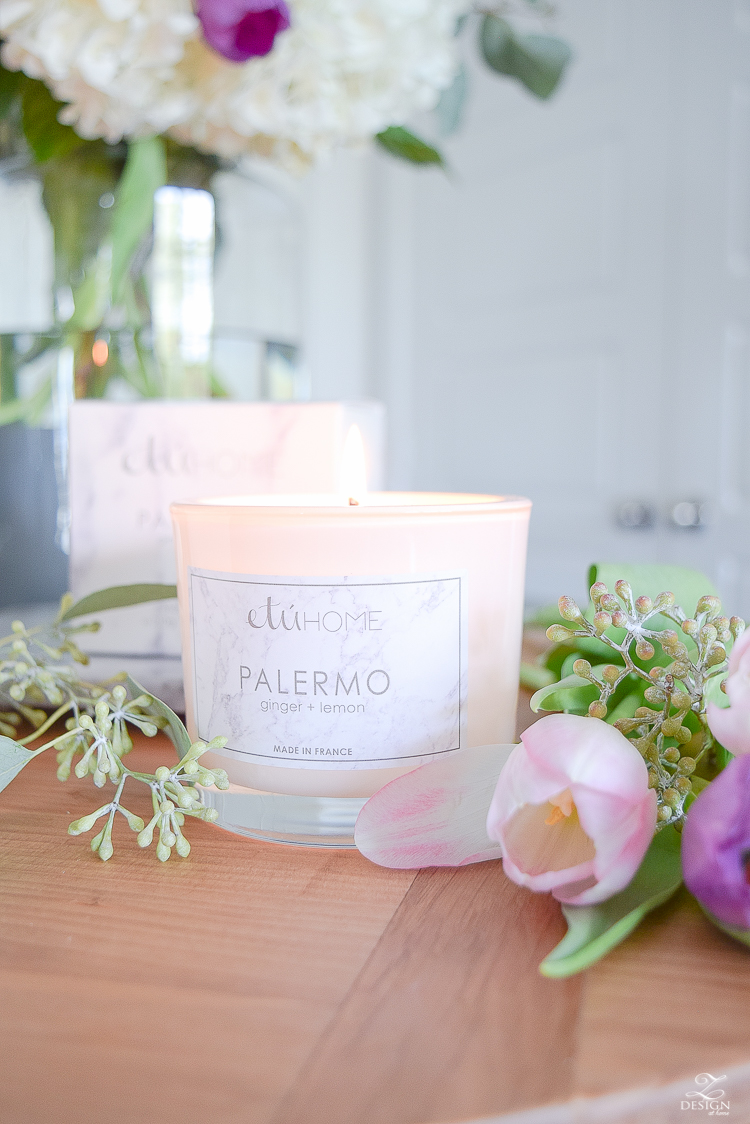 I also love the marbling on the label which gives the etúHOME candle that clean, modern look I always seek to incorporate into my home.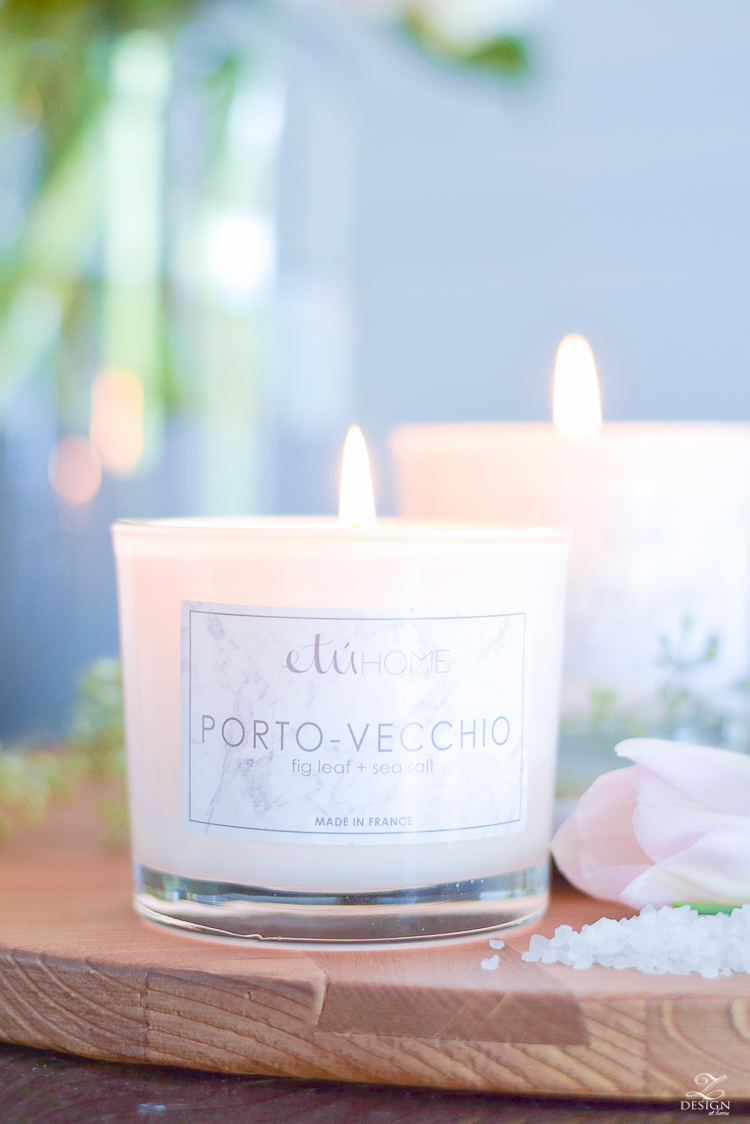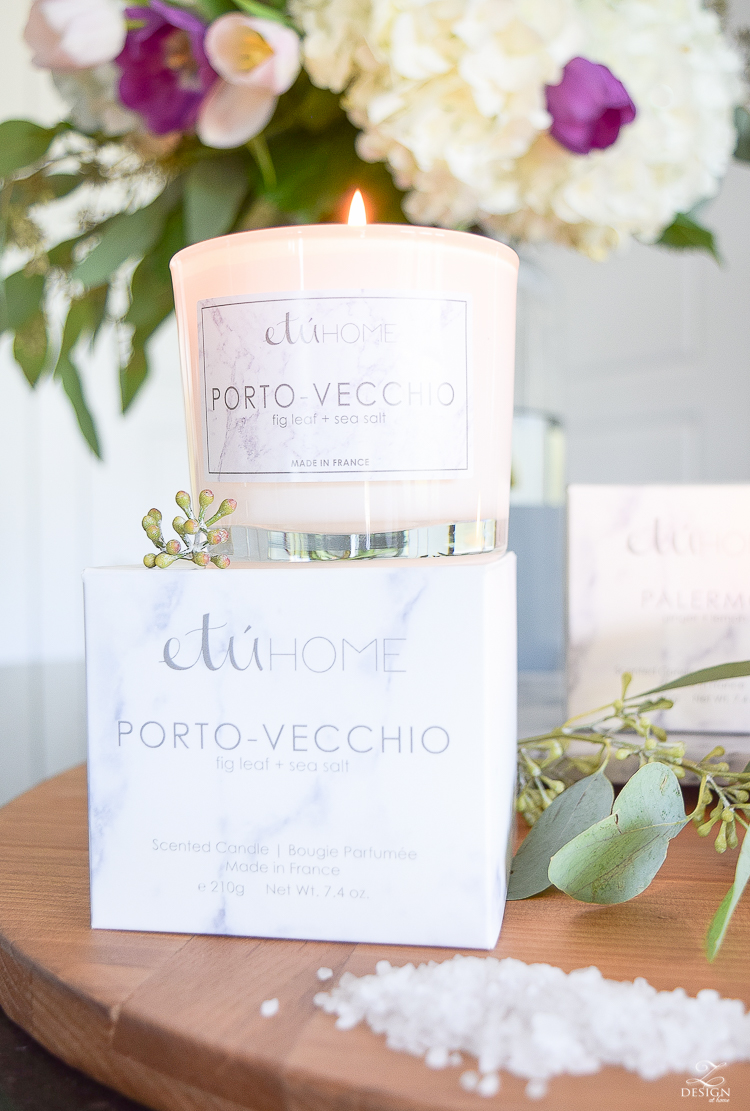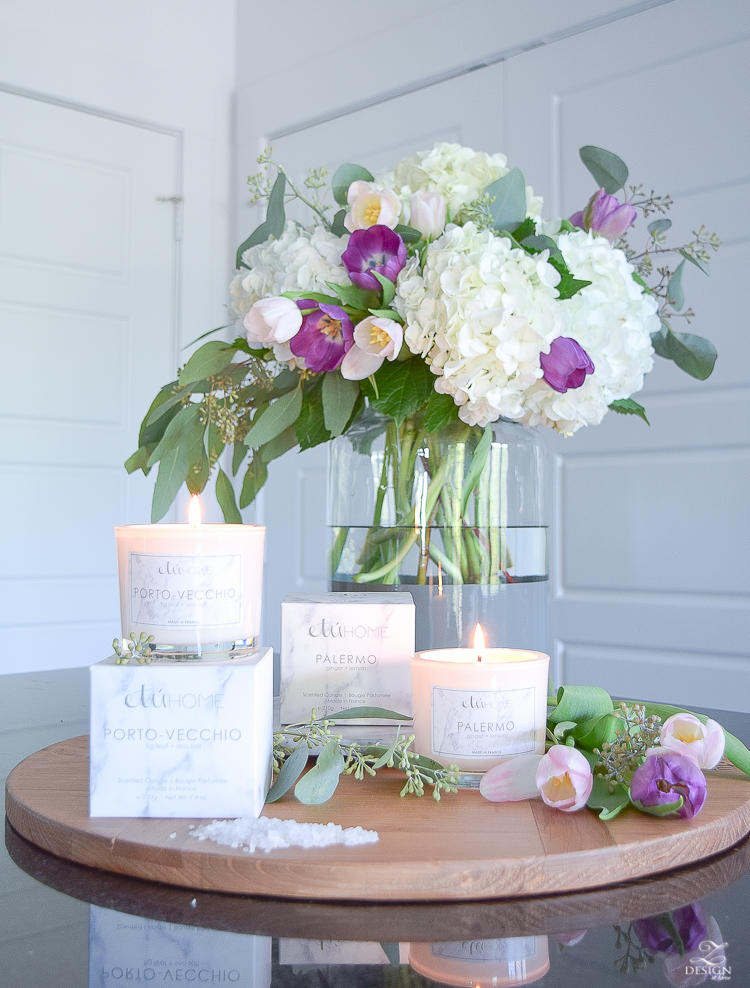 Tips for maintaining your nice candles to keep them burning happy and healthy for a long time
(Source: etúHOME)
Get your wick on! Snip your wick to 1/4 inch before every use which will allow it to burn slower and last longer + avoid unsightly black marks around the edge of the glass.
Let there be light!  The very fist time you light and burn your candle, it's very important to allow it to burn until the entire surface liquifies, which will help your candle to burn more evenly next time.
Keep it straight!  After every use, align your candle's wick back to an upright position to make it easier to light the next time you burn it.
Here is a beautiful snuffer set with wick trimmer I ran across while looking for appropriate scissors to trim the wicks on my new candles that I thought I'd share…who says a wick trimmer can't be beautiful too?!

And last but certainly not least is this amazing Recycled wood pizza board!  I love this board for more reasons than one also but what I love most about it is that it's smooth on one side like you can see here…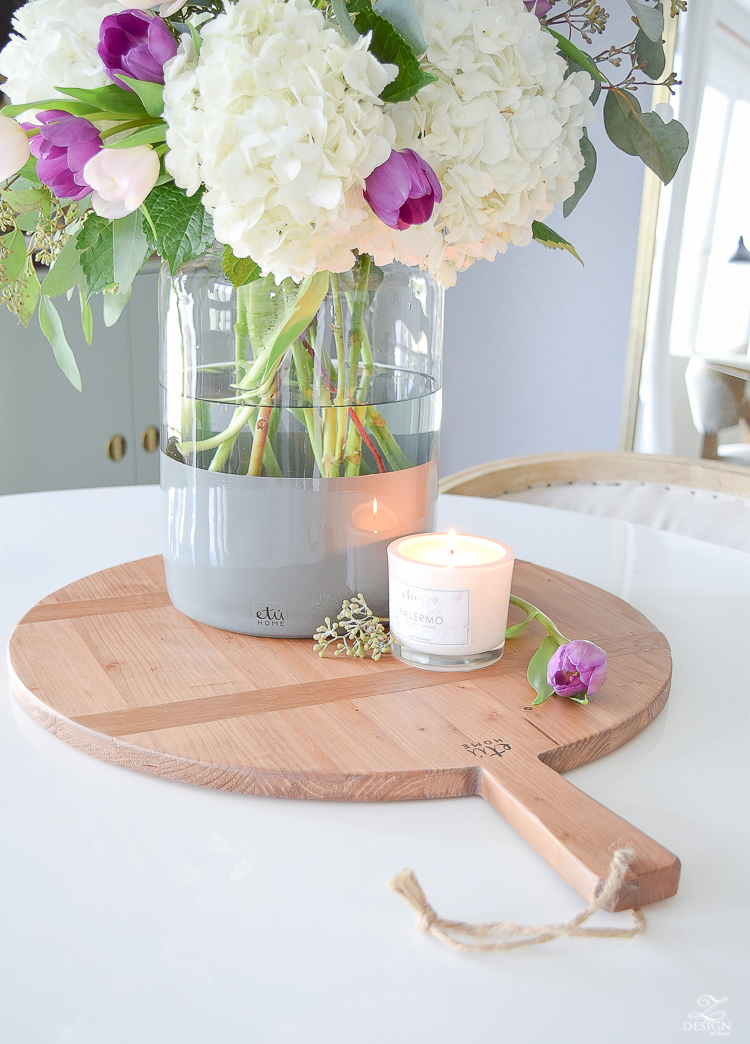 And on the other side it's a beautiful reclaimed wood piece of art!  I have been using it on the weekends to serve snacks to my family in style and my husband really appreciates the extra touch with the use of the pizza board as a serving piece.  My son of course loves the snacks:)!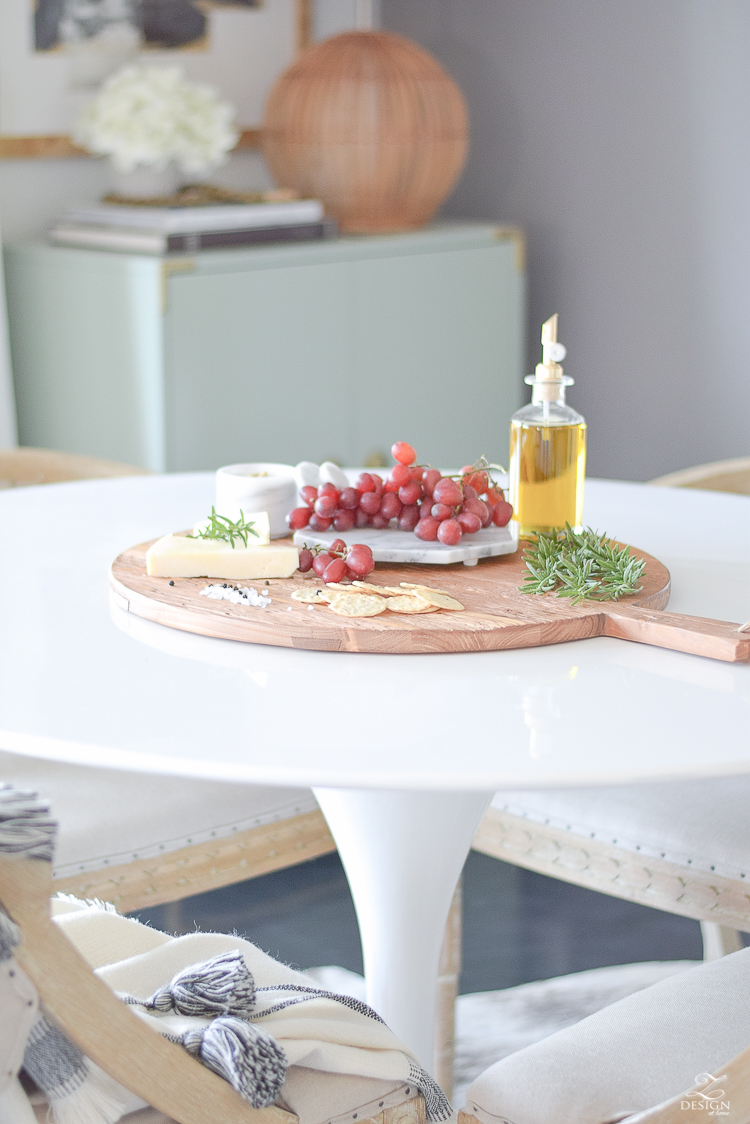 It is truly an artisanal piece and is one we will have for years and years to come and that can be passed down for generations.  And I can tell already that it will only get better over time…I love pieces like that, don't you?!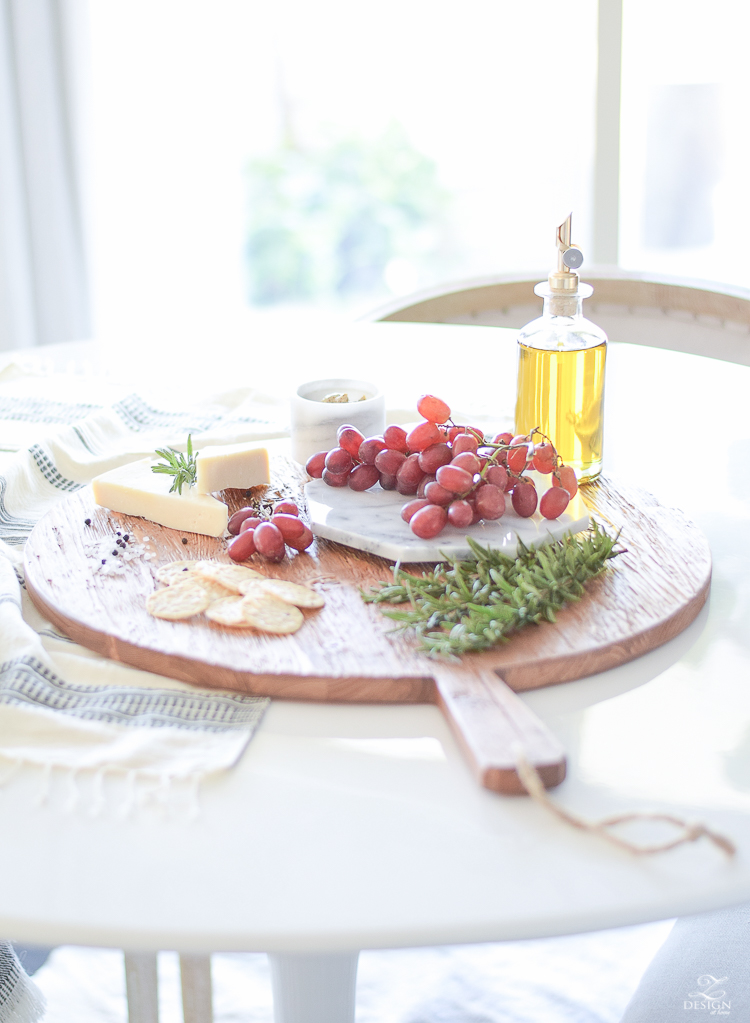 Just look at the rustic detail in this pizza board…it is simply a stunning work of art!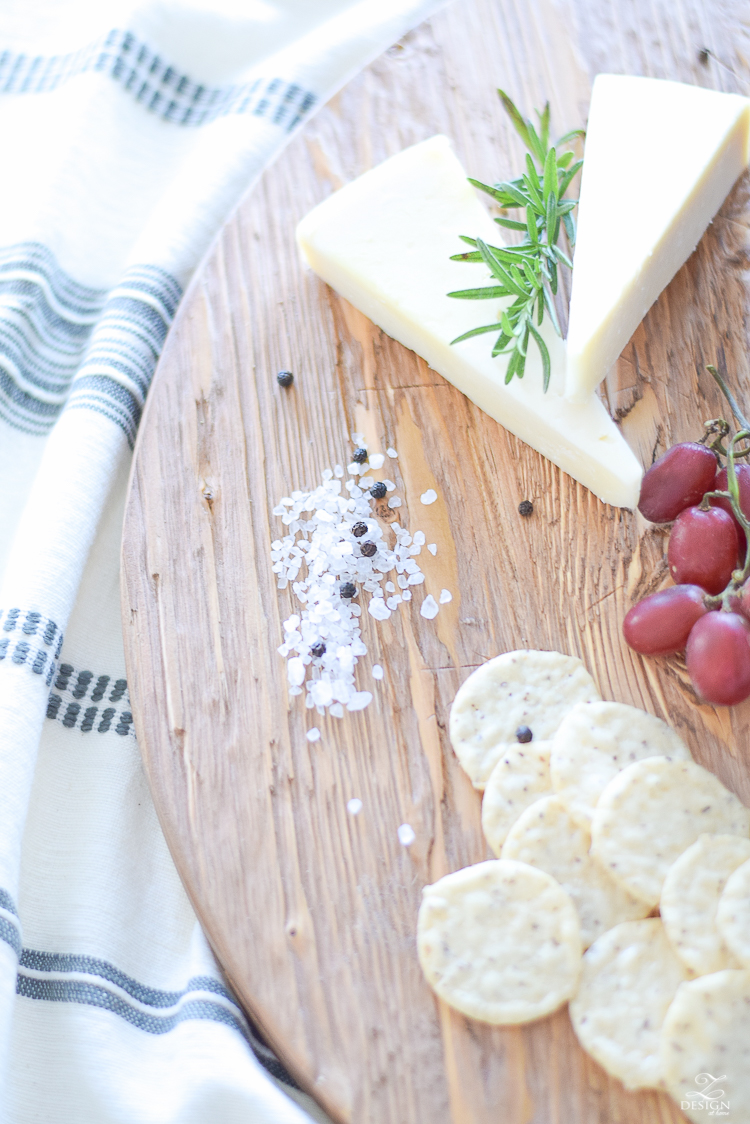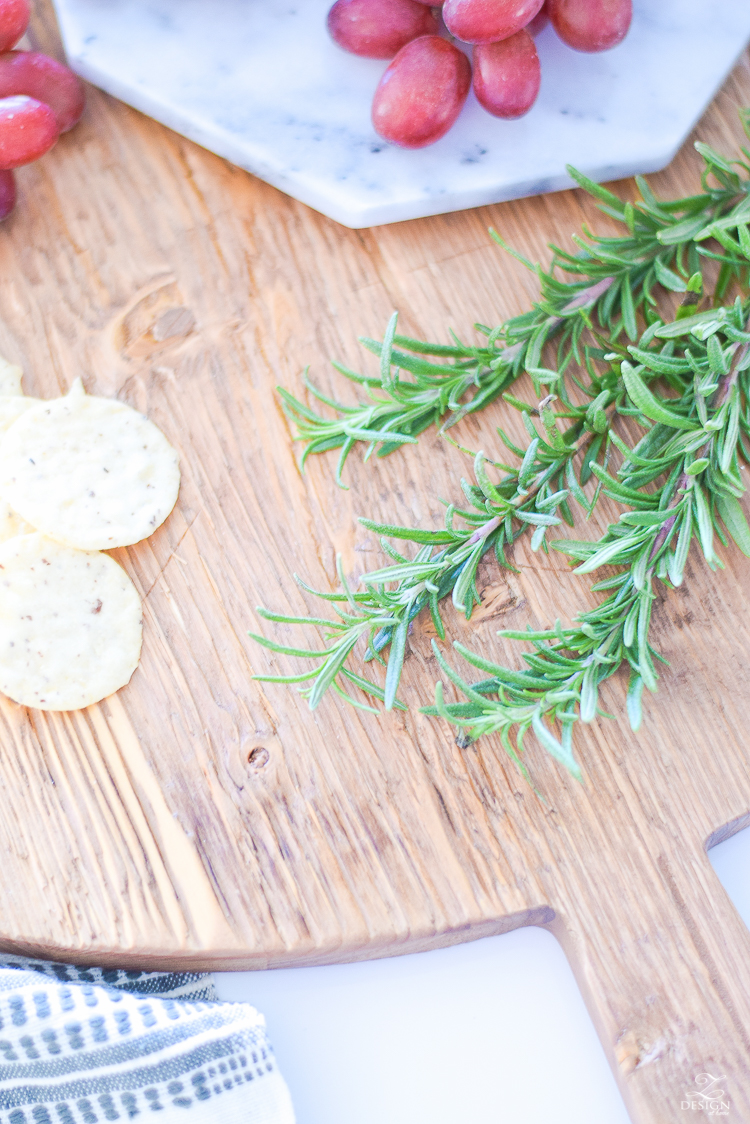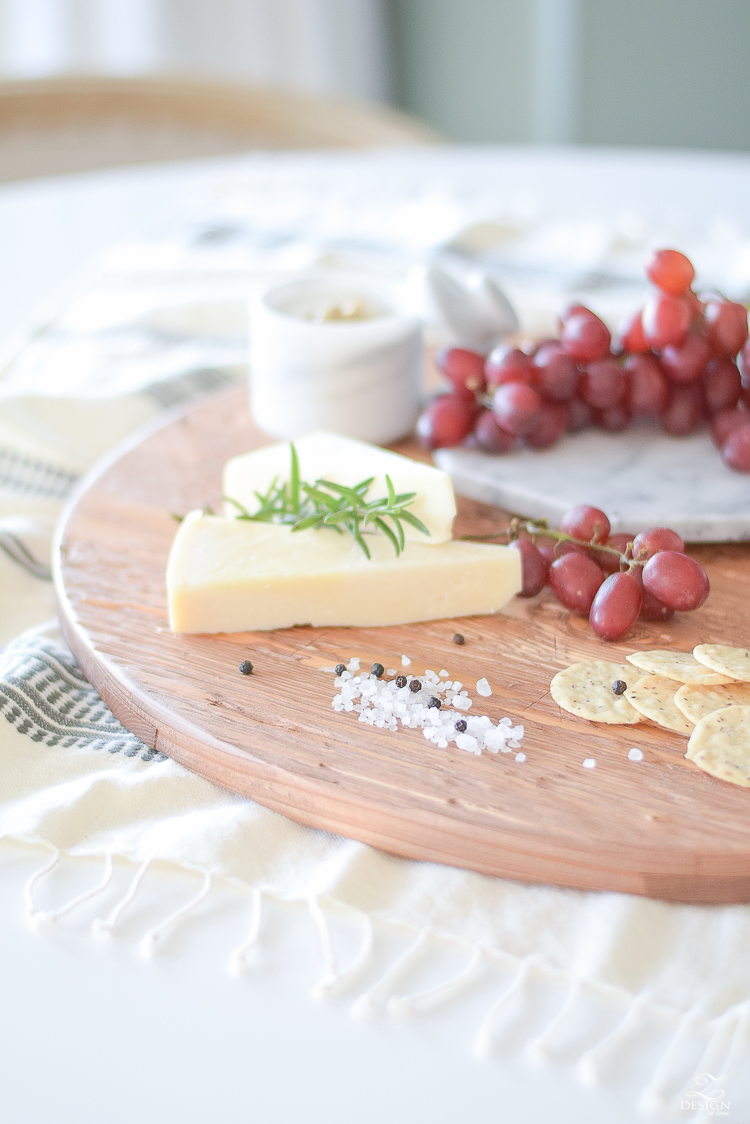 EtúHOME has a variety of sizes, shapes, and colors available in pizza boards  and other cutting boards to fit any need you might have for them.  And of course they are great for gifts too (along with the candles and color block jar) and the holidays are right around the corner:)!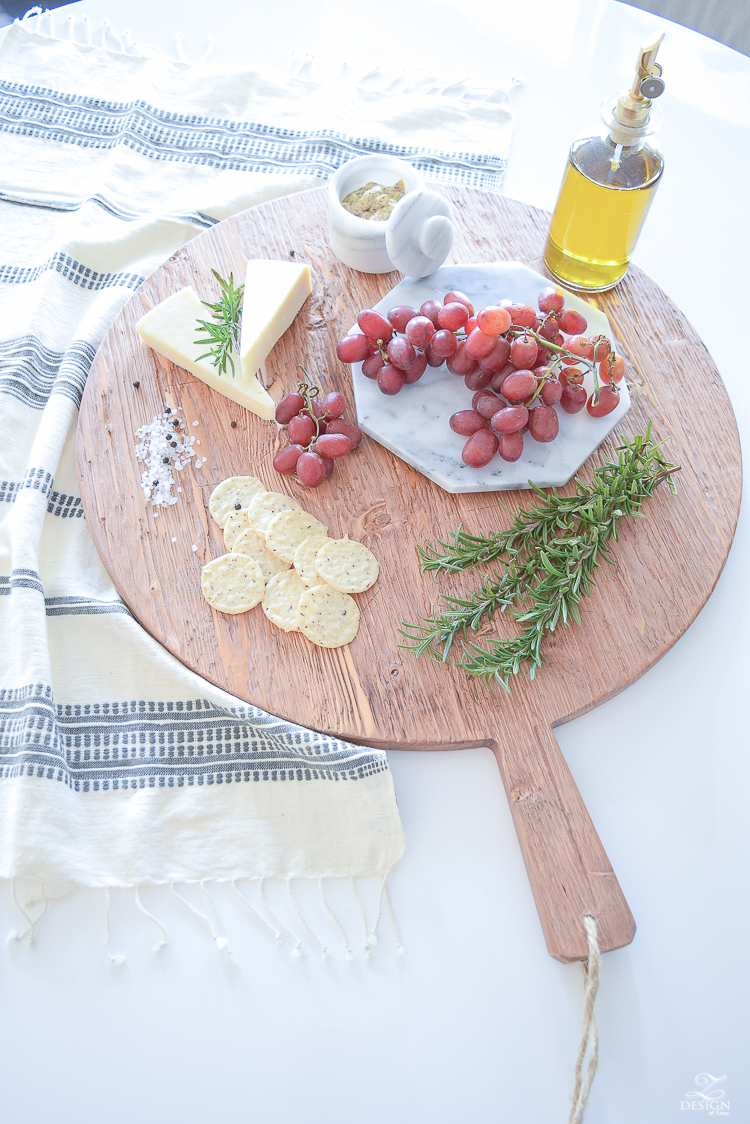 I hope you've enjoyed me sharing these beautiful, sustainable home accessories with you today!  This post was done in partnership with etúHOME but all opinions are my own and I only work with and accept product from companies that I have thoroughly researched and truly have an appreciation for their products.  Please consider signing up for my weekly news letter HERE and I hope to see you back soon, and thanks for stopping by today!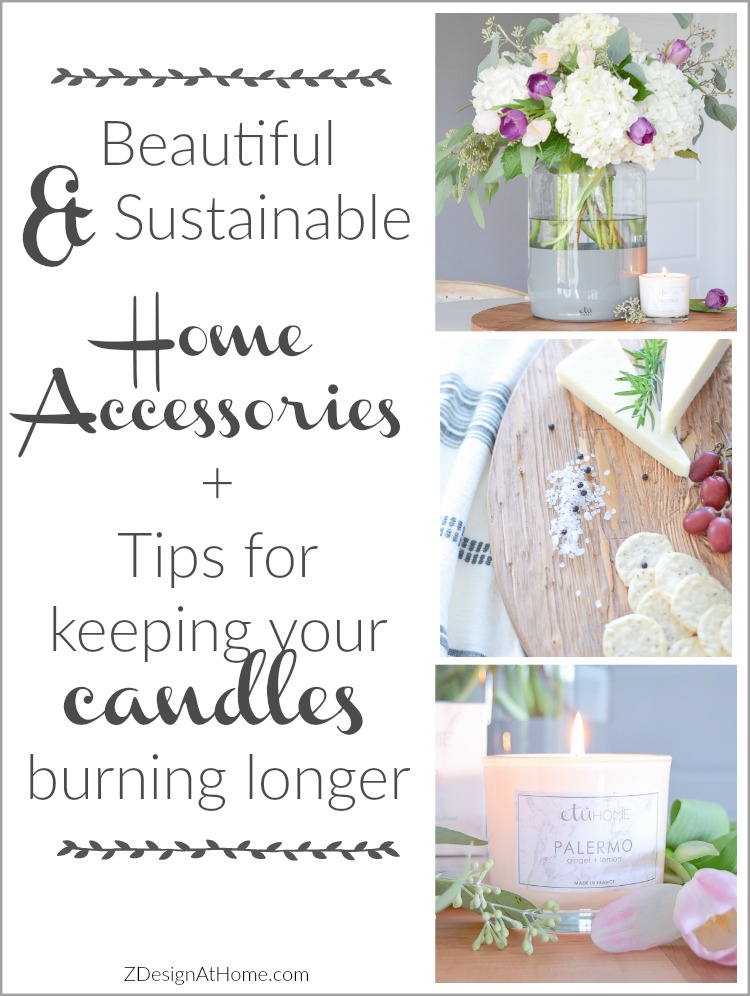 Gray Dipped Mason Jar | Pizza Boards | Candles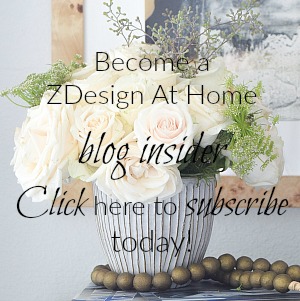 *Some affiliate links used in this post