Practical Solutions for Getting & Staying Organized in the Kitchen
If there is one thing I've learned since living in a smaller space (aka our rental) it is that being organized goes a very long way and lately getting and staying organized in our rental kitchen since learning we are going to be here much loner has become top of the priority list around here!  I also hope this post will help to offer you some practical, affordable solutions to do just that!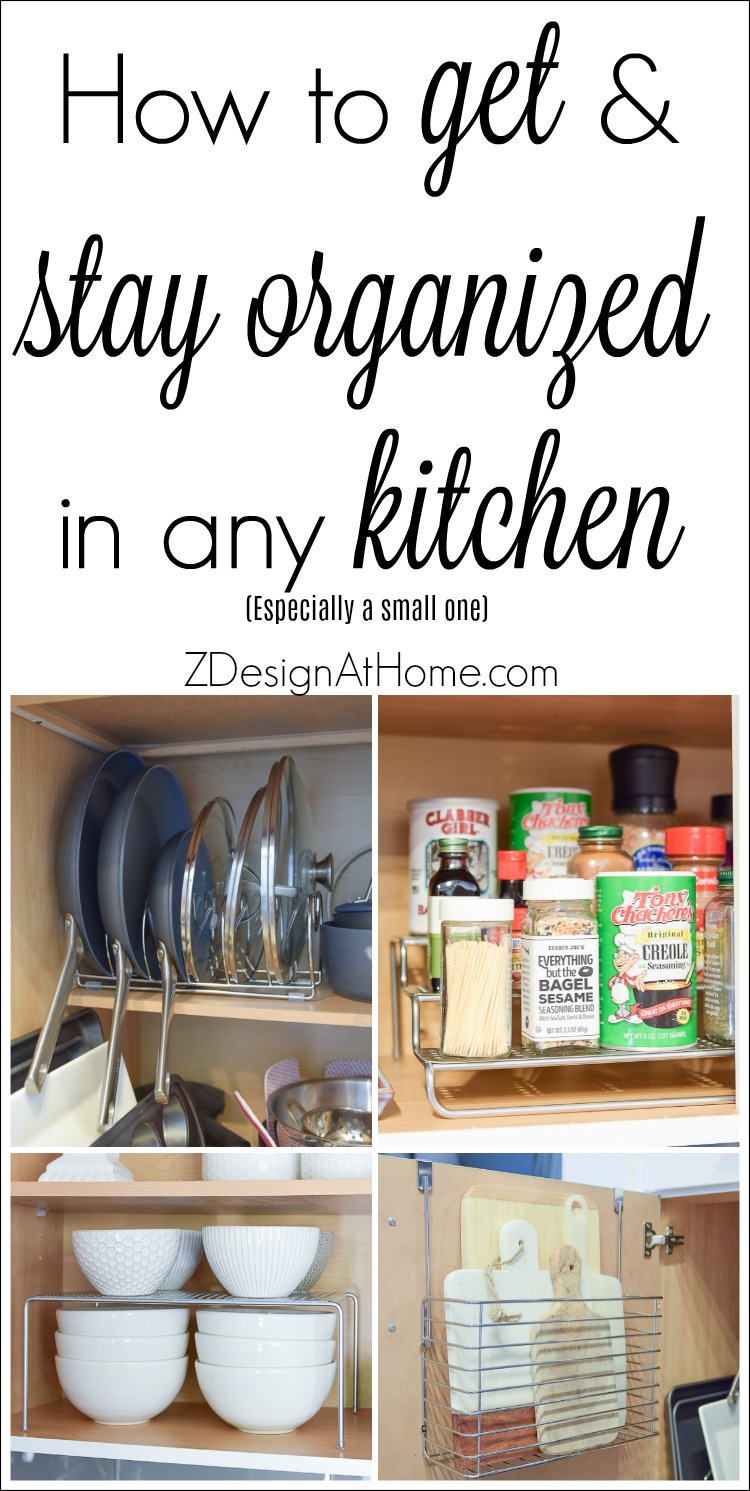 *This post contains some affiliate links for your convenience but at no additional cost to you.  Read our full disclosure policy here.
When we moved into our rental approximately ten months ago I had not planned on spending a ton of time (or money) to become super organized here because I thought by now we would be living in our new home.  However, since we are having to start all over with the design/build process and now know we will be living here for at least another 18 months through that process you can only image how excited I was recently when InterDesign reached out to me to parter on an organizational project.  Just wait until you see what's going on behind those cabinet doors with their products (and I am so excited to share it with you!)…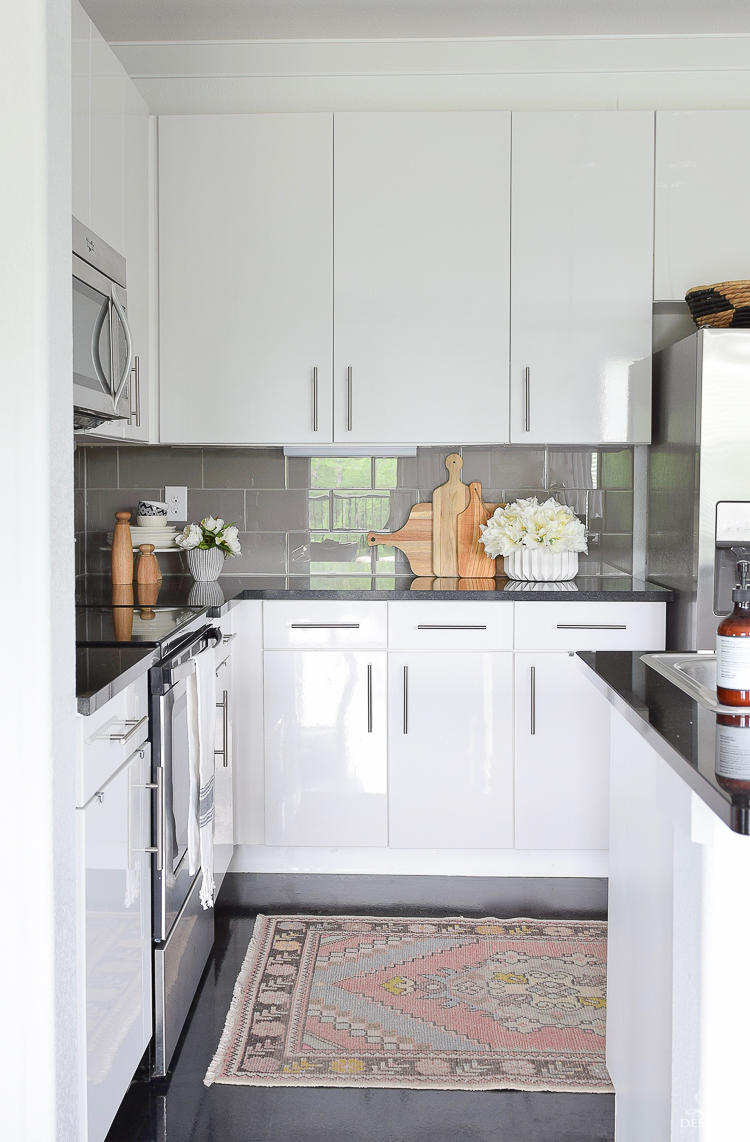 But before we start to look at solutions to my organizational problems in this kitchen, let's first look at how far I had digressed from my typically organized self.  Remember, this is a rental that we were initially supposed to be in for a short period of time so in planning to move here I only brought the bare necessities for a family of three and the remainder of our things went into storage.  Without the proper organizational tools however in this space I believe I may have stooped to a new low with disorganization in here…
The small area where I store our pots, pans and a few other essentials was the most frustrating for me because without a viable storage solution here it had become a complete hot mess!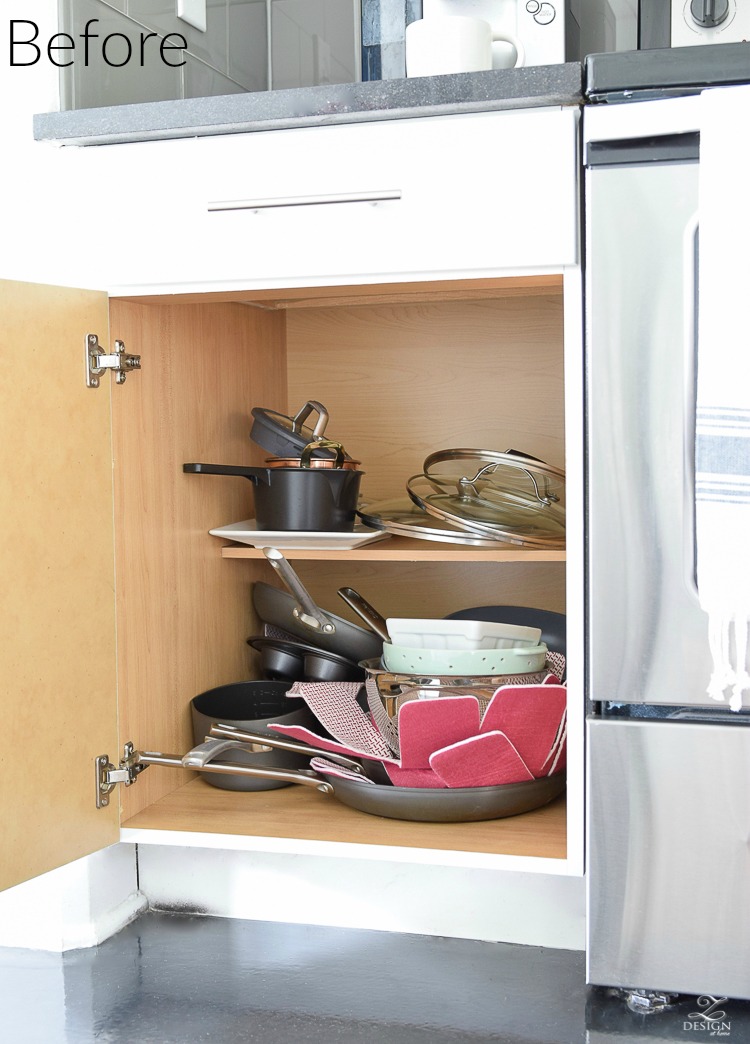 And then there is this multipurpose area below that hadn't gotten too bad but wait until you see it more organized and functional…it is so good and the simple solution I used for this space made all the difference in the world!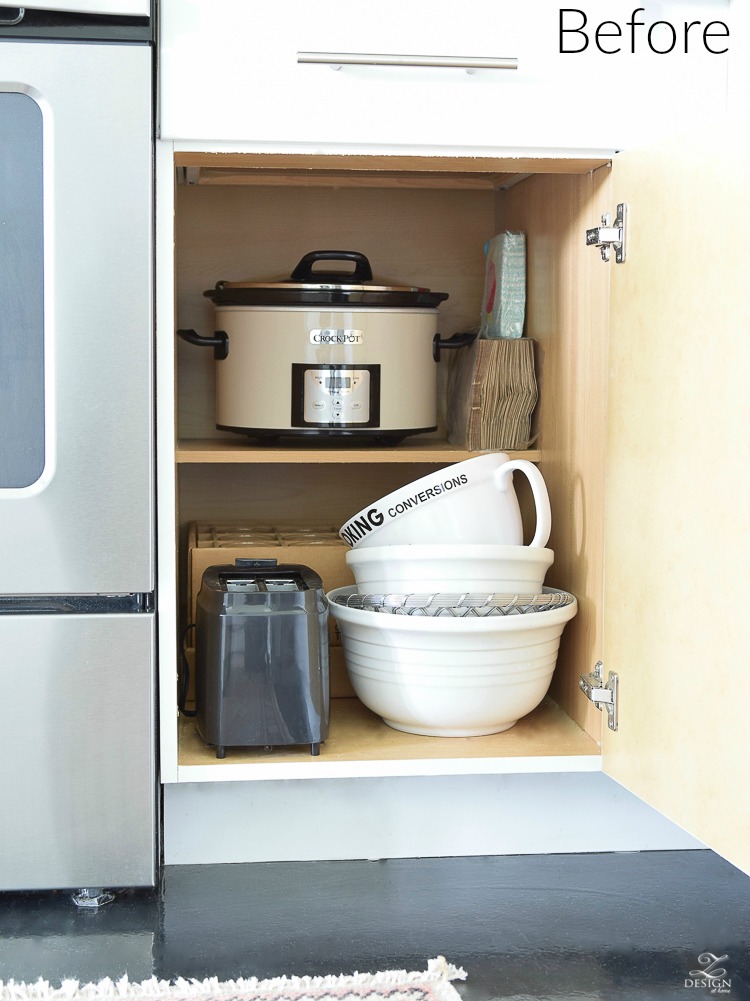 And then of course there is the spice cabinet.  It had become impossible to see what spices and other cooking essentials I had on hand and made preparing a meal so frustrating…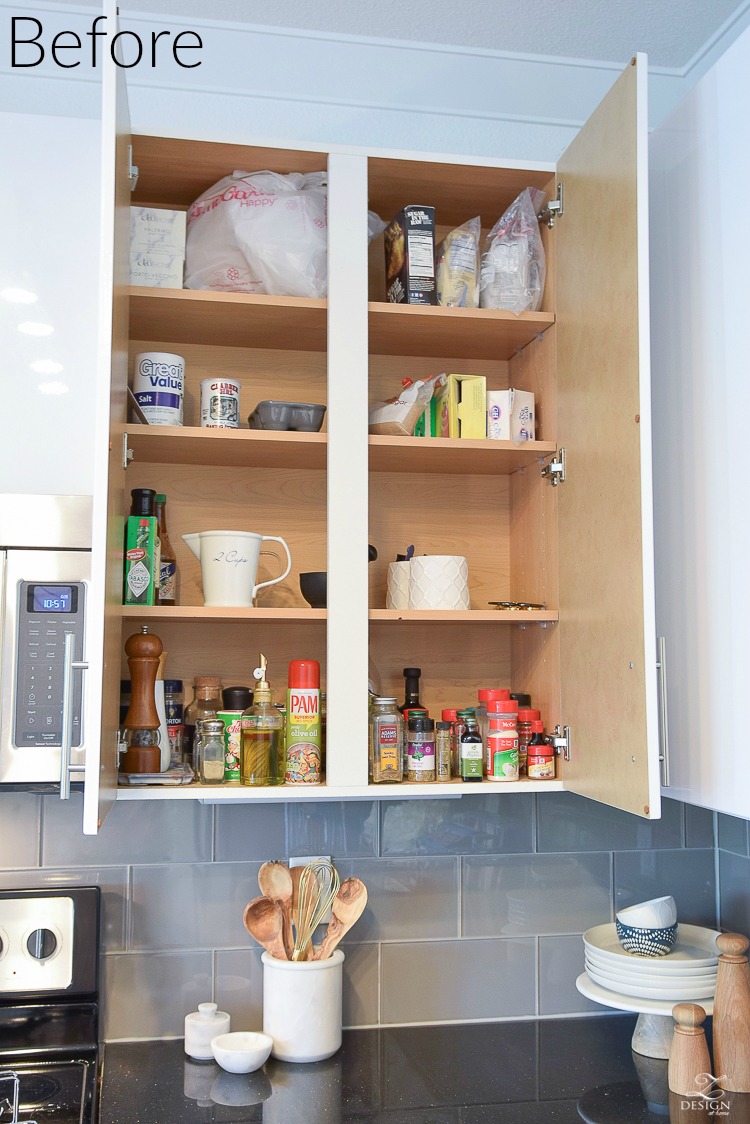 I've had new dishes for months now but didn't have enough room to properly store them until now (now that I'm organized) but look at what I had going on before.  The dish area was combined with our vitamin storage and had become a multipurpose miss mash…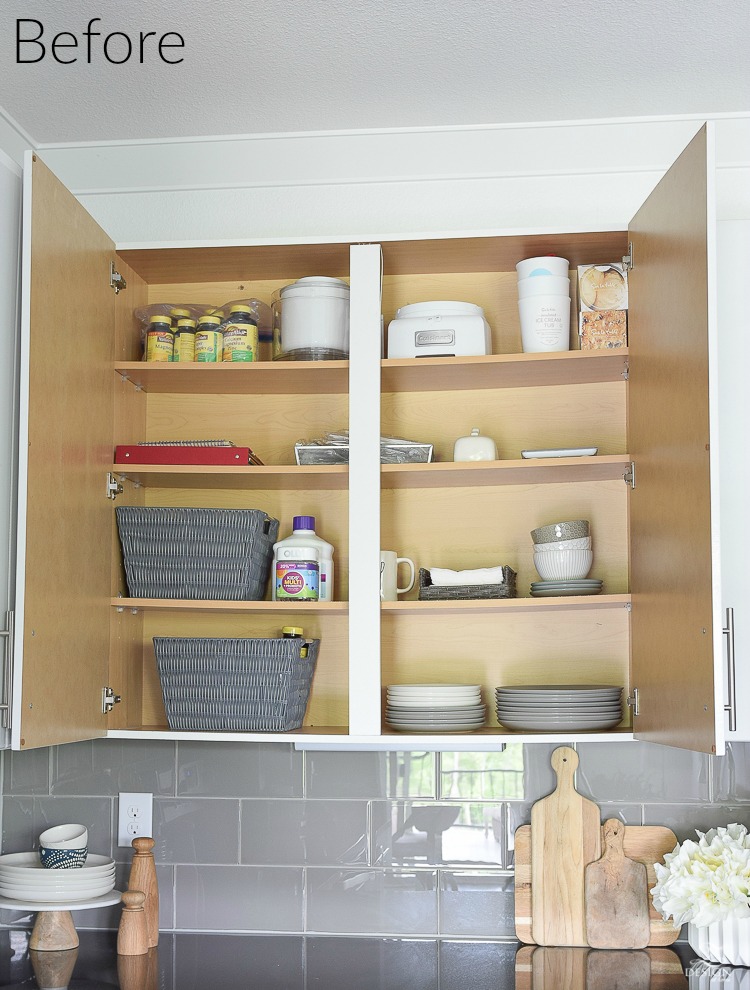 The tupperware area is probably one of the areas I'm most excited about because this area was impossible to keep organized and was completely out of control without a proper system in place (and again, I brought the minimum with us to the rental).  The only thing that was semi-organized was hand towel storage.
Quick tip – if you are short on space like me, roll up your hand towels and store them in a cute basket.  They will take up way less space this way and stay neat and tidy!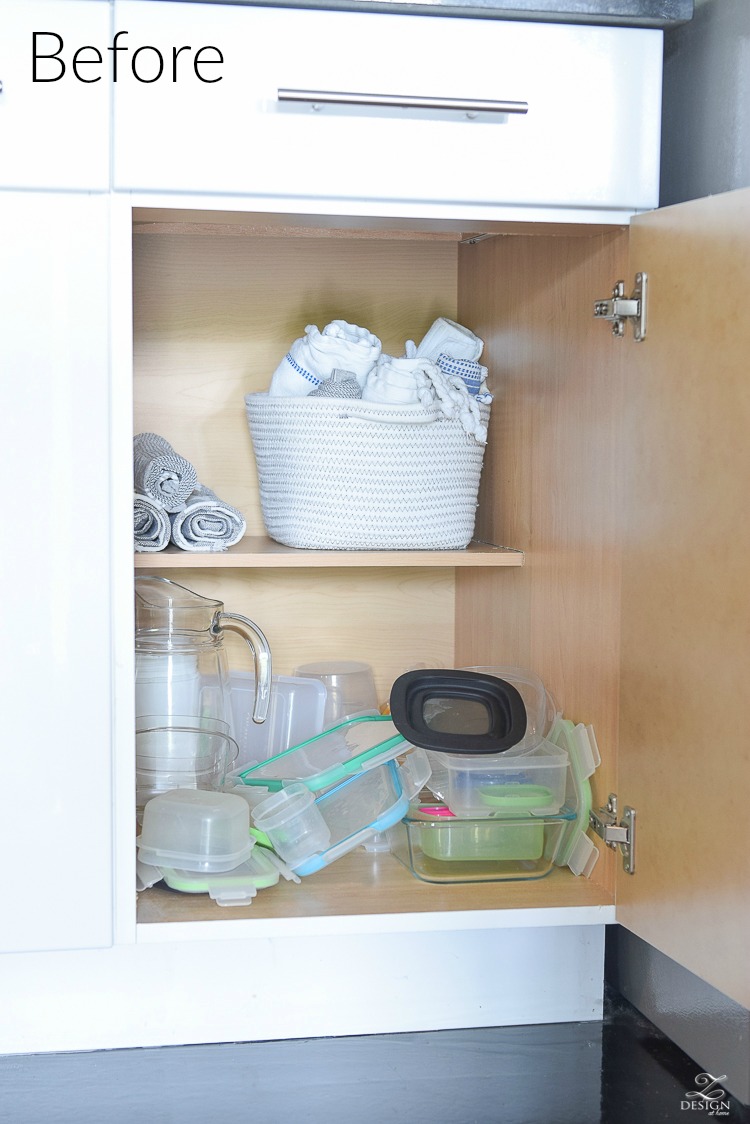 And I had a jumbled mess below the sink to say the least!  I hate having the paper towels out on the counter top so I had them under the sink but they took up so much space and I'm so I'm excited to show you my InterDesign solution to the problem here in a minute.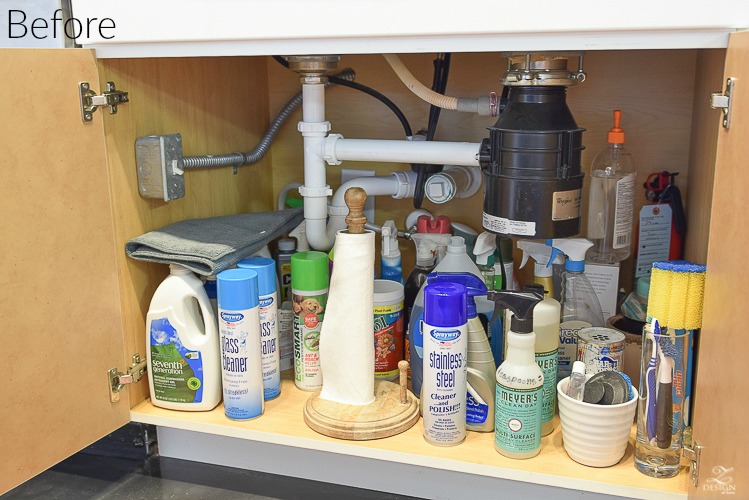 So let's start back at square one with the cabinet where I house my pots and pans.  The InterDesign 6-Slot Skillet Organizer was just perfect to get my pans and lids neatly organized so that all I have to do now is reach in and grab what I need without having to worry about what I need being buried at the bottom of a stack.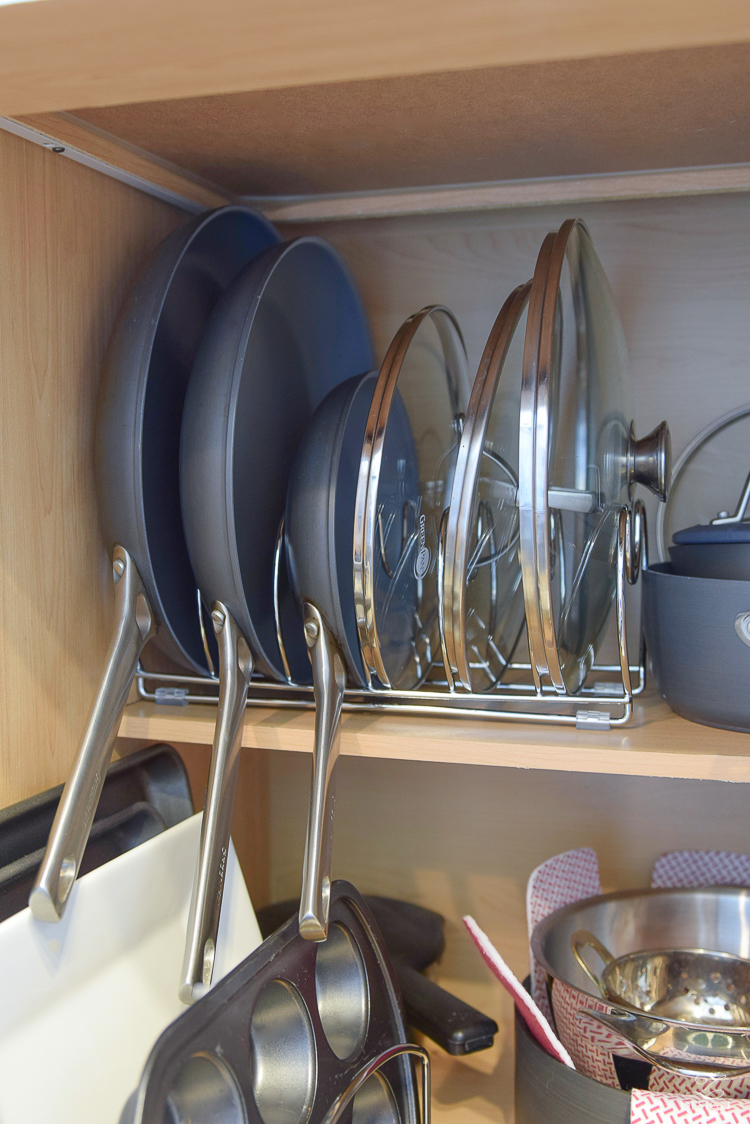 And this 3 slot organizer was also perfect for sheet pans, platters and muffin tins.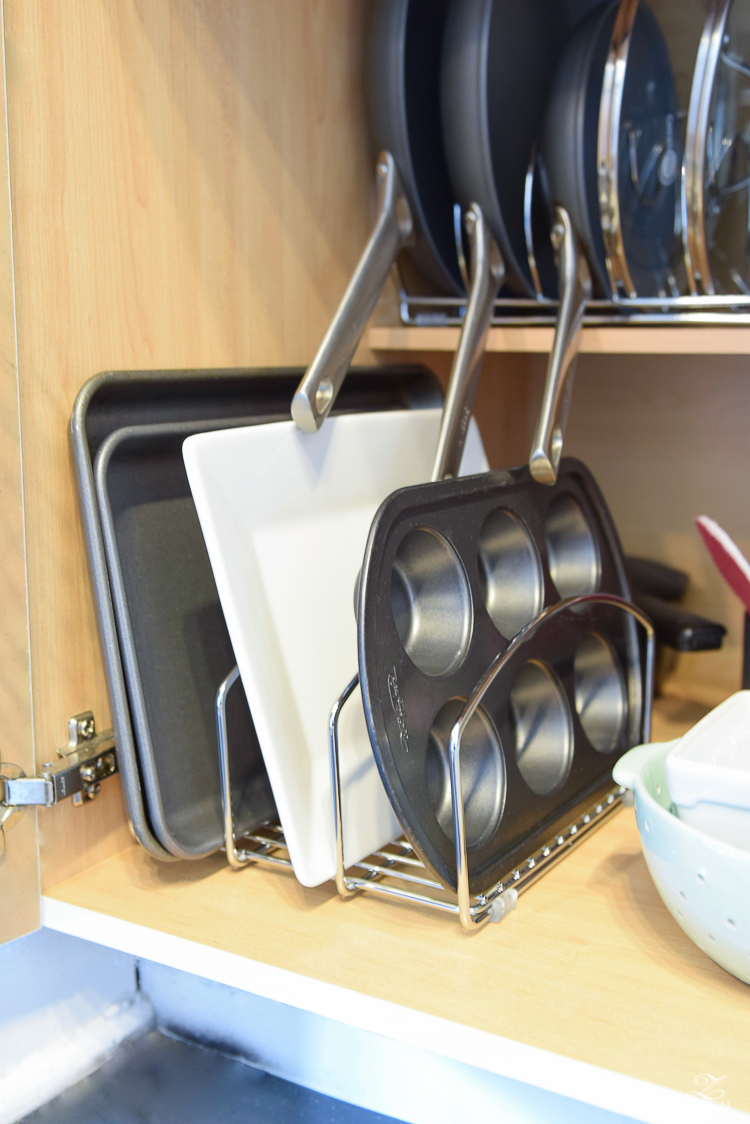 If you are unable to install a fixed solution and/or want a quick fix storage solution I can't even begin to tell you how wonderful these organizers are to get your pans, lids, sheet pans, etc., organized and clutter free.  They also have rubber feet so that they won't move around as you slide things in and out.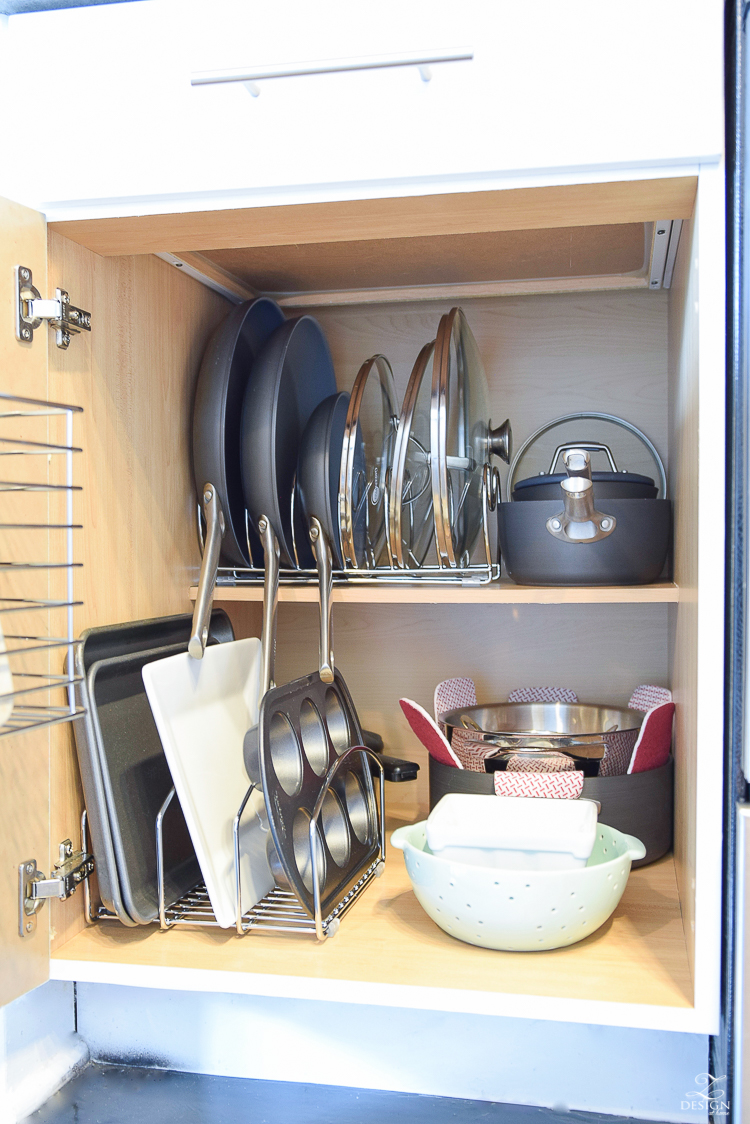 I also used this InterDesign over the door bakeware organizer in the same cabinet for my cutting boards that has been wonderful for making more space inside of my cabinet to keep this space clutter free going forward.  This organizer also has screw holes if you would prefer to permanently install it inside your cabinet door (it also comes with mounting hardware).  I can't do that because I'm renting but totally would if this was my permanent home!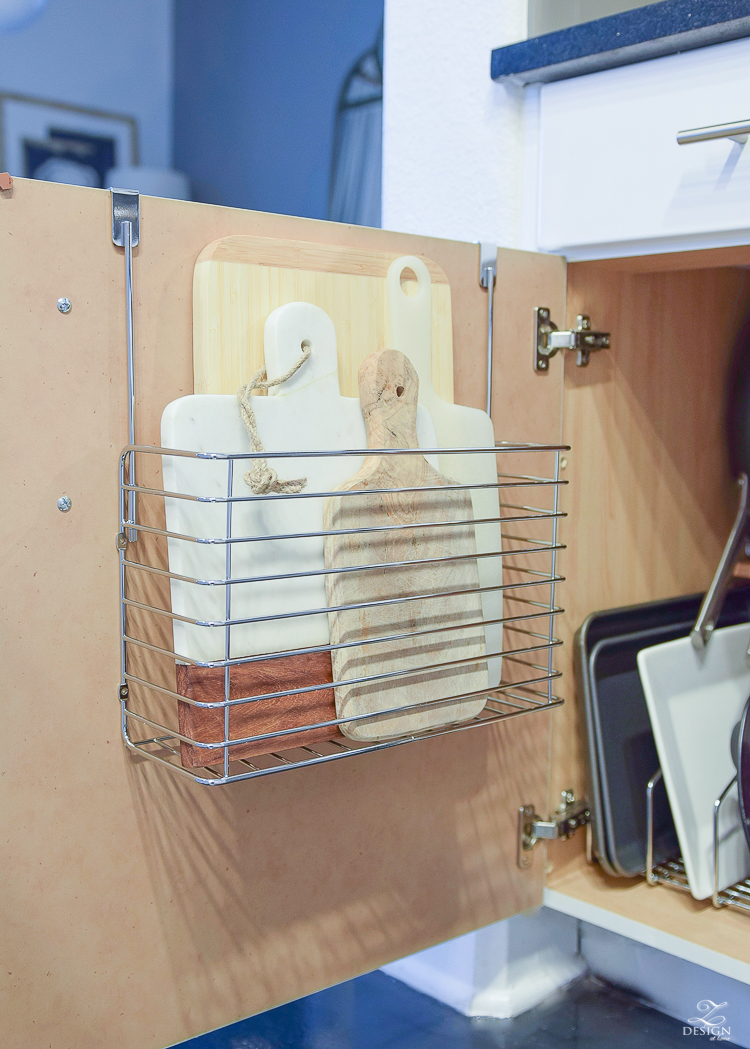 Moving on to the area where my toaster and other items were.  I rearranged this area totally, taking some things out and adding some things but if it had not been for this stackable cabinet riser I would not have had nearly enough space to add everything to this cabinet that I wanted and needed in here.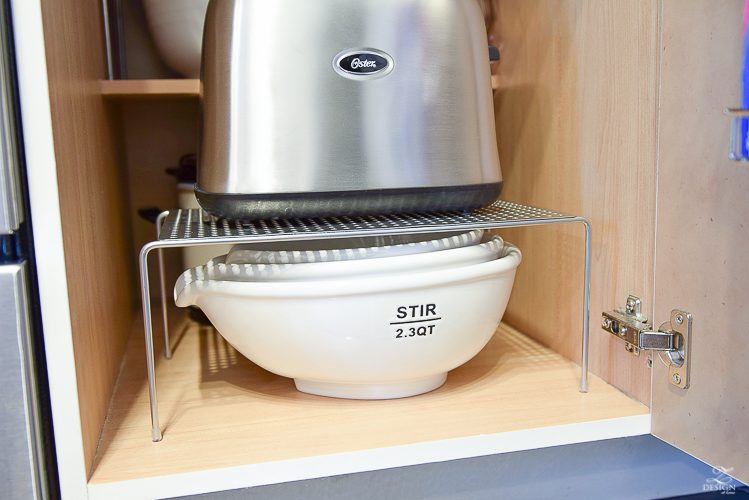 These risers come as a set of two with one being smaller than the other so the they can stack neatly one on top of the other.  I separated mine out of necessity but they can be used either way of course.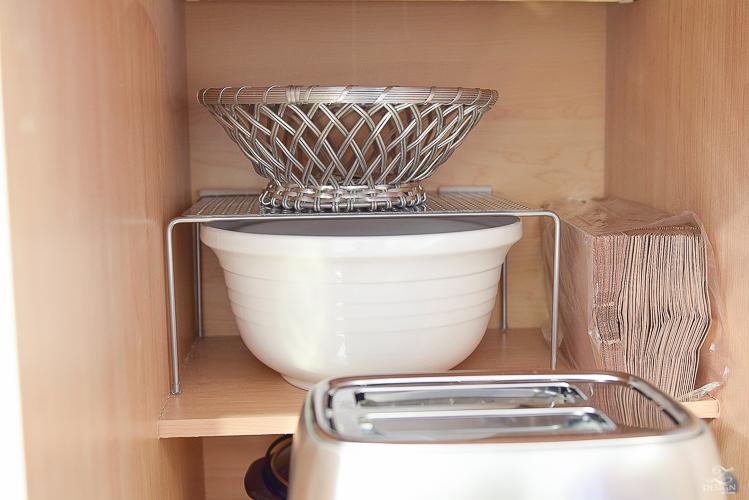 This space looks and functions so much better now!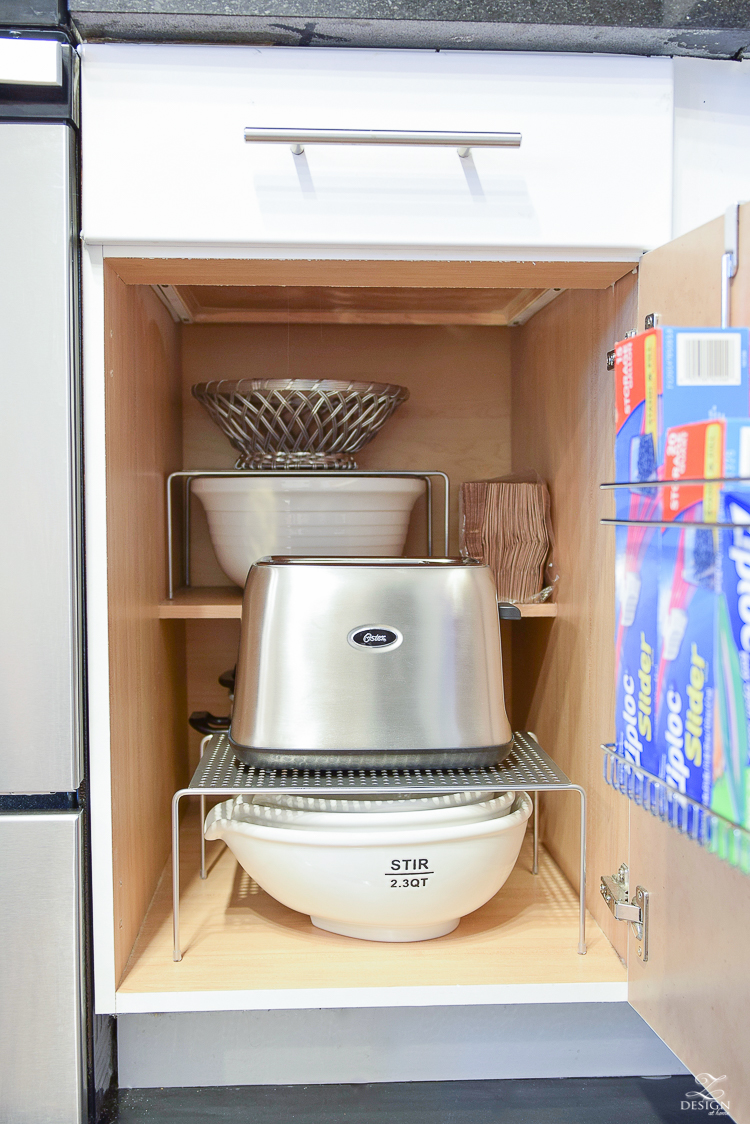 I also added this over cabinet storage organizer that is perfect for things such as aluminum foil, zip lock bags, etc.  I was previously keeping these items in my junk drawer which made that drawer way too cluttered so this organizer in particular has been a huge help in getting me organized in here.   It also has a permanent mounting solution built in if you want/need that feature.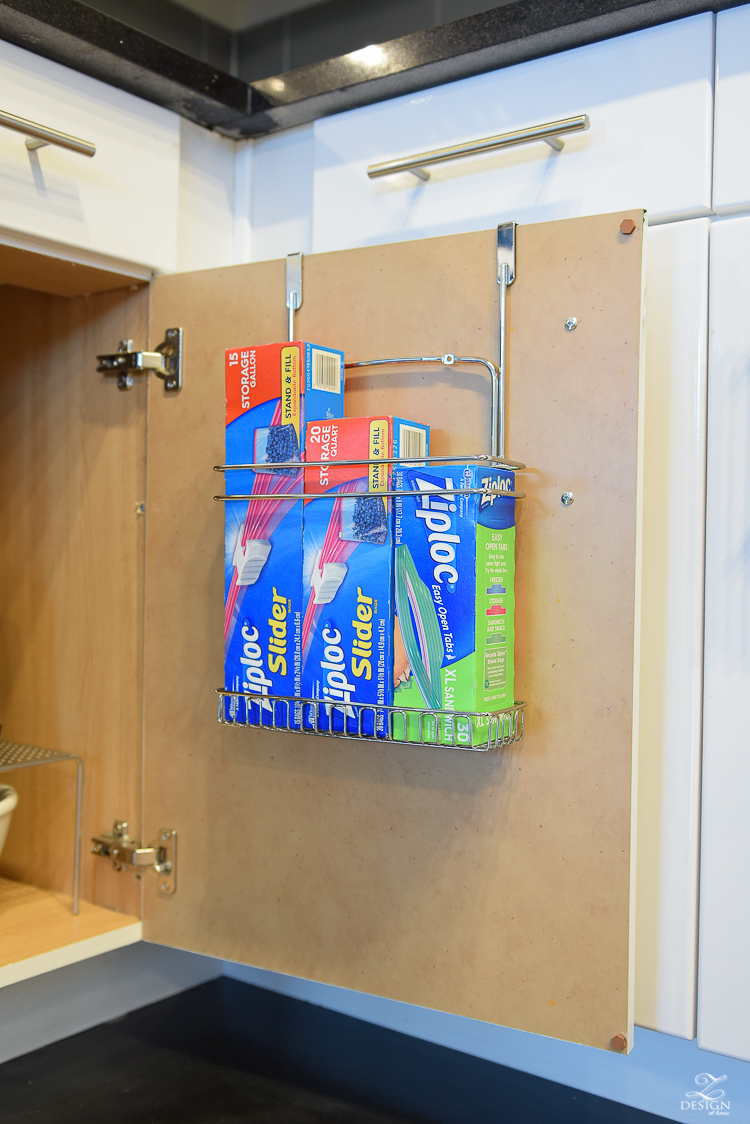 The cabinet above that is my spice cabinet and this 3-tier expandable spice rack was just the ticket I needed to whip this spot into shape!  Now I can see what I have and have no trouble easily putting my hands on anything I need while preparing a meal.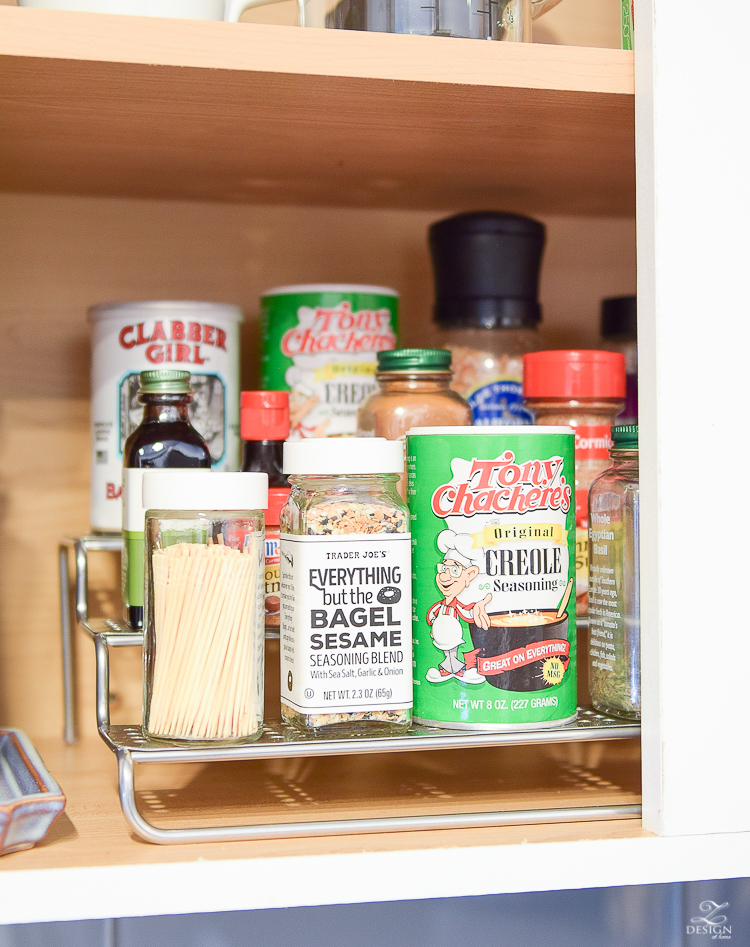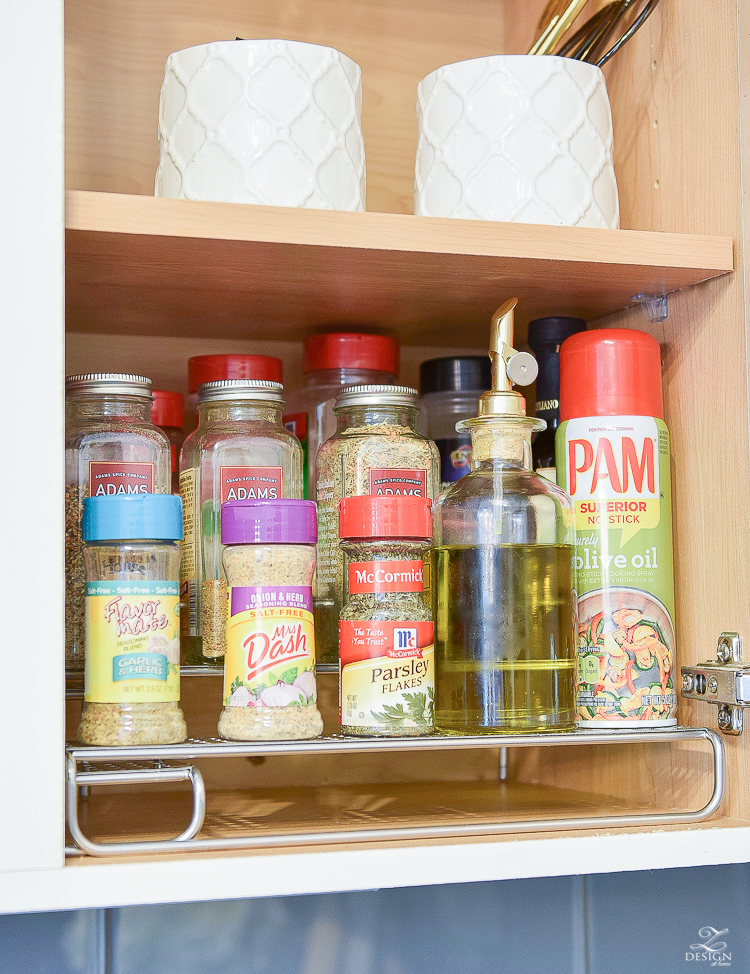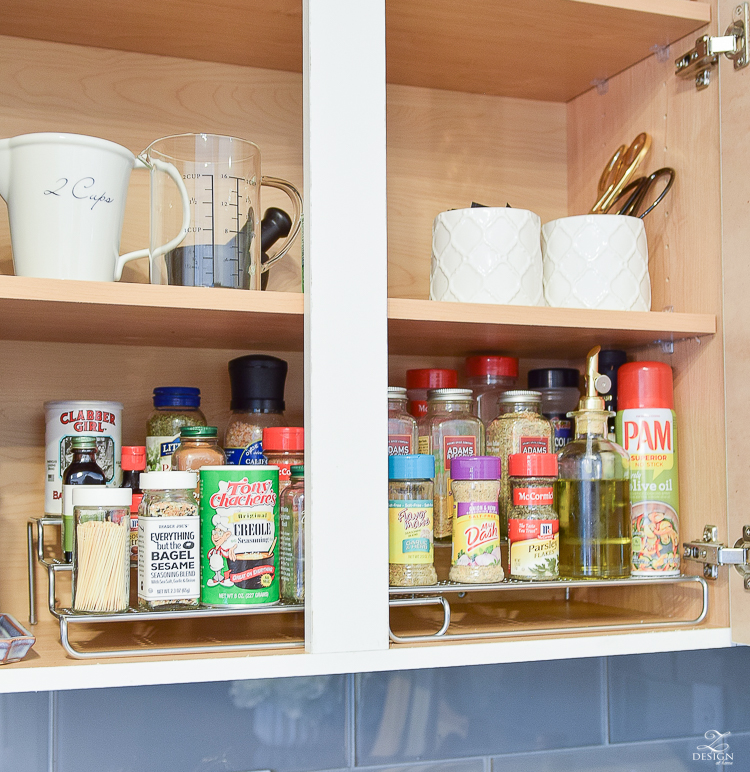 And I'm super, super excited for this one!!  My tupperware cabinet was the worst situation by far I had going on but now it's all organized and with the InterDesign lid organizer I can easily keep it this way.  I deviated a little from the way it was intended to be used but that's part of the fun in decorating and organizing, don't you think!?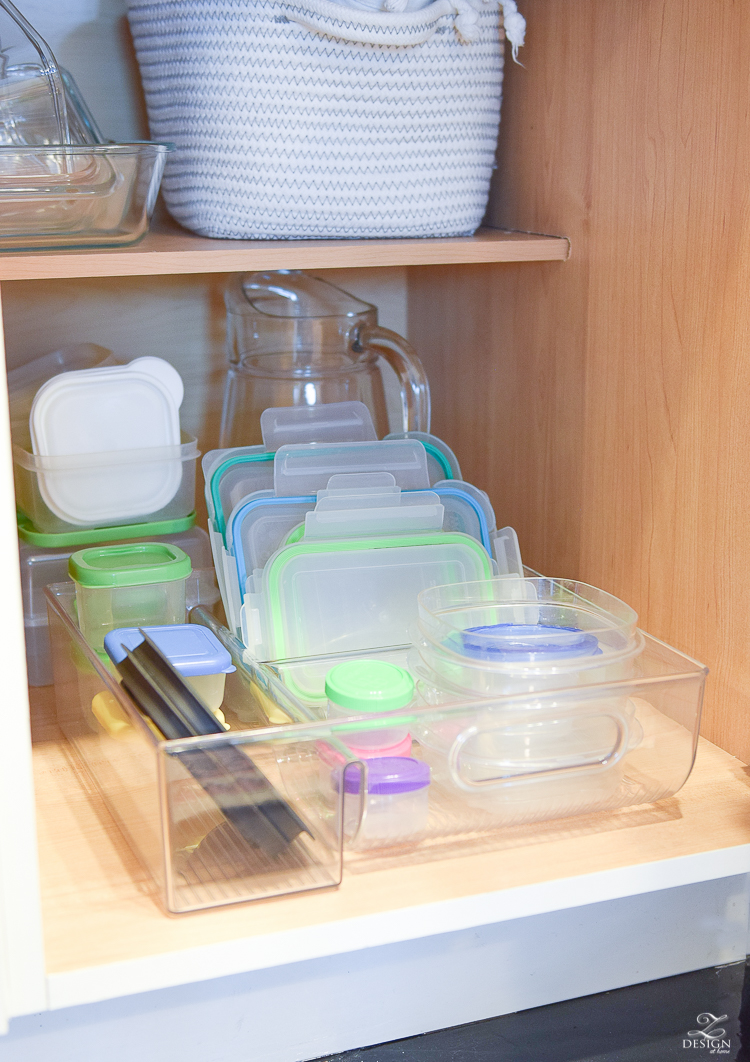 I probably could have used two of these so I may have to get another one but I love the way it functions in this space and once I get into my new home (finally) and have all of my tupperware pieces back together again I will have it full to the brim and all nice and organized once and for all.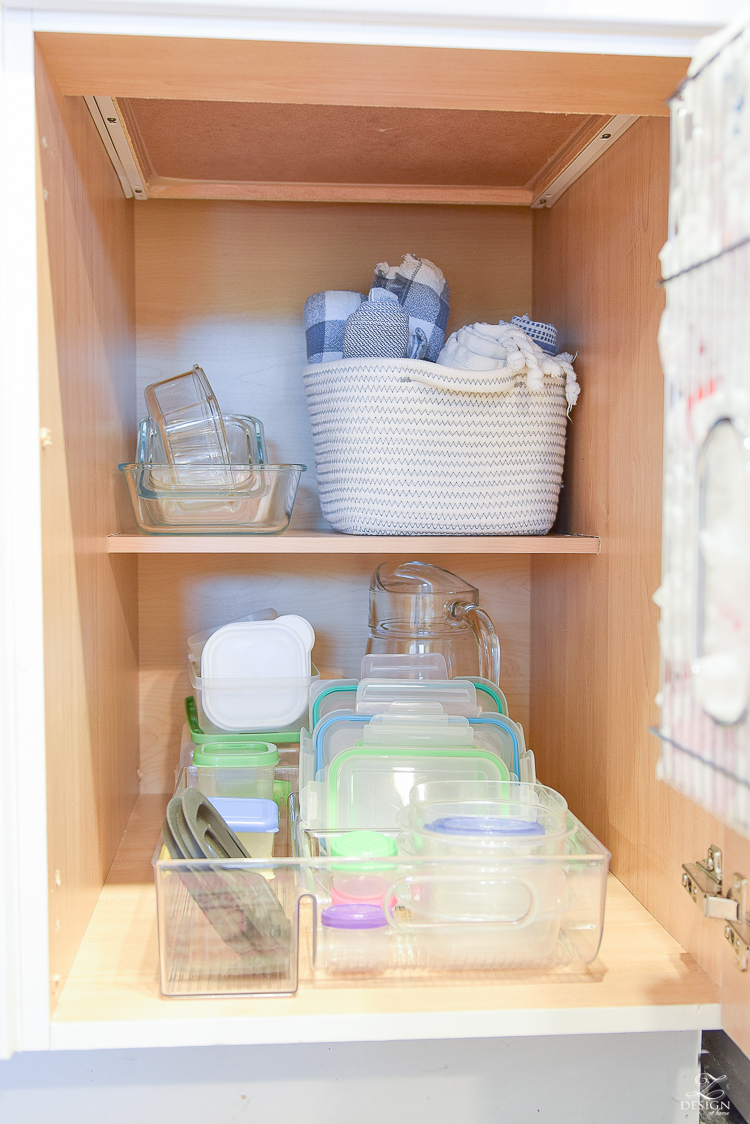 On the door of this cabinet I also added this over the door bag organizer.  Reusing these (or recycling them back to the store) is always a priority for us so this organizer is perfect for that plus it keeps them neat and tidy in one handy spot.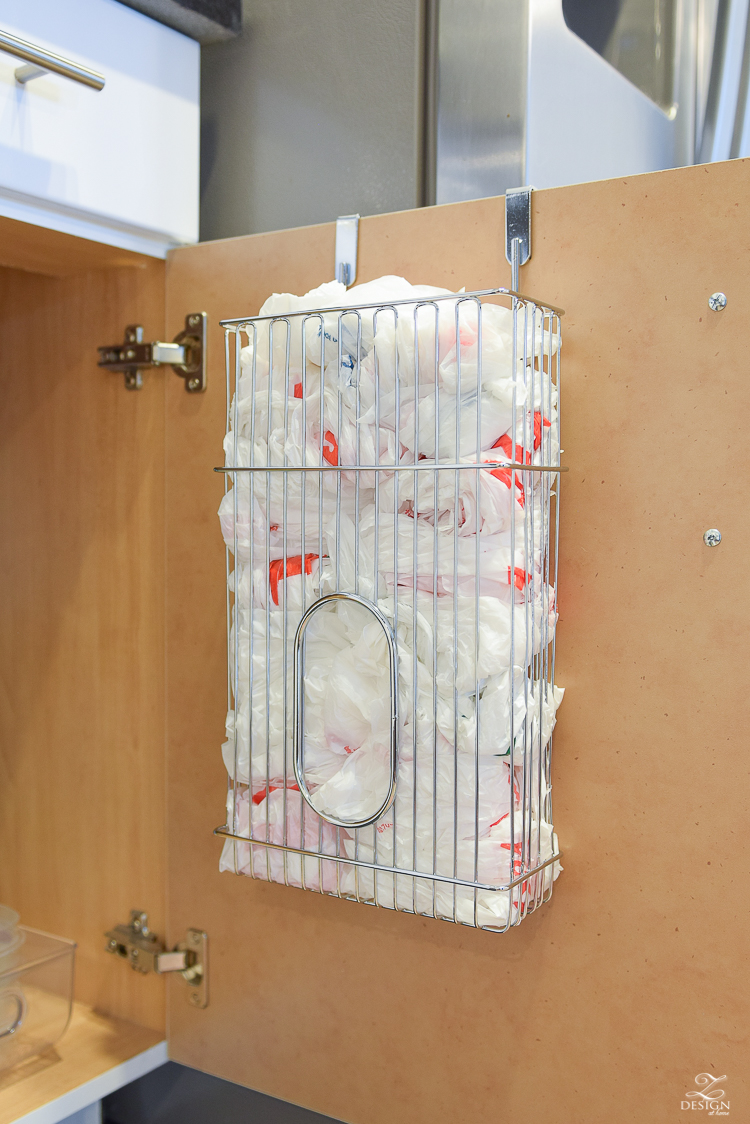 Next up is my dish cabinet!  Once again I used these cabinet shelf risers to elevate my dishes creating additional space to store all that I needed in this area (my coffee cups are over in the cabinet closest to the coffee pot in case you were wondering).  Now I can have everything we need in one spot (close to the dish washer for easy unloading) and have it organized, neat and much prettier now so that I can properly use and display my dishes.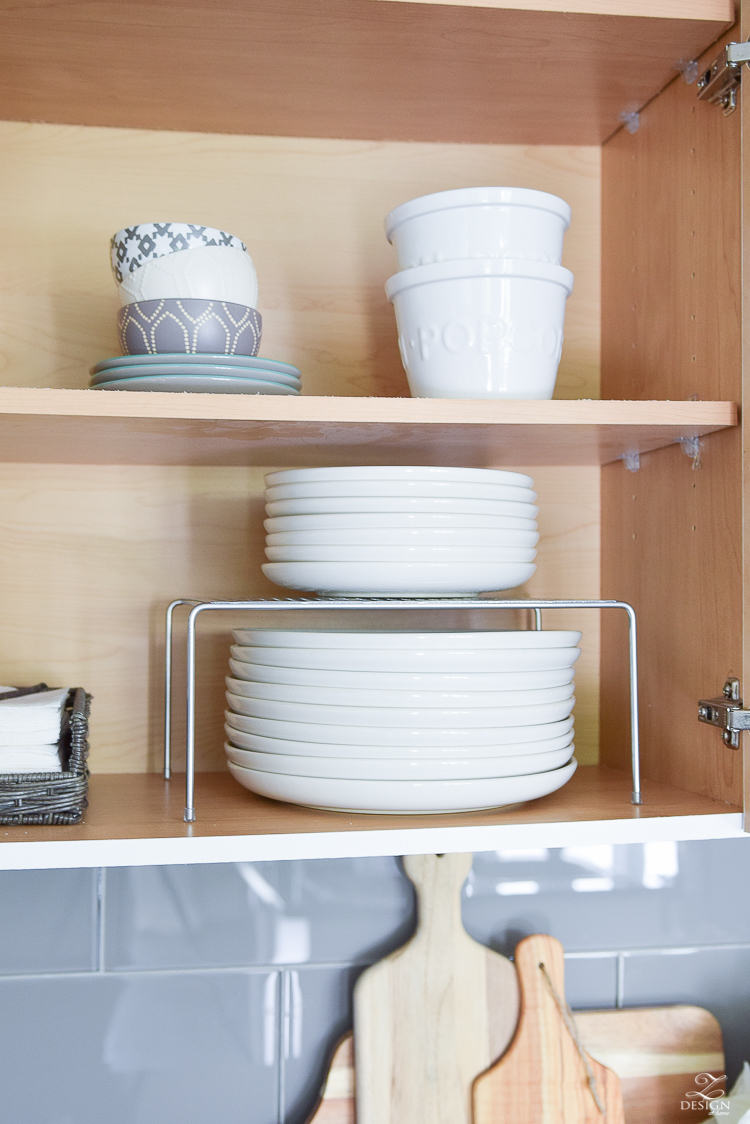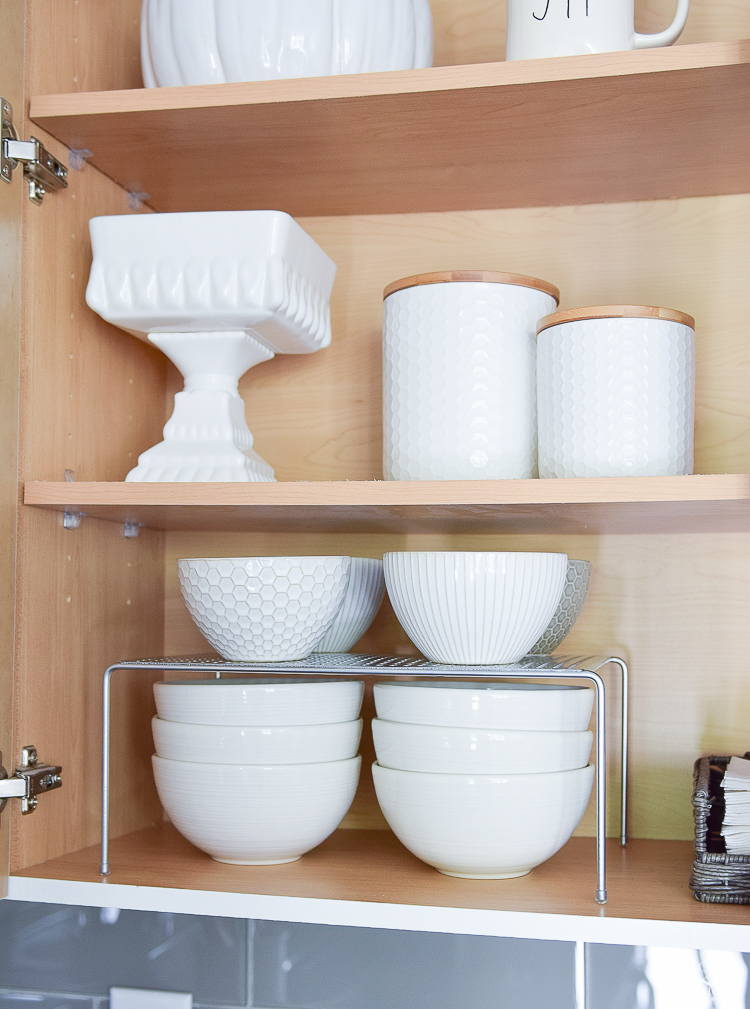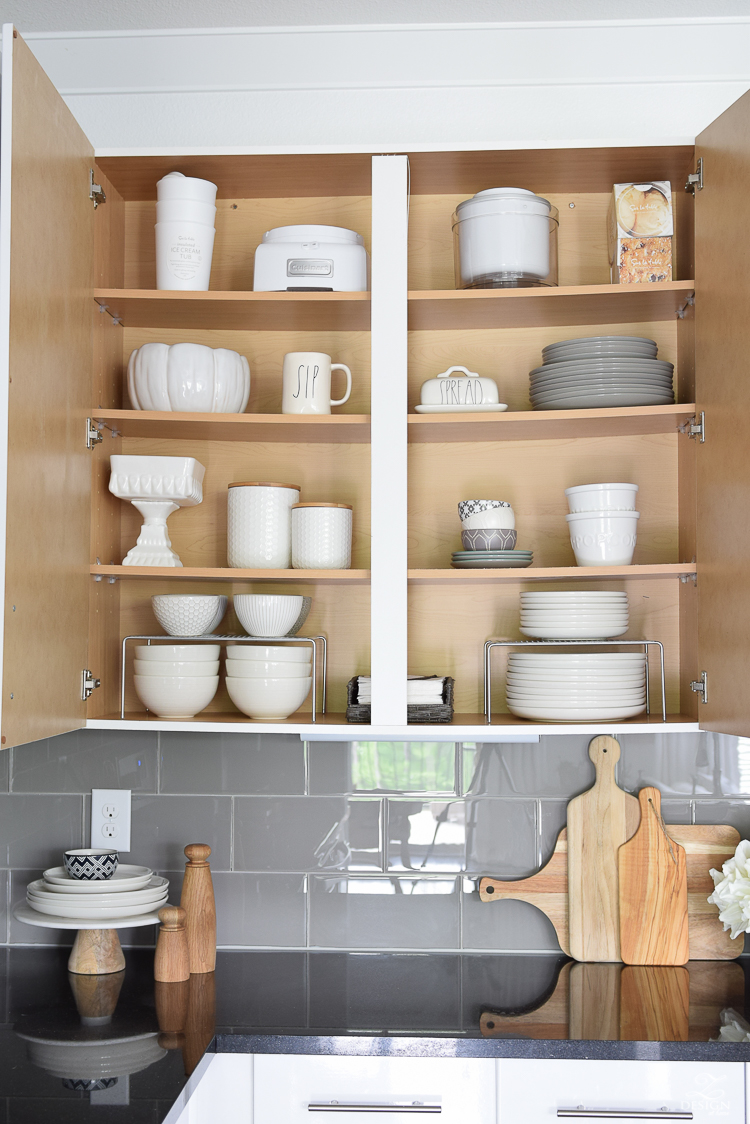 And last but not least is my new under the sink organization…I'm seriously so excited about this one that I can hardly contain myself, friends!!  I can't even begin to tell you how helpful having this cabinet organized has been for me.  I don't know about you but when I can see things and easily put my hands on something I need while cleaning the kitchen it just makes my domestic life so much easier (to include after dinner clean up if you get my drift)!!
I started with this acrylic tote that I'll talk more about in just a moment…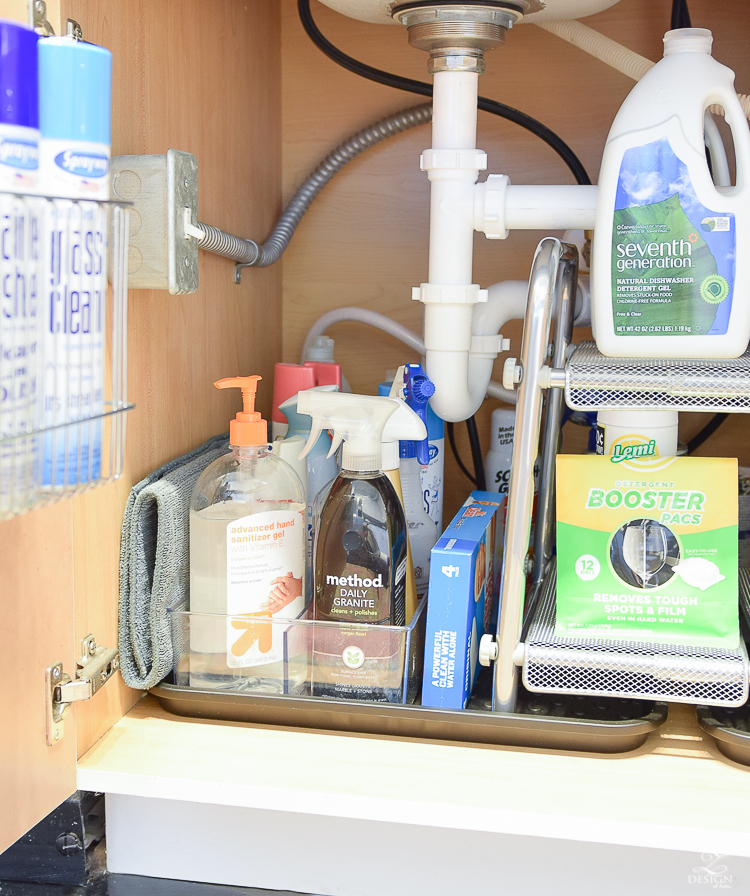 And then the star of the show here is this 2-Tier Under Sink Organizer with Expandable Shelf.  This is hands down the best under the sink organizer I've seen out there.  It's expandable so you can adjust it to the exact width you need but the best part is that you can adjust the shelves around your plumbing fixtures to fit your organizational needs to a T!  It's truly a genius organizing tool if you ask me!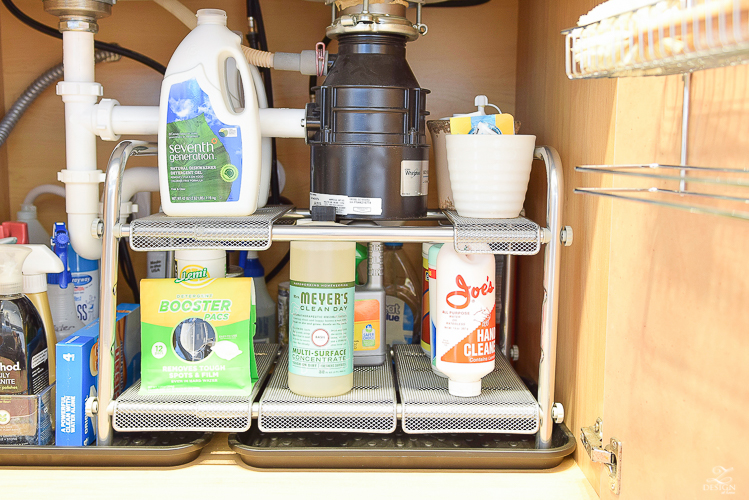 I also love the InterDesign drip pan I used under my under sink organizer which is great for catching any moisture drips or other particles that might find their way down here.  This item is truly multipurpose and can be used all over the home for a myriad of things.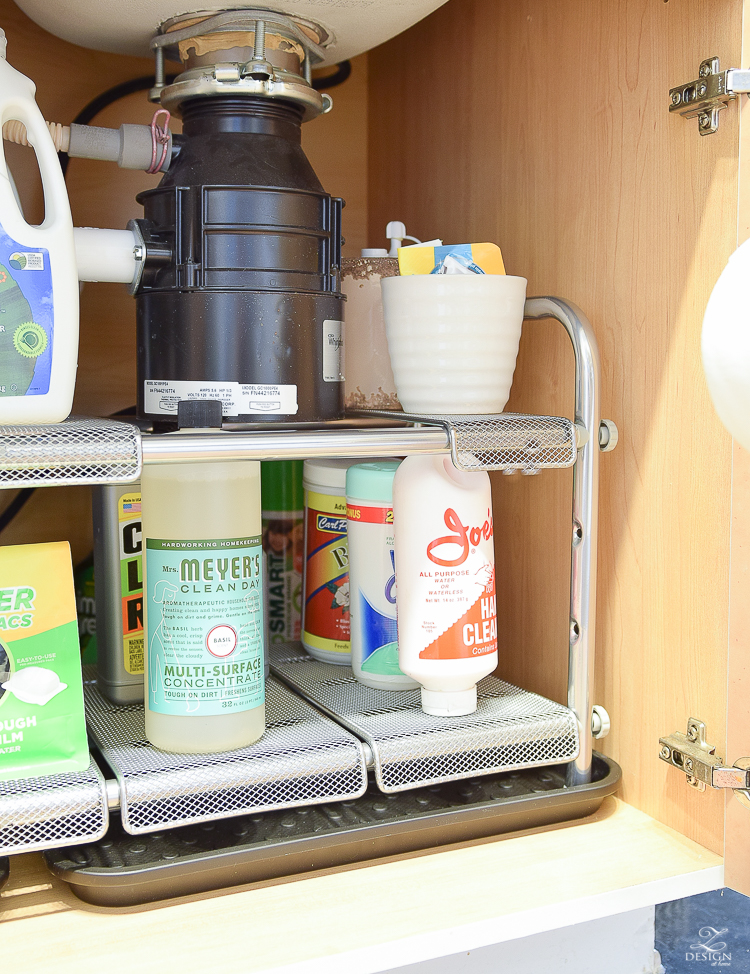 This is definitely a beautifully organized picture, don't you think?!?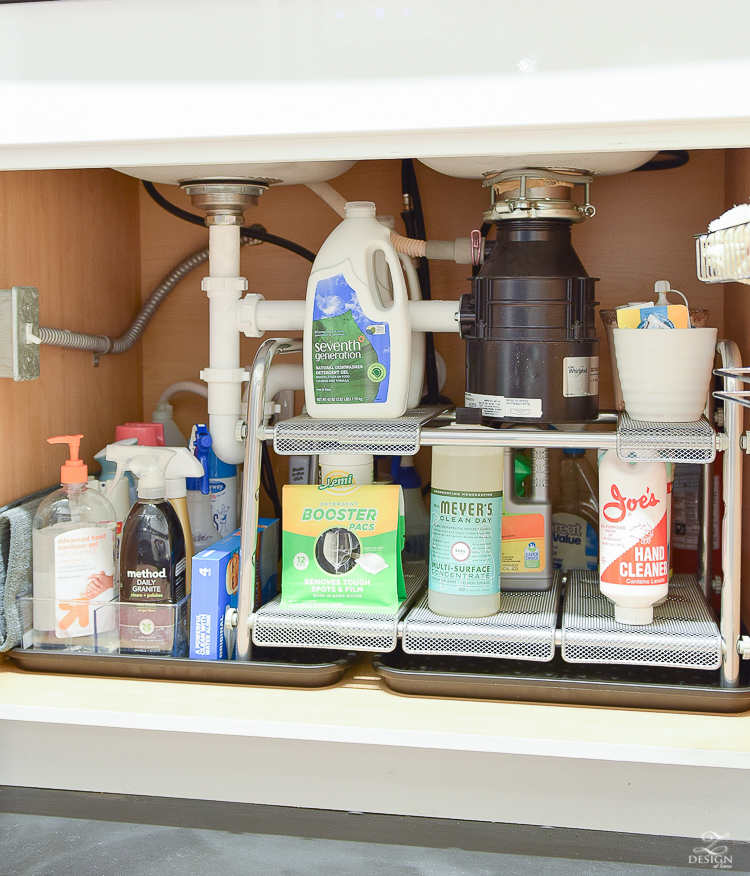 I also added over the door organizers to both cabinet doors under my sink.  I have never used these before but I can't even tell you how helpful these are for accessing things you use often, keeping cabinets clutter free and freeing up much needed space inside your cabinets.  If it had not been for the five I used in this small kitchen, it would have been very difficult to properly organize this space.
I used this medium over cabinet kitchen storage organizer for some of the items I use most often to clean my home.  Again, this one has screw holes if you want to permanently mount it to the inside of your cabinet door.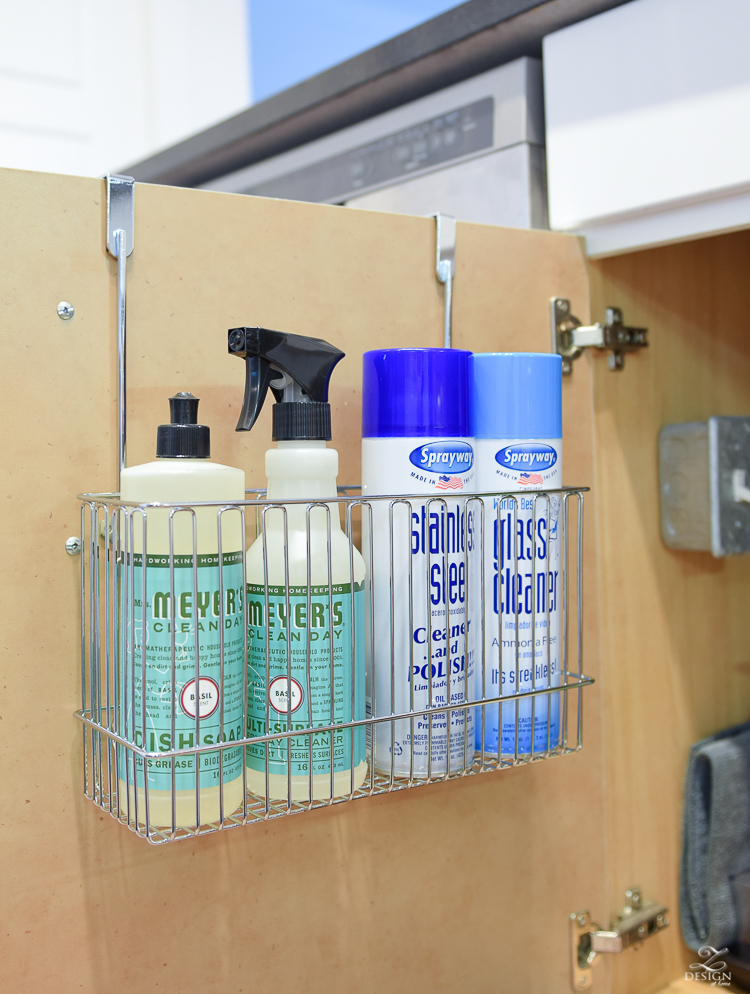 This Paper Towel Holder with Shelf is the one I'm most excited about enabling me to get my paper towels from under the sink (off the shelf) since they were taking up so much space plus now I have a proper solution for sponges and cleaning brushes on the top shelf of this unit for accessibility while I'm doing the dishes.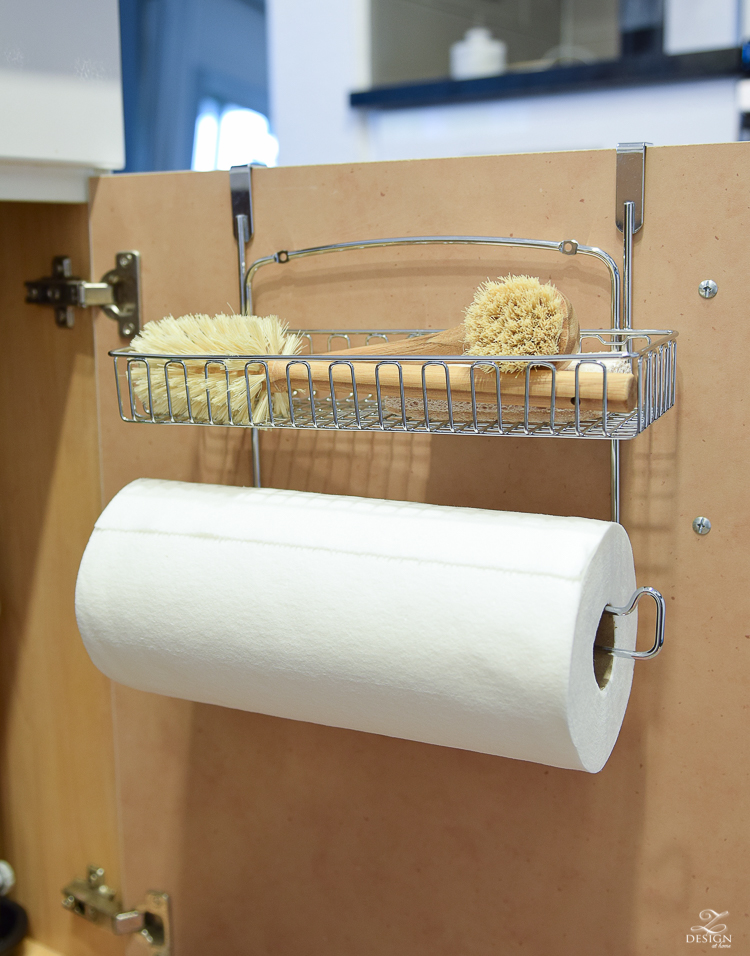 And the final thing I wanted to share is this storage tote that can be used all over the house.  I love that it's acrylic giving it a modern vibe but I also love that I can move it about as I clean house or use it as a permanent storage solution in the bathroom, kitchen or anywhere for that matter.  I use it when I clean the bathrooms so that I can easily tote my cleaning items from one room to the other while working.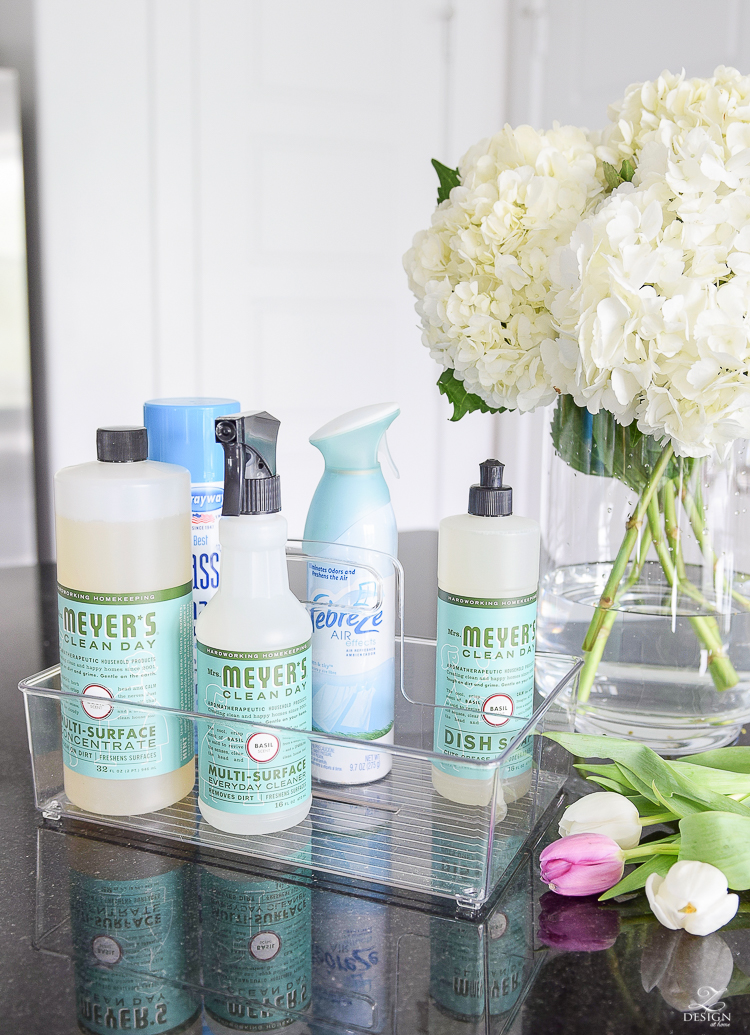 I am a firm believer in that when your home is organized you will be more efficient and less frustrated as you move about your day trying to get things done.  You will be able to complete daily tasks at a quicker pace and have more time for family, fun, and other things you want to do at the end of the day!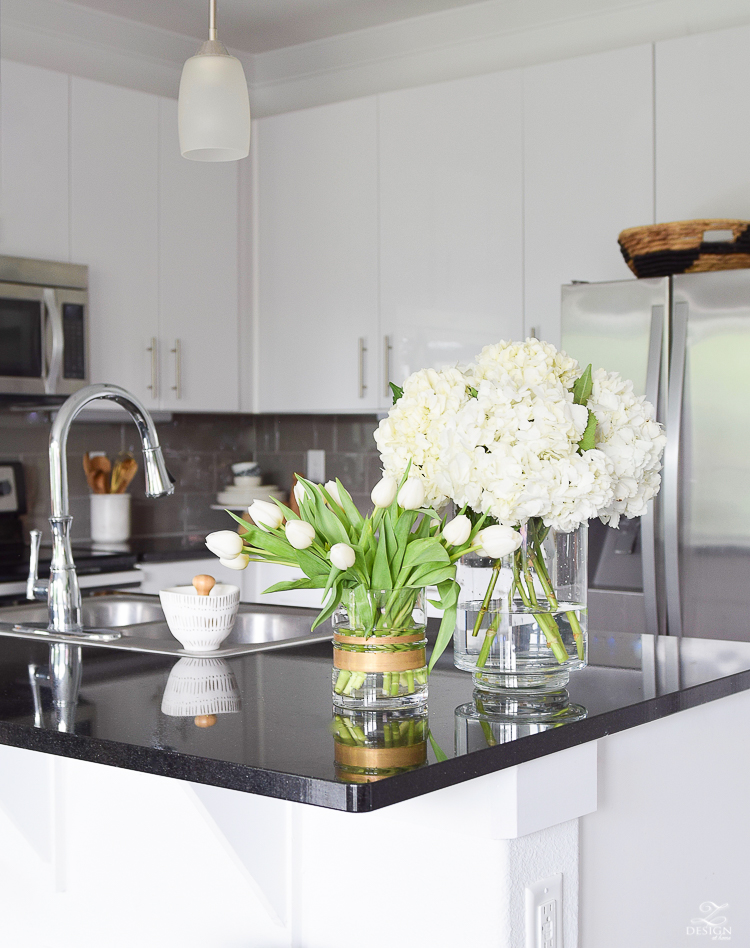 I hope you've enjoyed this post and that if you've been thinking about getting organized in your kitchen too I hope this will inspire you to do just that.  I can promise you that it will enrich your day, lift some weight off your shoulders and make life easier! I also hope that you will try out the InterDesign products I've used in this post as I have used their products for years and can 100% vouch for them!  You can see where I used there products here when I organized the refrigerator in my previous home a couple of years back.

Skillet & Lid Organizer | 2-Tier Under Sink Organizer with Expandable Shelf | Paper Towel Holder with Shelf | Over Cabinet Kitchen Storage Organizer – Hanging Rack for Aluminum Foil, Sandwich Bags, Etc. | Over Cabinet Plastic Bag Holder | Expandable & Stackable Cabinet Shelves | Expandable Kitchen Spice Rack for Kitchen Pantry – 3 Tier | Medium Over Cabinet Bakeware Organizer |  Classic Over Cabinet Basket | Classic Over Cabinet Basket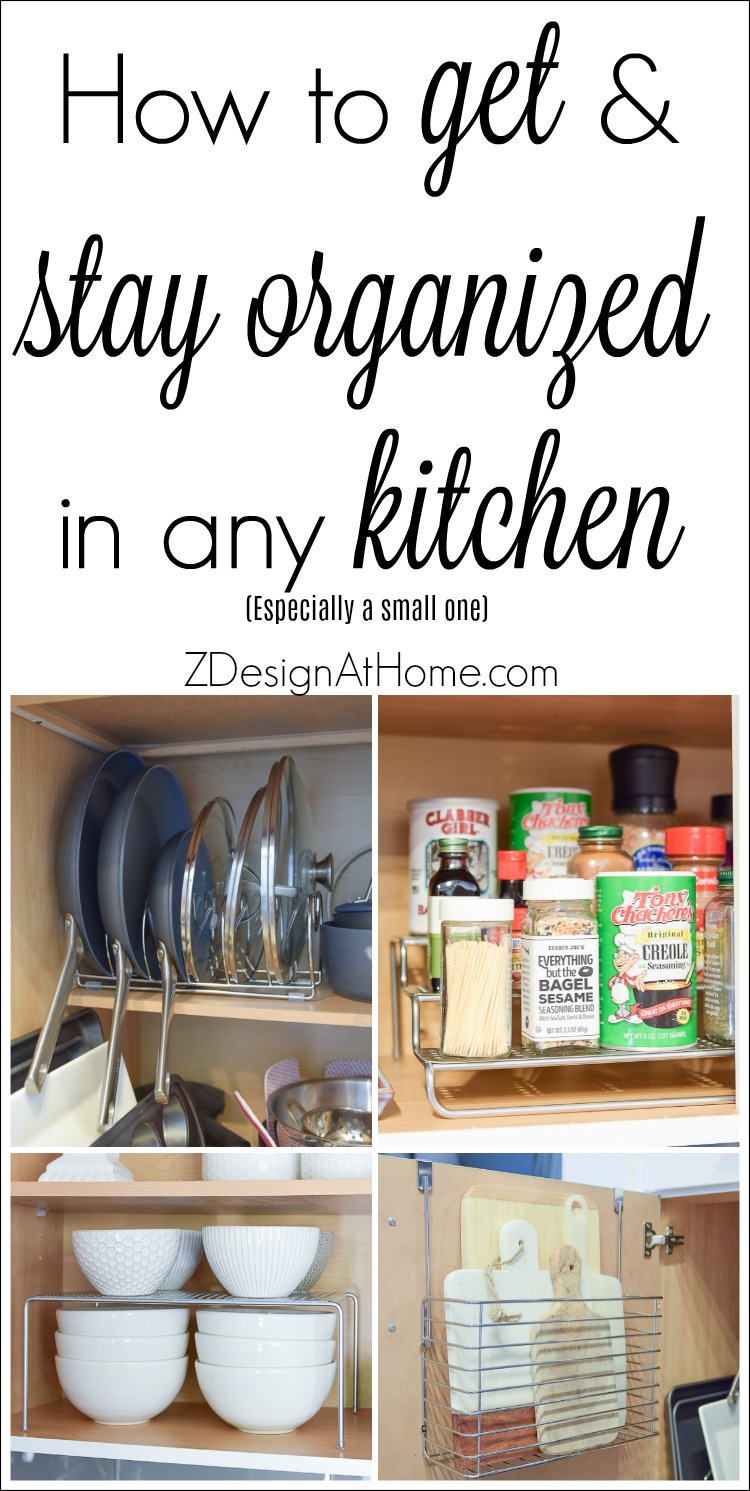 Let's stay connected…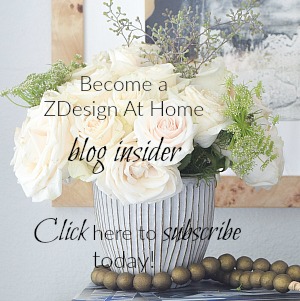 Pinterest | Facebook | Facebook
You might also enjoy my organized refrigerator post…
An Organized Refrigerator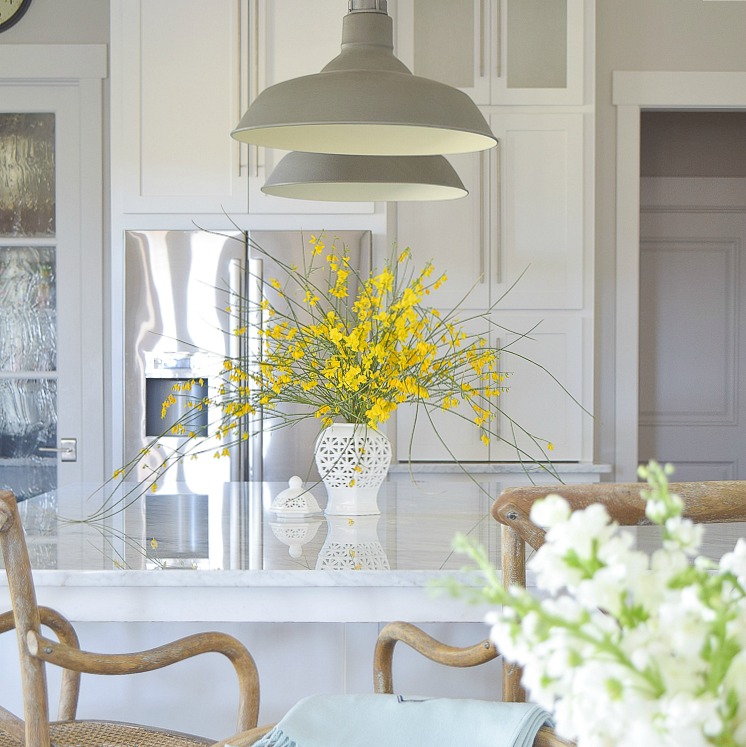 * This post was done in partnership with InterDesign but as always all opinions are my own