An Organized Refrigerator
One thing I haven't talk about yet on this blog is the fact that I LOVE to organize and, to keep an organized space!  I think good organization in the home is the key to achieving spaces that are calming and relaxing and additionally, promote productivity and expediency when working on projects.  I had been needing to clean my refrigerator for way longer than I care to admit and an up coming visit from dear 'ole mom was just the motivation I needed to get this dirty job done.  But not only did I want to clean my refrigerator this time, I wanted to achieve a truly organized fridge so I set out to do just that!    And, my organizational skills may not be the prettiest here but they work so I thought I would share my newly organized fridge with you just in case you are where I was a week ago, with a dirty, unorganized fridge.
But first, here are some before photos.  I tend to keep things kind of neat (it's the OCD in me) in the fridge anyway but it truly needed a complete gut, wipe down and reorganization when these photos were taken…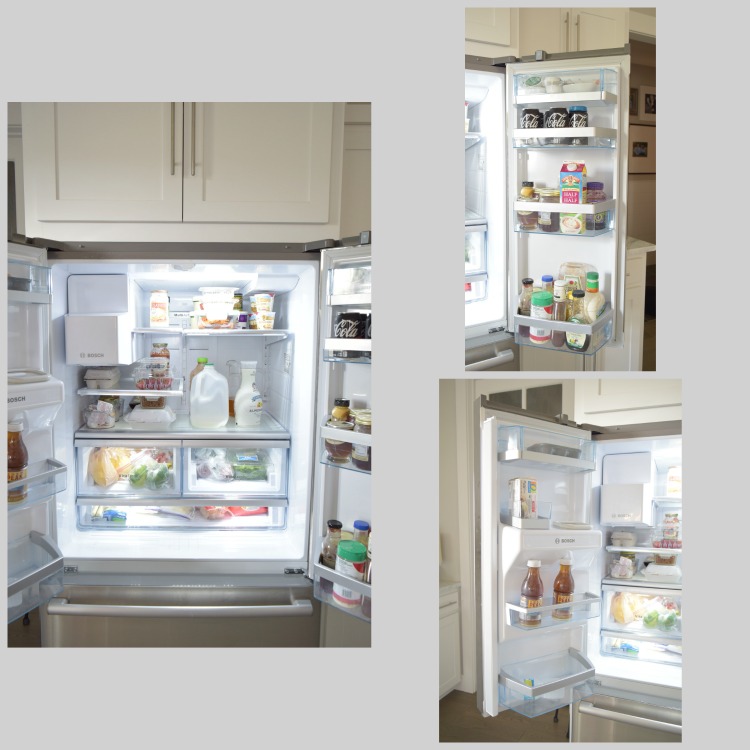 These are the BEFORE photos of the drawers where I keep fruits, vegetables, meets and cheeses.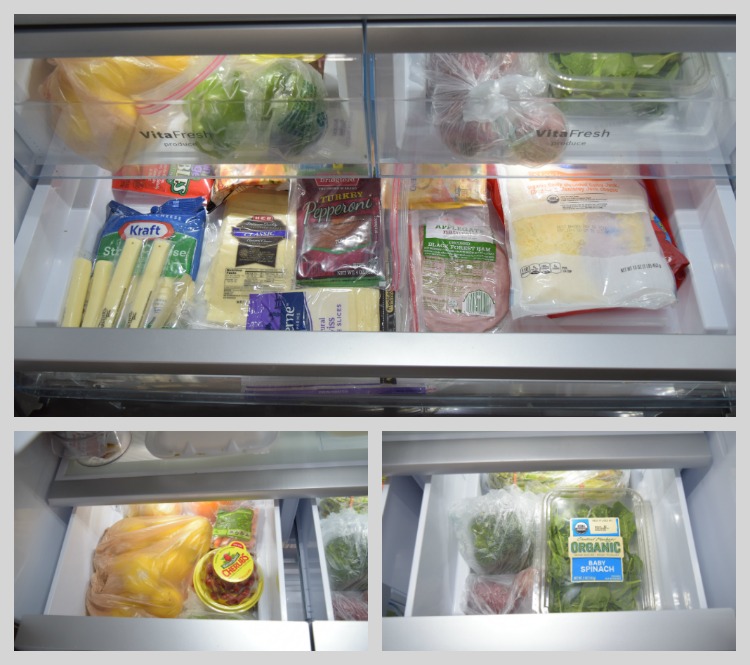 And here below are the freezer drawers.  I have a side by side refrigerator so the freezer is down below. I've had this refrigerator for three years now and honestly I'm still on the fence about whether or not I like it.  I love the way the exterior looks but, I'm really not sure it functions as well as a typical refrigerator where the freezer is on one side and the fridge on the other.  I do know (now) that in these types of refrigerators the ice maker tends to struggle at times and that would definitely be the case here.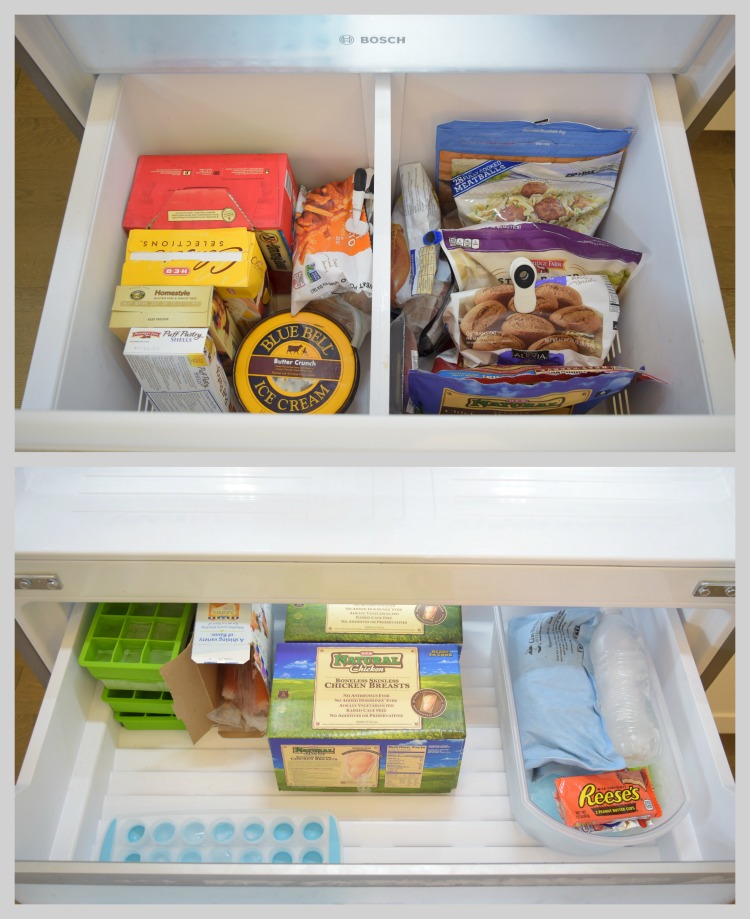 So, first things first, I started buy removing all shelves, drawers and door compartments and cleaned them in the sink with hot, soapy water. I then wiped down the inside of the fridge with a solution of warm, soapy water and bleach.  I also wiped down everything with the same solution that was to go back into the fridge.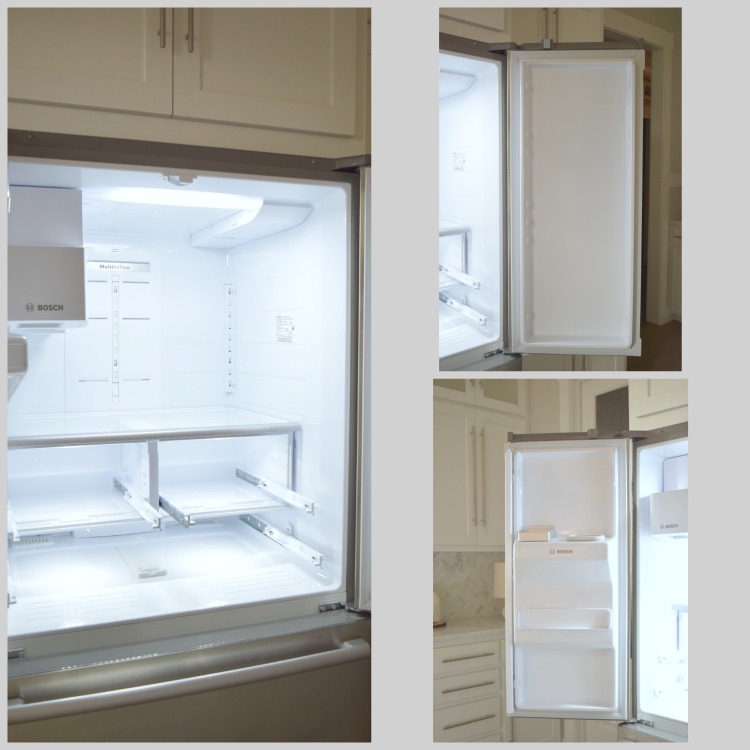 After that I organized everything back into the refrigerator with some great organizational tools that some of you may already be familiar with but that I wanted to share with you just in case.  I found these great bins at HomeGoods recently and just brought a bunch of them home to see what all I would need (the ones I didn't end up using were promptly returned).  So first, here is the AFTER freezer drawer because it's sort of a small space and really didn't require much in the way of organizing, mostly just cleaning (and yes, we eat a good 'ole Digiorno pizza every once in a while…usually it's Papa Murphy's but sometimes you're just too tired after a day of blogging to even bother with that!).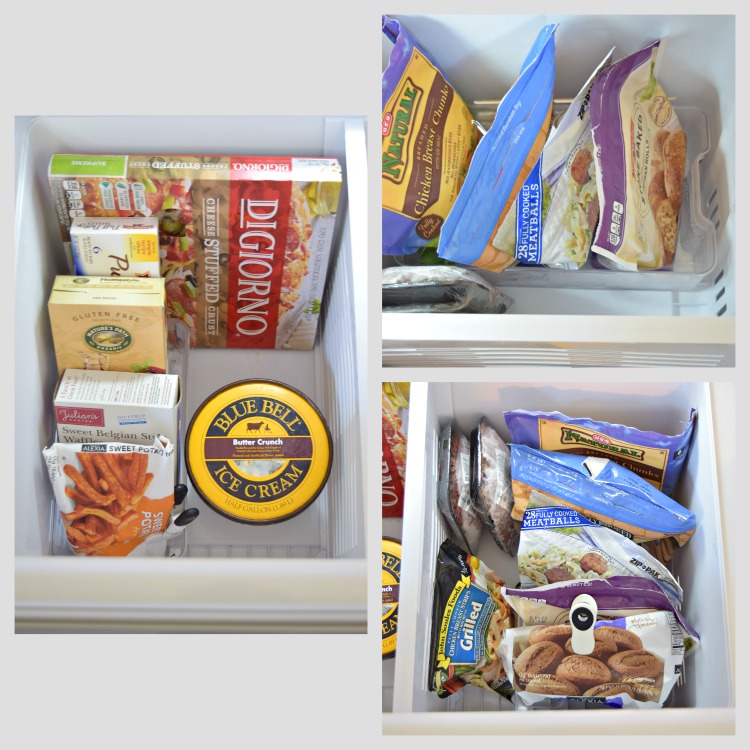 This bin below was great for this spot to keep the food bags straight and corralled.  Shown above, I also added a smaller bin on the left side for boxed items.  And I use these clips for bags that don't have built in zippers because they tend to actually work keeping the bag closed so your food doesn't get freezer burned.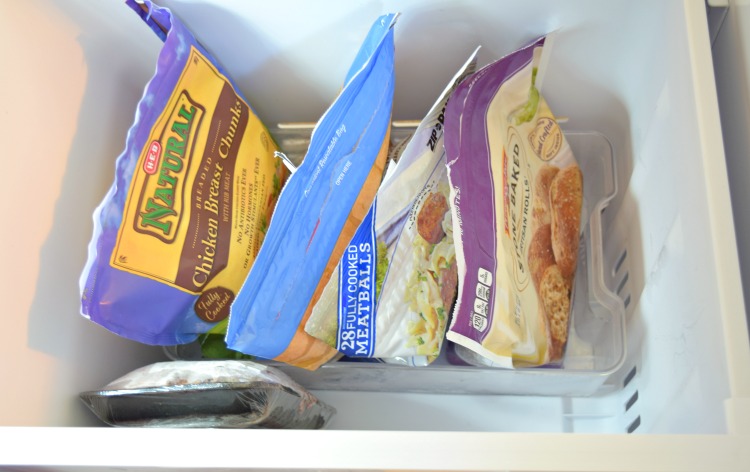 The only thing I did in the small freezer drawer was to add one of these bins for pop sickles for my son and his neighborhood buddies to have on those hot Texas, late spring and summer days coming up .  And yes, we have an ice maker but sometimes in the warmer months it struggles (side by side fridge issues again) so I keep these cute square ice cube trays on hand just in case we have company and run out of ice.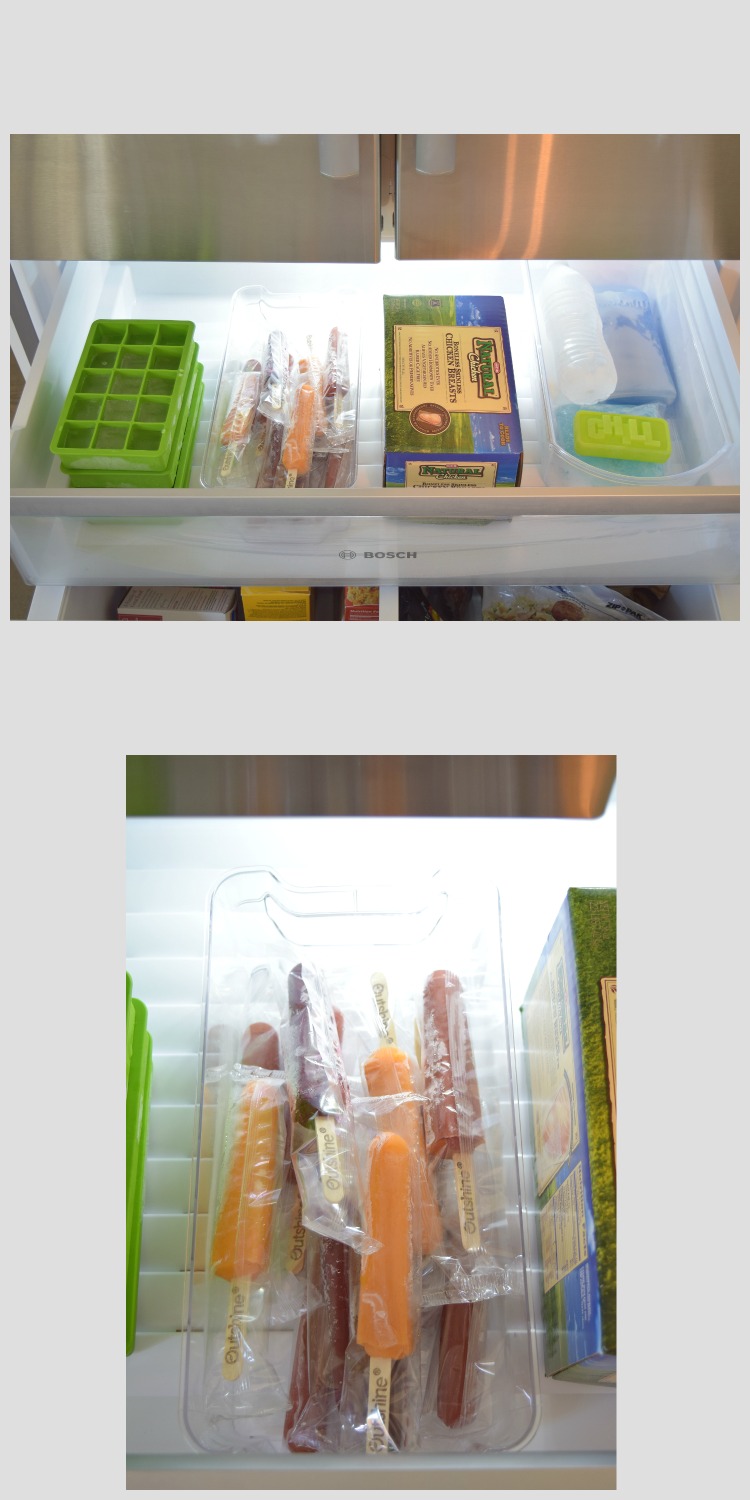 Here are the refrigerator doors AFTER.  Not much changed here except just that I threw out expired items and added these cute little decorative bowls for those extra take out sauces.  We don't do take out a lot but when we do I always hate throwing away the extra sauces so I made a spot for them in the smallest compartment in the refrigerator door just in case there is a need for them at some point.
And here is a close up of those bowls.  The bowls not only make things more organized but also prettier which makes mama happy!  I even used bowls in some of my favorite colors that go with my current color palette in the rest of my kitchen & living space.  I use these babies for so many things in the kitchen and they are super cute to boot!!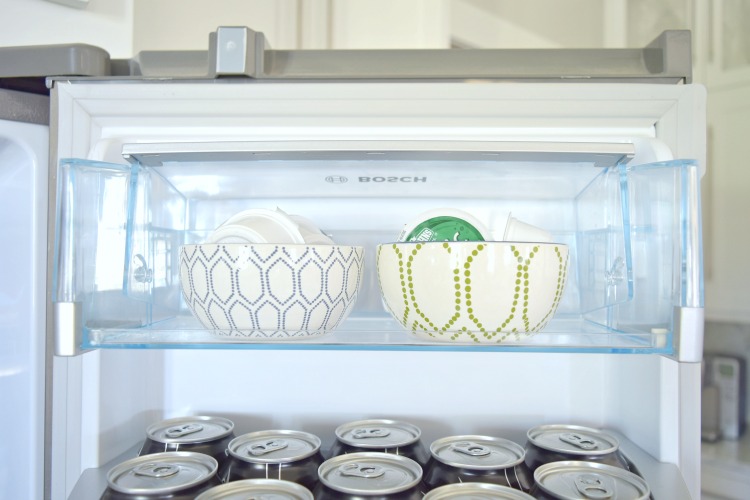 And then I put some of the items that came from the store packaged in plastic containers into these glass containers.  I love these (and out comes the decorator in me here) because not only do they have a great seal but the lids come in different colors (actually it's the seal) so that makes me especially happy!  I use these for a  myriad of things such as left overs and even if we have left overs from a meal out.  I take the leftovers out of the restaurant styrofoam containers (that take up so much space) and put them in these stackable glass containers so they'll stay fresher longer, and then my fridge looks cuter too!  In this case I used them for feta and parmesan cheeses.  I also used this fruit and veggie organizer for yogurts.  I like the way it graduates up in the back so that we (especially me since I'm kind of short) can see what flavors are to the back.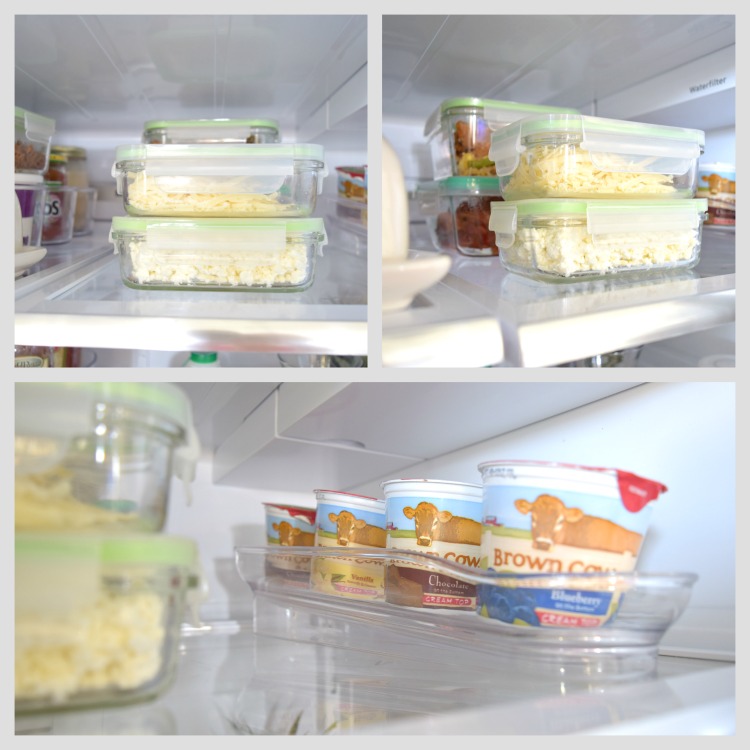 Next, I found a simple
egg storage bin
and this
3 compartment bin
 with a handle for easy access to the items in the back.  I have some pretty ceramic egg crates but they don't have a top and are less practical so I really like this one for freshness and so that I can better keep an eye on when I need to buy more.  My next favorite find here are these
white ceramic berry baskets
 I'm now using for my strawberries and blueberries.  We go through a ton of these fruits each week so these are nice for easy access and are much prettier (and healthier) than the plastic containers they come in from the market.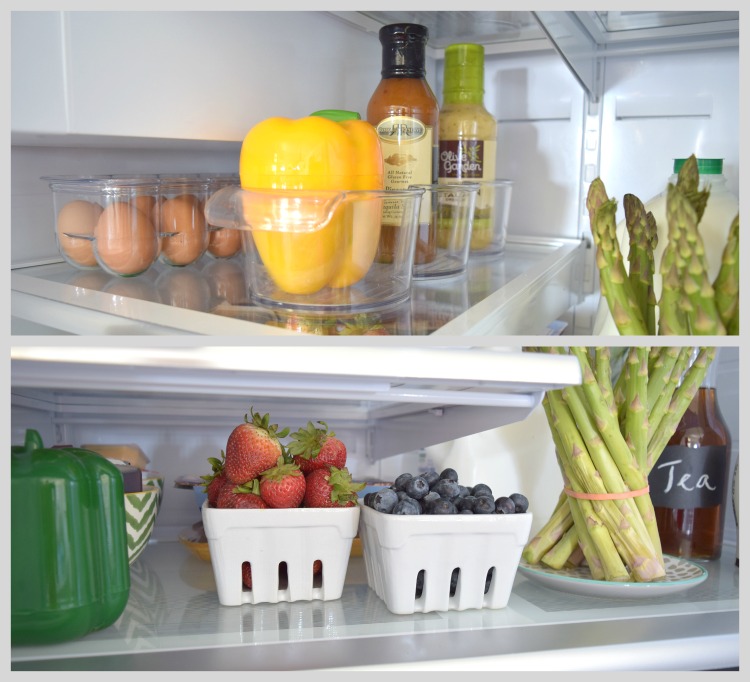 Nothing changed on this side of the fridge accept that I switched from a larger pitcher that took up too much space to this more slender chalk note decanter (similar here) so that I can label it as needed.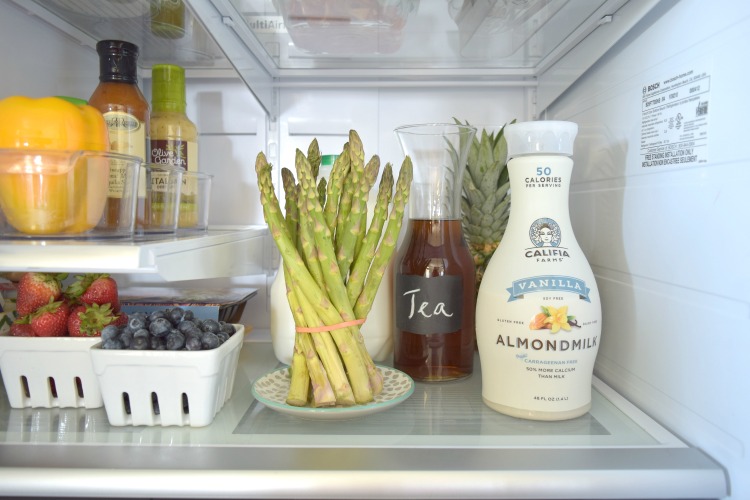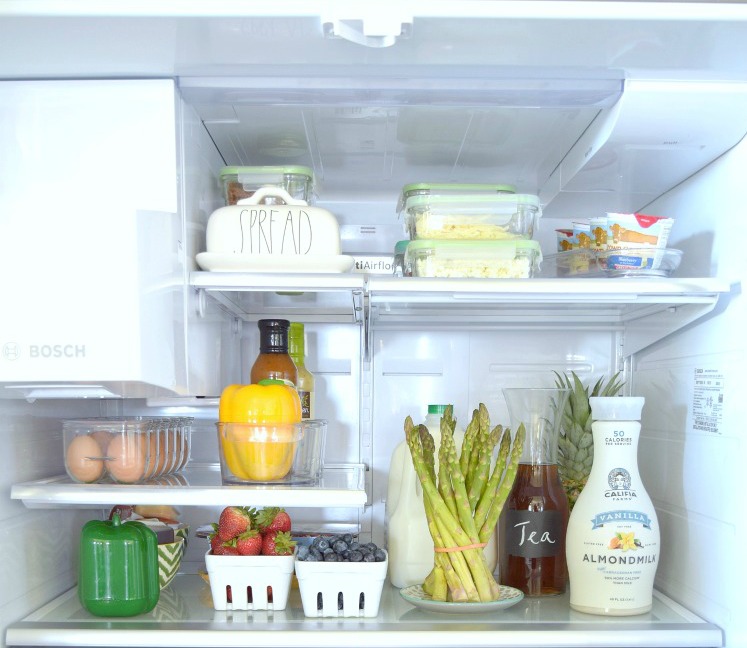 Moving on now to my newly organized meet and cheese drawer.  Again, I used these awesome bins (smaller than the ones I showed you previously) and I think I just got lucky because 3 of these fit perfectly into this drawer so that I could separate and organize like products together.  This is such a wide drawer so pre-organization day everything was just all crazy in there because every time you opened and closed the drawer everything got jostled around.  And I'm here to report that this is so. much. BETTER!!  I can't even believe I lived this long without organizing this drawer and now every time I get something out of it I just have a big 'ole smile on my face and couldn't be happier about it all!  I'm absolutey loving my organized fridge and so is the rest of the fam!!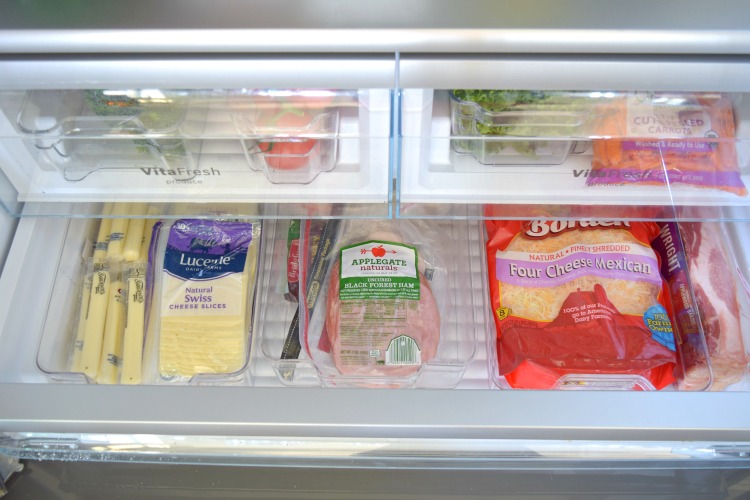 Next up is the fruit and veggie drawers AFTER.  I did the same thing here…just fit what bins I could in the drawers and went to organizing things as needed.  These bins are even smaller than the previous ones, which are great for the smaller items so that they stay grouped and corralled in one spot.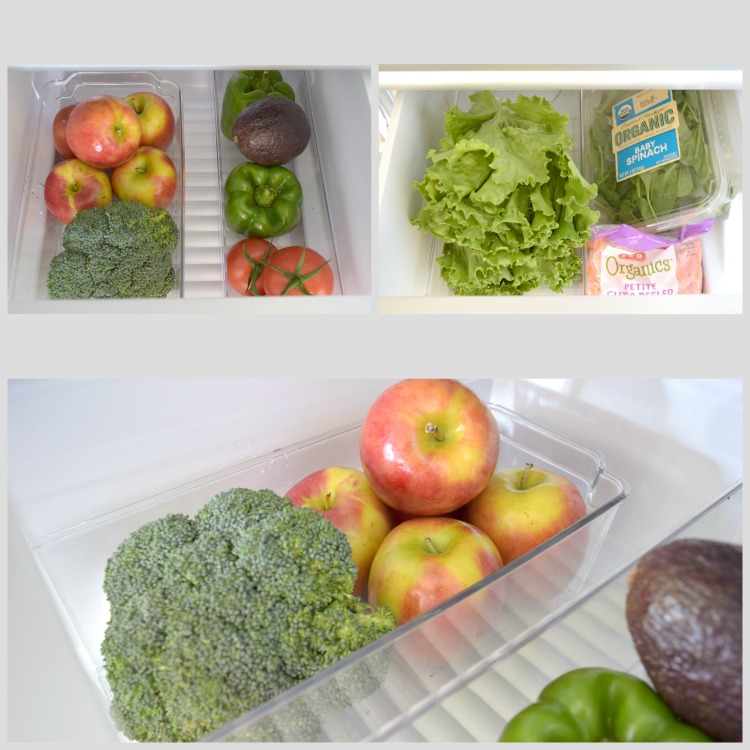 See how neat and organized everything looks from here?!  And not only is it neat and organized, it's totally functional!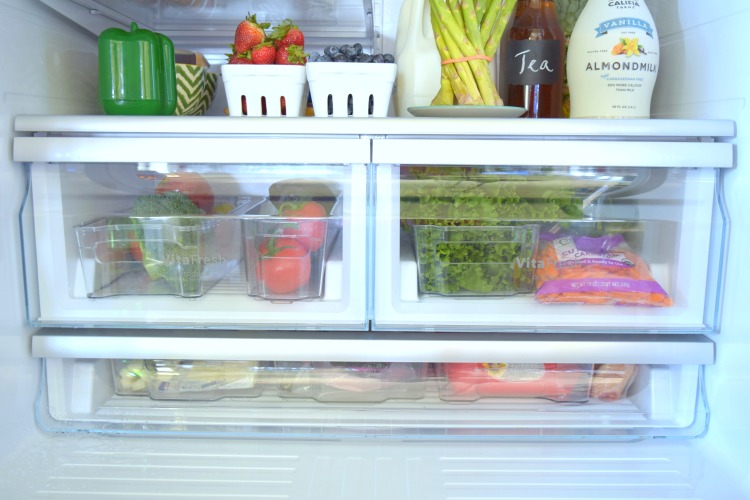 And here is the overall finished organized, clean fridge below.  I hope this post was helpful and that it motivates you to get your refrigerator organized as well, if you have been wanting/needing to do so.  I'm sure there are more tools I could have utilized for this little organizational job but I think what I did so far is perfect for us and will make our fridge work more efficiently for our family.  I also hope (keeping my fingers crossed on this one) that getting our fridge organized like this in will encourage and motivate the rest of my family to help me keep it this way.  Haha, what do you think:)?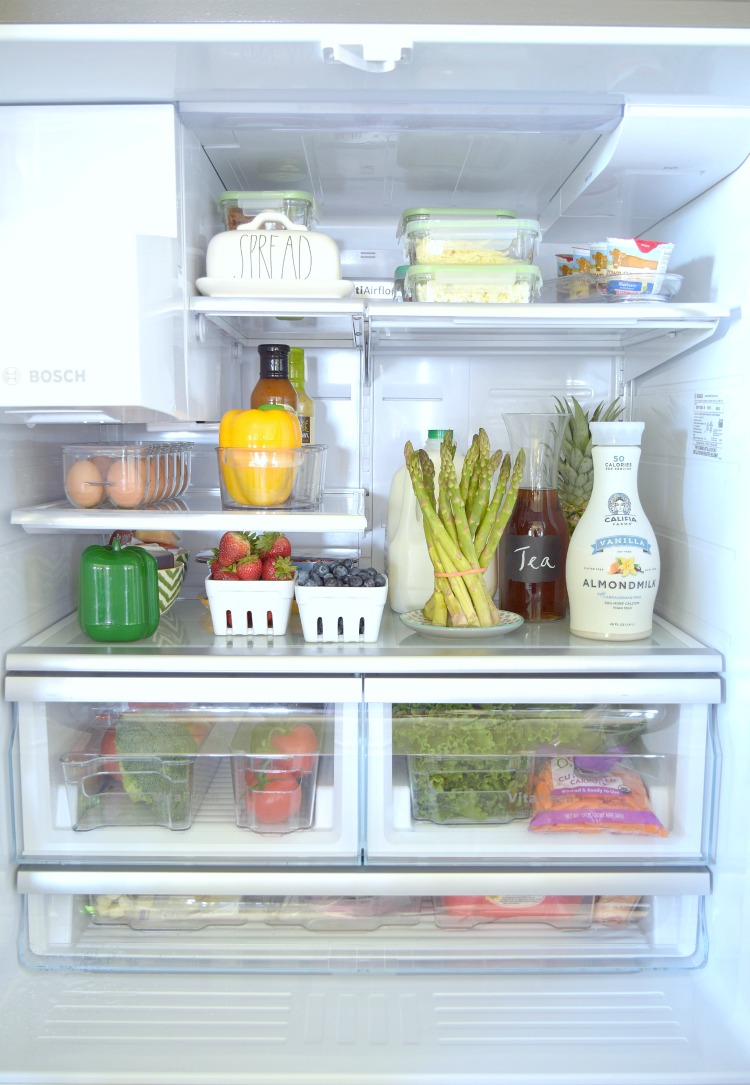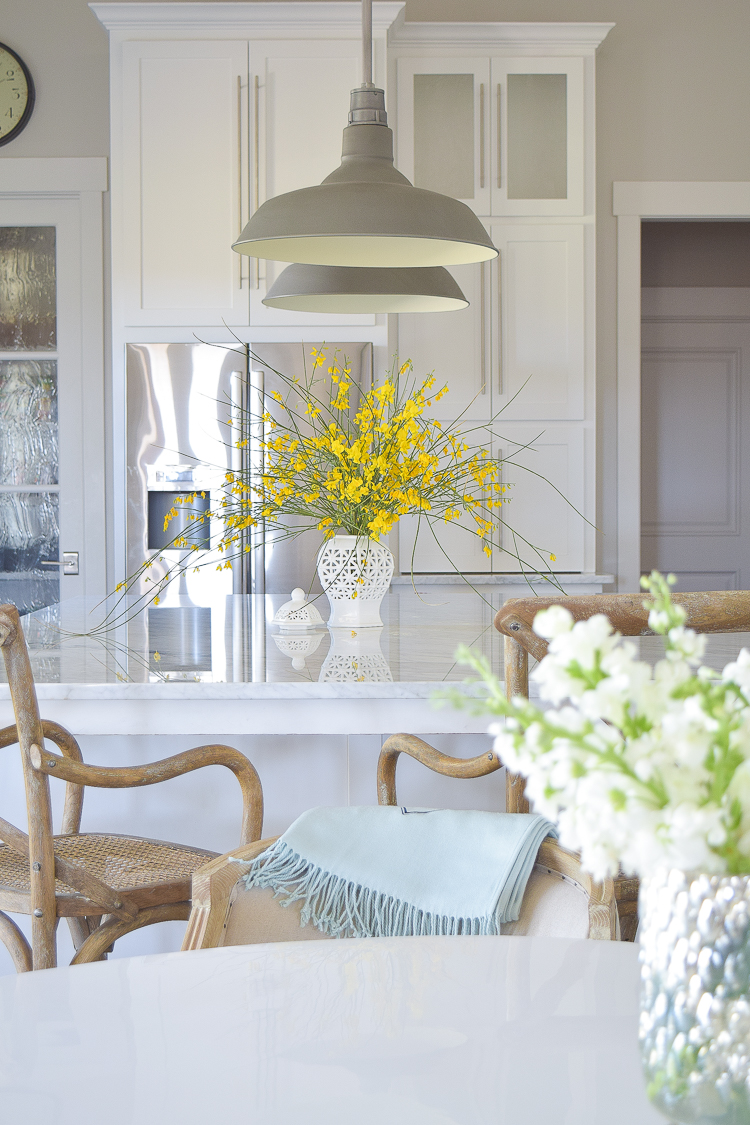 Thank you as always for stopping in to see what's happening at ZDesign At Home this week and, I hope to see you back here next week as I talk about a subject that is near and dear to my heart on the decorating home front.  Please don't forget to leave me a comment as I always love hearing what's on your heart, especially if you have a question.  You can also email me any time with questions from my
contact page found here!
!  And last but not least friends…if you would like to see another clean, organized fridge, please stop by to see my sweet,  cute friend Erin of 
The Sunny Side Up Blog
.  She just recently cleaned out her fridge too but she also included a yummy recipe in her blog post so go say hi to her and check it out today!!
Xoxo, Bree
*Affiliate links have been used throughout this post and where items are no longer available, a similar item has been linked for shopping purposes