Stylish Home Decor & Organizing Ideas for Back To School
It's that time of year when summer abruptly comes to an end and before we know it, it's time for back to school!  Luckily, around here, Stylish Home Decor And Organizing Ideas are a priority for this time of year so I wanted to pop in and share with you how we're keeping things together as we navigate the back to school process in our home!
A big thank you to The Home Depot for sponsoring this post.  All opinions, ideas, and images are my own.  Please read my full disclosure policy here.
My son is I guess what you can call pre-teen and I'm sure he's like most boys – messy, unorganized, and you can't see any surface in their bedroom.  And that's ok because it's my job to teach him how to get and stay organized, and I felt there was no better time for that than during back to school time.  This time of year is always great for a fresh start, right?!
When The Home Depot asked to partner with me on this the timing couldn't have been more perfect because I had been wanting/needing to give his room a little refresh along with getting him organized for school.  I knew that organizing this space for school would consist of baskets and bins, and home decor would include a new quilt for fall/winter and a small pouf for extra seating in his room.  And I love that The Home Depot has thousands of on-trend products to fit my style so that I could complete this project on trend and on budget, and on time with free shipping on orders over $45.
Speaking of poufs this white knit pouf couldn't be more perfect!  Selfishly I love it so much because I'll probably use it in other places around the house eventually but it's great here because it's small, easily moved around, and provides a place for him to sit to put on shoes or will be great for when he has friends over.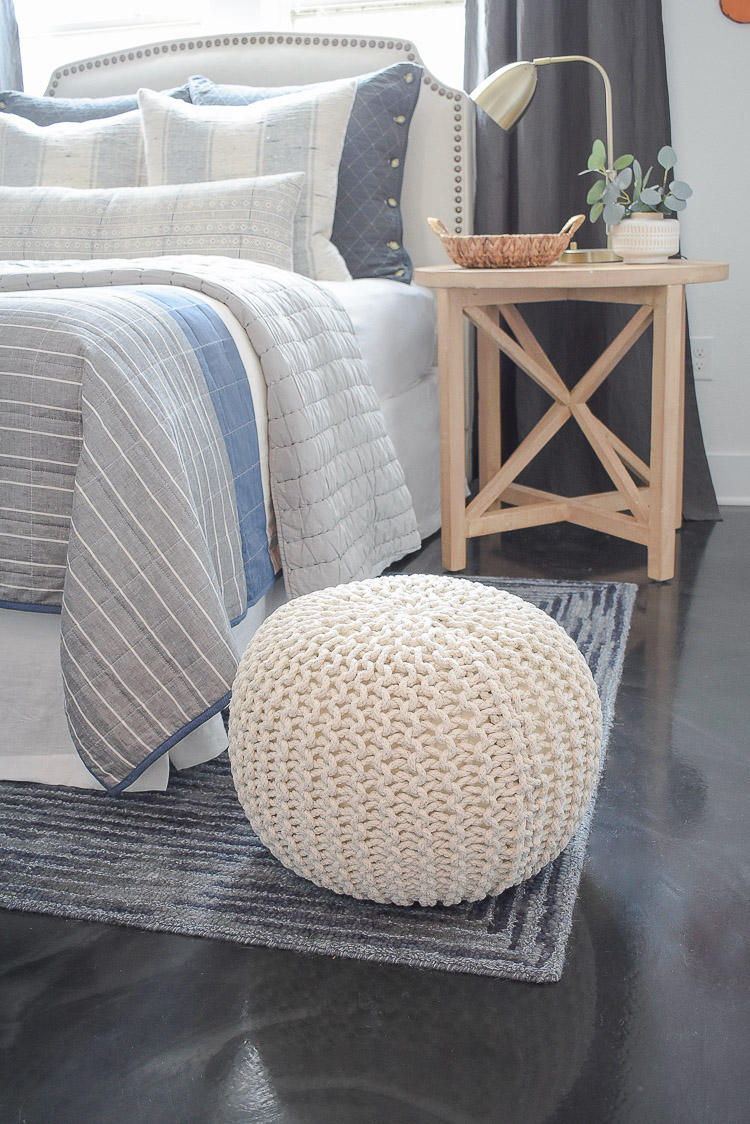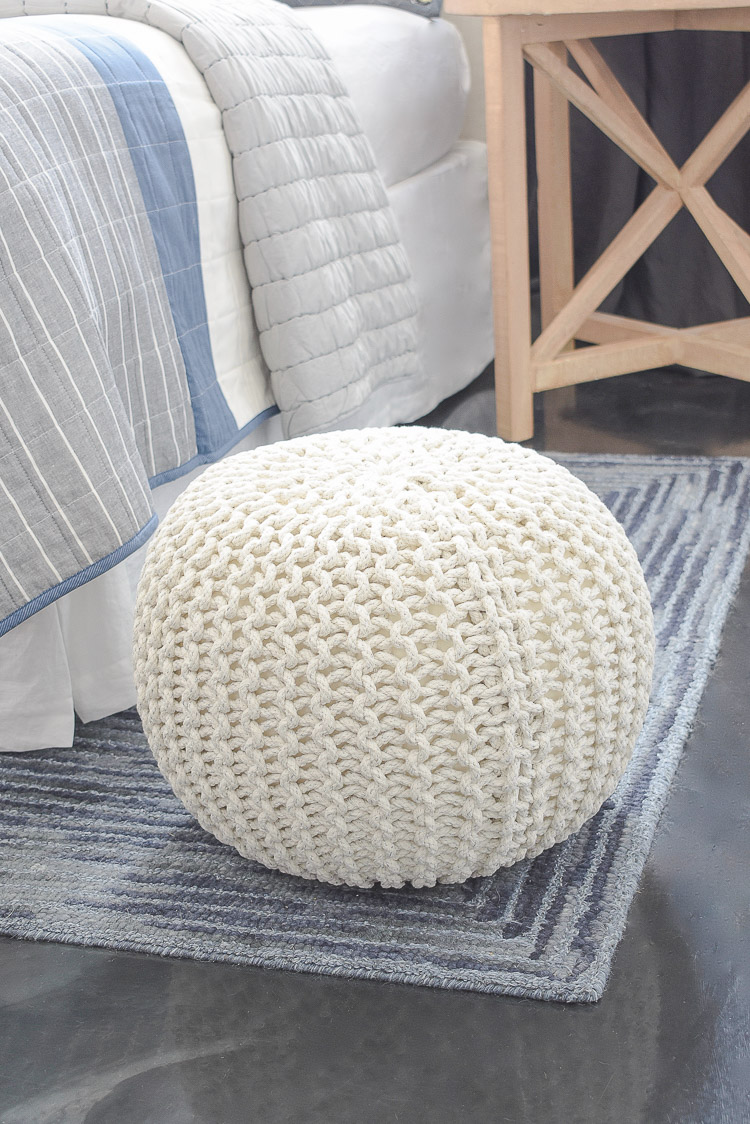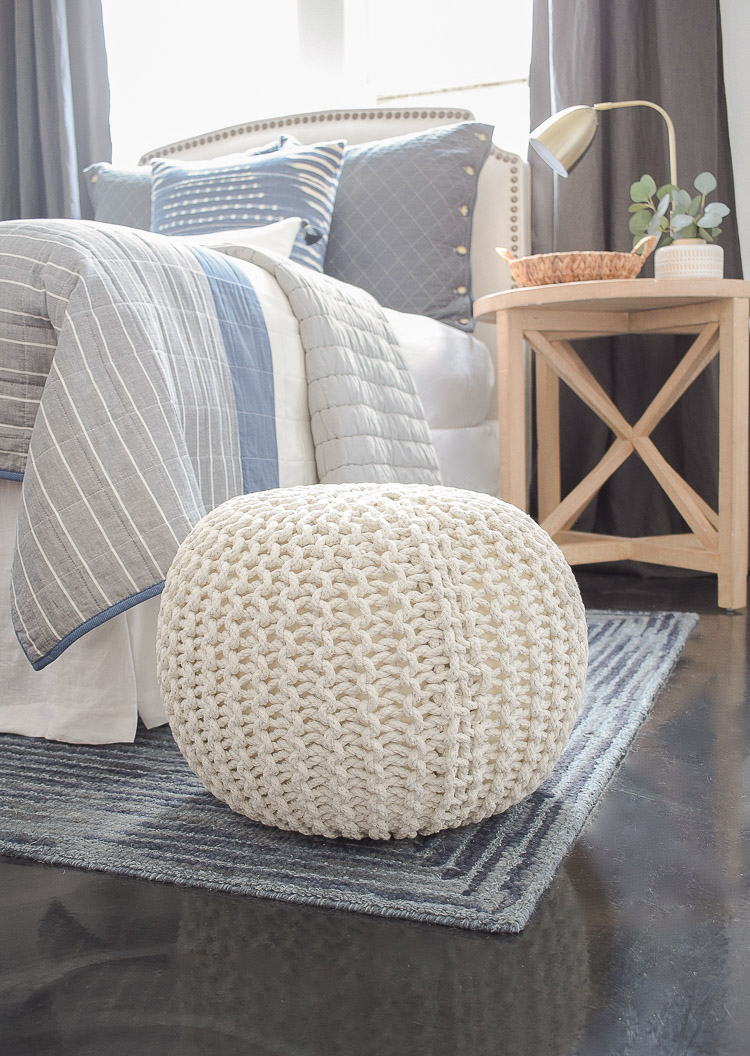 Also love that The Home Depot has brand names in every decor category so that I could find this amazing quilt to update my son's bedding decor for back to school!  The blues, grays and whites are perfectly on trend and it gives this space a more mature look for him as he moves up a grade this year.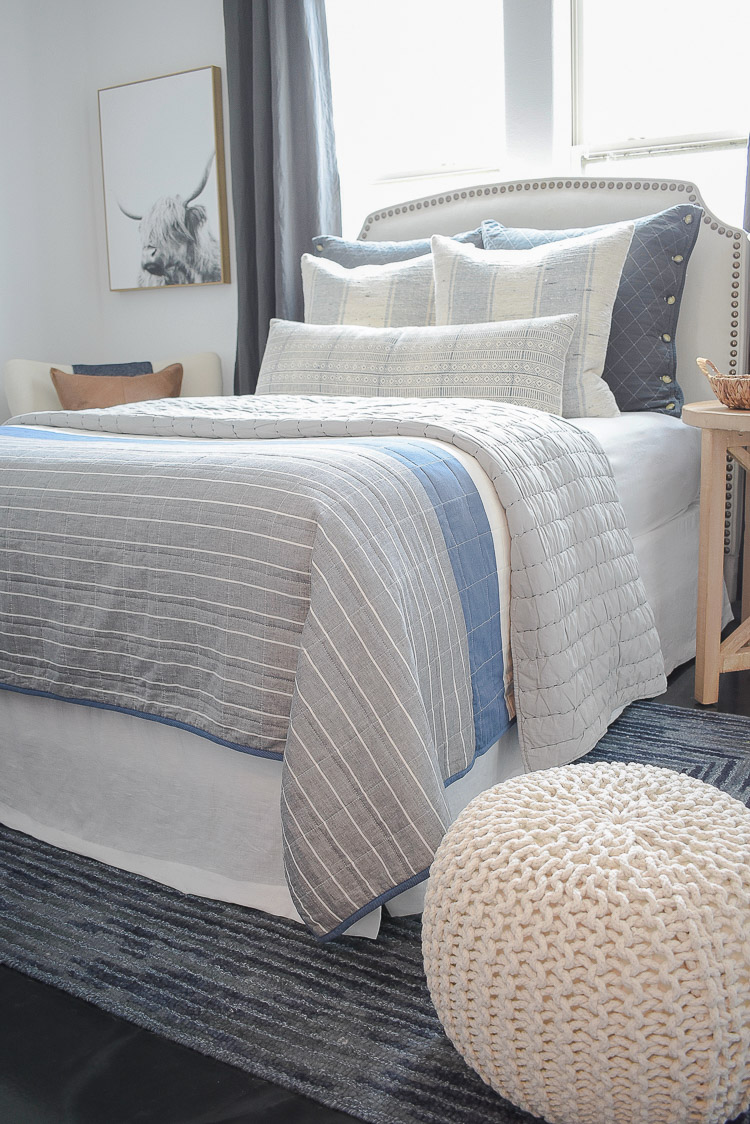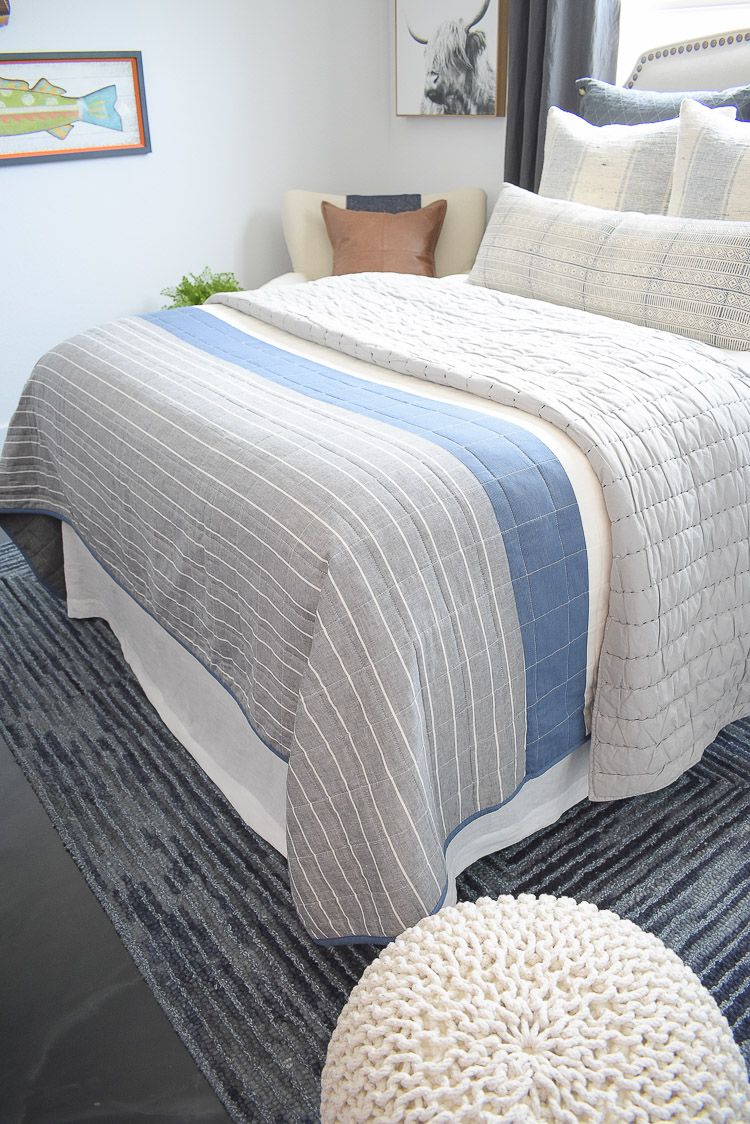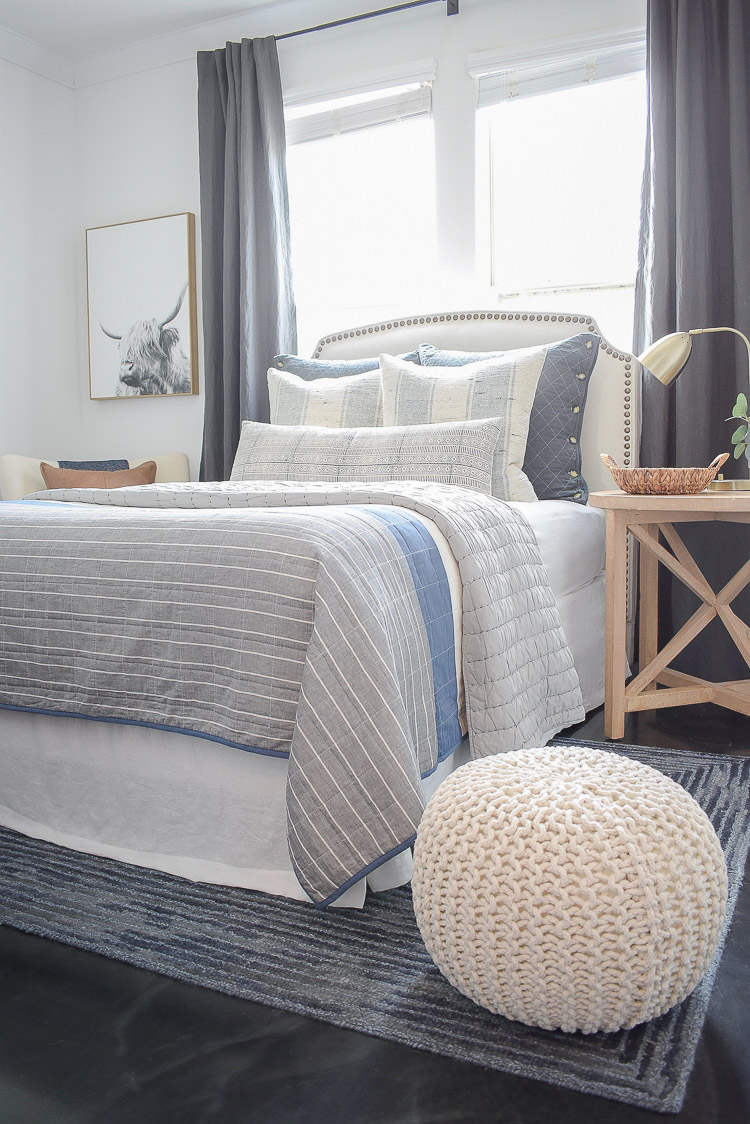 On the organizational side I wanted to make sure he had a place on his nightstand to corral tech items.  Right now we just let him use an old phone to text us and to listen to music but all. of. the. things. were completely out of control between his watch, phone,  earphones, etc., and I wanted an attractive yet functional place for him to keep all of that neatly organized.  Enter these great flat baskets. I love a flat basket like this for uses such as this and these come in a set of 3, how great is that…and super affordable too!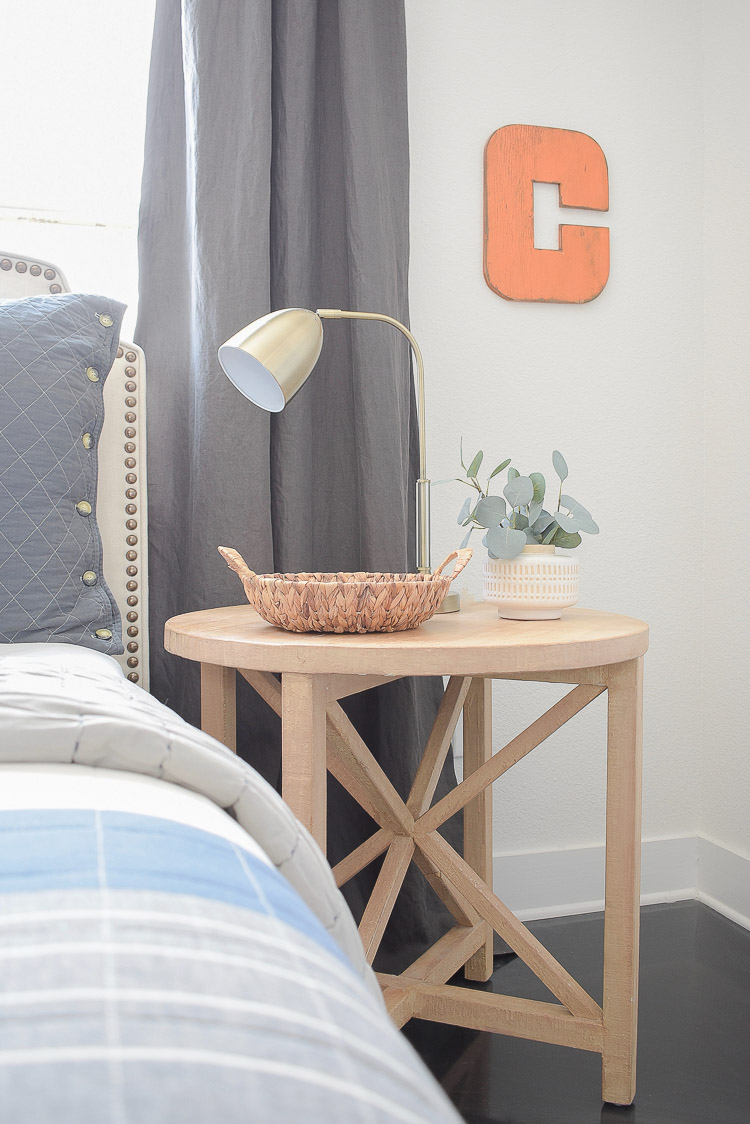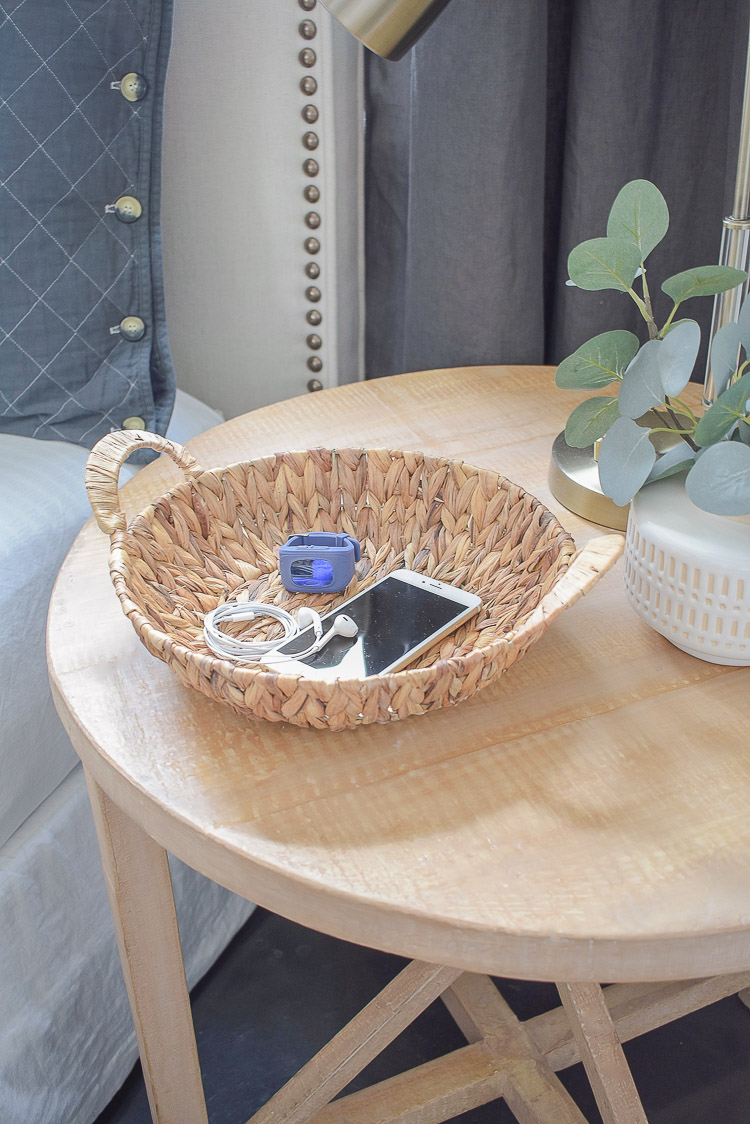 Love that they come in a set of 3 so that I can use them for decor and organizational projects all over the house!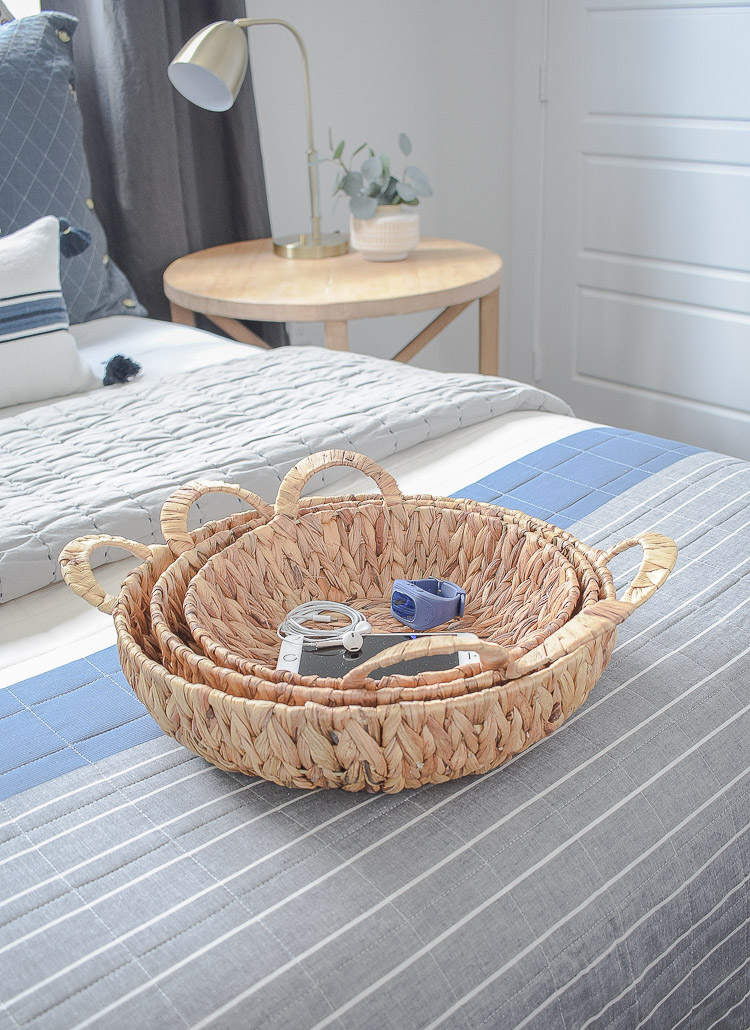 Speaking of baskets in threes, I moved the baskets that were in his room to another space in the house so needed a minimum of 3 more in here.  Two for balls, old stuffed animals, and miscellaneous items and I completely fell obsessed for these baskets that yes, come in a set of 3 and are super affordable.  I love that The Home Depot has every day low prices to get the best prices year round on things I need for my home.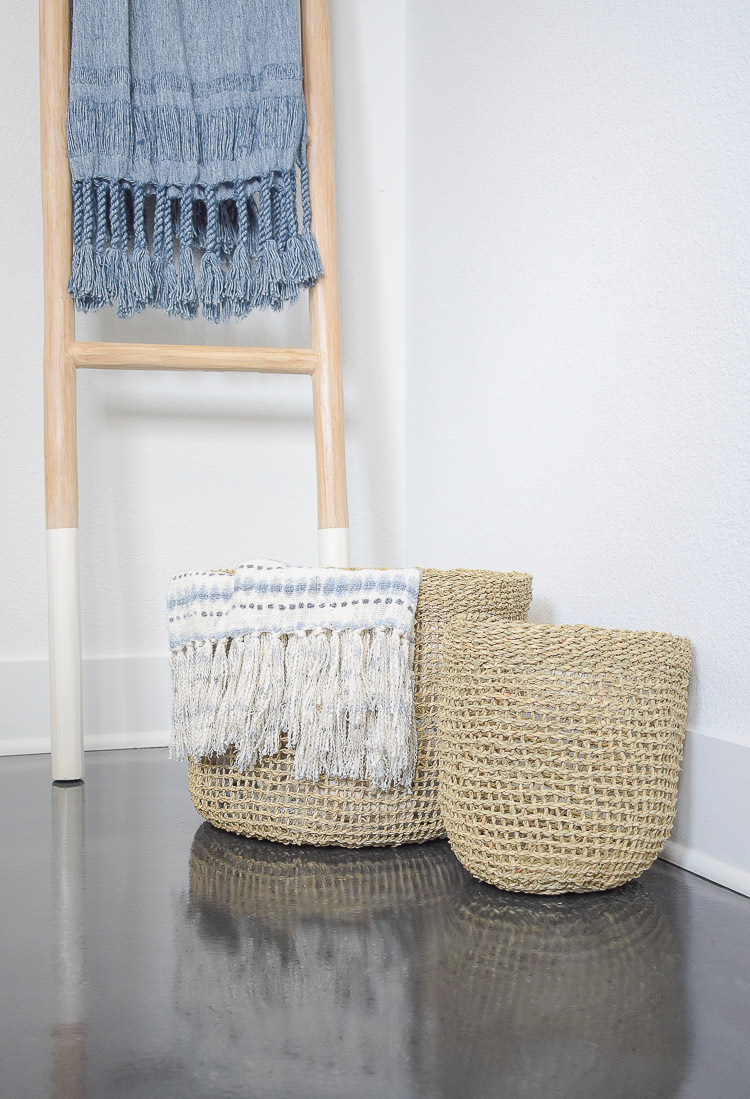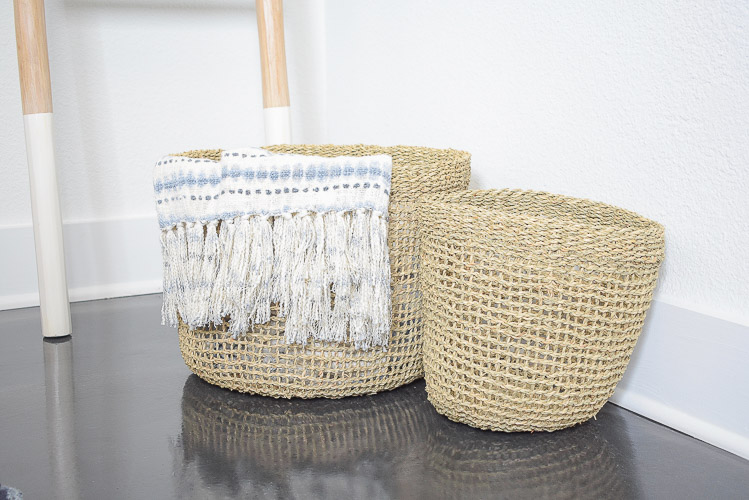 Also love that I can use one of these baskets for a cute waste basket in here.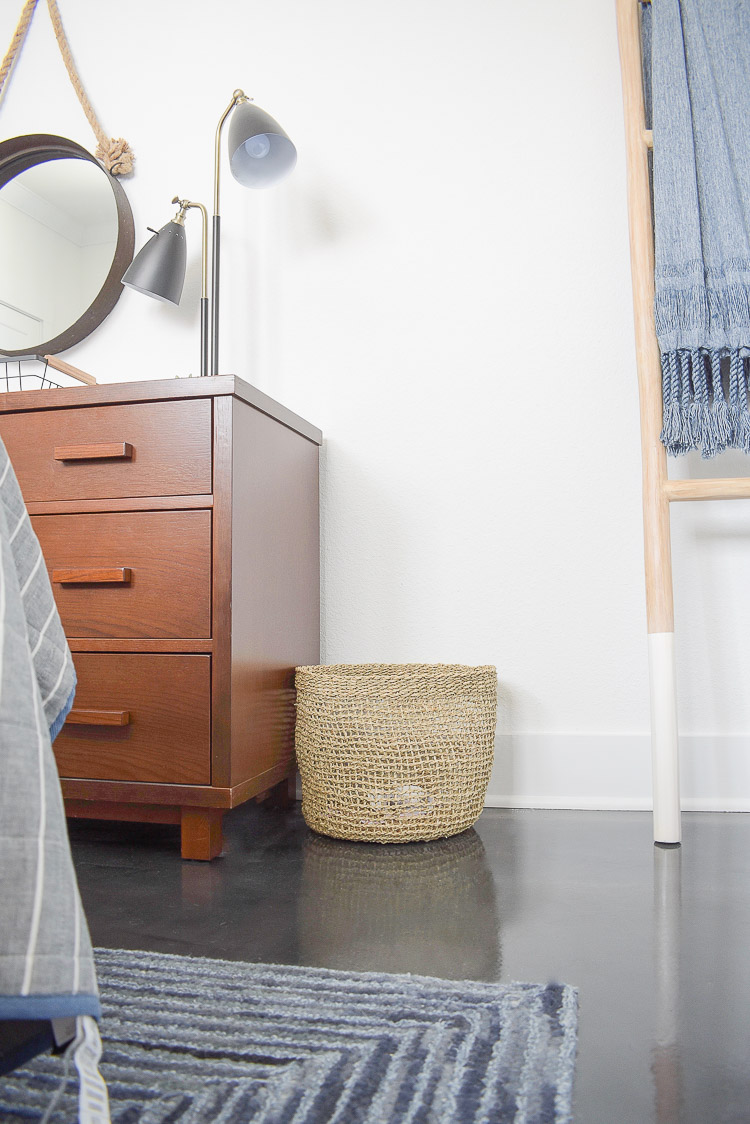 I have been a long time fan of command hooks.  As much as I move things around the house I need them, lots of them to keep my walls from being completely riddled with holes, especially since I'm in a rental.  I have them all over our rental.  Love this black double command hook I added just outside the closet for his backpack.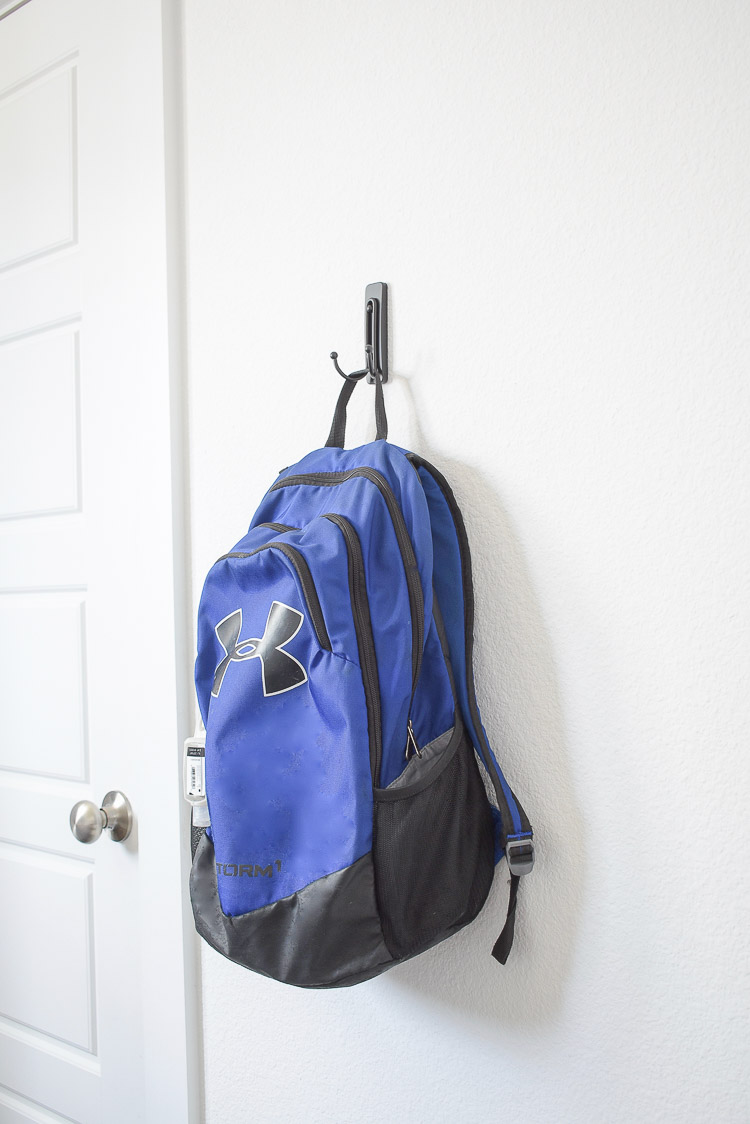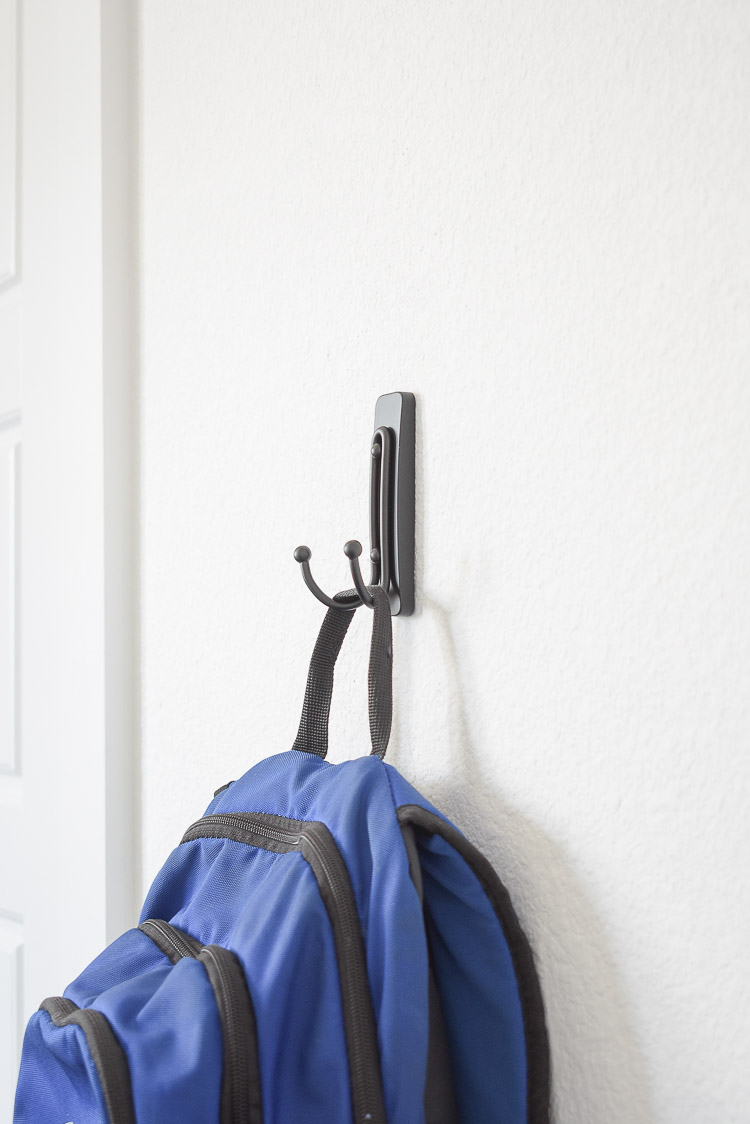 And last but not least on the school organizing side is this cute yet functional basket.  Again, like most boys, my son tends to use his dresser as a dumping ground and this wire basket with acacia wood handles has literally been a lifesaver for getting him organized for home and school, while being stylish at the same time!  We use this basket for his laptop, books, papers, etc.  So, things do pile up in here but at least they are all in one spot so the rest of his dresser stays neat and clean (and that's for momma too, right?!)!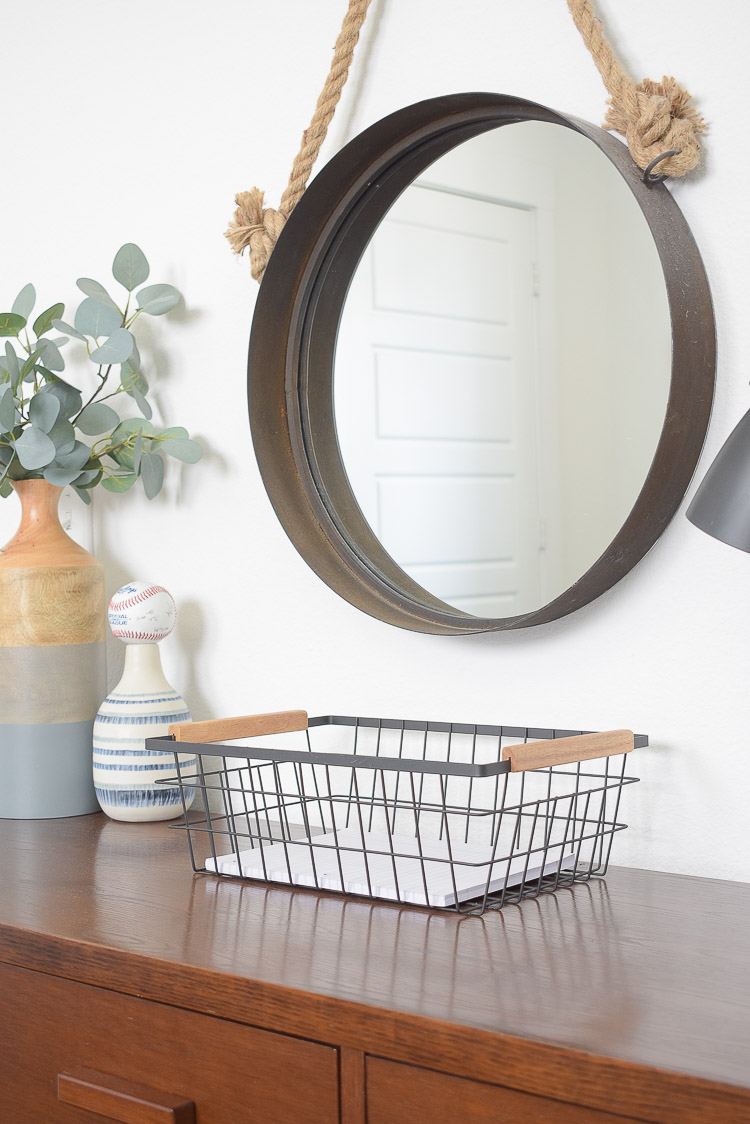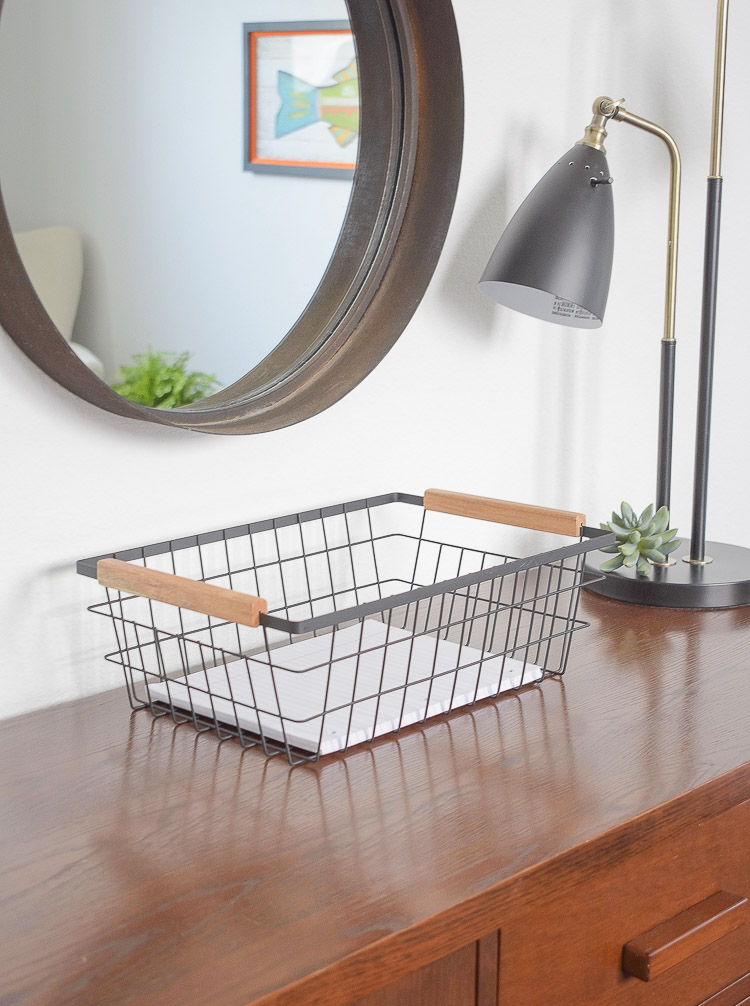 Also love that I found this great task lamp and small, round rope mirror at The Home Depot that is similar to mine, and great for small spaces if you are sending your kids off to college this year!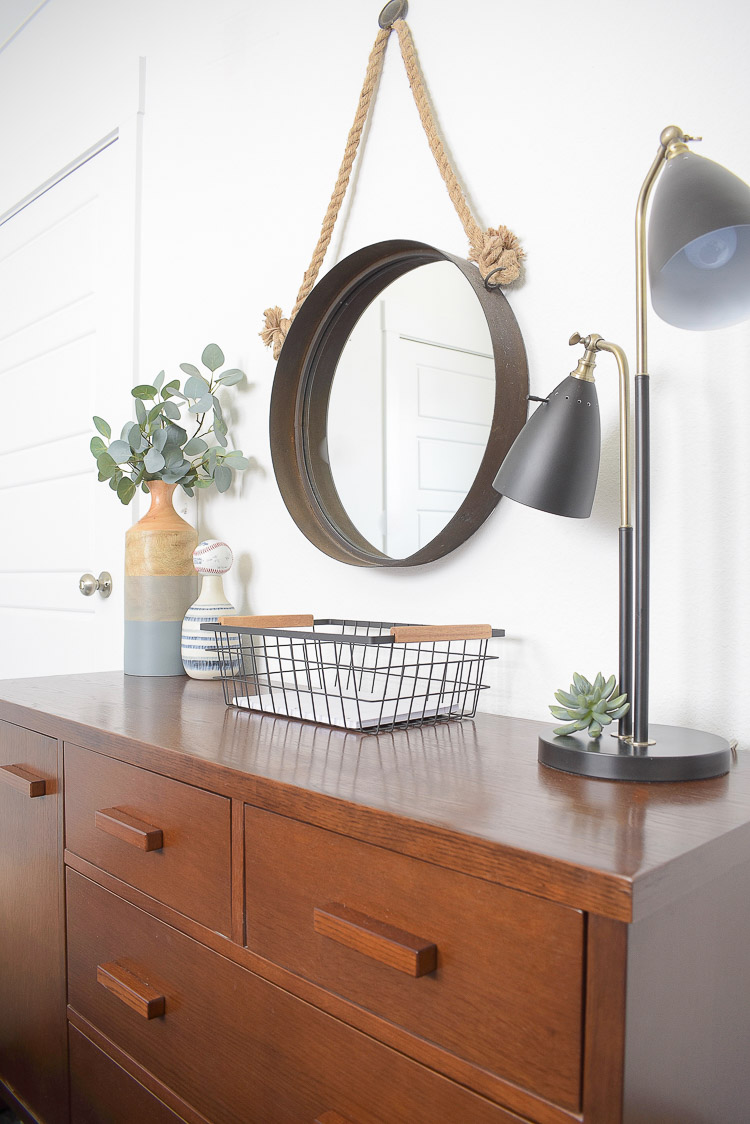 I also noticed where The Home Depot has these great under bed baskets that I've already had for years.  They are great for under the bed storage and for use at the bottom of your closet.  I purchase a lot of my son's clothes on sale for the next season so I need somewhere to store them for a while before he can wear them and these are perfect for that at the bottom of the closet or under the bed.  Also love that they have a liner that is removable and washable.


If you are getting ready to send your kindergartener off for the first time or your 18 year old off to college campus, check out the rest of my Stylish Home Decor & Organizing Ideas for Back To School this year down below.  The Home Depot has everything you need for your home and organizational projects with flexible deliver options, free in-store pick up, and free returns at +2,200 stores.  They also have easy online shopping tools like "My List" and "Shop The Room" and product recommendations to help you get your shopping done for back to school and beyond.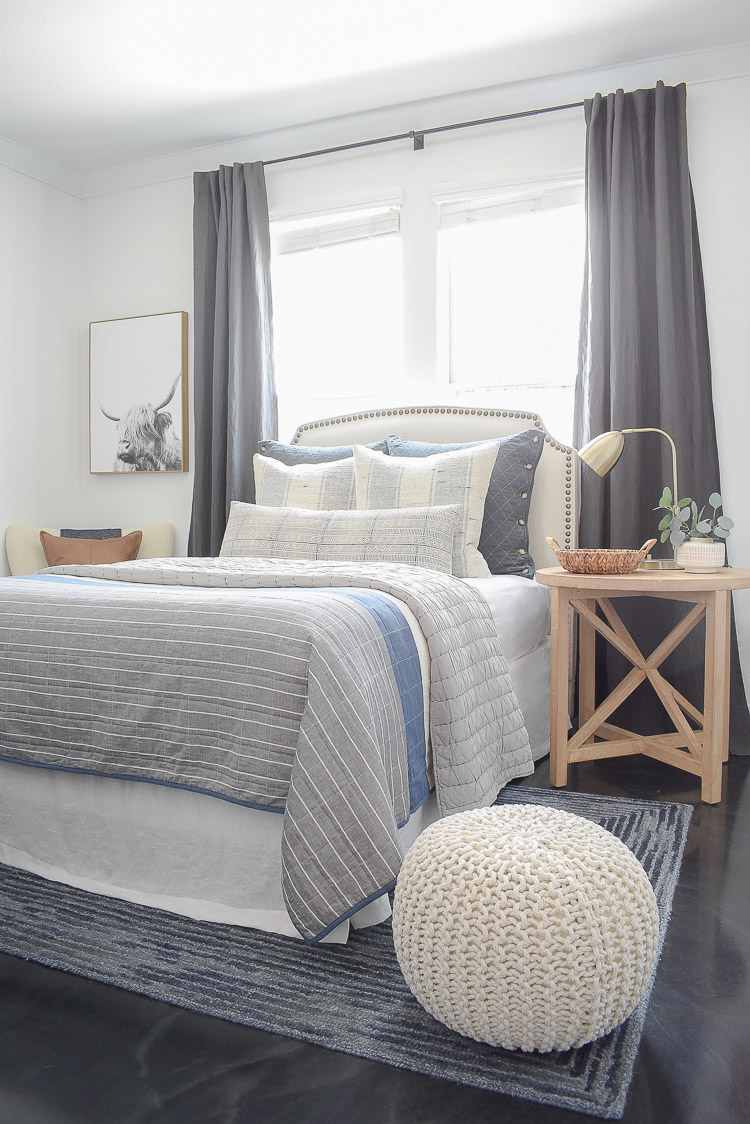 Stylish Home Decor & Organizing Ideas for Back To School