A Cozy Modern Fall Patio Tour
Hi there, friends!  So glad to have you back for another fall tour this year!  If you missed my first fall home tour of the year you can check that out here.  Today I'll be talking about my Cozy Modern Fall Patio Tour.  I've made minimal changes with big impact and added one thing in particular that I'm dying to share with you!
This post was sponsored by Walmart, a brand I love, and contains affiliate links.  Please read my full disclosure policy here.
Each fall I love adding a few new pillows, mums of course, and new planters for my fall flowers.  But this fall, we did a DIY, woo hoo(!) (well, kind of) and added these string lights that I couldn't be more excited about!  We have been wanting to do this for some time on our rental patio and I was so happy to have the opportunity to work with Walmart on this post to finally get this done.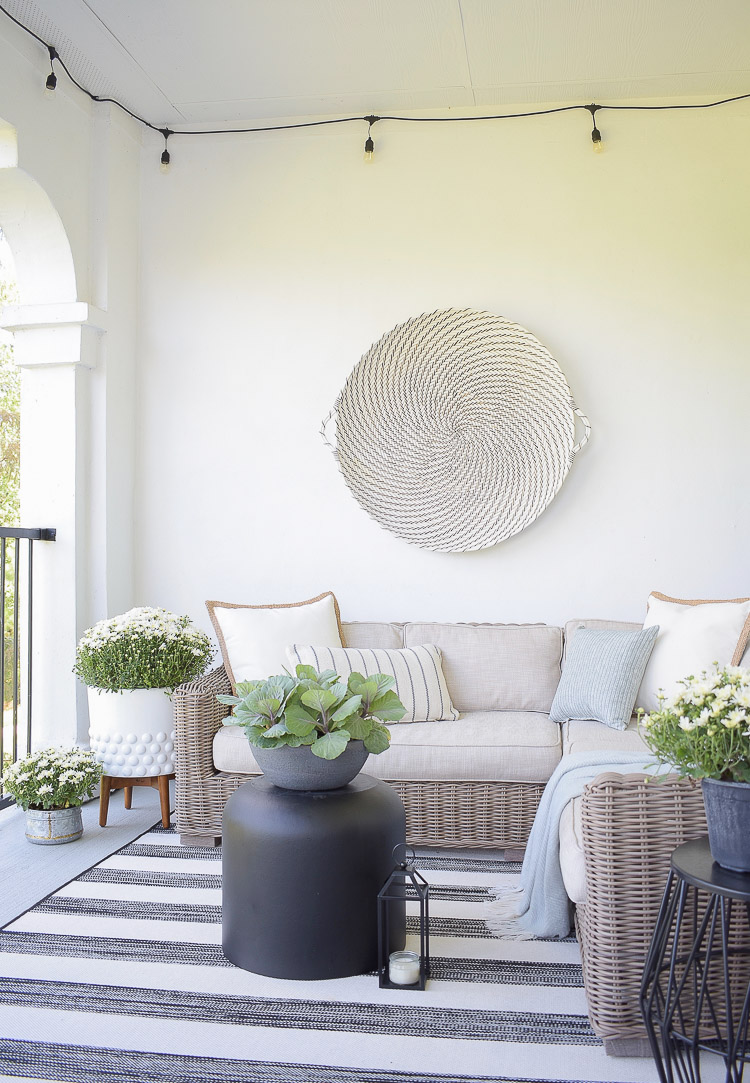 For those of you that know me, you know I'm not much of (if at all) a DIY'er but hanging string lights is no heavy lifting!  My husband used these white cup hooks and it couldn't have been more easy, once we figured out what we wanted to do.  We decided to keep it clean and not let them drape too much but they would have totally been beautiful the other way too – next time!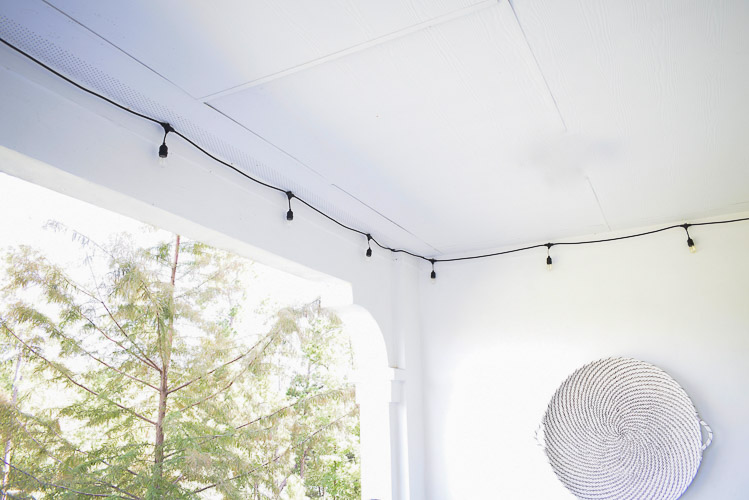 What I love about Walmart is that you can literally get anything you need, especially for the beginner DIY'er!  I also love that I was able to get these heavy duty, commercial string lights at Walmart for our fall patio.  They are great quality and heavy so they hang really nice.  Mine are 48 feet long and came with bulbs, of course.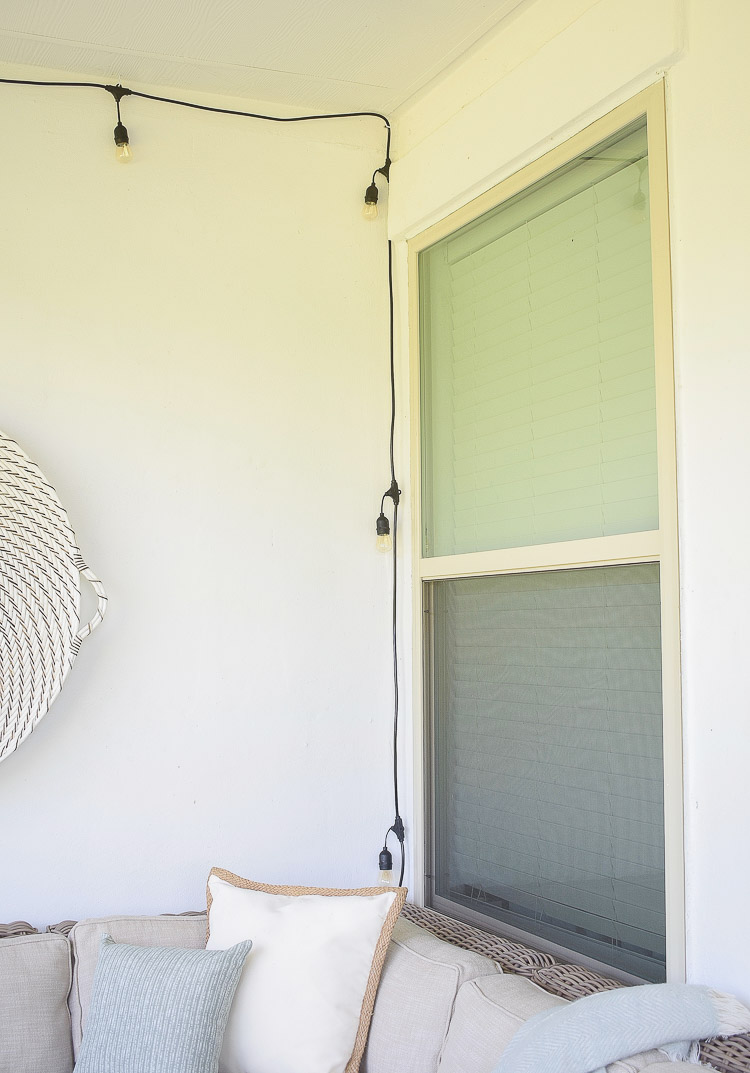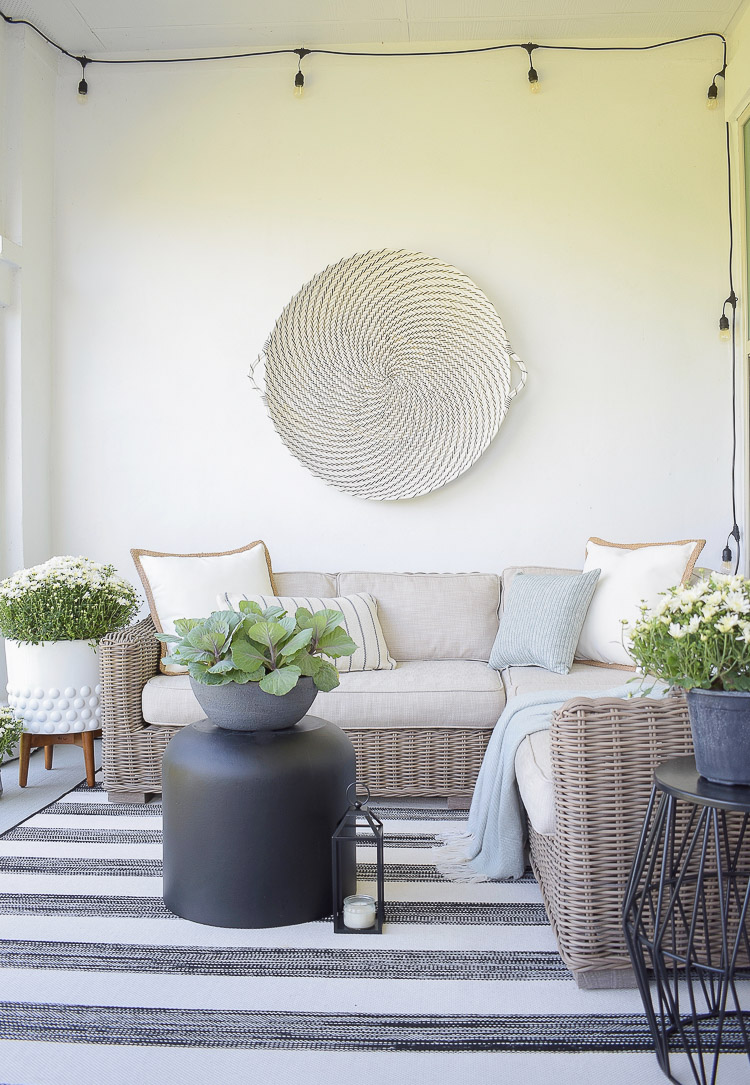 I also had been wanting a cement planter but they are so expensive so I opted for this faux cement planter that comes in a set of two, which is wonderful because two would be great for outdoor dining table decor.  Every year I typically like to use Flowering Kale to add some greenery to my patio, in addition to mums.  I used 5 small Flowering Kale for this pretty yet simple arrangement.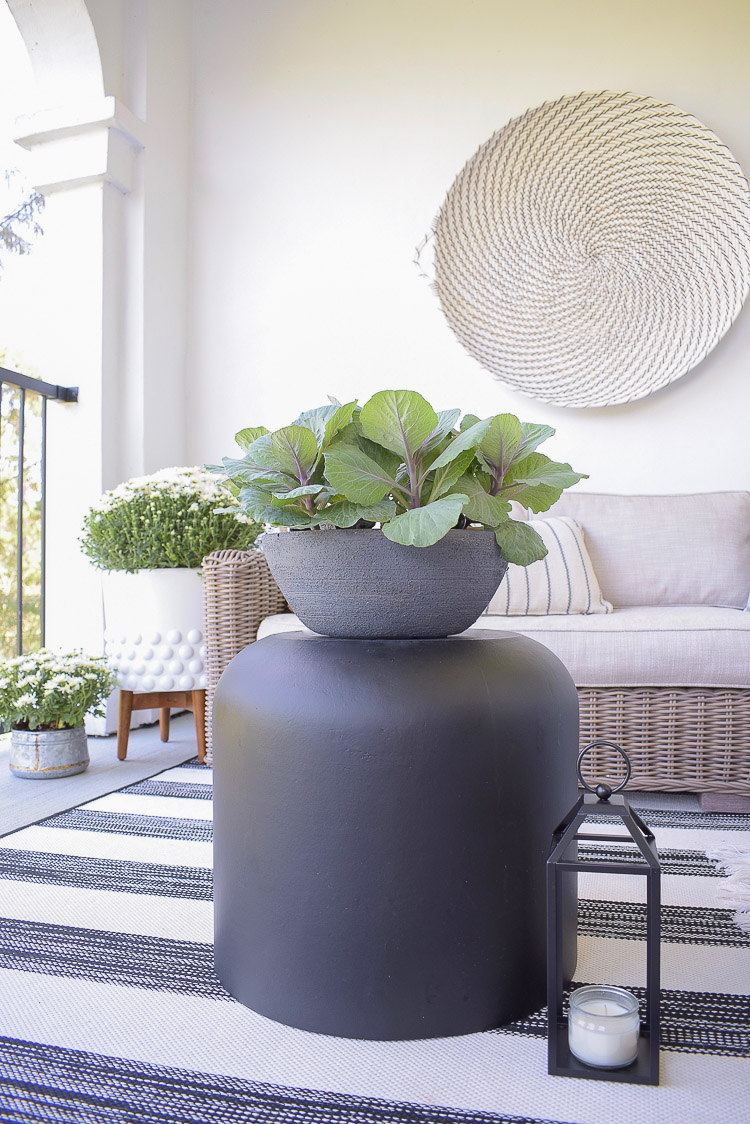 Also love this darling lantern for fall.  It comes in a few sizes and black is always a great color to add outdoors in your fall decor.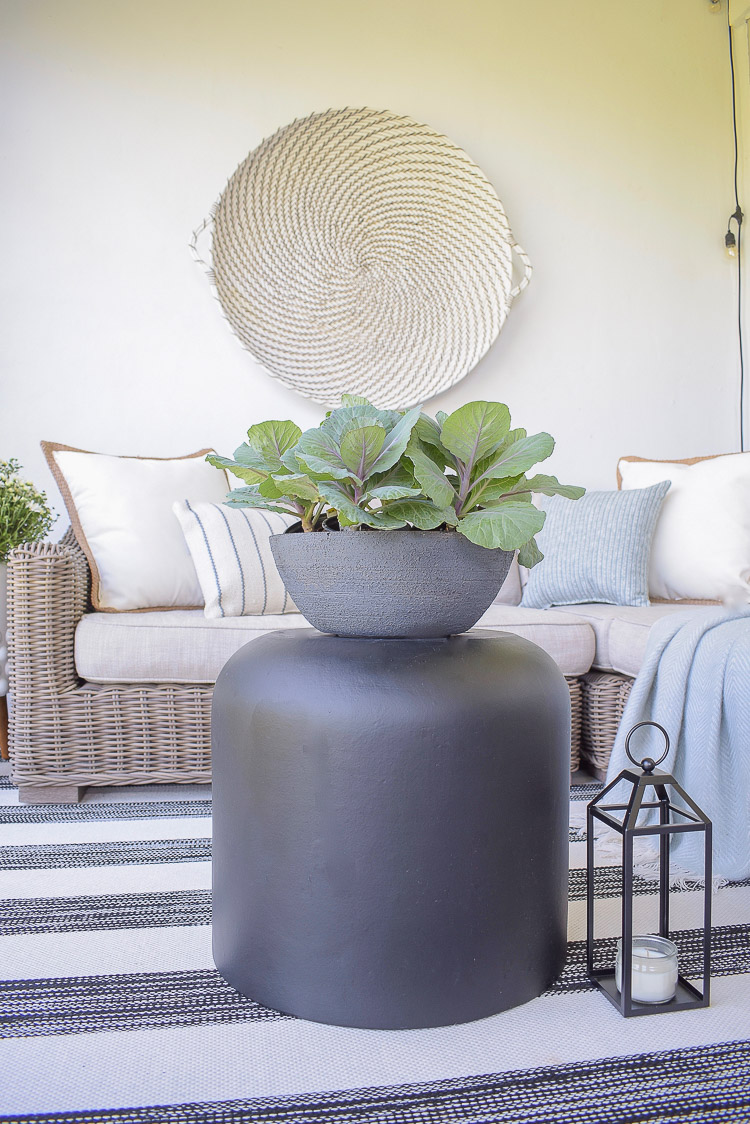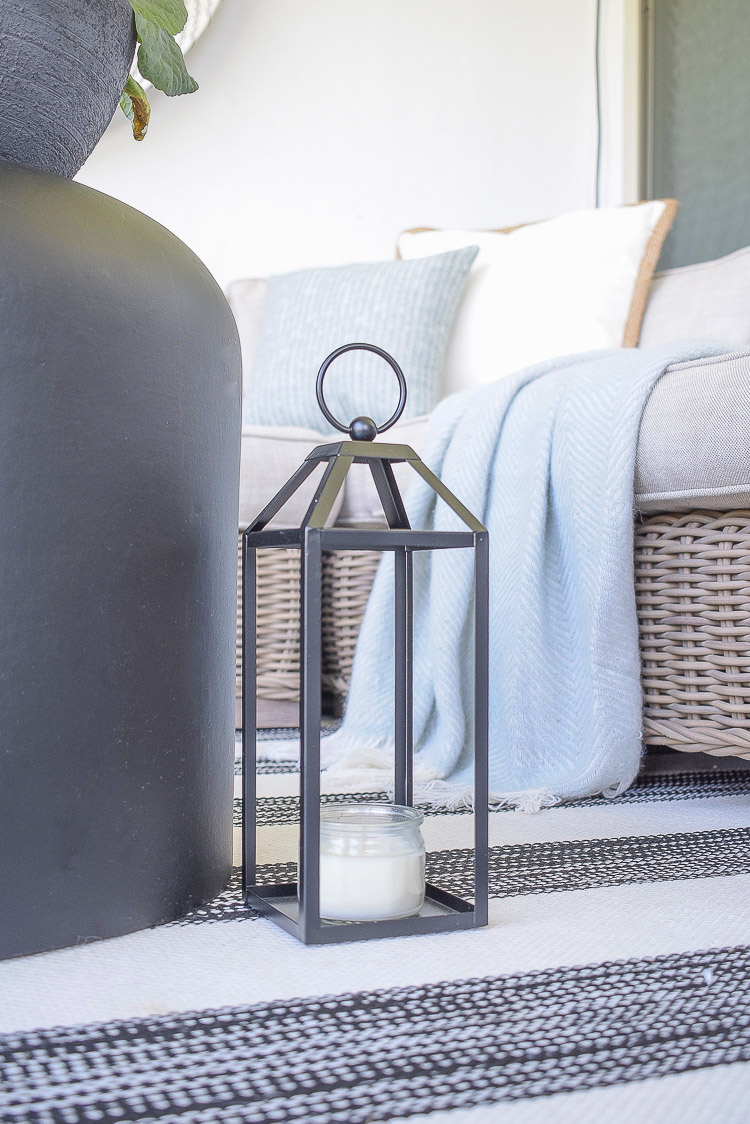 Speaking of planters – I added two more over in the corner with this fabulous white dotted planter pot and this darling galvanized pot, that also comes in a set of two.  Did you know that you can also get your fall flowers at Walmart?  Love that I was able to grab all of this in one place to spruce up my patio for fall, and with free shipping over $35.  Of course I shopped in store for the mums but it was so great that I was able to shop for everything else on line at Walmart.com for my fall patio DIY needs and beyond.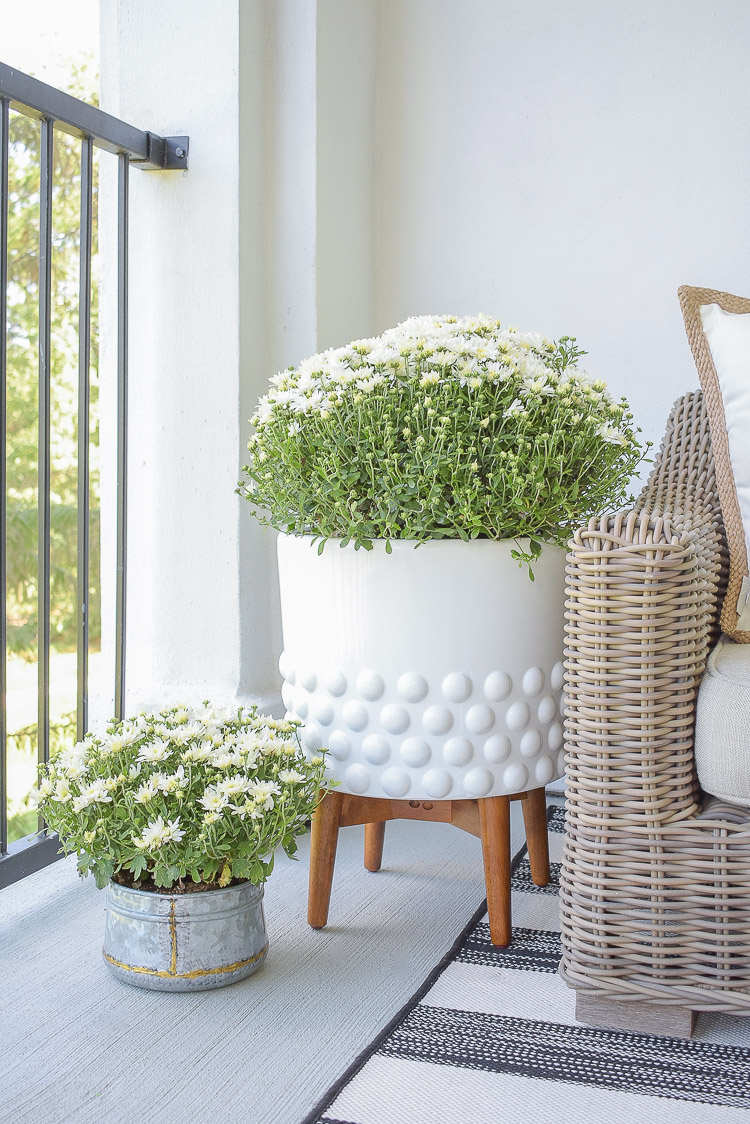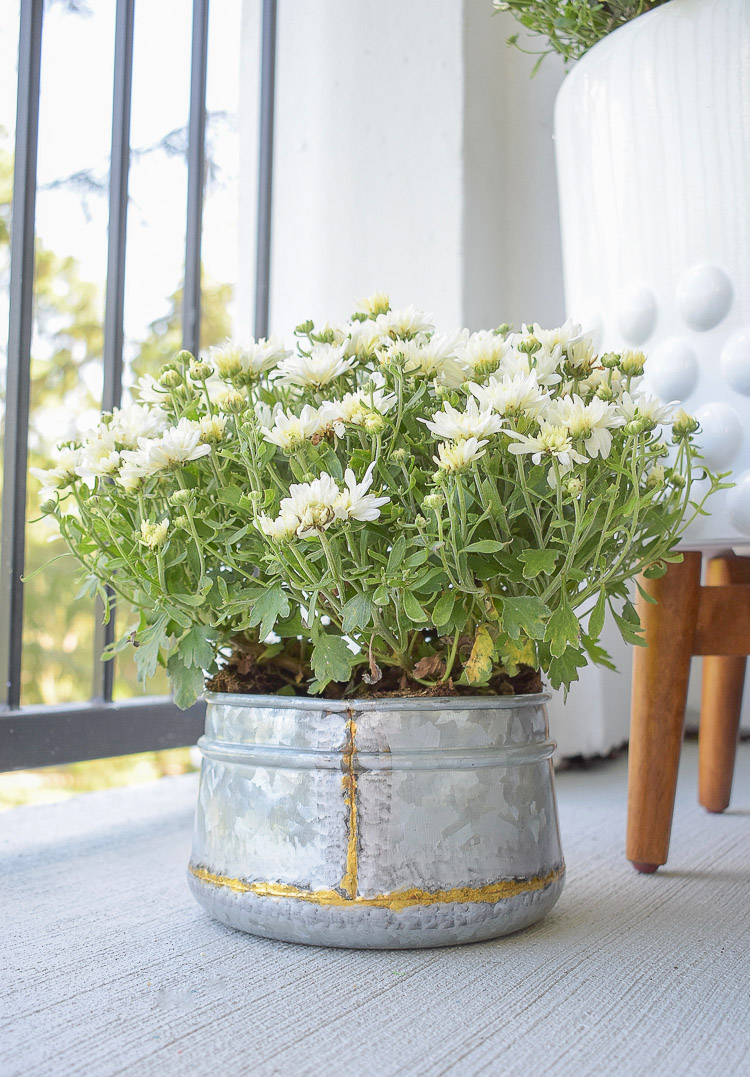 I added the stand to the white pot myself (already had it), just to give it some height but it's a nice size already. I have seen a few other versions of this pot that are much, much more expensive so I was over the moon to find this one at Walmart!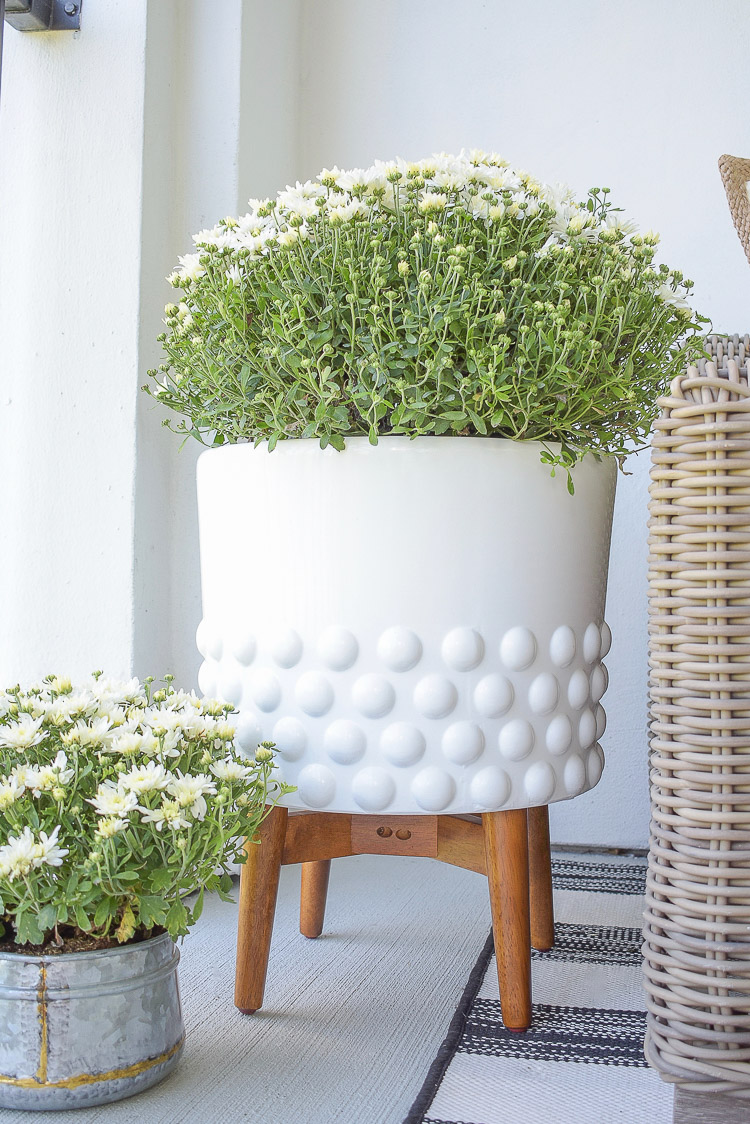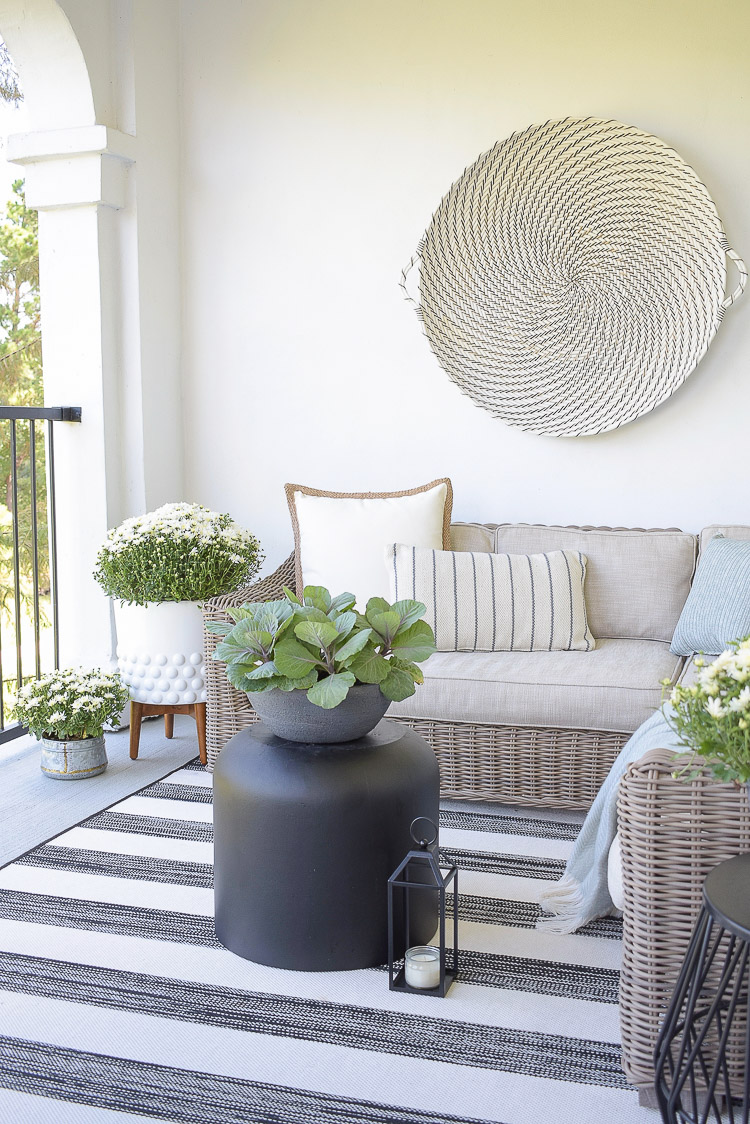 Next I added this beautiful striped pillow.  If you've been on Instagram this one has been popular and I can see why!  The texture is great and the boho style is perfectly on trend for such a great price, and it comes with an insert, #bonus!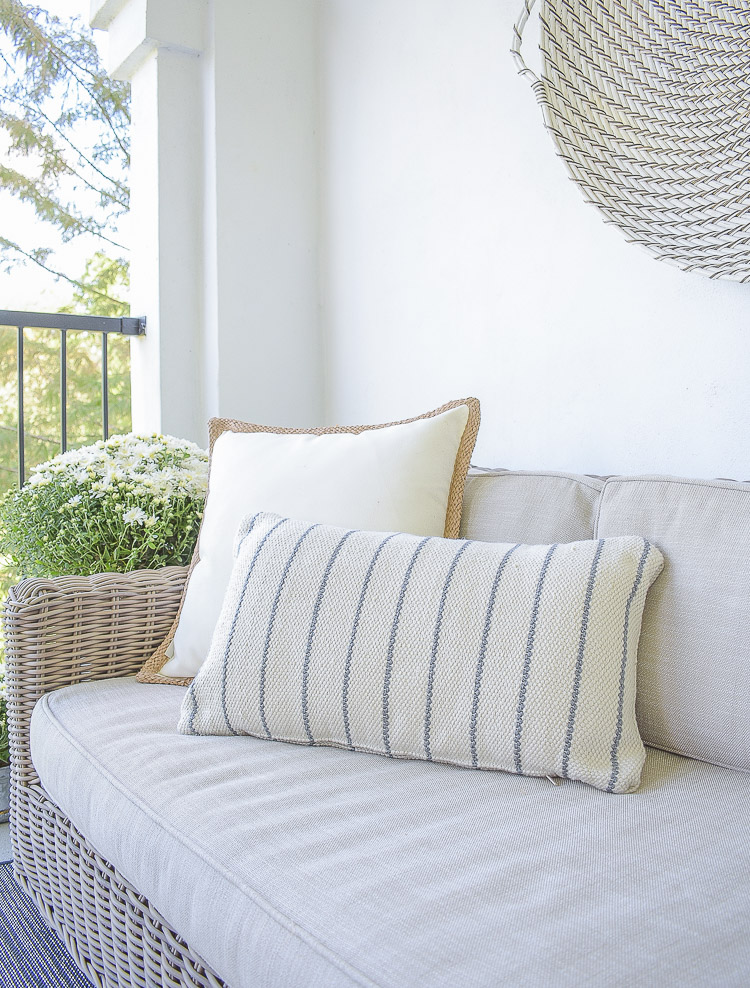 Also added this perfect for fall throw.  I have it in two colors now (navy in my living room) and love how soft it is and of course love the fringe.  This one is the gray and has a greenish/blue undertone to it.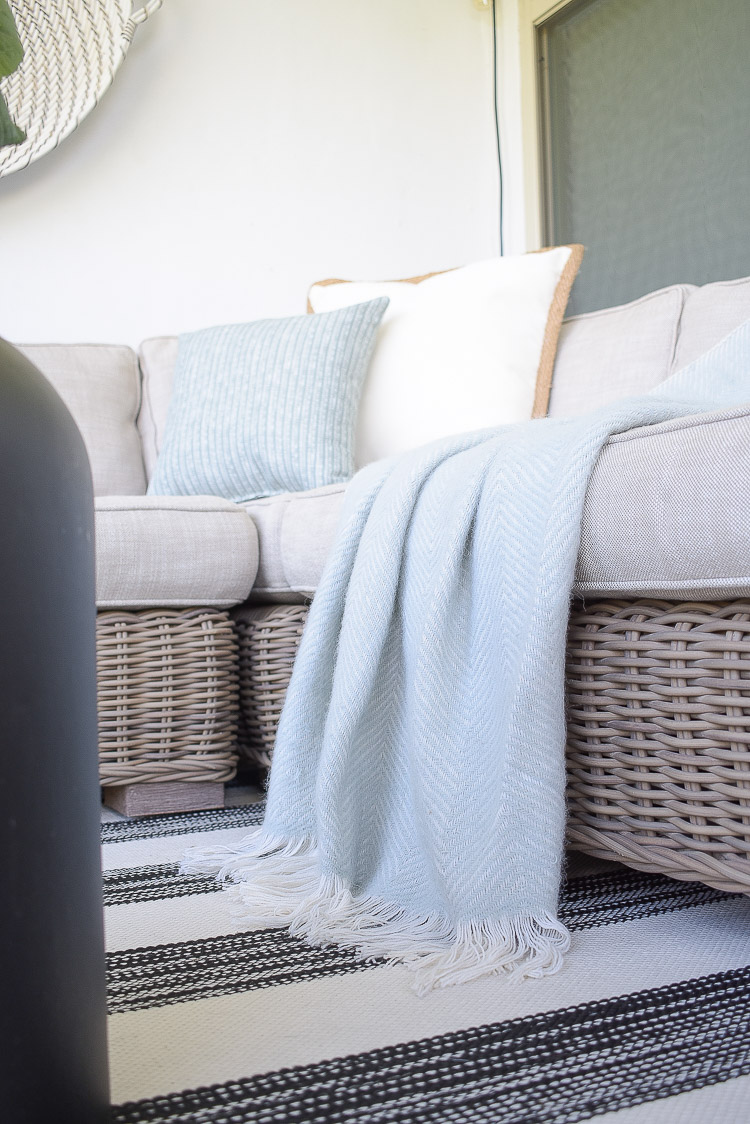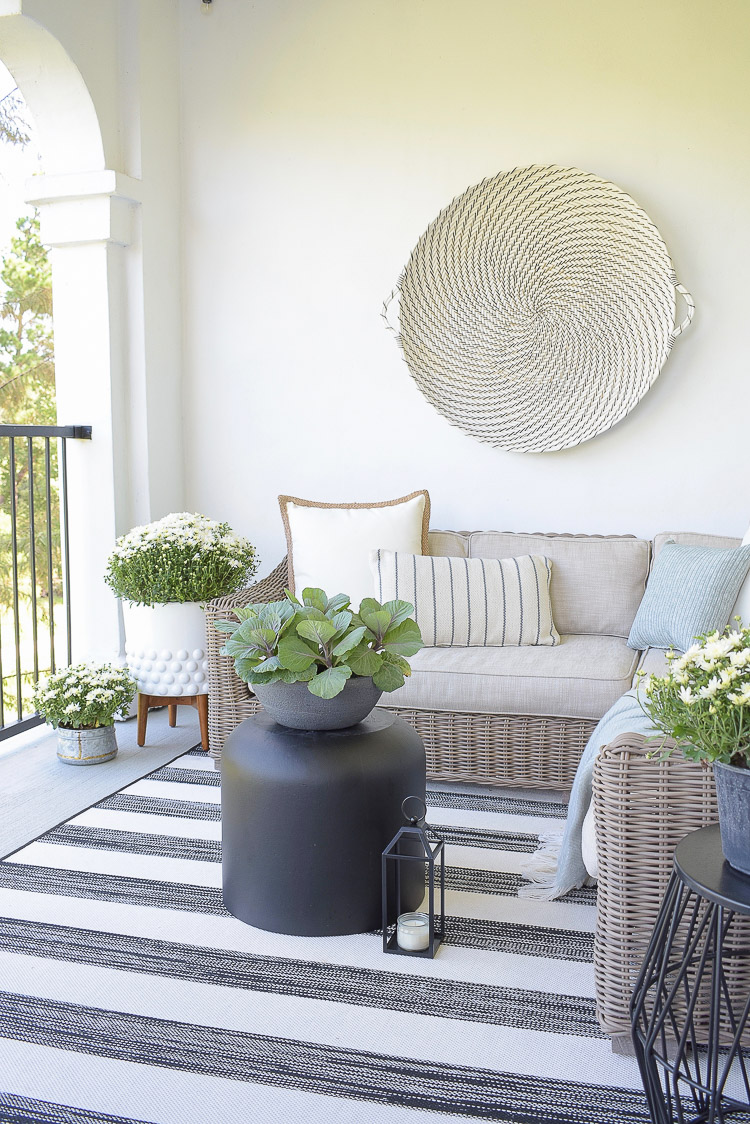 Hope you've enjoyed the tour!  Check out a few more fun views of my cozy modern fall patio tour – can't get over how much I know we will enjoy this space this fall, as soon as it cools off of course (evenings are already cool enough to enjoy it – YAY!).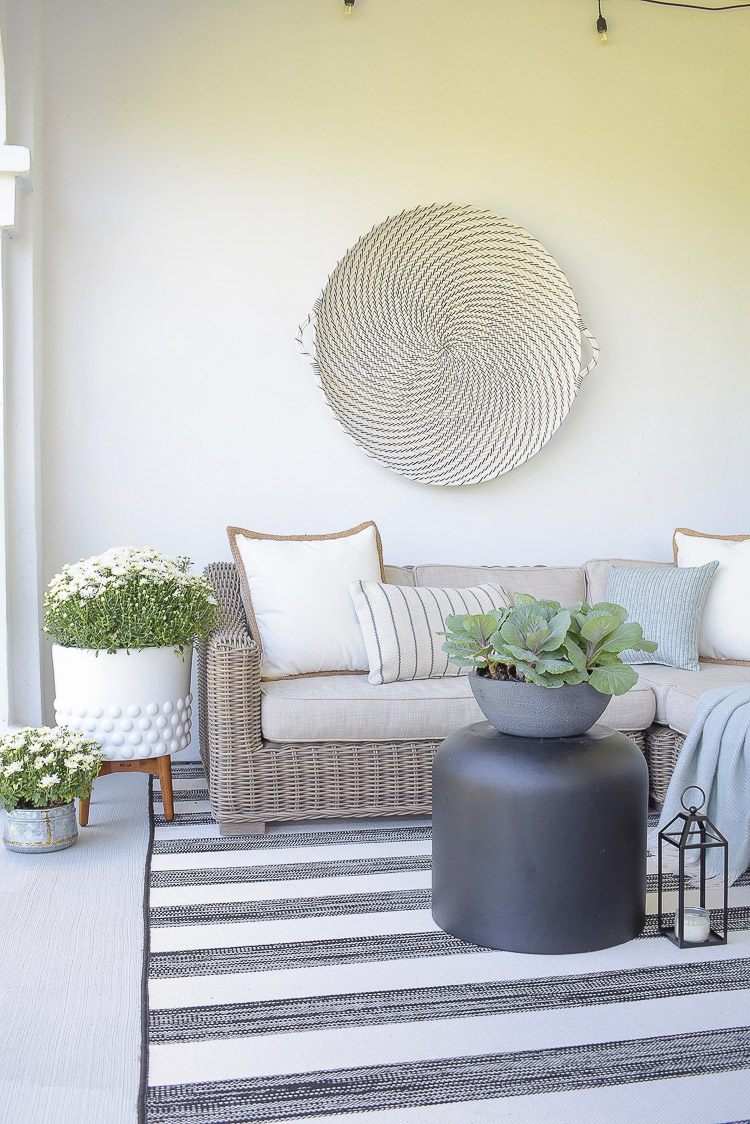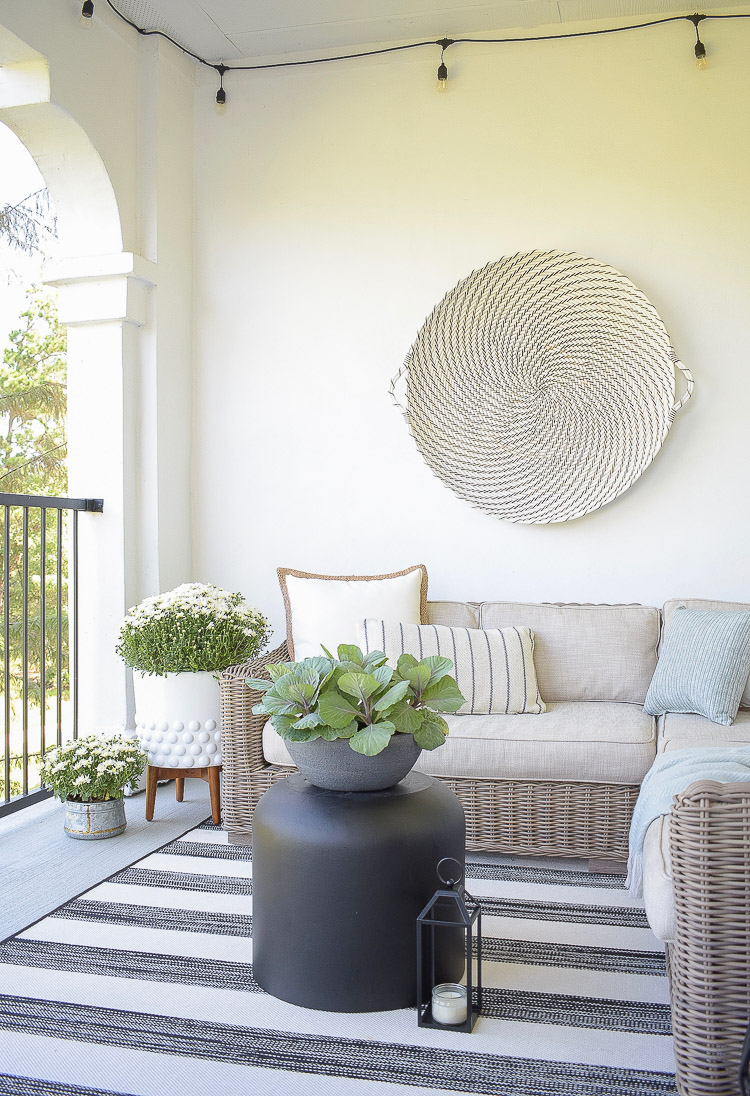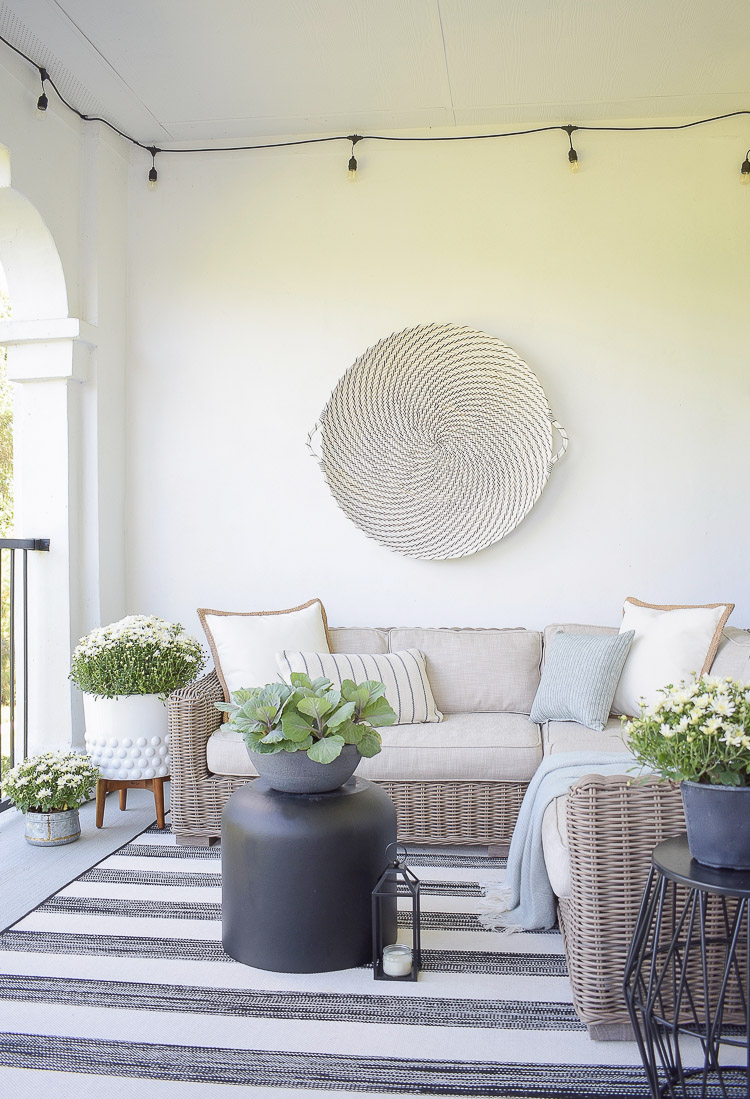 And here is the best view of our cozy modern fall patio – at night!!  All sources and links for shopping are below:)!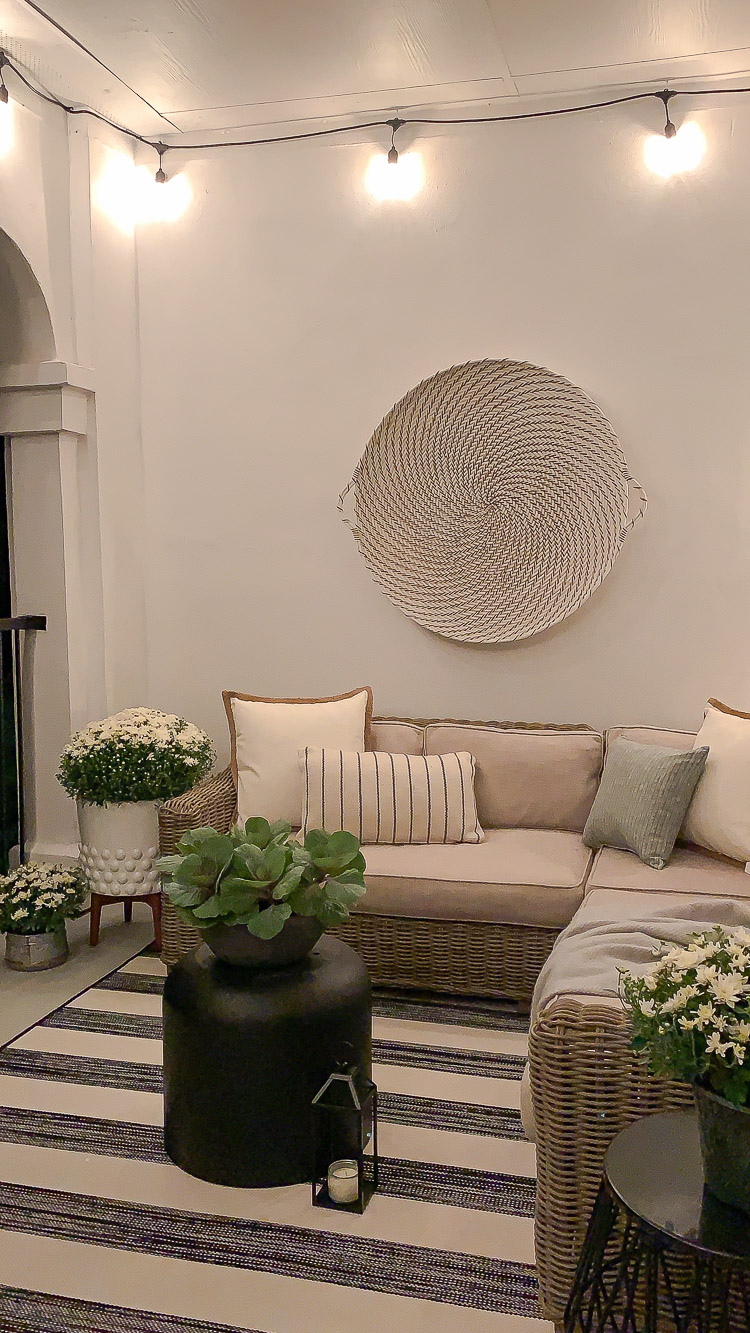 48 Foot String Lights | Cement Planters (set of two) | White Dotted Planter | Galvanized Planter (set of two) | Indoor/Outdoor Striped Pillow | Lantern | Fringe Throw
Let's stay connected…
Pinterest | Facebook | Instagram | Twitter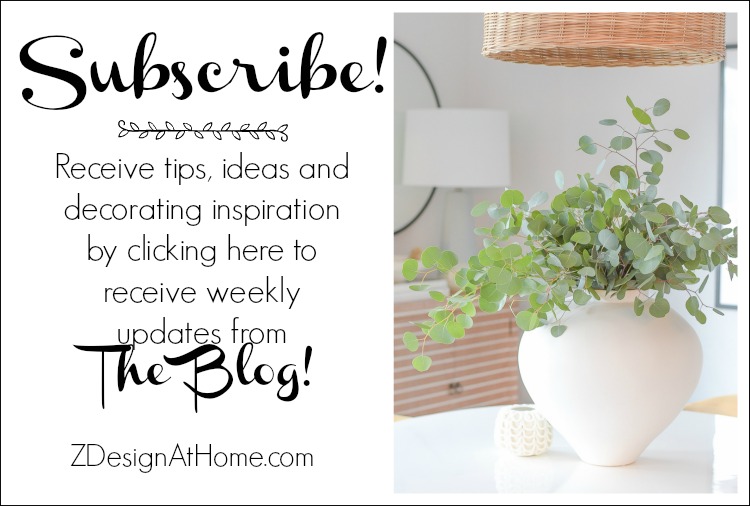 A Cozy Modern Fall Patio Tour
(Sources & other favorites for Fall)