Vacation Recap to 30-A Florida
If you've never been to Florida's Scenic Highway 30-A and are not aware of where or what it is, let me fill you in!  30-A is a beautiful beach road in South Walton County that stretches along the Emerald Coast, famous for its white sandy beaches, incredible beach communities, beach bars, restaurants and resorts.  The beaches in this area are some of the most beautiful I've ever seen, along with the most beautiful white sand and for that reason thousands of people and families flock to this area every summer (and every year) for vacation.  I hope you will enjoy my recap to 30-A, Florida this summer and please let me know if you have any questions in the comments section below of this post!
First I'd love to share the beautiful home we stayed in while in 30-A this year.  We also stayed in 30-A last year and you can read that post HERE.  Last year we rented from Sanders Beach Rentals which perpetuated this years trip via a partnership with Sanders and although this post was done in partnership with them, all opinions are 100% my own.  Read my full disclosure policy HERE.
And then after I share the house with you I'll share some of the places we ate and shopped!  The whole trip was truly so relaxing and fun but the first full day we of course found ourselves at the beach.  Couldn't get over how gorgeous the water was this trip.  I mean it's always pretty but it was especially pretty on this day.  My son is soaking up every inch of it here in this photo…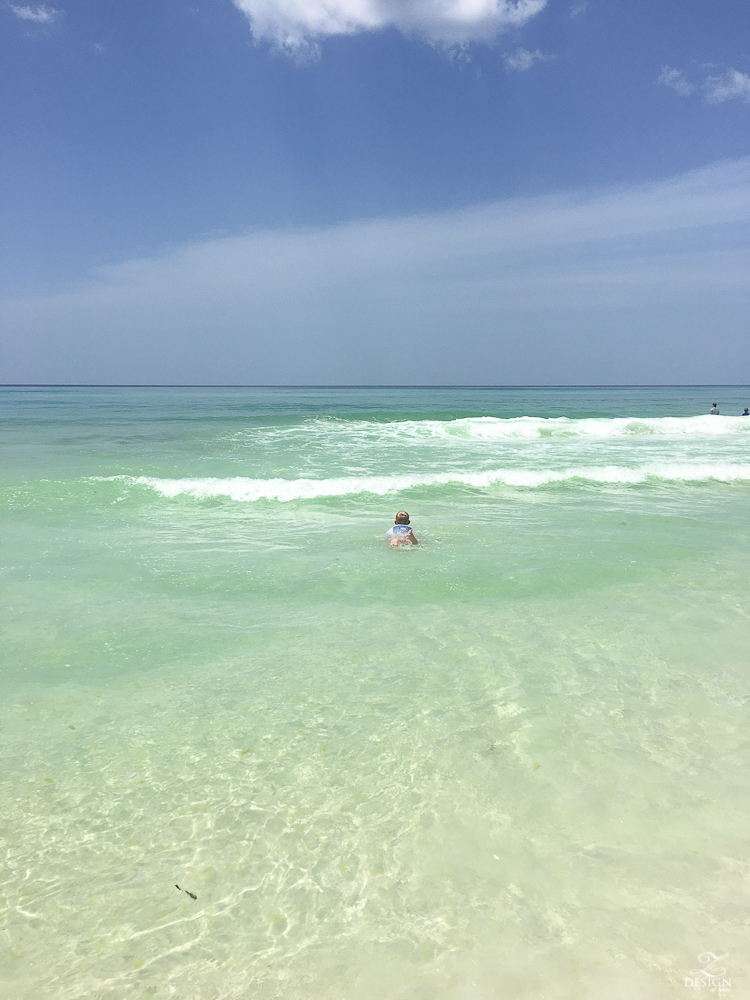 But honestly we found ourselves at the pool most days like this with the kids playing in the pool and the adults either in the pool or lounging near by.  The swan pool floats were so much fun and we literally did this for hours upon hours each day.  In fact, we only went to the beach one day (can you believe that?!) because we had so much fun playing in and relaxing by the pool.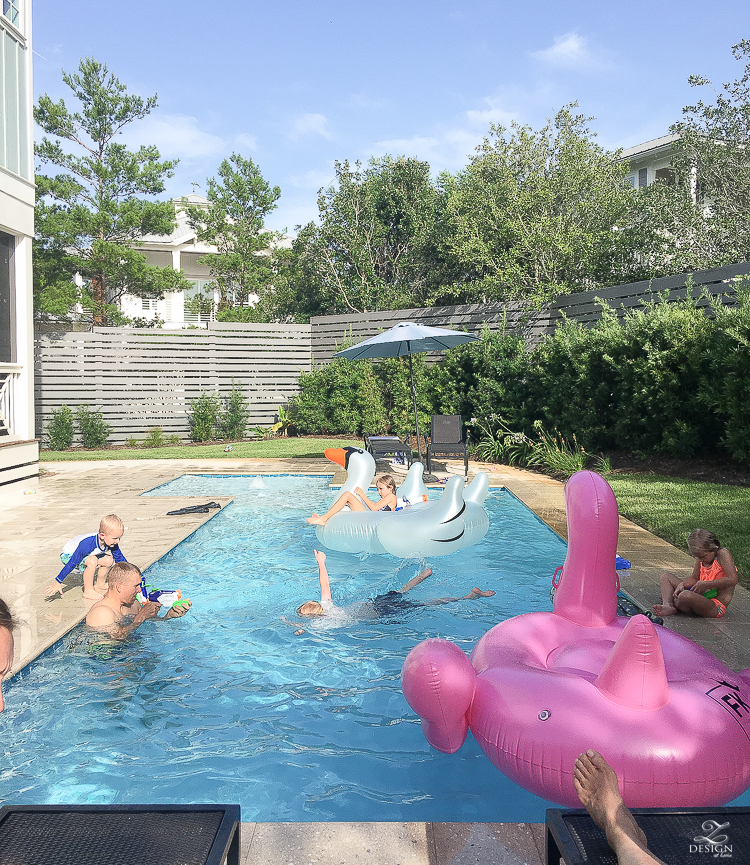 Really enjoyed seeing my nephew that came in on a break from the coast guard!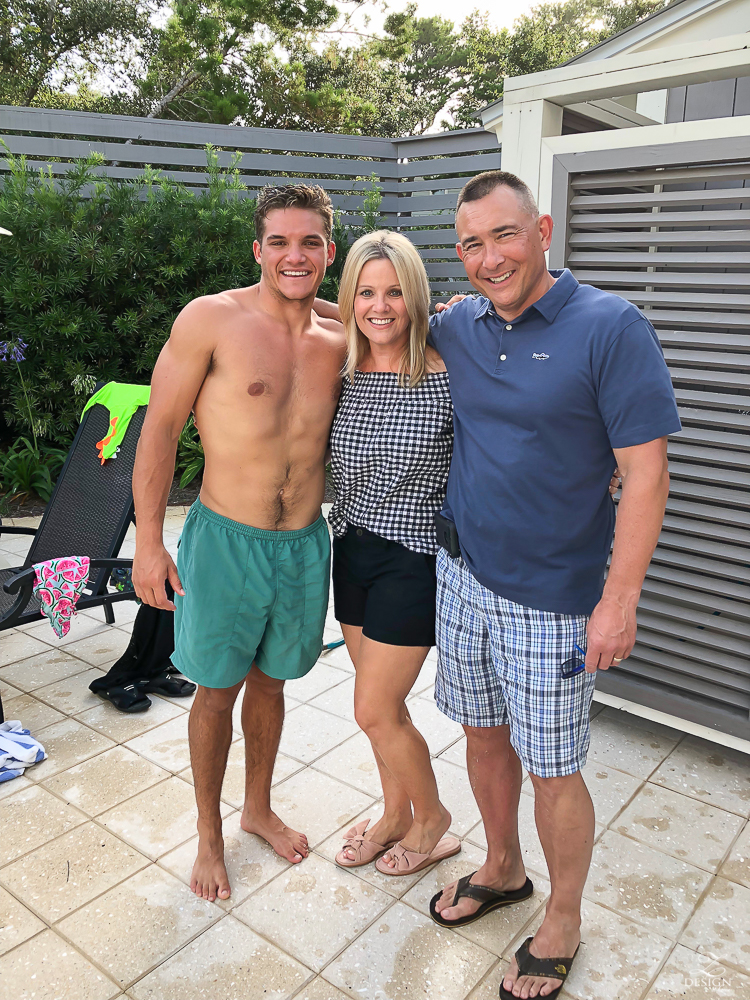 So let's start with the back of this darling house.  The exterior was a board and batten painted in a light teal (sorry, I don't know the paint color) and the details in the woodwork were amazing and gave the house that great coastal feel you're looking for in a beach house.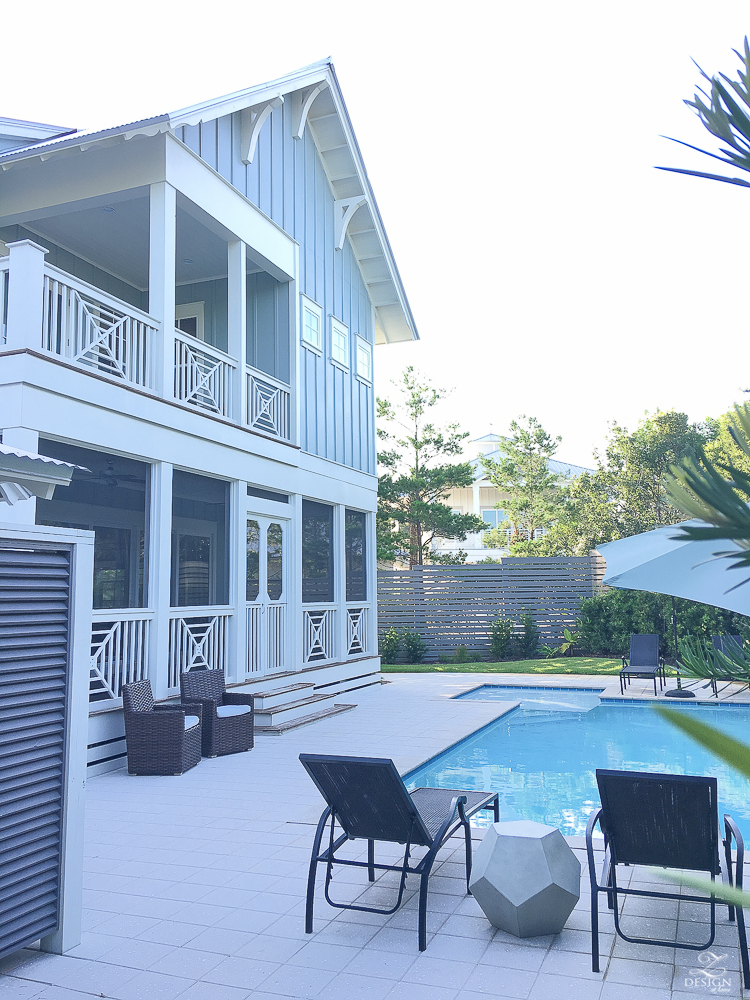 The front (here) was darling but the side (below) was my favorite.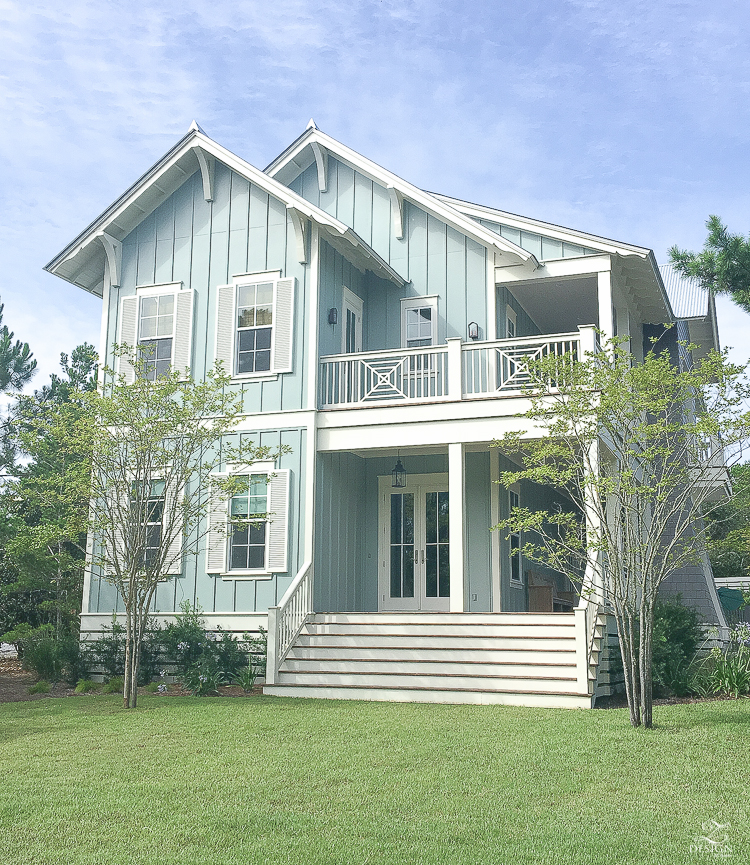 I LOVE the cedar shakes siding in a contrasting color and love the souring entry and the pitch of that roof!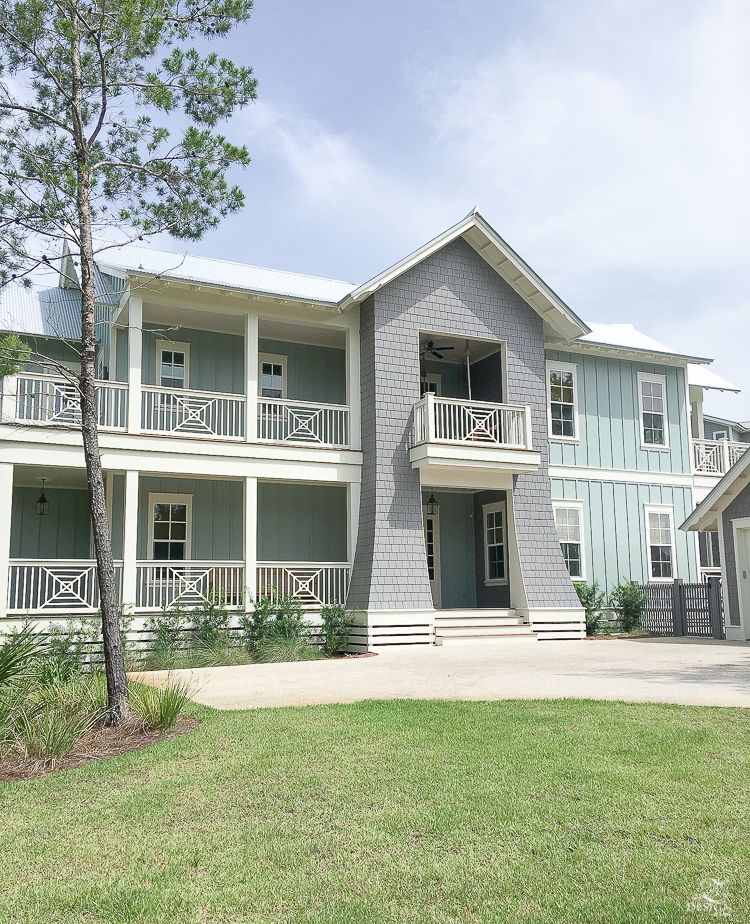 The garage was equally darling!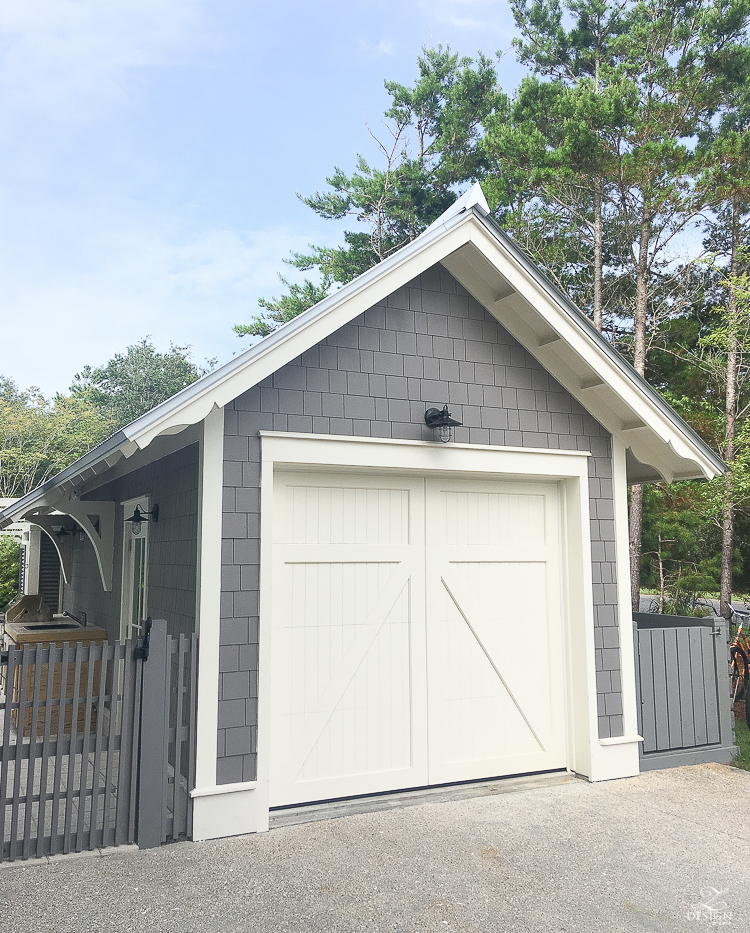 This home is a Sanders Beach Rentals home that you can find HERE for rent however Sanders has tons of homes in 30A to fit most size requirements and budget.  Sanders really took care of us during our stay with a stocked fridge, beach bag full of amazing beachy type things and checked in on us from time to time to make sure we were enjoying our stay!
Also, the house comes with 6 bikes and a golf cart.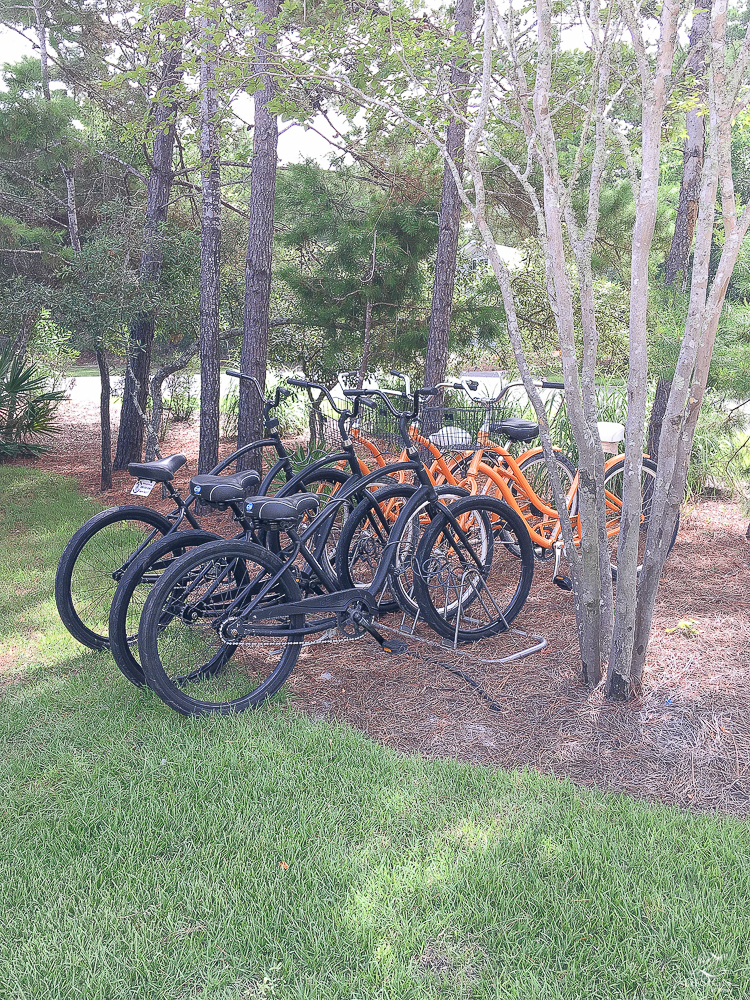 My brother, sister-in-law and nephew enjoying an outing on the bikes…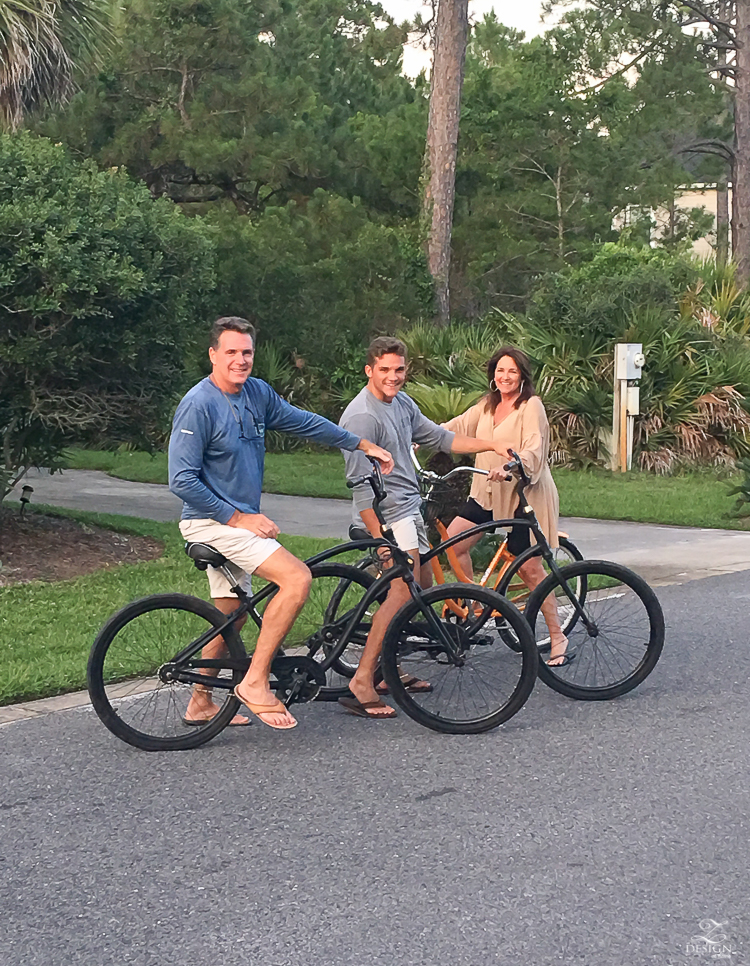 Now let's go inside…my favorite part of the house I think was the kitchen.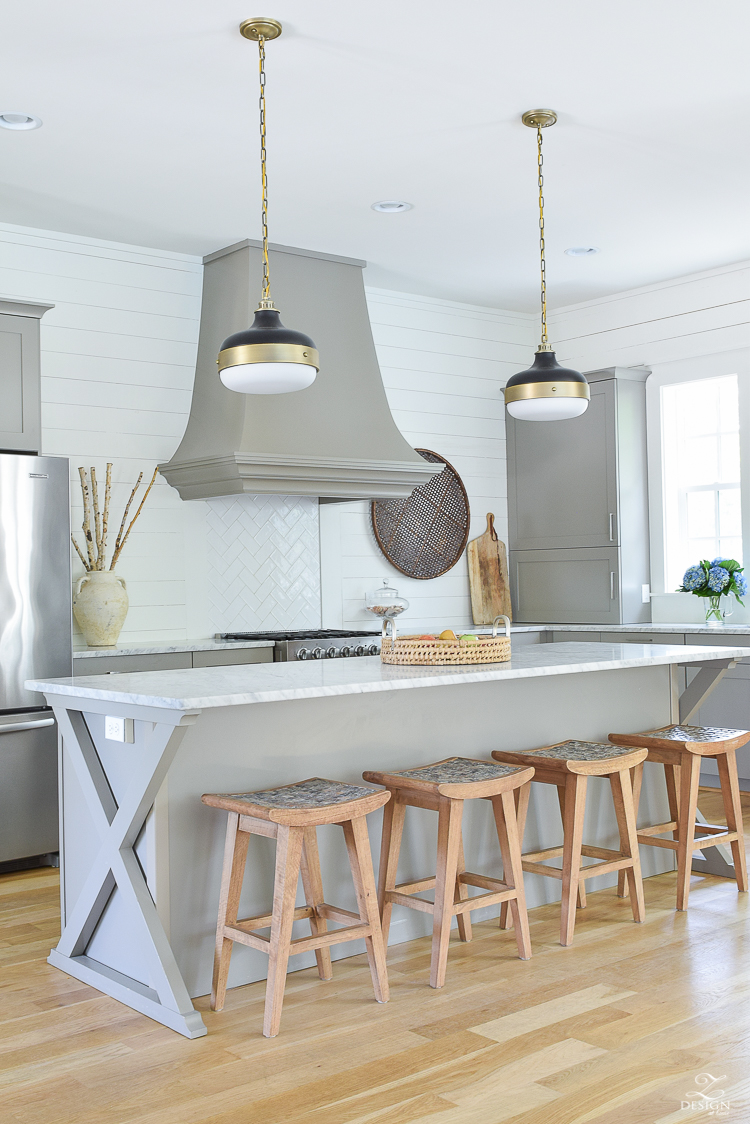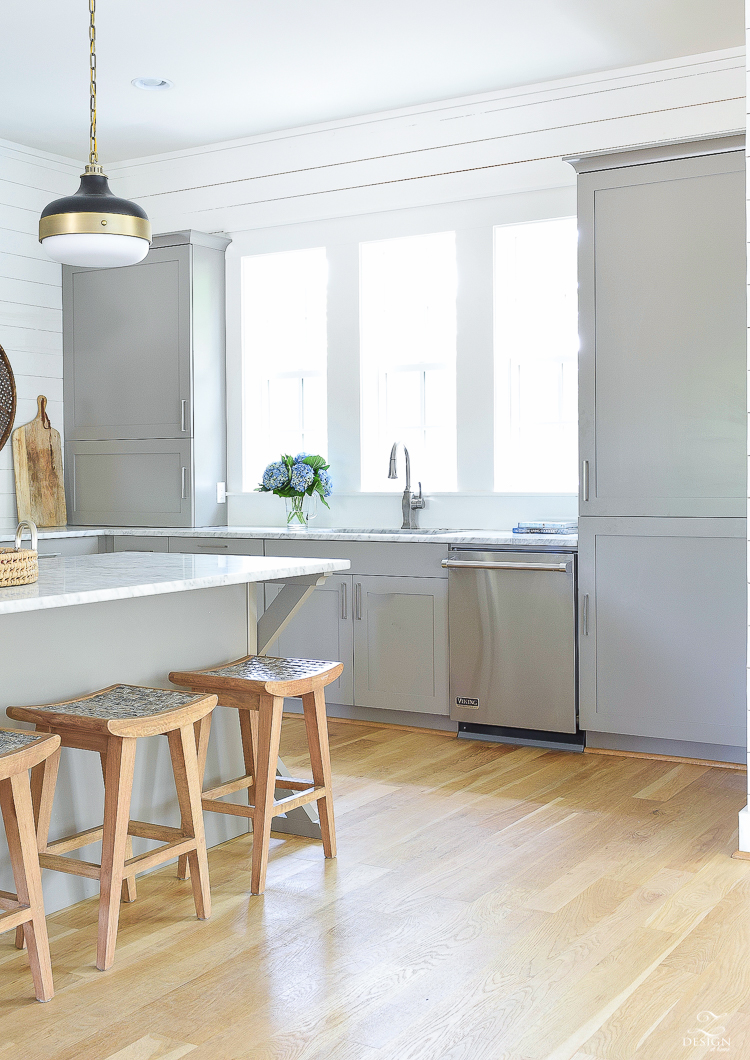 One of my favorite things in the kitchen (besides the gray cabinets) was the pendants over the bar.  So similar to my own pendant over my dining table at home but I love the fun shape of these.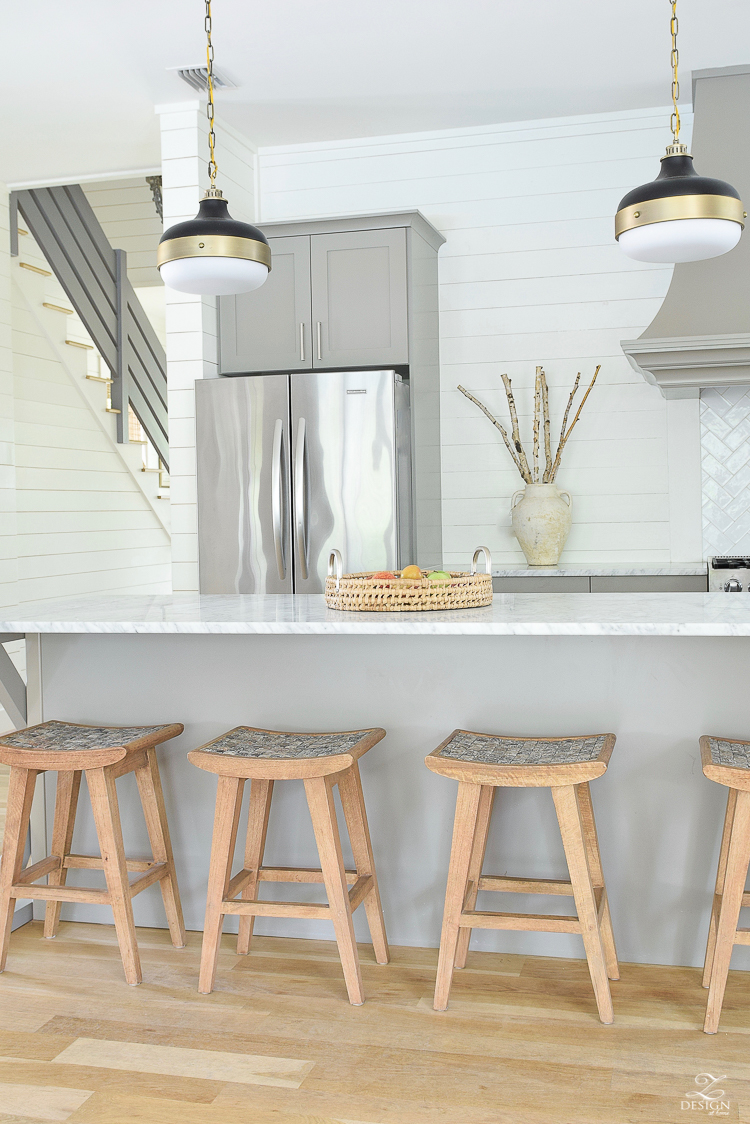 Also really loved the shiplap wall behind the range and hood.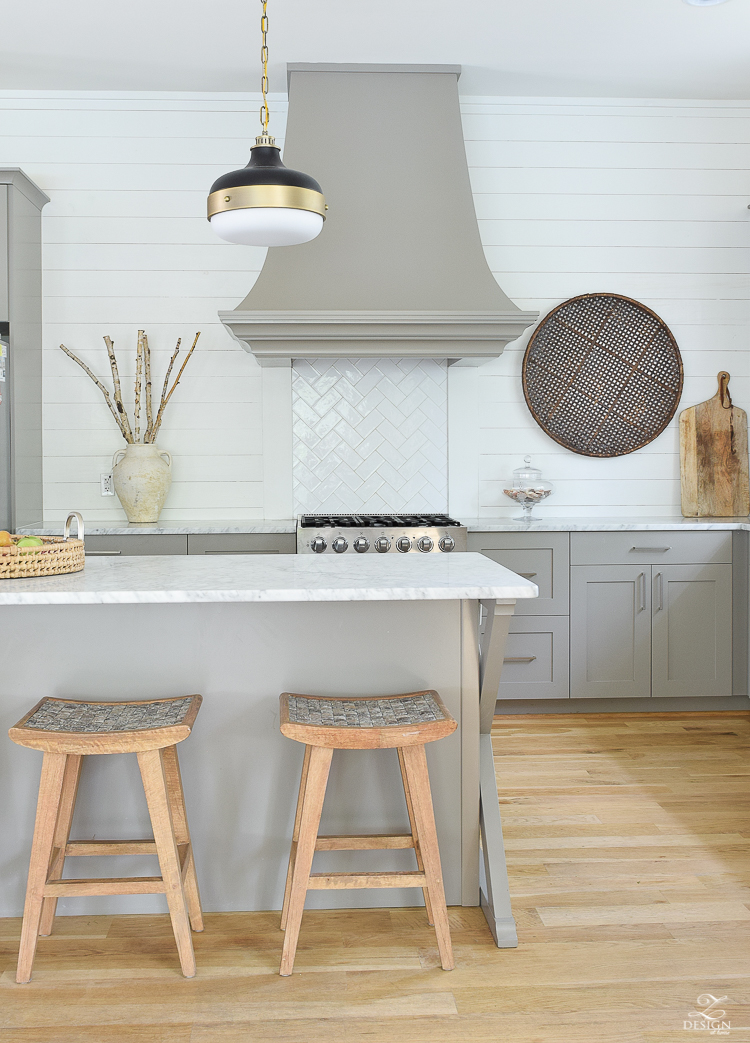 Love the hood too…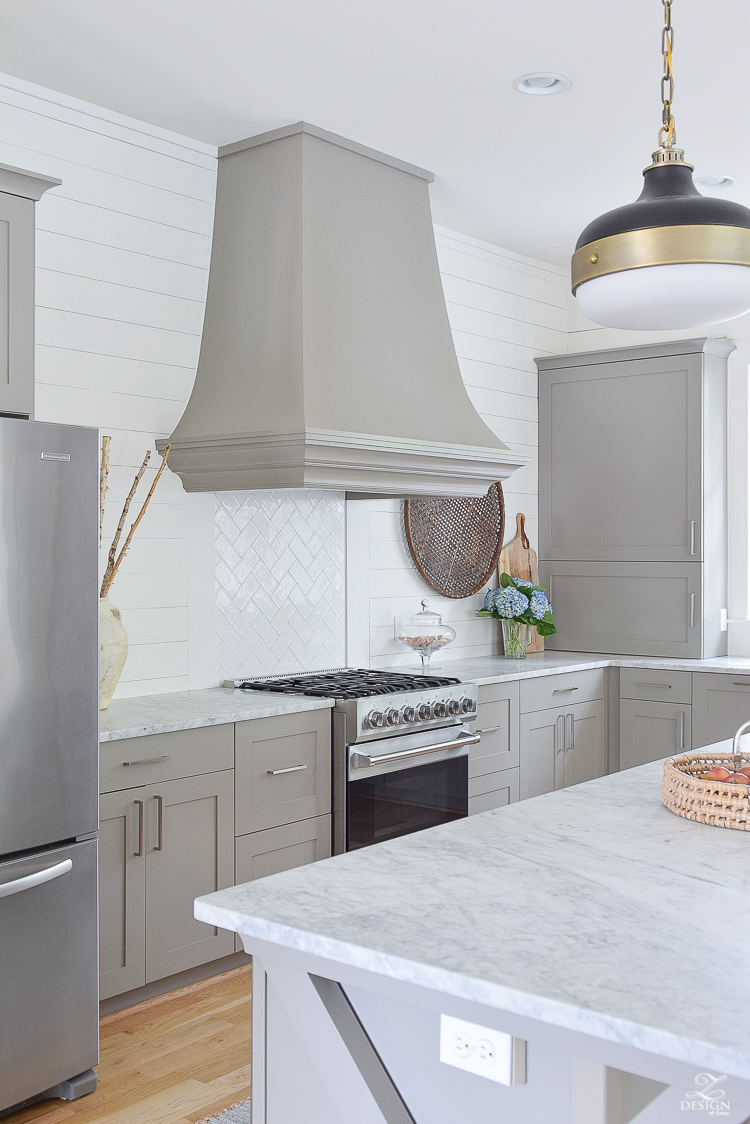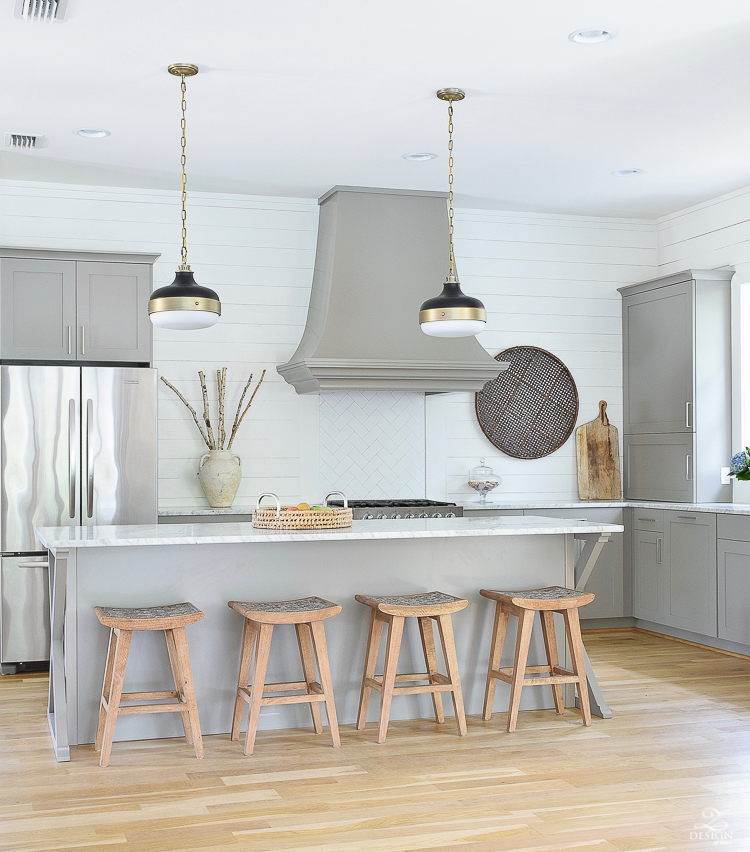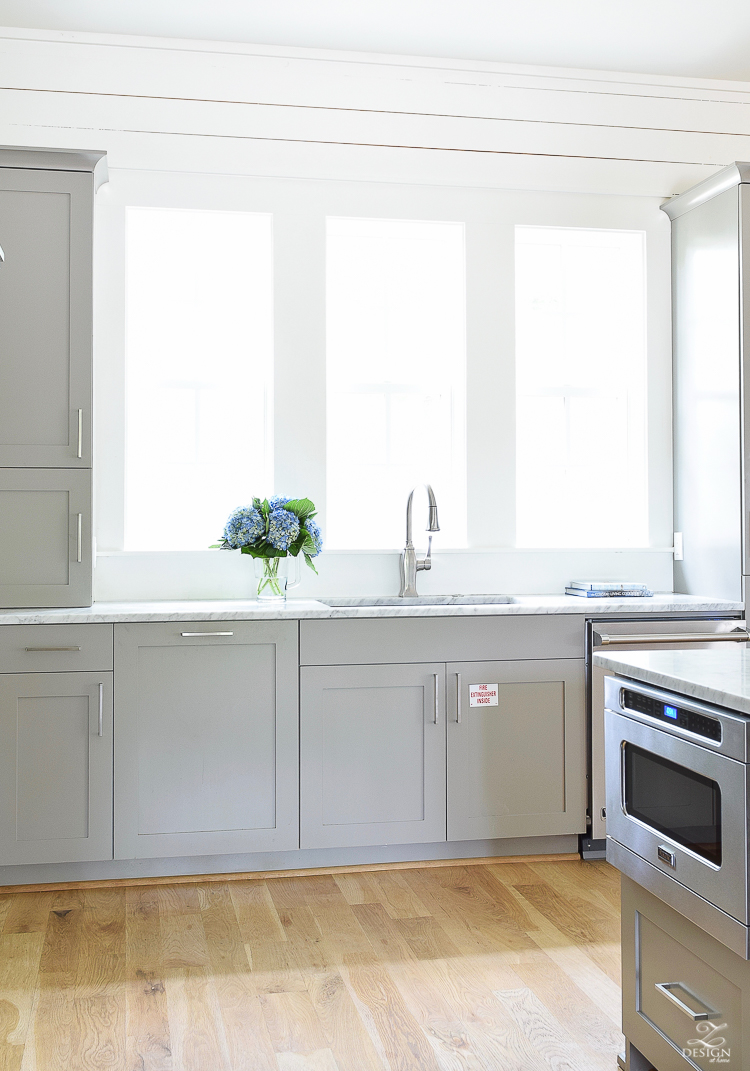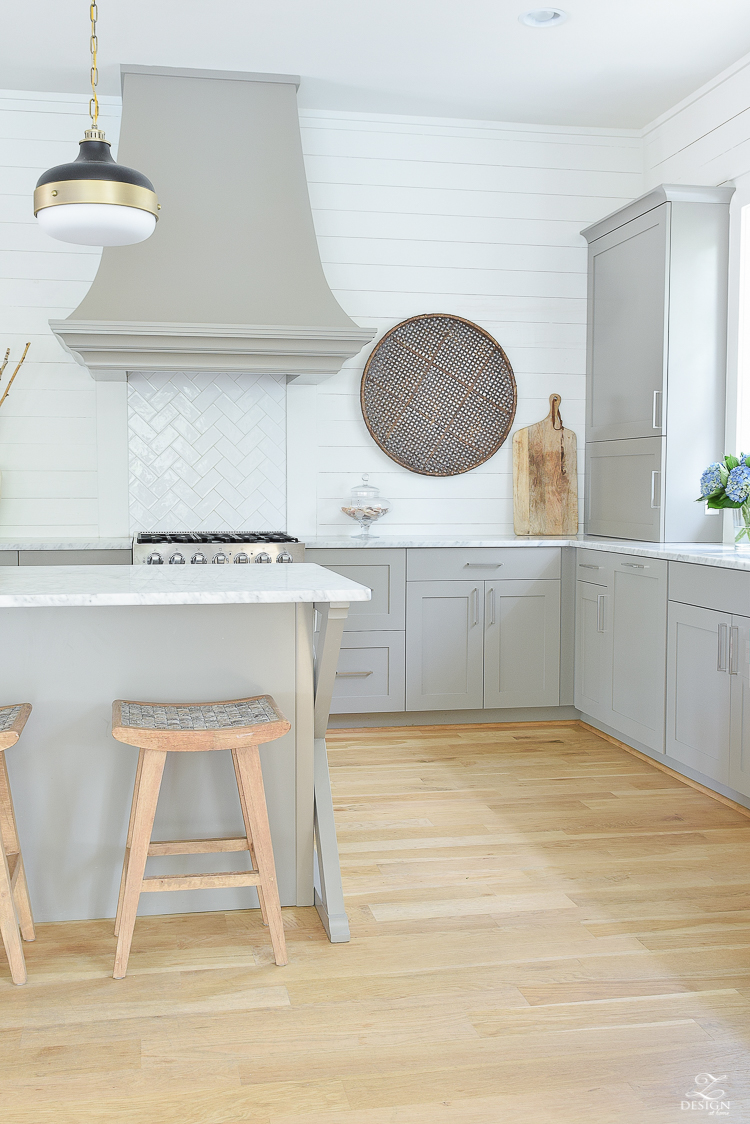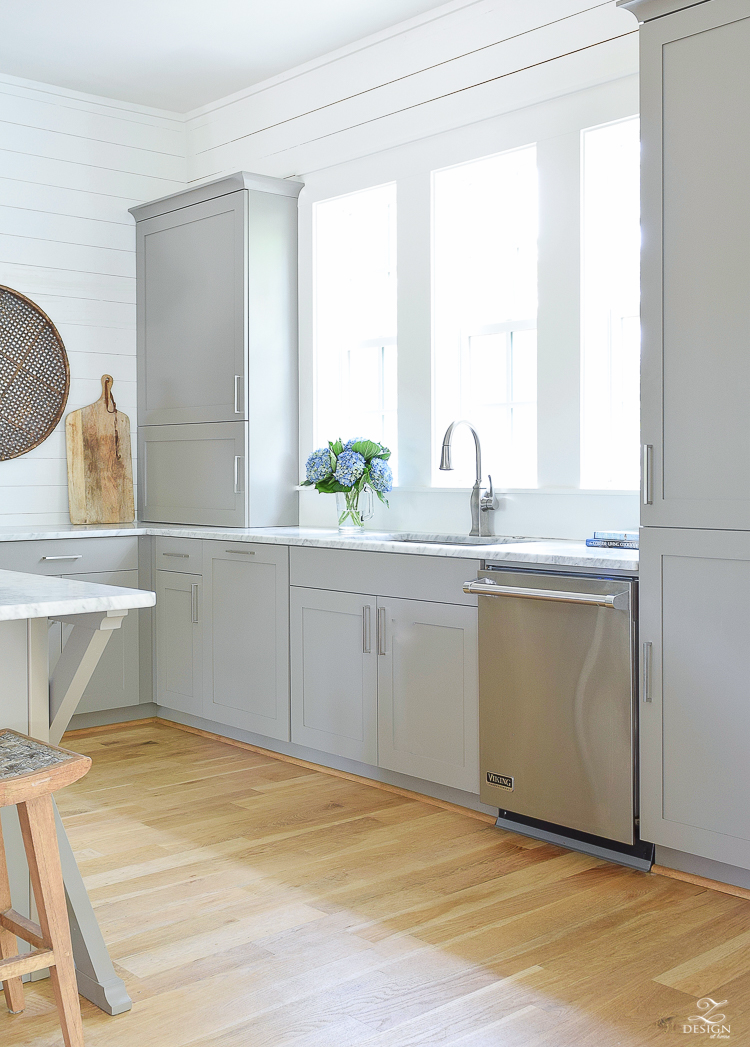 The house was an open floor plan and the dining space was adjacent to the kitchen.  Such a cute space with beautiful coastal furniture, lighting and decor.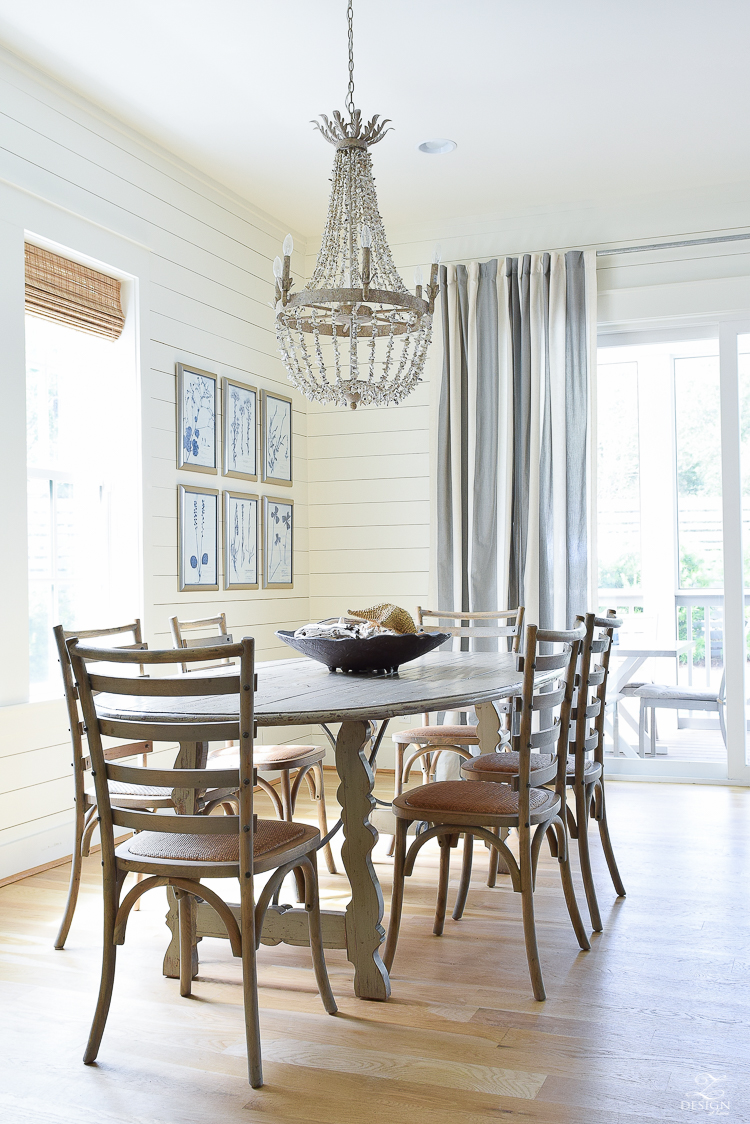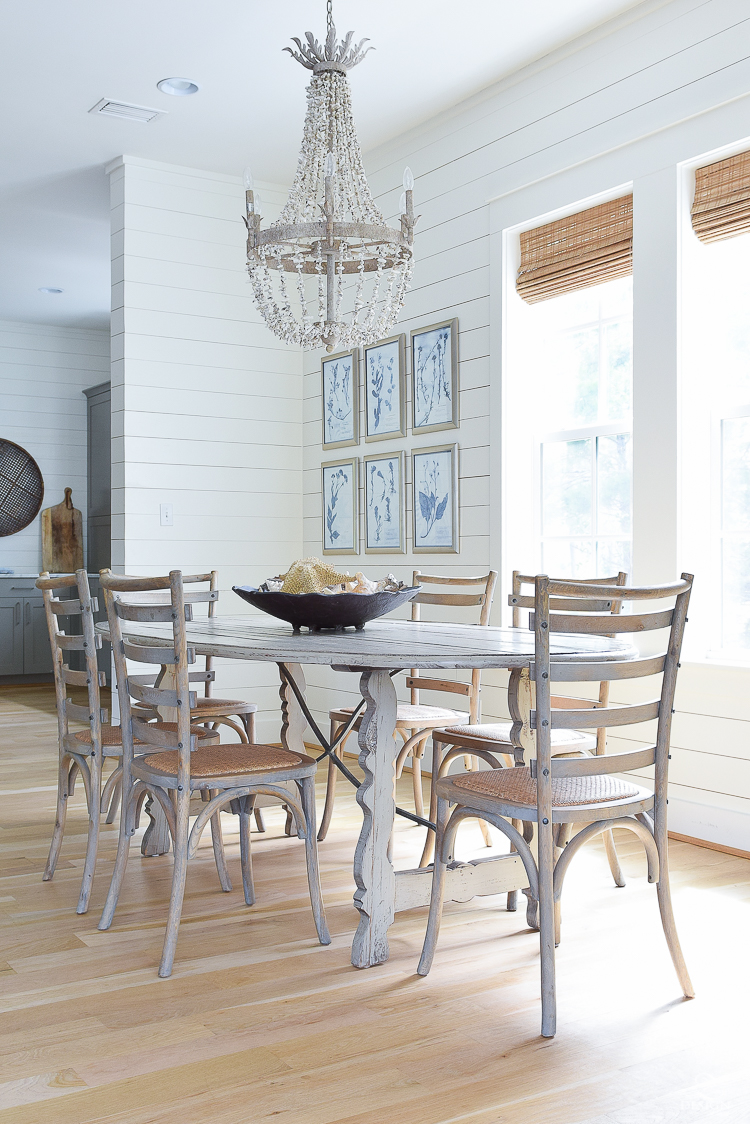 Loved these blue and white botanicals (similar)…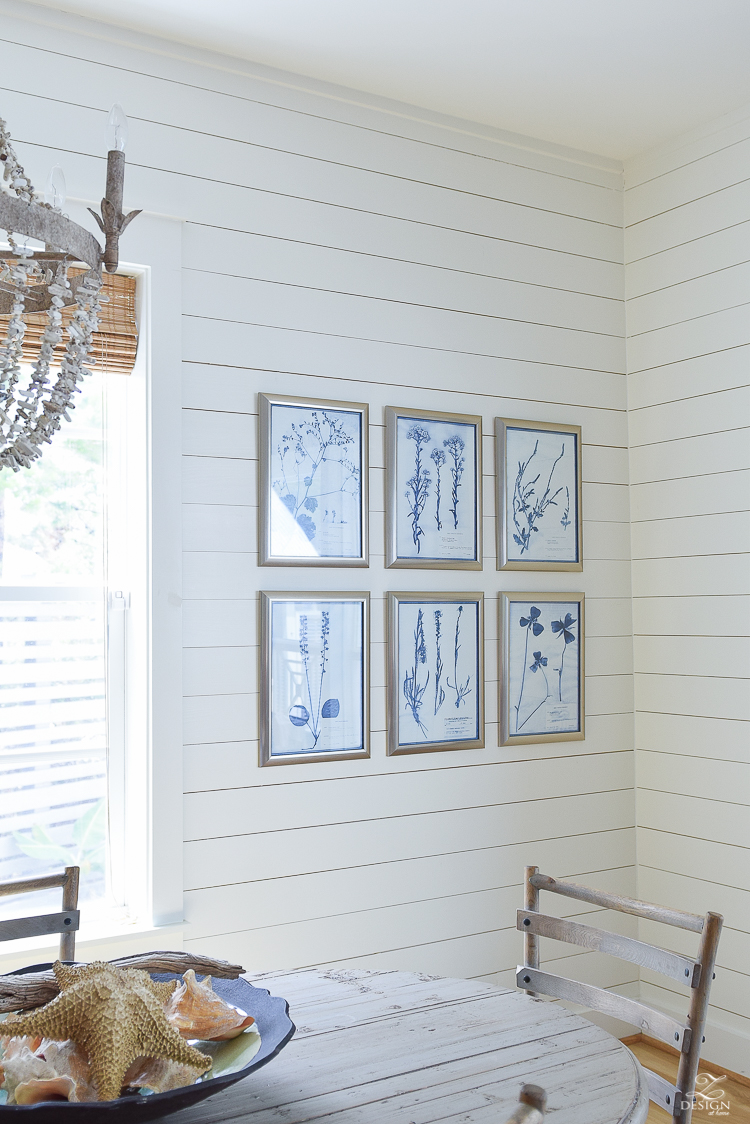 The coastal inspired shell chandelier (similar) was perfect for the space as well…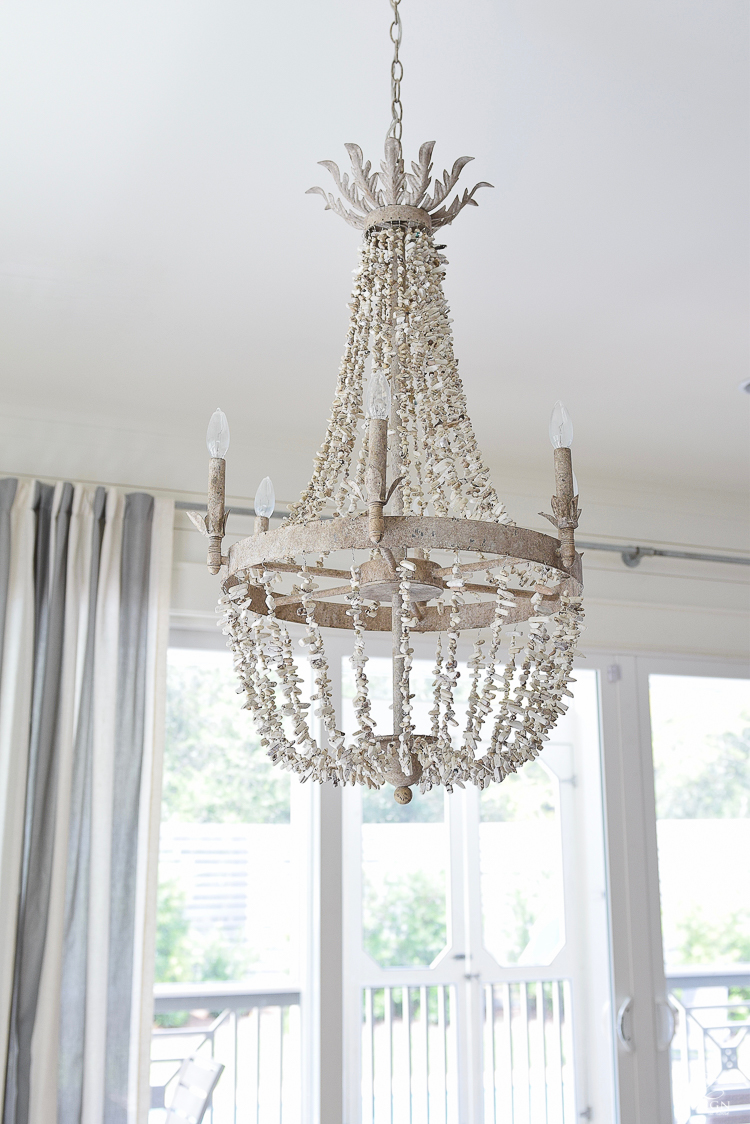 The living room was just across from the dining room.  Such a beautiful, coastal room that we enjoyed so much hanging out in!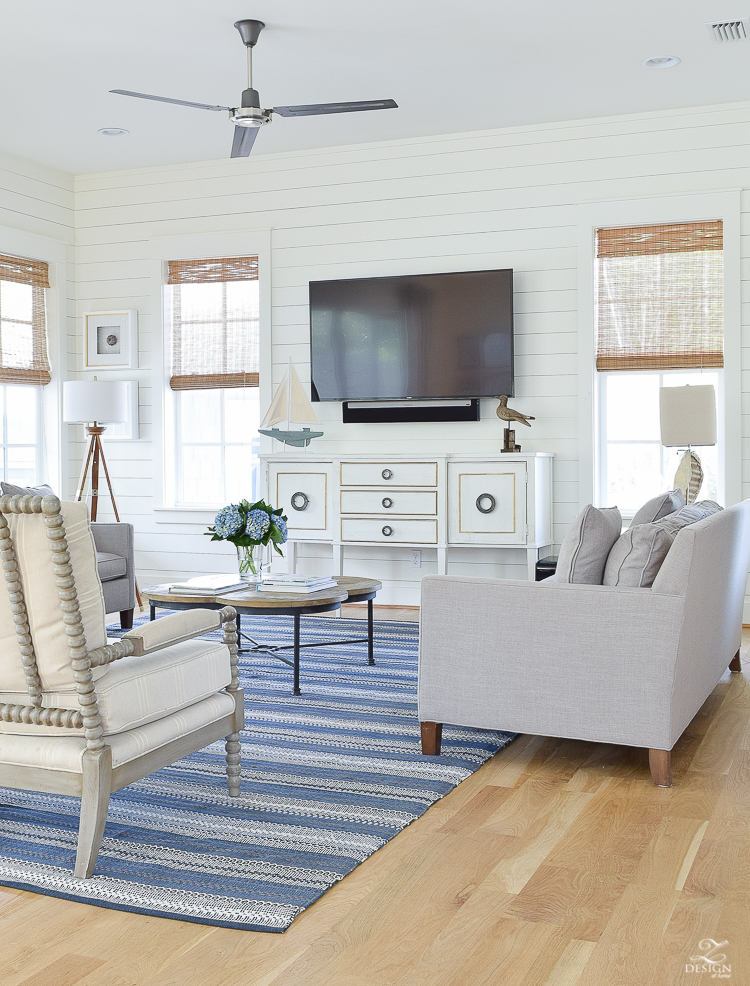 Most nights however this is what the living room looked and felt like with family playing games and talking after the children had had their baths post pool time.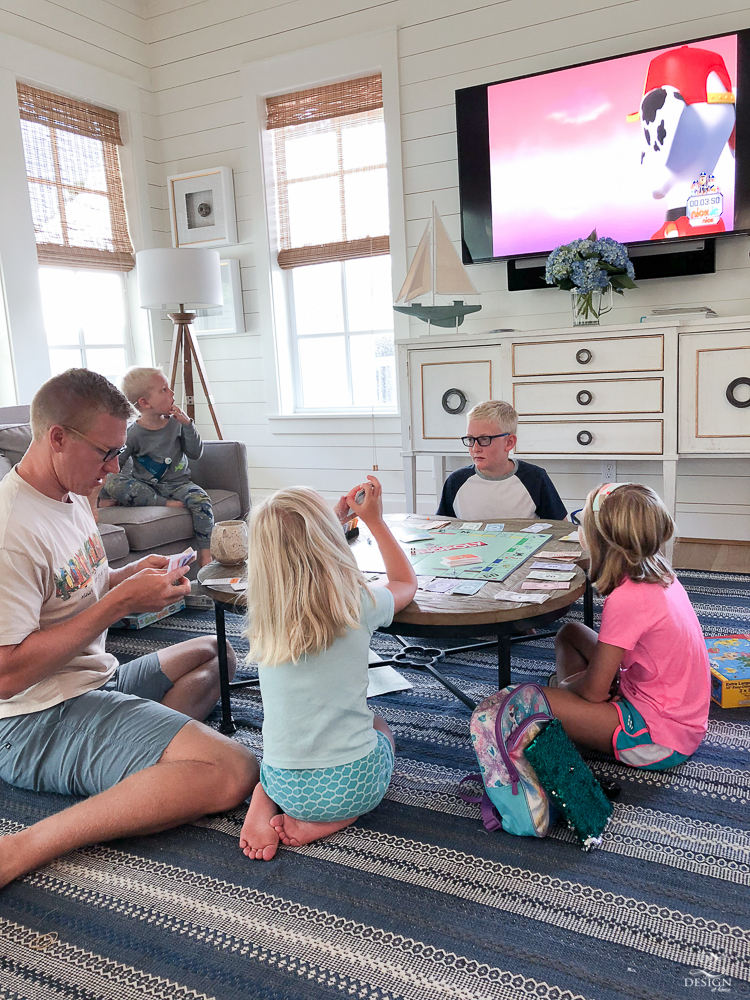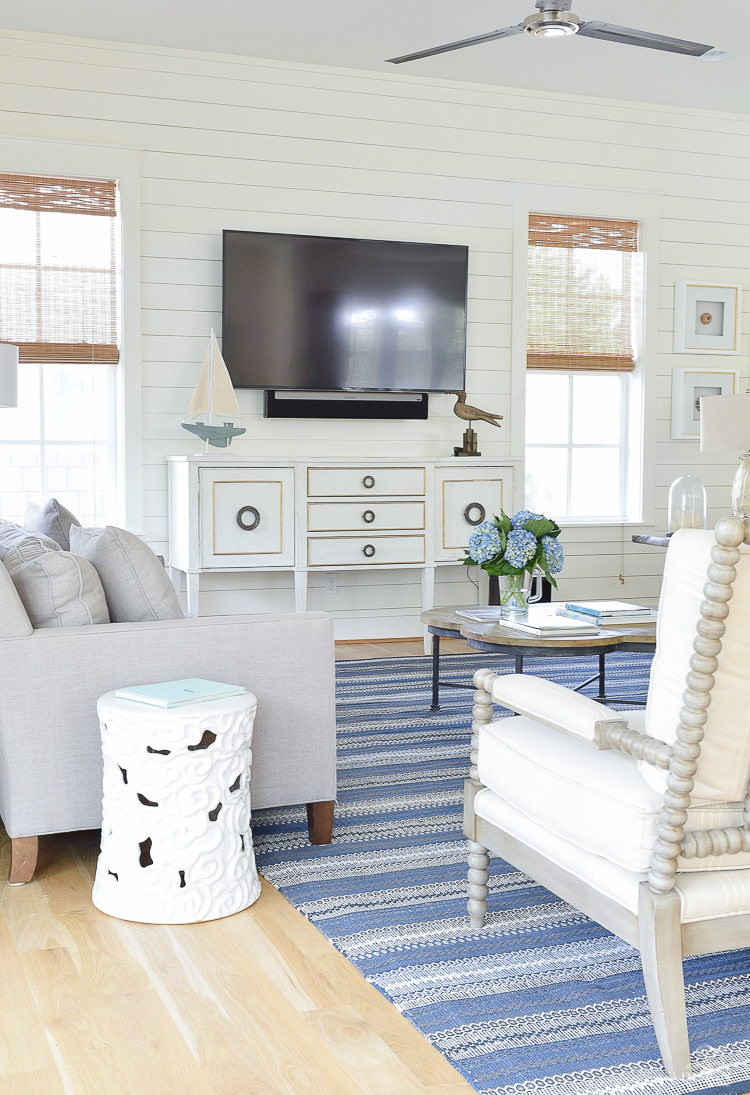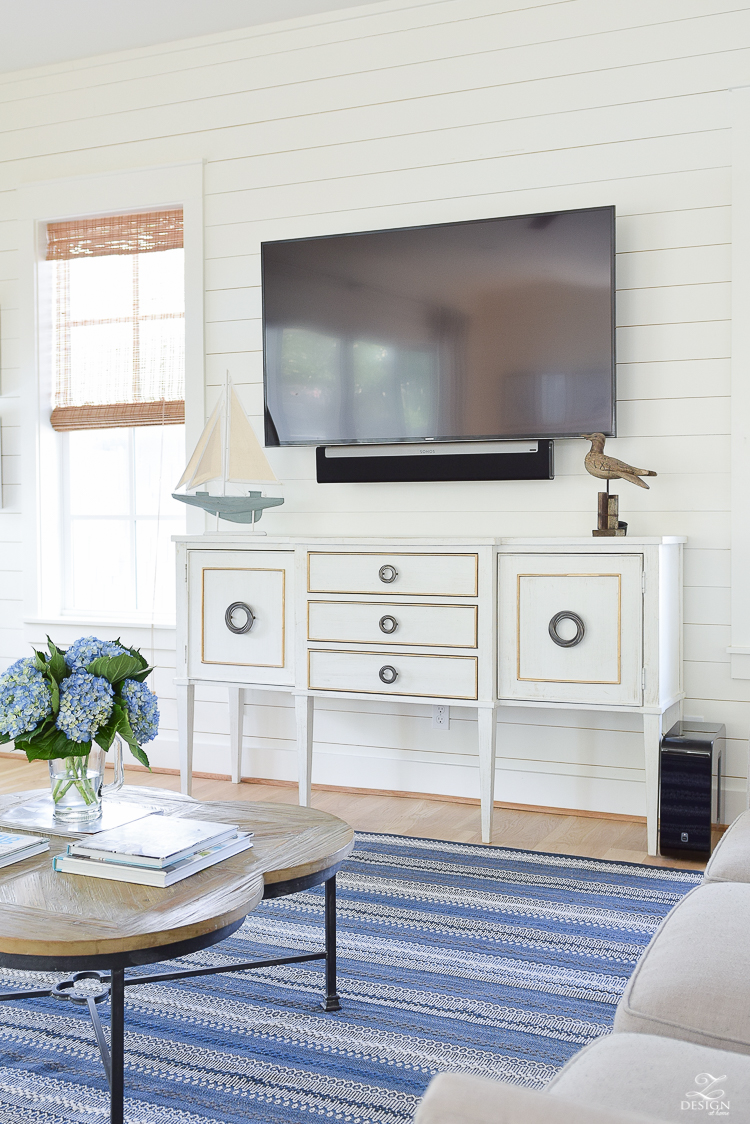 Fair warning you might see these blue hydrangeas in almost every photo, lol!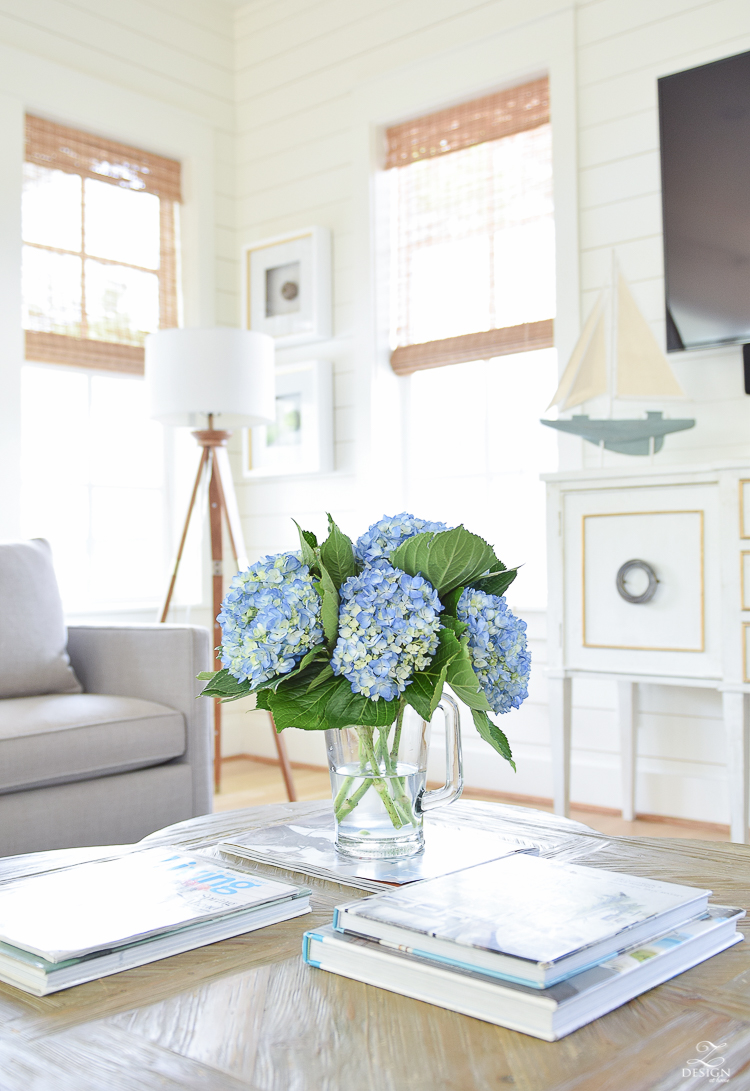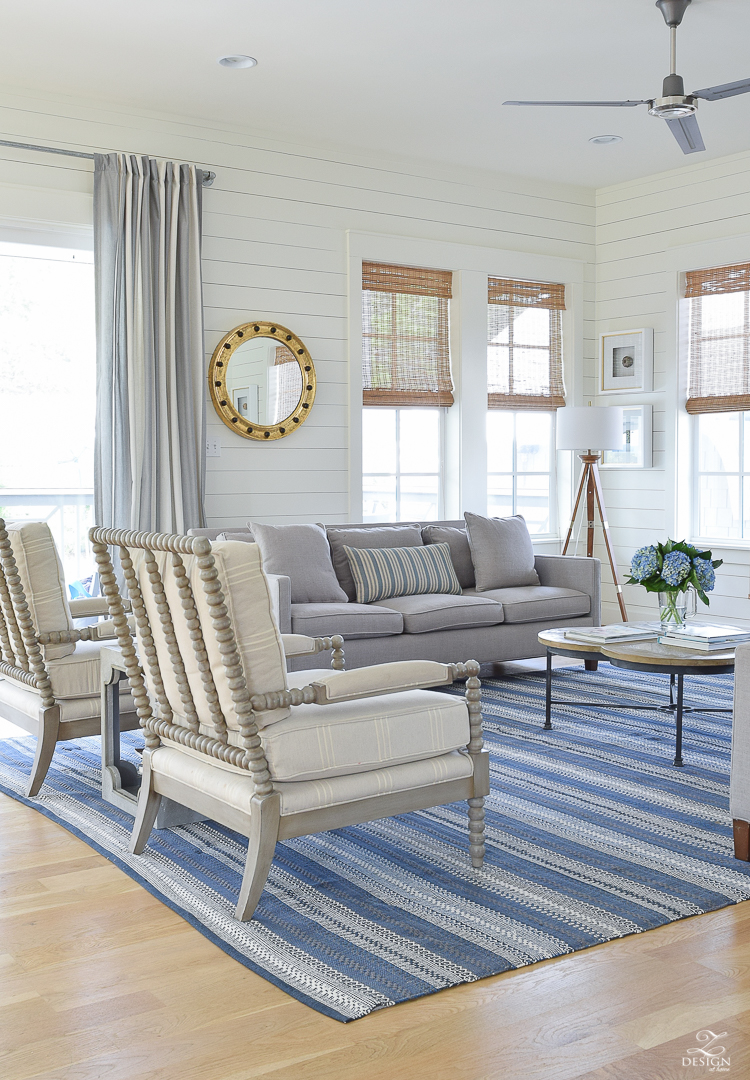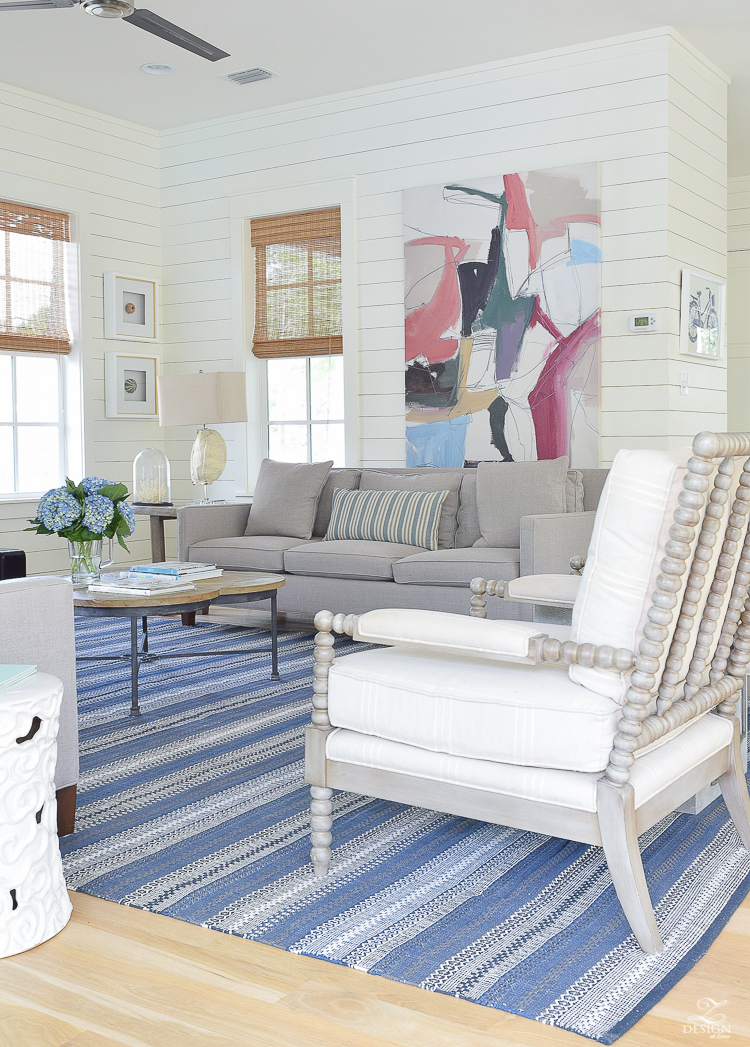 Love these chairs so much!  They were the perfect comfy chair for this spot.  I've sourced a similar one for you HERE.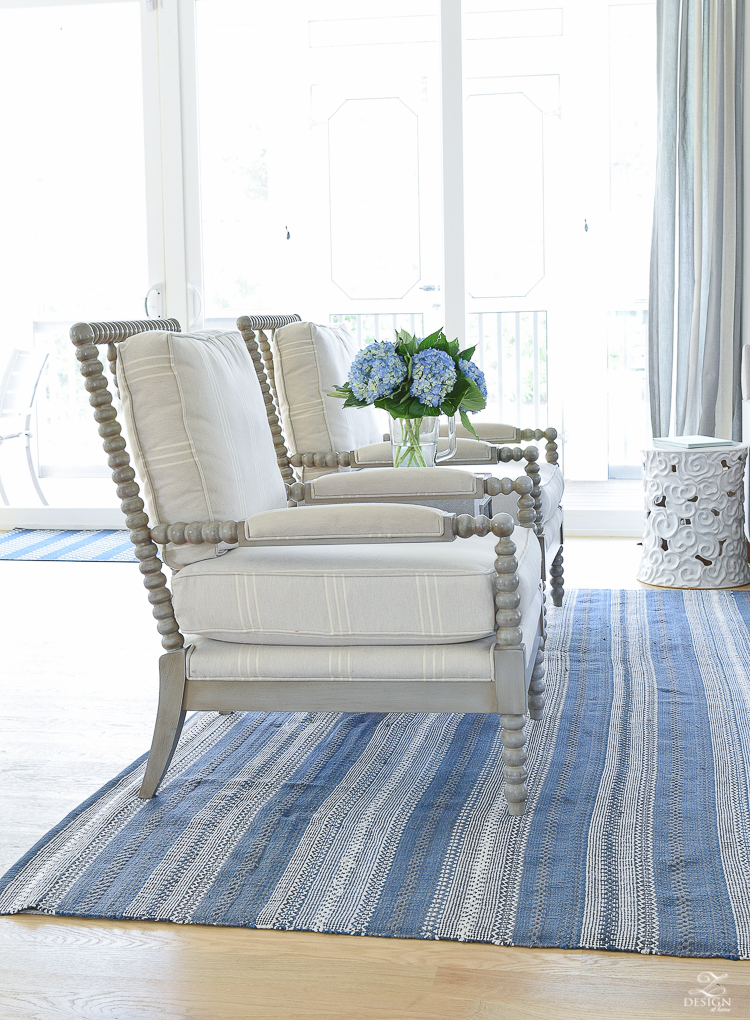 I also really loved the staircase and all of the shiplap in this space.  Love the gray handrail that seemed to make for the perfect coastal staircase.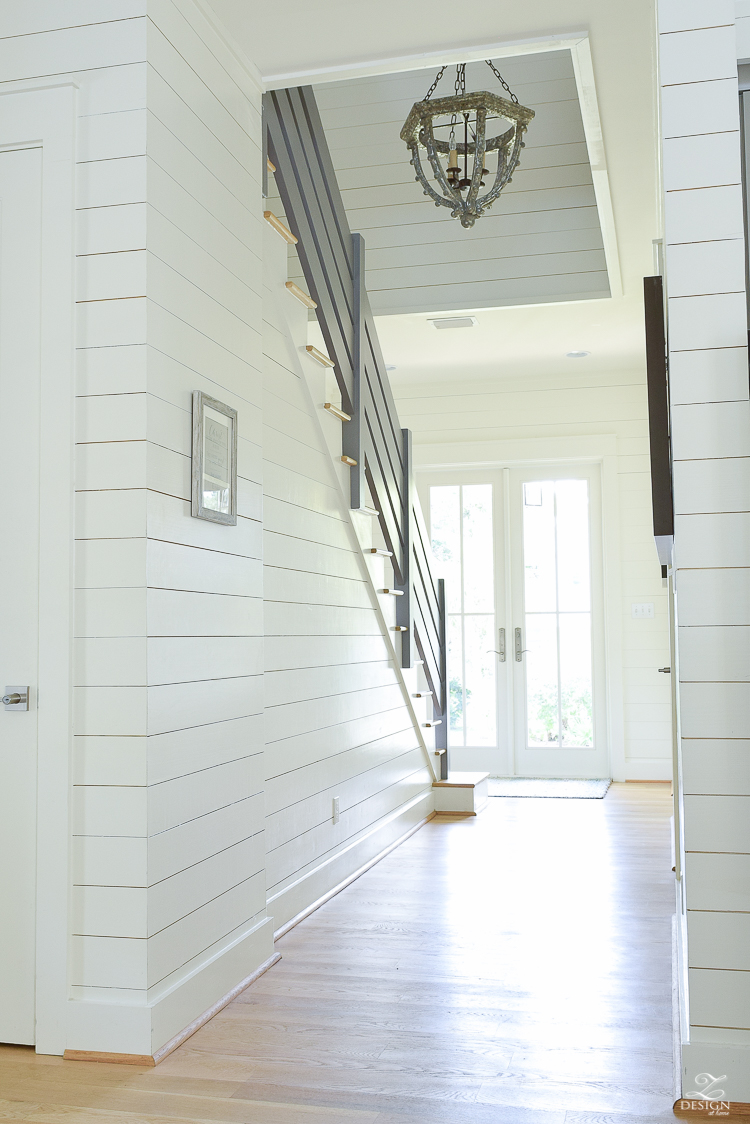 Love this beautiful fish art too.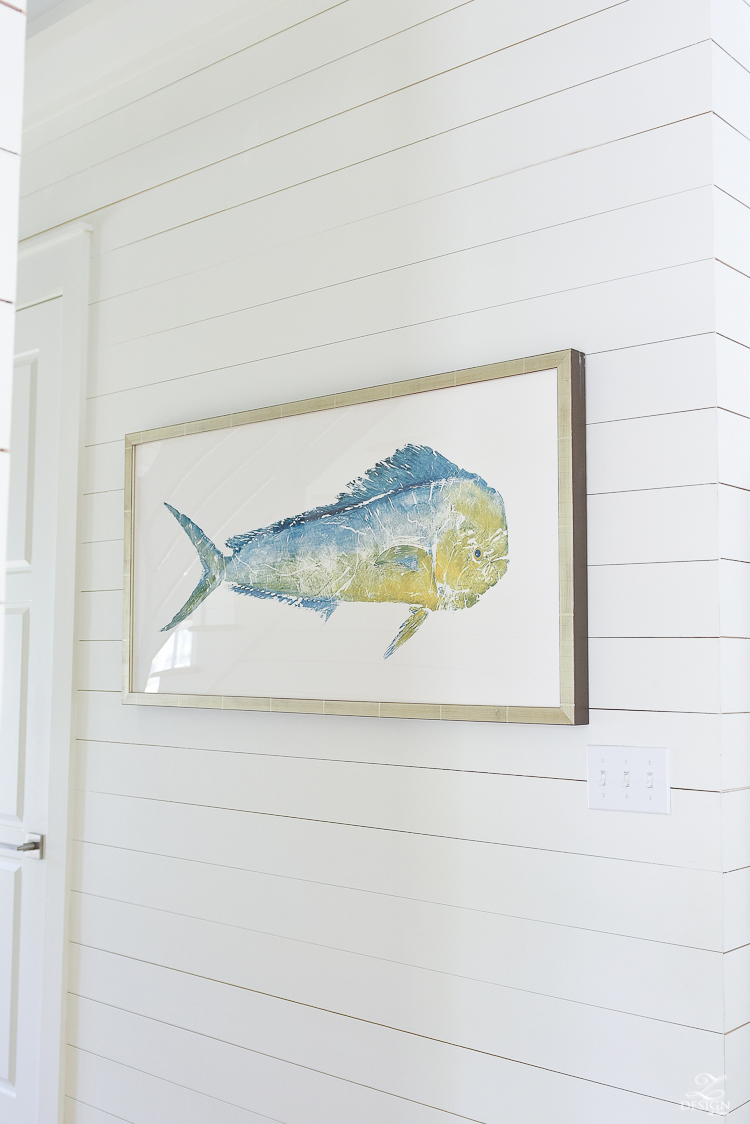 There was shiplap everywhere and it made the whole home feel coastal and warm!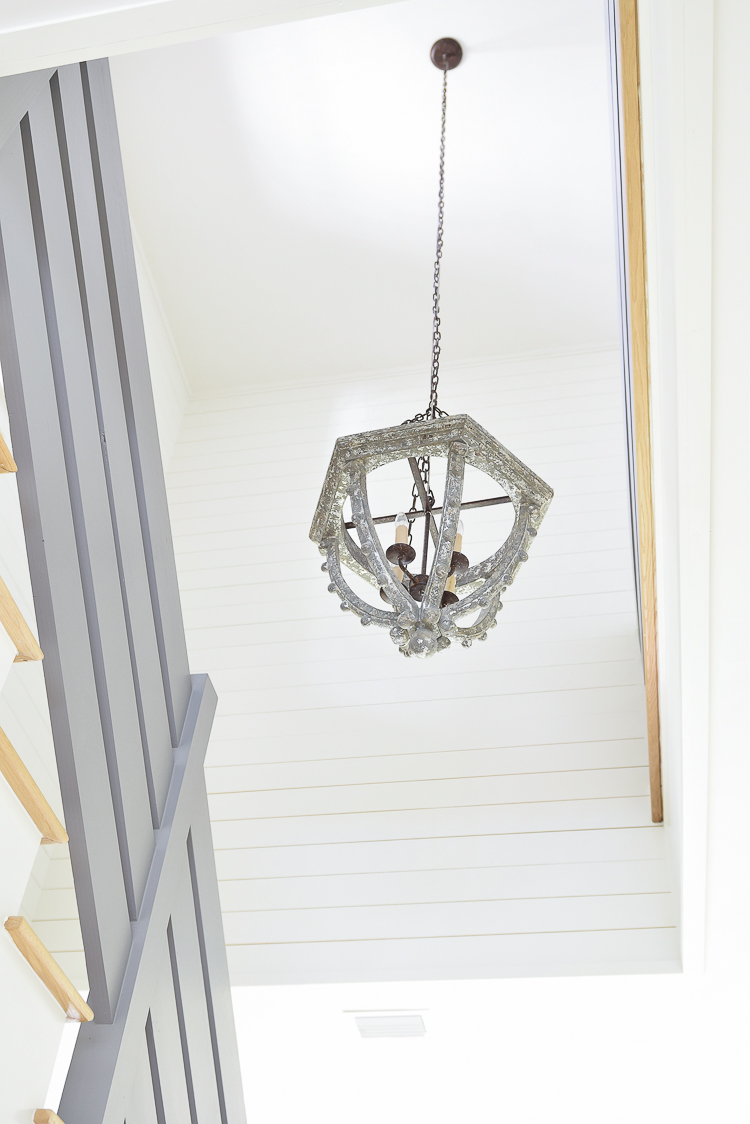 At the top of the stairs was a cute loft to include a TV.  Mostly overflow sleeping happened here but this space was darling.  Again, love all of the shiplap and the fabrics and rug were the perfect materials for a coastal home.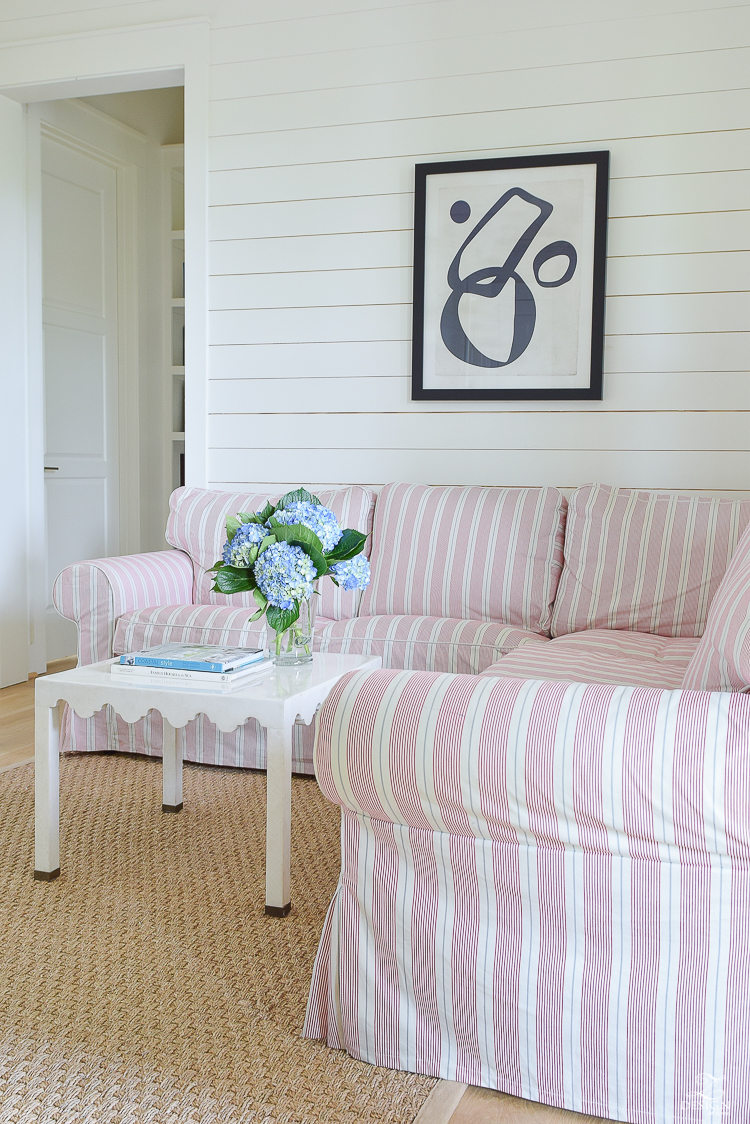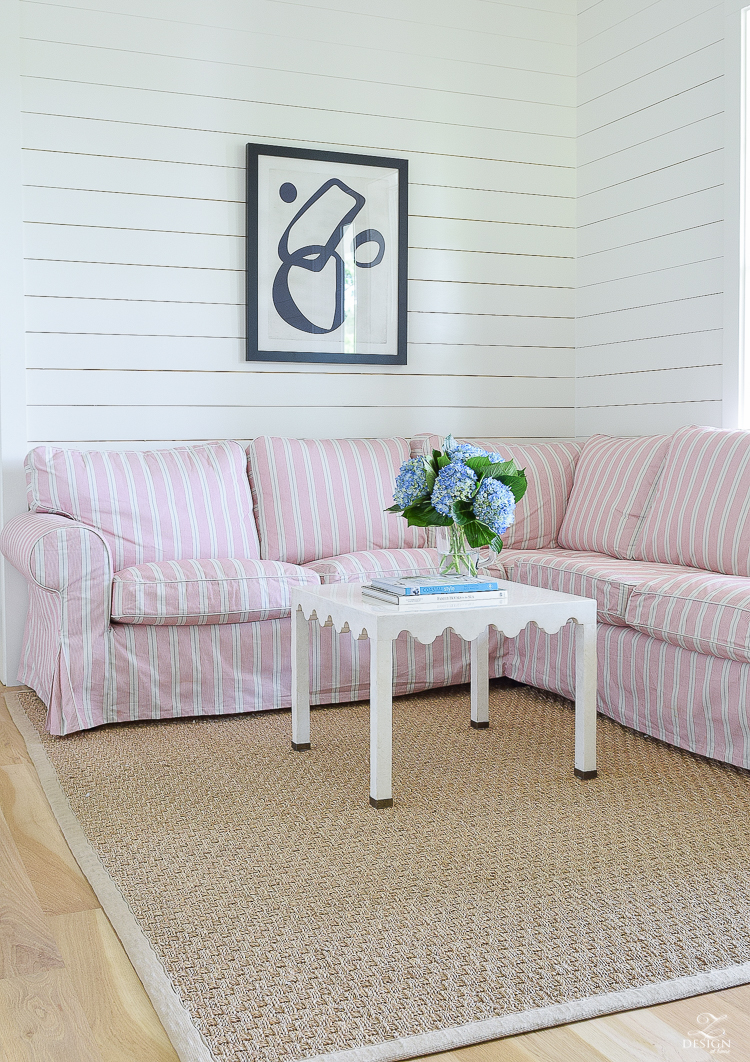 Here is another view of the staircase from this side.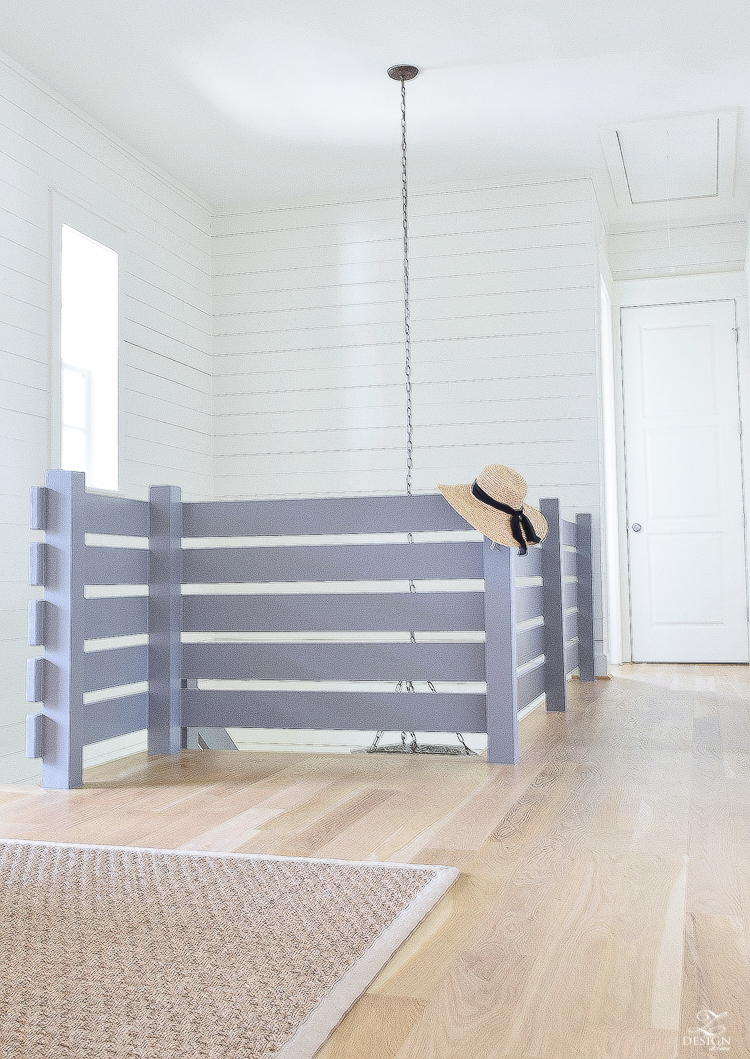 The master bedroom was very spacious and I loved the vaulted ceiling and pretty chandelier.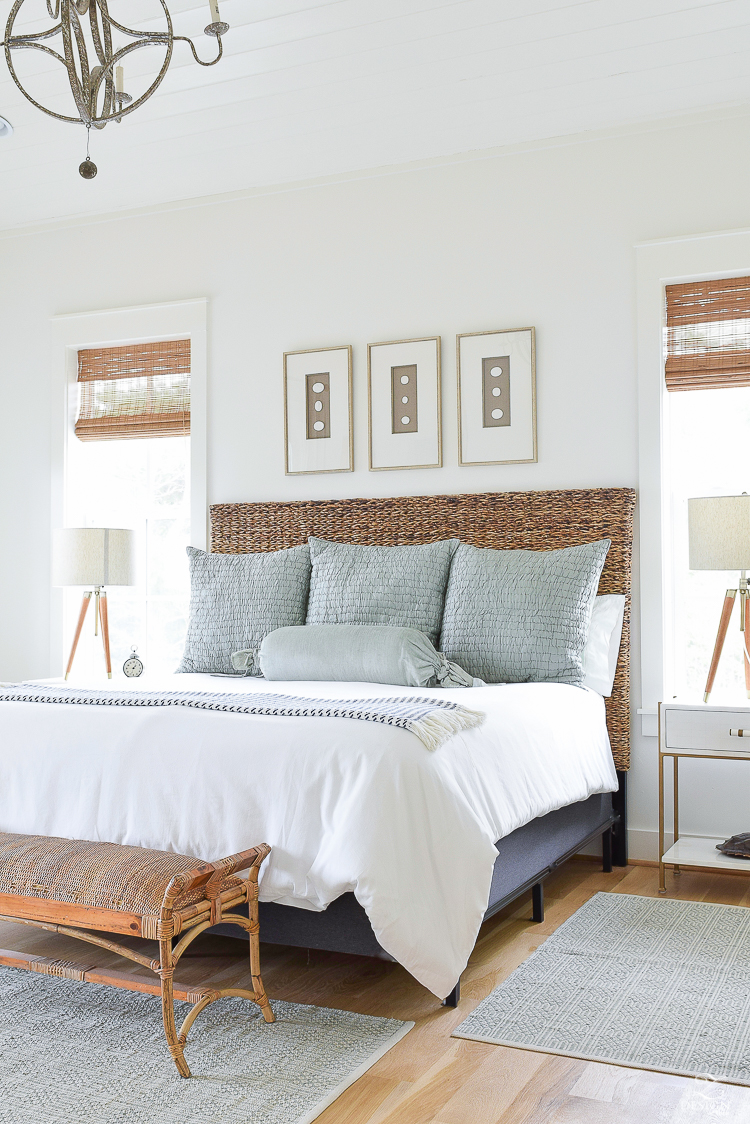 The marble hex floors in the master bath were fabulous!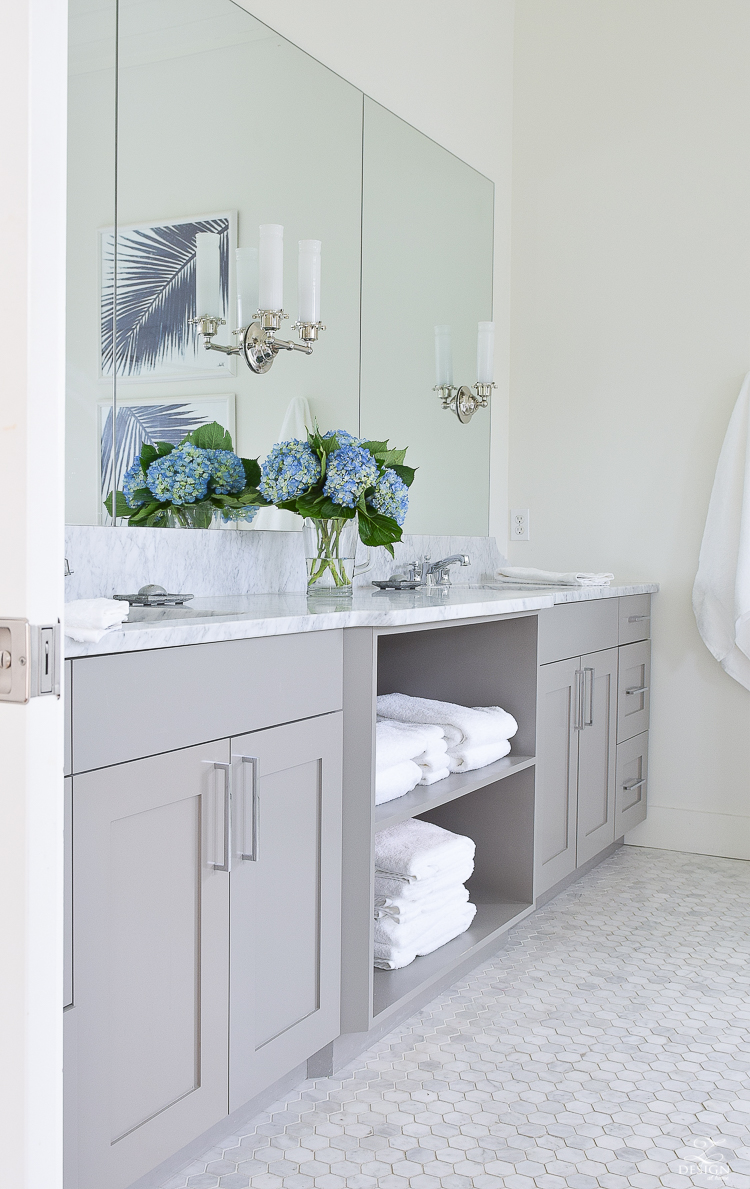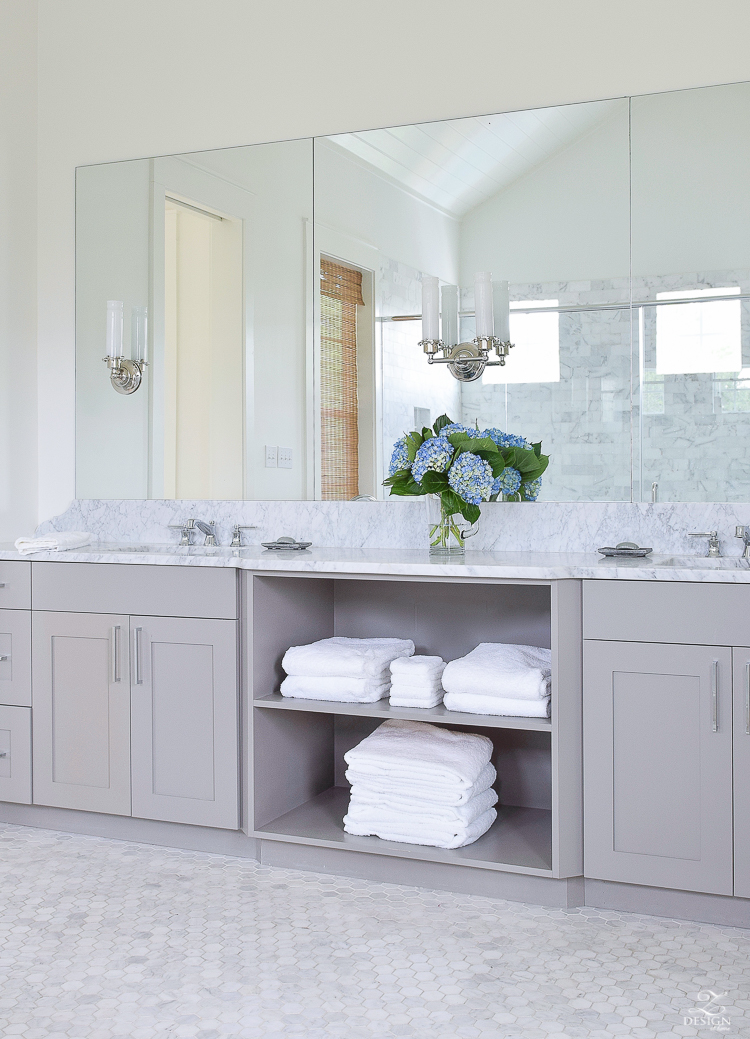 The shower was massive and was literally a sea of Carrara marble with the hex marble on the floor and marble subway tiles on the walls.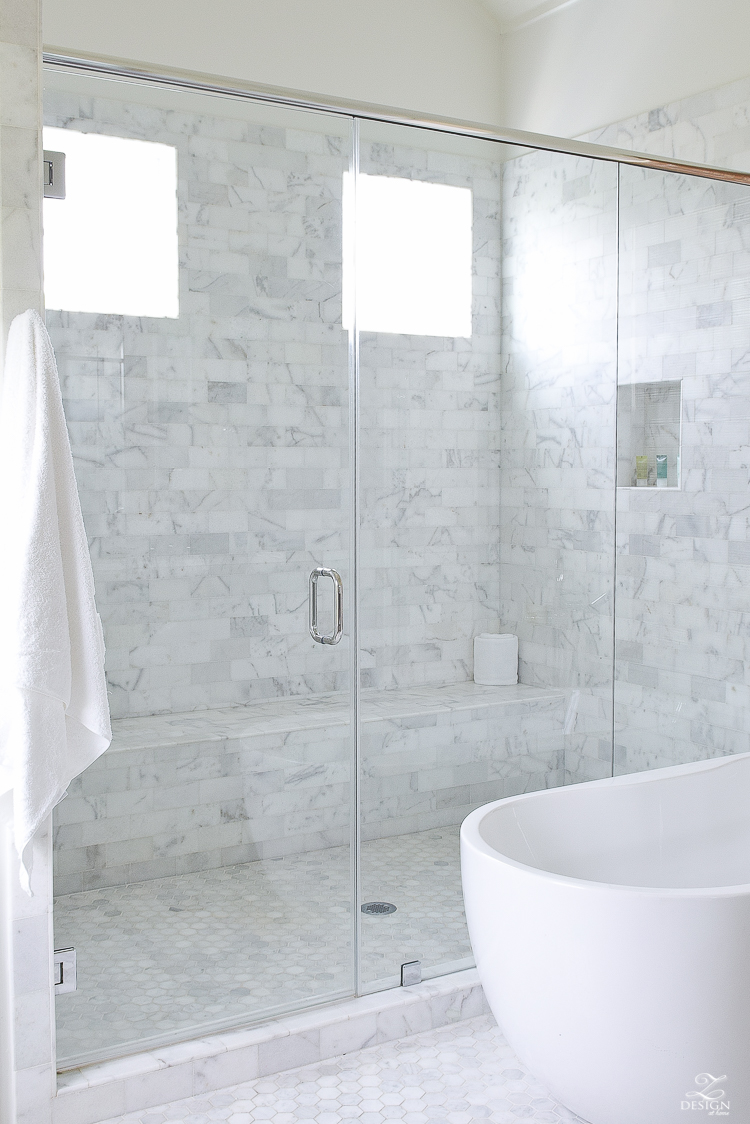 The tub area was darling and well (similar free standing tub here)!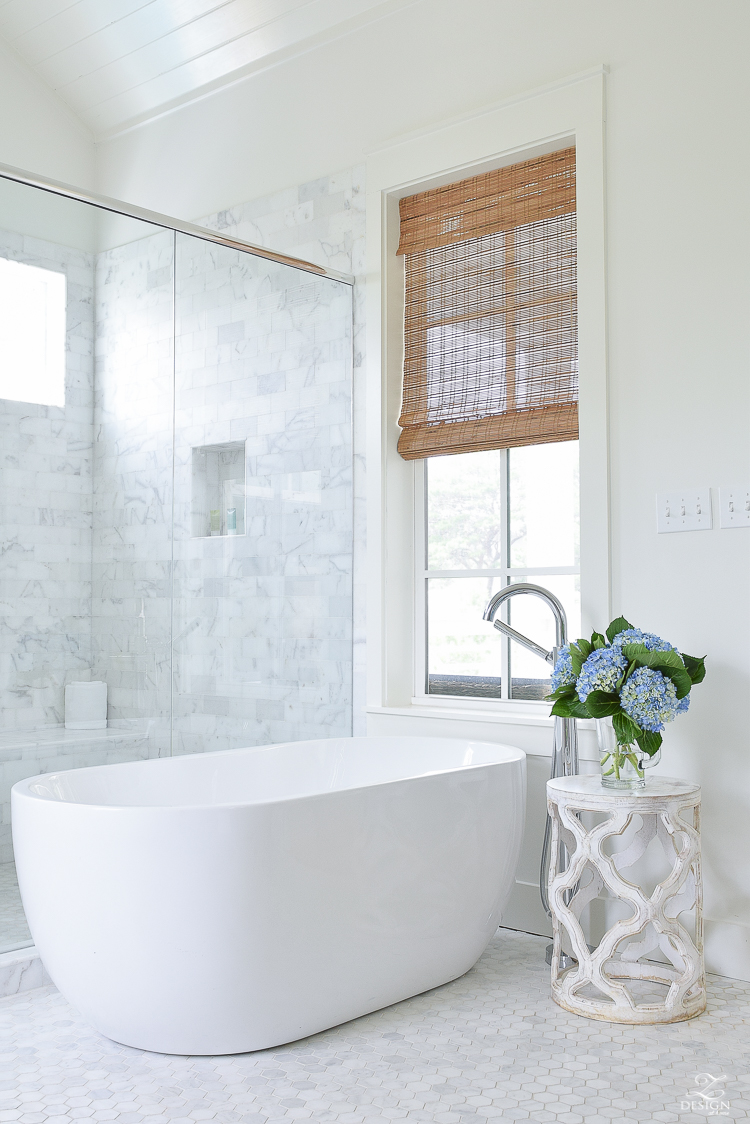 And here's another bathroom in the house, I think it was on the main level in one of the bedrooms that is almost the size of the master.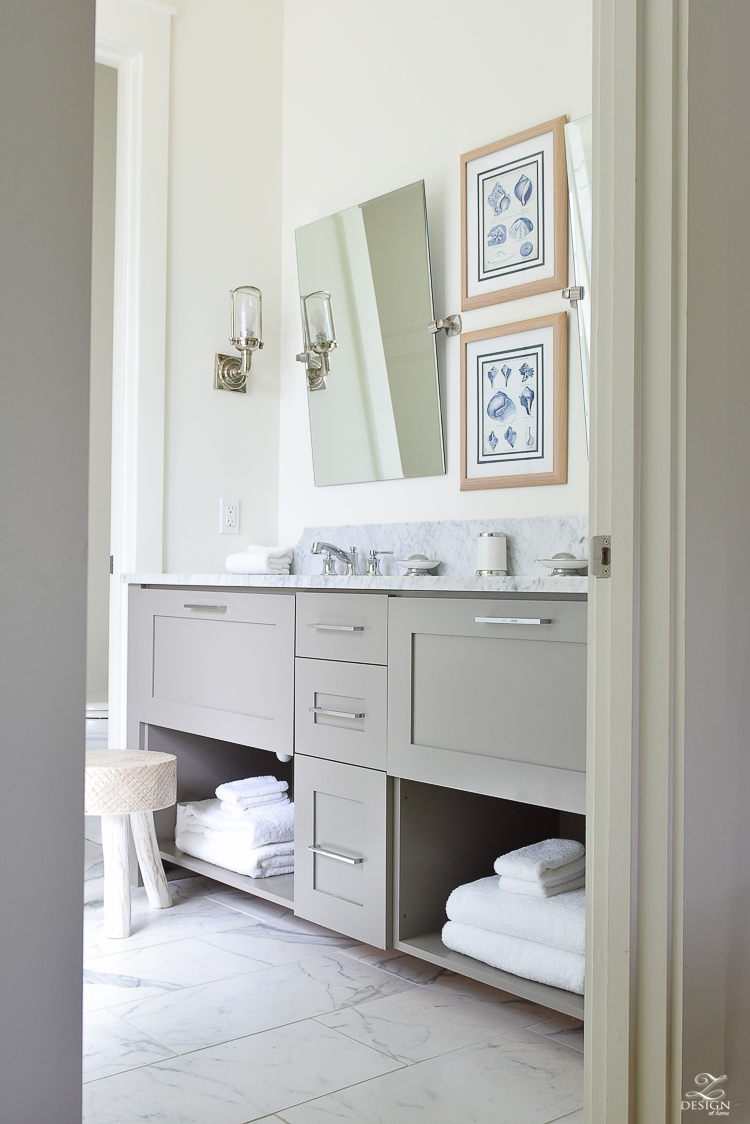 And last but not least was this amazing day bed swing on one of the porches upstairs.  I didn't get a chance to enjoy it but others in the house did.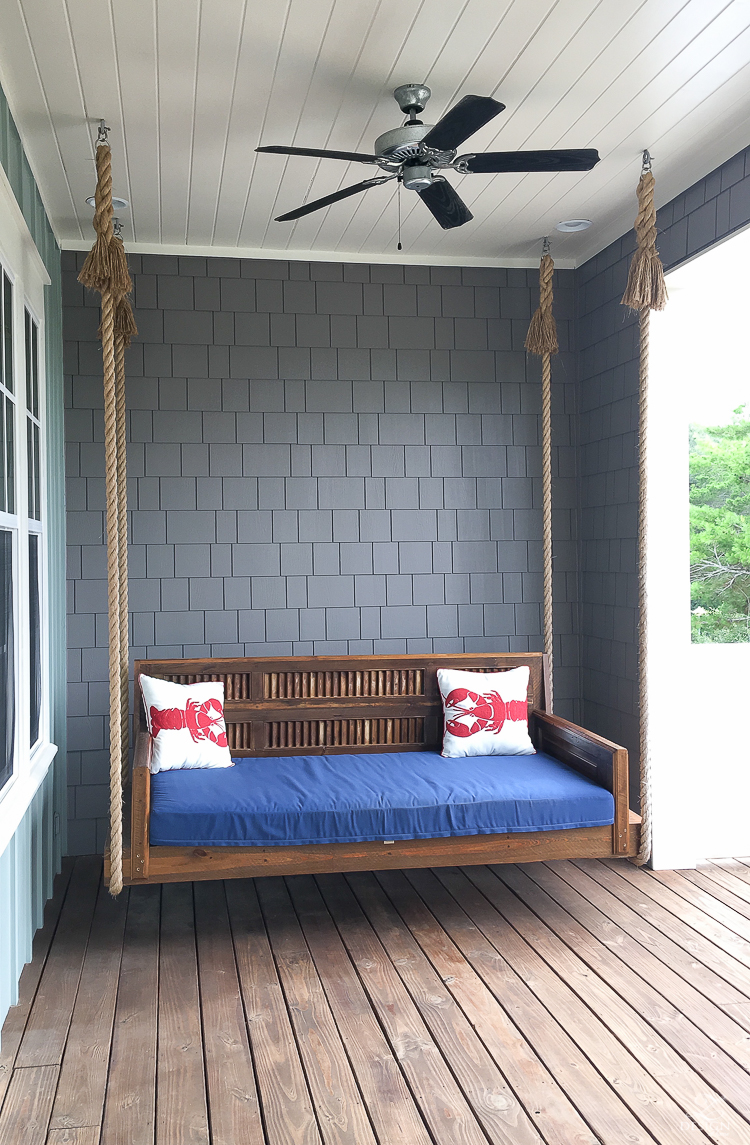 What we did while there…
Now moving on to the fun we had while there.  For the most part we stayed at the house and soaked up every minute of family time, meals in the large dining room and pool time but, one day the men went on a fishing trip while the ladies did a little shopping, of course!  The guys used Not A Dog Charters in Grayton Beach and had a wonderful experience!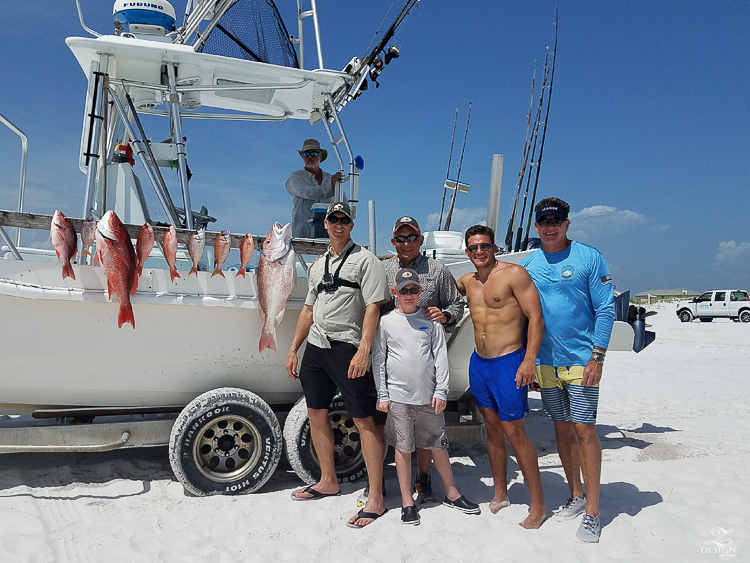 The girls did a little shopping in Seaside which, if you aren't familiar, is a community in the 30-A area (Santa Rosa Beach, FL) with shops and restaurants. A couple of my favorite shops there are The Art of Simple.  They had adorable dishes and loads of other great curiosities!  Seaside is literally a bike ride and/or golf cart ride away from the lovely house we stayed in.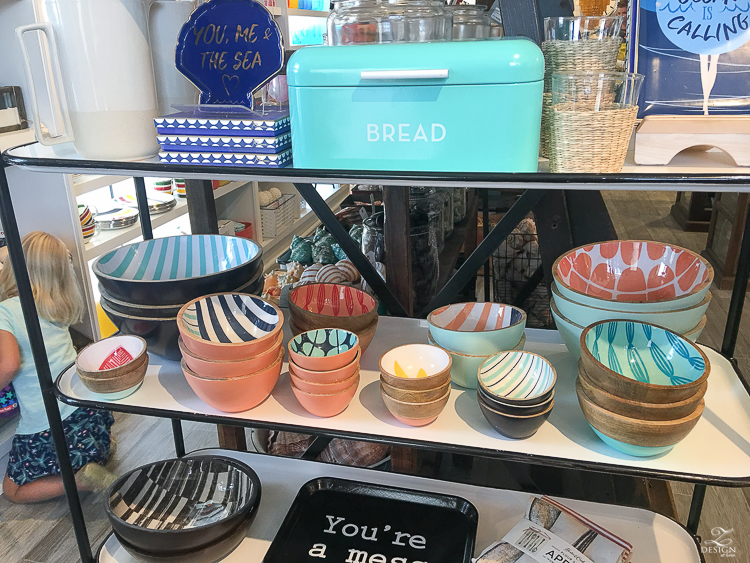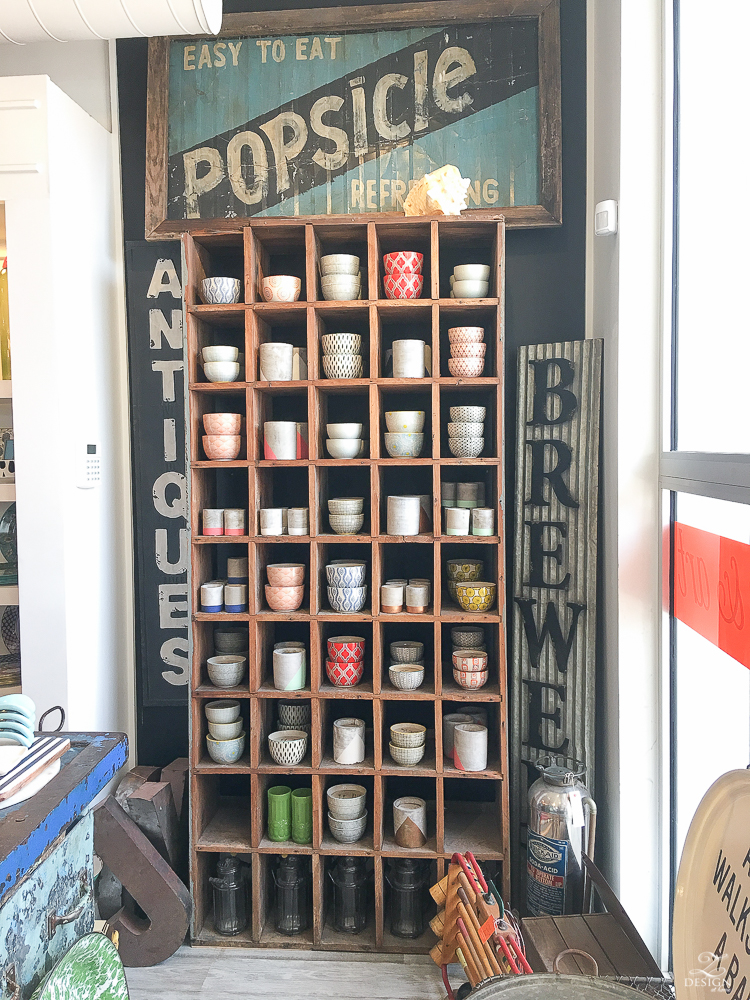 My other favorite store is The Seaside Style.  They have clothing, curiosities and home decor, which was right up our alley!  Last year while here I purchased some great bedding for my sons room that he'll have for years to come!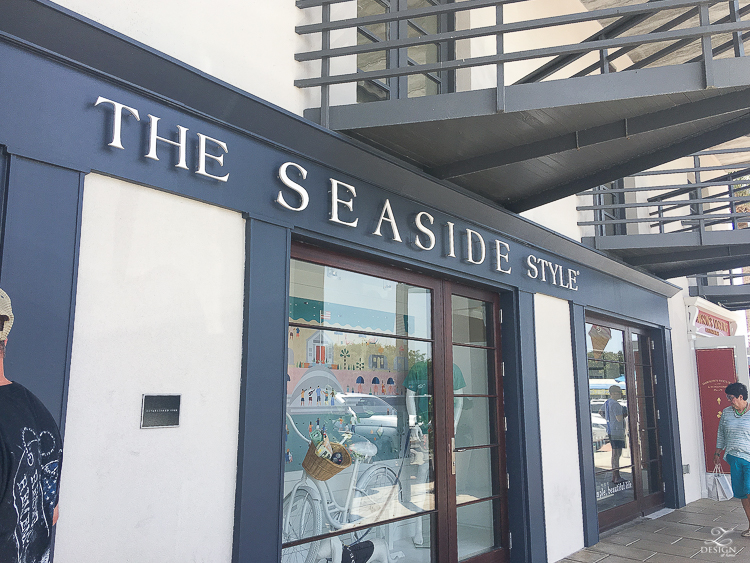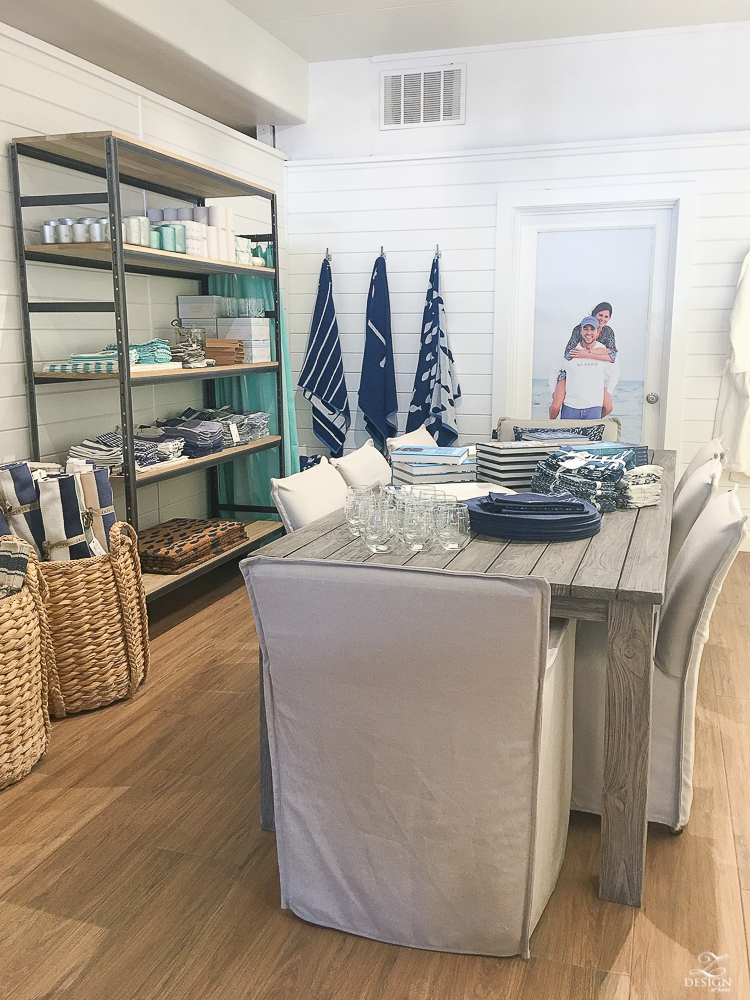 We even visited the cute post office in the town of Seaside.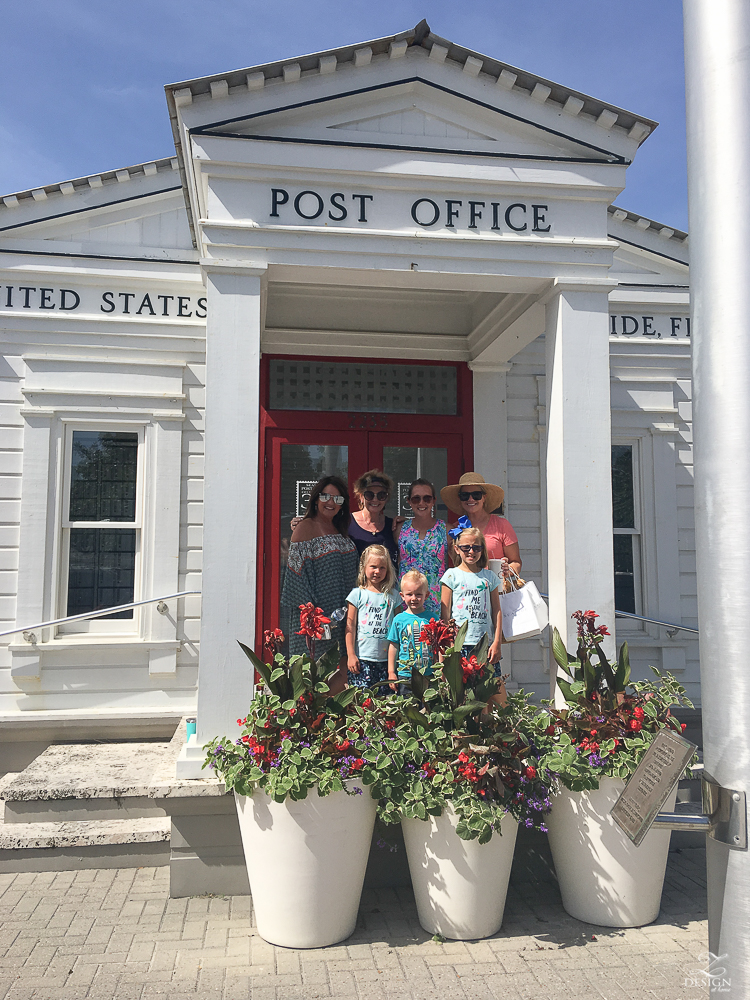 Isn't it the cutest place you've ever seen?!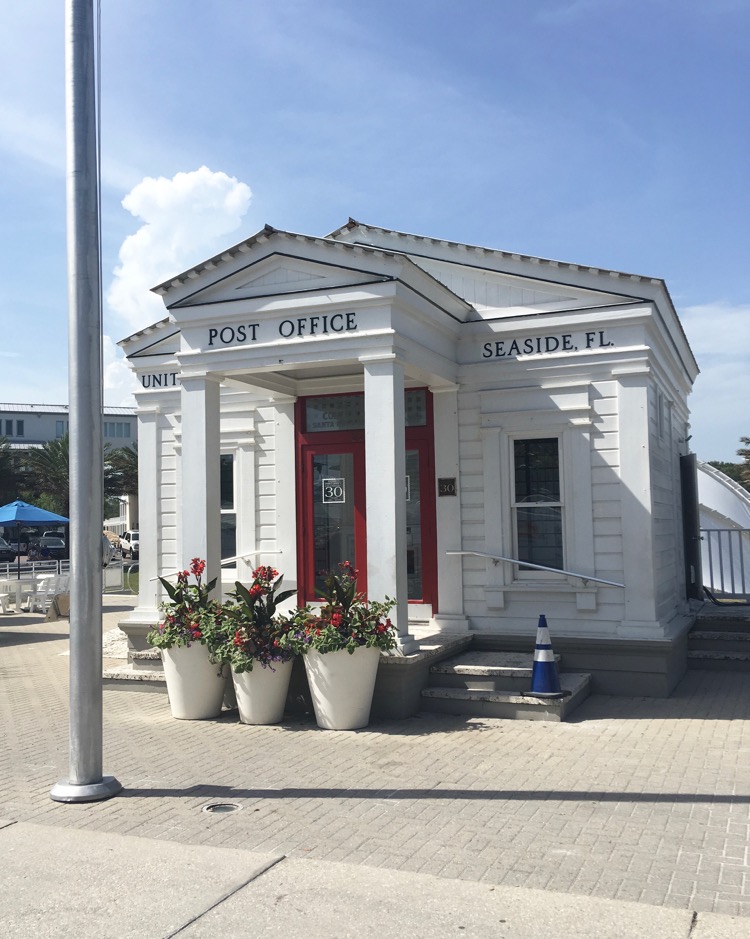 Where we ate…
The first night we ate at our absolute favorite place, Bud and Alley's!  This restaurant should probably be at the top of your list to visit while in Seaside, Watercolor, Grayton Beach, 30-A area (it's located inside of Seaside).  My husband had the crab cakes and I had the scallops and oh my goodness!  They were the most amazing scallops I've ever had.  They were served over grits and were seriously so yummy and incredible!!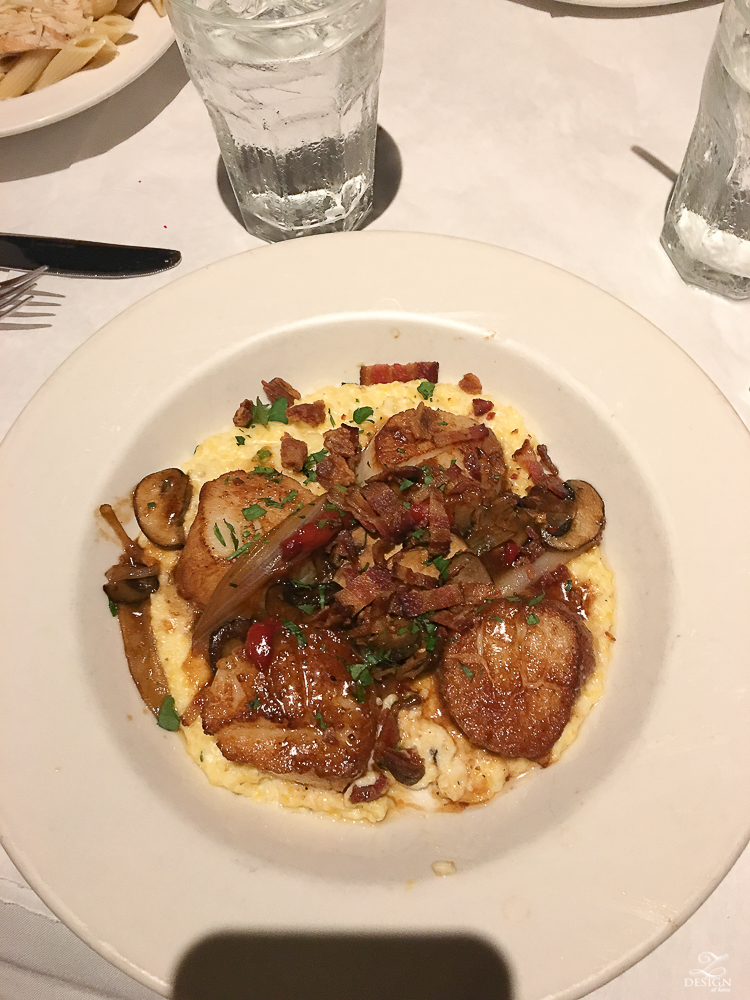 We also ate at AJ's one night.  This restaurant is a local favorite and the atmosphere was great!  AJ's is in Grayton Beach and was close by to where we had our family beach photos made.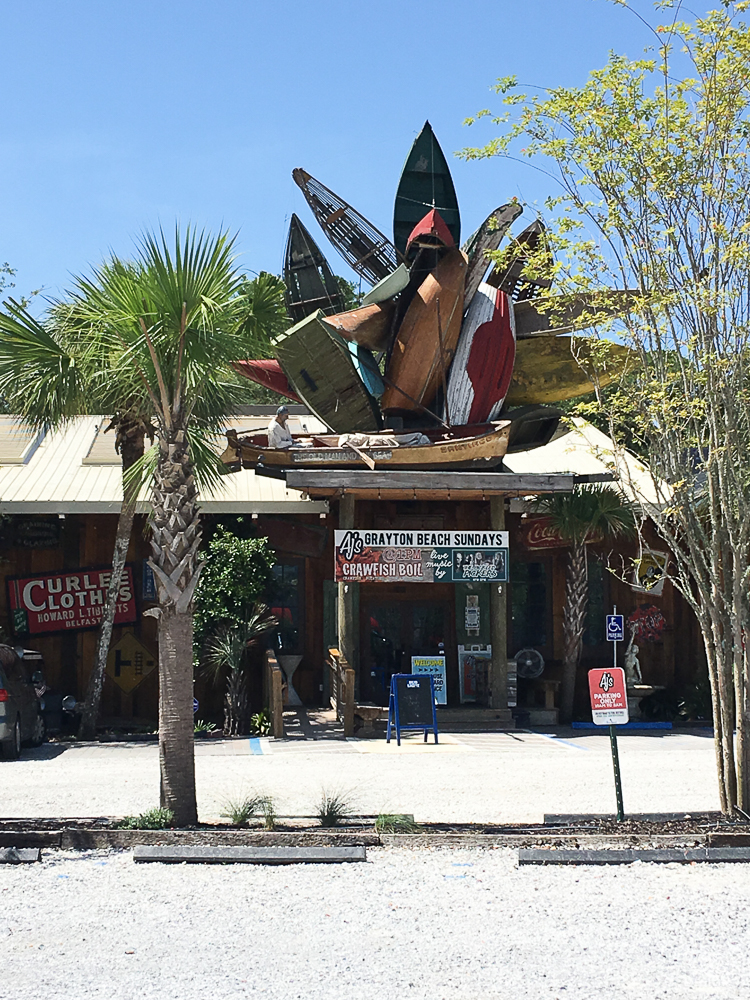 Me and my wonderful sister-in-law, Lorrie during our night out at AJ's.  We had too much fun this night (and maybe too many cocktails, which is totally out of character for her and me but we had such a blast!!!:)…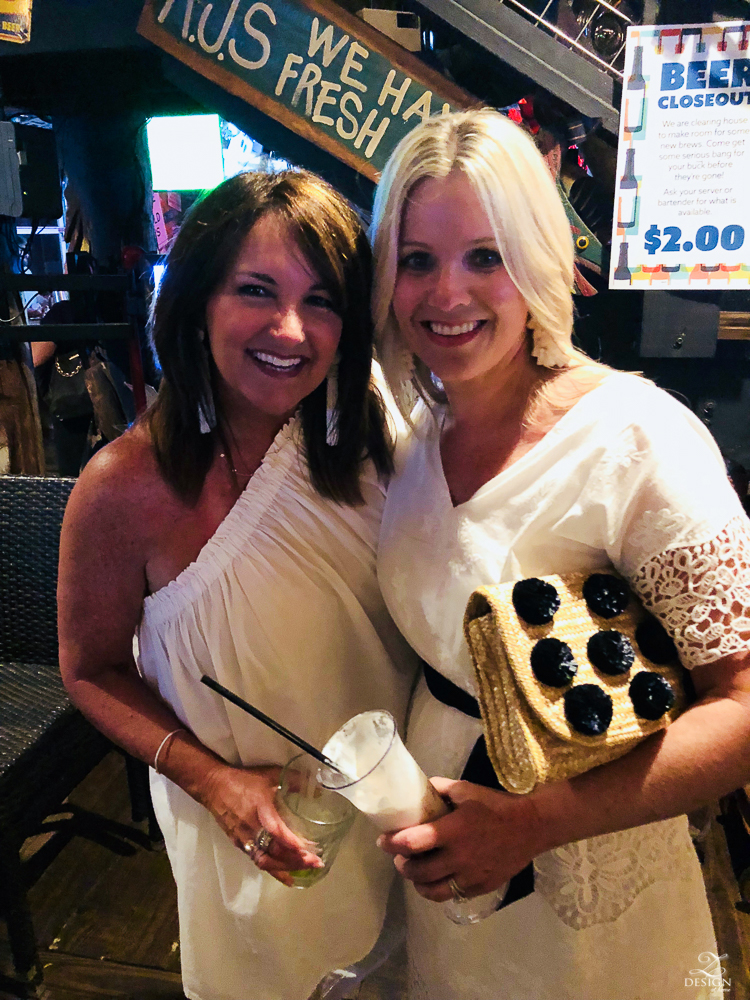 We ate at AJ's the night we had our family photos made.  Sander's Beach Rentals was awesome enough to set us up with an amazing photographer, Chloe Bee Photography.  Chloe was so awesome to work with as she masterfully posed our family and made us all look and feel fabulous!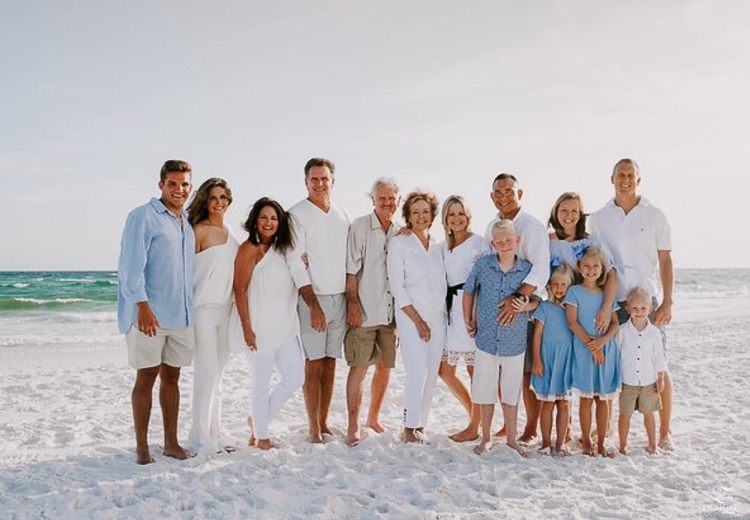 This photo was my favorite and melted my heart!!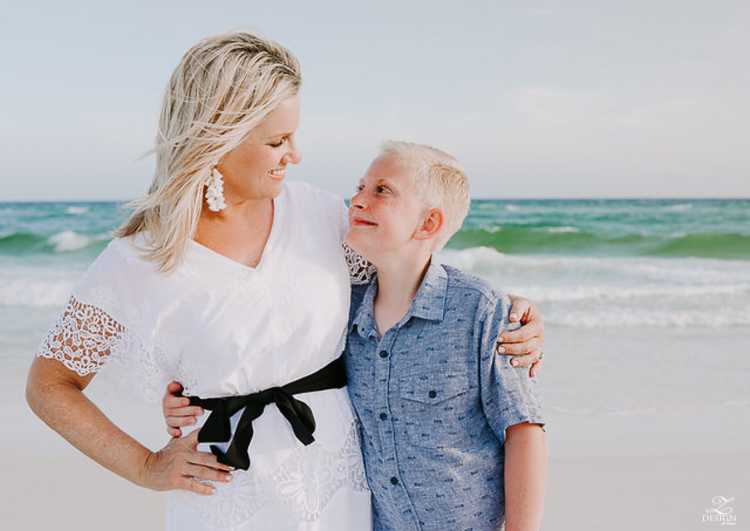 Our last night there we also went to another favorite of our dining places, Great Southern, which is also inside of Seaside.  This place should also be on your list to eat at at when visiting the 30-A area.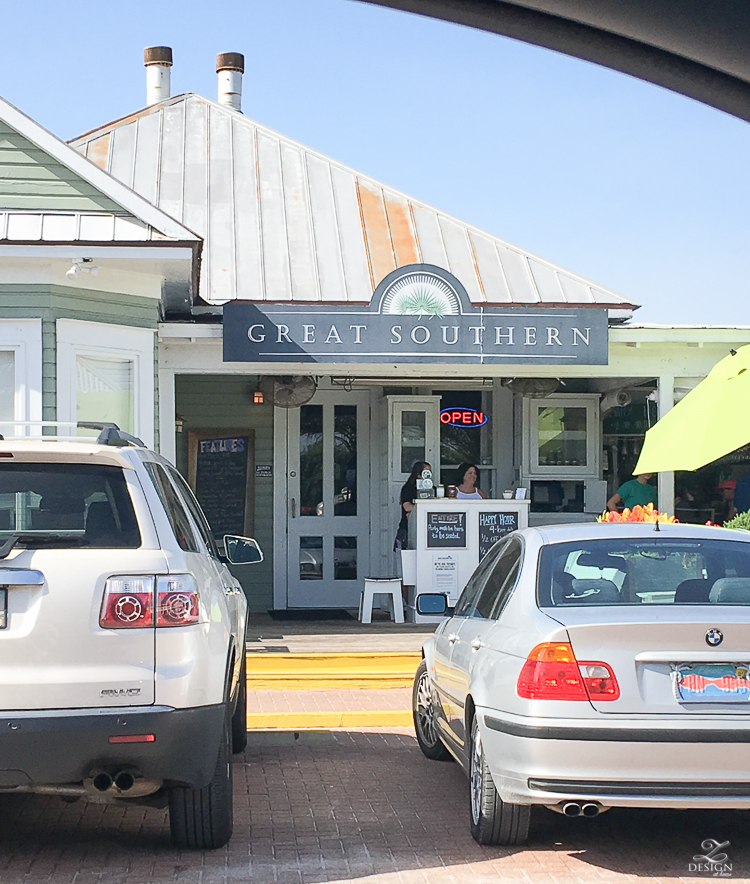 On our last day there, and after he checked out of the house, we went to a place called The Red Bar.  You have to go there while in the area.  The menu is limited but the food is so good, and so is the music and atmosphere.  It's definitely a dive but should also definitely be on your list of places to eat while in the area!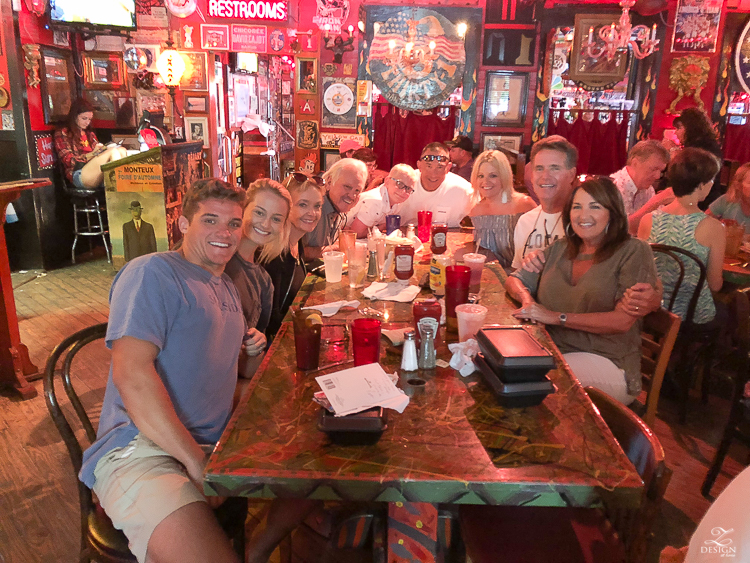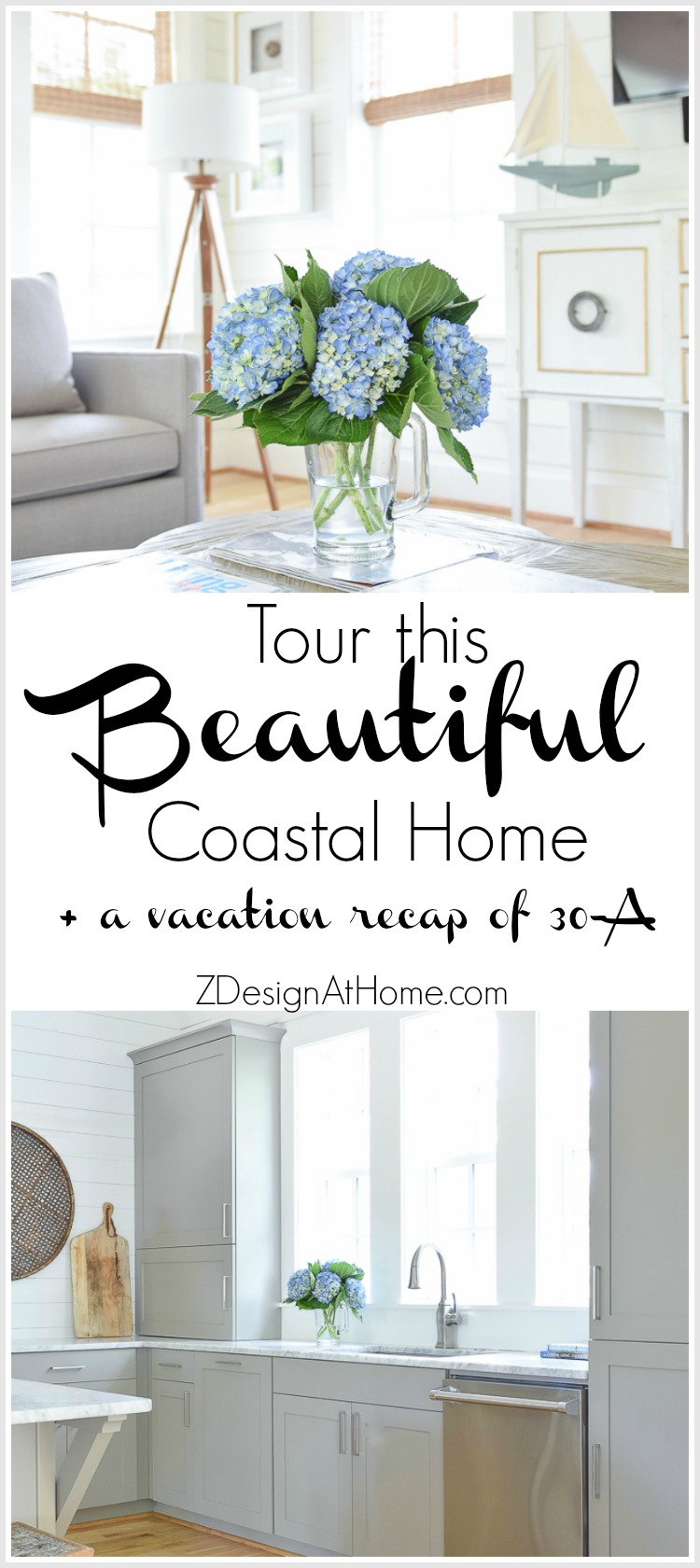 And that's a wrap for this years vacation Recap to 30-A, Florida.  I hope if you are looking to book a vacation in the area that you will check out Sanders Beach Rentals for your stay.  Their homes are lovely (we've stayed in two of them so far) and their selection of homes is fantastic.  With promo code ZDESIGN you can also get 15% off your stay with them at any of their homes during anytime frame.