Delta Faucet Design Blogger Event Recap
*This post was sponsored by Delta Faucet, a brand I love, however all opinions, thoughts and images are 100% my own.
Hi Friends!  I'm super excited about todays post!  You may remember a couple of weeks back when I was at the Delta Faucet Design Blogger Event in Indiana?  I couldn't be more excited about this company and am even more excited to share a fun recap with you of all of the things I learned while at Delta headquarters so hang on for the ride, it's gonna be fun!  
We started out the first evening with a fun dinner in the hotel.  It was catered with some amazing food options and beautiful flowers on every table.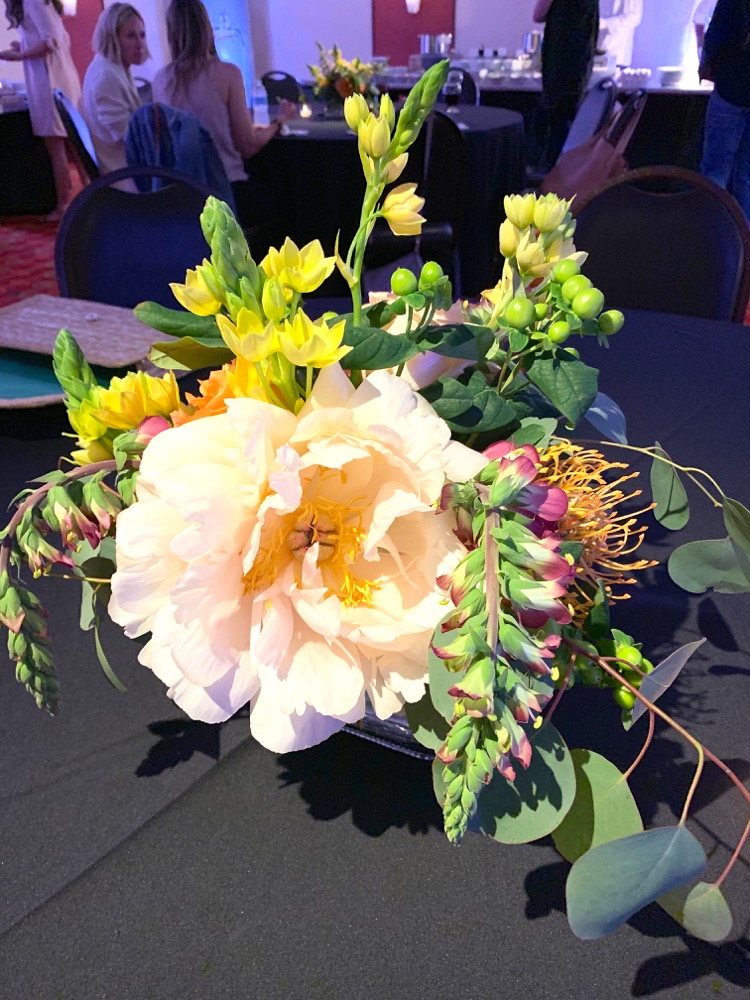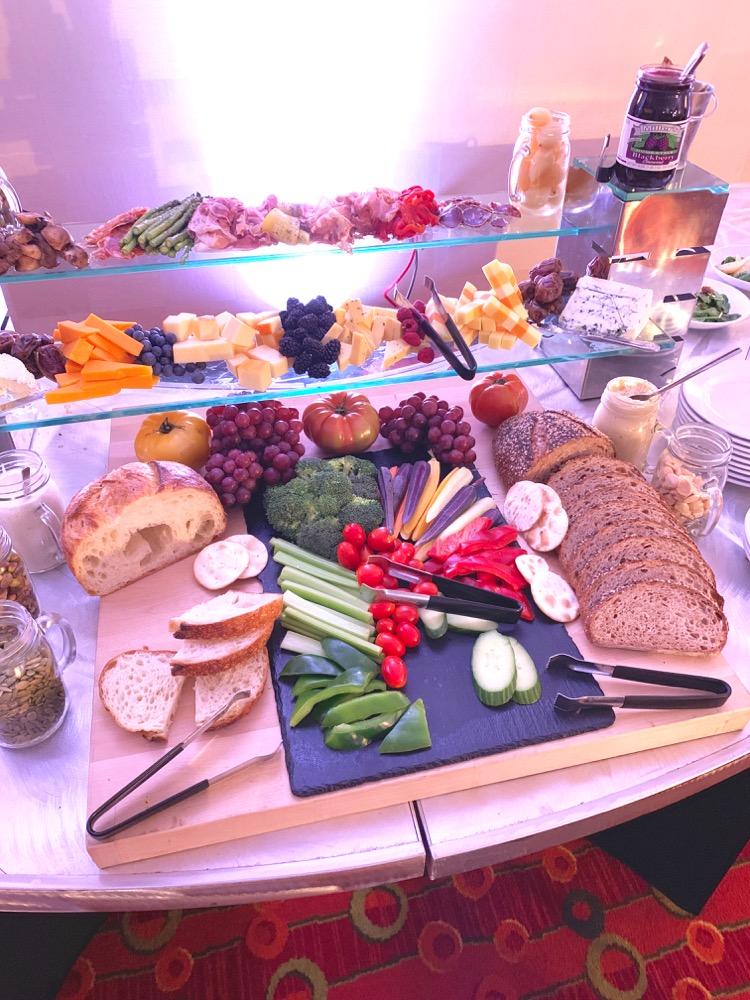 It was so nice getting to know all of the other super talented, super sweet bloggers there.  I always enjoy getting away to these events to meet new people in the blogging world.
After dinner, several of us piled up in the car and went for a drive to Target.  The main mission here was to get Diet Coke for the room (who of my fellow Diet Coke lovers can relate?) and hang out in their outdoor furniture section – it was fun!  Here are the fun swag bags we received from Delta that we threw into the back of the car before we left – made for a perfect photo opportunity, right?!  There were lots of amazing goodies in those bags that I'm still enjoying!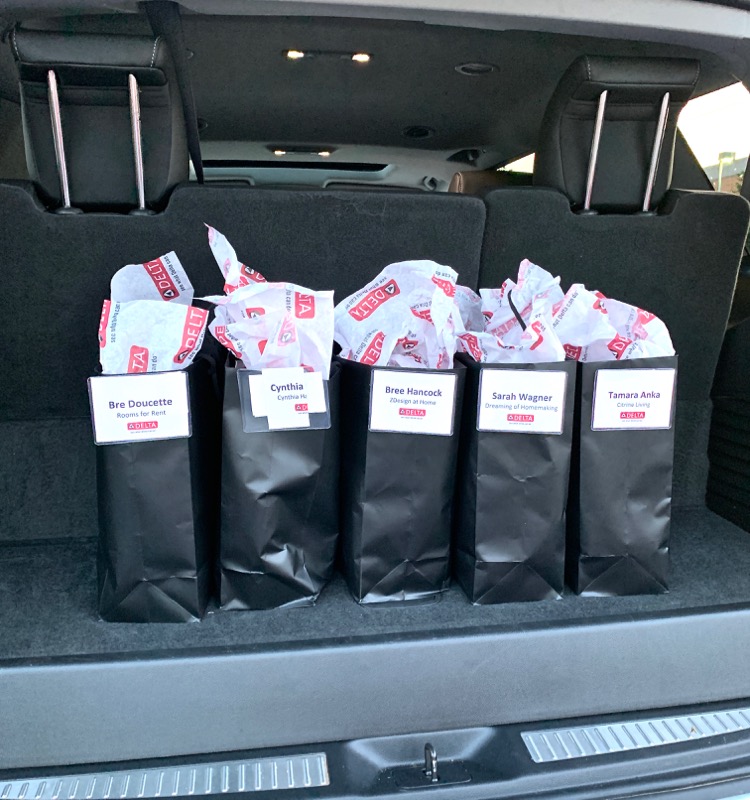 The next morning we all piled up and shuttled over to Delta Faucet Headquarters.  And, that's when we received a very warm welcome from several of Delta Faucet employees, and grabbed one of our first photos together.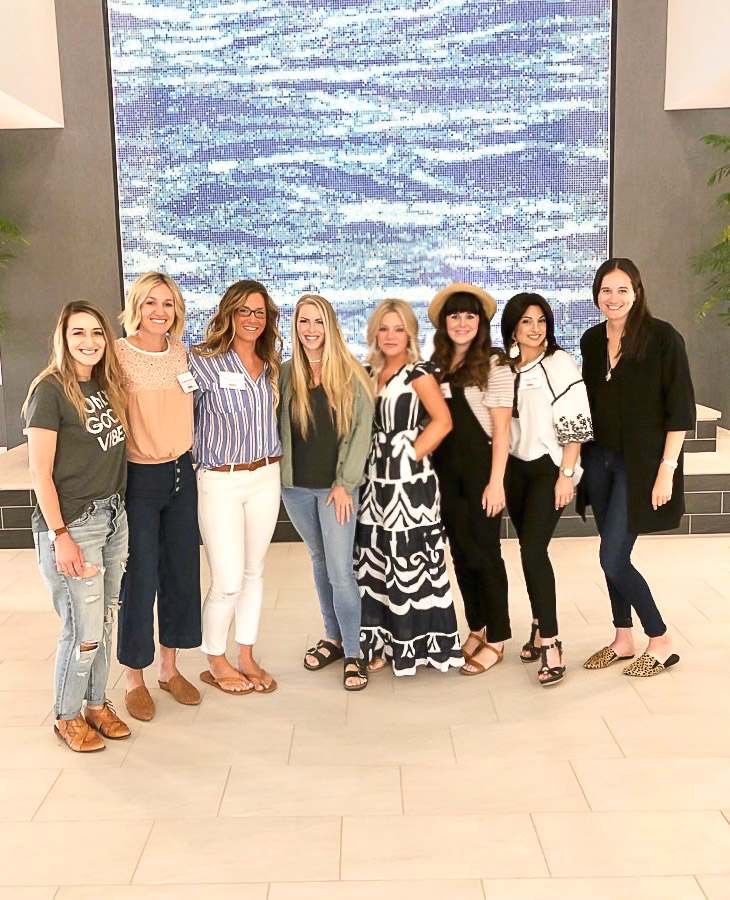 Isn't this wall behind us in the main lobby just stunning?  It's actually a fountain and is just the beginning of the way this company thinks about water and the processes they go through to make it a great experience for the consumer!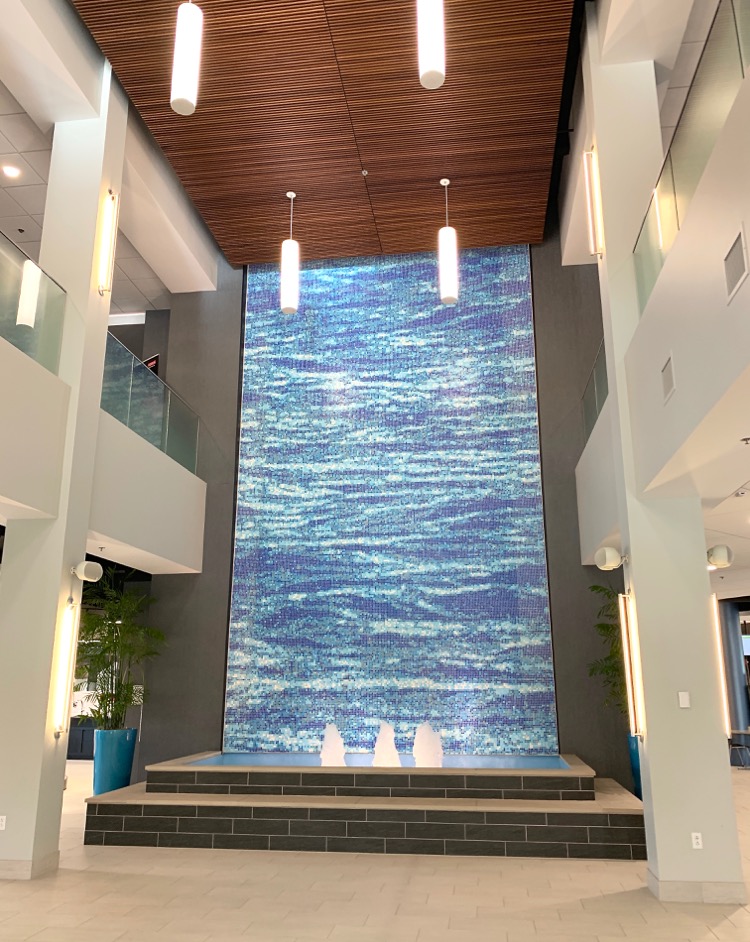 As the next day and a half ensued we met with several of their leaders, engineers and designers and were given a plethora of information about the company, its amazing products, and the technology behind their products.  It was quickly apparent that Delta Faucet employees love the company they work for and are extremely proud of what they do!  It was also very obvious right away that quality is clearly the most important thing to this company and its employees.
One of the most fun things we got to do was to look at some new product, and some of their existing product.  Here are a few of my favorites below.  One I really love for its industrial feel is the Broderick™ Faucet.  It will be out later this year and comes in several finishes, a few versions as you'll see below.  Here it is in Stainless…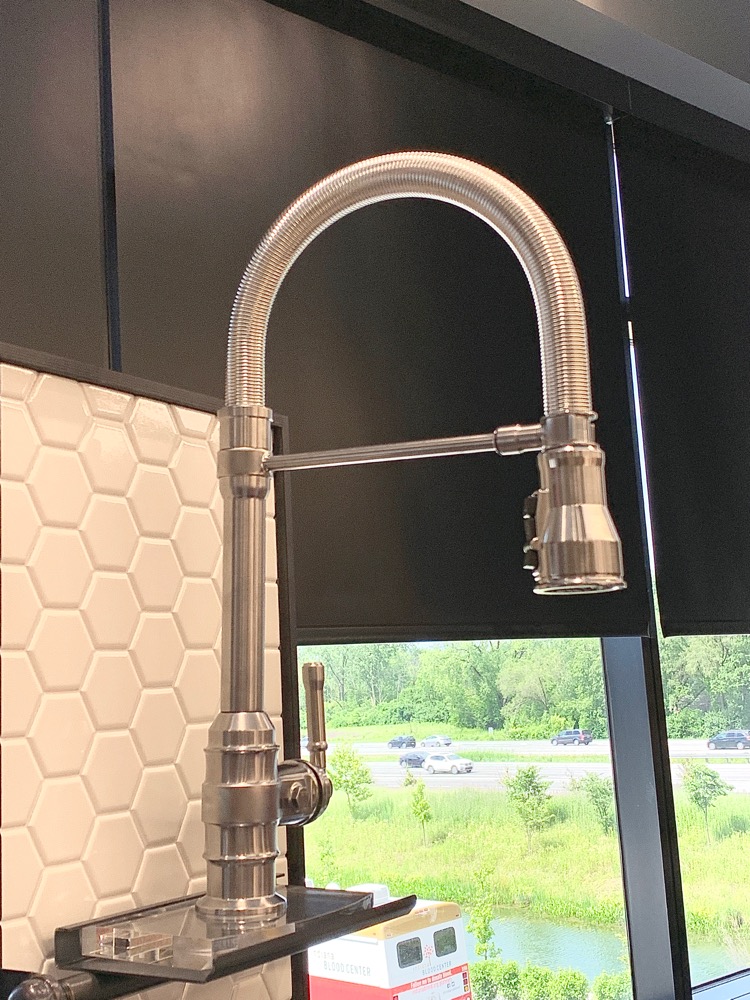 And then here in their Champagne Bronze finish in a bridge style faucet, which I love…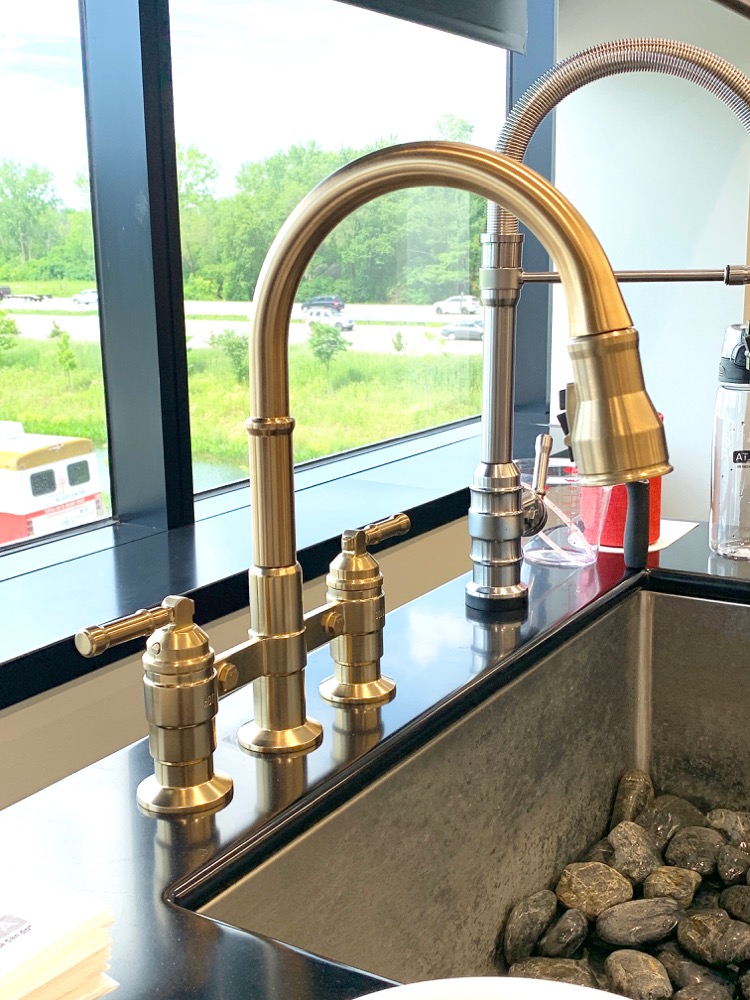 I also really loved their new finish, Black Stainless, which is great for someone that is afraid of the Matte Black that is trending in plumbing fixtures right now.  It's the first one on the left in the photo below….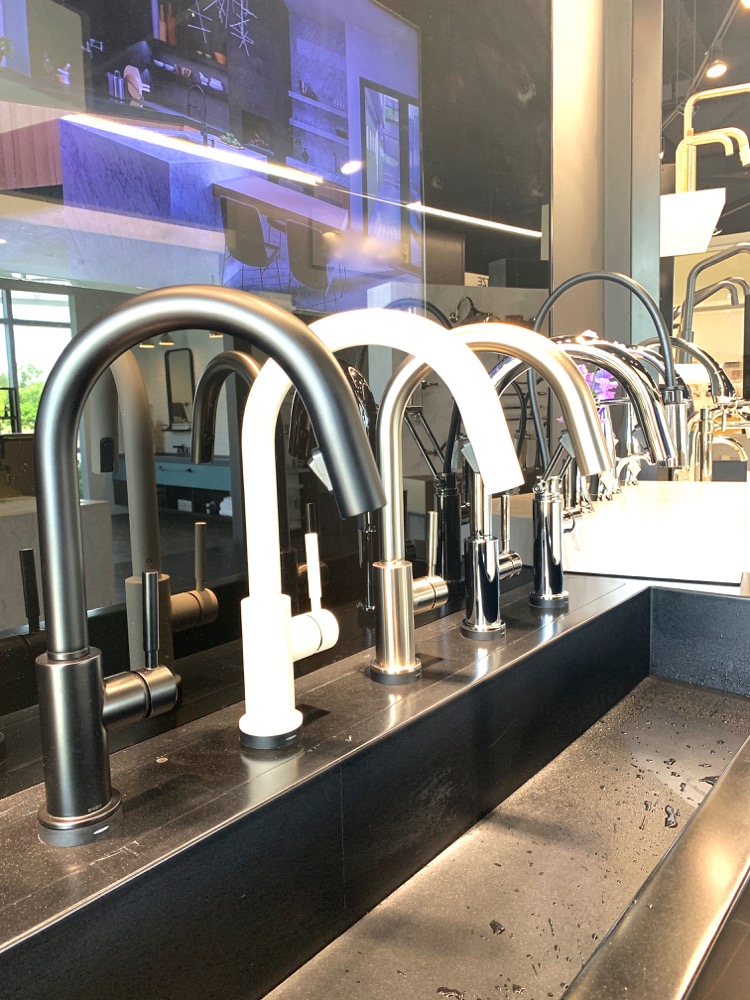 Another faucet I really loved is the Bowery™ Bath Collection (coming soon).  It's beautiful, clean lines yet graceful curves completely stole my heart!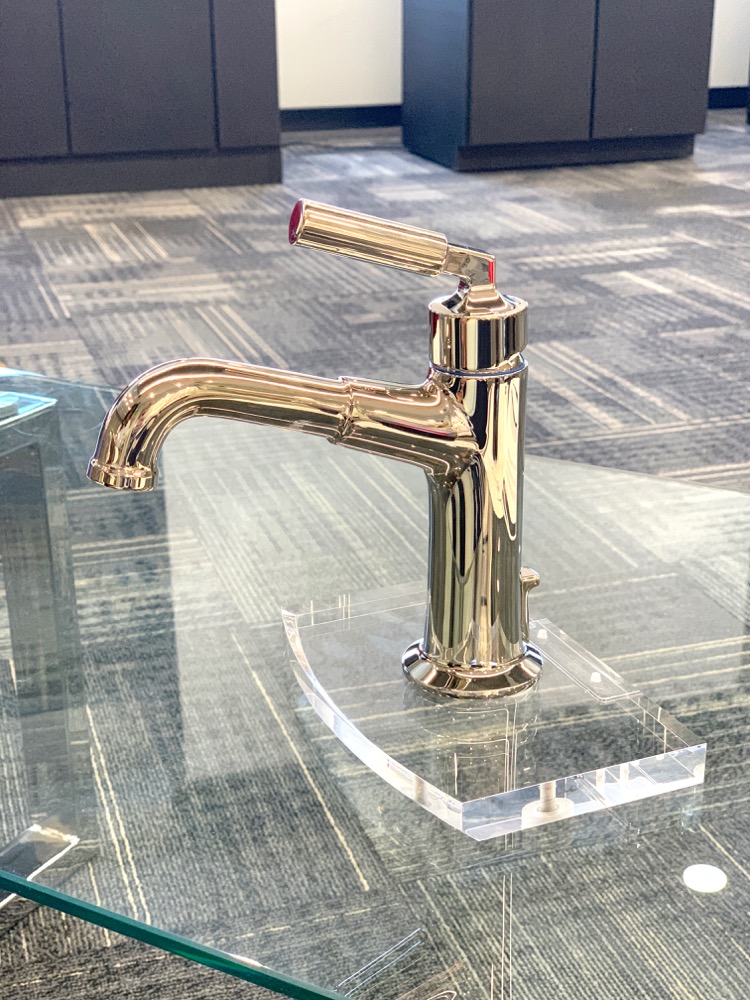 We also learned about showering and how hard Delta works to elevate this experience for the customer.  Like seriously, you would be shocked at how much effort, time and basically blood, sweat, and tears goes into making a great showering experience for the end consumer!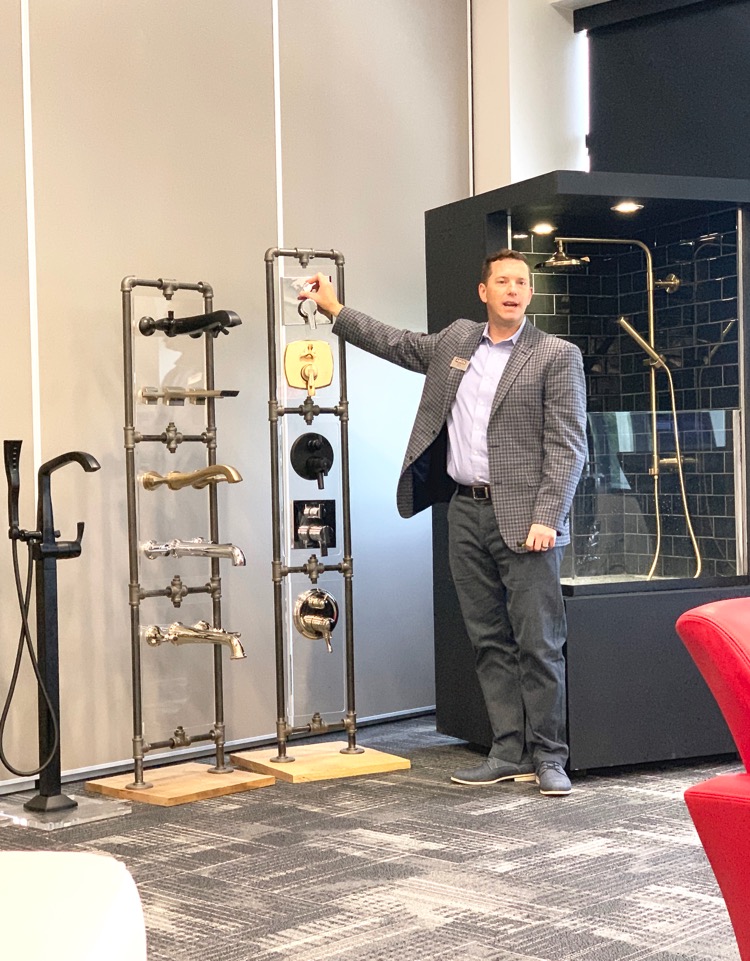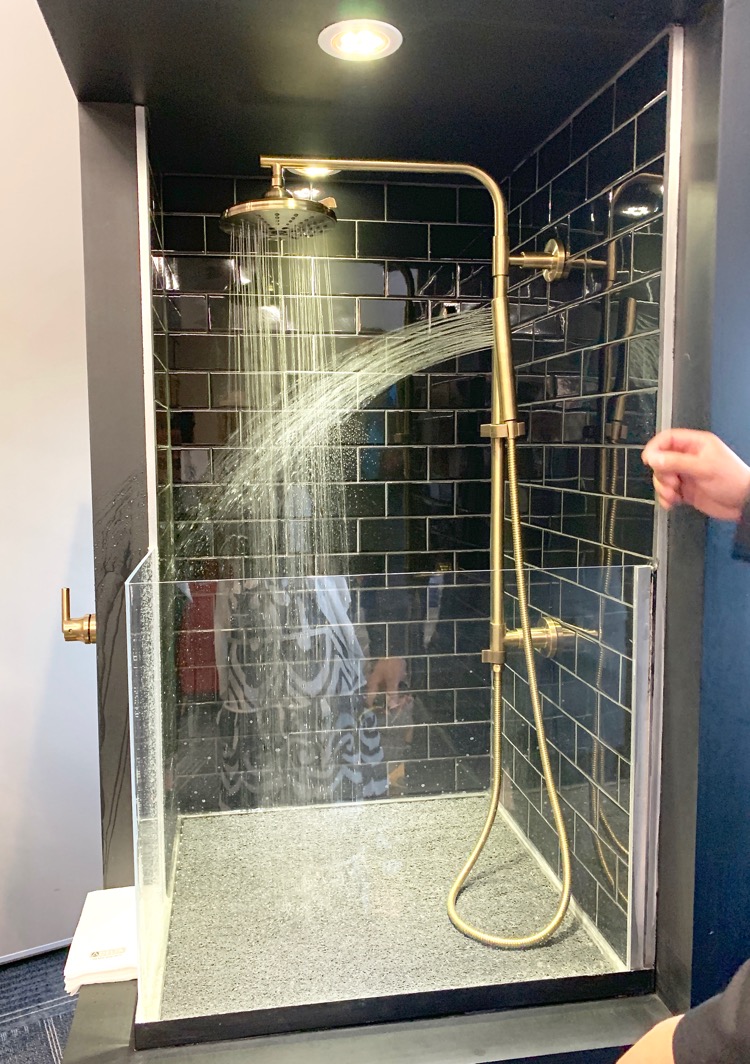 One of the most amazing things we learned about was the Delta H 2 Okinetic ® Power Drench Spray  This technology was developed because research showed that consumers' two biggest complaints about showering were A.) they didn't  get wet enough , and B.) they weren't warm enough in the shower.  I think it's so cool that Delta took the time and resources to fully address the needs of the consumer on this (something I can surely relate to) and developed this ground breaking technology.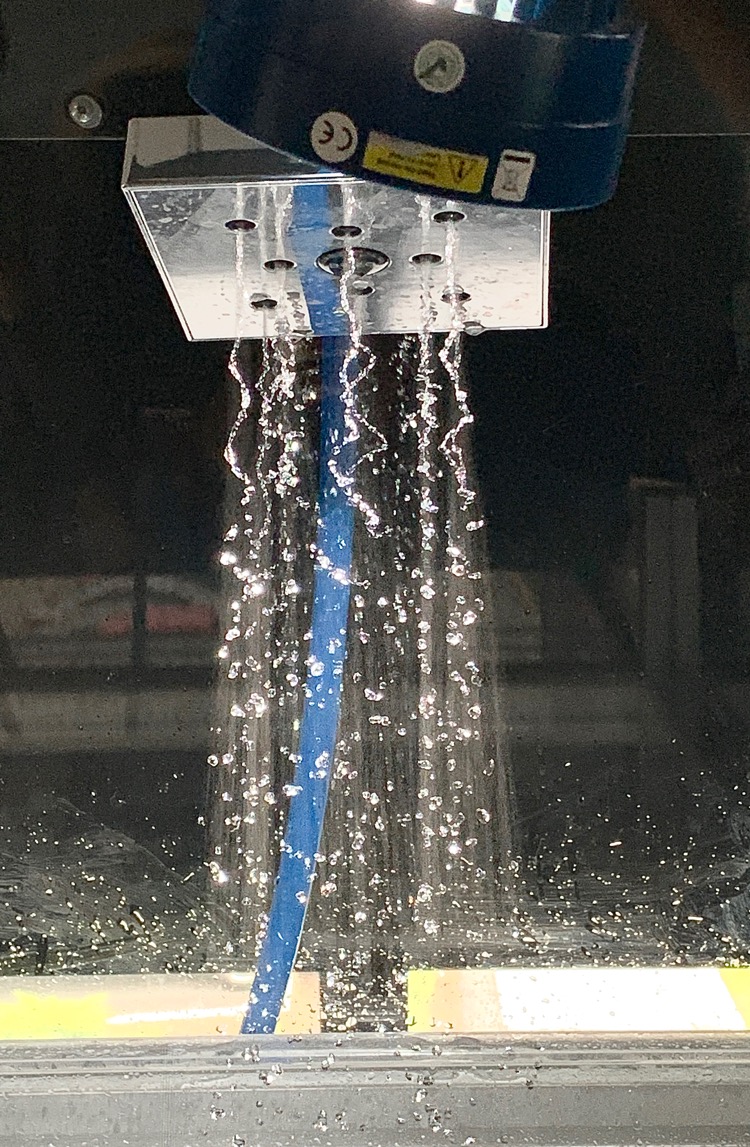 We also learned about the Delta Touch 2 O ® Technology .  We looked at some comparisons with one of their engineers and, WOW! The Delta technology on this is clearly a cut above the rest.  Needless to say I'll be using their touch technology in my new home soon…so excited for this!
Additionally, we learned about VoiceIQ™ Technology that works in tandem with the Touch2O Technology and it's simply amazing – I was truly blown away!  It works in conjunction with Amazon® Alexa® and Google® will dispense exactly the amount of water you need with hands-free voice activation and more.  So cool!!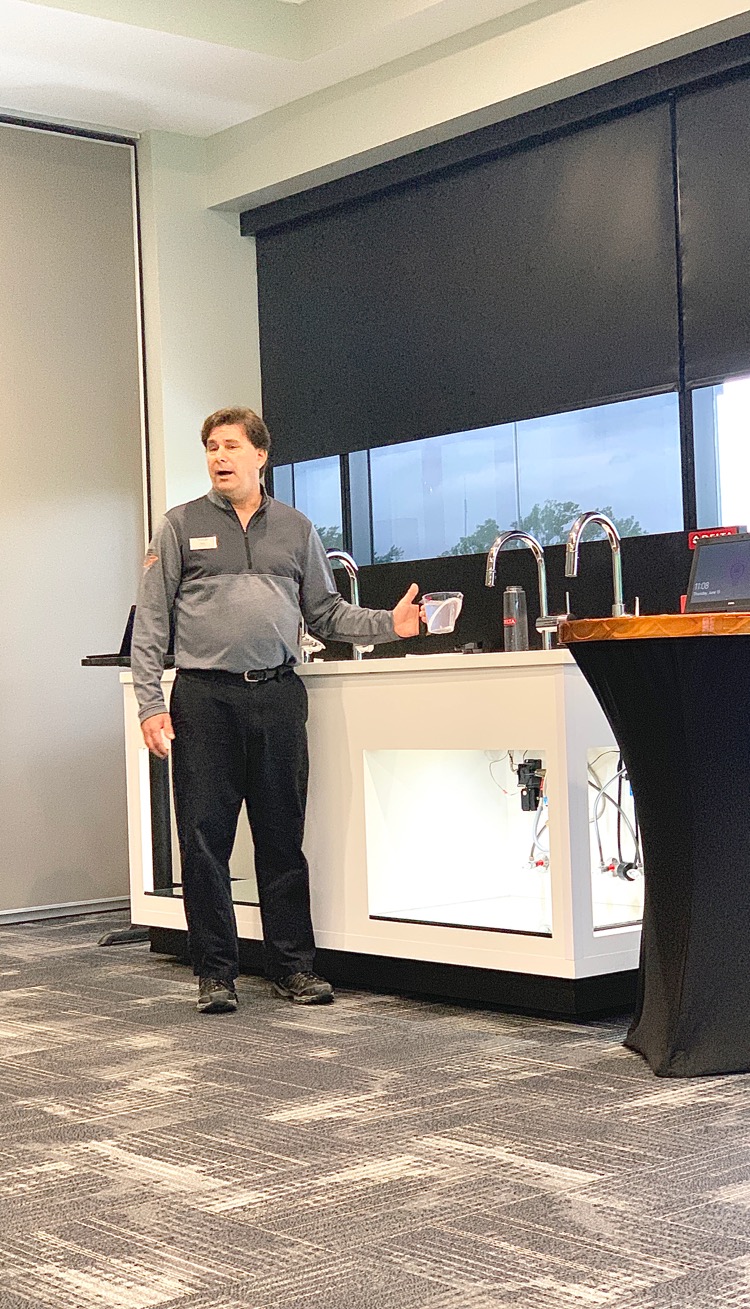 Lastly, we learned about their DIAMOND™ Seal Technology which reduces leak points and lasts twice as long as the industry standard, ensuring leak-free operation for the life of the faucet.  With the Delta brand, it's not just about style, but also about the use of tech to elevate the experience for the customer, which I love!
Another thing I learned and love about Delta is that sustainability is important to them.  If you remember, my last blog post was all about sustainability, but Delta has four U.S. plants and I love that they recycle the water from their plants before it goes back to the city and, love that they recycle their brass into more faucets.  I also really like that they are making ADA compliant products as well.
Something else I thought was super cool is that the Delta designers are required to travel abroad each year in order to get inspiration and ideas for new products.  Now who wouldn't want to work for a company like that?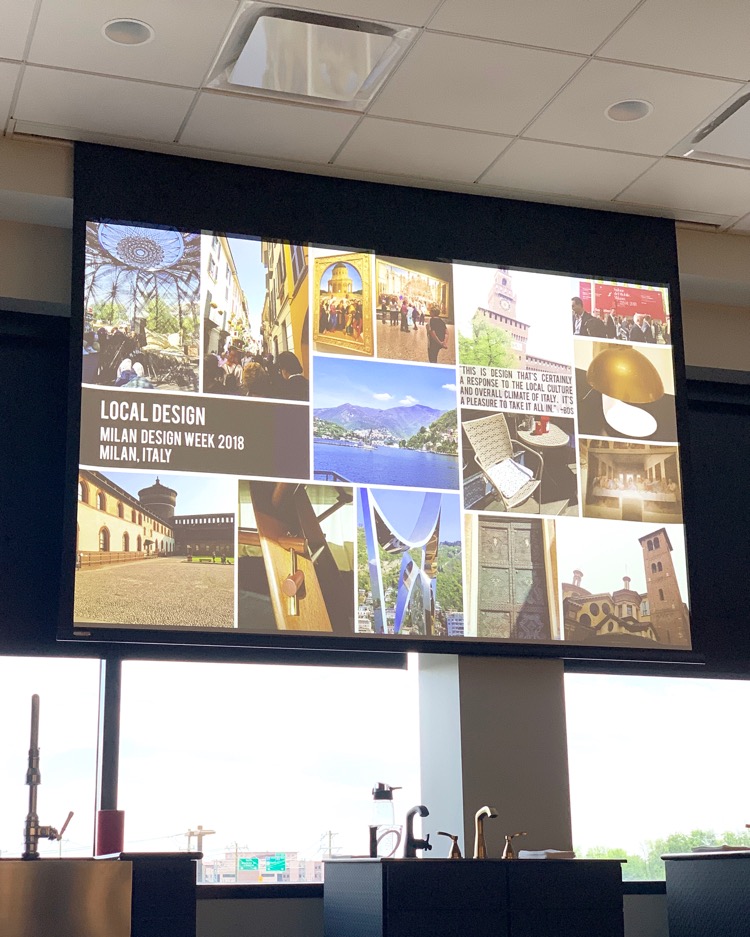 Some other beautiful and fun things I saw and learned at the Delta Design Blogger Event
Loved seeing just about the full line of Delta products in 1 spot…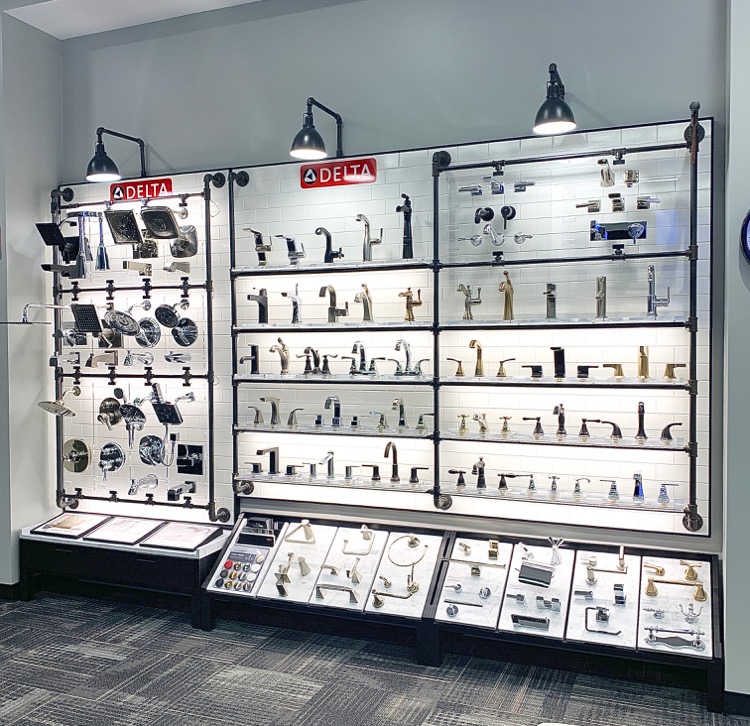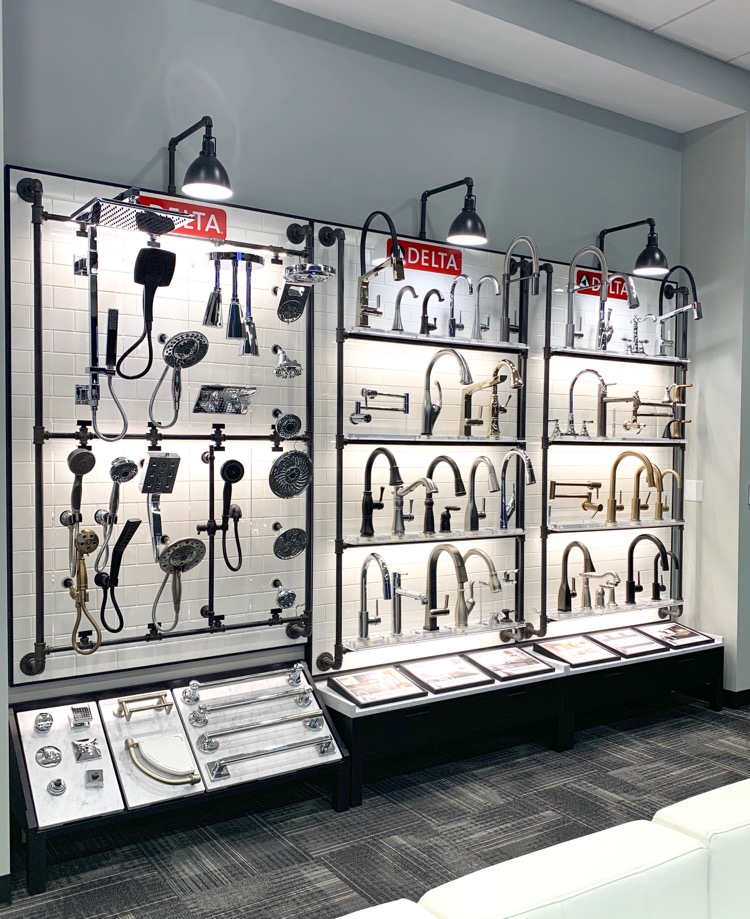 Here are some of my faves that I currently plan to use in my new home…the Delta Trinsic® Kitchen Faucet is always a favorite among most and I can see why.  It's simply stunning shown here in the Champagne Bronze finish…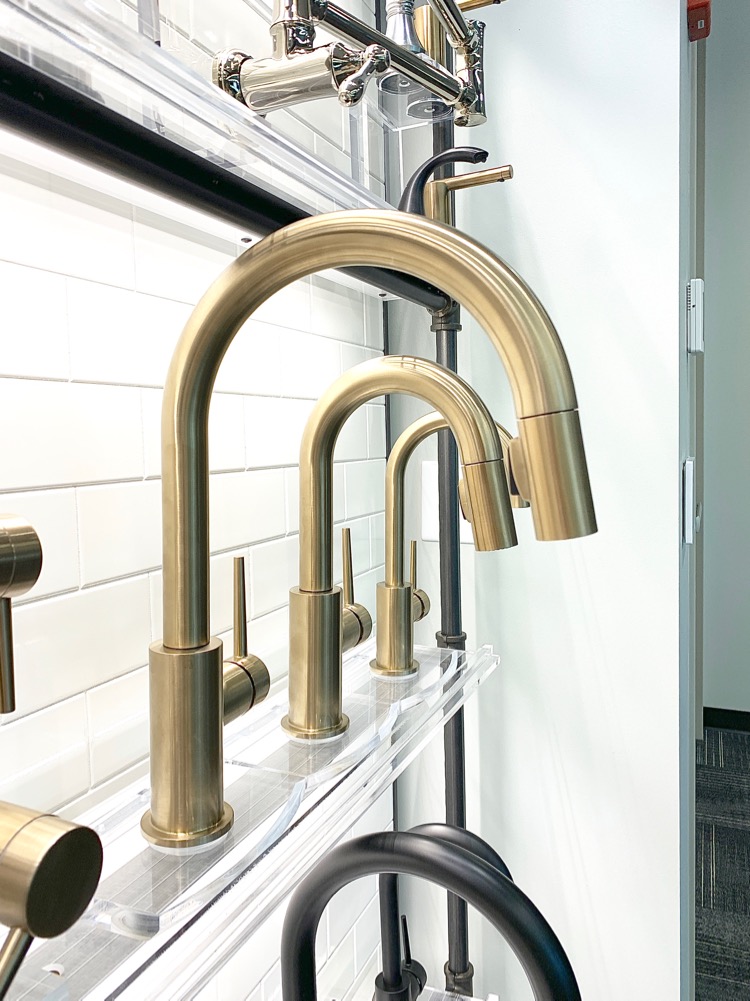 And here in Matte Black…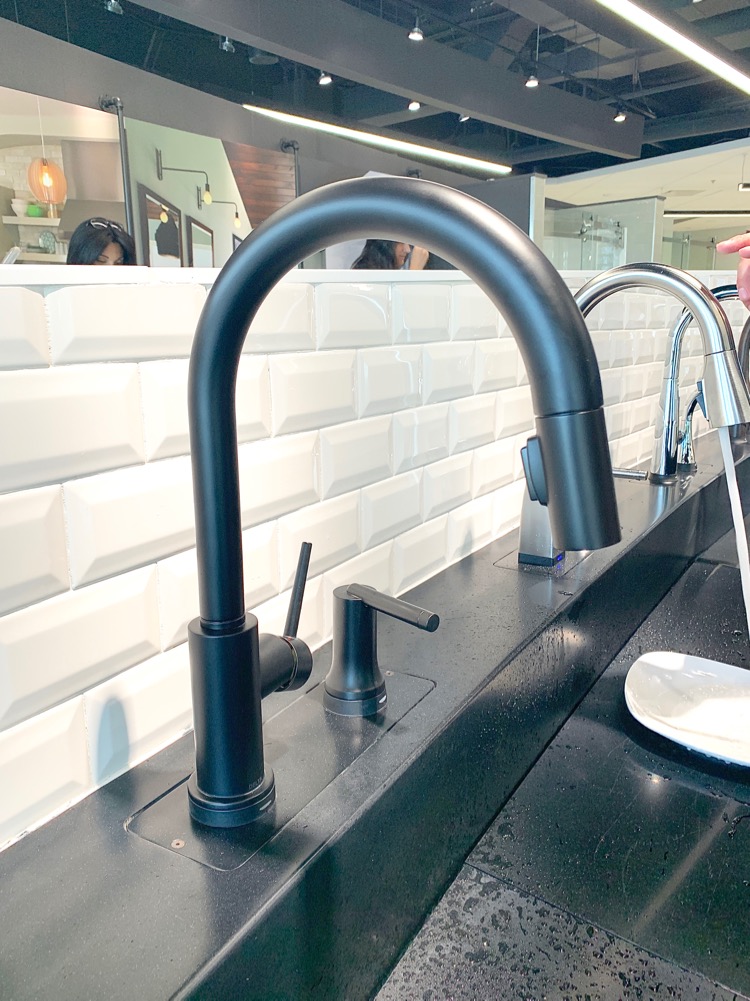 And here is the Trinsic Pro.  I'm thinking this one might be great for my laundry room in the new house.  I love the industrial feel of it and love that it comes in more finishes as well!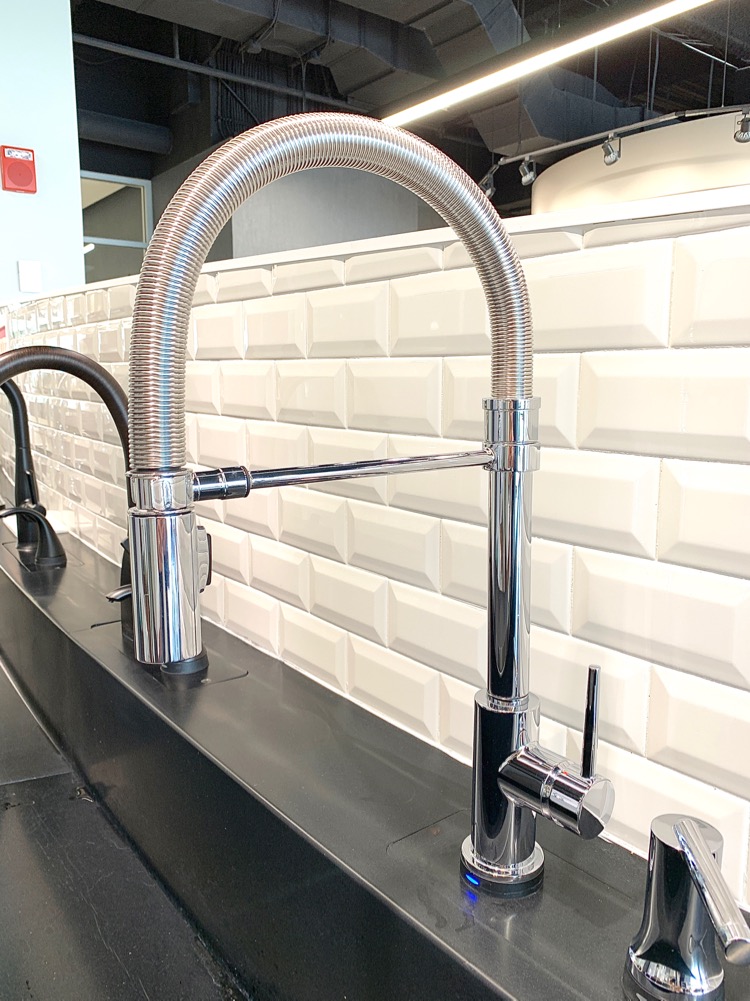 Can't get enough of this tub filler:).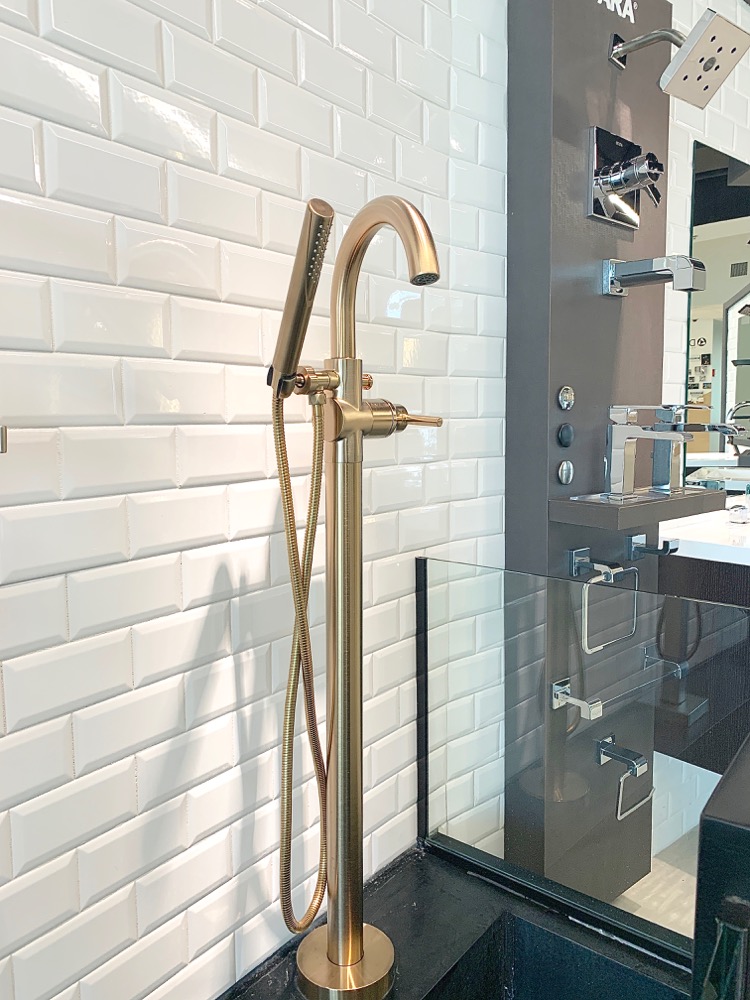 And this wall tub filler.  This beauty is from Delta's Stryke™ Bathroom Collection …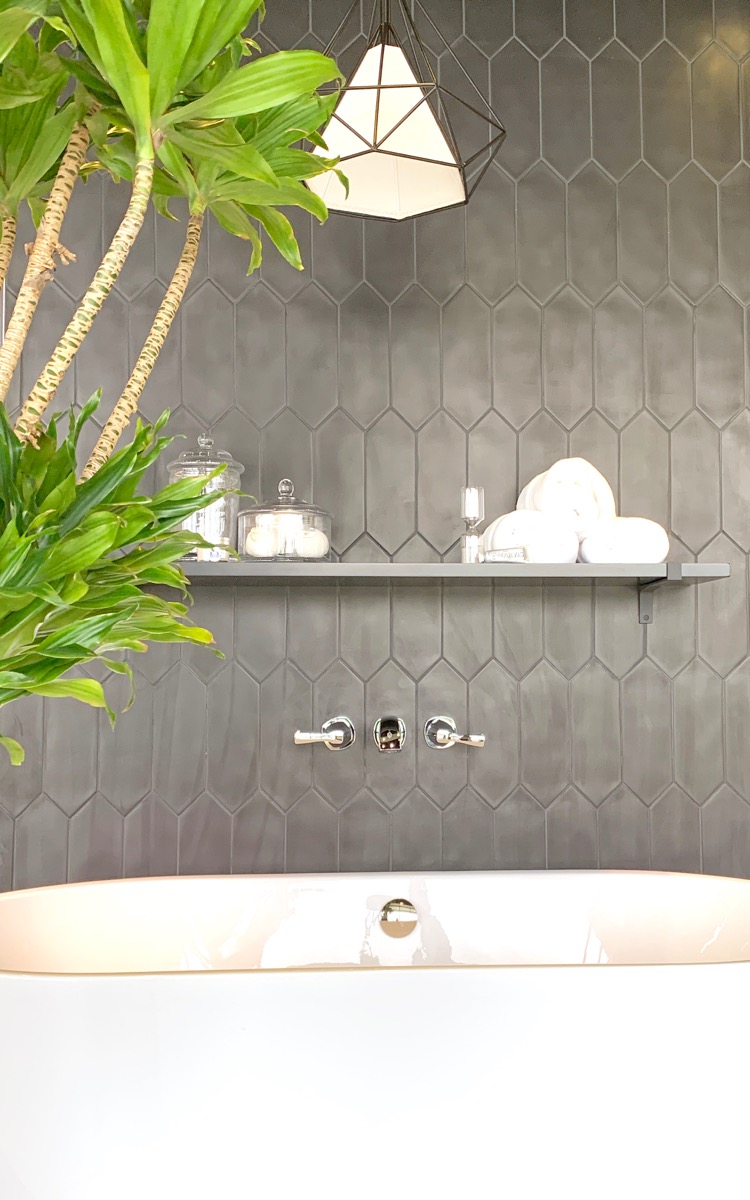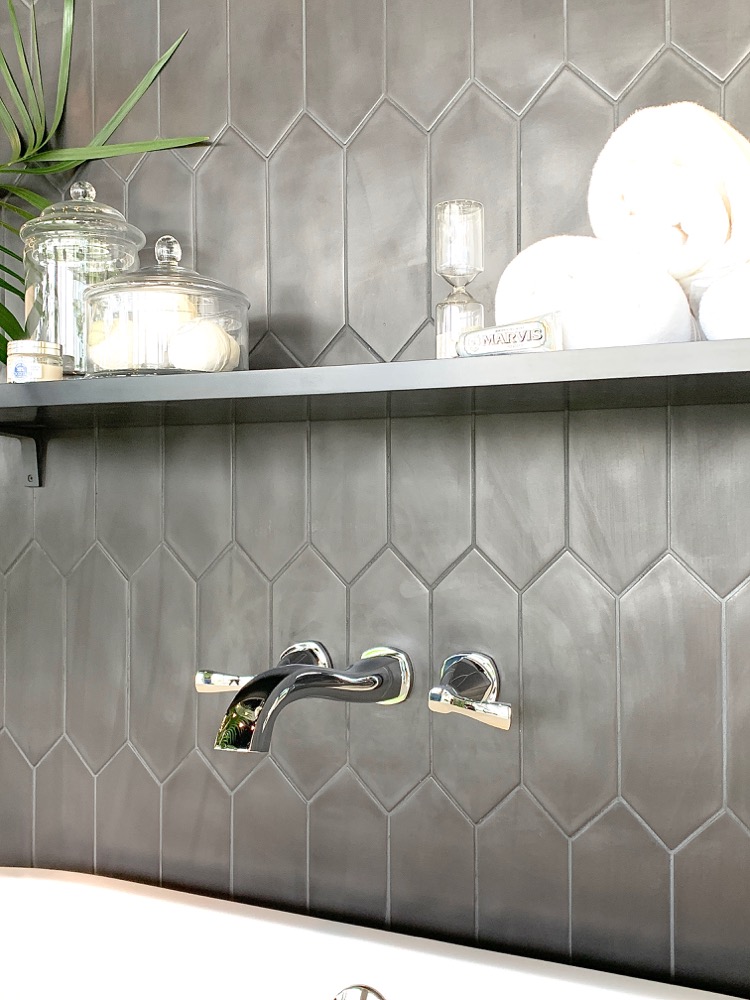 One of my absolute favorite things was learning about the First Wave℠ – Innovation Lab, a collection of
engineers, innovators and explorers whose sole purpose is to ideate and unveil revolutionary products.  One of which is the new Glass Rinser.  It's great for sports bottles, baby bottles, wine glasses and more.  The image below speaks for itself I believe…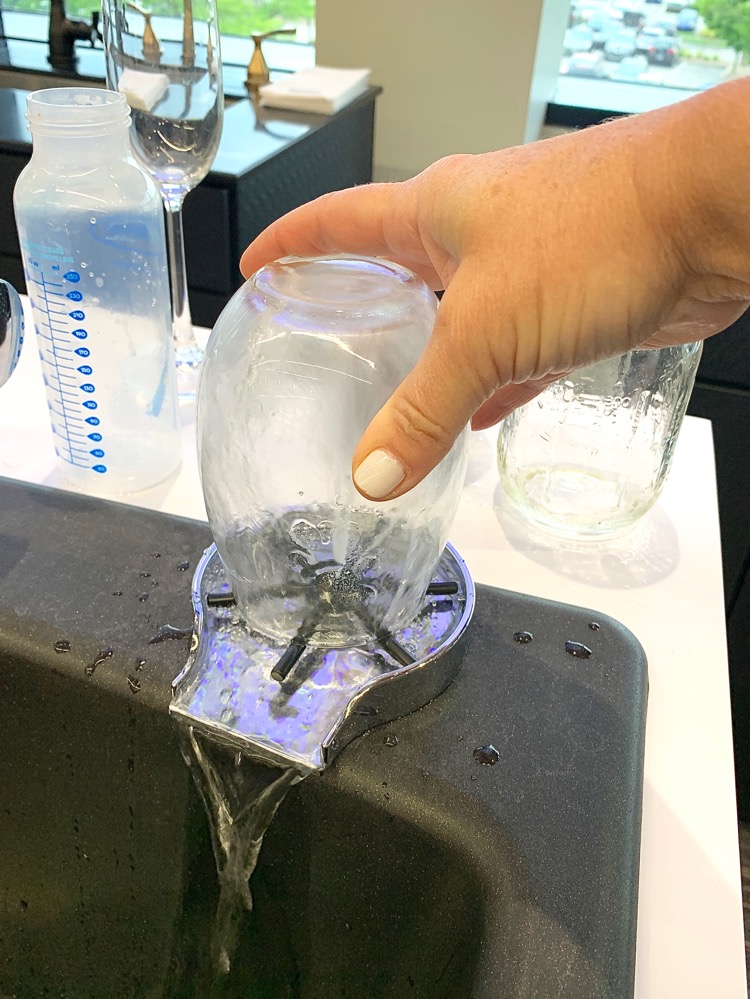 Lastly, as you can see below, I was a big fan of Delta while building my previous home and I plan to use them again in my new home.  Speaking of my new home…I know many of you have been waiting on an update and (drum roll please) the plans are finally done and I'm picking out finishes as we speak so we should be breaking ground pretty soon!  Hopefully it will be this month but at this point it will probably be July.  Either way I will keep you posted on all of my choices and any and all details I can share.  I look forward over the next several months to sharing with you as much as I can about the project, plus any building tips I can share.  My husband and I have built several homes so I'm no stranger to the process and have a lot to share with you in hopes it will help you if you are building and/or remodeling too!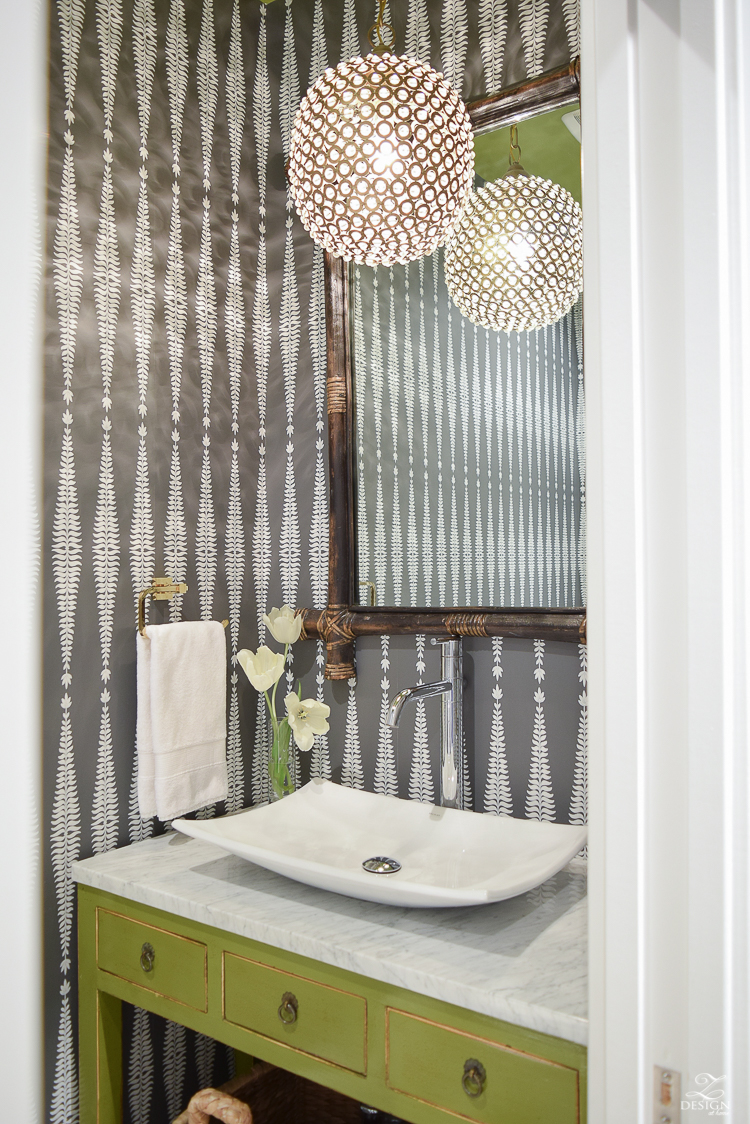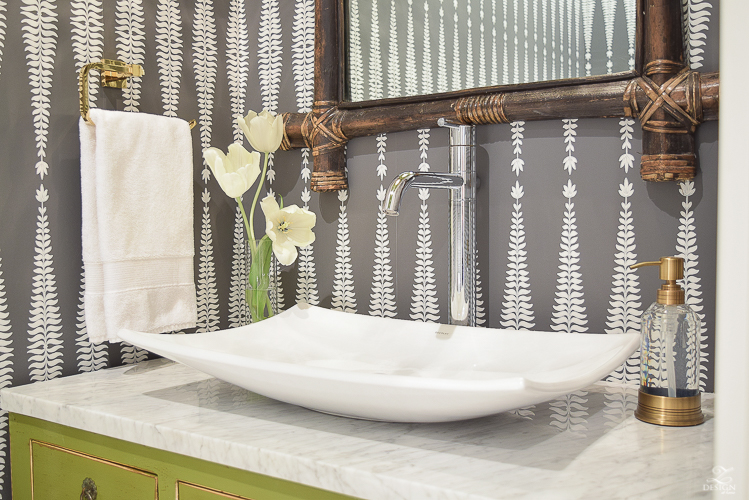 I hope you've enjoyed my post about the Delta Faucet Design Blogger Event Recap and that you'll take some time to explore their website and their products more.  They truly are an amazing company and one I certainly feel honored to have worked with!

Let's stay connected…
Pinterest | Facebook | Instagram | Facebook