4 Subtle Ways To Add Coastal Decor To Your Home
Fresh off of my trip to the beach cottage recently I'm finding myself in love all over again with coastal decor!  Many of us love coastal decor but don't live near the beach which can make it intimidating to decorate with it so today I'm sharing 4 Subtle Ways To Add Coastal Decor To Your Home!
This post was sponsored by Walmart, a brand I love, and contains affiliate links.  Please read my full disclosure policy here.
Before summer is over I just had to add a touch of that coastal look to my home.  There are many ways to do this but when you don't live in close proximity to the beach it can feel a little off if you don't do it right.  Adding subtle coastal, beachy touches here and there however can make it feel just right.  Here are 4 subtle ways to do just that!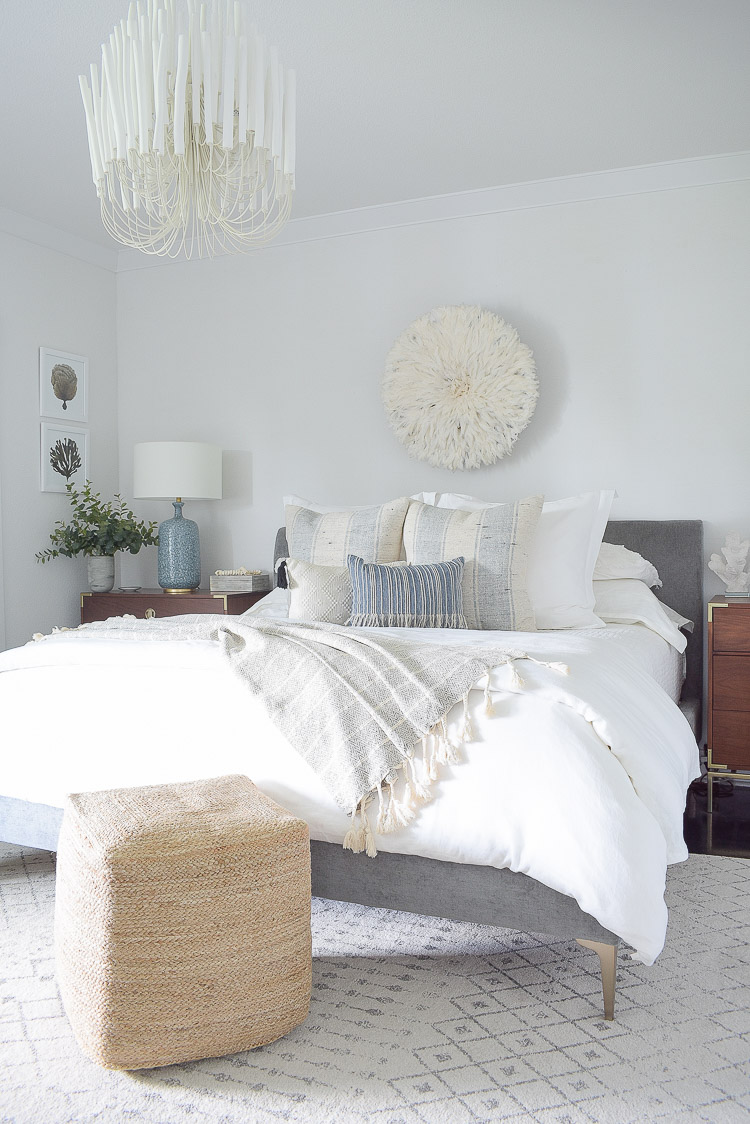 Nautical Pillows
Pillows are always an easy, fun way to add that coastal touch.  Blues and stripes are my go to for this, which will give your space that nautical feel.  Fringe can also add a fun little twist to it as well like with my blue and white striped, fringe lumbar pillow.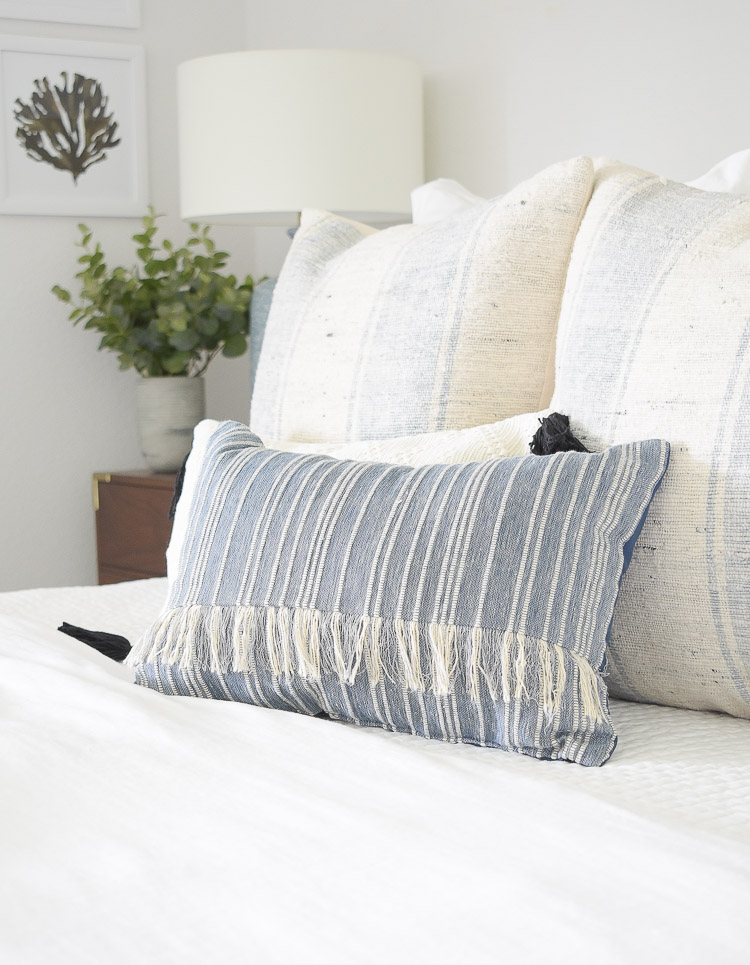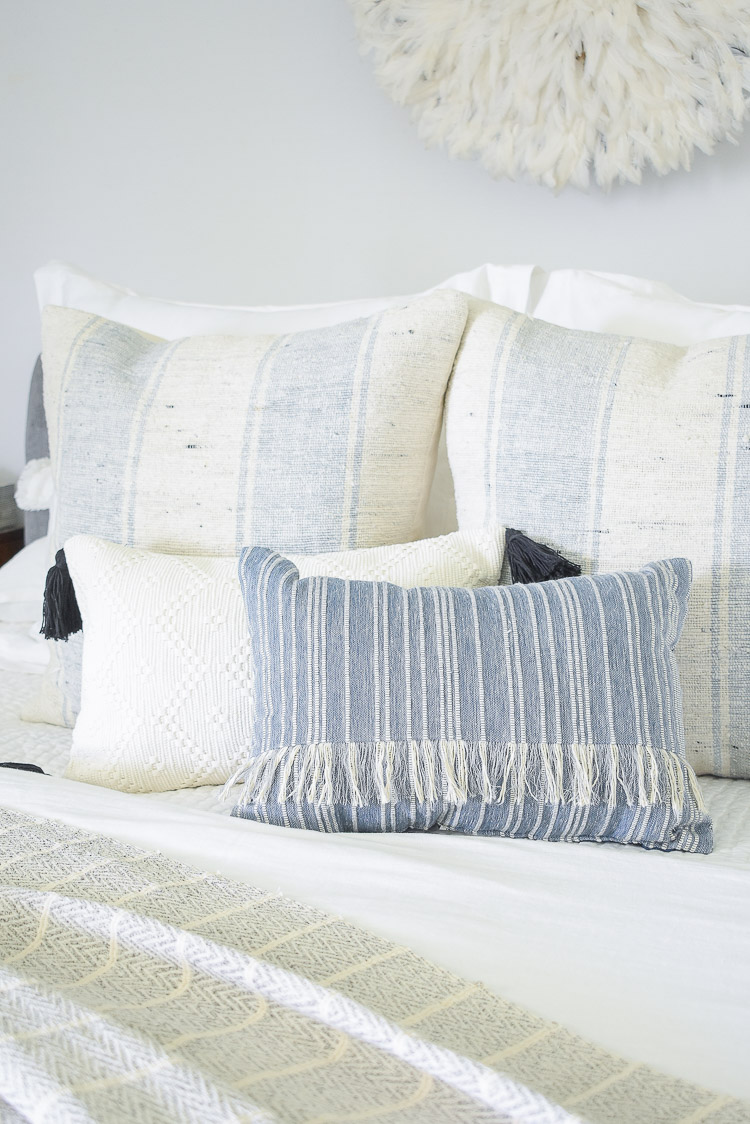 To keep your coastal pillows subtle, throwing in a pop of black and white like my white, patterned pillow with black tassels can neutralize the theme and keep it from feeling too beachy.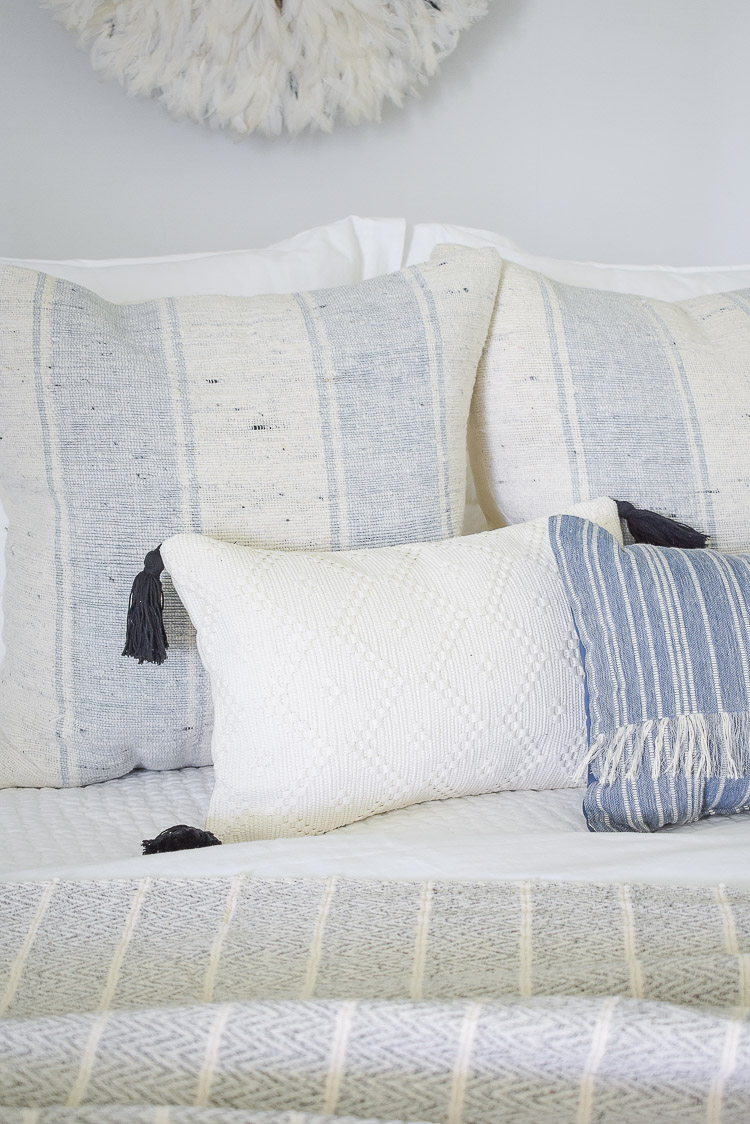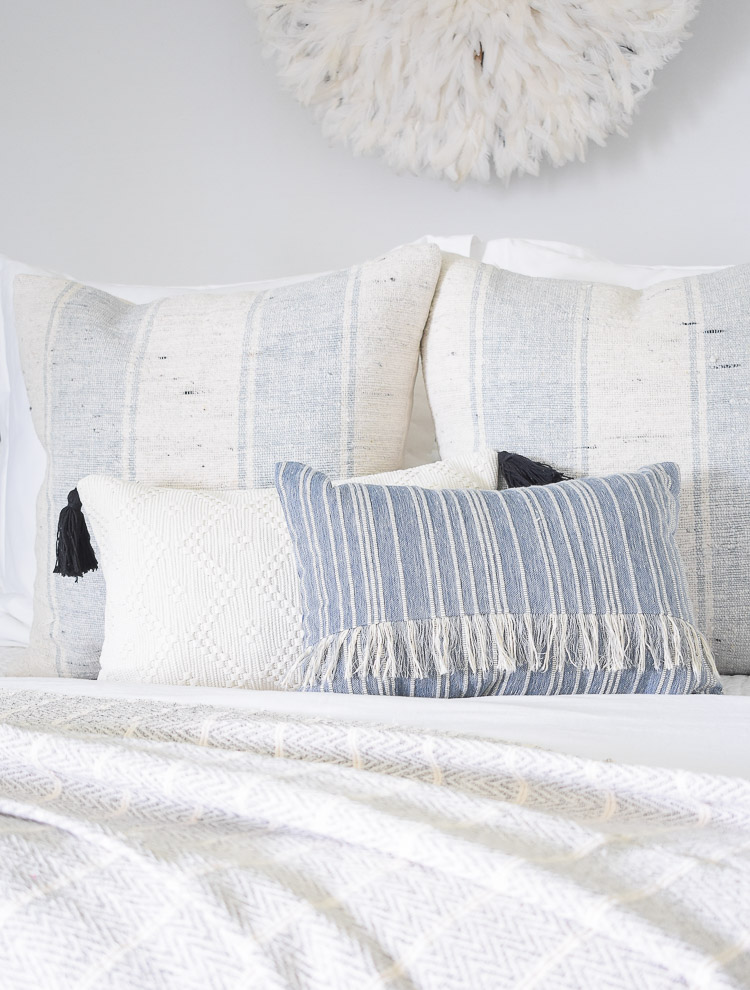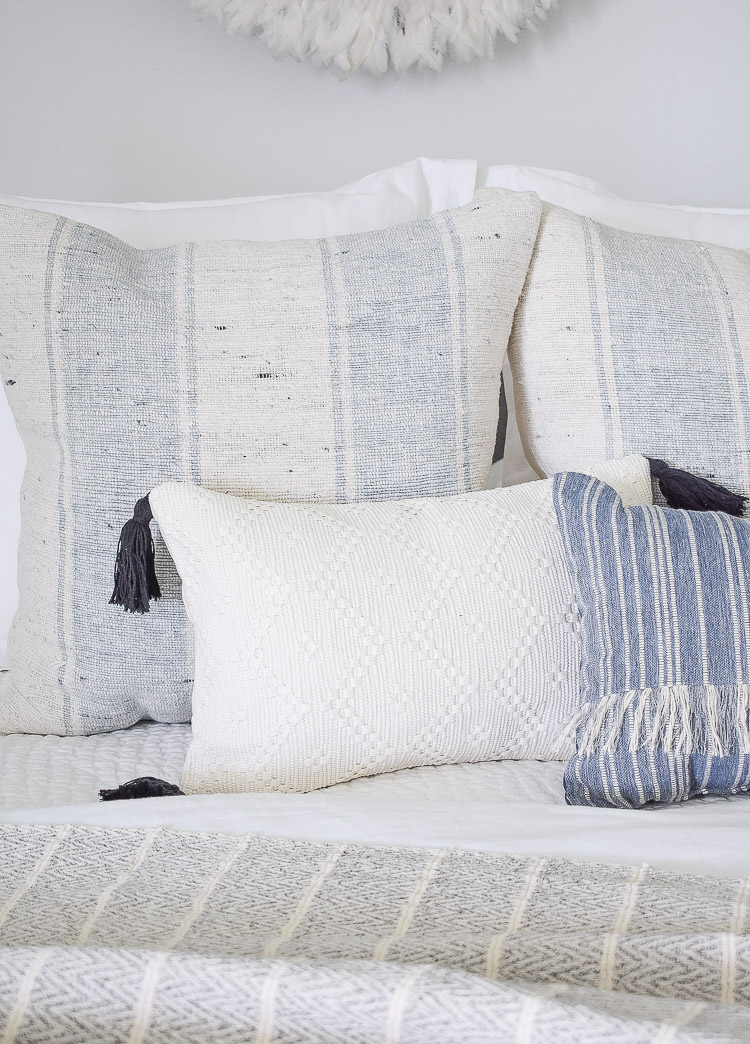 Coastal Art Prints
Art is one of the best ways to bring a certain feeling into your home.  Coastal prints in subtle colors can really help you to accomplish this.  My coastal prints in a soft black/brown and white from Walmart add just a subtle hint of that coastal feel but still get the point across.  This cement vessel on my nightstand also brings in a neutral feel that can be reminiscent of the sand and neutral colors you might find at the beach.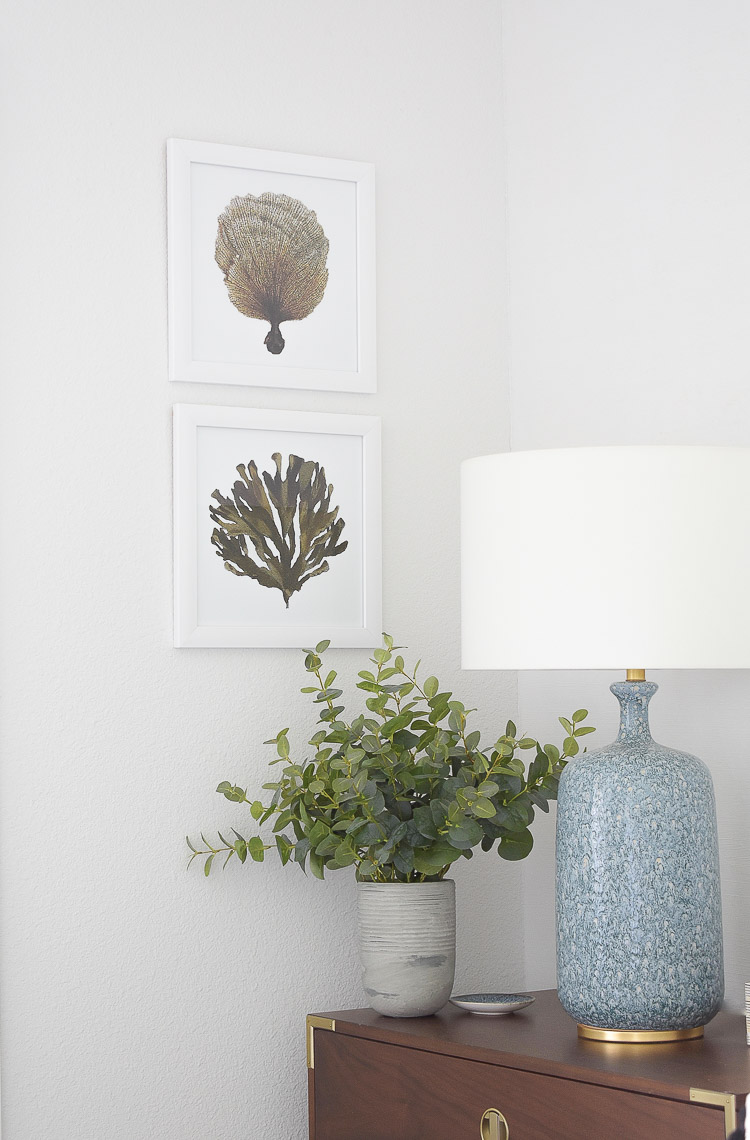 Throw Blankets
In order to do this in a subtle way, finding a throw with texture, subtle color and personality is key.  A throw blanket can make a bold statement but if you tone it down with earthen colors, plus some tassels and fringe, it can evoke that cozy feeling of being at the beach as the tide rolls in while the sun is on its way down.  Find my throw here.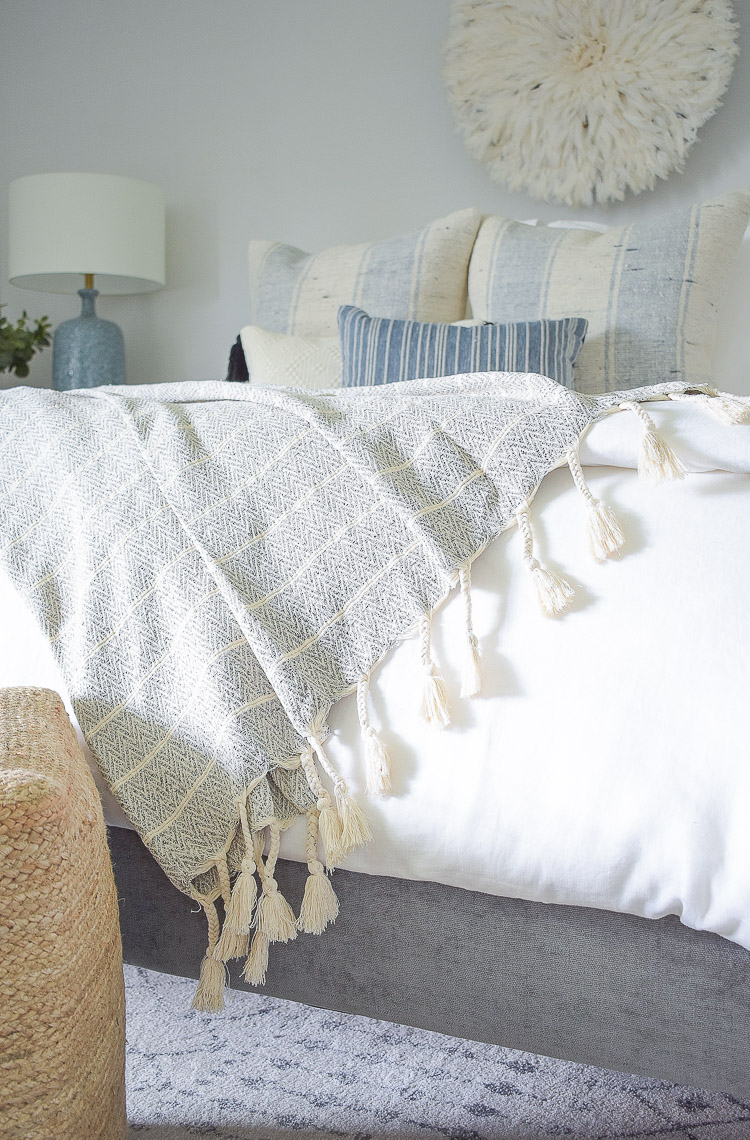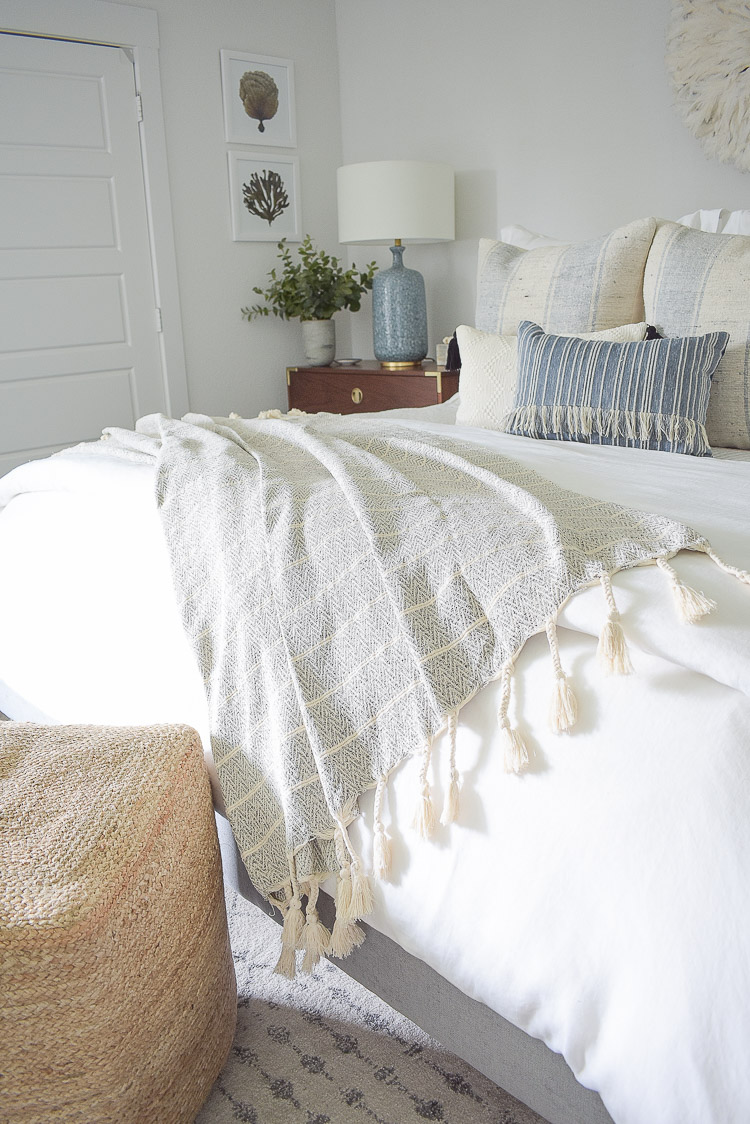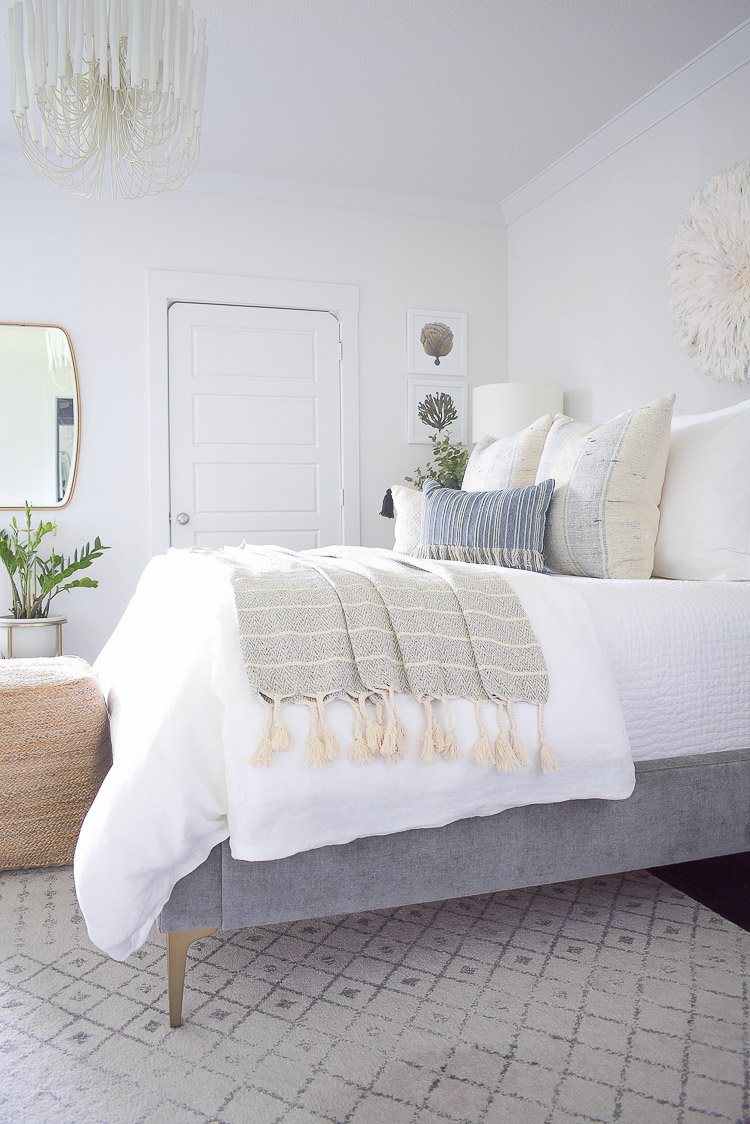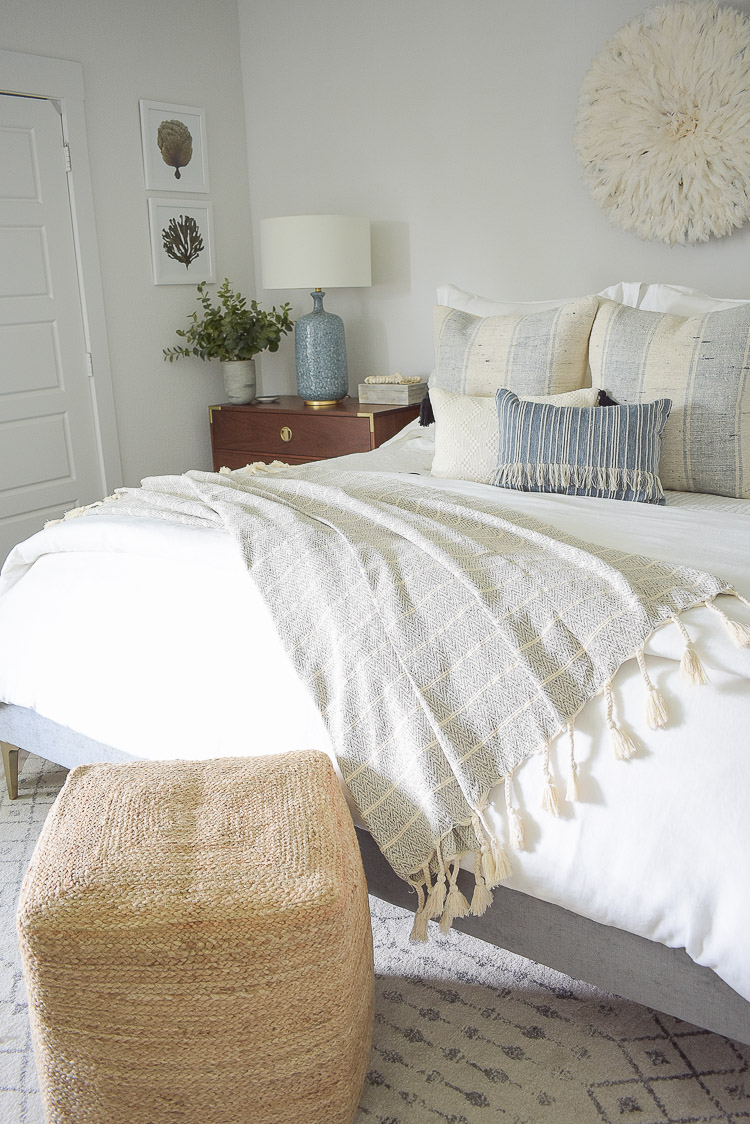 Jute & Rattan
My favorite way to get that beachy feel is with jute.  It just simply brings in that airy, coastal feel and a jute pouf is one perfect way to do that (among many)!  This super natural material always inspires me to get that coastal feeling and I love that I found this pouf in Walmart's curated coastal collection as part of one of their popular home decor collections!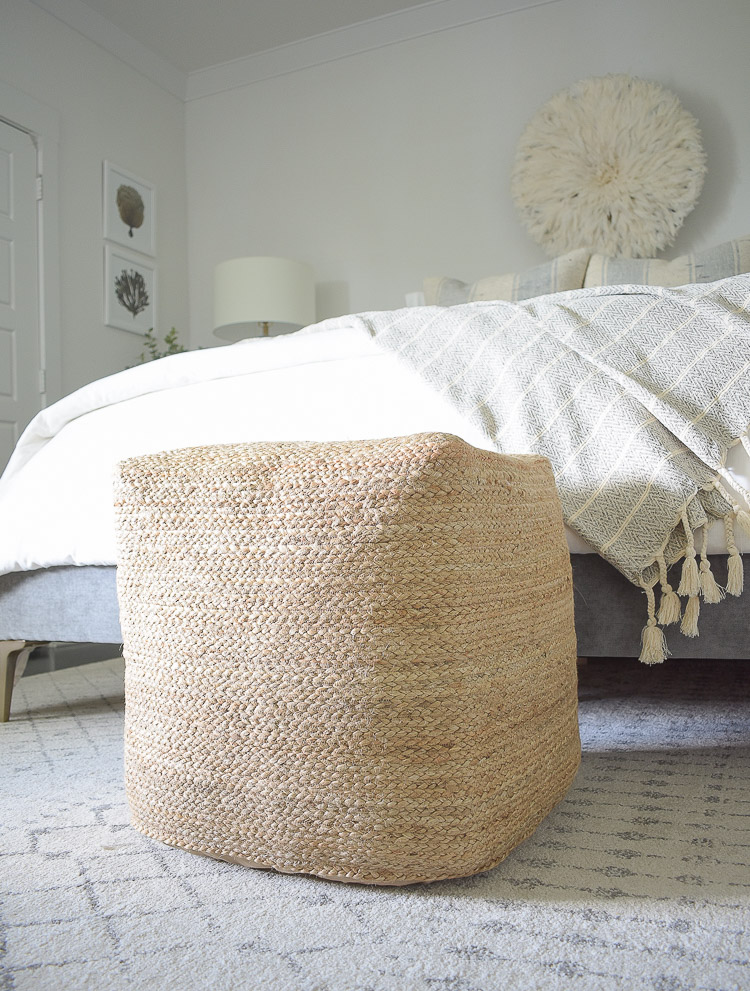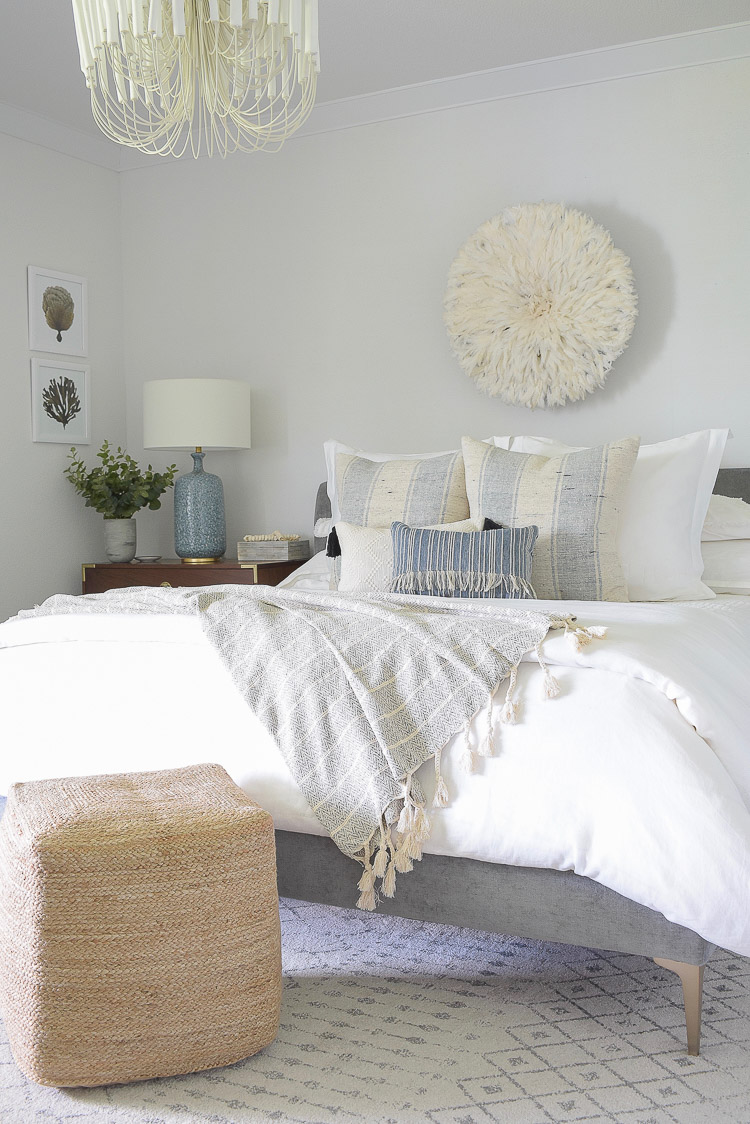 You guys know I've worked with Walmart before but finding all of this amazing coastal decor at Walmart did not surprise or disappoint!  Walmart is definitely one of my go to places for home decor now, especially with free shipping on $35+ eligible orders. No membership fee is required either.  Even their clothing is right on par these days with all of the other brands I shop (home and fashion)…I'm sure you've heard all the buzz by now!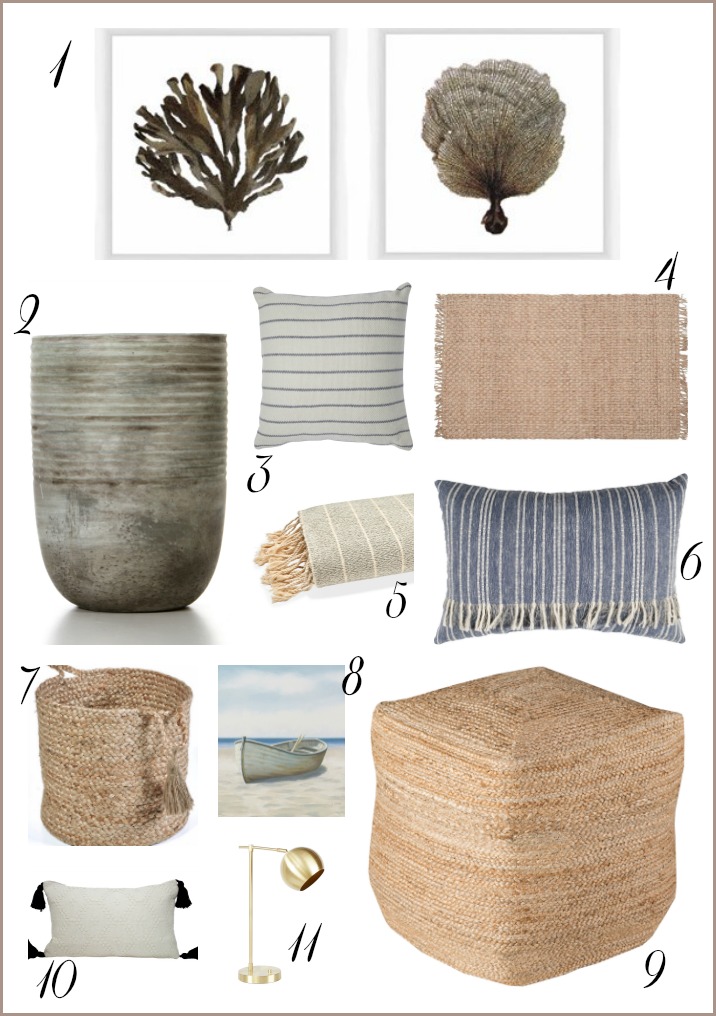 1 | 2 | 3 | 4 | 5 | 6 | 7 | 8 | 9 | 10 | 11
Now that you know my subtle ways to add coastal decor to your home check out my collage above to see some more of my favorite ways to do this, and let me know if you have any questions.  I always love hearing your feedback and how my posts help with your home decor decisions!  A full resource list is located at the bottom of this post.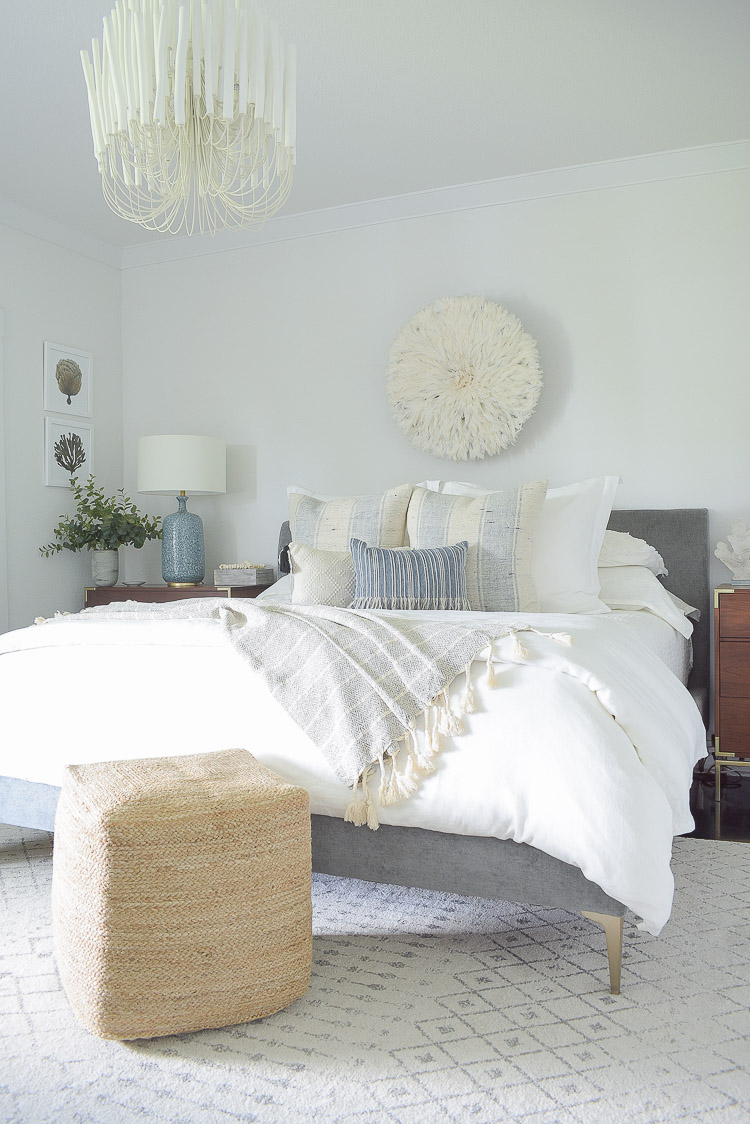 Blue Fringe Pillow | White Pillow w/ Black Tassels | Throw on Bed | Cement Vase | Coastal Art Prints | Jute Pouf