Hi and Welcome to ZDesign At Home's Home Tour!
I'm so excited to have you join me on my very first blog post! If you follow me on Instagram,  by now you may be familiar with my design style and my home. My amazing husband, son, and I moved into our custom build home in Texas 2 1/2 years ago now. My home is constantly evolving and changing into what I hope and envision it to be (and because moving things around is a form of therapy for me…can anyone else relate here??). We all know that home is where your heart is and I am a true believer in that if your home looks and feels good to you, then all that goes on inside of it's walls will be even that much more special! My hubby and I have built 4 homes together, have been through all of the shenanigans one must go through while building (and yes, it is possible to stay happily married I might add after building a home with your spouse;) and have learned a ton about home building, construction, and design in the process so I hope I can be a resource and an inspiration to you through some of your design shenanigans as well. I also hope that over the coming weeks, months, and years you'll be inspired by my designs, tips, stylish finds, and good deals I'll share from the web.
Never Say Never
Over the years since I started my little grass roots design business in around 2010 I have been encouraged by some wonderful friends and clients to start a blog but my response to them was always "I would never do that". Well, sometimes I think God has a sense of humor and quite often we end up doing things we said we would never do because He leads us down a certain path that causes us to grow and change, and hopefully it's always for the better and always to His glory! I honestly never thought when I started my little Instagram account several months back that I would meet so many inspiring people, gain so many new amazing friends, and be inspired to actually write about the extra curricular activity (and work) that I love to do almost more than anything else in the world. And that little IG account and so many new fabulous friends and connections is what has led me to where I am with starting this blog today.  But mostly for the moment, I am so happy you've decided to stop by and follow along in this part of the journey with me!!
Mini Home Tour
So today I've decided to introduce you to our humble abode via a mini home tour. My style is what I coin as Transitional Modern, having clean lines but still having a coziness to it that keeps things comfortable AND beautiful. Transitional Modern to me means that it's not all the way modern but not traditional either…it falls somewhere in between with a curated, custom look made by using eclectic items one loves to be surrounded by in their home. My hope is that you'll be able to pick up on that and take something away for yourself today and every time you visit. So without further ado, here are a few rooms in our home you may already be familiar with but that have undergone some recent updates. I hope you enjoy the tour and please feel free to leave a comment and/or question below…I absolutely would love nothing more than to hear from you today!!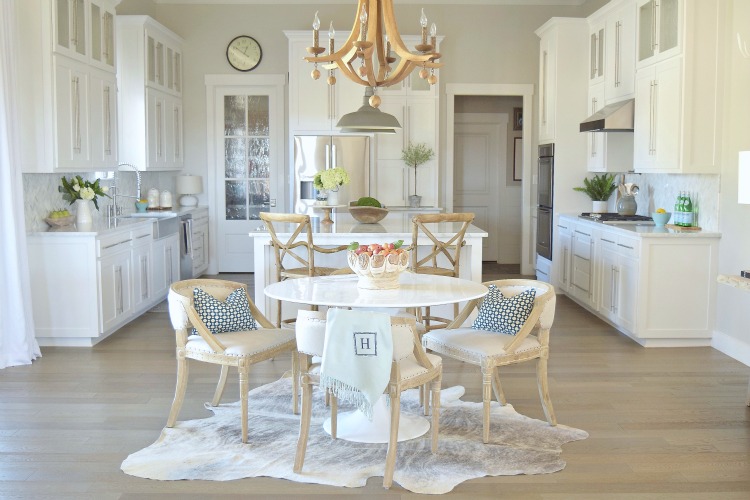 Welcome to our well loved, well used (for many different things) kitchen…I mean there is some serious heart of the home going on in here…can you hear me?! On the surface, the main thing I really had in mind when designing this kitchen was that I wanted it to be light, bright, and airy…even though I live in a dusty, desert town in Texas. My builder literally thought I was nuts but was gracious enough to roll with my desire for an all white kitchen (well, it didn't start out completely all white but I'll talk about that later in a subsequent kitchen post) and boy am I thankful he did!! My top 3 must haves for this kitchen were white shaker style cabinets, white Carrara marble countertops, and a commercial stainless steel faucet. And, there were more but I'll discuss all of the good, bad and ugly (yes, there was ugly!) in a full kitchen post at a later date. We couldn't be happier with the way it turned and absolutely love the way our little heart of the home functions for us to do life in!!  I get lots of questions on Instagram about the source for my table and you can find that here (LexMod Lippa 60″ Wood Top Dining Table in White).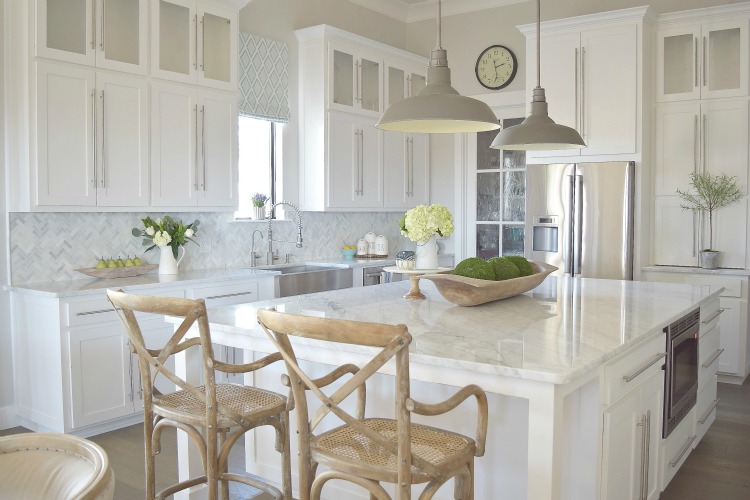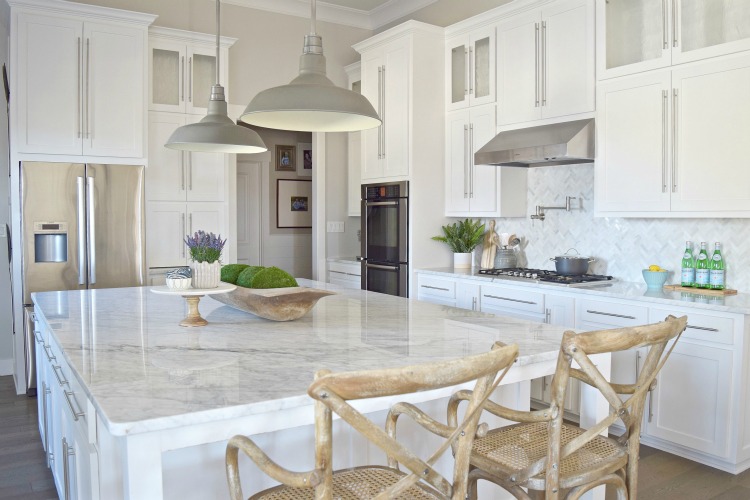 The next room I wanted to share with you is our living room. I haven't even shared these photos on Instagram yet but this space unexpectedly went through a bit of a makeover recently. As some of you may know, my dining room is in the middle of a serious makeover because since we moved into our home I haven't really focused on that room yet and had it filled with pieces from our previous home that didn't quite fit in size or style for this home. That said, a few of the key pieces I had planned for the dinning room reno ended up in here because they just made this space look and feel so much prettier and cozier than before. The hubs and I both agreed they needed to stay, hence the unexpected changes in this space which were the custom curtains and mirror over the fireplace. Another major change (that was planned) is the couch and modern wingback chair. I won't go into a ton of detail here because again, I'll talk about this in a more detailed post later but we just really needed a sectional in this space to make it work and flow better for our lifestyle (let's just say there were some big design lessons learned here!). We previously had a standard size couch and two chairs in place of where the sectional is now and I can't even tell you how good it feels to have finally put a period at the end of this living room design sentence (with of course the exception of the occasional bookshelf, coffee table, pillow, and throw restyling to keep things fresh….lol!)!!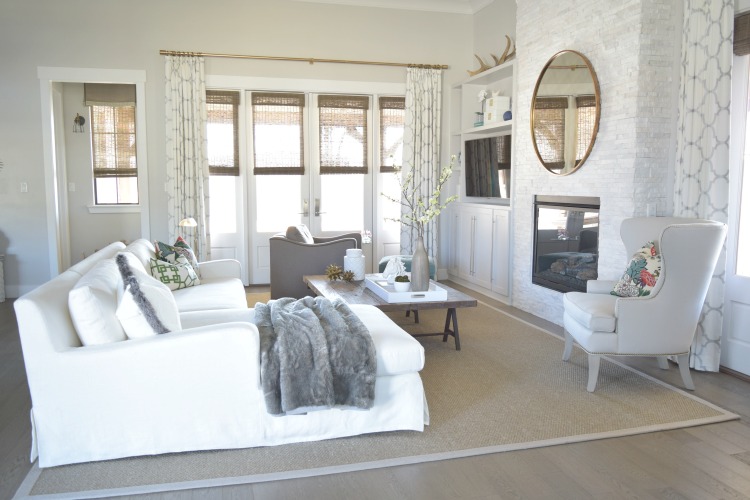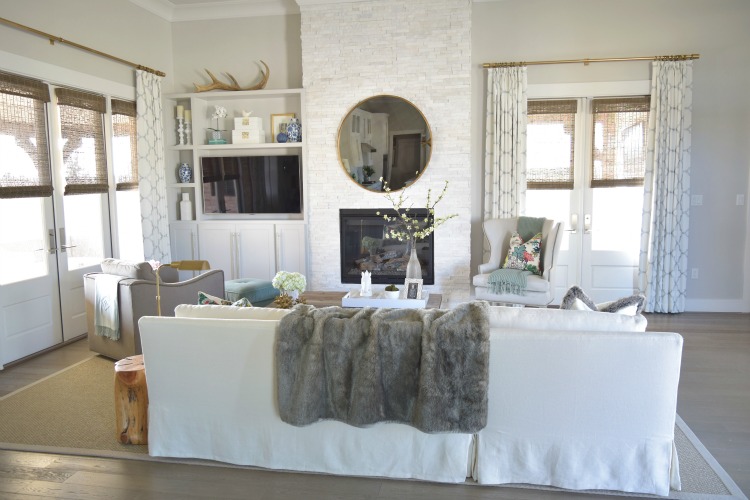 The 3rd space I wanted to share with you for this mini tour is our guest room. I wanted this space to feel like a chic yet cozy B&B!! I also mainly wanted to do that through my use of fabric and this fabulous navy wall color. I started crushing on navy about a year and a half ago and knew I had to use it in this space as an accent wall! The most rewarding part about this room is that when we have guests over they always say how cozy and inviting it feels, which means I've accomplished my mission in here and we all know how good that feels, right?! And again, in a more detailed post about this space I'll go through step by step how I pulled this room together using fabric, furniture, accessories, lighting, and a little paint color called Gentleman's Gray by Benjamin Moore that I've completely fallen head over heals for.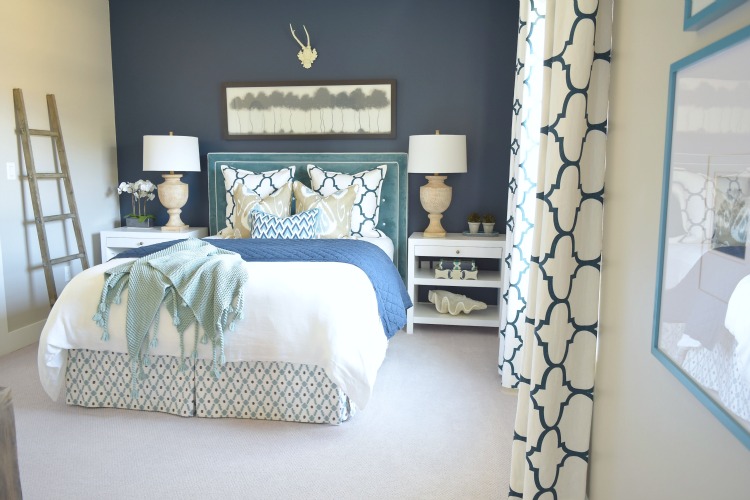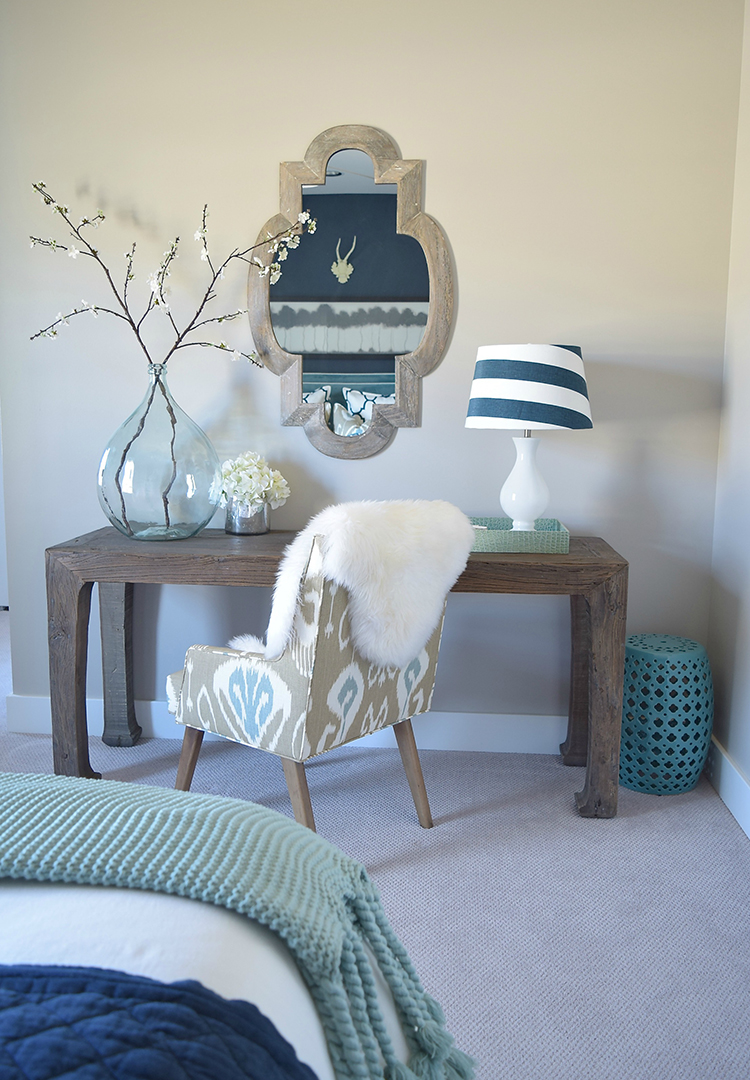 The fourth and final room I wanted to share with you for the tour is the master suite (or some people like to call it the owner's suite now a days). I wanted this room to feel like a peaceful retreat for us to head to at night. With that in mind, I used muted colors that aren't distracting and that envelope you into a restful sleep leaving you feeling fresh and ready to go the next morning. The feature wall behind the bed even just has a subtle pattern to it that ties into the bedding and other textiles in the space. The master bath is a continuation of the same design and color choices and one space easily flows into the other, as it should. On another more detailed post about this space I'll share resources and give much more detail about the fabrics I used, bedding, and furniture and how I made this room be all that I wanted it to be (and saved a ton of money in the process). I'll also share how I made a brand new bench into something completely different than how it arrived at my doorstep from the retailer through having a little vision and a big love for fabric.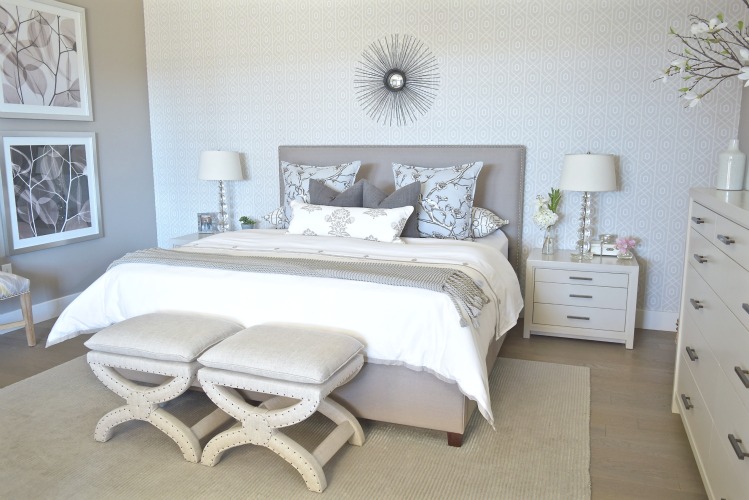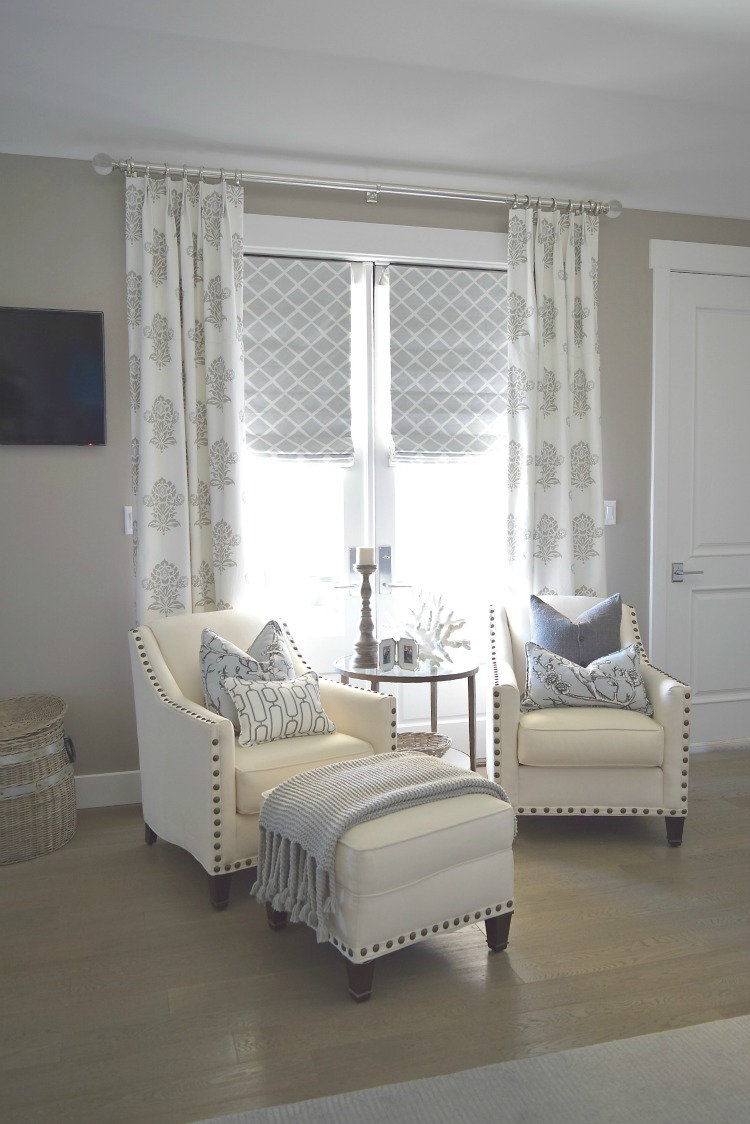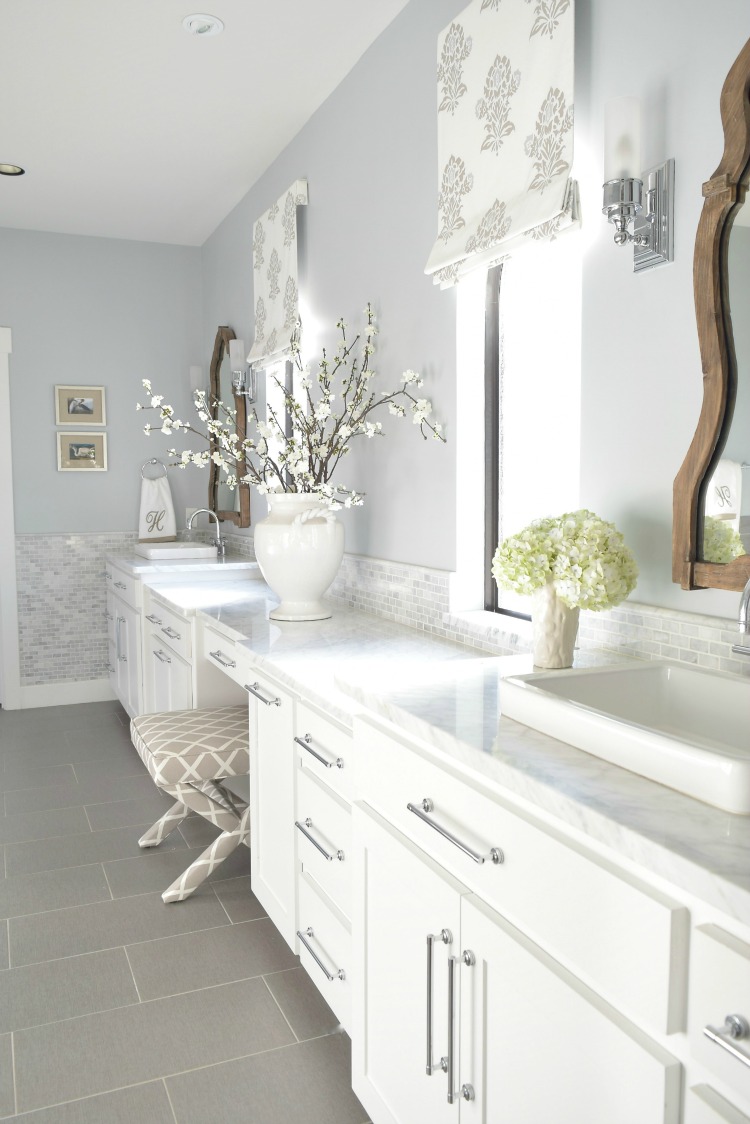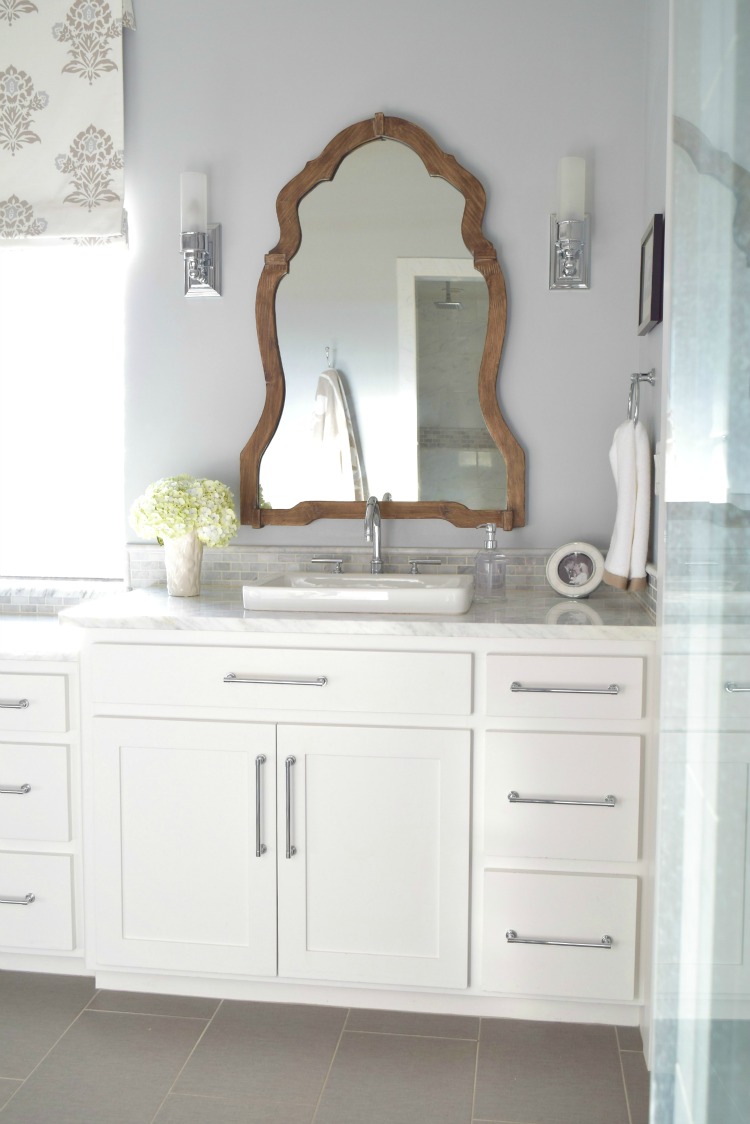 Well, that's it for today, folks! I truly hope you've enjoyed the tour and that you'll come back to see the individual room posts where I'll break these rooms down step by step for you with details and resources. And again, please leave a comment below to let me know what you are thinking and especially if you have any questions as I'm always happy to share!! Thanks again for stopping by on my first post and I certainly look forward to having you back!!