Living Room Transformation (and a lesson in patience)
To all of my friends out there that have at some point in the past just learned of an impending move and your first thought was designing and decorating your new home,  I think this post on my living room transformation will really resonate with you!  A little over 3 years ago my husband accepted new employment across the country and the only thing that went through my mind at the time (besides getting our family safely and comfortably resettled) was furniture, paint, fixtures, appliances, etc., etc., etc. and I'm sure a lot of you probably know exactly the feeling I'm talking about!  You see, I had been eyeing a particular sofa & pair of chairs for months, if not years actually (because I had been very dissatisfied with our current sofa at the time) so when I learned of our move, these items were the first things I purchased for our new home in TX and stupidly did this before construction of our new home was complete (and boy was that a big mistake!).  I'll spare you all of the boring details in between but needless to say and although I loved this couch and chairs that I had so carefully chosen and needlessly obsessed over, the house didn't love them.  Our home in TX is not the modern home I had envisioned in my mind and these furniture pieces that I had dreamed of for so long just weren't a good fit for the house.  So, after almost 2 years of living with them, I recently decided it was time to say goodbye.  Thank goodness I'm super good at selling things on Craig's List and hosting garage sales so I was able to find these items a new home and put that money toward our new sectional that I almost certainly knew was in my future.
1st, here are 3 photos of the way our living room was before it underwent it's transformation.  Please excuse the terrible iPhone photos but that was all I used at the time to take photos for Instagram (on a side note, this room is extremely hard to photograph because 2 sides are open to other areas of the home and the two sides that do have walls are basically nothing but doors w/ large windows).  Keep in mind when viewing these that the lesson I learned from having this furniture configuration was that this room REALLY needed a sectional and, if I had just taken my time and lived in the space a bit before I made a decision about what furniture to put in here, I think know I would have made much better choices for this space!  Not that you can't buy furniture in advance of moving into a home but sometimes I'm finding that it's best to live in the house for a while (when possible) for the house to tell you what it needs vs. you telling it what it wants, make sense?
The sofa was actually really nice but too small for us and the comfort level just wasn't there either for lounging and piling up on the couch to watch a movie with family like we all like to do.  It would be a great sofa for a smaller space where sofa depth was a concern but not in this particular space.  I even drug in my fiddle leaf fig that lives in the dining room for this 1st picture to give the room a better look/feel (lol, but that still didn't work).  I honestly shutter to even share these photos because this space as it was is so not me anymore but in order for you to see the transformation, you have to see the before shots;).
This 1st photo is from behind the sofa looking into the living room.  When I look at this photo now I also have to laugh at how much my taste has changed in just two short years (anyone else know the feeling?).  I see all of the strong pops of color and think oh my!  What in the world was I thinking at the time?!  I realize that I have gravitated a bit to a more neutral palette with just subtle color pops here and there which I think works out so much better when you are ready for a color scheme change all together in your space!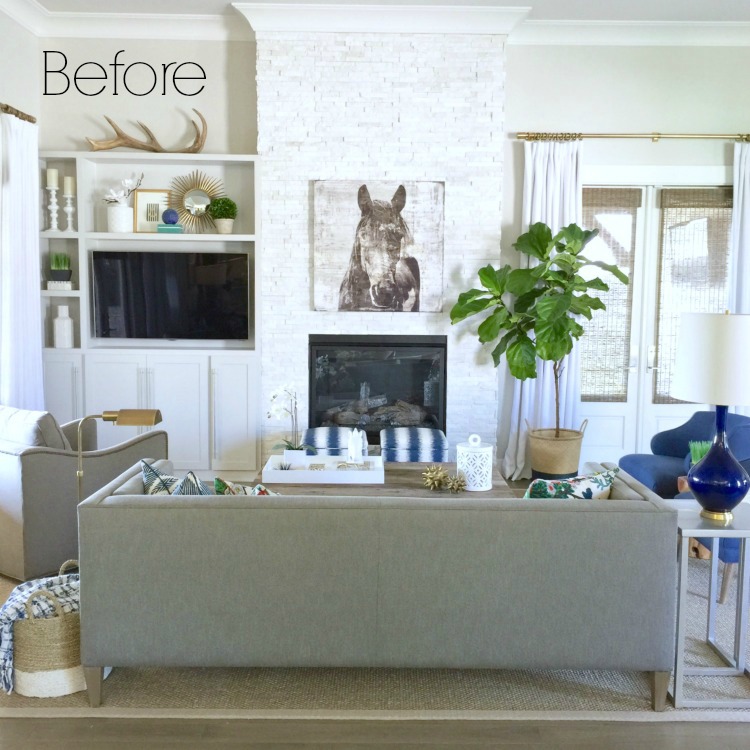 This view below is from behind the chairs.  I'm just trying to keep it real here so I'll tell you that I even threw these sheep skin rugs over the chairs to mask them a bit because they had just completely worn our their welcome with me…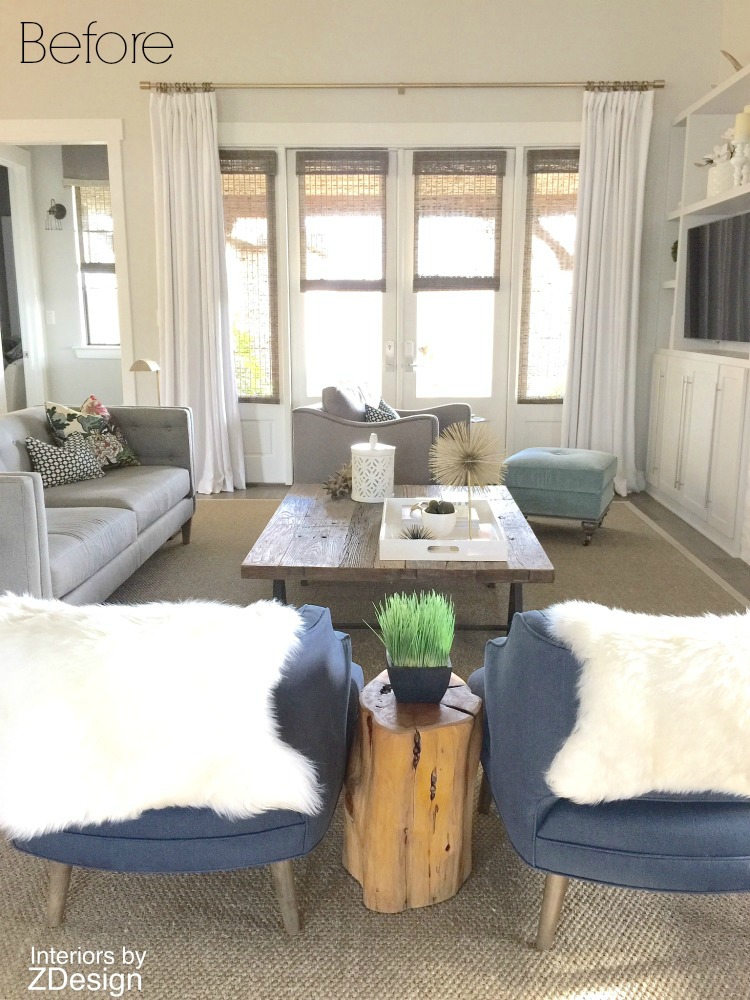 Another point I need to make here is that even if we did use these chairs, the proximity to the TV just wasn't good enough for comfortable TV viewing.  The TV pulls out and around but then it's uncomfortable for other people in the room to see it, hence another reason this space needed a large sectional.  That said, the chairs were gorgeous and actually very comfortable to lounge in.  I ordered them with a gold and cream geometric pattern (sorry, no photo of that) to start but had them recovered last year to this solid, navy linen which looked great but of course the upholstery change still didn't solve our configuration issues to make this room more aesthetically pleasing and functional.  And, like any good designer should, I even did a furniture schematic of this space before purchasing anything and it worked on paper but sadly didn't work in real life. Lastly, this next photo was taken when I (so desperate to make this furniture configuration work) drug in one of my favorite end tables from the master bedroom but it ended up being too large for the space, plus I missed having it in my bedroom, seen here…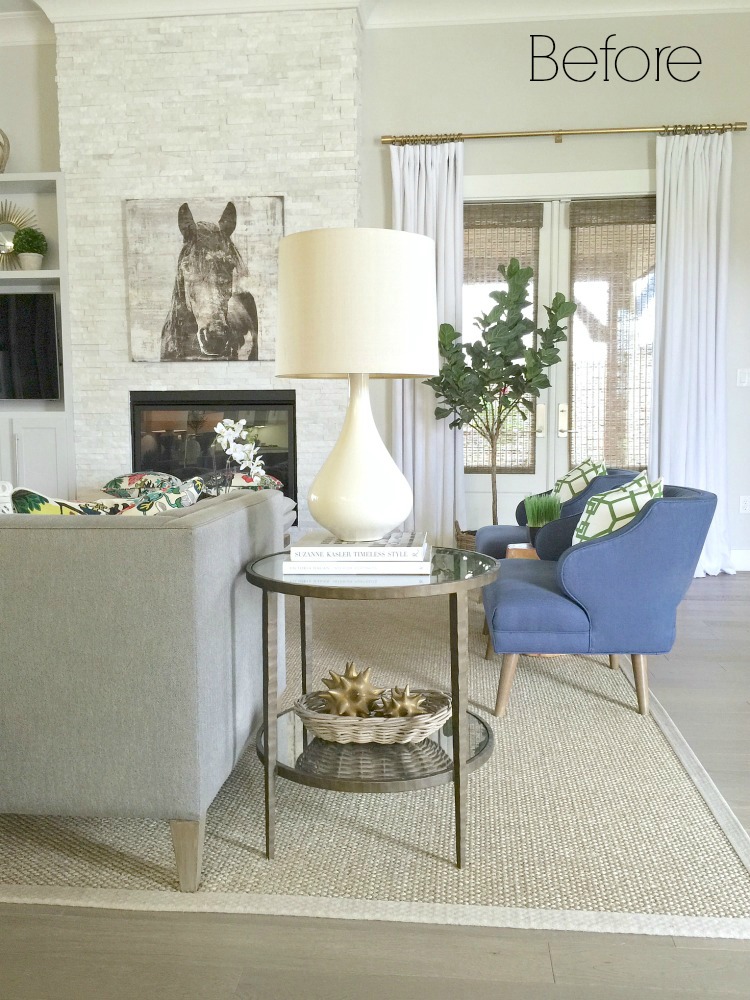 So, without putting you through more of seeing this space the way it was, here is our transformed living room below.  Besides the couch and chairs, some other changes were the custom draperies and the mirror over the fireplace.  I talked about this in a previous post (here) but the custom drapes and round gold mirror (my absolute favorite new accessory in the room) were purchased for my current dining room reno but ended up in here once they arrived.  My husband and I found that they both made this space look and feel so much cozier and I'm completely thrilled to finally feel like this space is finished!  Of course there will be the on going changes of pillows, throws, and accessories  but it feels amazing to have completed this room that we spend so much of life in!!  I hope you enjoy seeing it just as much as we have enjoyed using it over the past few weeks but first, here is a photo with one of the old blue chairs and before the new wing back arrived…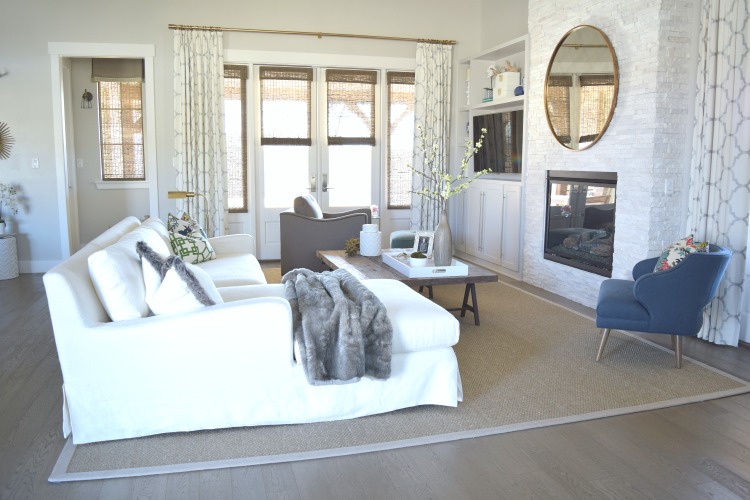 Here it is once the new modern wing back arrived completing this space to a perfect T for me!  The room now has balance and flow, is cozy and inviting and, functions for TV watching, reading, and snuggling on the couch:))…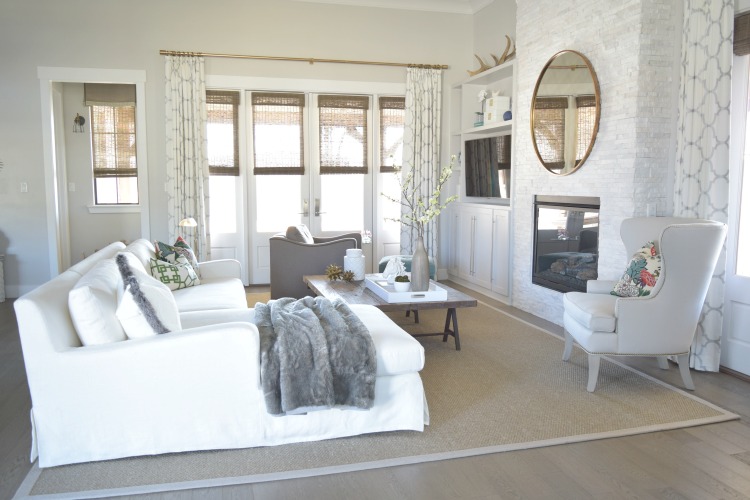 I hope you can see already how much of a difference the chaise sectional makes in this space.  This sofa over all is longer with the chaise piece on it which excludes the need for chairs that rarely got used anyway.  And, to top it all off, this couch is constantly calling my name and actually makes me want to sit down and relax which is really hard for me because I would just rather be doing something more productive!  It's deeper as well which means you can curl your legs up and not feel cramped plus, our whole family can fit comfortably on it to watch a movie together.  I would definitely have to say here that my design mission was accomplished and this couch will be with us for many years to come.  This also just goes to show the importance of having a furniture plan in your space that not only looks good, but that functions properly for you and/or your family…unfortunately in this case we had to live with the house for a while to figure that out!
Another favorite piece in the space is this new wing back chair.  Honestly, it's a little more traditional than my usual taste but, it was just the right height, width, and I was able to send the company my own fabric which was a deal sealer for me so that I could get exactly what I wanted.  It's gorgeous and I couldn't be happier with it!  It also filled the need of having something in this corner by the fireplace to give the room balance, which is super important in any space.  I'll do a subsequent post soon to dish more on this piece along with resources and chair comparisons…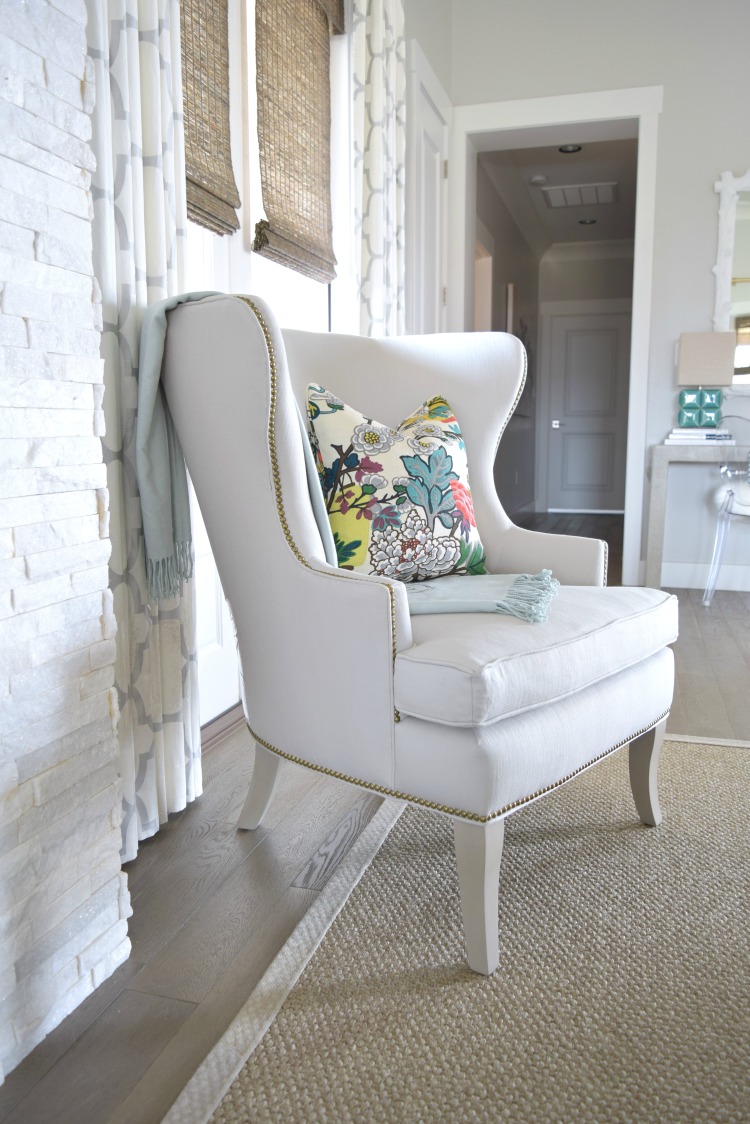 Next is the new view from the living room back into the kitchen (it's basically a bowling alley, friends;)…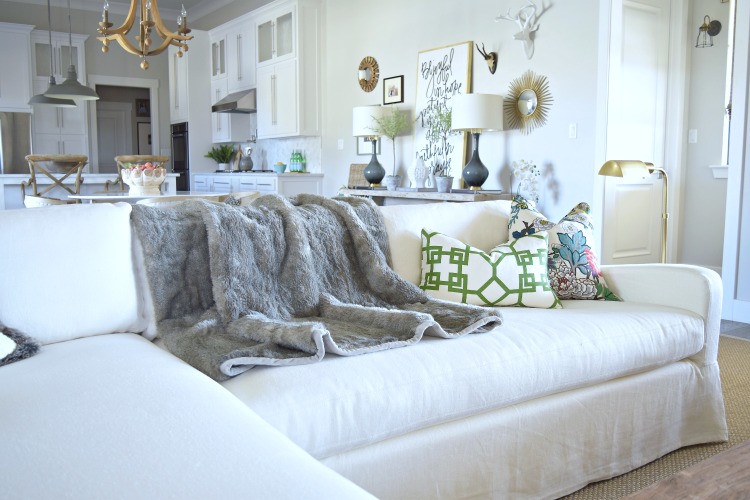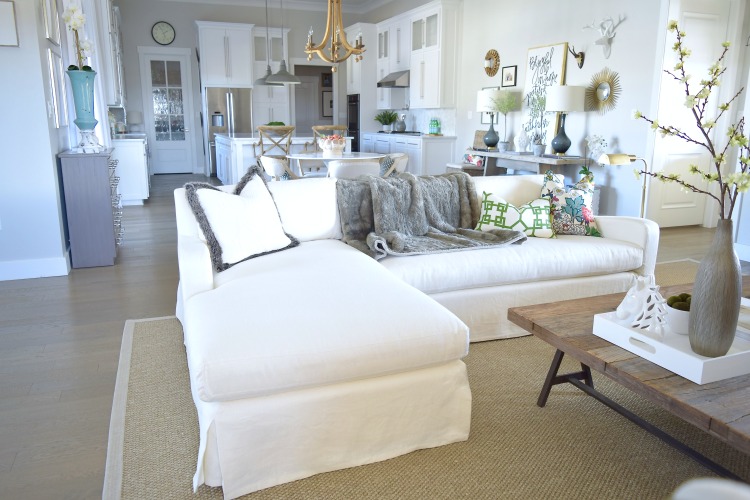 Next I wanted to take you over to the TV area.  My builder was planning to leave the space to the left of the fireplace open thinking that the home owner would want to put a piece of furniture here but, having worked in design for the past few years at this point, I knew it would be hard (and probably very expensive) to find just the right piece of furniture for this spot.  I also needed something on this side to balance out the large doors on the other side of the fireplace. So needed less to say, I had him to add some built-ins here which is a good thing to do if you can during the construction process because it will always cost less money in the long run.  I worked with the cabinet maker by sending him a sketch (from 1600 miles away) of exactly what I wanted.  My main issue was that I didn't want the TV over the fireplace because the fireplace is the focal point of this room when you walk in the front door and I didn't want that ruined with a big, ugly TV.  So, I had them build the shelves to where the TV would snuggle perfectly into the shelving unit nestled amongst a few carefully chosen accessories that hopefully steal your attention vs. the TV.  The only regret for my husband is that he wishes the TV space was a bit larger to house a bigger TV and sometimes I tend to agree but, the configuraton and TV size basically works well enough for our purposes.  We do still have cable and electrical outlets over the fireplace should we ever choose to put the TV there and/or if we ever were to move so that the next owner could put their TV there if they so desire.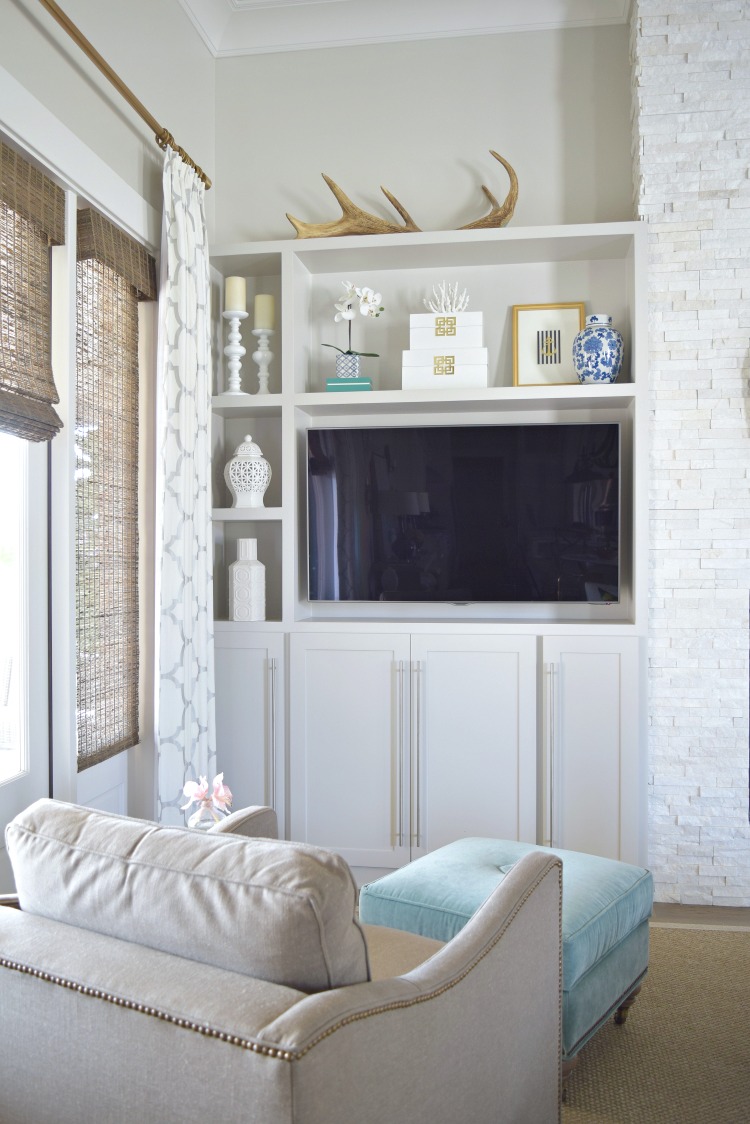 Next, I want to take you over to the entry (sort of) .  You can see the wing back in the reflection of the mirror to give you an idea of where this is in the space.  The furniture and accessories here are all about to go away though and I'll explain why in the next paragraph after this photo.  Also in the photo after this, you'll be able to get more of an idea of the flow of this space from the living room.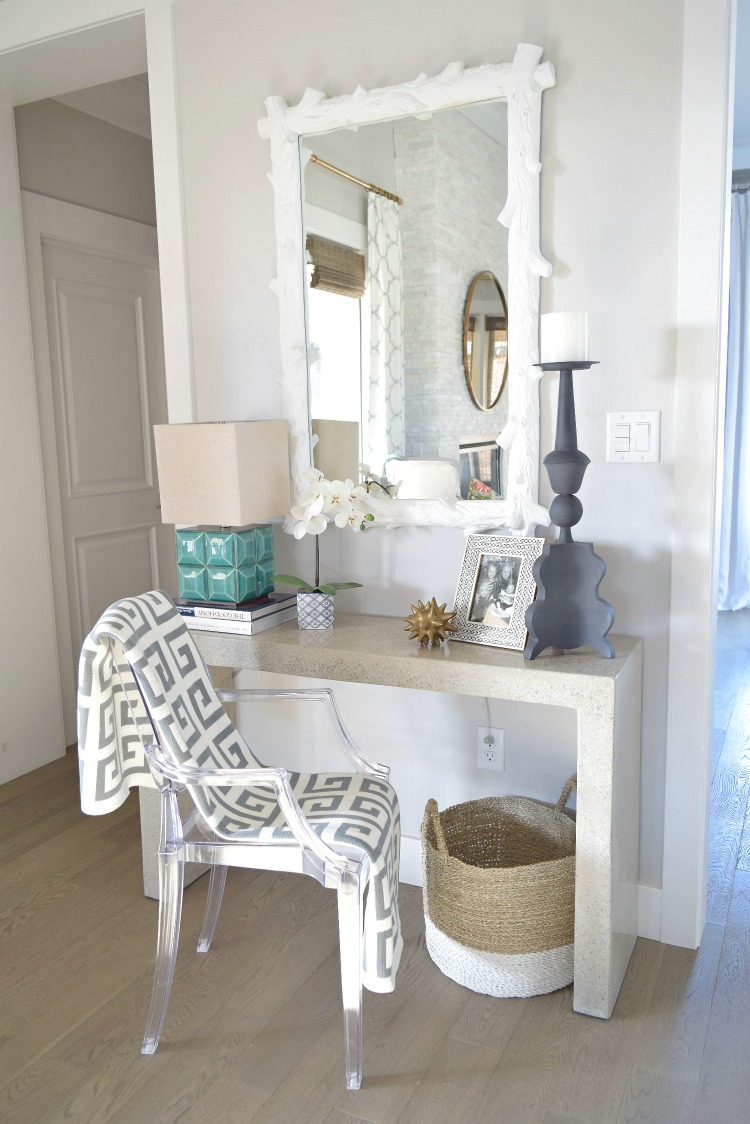 So this is what I'm so super excited to tell you about…I am in the process of working with Artisan Hardware (ArtisanHardware.com) to add some character and function to the space you see on either side of the entrance to my dining room.  They are in the process of making some custom barn doors to perfectly fit this space and they can do the exact same thing for you!  I was able to order my doors from them in the exact size, color (yes! I'm not kidding when I say I got to pick the exact paint color I wanted), and style I needed.  I even got to choose from several different styles of barn door hardware to fit my specific design style.  I'll be sharing more about all of the details of my new doors as the weeks go by from receiving, to installation, to the end result!  Artisan Hardware is an amazing company to work with from their excellent quality workmanship to their customer service (speaking from experience) and I hope you'll go visit them today!  Besides the link above, you can also find them on Instagram @artisanhardware and Facebook by searching Artisan Hardware.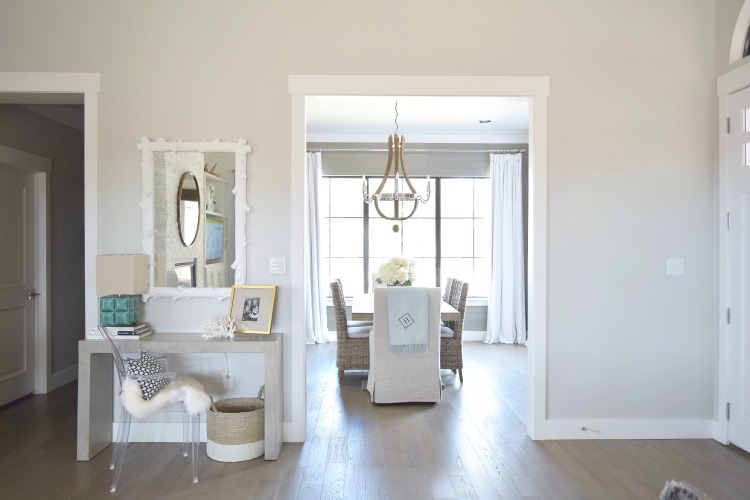 And last but not least, I'll leave you with an updated photo from the very first one I showed you on this post.  Again, this room is hard to photograph because of all of the windows (not that I'm complaining but sometimes since living here I wonder if a house can have too many windows;) but this is what it looks like now from behind the sofa…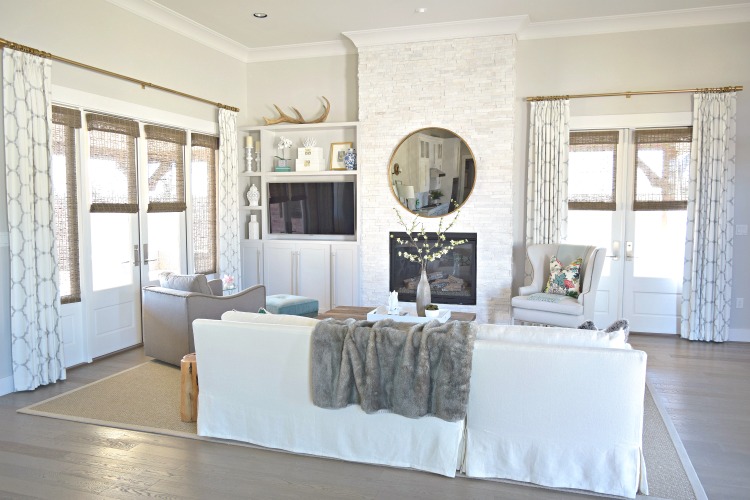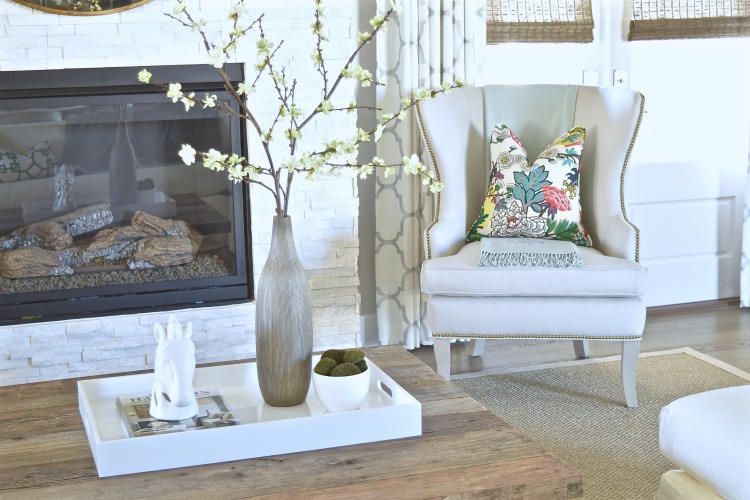 I hope you enjoyed seeing this transformation and seeing how just the right furniture configuration in a space can completely transform it in so many ways.  Since functional design is so important to me, I can actually sleep better at night knowing that this space works for our family now!  Please let me know if you have any questions or comments and as always, thanks for stopping by and please know that I always love hearing from you!
Xoxo, Bree
*To see a comprehensive lift of furnishings and accessories for this space, please go HERE
*Affiliate links used
*Shop This Post
Textiles:

Accessories:

Rugs & Throws

Sheep Skin Rug/throw in Ghost Chair
White Ginger Jar (similar item)
White decorative boxes (similar item)
Faux Orchid Pot (similar item)
White Ceramic Decorative Horse Head
Slipcovered Slope Arm Sofa (similar item)
Slipcovered Slope Arm Chaise Sectional