Styled For The Season Christmas Tour – Neutral Christmas Living & Dining Room
Hi friends and happy holidays!  It's the best time of the year, isn't it?!  I'm so excited today to be joining some of my favorite home and fashion bloggers to bring you our Styled For The Season Christmas Tour.  If you are coming over form my dear friend, Alicia of The Lush List, welcome!  While we've been friends for a while on Instagram, I had the pleasure of getting to meet Alicia recently over coffee and she is a true gem.  We have become fast friends and I just love her home and her aesthetic, not to mention her amazing sense of fashion!
Today I'll be sharing with you my cozy Christmas rental.  If you aren't familiar with our new home building story you can find that here to get caught up.  You can also sign up to follow along with our home building journey and other updates from the blog here.
This post contains affiliate links.  Please read my full disclosure policy here.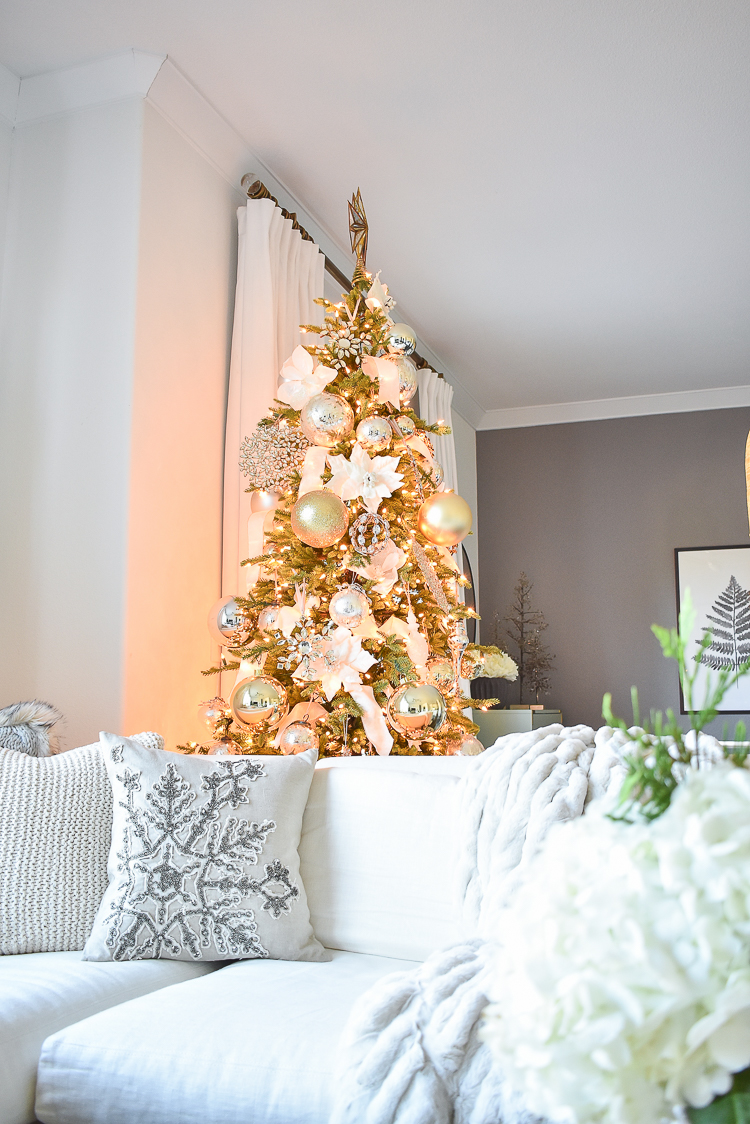 This year my goal was to mostly use what I had by just adding a few new Christmas pillows but, mostly working with what I already had.  No matter the season I always love the challenge of repurposing things to get an all new look!  The look I was going for this year was more neutral, which has had a calming affect on my spaces and I'm loving it!  These pillows have truly brought me so much joy this season…
Christmas Living Room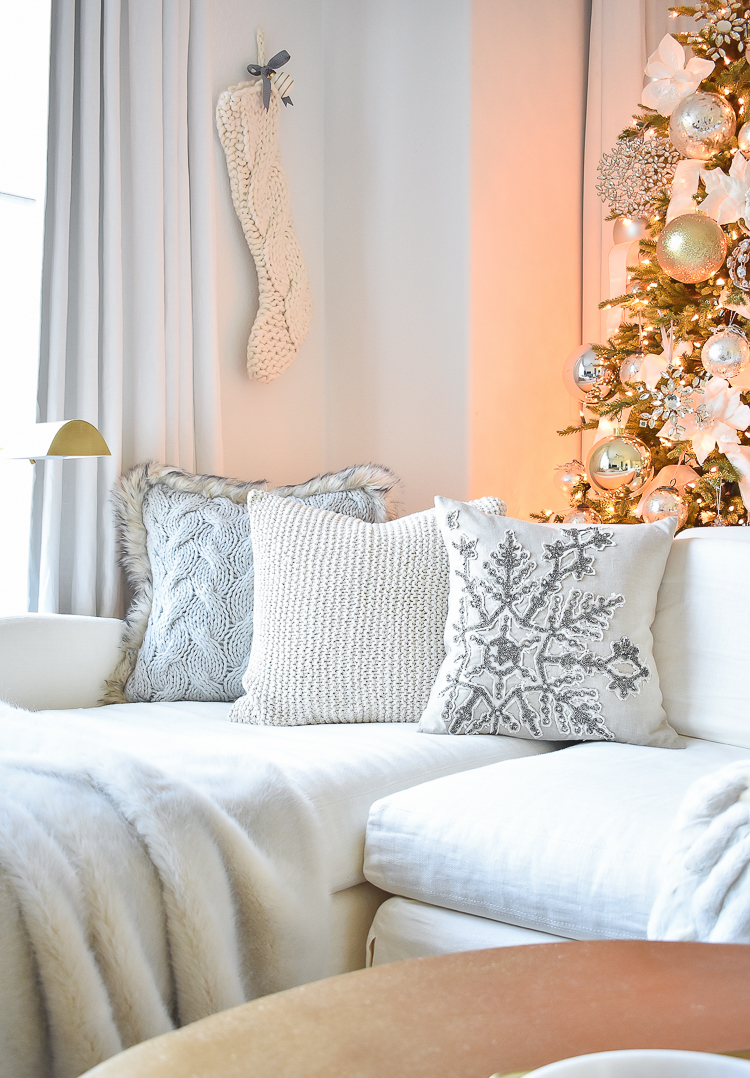 The texture and fur have become the perfect addition.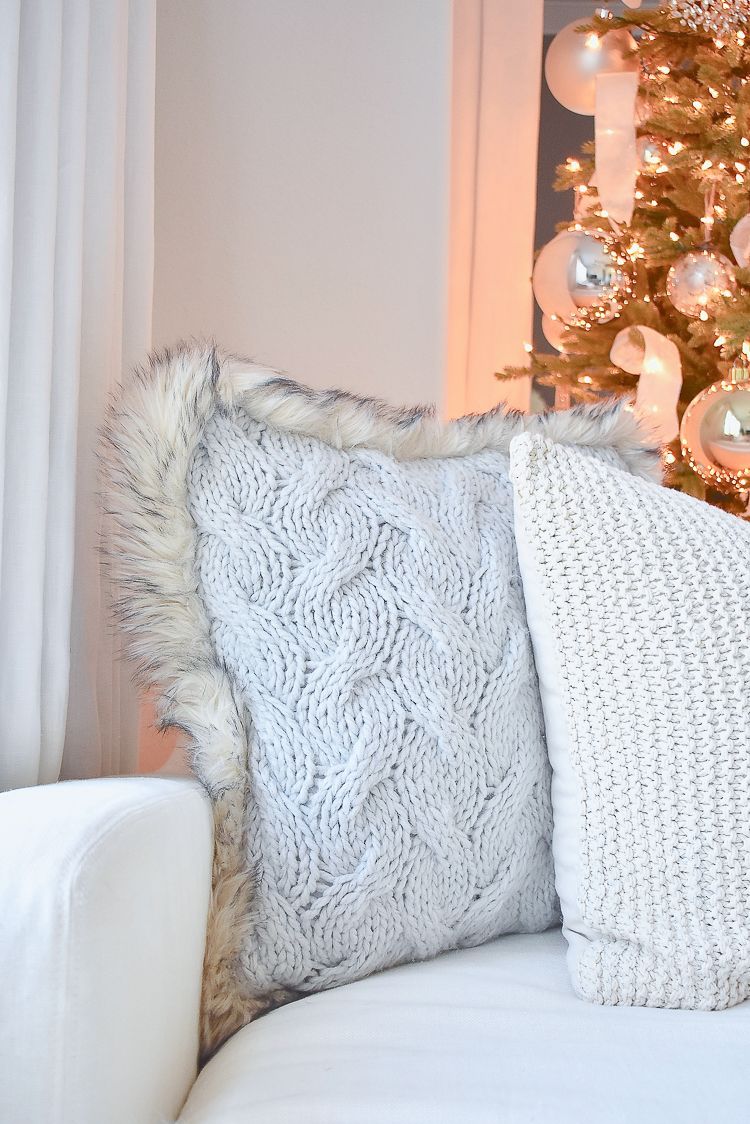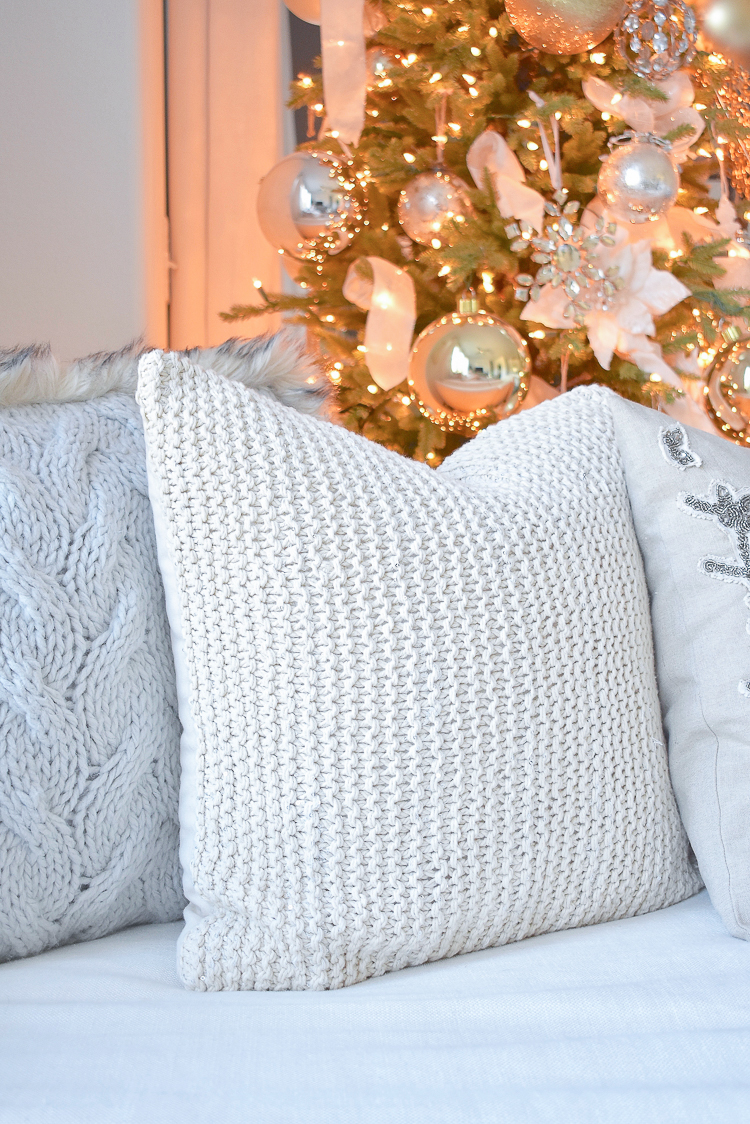 It's been unseasonably cool this season here in Houston so this rushed faux fur throw has been put to good use already.  Oh, the throw was also a new addition this year, along with this great fringe lumbar pillow.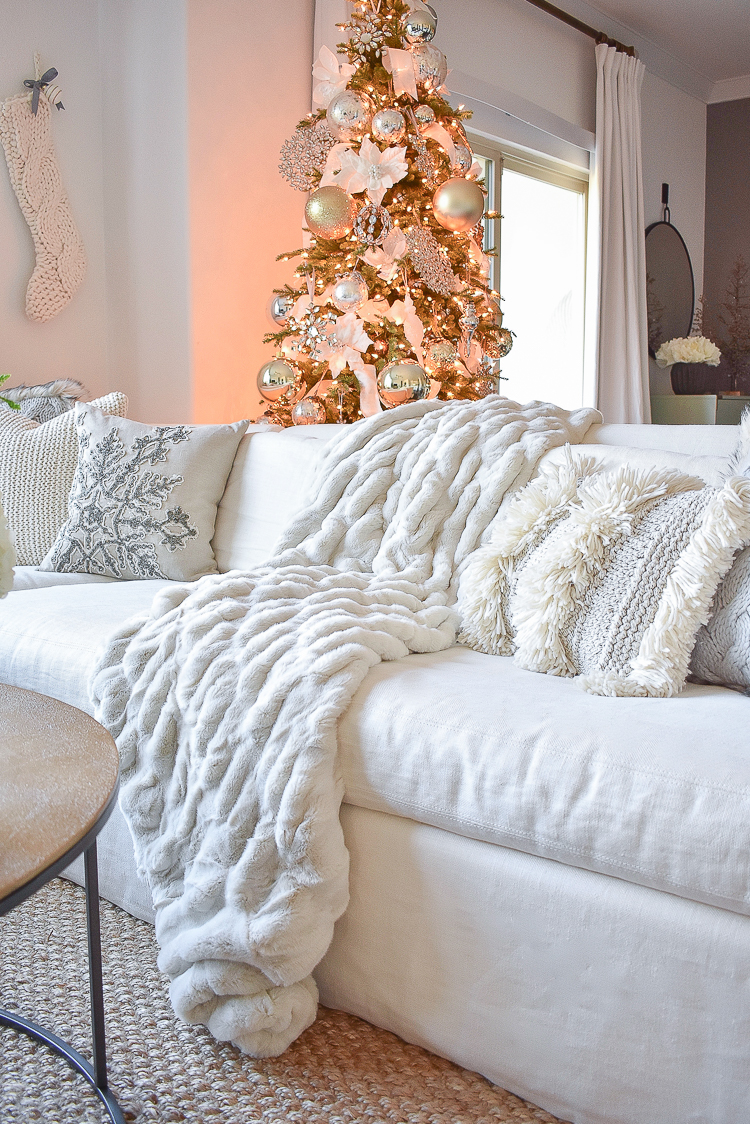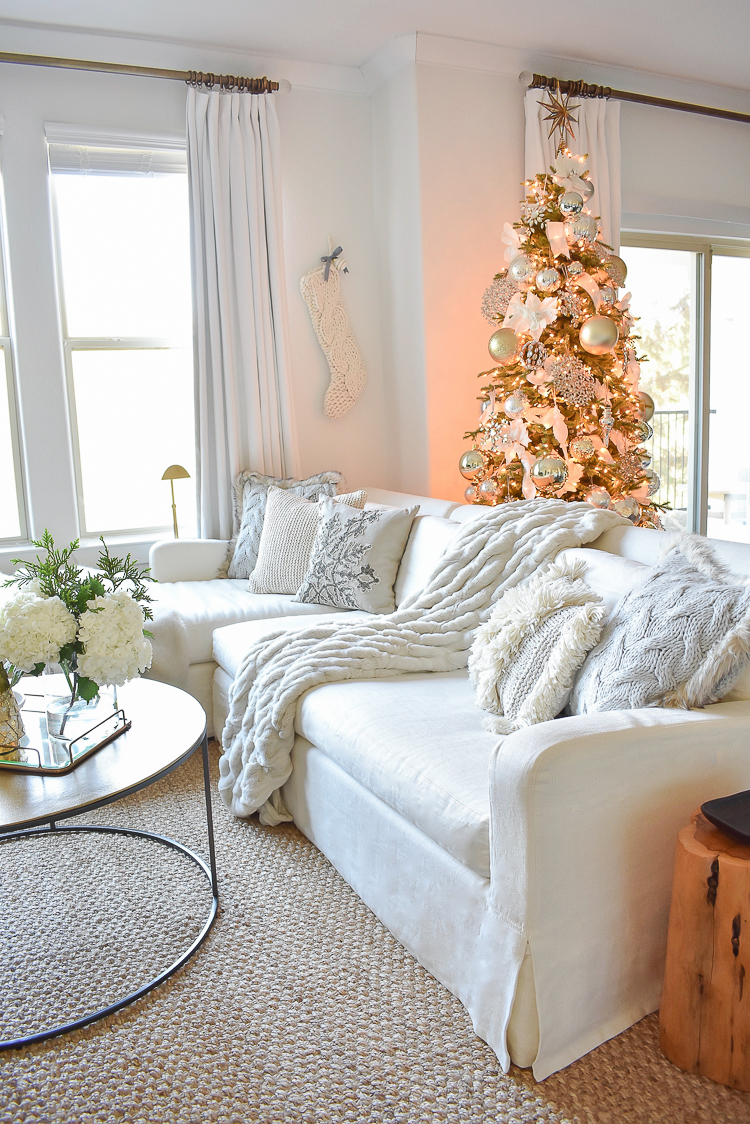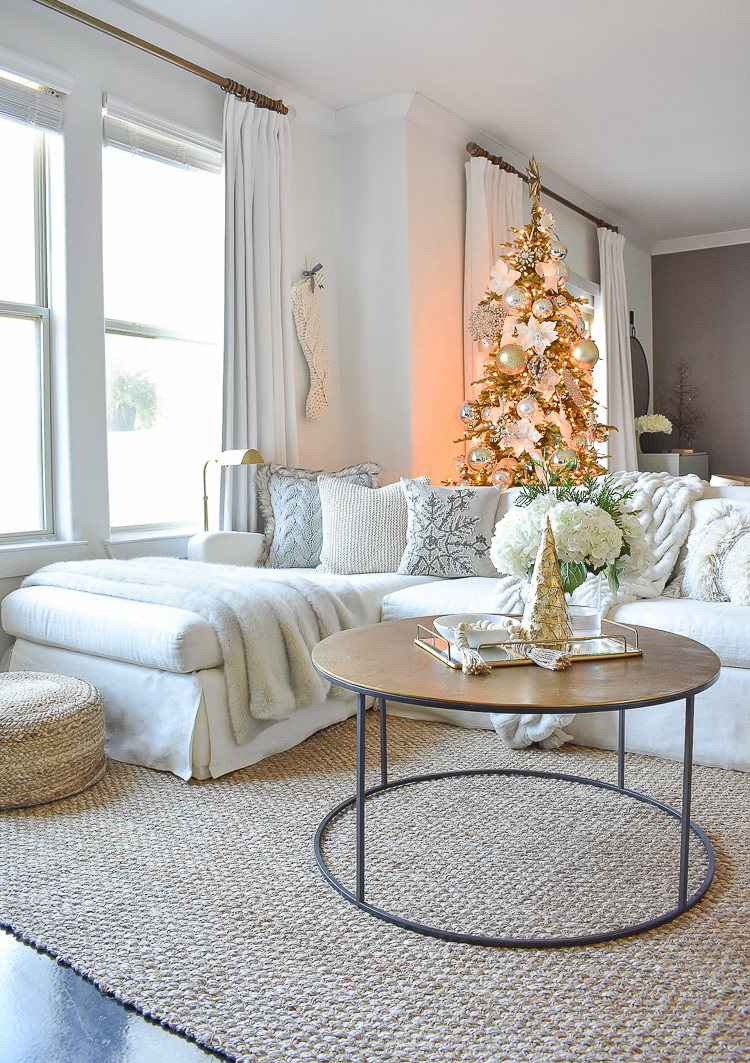 For coffee table Christmas decor I used a simple tray I already had (this one) styled with white hydrangeas and some evergreen clippings, a gold christmas tree (similar), and a beaded tassel strand.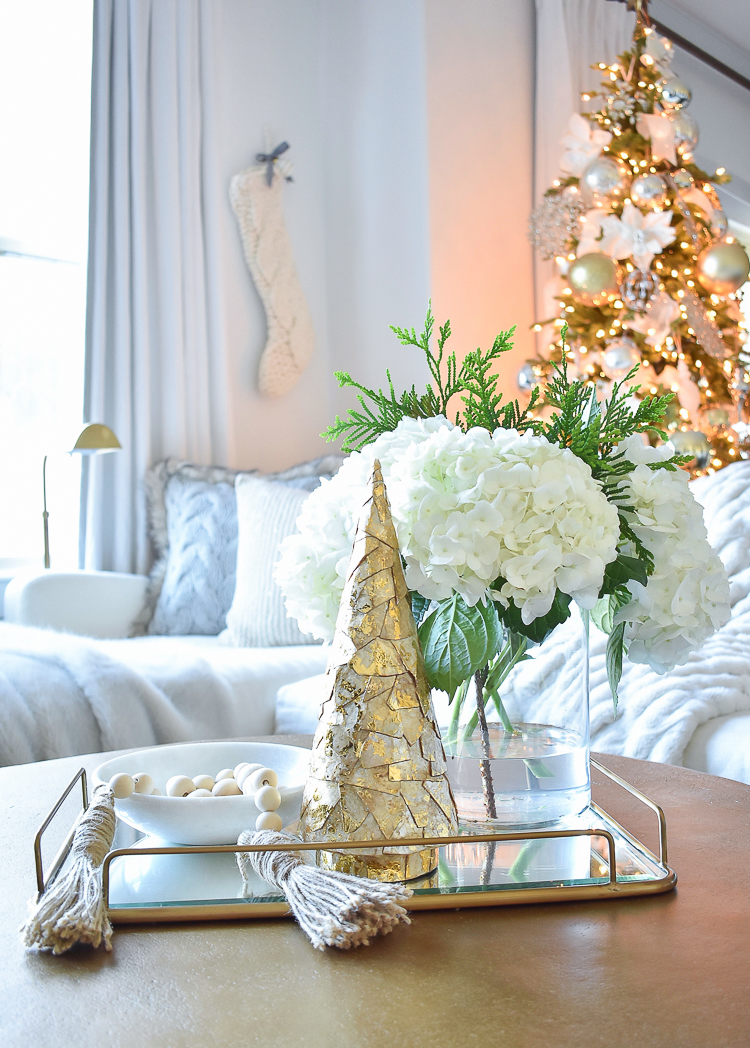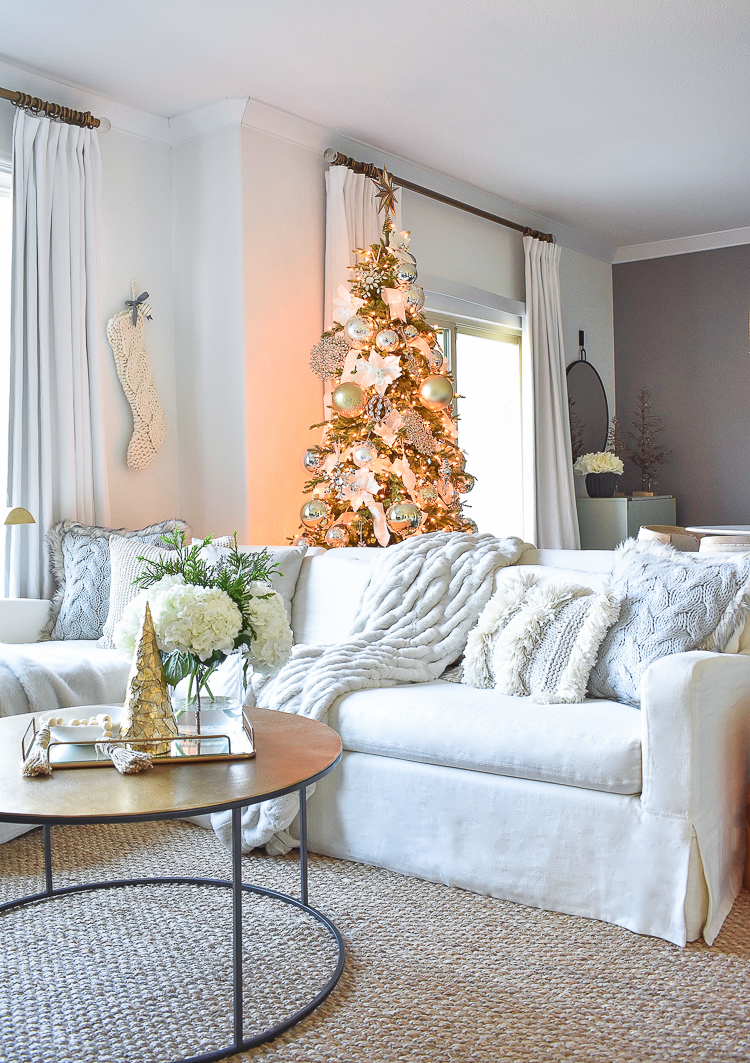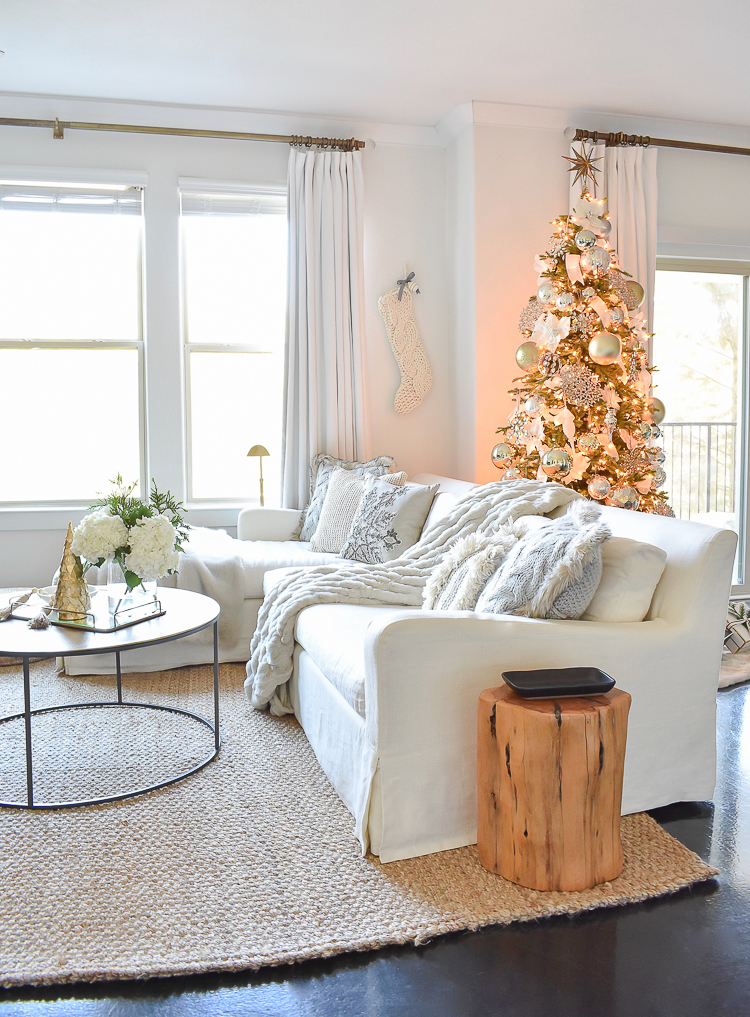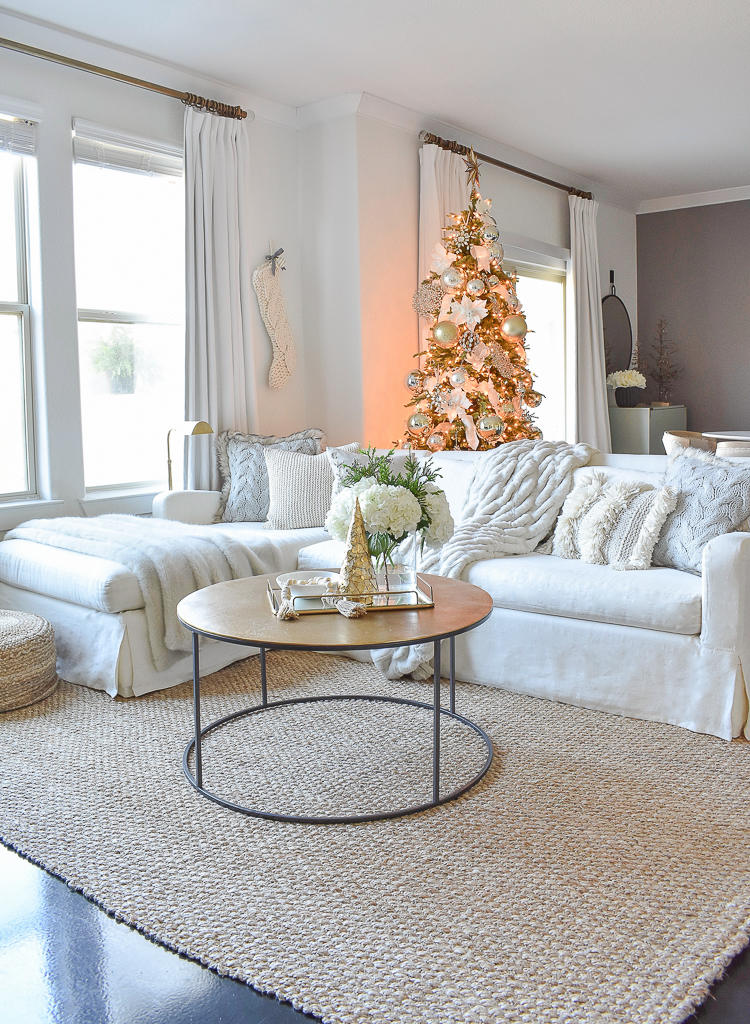 Across the room the media cabinet was styled with garland I already had, glass, wood and metal Christmas trees and my favorite planter (here) with a real tree in it.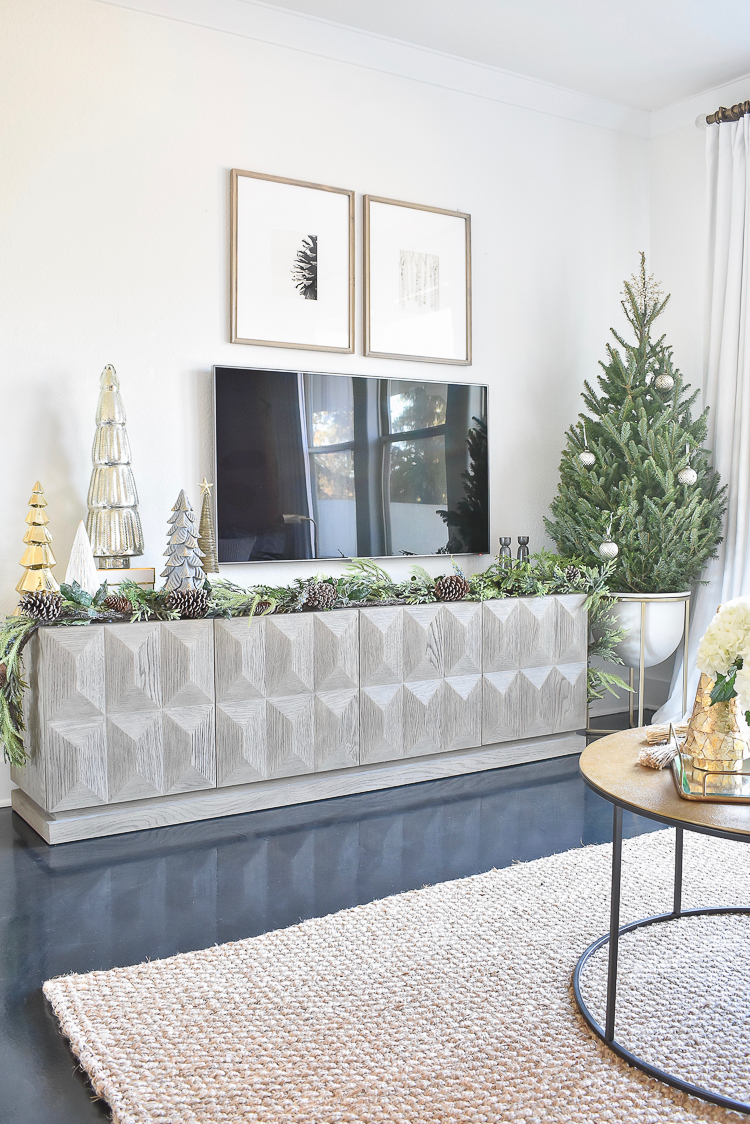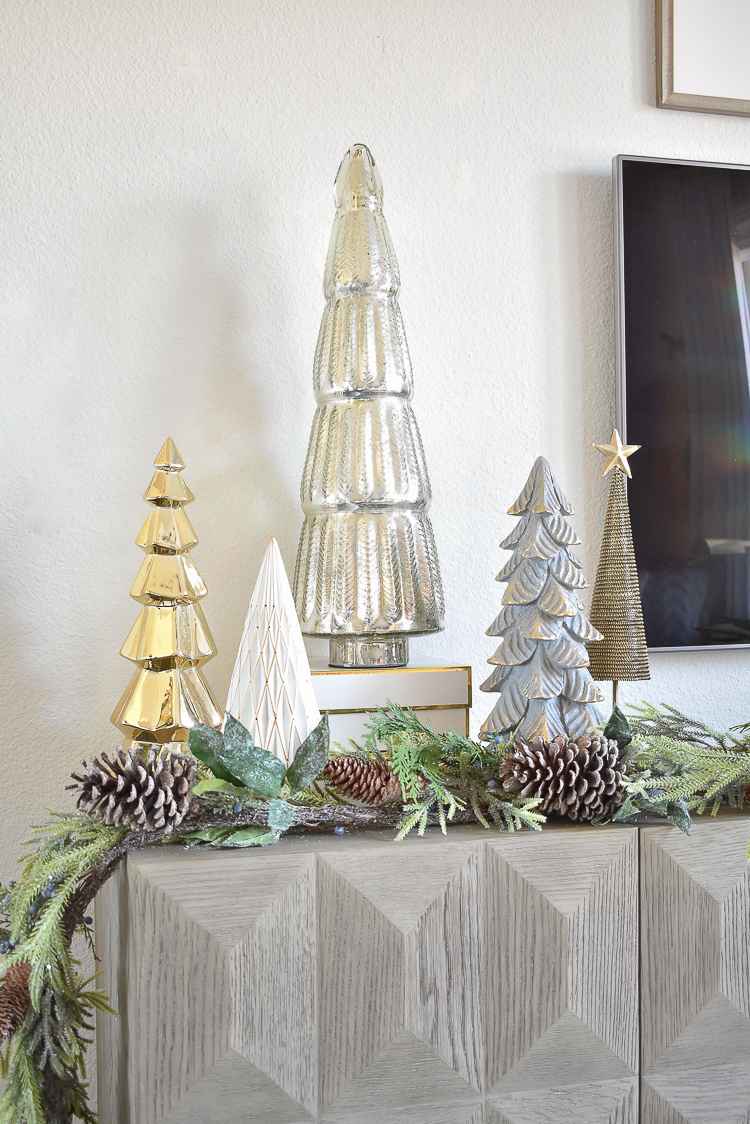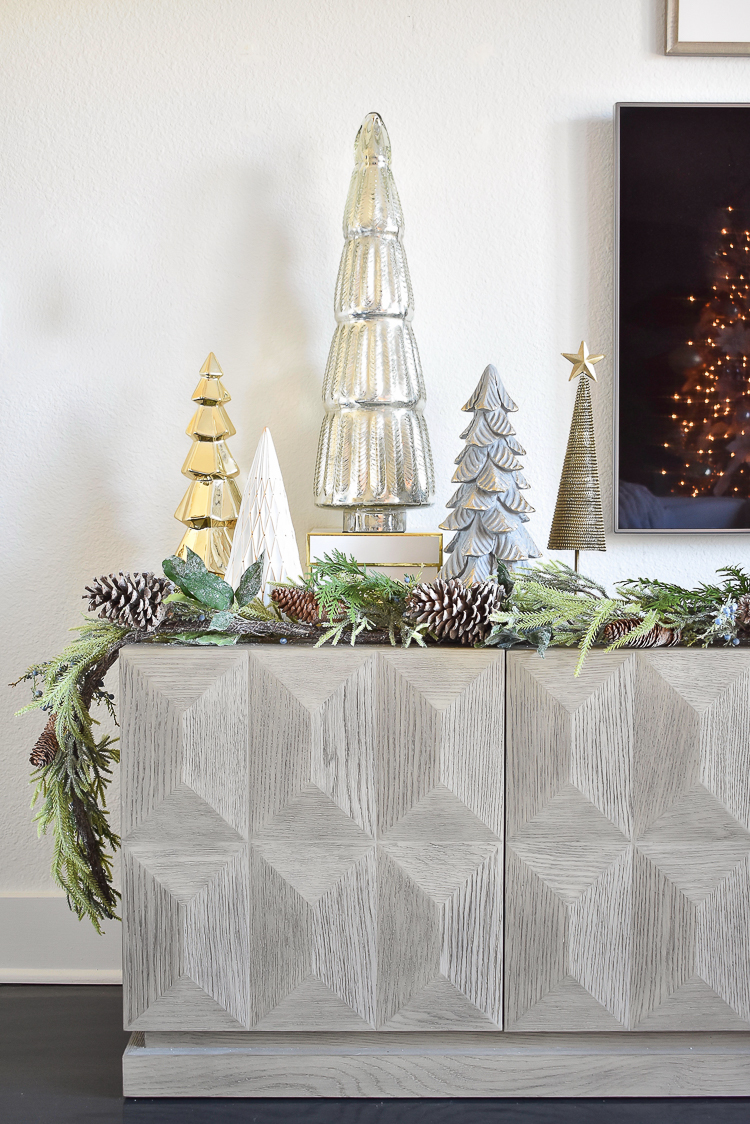 I added just a few ornaments to the real tree this year to mix it up (I left it bare last year) and added this (similar) crystal ornament as a tree topper.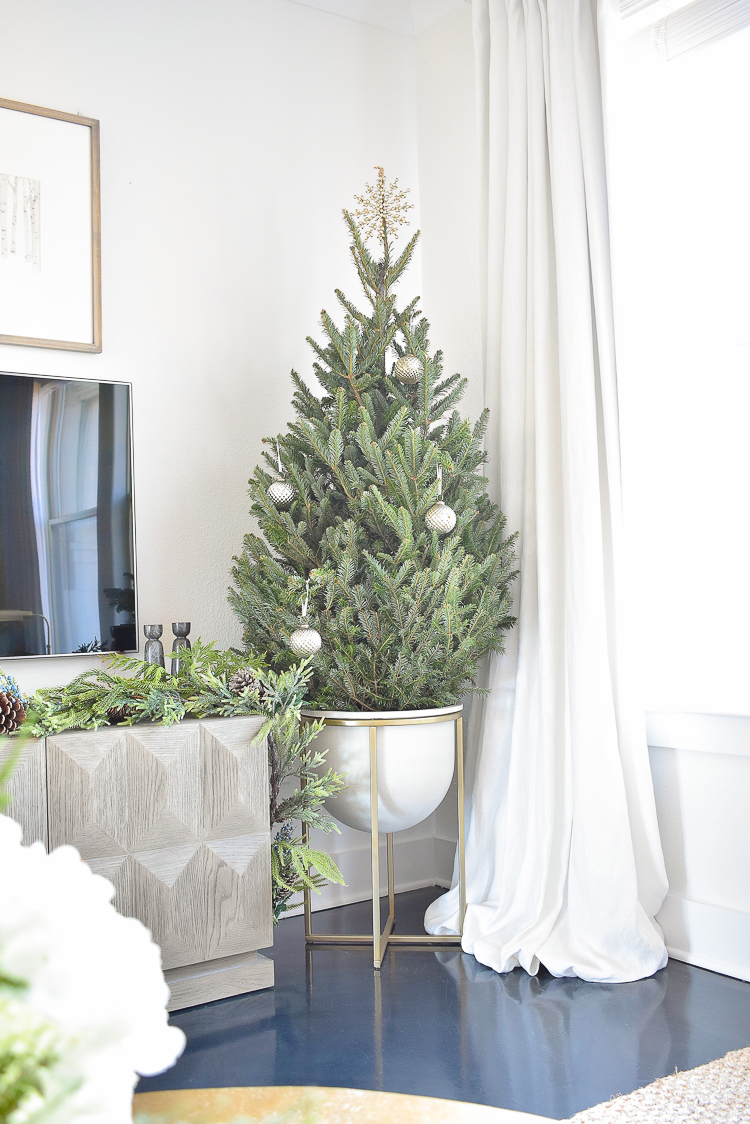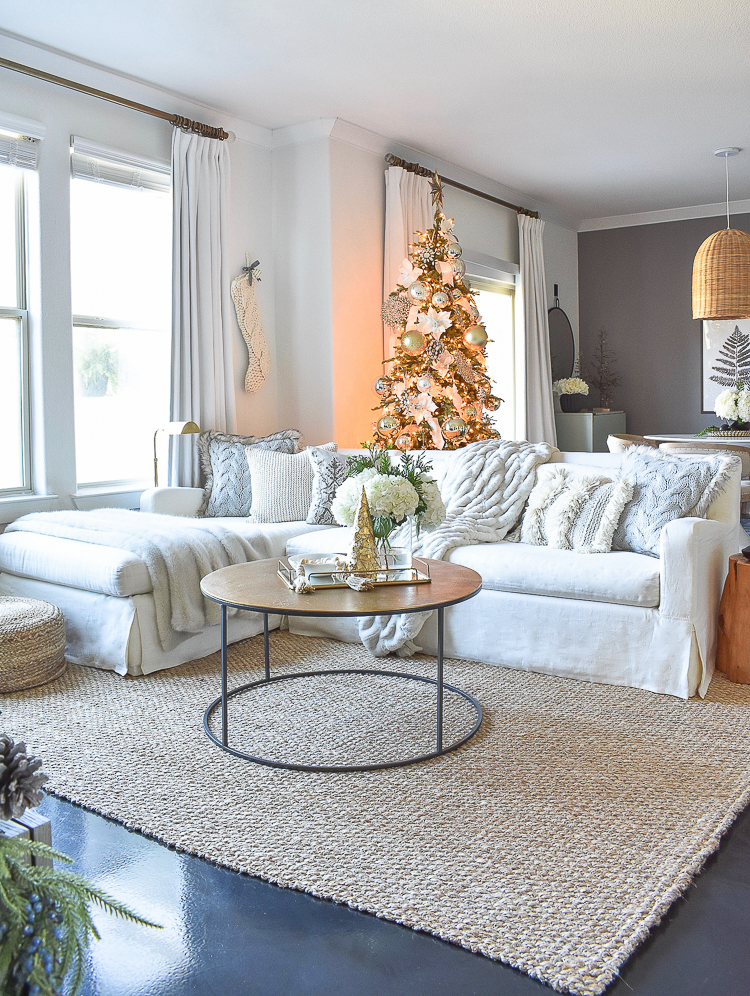 Christmas Dining Room
Moving on to the dining room…I have a couple of fun new additions that aren't necessarily for Christmas but that are part of an over all transformation I'm excited to share soon!  The black and white botanical prints bring a lot of life into the space and work well with the new basket pendant.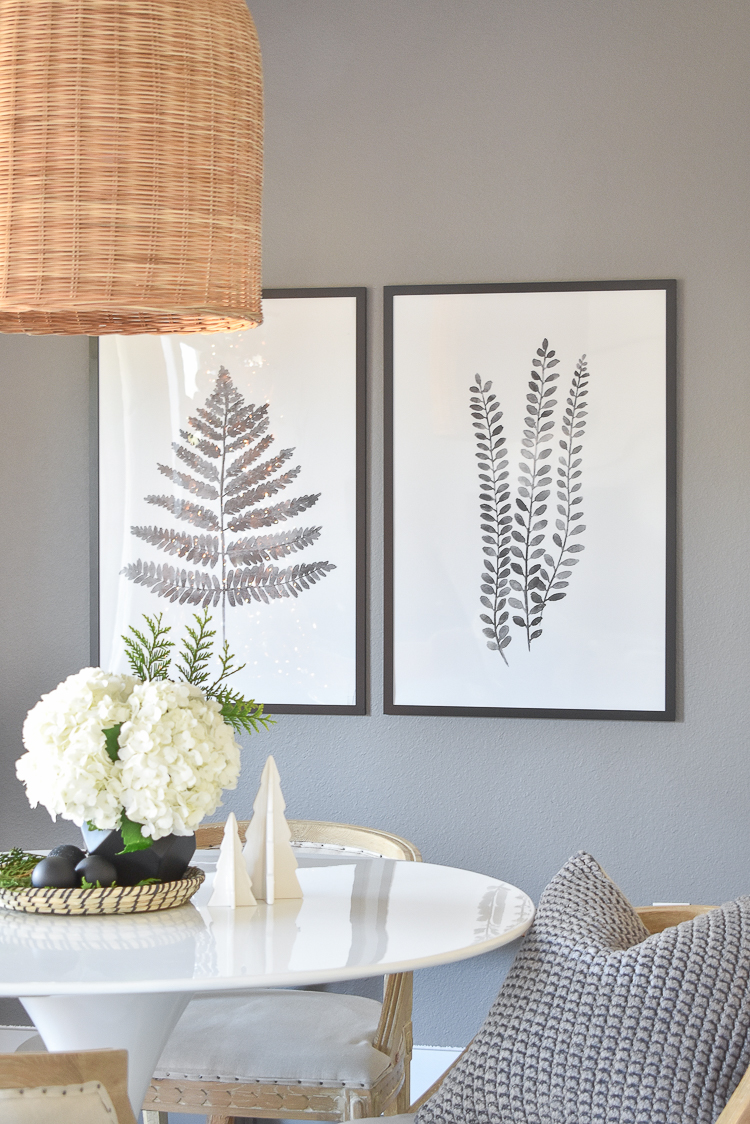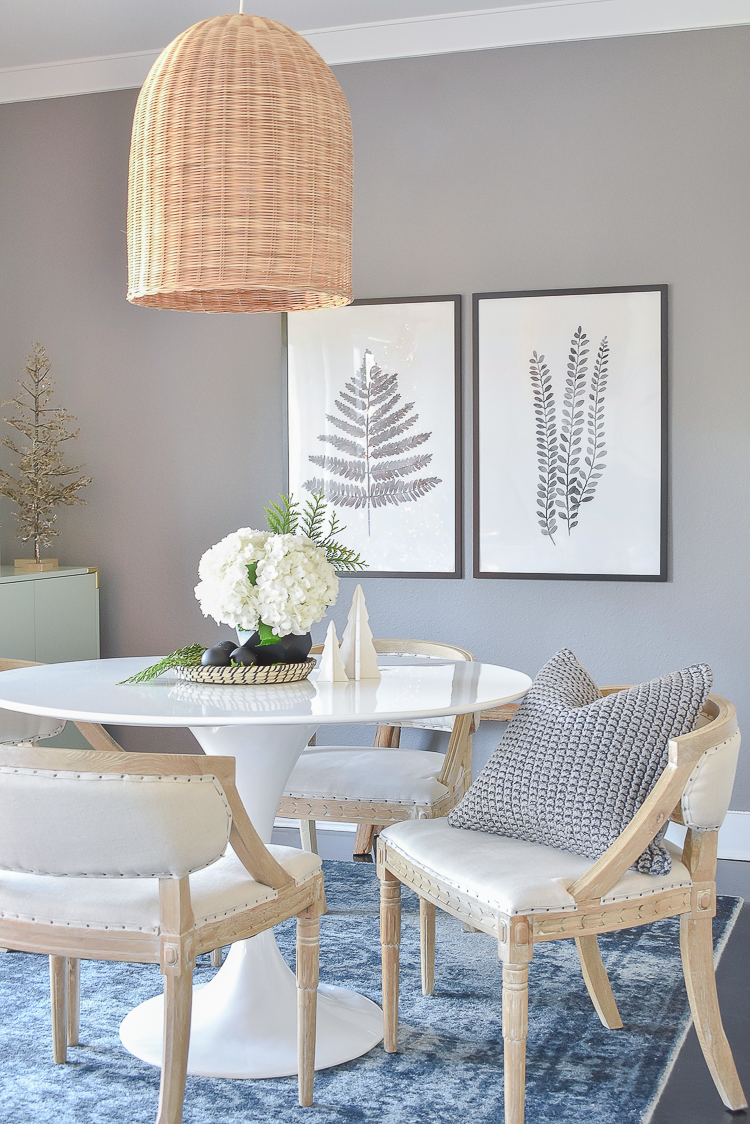 This chunky, gray, textured pillow will get moved about the house as the cooler months go on.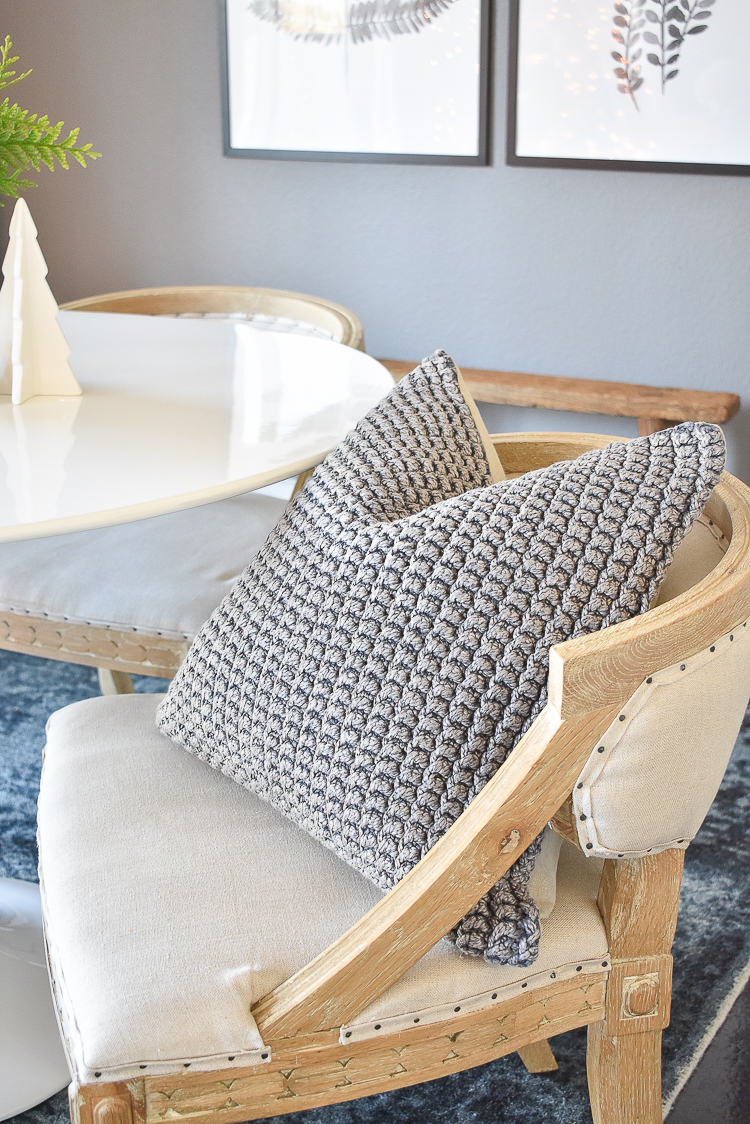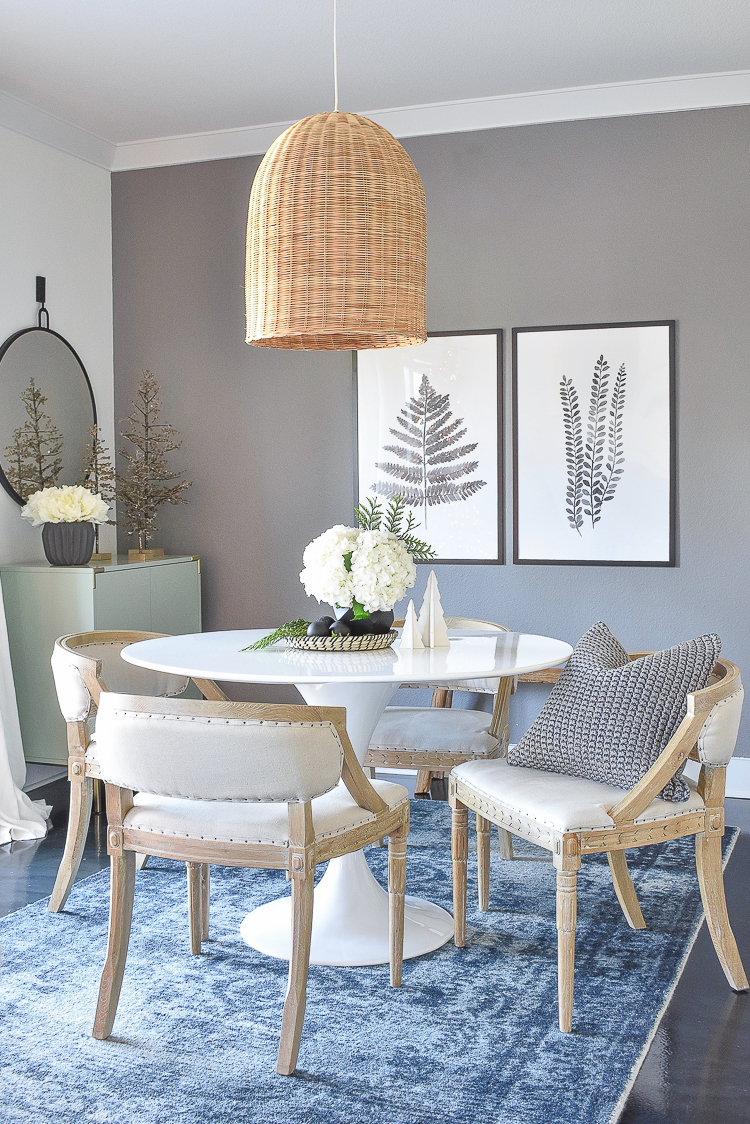 For table decor I'm using this black geometric vase (that you may have seen in my fall tour here) along with a few black ornaments and some darling, modern white ceramic trees.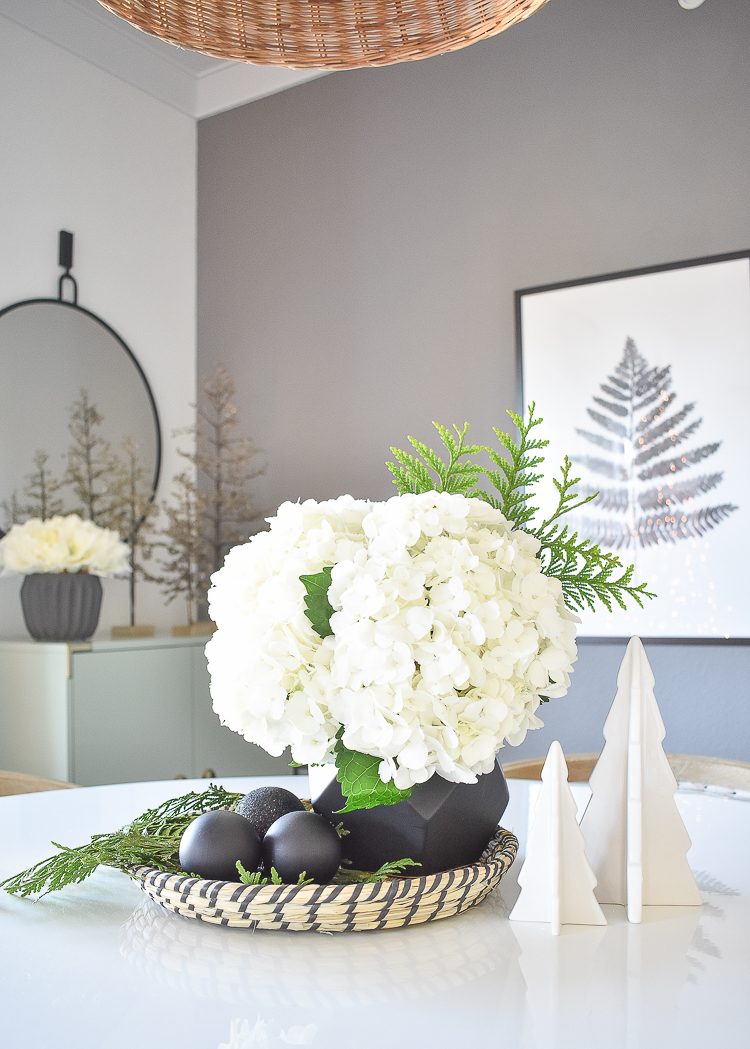 In this favorite corner I used my crystal faceted trees that I just adore to add a pop of shine!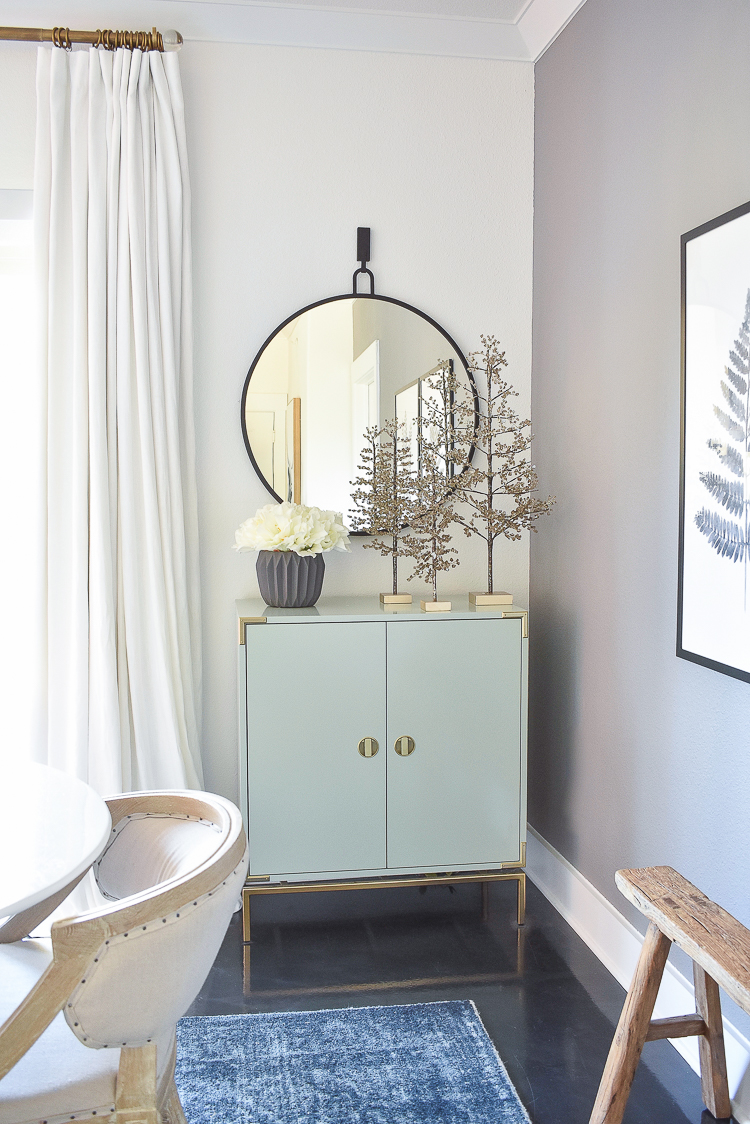 I just love these trees and they make a great gift too!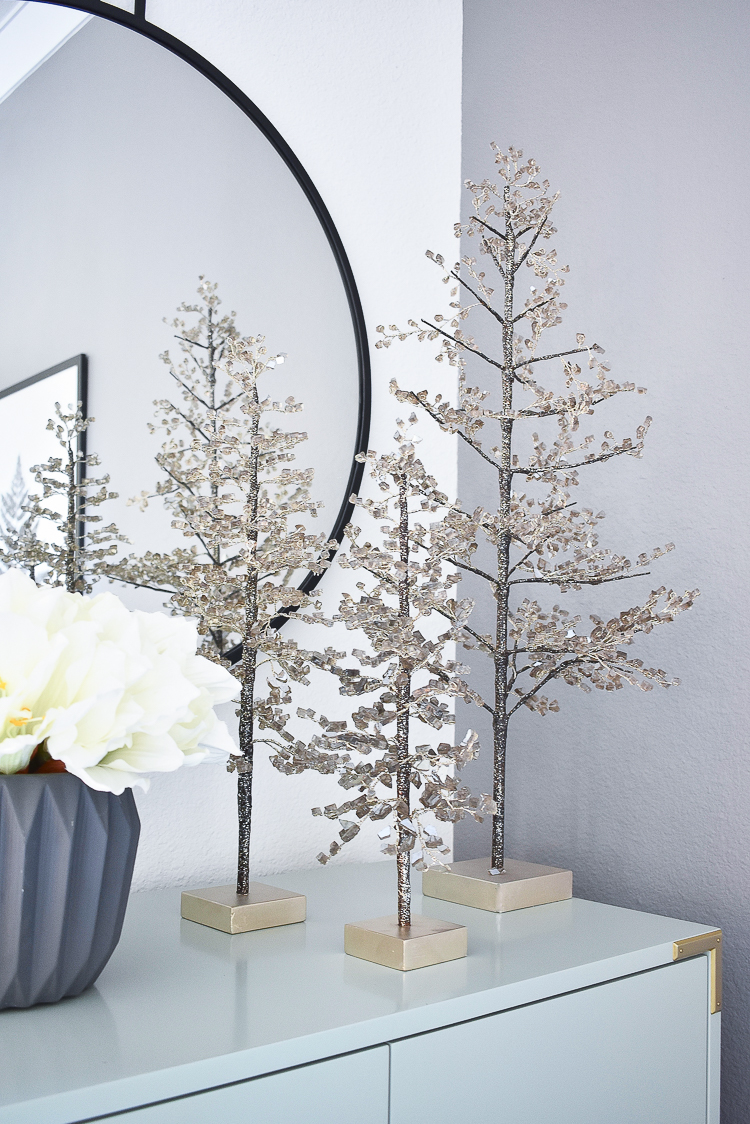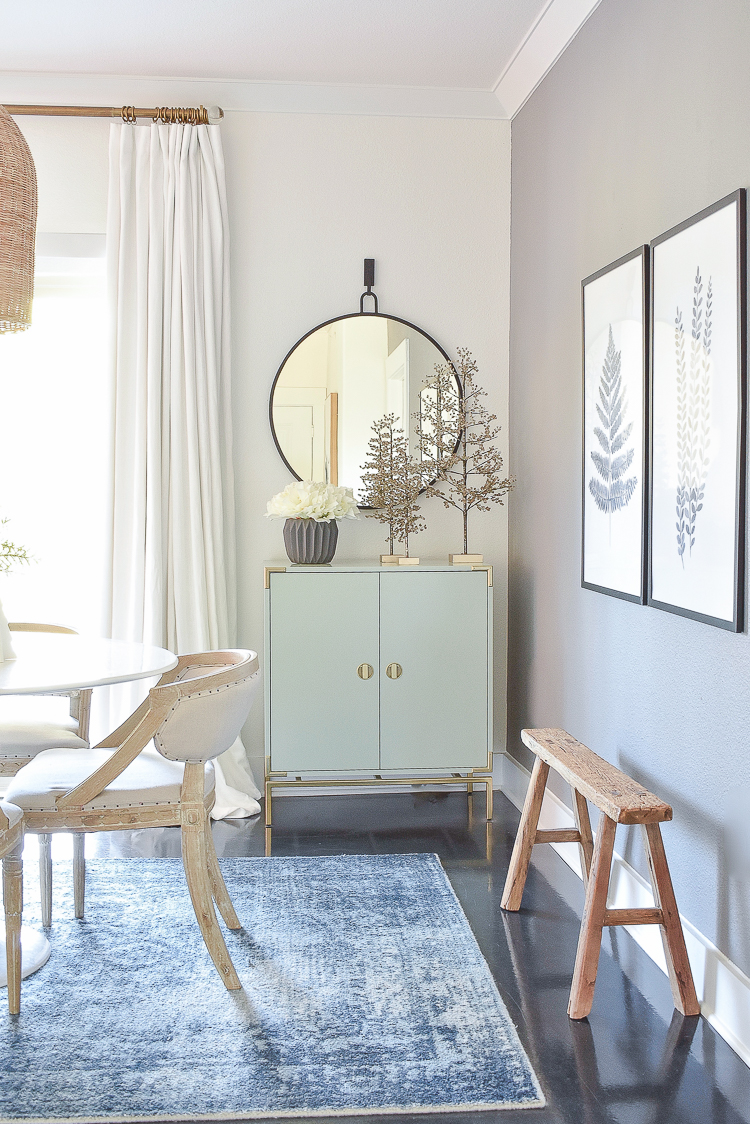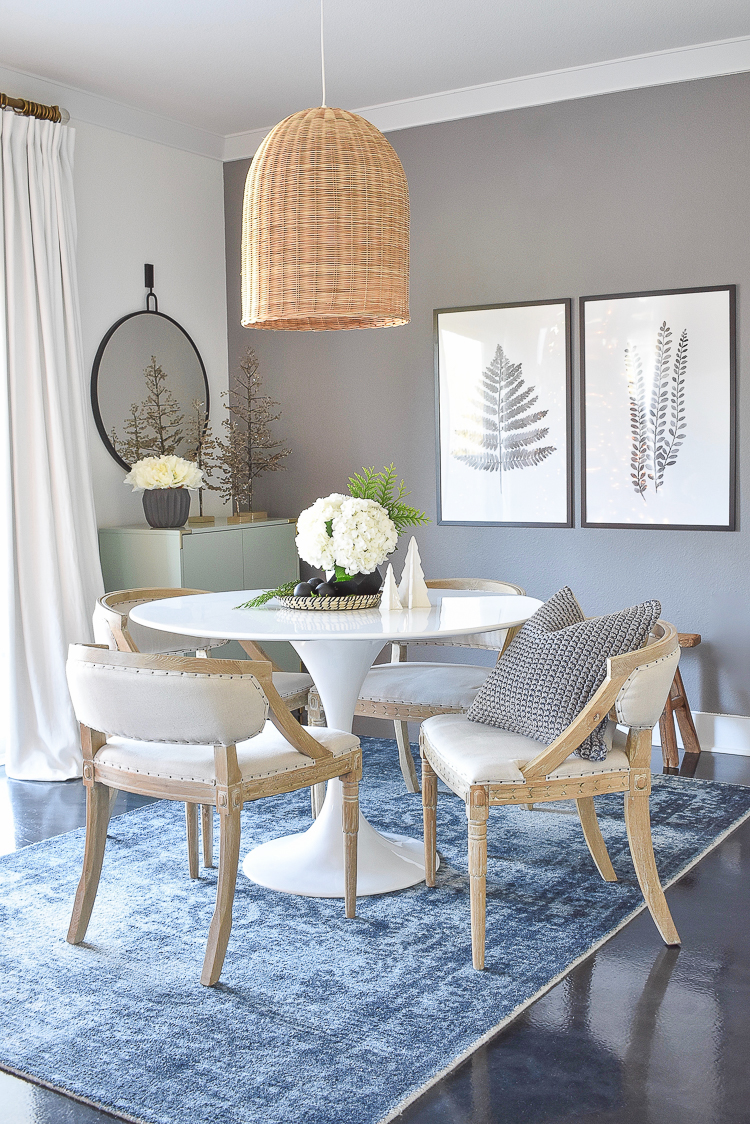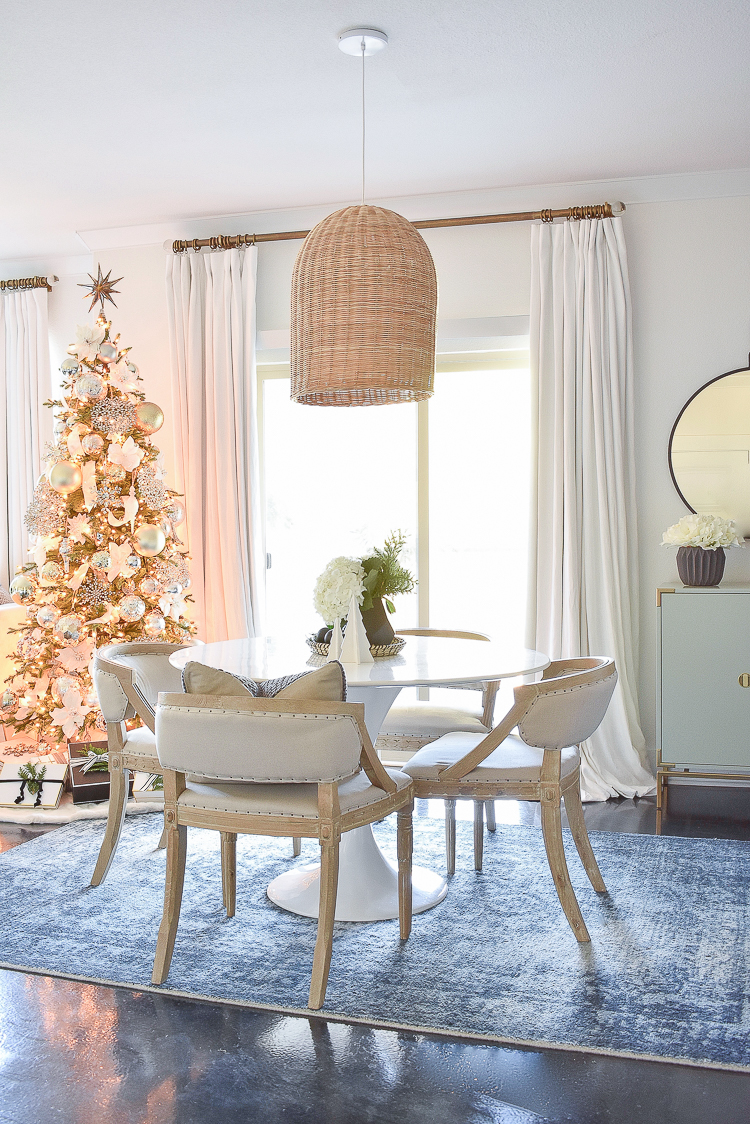 The Christmas Tree
The tree is simple this year with large crystal ornaments I purchased last year at the end of the season for a steal!  End of season deals are always the best time to purchase Christmas decor.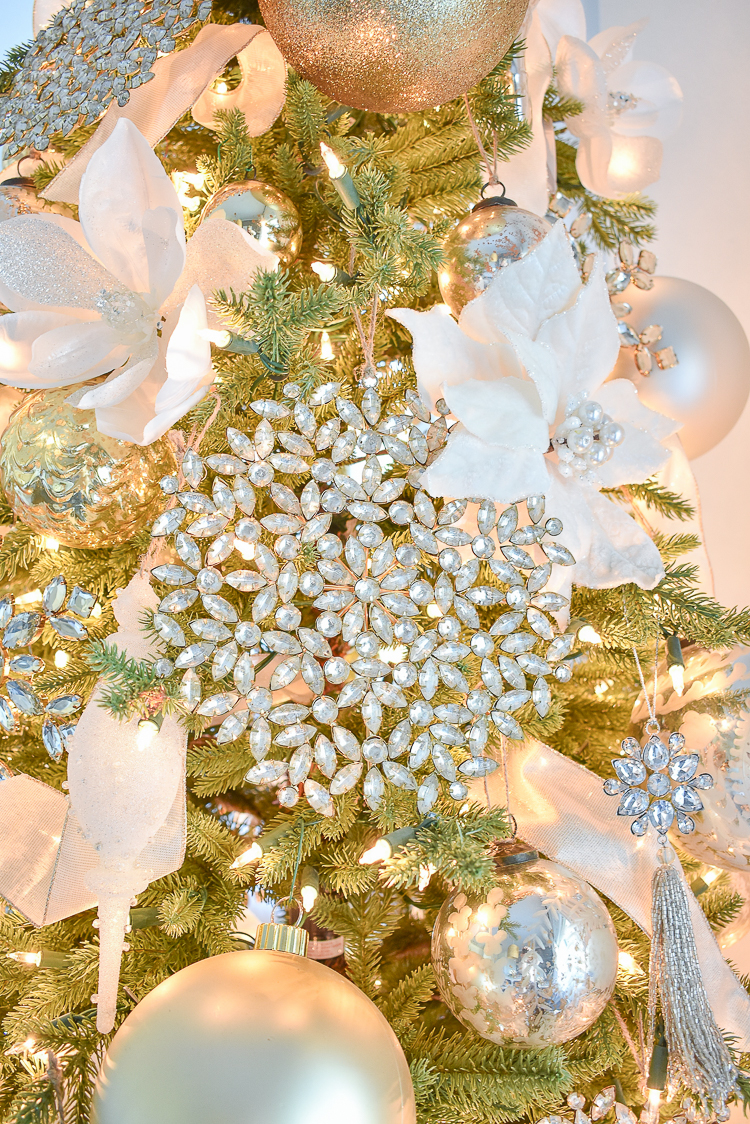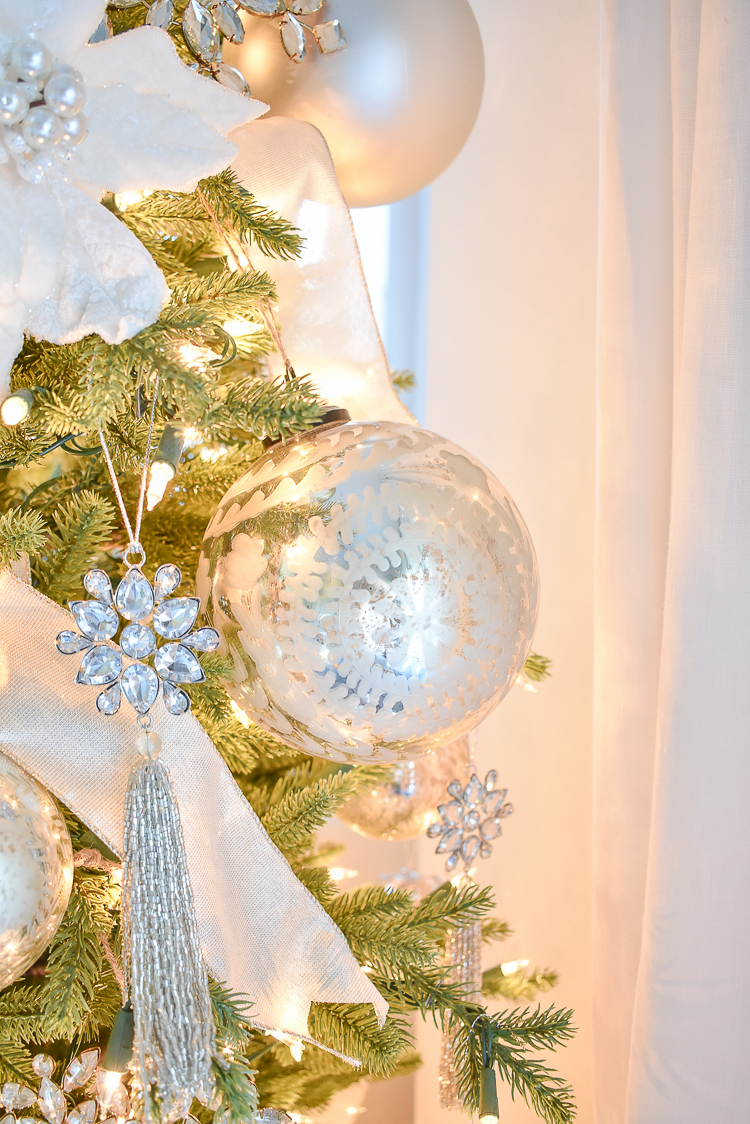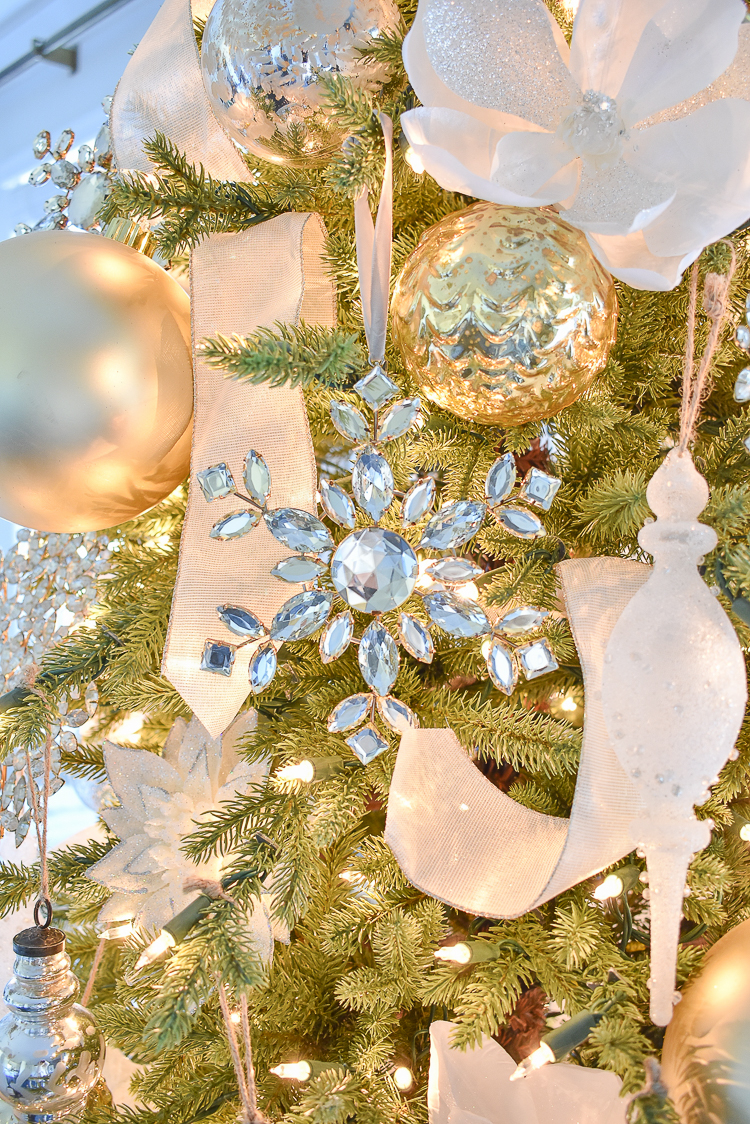 I kept my gift wrap simple with just some black and white ribbon but I always like to add a bit of greenery to my packages to give them a modern feel.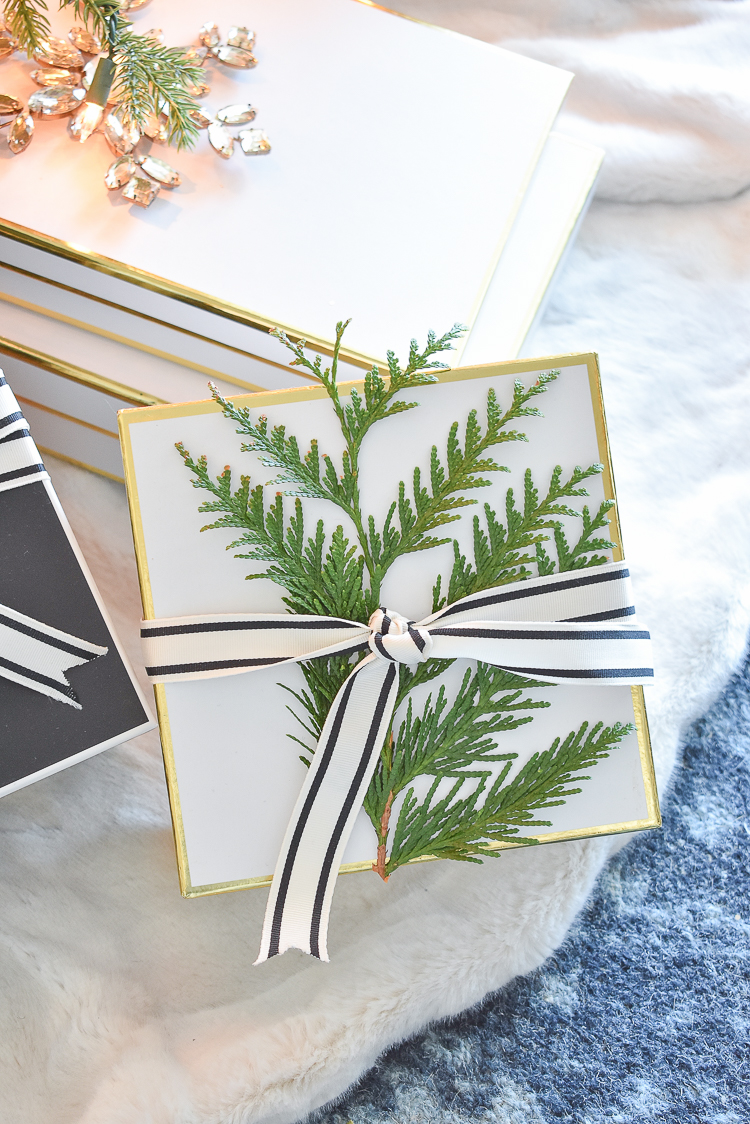 The mirrored star tree topper was also purchased last year during end of season sales.  I love the reflection and shine it provides and it was the perfect piece to finish off my tree this year.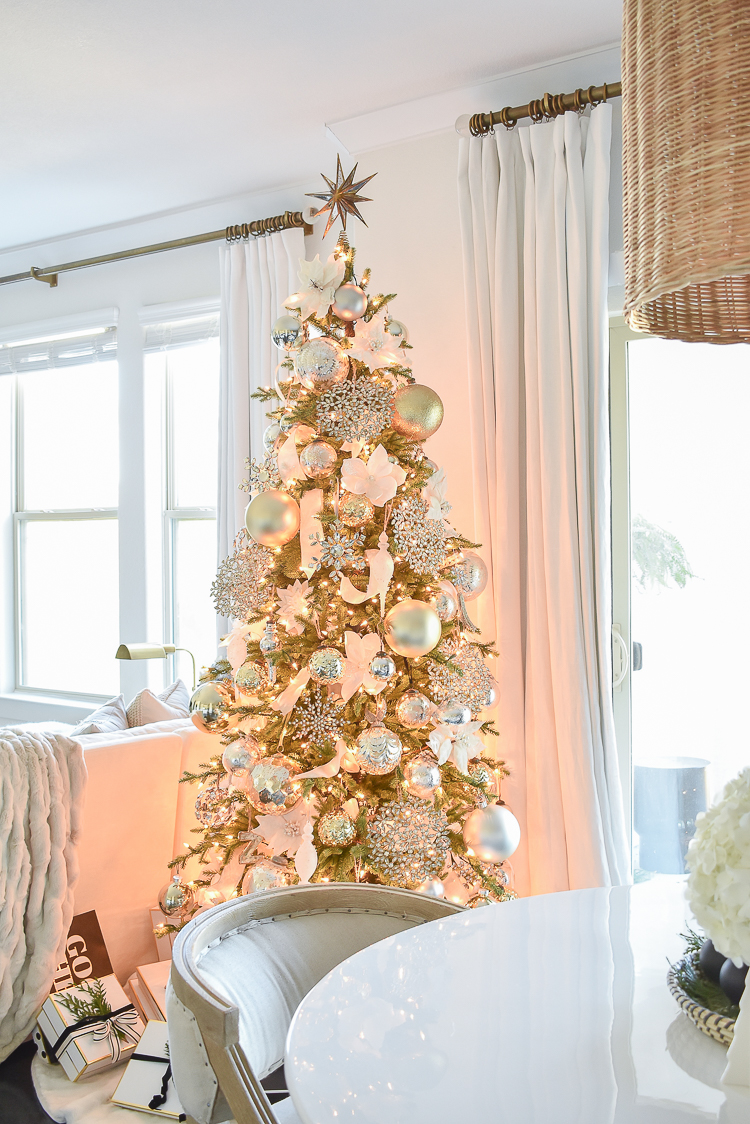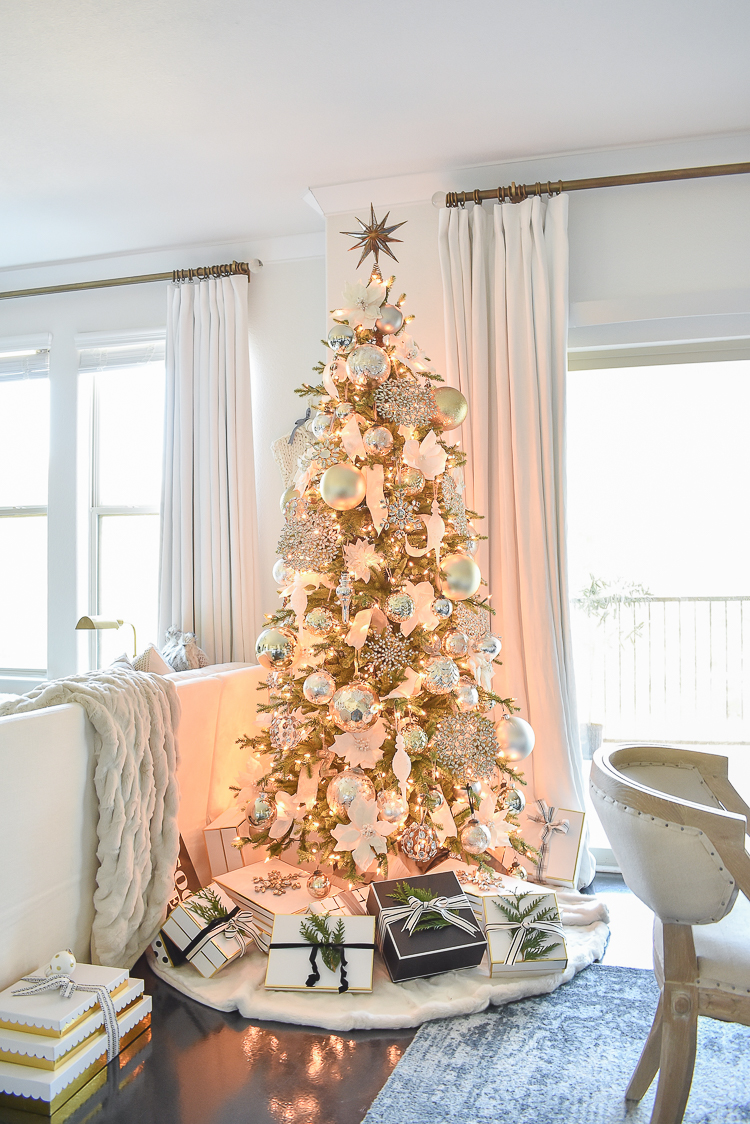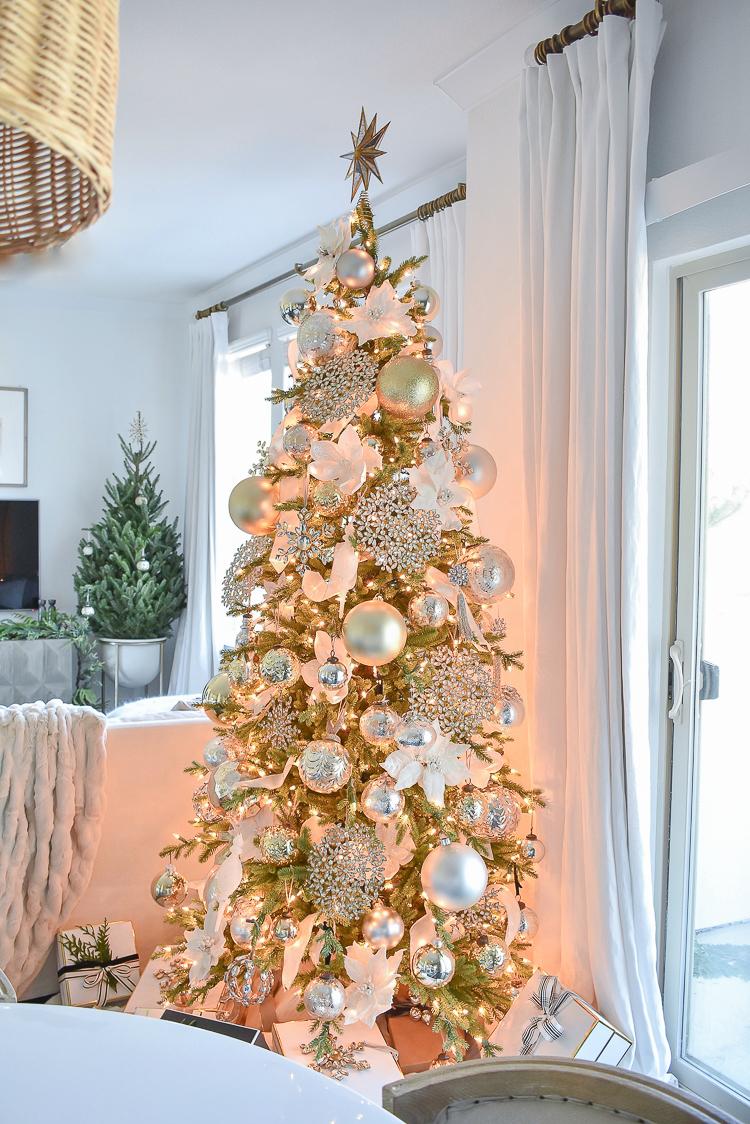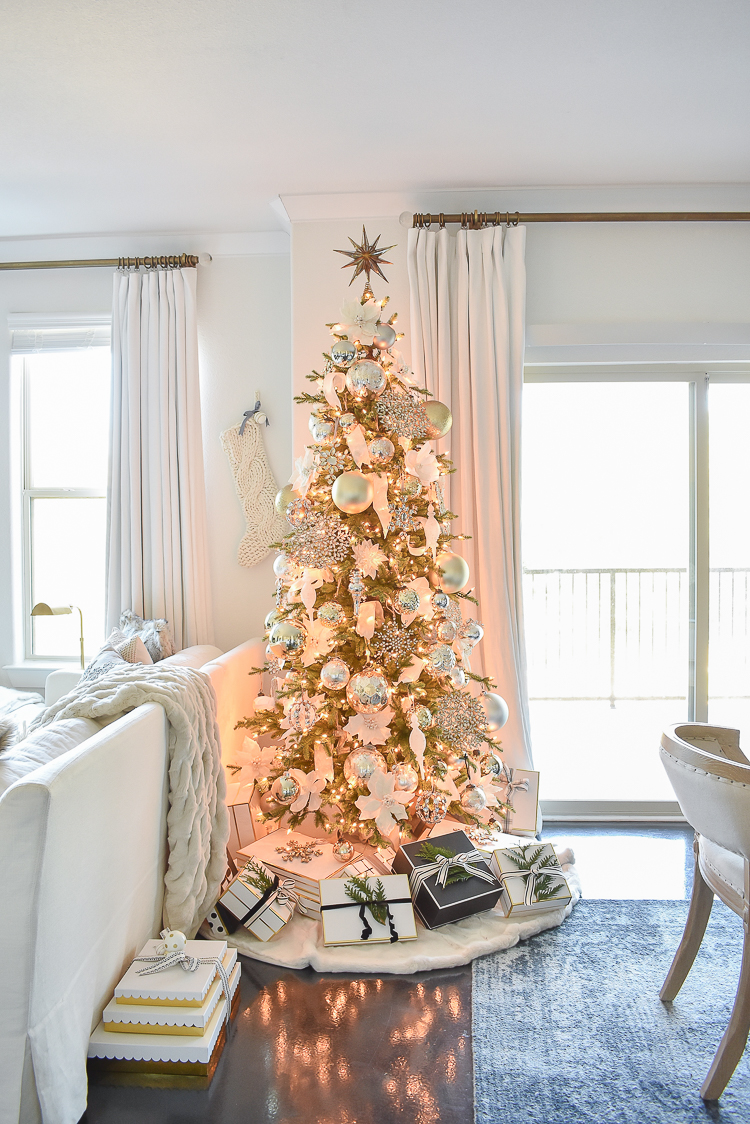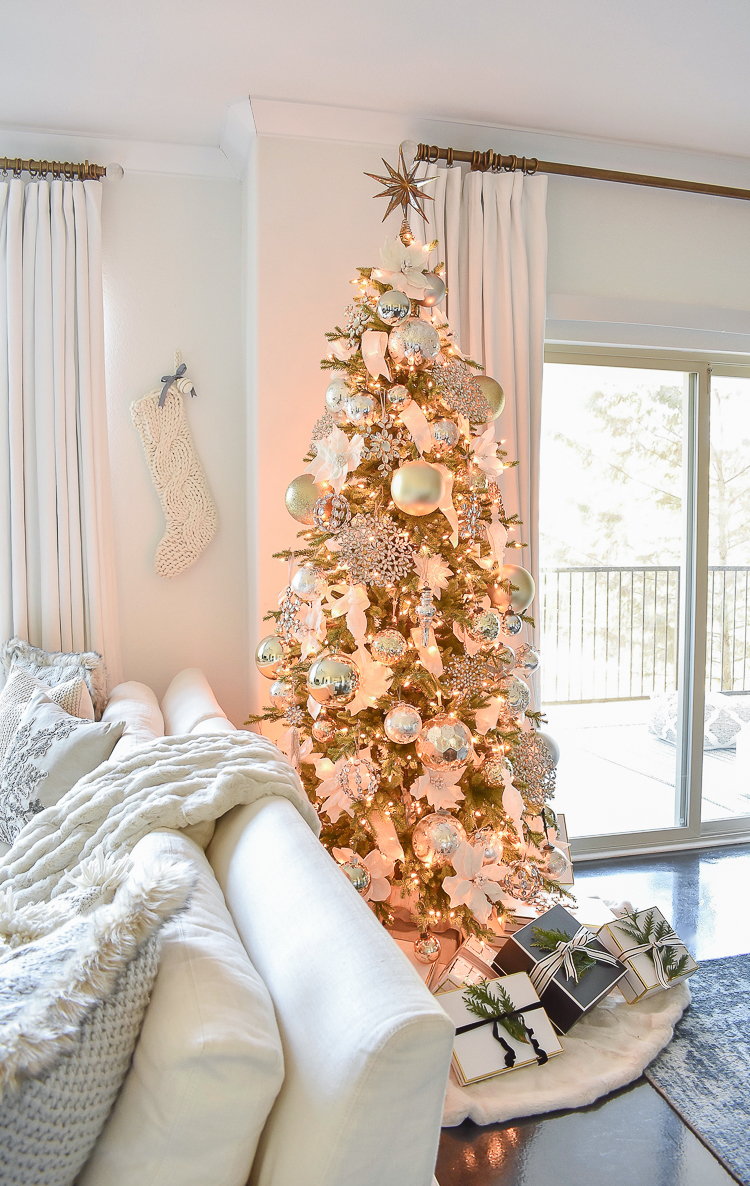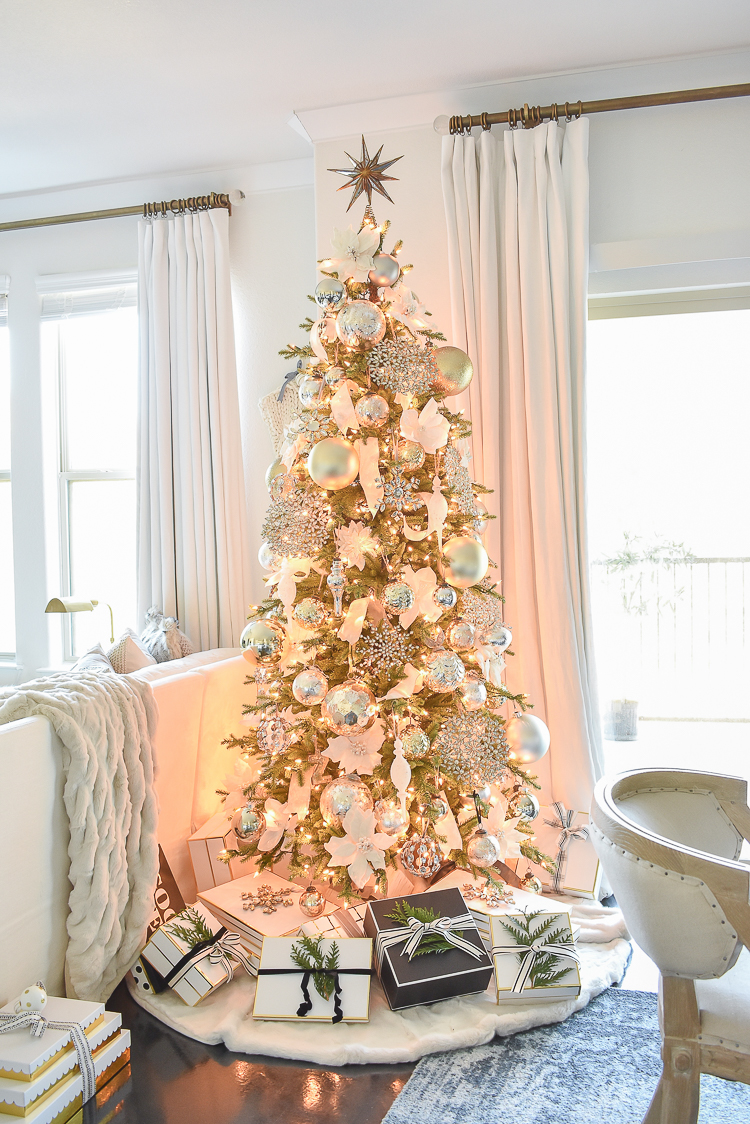 We don't have a fireplace or really anywhere else to hang stockings in our rental but I did manage to at least get one up on the wall for my son.  Here is a similar stocking if you are loving this large cable knit stocking a found last year!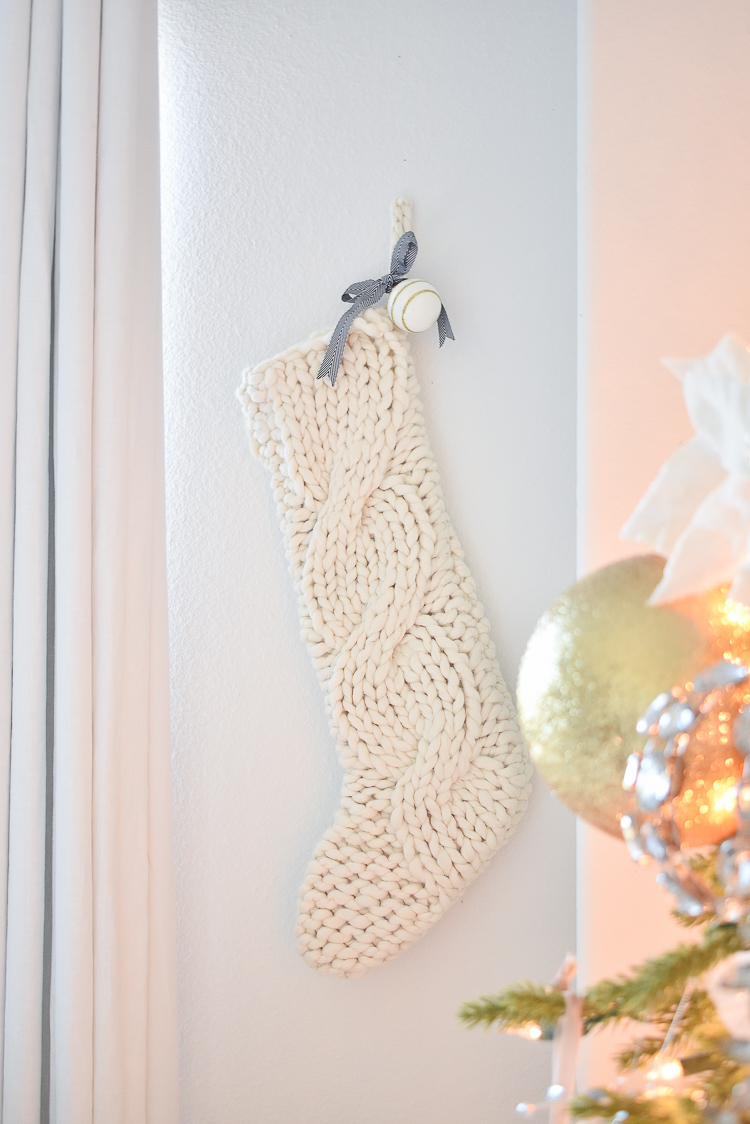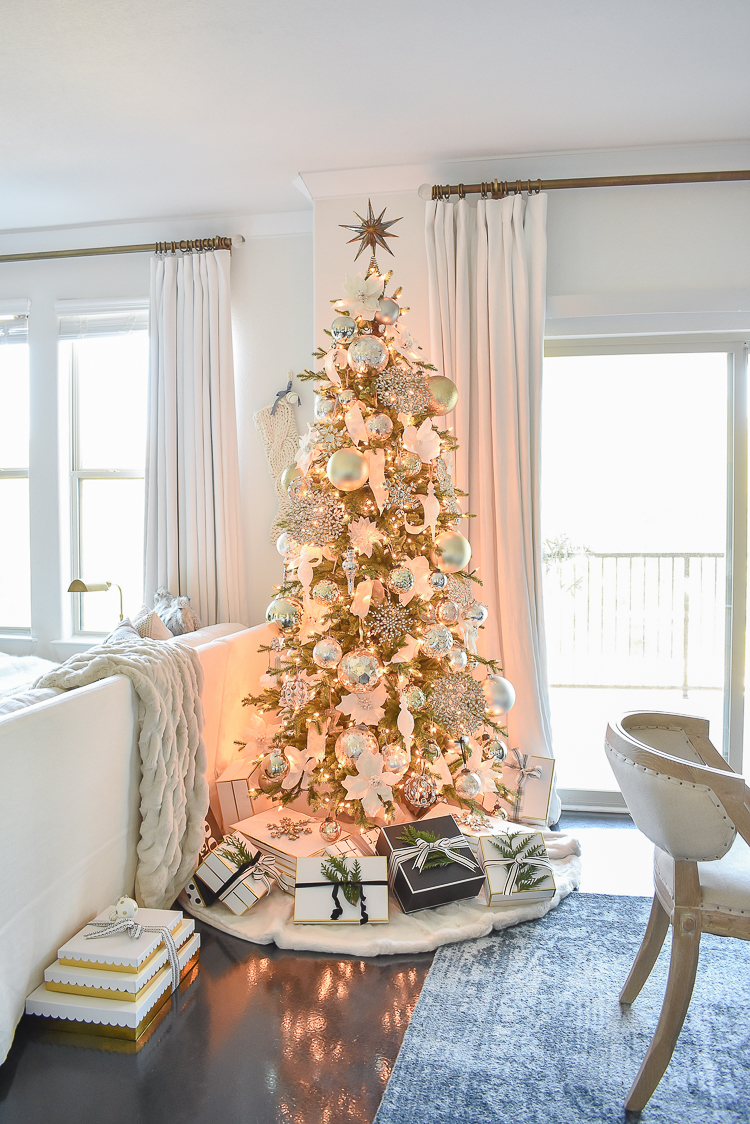 Thanks so much for stopping by to take our Styled For The Season Christmas Tour!  Next up on the tour is my dear, dear friend, Shauna of The House of Silver Lining…please make sure to hop over to her next to see how beautiful The Forest Modern is for Christmas.  Here is a peak below…I know you're going to love it, and her incredible sense of style too!!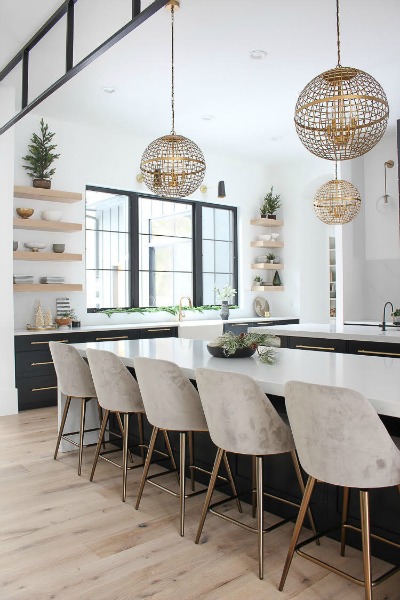 Shauna of The House of Silver Lining
Jennifer of Decor Gold Designs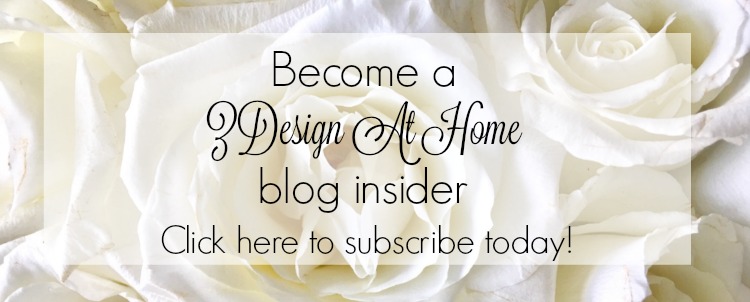 Living Room





Dining Room


Christmas Tree