The Best Way to Fold A Bath Towel + the Softest Hotel Bath Towels
*See my Living Fresh Source List for Towels at the bottom and throughout this post.  Affiliate links used.
As many of you know we recently moved and one of the things that has been most important to me through out our move has been to keep my family comfortable within the four walls of our home.  So today, I want to talk to you about my latest obsession which are the softest hotel bath towels by Living Fresh plus, I'm sharing my tips for the best way to fold a bath towel that will keep your linen cabinet neat and tidy!
For this post I'll be focusing on their Hotel Bath Towels, Turkish Bath Towels, and their amazing, super soft and functional shower curtain but Living Fresh has many more wonderful products that I would like to encourage you to explore at the end of this post.
When we moved recently one of the many items we donated were our old towels due to normal wear.  Every time we move I like to upgrade our towels in the master bathroom since new, soft and fluffy towels can make an otherwise cold space with a lot of hard surfaces feel cozy and inviting, plus I think generally speaking a new home and bath calls for pretty new towels, don't you?!
If you have stayed in a hotel in the last 8 years chances are you already know Living Fresh!  The technology Living Fresh uses by blending Tencel+Plus fibers from Eucalyptus trees with organic cotton is what makes their towels so fabulous and while their products were originally created for luxurious high-end hotels and resorts, they are now available to you!  Pictured below are their oversized and super absorbent Hotel Bath Towels.  These towels are incredibly soft and we are loving the opulence they provide to us and our bathroom.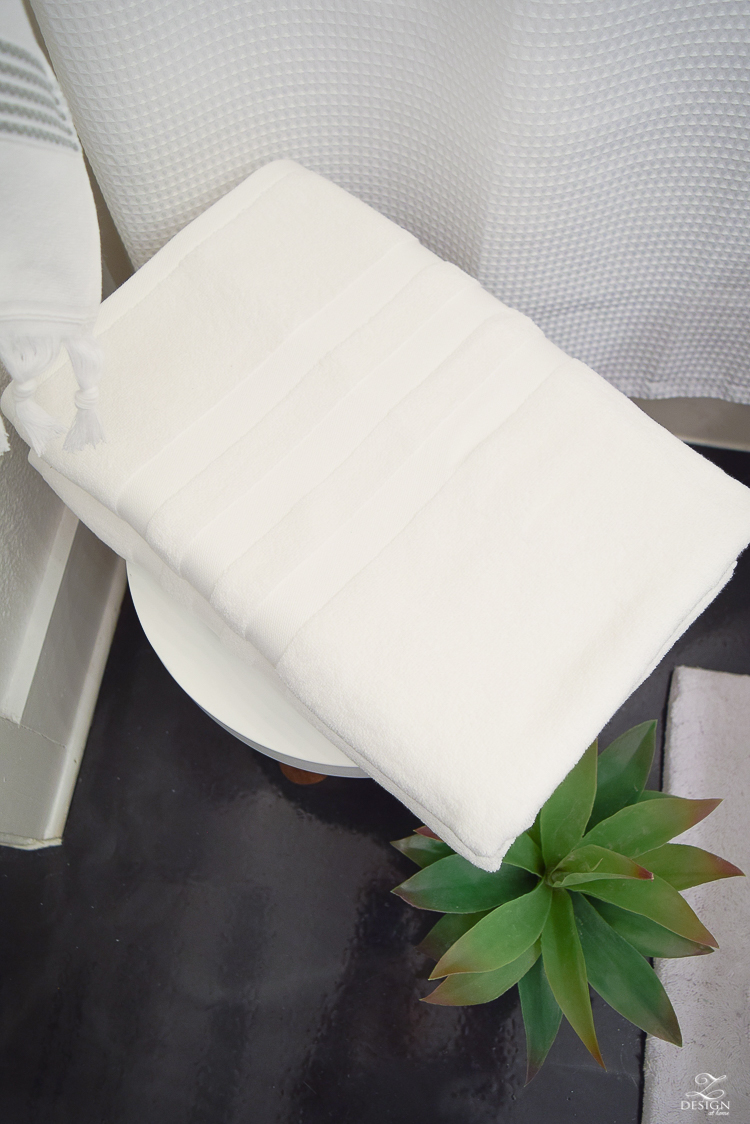 We have their entire Hotel Collection which includes bath sheets, hand towels and wash cloths.   These towels literally step up the ambiance and luxury factor in our small rental bathroom that we so desperately needed to make this space feel more like home.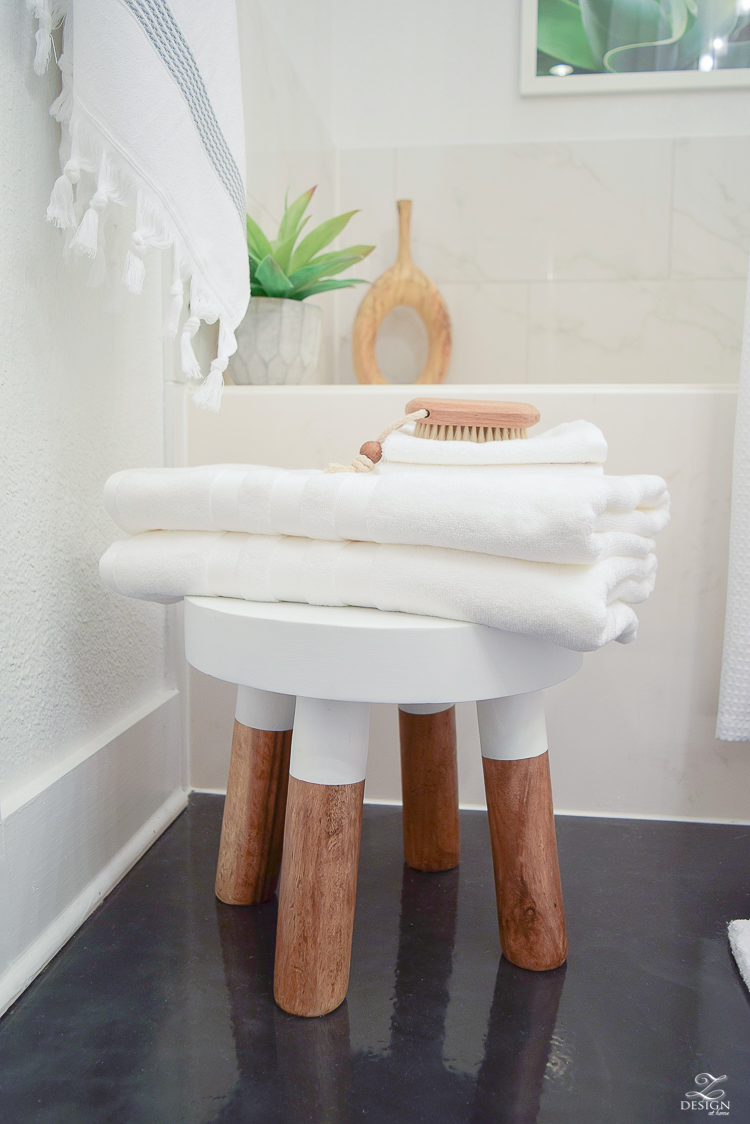 One of my favorite products in the Living Fresh line though might just be the incredible hand-knotted fringe Turkish bath towels.  These towels (also loomed using a blend of organic cotton and Tencel+Plus) are super special because they can triple as a bath, beach, or pool towel since they are more streamline, absorbing water quickly.  They are also great as a hair towel and the fringe and colored banding is the icing on the cake for me.  I chose the white with gray but there are more color options to choose from on their website.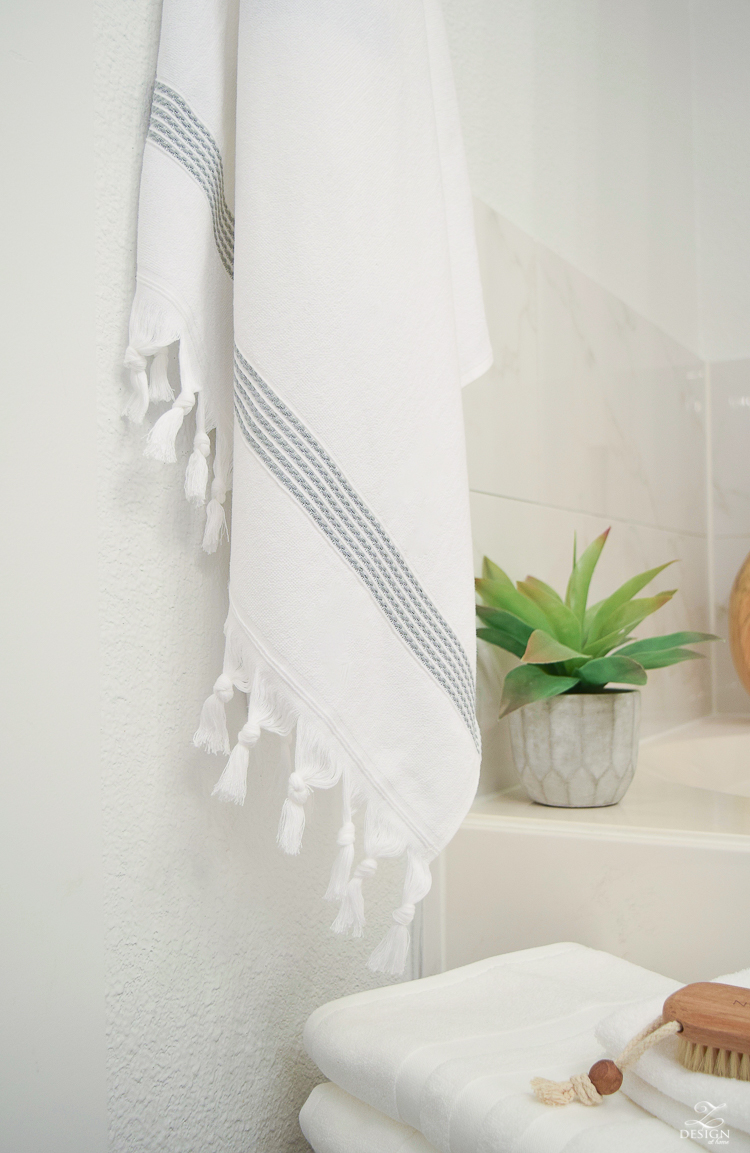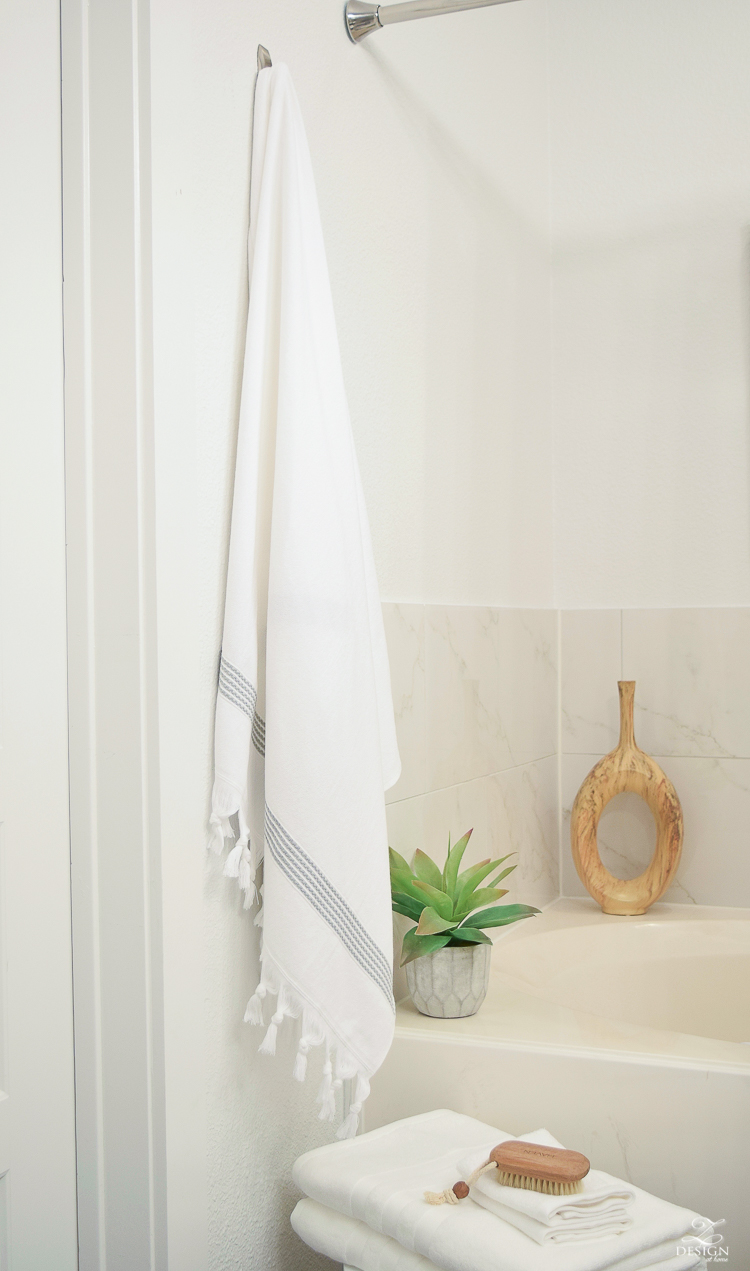 And you know how much I love fringe towels, right?!  I talked about adding fringe hand towels to your towel arsenal in the kitchen here recently but as you can see in the photos below, I also like to use them in the bathroom.  The Living Fresh Turkish Hand Towels were just the perfect pieces we needed to add a little warmth and character to our space.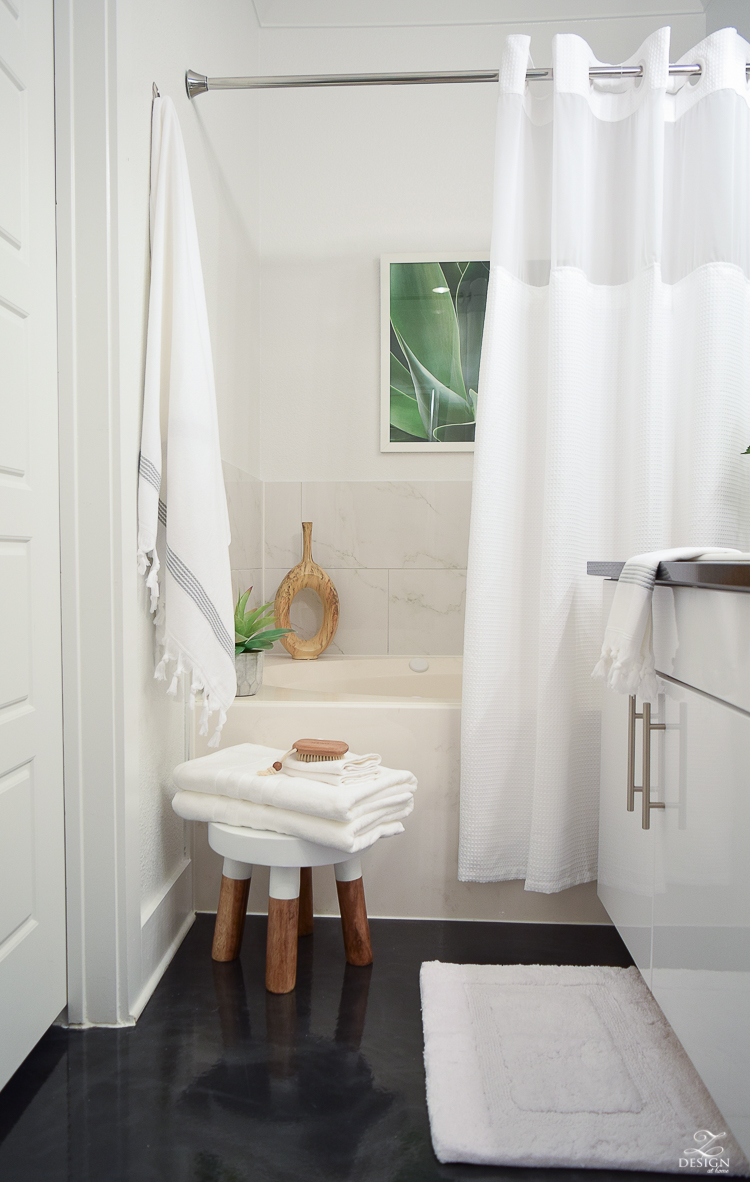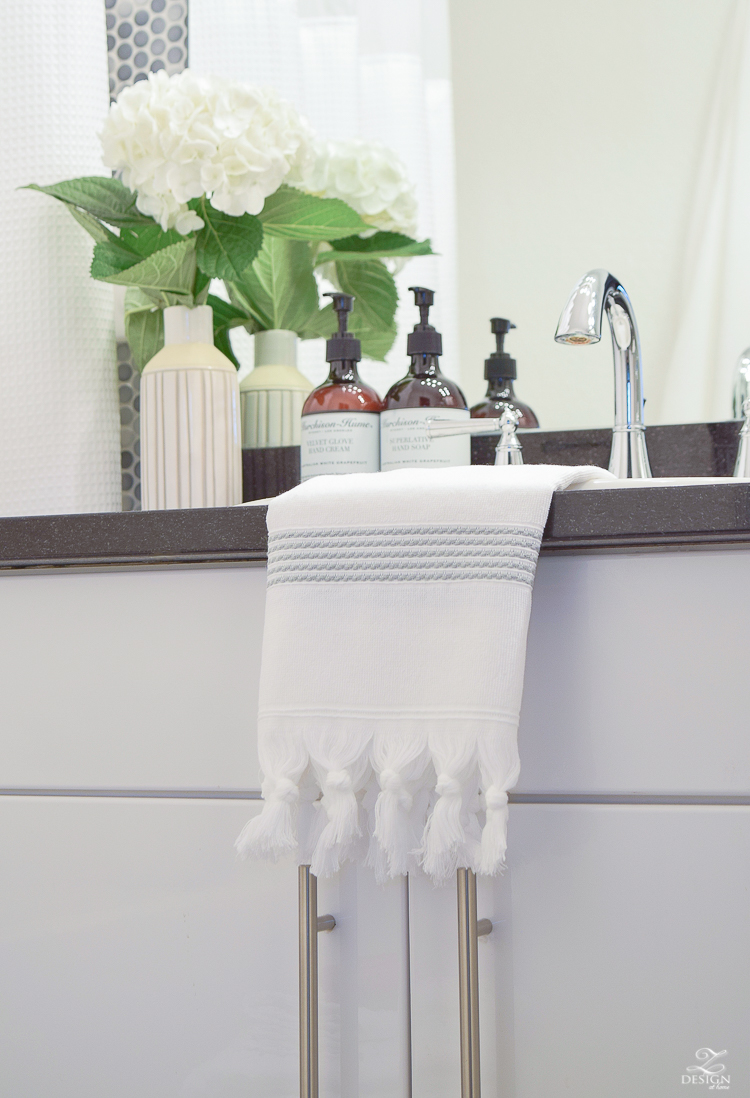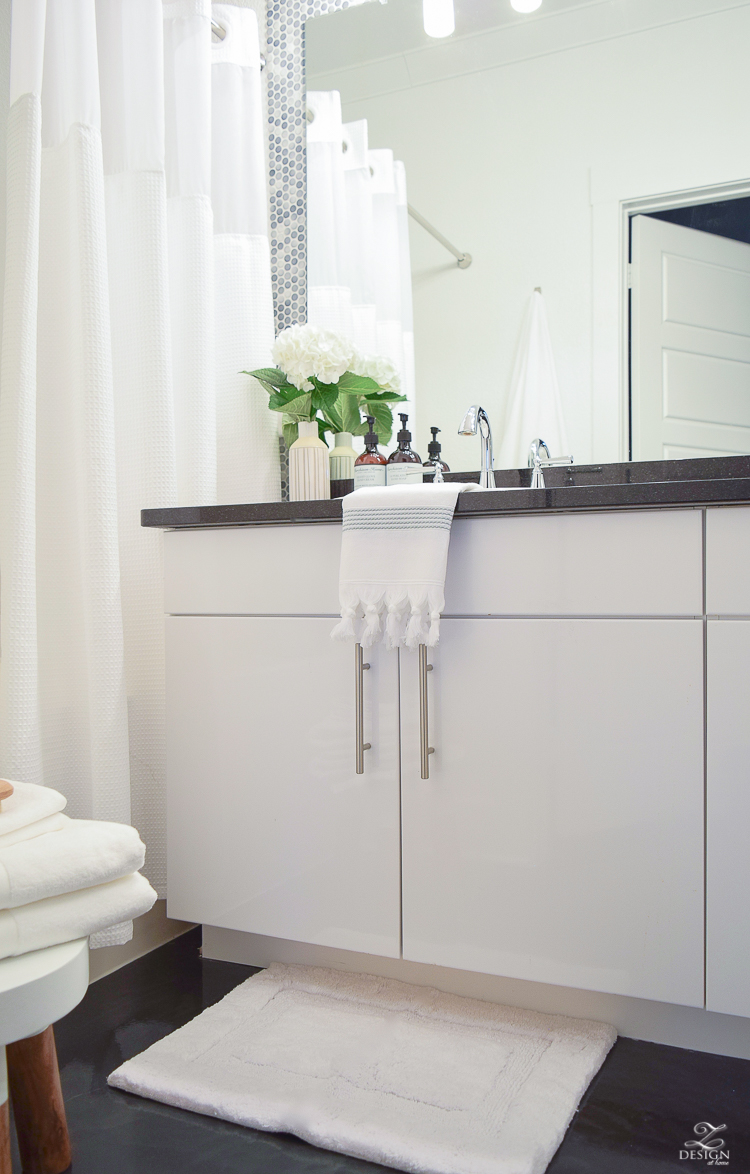 You may have also noticed that I am using the Living Fresh pique woven, hookless shower curtain?  I cannot stress just how much this is NOT one of those big box store shower curtains and just how special it is.  Not only is the quality exceptional but I also love the sheer panel up top that allows light to stream in.  Additionally, I really love that the fabric shower curtain liner is attached with snaps for easy removal, which makes it easily machine washable without having to remove your whole shower curtain from the rod and/or bathroom.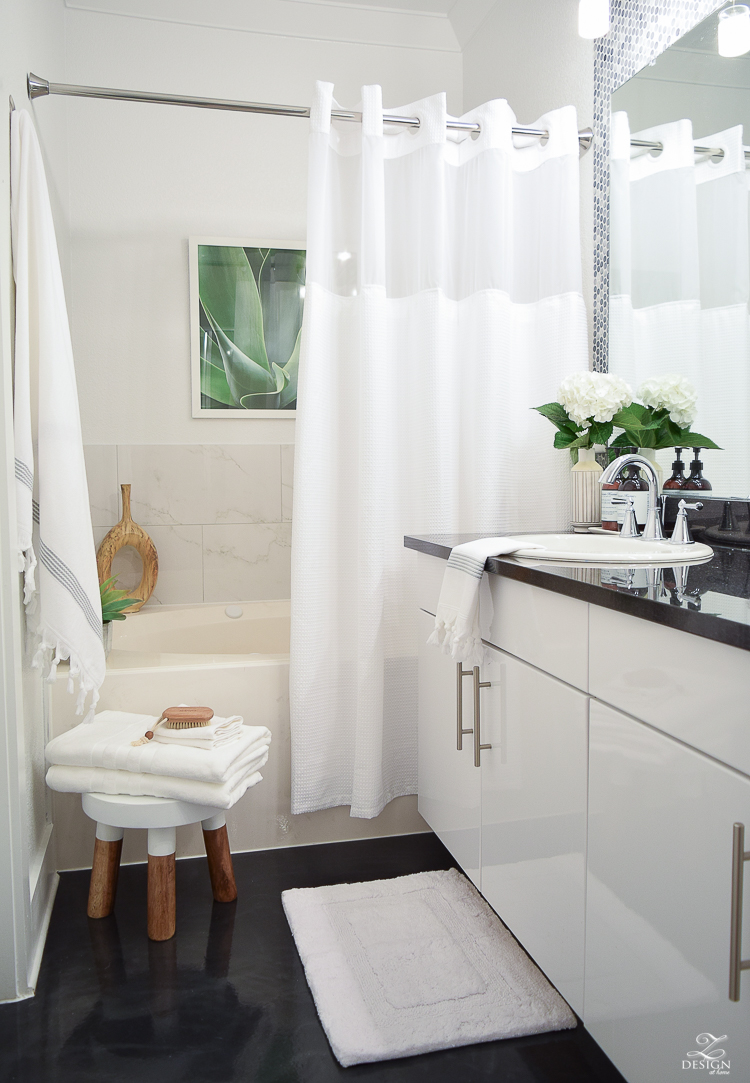 Now that you know about my latest obsession to keep my family comfortable and cozy, I want to share with you the best way to fold these beautiful bath towels.  I have tried all of the ways you can think of to fold a towel and this way, the way my mother taught me to fold, always seems to be the best way to me.  This way keeps your towels folded tightly and neatly, takes up the least amount of space in your linen cabinet or closet and, in my opinion, looks the prettiest and is the most easily accessible.

Fold your towel in half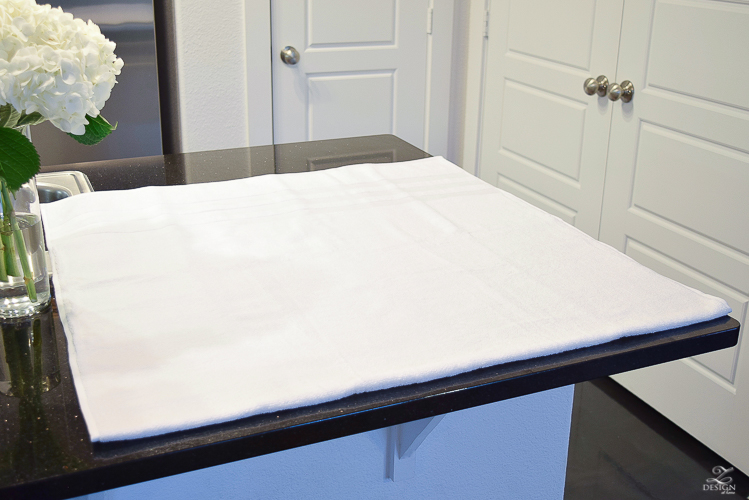 Fold it in half again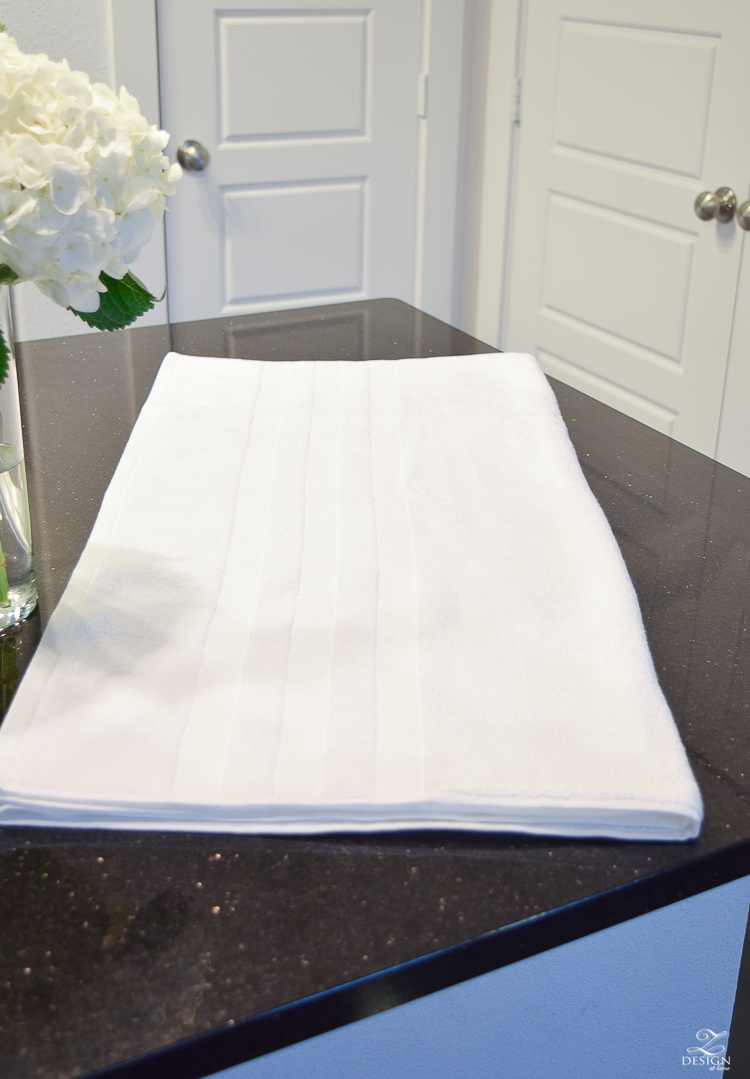 Now Fold it in thirds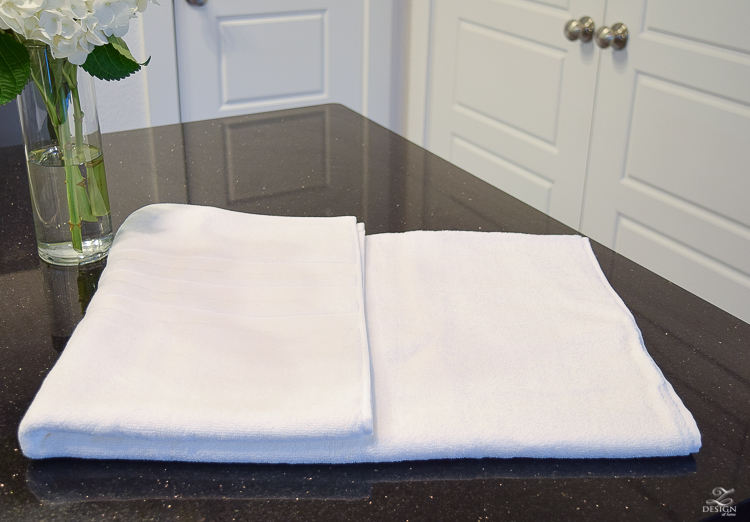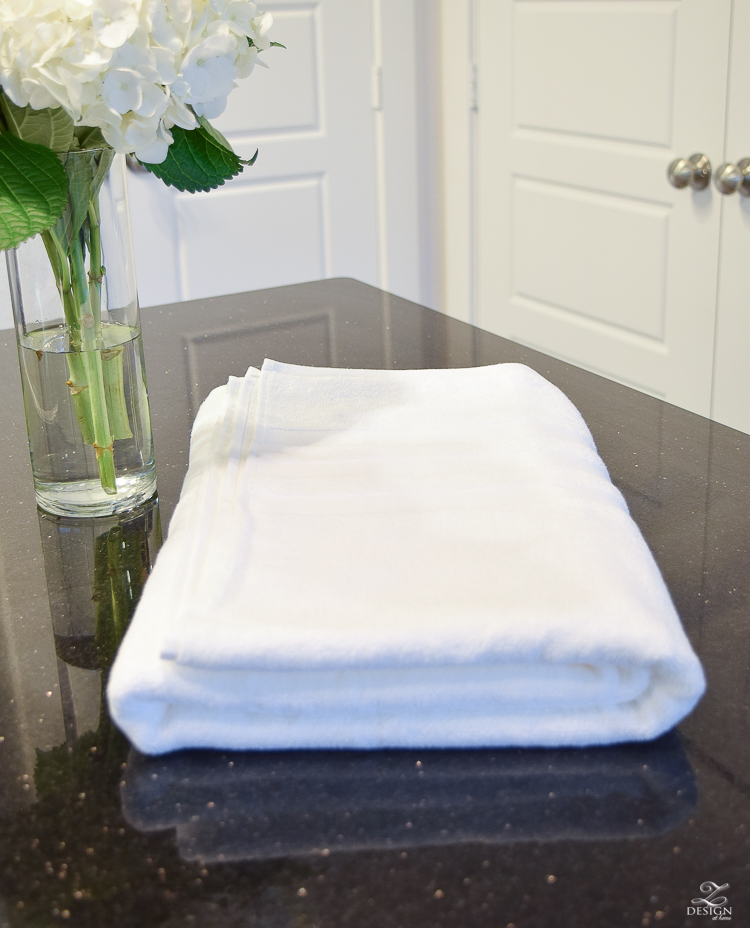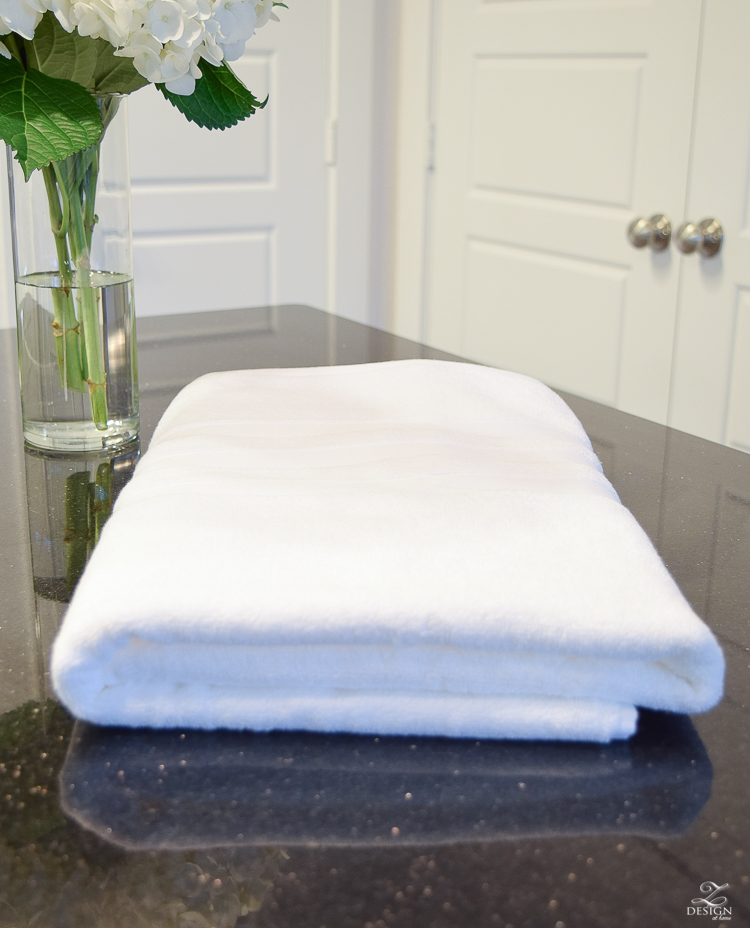 Now you have perfectly folded bath towels that stack neatly and look pretty!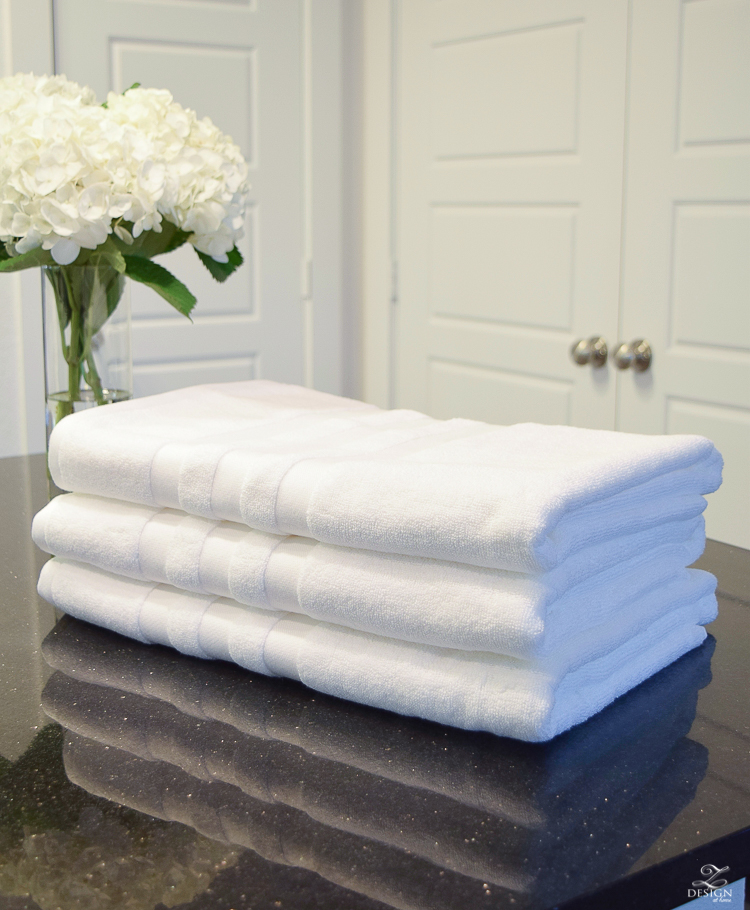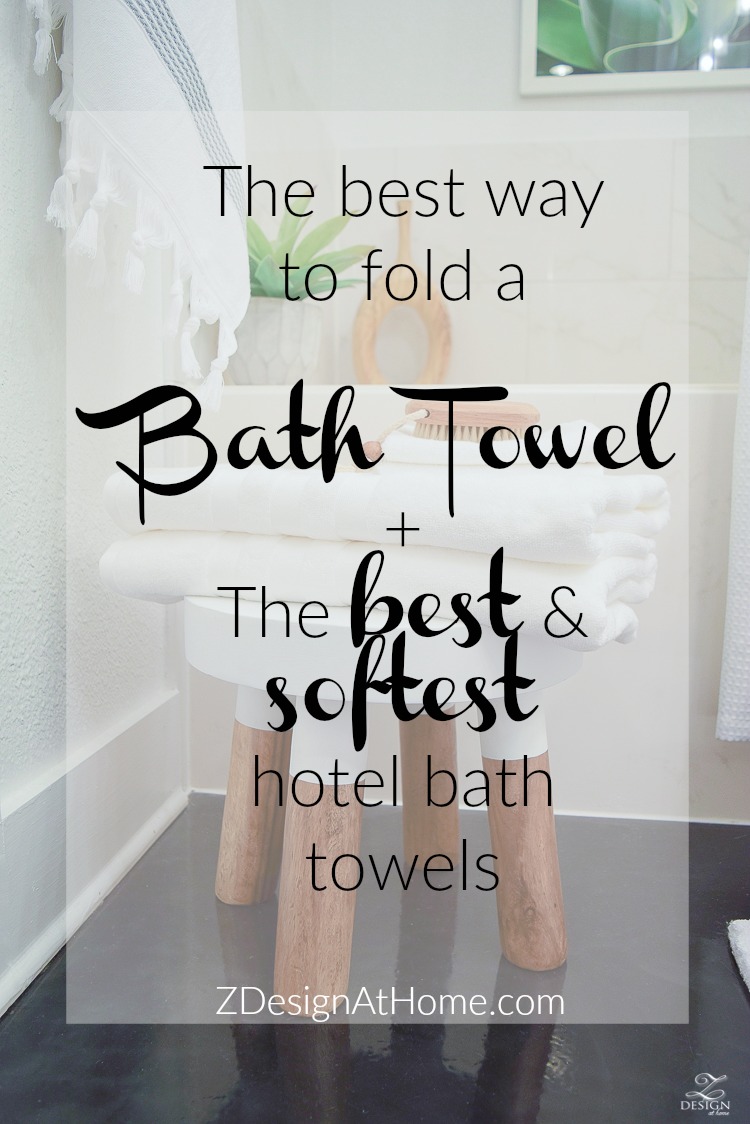 Thank you for stopping by today and I hope you've enjoyed my tips on the best way to fold a bath towel with Living Fresh!   If you'd like to keep up with the latest from ZDesign At Home, I hope you'll consider signing up for my news letter.  You can do that here at the top of the page and I look forward to seeing you back next week!

Hotel Bath Towels | Hotel Hand Towels | Hotel Wash Cloth Set | Turkish Bath Towel | Turkish Hand Towel | Shower Curtain



*This post was done in partnership with Living Fresh but as always all opinions are my own and I only collaborate with brands and products I truly love:)