Best Modern Faux House Plants – Where to Buy + How to Style Them
My general rule with house plants is to use the real thing when you can but, let's really get real here…real anything can be a maintenance nightmare most of the time so over the past few years I have been adding little by little to my arsenal of faux house plants to save money and time, and today I'll be sharing with you my tips for the Best Modern Faux House Plants – Where to Buy + How to Style Them!
This post was sponsored by one of my favorite brands, World Market.  All thoughts, opinions, tips and photography is my own.  Please read my full disclosure policy here.
I remember my first faux plant from World Market almost 3 years ago now, this super popular faux fig tree.  I fell in love with it the moment I saw it.  While the faux olive tree has become front and center lately, the majestic fig tree is still a beautiful specimen to behold and still a very popular house plant being used in interiors today.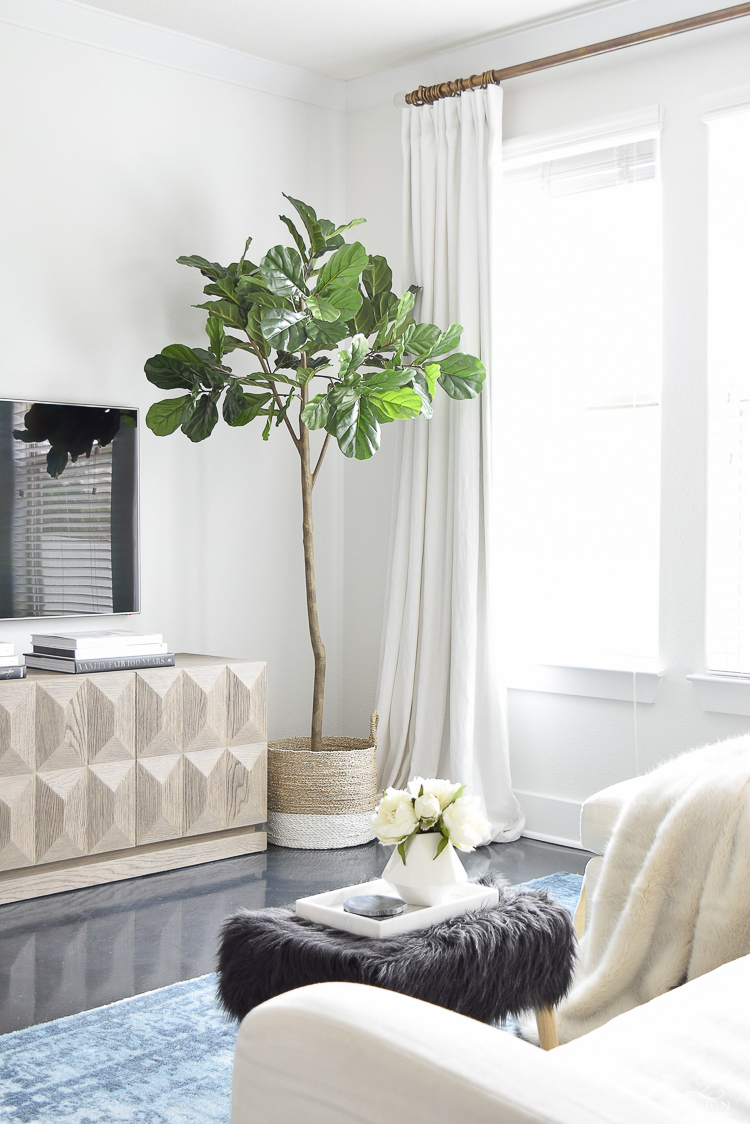 I did a full blog post on this faux fig tree HERE where I compared this one to two other popular fig trees out there and this one from World Market came out the winner!  The leaves and trunk are such great quality and it has stood the test of time and is a big ZDH reader favorite!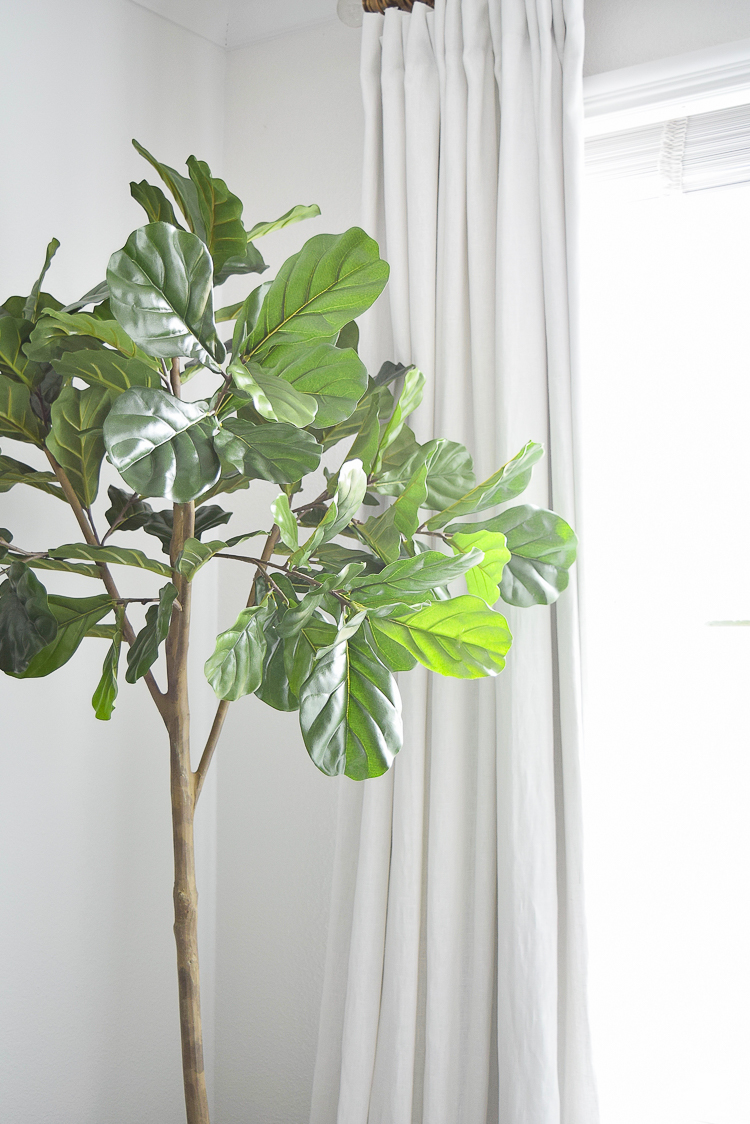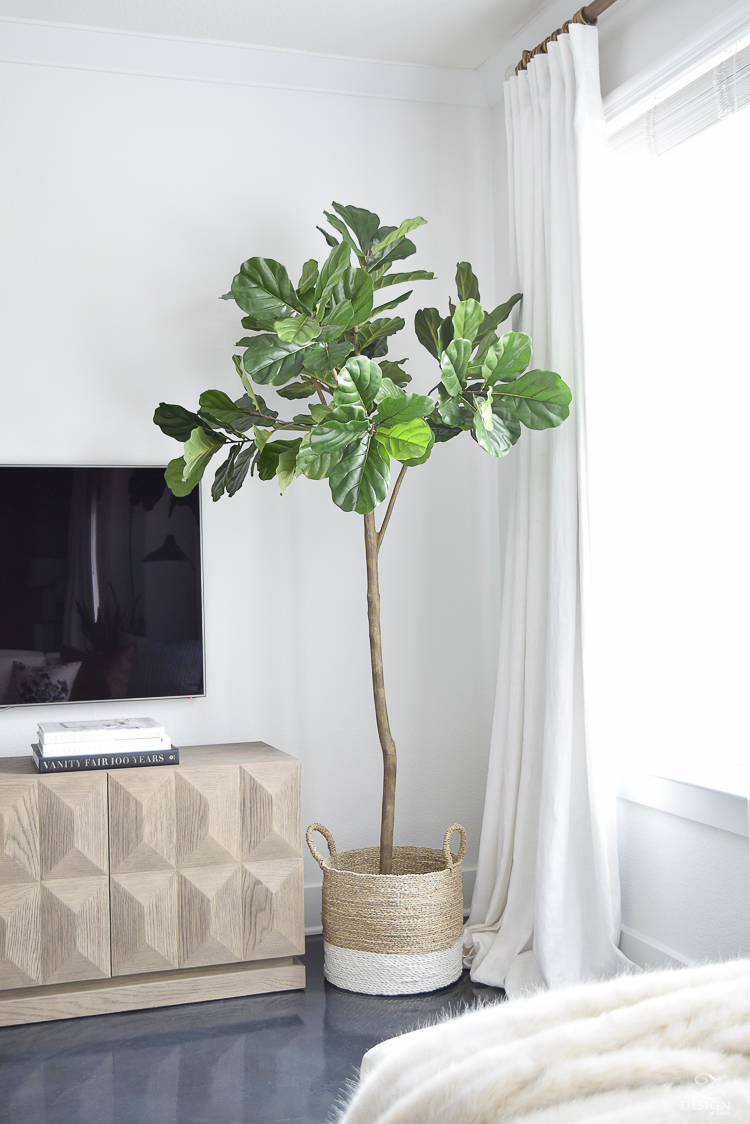 Some of my other favorite faux house plants that I've had for a while are these faux succulents in a log slice pot that I love so much and use indoors and out.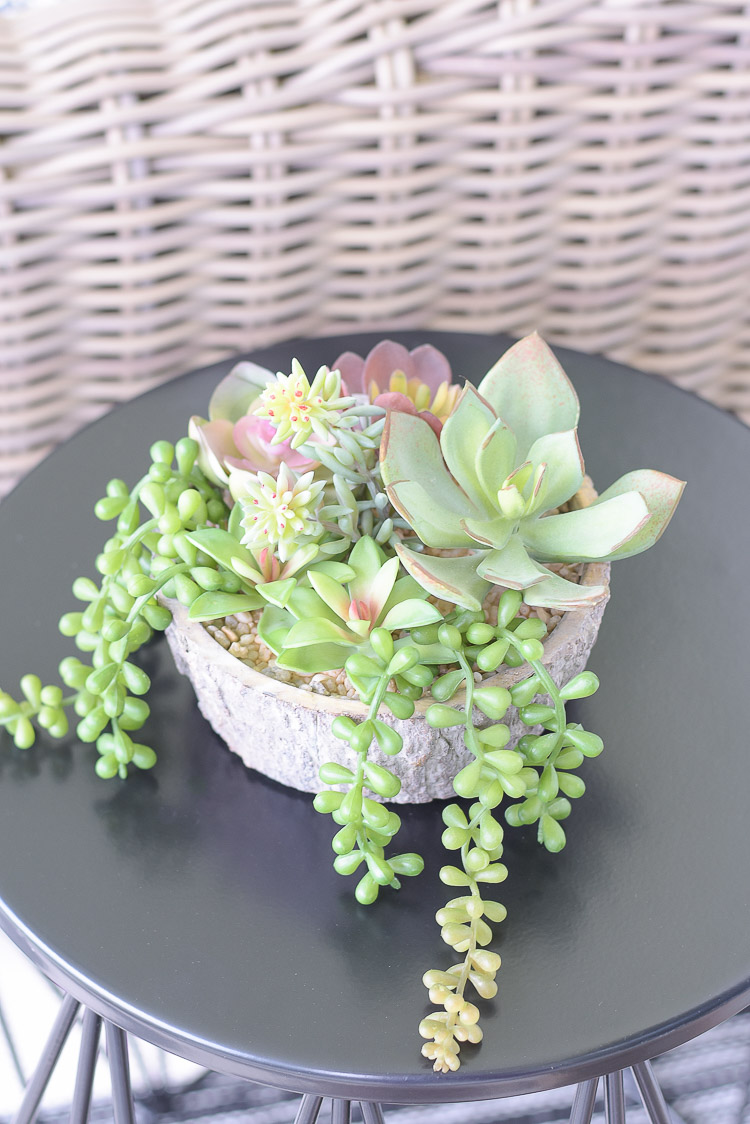 This one pretty much stays outside all year round but it can also be brought inside as well of course.
Pro Tip:  Use faux plants inside and out depending on the time of year to get the most bang for your buck out of them.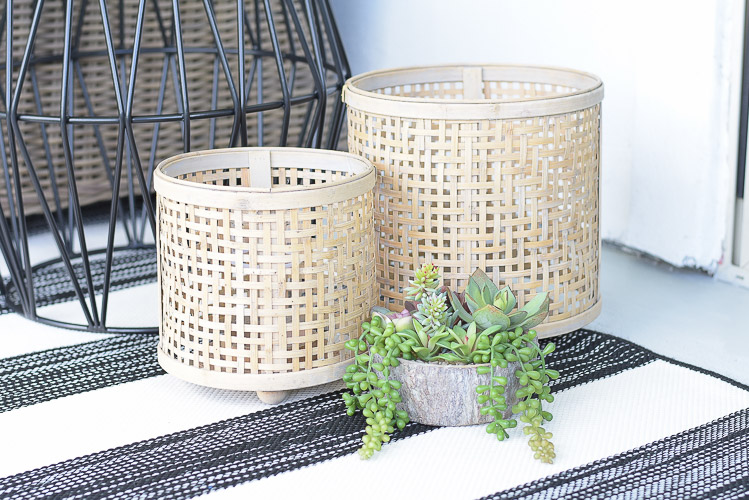 Love these faux succulent stems too and also use them inside and out.  I usually tend to pick up a new pot that I love as well while I'm shopping for new faux plants or stems – Opps:)!  I've had this two-tone pot since last year and still use and love it!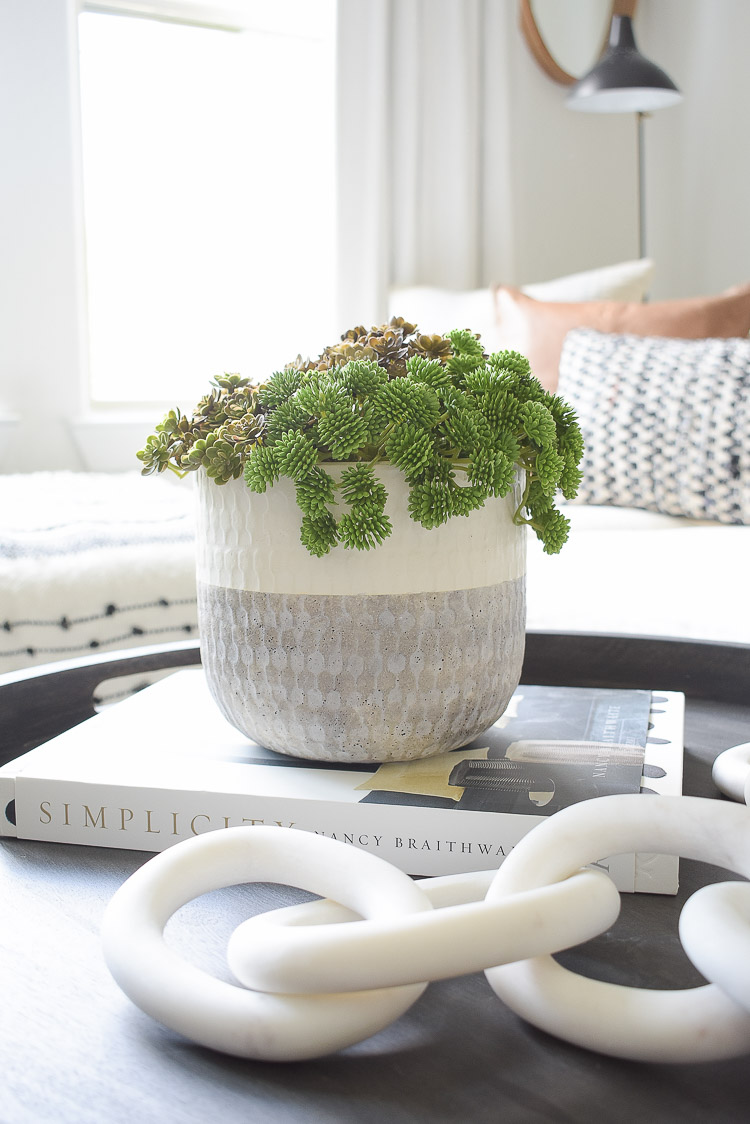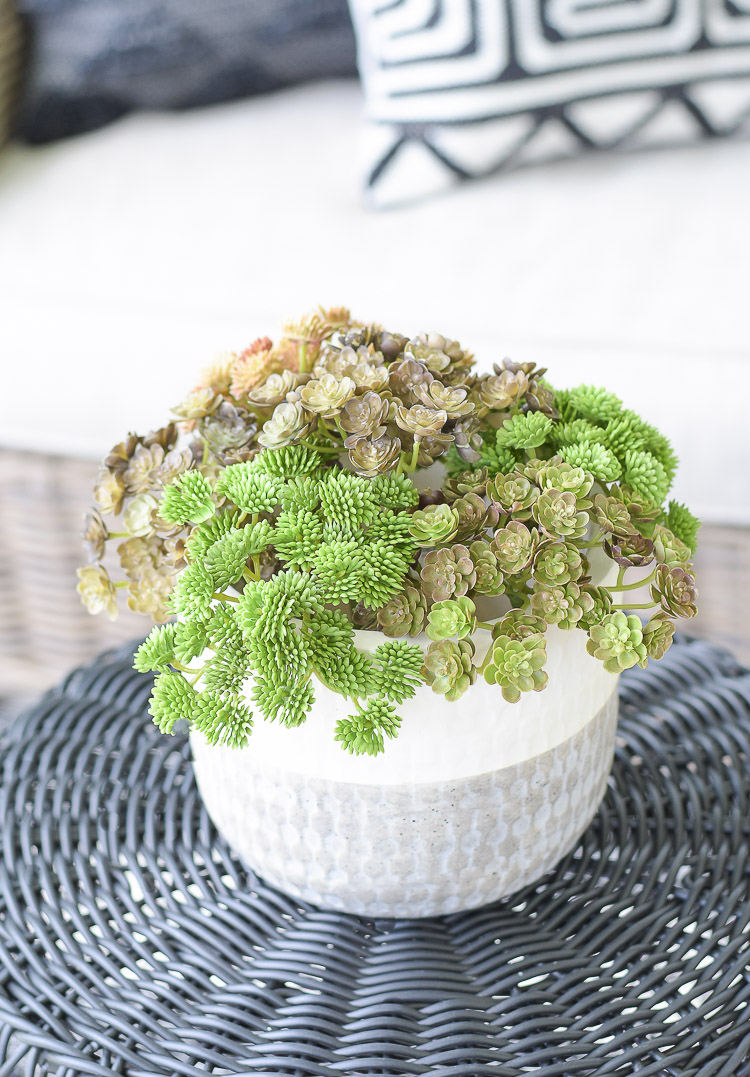 Another cute faux succulent is this small one in a cement pot.  It's perfect for just the right spot to add a pop of color and personality.
Pro Tip:  If you are looking to update for a more modern feel in your home using faux succulents (or real ones too) is a great place to start!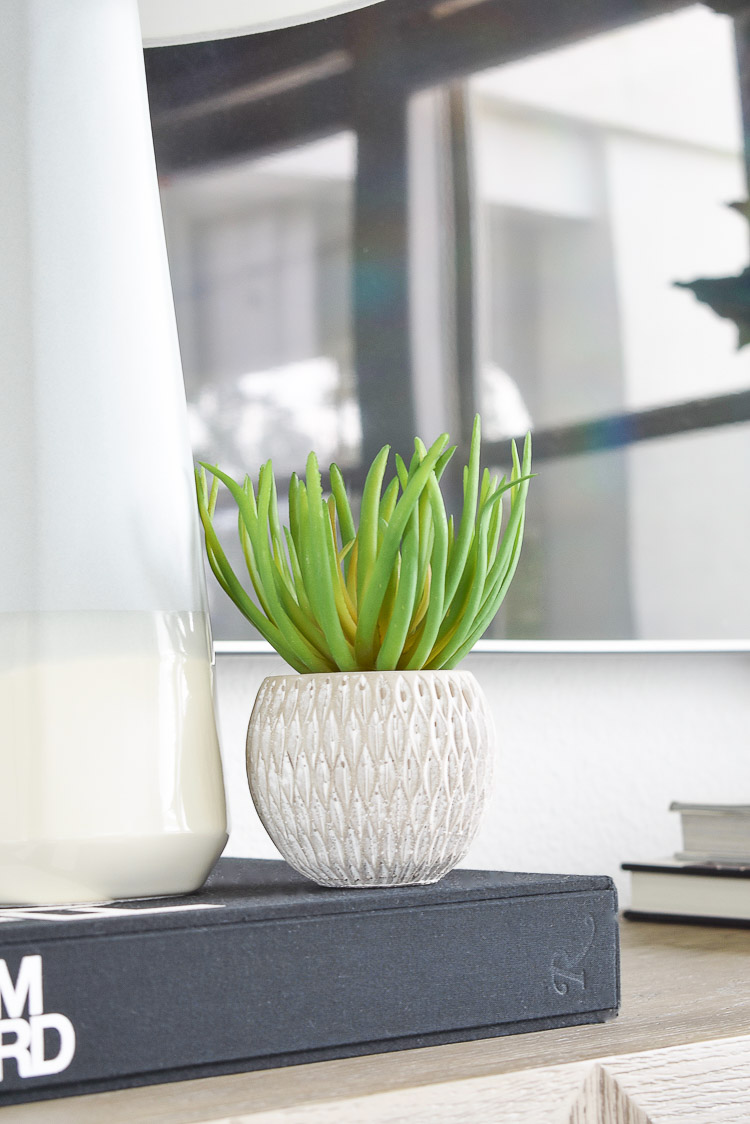 I also love this faux Zamioculas Plant which has got to be one of the most realistic, best quality faux house plants I've ever seen.  It is currently out of stock for shipping but you might be able to buy it on line and get it via curb side pick up for an additional 10% off, on top of the already 30% off during World Market's Friends & Family Event currently going on.  Otherwise be sure to sign up under the item on line to be notified when it comes back in stock!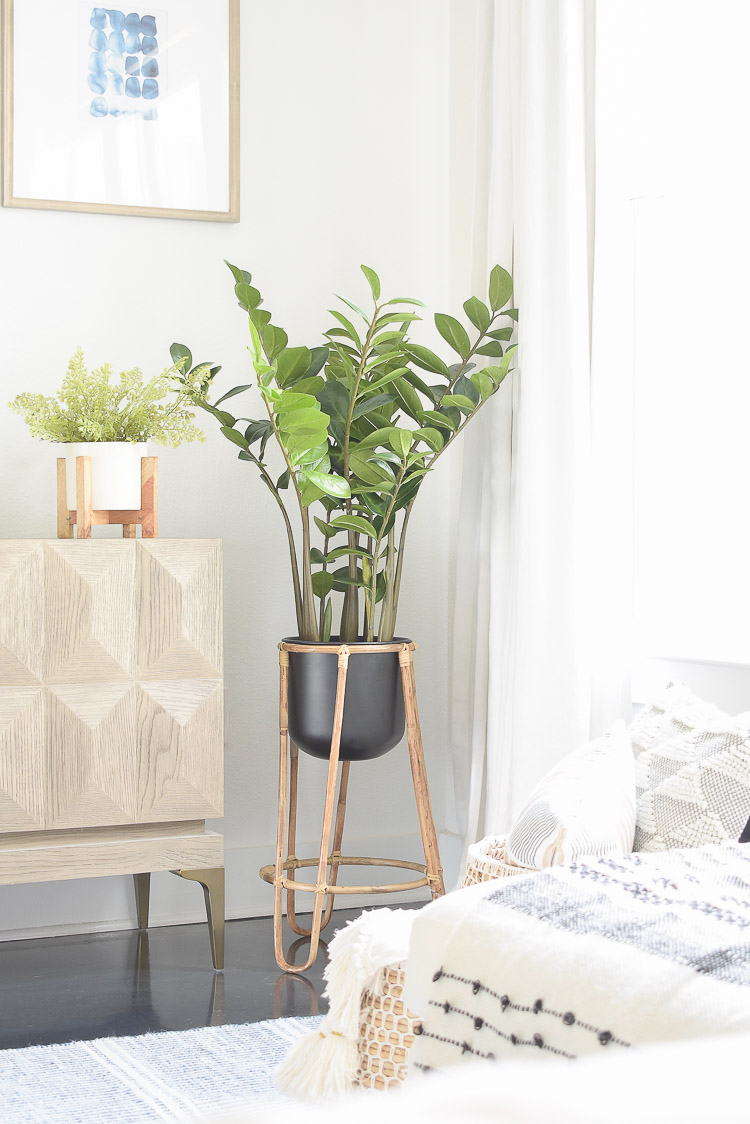 Now on to some of my more recent faux house plant purchases that are super exciting.  I LOVE this petite faux olive tree.  If you have a small spot that needs something this is it!  It is really so realistic just like the others and I love how pliable the branches are, and right now it's 30% off so the price can't be beat!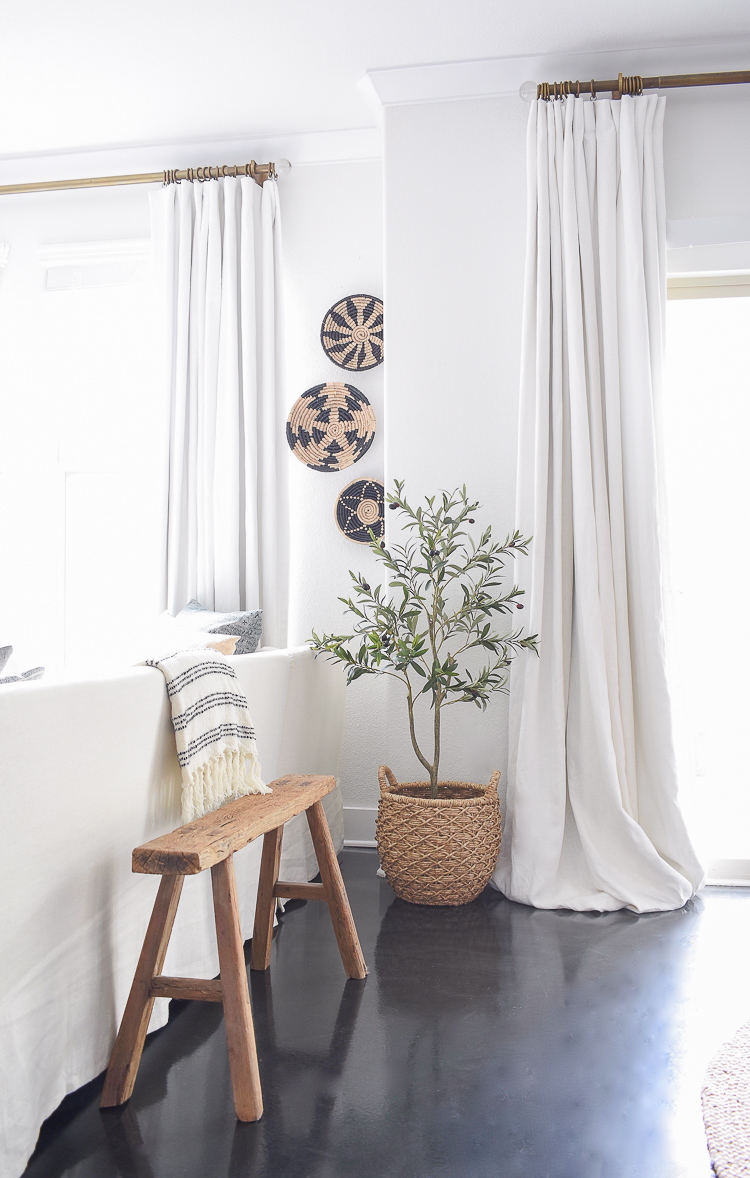 When you pull it out of the box it will seem small but you simply have to work with the branches and leaves to fluff them out to the desired look.  Make sure to find the right basket as well – you don't need a large basket for this olive tree because the base is super small and a large basket will overwhelm it.
This natural hyacinth tote basket is the perfect size but you can never go wrong when shopping World Market for your house plant baskets – they have the absolute best selection in one place!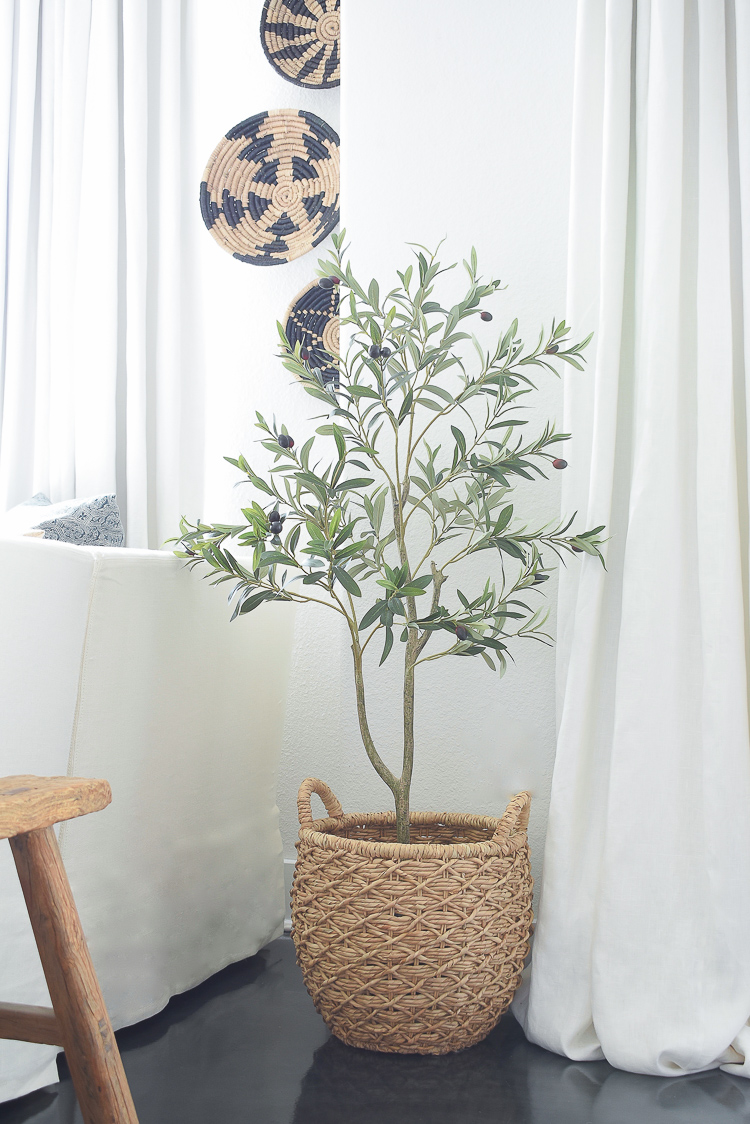 Also for reference I placed a large tuna can below my olive tree to elevate it about 2″ which worked out perfectly.  Really love this cutie so much.  My husband even raved about it!
Pro Tip:  Don't forget when possible and/or needed to elevate your plants using the appropriate height object to get them up to just the right spot in your space to be aesthetically pleasing.  I typically use another pot turned upside down or a can of soup or tuna, etc.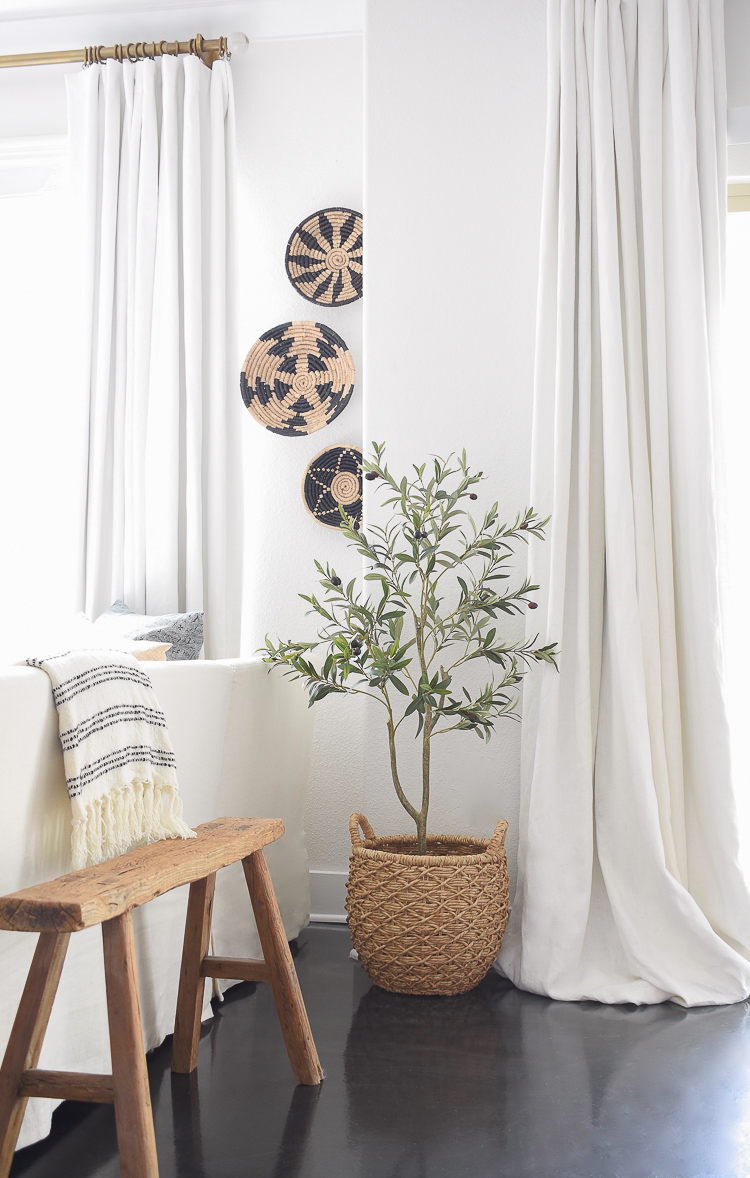 You may have noticed also the darling hanging wall baskets behind my olive tree…0k so I may have gotten off track a little from my house plant stint but, I have been trying to snag these for a while and was finally able to grab them at the store recently so I snatched them up because they often go out of stock quickly.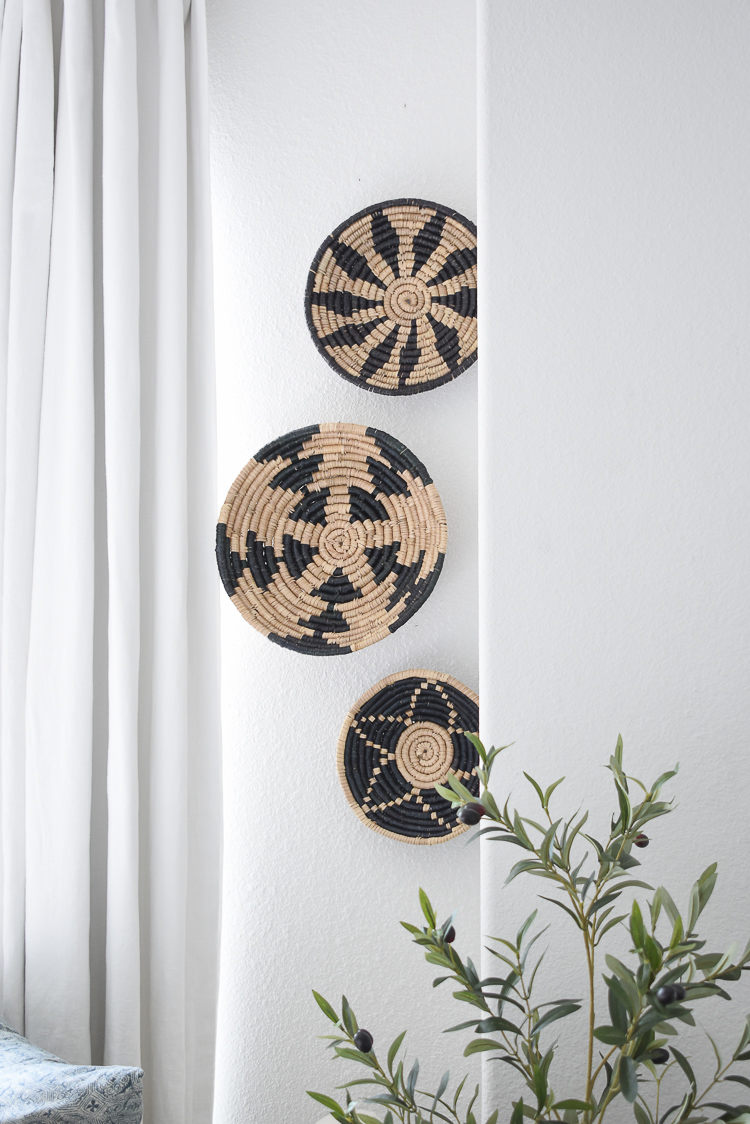 What I love about these wall baskets is that they come in a set of three, they are black and natural in color so go with every decor style and, they are super affordable for wall baskets!  Full price they are only $59.99 for the trio but right now during the World Market Friends & Family Event they are 30% off + an additional 10% off with curb side pickup so this purchase was a no-brainer for me!  They are so, so cute…aren't they?!?  And they add a ton of personality to my wall!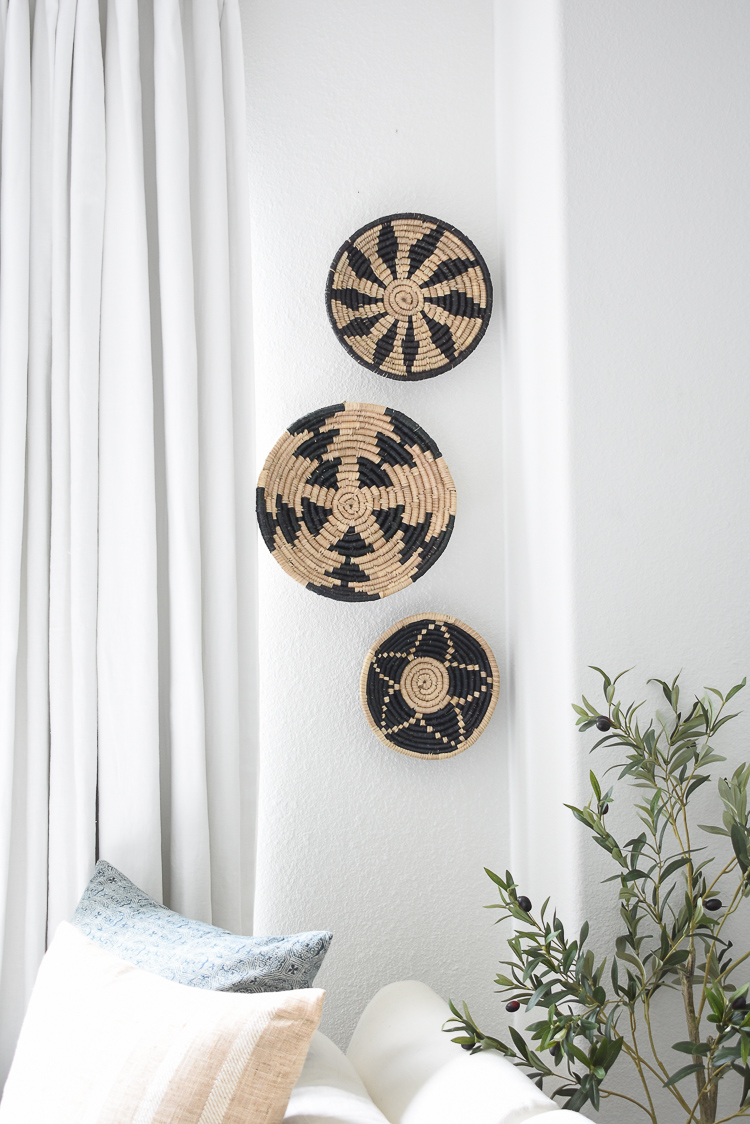 My husband also really loved these and now we just smile every time we walk past this little area.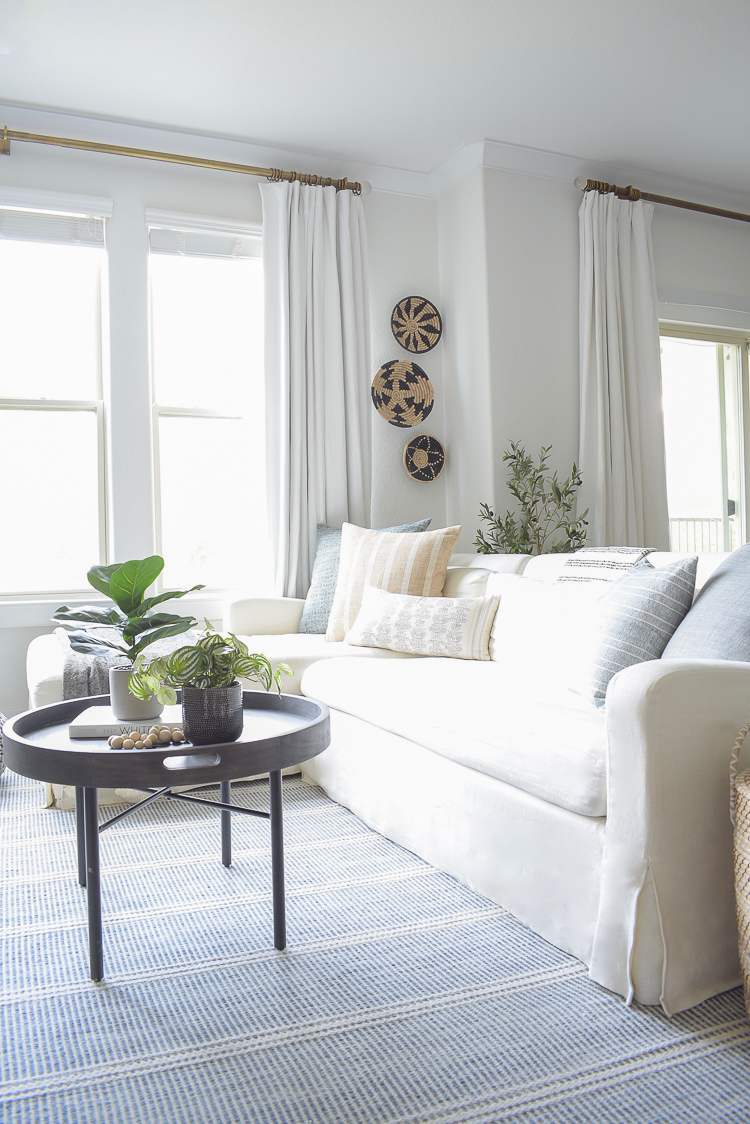 My favorite way to restyle my coffee table is with a change of fresh or faux scenery as well.  Like I said previously, these days it's all about the best quality faux plants for me so when I found these two small faux house plants at World Market I knew they'd work perfectly.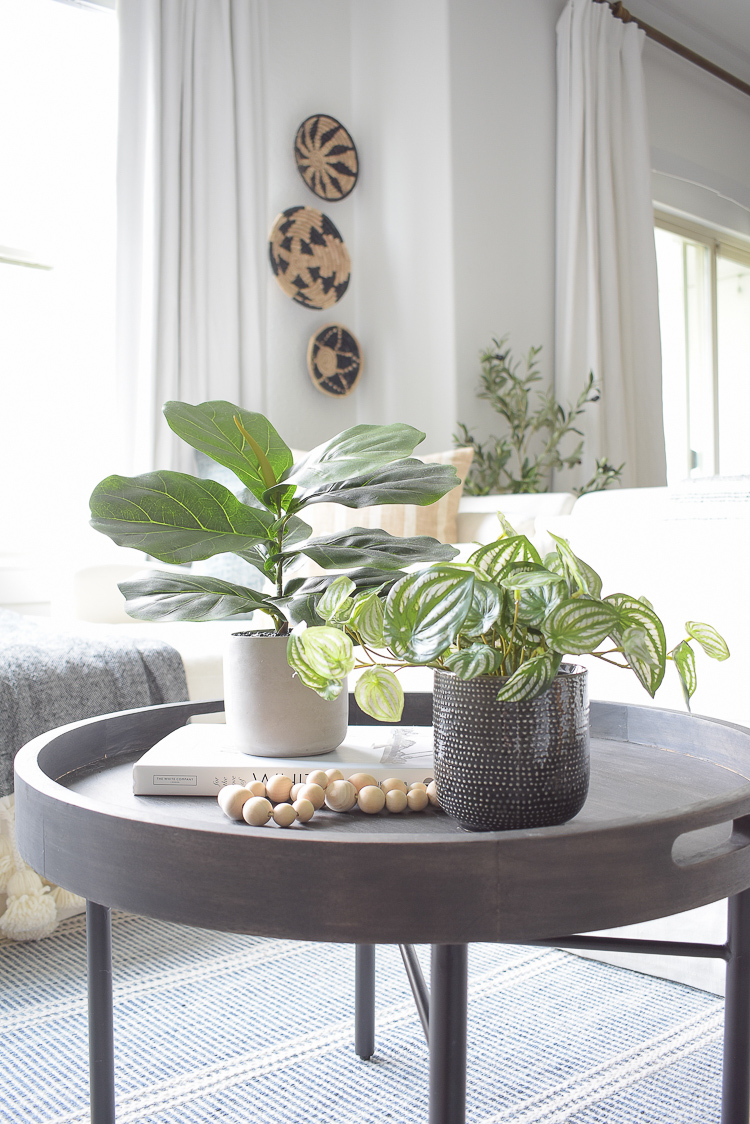 The small one with the white on the leaves is called a Peperomia Plant.  This one comes in a set of two and the other has more color and variation to the leaves but both are darling and great for the coffee table or to style shelves with, etc.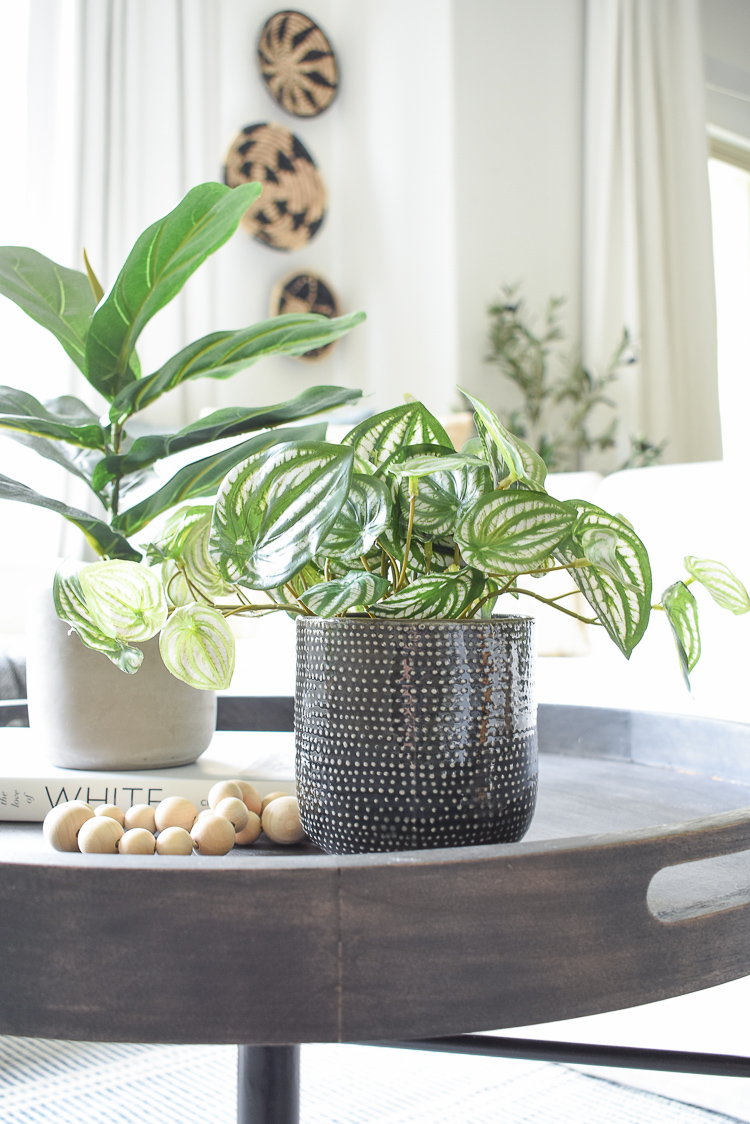 They come in a small cement looking pot but it's best to grab a decorative pot while you're at it like this black one that holds it perfectly.  I still can't get over how realistic this one looks too!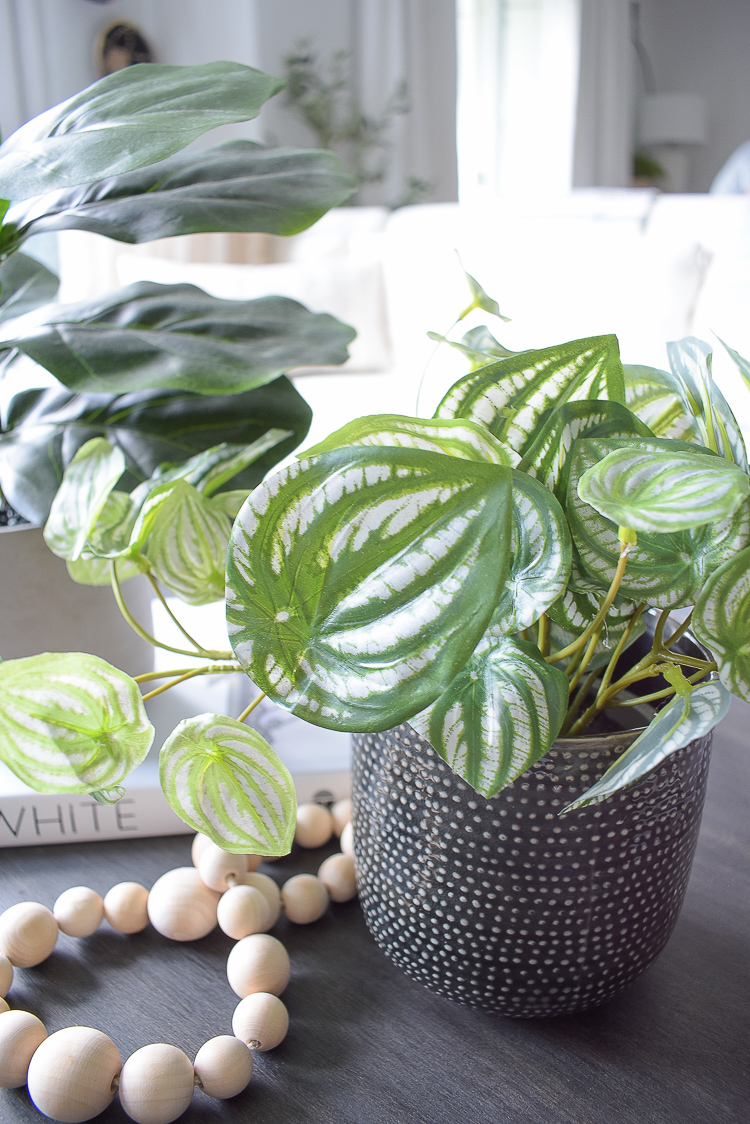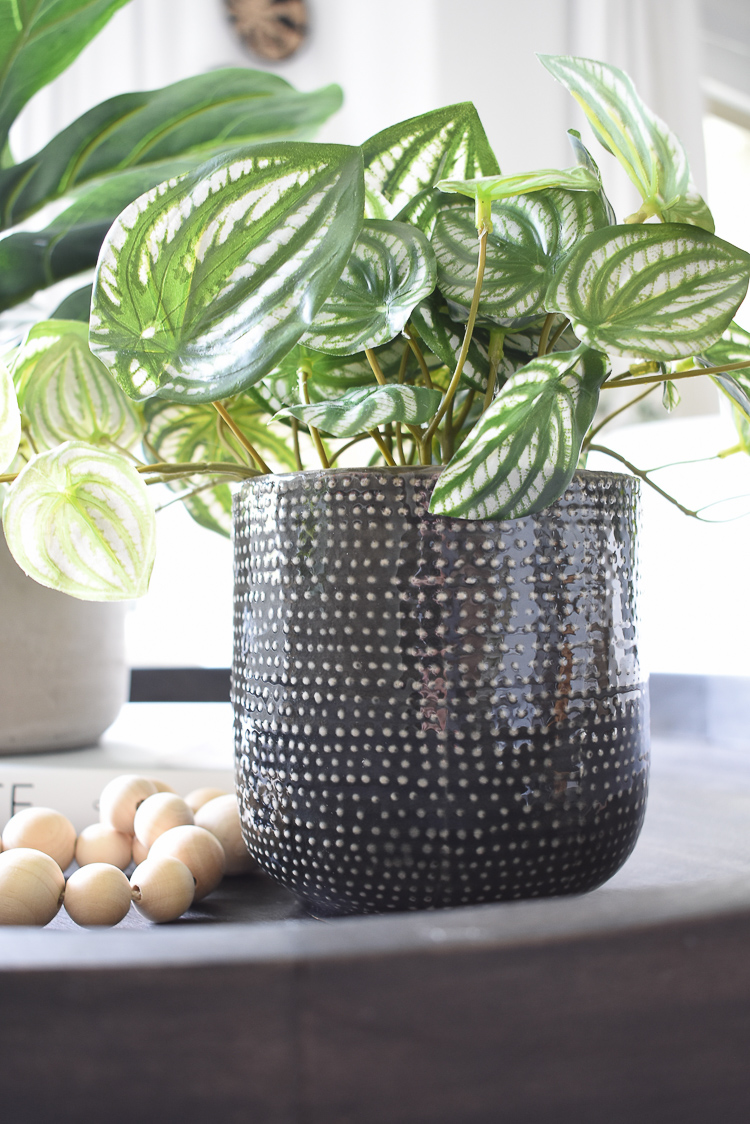 I also picked up this faux fig plant in a cement pot.  Love how the pot gives it that fresh modern feel.  This one is about a foot high and it has the same realistic leaves my larger one has first shown in this post.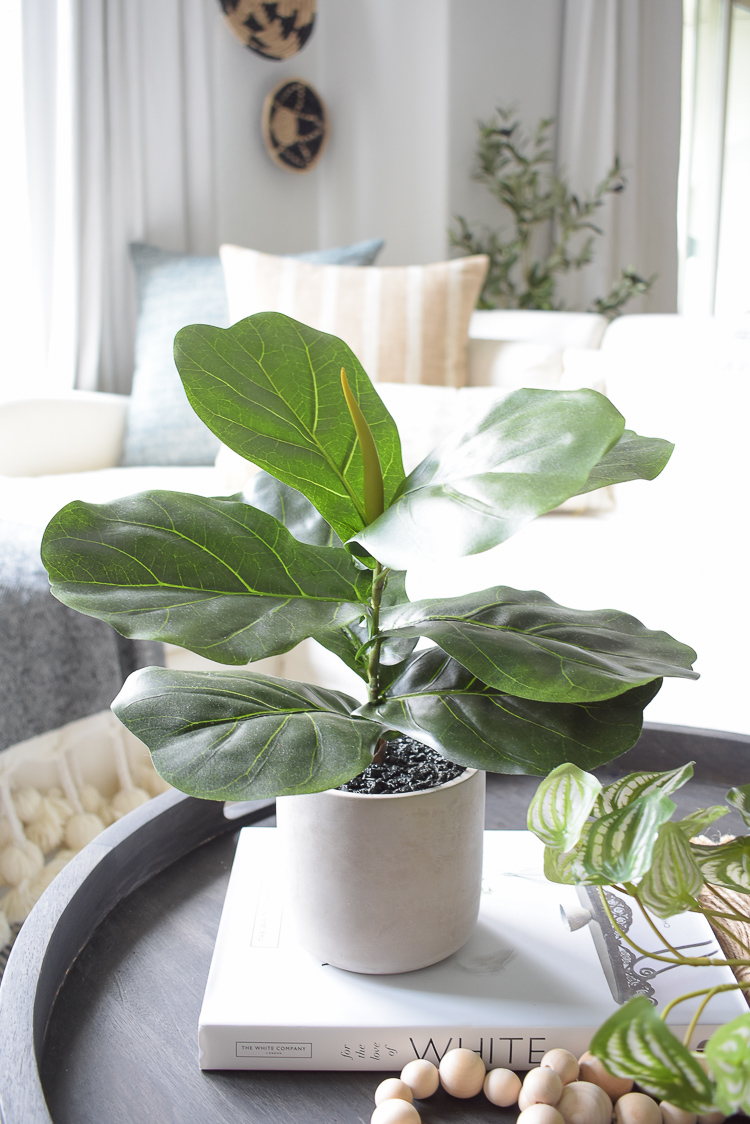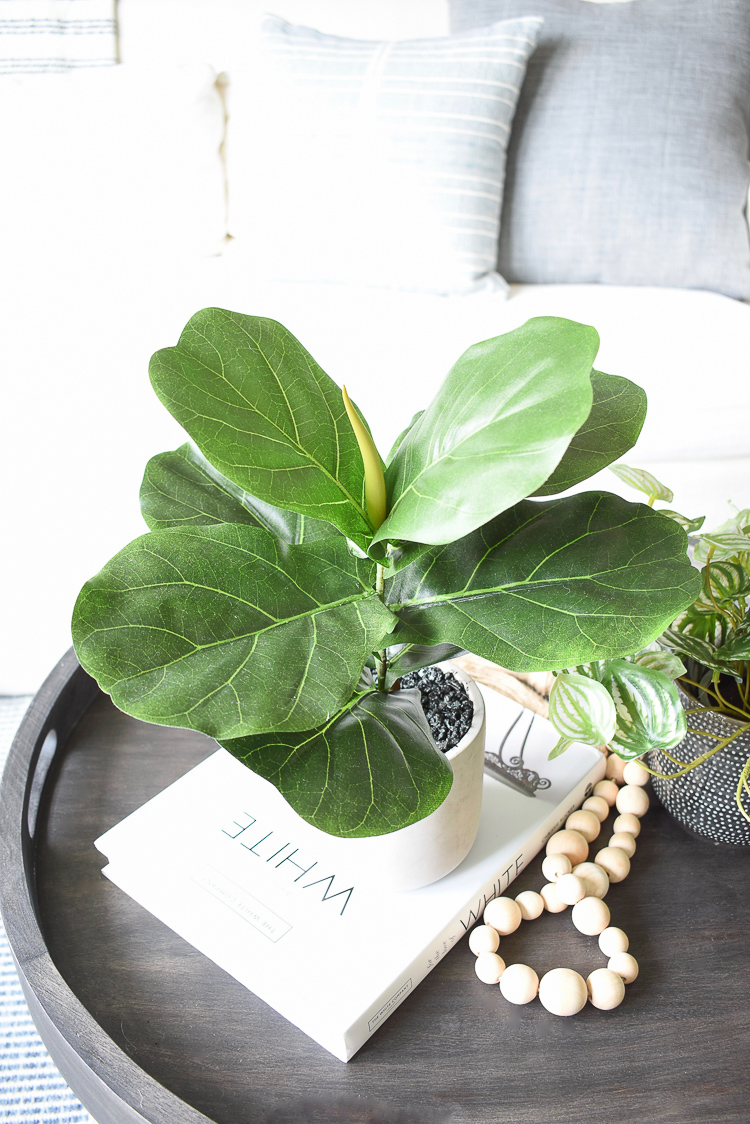 Pro Tip:  Group plants with different color leaves and textures for an interesting, warm look that will really liven up your spaces.  Also make sure they are different heights so that your eye bounces around the vignette to take in the full view.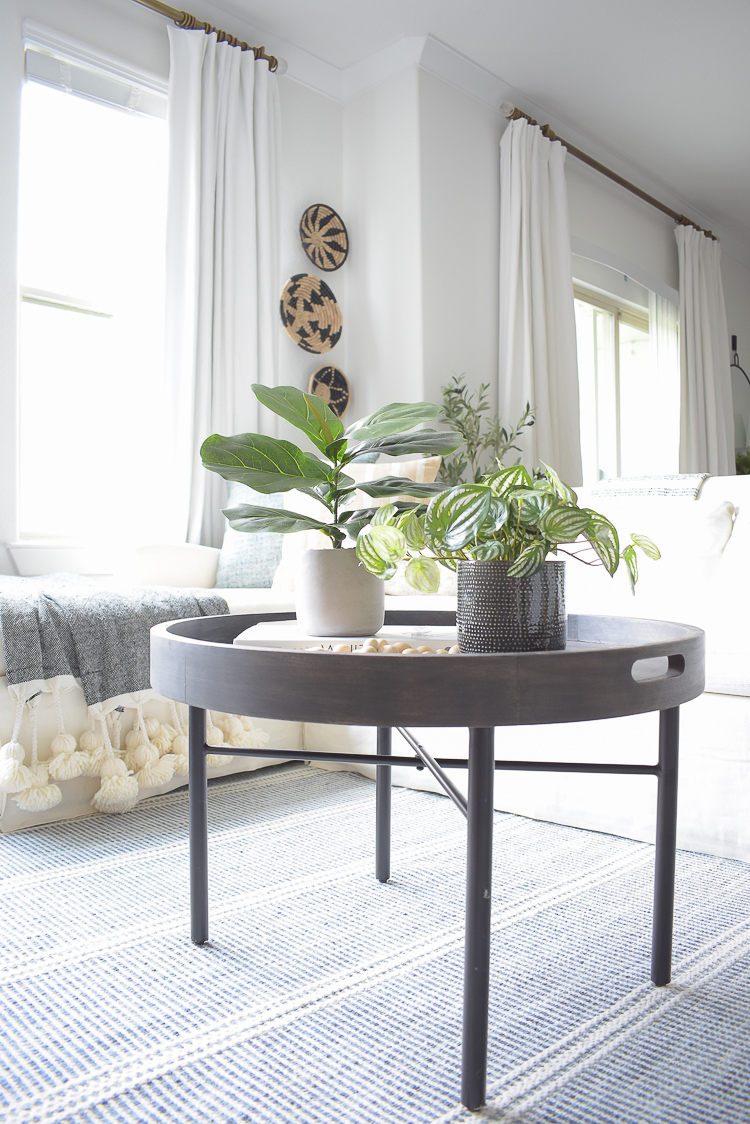 Here is my coffee table styled another way with the Peperomia Plant and a Ghostwood branch.  Love the versatility with this one, and it looks Soooo real!!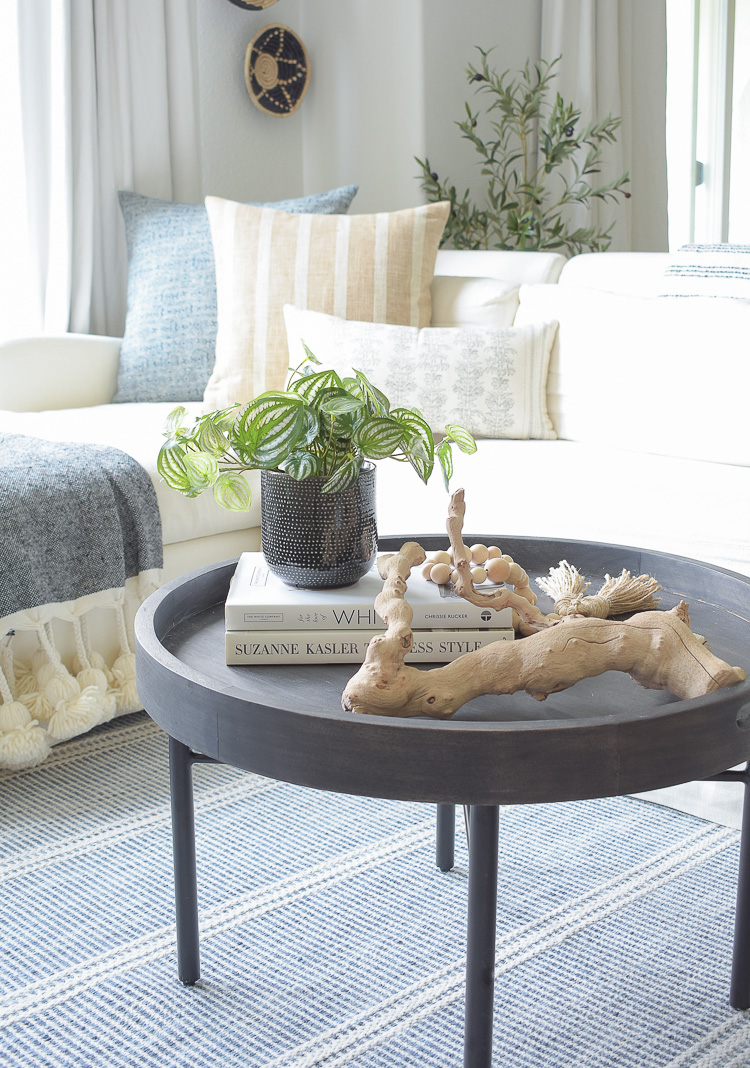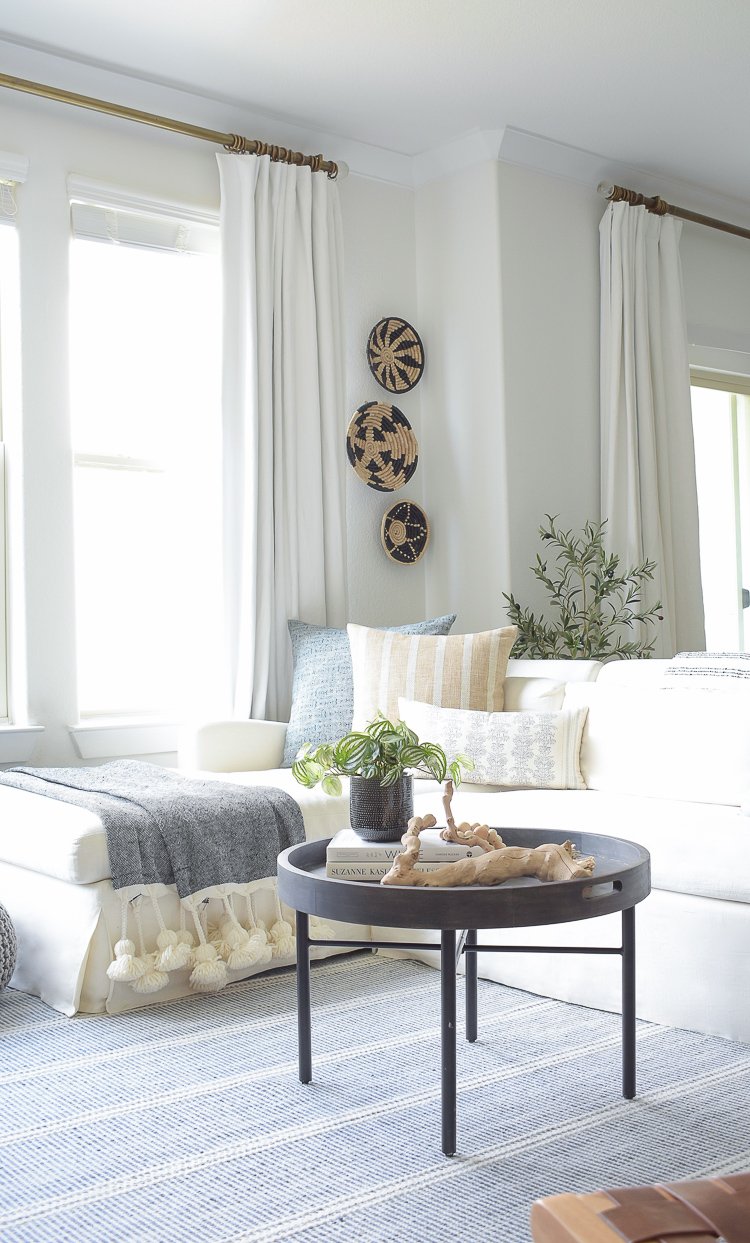 Also not plant related but you might remember this gray indoor/outdoor pouf from my patio refresh post this summer – well it's back inside and I'm loving it in here.  I love, love, love versatile pieces like this that can be moved around for multiple use!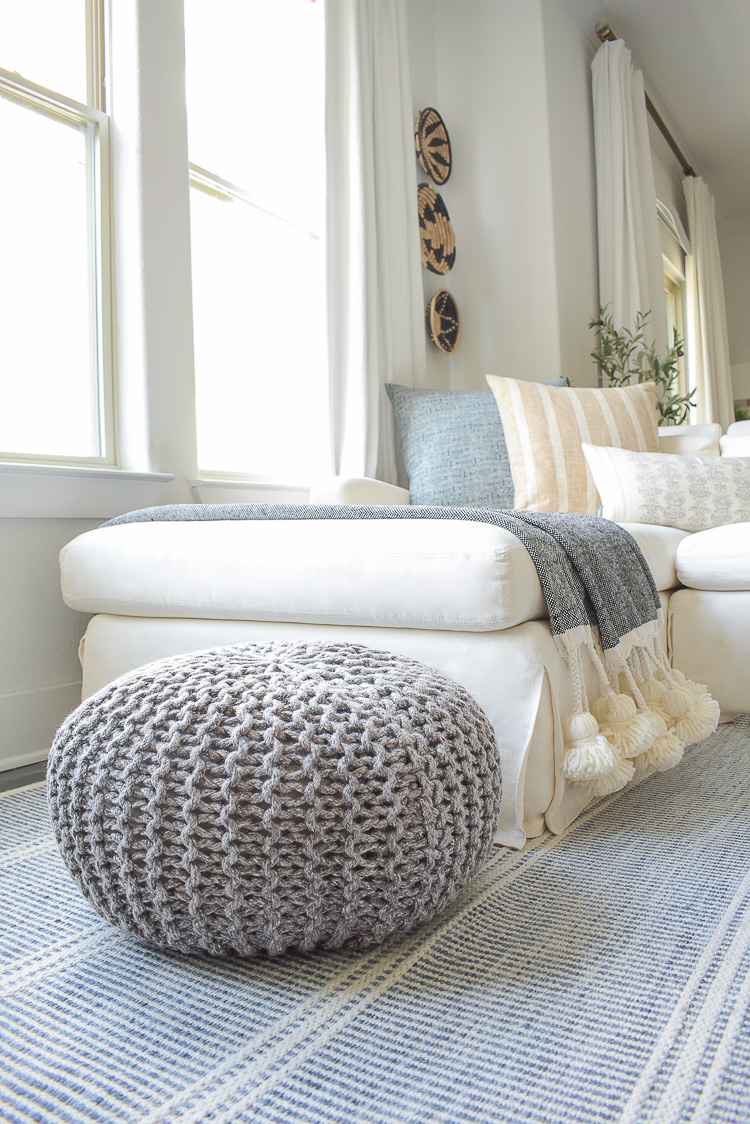 Don't forget that if you are shopping World Market on line their Friends & Family sale (where almost everything is 30% off right now) is going on, with an additional 10% off for curb side pickup!  Some things are out of stock for shipping but can be purchased on line to pick up at your local store.
I hope you enjoyed my post on the Best Modern Faux House Plants – Where to Buy + How to Style Them!  Below I've linked all of my favorite faux house plants, pots and plant baskets but if you have any questions or comments I'd love to hear from you in the comments section below!  Happy plant shopping!!

Shop Faux Plants, Stems, Baskets & Pots

Let's stay connected…
Pinterest | Facebook | Instagram | Linkedin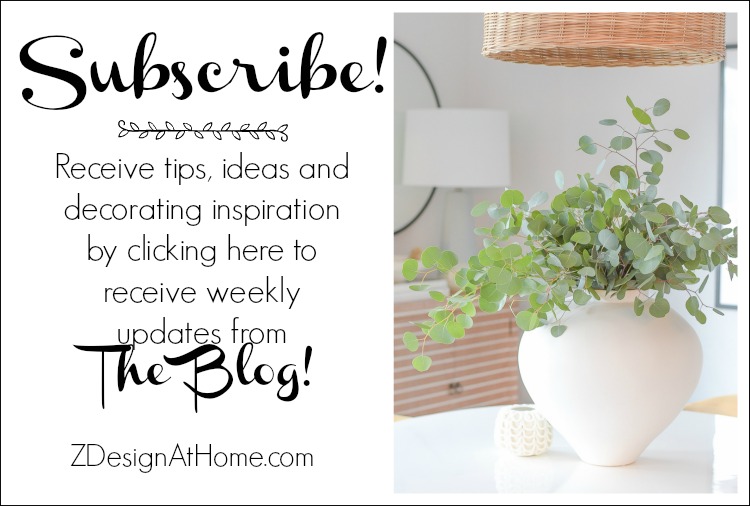 Other Sources in this Post
Black Coffee Table | Large Tassel Throw | Rug | Similar Curtains | Similar Media Cabinet | Coffee Table Book | Wooden Beads | Similar Sofa | Black/White Floral Pillow | Neutral Striped Pillow | Large Blue Pillow | Solid Gray Pillow | 20 x 20 Blue/White Pillow | Similar Curtain Rod