5 Tips For A Stay At Home Summer Patio Refresh
Well, we finally made it to the finish line with school this week and I'm so excited to just be able to sleep in and begin the lazy days of summer already, how about you?  It's in the 90 degree range here in Houston already and the hot days have me feeling like afternoon naps, even though I'm not really a napper;).  Thank goodness for our little patio that we can escape to early and late in the day when we need a little outdoor time!
If you're hanging around the la case this summer like we are and looking to refresh your patio, I've got you covered with 5 Tips for A Stay At Home Summer Patio Refresh + I'm giving you a tour of our small rental patio.  And just in case you didn't hear yet, we are building a new home and you can check out my most recent update on that here and/or on in my Instagram story highlights.  You can also check out my 6 Tips For Creating A Relaxing Outdoor Space from last year here.
*this post contains affiliate links ~ please read my full disclosure policy here.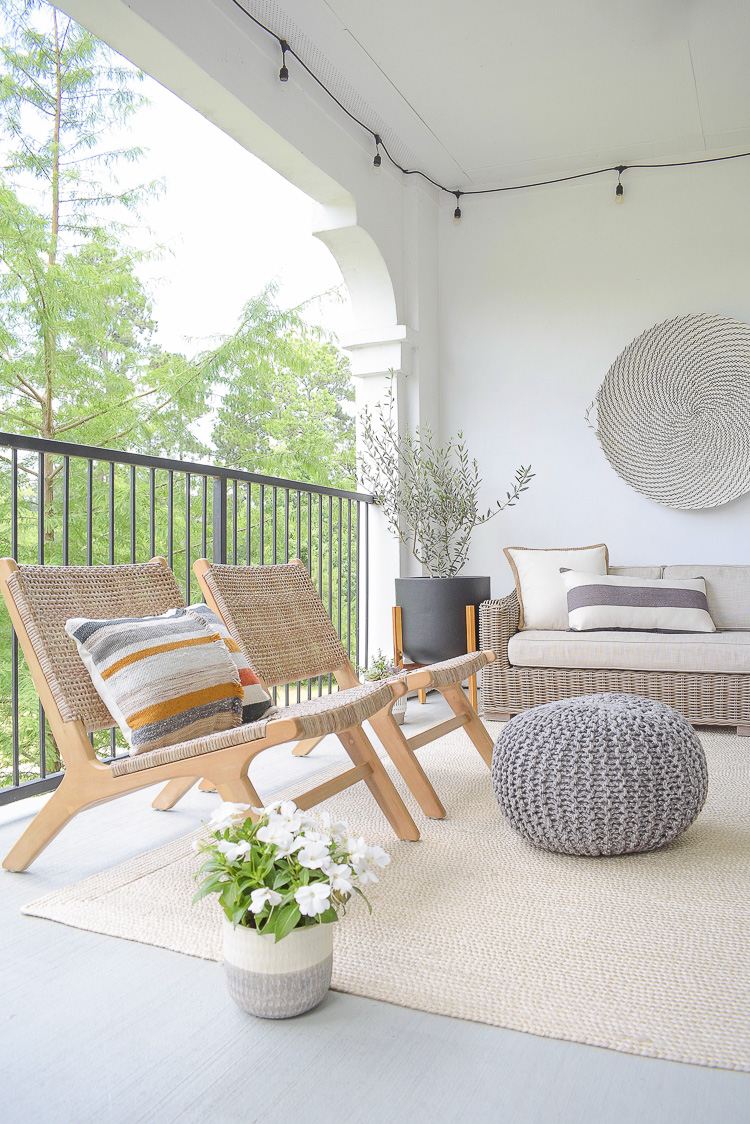 We actually added these commercial grade string lights last fall but boy have they been a game changer out here!  If you don't have them in your outdoor space yet, they put off the most relaxing glow and make the space so much more enjoyable in the evening.  You can see mine all lit up here.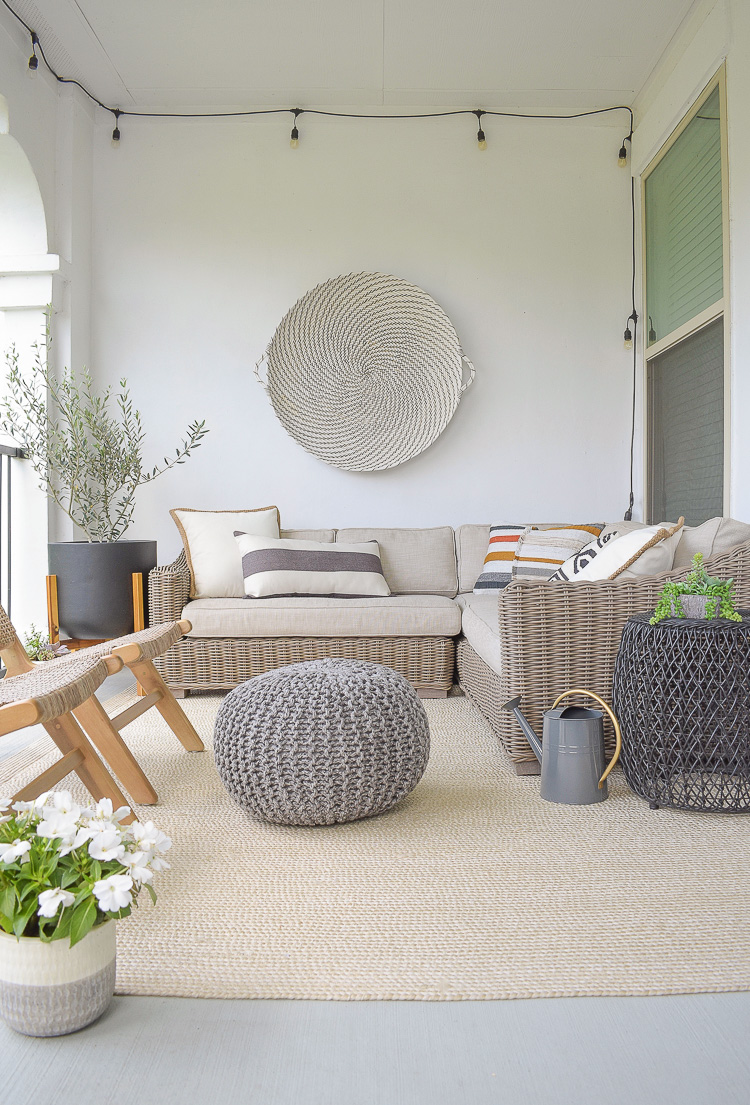 But this year I added some extra seating with these chairs that has also been a game changer.  It's been so nice to be able to sit outside as a family and be able to sit across from one another while having a conversation.  Don't be afraid to group your outdoor seating closely for comfortable, intimate conversation.  It can give you and the ones you love time to reconnect after a long day, or at the beginning of the day before you go your separate ways.  And it makes for a super cozy space!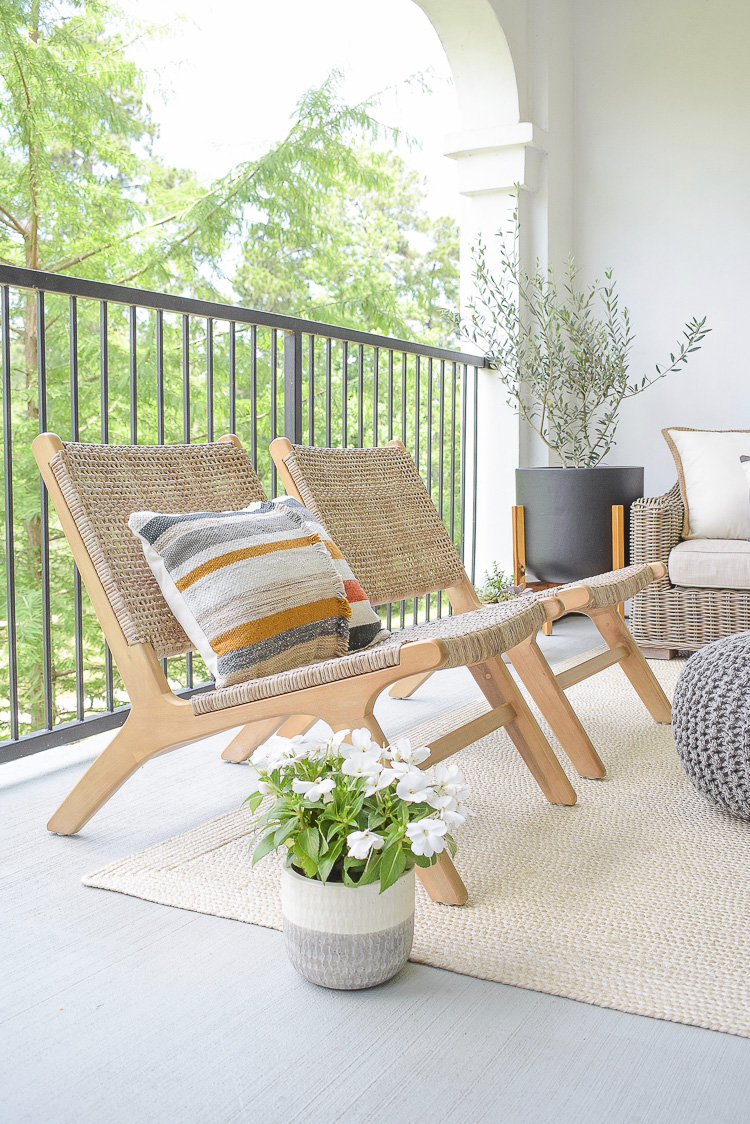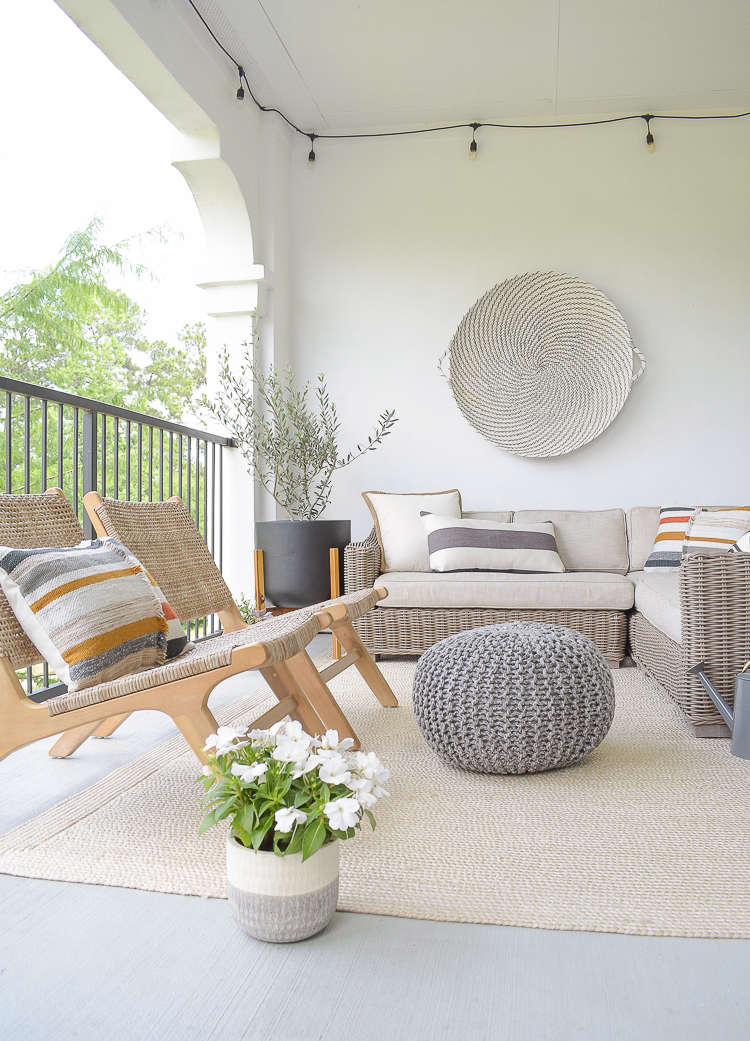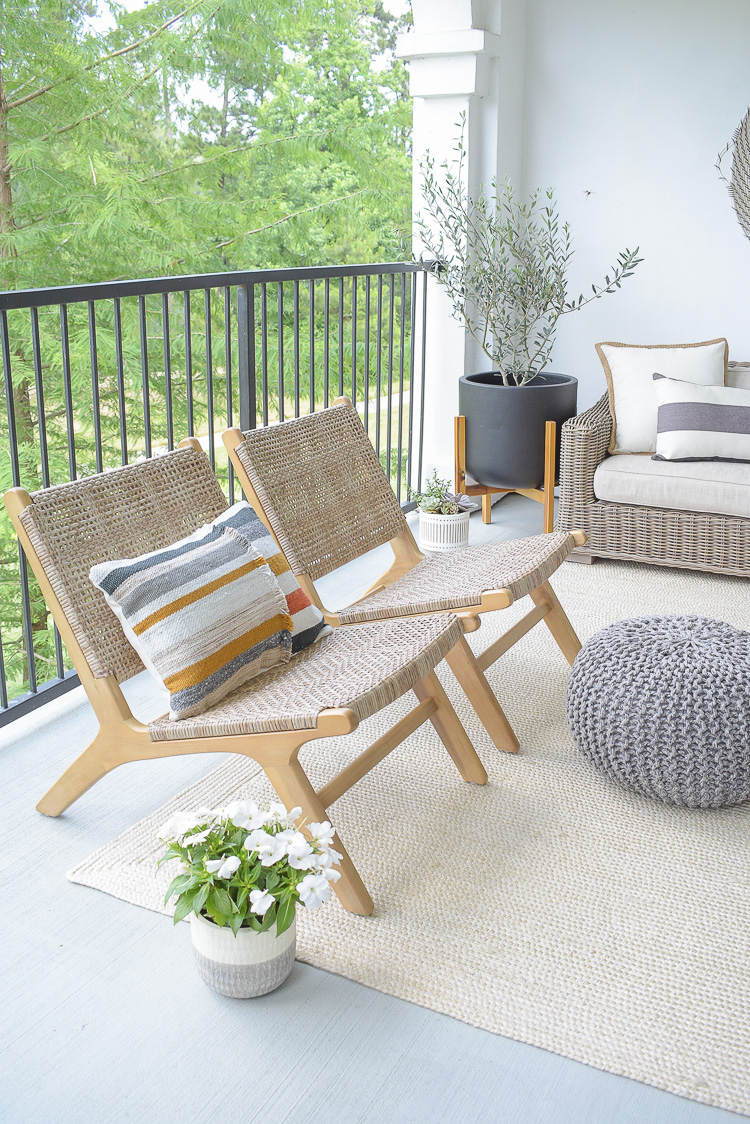 The chairs are super lightweight so they are easily moved around for great conversation but so is this outdoor gray pouf I added.  If you've been here any length of time you know I love a good pouf and am a big proponent of furniture that can be moved around having a multi-purpose.  My husband loves to do his morning quiet time out here (seated in one of the chairs) and prop his feet up on the new pouf, and then when I come out to chat with him I use it to sit on sometimes while we hang out before our day begins.  I love that this one is outdoor so I don't have to worry about it fading or getting wet.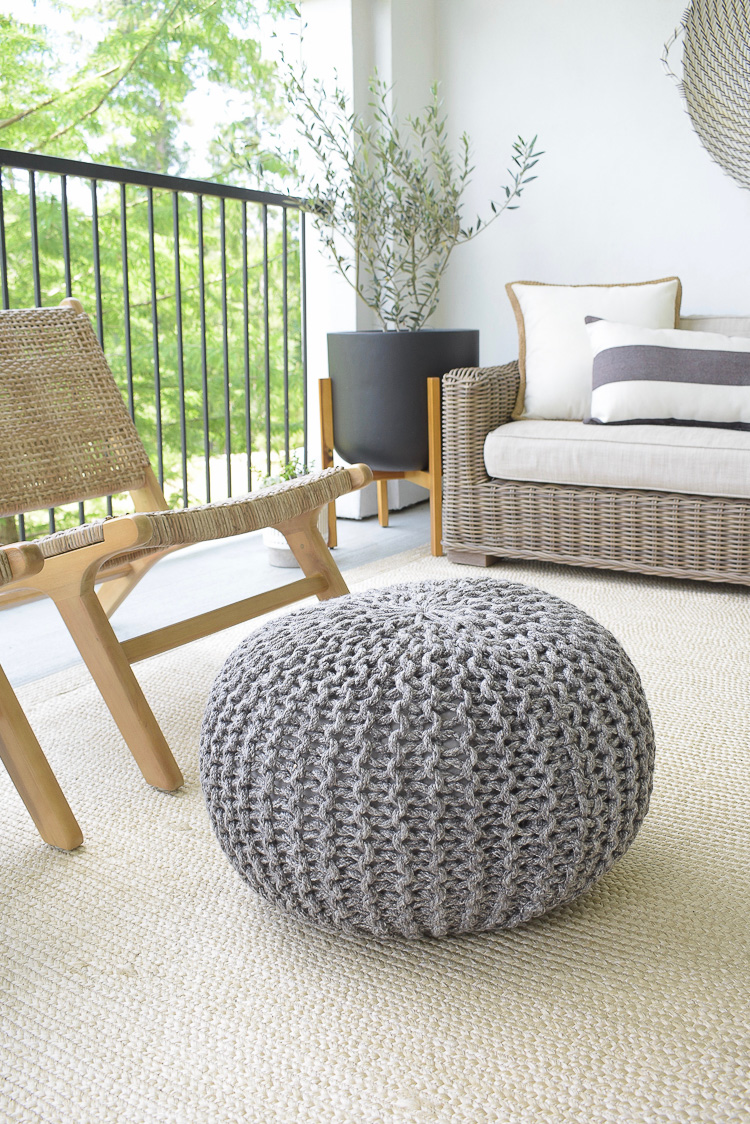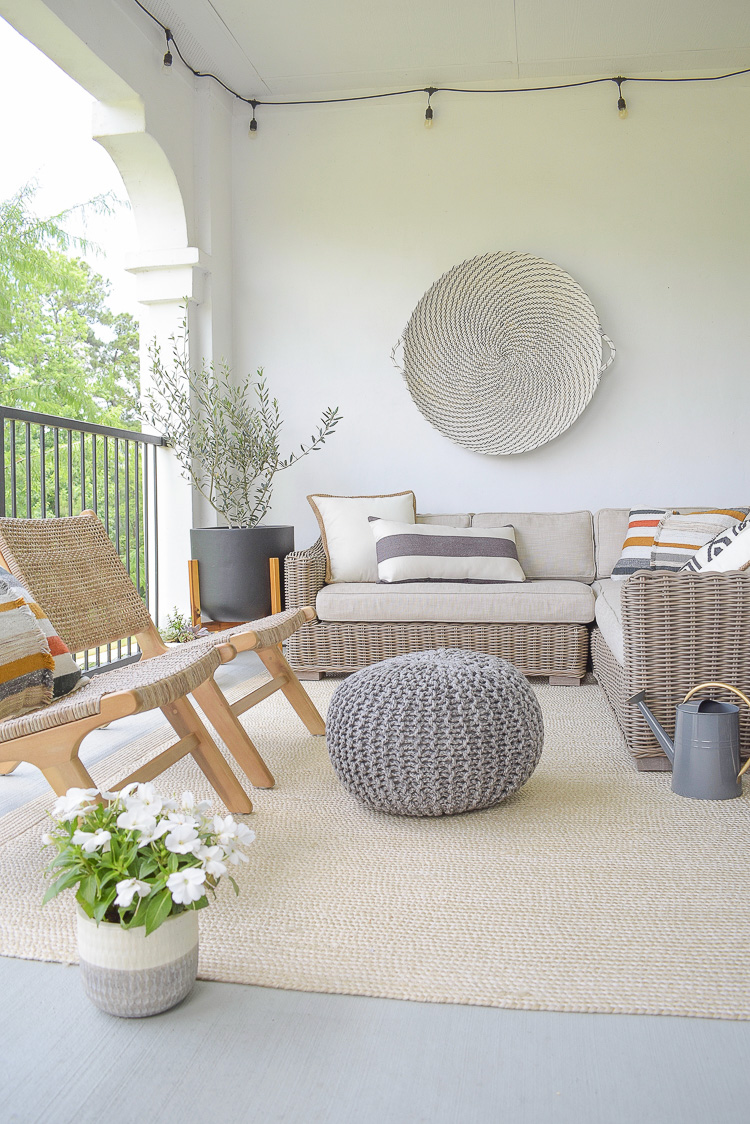 Another thing I like to do in an outdoor space is to use a rug to ground and cozy up the space.  I usually replace my outdoor rug every year, or every other year and with the addition of the chairs this year I needed something a bit more subtle than the black and white striped rug I had last year.  I bumped into this one at Target and instantly fell in love with its neutral color and subtle basketweave pattern.  The built-in boarder is a nice little detail too.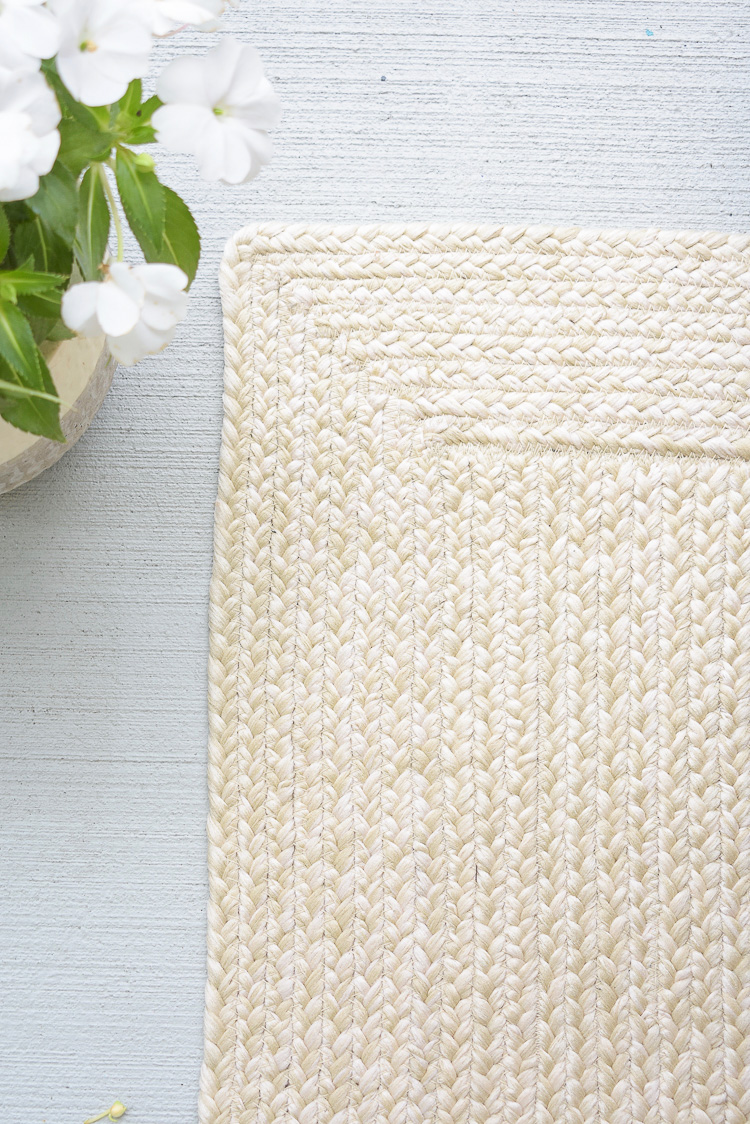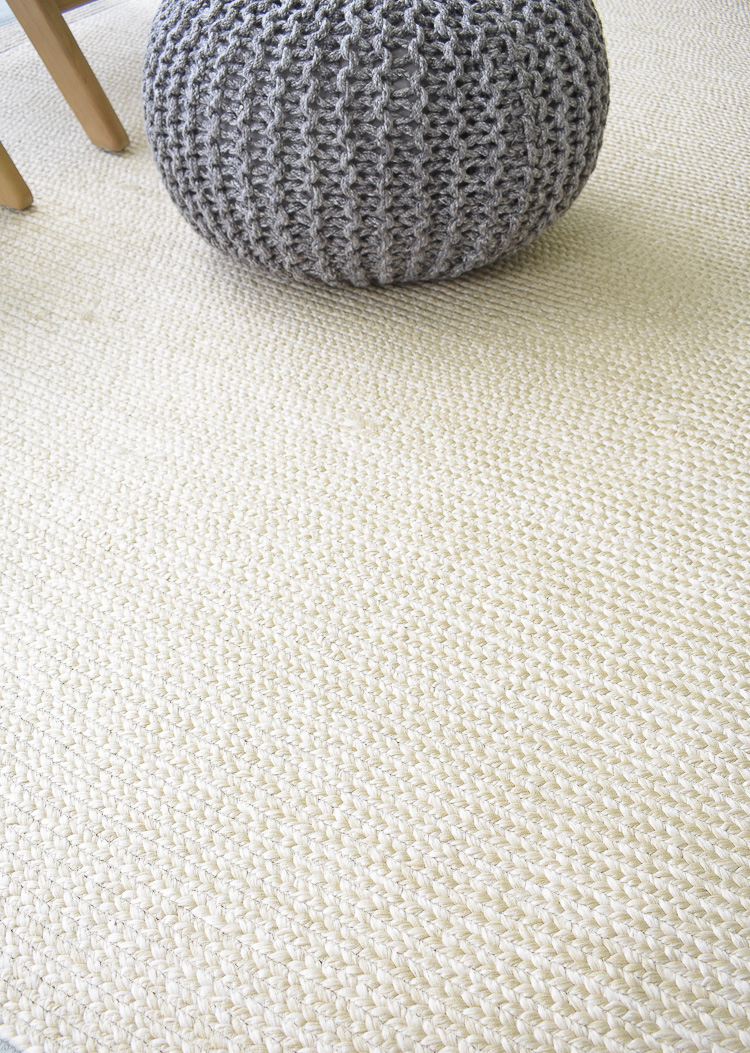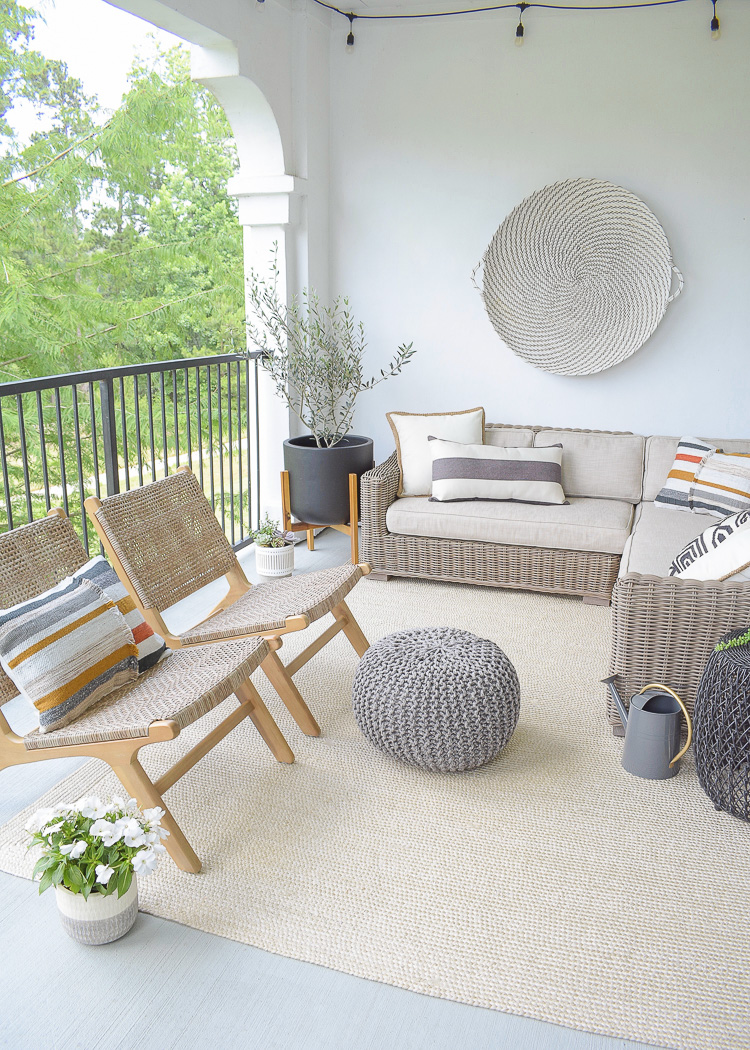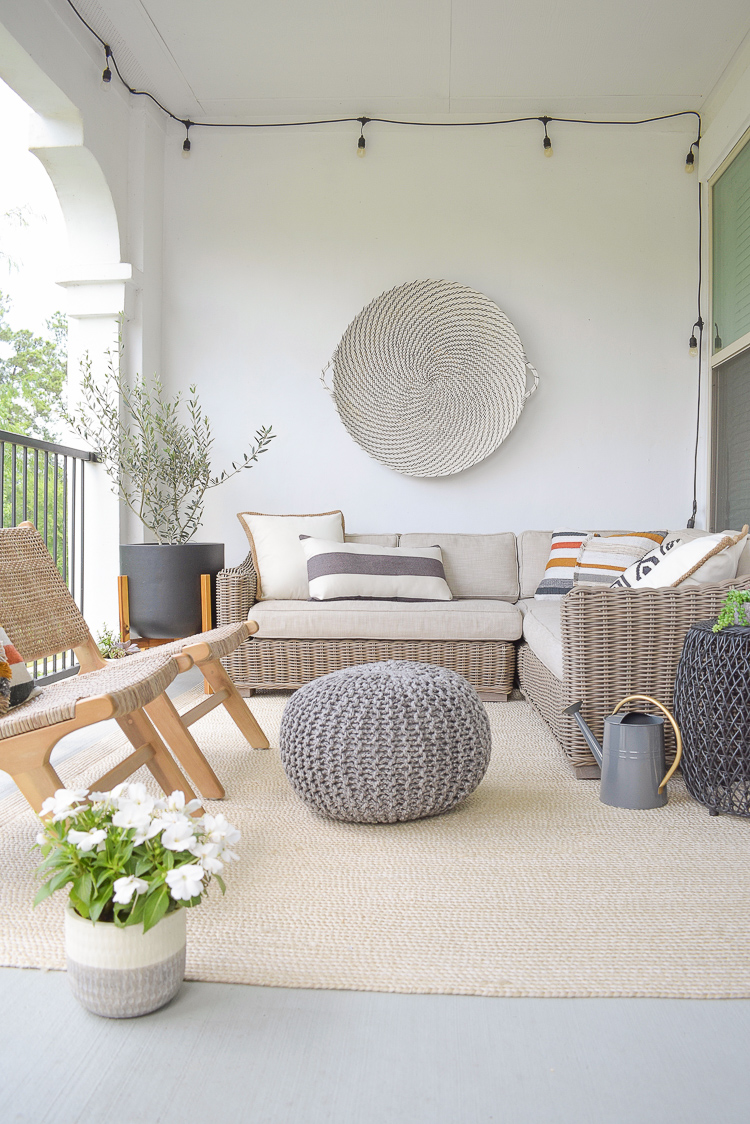 I also like to add a mix of fresh and faux flowers, plants or trees.  By using both it still gives me the cozy feel of flowers and plants in our outdoor space but lowers the maintenance level of so much watering.  This year I added a real olive tree I picked up at The Home Depot. Love how great it looks in one of my favorite pots too.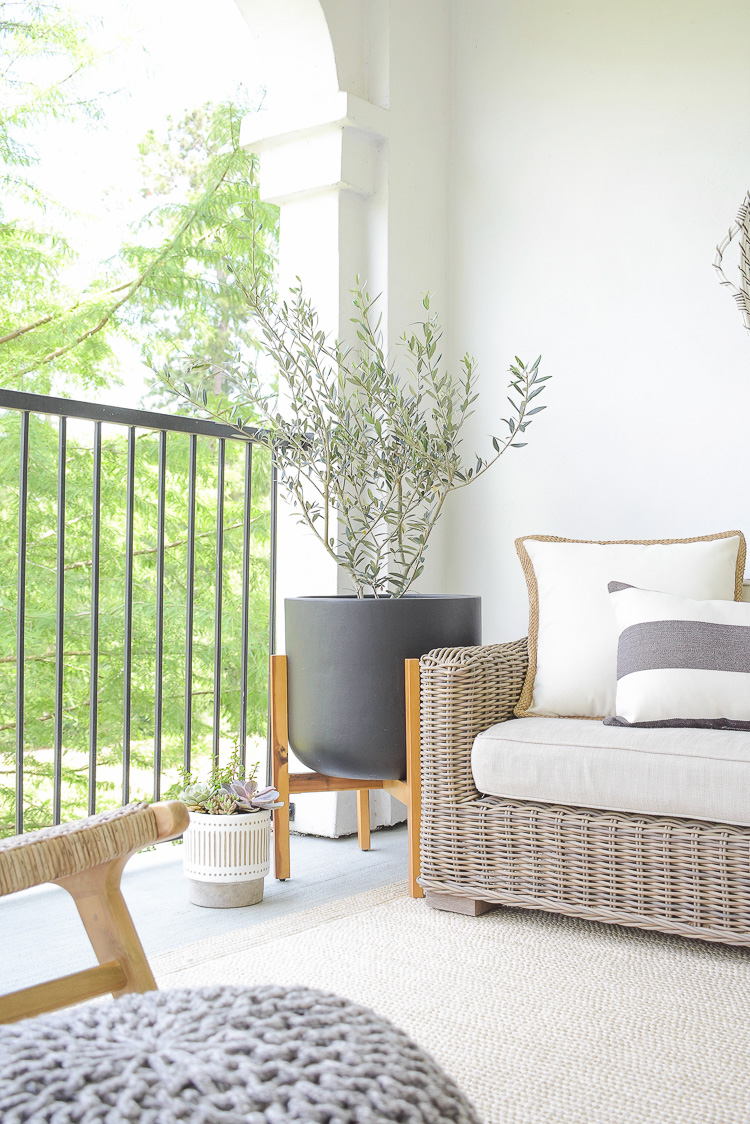 It was only $19.99 and when I researched olive tree care I found out they are draught tolerant, and grow about 1 foot per year which of course is about an inch every month so I'm super excited about that!  I've only had it a couple of weeks and can already see new growth – I'll let you know how it goes:)!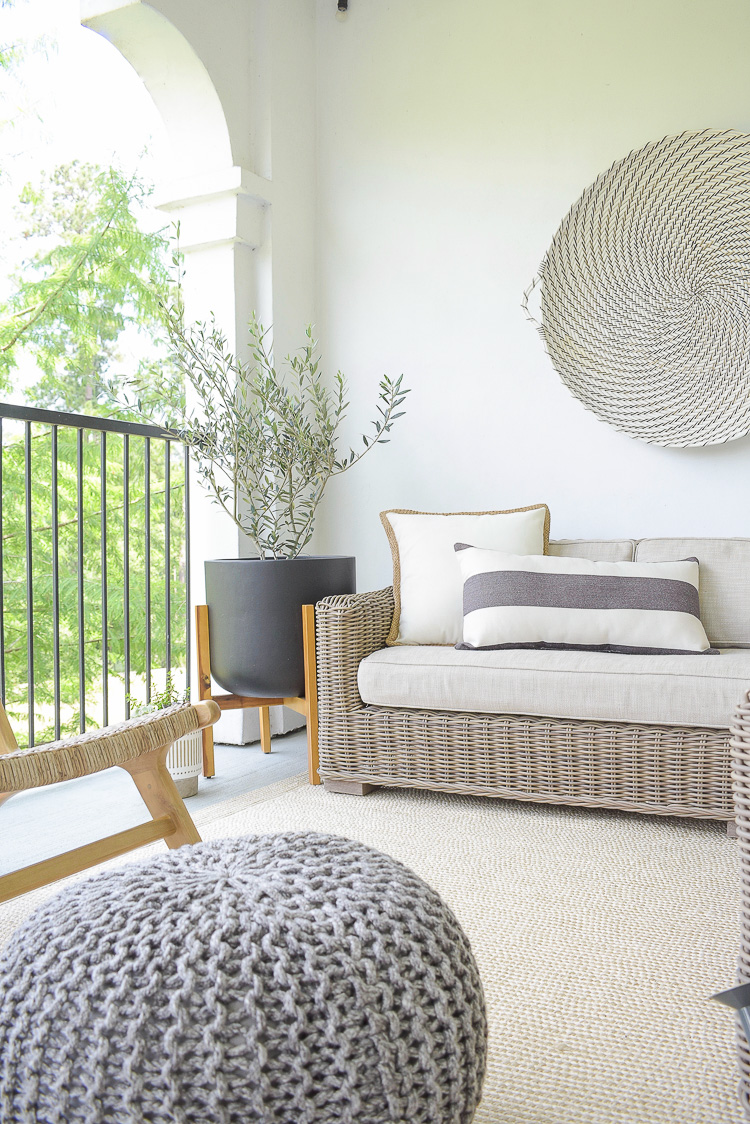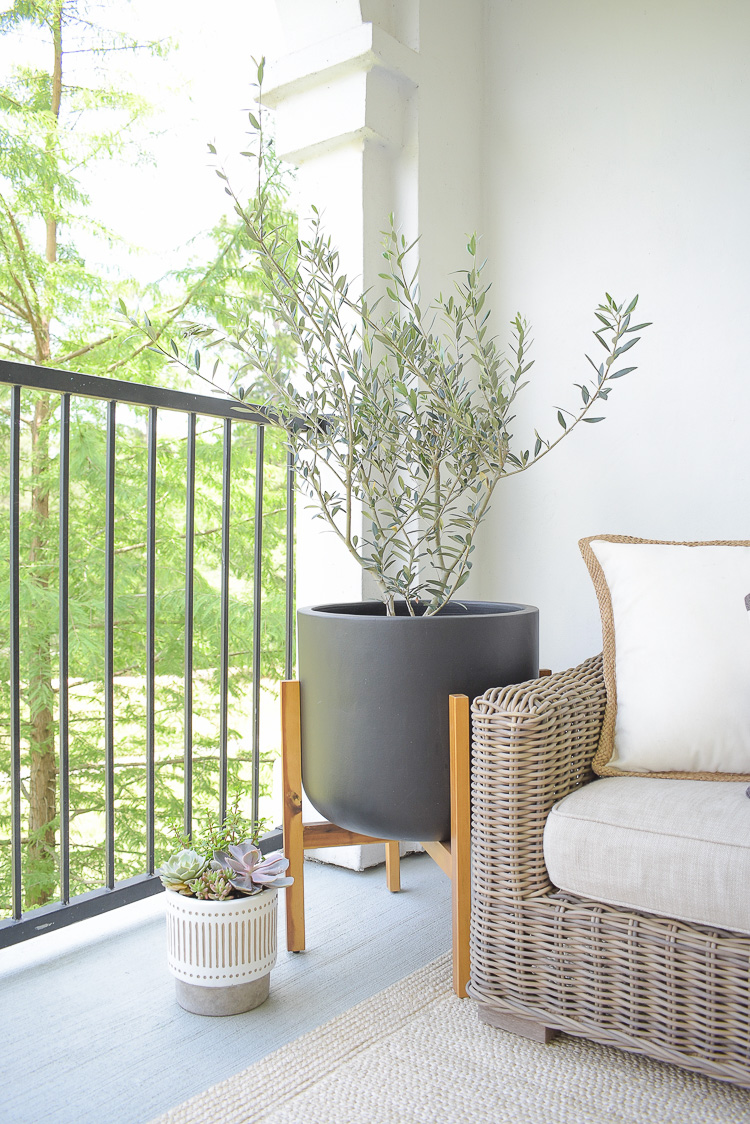 I'll talk more about this little succulent pot I created soon in a separate post but I had the best time pulling this together.  I love the color, texture and personality it adds to the space and also love that of course it's draught tolerant as well, because ya know…I kind of have black thumb unless something is super easy to grow;).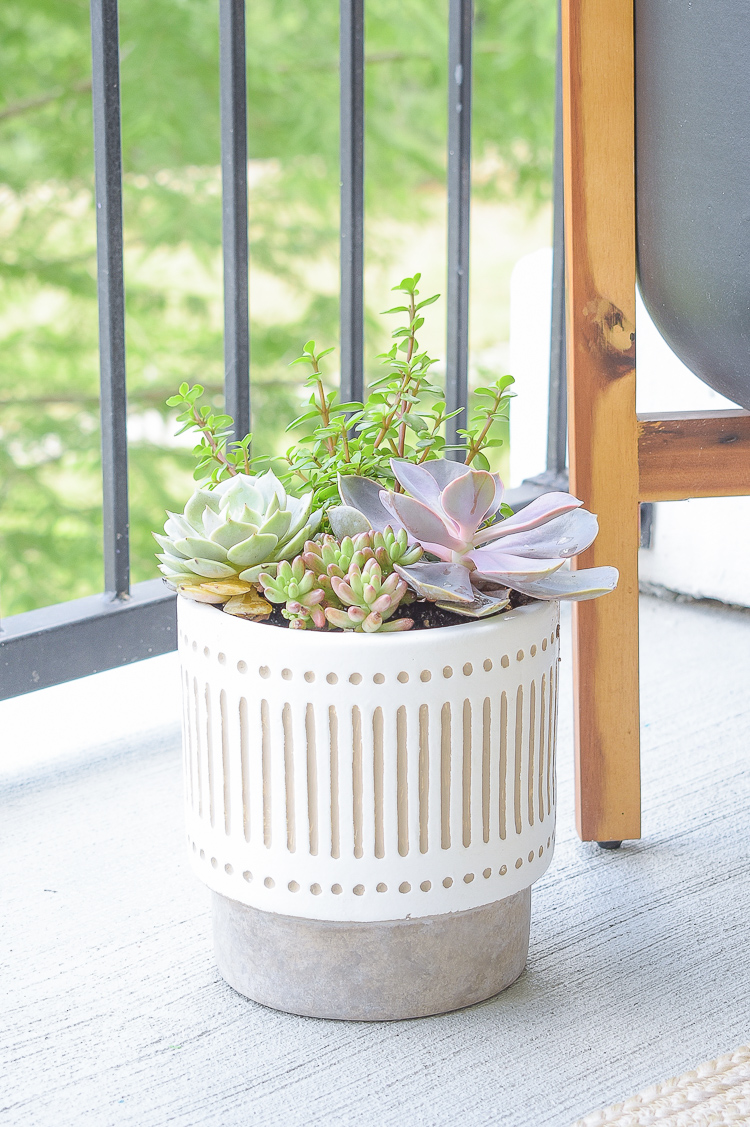 Such a cute modern pot.  Adding a new pot or two to my outdoor spaces each year keeps it feeling fresh and new as well with minimal expense.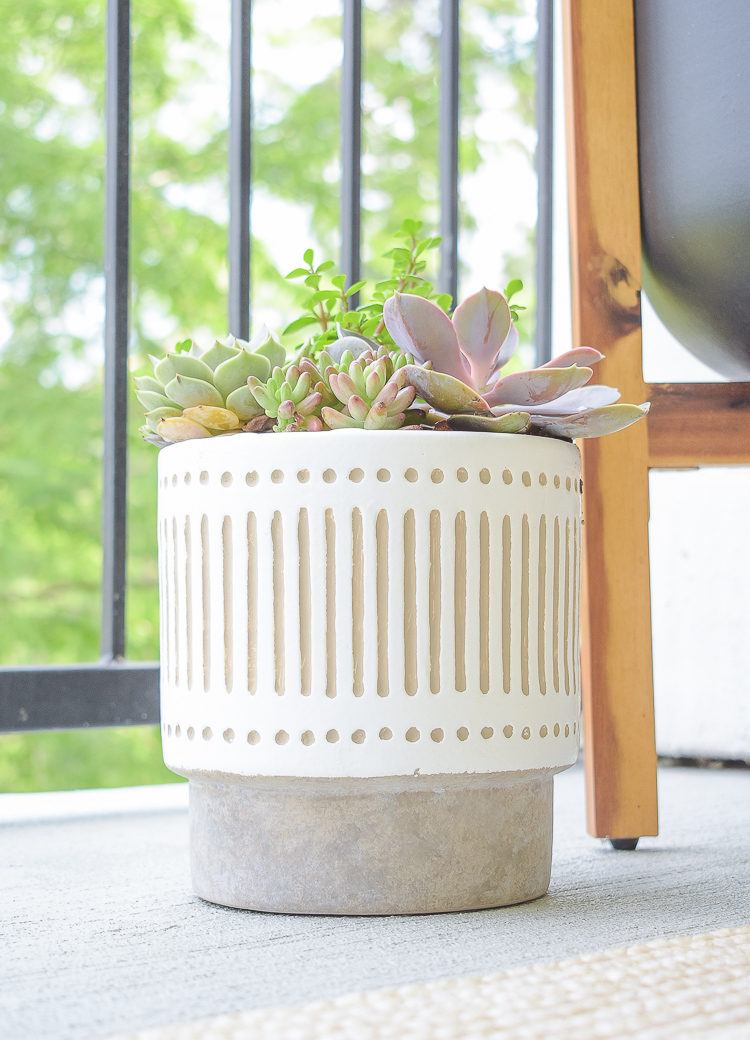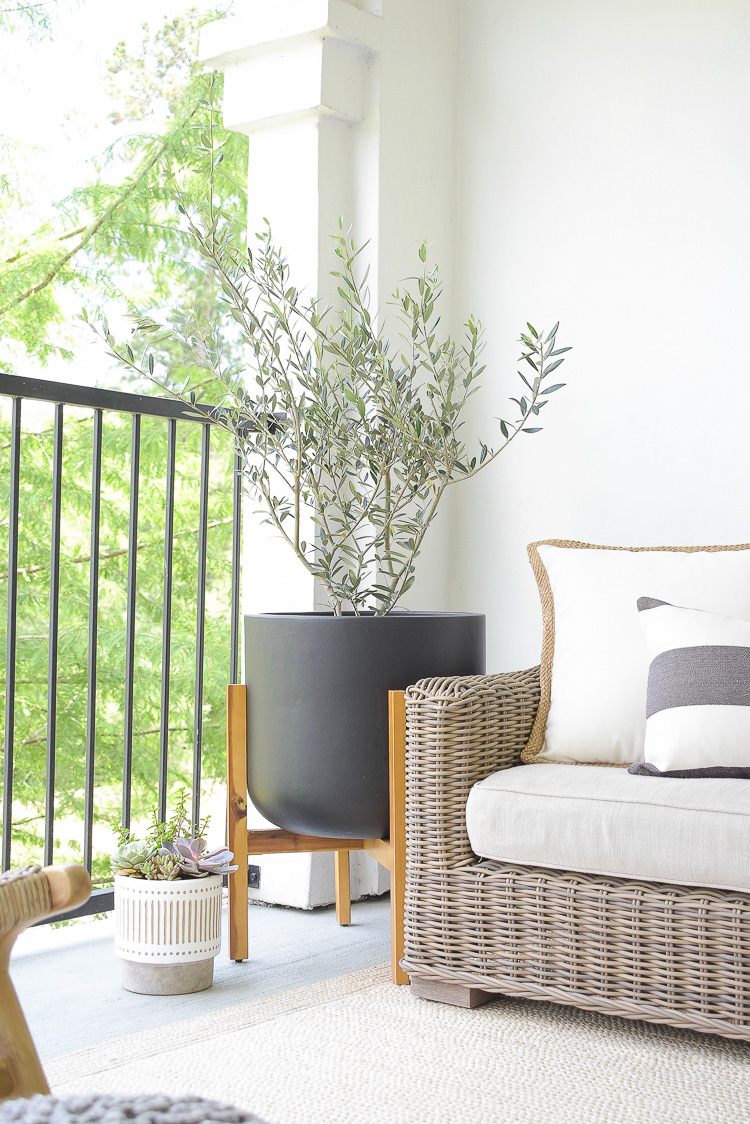 And beyond live plants and flowers I also like to use faux succulents outdoors.  They are the ultimate in low maintenance and if you do happen to leave town for any length of time there are no worries of having to water and, when you get home your space will still be beautiful for relaxing in with the greenery and texture they provide.  This faux succulent has been outside since last summer and it still looks great, and honestly you just about can't tell the difference between my real ones and this faux one.  Here is a link to some of my favorite faux succulents.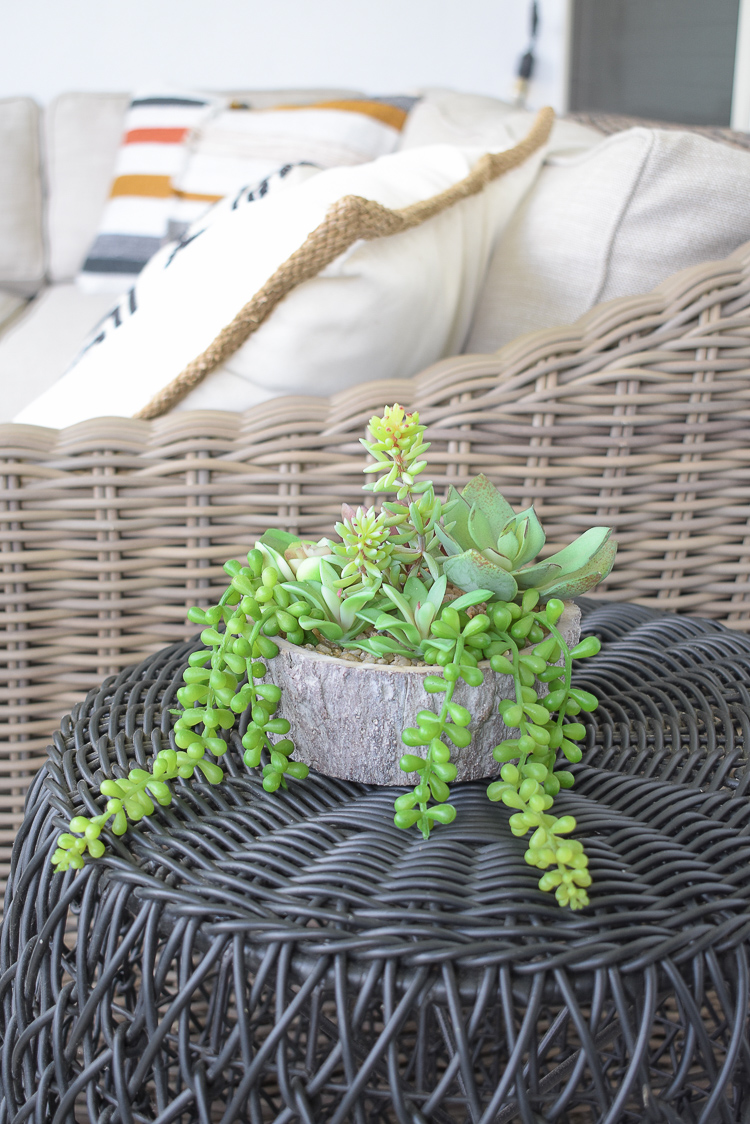 I also added this fun outdoor striped pillow for a pop of color.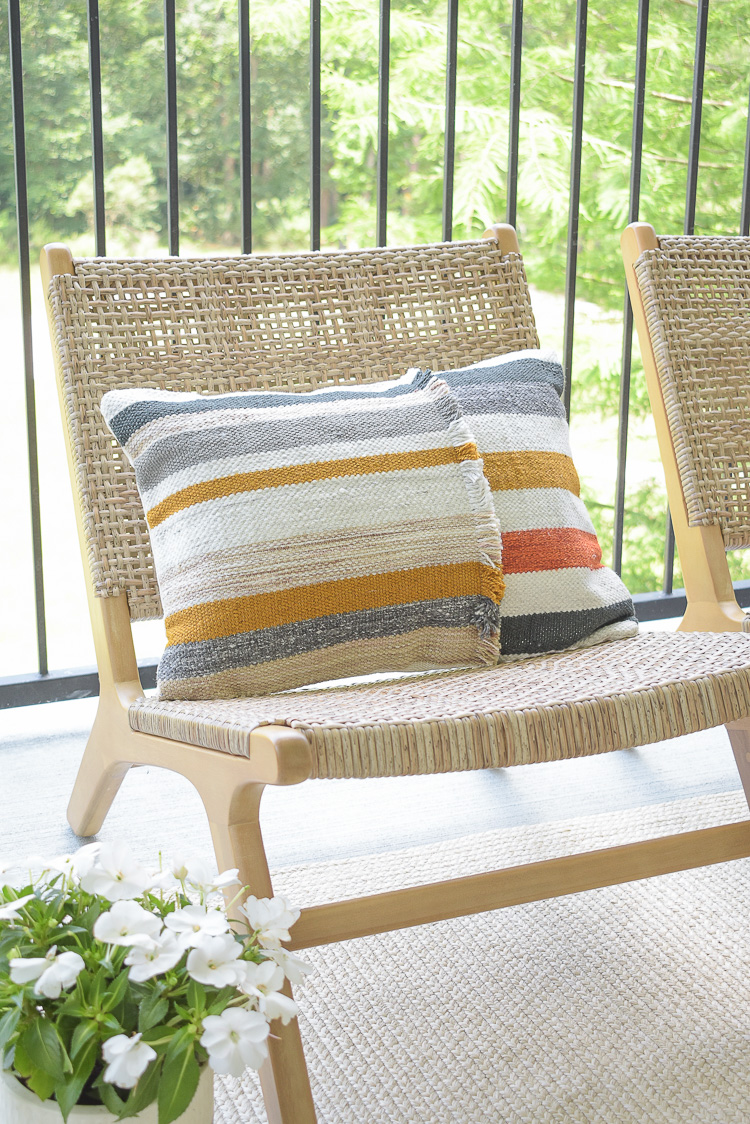 And of course used some old ones I've had for years.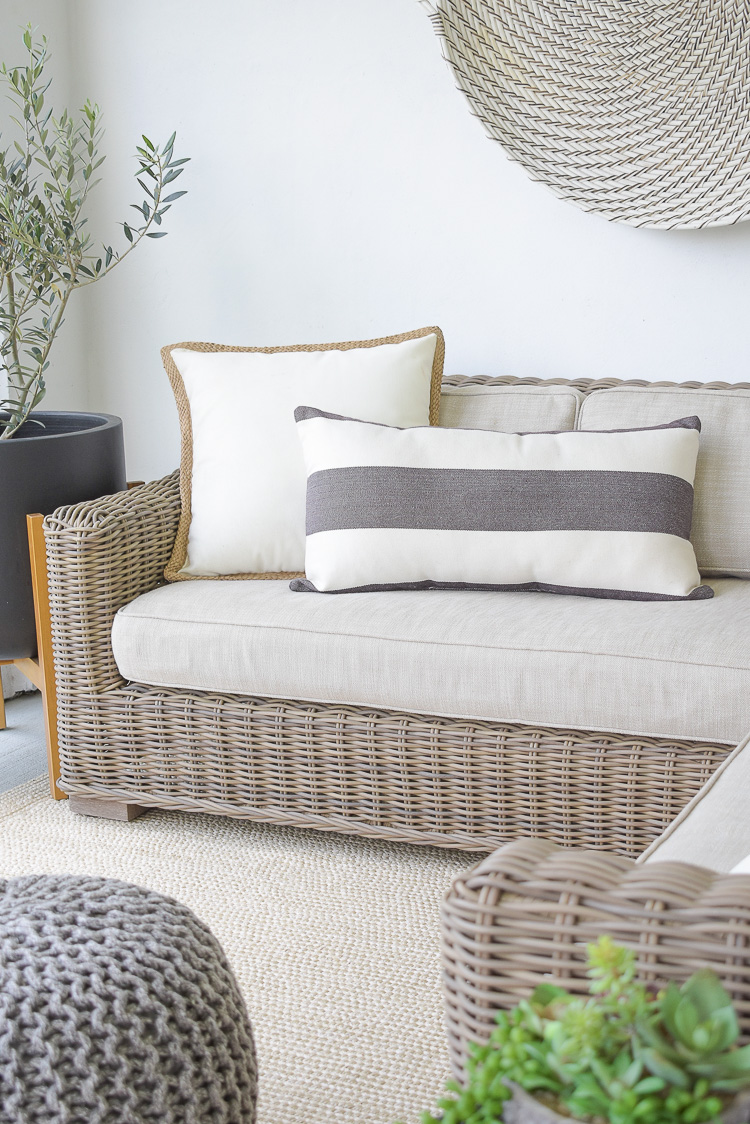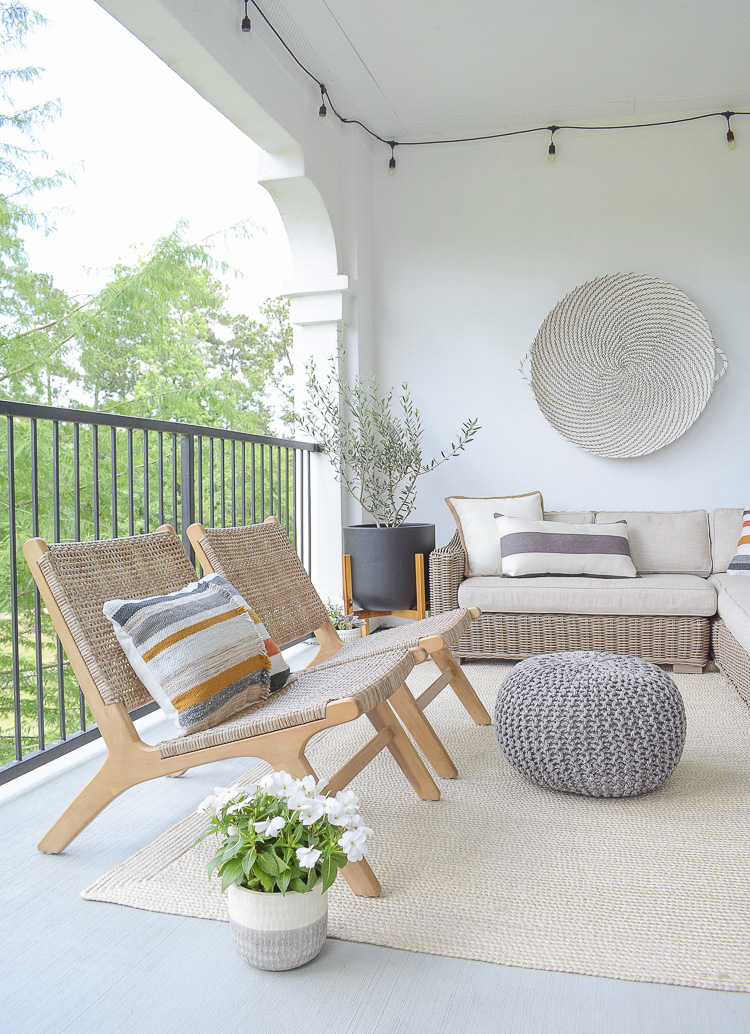 5 Tips For A Stay At Home Summer Patio Refresh
Add string lights to create a cozy glow and atmosphere in your outdoor space, landers and citronella candles too
Group seating for cozy conversation with your people
Use lightweight movable furniture for extra seating and multi-purpose function
Use an outdoor rug to ground the space and to create a cozy indoor feel
Mix it up with fresh & faux succulents, flowers and/or trees to add a pop of color and make your space come to life
Whether you've decided to stay home this summer like us or if you're trying to finally get out and start living life again, I hope these 5 tips for a stay at home summer patio refresh are helpful!  I'd love to hear in the comments section below how you like to refresh your patio or porch each summer ~ I always love hearing your tips and ideas!  Happy summer, friends and thanks for stopping by!

Patio Sources
Outdoor Rug | Chairs | Gray Pouf | White Dot/Stripe Pot | Large Black Pot w/ Stand | Striped Outdoor Pillow | Faux Succulent Pot | Wall Basket | Similar Sofa Sectional | White Trim Outdoor Pillow | Similar Black/White Striped Pillow | Black/White Outdoor Geometric Pillow
Let's stay connected…
Pinterest | Facebook | Instagram | Linkedin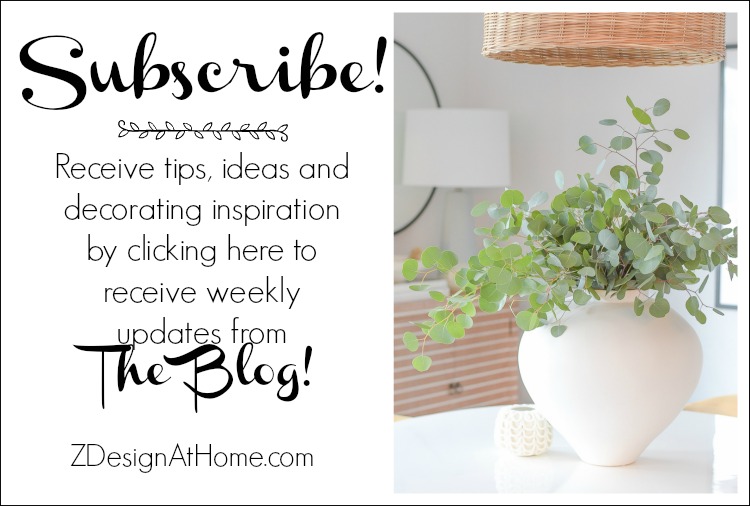 Shop My Instagram